Patisserie Cle sells beautiful tarts and mini cakes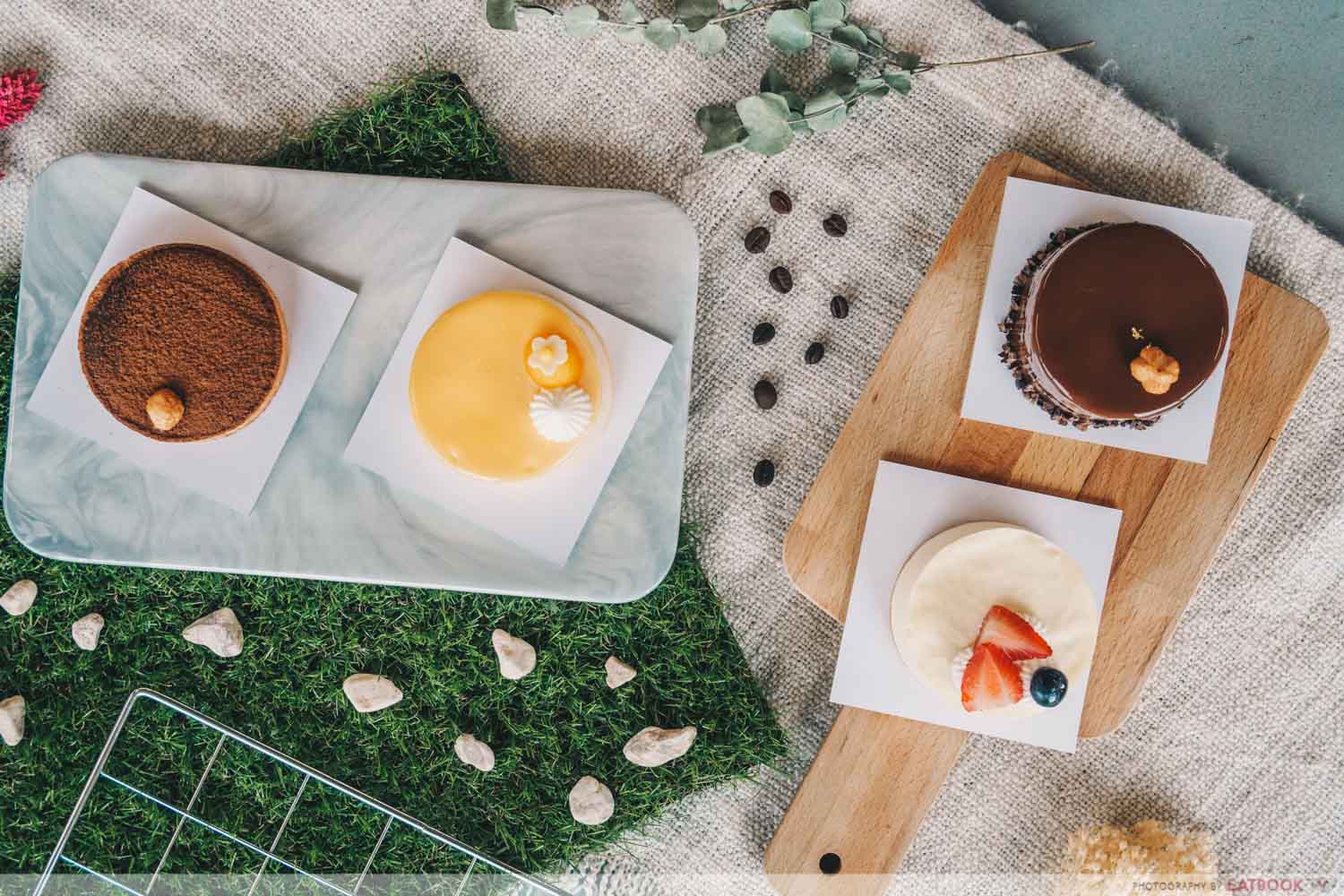 Located at Paya Lebar, Patisserie Cle is another successful pastry store that has emerged from the pack of web-based shops, and materialised into a hole-in-the-wall unit that is as minimalist as their polished web page.
This development into a brick-and-mortar outlet opens new doors for the young patisserie. Not only does it contribute to a new avenue for walk-in customers, but it has also set up the opportunity for those looking to dine-in instead.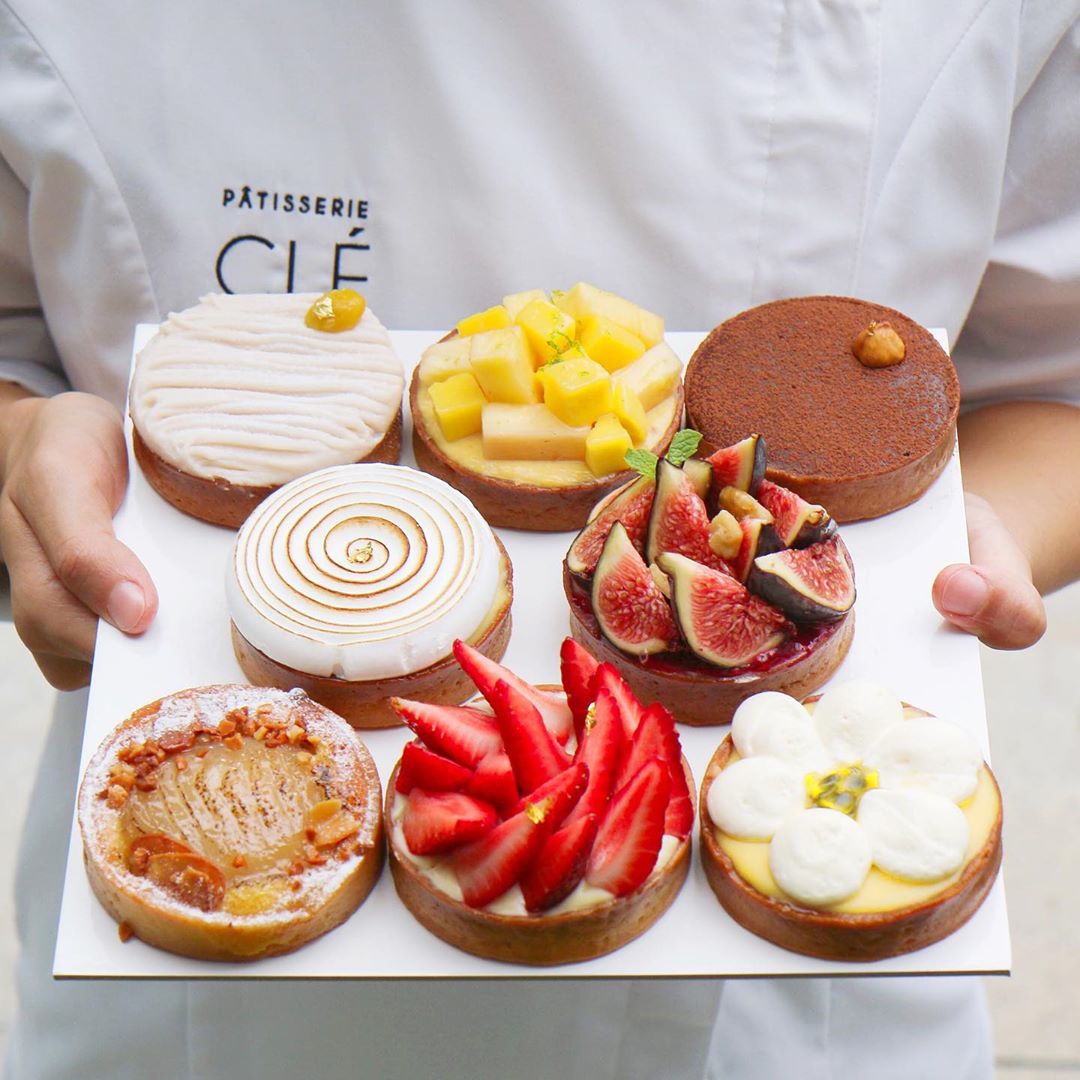 Image credit: @patisserie.cle
Patisserie Cle is the brainchild of two young pastry chefs, whose paths intertwined while interning at Ferrandi Paris, a respected culinary arts school in France. Studying in a country that's over 10,000 kilometres from home, Joy Chiam and Germaine Li met as housemates before becoming friends who share the same passion for the art of French pastry-making.
Though their journey into professional pastry-making began at different junctures of their life, the duo agrees that their interest both started out from baking at home. Joy discovered the hobby while studying for IB exams, while Germaine picked up her skills selling pineapple tarts as a teenager. Together, their story is one of tenacity and persistence in chasing a dream career, making it an inspiring testimony to home bakers all around.
25 Home Bakers Selling Unique Bakes Such As Matcha Chiffon Cake, Pineapple Tarts, Choux Pastries And More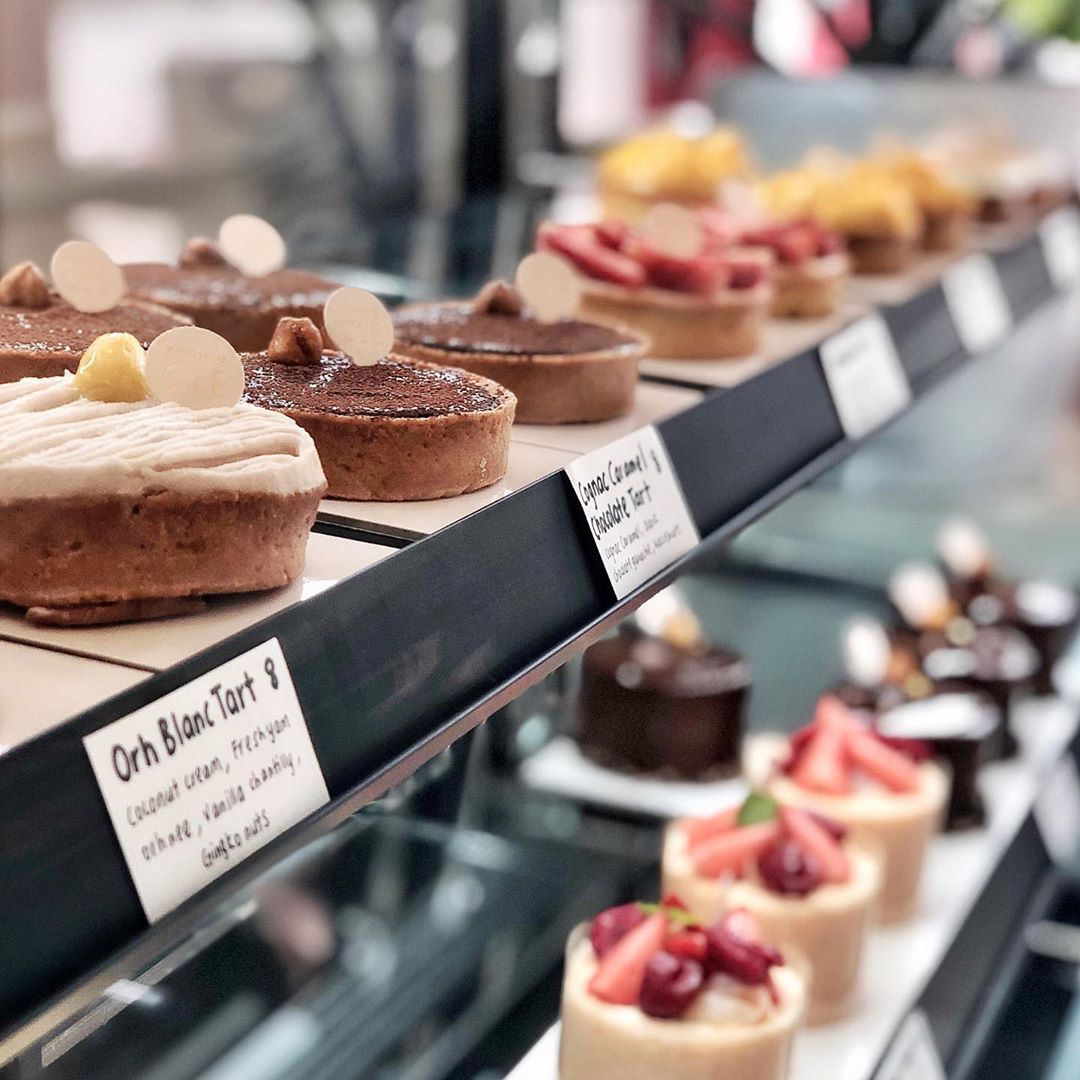 Image credit: @saltyaaron
Their expertise extends beyond just the aesthetics though, as their experimentation with flavours has also exceeded the conventional combinations. 
Their most popular offering, the Orh Blanc Tart ($8) is a fusion of the elegant French Mont Blanc and the luscious Teochew Orh Nee. It is the perfect ambassador for the duo's patisserie, showcasing unique flavours drawn from local cuisine, which are presented with the refined flair of French pastries.
Food at Patisserie Cle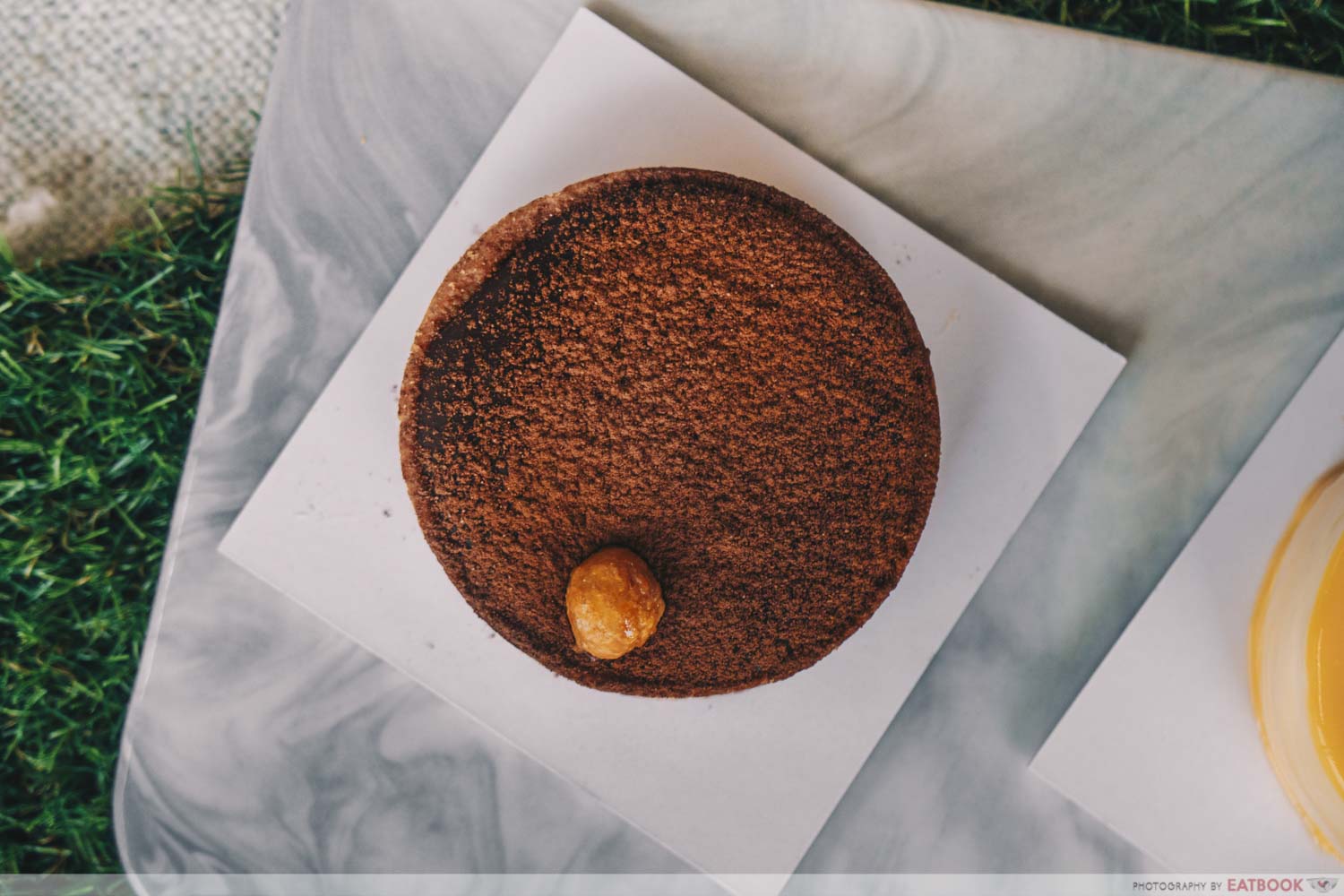 Round and dressed in varying shades of warm brown, their Cognac Caramel Chocolate Tart ($8) is a minimalist wonder. Their buttery tart base is filled with cognac-infused caramel, then dotted with roasted hazelnut bits before being topped with a dark chocolate ganache and dusted with cocoa powder.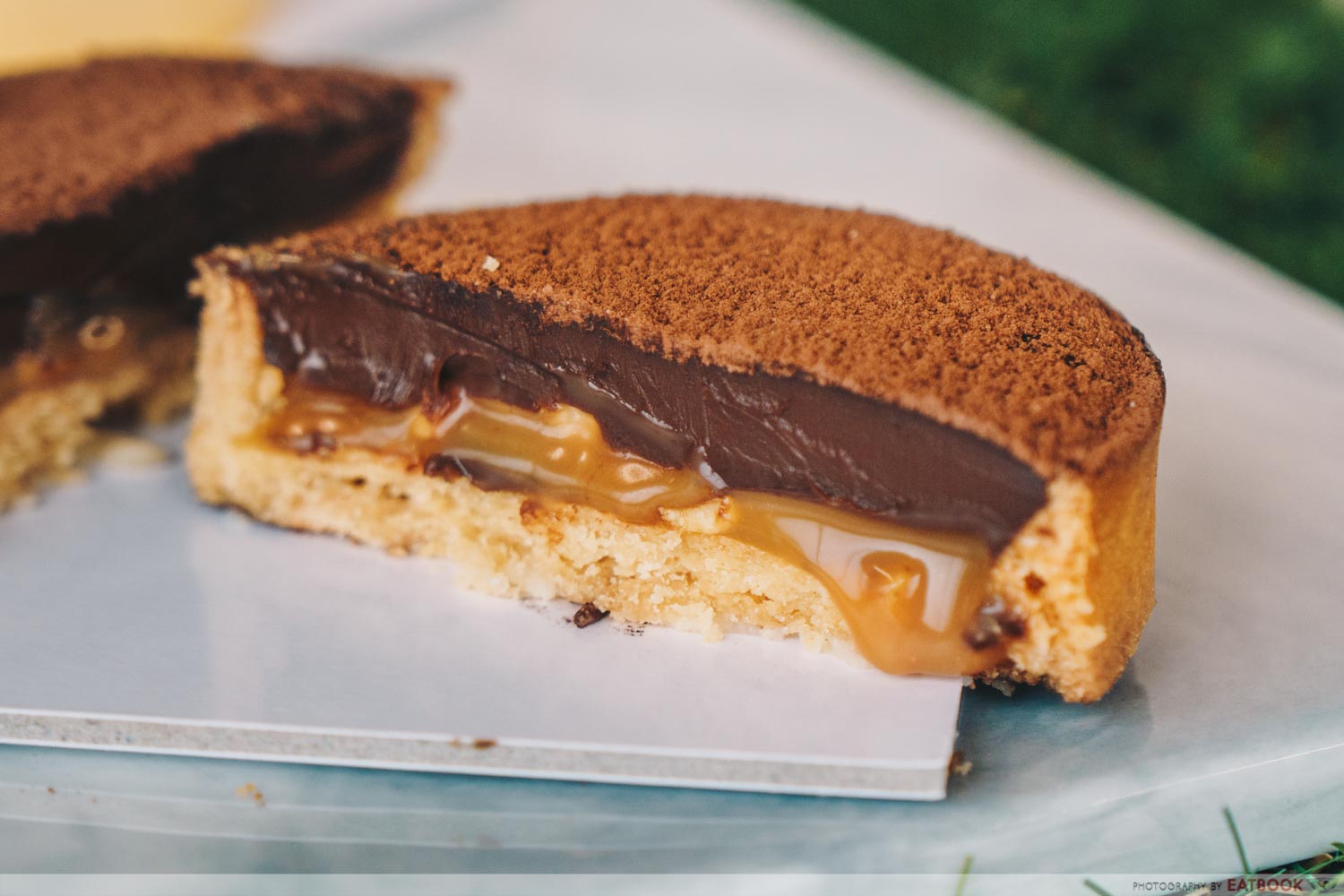 The boozy tinge in the caramel was the first flavour to register before the sweet caramel swooped in and stole the show. Meanwhile, the bittersweet chocolate and toasty notes of the roasted hazelnuts came through shortly after, melding beautifully with the buttery tart case. The textures of the crumbly, flaky tart base, velvety smooth ganache, and sticky caramel were also balanced beautifully. 
If I had to nitpick, I would have preferred a deeper cocoa bitterness to balance out the sweet caramel, as it became a tad cloying after a few bites.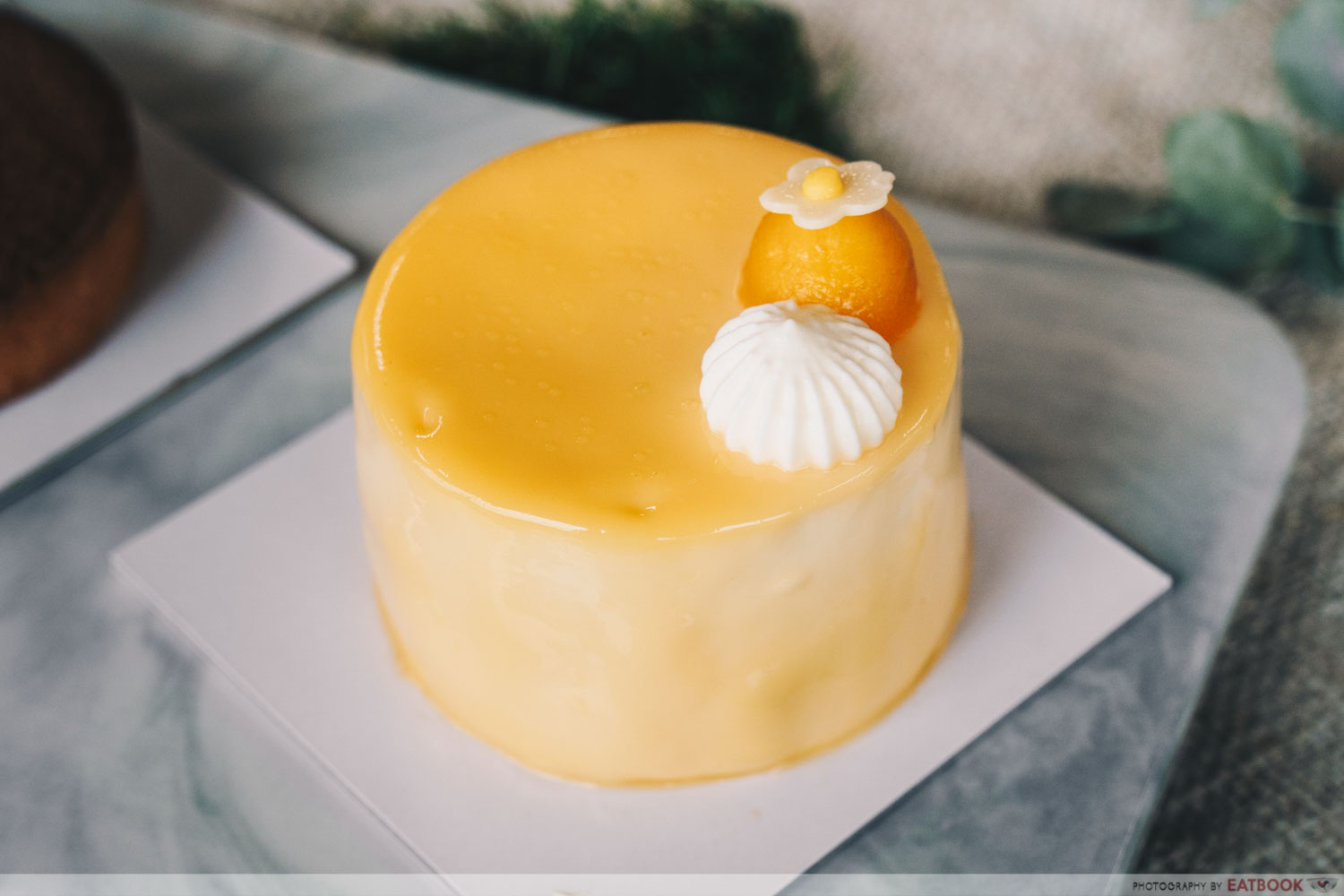 The patisserie definitely has a thing going with matching colour palettes. Sporting the same shades of the flower, their appropriately named Daisy ($8.50) cake has a lovely light amber sheen all around. The mini cake is topped with a rosette of Chantilly cream as well as a tiny flower made from sweets.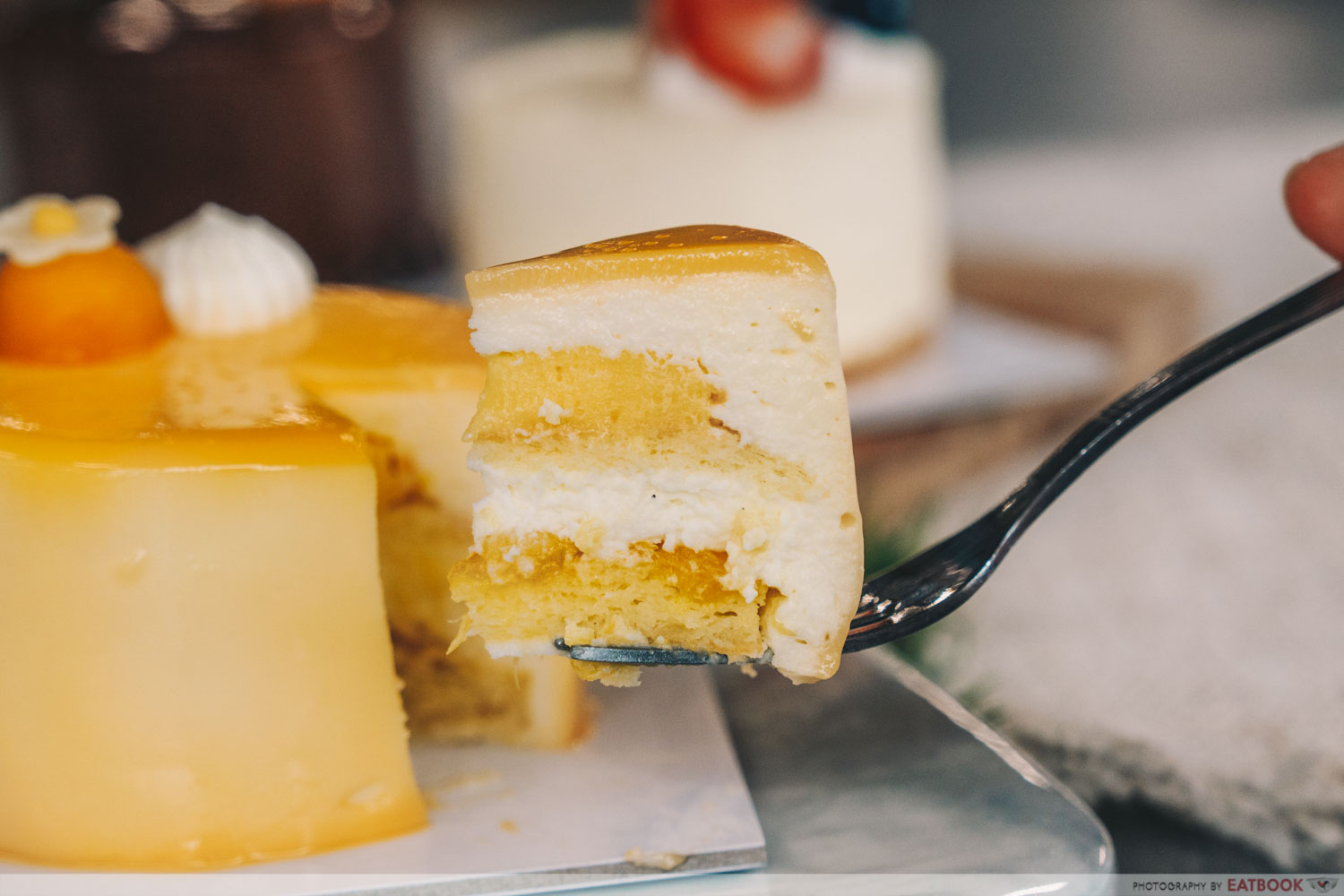 Constructed within this small cake is a series of intricate layers. Thin sheets of vanilla sponge are topped with fresh mango chunks and passionfruit cream, encased in a fluffy mascarpone Chantilly cream. 
Tropical fruits are infamous for overpowering delicate desserts, but the fresh mango chunks in this were surprisingly not too strong. The tart bite from the passion fruit also complemented the vanilla sponge and cream, balancing both sweet and milky flavours.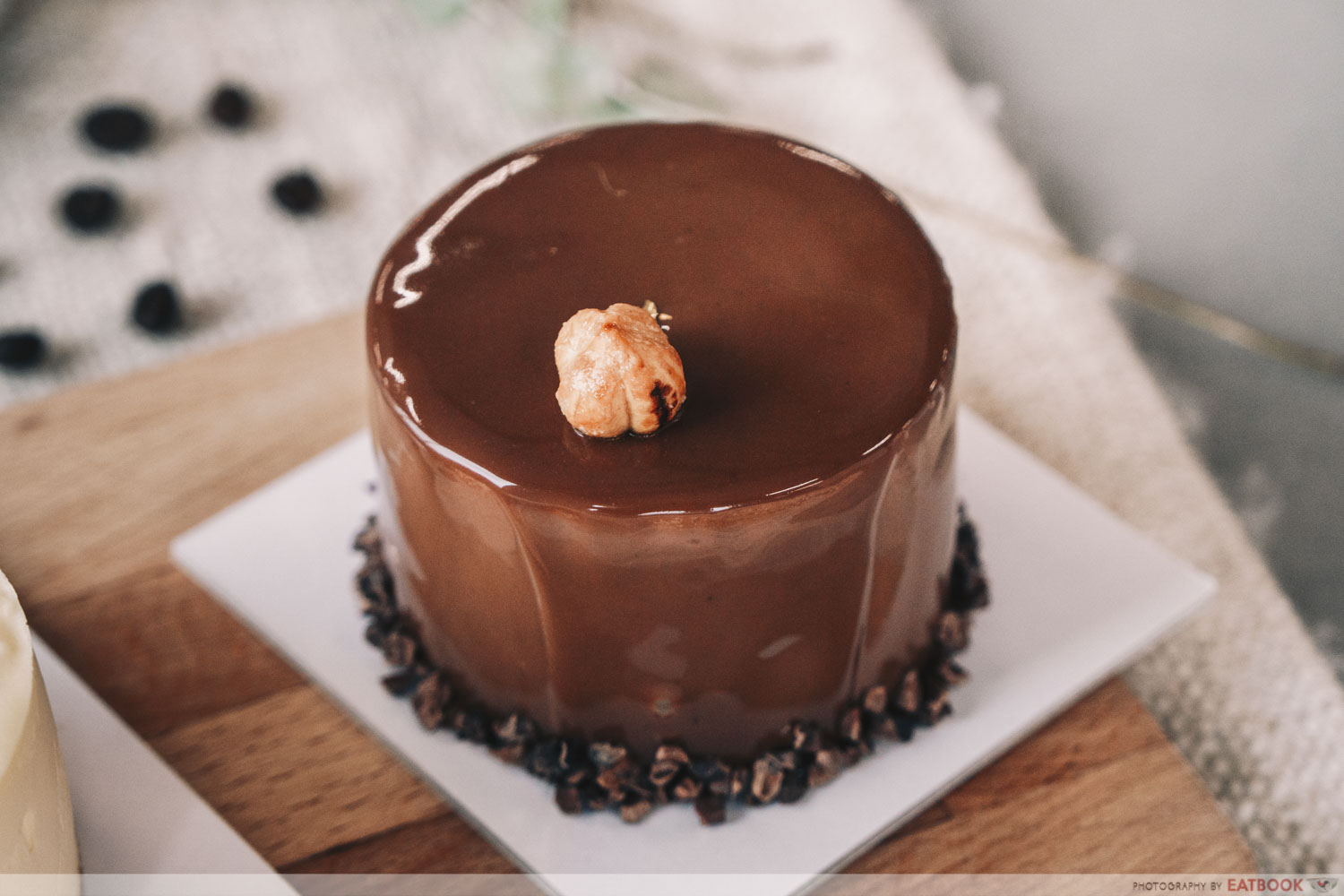 The tall, palm-sized Noisette ($8.50) is a sight to behold. It is glazed with a beautiful glossy ganache, lined with specks of cacao nibs around the base, and topped with a single hazelnut.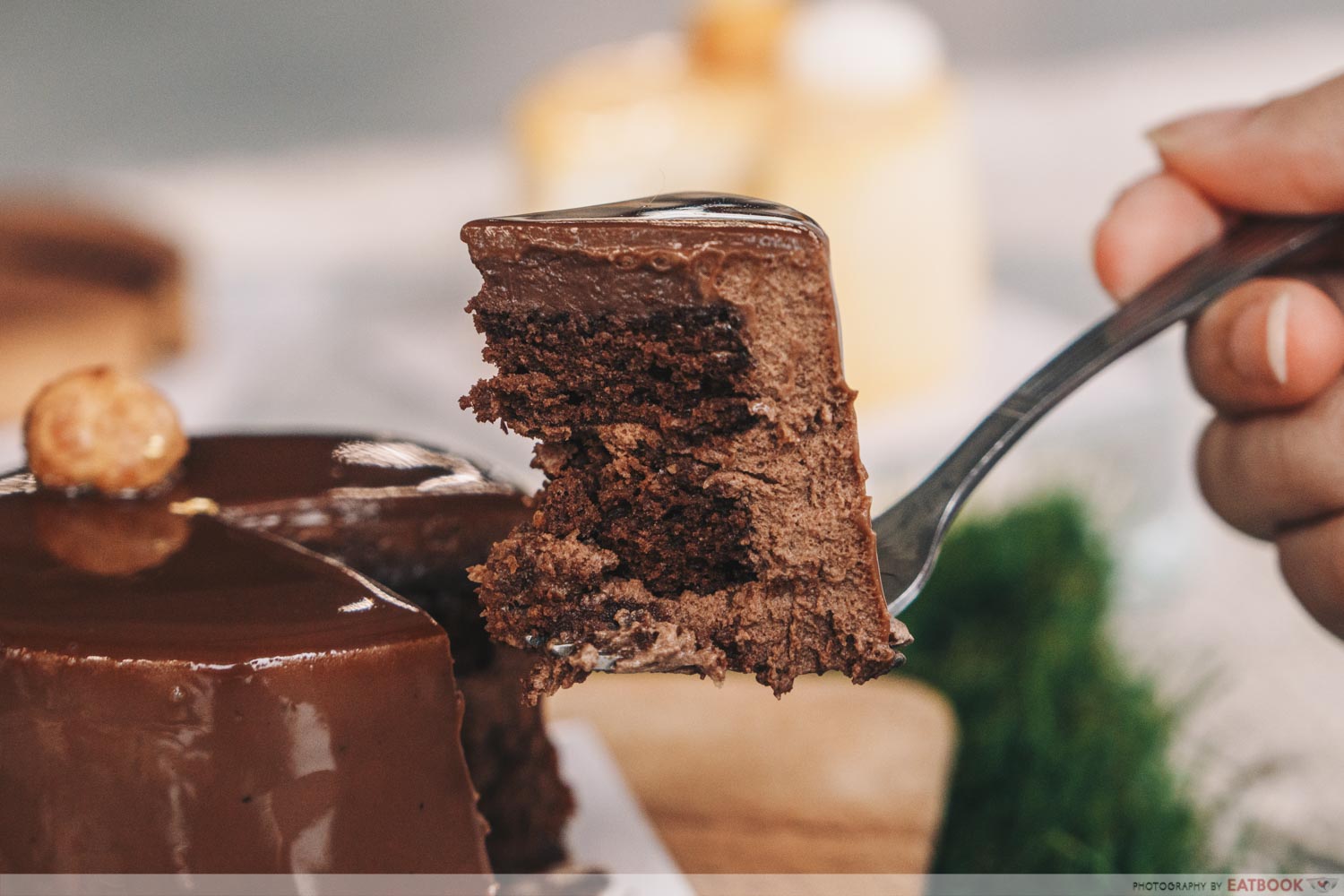 The intricate layers on the inside are an even greater treat for the eyes. A dark chocolate sponge is topped with a milk chocolate and hazelnut layer, before being enclosed within a mousse cocoon and a 64% dark chocolate ganache. 
Even with all the rich chocolatey elements, the cake was moist and decadent. The crunchy cacao nibs around the edge contributed a nice bitter kick, complementing the sweet milk chocolate mousse on the inside.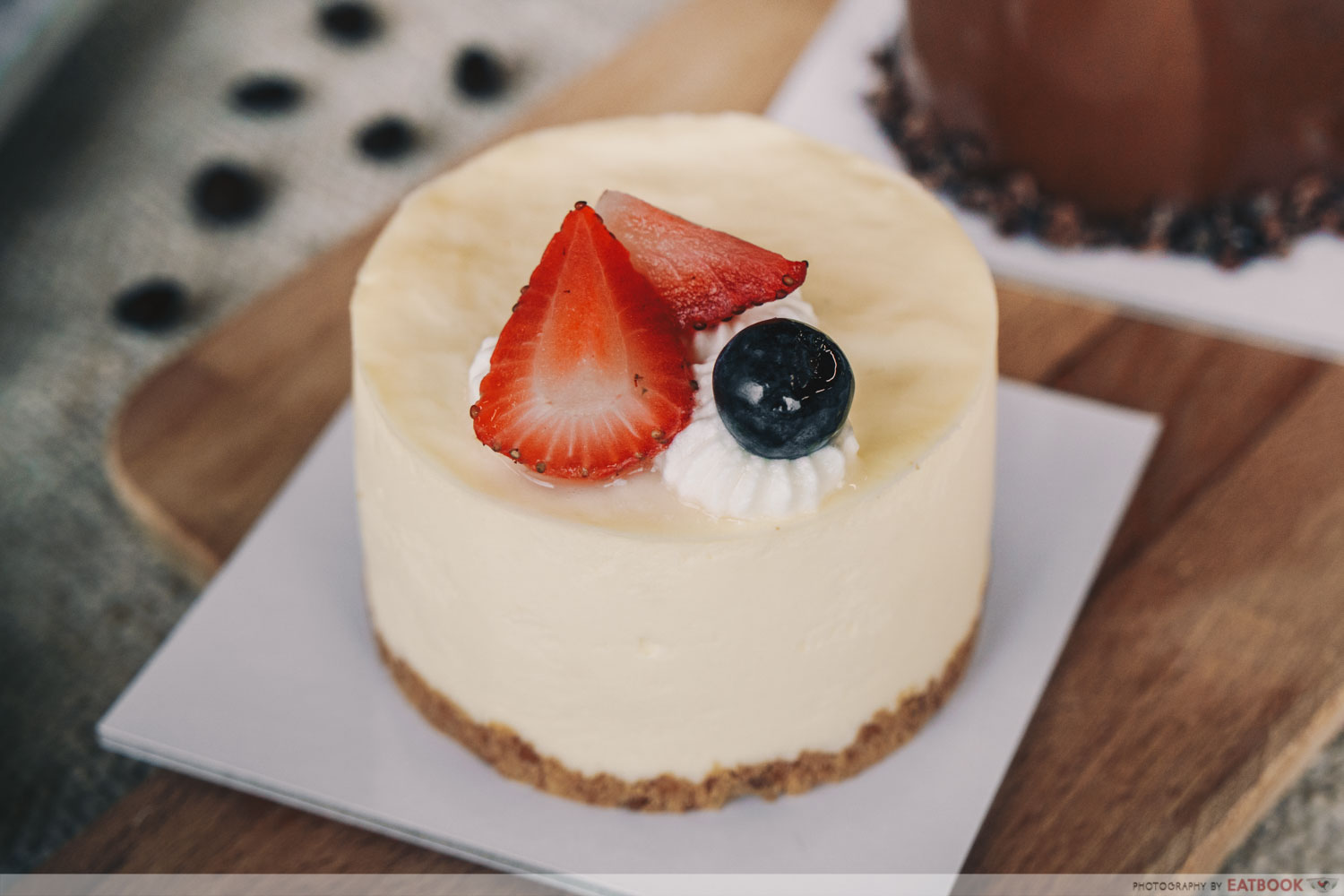 The last item we tried was one of their less regularly featured cakes, the Cheesecake ($8.50). This was one of the more classic cake flavours, and we wanted to see how well it fared compared to their other creations.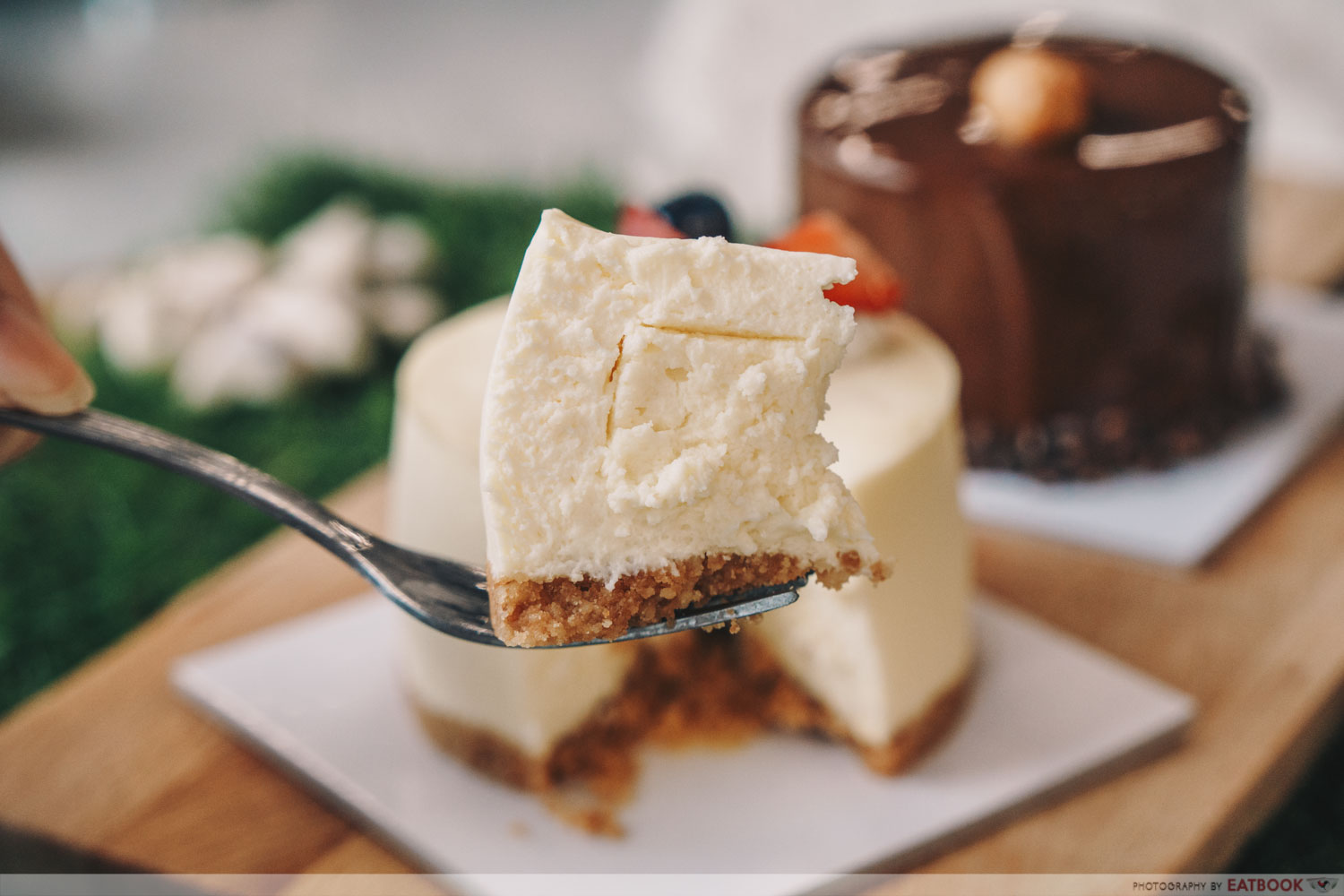 Cutting out a tiny slice, I saw that the cake's texture was just as I anticipated. It was not dense like a classic New York cheesecake, or fluffy like a Japanese cotton cheesecake. Its mouthfeel was tofu-esque and bouncy, just like the kind that is firmed up thanks to the use of gelatin.
While the texture was satisfying in its own way, the cake could have benefited from a little boost in the flavour department. The tartness and characteristic acidity I have come to expect from a typical cheesecake was a tad lacking here. I felt that the cheese filling was even a little bit overshadowed by the buttery biscuit base. I would recommend giving this a pass unless the patisserie has run out of the other goodies on display.
The verdict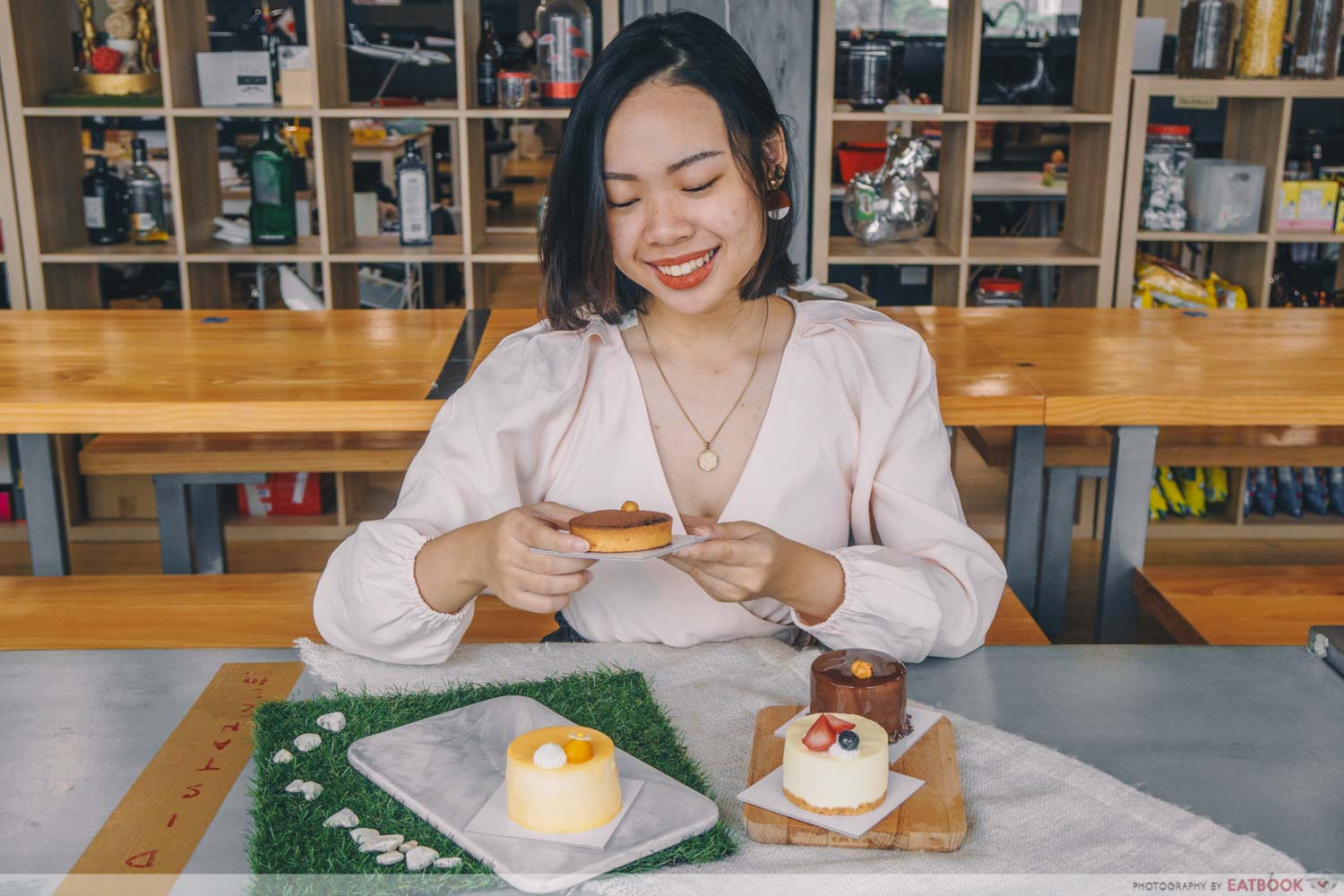 Though I wasn't quick enough to get my hands on their more standout tart offerings such as the new Blueberry Rose Tart ($8) or the unique Passion Sesame Tart ($8), the description of the cakes I saw were enough to have me salivating.
Thanks to the recent Circuit Breaker, Patisserie Cle has emerged as one of the top picks—amongst other popular home bakers and online pastry shops—for those seeking a sweet surprise for their friends.
Making the jump from an online business to managing a real brick-and-mortar shop takes a lot of time and investment. But I believe, with the dedicated skills of the young pastry chefs, as well as the elegant appeal of their French-inspired bakes, this humble patisserie has endless potential for growth.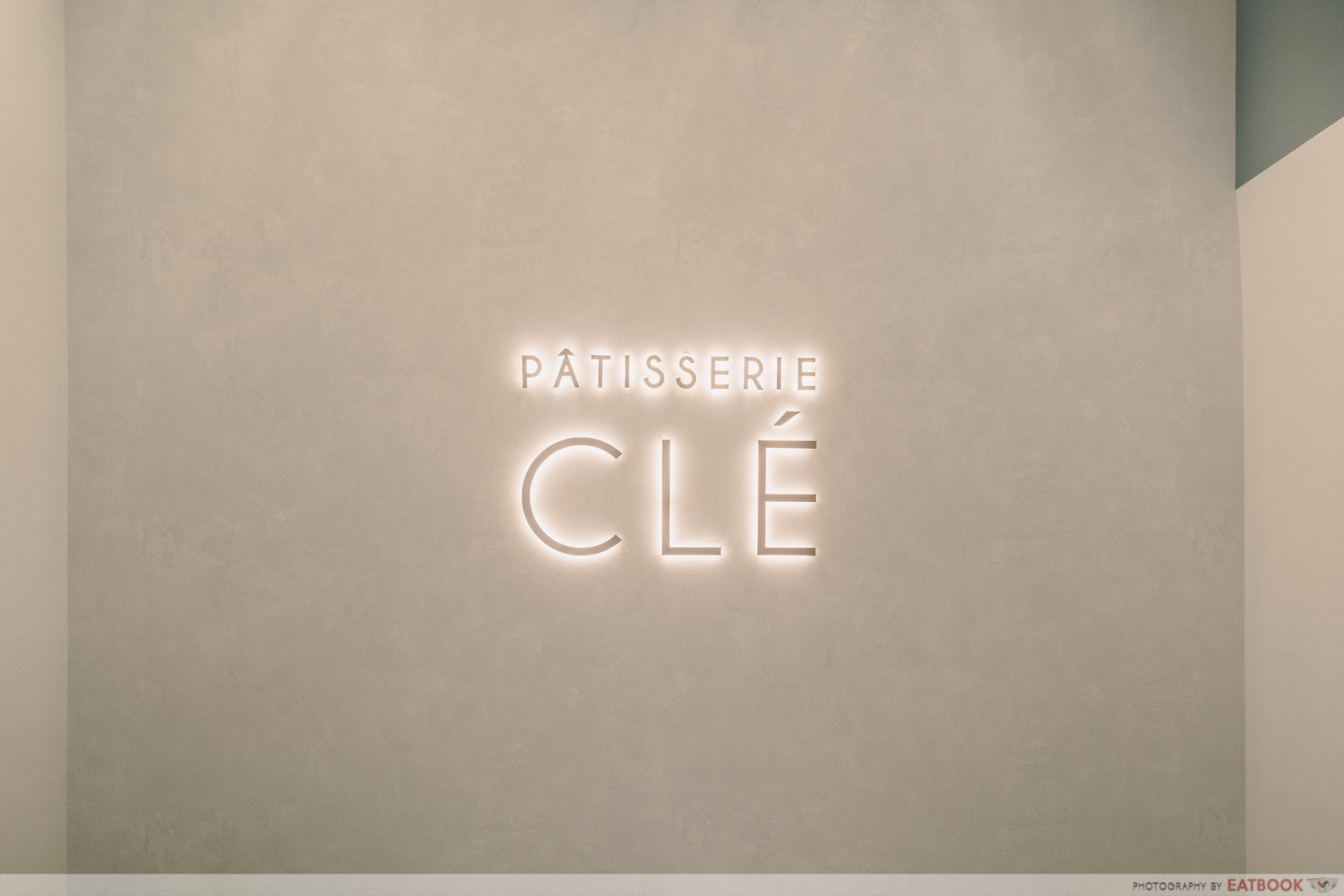 The shop is a short four-minute walk from Paya Lebar MRT Station, and is situated in a striking red building by the roadside. The former fire station has been refurbished into an office centre, and houses the patisserie in a small corner unit. If you're thinking of dropping by for a takeaway, the shop is only large enough for two customers at one time, so I recommend doing a takeaway, or heading down during off-peak hours if you want to avoid the queue.
Otherwise, you can order their pretty pastries from their website, and opt for their delivery services instead. There's a flat delivery fee of $20, but the fee will be waived for orders above $80.
Paya Lebar Square And PLQ Food Guide: 25 Places For Cheap Yakiniku, Truffle Hor Fun And More
Check out our Paya Lebar food guide for more delicious grub in the area. For another cafe that made the leap from online to the physical store, take a look at our review of The Better Half!
The Better Half Review: IG-Worthy Cakes With Unique Flavours In A Hidden HDB Cafe
Address: 29 Paya Lebar Road, #01-01, Paya Lebar Office Centre, Singapore 409005
Opening hours: Mon-Fri 12:30pm to 6pm, Sat 12:30pm to 5pm
Tel: 8127 3925
Website
Patisserie Cle is not halal certified.
Photos taken by Chng Jia Yan.
This is an independent review by Eatbook.sg.
Summary
Pros
– Beautifully constructed tarts
– Unique flavour combinations
– Buttery tart base
Cons
– Pricey
– Cheesecake texture was off
Recommended dishes: Cognac Caramel Chocolate Tart ($8)
Opening hours: Mon-Fri 12:30pm to 6pm, Sat 12:30pm to 5pm
Address: 29 Paya Lebar Road, #01-01, Paya Lebar Office Centre, Singapore 409005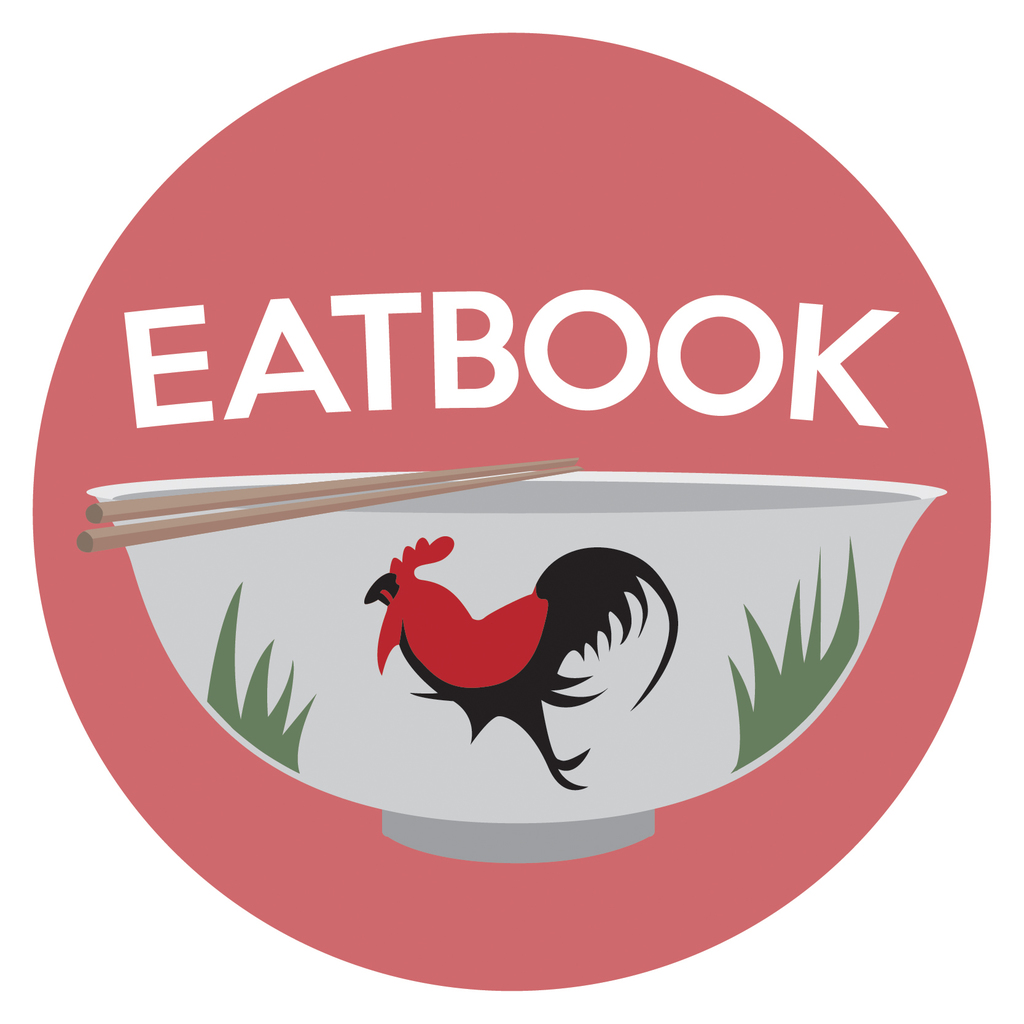 Drop us your email so you won't miss the latest news.