---
Cafes and bakeries for French croissants and pastries
---
Picture this: it's the weekend and you're sinking your teeth into a warm, flaky croissant, paired with a freshly brewed latte from your favourite cafe. It can't get any better than this! Quintessentially French, the buttery pastry has made its way to our shores and become one of the hottest trends in the foodie scene━for good reason. Today we're blessed with an amazing array of options, from the classic French butter croissant to localised flavours and modern variations. Visit one of these 12 cafes and bakeries for some of the best croissants in Singapore!
---
1. Tiong Bahru Bakery
---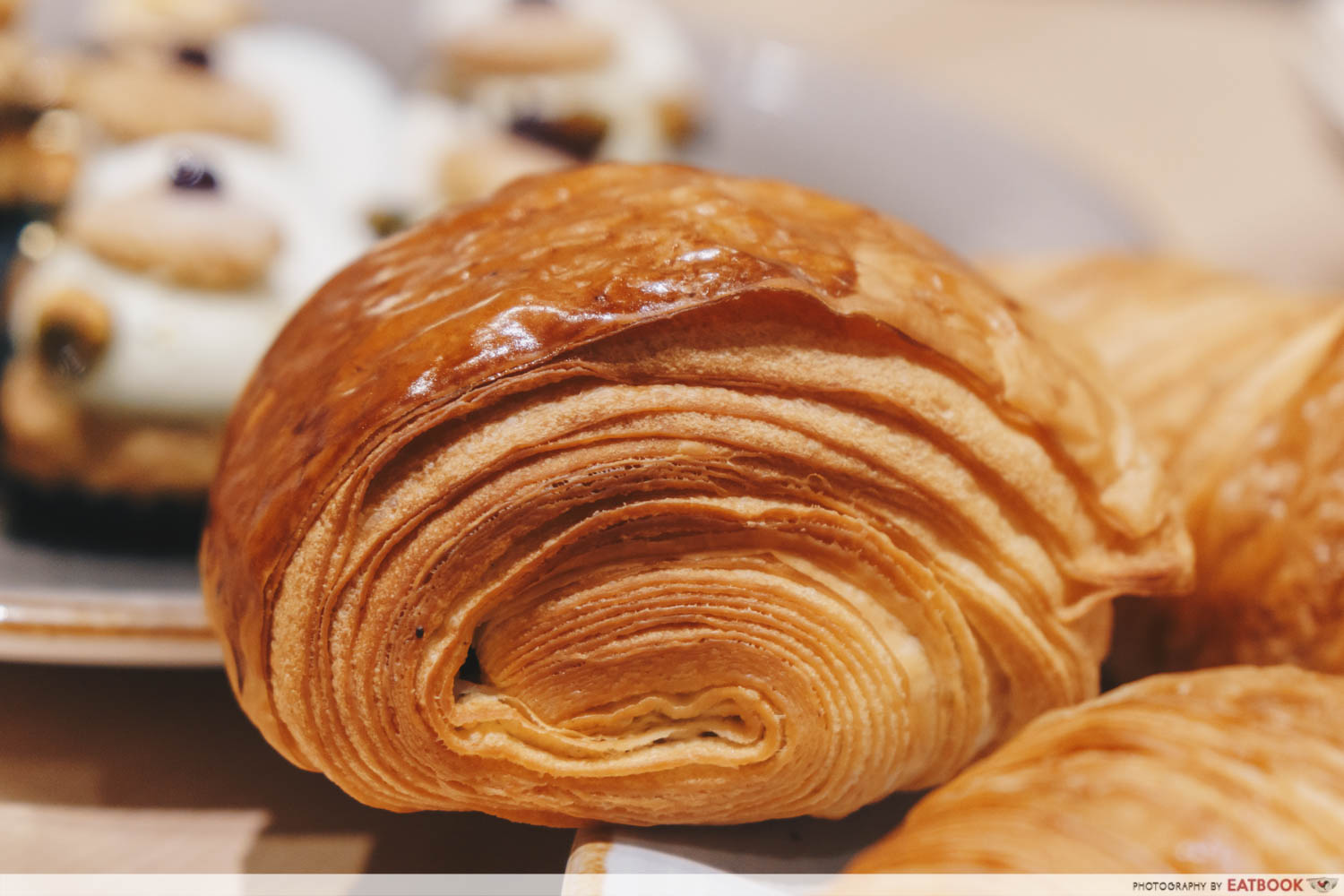 Possibly one of the first purveyors of French croissants in Singapore, Tiong Bahru Bakery has become a household name since opening in 2012. There are multiple outlets across the island, and the croissants here are handmade only with the best ingredients━French flour and French butter━for a rich flavour and impeccable texture.
The plain Croissant ($4.20) is flavoursome enough, but if you want something more special, try the Green Tea Croissant ($6.50), which comprises an indulgent matcha almond filling. 
Other must-tries are the signature Kouign Amann ($5.90), a crisp, butter-laden pastry glazed with caramelised sugar, and the Pain Au Chocolat ($4.50), which uses dark chocolate from France.
---
2. Petit Pain
---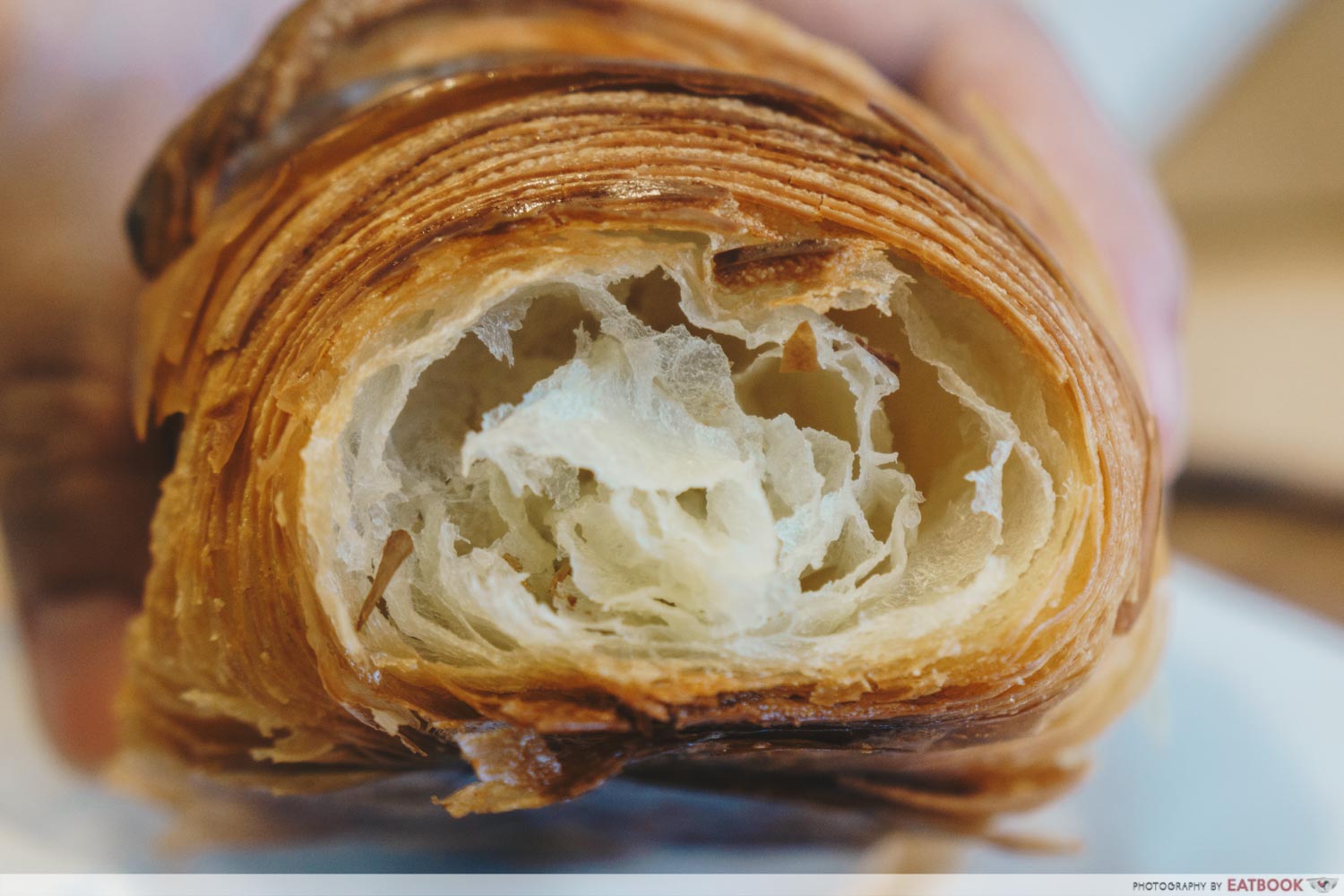 This Joo Chiat gem has made a name for itself in the East-side foodie scene. On the menu, you'll find a range of artisanal bread and pastries that are made from scratch without artificial flavourings or preservatives. Petit Pain is run by a duo who take pride in their small-batch production. You're getting the freshest goods possible, but that also means they tend to sell out fast. As such, pre-orders are highly recommended.
You won't go wrong with the Classic Croissant ($3), which uses carefully sourced French fermented butter for a unique tang and aroma. Other flaky pastry options include the Pain Au Chocolat ($3.50) and Apple Danish ($3.80).
On top of viennoiseries, the bakery also offers fresh loaves and bread in the form of the Traditional Baguette ($3.60) and Shiitake Flatbread ($4.50). Items roll out according to a baking schedule, so it's best to check online before making a trip.
Read our Petit Pain review!
Address: 315 Joo Chiat Road, Singapore 427566
Opening hours: Tue-Fri 11am till sold out, Sat-Sun 10am till sold out. Closed every first Tuesday of the month
Website
Petit Pain Review: Queue-Worthy Croissants At Joo Chiat By An Ex-Artisan Boulangerie Co. Baker
---
3. Keong Saik Bakery
---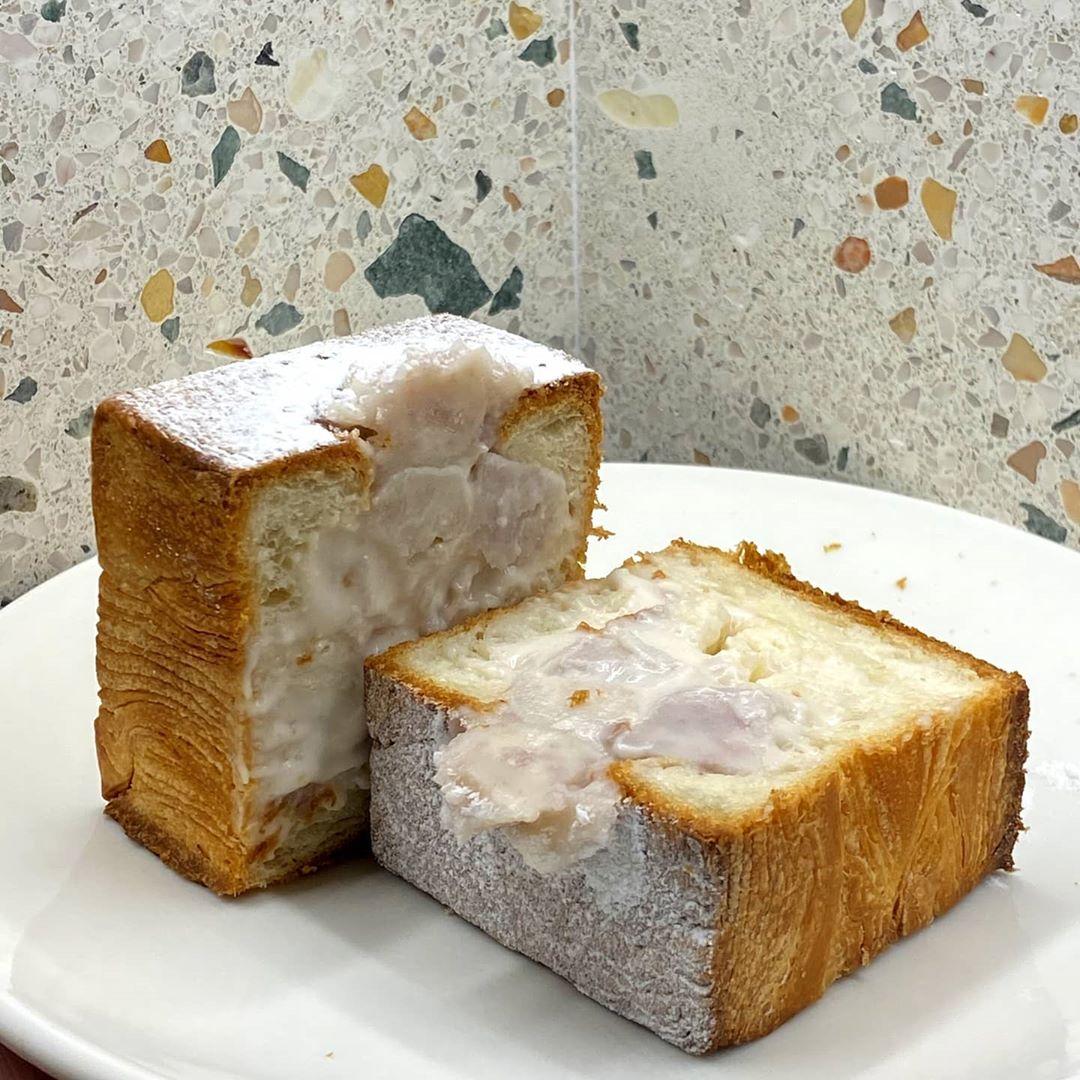 Image credit: @keongsaikbakery
For a more alternative take on croissants, visit Keong Saik Bakery. Other than their burnt cheesecakes, the homegrown bakery along Keong Saik Road is also popular for their unique croissant creations like the Orh Nee Croissant Cube ($6), which features house-made yam paste and yam chunks encased within a flaky cube of buttery layers. The Croissant Cube is also available in savoury flavours like Mentaiko ($6.20) and Truffle Potato ($6.20).
Don't forget to try their signature cruffins and viennoiseries like French Butter Croissant ($3). The bakery is open for walk-in takeaway purchases and online orders.
Check out our Keong Saik Bakery review!
Address: 33 Keong Saik Road, Singapore 089140
Opening hours: Daily 10am-7pm
Website
Keong Saik Bakery Has New Orh Nee Croissant Cube And Layer Cake
---
4. Bakery Brera 
---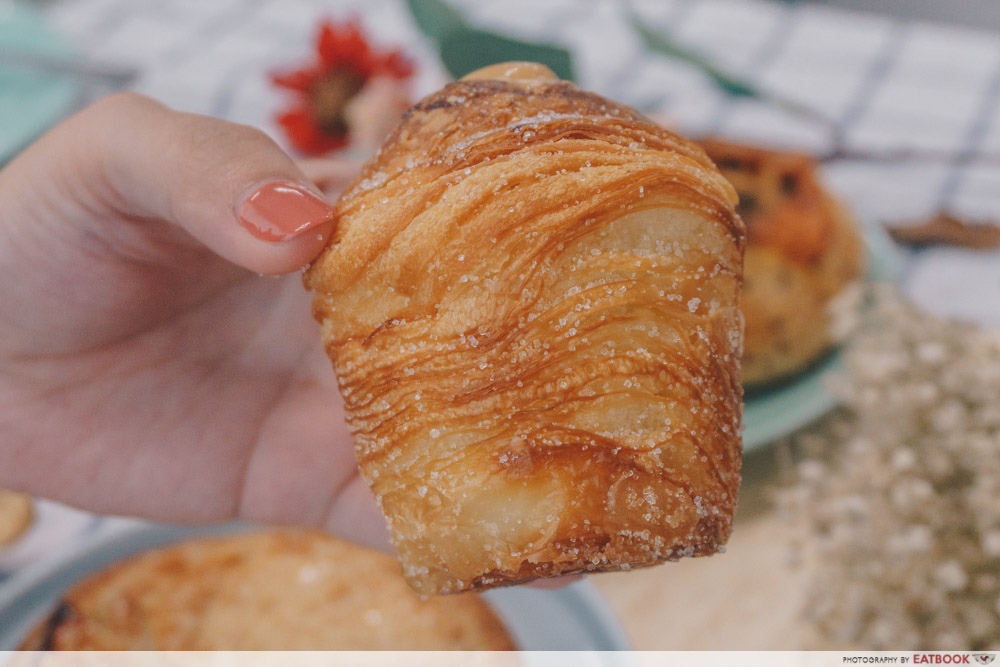 Tucked in the Farrer Road estate, Bakery Brera offers freshly baked artisan bread like sourdough, along with a yummy range of cakes and pastries. Must-tries include their IG-famous cruffins in flavours such as Lemon Curd ($5) and Ferrero Rocher ($5).
If you love Danish pastries, you'll be delighted with sweet flavour options like the Pear Danish ($5.80), as well as savoury picks like the Ham Cheese Onion Danish ($4.50). Other popular pastries include the Croissant ($3.50) and Pain Au Chocolat ($4.50).
Fun fact: this bakery is also known for using their social media platforms to do good. In June 2021, they organised a fundraiser for a family with two children diagnosed with a rare genetic disease. More reason to support them!
Order online, and then read our Bakery Brera review!
Address: 8 Empress Road, #01-05, Empress Mall, Singapore 260008
Tel: 6492 5428
Opening hours: Mon 7:30am to 4pm, Tue-Sun 7:30am to 7pm
Website
Bakery Brera Review: Flaky Cruffins Stuffed With Peanut Butter, Salted Caramel And More
---
5. The Headless Baker
---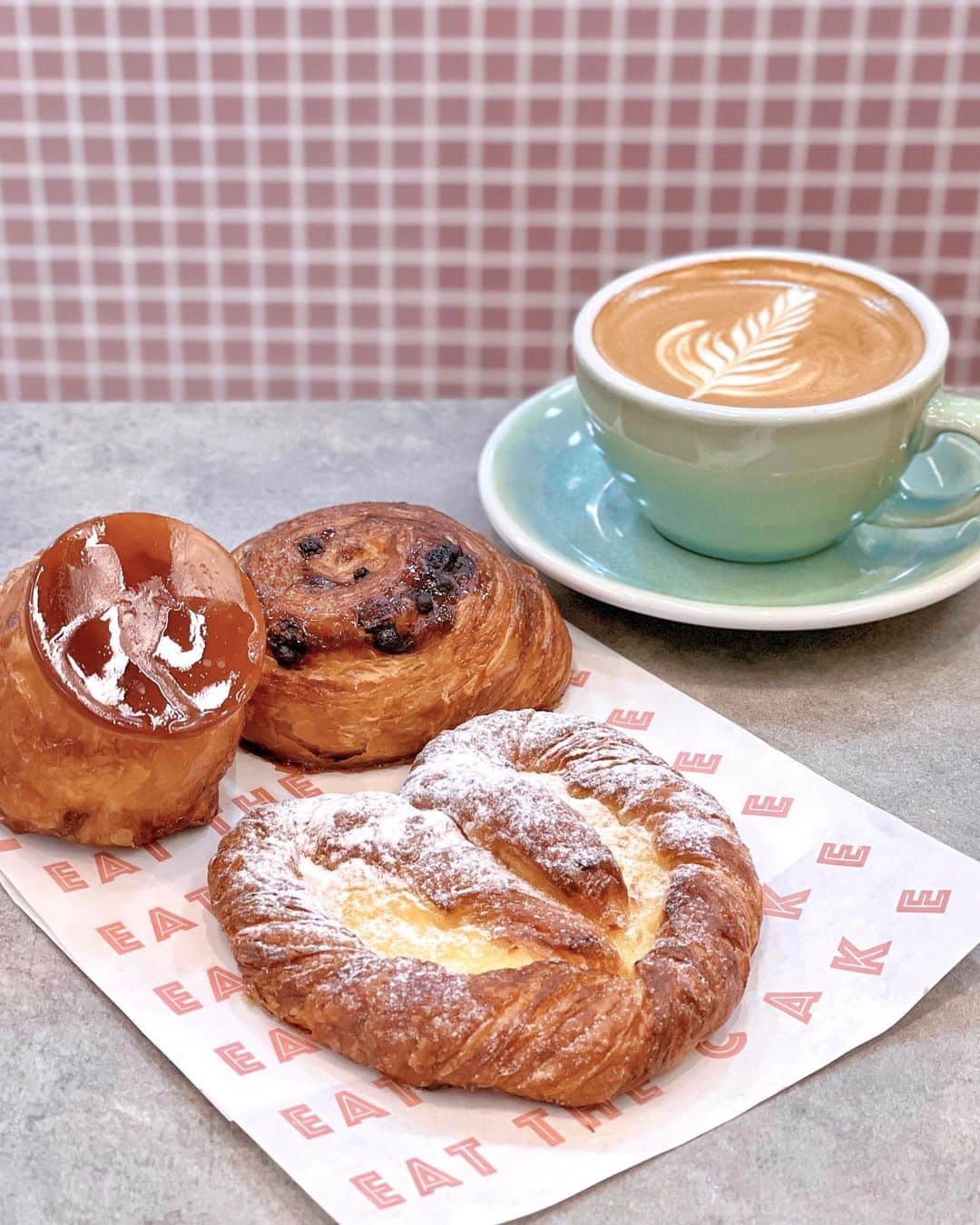 Image credit: @saltyaaron
Homegrown bakery The Headless Baker has two locations in Singapore: Ghim Moh and The Star Vista. The former focuses on affordable tea cakes, scones, and cookies, while the latter places the spotlight on French pastries like Almond Croissant ($4.50) and Kouign Amann ($4.50).
Other than fresh viennoiseries, another well-loved item on their menu is the Canelé ($3), which is a rum and vanilla-flavoured French pastry with a caramelised crust and custard-like interior.
Check out our The Headless Baker review!
Address: 1 Vista Exchange Green, #01-14/15, The Star Vista, Singapore 138617
Opening hours: Daily 11am to 6pm
Website
The Headless Baker Review: Earl Grey Cakes, Sea Salt Cookies And More From $2 At Buona Vista
---
6. Mother Dough Bakery
---
Image credit: @motherdoughbakery
Popular for their generously sized Almond Croissants ($4.50), Danish pastries, and rustic bread, this Muslim-owned bakery uses a sourdough culture all the way from New York. Everything is baked fresh daily with artisanal techniques, using flour sourced from environmentally conscious grain millers.
Keep your eyes peeled on their Instagram page; they regularly post alluring videos of what's available in-store, so you can get a sneak peek before heading down! Items on the menu are launched on a rotating basis, and pre-orders are encouraged as they tend to sell like hotcakes.
Address: 3 Jalan Kledek, Singapore 199259
Opening hours: Tues-Sun 11am to 5pm
Website
Mother Dough Bakery Has New Outlet In Kampong Glam, Closes OG Arab Street Store
---
7. Brotherbird
---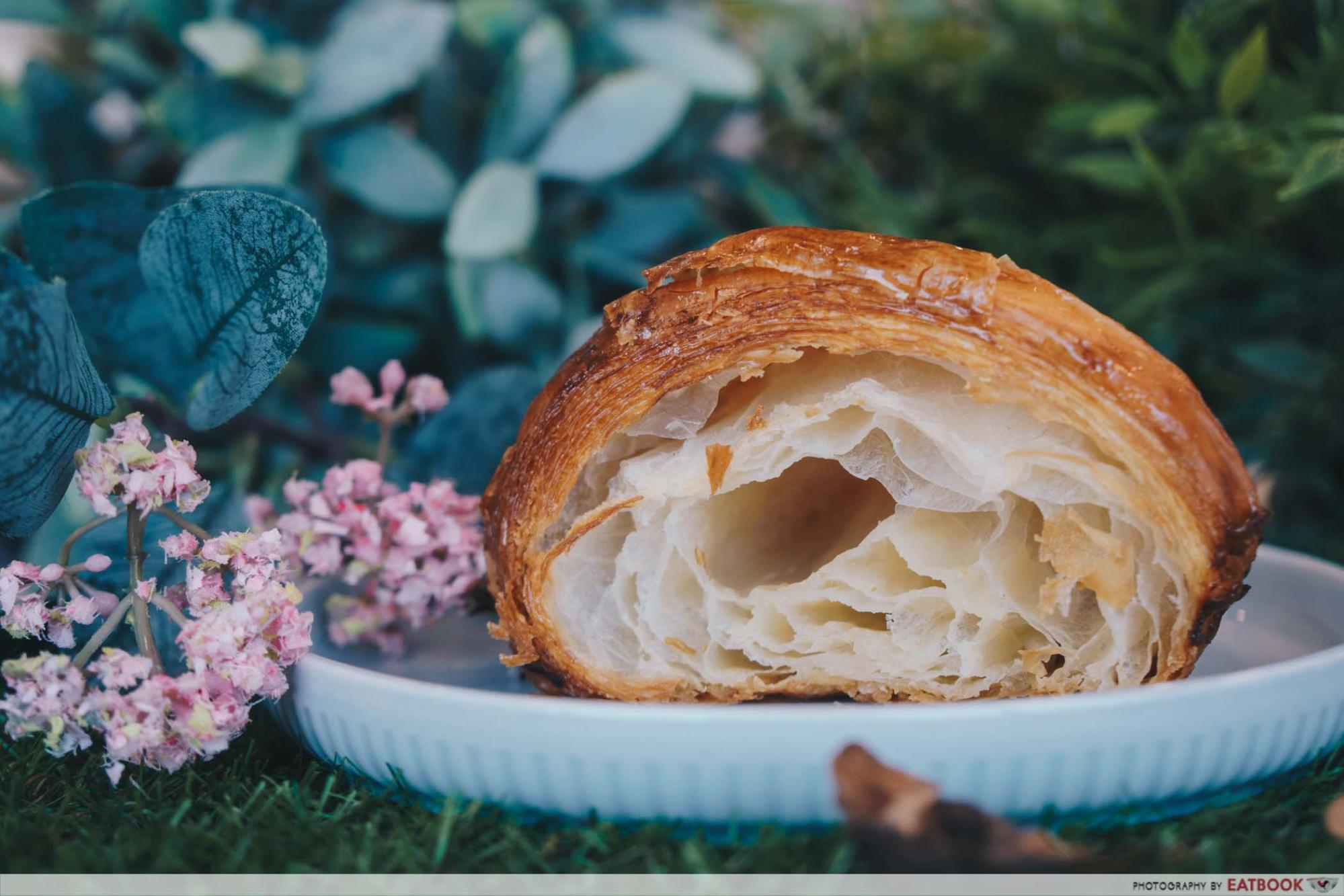 Known for their innovative flavour combinations, Brotherbird is a croissant powerhouse has two locations━one on Lavender Street, and the other along Bali Lane.
The lineup changes from month to month, so you can consider ordering their monthly box, which is usually priced around $31 depending on the flavours included. Each box gets you six croissants, with both sweet and savoury options like the Mentaiko Prawn Twice-Baked, Chendol, and Passionfruit Meringue.
Off-the-shelf croissants are also available for walk-ins but do arrive early as they tend to sell out fast. For more updates, head to their Instagram page.
Check out our Brotherbird Milk & Croissants review!
Website
Full list of locations
Famous Brotherbird Bakehouse Croissants Are Available At All %Arabica Outlets
---
8. Nassim Hill Bakery Bistro Bar
---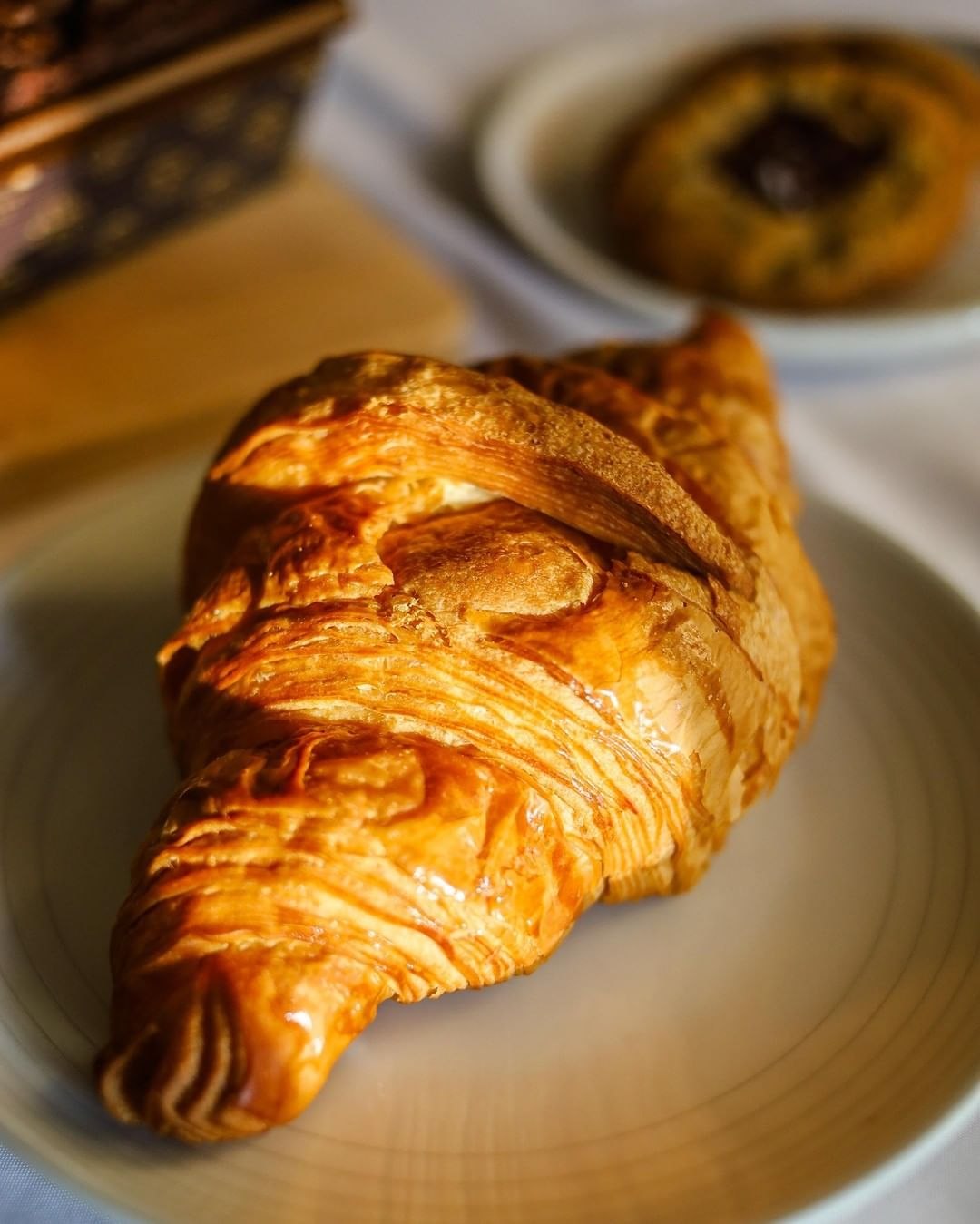 Image credit: @nassimhillbakery
A trip to Nassim Hill is incomplete without popping by their bakery section, where you'll find freshly baked treats like their IG-famous Brioche Donut ($3.50). The bakery also offers a decent selection of viennoiseries including the Almond Croissant ($4.50): a delicious, messy masterpiece of rich, buttery pastry stuffed with a delicious almond filling.
Don't forget to take home a loaf or two; the Rustic Sourdough ($13) is best served with a generous slathering of La Beurre Bordier Butter (from $7.50) paired with copious amounts of house-made Kaya Spread ($5), both of which can also be ordered online.
Website
Full list of locations
---
9. Merci Marcel 
---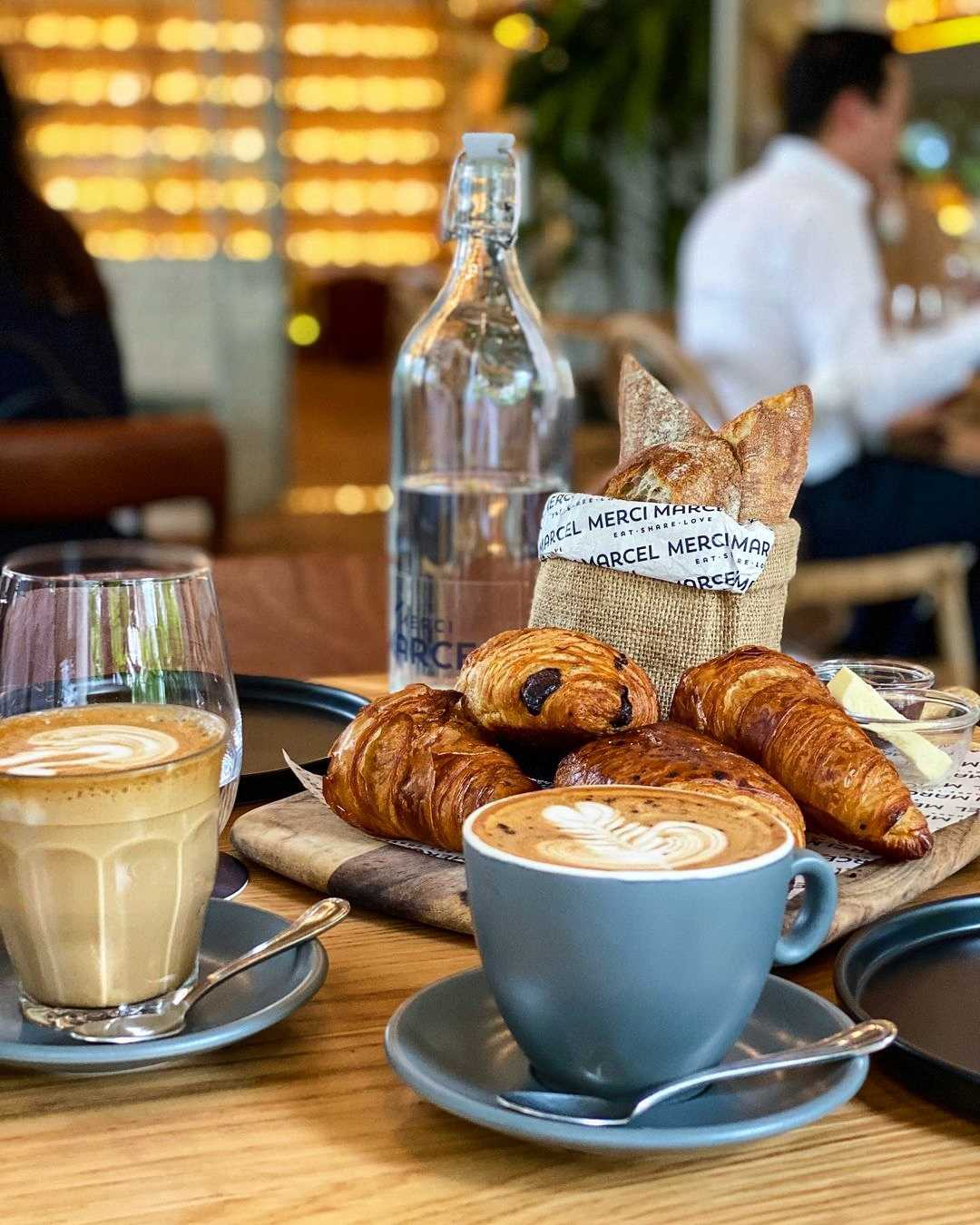 Image credit: @mercimarcel
Fresh, quality French bakes don't have to burn a hole in your wallet. Merci Marcel offers a small selection of affordable French pastries in a chic yet relaxed ambience. The bakes are made with 100% French butter, and must-tries are the Croissant ($3.50) and Pain Au Chocolat ($3.50).
If you're visiting with friends, get the Bakery Assortment For Sharing ($19), a carb lover's dream come true that includes a spread of pastries, sourdough, and baguette.
Don't forget to check out their dine-in menu, too. Step up your brunch game with the Ravioles De Royans (from $18)━French dumpling pasta filled with Tête de Moine cheese━or a Mix of 5 Cheeses Platter ($36) to share.
Website
Full list of locations
10 French Restaurants In Singapore For Affordable Crepes, Duck Confit, And More
---
10. Le Matin Patisserie
---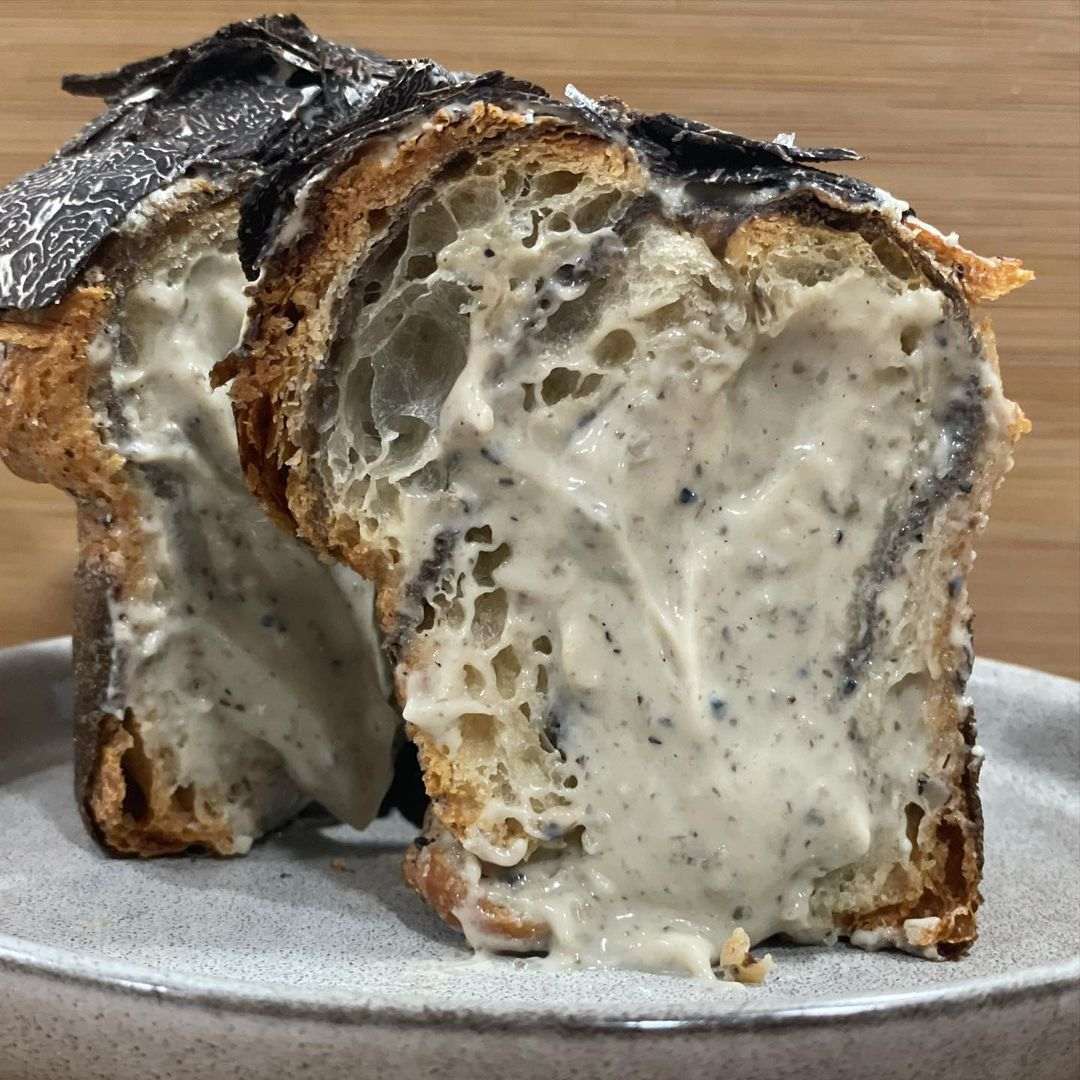 Image credit: @lematin.sg 
Pastry-obsessed folks will be pleased to know that they can get their hands on Le Matin Patisserie's famed pastries at the test kitchen in Raeburn Park, a short bus ride from Outram Park MRT Station. Helmed by Chef Matin, who has cut his teeth at critically acclaimed restaurants including Restaurant Andre and Noma, the patisserie rolls out bake boxes that are updated from time to time.
You can also expect seasonal drops in outrageous flavours such as the Black Truffle Cruffin (price unavailable), a show-stopping pastry stuffed with a truffle and parmesan custard, and topped with fresh shavings of Black Winter Truffles from Western Australia. Classic picks like Kouign Amann ($7) and Pistachio Escargot ($7) are also available in limited quantities for walk-in orders.
Address: Blk B, 10 Raeburn Park, #01-25, Singapore 088702
Opening hours: Wed-Sun 8am to 5pm
Website
Le Matin Patisserie: Famous Pastry Chef Opens Bakery In Outram Park With Kouign Amann, Almond Croissants And More
---
11. Whitfield Street Bakery
---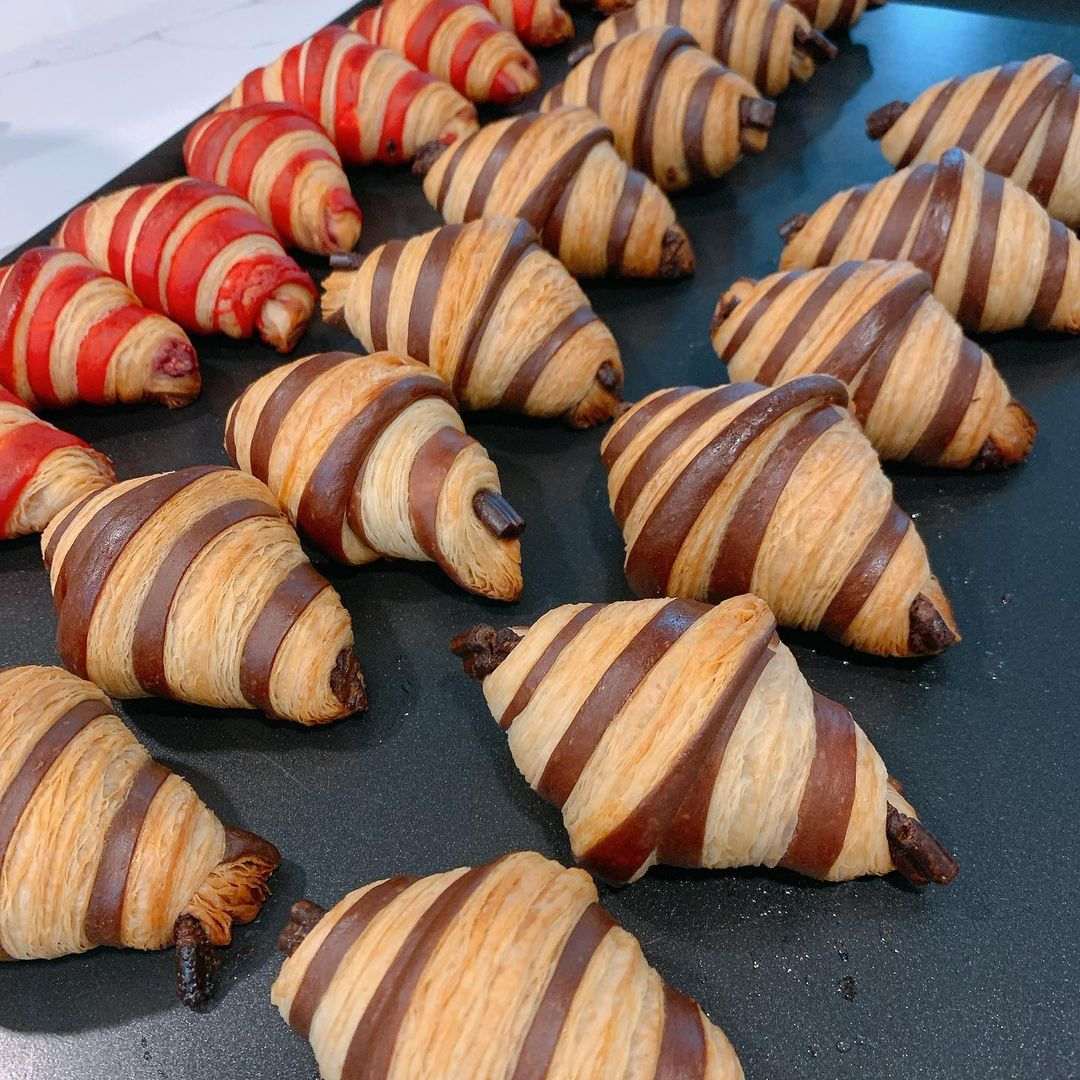 Image credit: @whitfieldstbakery
An under-the-radar micro-bakery to check out is Whitfield Street Bakery, a home-based business specialising in croissants, danish pastries and sourdough bread. The Croissant Box ($28) lets you sample every flavour, including the Coloured Raspberry Croissant ($4.80), and the Speculoos Croissant ($5.50). For something more bite-sized, try their Mini Danish Box ($15), where you'll get six mini danishes in flavours of Strawberry ($5), Blueberry ($5), and Kiwi ($5).
Pickup is at Greenwich V and islandwide delivery is at a flat rate of $8. Do note that slots tend to book up fast as the home bakery runs on small-scale production, so you might want to pre-order earlier in advance.
To place an order, visit their Instagram page.
---
12. Mr Holmes Bakehouse
---
Originating from San Francisco, Mr Holmes Bakehouse is now available in Singapore at Pacific Plaza. Dessert fans will enjoy the cruffin selection, such as the Peanut Butter Milkshake Cruffin ($5.80), which is filled with a generous amount of pastry cream. There's also the Lemon Meringue Pie Croissant ($7.50), if you prefer a mix of tart and sweet in your pastry.
Don't miss out on the doughnuts, too! A must-try is the Plum Yuzu Jam Donut ($6.50), a weekend-only treat oozing with plum jam and refreshing yuzu notes.
Check out our Mr Holmes Bakehouse review!
Address: 9 Scotts Road, #01-01/02/03, Pacific Plaza, Singapore 228210
Opening hours: Daily 8am to 6pm
Tel: 6334 0308
Website
Mr Holmes Bakehouse Review: Peanut Butter Milkshake Cruffin, Lemon Meringue Pie Croissant And More In Orchard
---
Best croissants, pastries, and more
---
From classic butter croissants to contemporary versions with unique fillings like truffle, there's an endless variety of pastries and croissants in Singapore to choose from.
For more bakeries in Singapore, read our Korfe review, where we try injeolmi, nutella, and matcha buns.  For old-school bakes, check out our Roti Review for generously filled buns in Chinatown.
Korfe: New Korean Bakery With Injeolmi Mochi Bread And Nutella Cookie Buns In Bishan