Petit Pain cafe for freshly baked goods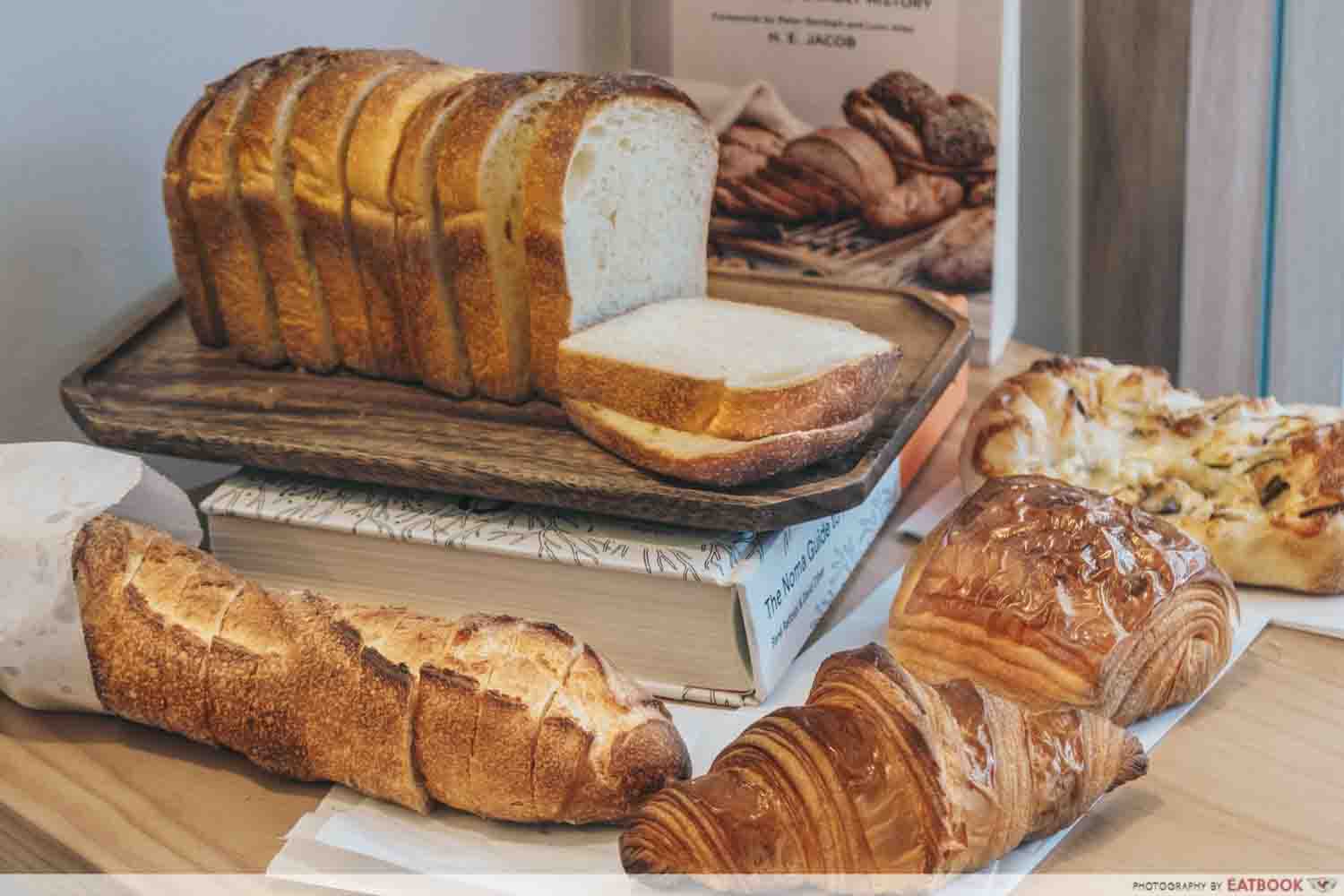 Guilty as charged. I'm a fan of IG-worthy cheese pulls and jiggly souffle pancakes. However, I also love simple pleasures such as a hearty bowl of soup or freshly baked bread. Petit Pain definitely got my attention when pictures of its unassuming croissants, as well as rumours of its perpetual snaking queues, started popping up on social media.
Food at Petit Pain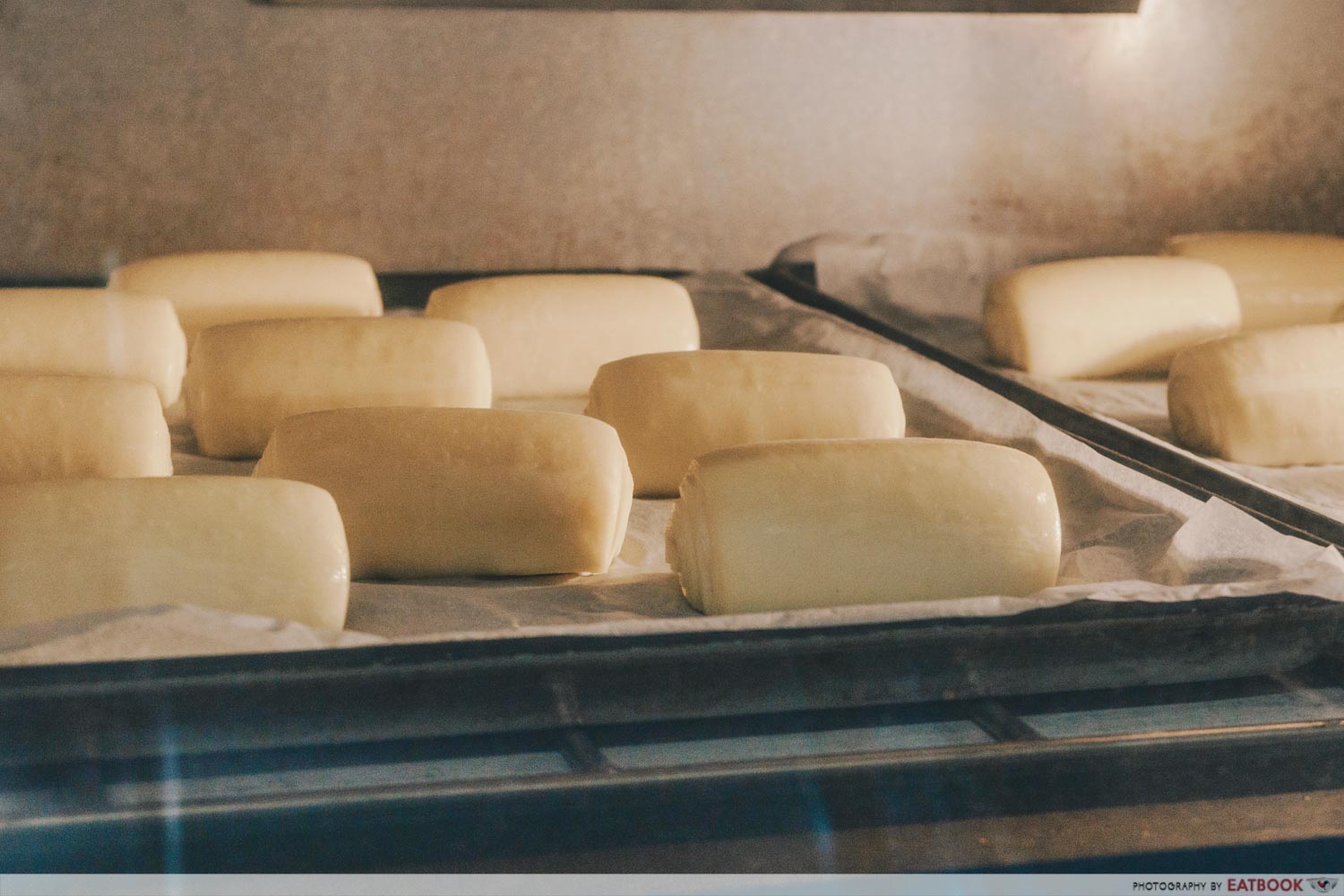 When we first arrived at Petit Pain, we were greeted with empty shelves and nothing for us to buy on the spot. There were only rolls of dough slowly getting baked in the ovens, without a care in the world—a stark contrast to customers getting jittery as they wait for a new batch to be ready.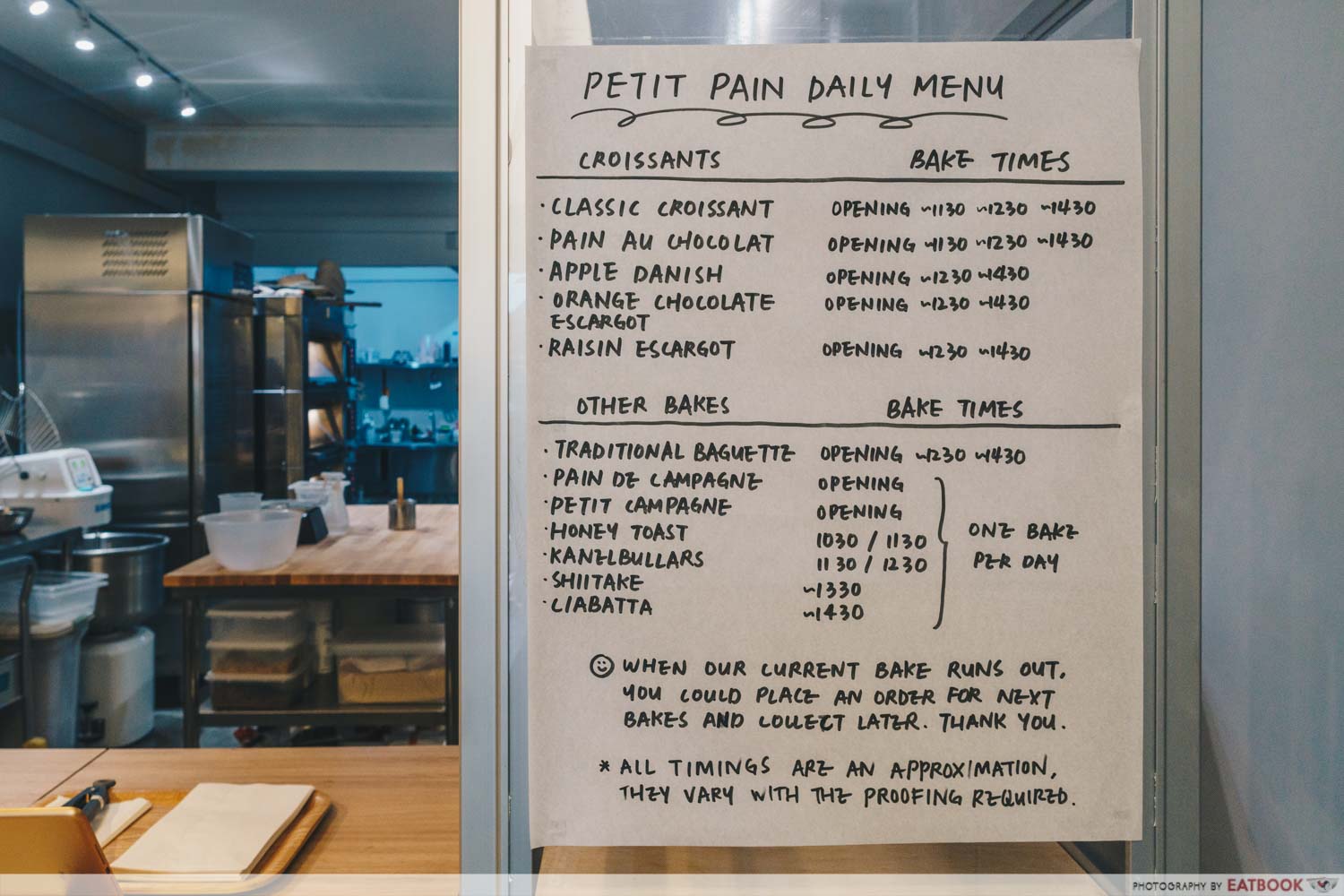 Thankfully, we anticipated this and made our purchases online via Facebook Messenger on their Facebook page, two days before. We have also taken a picture of their daily bake times for those who are looking to head down without pre-ordering, as a portion will be saved for walk-ins.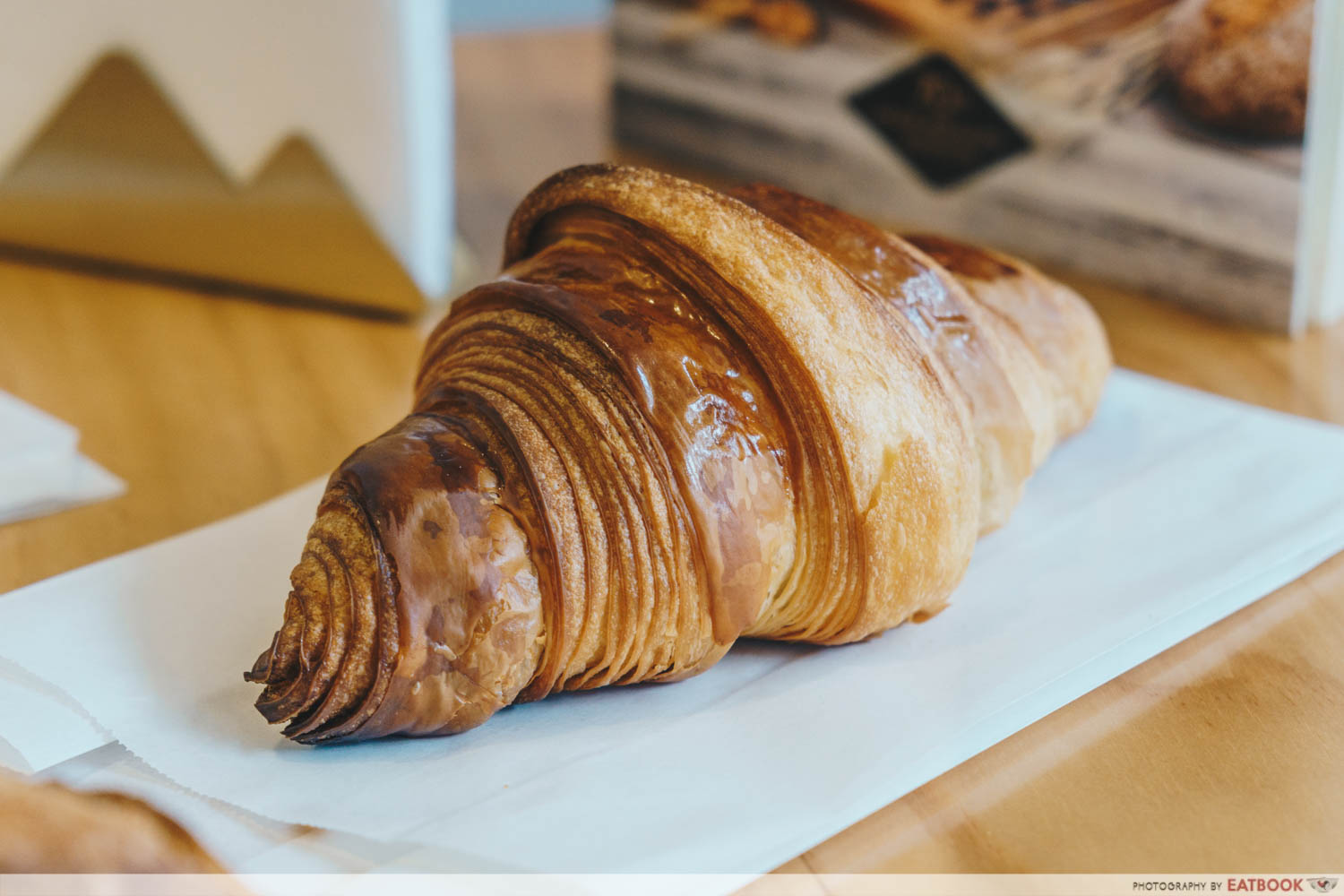 Based on reviews, the Classic Croissant ($3) seemed to be its best-seller and I can see why. The immaculate layers of pastry evident at the seams reveal precise lamination techniques of baker-owner Mark, who used to work at the Artisan Boulangerie Co.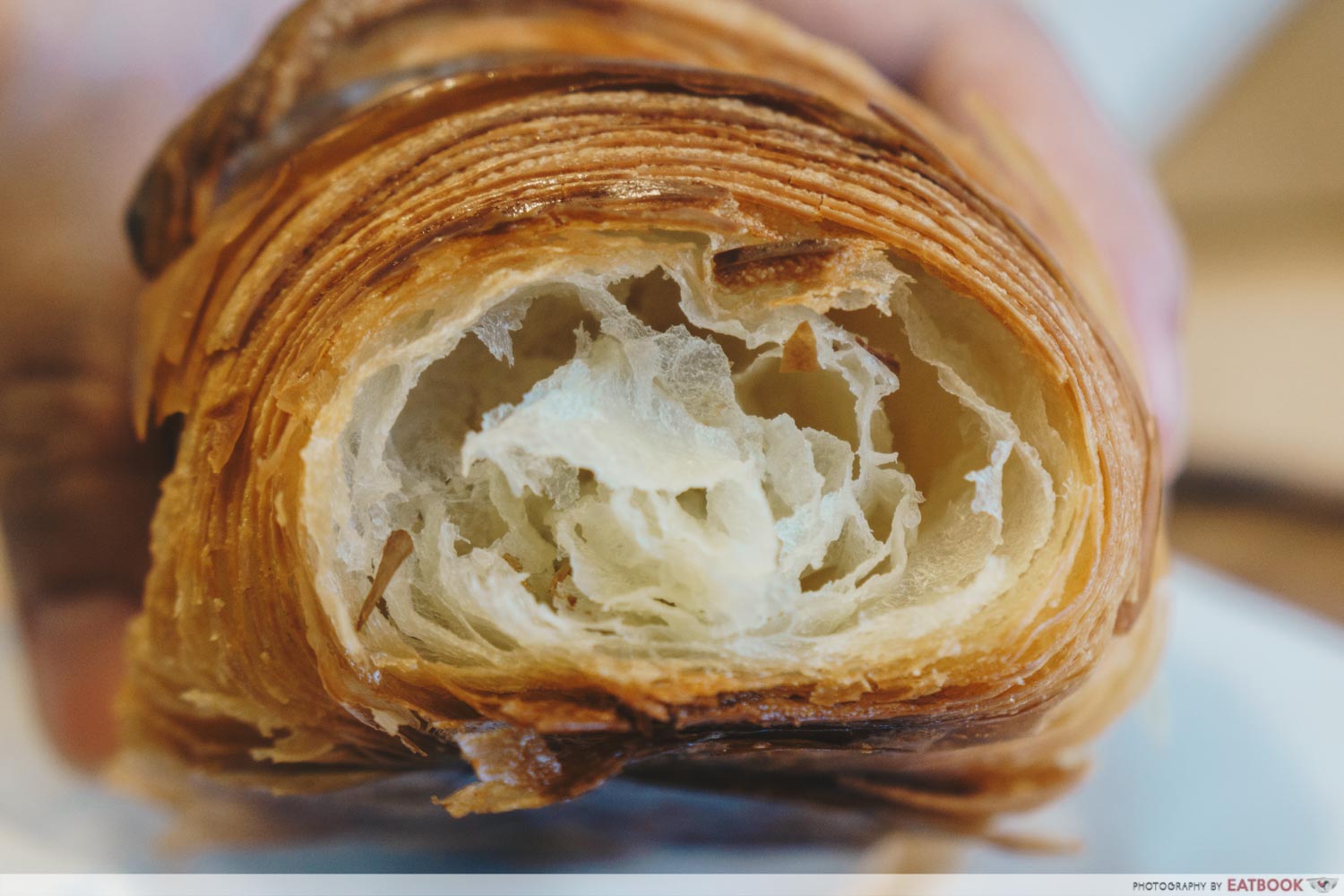 Taking a bite off the croissant, a shower of flaky puff pastry landed on my shirt. The croissant was deliciously crispy on the outside, yet brilliantly soft on the inside. Petit Pain definitely nailed its texture wonderfully, but I wished the layers were denser in the centre, with a stronger taste of butter.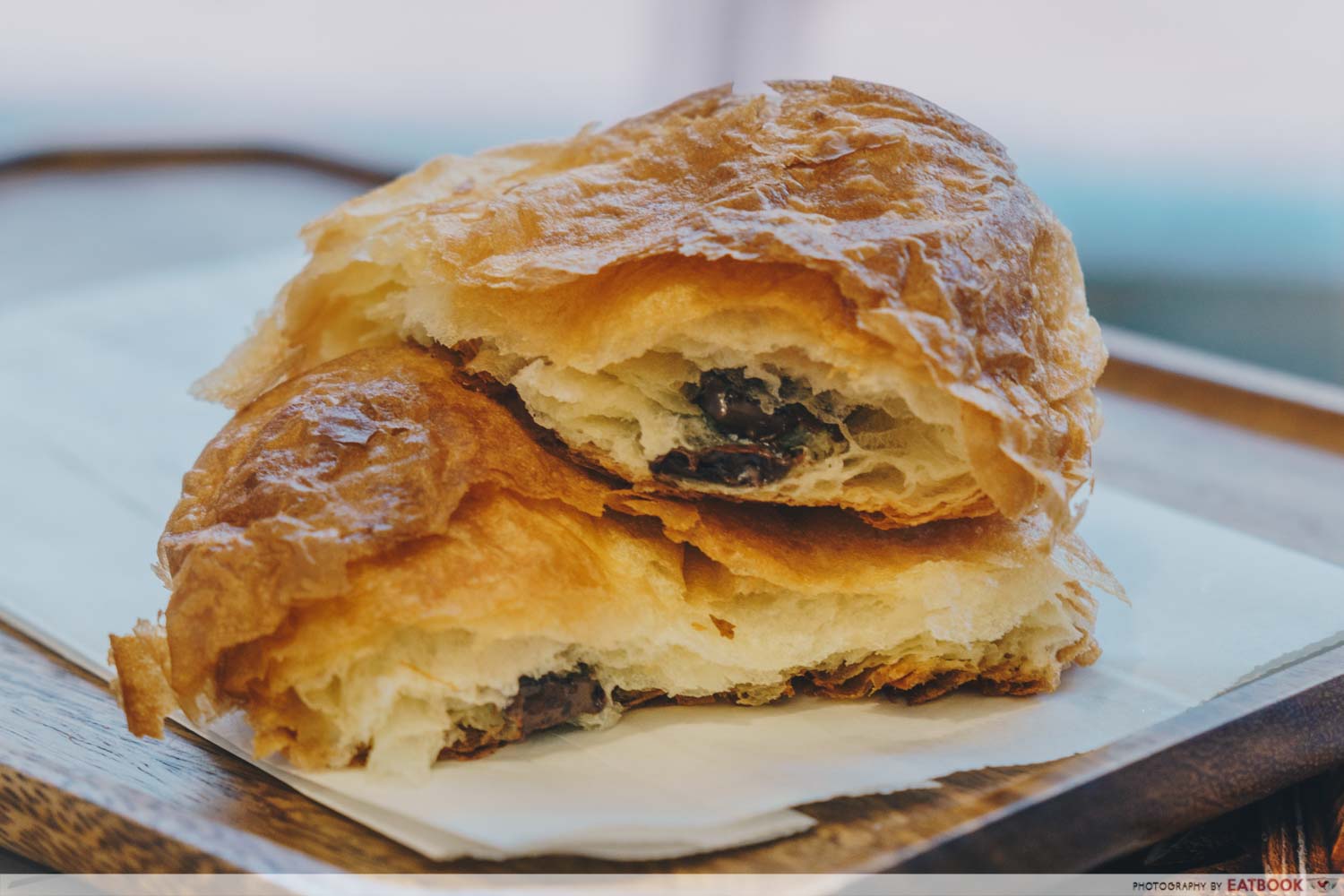 If you're searching for a croissant with more oomph, dole out $0.50 more to get their Pain Au Chocolat ($3.50) instead. This croissant hides two strips of dark chocolate in the centre, lending a bittersweet boost of flavour in each bite. 
They also serve sweeter options such as Apple Danish ($3.80), Orange Chocolate Escargot ($3.80), and Raisin Escargot ($3.60) which are great for those with a sweet tooth.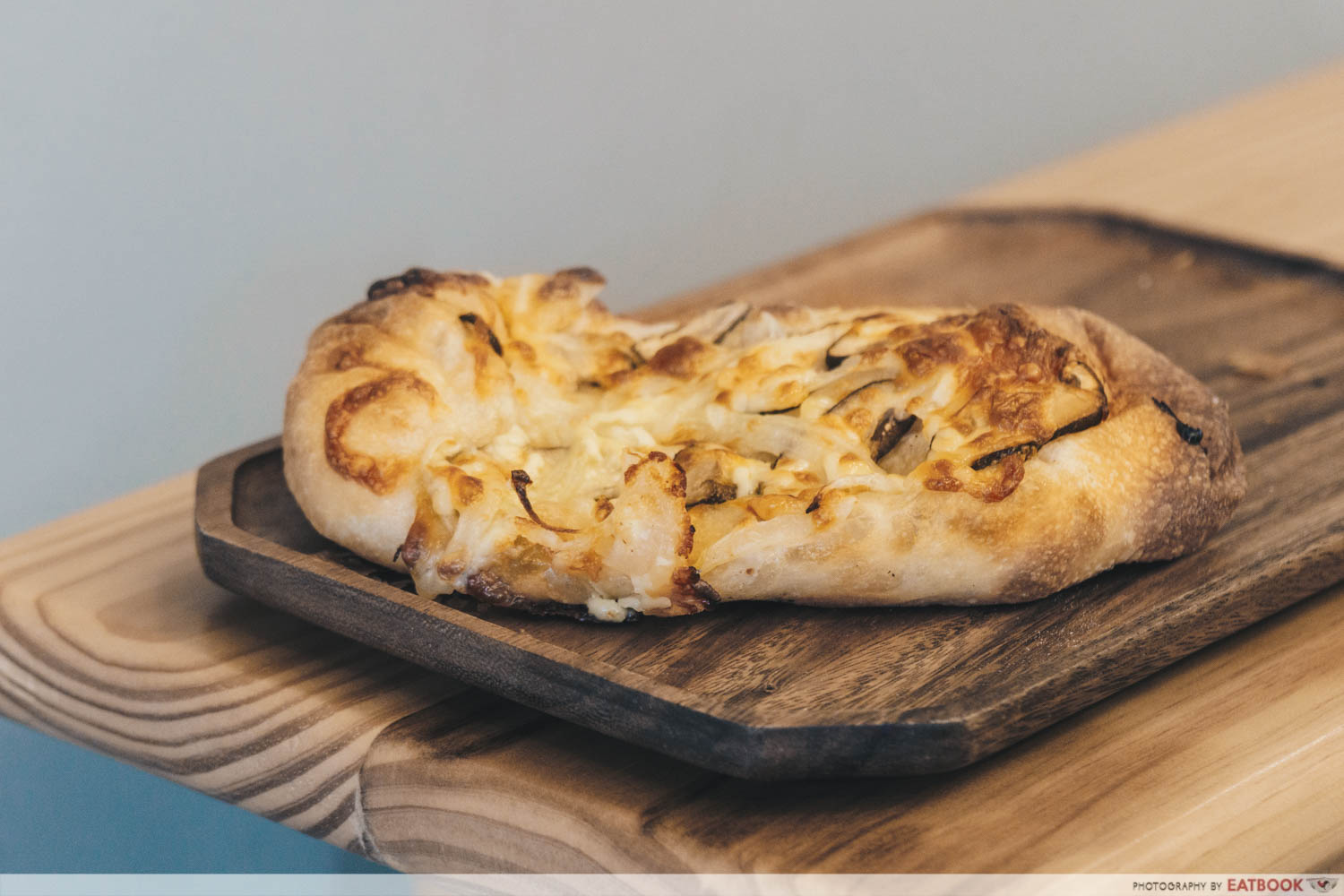 Other than plain bread or pastries, the only savoury item on the menu is their Shiitake Flatbread ($4.50). You can tell they are sticking to their ethos "small batch from scratch" really strictly, because this baby is one of the few bakes which are only available once a day, specifically at 1:30pm!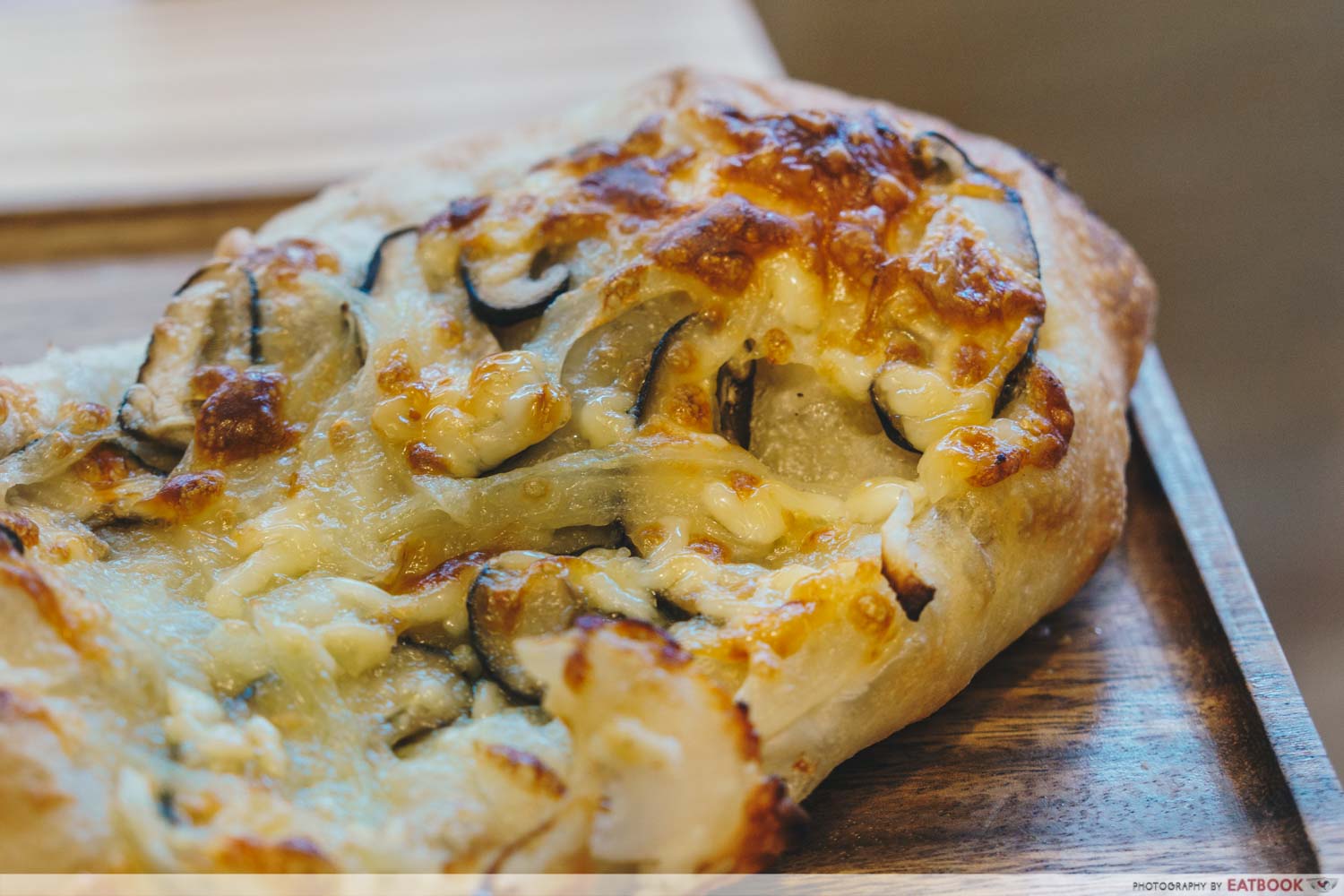 It will be worth it to work your schedule around its bake time as this bread was a favourite amongst some of my colleagues and I. The fluffy yet dense bread worked as an apt base for the aromatic medley of caramelised onion, sliced mushrooms, and shredded cheese topping. Get at least two of this Shiitake Flatbread lest you want to end up fighting over it like we did in the office.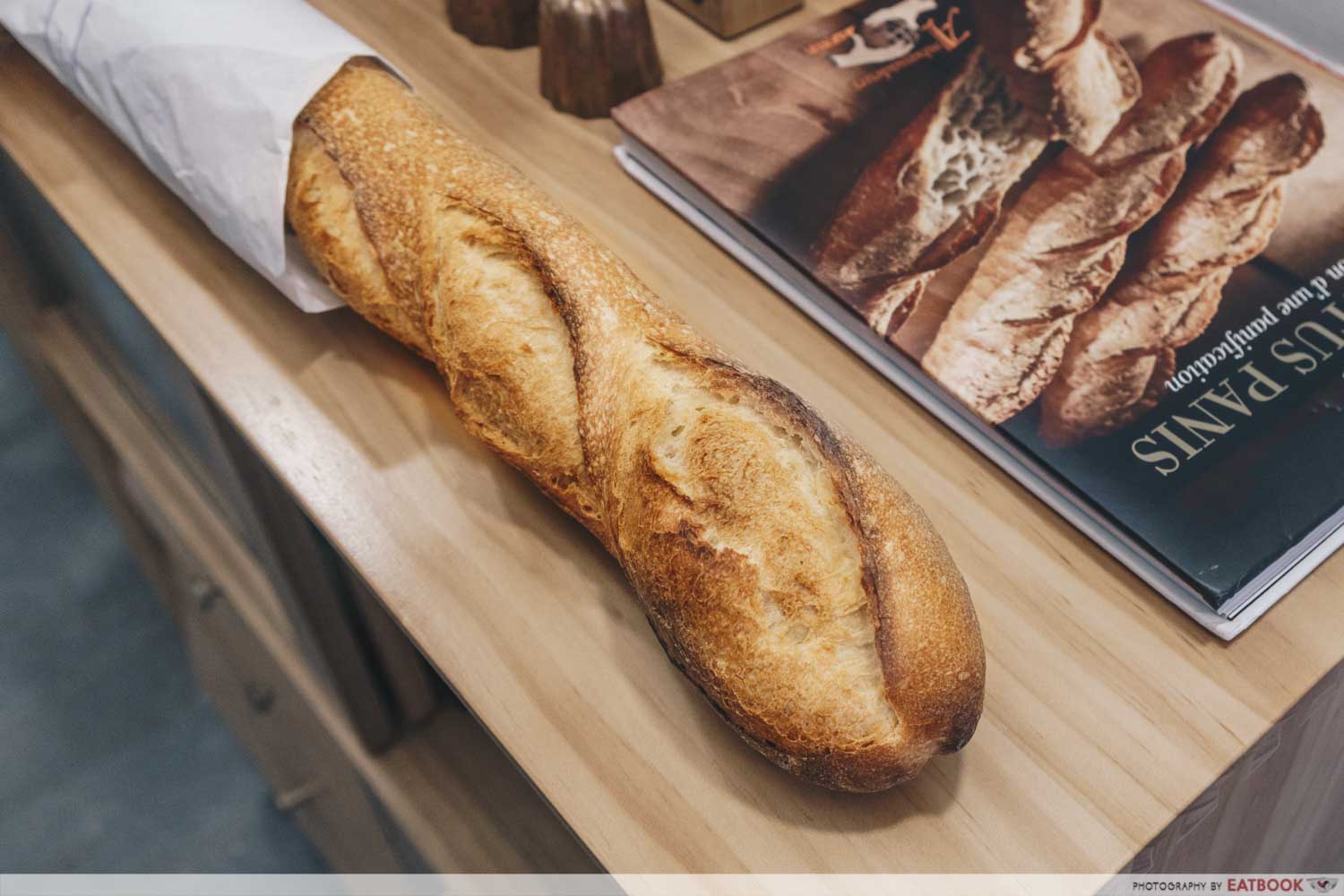 It is almost criminal if you leave a boulangerie without getting a Traditional Baguette ($3.60). The ones found here are well-baked. This means the baguette lends a hearty crunch, followed by a chewy and moist centre. It's toasty and yeasty fragrance also made this treat a delightful one.
Some might prefer their baguette slightly softer or not-too-cooked, but I love Petit Pain's just the way it is—a good, crusty one that is great for pinching directly off the loaf.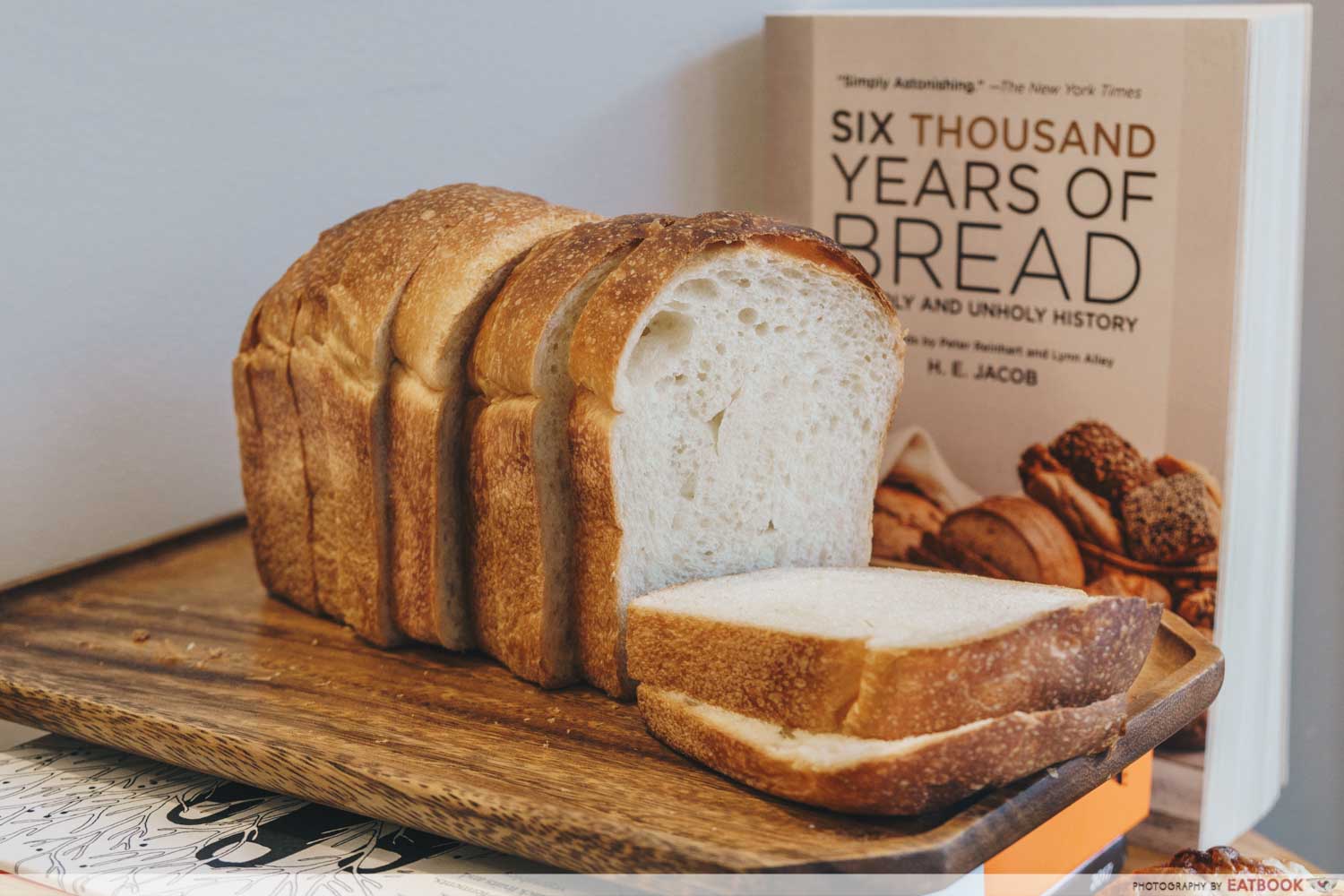 In the hopes of recreating desserts such as Shibuya toast and French toast back home, we also got a Honey Toast ($5.50/$8.50) to-go. This white bread was so much softer than the other bakes we tried. With pure honey used in the dough, each slice is slightly sweet.
Ambience at Petit Pain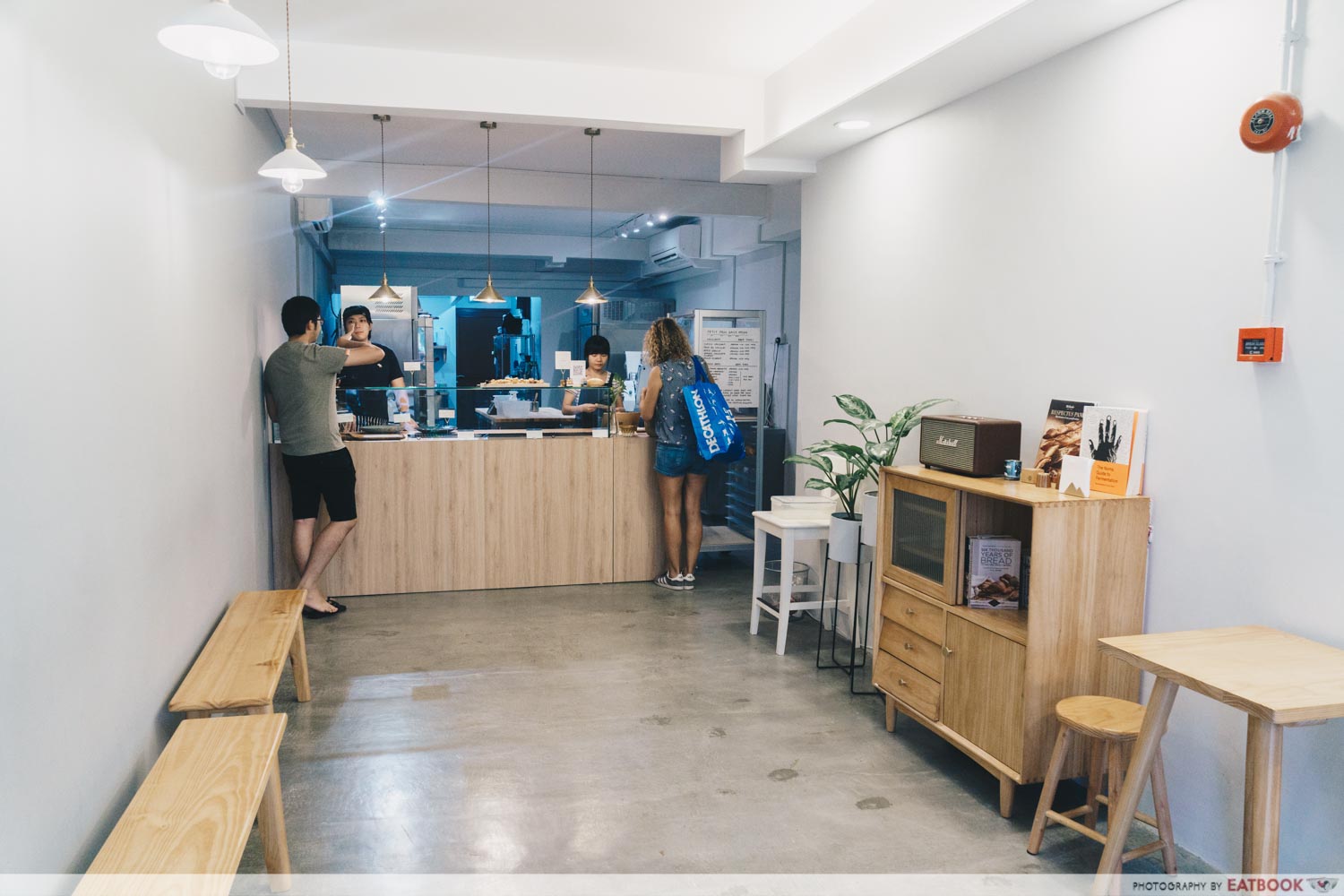 Petit Pain might very well be a takeaway kiosk, as there are only two small tables at one corner and two benches at the other corner. Either way, I suggest savouring your baked goodies slowly at the comfort of your own home, or if you're lucky, grab a comfy spot—with a book about bread from their mini library in the wooden cabinet—in the cafe. 
The verdict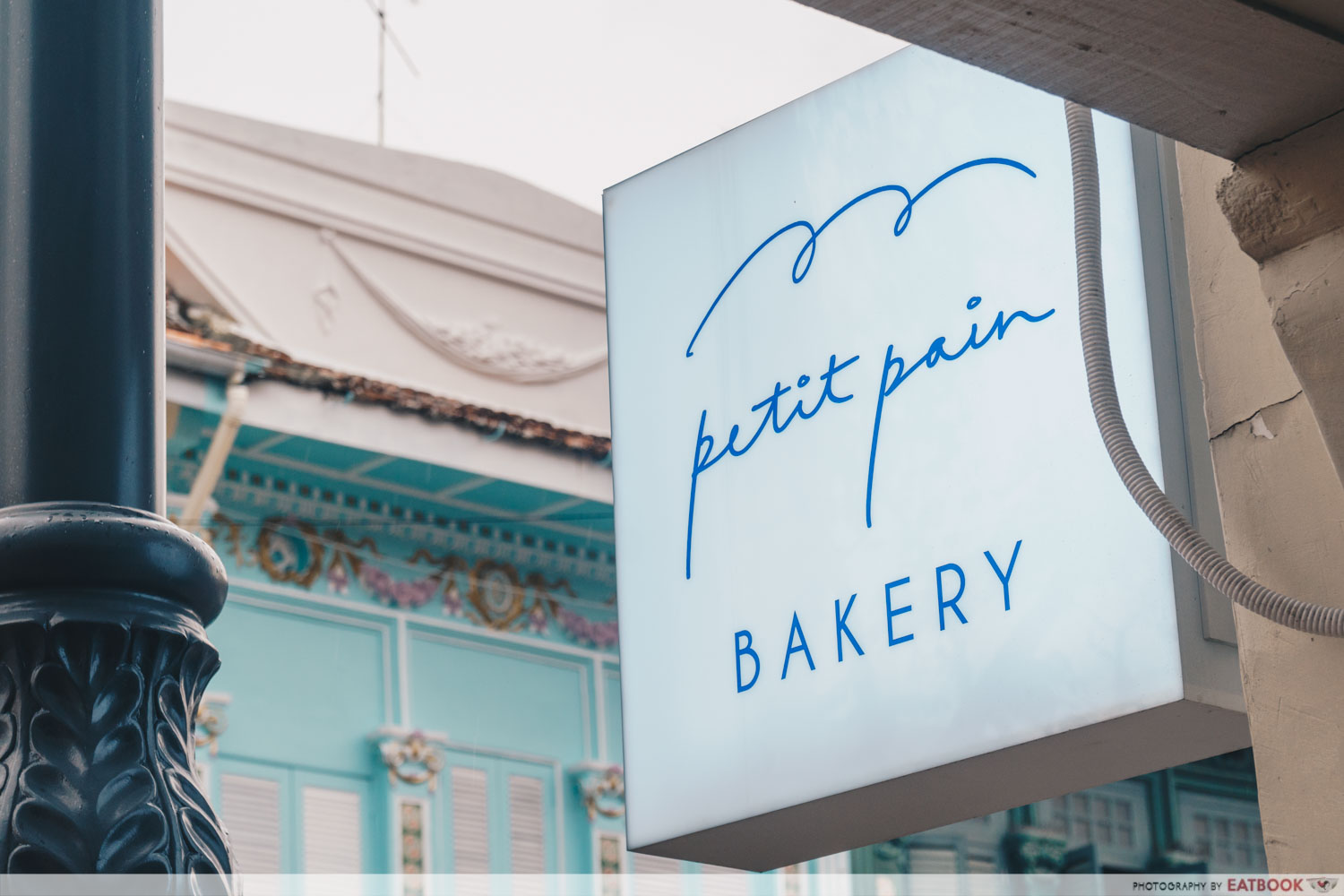 First impressions are the most lasting ones. Before I even made a step into the shop, the folks at Petit Pain already showed applaudable service when I pre-ordered online. Their dedication to the little shop can also be felt and seen through their consistent bakes which impressed me most in terms of texture, followed by taste. 
Located in the far East, a Westie like me will only head back down again if I was around the area. Lucky you if you're a resident of the Joo Chiat estate!
If you love all things bread, check out this list of artisanal bakeries to get your hands on cruffins, zhnged-up croissants and more!
Address: 315 Joo Chiat Road, Singapore 427566
Opening hours: Tue-Thurs 11am to 5pm, Fri 11am to 7pm, Sat-Sun 10am to 5pm. Closed every first Tuesday of the month
Website
Photos taken by Huang Xiao.
This is an independent review by Eatbook.sg.
Summary
Pros
– Good quality of ingredients used
– Freshly baked daily
Cons
– Sells out almost immediately
– Far from MRT stations
Recommended dishes: Pain Au Chocolat ($3.50), Traditional Baguette ($3.60)
Opening hours: Tue-Thurs 11am to 5pm, Fri 11am to 7pm, Sat-Sun 10am to 5pm. Closed every first Tuesday of the month
Address: 315 Joo Chiat Road, Singapore 427566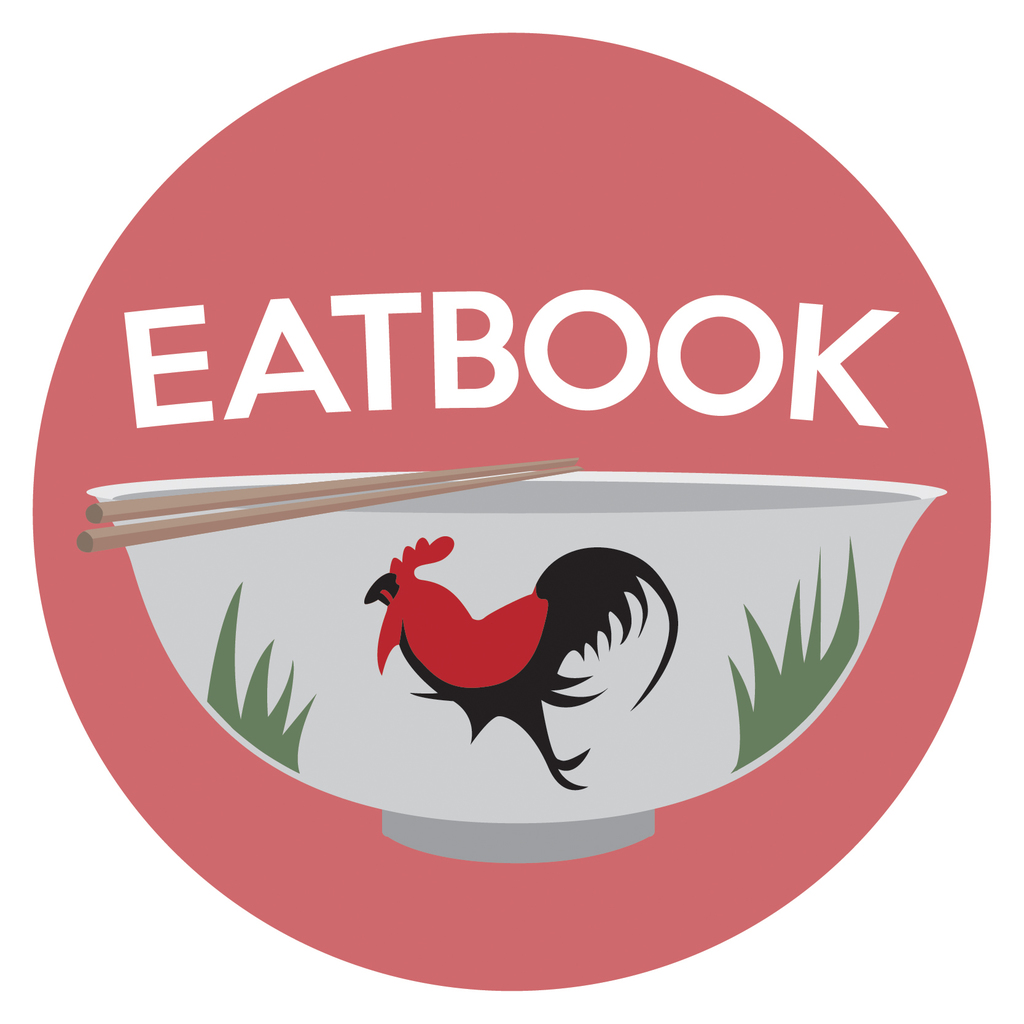 Drop us your email so you won't miss the latest news.