---
Souffle pancakes are the ultimate Instagrammable food 
---
Our pancakes scene has come a long way, from the days when we would rise early to catch McDonald's hotcakes. Though the good ol' hotcakes are still satisfying at times, I'm more than glad for the many pancake joints that have opened in Singapore over the years. Whether it is for breakfast, tea, or post-diner dessert, these 10 jiggly, buttery souffle pancakes will satisfy.
No one can resist a good, fluffy stack! These souffle pancakes come in many different toppings including matcha and mango passion fruit. If you're on a budget, there's one which only costs $2 per piece!Find out more: https://eatbook.sg/souffle-pancakes/[UPDATE] ARTEA no longer serves pancakes.

Posted by Eatbook.sg on Thursday, March 12, 2020
---
1. Gram Cafe & Pancakes
---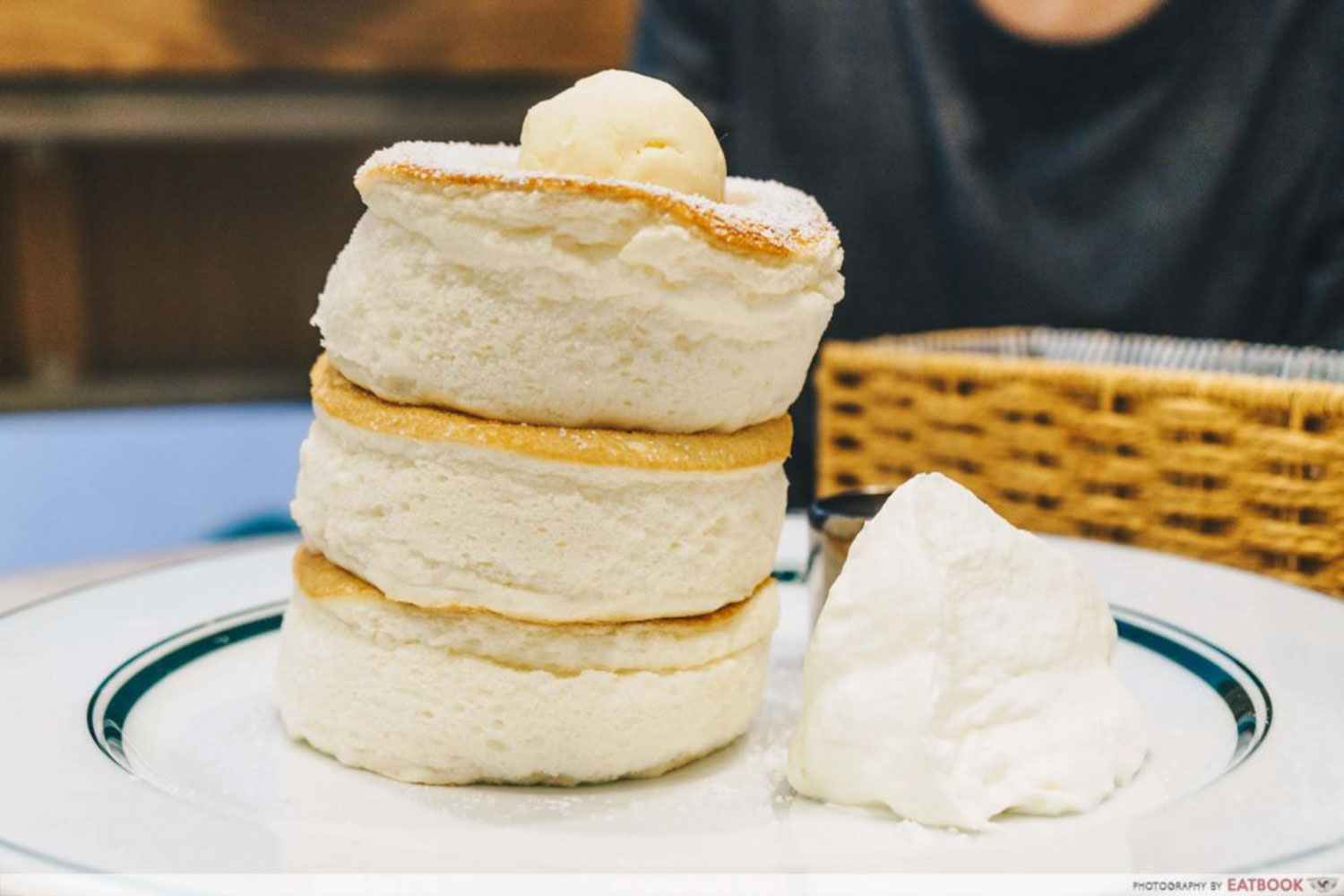 Any foodie who has been to Japan would have been tempted to queue for the famous pancakes from Gram Cafe & Pancakes. Thankfully, the stack of jiggly, marshmallowy goodness has finally arrived to our shores at VivoCity. Available only at 11am, 3pm, and 6pm every day, with 30 servings each time, their signature Premium Pancakes ($17.90++) is a must-get and comes in a stack of three thick pancakes, with a dollop of whipped cream! 
Check out our full review of Gram Cafe & Pancakes!
Address: 1 Harbourfront Walk, #02-110, VivoCity, Singapore 098585
Opening hours: Daily 11am to 10pm, last order at 9pm
Website
---
2. Sweet Rex
---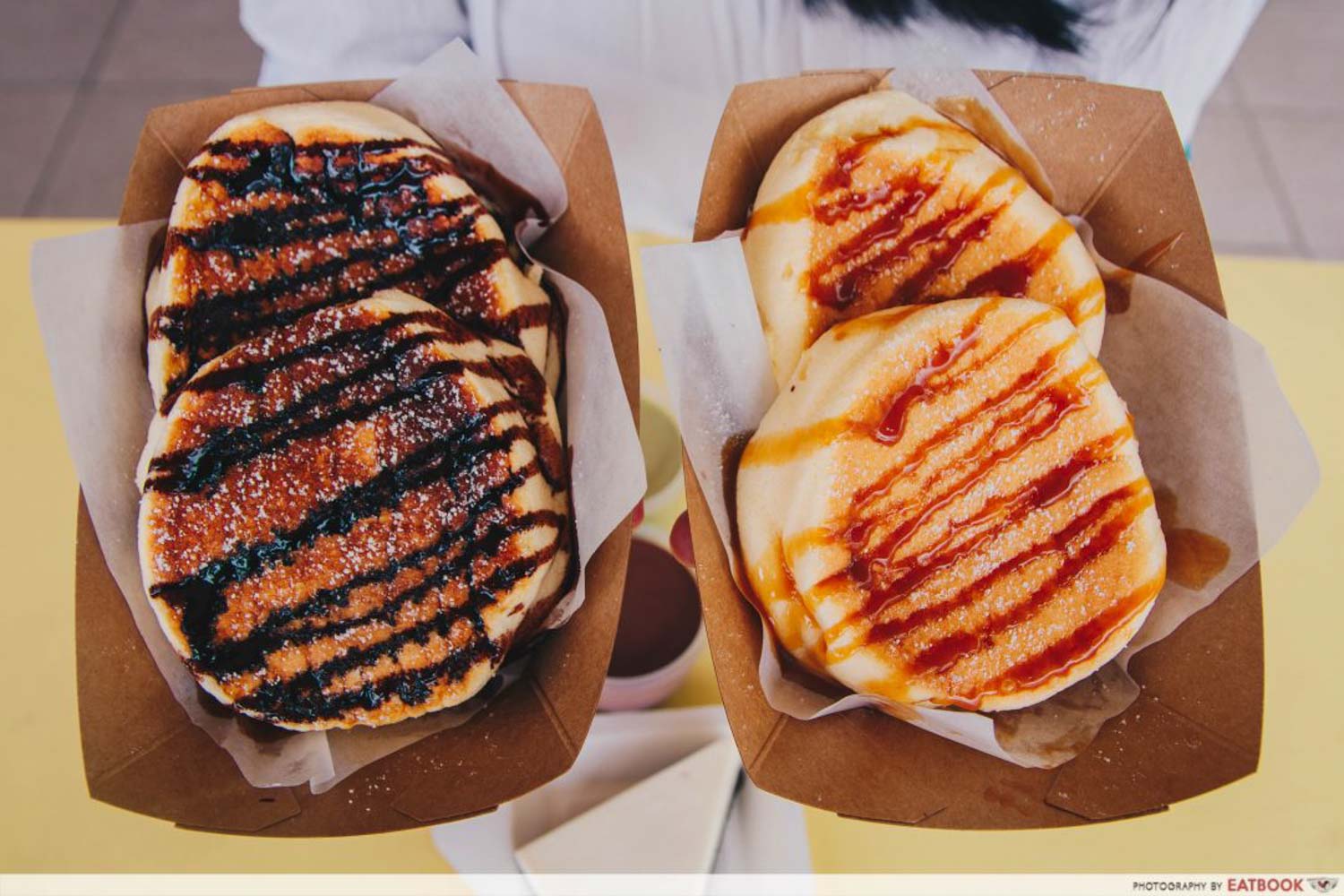 From their location to price and taste, everything about Sweet Rex would have you looking forward to your next visit. Occupying a stall at Mei Ling Food Centre, this hawker dessert stall is most famous for their fluffy Souffle Pancakes ($4 for two pieces) that come generously drizzled with either chocolate, caramel, or strawberry sauces. So many cafes tend to serve fancy desserts with rather exorbitant prices, so this is one of the rare places that dole out cheap treats that do not compromise on the taste. 
Find out more about our experience at Sweet Rex!
Address: 120 Bukit Merah Lane 1, #01-79, Singapore 150120
Opening hours: Mon-Wed 10:30am to 3pm, Sat-Sun 10:30am to 3pm, 5pm to 8pm
Tel: 8163 7630
Website
---
3. Cafe De Nicole's Flower
---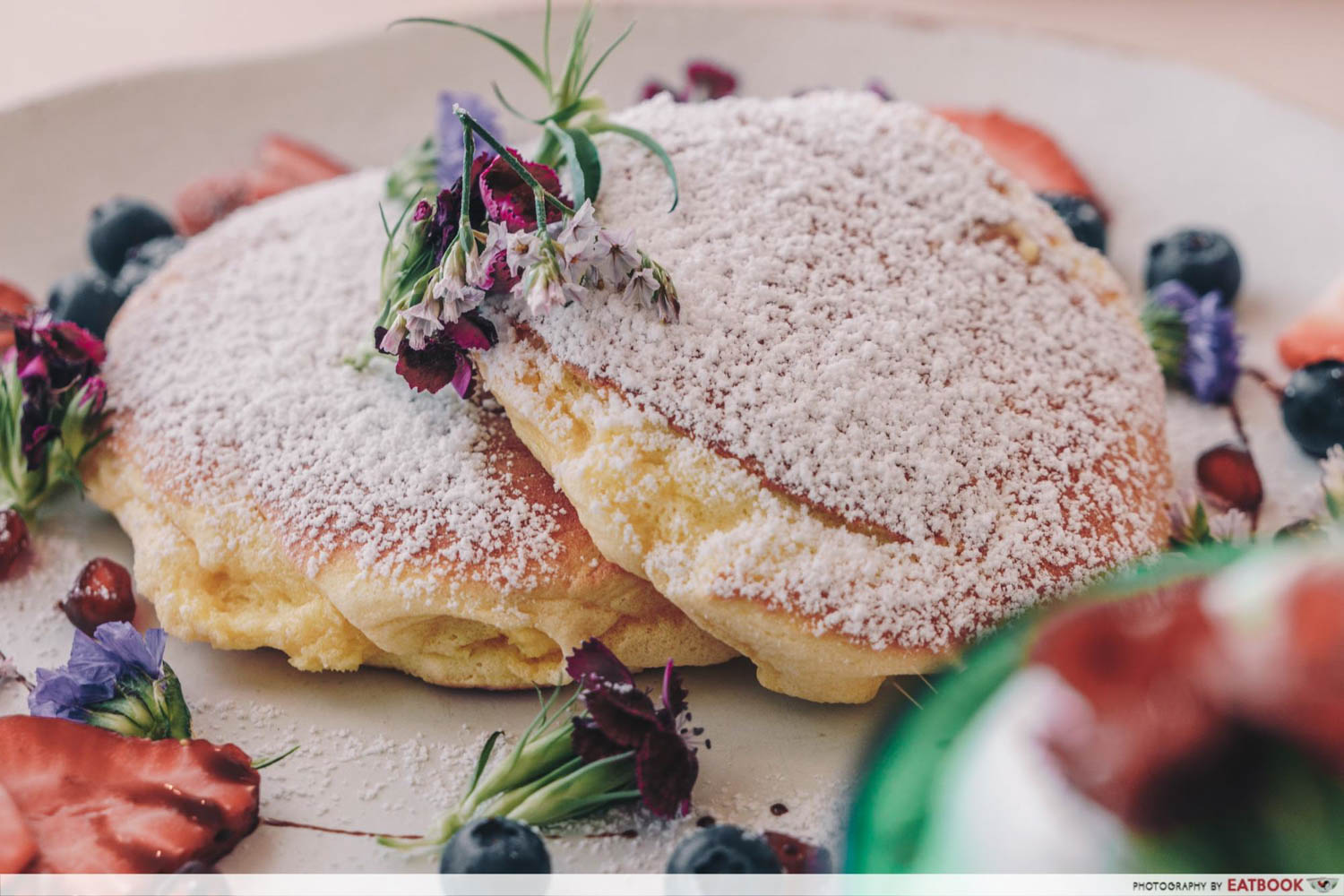 One of the most IG-worthy Souffle Pancakes ($19.90+) on the list is from Cafe De Nicole's Flower. Opened in May 2019, the cafe is best known for their souffle pancakes which come decorated with brushes of chocolate sauce, pomegranate seeds, blueberries, strawberries, and a scatter of dried flowers. The dish also comes accompanied by a scoop of coconut ice-cream made with actual coconut juice and shreds of coconut meat. An additional bonus you can look forward to when visiting the cafe is "Lao Ban", their adorable house cat that roams about freely!
Check out our full review of Cafe De Nicole's Flower 
Address: 224 Telok Kurau Road, #01-01, Singapore 423836
Opening hours: Tue-Sun 8:30am to 8:30pm
Website 
---
4. Belle-ville Pancake Cafe
---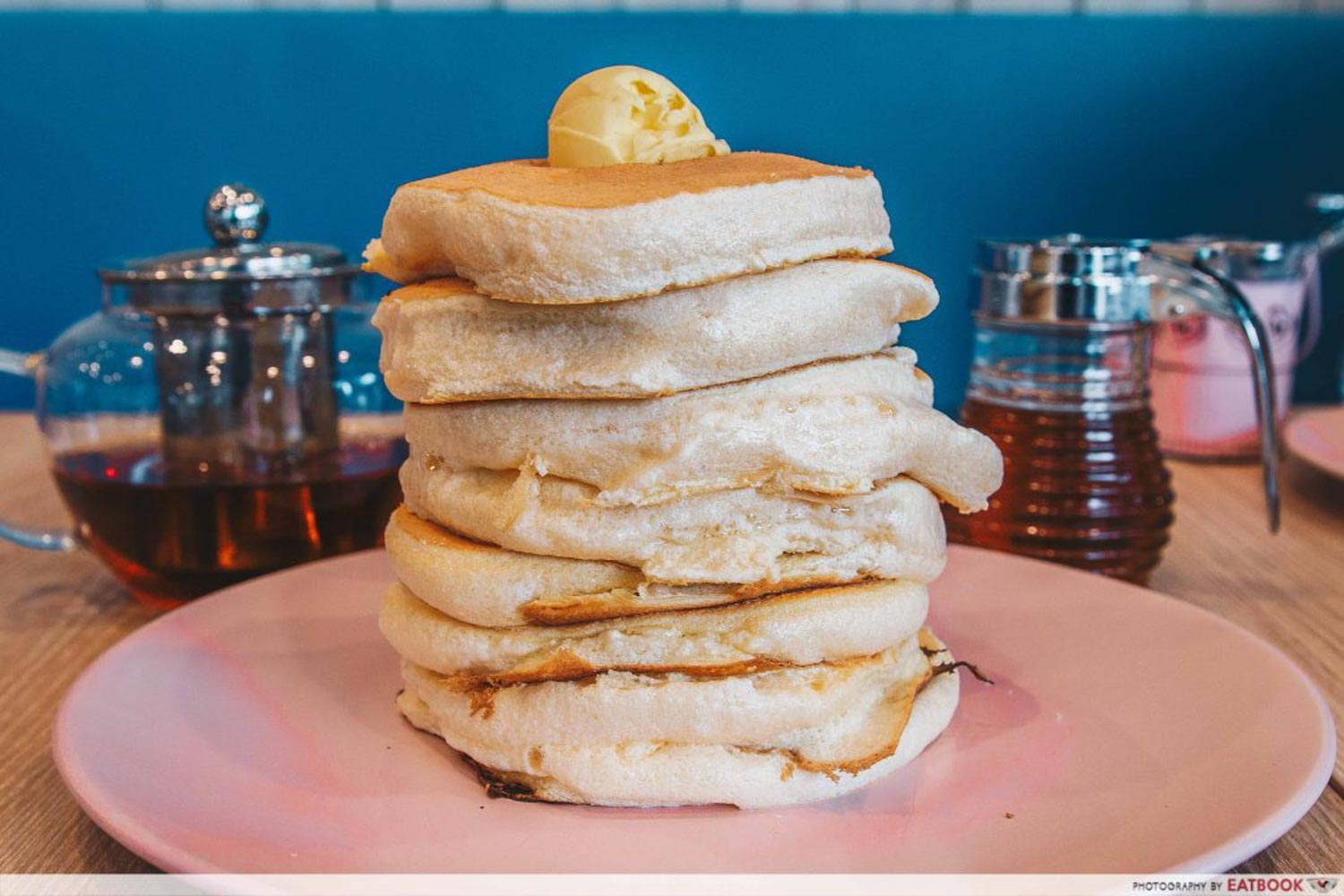 Another cafe that came all the way from Japan, Belle-ville Pancake Cafe is the place to hit up for jiggly pancakes when you are in Bugis. This little eatery only serves sweet pancakes and their signature dish is the Millefeuille Pancakes ($7.90++ for four, $11.90++ for eight pieces). Compared to fluffier ones found elsewhere, the pancakes at Belle-Ville are more buttery and eggy, with a runnier texture. Though a stack of eight pieces sounds and looks massive, you'd find it difficult to stop digging at it. We wiped the entire dish clean between two persons! 
Find out more about other dishes from Belle-ville Pancake Cafe!
Address: 230 Victoria Street, #01-01B, Bugis Junction Towers, Singapore 188024
Opening hours: Daily 8am to 8:30pm
Tel: 6255 5456
Website 
---
5. Riz Labo Kitchen
---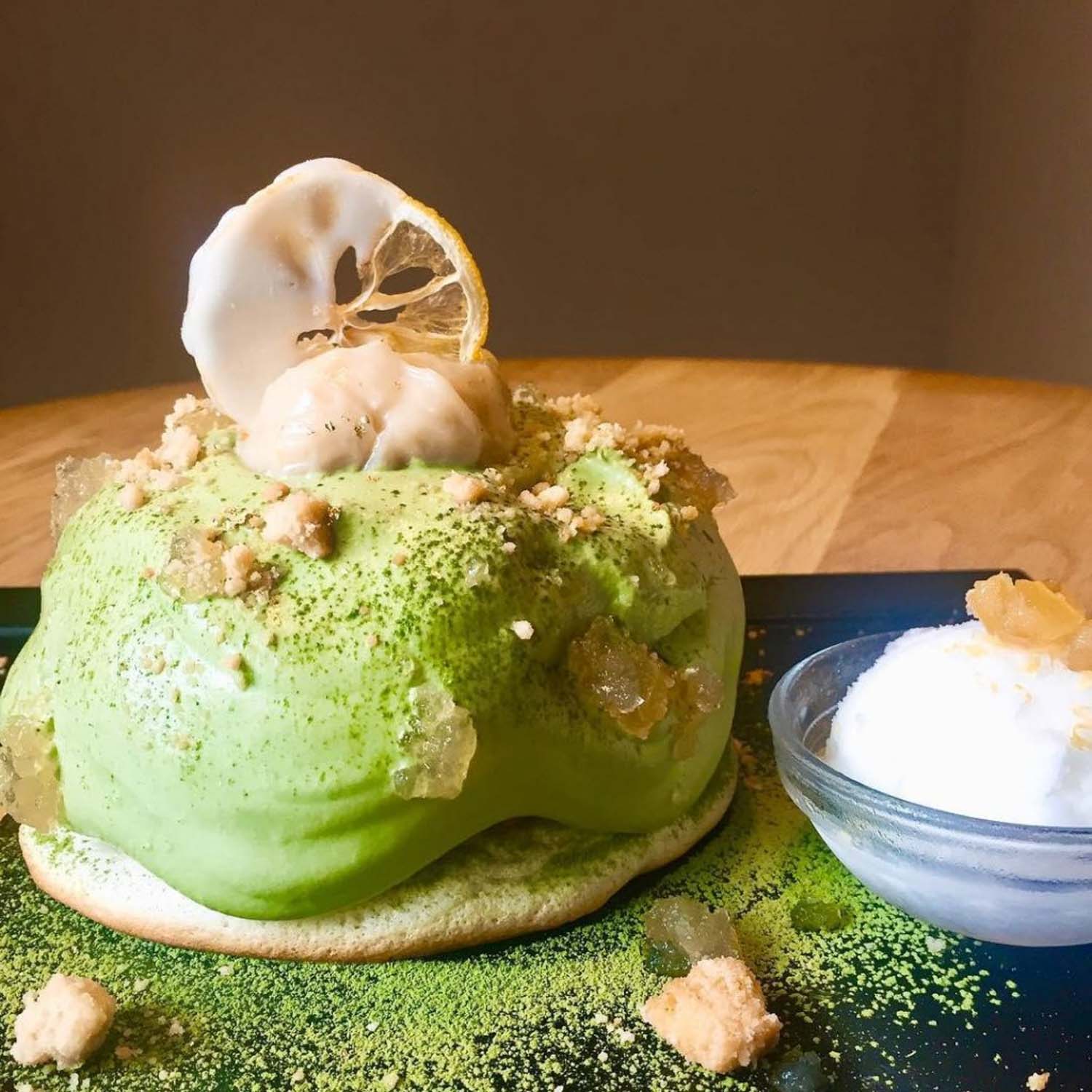 Image credit: @rizlabo 
Found on the fourth floor of Wisma Atria, Riz Labo Kitchen serves fluffy pancakes that are made with pesticide-free rice flour from Japan and come in flavours such as matcha and chocolate. Their Plain pancakes is priced at $15++ and comes with three thick pancakes, whipped cream, maple syrup, and dusted with icing sugar. They also offer seasonal flavours such as Choco & Banana Pancake and Strawberry Pancake!
Address: 435 Orchard Road, #04-49, Japan Food Town, Wisma Atria, Singapore 238877
Opening hours: Daily 11am to 5pm
---
6. Typhoon Taiwanese Cafe
---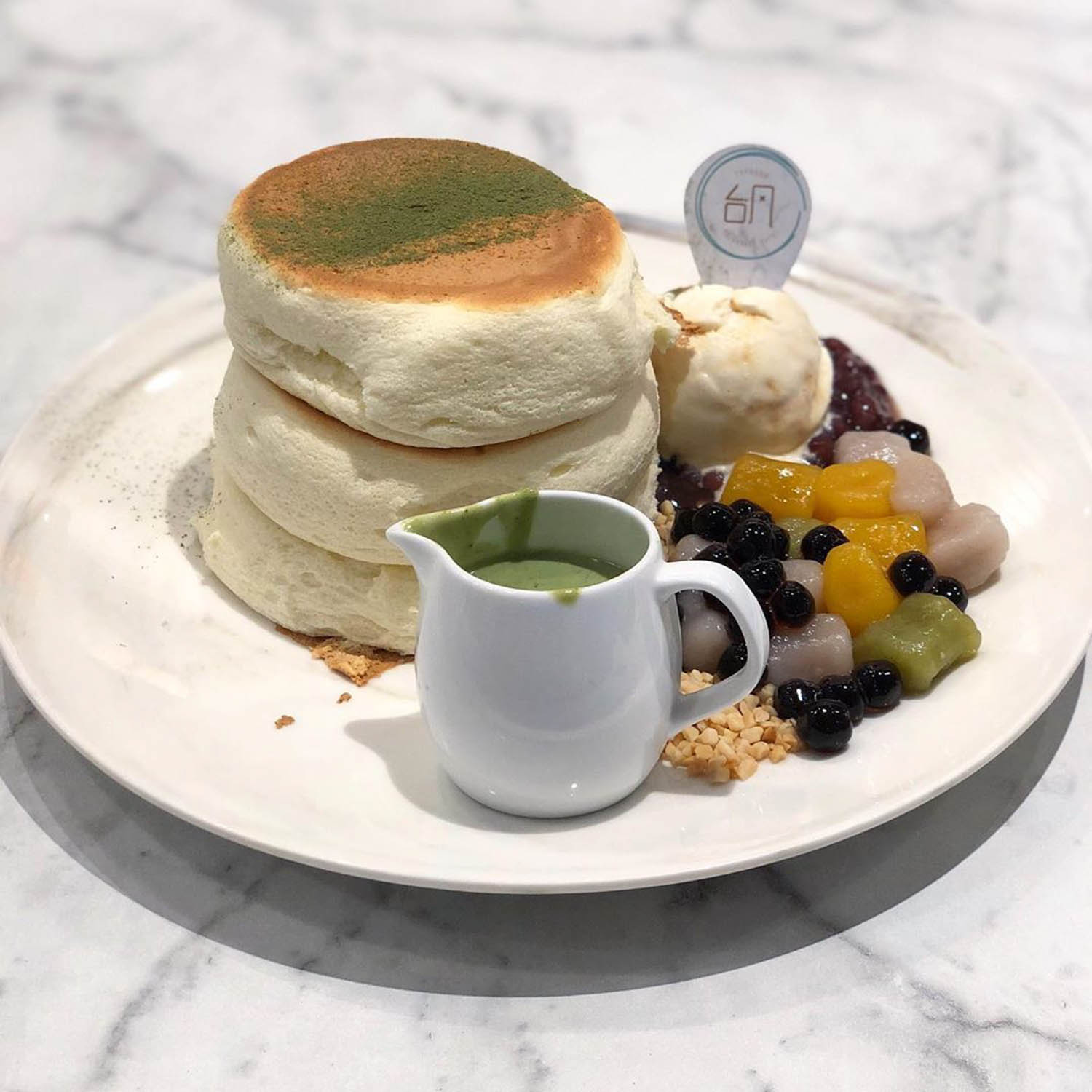 Image credit: @occasionally_hungry
Typhoon Taiwanese Cafe combines our love for bubble tea and souffle pancakes in their Souffle Stackers with Taiwan Milk Tea and Bubble ($17.90++). While the cafe specialises in Taiwanese savoury food such as Taiwan Lu Rou Fan ($14.90++) and Golden Chicken Fritter Mee Sua ($15.90++), they also have an extensive dessert menu featuring a variety of pancakes. Besides the much-loved milk tea pancakes, other interesting flavours they have include the Souffle Stackers with Durian-Cheese Gula Melaka Sauce ($19.90++) and Souffle Stackers with taro, Bubble, Red Bean and Green Tea Sauce ($17.90++)!
Address: 68 Orchard Road, $04-63/67, Plaza Singapura, Singapore 238839
Opening hours: Mon-Sun 11:30am to 9:30pm
Tel: 6884 5423
Website
---
7. Hoshino Coffee
---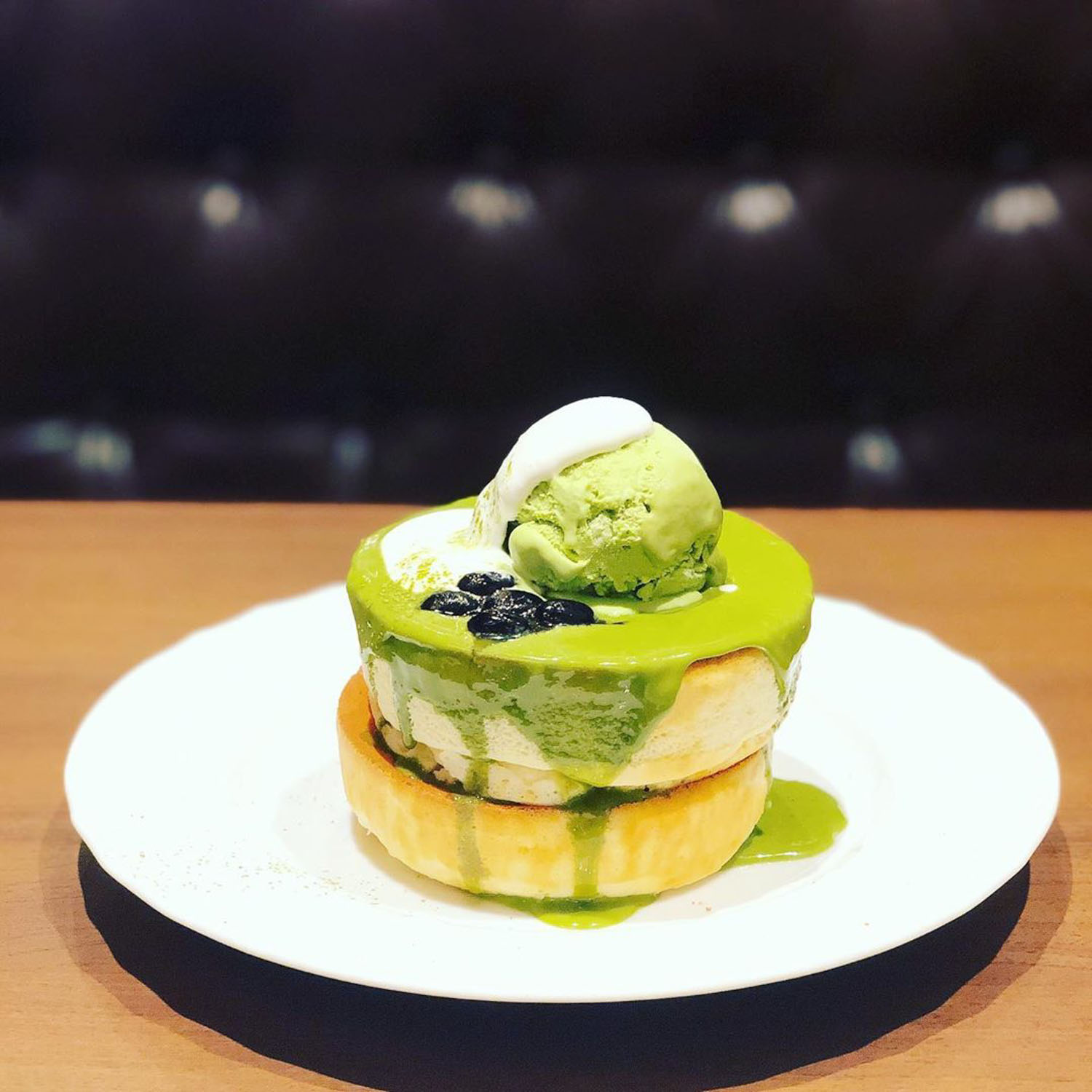 Image credit: @kynaaalee
Hoshino Coffee is a familiar coffeehouse, with outlets scattered around Singapore. For $9.80++, their single-piece Pancake is freshly baked on demand, and served hot and jiggling with either maple or honey syrup. For something more filing, go for their Double Pancake which costs $12++. They also have flavoured souffle pancakes, such as the Matcha Pancake ($13.50++ for single, $16.80++ for double) that comes drenched in matched sauce and topped with a scoop of matcha ice-cream!
Address: 68 Orchard Road, #03-84, Plaza Singapura, Singapore 238839
Opening hours: Mon-Thur 11:30am to 10pm, Fri 11:30am-10:30pm, Sat 10:30pm-10:30pm, Sun 10:30am to 10pm
Tel: 6338 3277
Website | Full list of outlets 
---
8. Antoinette
---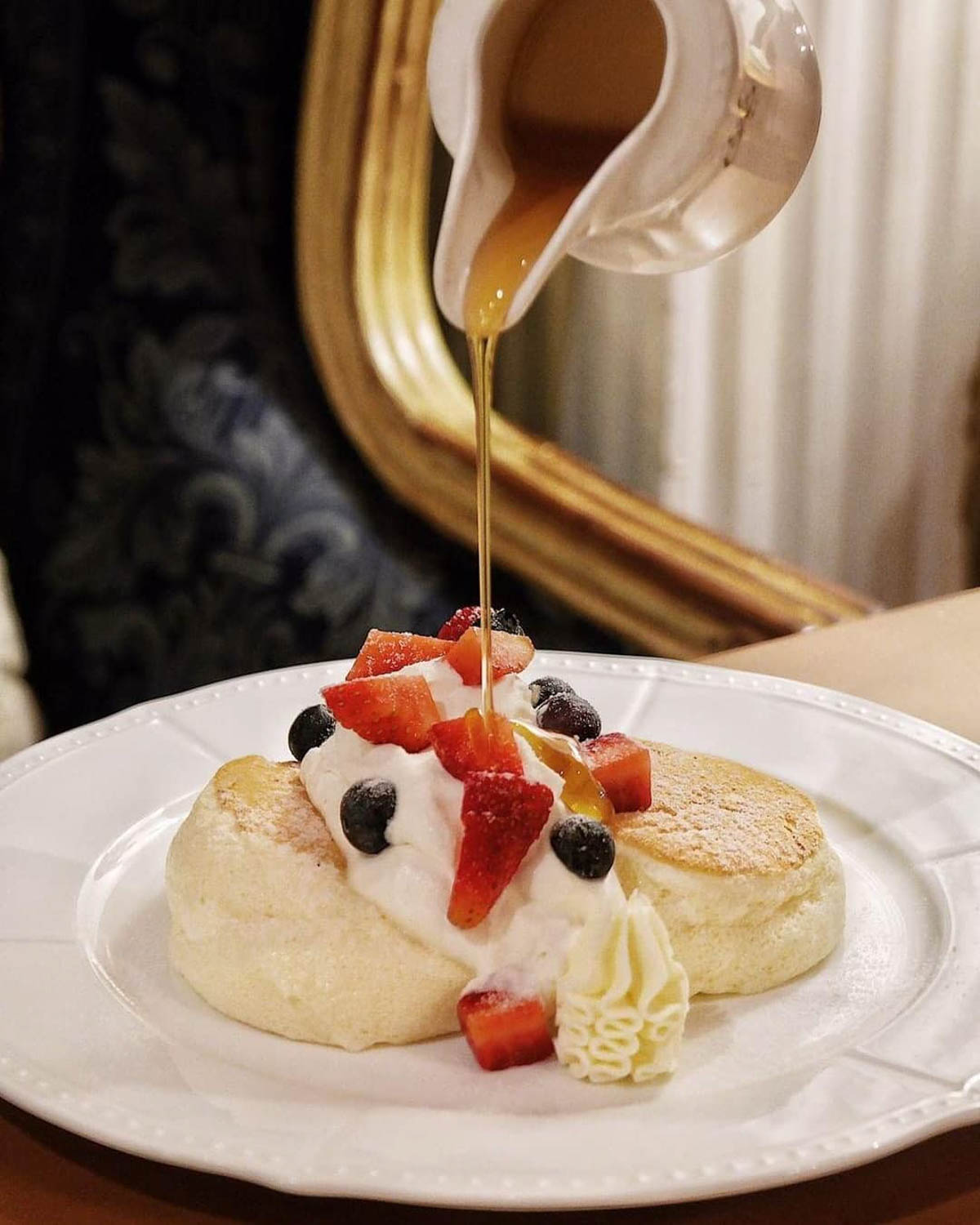 Image credit: @antoinette_sg
A new item on Antoinette's menu is the cloud-like souffle pancakes. The classic choice is their Tres Berries ($16++), which comes with souffle pancakes topped with strawberries, blueberries, and vanilla creme chantilly. The highlight, however, would be the Ondeh Ondeh ($16++). The pancakes here are covered with pandan-flavoured custard, gula Melaka syrup, and sprinkles of coconut flakes. For something savoury, they also offer the Forestiere ($16++), which is served with mushroom sauce, omelette, and garden salad on the side!
Address: 30 Penhas Road, Singapore, 208188
Opening hours: Mon-Sun 12pm to 10pm
Tel: 6293 3121
---
9. The Coffee Academics
---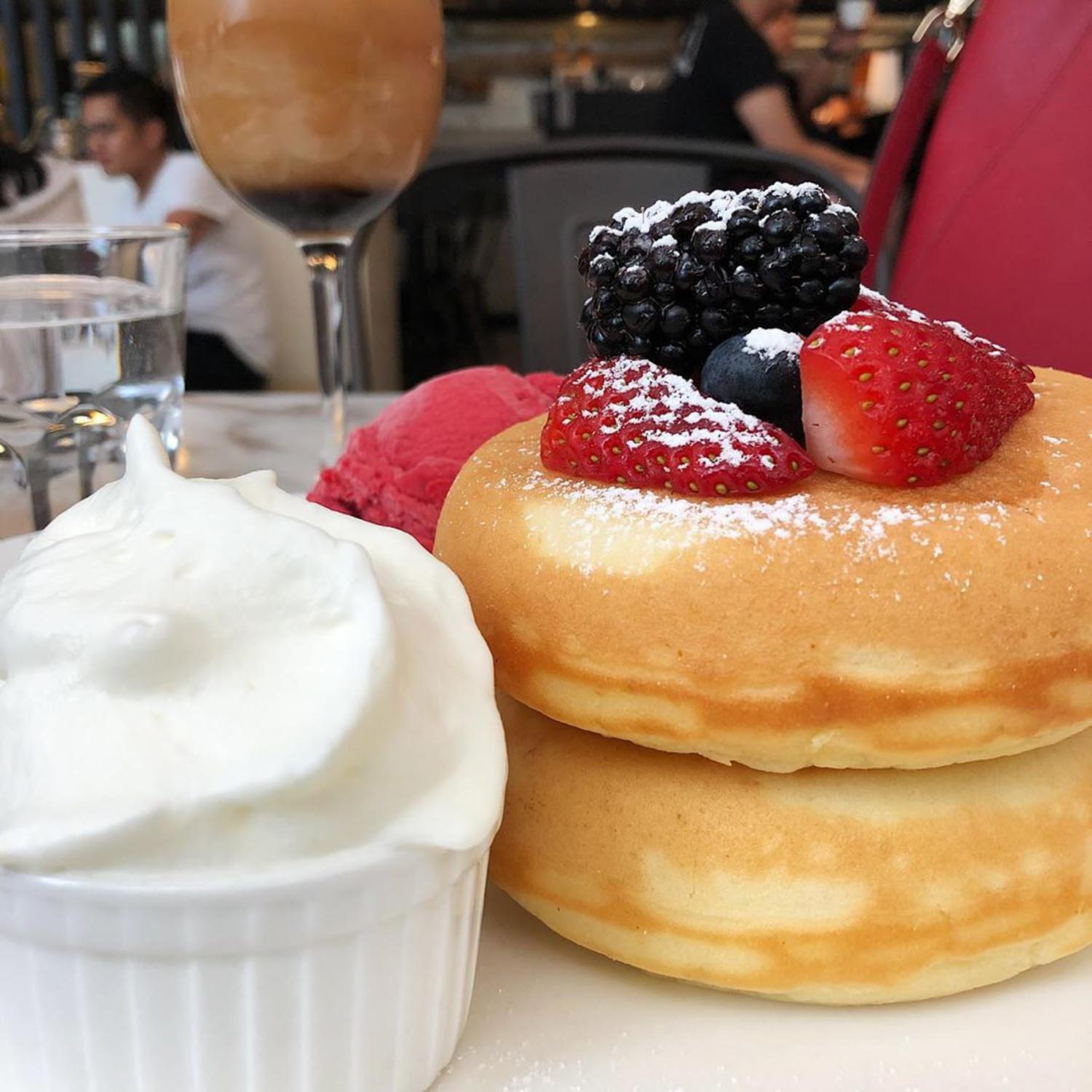 Image credit: @aileentoreno
The Coffee Academics is the place to hit up for good coffee and satisfying cafe food. Under the dessert menu, you will find their Academics Pancake Tower ($20++) that's only available at their flagship shop in Scotts Square. This two-layered pancake comes served with mixed berries, a scoop of berry sorbet, and whipped cream, giving a refreshing twist to the decadent dessert. 
Address: 6 Scotts Road, #02-01/#02-02, Scotts Square, Singapore 228209
Opening hours: Mon-Thur 9am to 10pm, Fri-Sat 9am to 10:30pm, Sun 9am to 9:30pm
Tel: 6538 1940
Website
---
10. Fluff Stack
---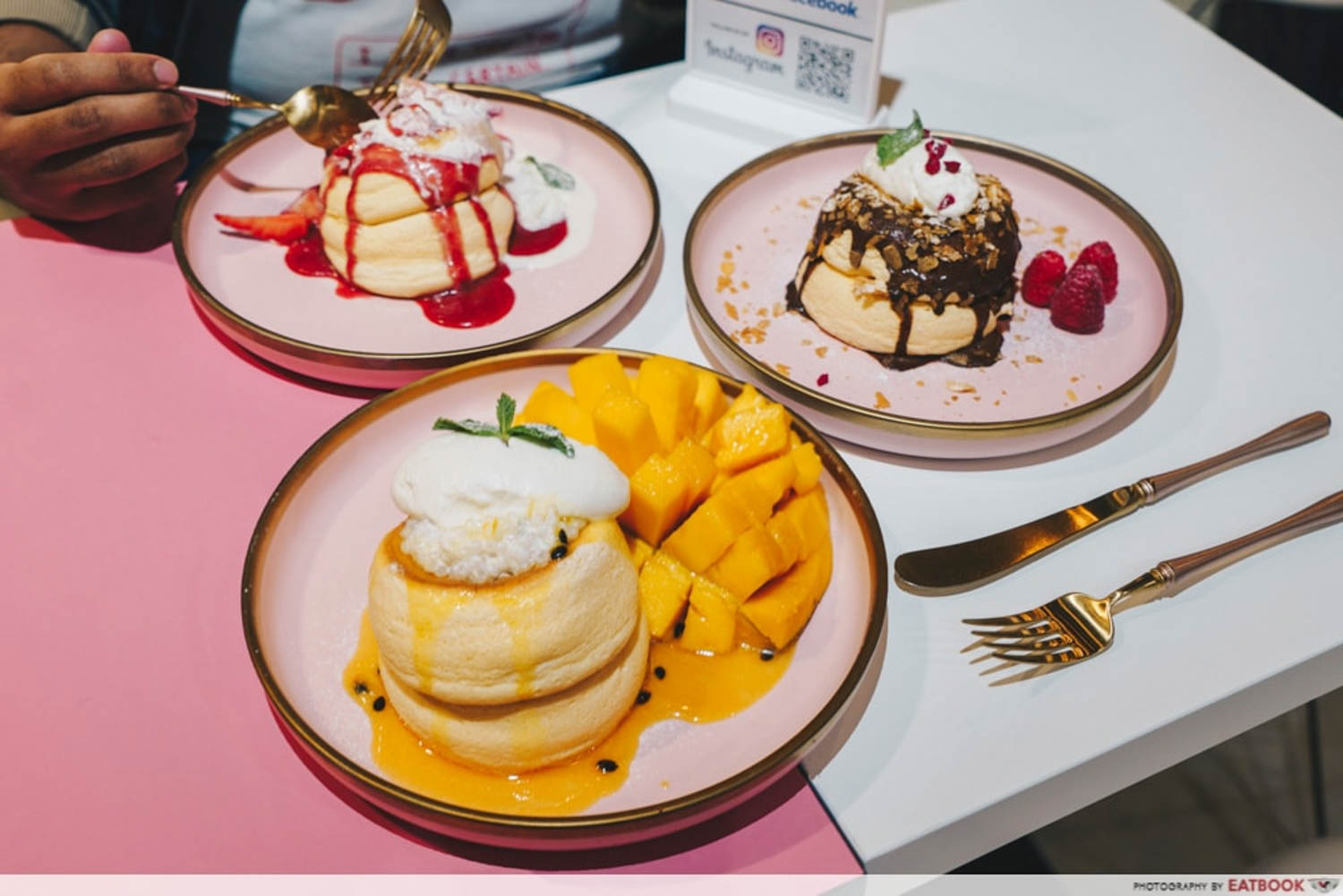 Tucked away in the new food wing at Suntec City is Fluff Stack, a cafe specialising in souffle pancakes. Offering a small menu of dessert souffle pancakes, in flavours such as Strawberry Cheese Souffle Pancakes ($12.80) and Hazelnut Chocolate Souffle Pancakes ($13.80). The former features a tangy strawberry coulis, mixed with fresh strawberries and topped with cream cheese, and pairs really well with the eggy souffle pancakes. 
Address: 3 Temasek Boulevard, #B1-K4, Suntec City, Singapore 038983
Opening hours: Daily 10am to 10pm
Website
---
Sweeten your day at this souffle pancake joints
---
Throw aside your flat, boring pancakes and get these souffle pancakes that are great for both your Instagram feed and your belly. If you're craving for more sweet treats aside from souffle pancakes, check out: Ms Durian, Coney Donut, and KURA!