Belle-ville Pancake Cafe at Bugis Junction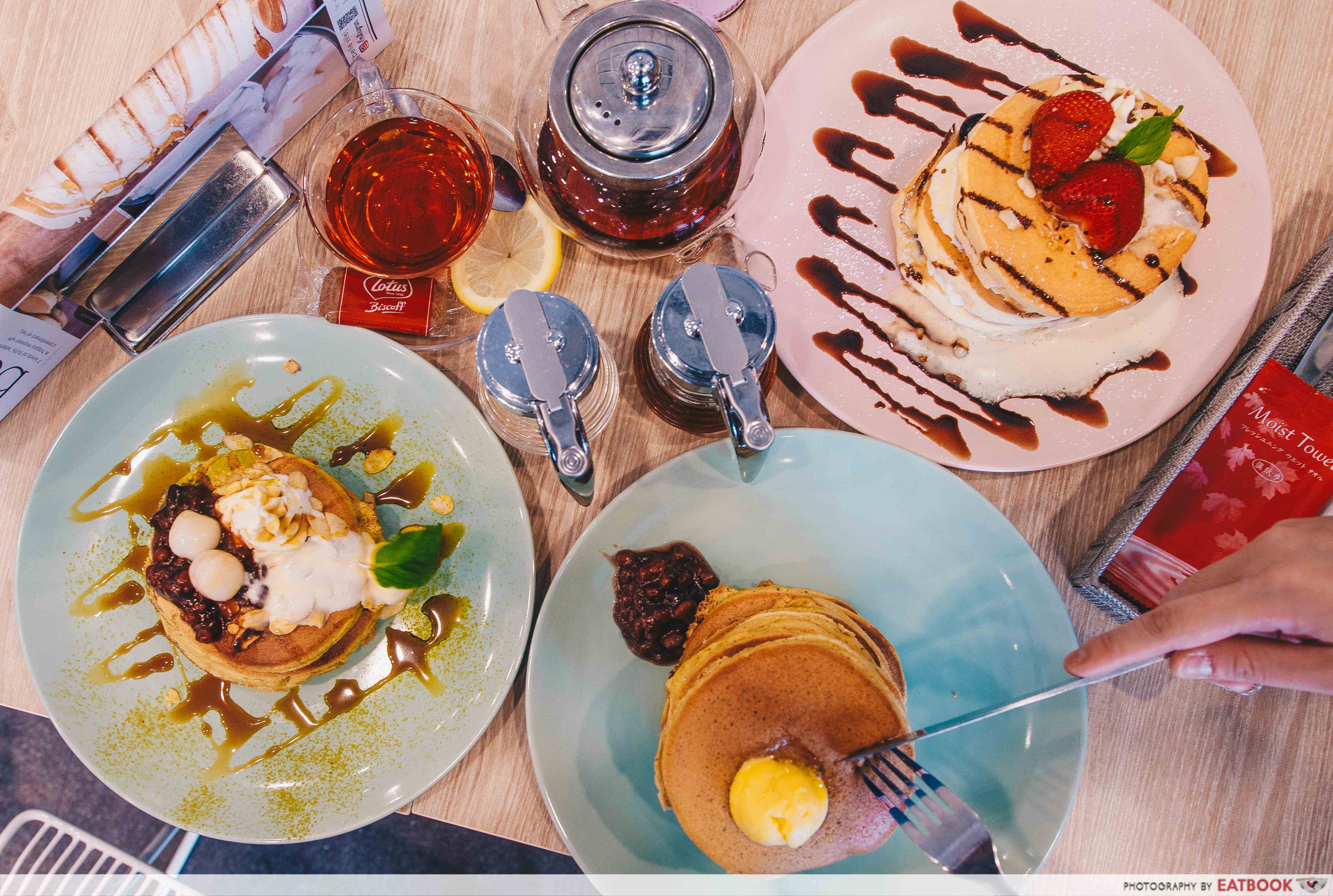 I recall surfing the internet just last year to plan my itinerary for Japan. That was when I discovered the existence of fluffy pancakes. Due to how gorgeous they looked, dropping by a pancake cafe was of course one of my must-dos in Japan. And ever since I put a piece of fluffy pancake into my mouth, that very pancake cafe became one of the few cafes in Tokyo I frequently recommend to my peers who are travelling to Japan. However, with the recent opening of Belle-ville, a Japanese pancake cafe from Osaka, making a stop at pancake spots in Japan might not be necessary anymore.
Food at Belle-ville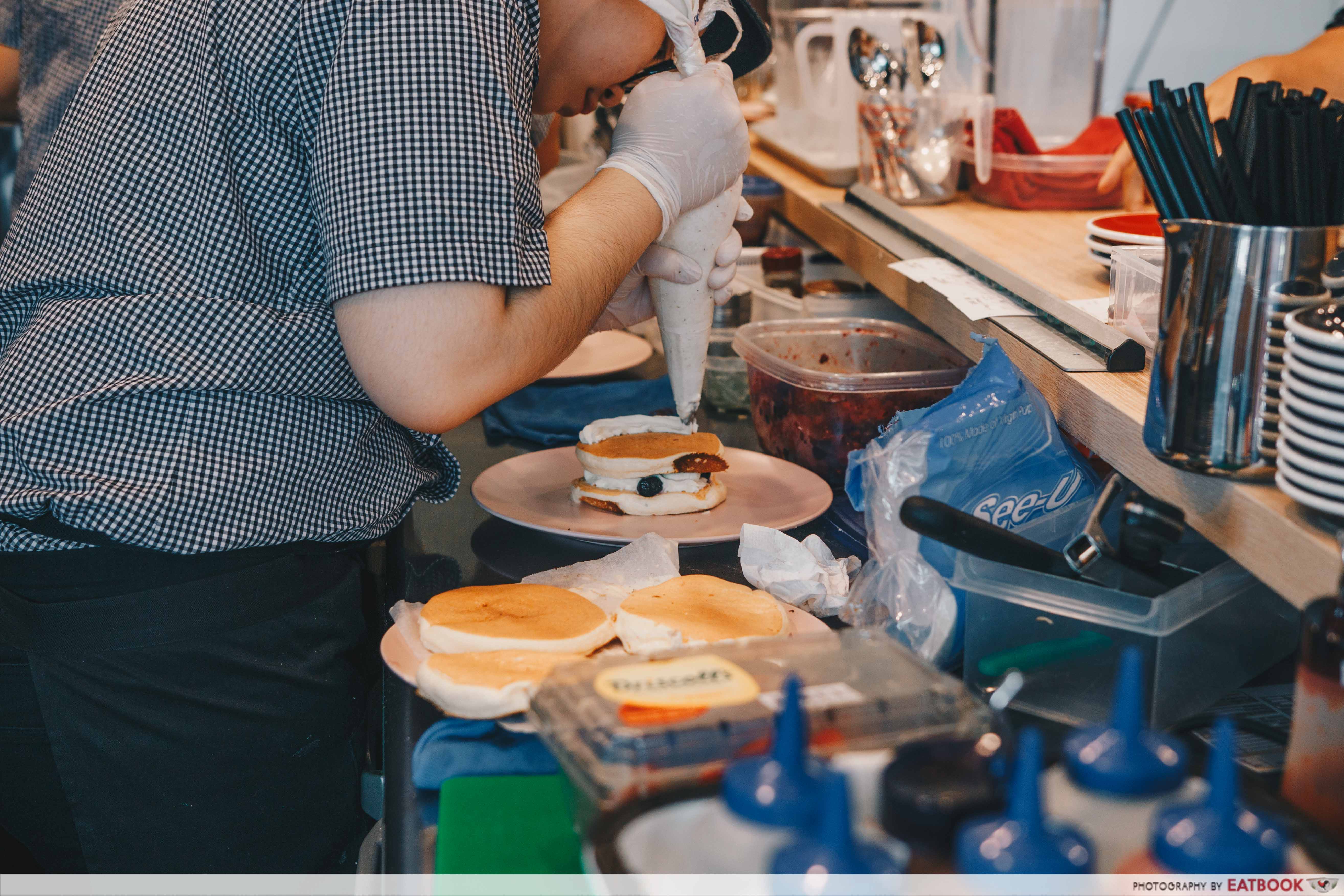 While most cafes in Singapore offer both sweet and savoury pancakes, Belle-ville only serves up the former. As I entered the cafe, my nose was hit by a strong meringue fragrance, only for me to find out that meringue is one of the main ingredients used to make their mille-feuille pancakes.
Through recommendations from a staff member, my colleague and I got ourselves three types of pancakes – original, matcha, and mixed berries.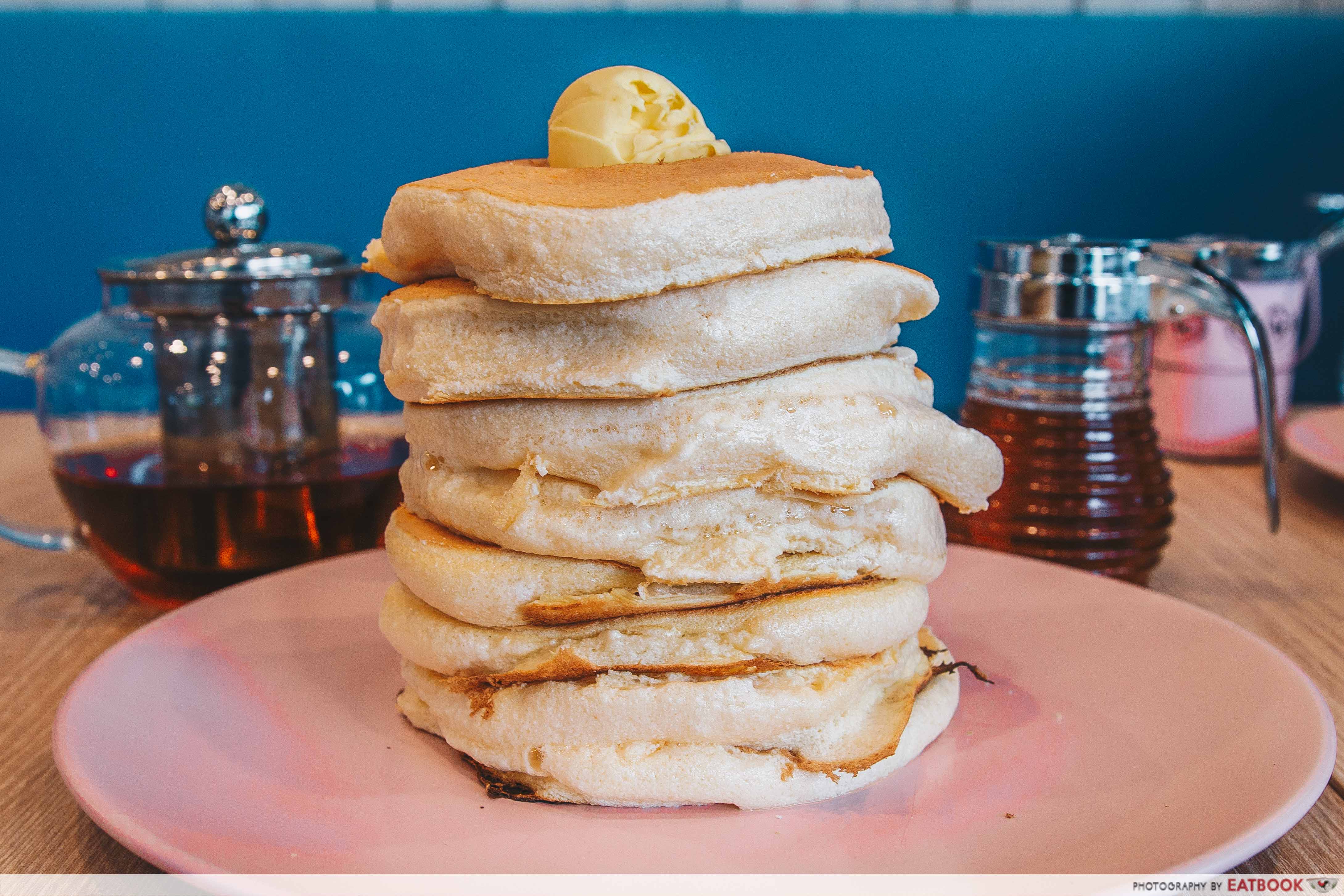 As a staff member approached us with the Millefeuille Pancake ($7.90++ for four, $11.90++ for eight pieces), we noticed how focused and slowly she was walking. It was not only until she placed the plate on our table that we realised why; the pancake stack was extremely wobbly and fragile due to how fluffy it was. Unfortunately, they tragically toppled after this was taken: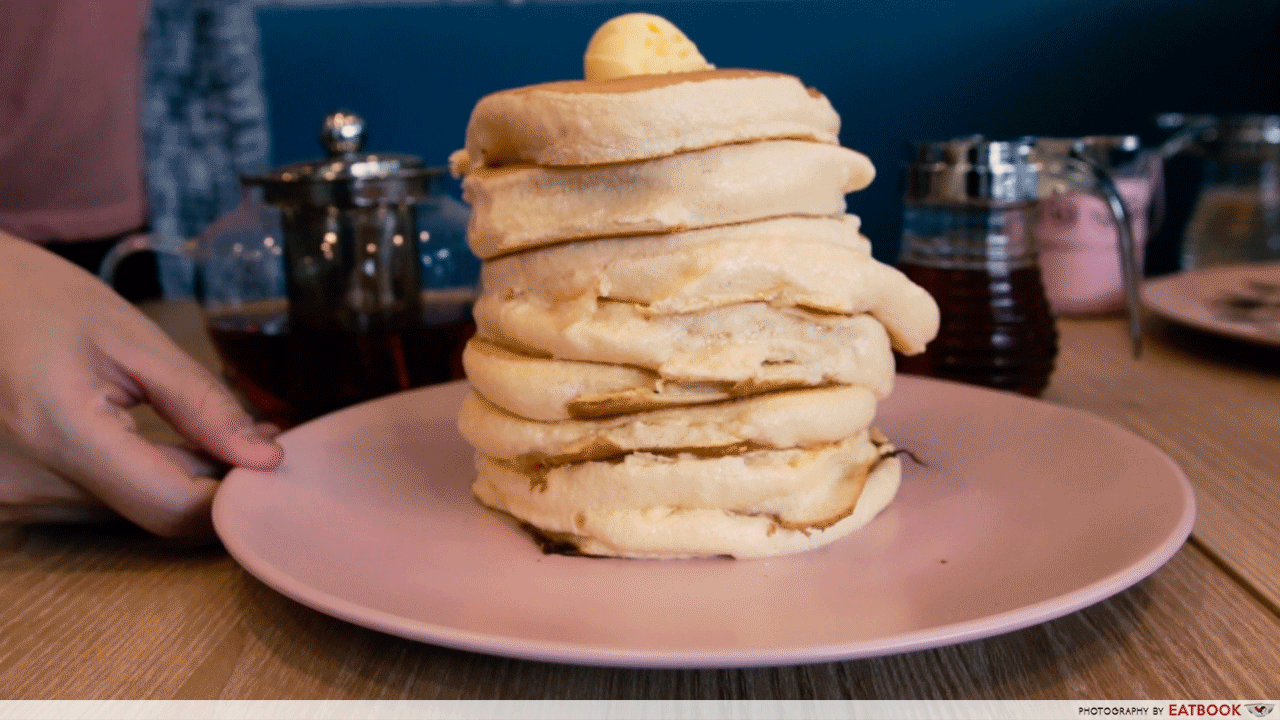 At the very top of the stack, a round slab of butter was placed in the centre. After drizzling the pancakes with loads of maple syrup provided at the side, I gave them a try.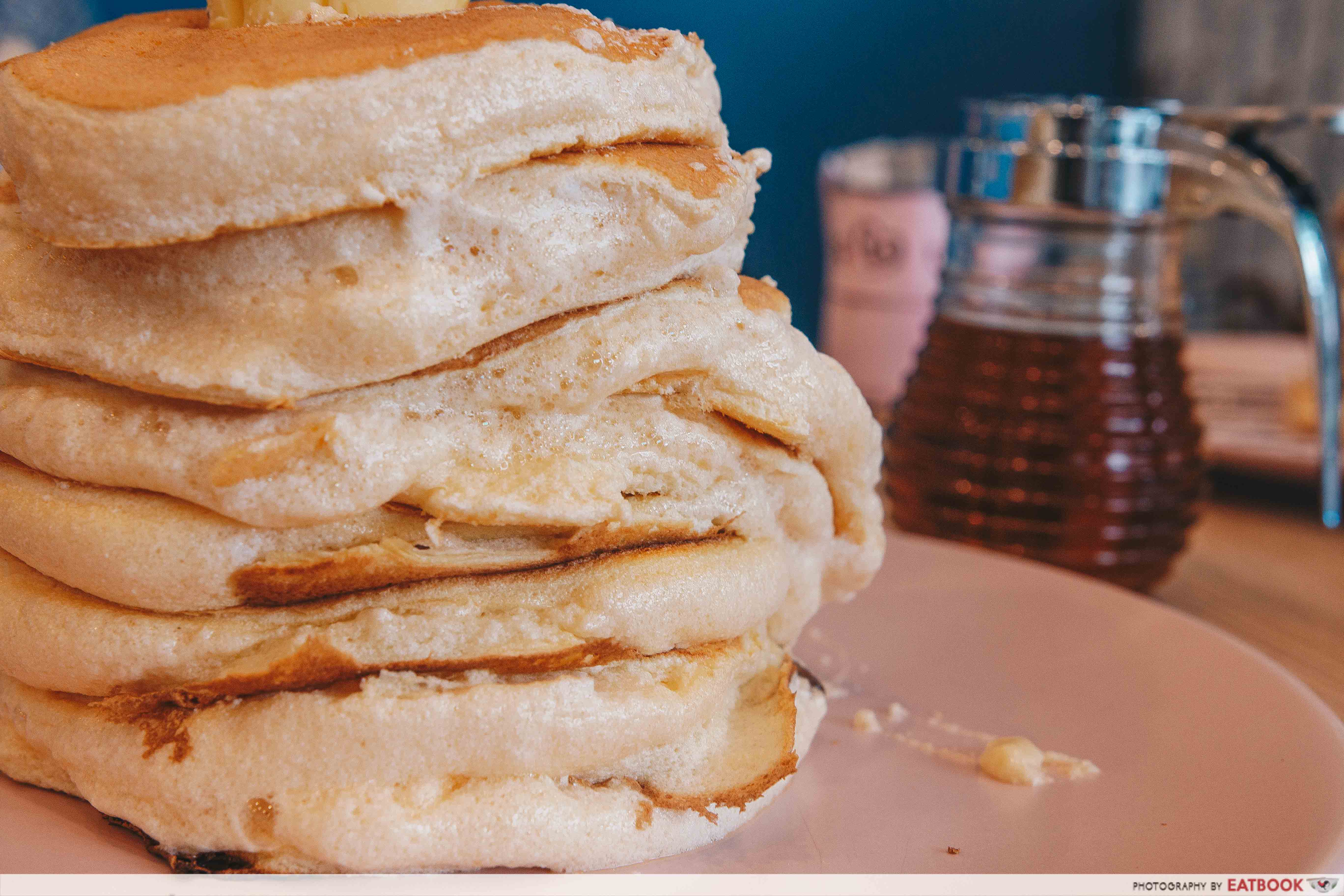 While Western pancakes are usually spongy, the Japanese pancakes at Belle-Ville are runnier. They were very buttery and eggy, reminding me of castella cake. Though there was a total of eight pieces, my colleague and I wiped out the plate in no time!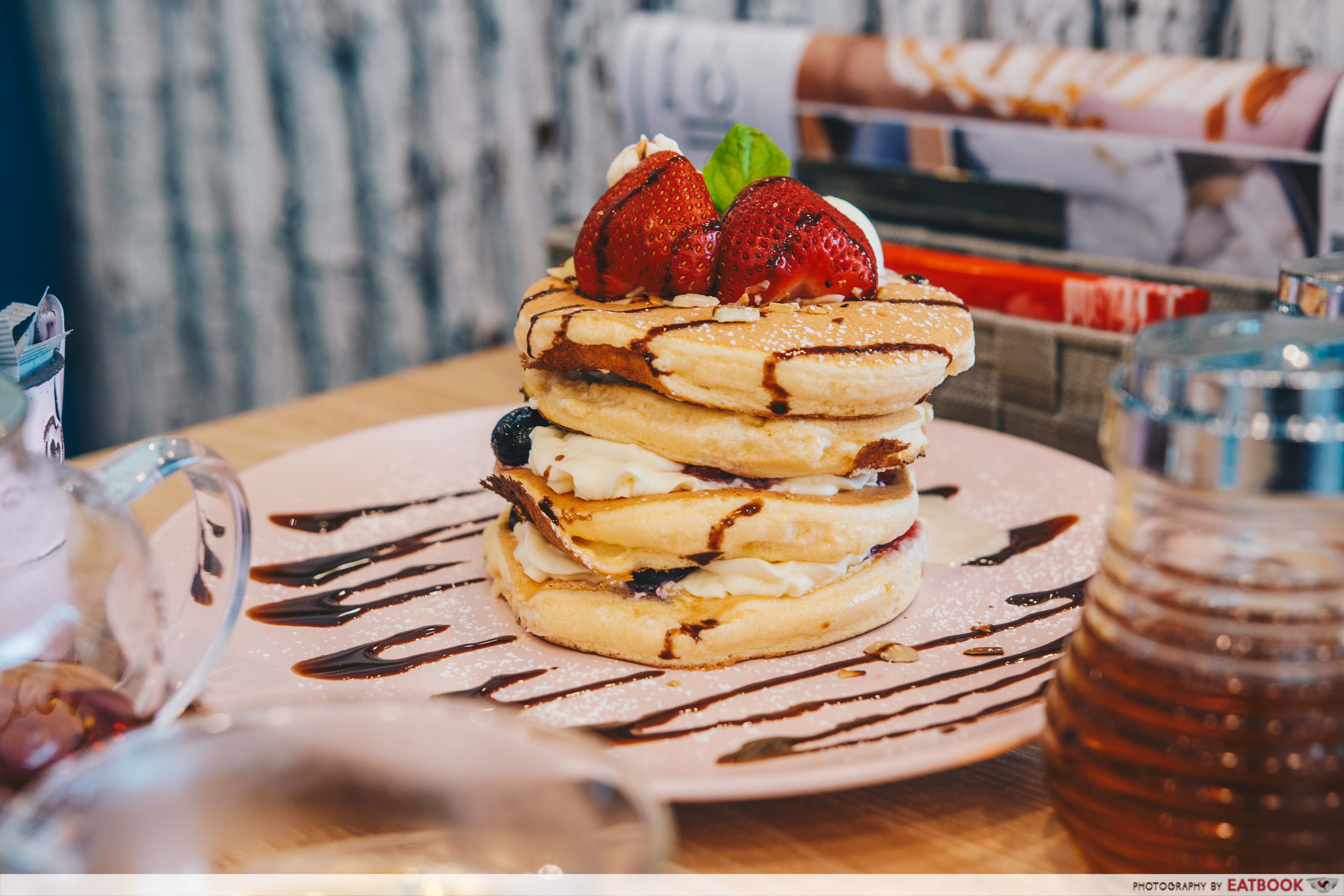 The Strawberry and Mixed Berry Pancake ($11.90++ for two, $14.40++ for four pieces) is what I would call #aesthetic because of its colours. The plate was decorated with chocolate sauce that was drizzled over the pancake stack. Whipped cream, strawberries, and blueberries were spread between each pancake, and a small scoop of vanilla ice-cream, whipped cream, and strawberries completed the dish.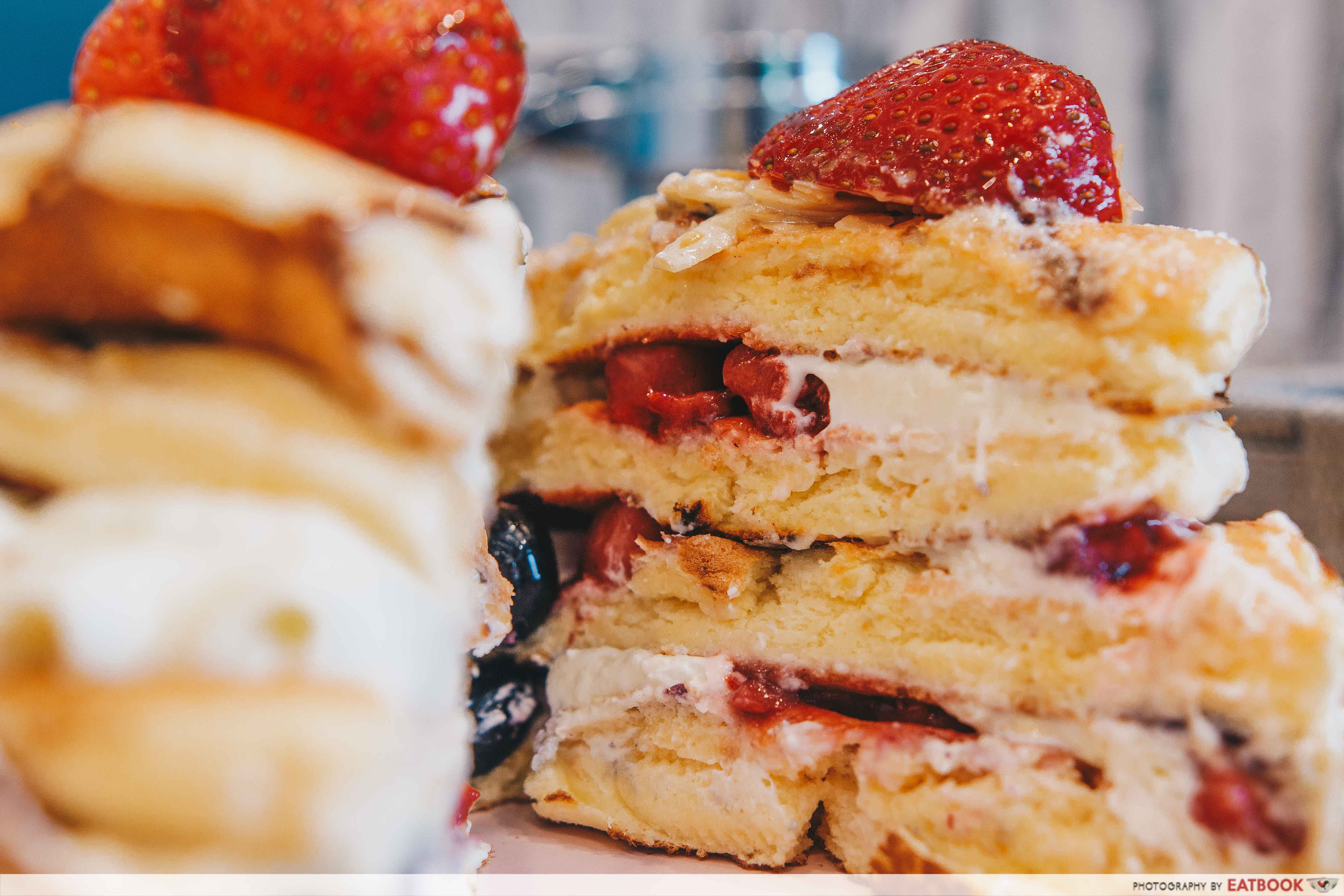 I ate the pancake, whipped cream, and mixed berries all at one go and was amazed by how the taste of everything complemented one another so well. The whipped cream was extremely milky and provided extra sweetness to the pancake, while balancing out the tartness of the berries.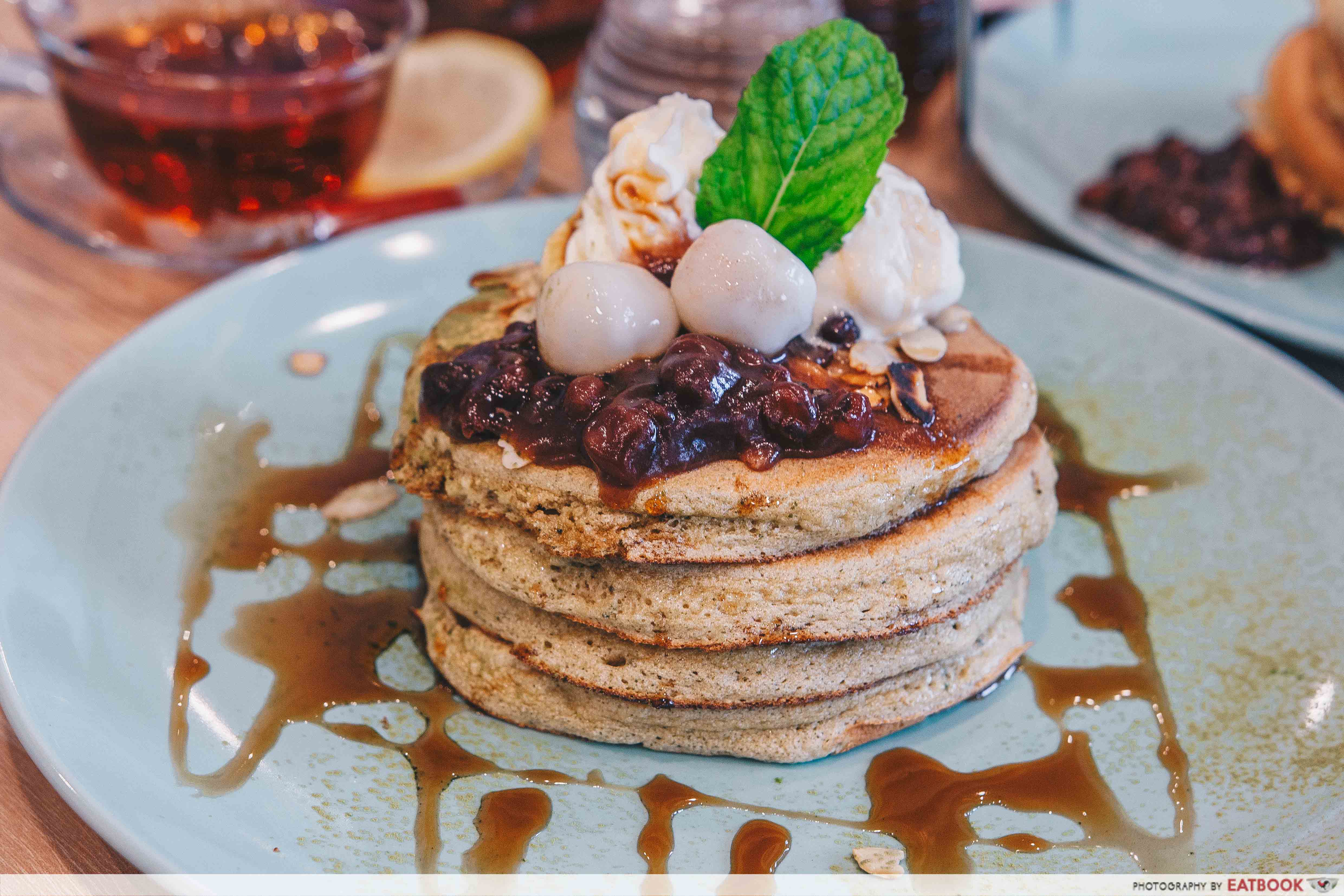 Last but not least, the Matcha with Rice Ball and Red Bean Pancake ($12.20++ for four, $16.20++ for eight pieces) was brought to the table. While the original and mixed berry pancakes were fluffy, the pancakes for this dish was similar to our everyday pancakes. They were thinner but still fluffy.
The toppings that came with the pancakes were similar to those of a parfait's. We got a generous scoop of azuki red beans, glutinous rice balls, almond flakes, vanilla ice-cream, and whipped cream. The exterior of the pancake had a slight charred taste while the inside held its matcha flavour. I wished the matcha taste was stronger but other than that, this dish definitely did not lose out to the rest in terms of texture and quality.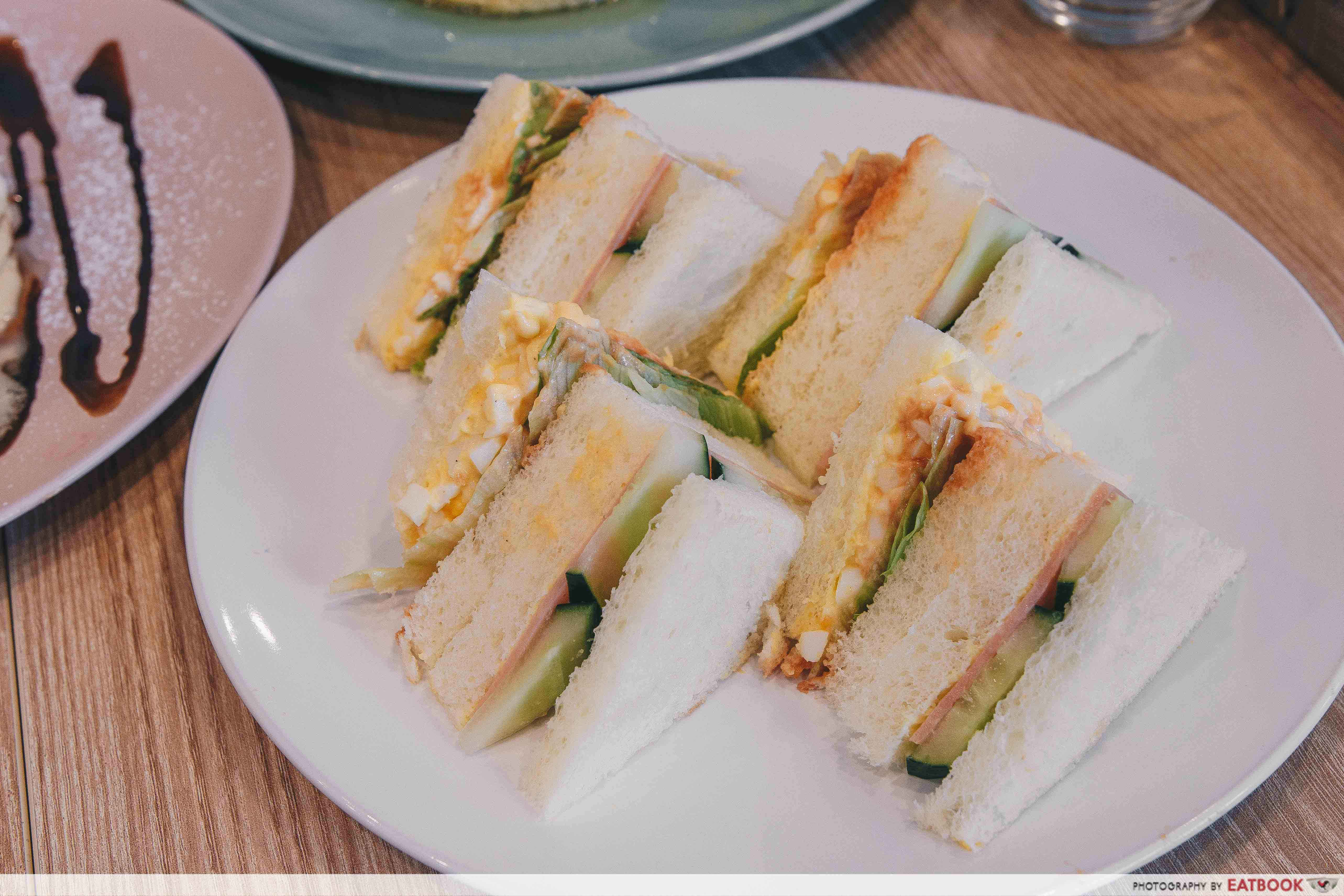 Besides sweet pancakes, Belle-ville also has savoury items in their menu. A few of which are Katsu Sandwich ($6.20++), Mixed Ham Sandwich ($5.20++) that includes both egg mayo and ham, and Hot Sandwich ($7.20++).
Ambience at Belle-ville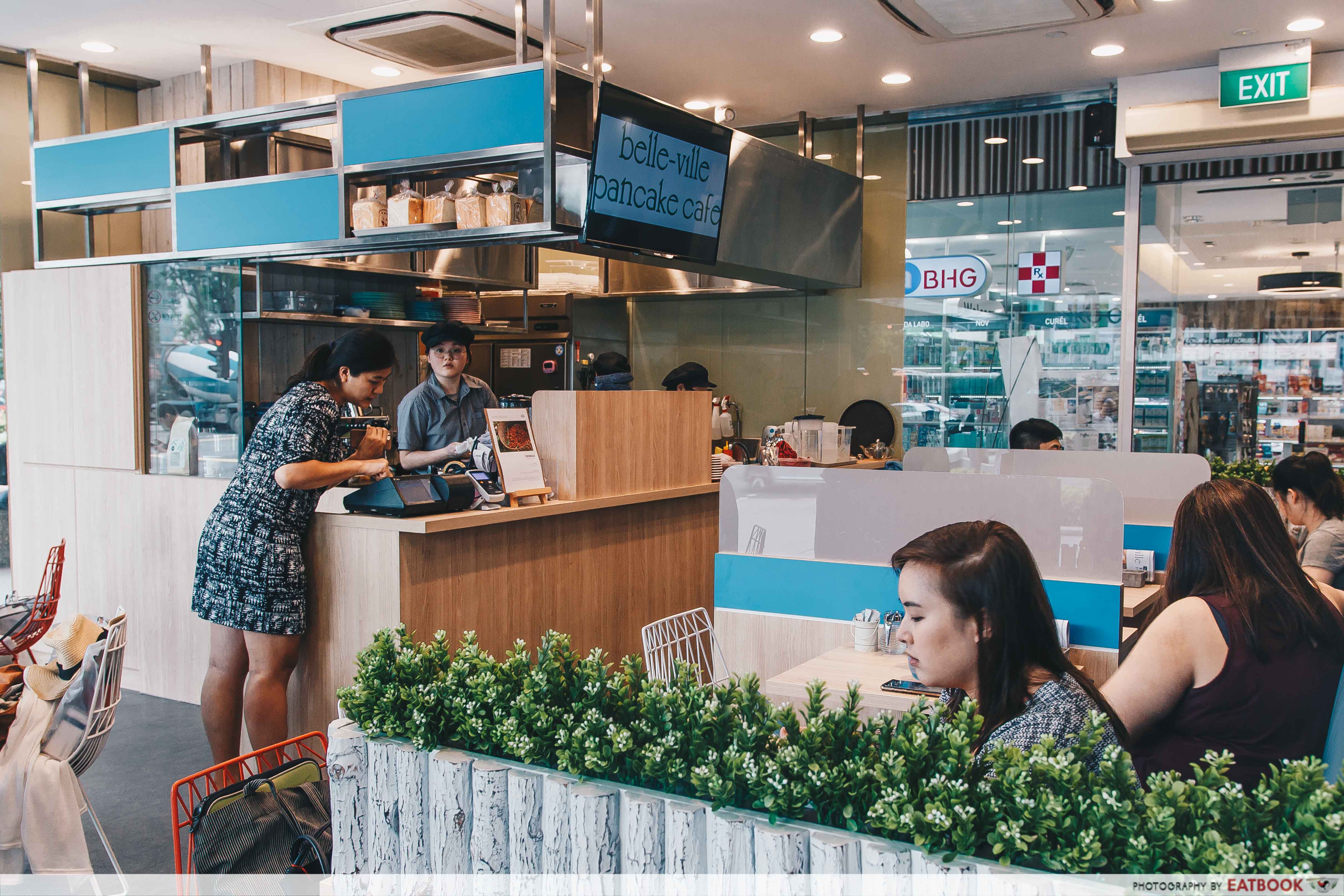 Belle-ville is a cosy cafe that can fit about 20 people. My colleague and I had a tough time finding this cafe, which is situated at a corner at the outside of Bugis Junction. To save you from sore legs and a sweaty body, simply come out from Exit C of Bugis MRT Station and walk towards Bugis Junction Towers.
Riz Labo Kitchen: Fluffy Pancake Cafe From Japan Is Now Open In Singapore At Wisma Atria
The verdict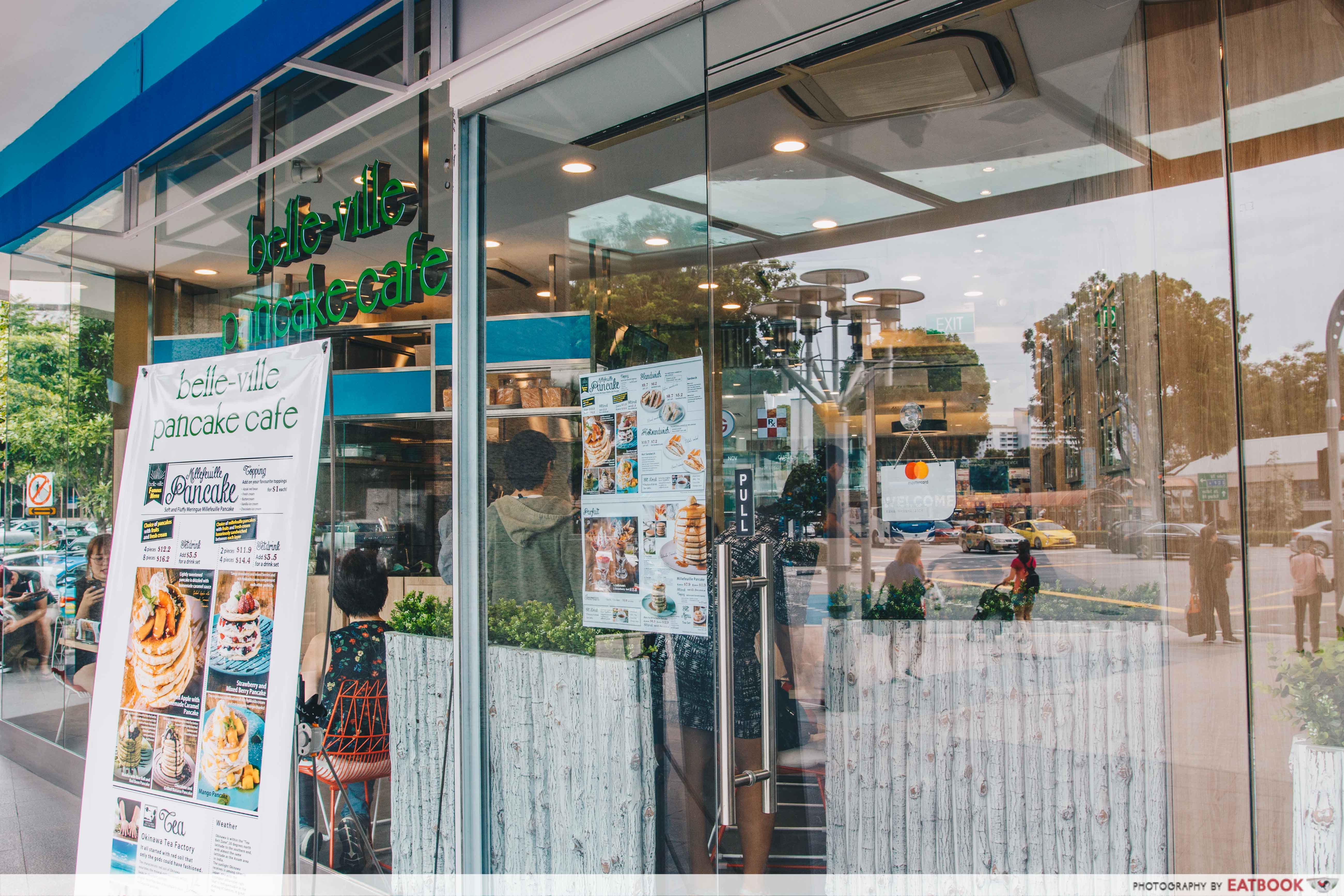 As I savoured each dish, it really reminded me of the time I had fluffy pancakes in Japan. Every piece of pancake served was hot and fresh as the chef only makes them after an order has been placed. Without a doubt, I would come back and visit this place again with my friends who have yet to experience how heavenly Japanese fluffy pancakes taste like.
Address: 230 Victoria Street, #01-01B, Bugis Junction Towers, Singapore 188024
Opening hours: Daily 8am to 8:30pm
Tel: 6255 5456
Website
Belle-ville is not a halal eatery.
This was a media tasting at Belle-ville.
Summary
Pros
– Pancakes were very fluffy
– Convenient location
– IG-worthy dishes
Cons
– Small space
Recommended dishes: Original Millefeuille Pancake (8 pieces for $11.90++)
Operating hours: Daily 8am to 8pm
Address: 230 Victoria Street, #01-01B, Bugis Junction Towers, Singapore 188024 (Bugis MRT Exit C, facing Victoria Street, in front of BHG department store)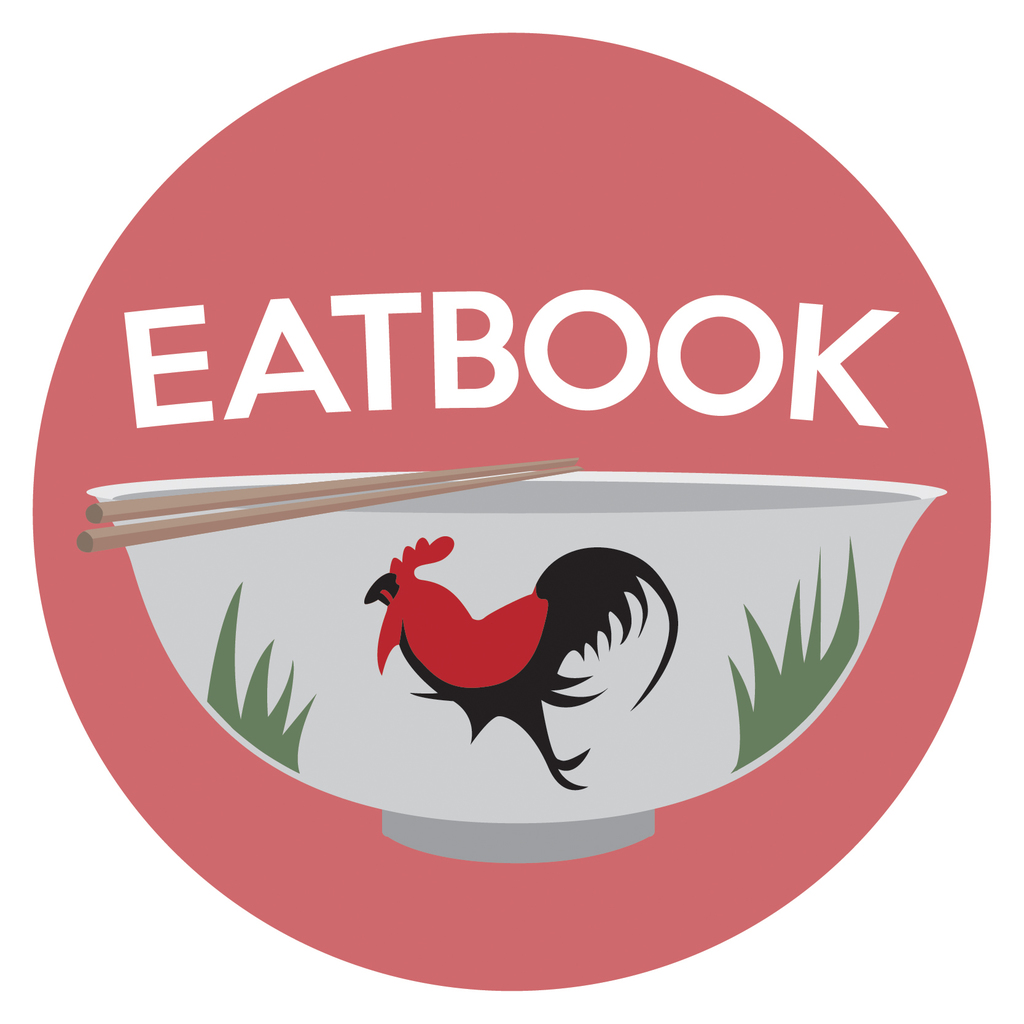 Drop us your email so you won't miss the latest news.