---
Rooftop Restaurants to impress
your bae during date night
---
As much as the quality of food matters when picking a spot for date night, the ambience does too. I mean, the food at Amoy Food Centre is great, but I'll probably not go there for date night. For me, my go-to date night spots are definitely rooftop restaurants.
Just imagine the dreamy view of Singapore's skyline sparkling in the distance as you flirt amorously with your date. If you're now intrigued on how to up your dating game, this list of 10 rooftop restaurants is perfect for you.
---
1. Aria Roof Bar
---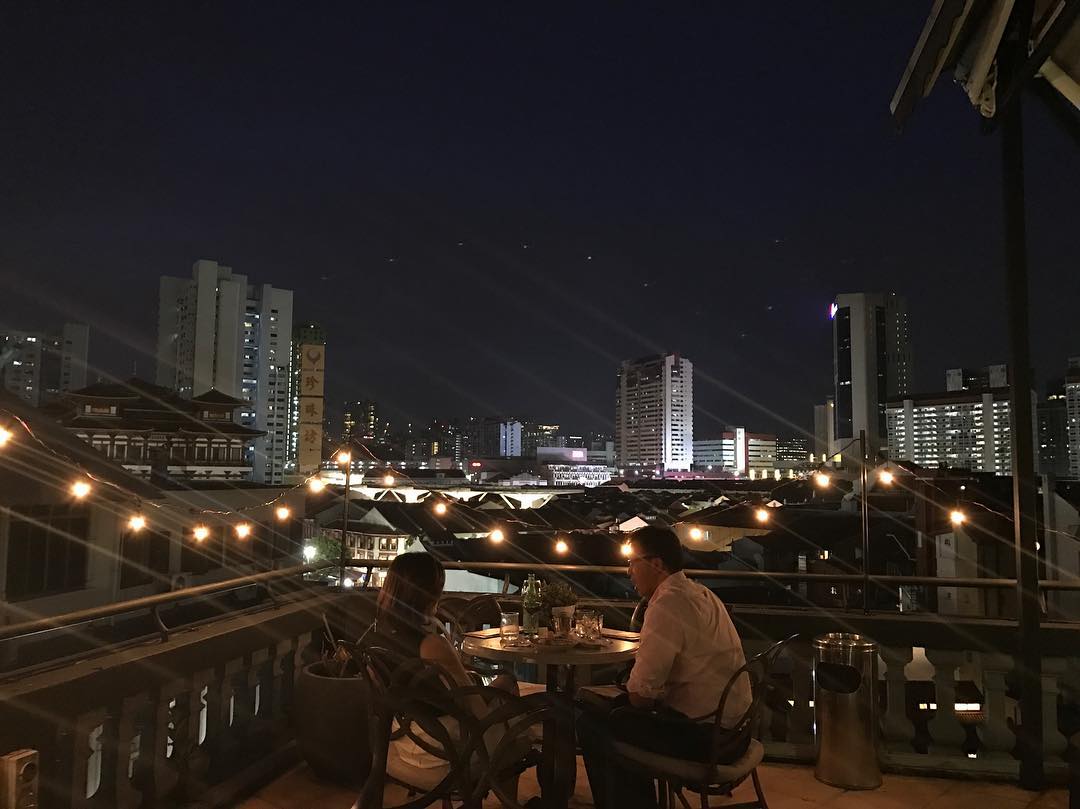 Image credit: @summerwinterdays
Where better to have a date than Aria Roof Bar? As fairy lights shine in a warm glow while the cool summer breeze blows, you and your date will be completely immersed in the romantic beauty of Singapore.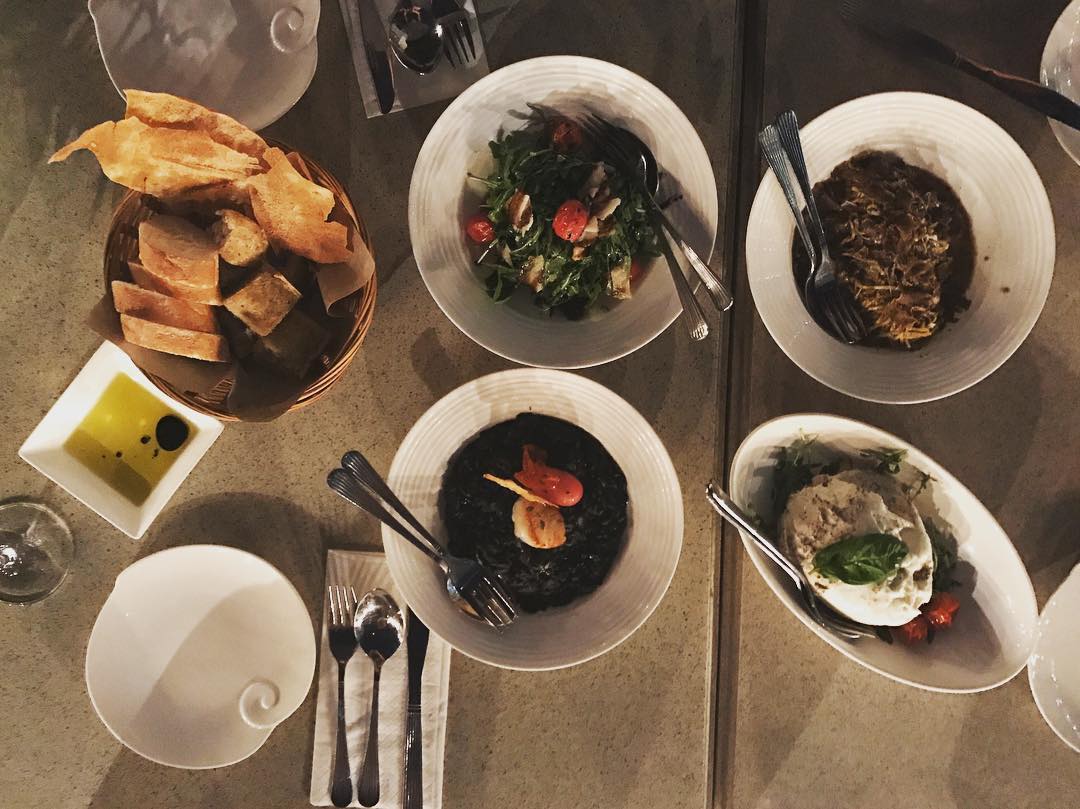 Image credit: @summerwinterdays
As you sip on your cocktail, dine on the Casa Tartufo's Famous Truffle Fries ($15++). Its strong perfume of truffle provides an earthy accompaniment to your drinks.
A more meaty option would be the Baked Beef Balls ($12++). Meaty spheres are well seasoned in a special spice mix, then baked to a gorgeous sear.
Address: 33 Erskine Road, Scarlet Hotel, Singapore 069333
Opening hours: Daily 5pm to 12am
Tel: 6836 4647
Website
---
2. Supply & Demand
---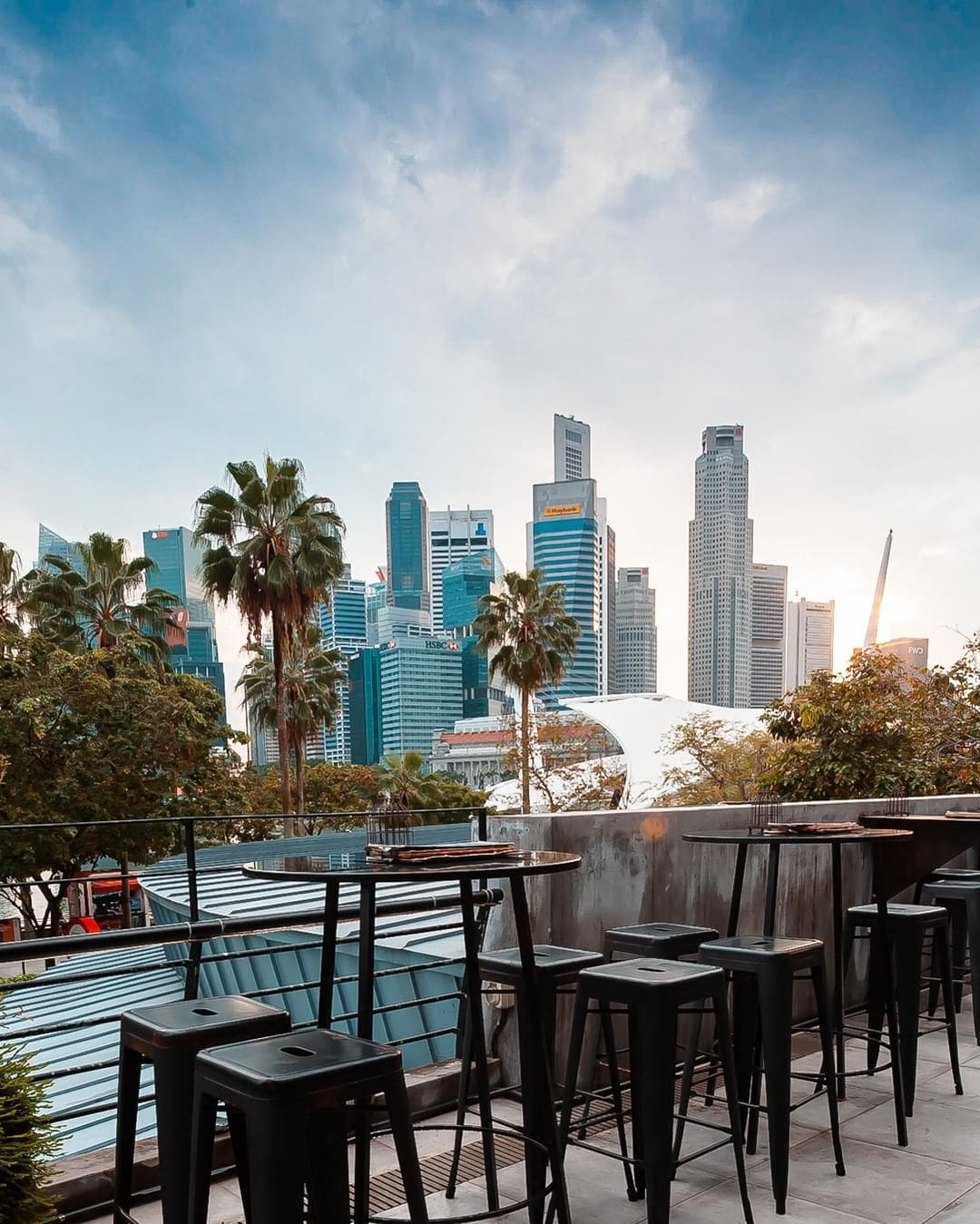 Image credit: @supplydemandsin
Accompanied by live music and a gorgeous view of the CBD, Supply & Demand is a great place to impress your date. You can even dedicate a song to flaunt your cultured taste in music.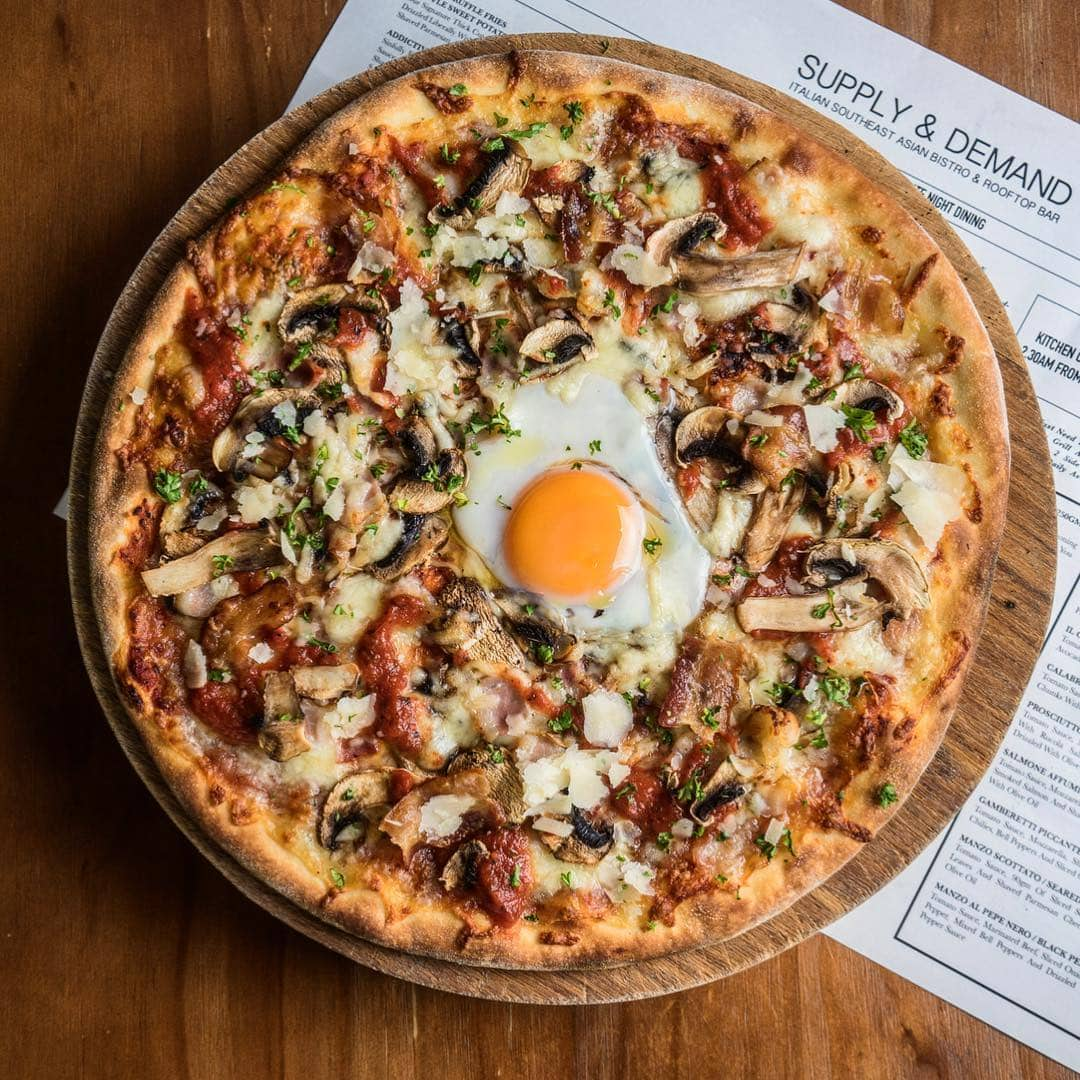 Image credit: @supplydemandsin
The Morning After ($21++) is a safe bet for anyone intending to share a meal. Topped with bacon, mushrooms, and a generous dose of mozzarella, the pizza is complete with a wobbly egg in the centre. For something to sweeten the night, get the Sinfully Chocolate Cake ($9++). It is a decadent treat worth every calorie. A viscous chocolate ganache is layered atop a dense chocolate sponge, making every mouth chock full of chocolatey goodness.
Address: 8 Raffles Avenue, #01-13, Esplanade Mall, Singapore 039802
Opening hours: Mon-Thu 6pm to 2am, Fri 6pm to 2:30am, Sat-Sun 12pm to 2:30am
Tel: 6336 0588
Website
---
3. Our Village
---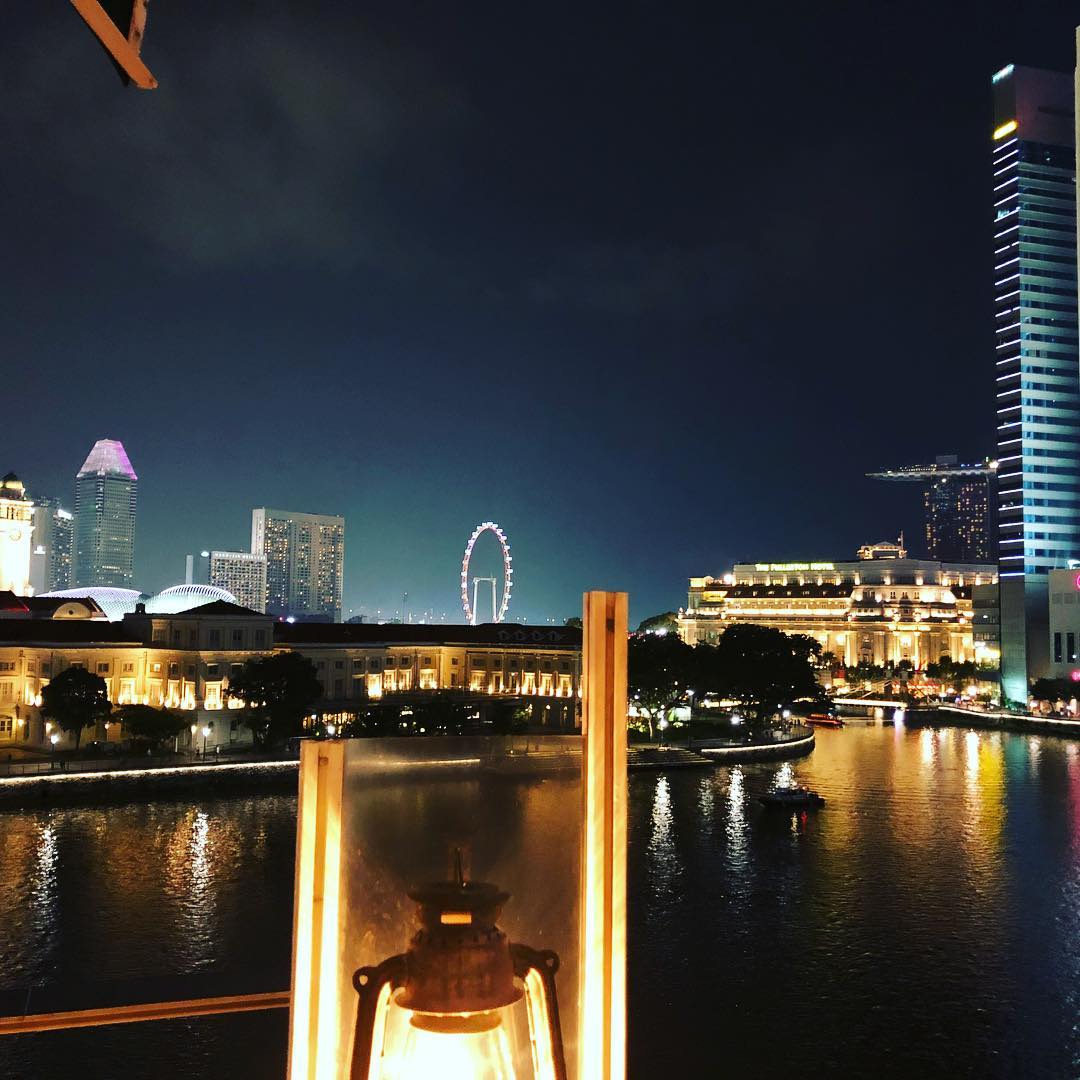 Image credit: @ketsinga
Our Village overlooks the Boat Quay River. As the sun sets, you'll be greeted with gorgeous warm lights that illuminate the Asian Civilisations Museum with a soft glow. Who knows, you may even score your first kiss here.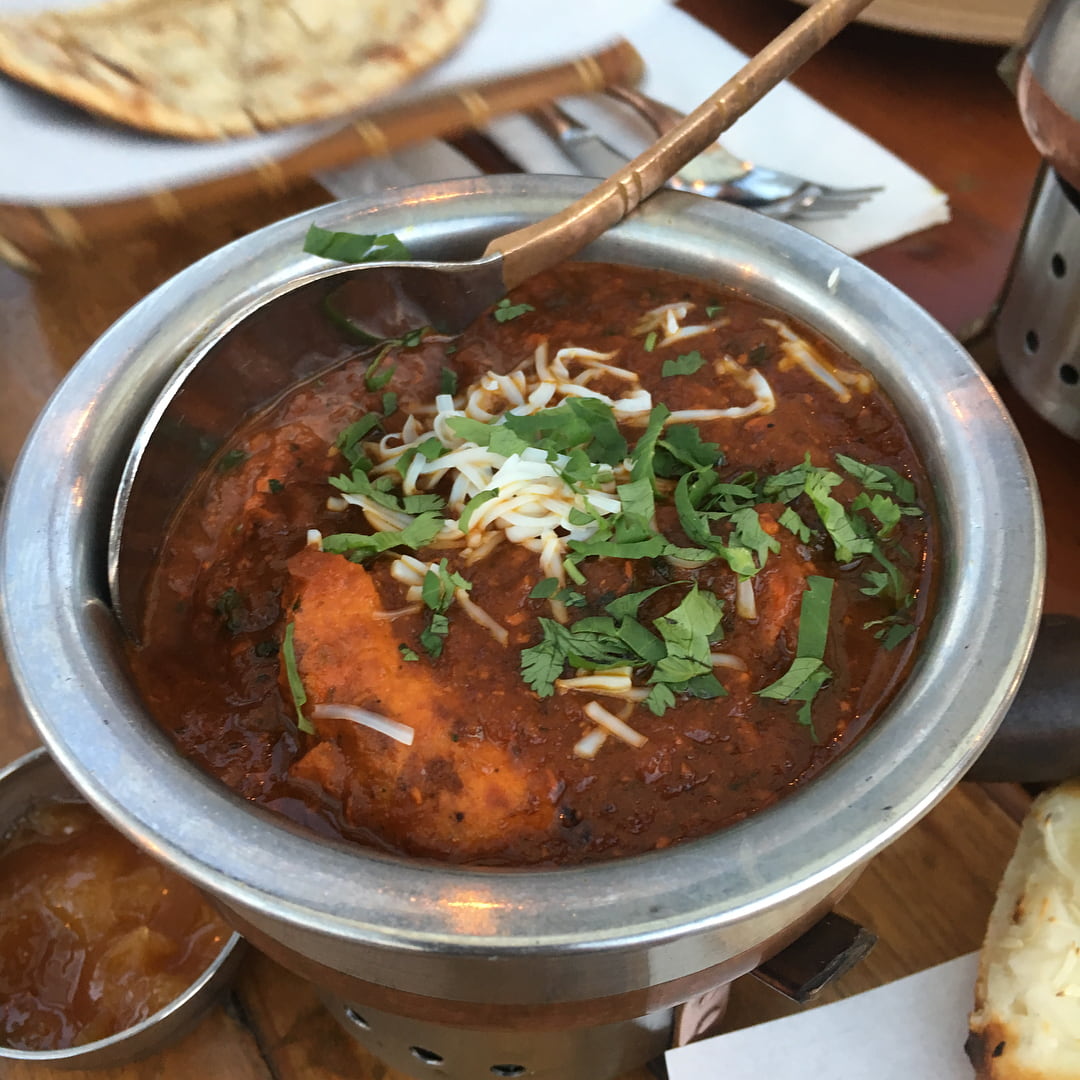 Image credit: @tstraveltreats
Lamb Rogan Josh ($25++) is a wonderful option for lovers of lamb. Strong perfumes of cumin and turmeric shine through the dish, obscuring any gaminess. The natural sweetness of cinnamon also gives an elevated level of complexity, making for a delicious meal. Fish Curry ($25++) Is also another good dish to order, with a pleasant seafood aroma permeating the entire curry.
Address: 46 Boat Quay, Singapore 049835
Opening hours: Mon-Fri 12pm to 11:30pm, Sat-Sun 6pm to 11:30pm
Tel: 6538 3092
Website
---
4. Propeller
---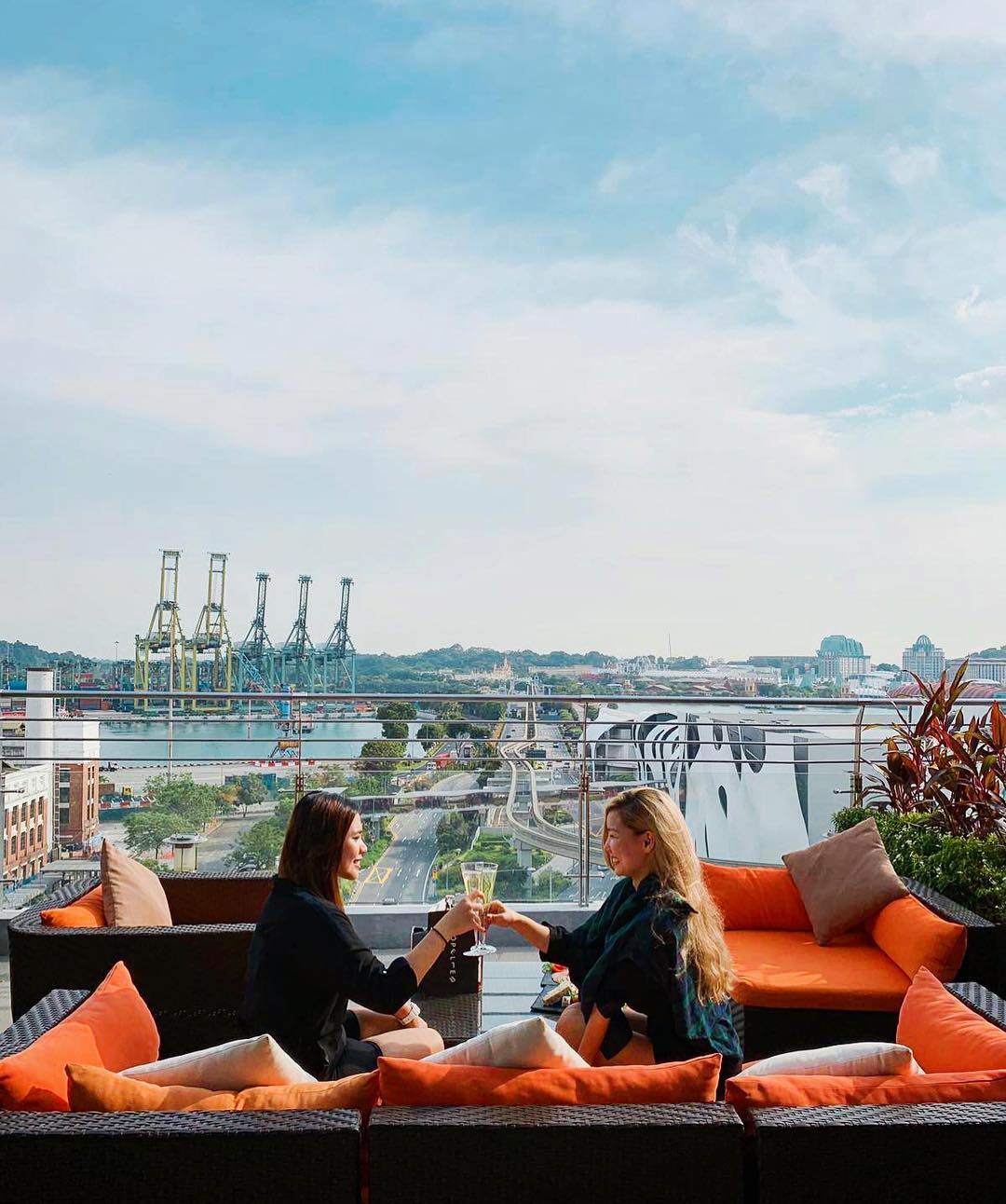 Image credit: @propellerbarsg
Here at Propeller, you'll be seated on a rattan sofa outfitted with bright orange cushions as you admire the sea view. In the evening, you can even time your proposals or professions of love to coincide with the fireworks from Sentosa!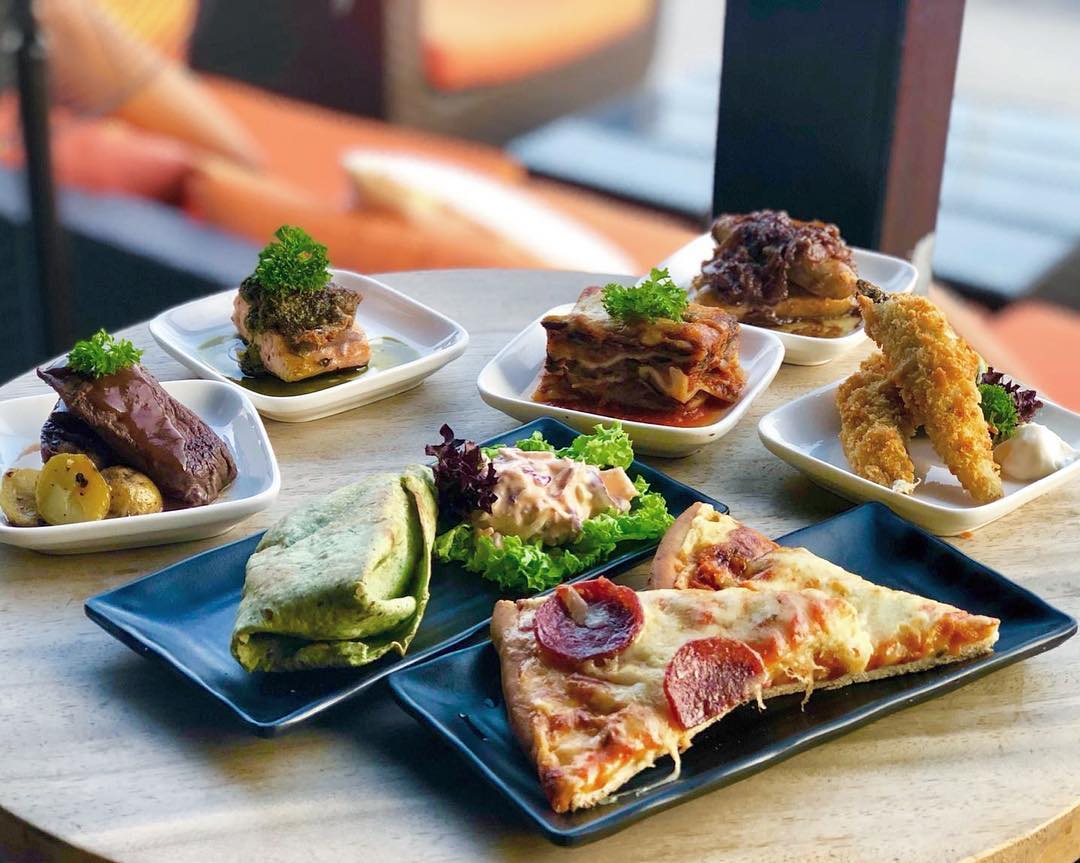 Image credit: @propellerbarsg
For pizza lovers, they serve up a 12-inch Pepperoni pizza ($18++) that's oozing with cheese. It has a thin but fluffy dough, so you won't feel ill even after gobbling down all 12 inches of it. If you prefer Asian food, opt for their Indonesian Grilled Chicken Served With Vegetables ($14.90++). A smoky charred leg of chicken is paired with seasonal veggies, and makes for a hearty meal.
Address: 50 Telok Blangah Road, Bay Hotel Singapore, Singapore 098828
Opening hours: Sun-Thu 5pm to 12am, Fri-Sat 5pm to 2am
Tel: 6818 6676
Website
---
5. The Screening Room
---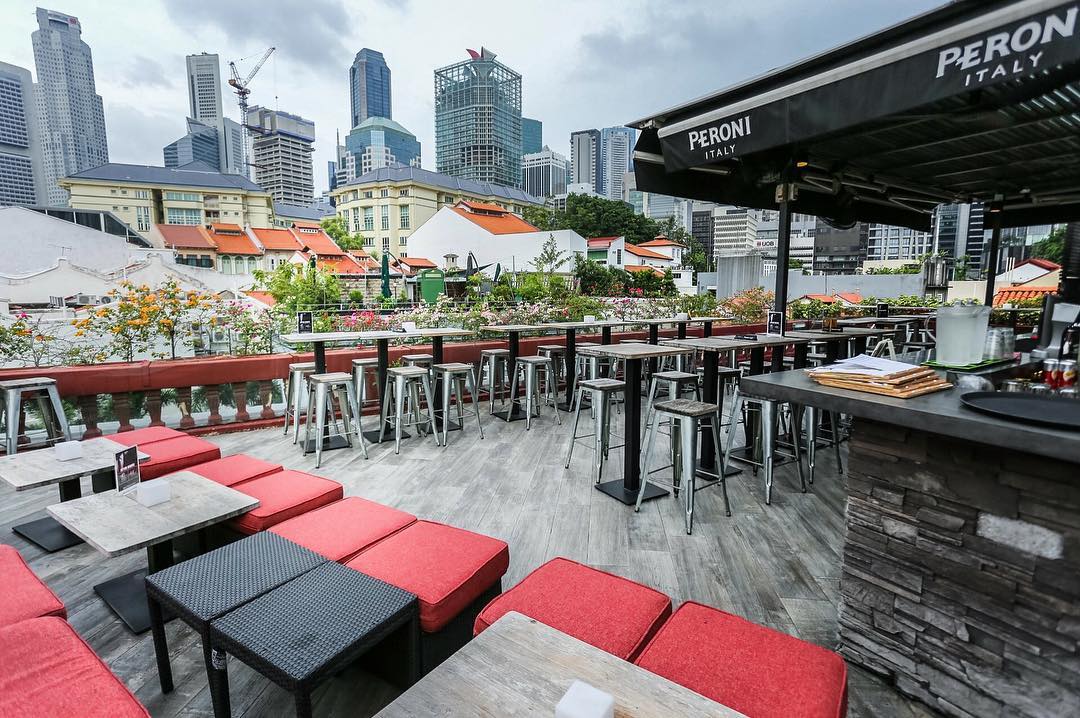 Image credit: @screening_room
Perched on the rooftop of a quaint shophouse in Ann Siang Hill, Screening Room spots an impressive view of Tanjong Pagar. At night, the skyline lights up in an iridescent glow that will make your date's heart glow just as bright.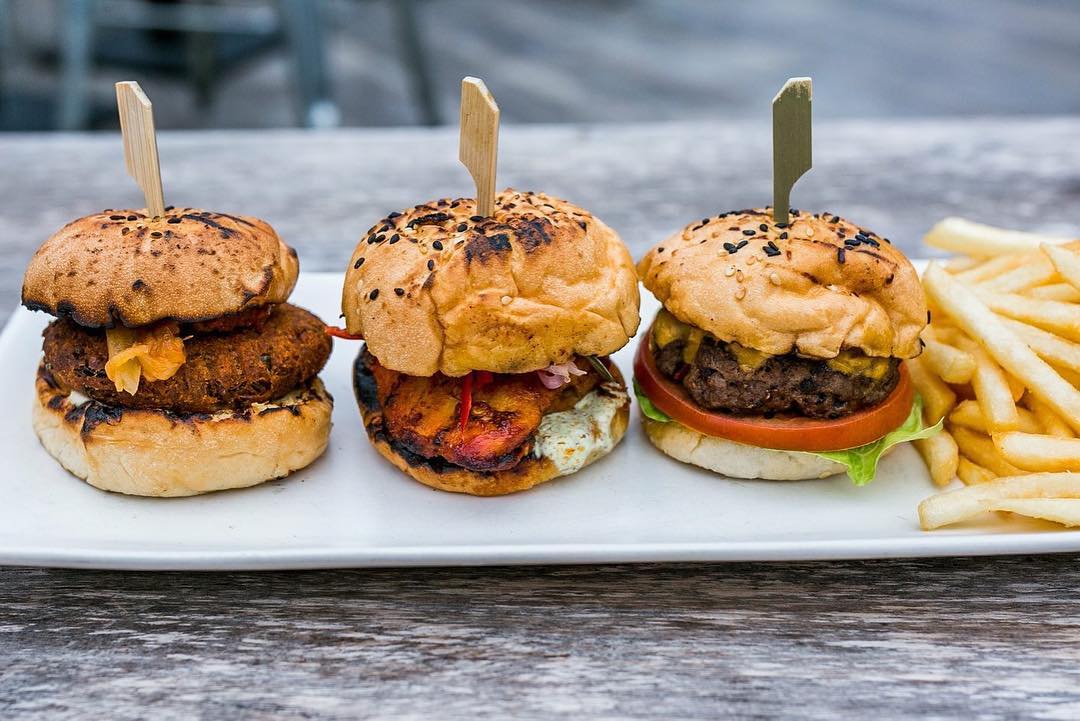 Image credit: @screening_room
Trio of Sliders ($22++) features Angus beef, chicken and falafel mini burgers accompanied by a generous handful of fries. This is a great option if you don't like eating the same thing twice. Paneer Shashlik ($16++) on the other hand is a vegetarian-friendly choice, with a tart harissa salsa and refreshing coriander chutney drizzled over skewers of paneer.
Address: 122 Ann Siang Road, Singapore 069692
Opening hours: Mon-Thu 5:30pm to 12am, Fri-Sat 5pm to 12am
Tel: 6221 1694
Website
---
6. Kebabs & Curries
---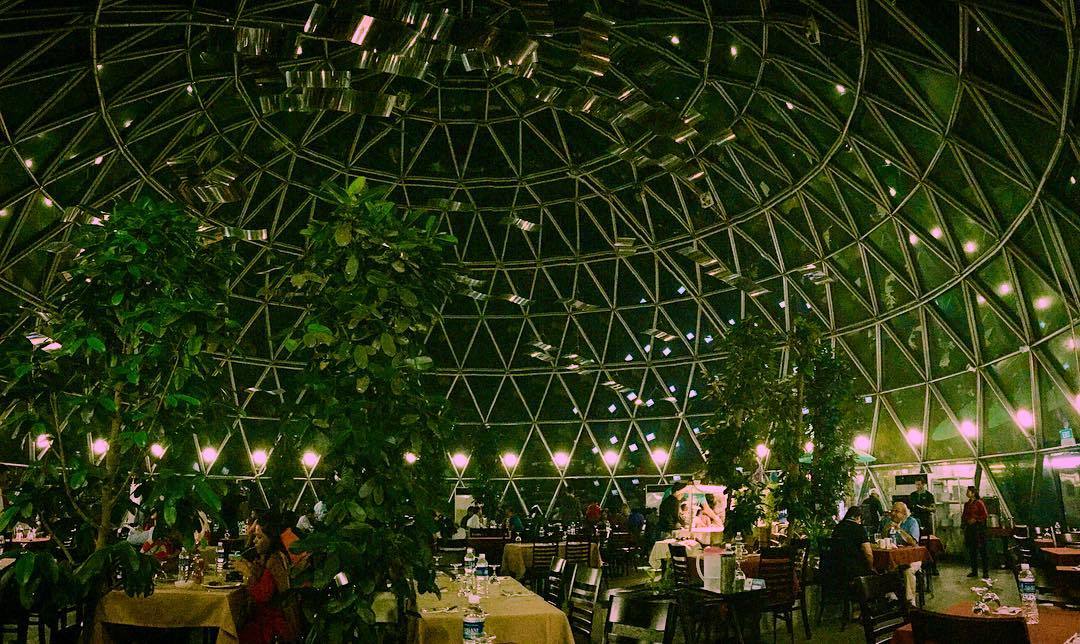 Image credit: @ailinlim
Here at Kebabs & Curries, you will be seated under a gorgeous glass dome overlooking the bustle of Little India. Linen tablecloths drape the table, giving an atas vibe.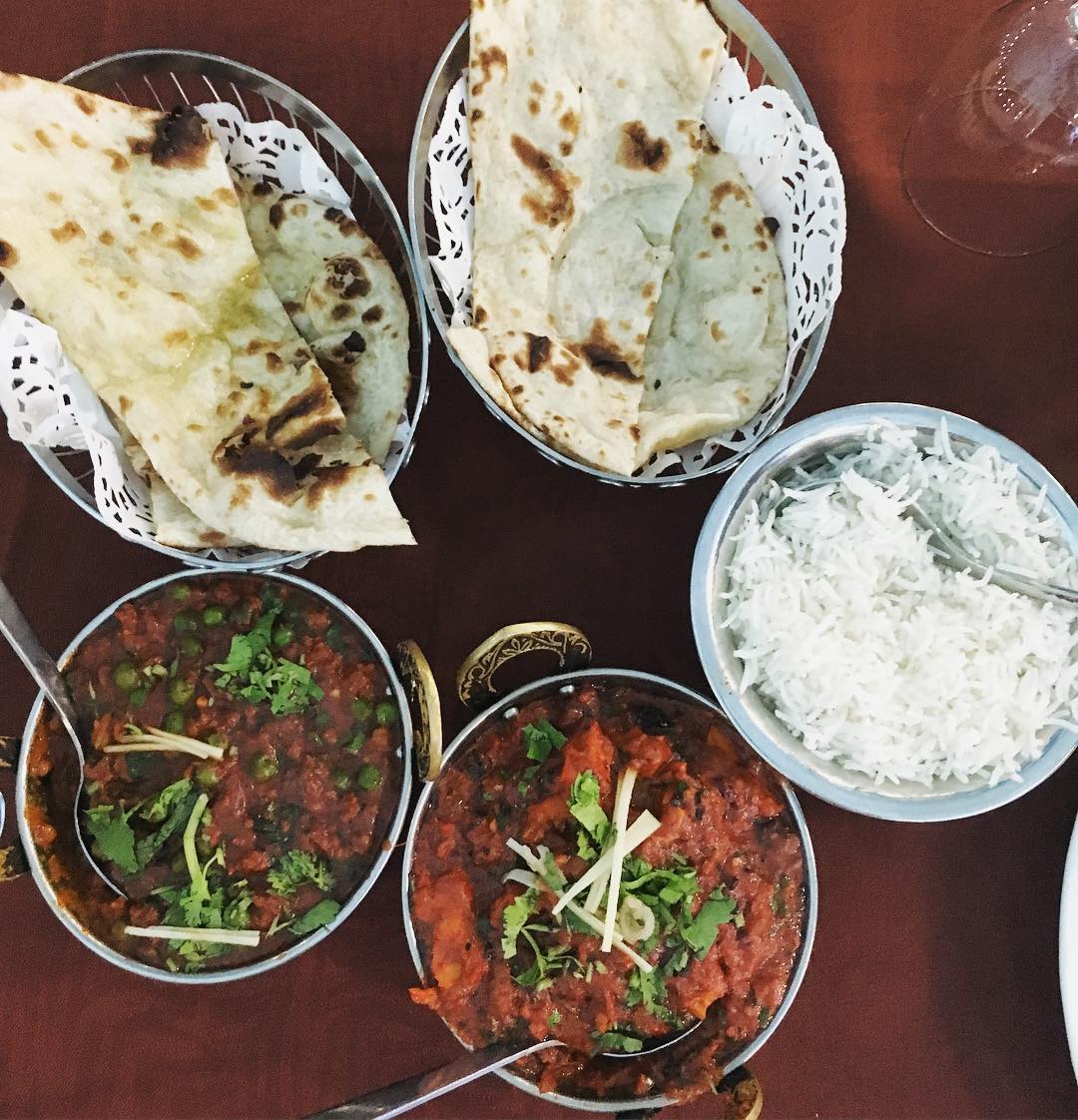 Image credit: @kristen_ph
Consider getting the Lamb Curry ($14++) when you're here. A rich spice mix brings out the natural meatiness offered by the lamb that's cooked to a fork-tender softness. Top up for a basket of Naan ($3++) to mop up all those delicious curries.
Address: 171 Syed Alwi Road, Level 7, Mustafa Centre, Singapore 207713
Opening hours: Daily 11am to 1am
Tel: 6419 0749
Website
---
7. LIN Rooftop Bar
---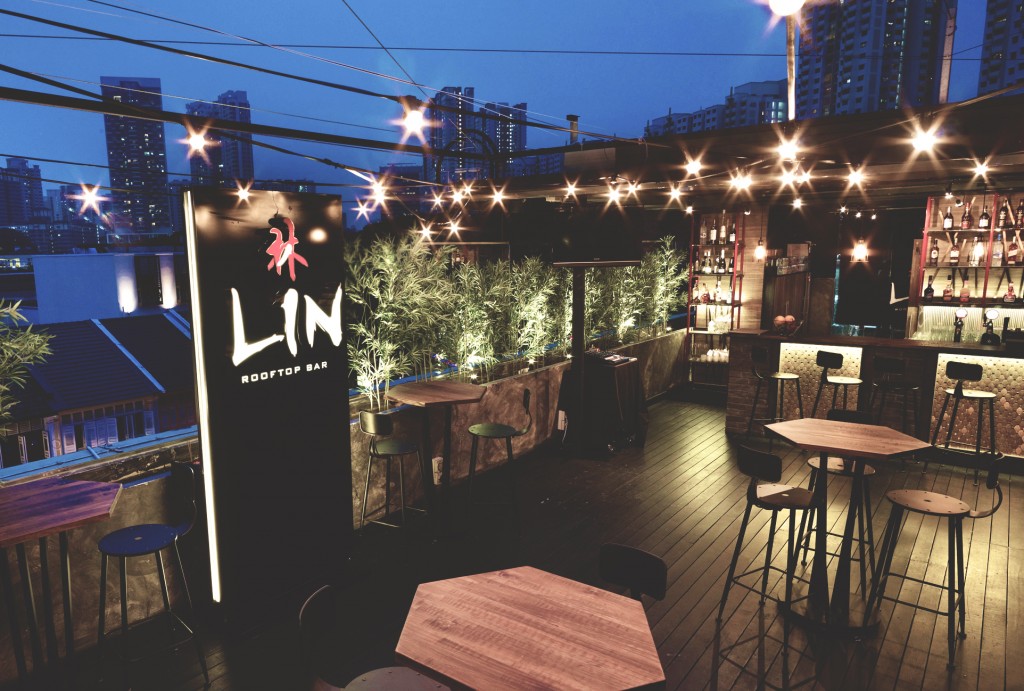 Image credit: LIN rooftop bar
LIN feels like a forest in the sky, with bamboo growing all around this resto-bar. Fairy lights dangling like stars in the sky and gentle music serenading both of you adds to the romance.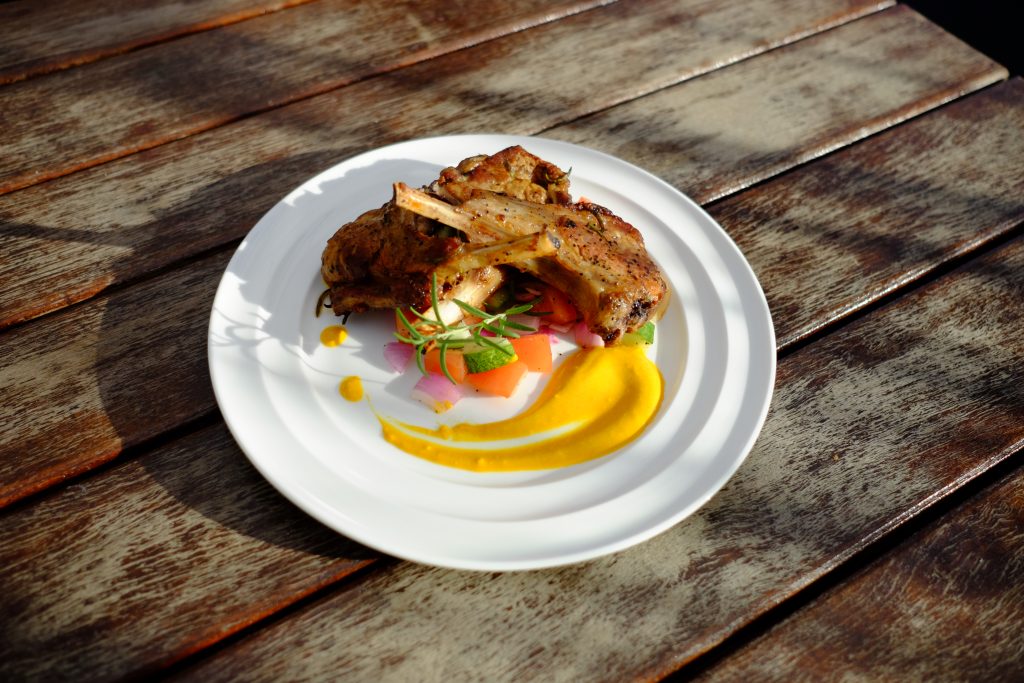 Image credit: LIN rooftop bar
The Lamb Chop ($26++) comprises two large ribs of lamb seared to a crusty golden brown. Mint sauce then confers a light freshness that lightens the dish. There's also the Empress Wings($11.80++) that's basically har cheong kai with a crispy, savoury skin and juicy inside. The prawn paste isn't too jarring, allowing the natural chicken flavours to shine.
Address: 50 Tiong Bahru Road, Link Hotel Rooftop, Singapore 168733
Opening hours: Mon-Sat 5pm to 1am
Tel: 9487 4290
Website
---
8. Urbana Rooftop Bar
---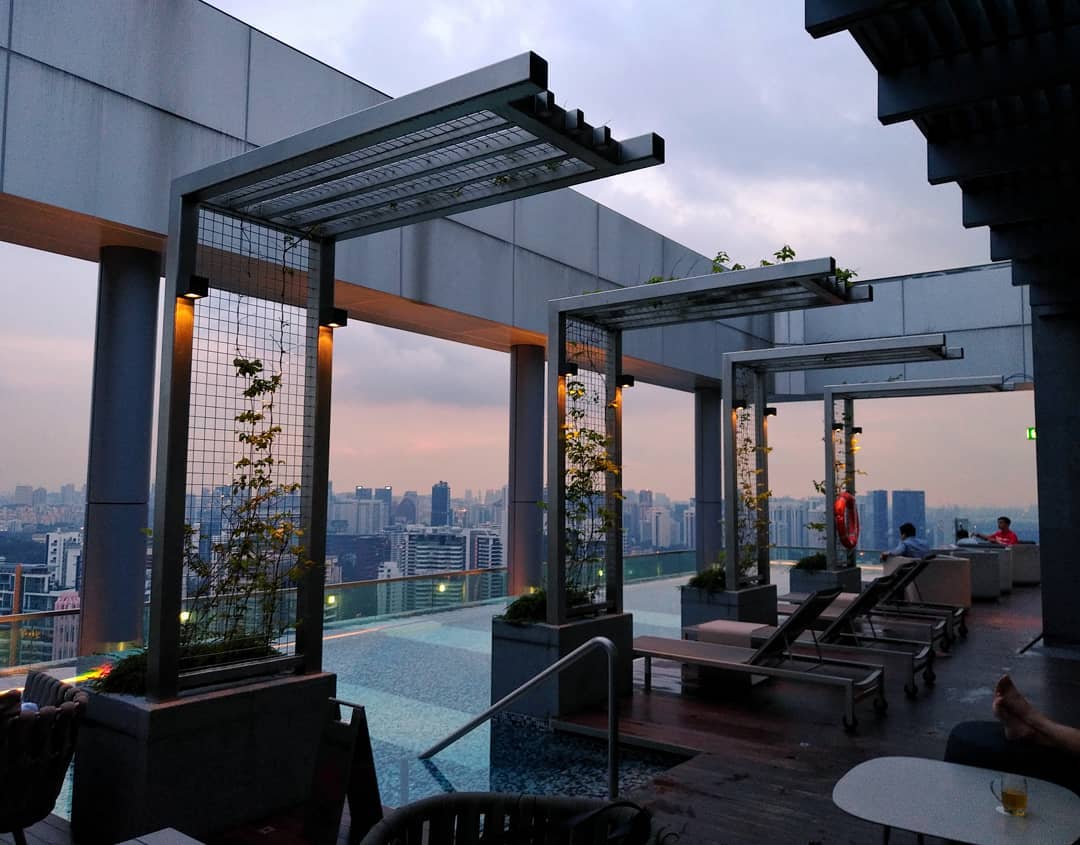 Image credit: @dannythelim
Urbana Rooftop Bar is located at the top of Courtyard Novena, with a classy infinity pool that seems to just flow off the edge of the building. As the sun sets, you and your date can admire the rosy sky as gentle ripples of water trickle down the pool.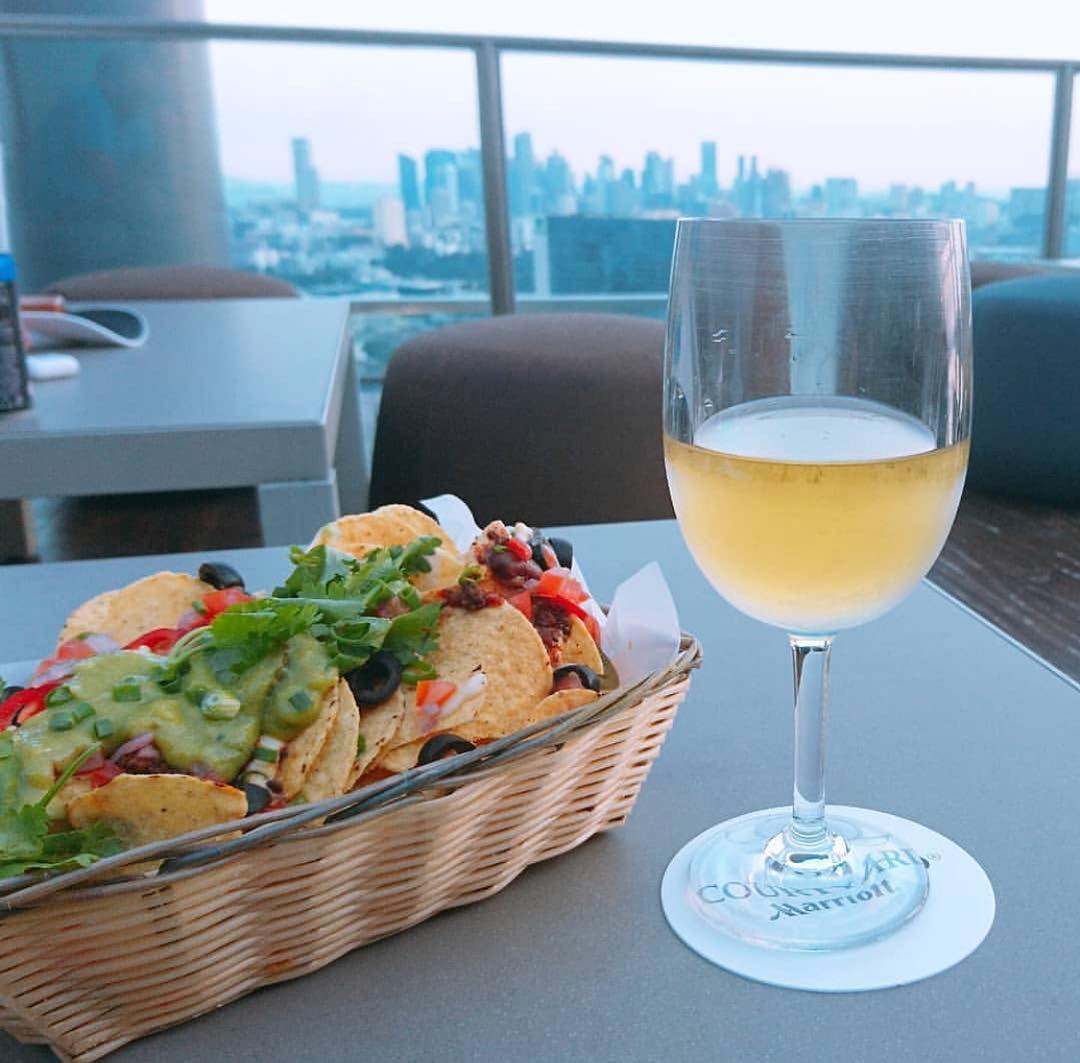 Image credit: @wei_hao.601
As you sip down a crisp glass of wine, enjoy their Urbana Classic Nachos ($20++). A meaty chilli con carne is slathered over a bed of crunchy nachos, followed by a blanket of creamy guacamole.
For something more filling, consider their Singapore Chilli Crab Pizza ($26++). Mouth-watering chilli crab sauce is layered onto pizza dough and baked to a golden brown crisp.
Address: Floor 33 @ Courtyard Marriott 99, Irrawaddy Road, 329568
Opening hours: Daily 5pm to 1am
Tel: 6378 2060
Website
---
9. Kinki Restaurant and Bar
---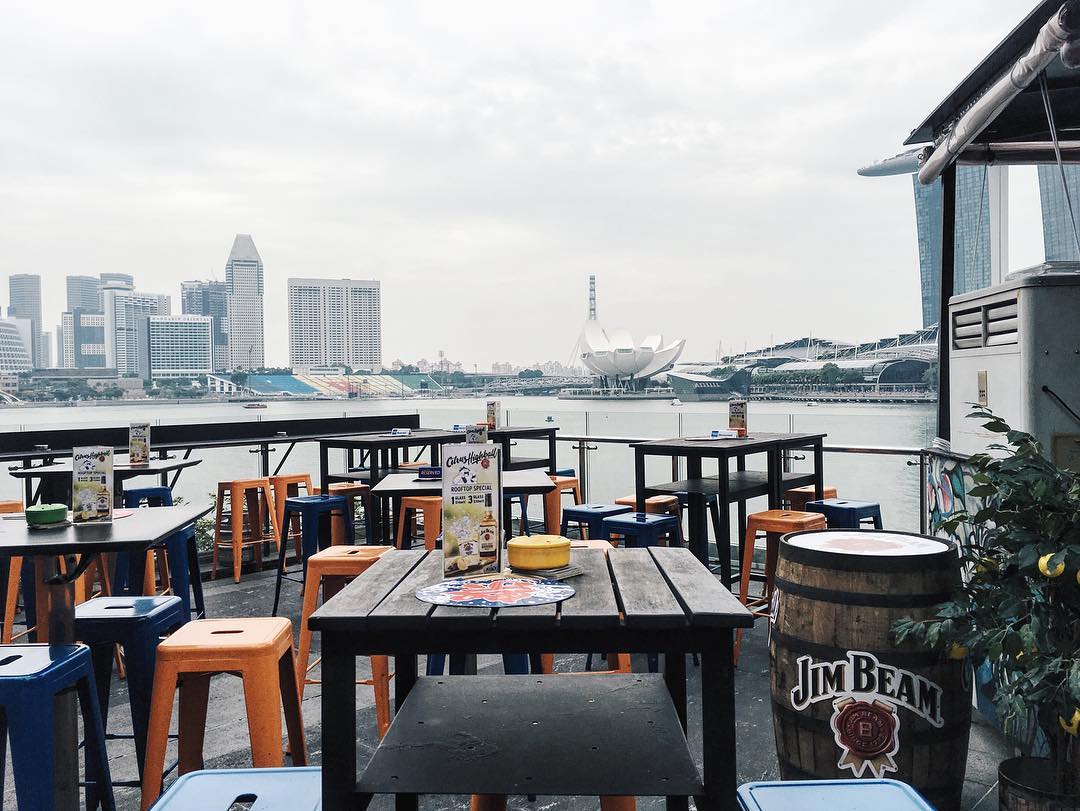 Image credit: @kinkibar
Kinki Restaurant and Bar offers a panoramic view of Marina Bay. In the evening, you and your date can marvel at the light show display by Marina Bay Sands without the insane crowd.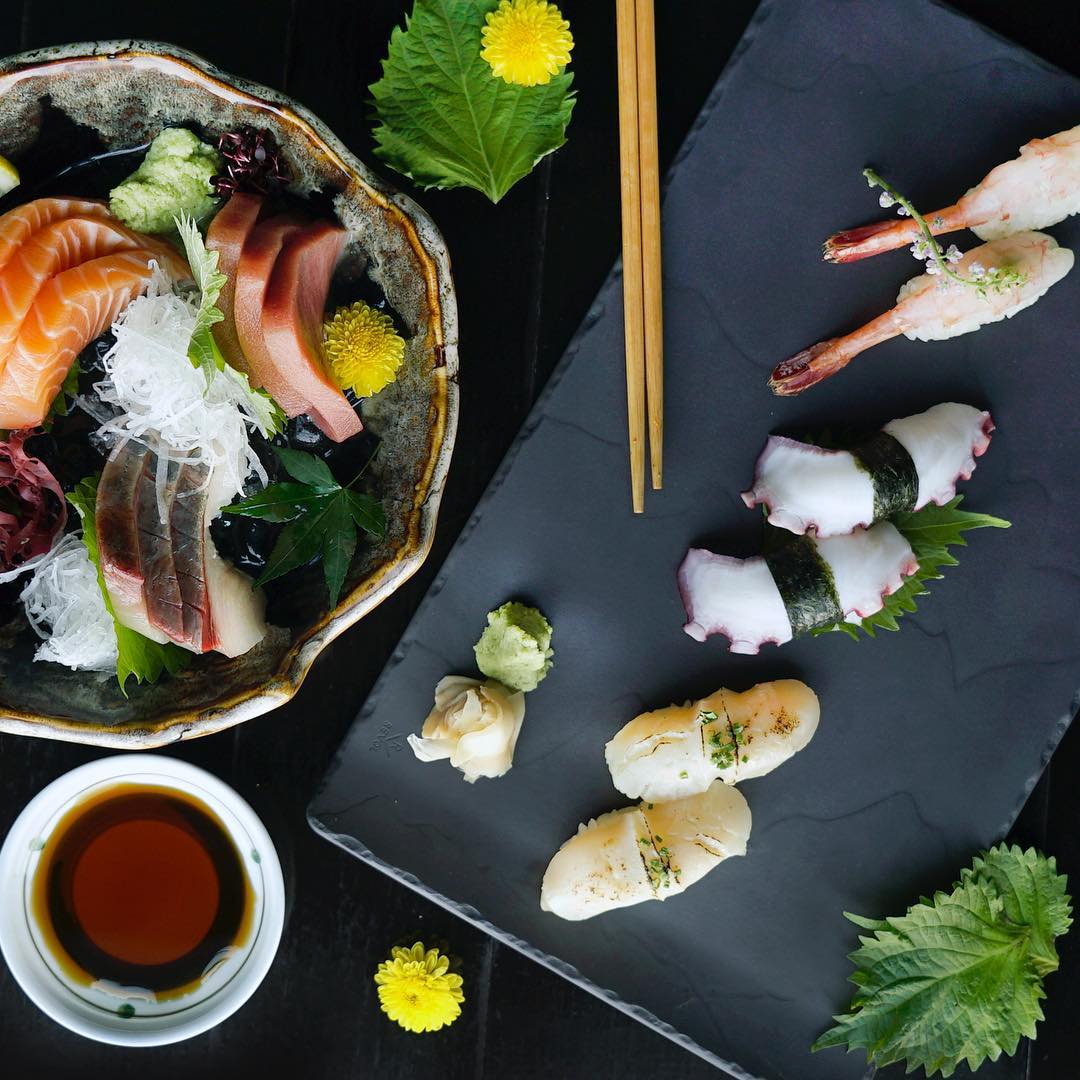 Image credit: @kinkibar
Expect a Japanese-centric menu here. Salmon Sashimi ($20++) comes in thick slices, giving you a substantial mouthfeel of oceanic goodness. The Kurobuta Katsu Curry ($26++) comprises a succulent chunk of kurobuta pork coated in a thin crust of panko crumbs. Then, a thick Japanese curry floods the dish in a beautiful golden hue.
Address: 70 Collyer Quay #02-02, Customs House, Singapore 049323
Opening hours: Mon-Thu 12pm to 2:15pm, 6pm to 10:15pm, Fri-Sat 12pm to 2:30pm, 6pm to 10:15pm
Tel: 6533 3471
Website
---
10. Fry Rooftop
---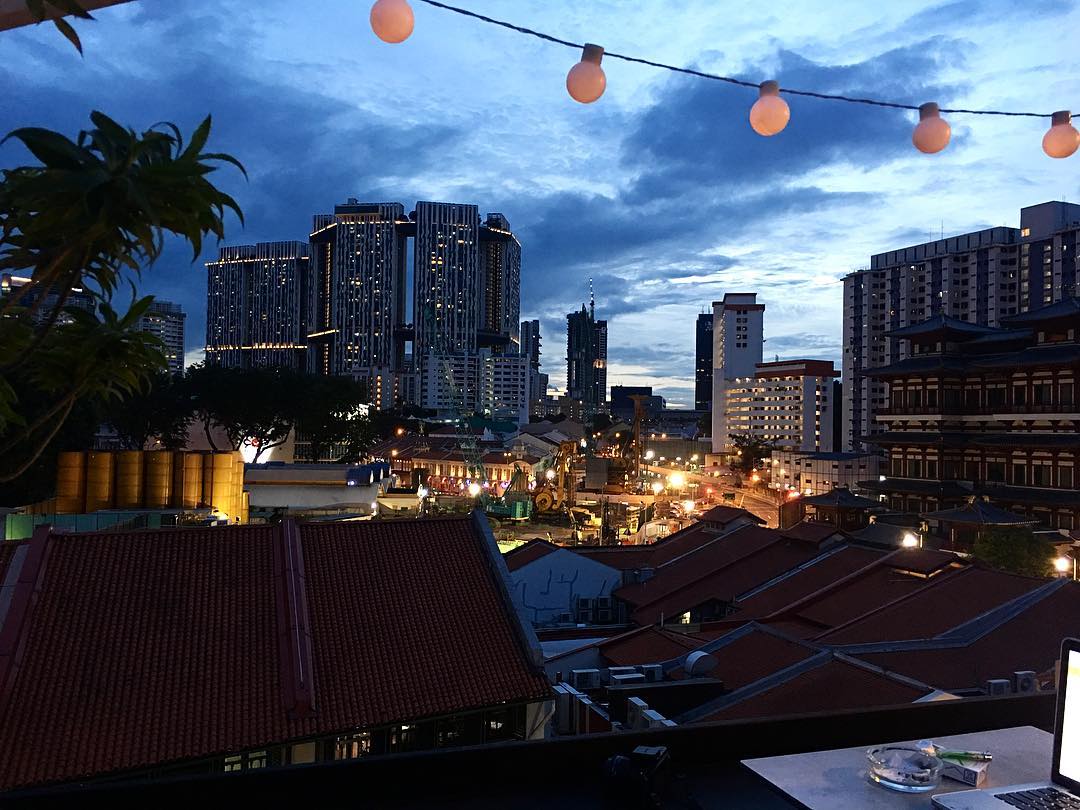 Image credit: @frybistro
Fry Bistro offers a gorgeous view of the Duxton district with a lively atmosphere. Sip on your favourite drink as you and your date watch the sun set behind the neighbouring buildings.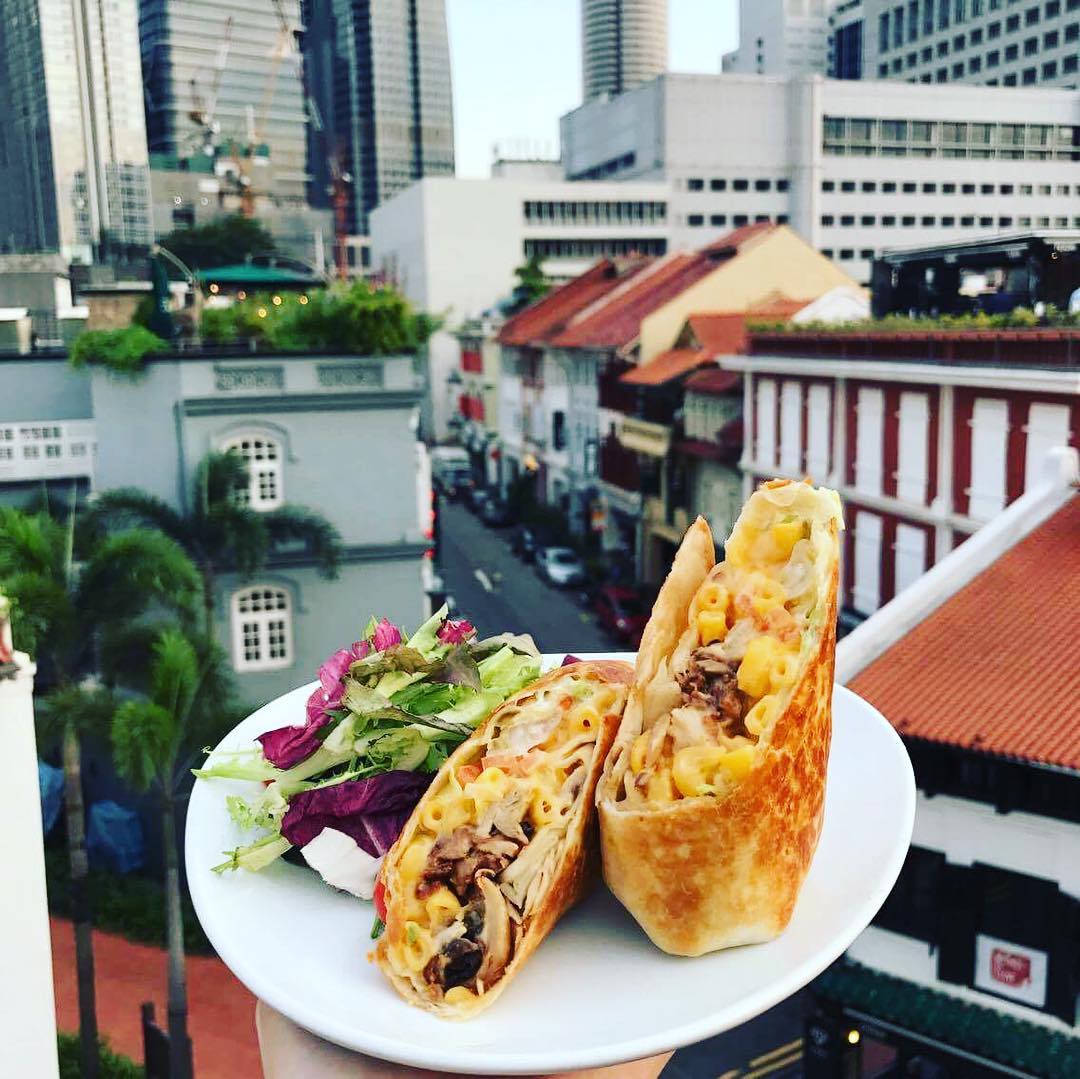 Image credit: @chefray28
You could order Kimchi with Pork Belly Quesadilla ($20++), where thick slices of pork belly are tossed in kimchi, encrusted with a warm quesadilla wrap. There is also Pink Sauce Mac & Cheese ($18++) – a mix of tomato puree and cream sauce. You can even opt for additional ingredients such as shitake mushrooms ($2++), Cajun chicken ($3++) and even truffle oil ($4++) to pimp-up your dish.
Address: 96B Club Street, Singapore 069464
Opening hours: Daily 5:30pm to 3am
Tel: 8418 5995
Website
---
Views as gorgeous as bae
---
As your bae falls deeper in love with you after a date in one of those rooftop restaurants, you could consider these rooftop bars to up the anté. Featuring everything from beautiful rooftop bars with cheap drinks to high-ses ones for ballers, you can be sure that there's an option for you.