Gram Cafe & Pancakes at Vivocity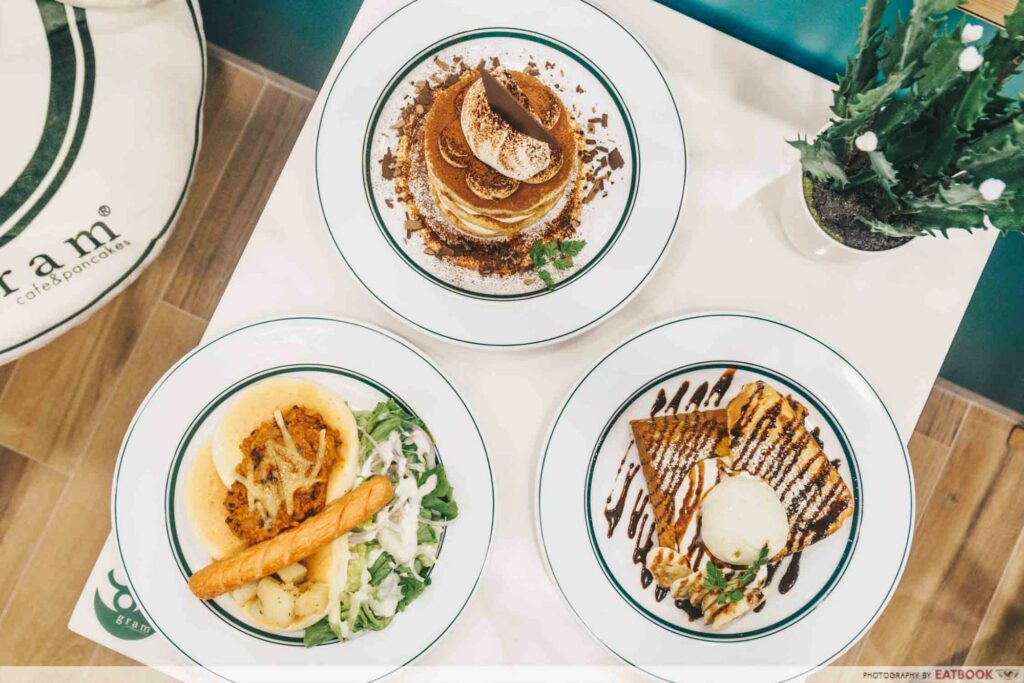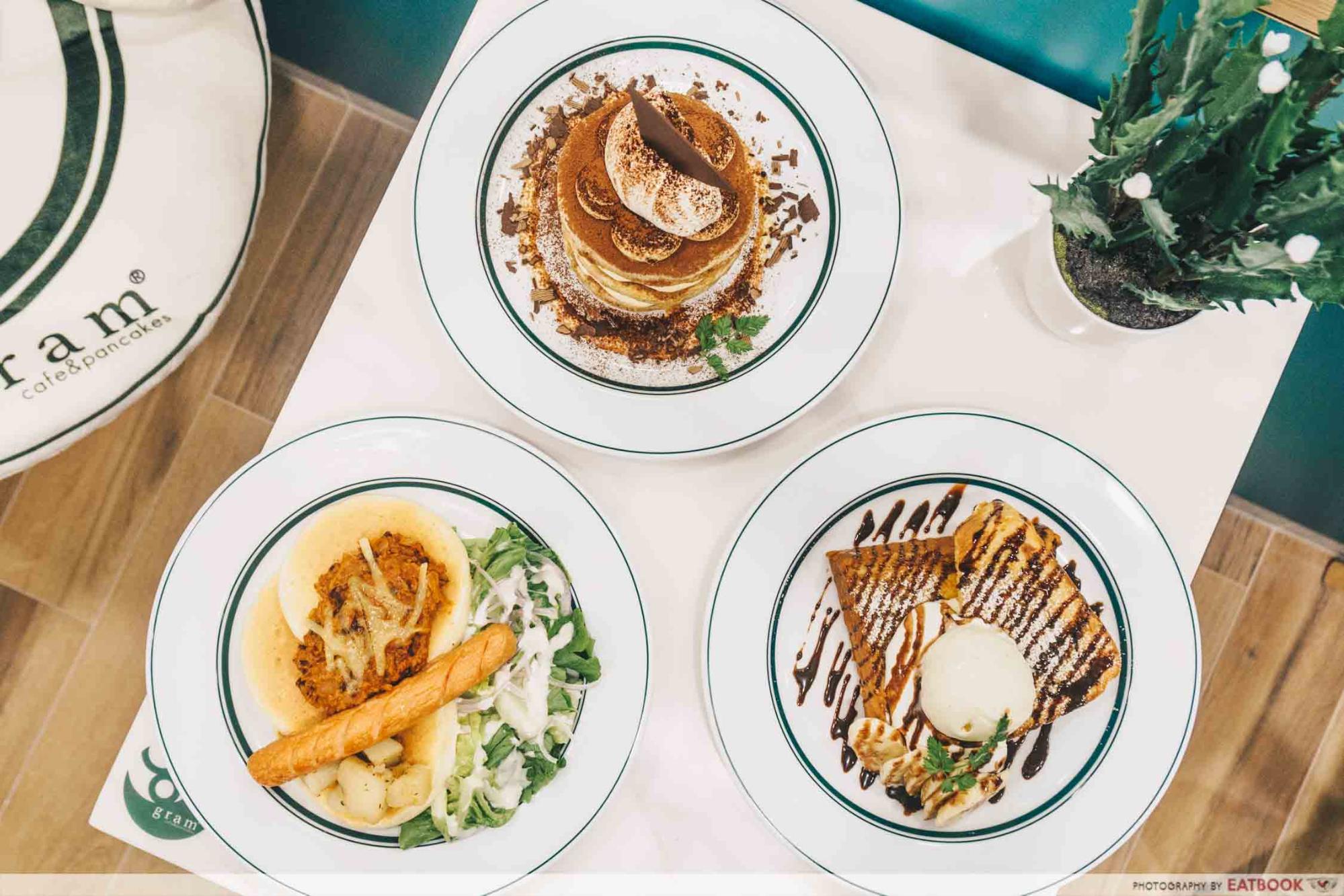 Like how beautifully rolled sushi and hearty bowls of ramen are a must-try for tourists in Japan, fluffy Japanese pancakes have emerged over the past couple of years as one of Japan's iconic cafe dishes.
Singaporeans are probably no strangers to Japanese pancakes, with Belle-ville from Osaka and Tokyo's Riz Labo Kitchen arriving last year.
New to the local scene is Gram Cafe & Pancake. With outlets in Japan, Hong Kong, and Thailand, this store is known as the largest Japanese pancake chain in Japan and around the world. Although the cafe will only open on 16 June 2019, we managed to get a peek of the food served at a media preview. Here's what we thought.
Food at Gram Cafe & Pancakes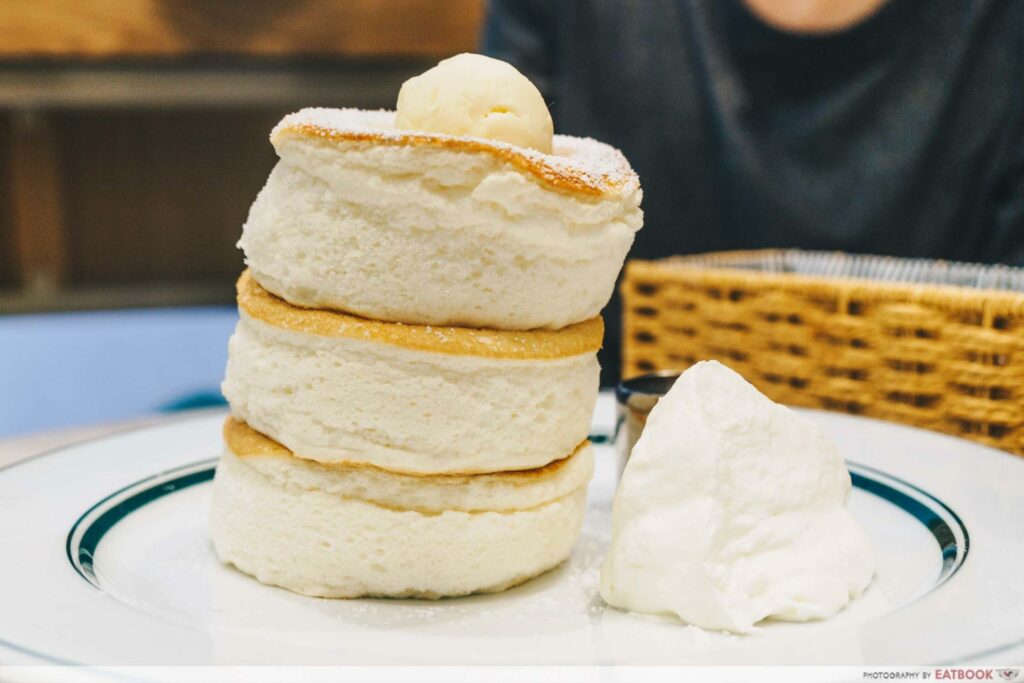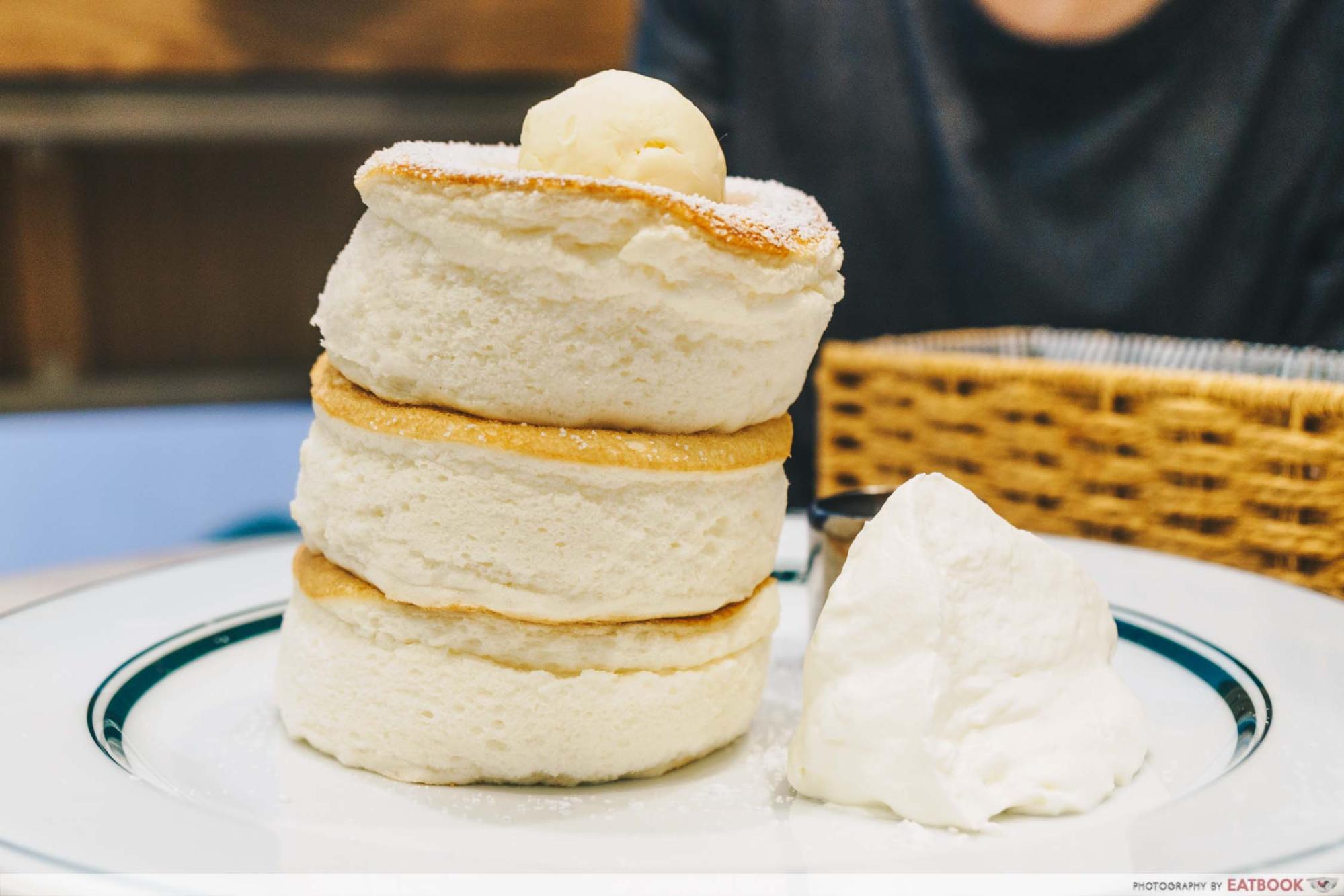 No visit to Gram Cafe & Pancakes is complete until you've tried their Premium Pancakes ($17.90++). These pancakes are really exclusive; they are only available at 11am, 3pm, and 6pm every day, with 30 servings each time.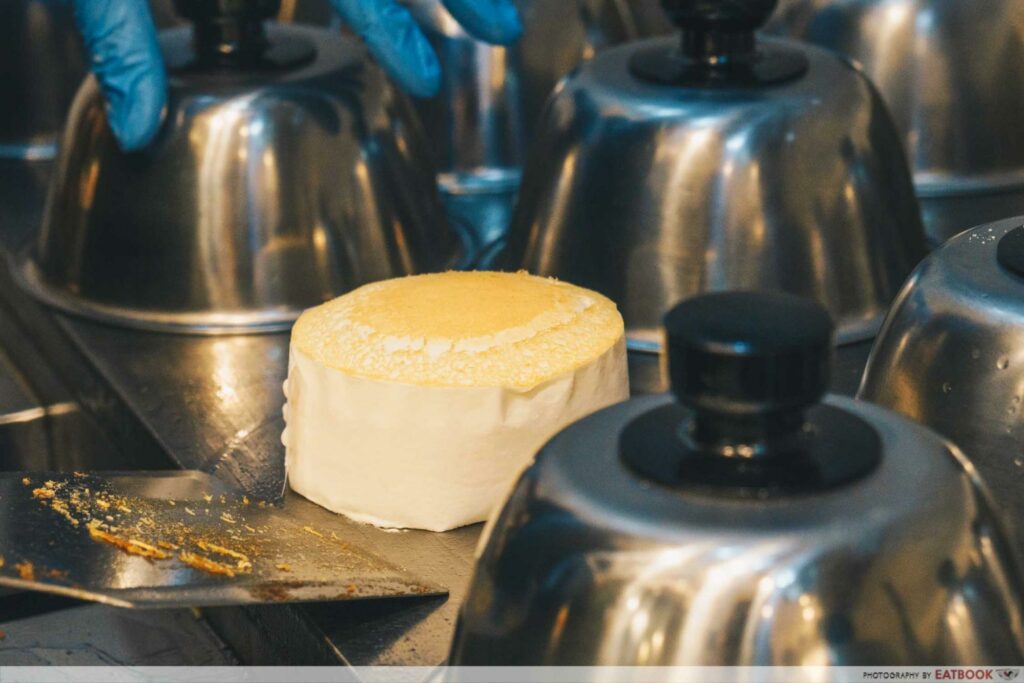 The cafe might sound snobbish and even foolish to restrict the sale of their signature item to 30 each time, but we learnt that each serving takes a whopping 30 minutes to cook. The store is also limited by the size of their pancake griddle, which can accommodate a small amount of these fluffy discs.
It is so exclusive, you will need a ticket to get on the list. That being said, queuing only starts 30 minutes before each session, so you don't have to camp for hours.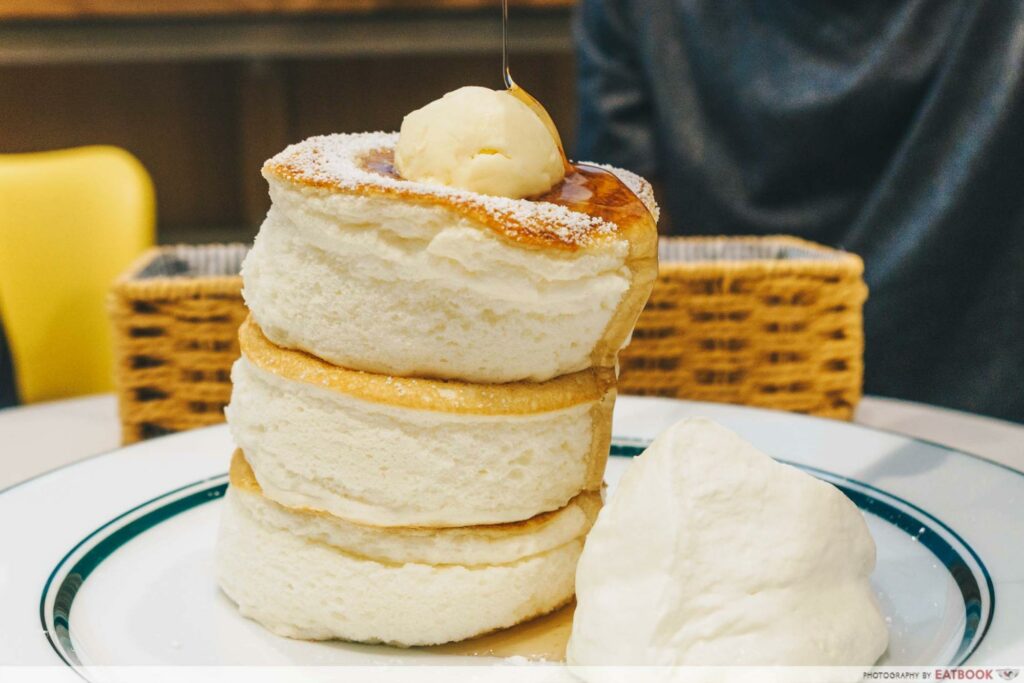 Looking like three very large marshmallows, these pancakes are definitely made for the 'gram. The natural thing to do was to give them a jiggle, and I have to admit that it was mighty fun and oddly satisfying. It's suggested to eat these pancakes within five minutes, so you might want to refrain from jiggling them  too long.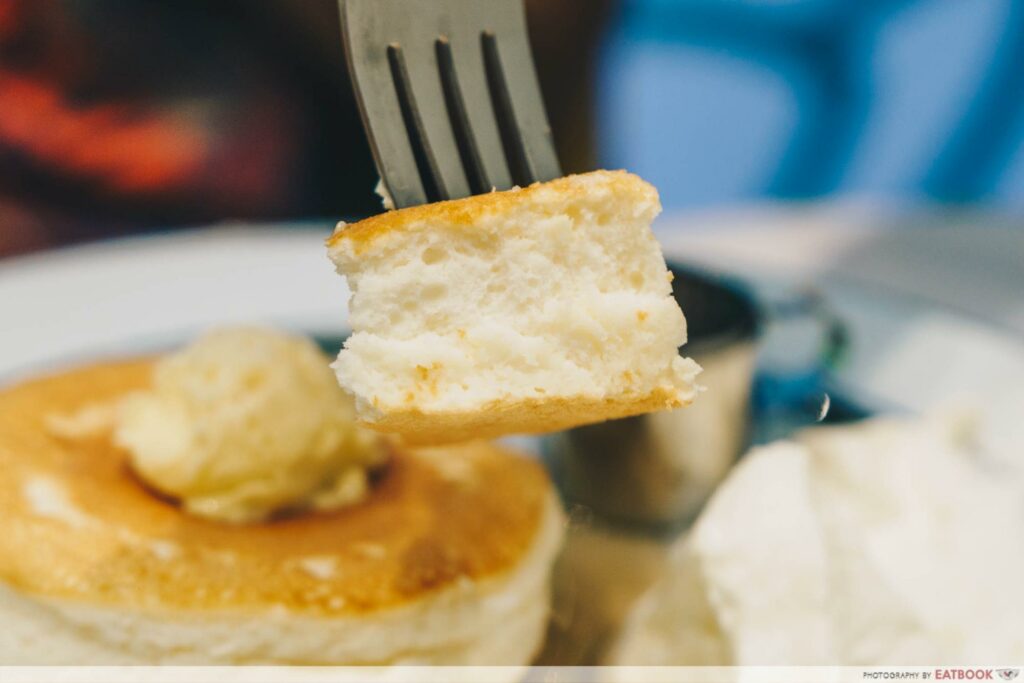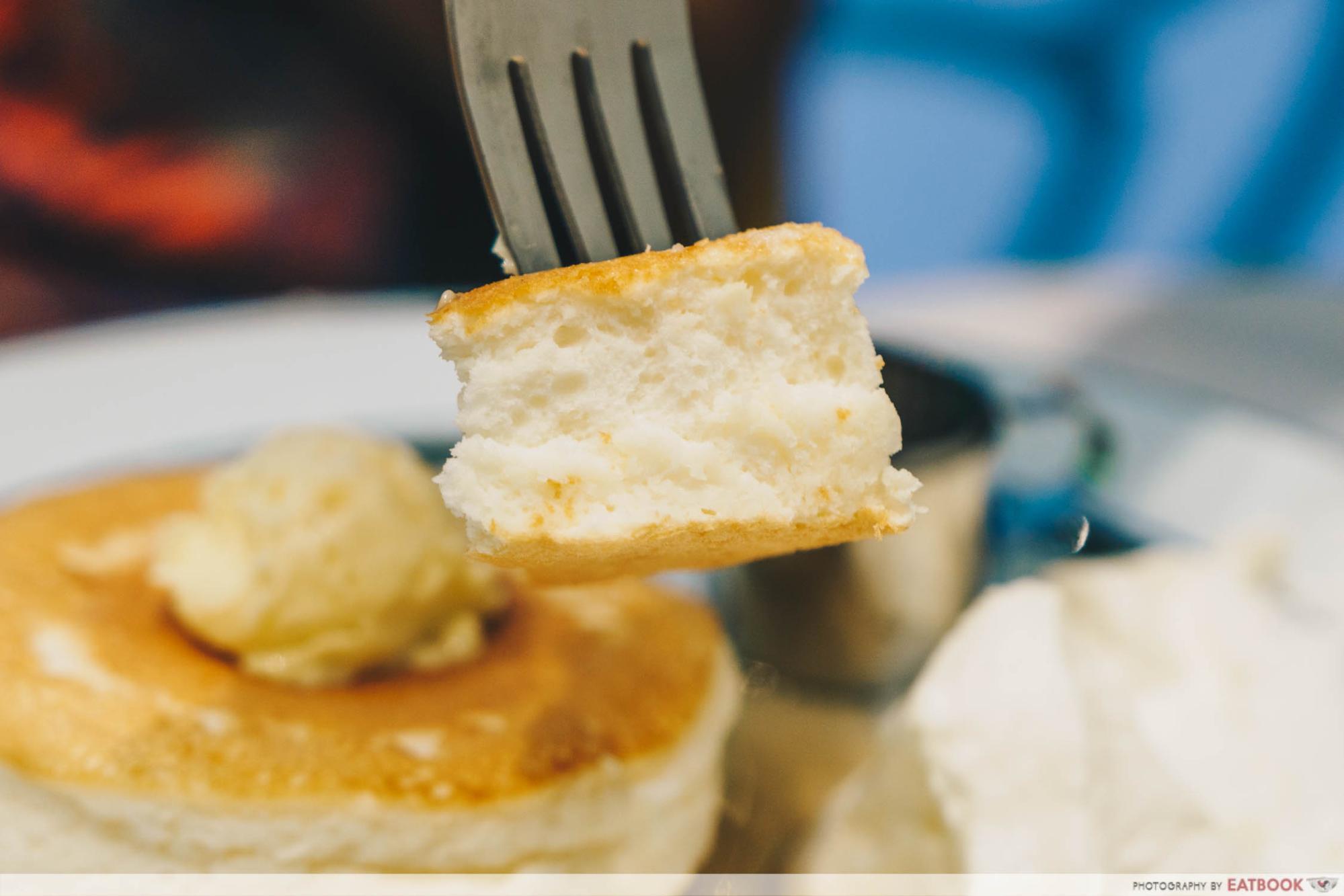 The pancake didn't excel as much in the taste department as it did in the jiggly department. It tasted a tad too dry and heavy, but we appreciated how it had a slight eggy and butteriness to it. Luckily, the pancakes come with a generous dollop of whipped cream and maple syrup to provide much-needed relief.
We particularly liked their house-made whipped cream, which packed a fresh and velvety mouthfeel. I personally recommend slathering a generous portion to the pancakes.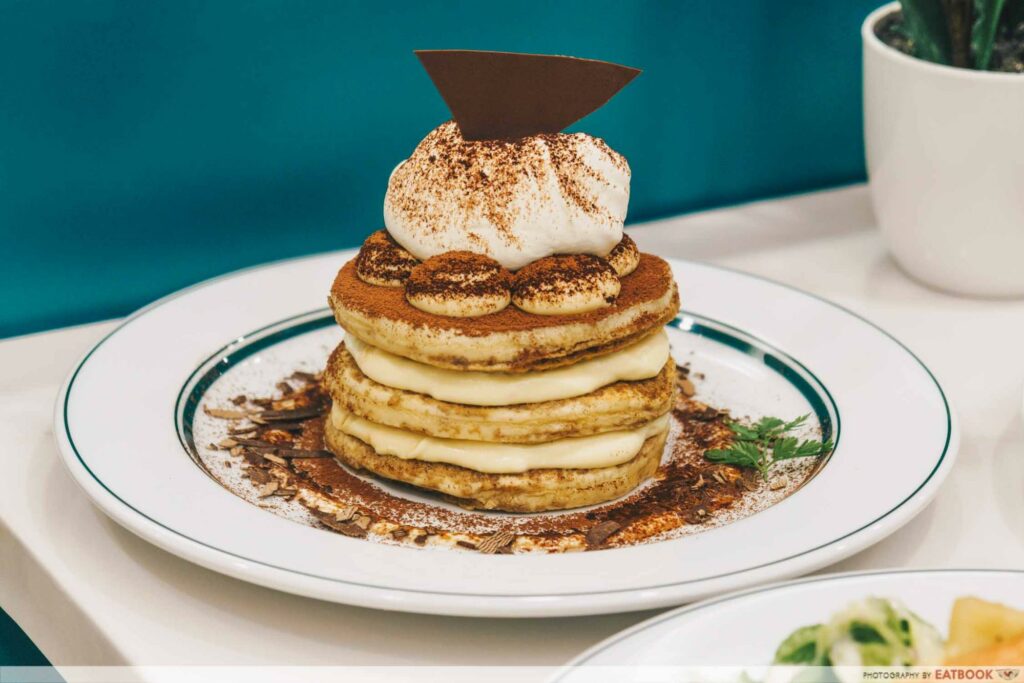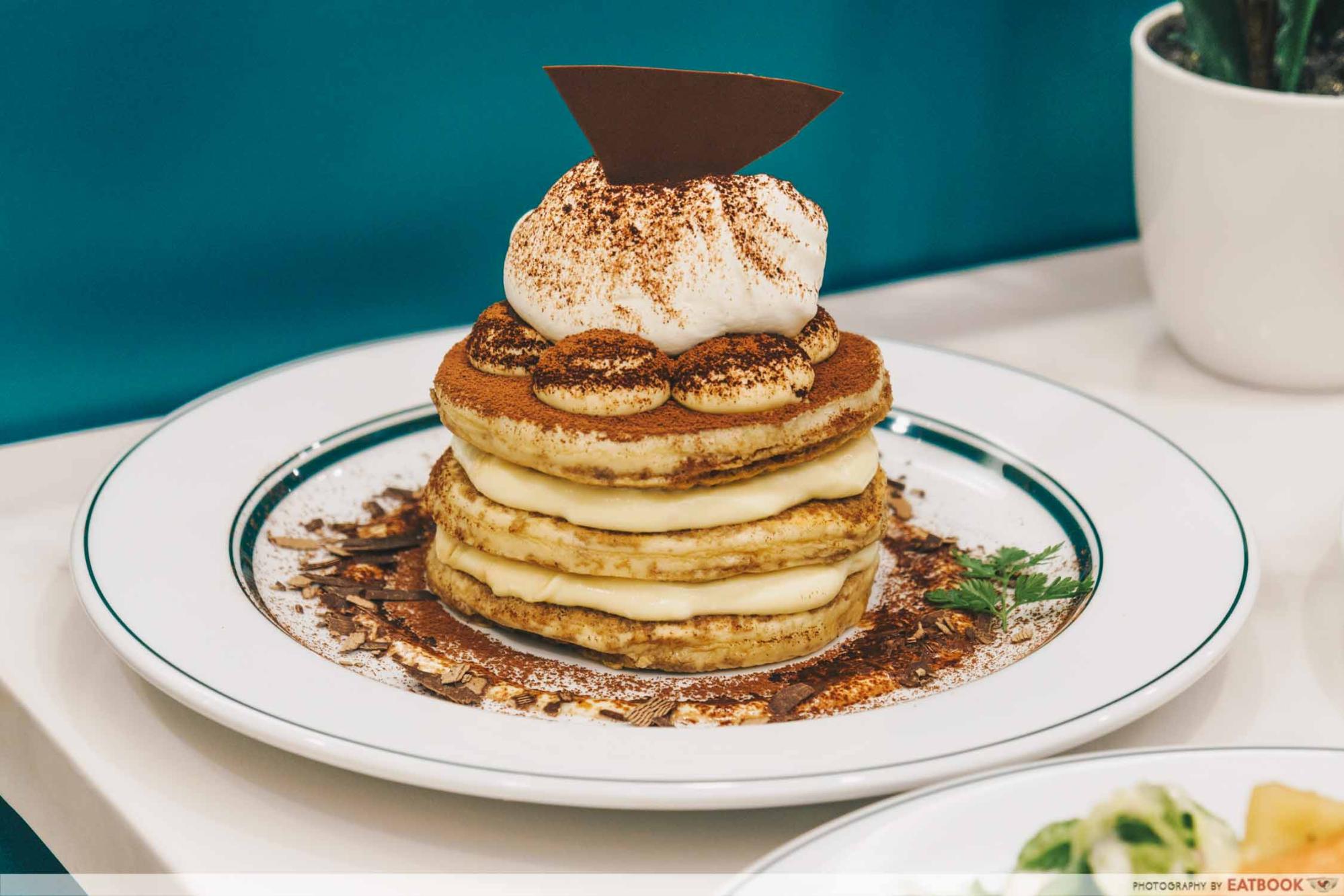 If you've missed out on the exclusive pancakes, the restaurant's other pancakes are still available. Rich Tiramisu Pancakes ($15.90++) is another item that's made for the camera, with a beautiful tower of pancakes sandwiching layers of mascarpone cream cheese.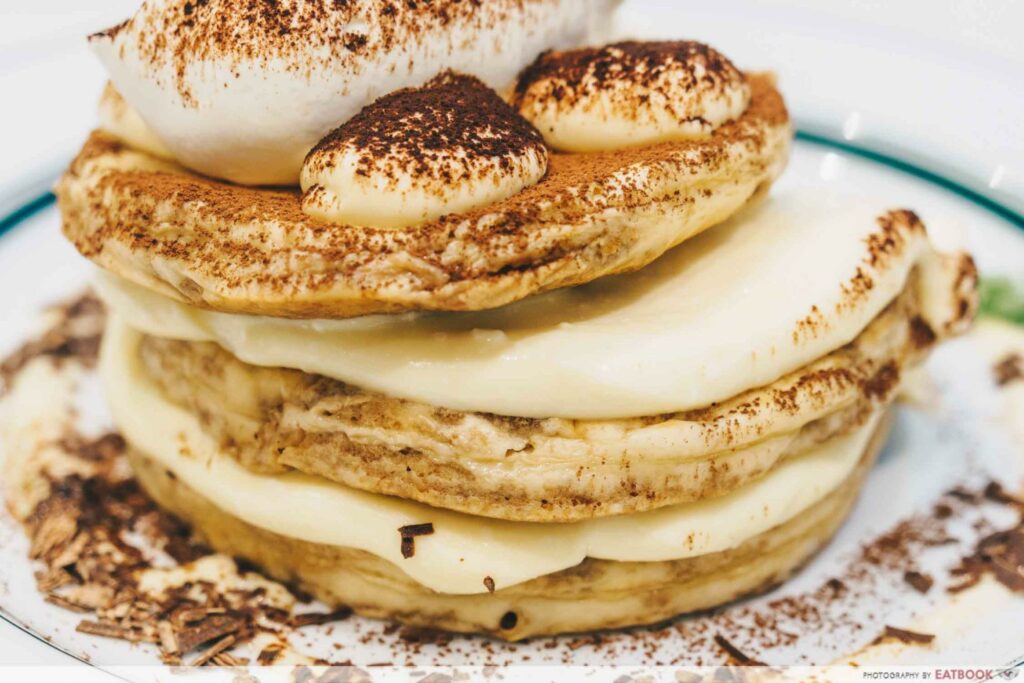 This pancake is a treat for the senses, with bitterness from the espresso-soaked pancakes and sweetness from the mascarpone cream cheese pairing well with each other. I would recommend sharing this dish with two other friends, for a satisfying post-meal dessert.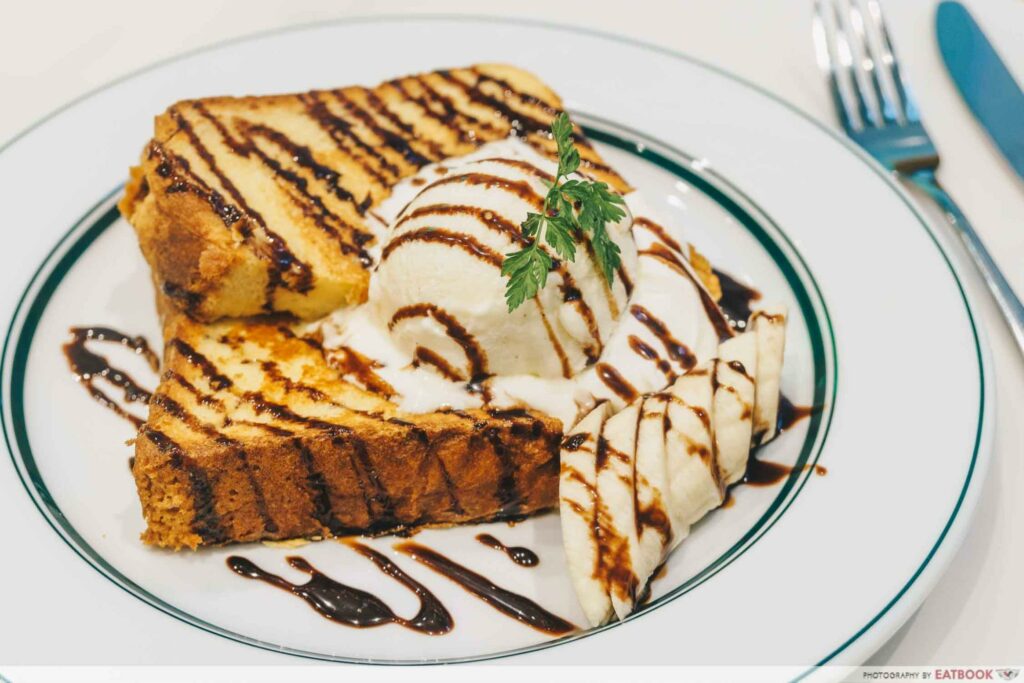 There's also room for non-pancake lovers with French Toast of Chocolate Banana ($15.90++). Here, a whole piece of brioche is topped with fresh bananas, vanilla ice-cream, and rich chocolate sauce.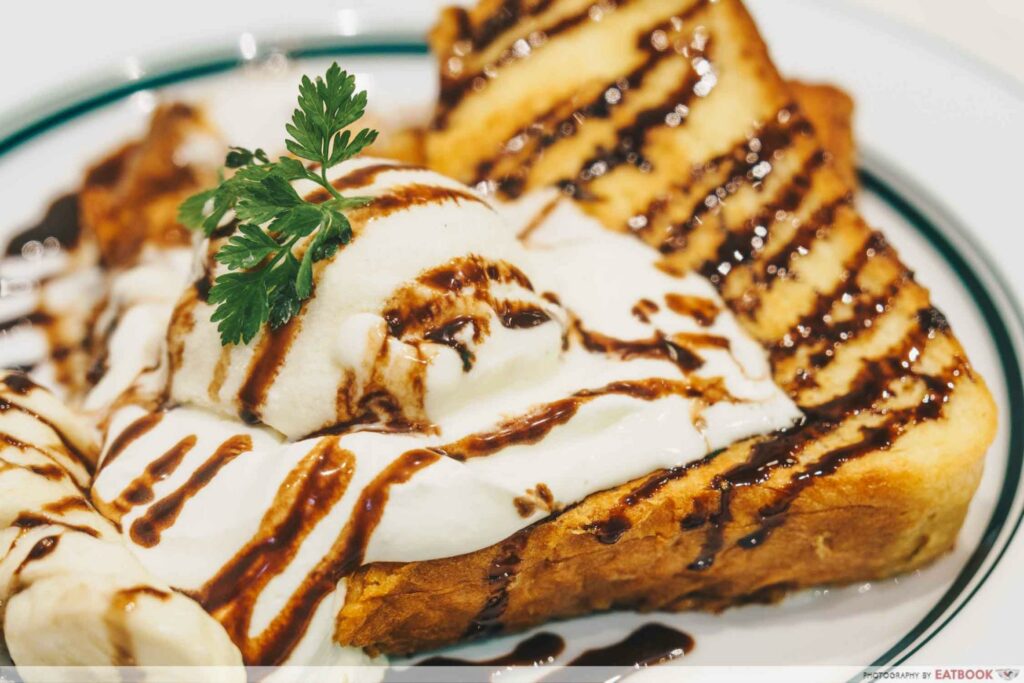 The texture was undeniably soft and pillowy, with the ice-cream providing a creamy and pleasant contrast. However, at $15.90++, I can't help but feel that this dish is a little overpriced.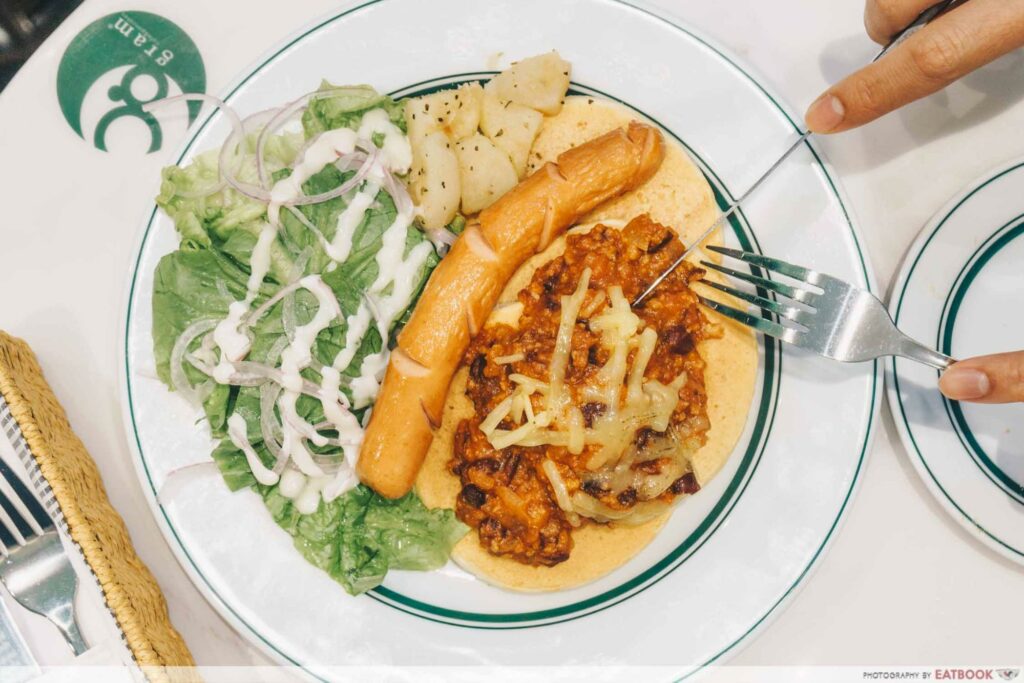 It's not all about sweet treats here. They also have an interesting Chili Beans Pancakes ($18.90++) for those who want a mix of sweet and savoury.
Following the exact recipe used by Gram Cafe in Japan, you can expect a trio of classic American-style pancakes drenched in a generous portion of chilli beans sauce and melted cheddar cheese. A side of chicken sausage, potato and salad greens accompany this meaty dish.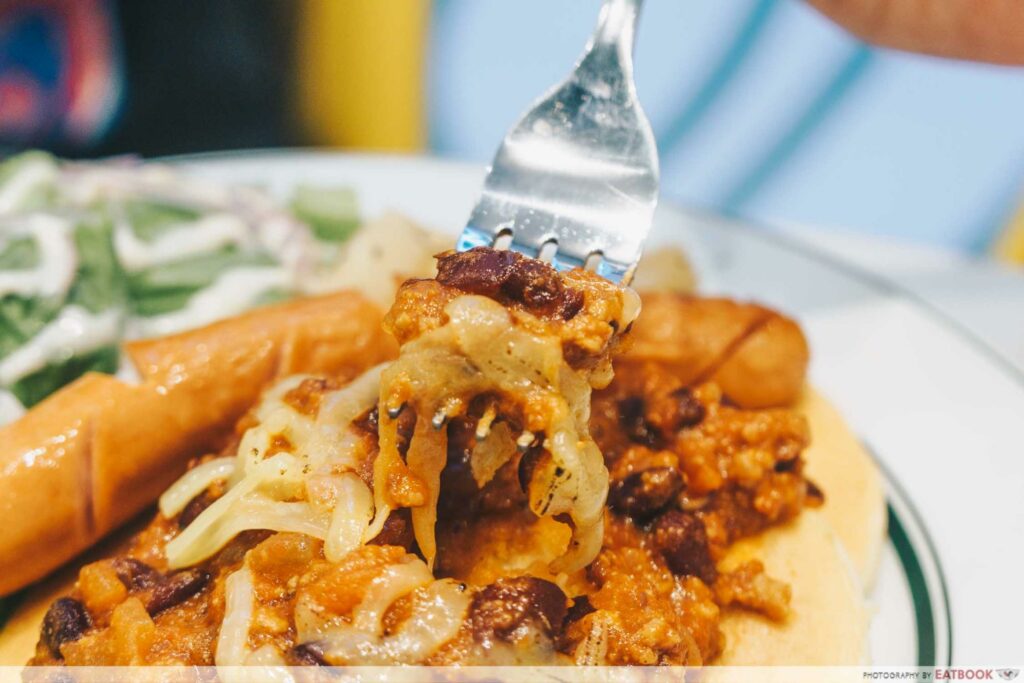 This pancake is definitely one for meat lovers. The chilli had a nice, strong hit of spice that went well with the wheaty pancakes. The minced meat was also caramelised well, packing subtle smoky notes.
My only gripe about this dish is the portion of chilli given. Somehow, there wasn't enough to go around for all three pancakes.  I hope that they'll be more generous with their portions for their upcoming launch.
Ambience at
Gram Cafe & Pancakes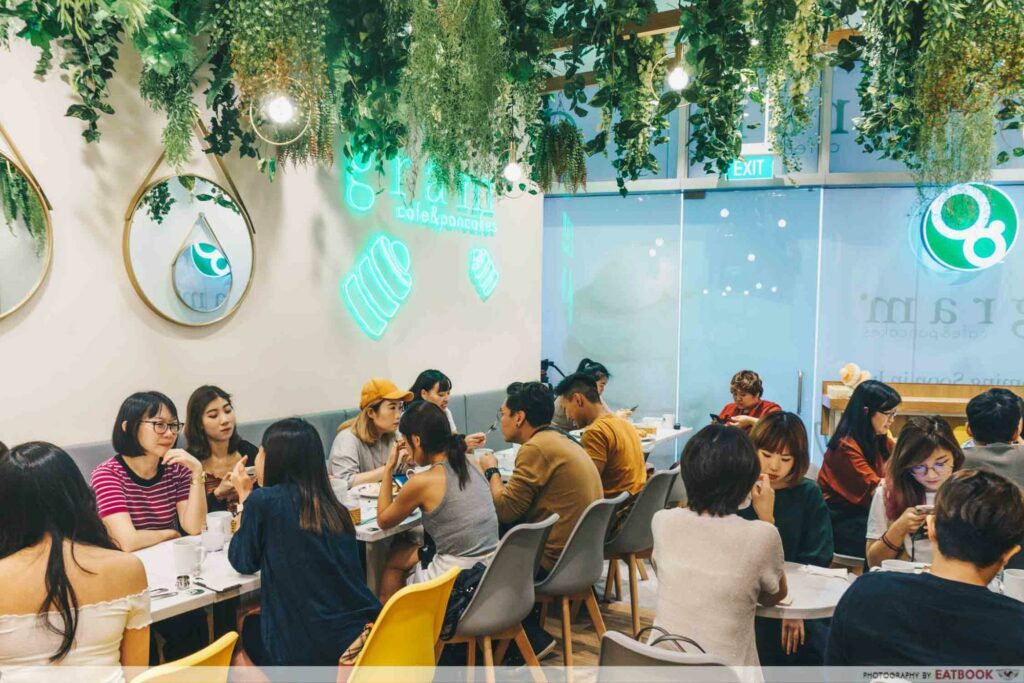 I've been to a Gram Cafe & Pancakes outlet in Kanazawa, Japan, and found the decor to be more or less the same here. Located on the second floor of Vivocity, next to Secret Recipe, this small and cosy store sits 40 pancake-lovin' foodies.
A stone's throw away from Sentosa, I can foresee this place to be packed with folks looking for a sweet treat after a day in the sun.
The verdict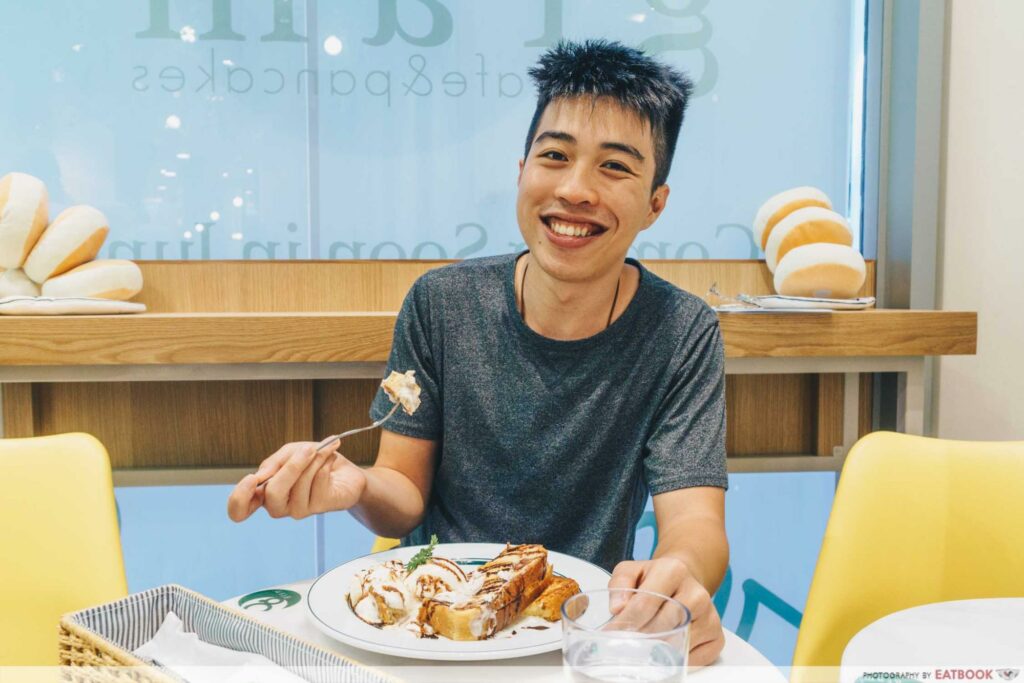 It's always interesting when popular foreign brands arrive in Singapore. While our experience at Gram Cafe & Pancakes was a little disappointing, there's definitely no reason to not give this cafe a go.
With the success of A&W and Shake Shack in recent months, I have no doubts about Gram Cafe & Pancakes' ability in drawing in the crowds with their insanely adorable jiggly pancakes. The only problem they might face is guaranteeing a revisit by novelty-hungry Singaporeans.
Address: 1 Harbourfront Walk, #02-110, VivoCity, Singapore 098585
Opening hours: Daily 11am to 10pm, last order at 9pm
Website
Photos taken by Lim An.
This is an independent review by Eatbook.sg.
Summary
Pros
– Convenient location
– IG-worthy dishes
Cons
– Dishes a little overpriced
Recommended dishes: Rich Tiramisu Pancakes ($15.90++)
Opening hours: Daily 11am to 10pm, last order at 9pm
Address: 1 Harbourfront Walk, #02-110, VivoCity, Singapore 098585