Travel back in time with A&W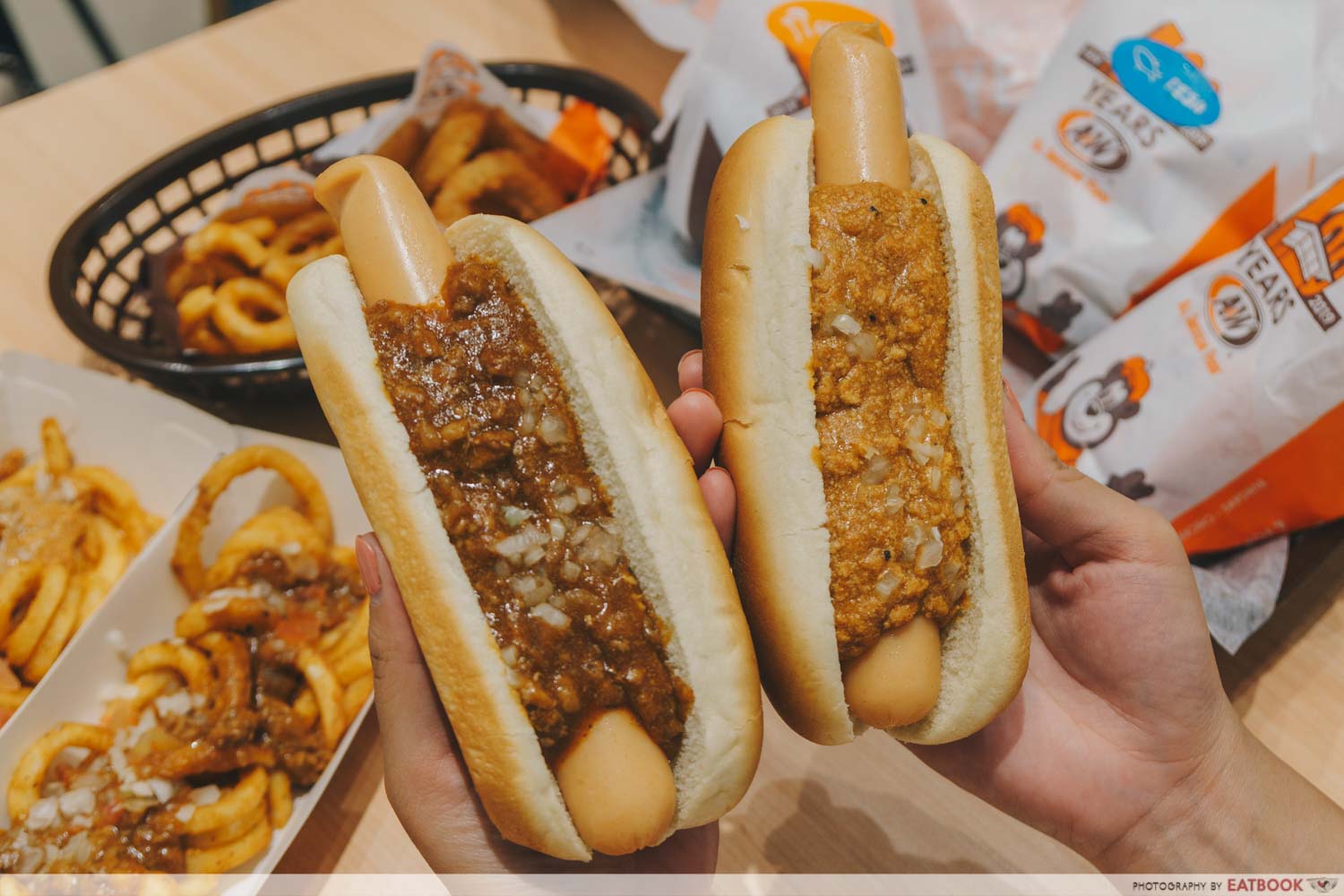 Heading to A&W at Jewel Changi Airport is akin to travelling back in time. The fast food chain was practically a landmark for many Singaporeans before the closure of its last outlet in 2003. Relive the past as you head down to join the queue, but beware as it might set you back anytime between one to 1.5 hours.
16 Jewel Changi Airport Food Places To Visit When It Opens On 17 April 2019
Food at A&W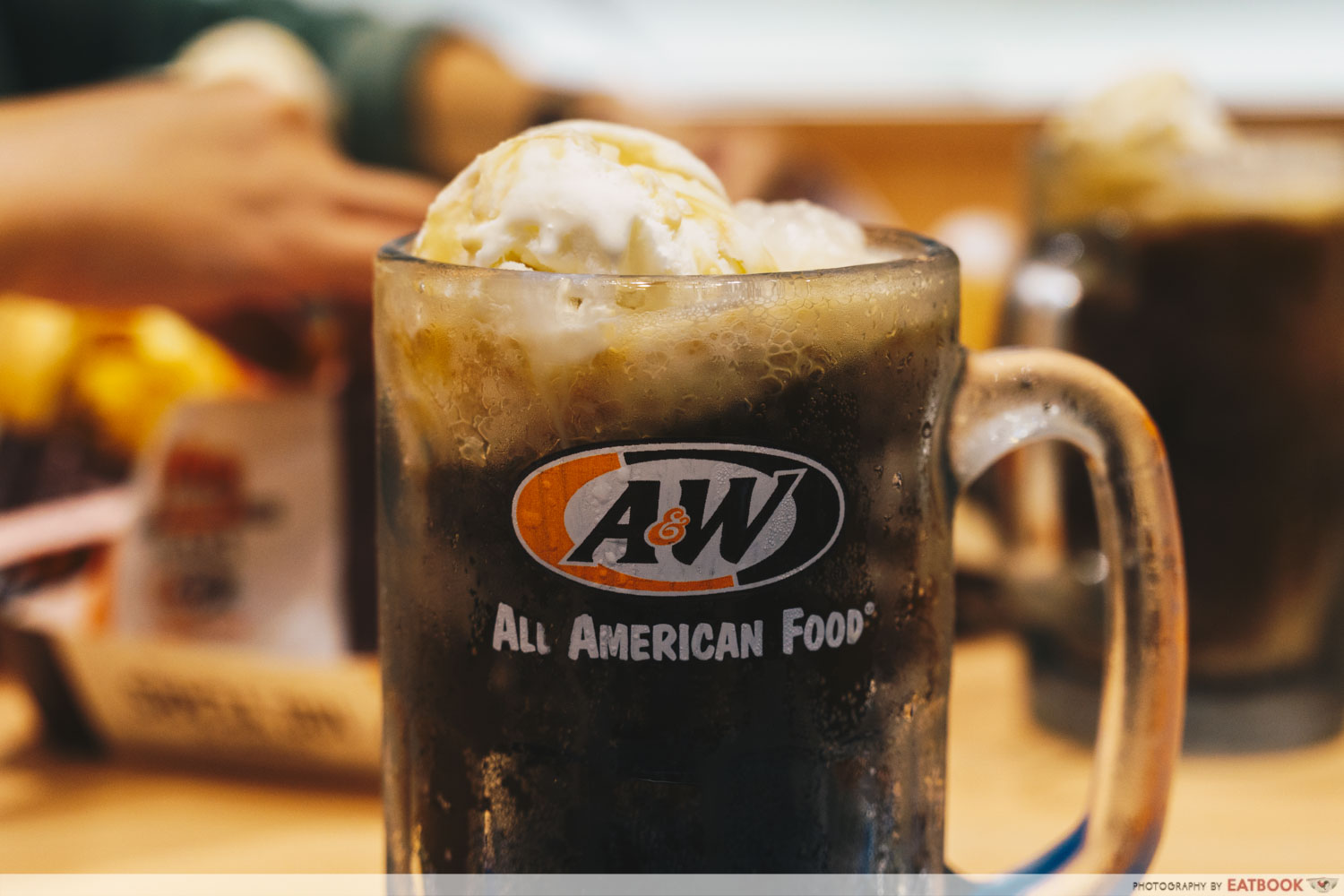 It might be customary to start with an introduction of A&W's best burgers or coney dogs, but the fangirl in me feels like that doesn't do justice to the iconic Root Beer Float ($3.50). From the frosted ice-cold mug to the familiar taste of creamy vanilla ice-cream and gassy non-alcoholic draft beer, everything was as I remembered. This drink of nostalgia gets a 10/10 must-order rating from me. 
I highly recommend adding more ice-cream at $0.60 a scoop, lest you finish the creamy vanilla foam with too much root beer left.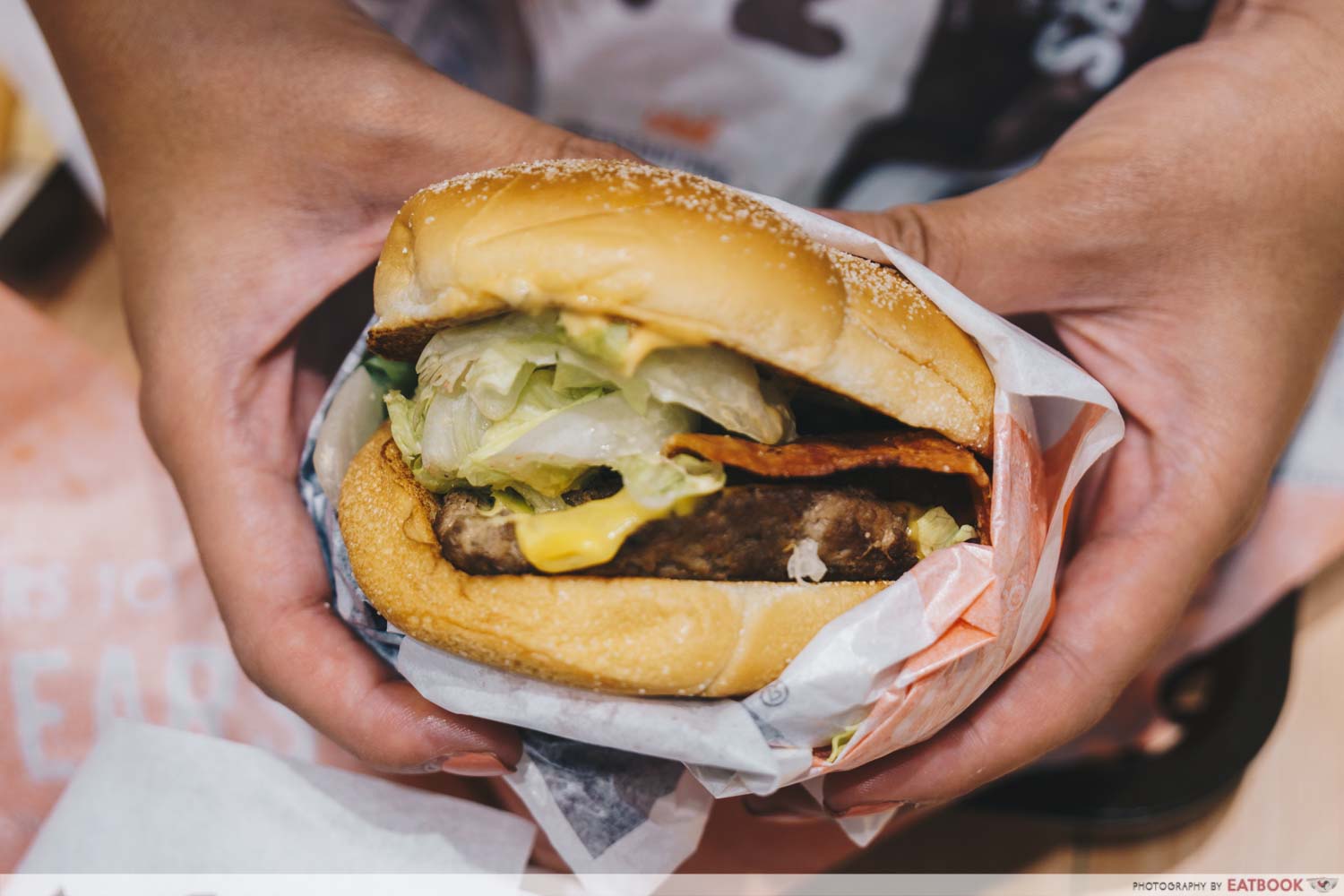 Branded as the "Most Popular" burger, the Mozza Burger is also one of the pricier items on the menu. You can get it at $7.50 a la carte, or $10.90 with a combo of curly fries and root beer.
This burger is stacked with double beef patties, mozzarella, lettuce, tomatoes, pickles, and a chicken crisp. Soft semolina buns are also used, instead of the generic sesame buns you get from A&W outlets in countries such as Malaysia and Bangkok.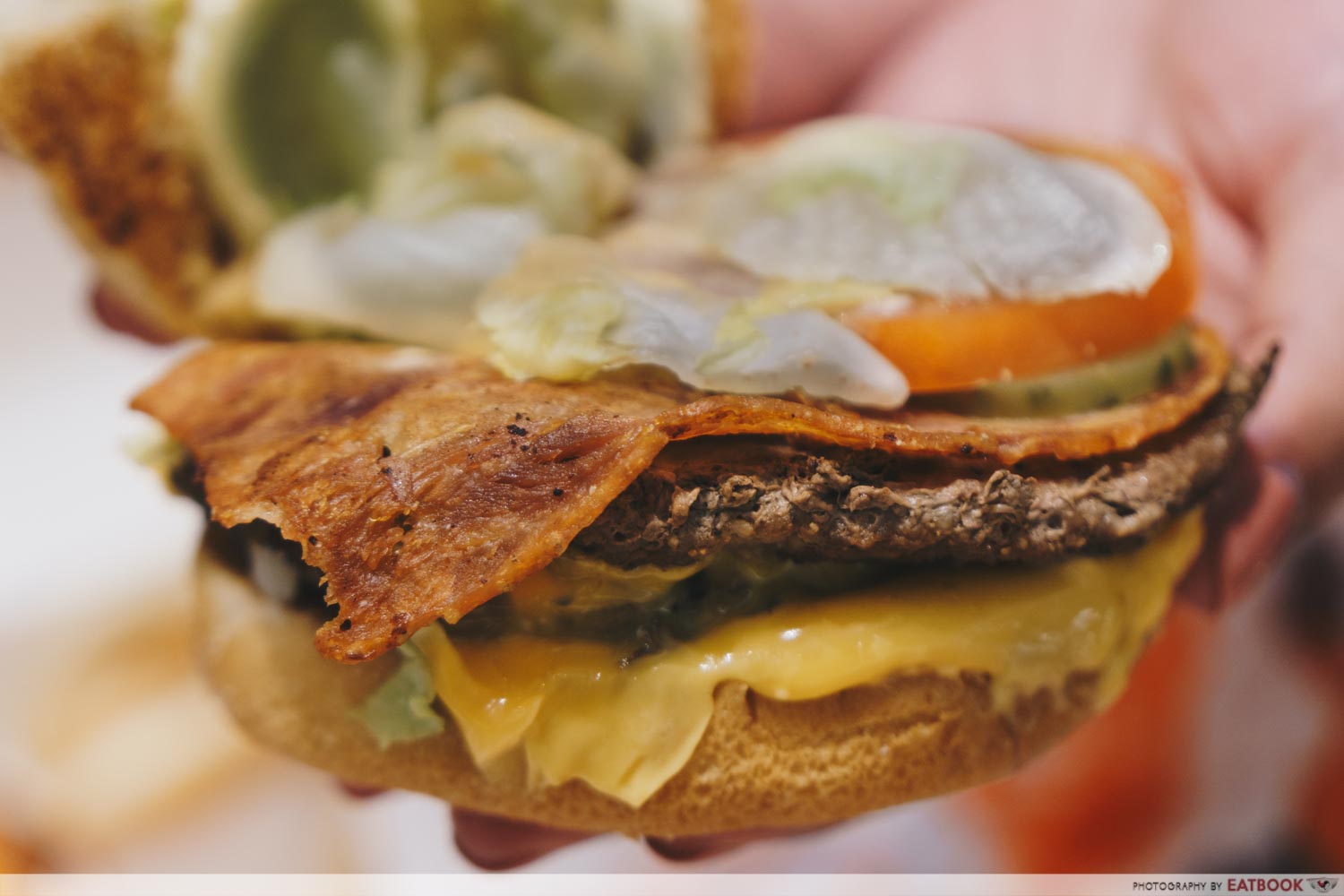 There were split opinions on the burger at the table. Half were relishing in beefy aromas the double beef patty brought, and the other half found the burger a tad dry. I personally felt the burger needed more Mozza sauce which gave a much-needed moisture and flavour.
Chicken crisp, not bacon, is used in the Mozza Burger as A&W is looking to get their halal certification. Despite having "crisp" in its name, this baked layer of chicken lacked texture, only adding a tinge of saltiness to each bite of the burger. If not for the added ingredients such as the chicken crisp and cheese for the flavour, the burger would have fared poorly from me. I give this a 6/10.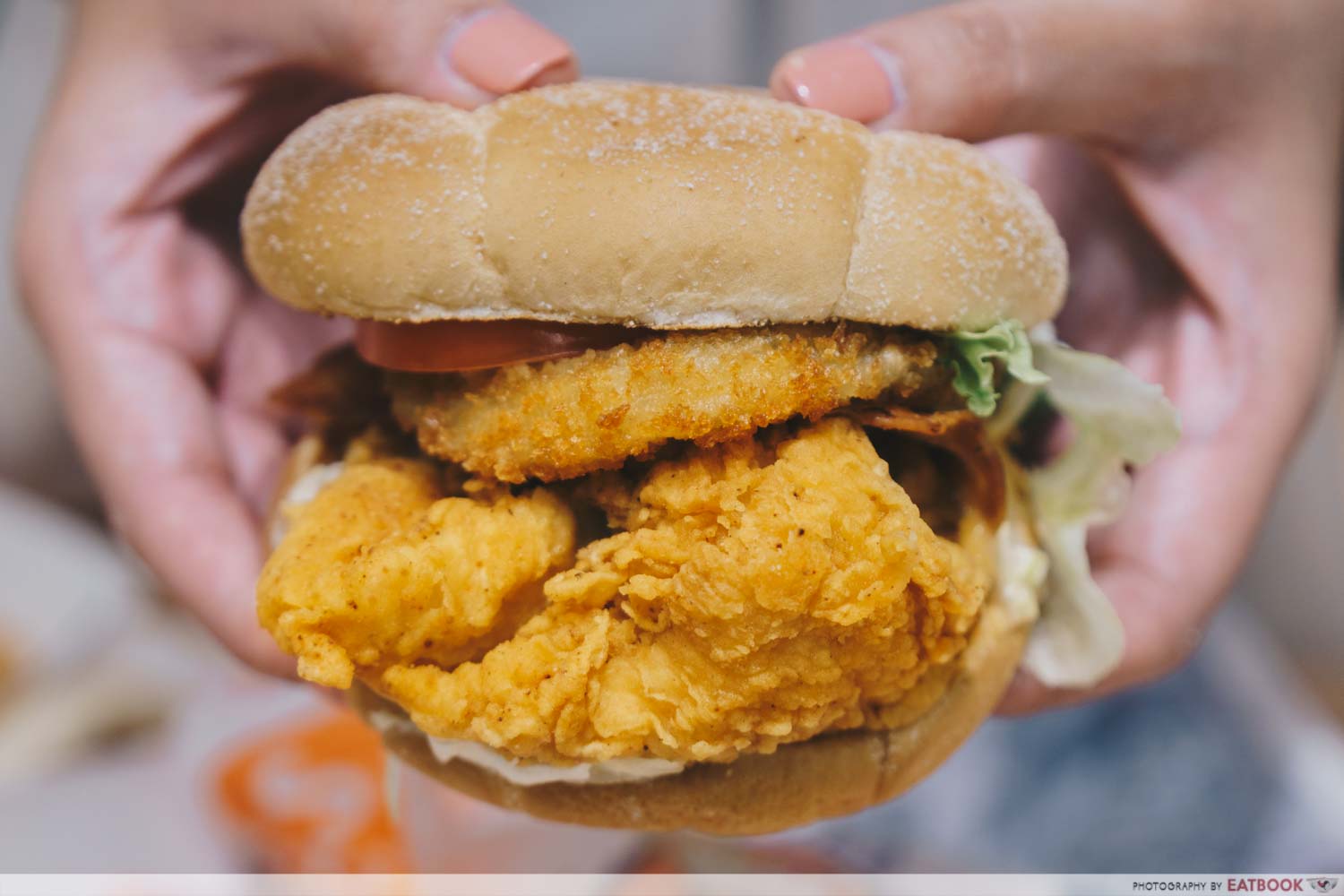 Another zhnged-up burger to try is the A&W Cream Cheese Chicken Burger, or the A&W Cream Cheese Beef Burger. There are only two places in the world serving this Indulgent Cream Cheese Burger series: Singapore and Okinawa! The a la carte option sets you back $7.90, while a combo meal sets you back $10.90.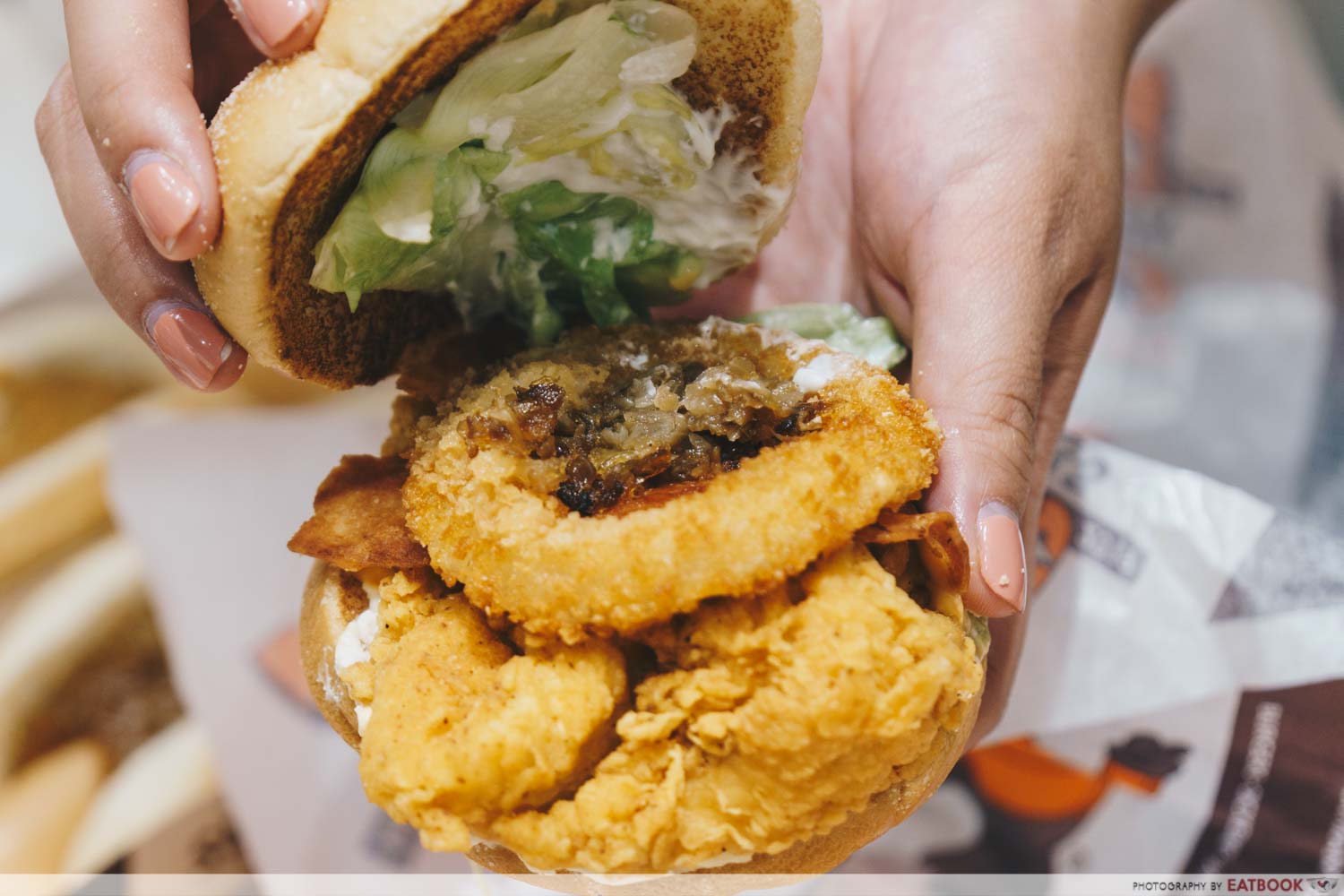 Find a plethora of ingredients hidden within this burger; there is a fried chicken patty, tomatoes, lettuce, chicken crisp, deep fried onion rings, more caramelised onions, and a generous dollop of cream cheese. I loved how the conglomeration of flavours came together with the cream cheese and fried chicken patty. This burger is a definite bang for your buck. Just look at its sheer thickness! Sadly, the chicken in the middle was not as juicy as I would have liked it to be, thus they only get a 8/10 from me.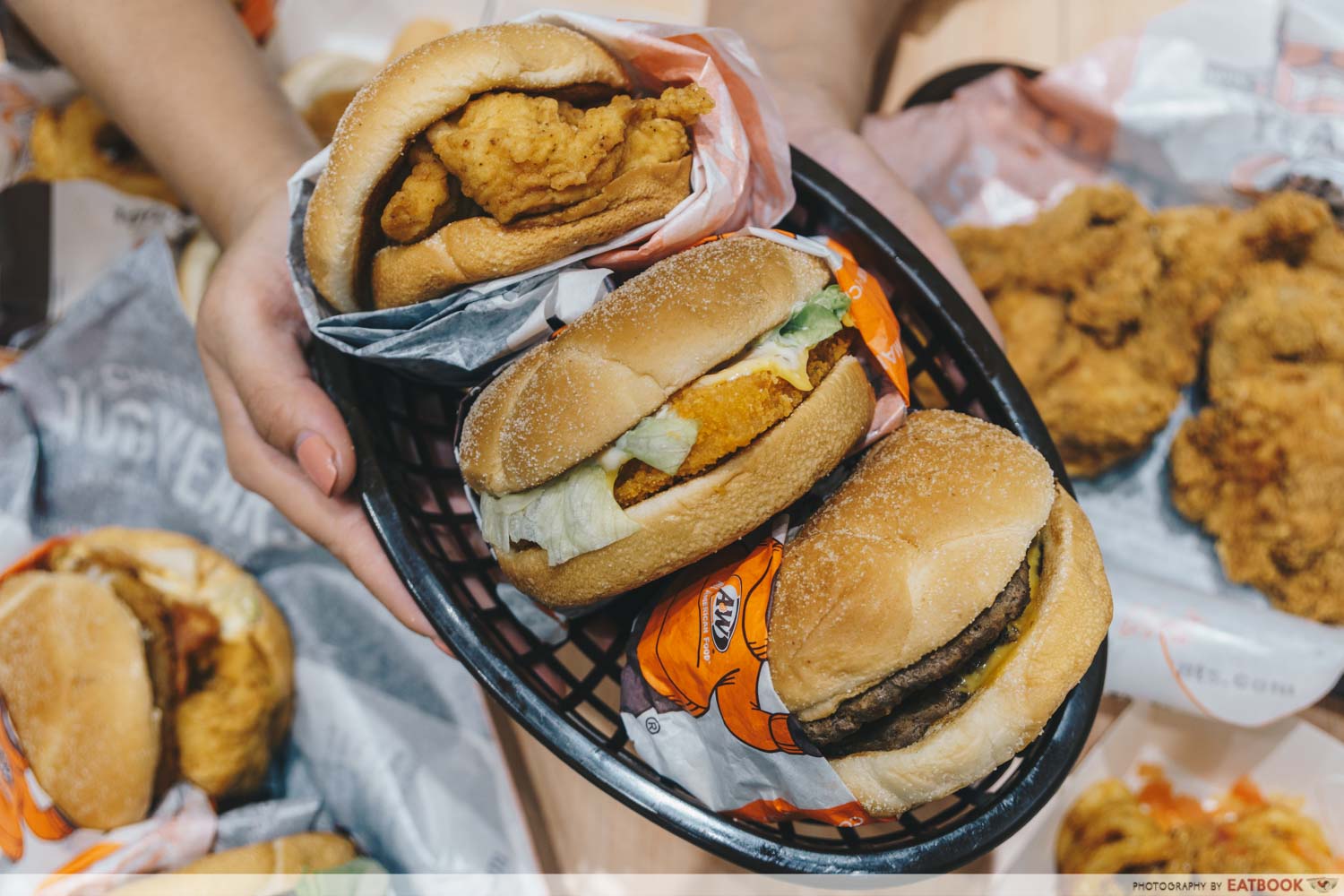 There are also classics including the Chubby Chicken Sandwich ($5.90), Marina Fish Sandwich ($3.90), and Double Cheeseburger ($5.90). However, I recommend skipping these if you had to queue for an hour or so, as they have nothing much to shout about. Get these only if you're looking to go back in time again, to days where affordable A&W burgers where merely meant to satiate your immense "teenage" hunger. These get a sad 4/10.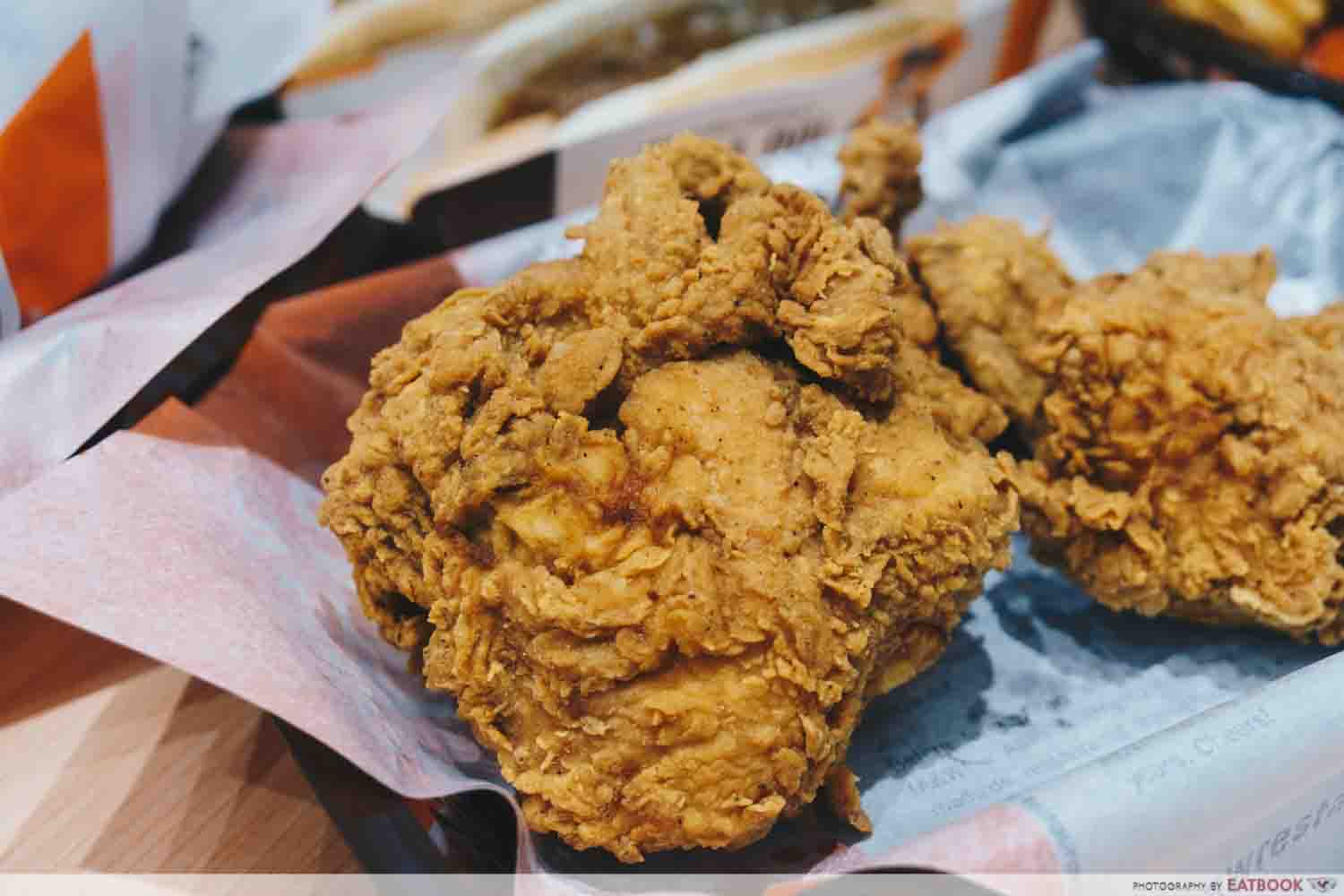 The one thing you must order at A&W is, hands down, their Golden Aroma Chicken ($3.20 per piece, $8.90 for the two-piece combo). It came as a surprise to me that the chicken  turned out to be even better than many other fast food fried chicken I've tasted.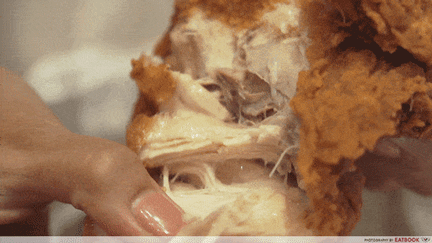 Unlike the fried chicken patty used in the burgers, the Golden Aroma Chicken is tender and savoury from its marinade.  Juicy is the chicken meat in its crunchy skin, giving every munch a delicious contrast of textures. This can probably be attributed to the use of fresh instead of frozen chicken. "Texture maketh taste," indeed. Compared to fast food chains specialising in fried chicken, A&W is doing a great job. This gets a 8.5/10!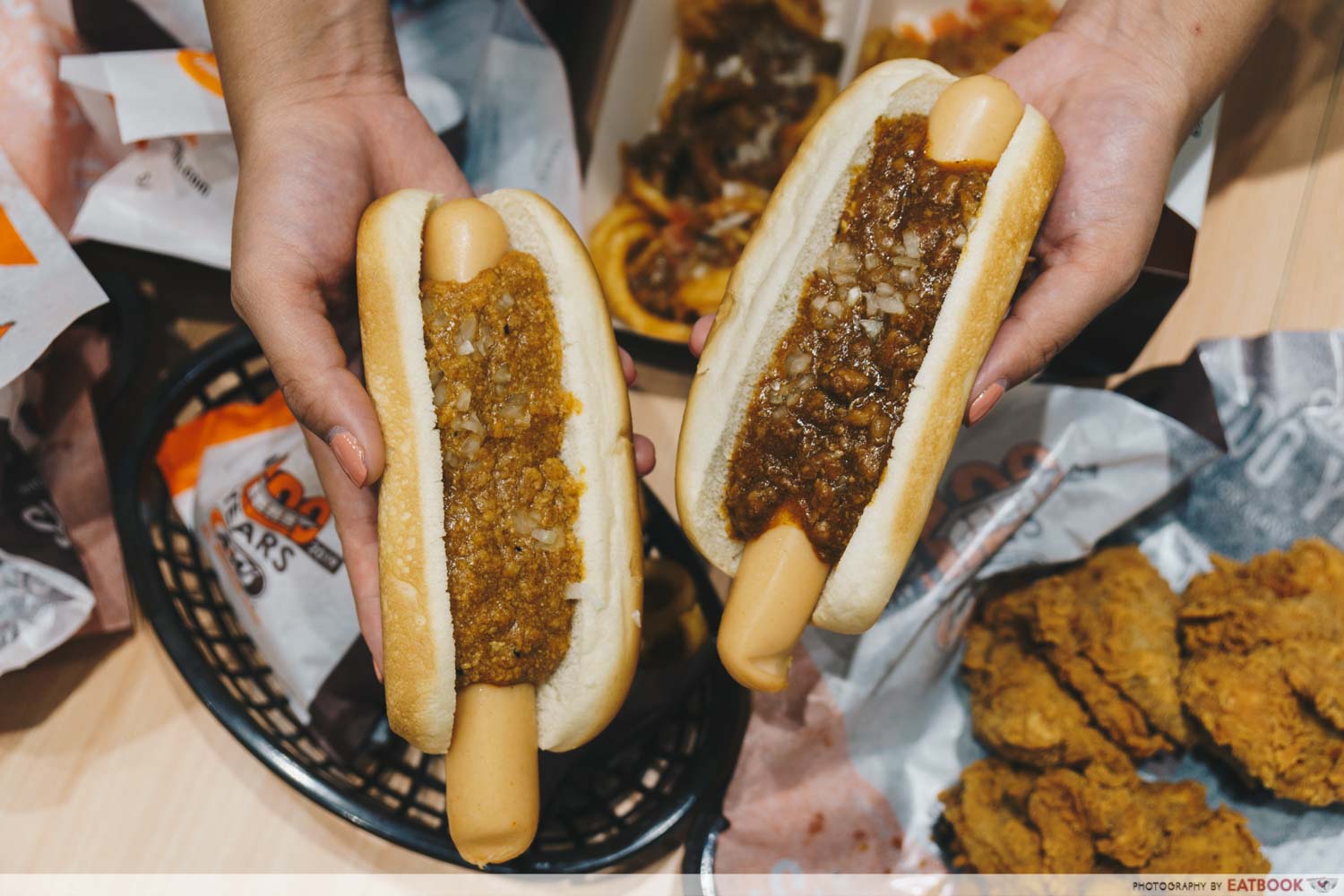 The All-American Coney Dogs is the ultimate old-school item on the menu. Hopeless nostalgics can look forward to tasting these chicken hotdog buns either with chicken or beef sauce. The a la carte option costs $5.20 while the combo costs $8.90. You can also top up another $0.50 to have it served with nacho cheese as well. Similar to the classic burgers, these are dishes you can give a miss, especially if you queued an hour for a seat. They are mediocre at best, getting a rating of only 5/10.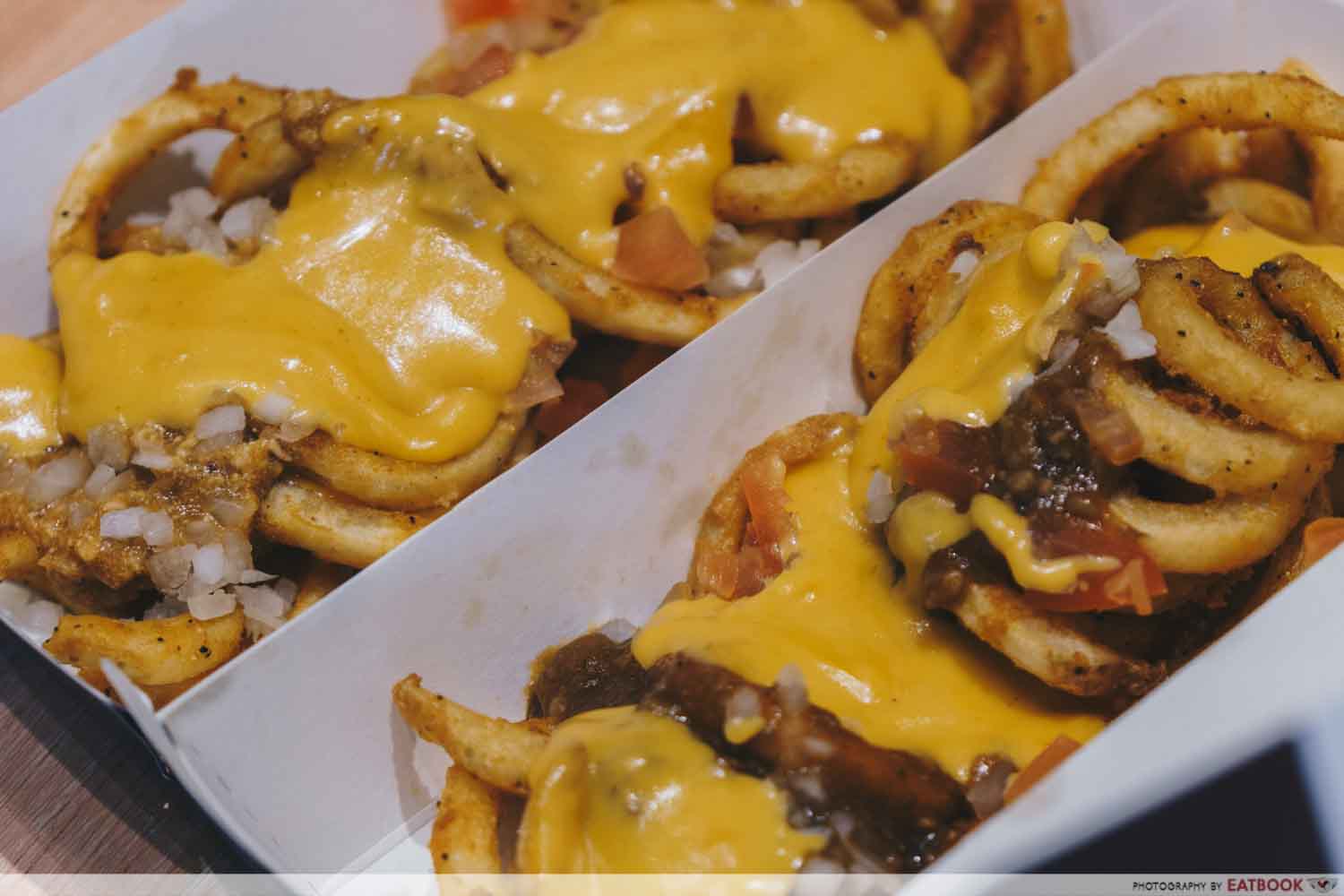 No more counting down to Chinese New Year for McDonald's to roll out Twister Fries on the menu. A&W serves their Curly Fries ($3.60) all year round and tastes just as good. Opt for the Chicken/Beef Coney Cheese Fries ($4.90) for a levelled up version, which comes drenched in the same coney sauce and nacho cheese as the hot dogs. I would head back for these again as I love my fries drenched in sauce. These cheesy fries get a 8.5/10 from me.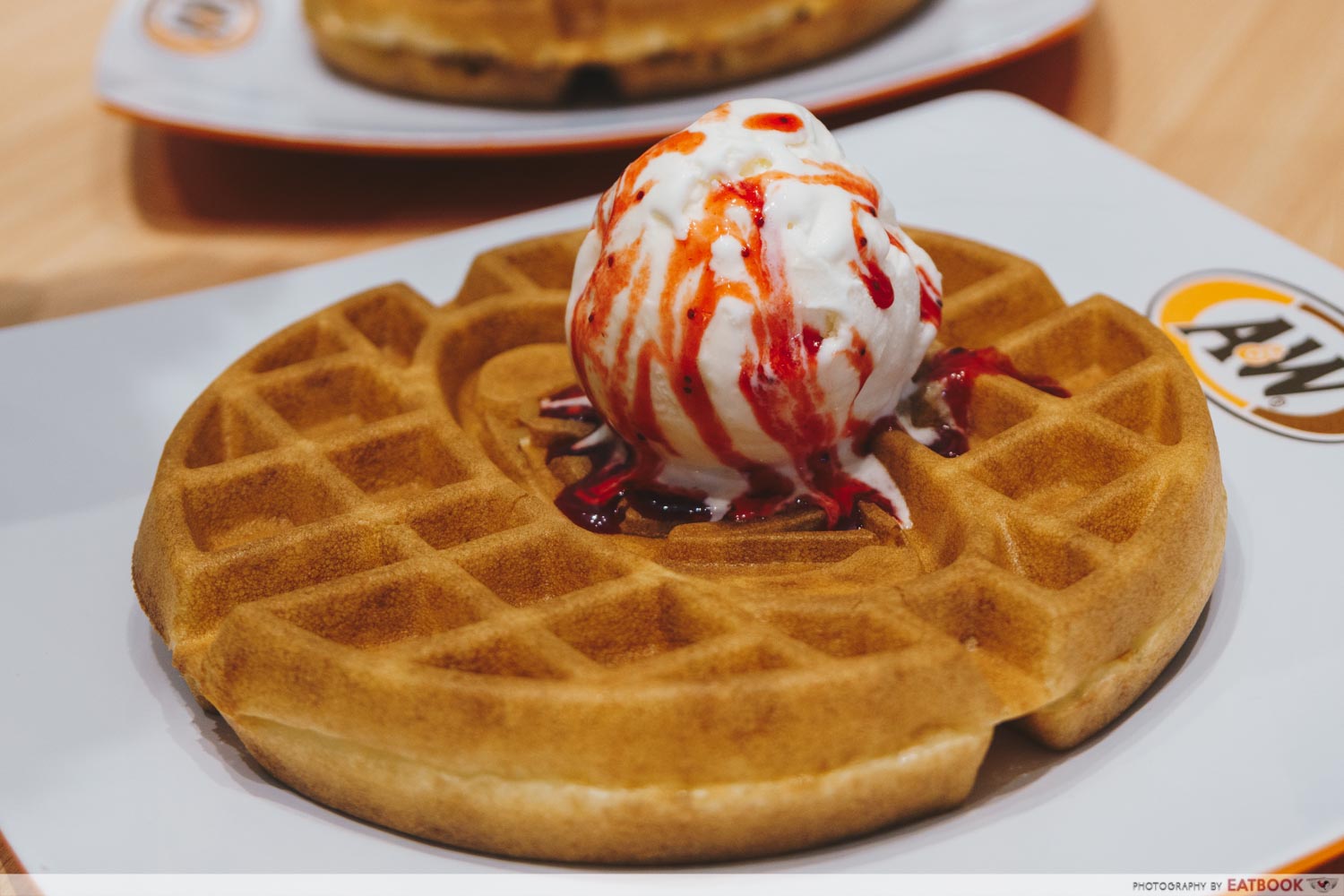 The Waffle Ice Cream with Topping ($7.90) is another item for those looking to walk down memory lane. Tasting exactly like how I remembered, the waffles have a hint of saltiness. Pairing with the vanilla ice-cream makes it a sweet end to the nostalgic meal. That being said, I've got enough of time travelling, and $7.90 definitely gets you better ice-cream and waffles elsewhere. This dessert gets a 5/10!
Ambience at A&W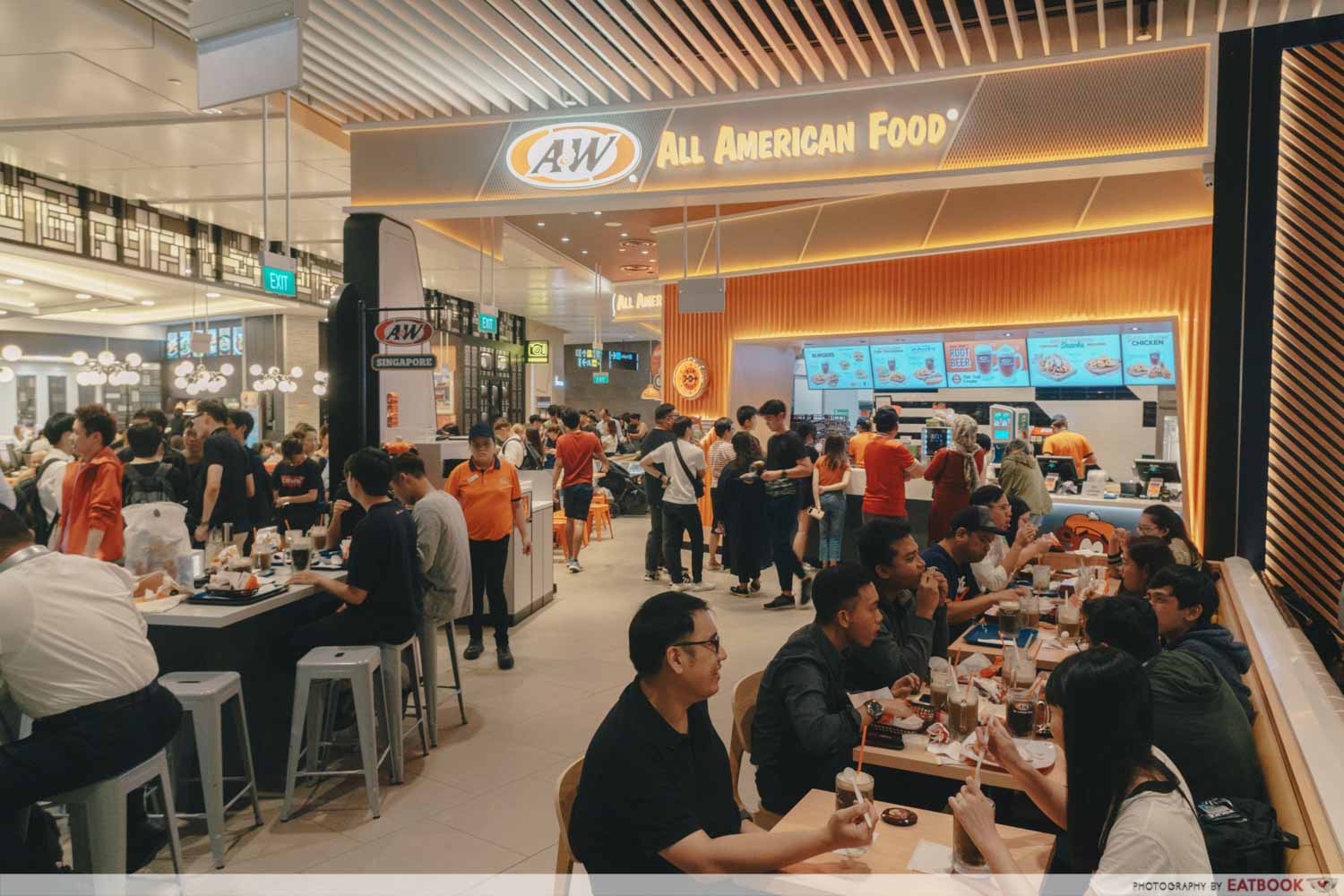 Needless to say, expect the restaurant to be swarmed with people. There's a good crowd in the mix, with teens wanting to see what the hype is about and older folks looking to bring back some good memories. Be prepared to queue for more than 30 minutes for dinner on a weekday, and one hour on the weekends.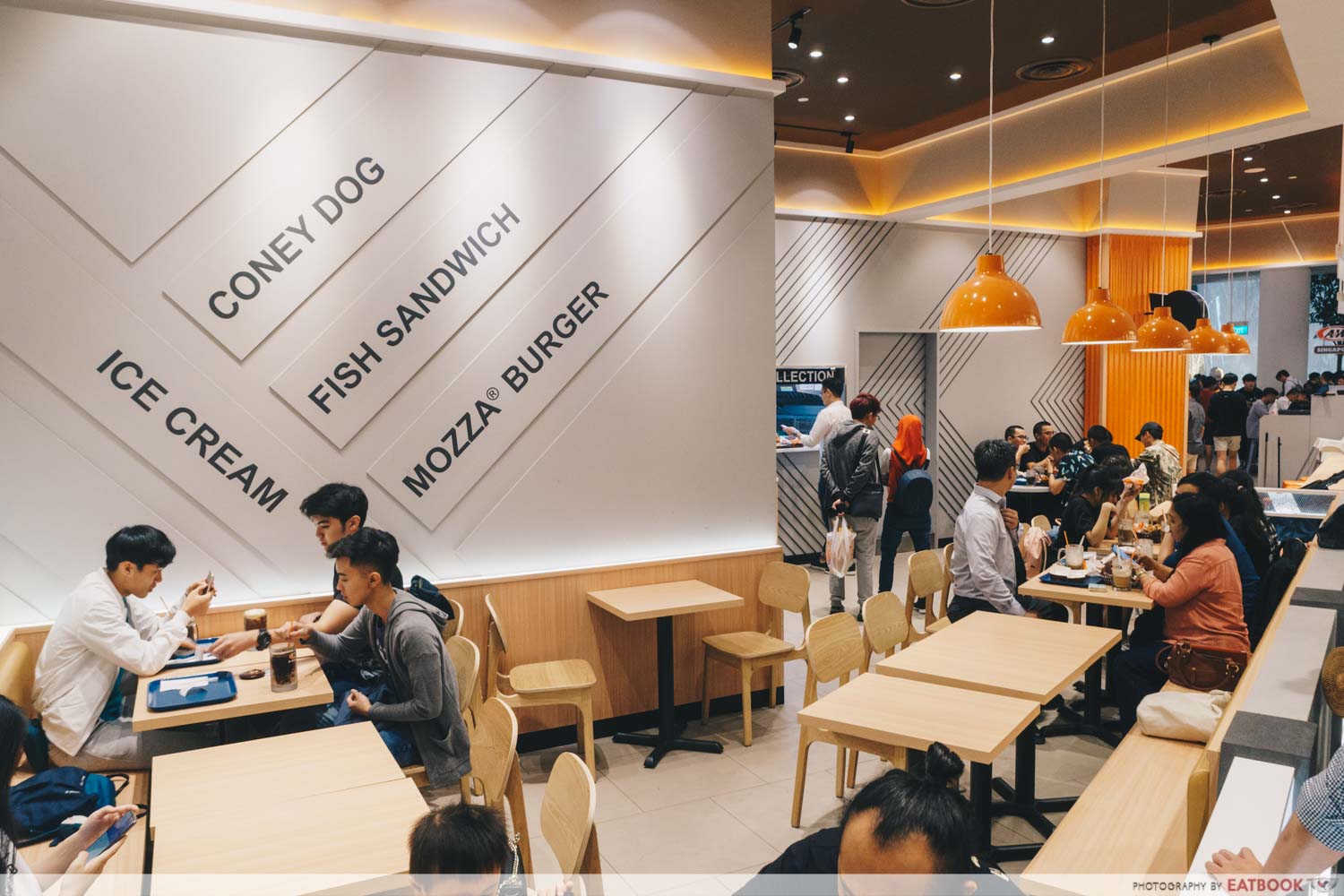 Addressing the big hooha on A&W's opening hours, the restaurant indeed operates 24 hours daily. The only thing to take note is the menu at different times of the day – or night.
From 11am to 3am, A&W will be serving their full menu in its entirety. From 3am to 7am, only the root beer and root beer float are available, and these are just for takeaway. And lastly from 7am to 11am, there will be a concise menu of Cheeseburger, Double Cheeseburger, Coney Dog, Curly Fries, Waffle Ice Cream, root beer, and root beer float.
The verdict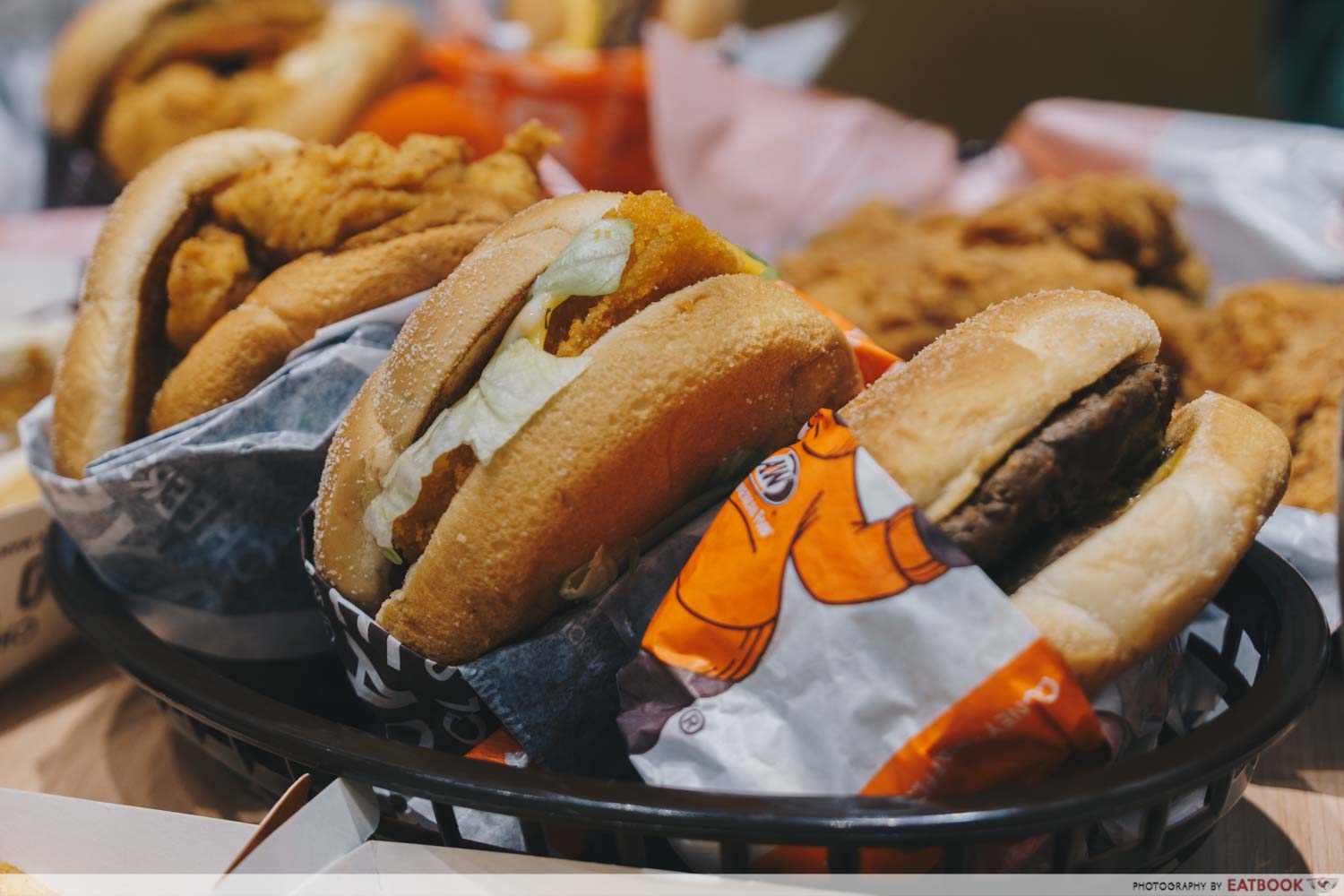 For us in Singapore, a long perpetual queue usually means good food. However, this might not be the case for A&W, as it felt like people were here more for the hype and memories than for the food. Definitely skip the simpler signature burgers and head straight for the zhng-ed up ones such as the Mozza and cream cheese burgers; not forgetting the Golden Aroma Chicken of course! All in all, I would recommend you queue at Shake Shack or Burger & Lobster instead. 
Burger & Lobster Review: Famous London Restaurant Opens With Lobster Rolls And Sambal Lobsters
Address: 78 Airport Boulevard, #B2-209, Jewel Changi Airport, Singapore 819666
Opening hours: Daily 24 hours
A&W is not a halal-certified eatery, but their food contains no pork or lard.
Photos taken by Koh Hui Qing, edited by Gwen Lee.
This was a media tasting at A&W.
Summary
Pros
– Prices are reasonable
– Generous portions
– Nostalgic dishes still available on the menu
Cons
– Long queue
Recommended dishes: Mozza Burger ($7.50), A&W Cream Cheese Chicken Burger ($7.90), Golden Aroma Chicken ($3.20/$8.90)
Dishes to skip: Chubby Chicken Sandwich ($5.90), Marina Fish Sandwich ($3.90), Double Cheeseburger ($5.90), Waffle Ice Cream with Topping ($7.90)
Opening hours: Daily 24 hours
Address: 78 Airport Boulevard, #B2-209, Jewel Changi Airport, Singapore 819666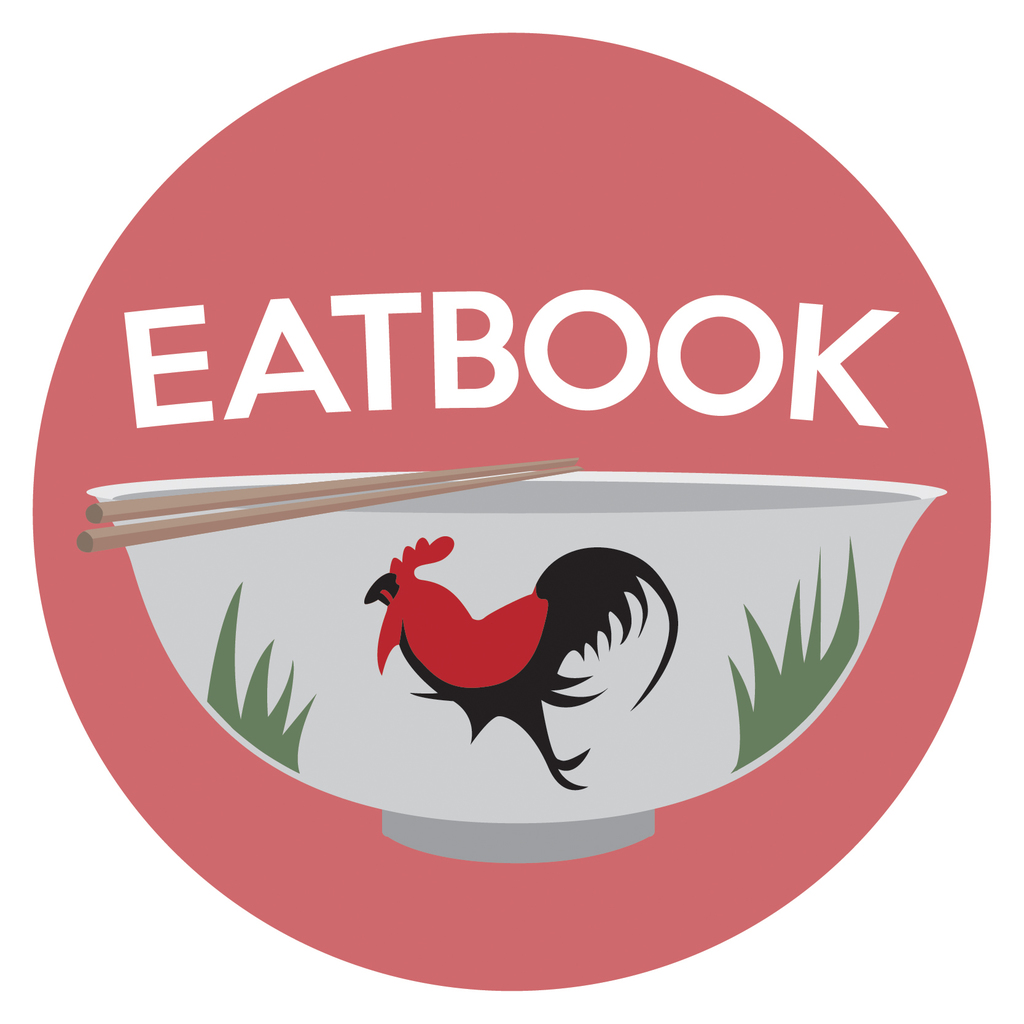 Drop us your email so you won't miss the latest news.