Enter your secret garden at Cafe De Nicole's Flower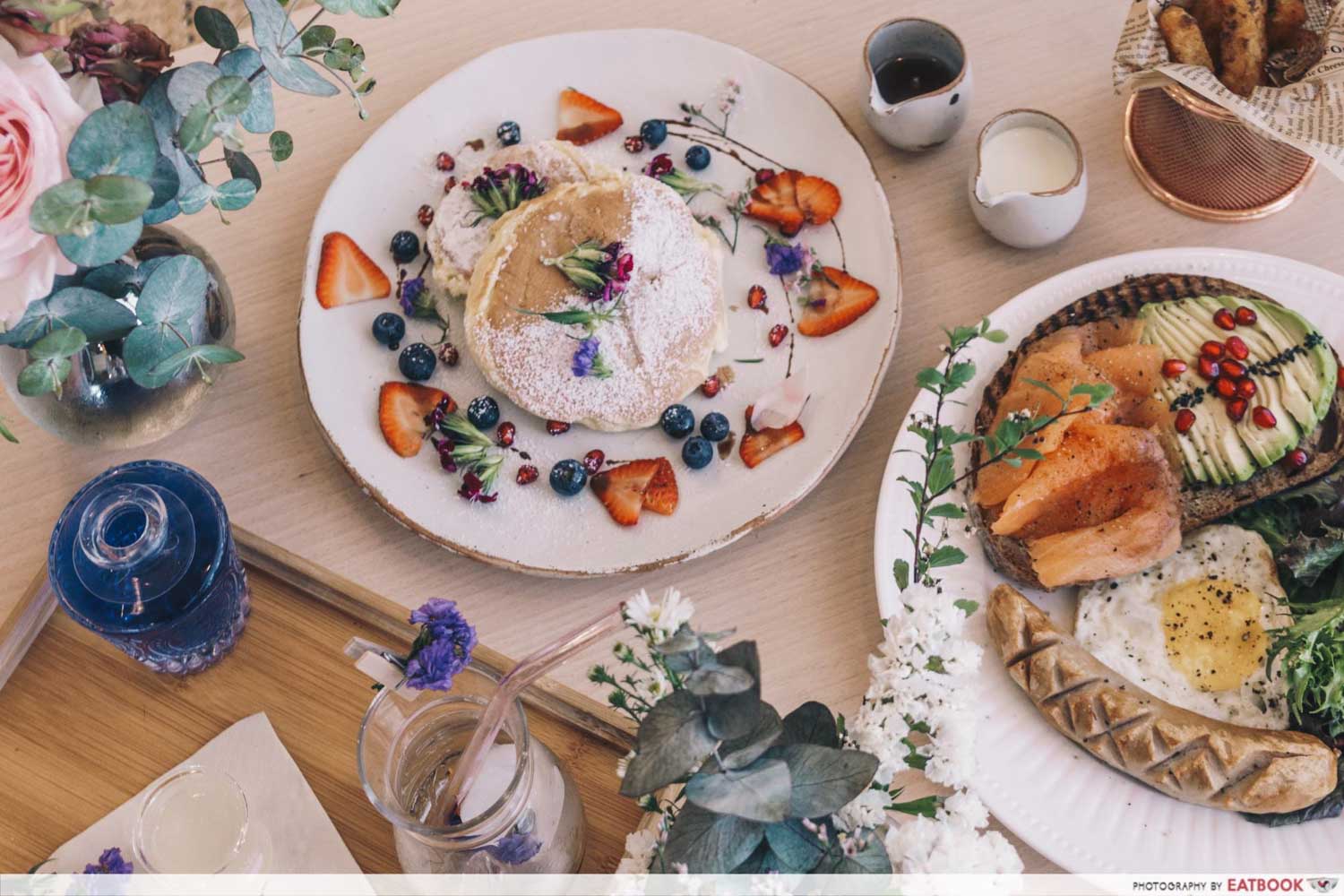 One of my favourite places to visit in Singapore is the Flower Dome at Gardens By The Bay. This verdant oasis has a calming ambience; strolling in their gardens of flowers inexplicably soothes me.
Unsurprisingly, floral-themed cafes such as Wild Blooms top my list of places to visit over the weekend.
And I seemed to have found my latest hideaway at Cafe De Nicole's Flower. Tucked away in the East, this cafe pleases both your eyes and belly with their elegant decor and enchanting dishes.
Food at Cafe De Nicole's Flower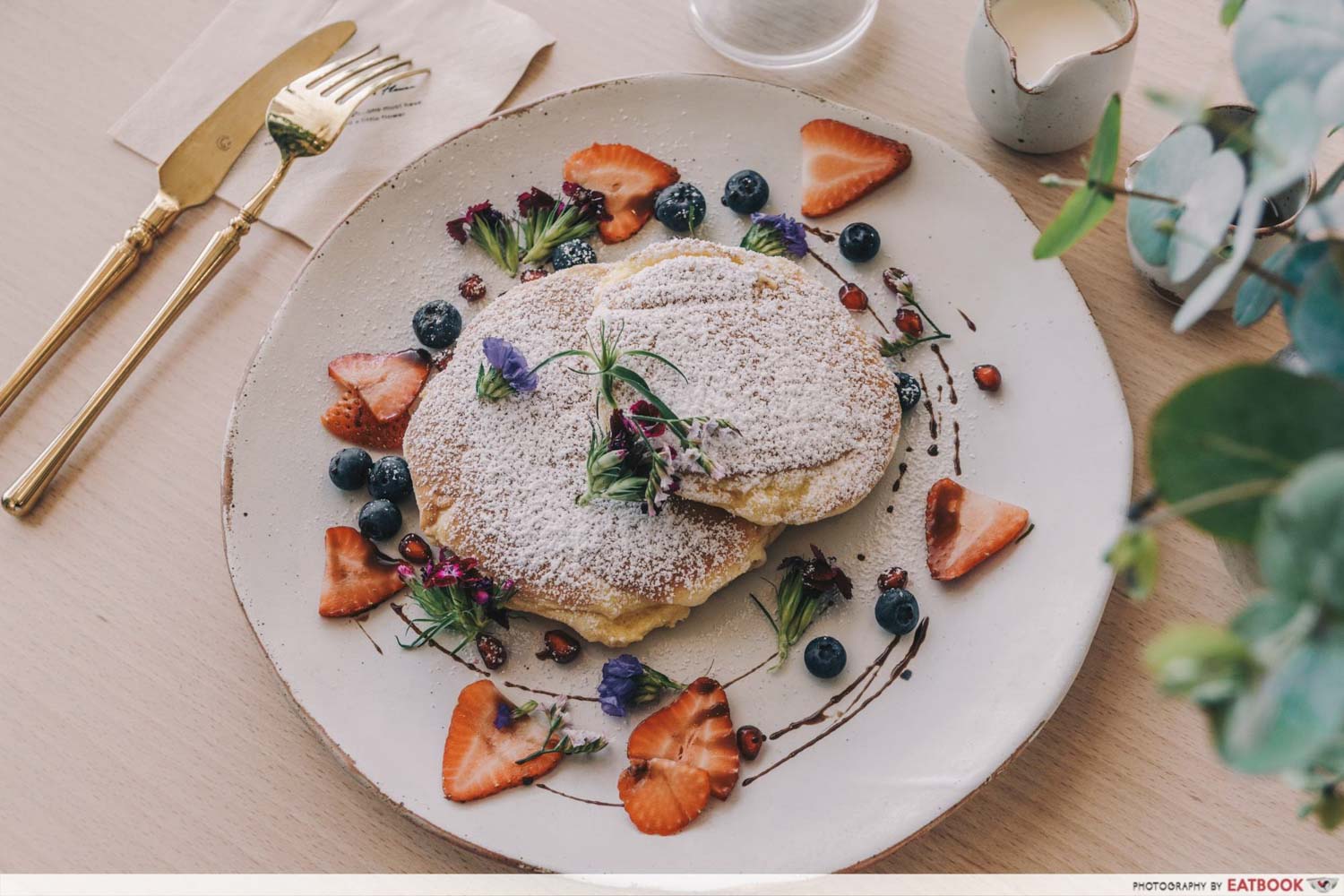 Cafe De Nicole's Flower may be a new face in our cafe scene, but they have already become a popular spot among cafe hoppers, thanks to their IG-worthy Souffle Pancakes ($19.90+).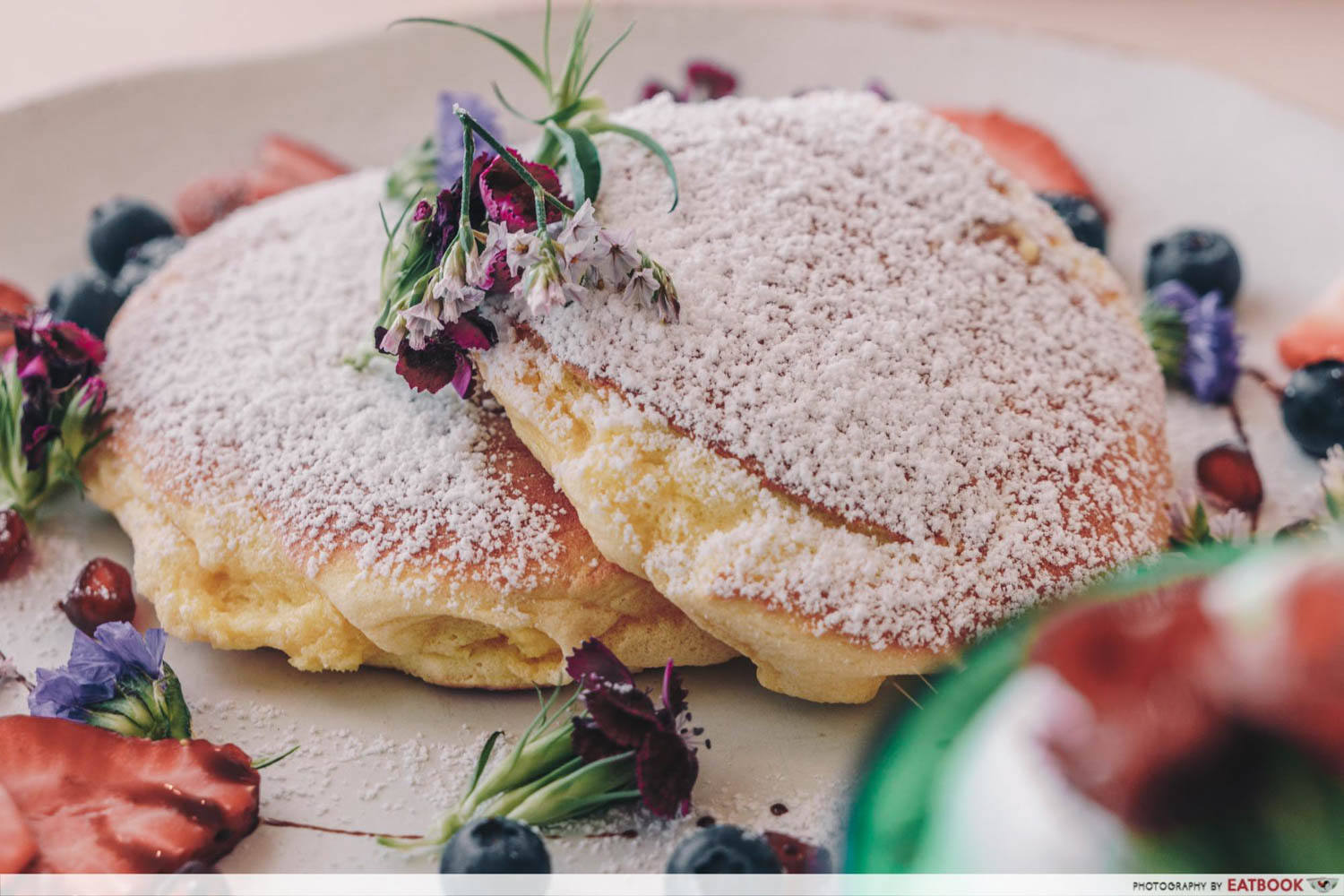 Brushes of chocolate sauce decorate the plate, blending in with the array of pomegranate seeds, blueberries, and strawberries. Like snow settling on a plateau, a shower of icing sugar adorns their pancakes. A scatter of dried flowers completes this gorgeous treat.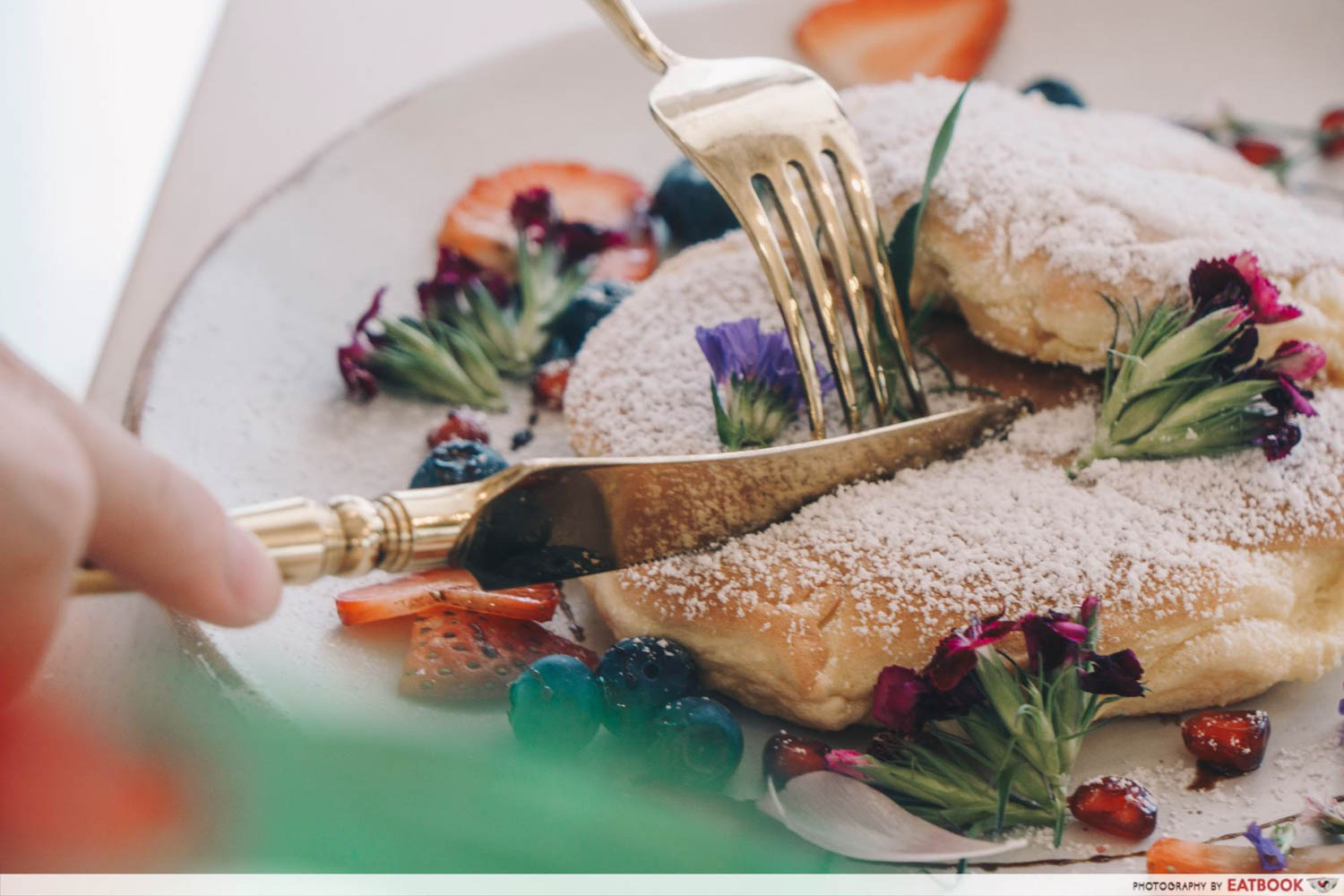 Appearances can often be deceiving. Thankfully, their Souffle Pancakes tasted as good as they looked. These cakes were luxuriously soft and fluffy; sinking my teeth into them was like resting my teeth on the puffiest feathered pillow.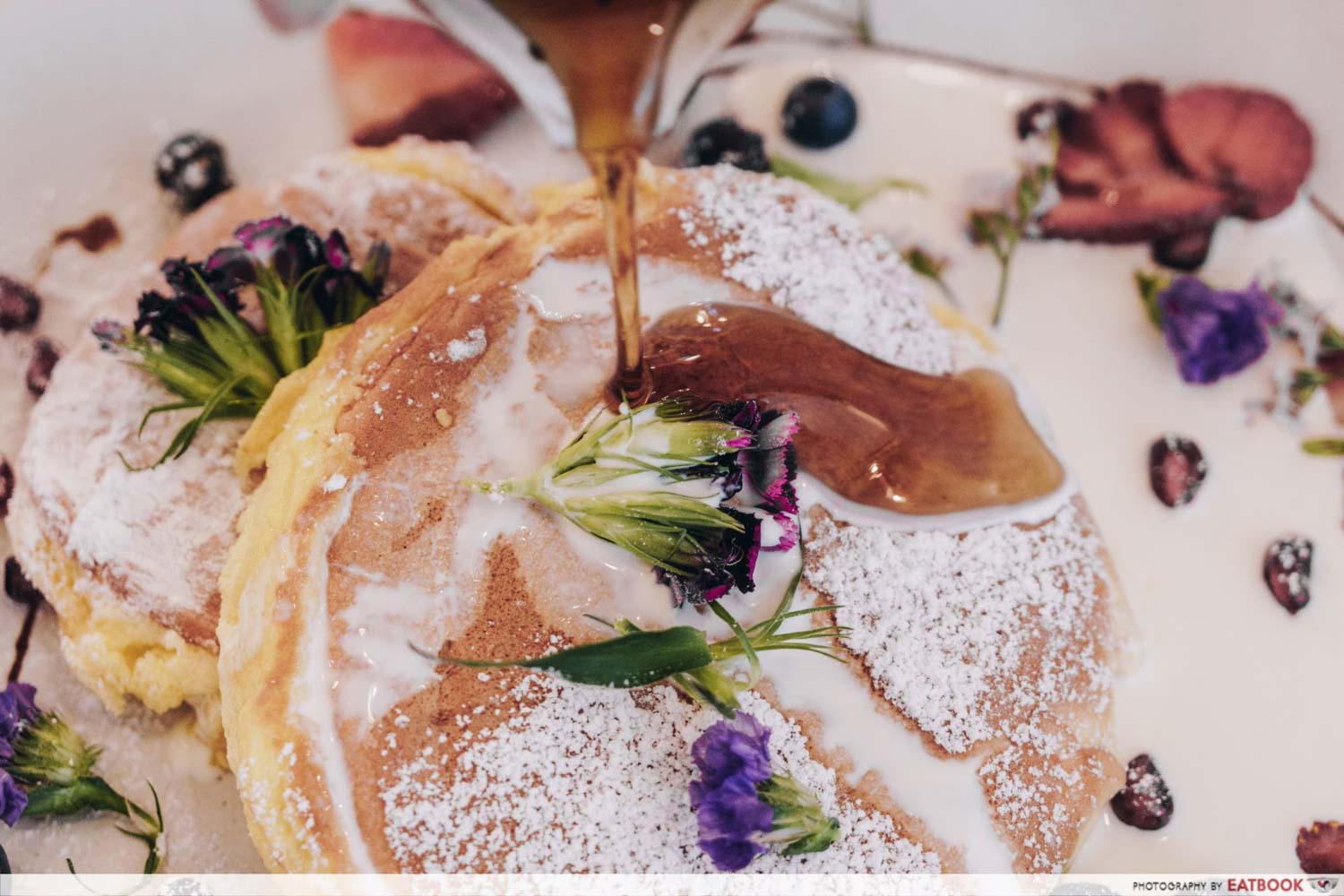 Drizzle these pancakes with the buttermilk sauce and maple syrup that are served on the side, and enjoy a symphony of deliciously sweet and creamy notes. An eggy fragrance, which perfumed the pancakes, added depth to this medley.
Despite soaking up the thick syrup, the cakes retained its pillowy texture without collapsing into a stodgy clump.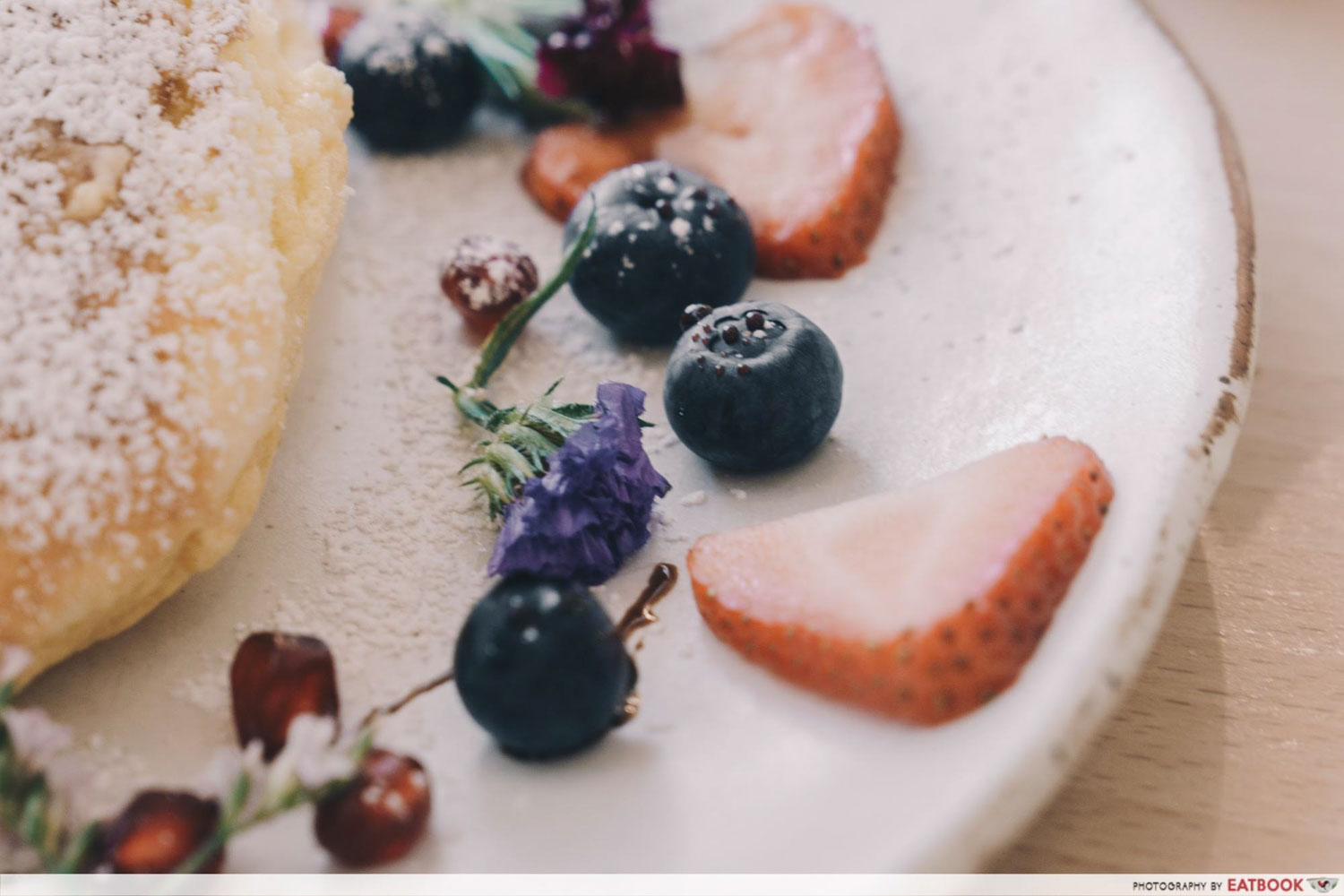 Take a break from the pancakes by savouring the assortment of fruits available. Special mention goes out to the strawberries. Their fruity sourness cut through the candied flavours that lingered on my palate.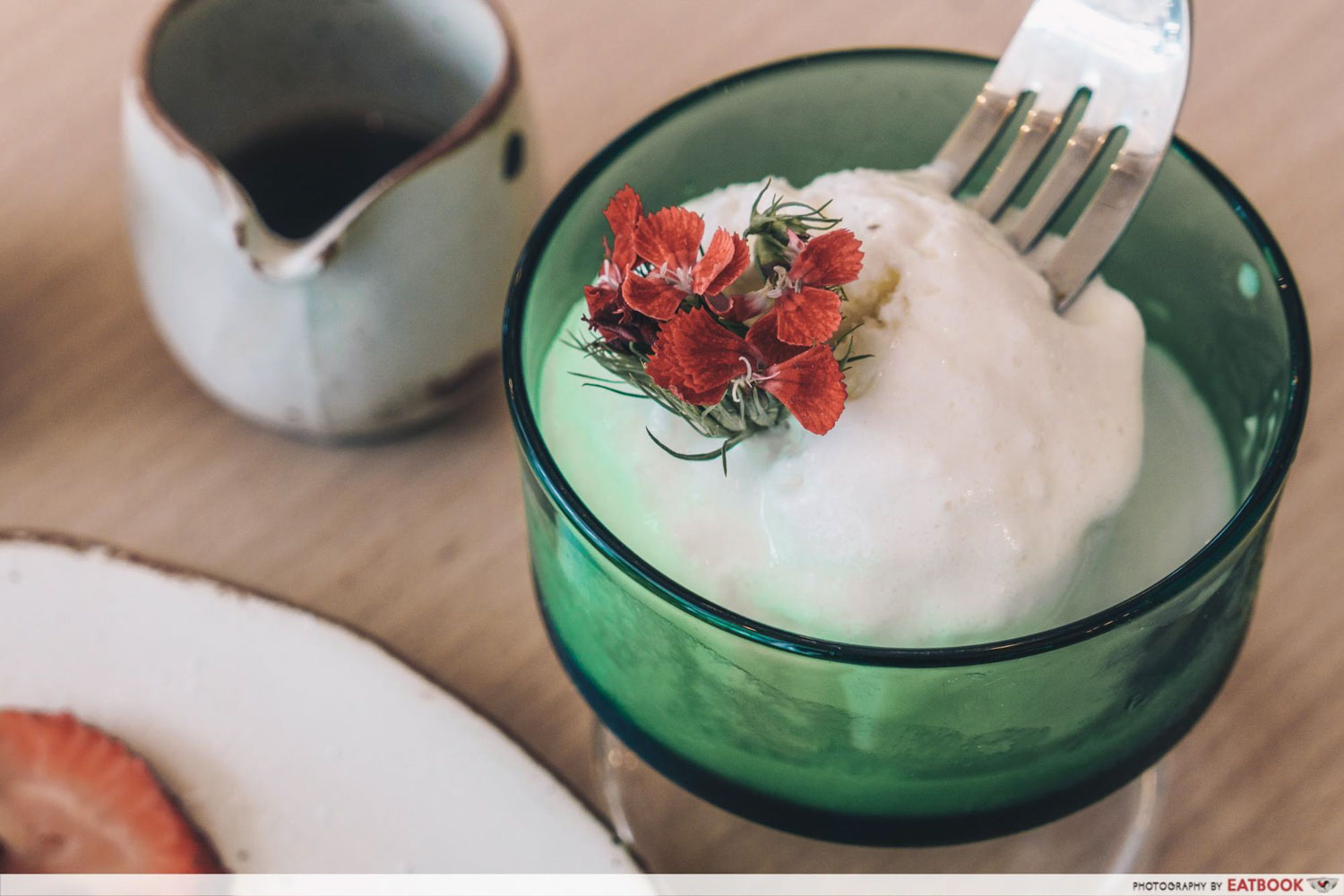 Their Souffle Pancakes were also accompanied by a hefty scoop of coconut ice-cream. The ice-cream carried a natural sweetness, owing to actual coconut juice and shreds of coconut meat inside. That being said, I felt that the ice-cream was best enjoyed on its own, as its distinct tang clashed with the equally noticeable maple syrup.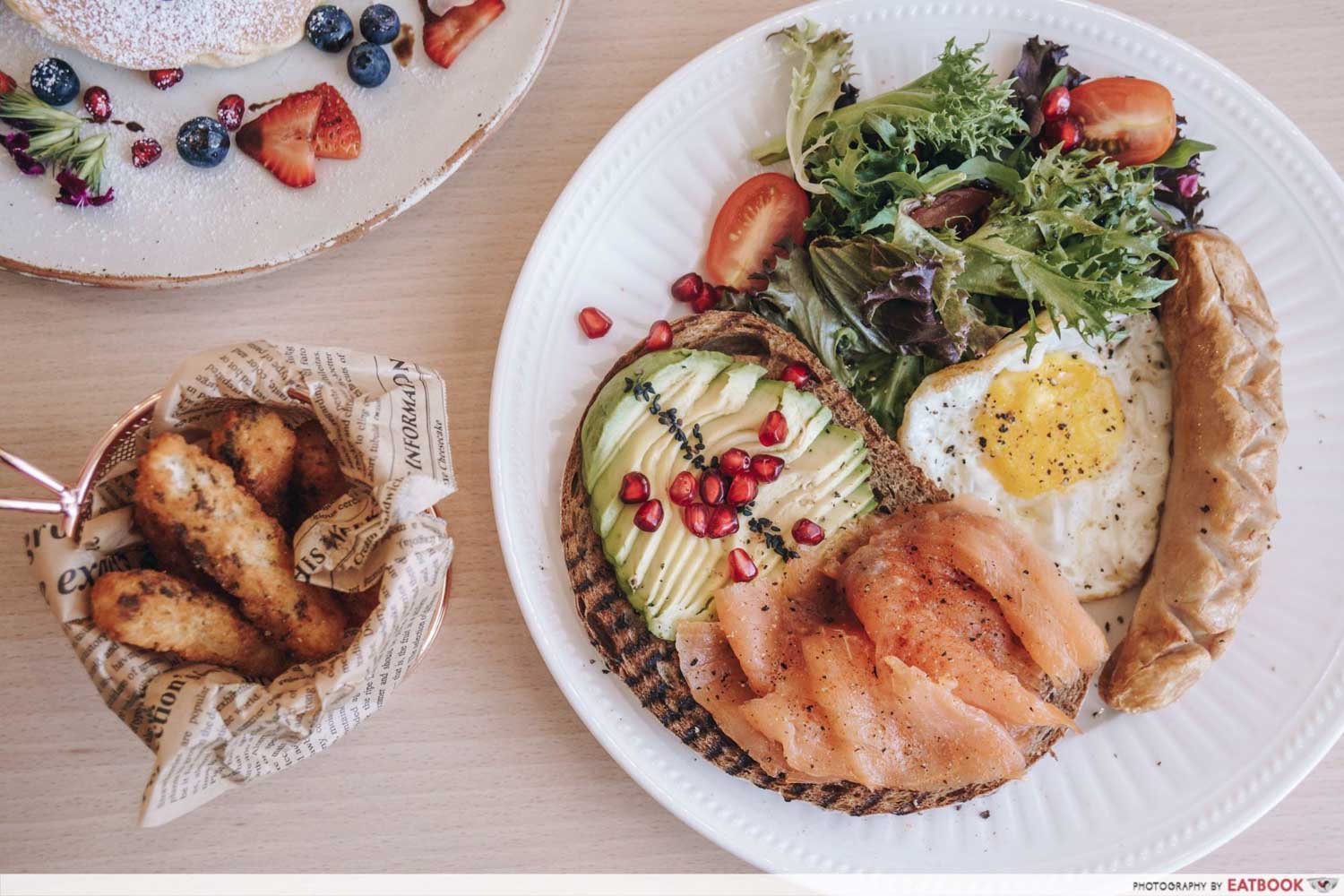 Other than eye-catching confectioneries, Cafe De Nicole's Flower also offers an impressive brunch menu. If you're famished, the Nicole's Favours ($21.90+) will pamper you with its generous toppings.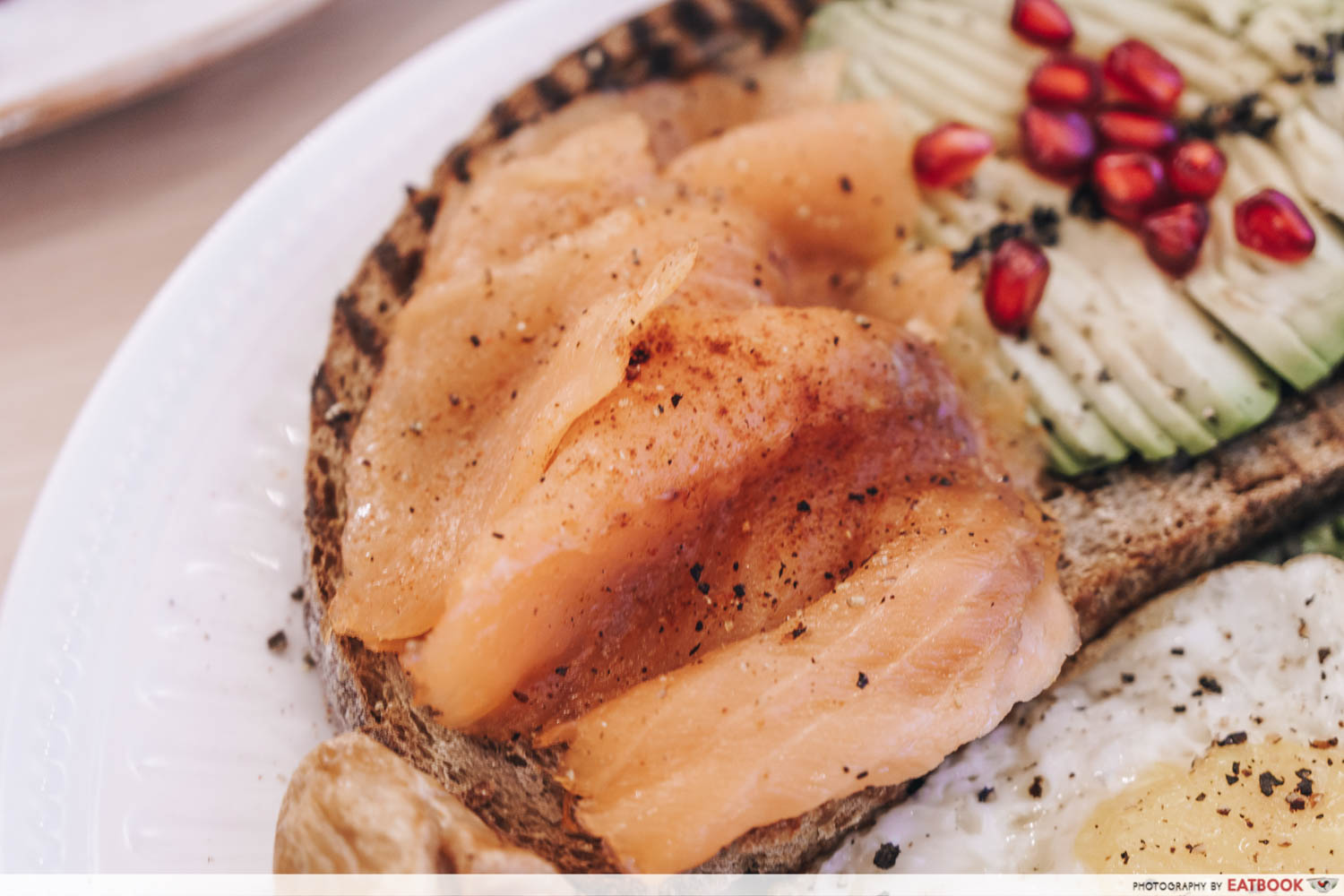 Their sourdough toast, which was topped with avocado slices and smoked salmon, provided most of the carbs. Taste wise, the dish provided dance of savoury and buttery flavours, as the avocado neutralised the briny aftertaste of the smoked salmon. My only gripe was with the overly fibrous bread; it was near to impossible to cut through.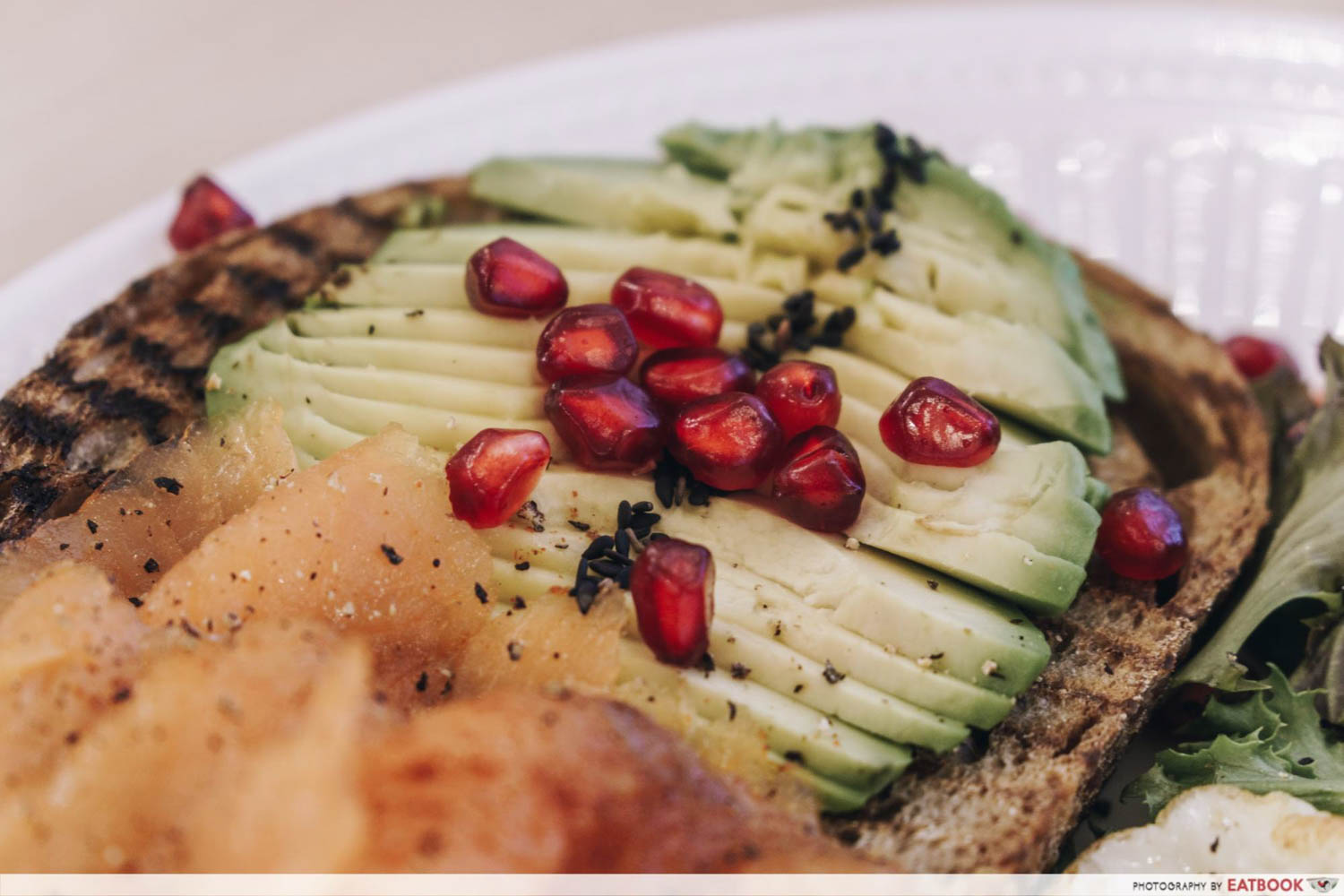 Sealing off this full-bodied medley was the pomegranate seeds, which injected tinges of fruity sweetness to the bread.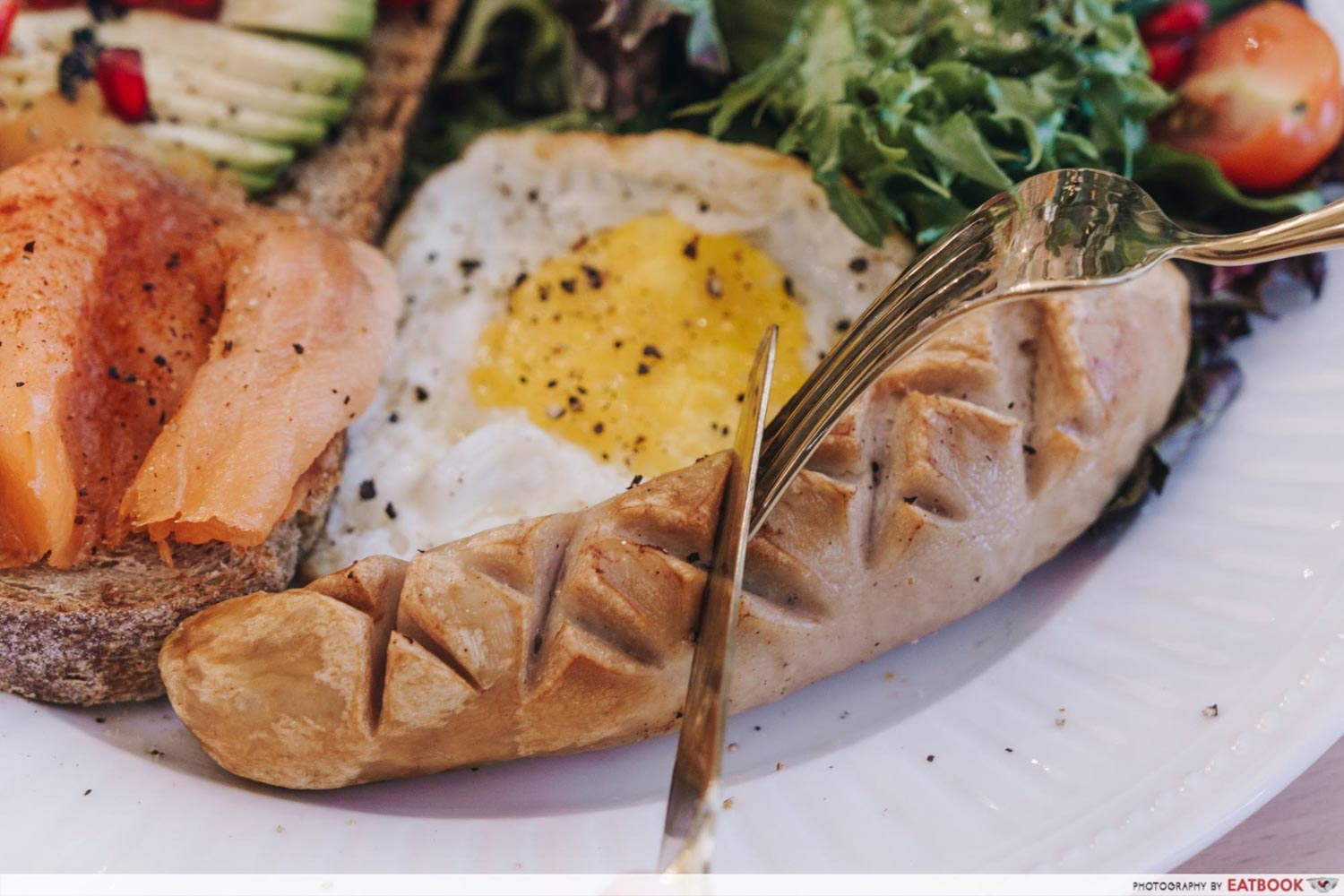 Other than the avocado toast, their Nicole's Favours also thrilled me with their grilled pork sausage. Juicy on the inside, crisp on the outside, every bite offered an addictive duality of textures.
With its salty and peppery kick, the meat was an exciting change from the gentler flavours of the dish.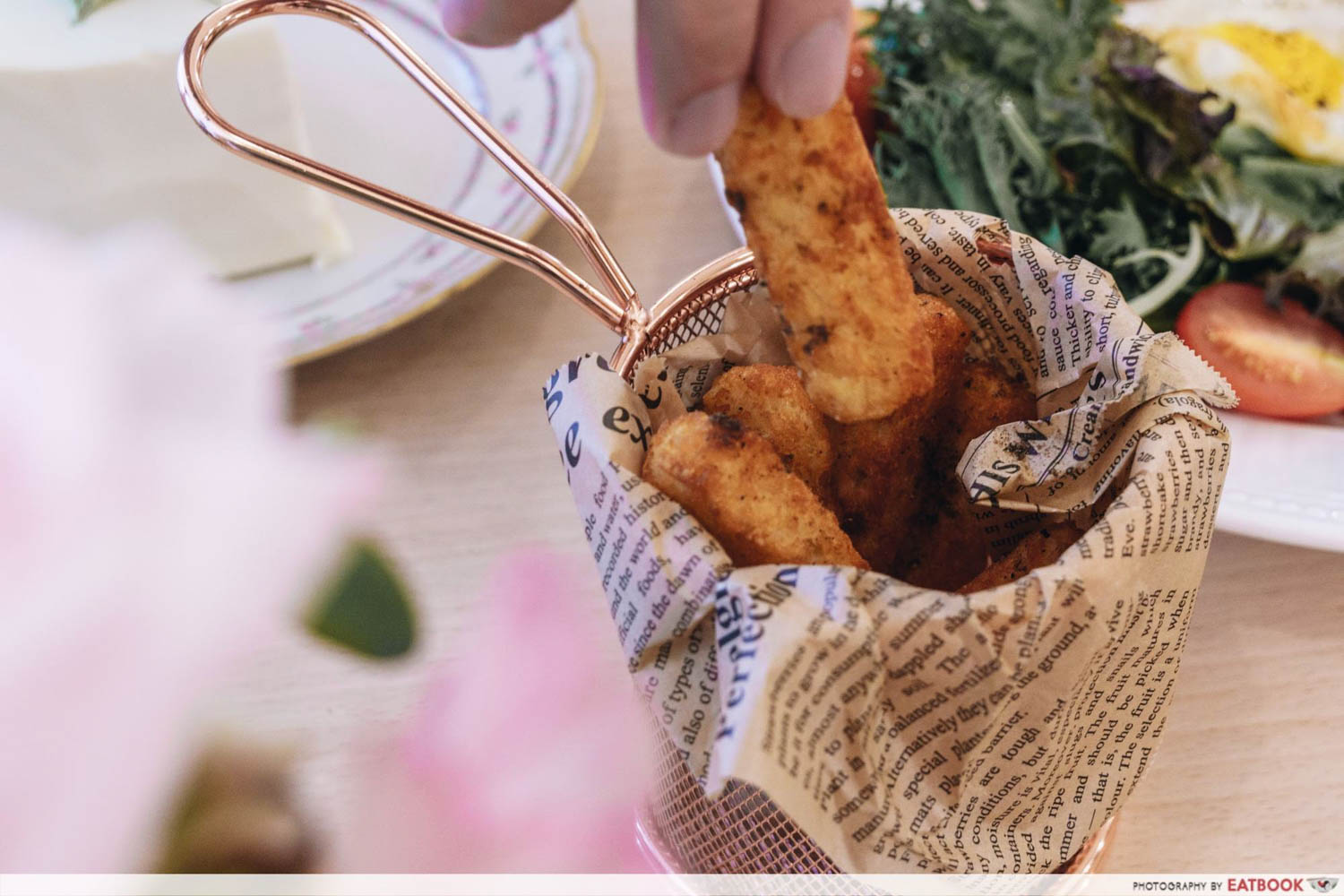 Equally impressive were their hashbrown strips, which were both crunchy and well-drained of oil. Salty and peppery notes heightened their potatoey sweetness.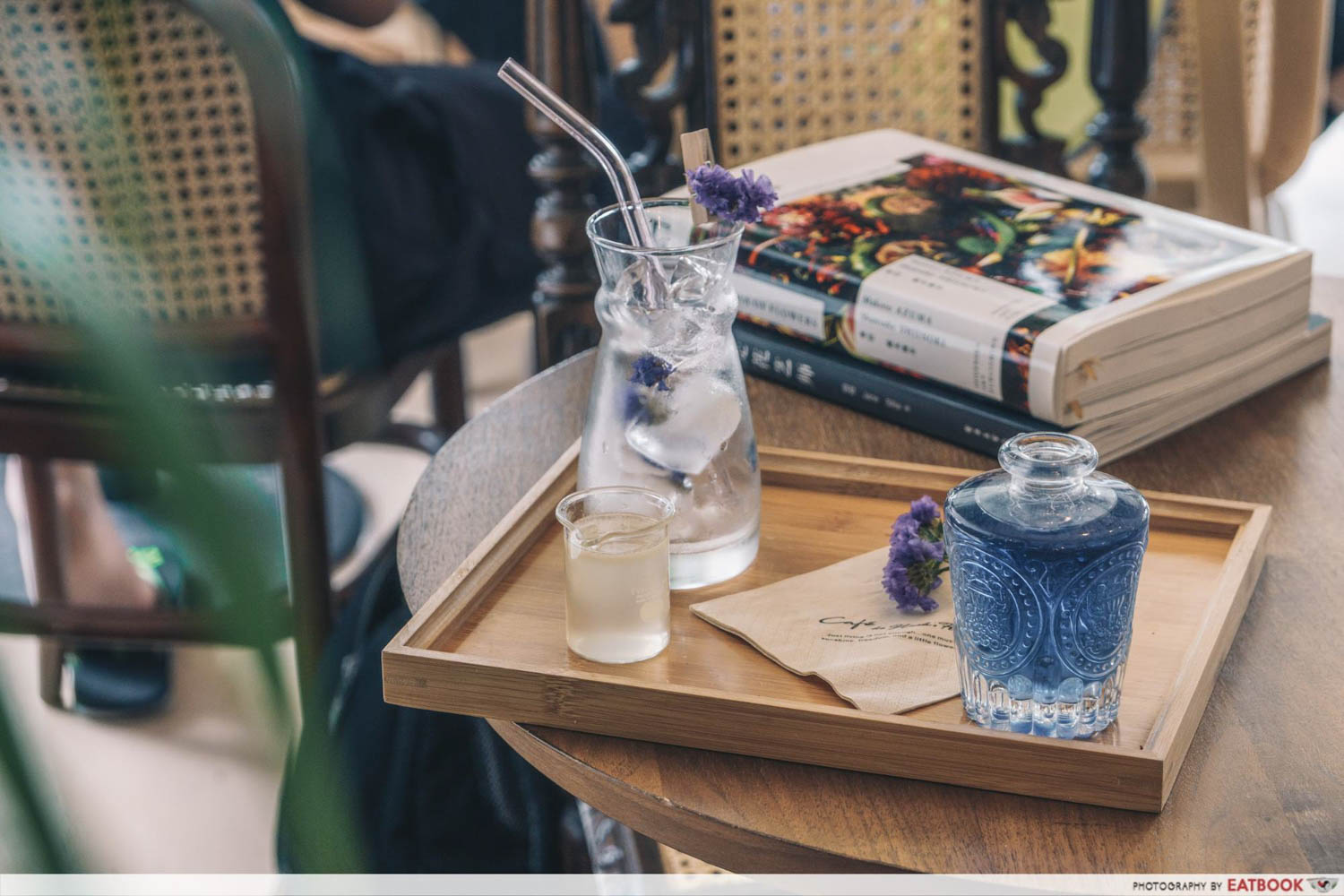 Fall in love with the #aesthetic drinks at Cafe De Nicole's Flower as well. One of their signatures is Mermaid Tears ($7.90+). It features a gorgeous blend of butterfly pea tea and honey lemon juice.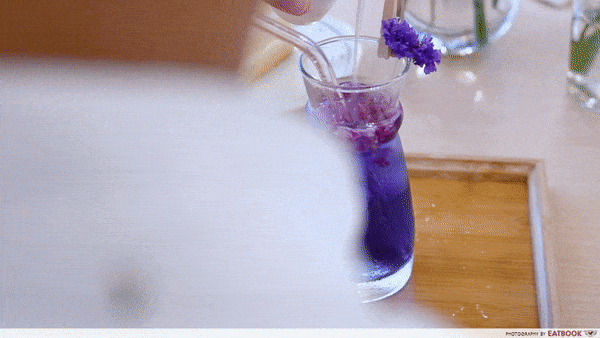 Pour the two fluids together and watch the magic unfold as the butterfly pea tea transforms from its sapphire hue to a mulberry shade.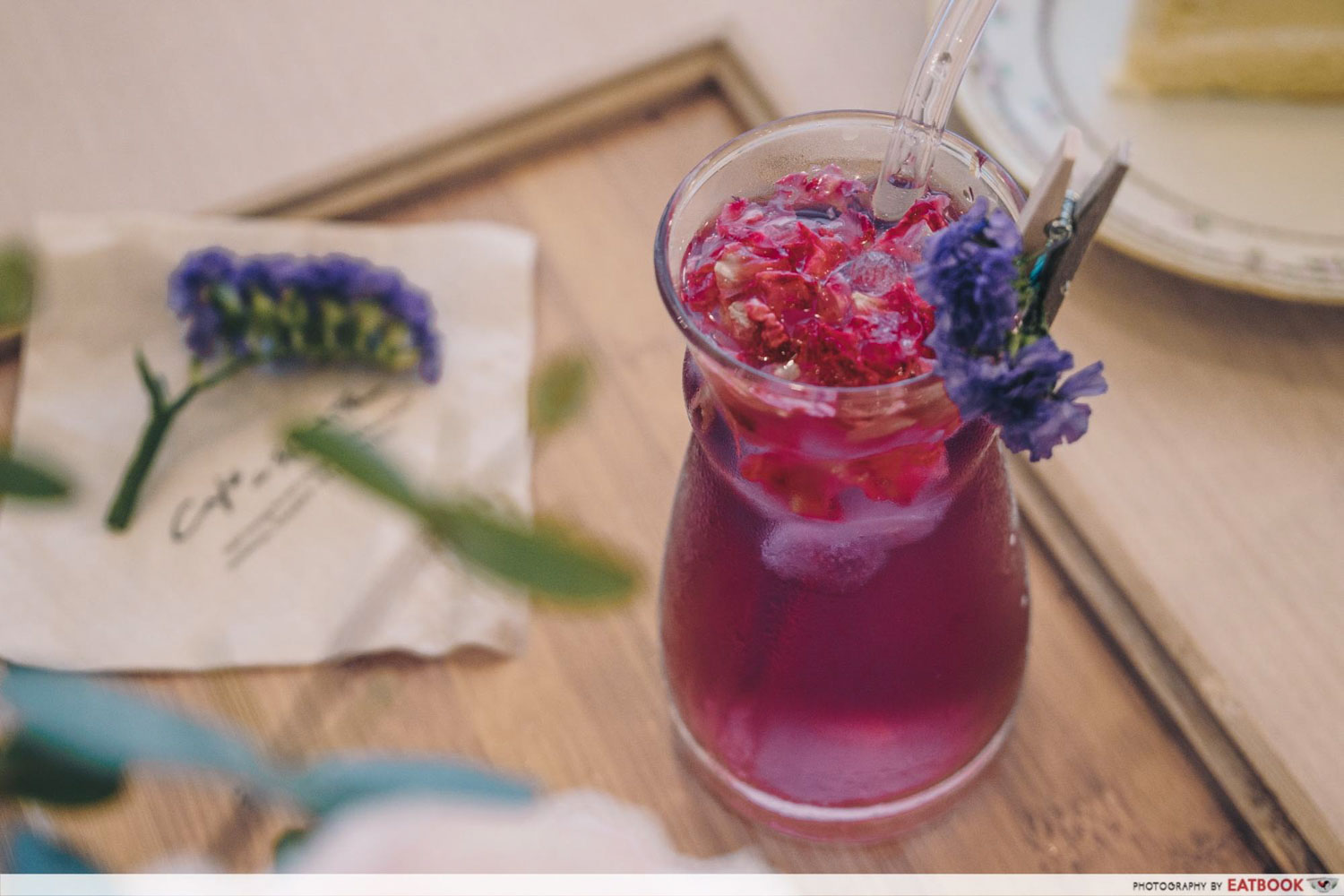 While the Mermaid Tears might appear gimmicky, it impressed me with its full-bodied flavour. The honey lemon added a zesty touch to the drink while also highlighting the faint floral notes of the butterfly pea tea. It wasn't face-scrunching sour, as a sweet aftertaste brought balance to the drink.
Ambience at Cafe De Nicole's Flower
Cafe De Nicole's Flower is not where you expect it to be. A 15-minute bus ride from Eunos MRT station, the cafe is like a lone flower, hidden within a forest of terrace houses. There's an odd patch of wild grass outside its doors, which was a jarring change from the sea of tarmac around it.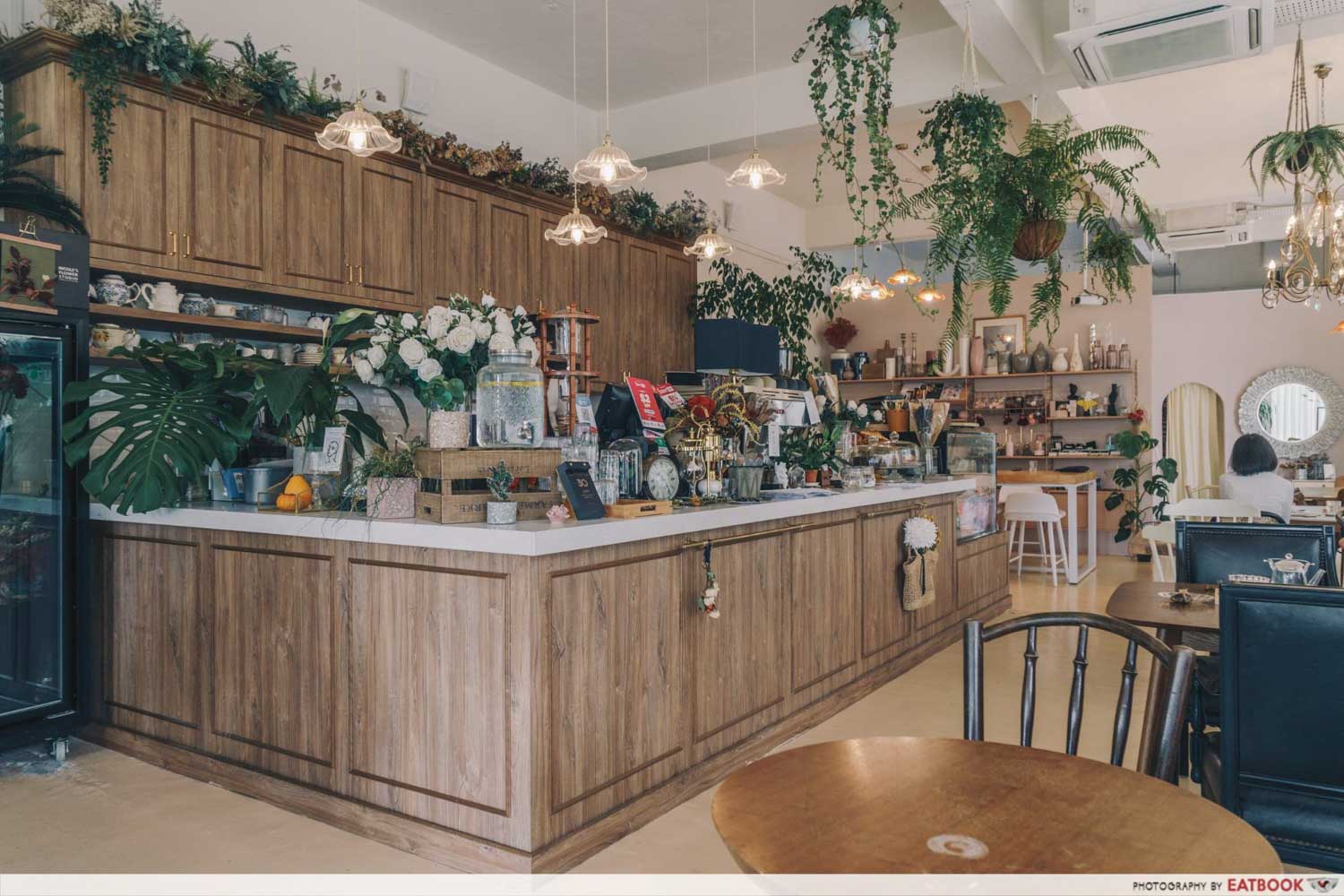 Stepping through the doors of this classy cafe, I felt like I have escaped into my own secret garden. With soft jazz playing in the background and an intoxicating floral aroma perfuming the air, my shoulders instinctively relaxed.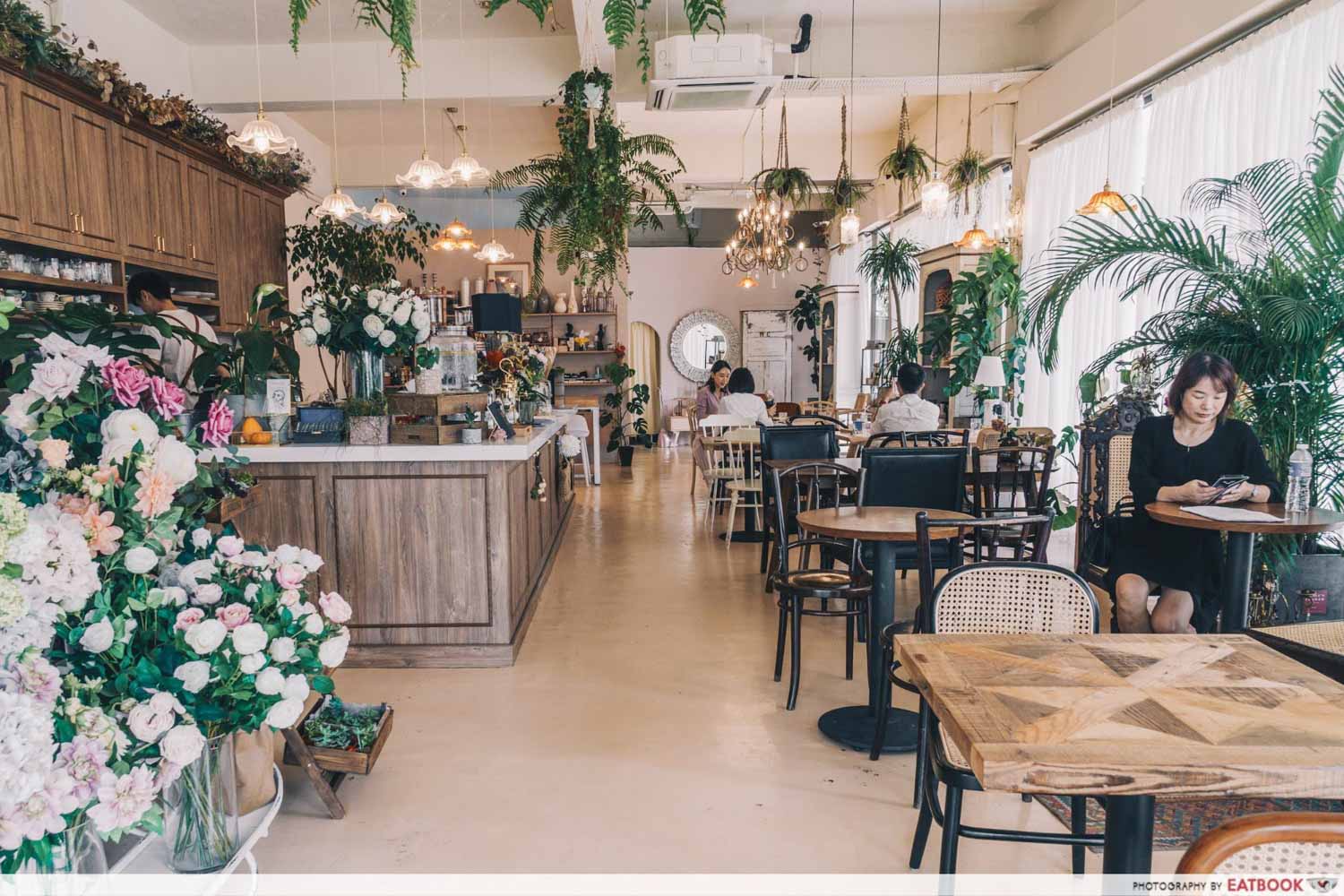 Chandeliers hung side by side with air plants and pendant lights; shelves of ceramic works sat alongside shelves of books. Each aspect contributed to the cosy setting, making Cafe De Nicole's Flower an idyllic retreat from the hectic pace of urban life.
The verdict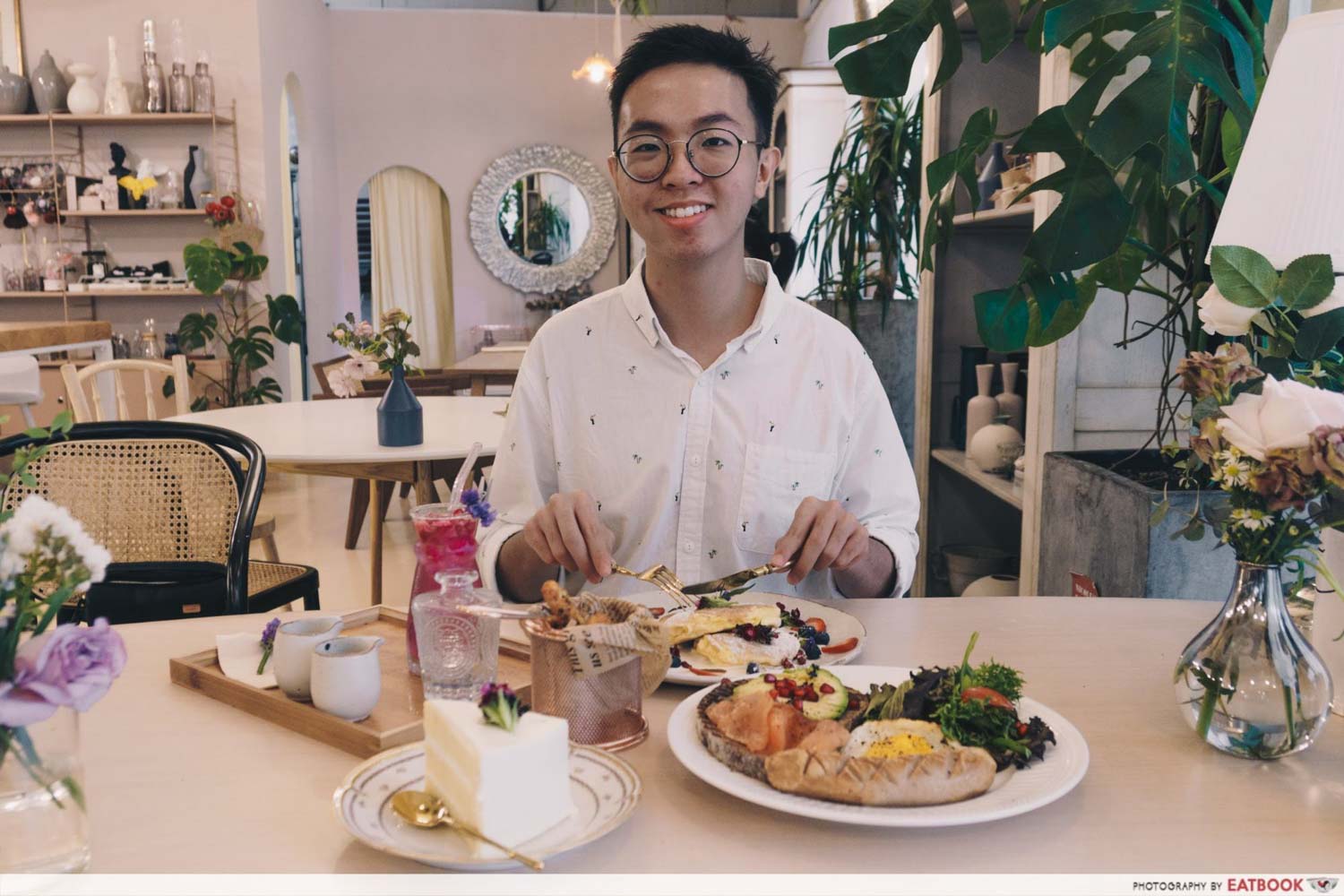 Cafe De Nicole's Flower faces a tough road ahead. After all, it's challenging to stand out in our oversaturated market especially when there are dozens of cafes offering similar dishes. Thankfully, with their meticulously plated desserts and relaxing ambience, they are off to a good start.
That being said, with a small crew of five to six workers, service is understandably slow. Be sure to give the staff some time to get to you!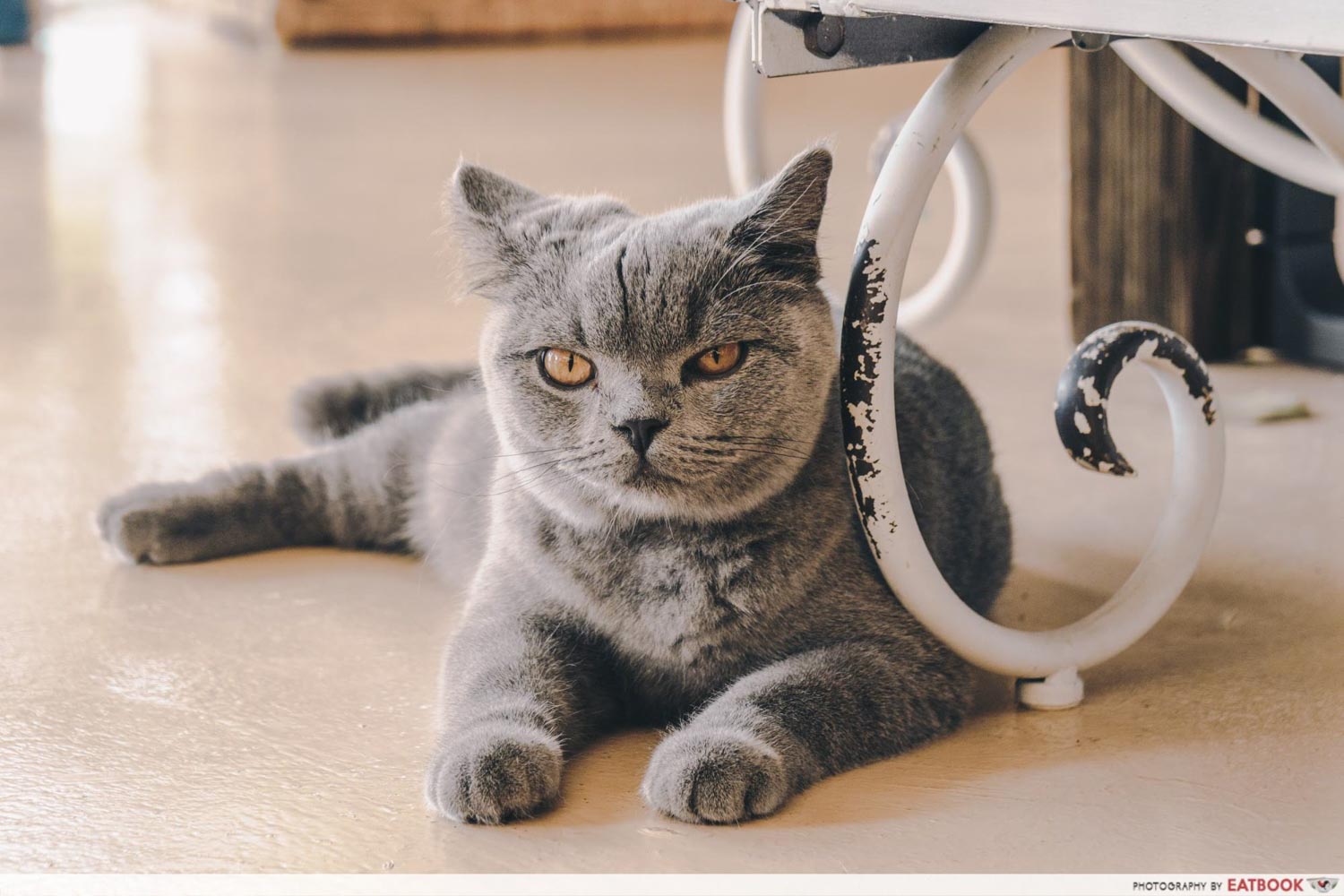 FYI, you might feel something fuzzy brushing against your legs. There's an adorable house cat, aptly named "Lao Ban" (the boss), roaming about. It's pretty friendly, so don't be afraid to pet it!
If you are searching for more places to chill with your friends, check out these 10 cafes in the East! On the top of our list is Chock Full Of Beans – a cosy cafe which transports you back to your childhood days with their Pokemon lattes.
10 Cafes In The East Serving Pokemon Latte And Truffle Egg Croissant For Lazy Weekend Brunches
Address: 224 Telok Kurau Road, #01-01, Singapore 423836
Opening hours: Tue-Sun 8:30am to 8:30pm
Website
Cafe De Nicole's Flower is not a halal-certified eatery.
Photos taken by Sharlene Lau.
This is an independent review by Eatbook.sg.
Summary
Pros
– IG-worthy desserts
– Fluffy pancakes
– Gorgeous interior
– Cosy ambience
Cons
– Ulu location
– Ordinary brunch menu
– Slow service
Recommended Dishes: Souffle Pancakes ($19.90+),  Mermaid Tears ($7.90+)                                                                                                   
Opening hours: Tue-Sun 8:30am to 8:30pm
Address: 224 Telok Kurau Road, #01-01, Singapore 423836