---
Traditional dessert in Singapore
---
The craziest reinvented traditional dessert I've had is probably the Mr Bean cocktail from local bar Jekyll & Hyde. While I was impressed by how the cocktail made with Lao Ban beancurd, vodka, kaya, and Frangelico tasted, it's not something I'd crave for all the time, unlike a good old bowl of red bean soup or cheng tng. For these old school treats, here are 10 stalls for traditional dessert!
---
1. 75 Ah Balling Peanut Soup
---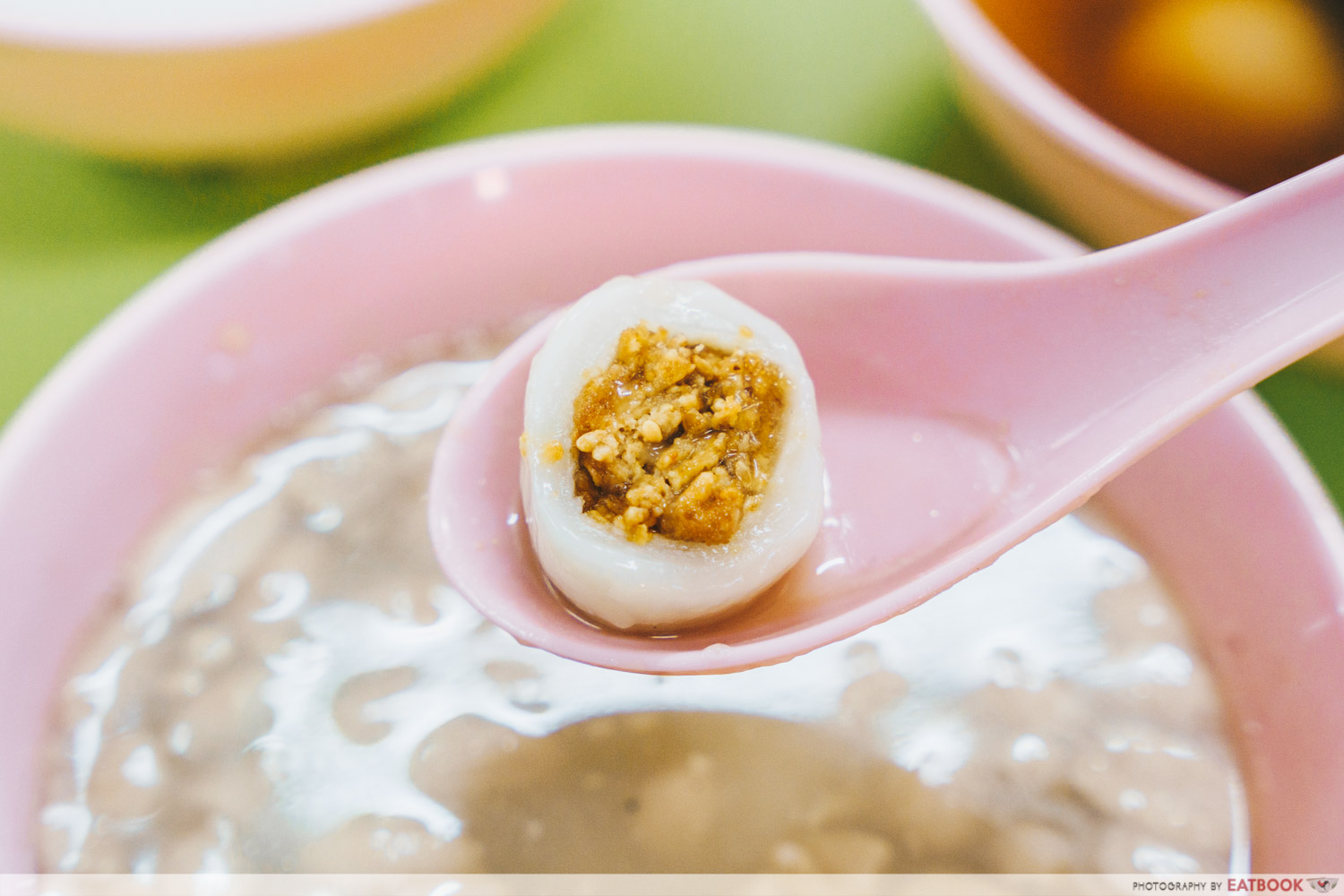 For old-school handmade tang yuan with explosive fillings, check out 75 Ah Balling Peanut Soup at Golden Mile Food Centre. Since they started their business in 1947, they have been famous for their glutinous rice balls in Peanut Soup ($1.40). While peanut soup is their signature, other soup options include Longan Red Date ($1.40), Ginger ($1.40), and Almond Milk ($1.40).
Each bowl typically comes with four pieces of glutinous rice balls for $2. It's priced at $2.30 for four Ah Balling and $2.60 for six Ah Balling. They're filled with popular ingredients like peanut, sesame, and red bean. The more adventurous folks, however, can try their yam and green tea ones!
Here's our review of 75 Ah Balling!
Address: 505 Beach Road, #01-75, Golden Mile Food Centre, Singapore 199583
Opening hours: Daily 10:30am to 8:45pm
Website
---
2. 115 Tang Shui
---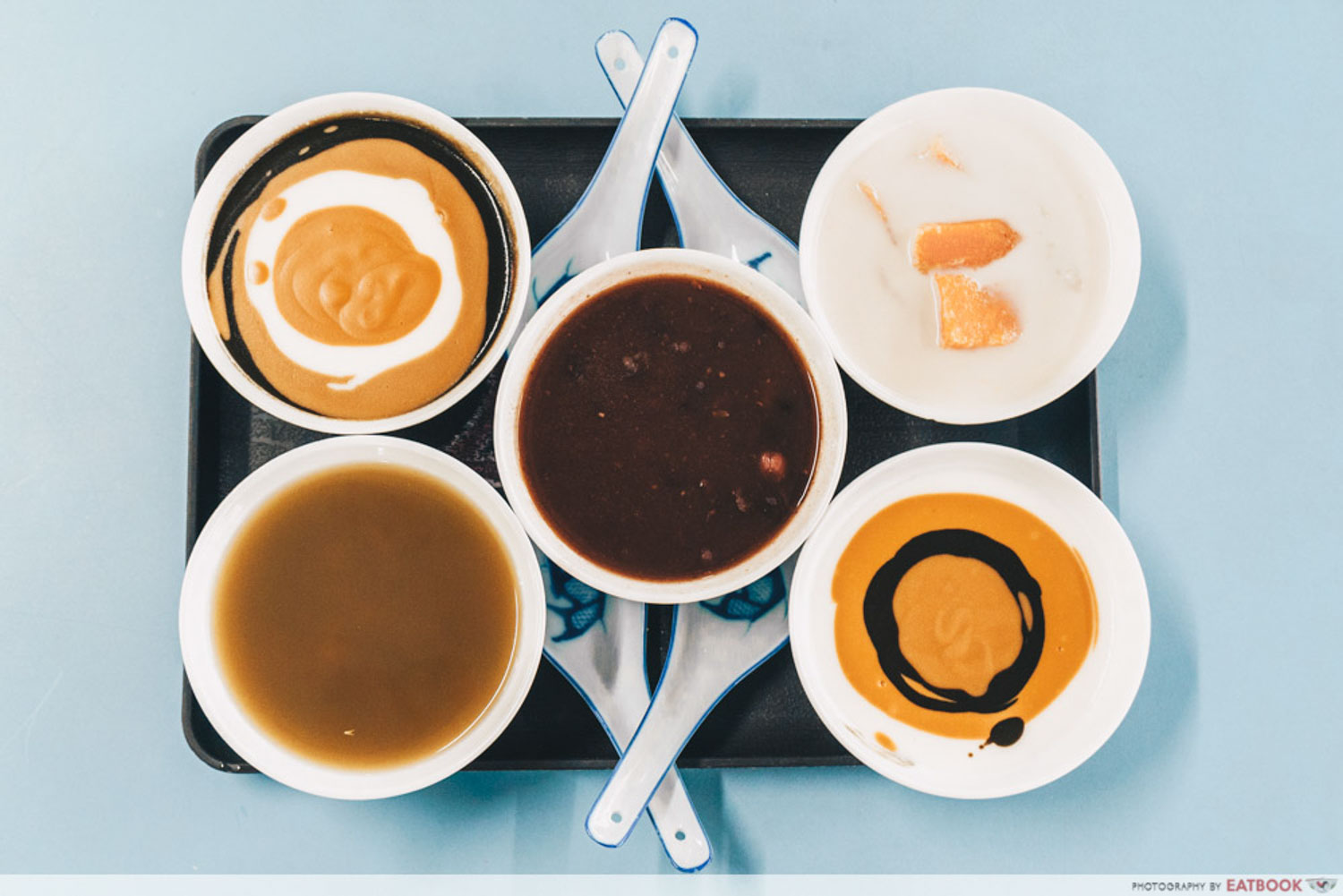 The next time you're in Chinatown, pop your head into 115 Tang Shui's stall and you will see a big stone grinder sitting at the side. In an effort to keep all preparation methods traditional, the stall uses this 42-year-old machine to make their desserts. Serving mainly Cantonese desserts, you can find traditional bowls such as Sesame Paste (from $1.50), Almond Paste (from $1.50), and Sweet Potato Ginger Soup ($1.30) here. One of their best-selling items, Bobo Chacha ($1.90), which is only available from Fridays to Mondays, follows a 51-year-old recipe that has been passed down in the family.
Read our review of 115 Tang Shui here.
Address: Blk 335 Smith Street, #02-206, Chinatown Complex Food Centre, Singapore 050335
Opening hours: Wed-Mon 7:30am to 3:30pm
Tel: 9641 9140
Website
---
3. Jin Yu Man Tang Dessert Shop
---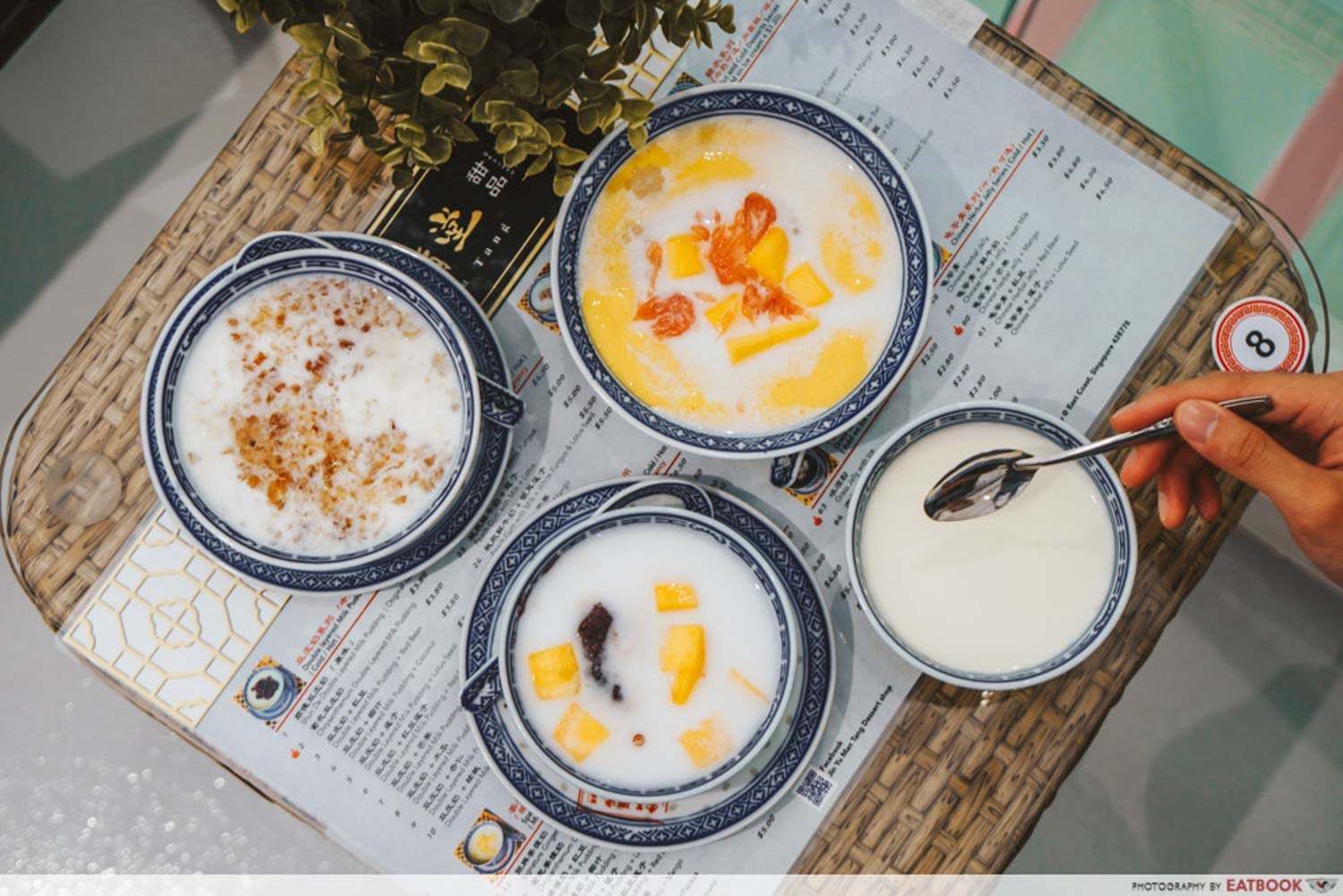 Jin Yu Man Tang Dessert Shop allows you to have traditional Chinese dessert in a comfortable, modern setting. If you've missed Hong Kong's famous milk puddings, get them here. Their Signature Ginger Milk Pudding ($4) is a silky, creamy concoction, while the Shun De Double Layered Milk Pudding ($3.80) will whisk you right back to Australia Dairy Company. You can also get peach gum desserts, Mango Pomelo Sago ($5), and savoury bites here too.
Check out our review of Jin Yu Man Tang Dessert Shop here!
Address: 66 East Coast Road, #01-03, The Flow, Singapore 428778
Opening hours: Daily 11:30am to 10:30pm
Tel: 6214 3380
Website
---
4. Thong Sum Hot & Cold Desserts
---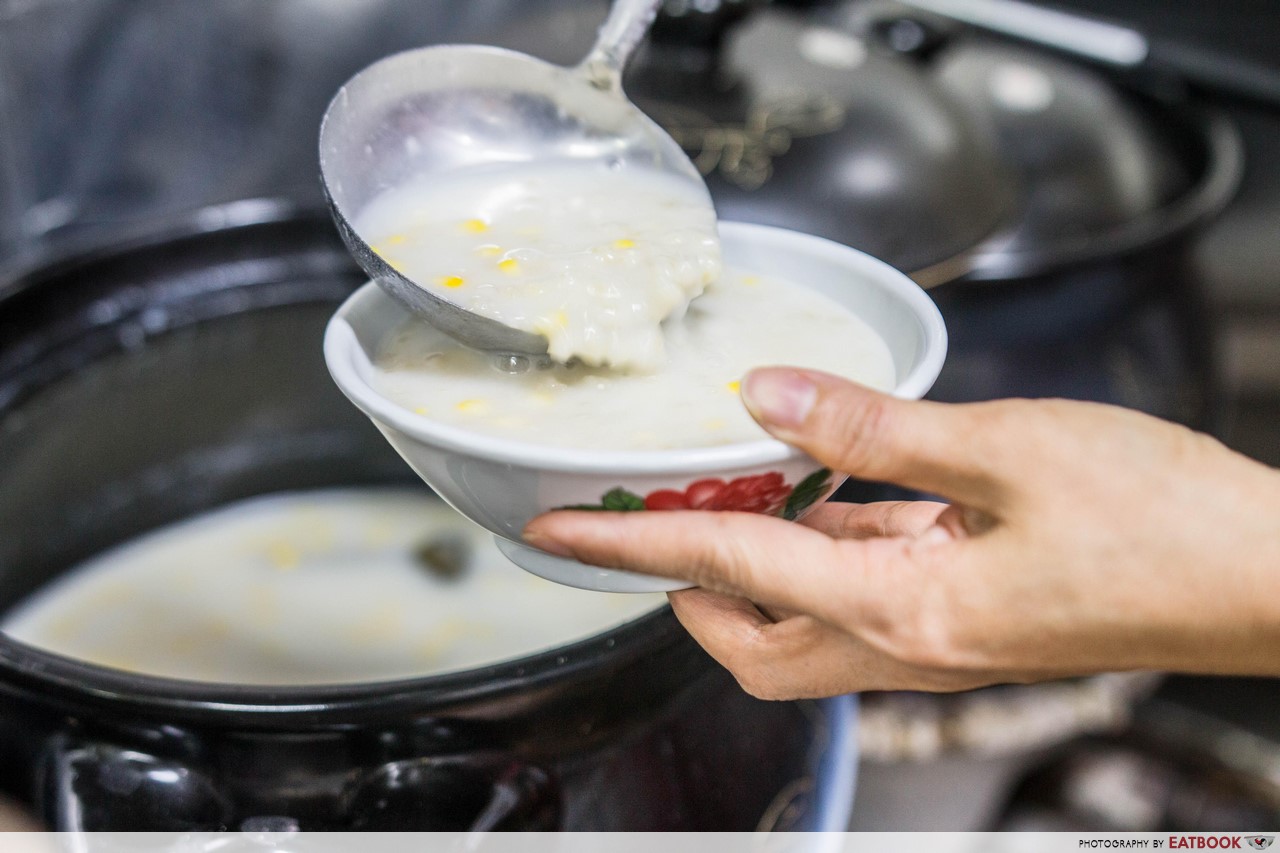 Thong Sum Hot & Cold Desserts is a stall started by a young hawkerpreneur, serving traditional Chinese desserts. He still employs traditional methods of cooking, where clay pots and charcoal stoves are used. Golden Mile Food Centre is due to reopen in a couple of weeks, so you can get your dose of old-school desserts such as Red Bean Soup ($1.80), Sweet Barley & Gingko Nut Soup ($2), and Sweet Corn Terigu ($2) soon!
We review Thong Sum Hot & Cold Desserts here!
Address: 505 Beach Road, #01-83, Golden Mile Food Centre, Singapore 199583
Opening hours: Daily 11am to 8pm
Tel: 9172 0567
Website
---
5. Yat Ka Yan
---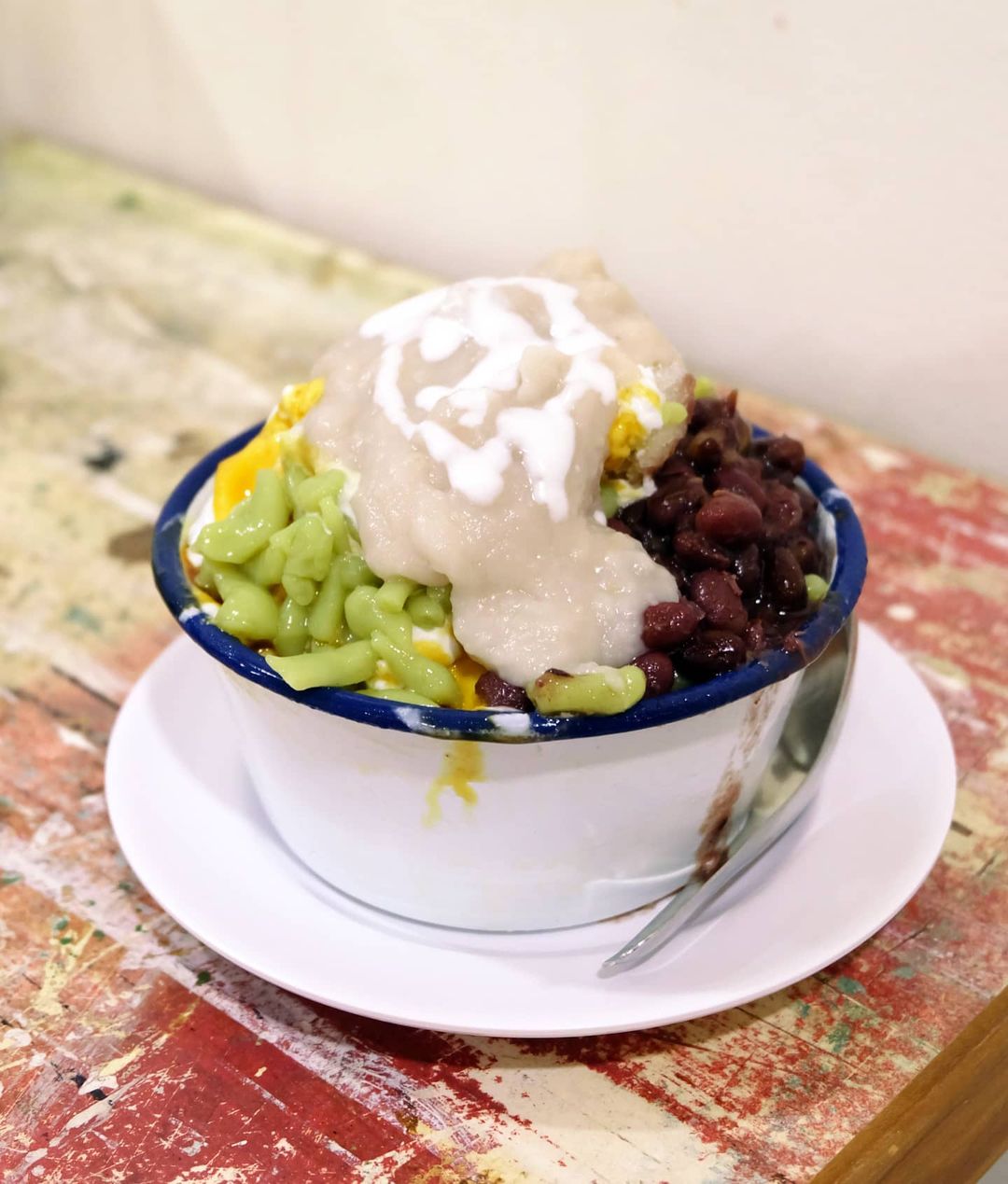 Image credit: @vanessa_kou
Pay a visit to Fortune Centre for Yat Ka Yan, where everything is said to be made in-house. Avoid peak hours here so you have a better chance of trying their famous Chendol ($3.20), which is said to rival the famous Jonker Street equivalent in Malacca. Otherwise, try the Yammy Chendol ($5.50) that marries shallot oil-laced orh nee with the icy dessert, or a Soup Set of Three ($5), that allows you to try three hot desserts in tasting-sized portions.
Address: 190 Middle Road, #02-08, Fortune Centre, Singapore 188979
Opening hours: Mon, Wed, Thur 1:30pm to 10pm, Fri-Sun 1:30pm to 11pm
Tel: 9669 9129
Website
---
6. Chow Zan Dessert
---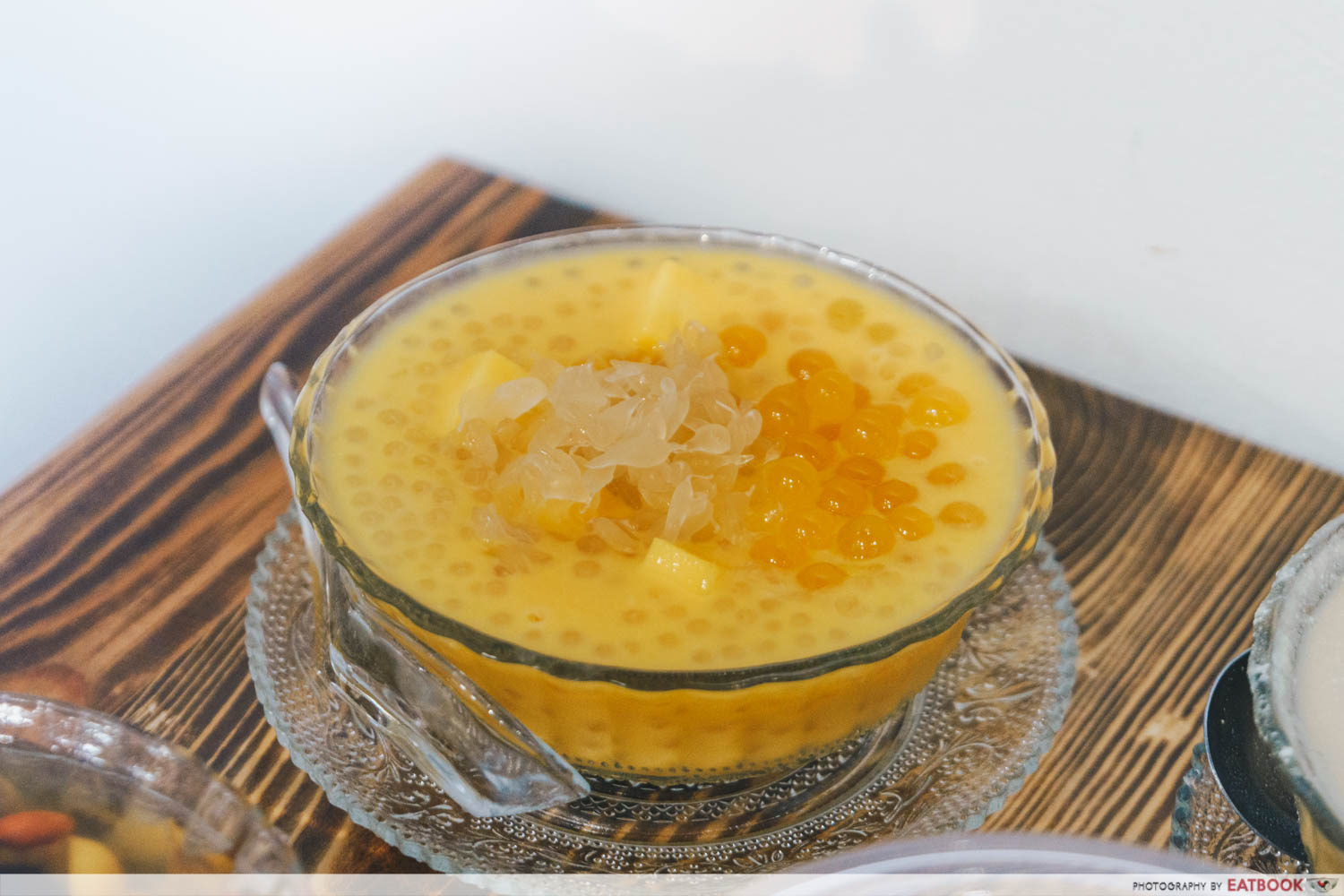 Located in Bugis is Chow Zan Dessert, which serves traditional and contemporary desserts. Try their Mango Pomelo Sago with Mango Pop ($5.50), or an unconventional White Chendol ($4) that sees white coconut jelly, rather than the usual green ones. For a collagen shot, add some peach gum to your day with Chow Zan's Peach Gum White Fungus With Lotus Seed ($6).
Read our review of Chow Zan Dessert here!
Address: 801 North Bridge Road, Singapore 198769
Opening hours: Mon-Sun 2pm to 10pm
Tel: 9830 8677
Website
---
7. Mei Heong Yuen
---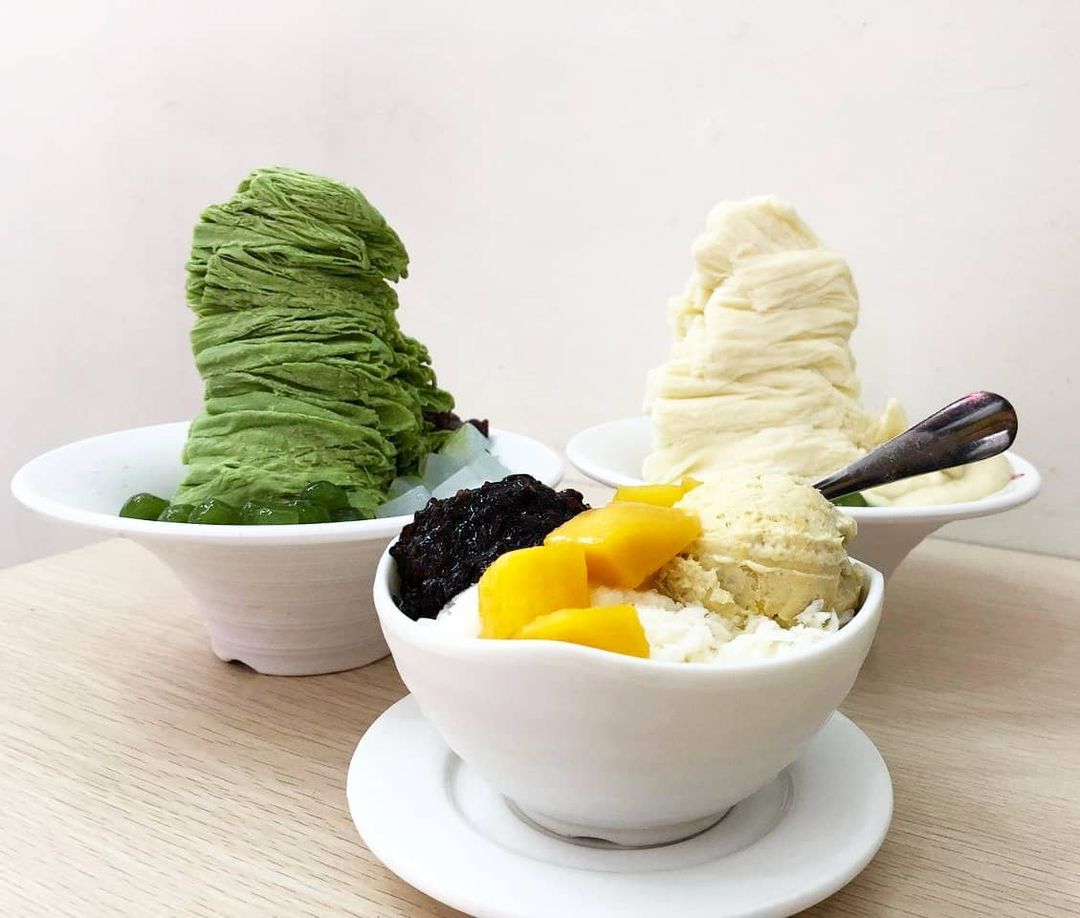 Image credit: @myfoodframes
Established in 1950, Mei Heong Yuen is a household name known for their nut pastes and Steamed Egg Pudding With Ginger ($3.50). Come for the Walnut Paste, Peanut Paste, and Sesame Paste at $3.50 each, or go for something modern like the Milk Tea Snow Ice ($5.50). This icy treat comes with two types of pearls!
---
8. Xi Le Ting
---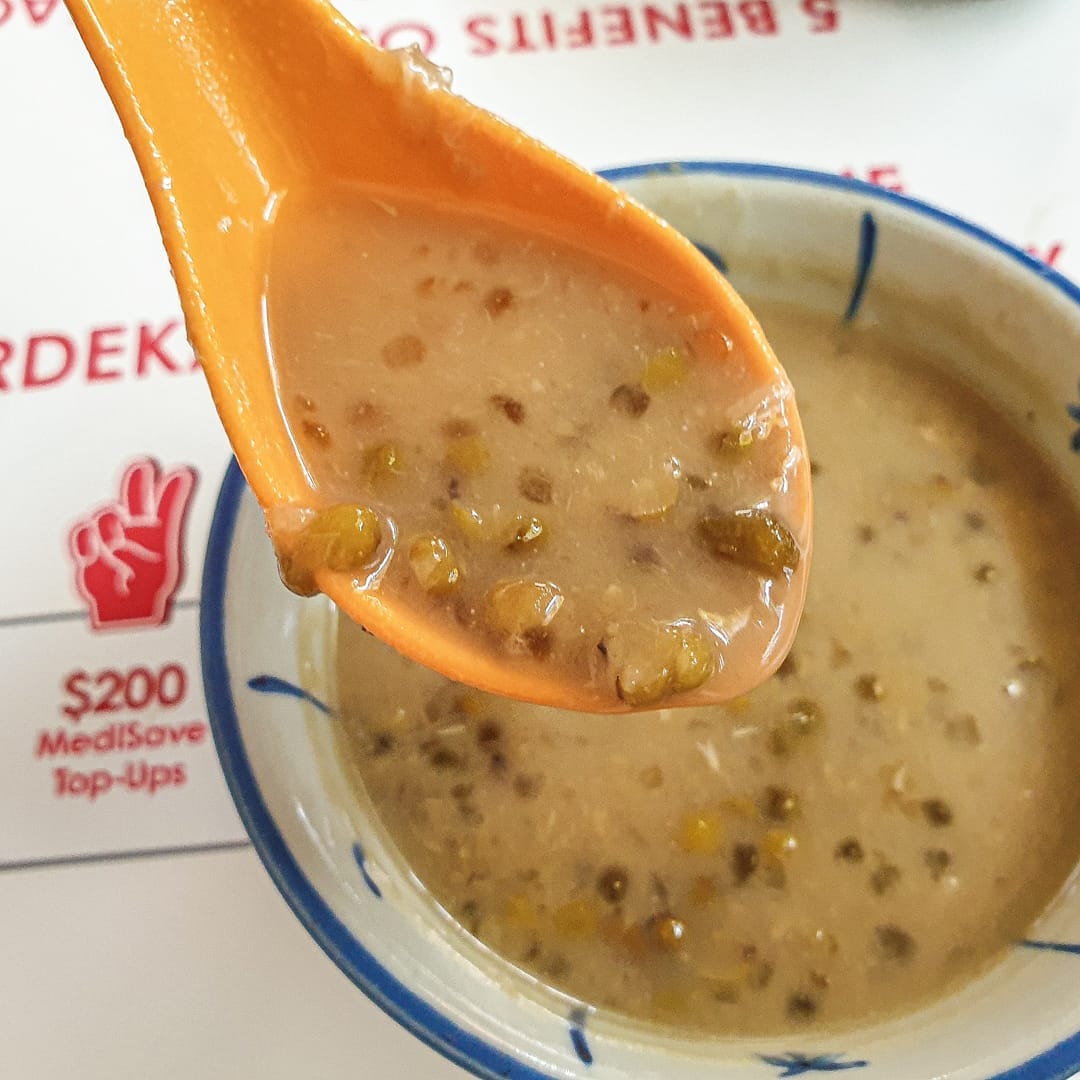 Image credit: @chianghongkeat
There are only four items on the signage at Xi Le Ting, with only two prices: $1 if you dine in, and $1.20 for takeaways. Manned by a reputedly grumpy old lady, this stall at Commonwealth Crescent Market & Food Centre has made the same desserts, with the same recipes, for more than 50 years. Try the Green Bean Soup, cooked to a creamy pulp with coconut milk and sago, or the Cheng Tng that comes with a slice of dried persimmon.
For a lesser-known, super traditional dessert, try auntie's Bubur Terigu. This white wheat sweet porridge is popular with her regulars and is said to be smooth, without being overly sweet.
Address: 117 Commonwealth Drive, Commonwealth Crescent Market & Food Centre, Singapore 140117
Opening hours: Thur-Sun 12pm to 6pm

---
9. Tian Yi Desserts
---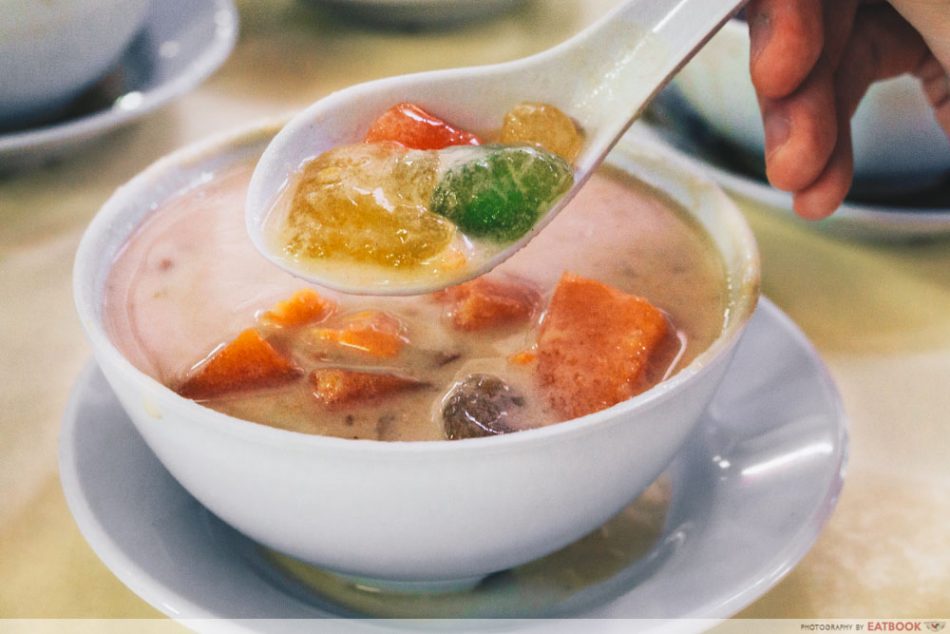 This old-school dessert stall near Lavender has a unique Mixed Green And Red Bean Soup ($2) that mixes both of the classic sweet soups. More than 40 ingredients go into each bowl of this! The desserts at Tian Yi Desserts tend towards the thicker, Cantonese-style variety, rather than the more commonly found sort, where the beans and soup are distinct. For a more colourful treat, try the Bo Bo Cha Cha ($2.20) that's rich and coconutty.
We review Tian Yi Desserts here!
Address: 861 North Bridge Road, #01-112, North Bridge Road Food Centre, Singapore 198783
Opening hours: Tues-Sat 9am to 4pm
Website
---
10. Ren Ren Desserts
---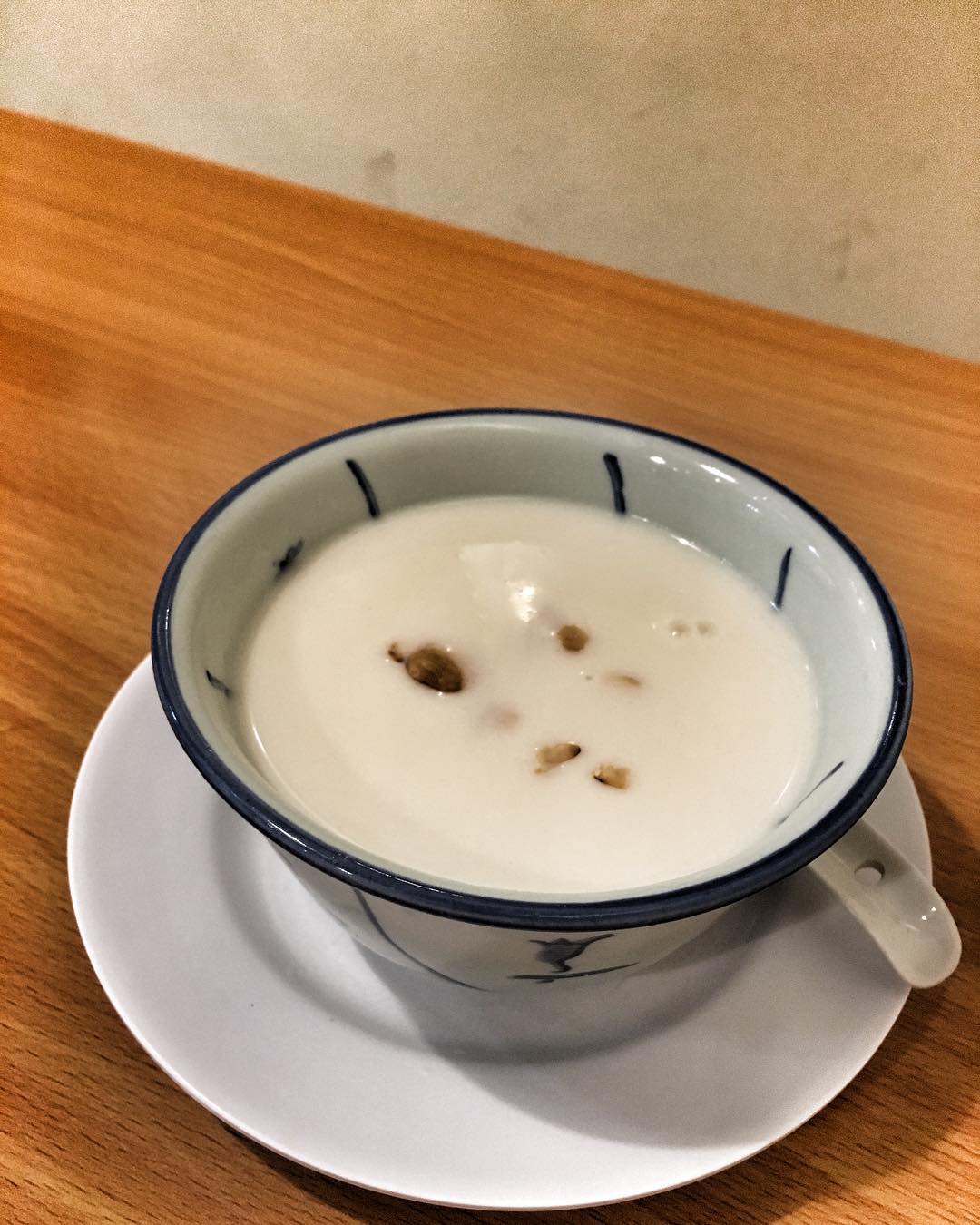 Image source: @jennytanwrites
Hidden in the basement of Siglap Centre is Ren Ren Desserts, a little dessert shop run by Uncle Wilson and Auntie Elsie. They've been making tong shui for 20 years, having started their business in Chinatown back in 2000. They're known for their Chendol ($2.90), which features freshly squeezed coconut milk, although the Almond Cream ($2.60) and Chilled Black Rice with Vanilla Ice Cream ($3.50) are not to be missed, too!
Address: 55 Siglap Road, #B1-23, Siglap Centre, Singapore 455871
Opening hours: Tues–Sun 12:30pm to 6:30pm
Tel: 9117 8228
Website
---
Tong shui in Singapore
---
After a savoury meal, it's always nice to end with a sweet treat. For the days that you're tired of ice cream and waffles, fall back on an old-school Chinese dessert that'll hit the spot, and is nourishing too. If you're looking for our favourites, here's our list of best desserts in Singapore for the year 2020.
Featured image adapted from @lohnoms' post.
This post was originally published on 17 January 2018.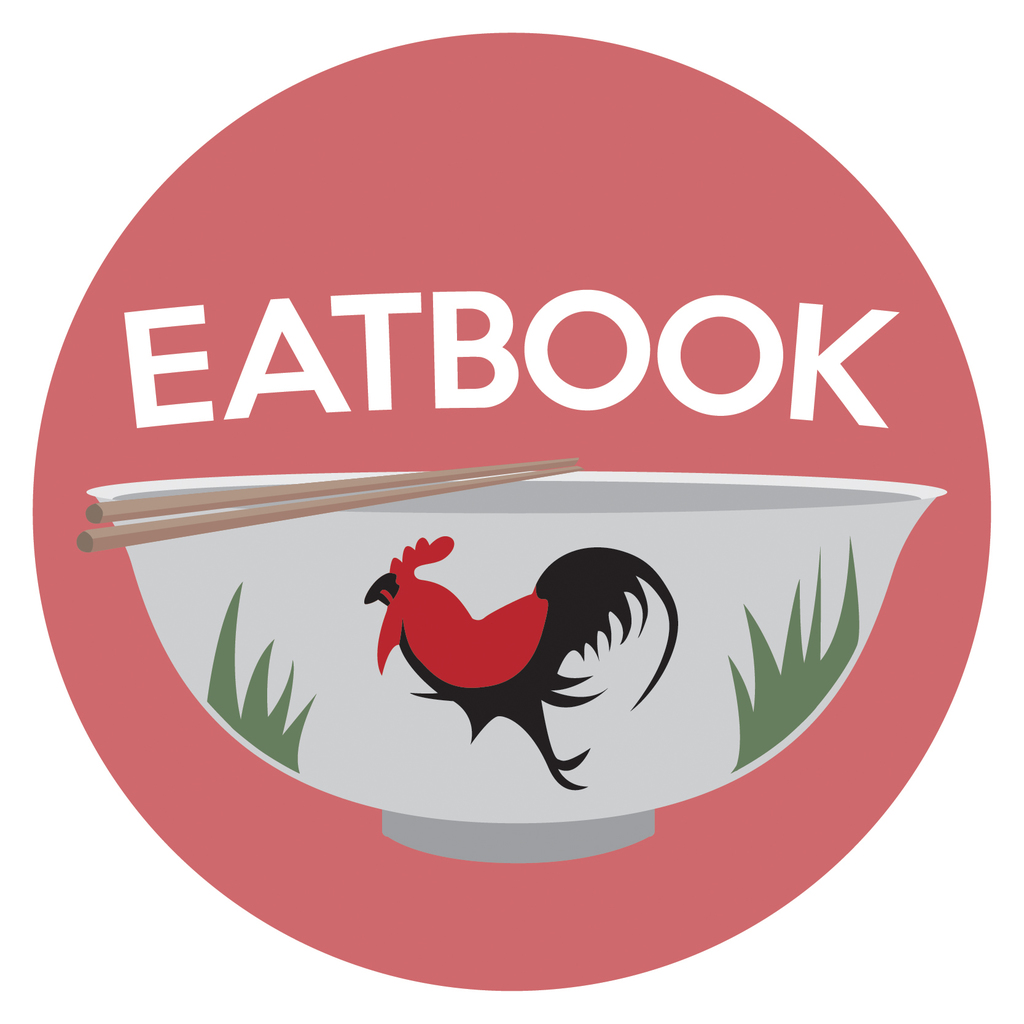 Drop us your email so you won't miss the latest news.