Darkness Dessert at Tanjong Pagar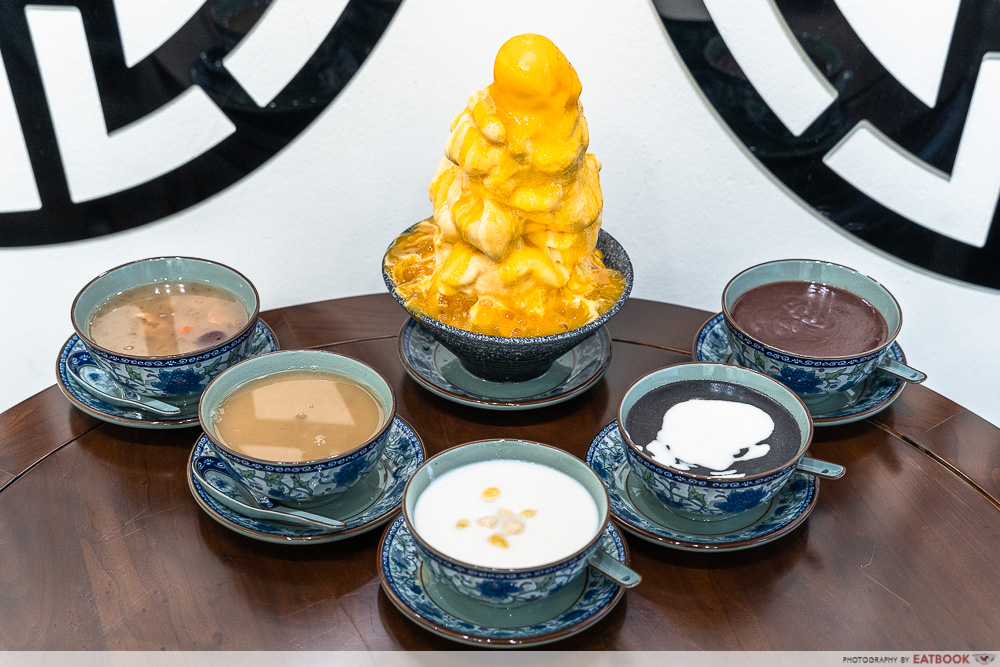 To me, Tanjong Pagar reminds me of pretty IG-worthy cafes, such as the likes of Roji Monster and Kreams Krafthouse. On one of my recent strolls around the area, I noticed that the street had welcomed a new kid on the block━Darkness Dessert, which opened its doors in early April with a menu focusing on traditional Chinese desserts. 
Roji Monster Review: Cute Monster Shaved Ice And Ice Cream Waffles In Tanjong Pagar
Food at Darkness Dessert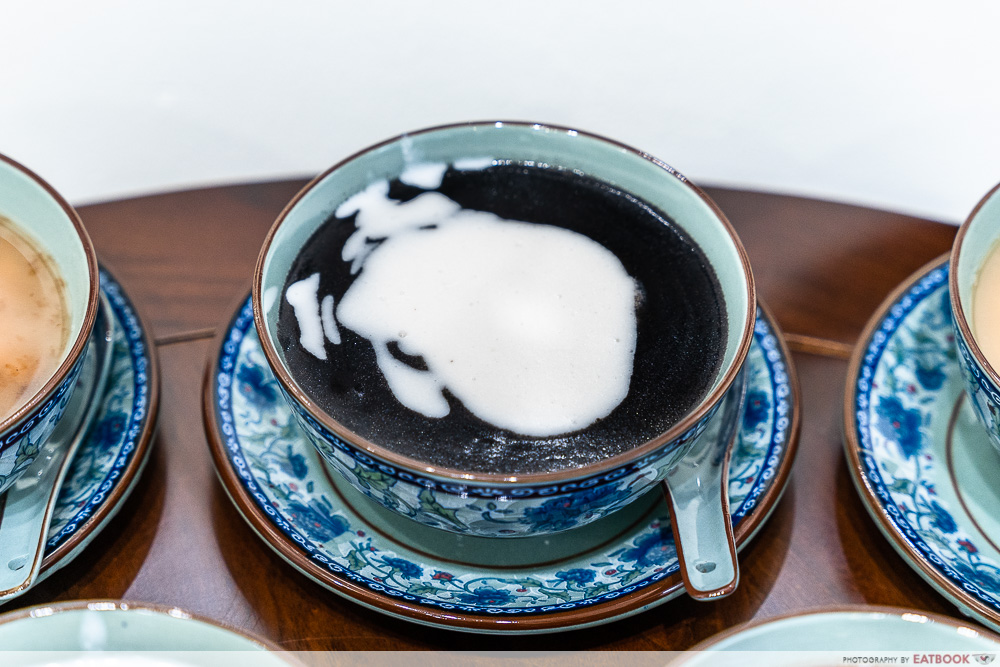 My colleague and I decided to kick off our visit with a favourite of ours, a Black Sesame Paste with Almond Paste ($4.50+).  When I saw the midnight black colour of the paste we were served, I had high hopes, since I love the rich, earthy flavours of Black Sesame Paste.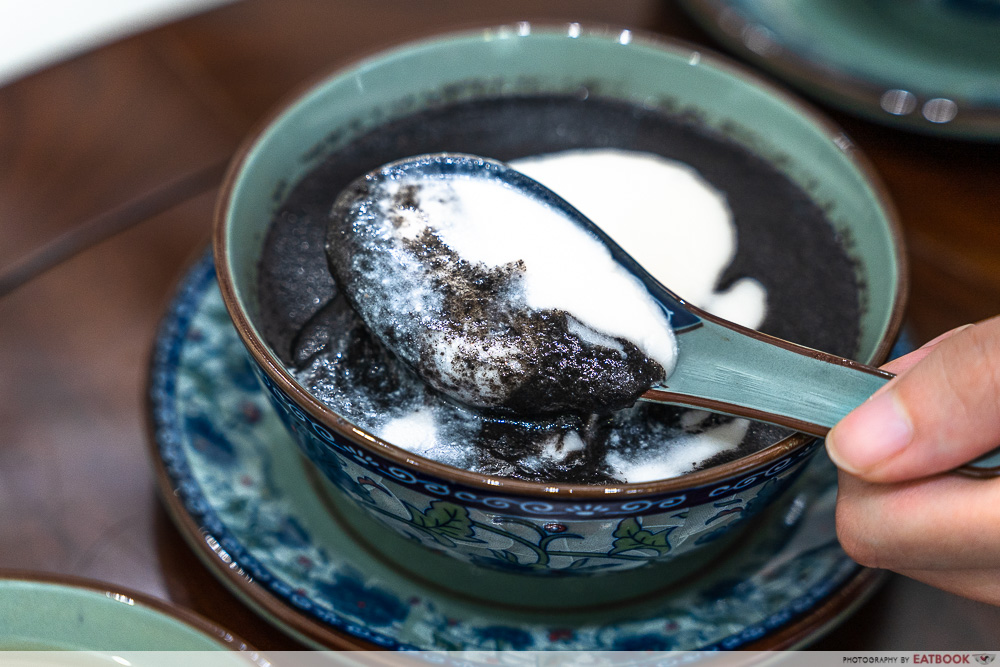 What I did not expect was for the almond to overpower the taste of the black sesame so strongly that the latter was barely noticeable. Even as I continued spooning swirls of the gritty-looking black and white dessert into my mouth, trying to find the familiar taste I liked so much, all I could taste was the slightly sweet almond paste. 
If you're craving black sesame, I would recommend ordering the Black Sesame Paste ($4.50+) on its own instead.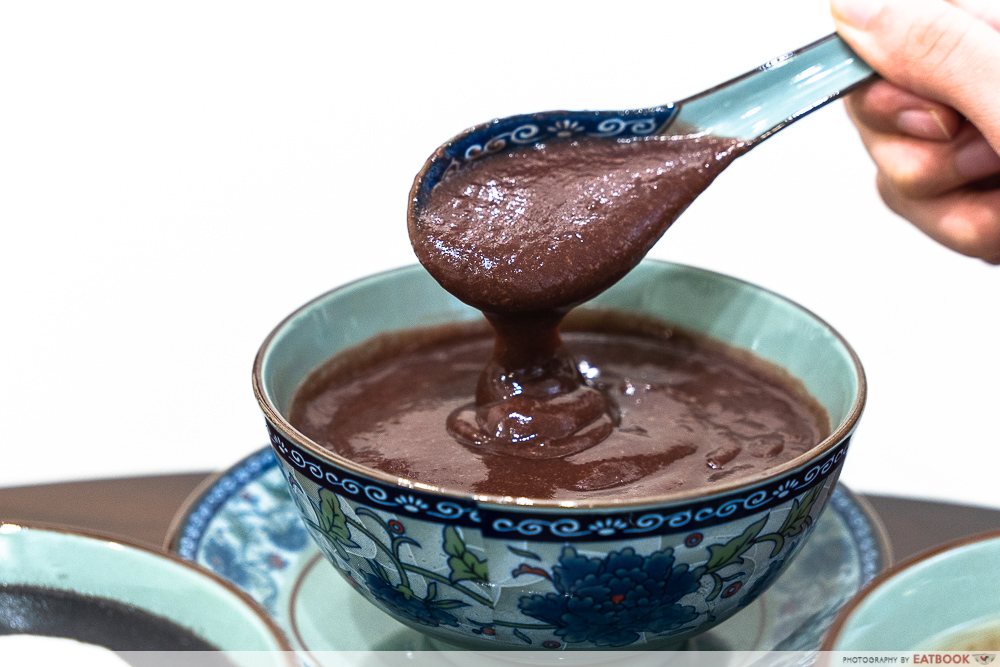 Another classic that we tried was the Red Bean Paste ($4.50+), which better lived up to our expectations. Each spoonful was thick and smoothly blended, and though there weren't any signs of added orange peel, I still enjoyed the full-bodied taste of the sweet and nutty red bean.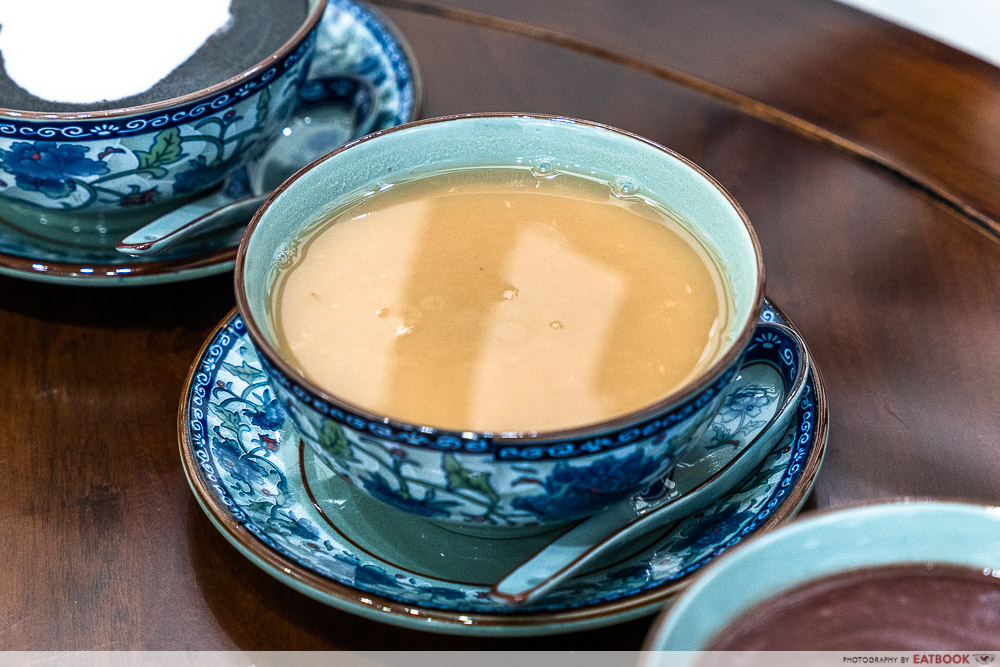 When I think of red bean, green bean also automatically springs to mind. So, we also decided to try their Green Bean Soup ($4.50+).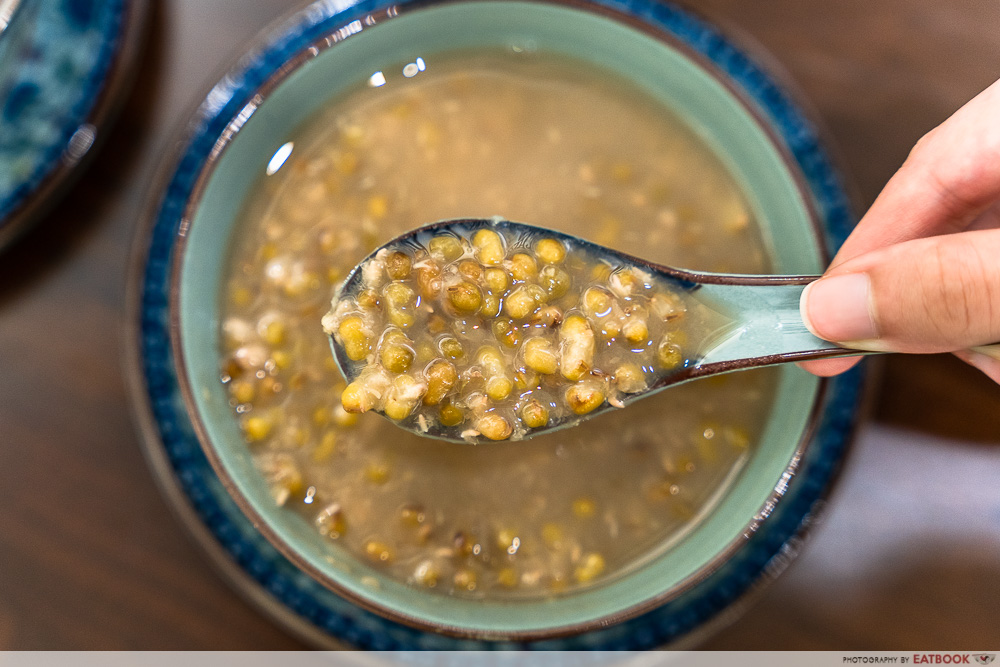 Unlike the Red Bean Paste, the green beans in this soup are not blended entirely, but cooked down. Because of this, they possessed an understandably mushy texture. 
You can also tell that Darkness Dessert doesn't go ham on adding sugar, allowing the taste of the ingredients to shine.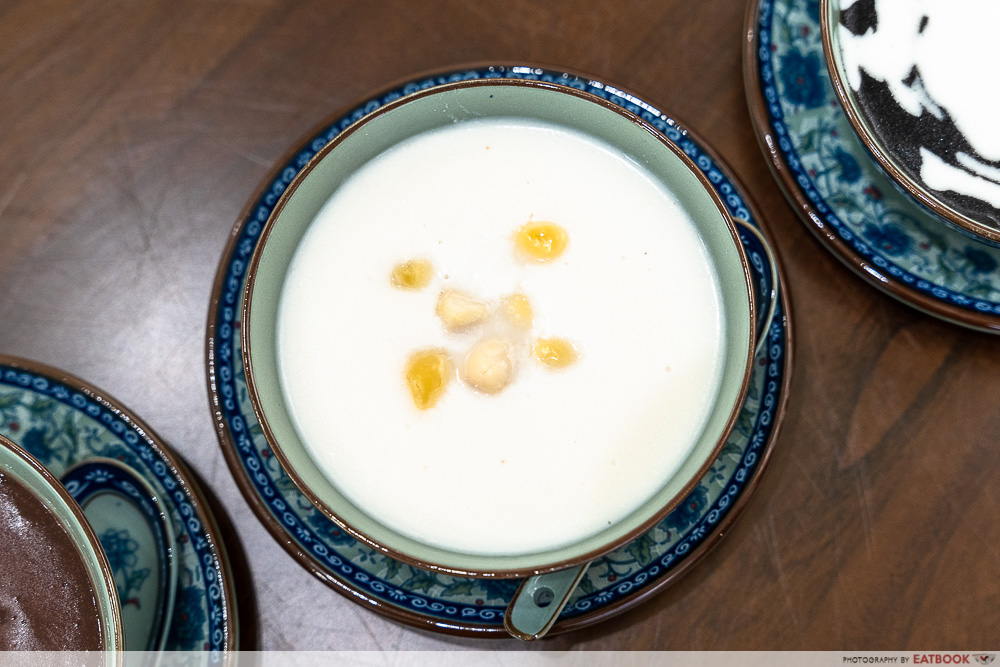 Another of the many desserts available here that we tried was the Peanut Soup with Gingko Nuts and Lotus Seeds ($5.20+), which was definitely thicker than other peanut soups I've seen.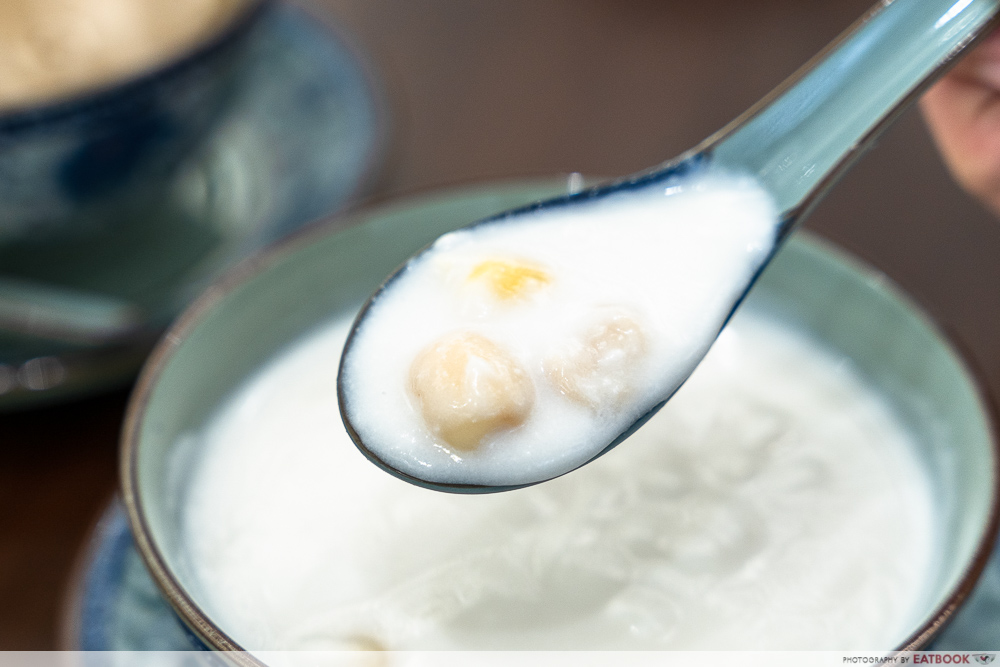 Though I wasn't all that impressed with this dessert, I can see how some may enjoy the chestnut-like taste that is present here. Its relatively thick consistency meant that it was nice to slurp up too.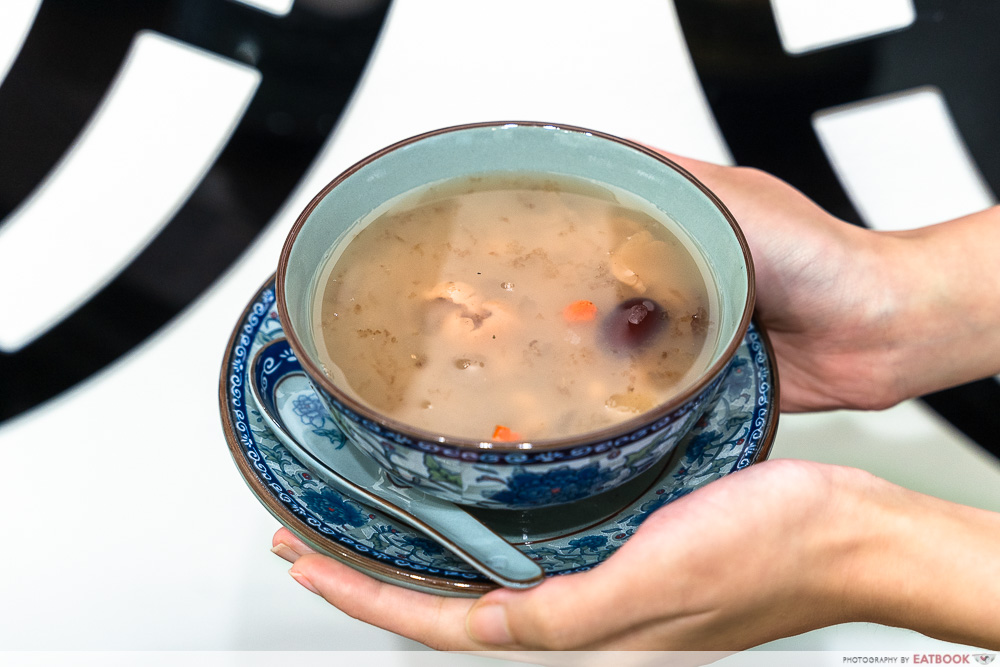 On that same note, we couldn't leave without trying one of the most well-known Chinese desserts—Cheng Tng ($4.50+).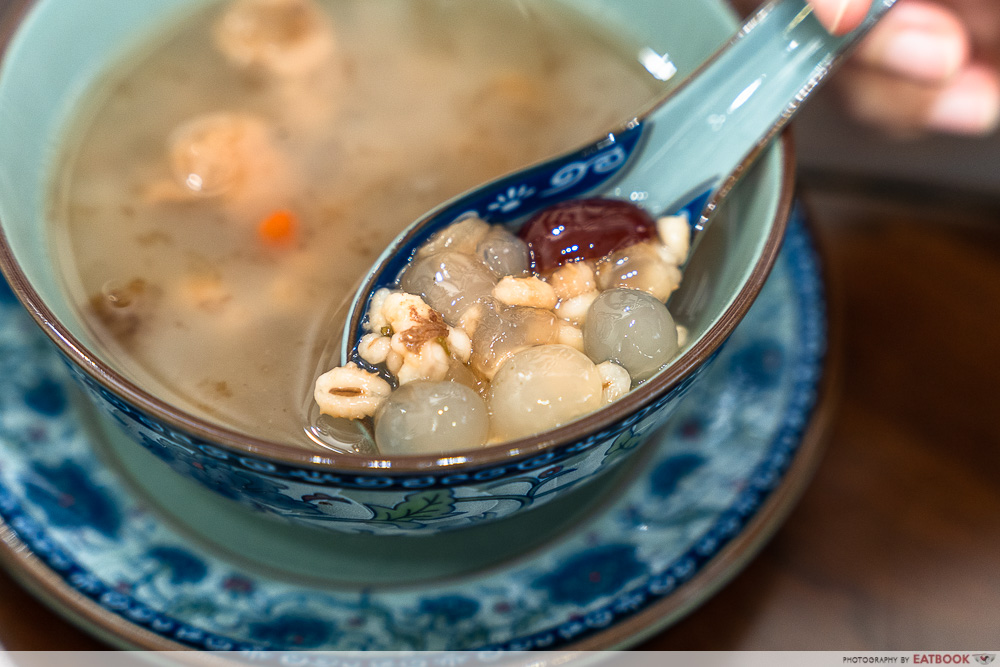 This is one of their more popular desserts, and I can see why. Darkness Dessert's rendition has a herbal taste that is not overly sweet, accompanied by the essential lotus seeds, pearl barley, and red dates. I appreciated the crunchiness of the longan too. 
Eating this definitely evoked nostalgic feelings for me, and reminded me of the comforting bowls of cheng tng my grandmother used to make.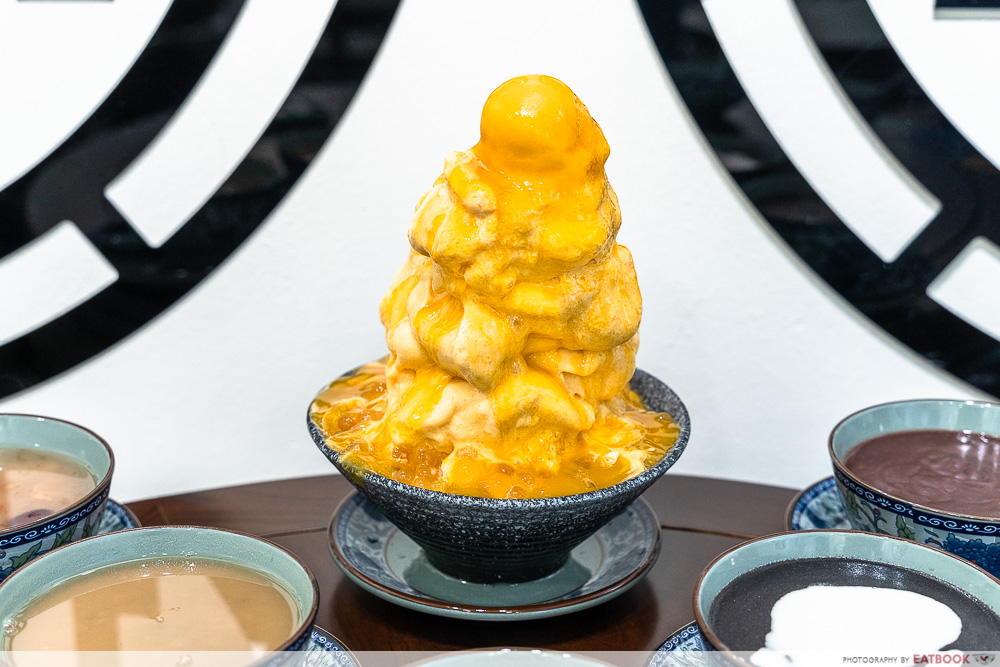 Though their menu comprises mainly old-school desserts, Darkness Dessert offers a handful of modern desserts available too—one of which is the Mango Ice ($12.80+).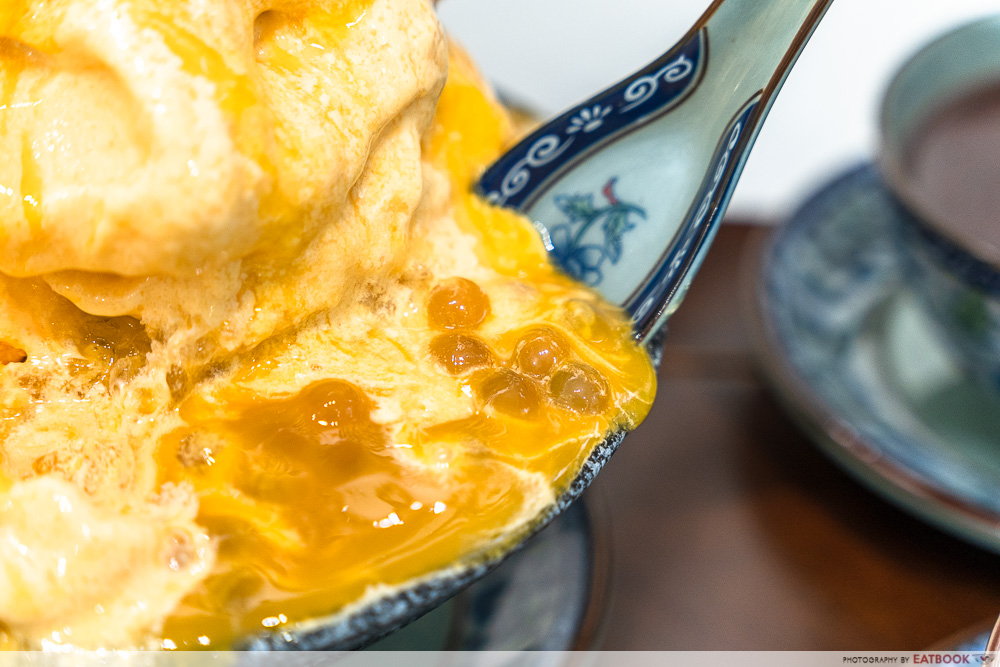 The bulk of this dessert is mango ice cream that's been blended before serving, but spooned on the side are mango puree and mango popping pearls. The syrupy consistency of the former, and the fun bursts of sweet mango syrup in the latter, brought contrasting textures to the otherwise creamy treat.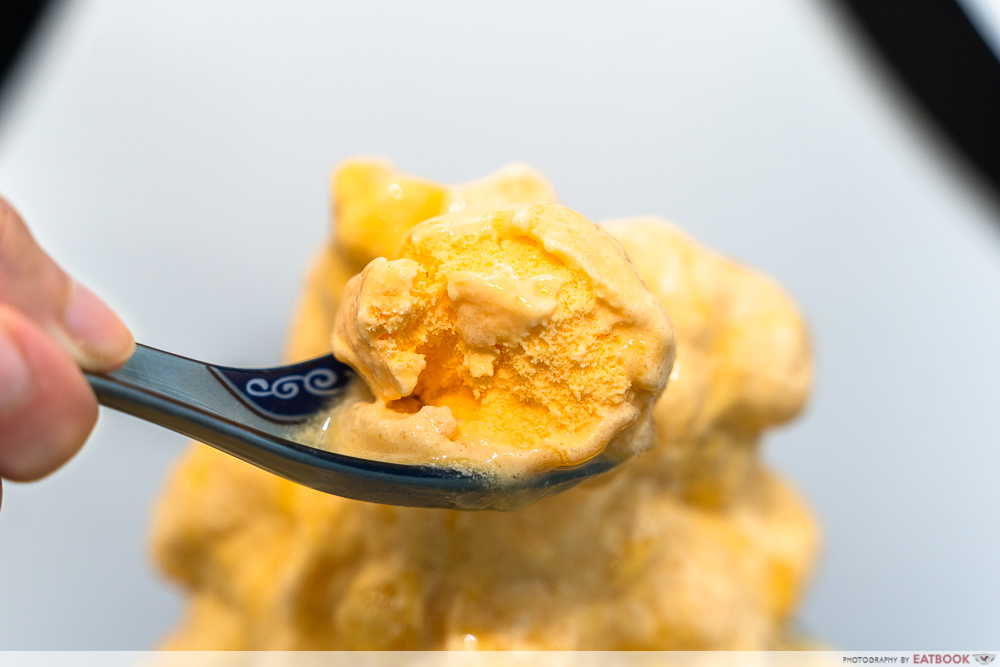 This dessert is finally topped with a scoop of unblended mango ice cream, whose thicker consistency made each mouthful slightly firmer, with a bit more bite. 
Champion Bolo Bun Review: Three Storey-Cafe With Curry And Butter Bolo Buns
Ambience at Darkness Dessert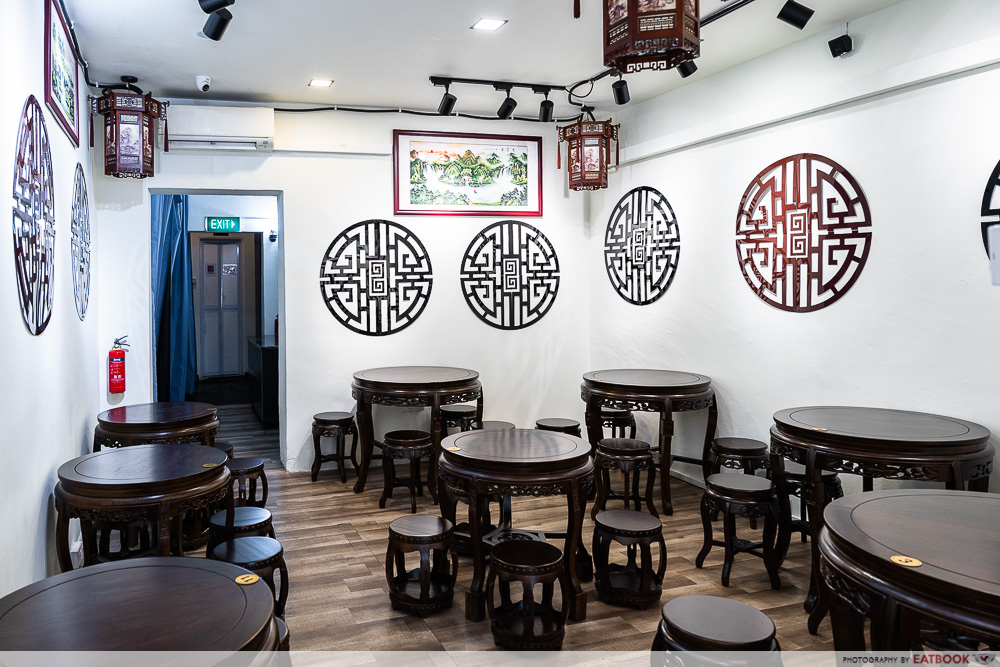 If you expected the interior of Darkness Dessert to be shrouded in, well, darkness, you're not the only one. My colleague and I were pleasantly surprised to find ourselves in a brightly lit, white-walled room.
Besides that, the place really reminded me of my grandparents' house. From the Oriental-style tables with curved legs to the traditional Chinese paintings and lanterns hanging from the ceiling, their interior really brought me back to weekends at their place.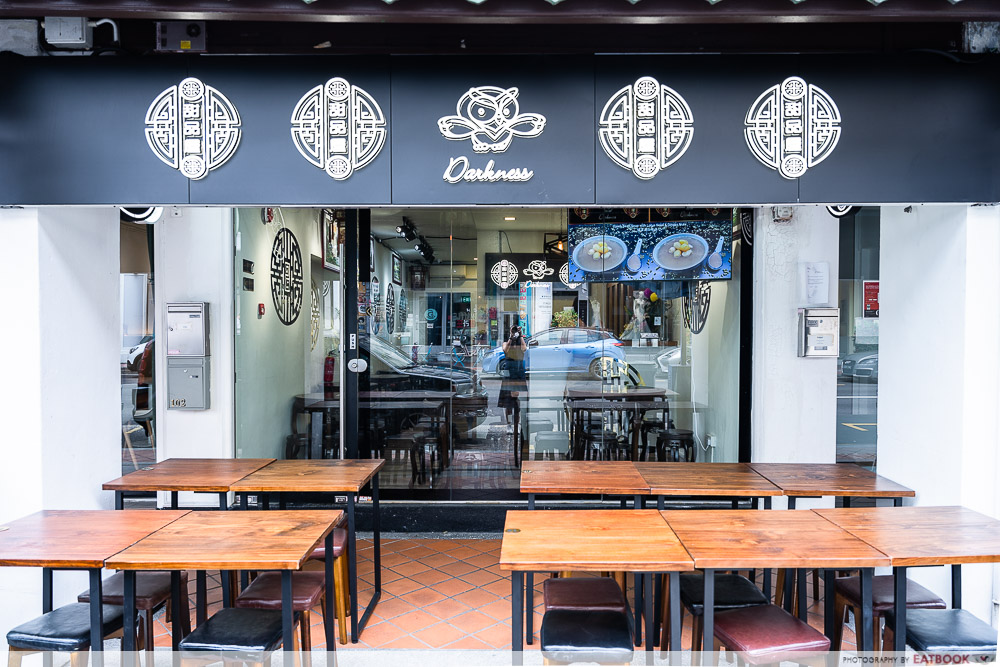 Darkness Dessert sits in the heart of the Tanjong Pagar district, along the same street as Champion Bolo Bun, which is a short but winding five-minute walk from Tanjong Pagar MRT Station. 
As one of the more affordable locations that are open till or past midnight, I can definitely see them becoming a popular spot to chill and wind down at after a long night. 
The verdict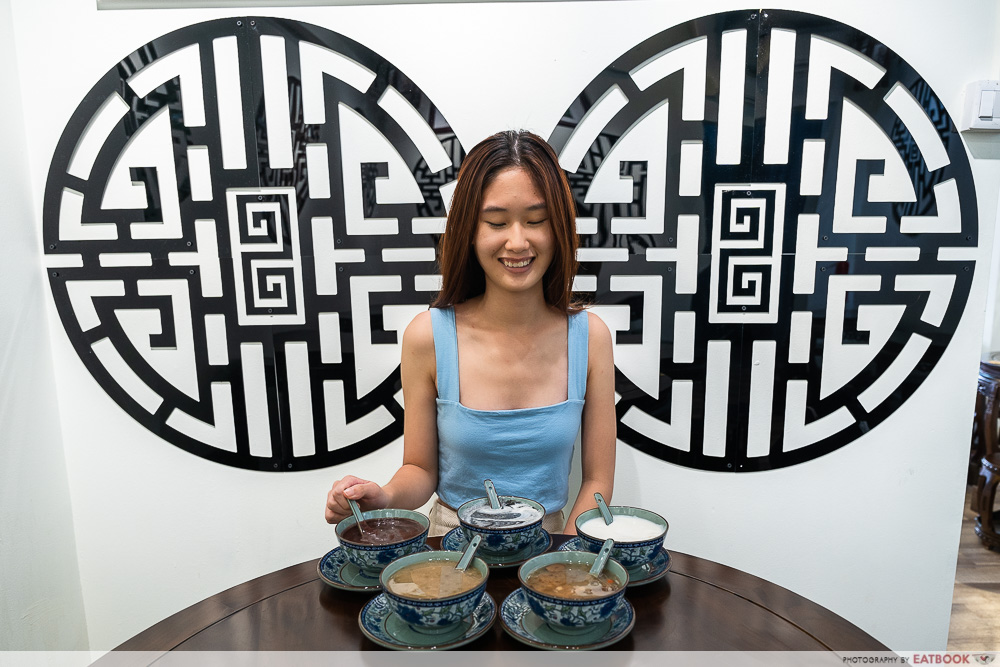 It is definitely nice to see that old-school desserts have not been totally lost amidst the trend of ice cream and waffles and bingsu, which are becoming the new norm. I never realised how nostalgic a bowl of cheng tng or red bean paste could be for me. With prices that are only a tad bit higher than the ones you can find at hawker centres, I know I'll consider coming back when I'm craving something a little more simple and homey. 
If you're hankering for more of such desserts, check out our list of traditional desserts, and our House of Dessert review for watermelon balls and more old-school desserts from $1.50. 
Address: 100 Tanjong Pagar Road, Singapore 088521
Opening hours: Mon-Wed 4pm to 12am, Thurs 2pm to 12am, Fri 2pm to 1am, Sat 1pm to 1am, Sun 1pm to 12am
Tel: 8842 1263
Website
Darkness Dessert is not a halal-certified eatery.
House of Dessert Review: Old-School Dessert Stall In Tampines Sells Watermelon Balls And More From $1.50
Photos taken by Chew Yi En.
This is an independent review by Eatbook.sg.
Darkness Dessert Review: Traditional Desserts Cafe Open Till 1AM In Tanjong Pagar
Darkness Dessert Review: Traditional Desserts Cafe Open Till 1AM In Tanjong Pagar -

7/10
Summary
Pros
– Large menu
– Open till late
Cons
– Black sesame taste in the Black Sesame Almond Paste was not obvious
– Peanut Soup was average 
Recommended dishes: Mango Ice ($12.80+), Cheng Tng ($4.80+)  
Opening hours: Mon-Wed 4pm to 12am, Thurs 2pm to 12am, Fri 2pm to 1am, Sat 1pm to 1am, Sun 1pm to 12am
Address: 100 Tanjong Pagar Road, Singapore 088521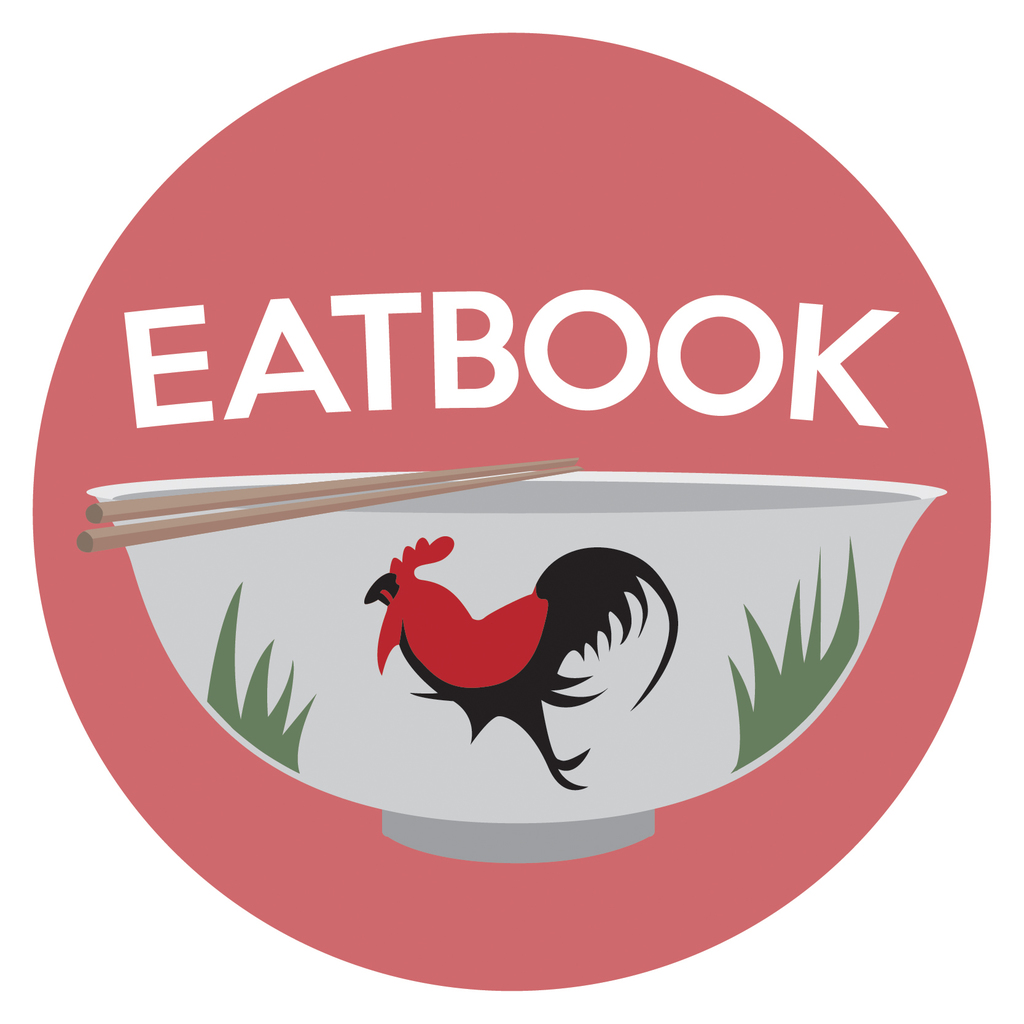 Drop us your email so you won't miss the latest news.