---
Food in Tanjong Pagar
---
Update: Cake Spade has moved to a new location in Chinatown.
Tanjong Pagar is definitely an area that you'll be spoilt for choices when it comes to food. The CBD locale houses cafes and restaurants, ranging from Asian cuisines to desserts. Here's a compiled list of Tanjong Pagar food places to visit if you're around the area.
---
1. Bearded Bella
---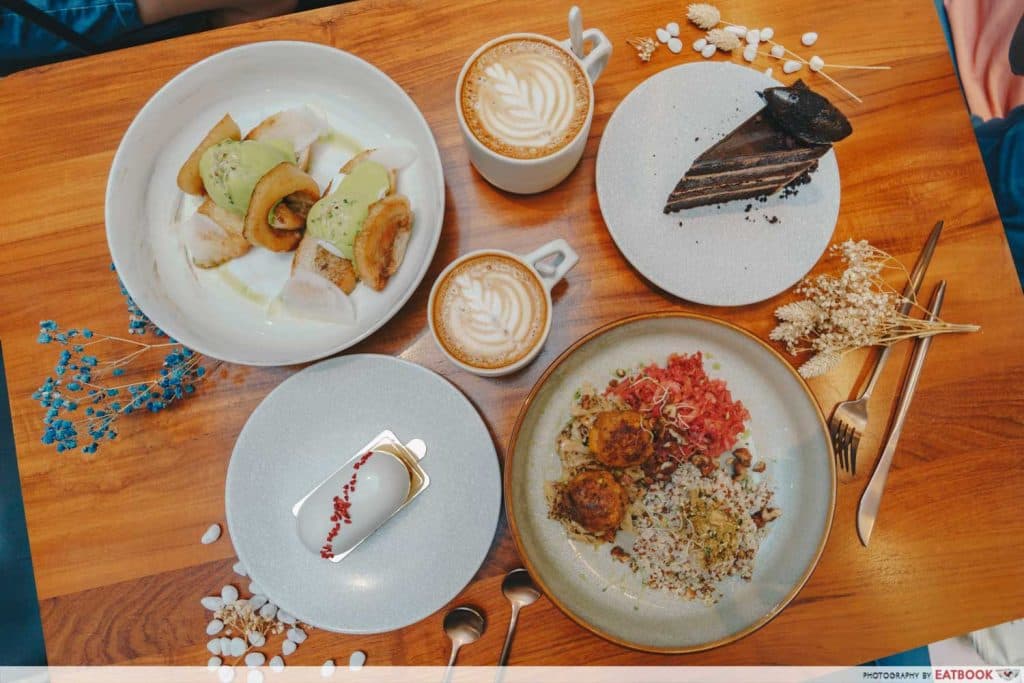 Bustling with crowds during the weekdays and weekends, it's hard not to notice Bearded Bella along Craig Road. Bearded Bella, a Melbourne-inspired cafe, serves hearty brunch and dinner, as well as desserts and drinks made in-house. Every month, the cafe will release their monthly specials. Currently, they have the Chilli Crab Burger ($27++) inspired by Singapore's classic dish, and the Chendol Cake ($5++) made with gula melaka cream, topped with chendol jelly. 
Address: 8 Craig Road, Singapore 089668
Opening hours: Mon-Thurs 7:30am to 5pm, Fri 7:30am to 10pm, Sat-Sun & Public Holiday 7:30am to 6pm
Tel: 9880 0775
Website
Bearded Bella Review: Beautiful Cafe Serving Melbourne-Inspired Food At Tanjong Pagar
---
2. Hamburg Steak Keisuke
---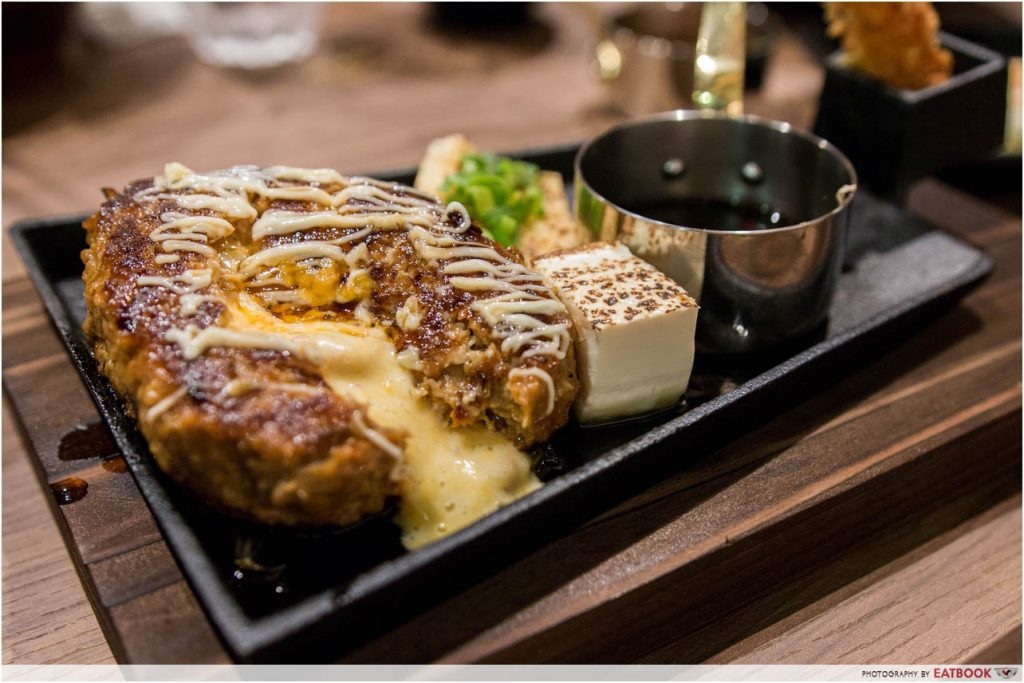 Hamburg Steak Keisuke is one of the many Chef Keisuke's restaurants in Singapore that sell Japanese cuisine around the Tanjong Pagar locale. The highlight of their menu is the signature Keisuke Prime Beef Hamburg Steak Set ($20.90++) and Triple Cheese Prime Hamburg Steak Set ($22.90++). For a richer taste, you can get their Tomato Sukiyaki Hamburg Claypot Set ($21.90++)—hamburg steak soaked in tomato stew. Every set meal comes with free-flow eggs and a variety of side dishes. 
Address: 72 Peck Seah Street, Singapore 079329
Opening hours: Daily 11:30am to 2:30pm, 5:30pm to 10pm
Tel: 6908 4348
Website
---
3. Ramen Keisuke Tori King
---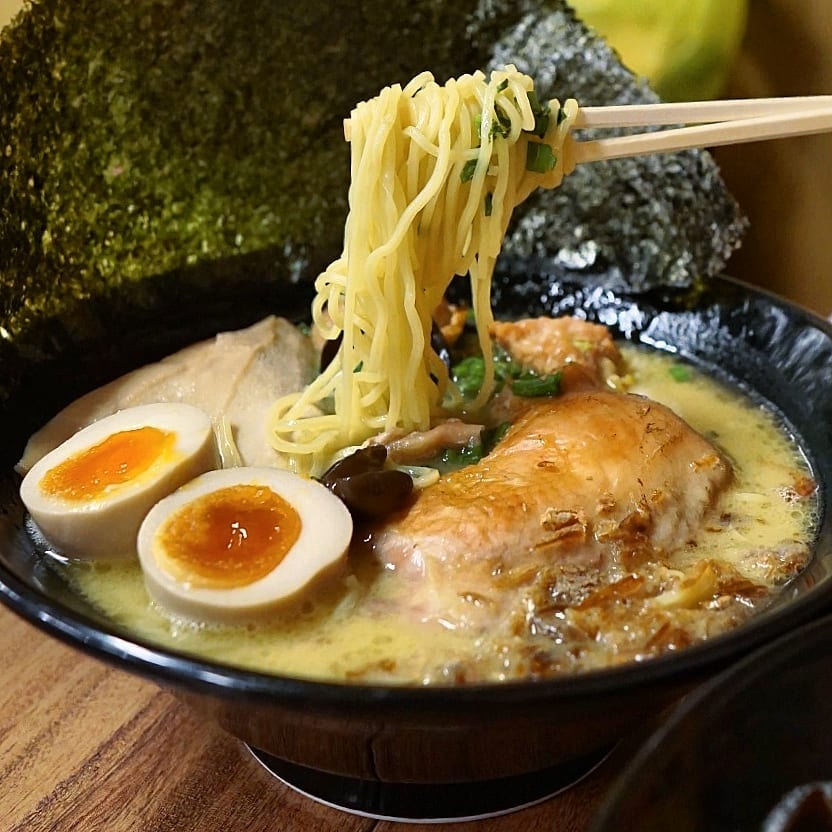 Image credit: @thehungrygluttons
Another restaurant by Chef Keisuke, Ramen Keisuke Tori King's differentiating factor lies in their broth, which is made from ingredients such as chicken bones, chicken feet, Japanese seaweed, and an assortment of vegetables, to create a creamy and smooth broth.
As a start, you can try their Tori King Ramen ($12.90++), or if you're into spicy foods, you can try their Black Spicy Tori King Ramen ($13.90++) or Green Spicy Tori King Ramen ($13.90++) for an extra kick. Top up another $2 for a flavoured egg or $6 to get a variety of toppings such as roasted chicken meatball. 
Address: 100 Tras Street, #03-15, 100AM, Singapore 079027
Opening hours: Mon-Fri 11:30am to 3pm, 5:30pm to 10pm, Sat-Sun 11:30am to 10pm
Tel: 6604 6861
Website
---
4. Ikkousha Hakata Ramen
---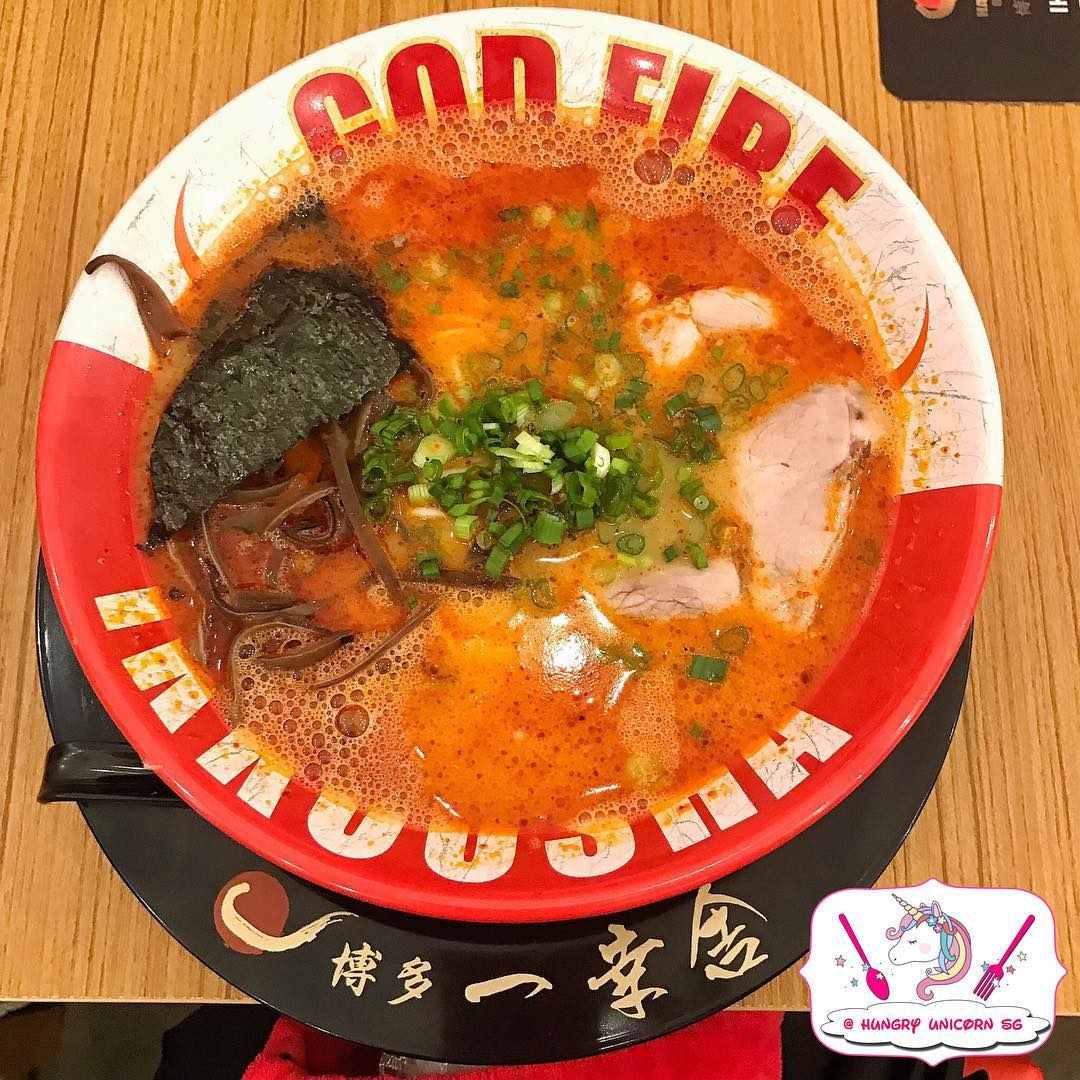 Image credit: @hungryunicornsg
Another popular ramen restaurant around the area is Ikkousha Hakata Ramen. Similar to SAMA Curry & Cafe, this place allows you to choose your spice level ranging from level one to level four. Their most popular God Fire ($13.50++) is said to set your tongues on fire, so if you're into spicy food, this is definitely a must-try! Their Tonkatsu Mentaiko ($13.50++) is a unique item on their menu; it has mentaiko infused into their pork broth, for a slightly spicy kick. 
Address: 7 Tanjong Pagar Plaza, #01-104B, Singapore 081007
Opening hours: Mon-Sat 11:30am to 10pm, Sun 11:30am to 9pm
Tel: 6538 1880
Website
---
5. Tendon Ginza Itsuki
---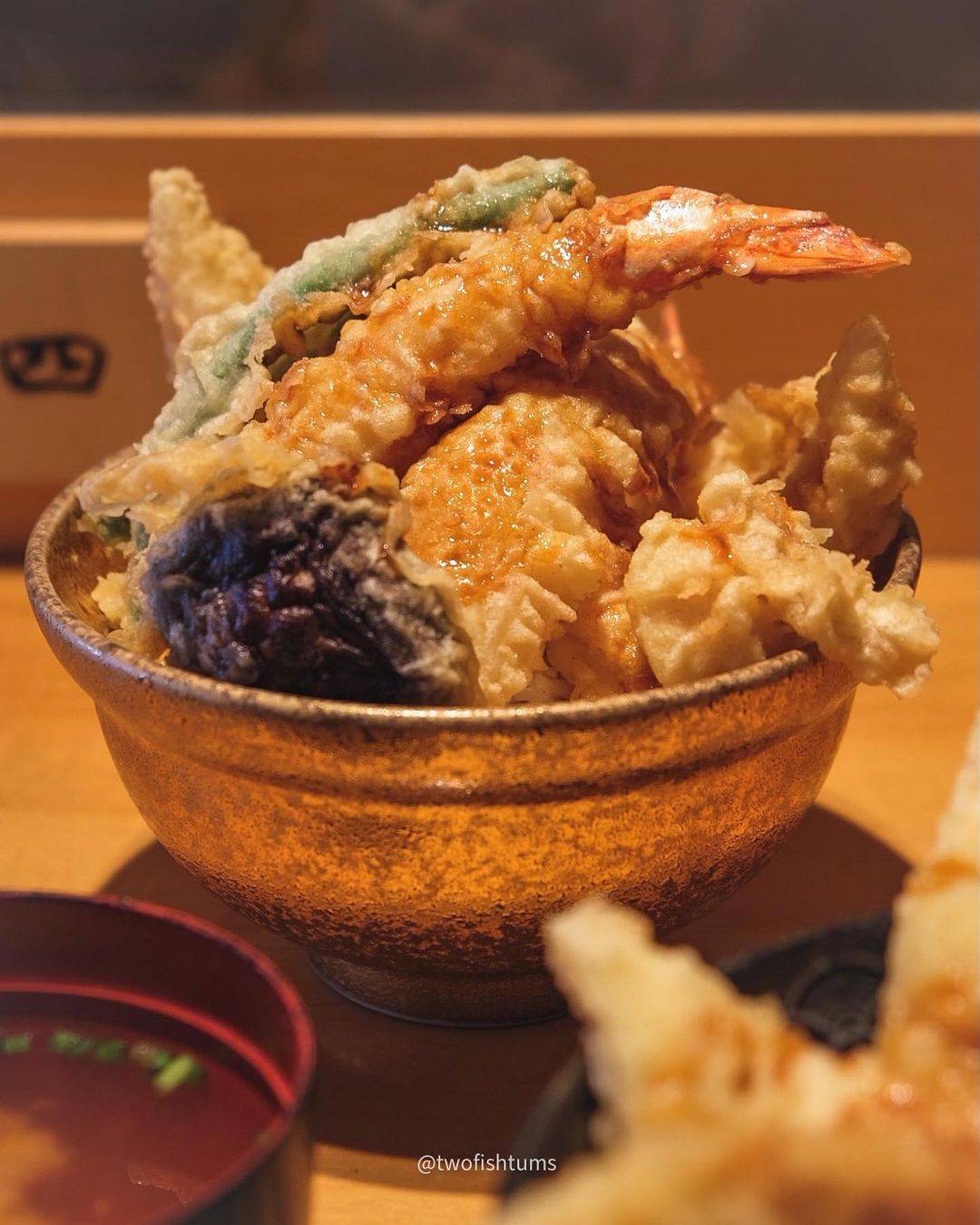 Image credit: @twofishtums
What's said to be Singapore's first tendon-focused restaurant is Tendon Ginza Itsuki, Chef Keisuke's eighth concept outlet. This is also the first concept store in collaboration with the highly renowned Ginza Itsuki Sushi restaurant in Tokyo, Japan.
Their tendon comes in huge portions and will definitely keep you full. Both their Special Tendon ($13.90++) and Vegetable Tendon ($12.90++) are also super affordable and come with an option to upsize your rice for just $1.
Address: 101 Tanjong Pagar Road, Singapore 088522
Opening hours: Daily 11:30am to 2:30pm, 5:30pm to 10pm
Tel: 6221 6678
Website
---
6. Bami Express
---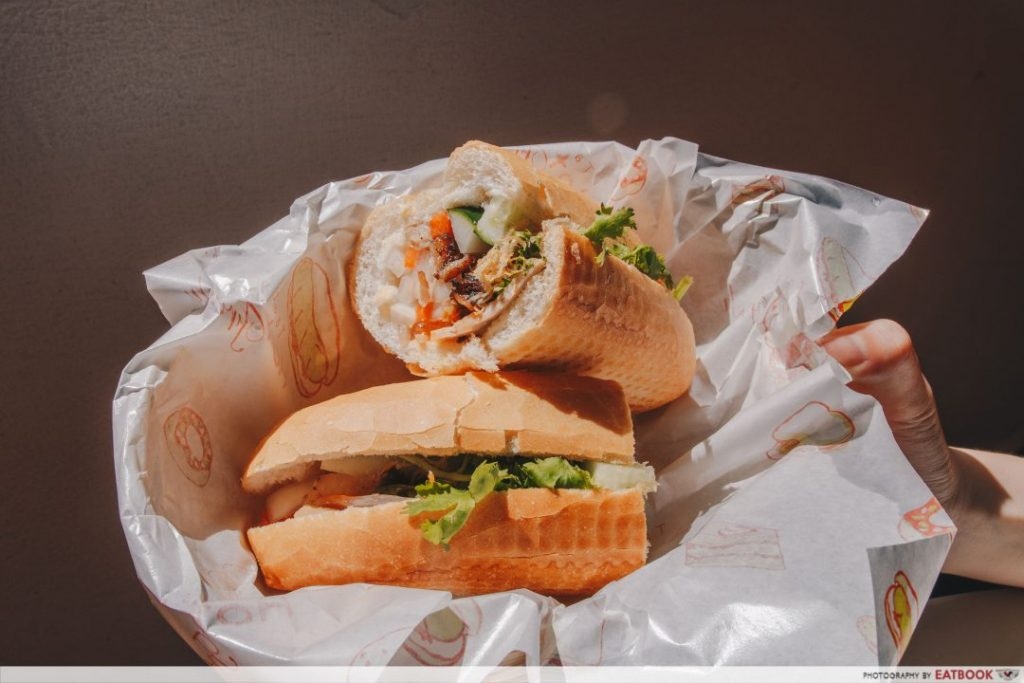 One of the hidden gems within Tanjong Pagar Plaza is Bami Express, a casual eatery selling  Vietnamese-style sandwiches, AKA banh mi. The sandwiches are packed with ingredients, so you'll definitely get a bang for your buck! For a heartier sandwich, Bami Sai Gon ($5) is packed with pate, pork ham, stew pork, and topped with chicken floss. Aside from chicken and pork, they also have Bami Fish Patties ($5). 
Address: 5 Tanjong Pagar Plaza, #02-02, Singapore 081005
Opening hours: Mon to Sat 7:30am-5pm
Tel: 6443 3079
Website
9 Vietnamese Food Places In Singapore For Legit Banh Mi, Pho, Bun Cha And More
---
7. Chocolat N' Spice
---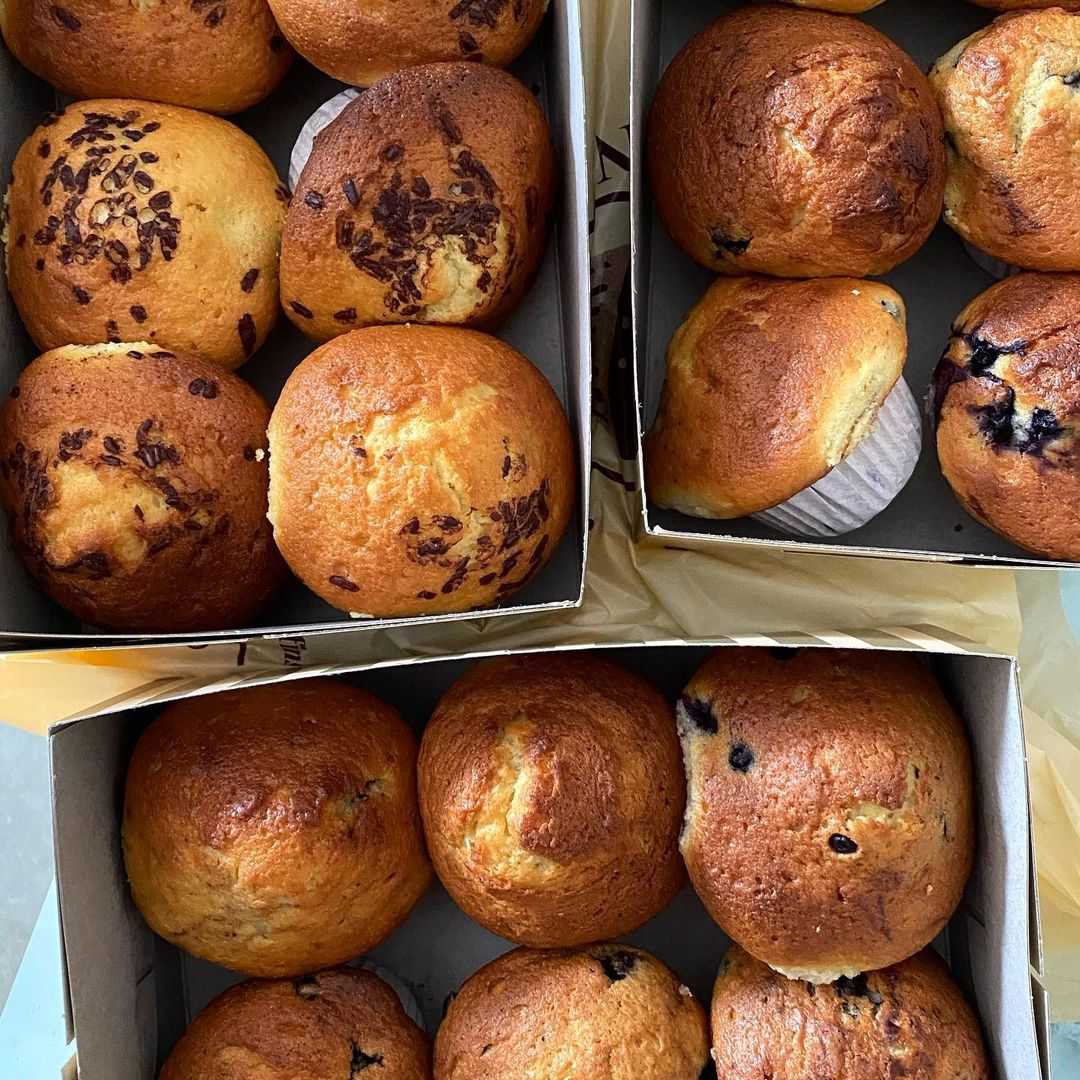 Image credit: @sgdabao
To get your muffin cravings fixed, you can visit Chocolat N' Spice for old-school muffins. Priced at just $1.50 to $1.80 each, you get over 13 flavours to choose from. There are classic flavours like Double Chocolate Muffin, and Blueberry Muffin, but for a more unique combination, try their Orange Peel Raisin Muffin, and Carrot Walnut Muffin. 
Address: 1 Tanjong Pagar Plaza, #01-18, Singapore 082001
Opening hours: Mon-Fri 8:30am to 4:30pm, Sat 8:30am to 2:30pm
Tel: 9276 2110
Website
---
8. Cake Spade
---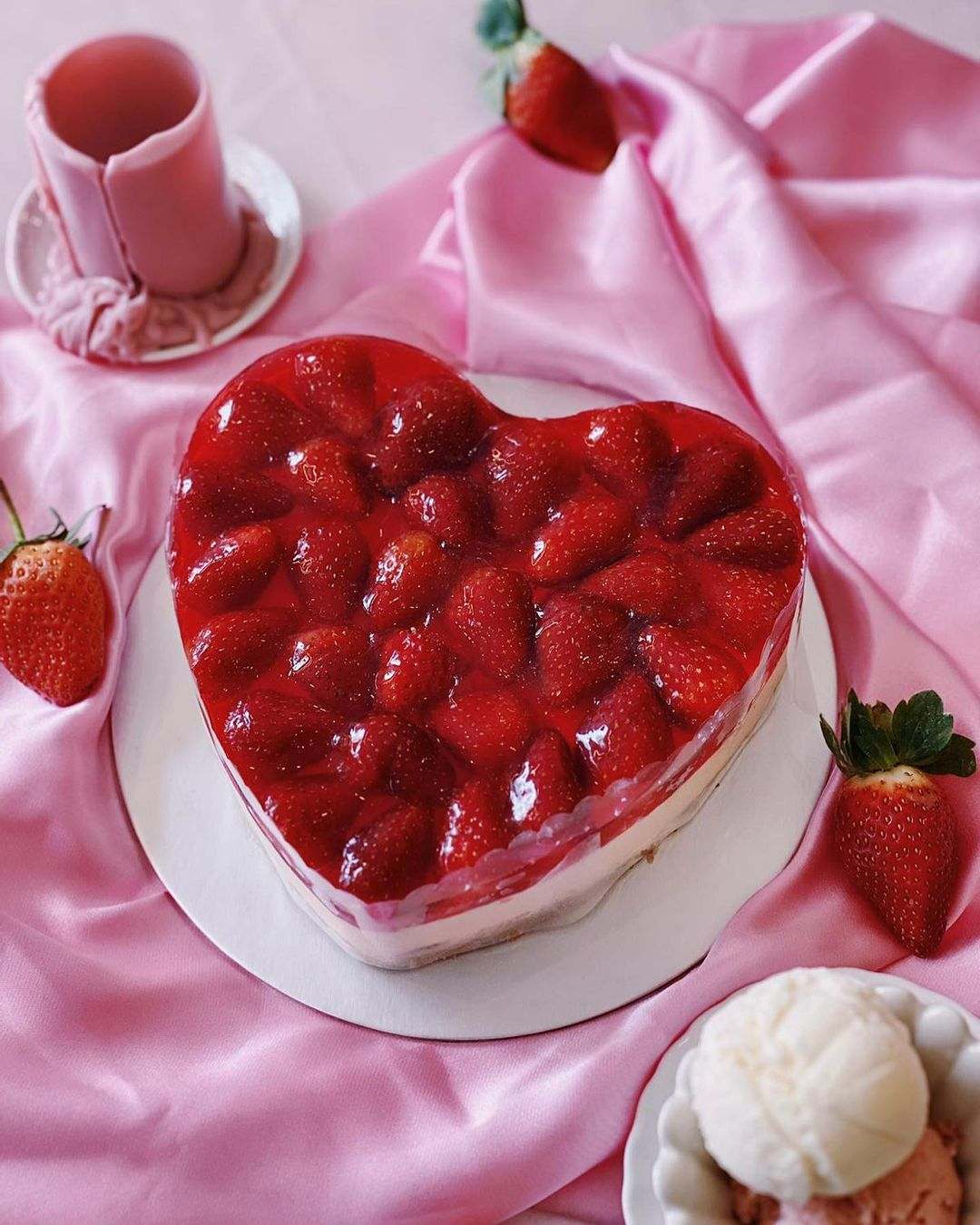 Image credit: @cakespadesg
If you're looking for a good dessert cafe spot, head over to Cake Spade. Their popular Strawberry Tofu Cheesecake ($7.90) features a smooth and creamy cake with strawberry jelly on top. Speculoos lovers can try their Speculoos Cookie Butter Cheesecake ($9.50). Cake Spade also does special occasion dessert boxes including their DIY Cake Kit ($48), which comes with toppings like Lotus Biscoff cookies, and rainbow sprinkles.
Address: 83 Tanjong Pagar Road, Singapore 088504 
Opening hours: Mon-Thurs 12pm to 10pm, Fri-Sat 12pm to 10:30pm
Tel: 6444 3868
Website
---
9. Hvala at Craig Road
---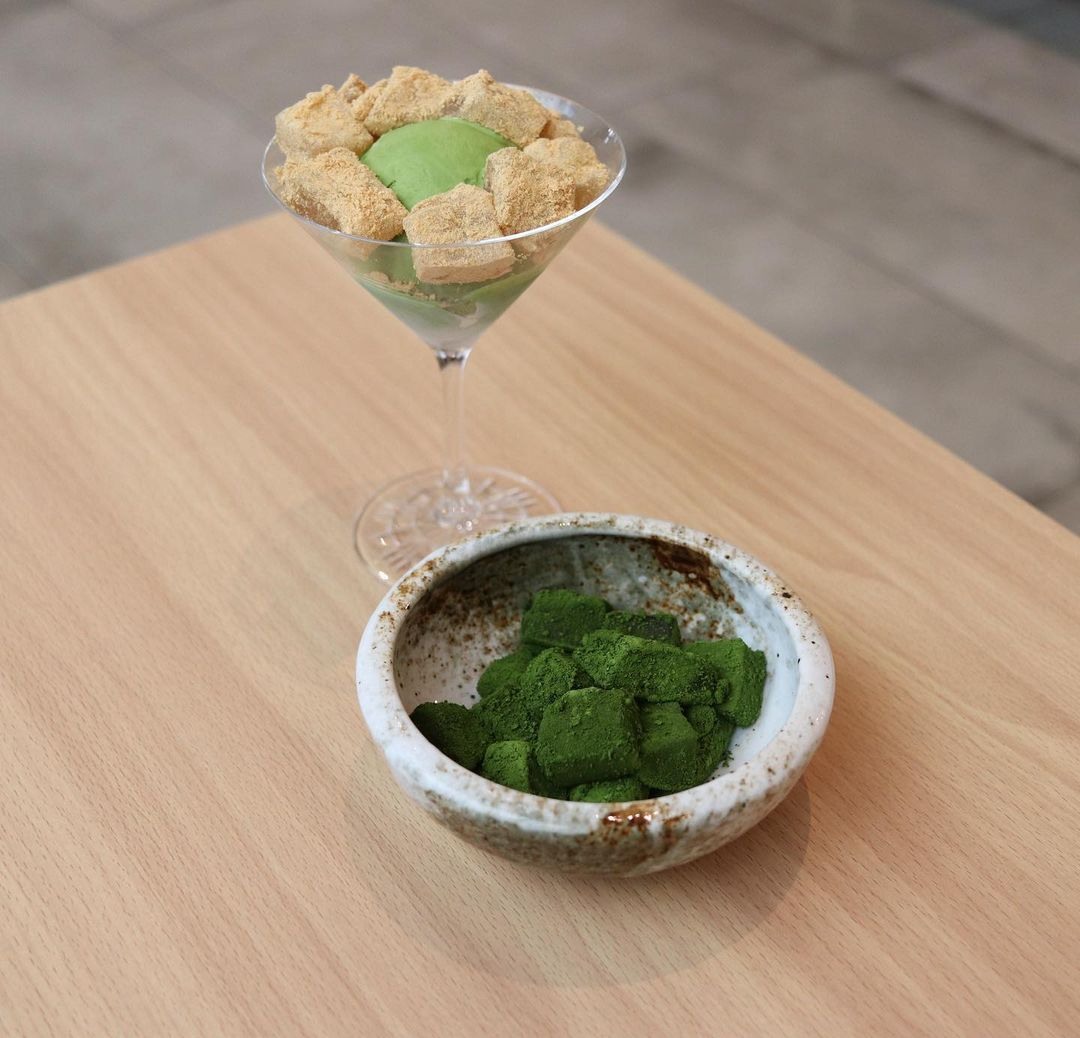 Image credit: @hvala_sg
Hvala's fourth flagship store at Craig Road features a different concept compared to the other three stores they have. This flagship store has a dairy-free menu, which caters to those who are lactose-intolerant.
Apart from that, they also have exclusive items on their menu such as their house-made Warabi Mochi, priced at $4.90++.  Flavours include Kinako, Matcha, Hojicha, Goma, and Yuzu, and each serving comes with Japanese kuromitsu, which is black sugar, as a dipping sauce. Top up $4 to have it with their oat milk gelato or matcha gelato.
Read more about Hvala Craig Road.
Address: 40 Craig Road, Singapore 089678
Opening hours: Daily 12pm to 9:30pm
Website
Hvala Craig Road: New Tanjong Pagar Outlet With Exclusive Warabi Mochi And Waffles
---
10. Yatsudoki by Chateraise
---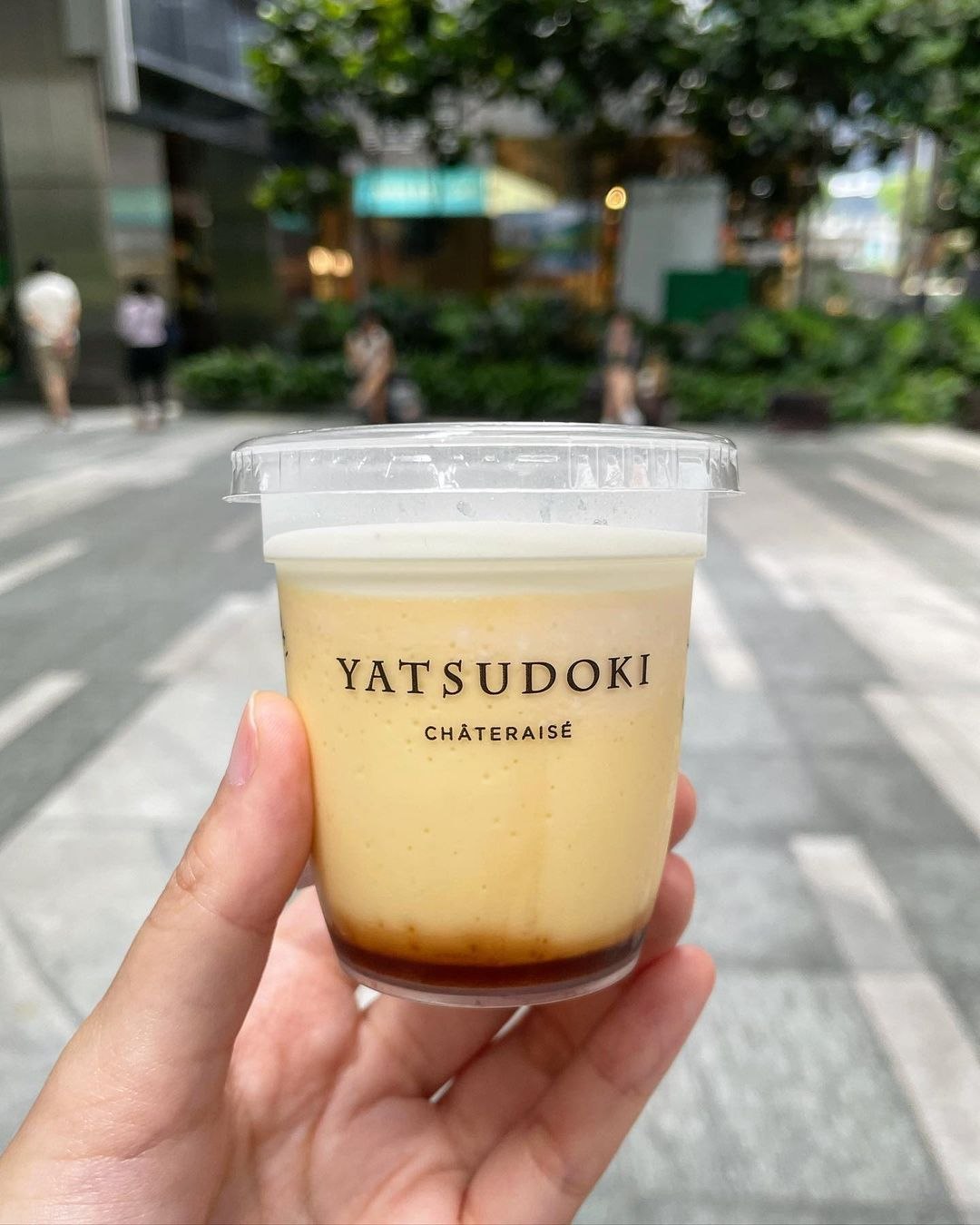 Image credit: @whatlizhaseaten
Yatsudoki, a premium version of Chateraise, features exclusive menu items that are not found in Chateraise. Their YATSUDOKI Premium Pudding ($4.80) is made using fresh milk from grass-fed cows bred in the cool highlands of Nagano Prefecture. They also have YATSUGATAKE Milk Souffle Cheese Cake ($5.50), and Fresh Milk Egg and Honey Cake Cup ($5), which you won't be able to find at Chateraise outlets. 
Read about Yatsudoki By Chateraise.
Address: 7 Wallich Street, #01-05, Guoco Tower, Singapore 078884
Opening hours: Mon-Thurs 8:30am to 10pm, Fri 8:30am to 10:30pm, Sat 10am to 10:30pm, Sun 10am to 10pm
Tel: 6980 7120
Website
---
11. Roji Monster
---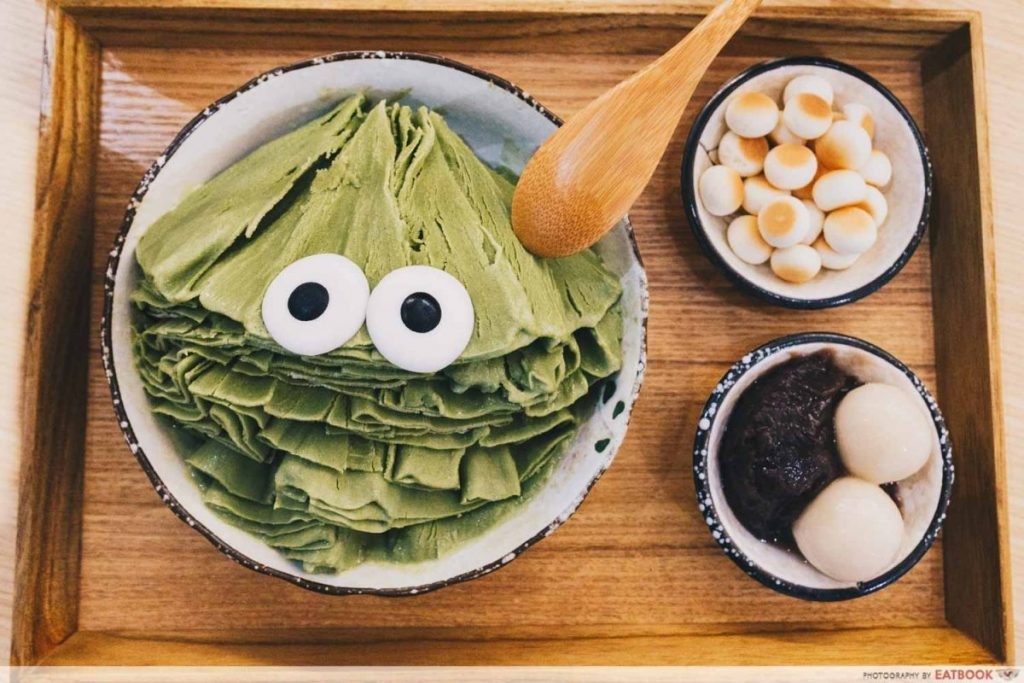 Famous cafe Roji Monster from Taiwan features IG-worthy shaved ice desserts that are too cute to be eaten. There are a total of four base flavours to choose from—Uji Matcha, Black Sesame, Milk, and Belgian Chocolate ($12.90).
For every bowl you get, you can choose two toppings out of the 23 available. Additional toppings are at $1 each. Roji Monster also has Hong Kong-style egg waffles, called Monster Waffles,  priced at $10.90. Just this month, they have launched the latest addition to their base flavours, Lotus Biscoff Monster Ice Cream.
Check out our Roji Monster review.
Address: 52 Tanjong Pagar Road, Singapore 088473
Opening hours: Wed, Fri-Mon 1pm to 11pm, Thurs 3pm to 11pm
Roji Monster Review: Cute Monster Shaved Ice And Ice Cream Waffles In Tanjong Pagar
---
12. Equate Coffee
---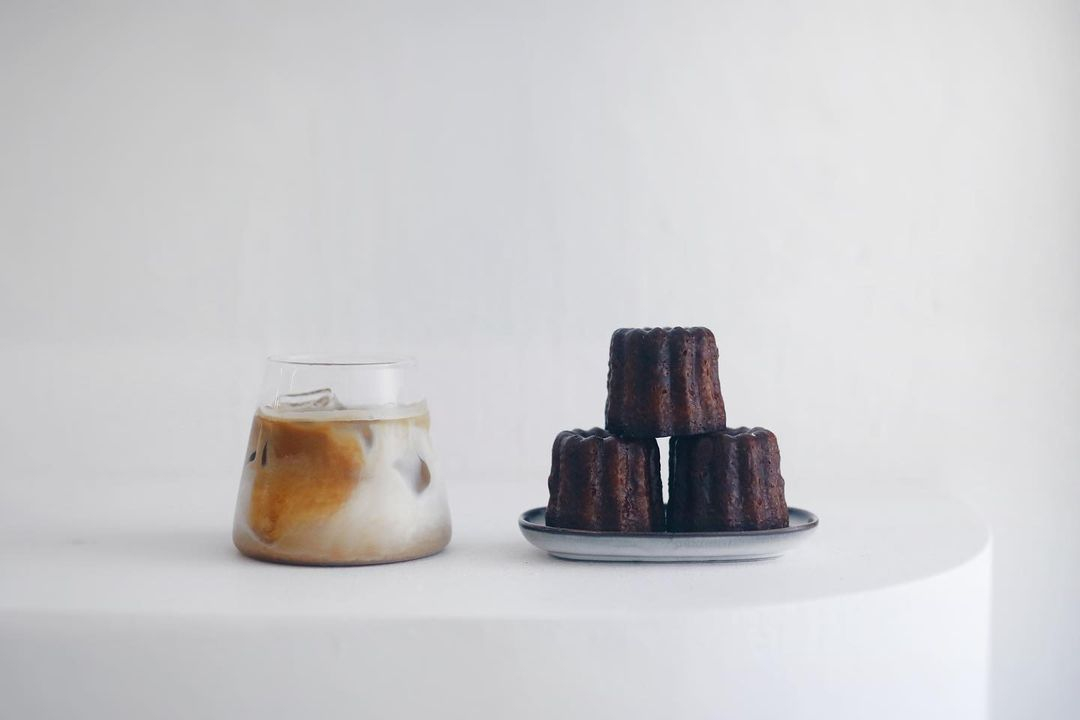 Image credit: @equatecoffee
A cross between traditional and modern is what Equate Coffee is going for. The menu comprises gourmet coffee such as Black (from $4.50), White (from $5), and Mocha (from $5.50). There are also local coffee options including Kopi-O (from $2), and Kopi (from $2.50). Pair your cup of joe with a dessert of two popular items—the Canelé ($4), and the Classic Vanilla Donut ($4.50).
Address: 1 Tanjong Pagar Plaza, #02-25, Singapore 082001
Opening hours: Mon-Fri 8:30am to 5:30pm, Sat 8am to 3pm
Website
---
13. Alice Boulangerie
---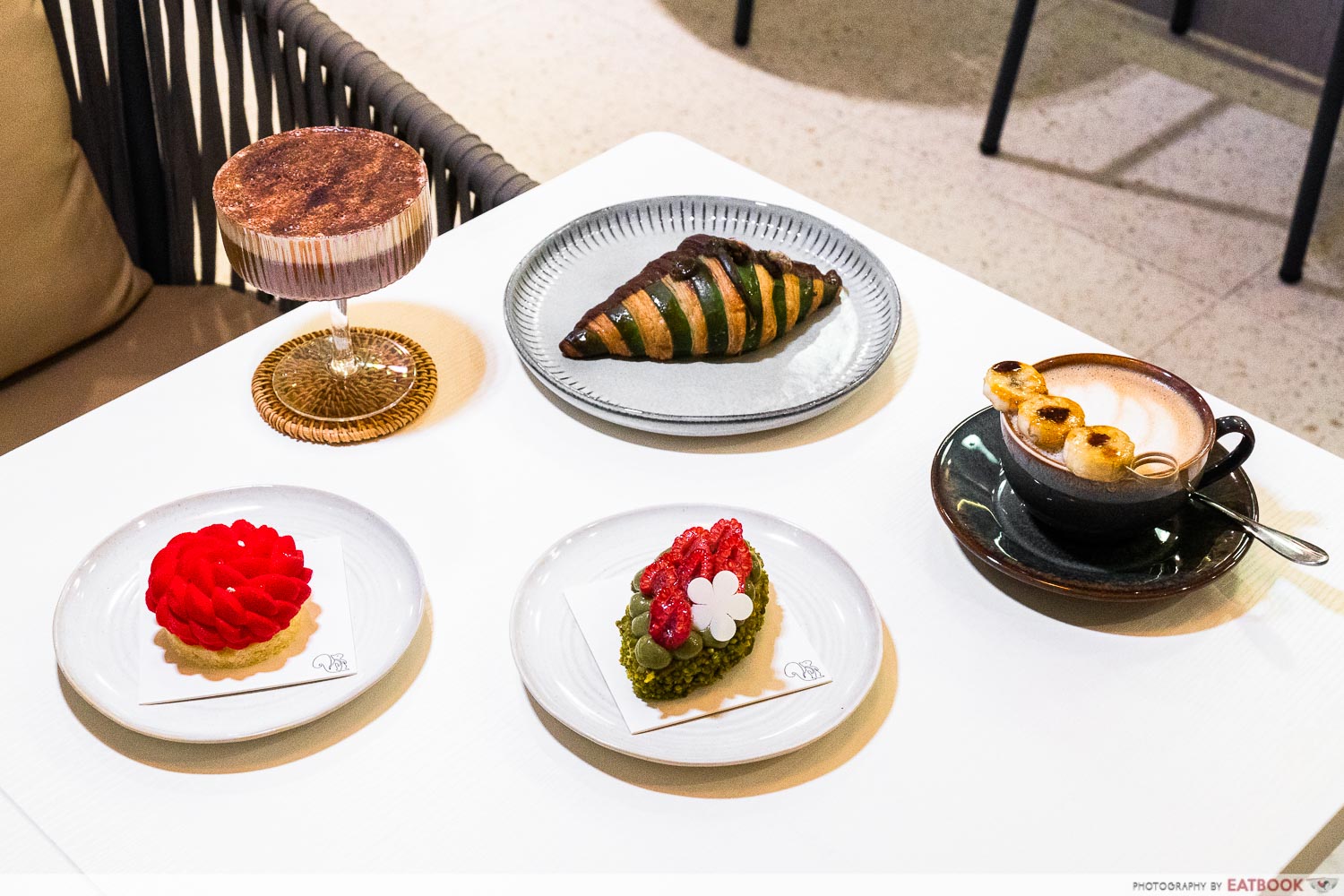 If you're looking for an aesthetically pleasing cafe to chill at, Alice Boulangerie is the place to go to. Their popular Pistachio Chocolate Croissant ($9.60++) comes with green and golden brown stripes, with one half dipped in chocolate. It is packed with chunky pistachio paste, which gives it a slightly sweet and nutty flavour. The Pistachio Dacquoise ($9.60++) is another go-to for pistachio lovers. The pastry is covered with crushed pistachio and topped with tart raspberries to balance out the sweet flavours. 
A popular drink is the Kopi-Misu ($8++), which is a zhnged-up version of your traditional kopi. The beverage is made to resemble tiramisu with a layer of mascarpone cheese and dusted cocoa powder on top. 
Check out our Alice Boulangerie review here!
Address: 12 Gopeng Street, #01-05/11 Icon Village, Singapore 078877
Opening hours: Daily 8am to 7pm
Tel: 6994 1196
Website
---
14. MEZCLA
---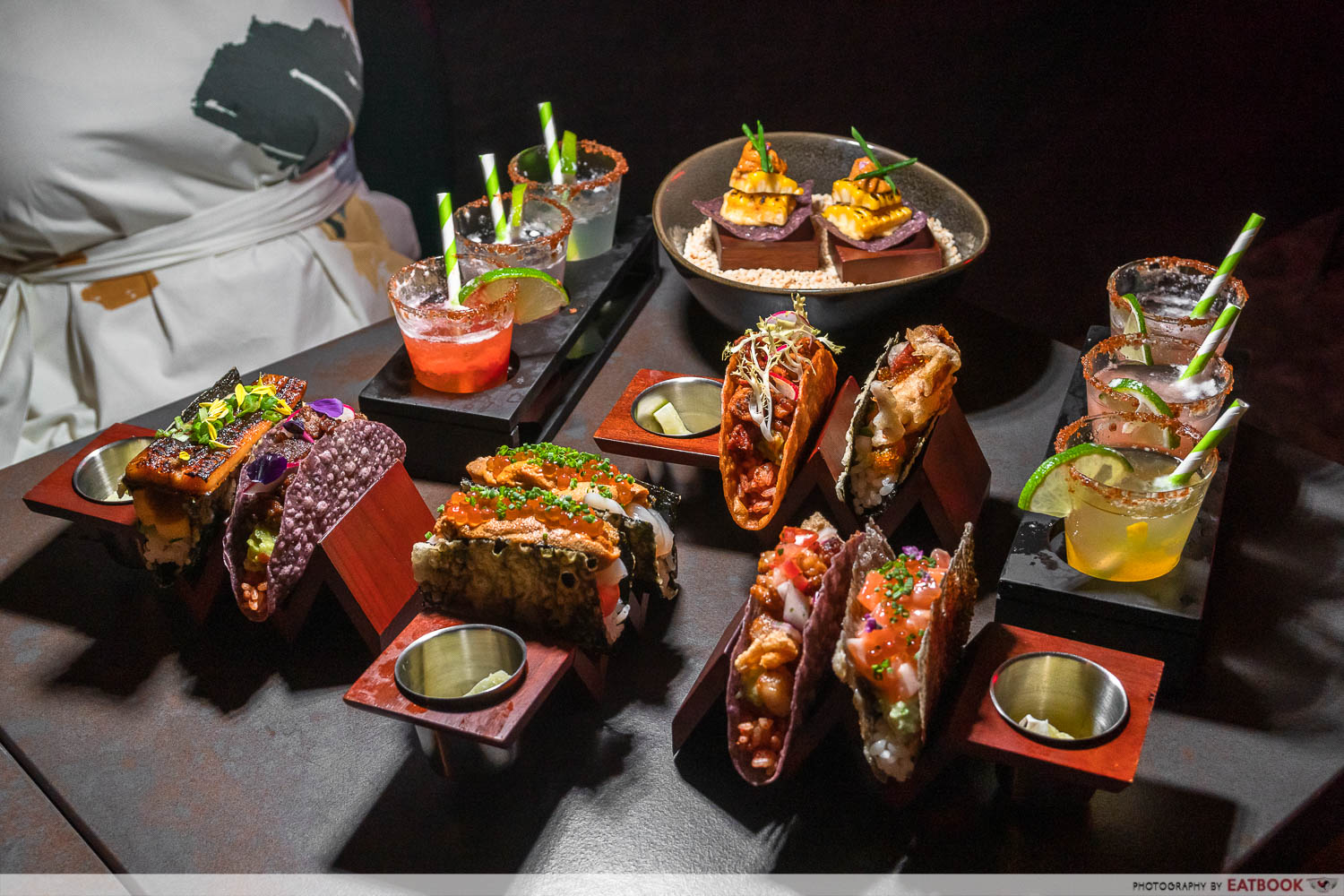 MEZCLA is a Mexican-Japanese taco bar concept that serves IG-worthy and mouthwatering fusion dishes. Start off with their taco options, which are split between the typical Mexican flavours and Japanese-inspired ones. The classic Chorizo ($8.50++) features a tomato tortilla packed with grilled chicken and chorizo—a slightly spicy sausage. Alternatively, go for the Uni & Scallop ($32++), which is a premium take on the classic taco. The combination of uni, hotate, and ikura match perfectly, giving the dish a burst of flavours. 
Check out our MEZCLA review here!
Address: 43 Craig Road, Singapore 089681
Opening hours: Mon-Wed 6pm to 10:30pm, Thurs-Sun 11:45am to 2:30pm, 6pm to 10:30pm
Website
---
15. Soi Candy
---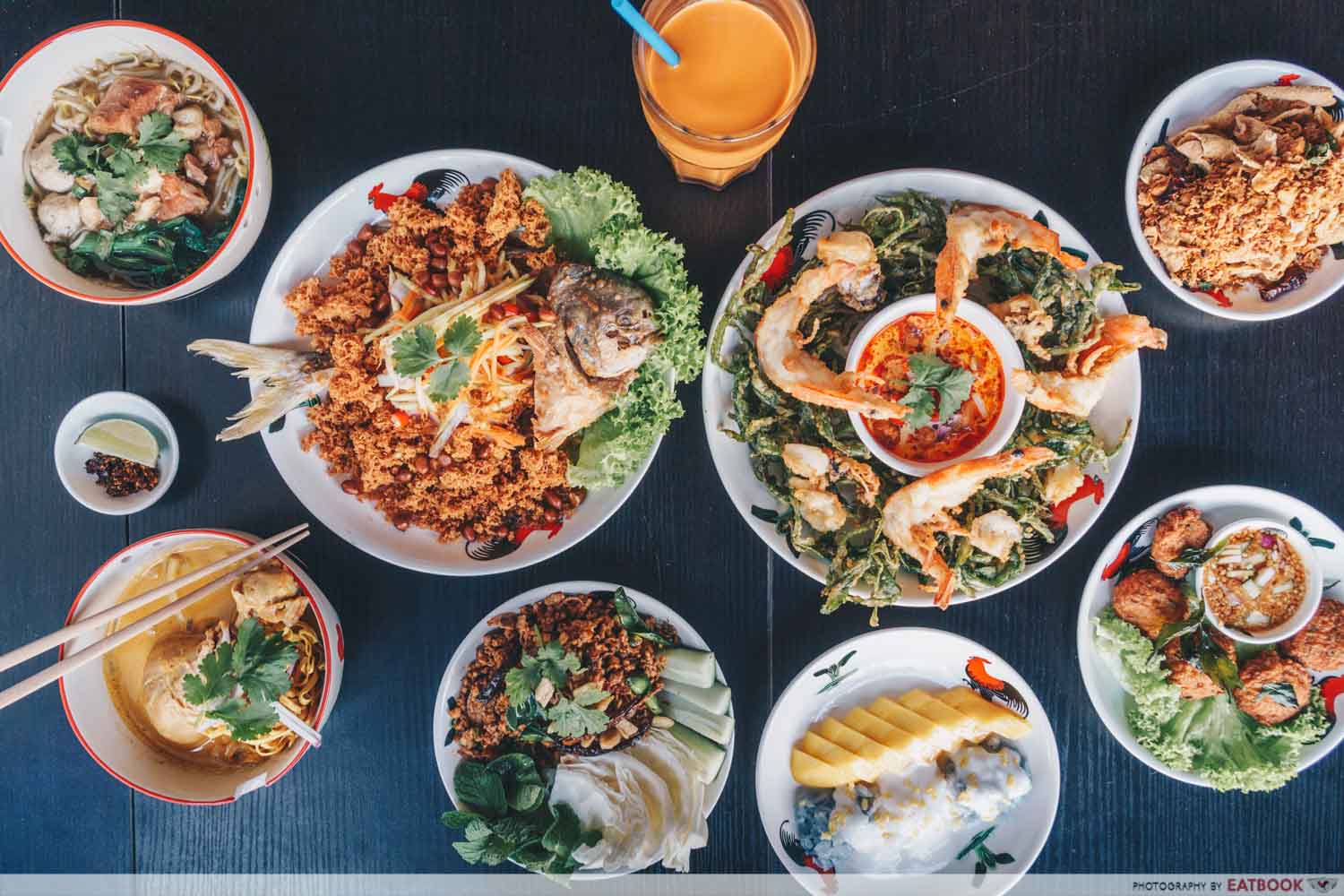 Head to Soi Candy to get your Thai food cravings fixed. Soi Candy specialises in Northern-style Thai food, with spices sourced directly from Chiang Rai. Start off with the Fried Squid Cakes ($8.90) that feature chunks of fresh squid and finely sliced long beans. You also go for the Mango Salad With Crispy Fish Floss ($15.90/$29.90), which has flaky fish floss topped onto steamed pomfret. End your meal with a cold glass of Thai Milk Tea ($3.90), made in-house at the restaurant.
Check out our Soi Candy review here!
Address: 20 Tanjong Pagar Road, Singapore 088443
Opening hours: Tue 5pm to 3pm, Wed-Fri 12pm to 3pm, 5pm to 10:30pm, Sat-Sun 12pm to 10:30pm
Tel: 8875 3095
Website

---
Where to eat in Tanjong Pagar
---
There's always something up and coming along the streets of Tanjong Pagar, so be sure to keep your eyes peeled for new Tanjong Pagar food options! 
For more Tanjong Pagar food guides, check out our 100AM Japanese food and Tanjong Pagar Korean food guides.
17 Korean Restaurants In Tanjong Pagar And The CBD For Korean Barbecue And Army Stew
This article was originally published on 28 September 2021.