Dopa in Tanjong Pagar for nut-based ice cream flavours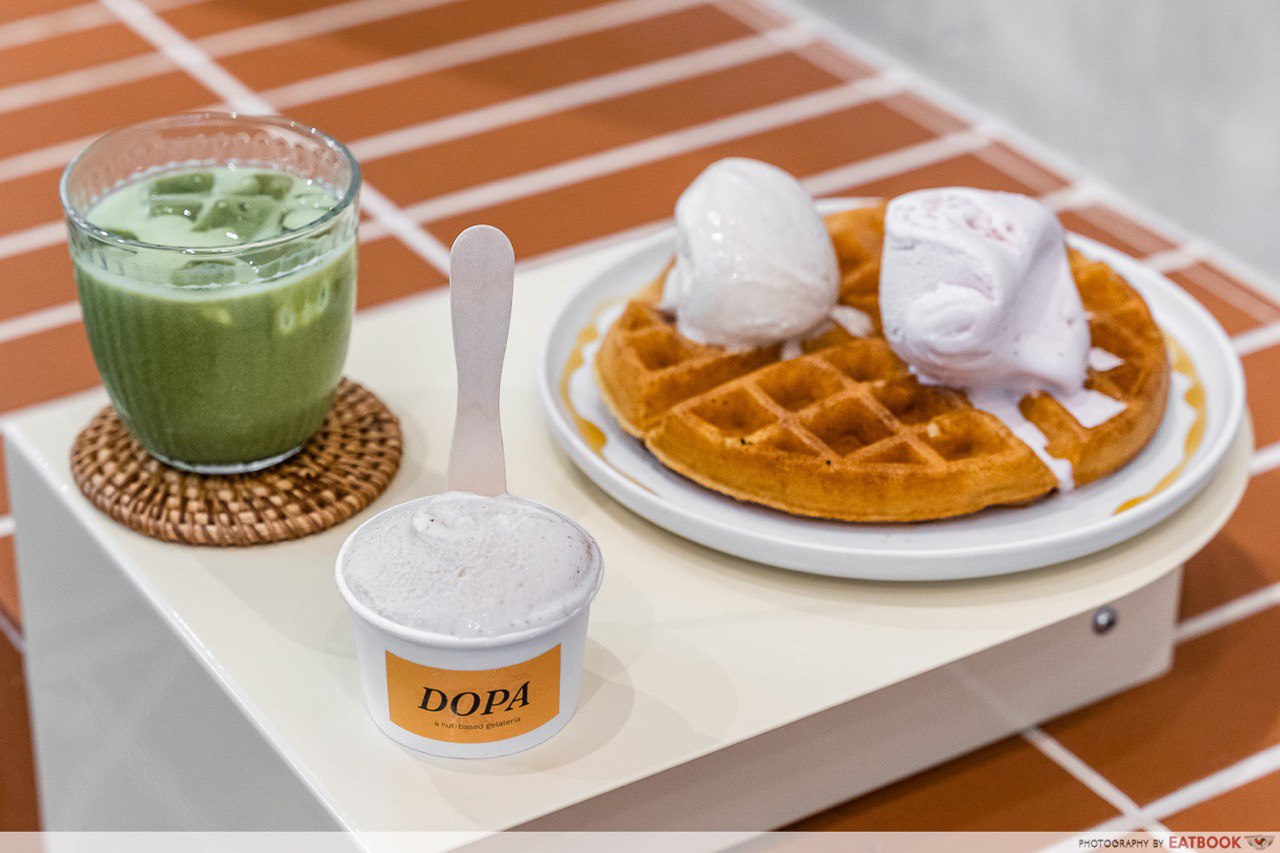 There's a new ice cream cafe in town for you to satisfy your sweet cravings! Dopa Dopa Creamery has opened their second outlet—Dopa, located in Tanjong Pagar Plaza. Known for their nut-based gelato with flavours such as pistachio and hazelnut, the creamery's new outlet will also feature dairy-free scoops and seasonal flavours.
Food at Dopa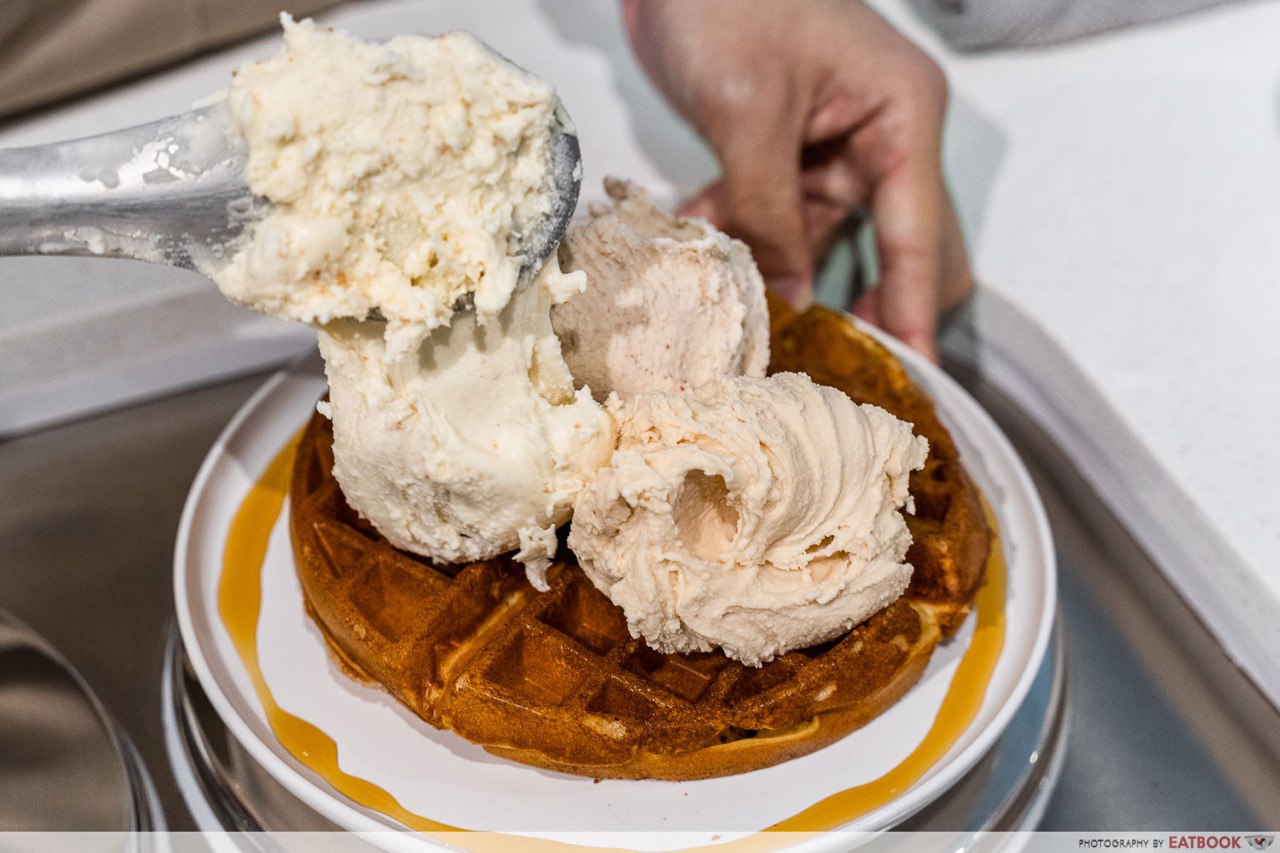 A single scoop at Dopa will cost you $5, or you can get a double scoop for $9. Premium flavours come with an extra charge of $1, and you can enjoy your gelato with waffles ($6) or on a cone ($1). Some may argue that the prices here are on the steeper side, but that's because you're paying for artisan gelato that is all made from scratch.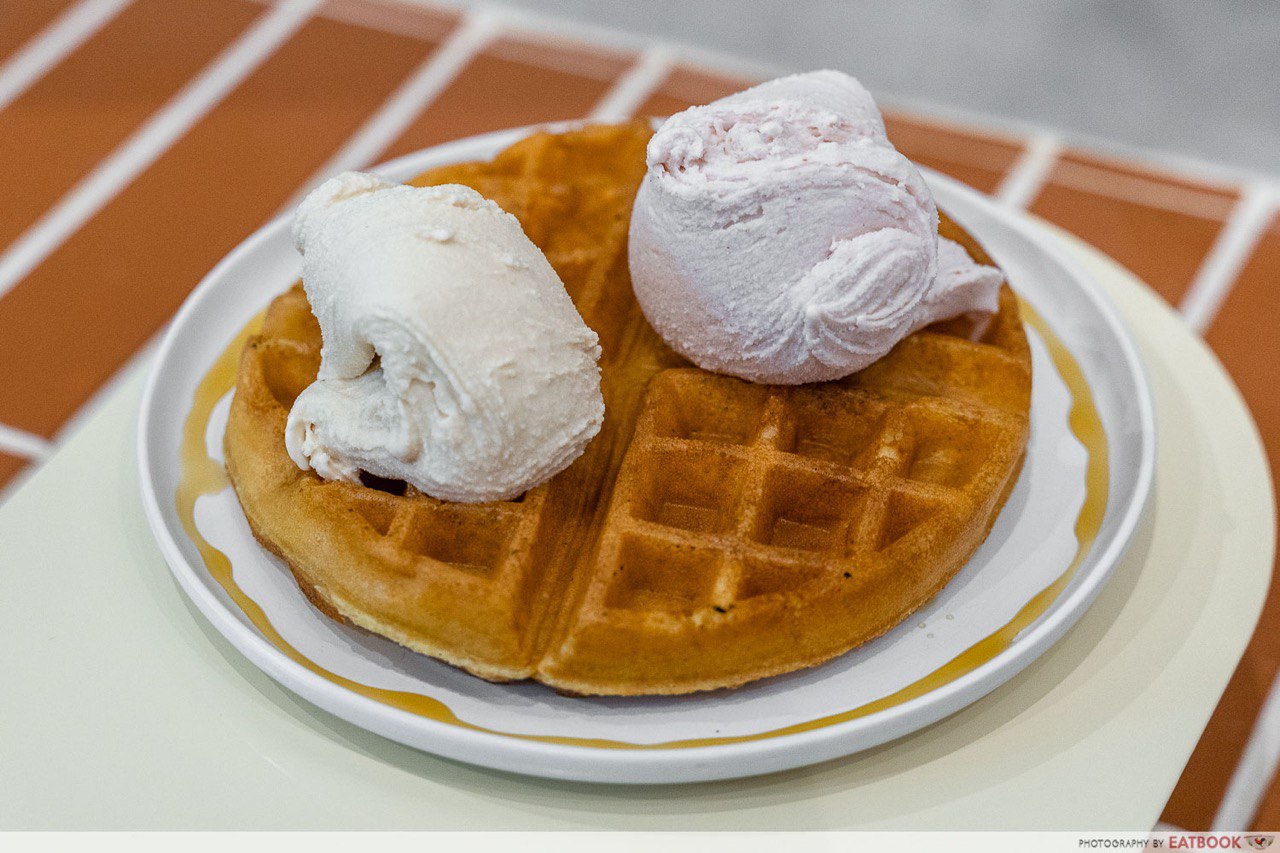 Choose from five nutty flavours: Pistachio, Hazelnut, Ferrero, Macadamia, and Maple Pecan, as well as five rotating flavours: Coconut Pandan, Butter Crumble, Matcha, Strawberry Honey, and White Peach. The Macadamia and Maple Pecan are Dopa's newly introduced flavours. I decided to go for the house-roasted Macadamia ($6) and Strawberry Honey ($5) combo with waffles.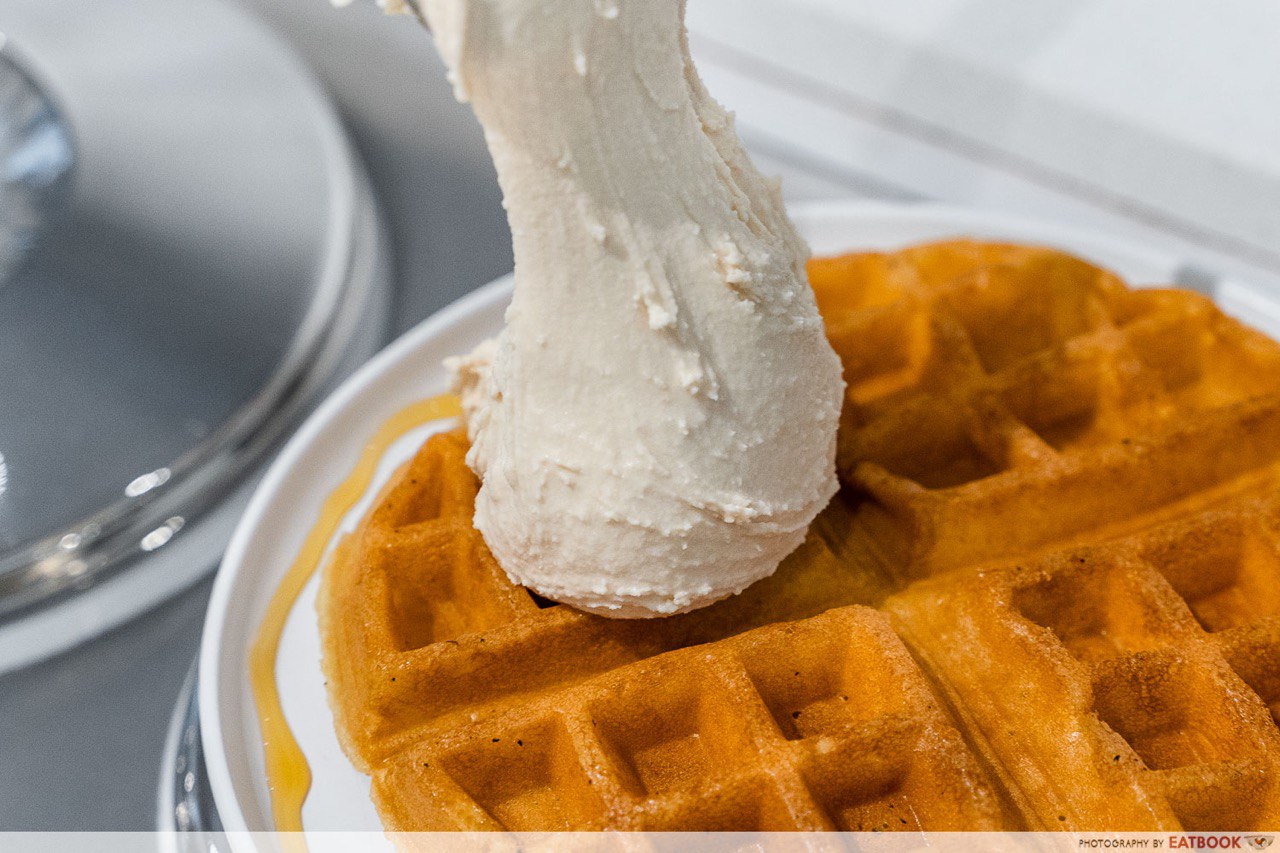 Upon digging my spoon into the gelato, I could immediately tell how creamy it was. The Macadamia had a stickier consistency compared to the Strawberry Honey. It also featured a strong, nutty essence and was on the sweet side, which I didn't mind,but that left me thirsty halfway through consuming it.
As for the Strawberry Honey, the strawberry flavours were light and reminded me of Meiji strawberry milk. The sweetness here was more floral than fruity, with the honey flavours becoming more pronounced towards the end.
The waffles were mildly crispy but turned soggy fast, especially when the gelato started melting. Nonetheless, I enjoyed the soft and mushy waffles, which went well with the melted ice cream. It was, in the words of my colleague, "just soft enough to match the softness of the ice cream."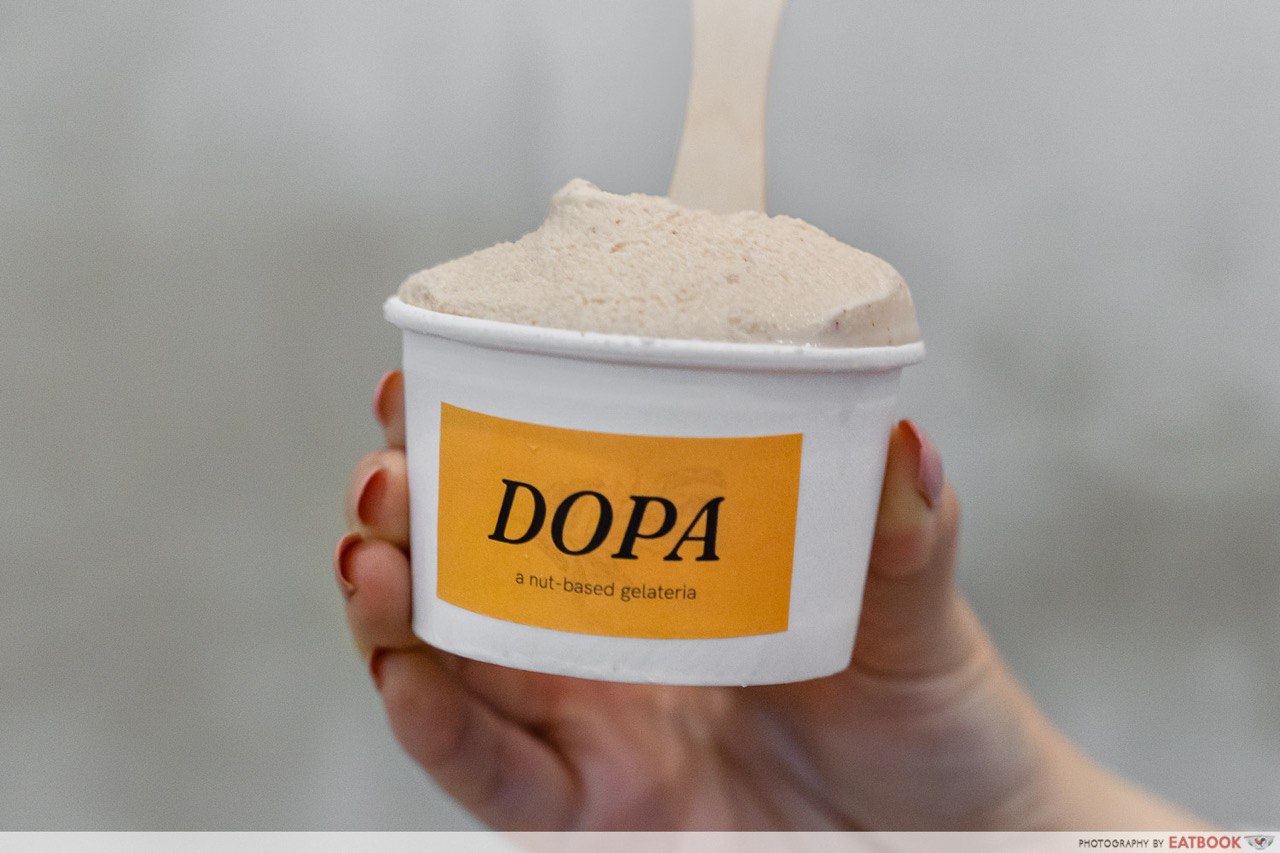 We tried another one of their most popular flavours, the Maple Pecan ($6), which we got in a cup for convenient consumption. While the nutty flavours were not as pronounced compared to the Macadamia flavour, I appreciated that it was not too sweet, and liked the subtle hints of vanilla.
Coffee and steeped teas are also available at the creamery, with a customer favourite being the Iced Matcha Latte ($6.30). I found the matcha latte to be one of the smoothest I've had in a while, with a taste that was strong but not overpowering. I would have liked it to be creamier, but that's just a personal preference.
30 Ice Cream and Waffles Cafes In Singapore, Including Those Open Till 2AM
Ambience at Dopa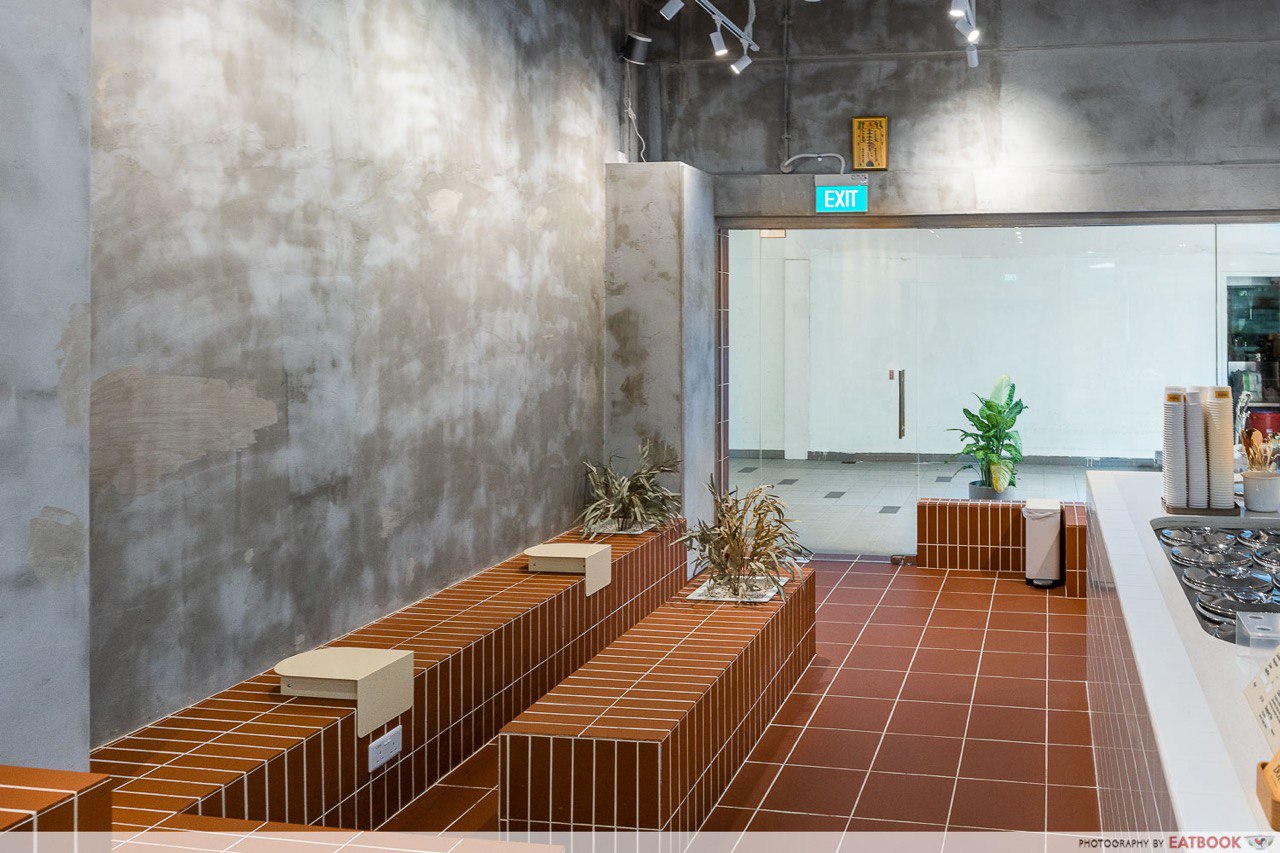 Unlike their sister outlet over at South Bridge Road, Dopa debuts with an identity of its own, sporting an industrial-themed interior with terracotta brick 'steps' and concrete walls. Unlike most ice cream cafes, Dopa keeps their gelato concealed in pozzettis—the traditional Italian way of storing gelato to ensure freshness. If you visit Dopa during their roasting days, you may be greeted with the aroma of freshly roasted nuts.
Dopa is a five-minute walk from Tanjong Pagar MRT Station.
The verdict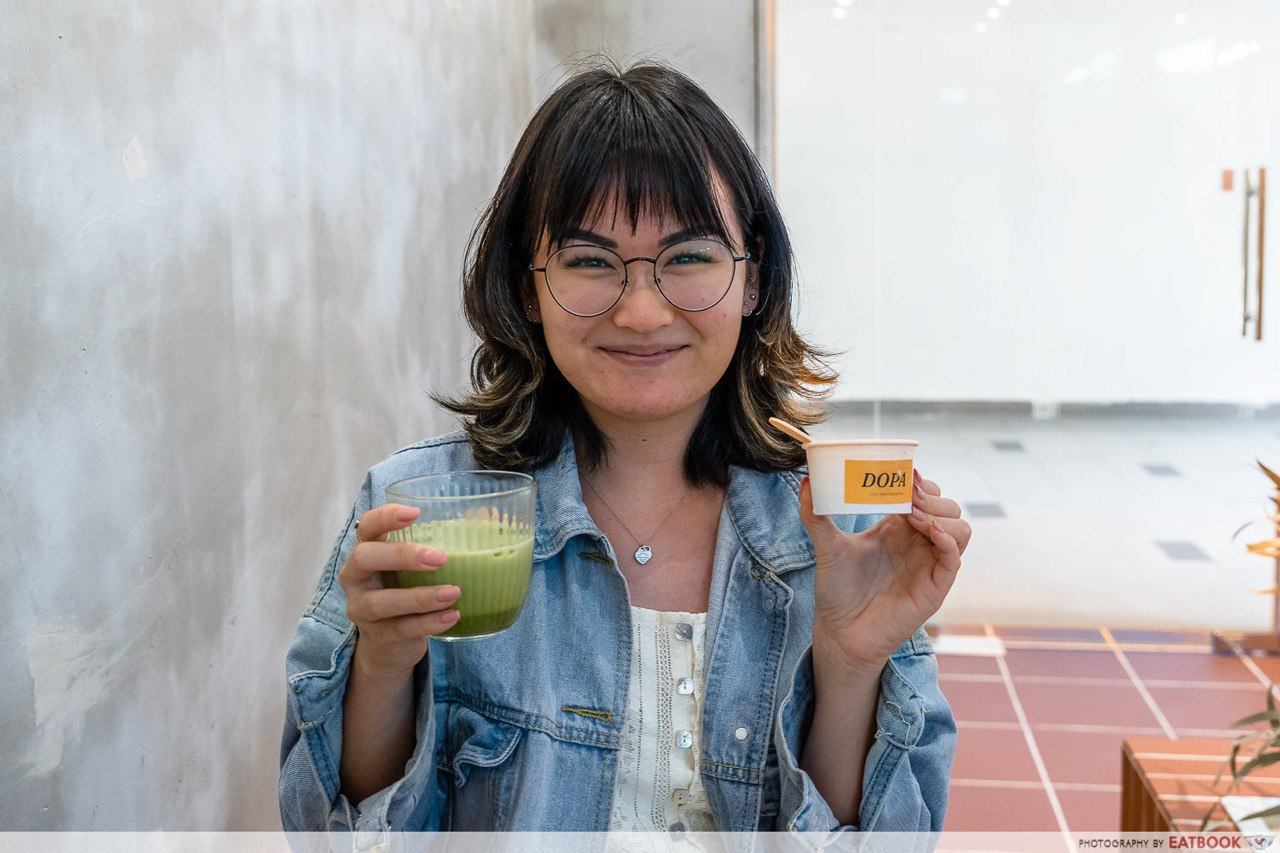 As someone who typically avoids nutty flavours, I was pleasantly surprised at how much I enjoyed Dopa's ice cream. The gelato flavours were unique and had a taste and colour close to the ingredients used to make them. This is one ice cream cafe I will definitely travel down for, especially when I need a good perk-me-up.
For more eats in the area, read our Tanjong Pagar Korean restaurant guide. Otherwise, check out our list of best ice cream and waffles cafes in Singapore.
Address: 7 Tanjong Pagar Plaza, #01-07, Singapore 081007
Opening hours: Mon-Thurs, Sun 12pm to 10pm, Fri-Sat 12pm to 10:30pm
Website
Dopa is not a halal-certified eatery.
30 Ice Cream and Waffles Cafes In Singapore, Including Those Open Till 2AM
Photos taken by Casandra Nicholas and edited by Tan Zi Hui.
This was a media tasting at Dopa.
Dopa Review: New Gelato Creamery In Tanjong Pagar With Macadamia And Maple Pecan Flavours
Dopa Review: Famous Gelato Cafe Opens In Tanjong Pagar With Macadamia And Maple Pecan Flavours -

8.5/10
Summary
Pros
– Unique gelato with nut-based flavours
– Gelato is made from scratch
– Instagrammable decor
– Near to Tanjong Pagar MRT station
Cons
– limited seats in the cafe
Recommended dishes: Macadamia ($6), Strawberry Honey ($5), and Maple Pecan ($6)
Opening hours: Mon-Thurs, Sun 12pm to 10pm, Fri-Sat 12pm to 10:30pm
Address: 7 Tanjong Pagar Plaza, #01-07, Singapore 081007