---
Best Korean Restaurants in Tanjong Pagar and the CBD 
---
Update: Daejon House is permanently closed.
Korean food has edged its way into becoming one of the most beloved foreign cuisines in Singapore, evident from the numerous Korean eateries dotted around our island. With the Hallyu 2.0 (Korean wave) exposing us to ever more K-dramas and mukbang (social eating live streams), it is no wonder that we're hit with such intense cravings after watching our favourite Korean heart-throbs devour bowls of delectable Korean dishes. Thankfully, in Singapore, Tanjong Pagar and the wider CBD area is our own mini K-town, allowing us to get our fix at local Korean restaurants without boarding a plane.

Here, we've collated a list of 17 Korean restaurants in Tanjong Pagar and the CBD to fix your K-food cravings. Ranging from mouth-watering Korean barbecue to a lip-smacking army stew, these highly-raved places will leave you in the most satisfying food coma.
Please note that opening hours may differ due to current restrictions.
---
1. Superstar K
---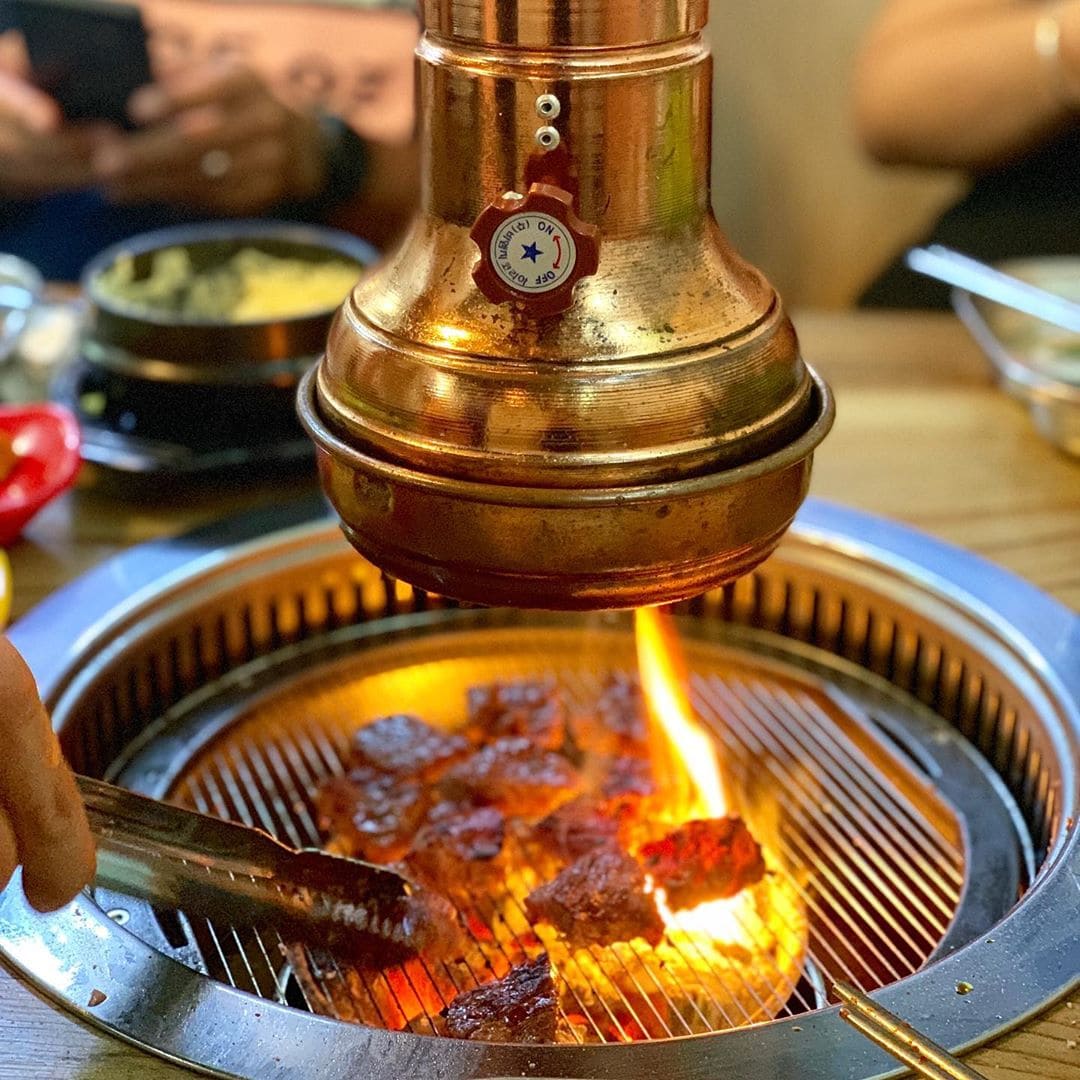 Image credit: @melnjeffy 
Touted as one of the best charcoal-grilled barbecue restaurants in Singapore, Superstar K offers a selection of quality meat, such as beautifully marbled Seasoned Beef Ribs ($38++) and thick, succulent cuts of Pork Belly ($19.90++). The meat served here is generally well-seasoned and juicy, with a strong smokiness from the flames. 
If you're looking to order other popular Korean dishes, their Kimchi Stew ($14++) and Korean Steamed Eggs ($5++) are also pretty well-received. Be sure to join the queue early as it can get crowded, especially in the evenings. 
Address: 75 Tanjong Pagar Road, Singapore 088496
Opening hours: Mon-Sun 11:30am to 2am
Tel: 6224 0504
Website 
---
2. O.BBa BBQ
---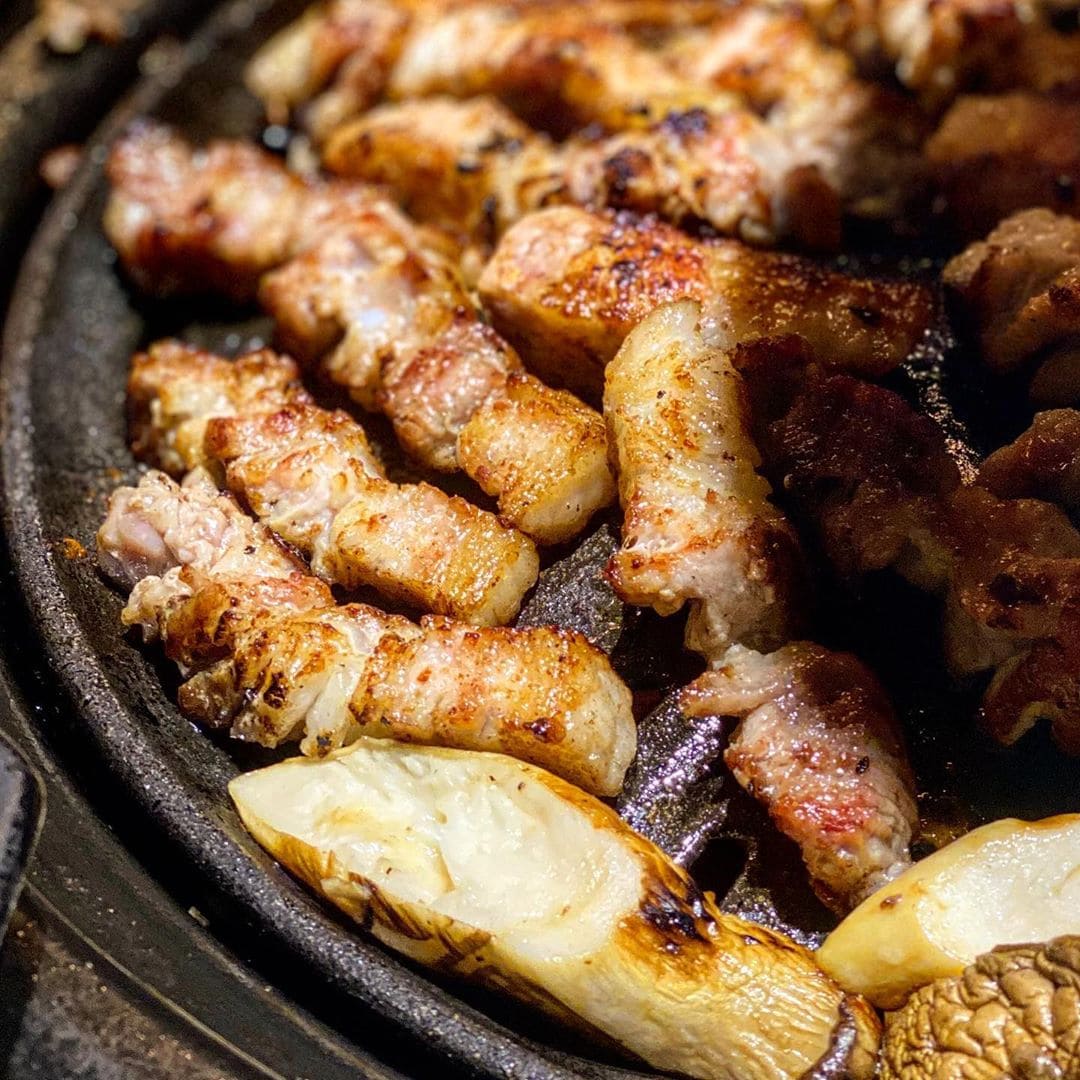 Image credit: @aurganique
If you're seeking a well-rounded authentic Korean restaurant, make your way to O.BBa BBQ at Tanjong Pagar. This popular eatery is known for their juicy and tasty cuts of meat, such as Pork Skin and Black Pork Belly ($39++). They take pride in their extensive menu of iconic Korean dishes ranging from noodles to stews, ensuring there is something for everyone. One of their must-tries includes Flying Fish Roe with Rice ($10++), also known as Jumeogbab. Get your hands dirty by mixing all the provided ingredients together and rolling them into savoury onigiri-like rice balls.
While you're here, be sure to order their Army Stew ($38++), perfect for sharing, which is said to have a deep and rich broth loaded with sausages, luncheon meat, enoki mushrooms, tofu and more. 
Address: 63 Tanjong Pagar Road, Singapore 088484
Opening hours: Wed-Mon 11:30am to 4pm, 5pm to 11:30pm
Tel: 6222 0840
Website
---
3. Ajumma's Korean Restaurant
---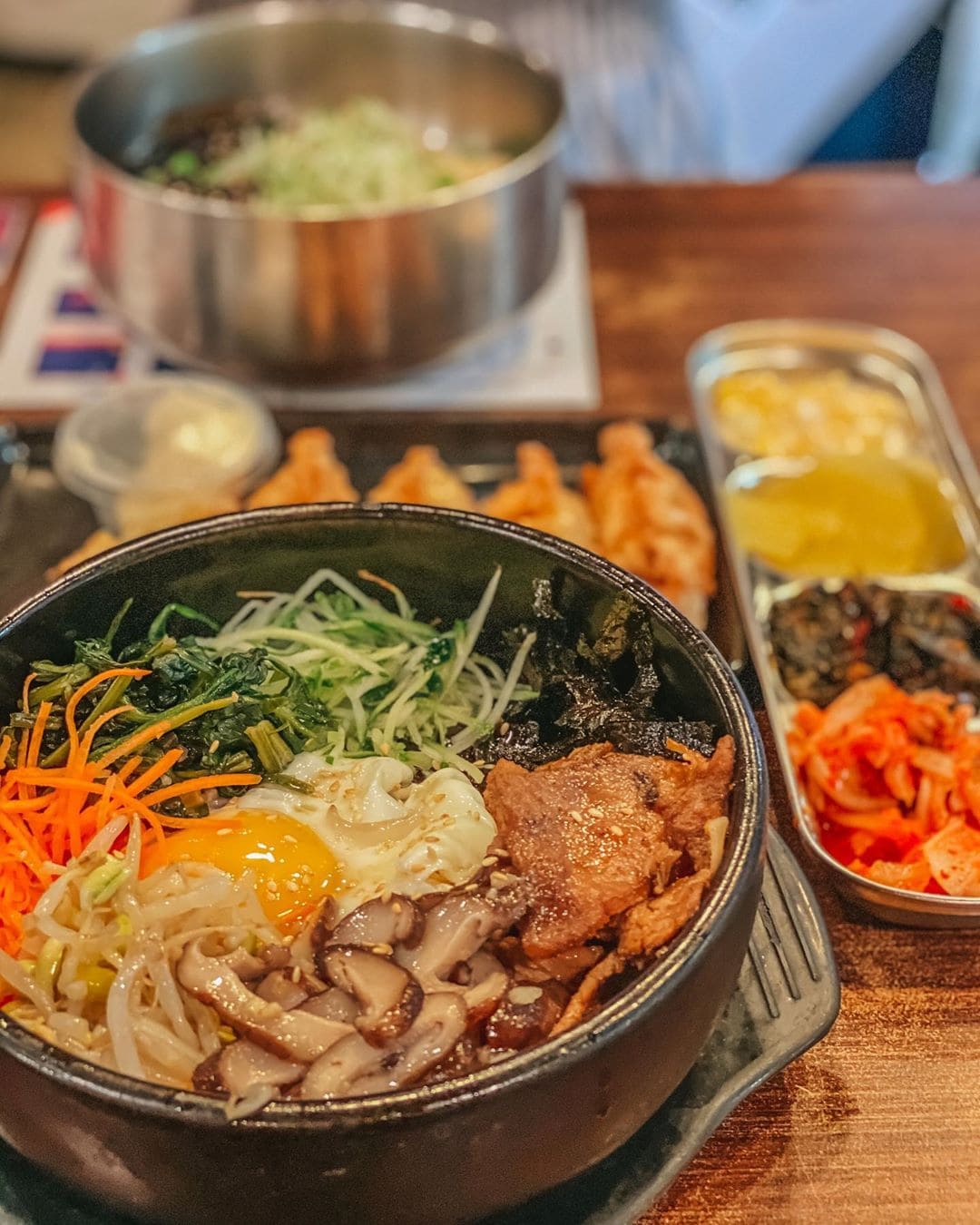 Image credit: @3bowlsofrice
Here's a spot that doesn't burn a hole in your wallet. Ajumma's Korean Restaurant serves single-portioned Korean fare, such as Army Base Stew ($14.90++), Spicy Ramyeon ($8.50++) and Ginseng Chicken Stew ($19.90++) as opposed to the usual one-pot-feeds-four. Moreover, they offer islandwide delivery through Oddle, Grab Food and Deliveroo. 
One of their signatures includes a Beef Kalbi Set ($14.90++) that's served with rice and four dishes. The cuts of prime beef are coated with their house marinade which gives the meat a caramelised, smoky flavour.  
Ajumma's even has 'DIY Survival Kits', which are pre-packed single-portion ingredients for individuals to cook with convenience at home. 
Address: 2 Handy Rd, #B1-23, The Cathay, Singapore 229233
Opening hours: Daily 11:30am to 9:30pm
Tel: 9780 3772
Website
---
4. Guiga Korean BBQ Restaurant
---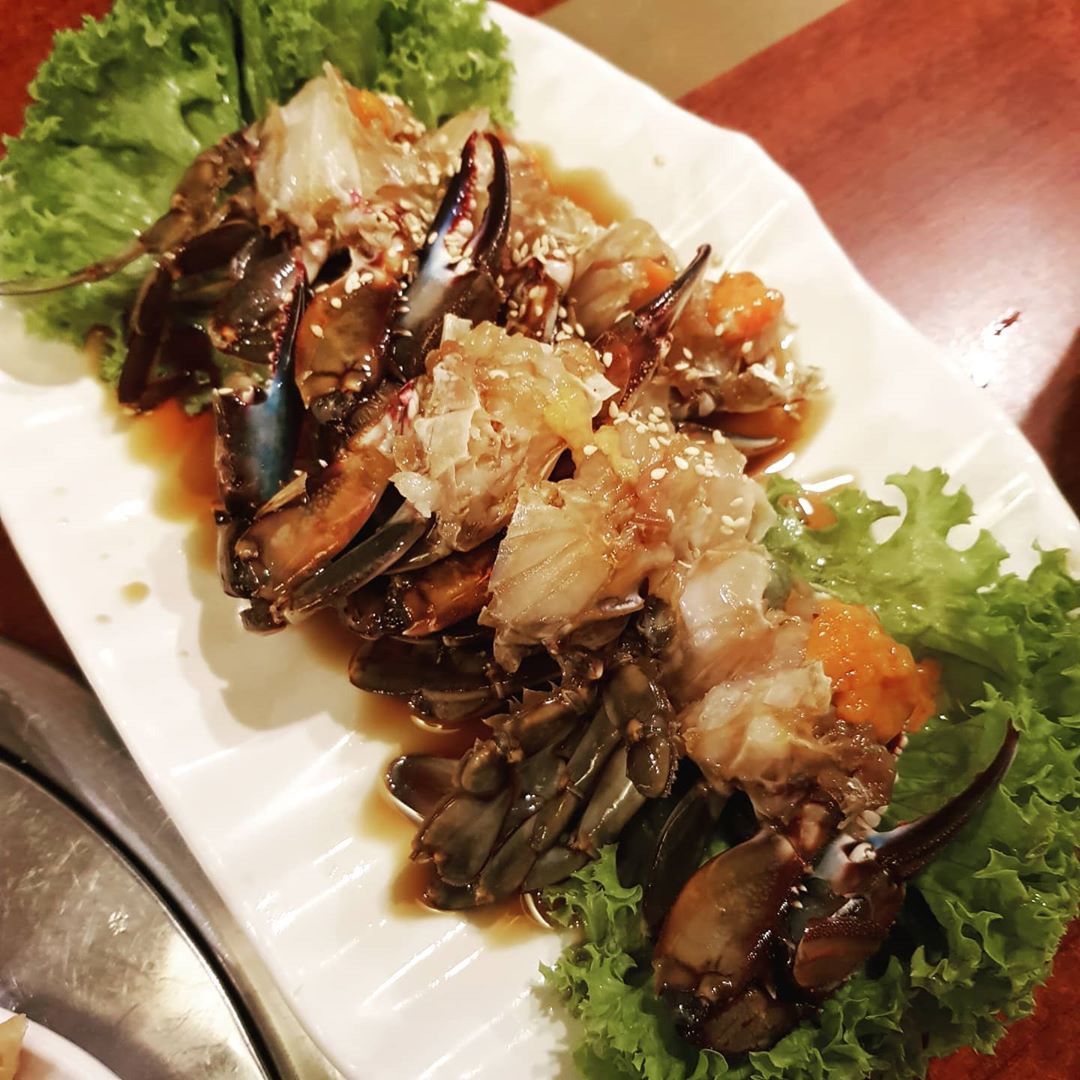 Image credit: @bribed.withfood
If you're an avid mukbang fan, you might have seen marinated raw crabs dominating the mukbang channels. Guiga Korean BBQ Restaurant offers Soy Sauce Marinated Raw Crabs ($30++), which is a dish rarely served in Korean eateries in Singapore. This delicacy involves fermenting fresh crabs in a soy sauce-based brine for a sweet and savoury flavour. 
Apart from that, Guiga is also known for the quality of their grilled beef. Don't forget to order their BBQ set Guiga A ($89++) that includes prime beef short ribs, marinated prime beef short ribs, prime beef ribs and thin-sliced beef brisket for the ultimate steak experience. 
Address: 134 Tanjong Pagar Road, Singapore 088538
Opening hours: Daily 11am to 3pm, 5pm to 12am
Tel: 6222 0840
Website
---
5. Todamgol Restaurant
---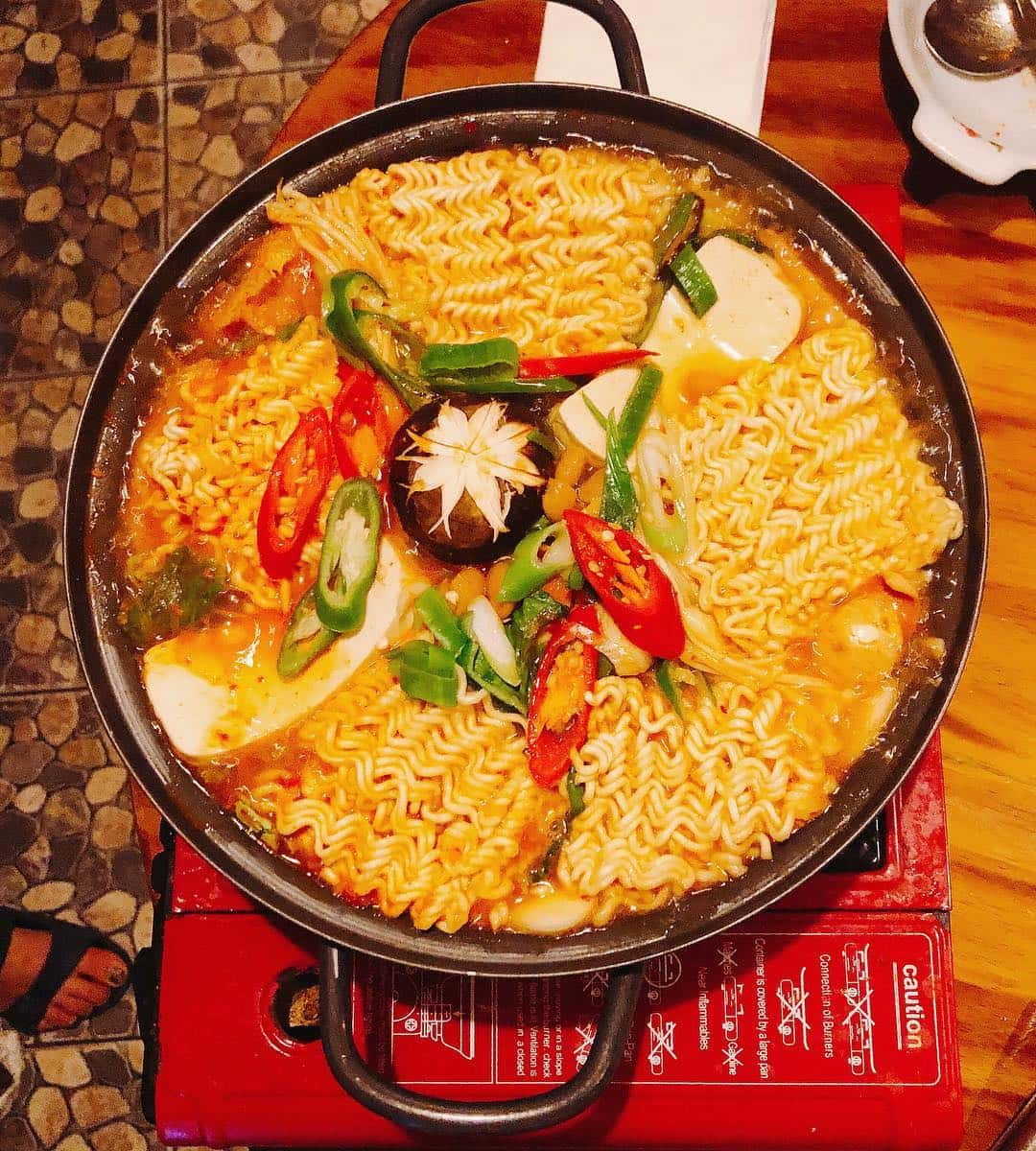 Image credit: @xingafood
Known for replicating the setting of Bukchon Hanok in Seoul, Todamgol Restaurant is one of the most frequented Korean restaurants in Tanjong Pagar. Their rendition of Army Stew ($38++) includes the essential budae jjigae ingredients in a portion fit for two to share. This bubbling hot pot will warm your belly with its umami-rich broth that is a good balance of spicy and tangy.
Other popular dishes include their Cheesy Dakgalbi ($35++), Odeng ($35++) and Korean Spicy Chicken Feet ($25).
Address: 31 Tanjong Pagar Road, #01-01, Singapore 088454
Opening hours: Mon-Fri 12pm to 3pm, 6pm to 3am
Tel: 6224 7077
Website
---
6. 8 Korean BBQ
---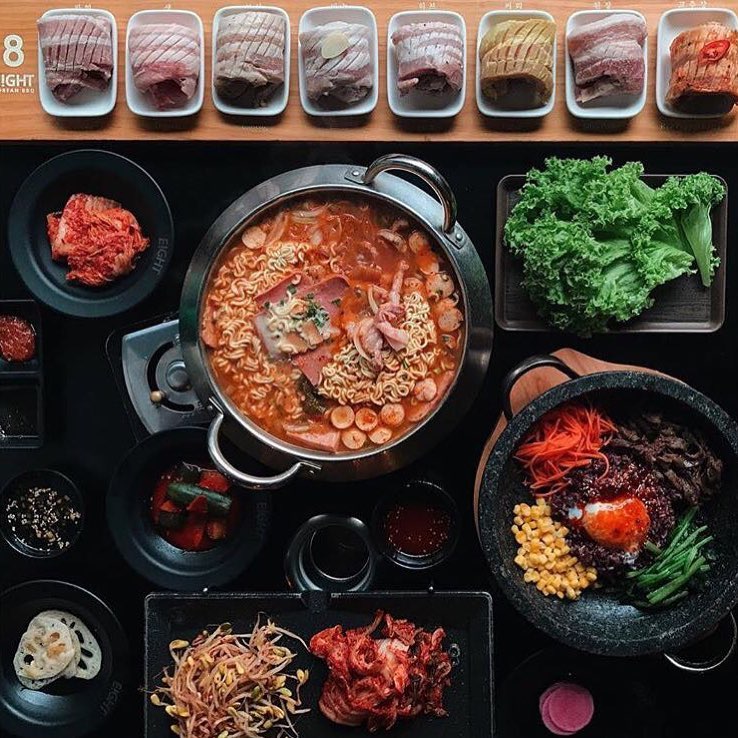 Image credit: @8koreanbbq
Previously featured on our list of affordable Korean restaurants, 8 Korean BBQ reveals its unique concept through its name ─ they serve a whopping eight different marinades with their pork belly.
17 Affordable Korean Restaurants To Satisfy Your Kdrama-Induced Food Cravings
The 8 Colours Set ($98) stars eight thick slices of Mangalitsa pork belly that arrive at the table on a tray, rolled up on individual plates, accompanied by kimchi, vegetables and a stew of your choice. It is recommended that you grill and taste the meats in ascending order of flavours ─ original, wine, garlic, curry, herb, miso, red pepper paste and finally, kalbi. 
As this is a full-service barbecue restaurant, this makes for a stress-free experience. You can simply sit back and tuck in once the skilful staff has finished grilling the meat for you.
Address: 1 Scotts Road, #04-20/21, Singapore 228208
Opening hours: Daily 11:30am to 2:30pm, 5:30pm to 10:30pm
Tel: 8692 1188
Website
---
7. Seorae Korean Charcoal BBQ
---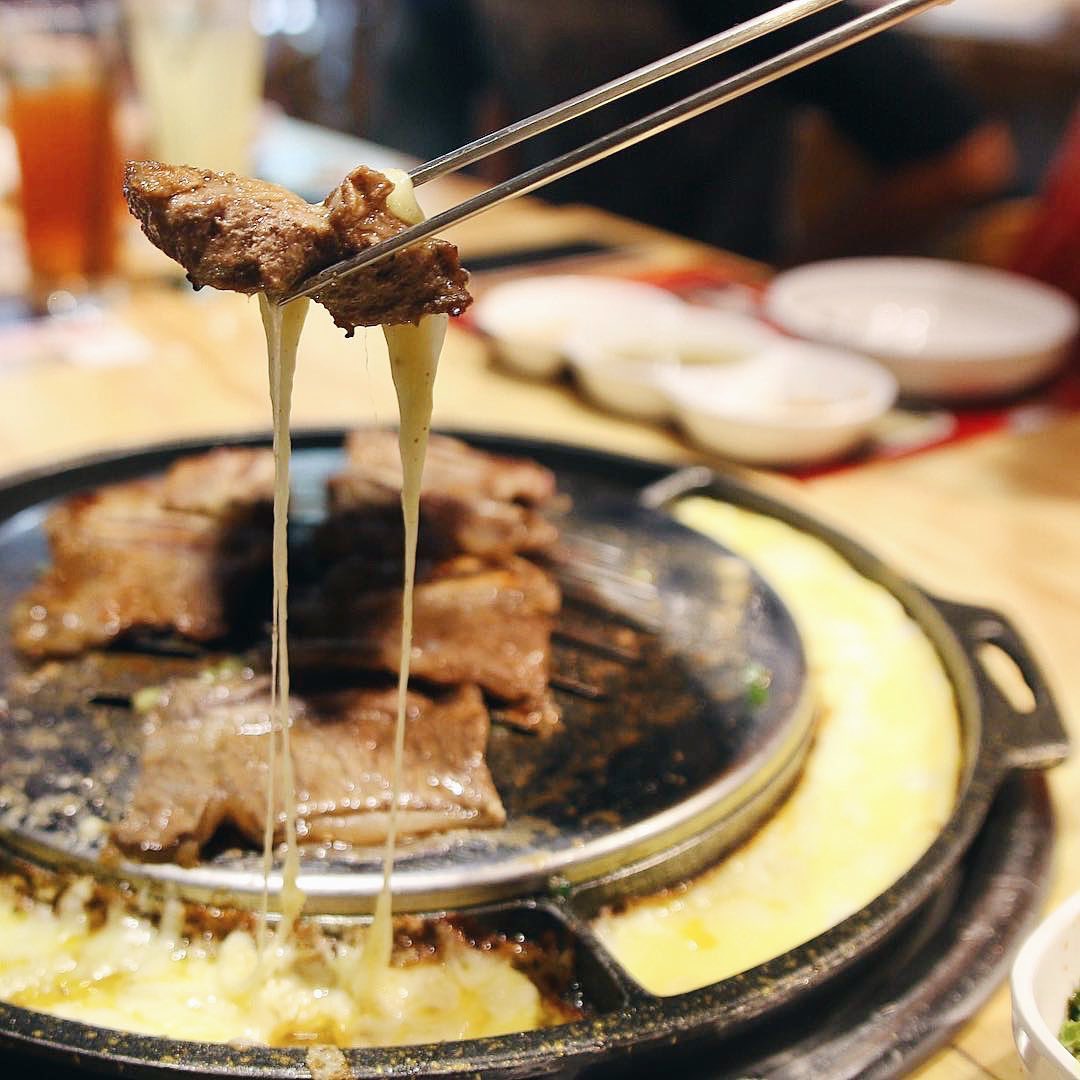 Image credit: @seoraesg
Seorae Korean Charcoal BBQ is the first Galmaegisal (pork skirt meat) BBQ restaurant in Singapore. Priced at $21.90++, this US pork skirt-meat is marinated with authentic Korean spices and is especially tender and juicy once it is grilled. You can also dunk the grilled meat in the ring of melted cheese around the grill for added decadence. 
For tteokbokki lovers, opt for their Cheese Mandu Tteokbokki ($26.90++), which is served on a hot pan with fried fish cake, egg, corn and cheese dumpling, ramyeon and pineapple. 
Address: 68 Orchard Road, #02-01, Plaza Singapura, Singapore 238839
Opening hours: Daily 11:30am to 10pm
Tel: 9181 2709
Website
---
8. Supulae Korean BBQ
---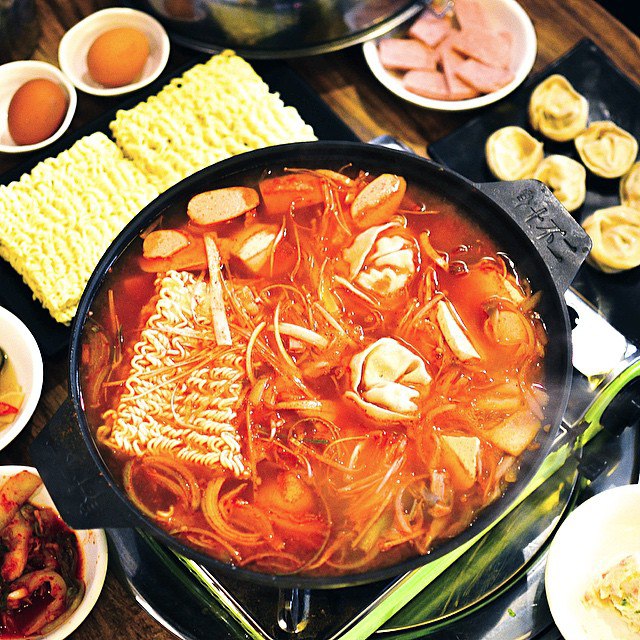 Image credit: @chvnx
Supulae Korean BBQ has emerged as one of the top Korean restaurants in Tanjong Pagar. Even though they serve typical Korean dishes, there have been favourable remarks with regards to the quality of food at Supulae Korean BBQ. The Ham and Sausage Stew ($34.80++) has a rich soup base that's amped up with a mix of tasty ingredients. While you're there, don't leave without trying the crispy and fragrant Seafood Pancake ($18.80). 
Despite its central location, most of their dishes are priced slightly lower than average. For instance, Supulae's Steamed Pork with Kimchi, also known as Bossam, is priced at $25.80++, which is less than the average of$30. 
Address: 80 Tanjong Pagar Road, Singapore 088501
Opening hours: Daily 5pm to 1am
Tel: 6225 2248
Website
---
9. DaeJon House
---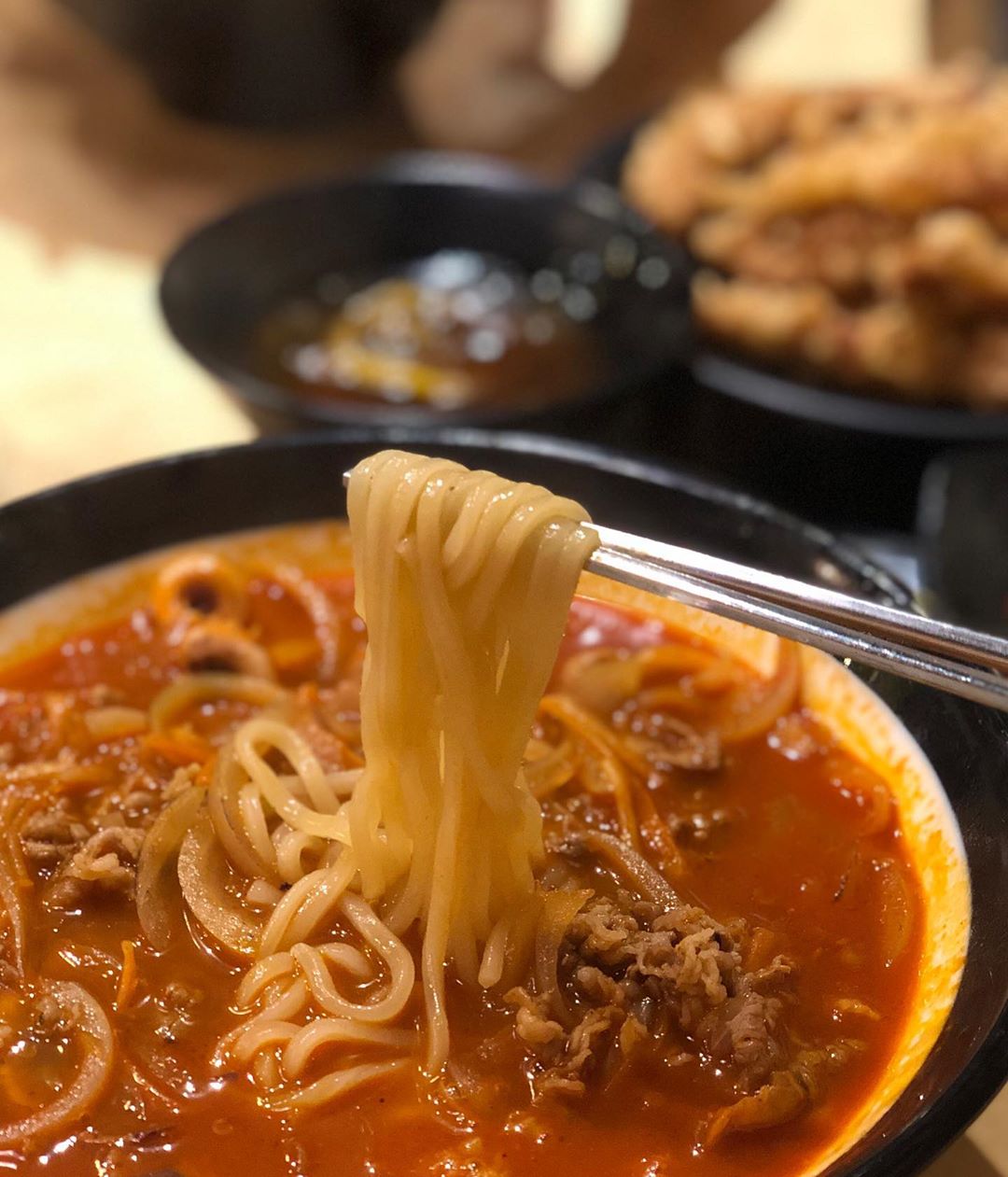 Image credit: @mammambuddy
DaeJon House differentiates itself from other Korean restaurants by using beef bone broth that's simmered for more than six hours in most of their stew and soup dishes. This eatery is also the only place that serves beef bone-based jjamppong. The Beef Jjamppong ($12.90) comes in both a spicy and a non-spicy version, and it consists of tender beef slices, chewy noodles, vegetables and squid cooked in a rich, hearty broth. Even their Army Stew ($24.90) is made with the same soup base. 
They also offer single portions for under $10, such as their Kimchi Fried Rice ($5.90) and JaJang Myeon ($9.90). What's more, if you decide to try their Korean BBQ offerings instead, DaeJon House allows you top up your meal with dishes from the $2-menu, where you can enjoy Naengmyeon, Kimchi and Pork Soup with Rice and Beef Soybean Paste Stew for just $2!
Address: 2 Havelock Road, Singapore 059763
Opening hours: Daily 8am to 10pm
Tel: 9338 4888
Website
---
10. Guksu Korean Restaurant
---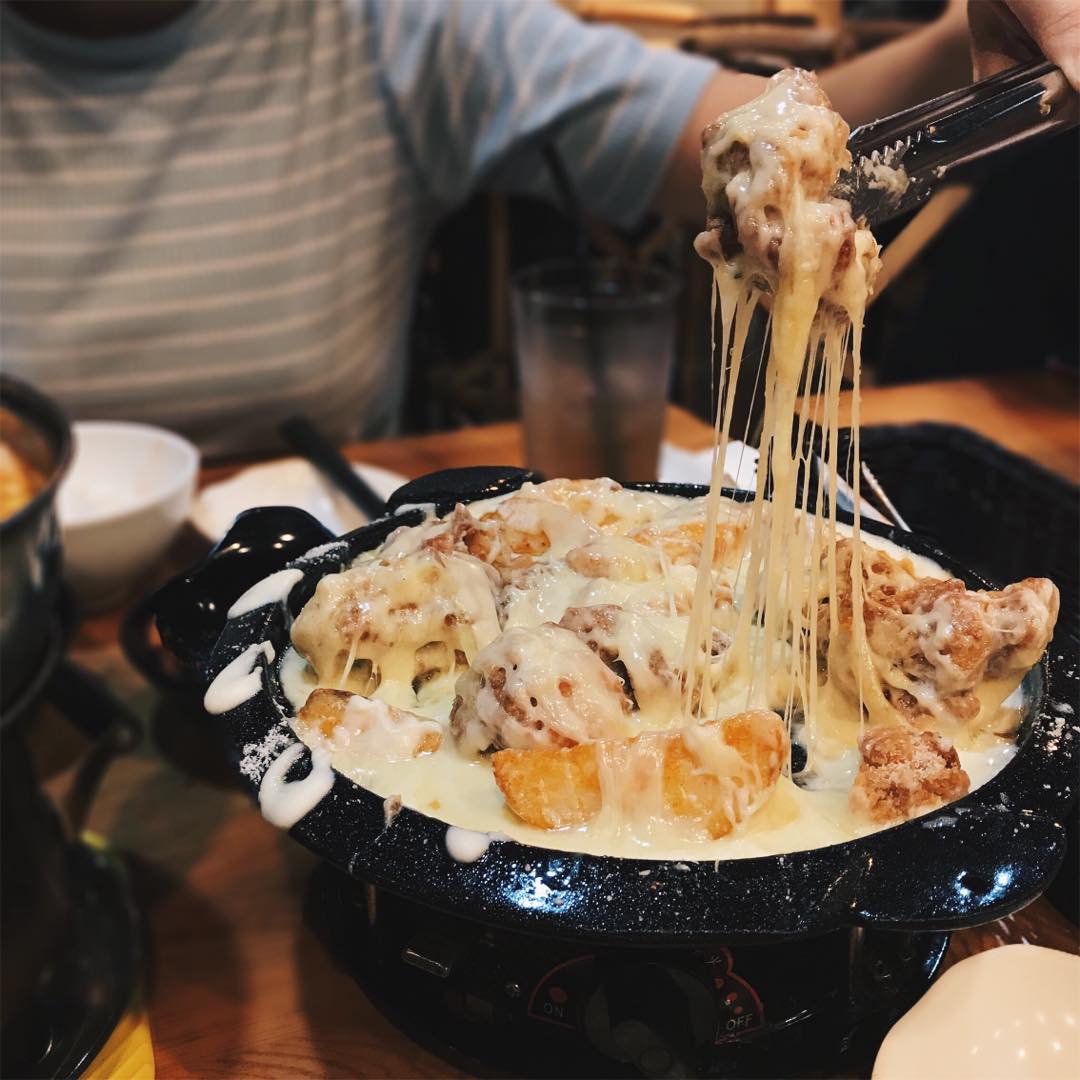 Image credit: @pohshiyen_
Guksu Korean Restaurant specialises in jeongol, which is a Korean-style hot pot with meat, mushroom, seafood and more. They also serve individual pots of mini jeongol with options including Army Stew ($15.90) and Bean Paste Beef Stew ($18.90).
Indulge in their vast selection of Korean fried chicken offerings such as their Cheese Chicken Fondue ($39.90). This hot plate has Korean deep-fried boneless chicken and wedges nestled on a bed of cheesy, mozzarella and garlic cream sauce. Dip the crispy, tender pieces of chicken into the pool of melted cheese and be enticed by the show-stopping cheese pull.
Address: 3 Temasek Boulevard, #02-385, Suntec City West Wing, Singapore 038983
Opening hours: Daily 11am to 10pm
Tel: 6334 7950
Website
---
11. Twins Korean Restaurant
---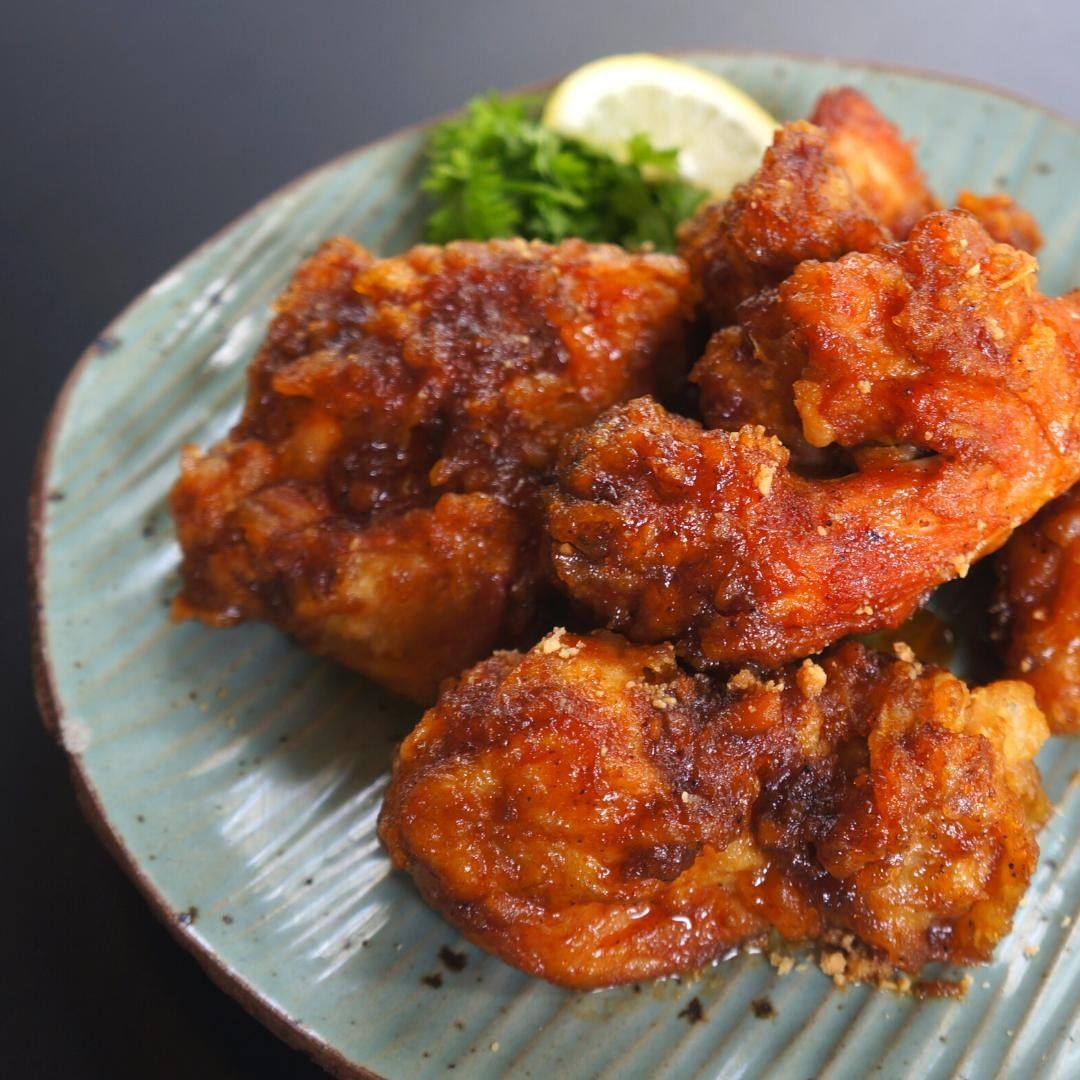 Image credit: @twins_chicken
Run by a pair of twins, thus the name, Twins Korean Restaurant has captivated customers with their delectable Korean fried chicken and army stew.  
Fulfil your chimaek (chicken and beer) needs with their fried chicken offerings priced between $18++ to $40++, glazed with sauces  such as soy garlic and yangnyum, which is spicy. This eatery only uses fresh chicken that's marinated with house-made sauces before it's deep-fried to perfection. Drenched in a smoky and sticky sauce, the 6 Pieces Yangnyum Fried Chicken ($20) has a crispy exterior that's juicy and tender inside.  
Do try their best-selling Army Soup ($40++), which features an assortment of sausages in a savoury, spicy broth.   
Address: 7 Craig Road, Singapore 089667
Opening hours: Mon-Sat 11:30am to 3pm, 5pm to 12am
Tel: 6221 5205
Website
Pink Candy Review: Affordable Korean Hawker With Rooftop Views Near Beauty World
---
12. Wang Dae Bak Korean BBQ
---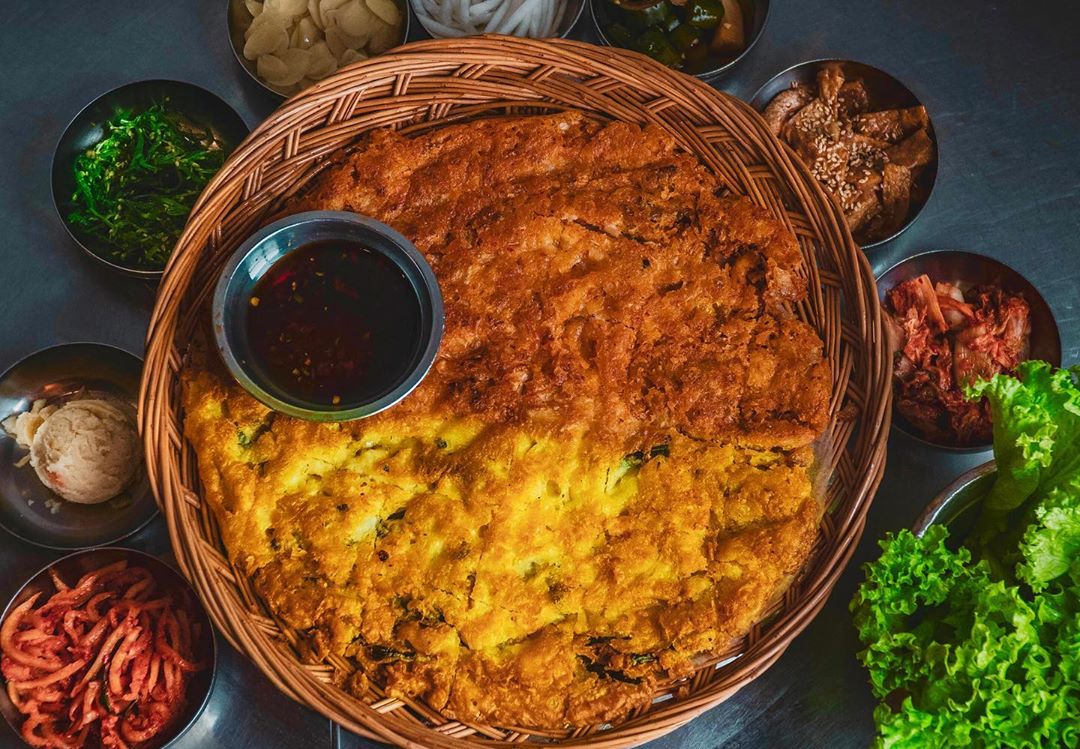 Image credit: @wangdaebakbbq
Wang Dae Bak Korean BBQ is a hot choice among many young adults who are seeking a legit Korean restaurant and barbecue experience. The quality and flavours of the barbecue meats are above par, and their banchan (side dishes) are pretty appetising as well. 
Furthermore, they are recognised for their enormous Kimchi Pancake ($21++), which is regarded as one of the biggest and best kimchi pancakes in Singapore. The pancake has a crackling, crisp exterior and delicate, moist centre. To simply describe it as 'tasty' would be a huge understatement. They also offer a Half and Half Pancake ($25++) for those who can't decide between a seafood pancake and a kimchi pancake. 
Address: 22 Cross Street, #01-64, Singapore 048421
Opening hours: Daily 11:30am to 2:30pm, 5:30pm to 10:30pm
Tel: 6225 2646
Website
---
13. Hello Korean BBQ
---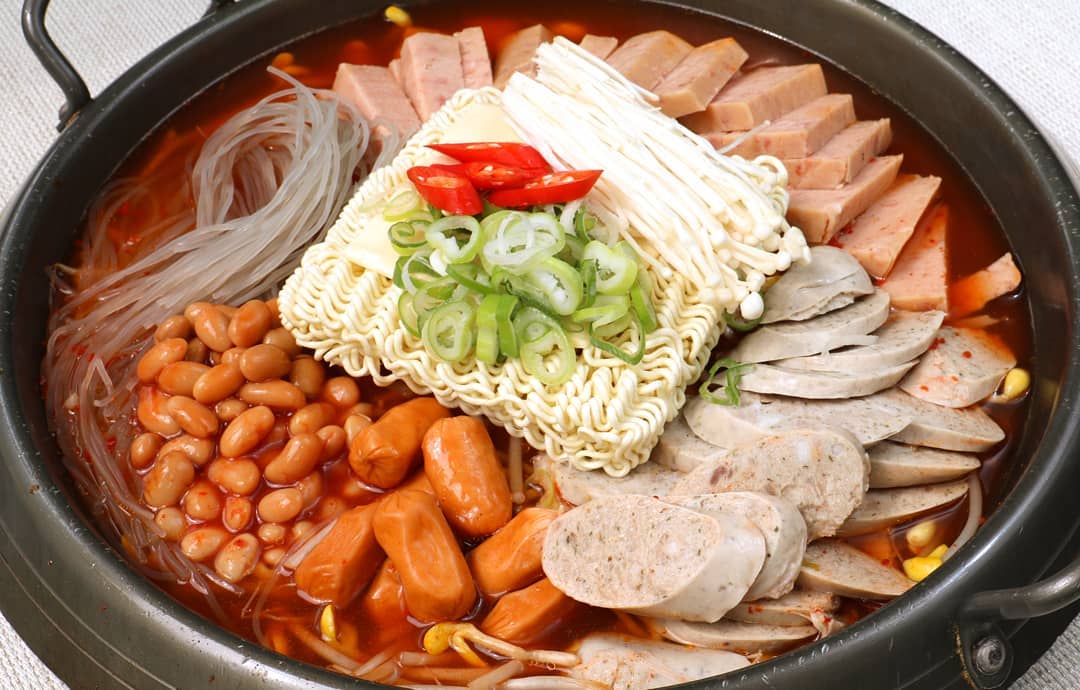 Image credit: @hello_korean_bbq
Located along the Singapore River, Hello Korean BBQ offers an Unlimited Charcoal-Grilled BBQ buffet for just $29.90++. For the price, you get to enjoy a free flow of dishes such as pork collar, pork belly, marinated boneless chicken leg, all of which are well-seasoned and tender, and prawns. Their Army Stew Set ($59.90) includes a pot of comforting army stew accompanied by souffle-like Korean steamed eggs and a pancake of your choice.  
Also, don't miss their Spicy Mussel Stew ($39.80) that's only available at dinner. This spicy, aromatic broth is filled with copious amounts of plump and juicy seafood.   
Address: 45 Circular Road, Singapore 049400
Opening hours: Mon-Sat 11:30am to 2pm, 5:30pm to 10pm
Tel: 6438 6651
Website
---
14. Big Mama Korean Restaurant
---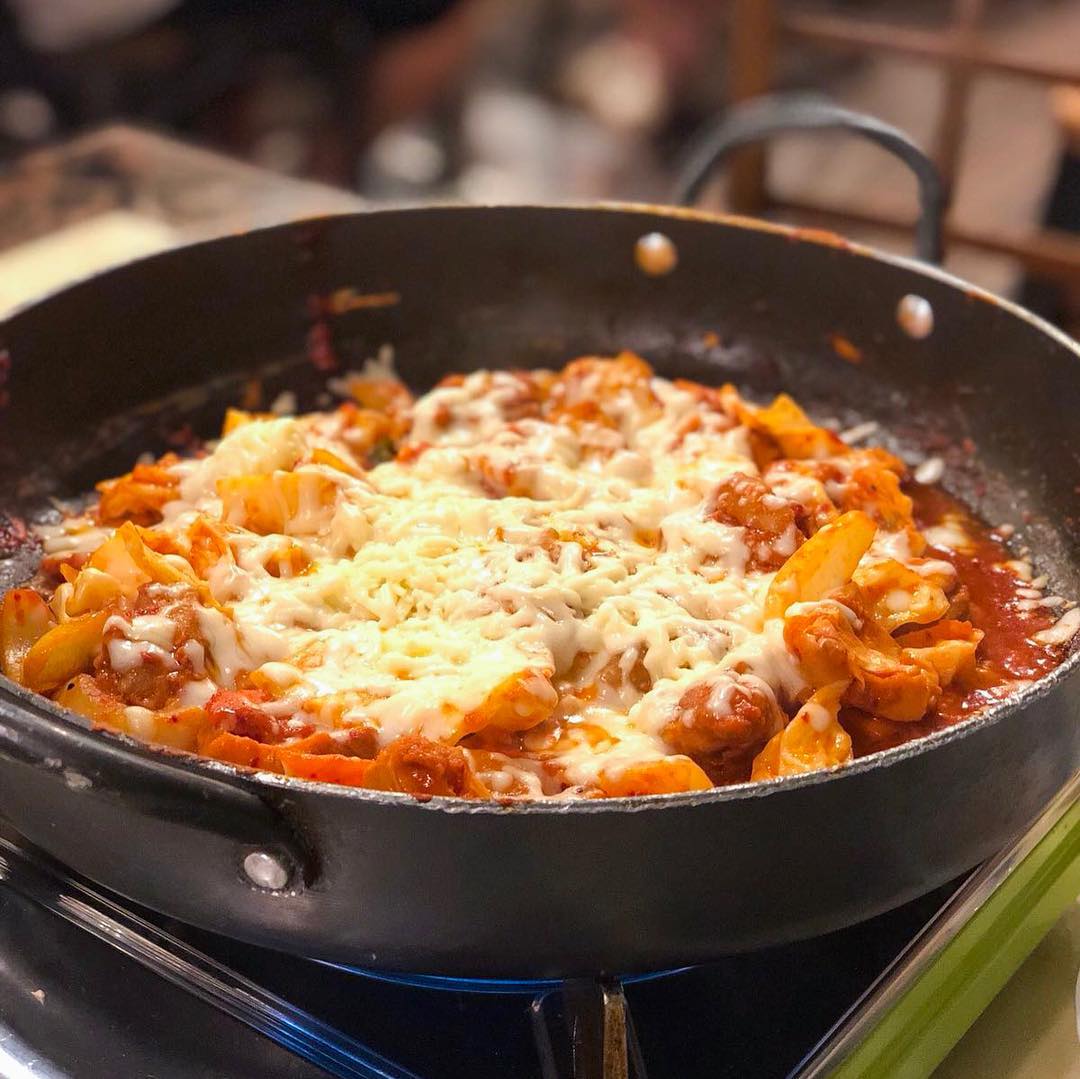 Image credit: @247hangri
Big Mama Korean Restaurant pampers customers with their MSG-free home-cooked fare that truly hits the spot, just like mama's cooking. One of their speciality dishes is Dakgalbi ($36++), which is a hotplate of pan-fried spicy chicken, vegetables and rice cakes. Be sure to top up your order with a bowl of rice to turn this stir-fry into a deliciously spicy, cheesy fried rice. 
Do try their best-selling Suyuk ($25++) ─ pork belly that's steamed in a special two-tiered steamer, resulting in moist, tender meat. This dish is definitely a far cry from the barbecued pork belly that we're so used to. 
Address: 2 Kim Tian Road, Singapore 169244
Opening hours: Daily 12pm to 3pm, 6pm to 10pm
Tel: 6270 7704
Website
---
15. Don Dae Bak Korean Restaurant
---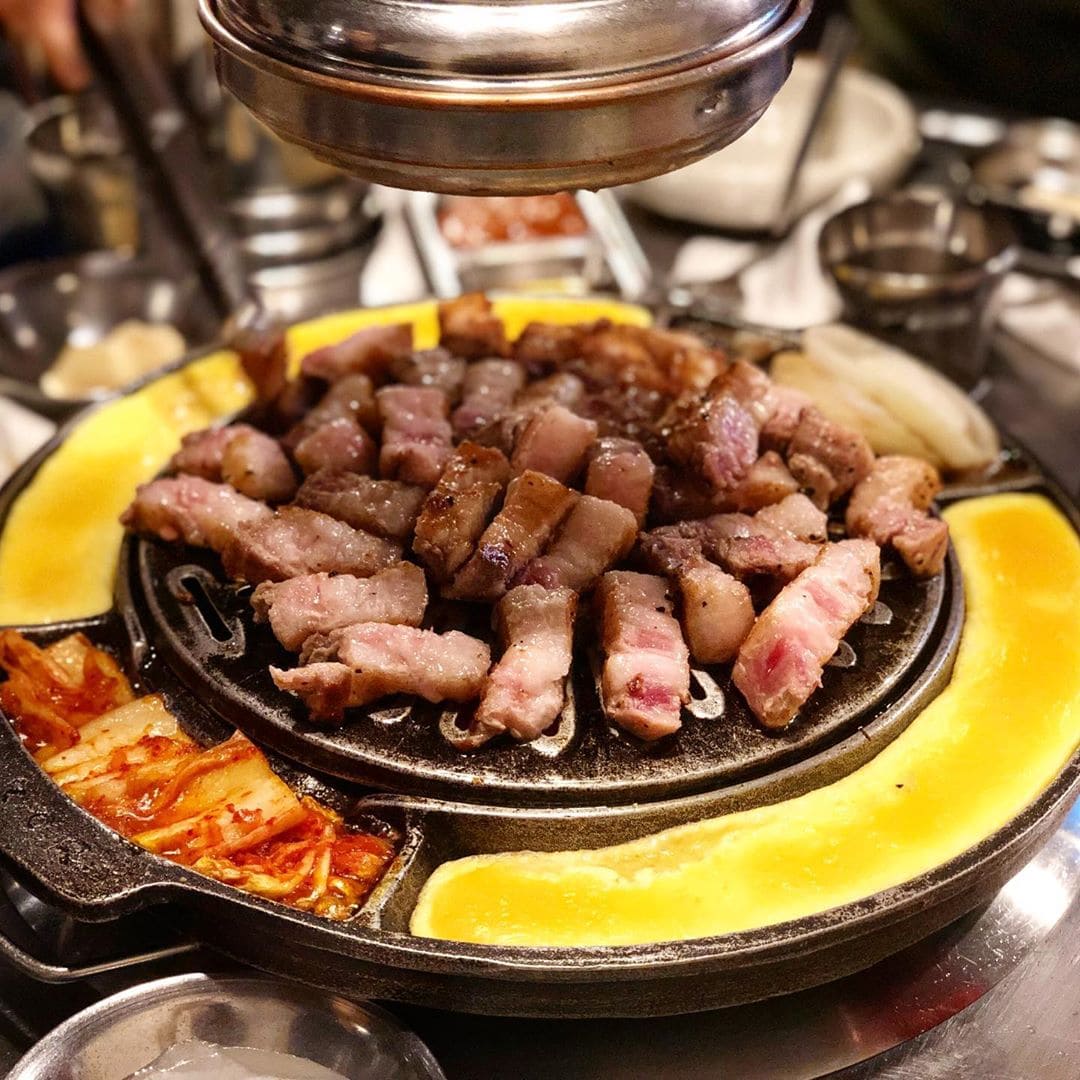 Image credit: @singatips
Don Dae Bak serves high-quality beef and pork belly from the US and Australia. You can definitely expect their meat dishes, such as the Kurobuta Pork Belly ($30++) and Boneless Beef Short Prime Rib ($40++), to be packed full of flavour. To make the experience more value-for-money, go for their 90-minute free-flow BBQ at $27.90++.
If you plan on steering away from the usual dishes, do try their exclusive Spicy Pollock Roe Stew ($42++), which is a hearty and spicy fish egg stew bursting the fresh, briny flavours of seafood. 
Address: 35 Kreta Ayer Road, Singapore 089000
Opening hours: Daily 11:30am to 5am
Tel: 6226 1727
Website
---
16. Hyang Yeon Korean Restaurant
---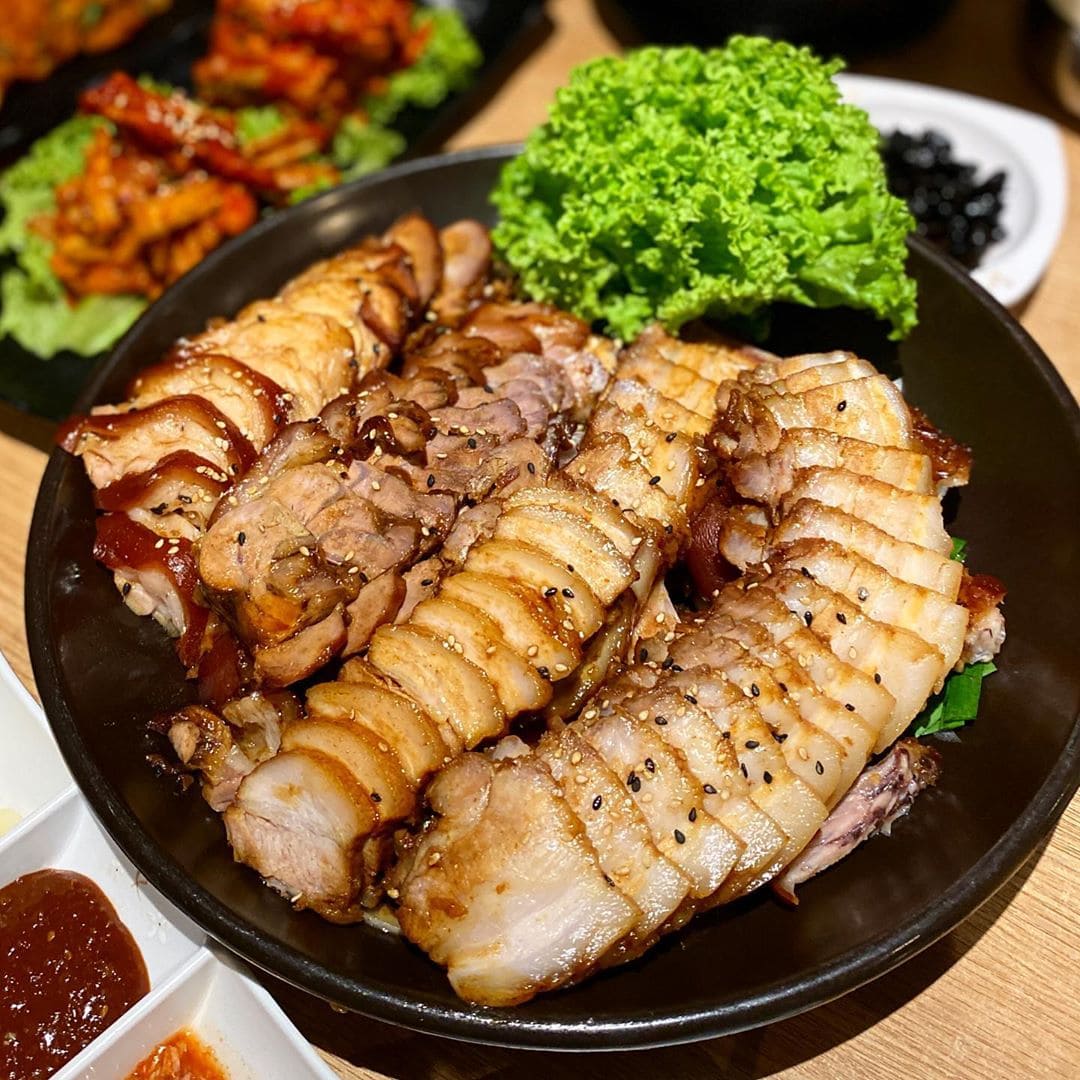 Image credit: @punsandmatcha
Hyang Yeon Korean Restaurant is an eatery frequented by Koreans residing in Singapore but remains under the radar for locals. Their Bossam and Jokbal set ($65++) is one of their most sought-after dishes. Presented on a platter like fallen dominoes, the tender and moist slices of meat go harmoniously together with the spicy kimchi served on the side.
Their other signature dishes include a Kimchi Pork Back Bone Soup ($50++) that features well-aged kimchi, cooked in an intensely-flavoursome pork bone broth. 
Read our review of Hyang Yeon Korean Restaurant.
Hyang Yeon Korean Restaurant Review: $12 Lunch Set With Bibimbap And Grilled Meat At Chinatown Point
Address: 80 Amoy Street, #01-01, Singapore 069899
Opening hours: Tue-Sun 11:30am to 3pm, 5:30pm to 11pm
Tel: 6221 6368
Website
---
17. Chang Restaurant
---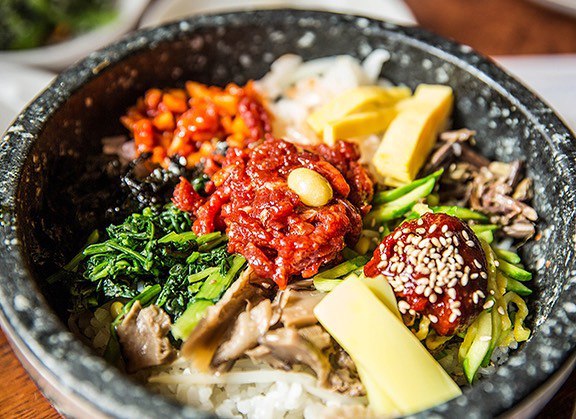 Image credit: @changkoreanbbq
Chang Restaurant adds a novel twist to the usual Korean dishes. Take their Yukhoi Bibimbap ($30++), for instance. This dish isn't your ordinary bibimbap, featuring quality beef that you can have raw. Moreover, their Seafood Scallion Pancake ($25++) presents eight crispy mini spring onion pancakes accompanied with an assortment of seafood, instead of the single large pancake we are accustomed to. More crispy sides for everyone!. They even serve a house-made Korean Ginseng Ice Cream!
Apart from their innovative spread, Chang doesn't fall short with their classic offerings. They also serve an array of well-marbled beef options on their Korean BBQ menu, such as the 200g Marinated Prime Ribeye ($56++) and 120g Thinly Sliced Ox Tongue ($49++).  
Address: 71 Loewen Road, #01-01, Singapore 248847
Opening hours: Daily 12pm to 3pm, 6pm to 10pm
Tel: 6473 9005
Website
---
Best Korean Restaurants in Tanjong Pagar and the CBD 
---
Korean dishes never shy on flavour. There's just something about the robust taste in most of their dishes that keeps us coming back for more. With this cheat sheet of our favourite Korean restaurants in Tanjong Pagar and the CBD, you can easily satisfy your K-food cravings without being overwhelmed by the many options available. 
10 Korean Dishes To Try Instead Of Bibimbap, Tteokbokki, And Army Stew
For more tasty Korean food options, do check out our list of must-try Korean dishes as well as affordable Korean restaurants in Singapore. Alternatively, find out which Korean dish is your best match with our quiz!