Customisable lunch sets at Hyang Yeon Korean Restaurant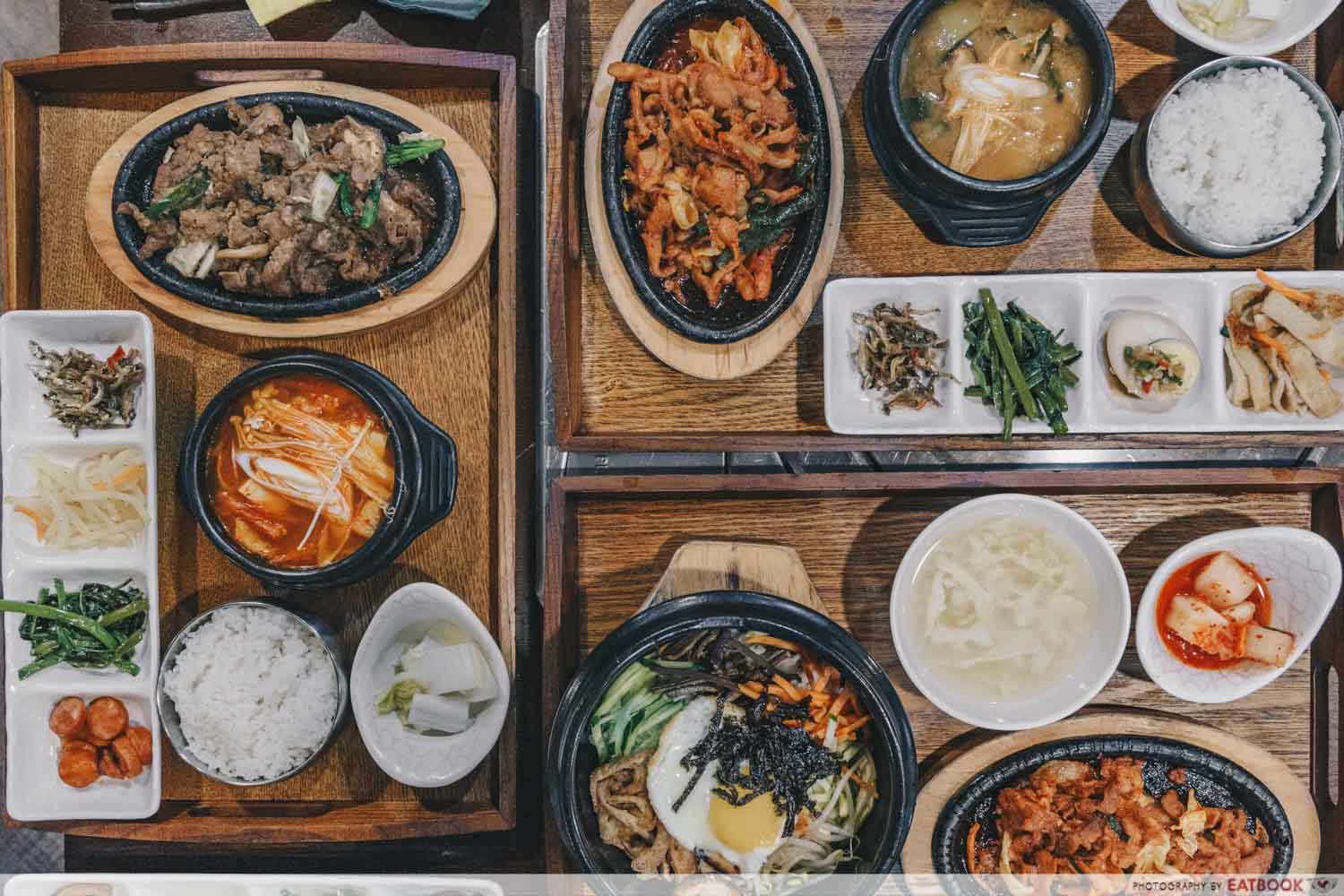 As tasty as it is, Korean food in restaurants tends to be a bit pricey. Dishes such as seafood pancakes and bowls of spicy beef soup tend to be around the $15 to $18 range, and the other main courses can climb even higher. Hyang Yeon Korean Restaurant has one of the best deals around, with a full lunch set costing just $12++. You can add on an extra $1 for one of their special Korean canned drinks.
The restaurant serves traditional Korean food, and currently has two outlets. The one we visited at Chinatown Point focuses on KBBQ, but had a free-flow salad bar and the same lunch set meal as the original branch at Telok Ayer. 
Food at Hyang Yeon Korean Restaurant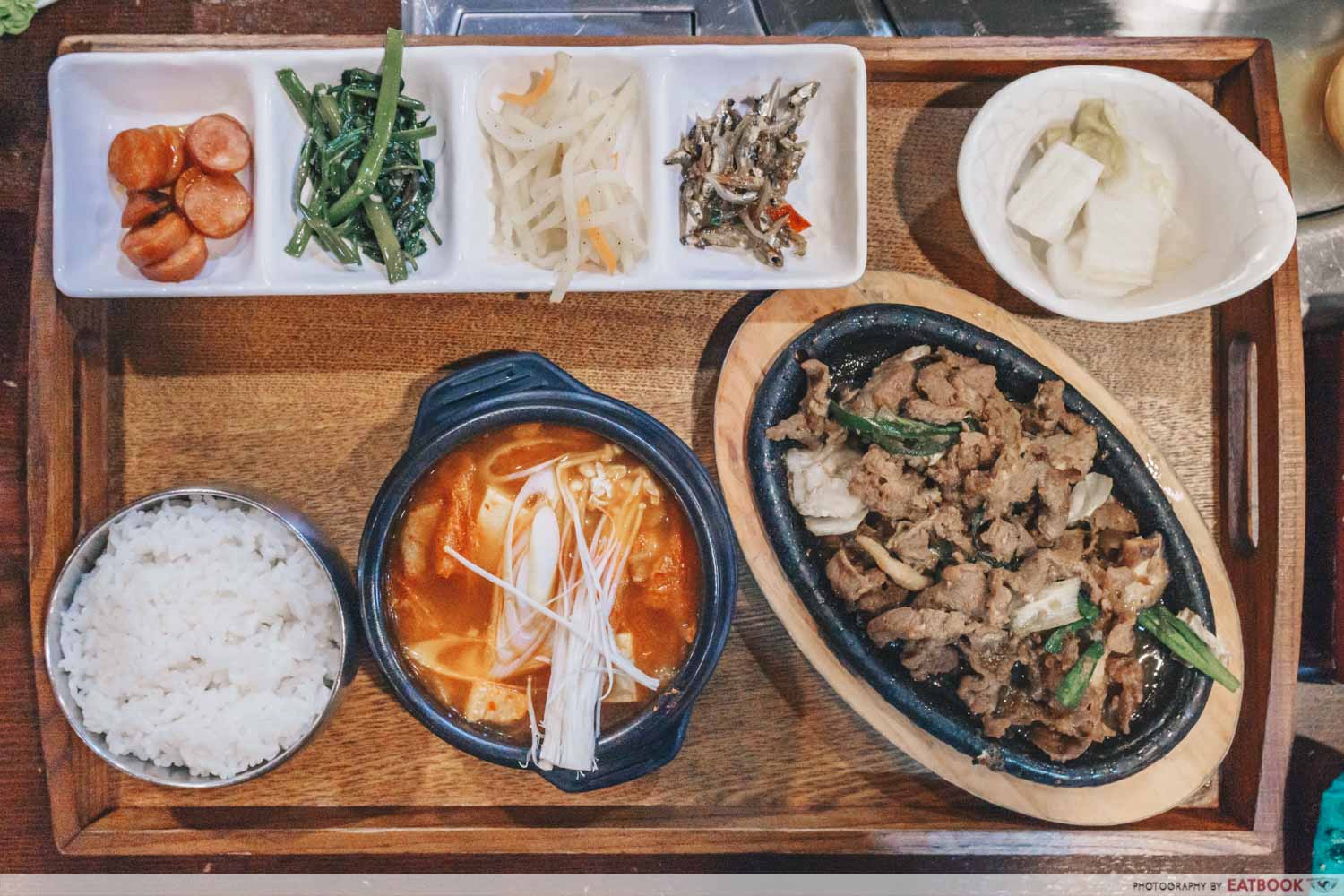 The DIY Lunch ($12++) was the main draw. Each set comes with two main courses, rice, a serving of side dishes, and a free drink. The first main course is either soup or bibimbap, and the second is a hot plate of grilled meat. It's quite a huge spread for $12, and the degree of customisation is impressive. 
For the first set meal, we got the Kimchi Jjigae and Bulgogi beef, with white cabbage kimchi on the side. There were also the four side dishes in little tasting portions—known as banchan in Korean cuisine.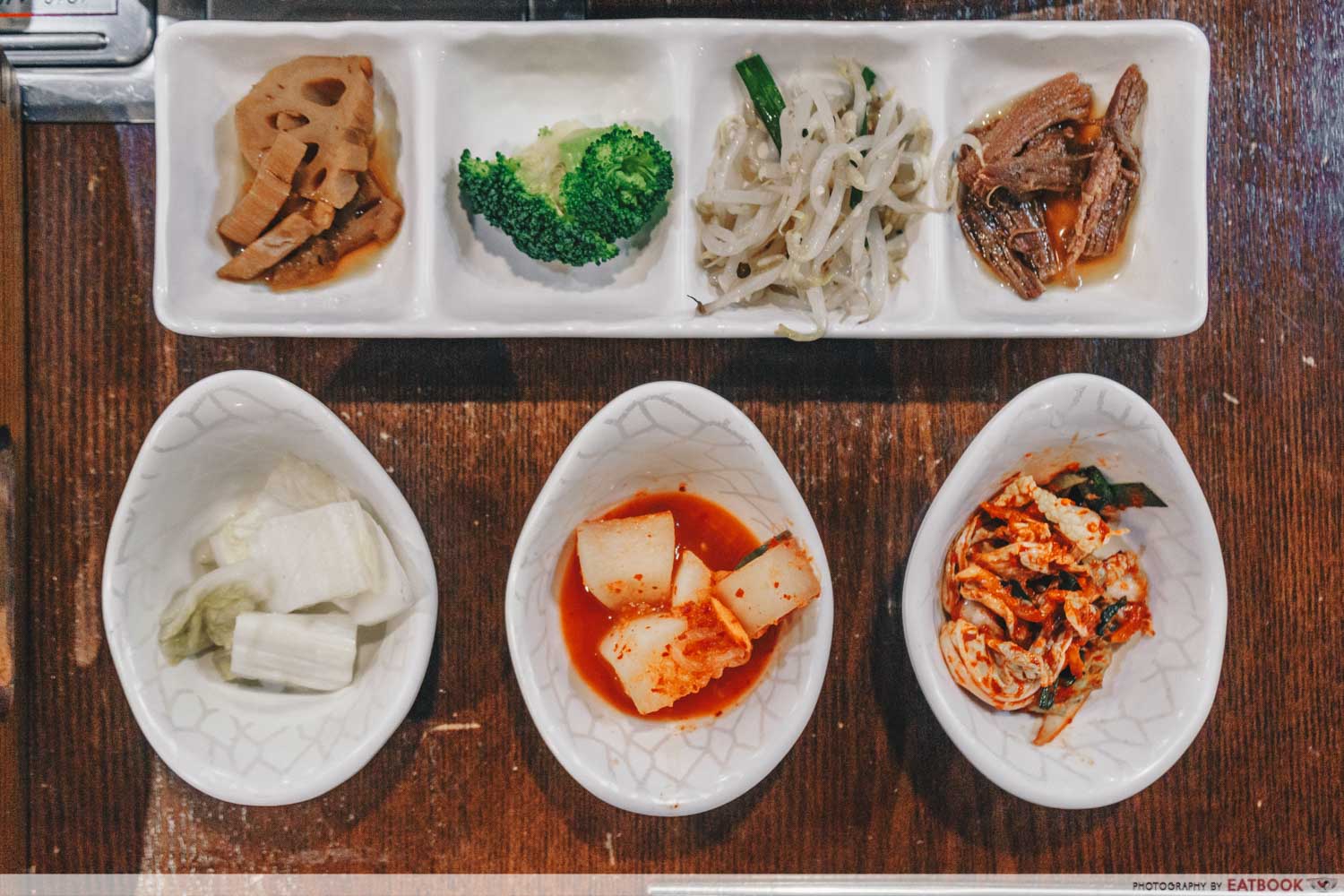 For every order of a set meal, you can get four different types of banchan, which are essentially Korean side dishes. Some of my favourites were the tender and savoury jangjorim (soy braised beef), marinated beansprouts, chewy Korean fishcake, and the starchy lotus root. While one person can easily polish off all the sides, it's far from being a meagre portion.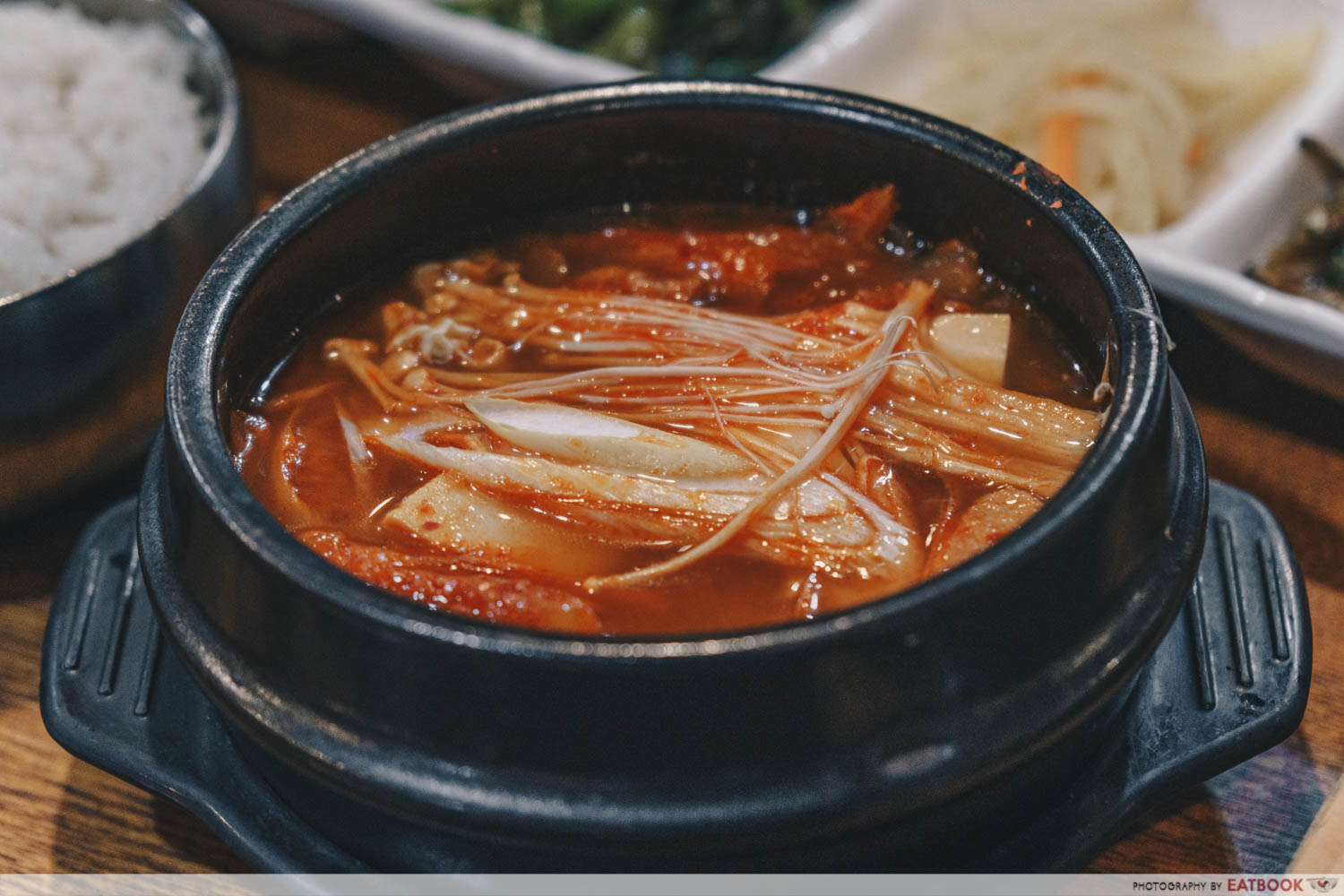 Moving on to the rest of the meal—the kimchi stew was rich and brimming with ingredients. There were cubes of tender beef, chewy golden mushrooms, bits of aromatic kimchi, and silky tofu. Piquant kimchi notes were present in each mouthful, giving tinges of sour and spice. It was quite a generous portion too and went great with the rice.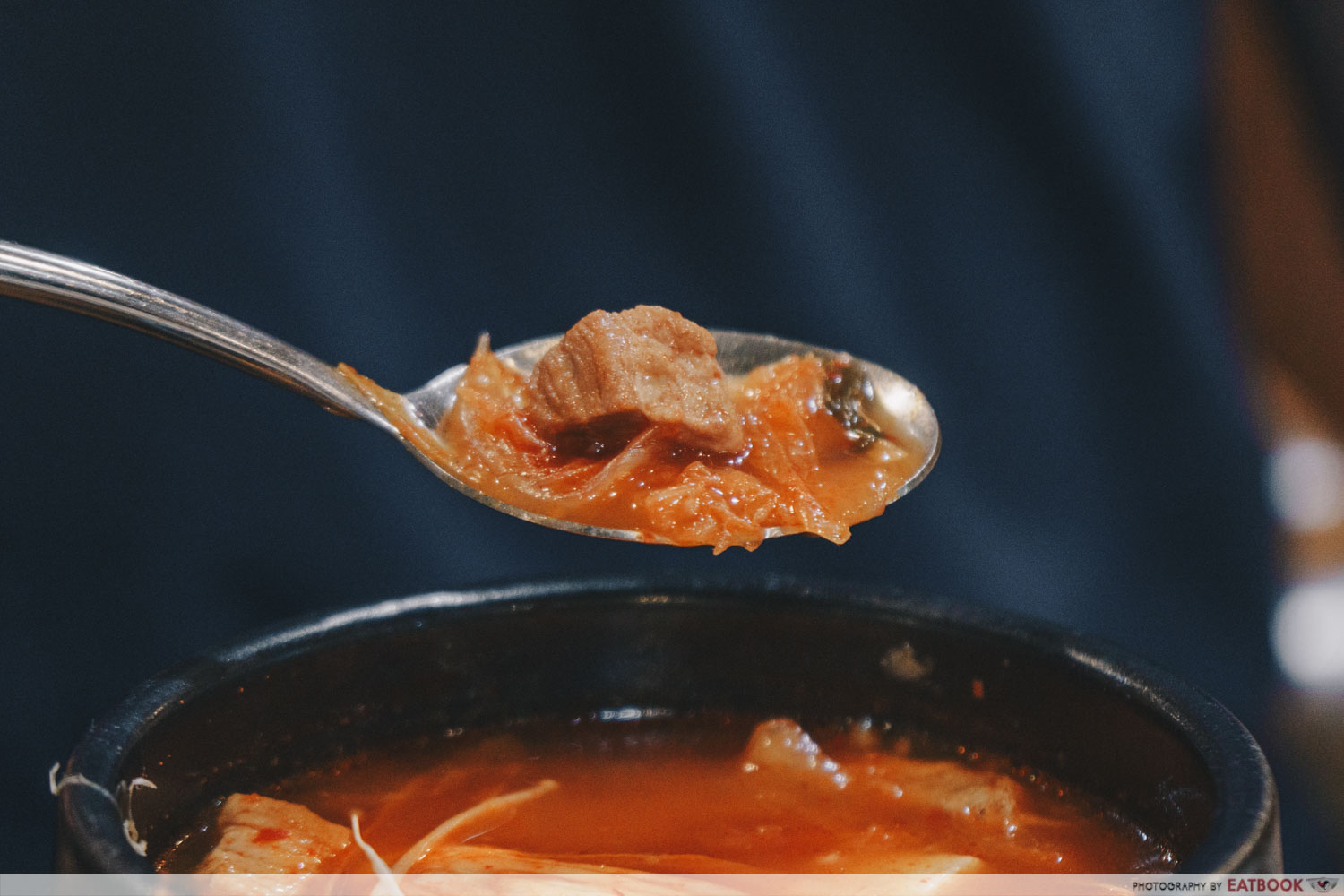 Soup has quite a prominent role in Korean cuisine. Nearly every occasion has a kind of soup that represents it, such as taro soup for the mid-autumn festival and seaweed soup for birthdays. The three most common styles of soup are guk, jjigae, and jang. You would have likely heard the various names in popular dishes; army stew is budae jjigae, and there's also the rich and herbal Samgyetang.
Guk has a thinner consistency, where the ingredients are sparser, with the soup itself being the focus. Jjigae, on the other hand, is far thicker, like this bowl of red stew. The ratio of soup to ingredients ranges around 4:6, and there are far more solid components to the dish. Each and every mouthful had a varying texture, which helped ensure that the strong taste of kimchi never got too repetitive.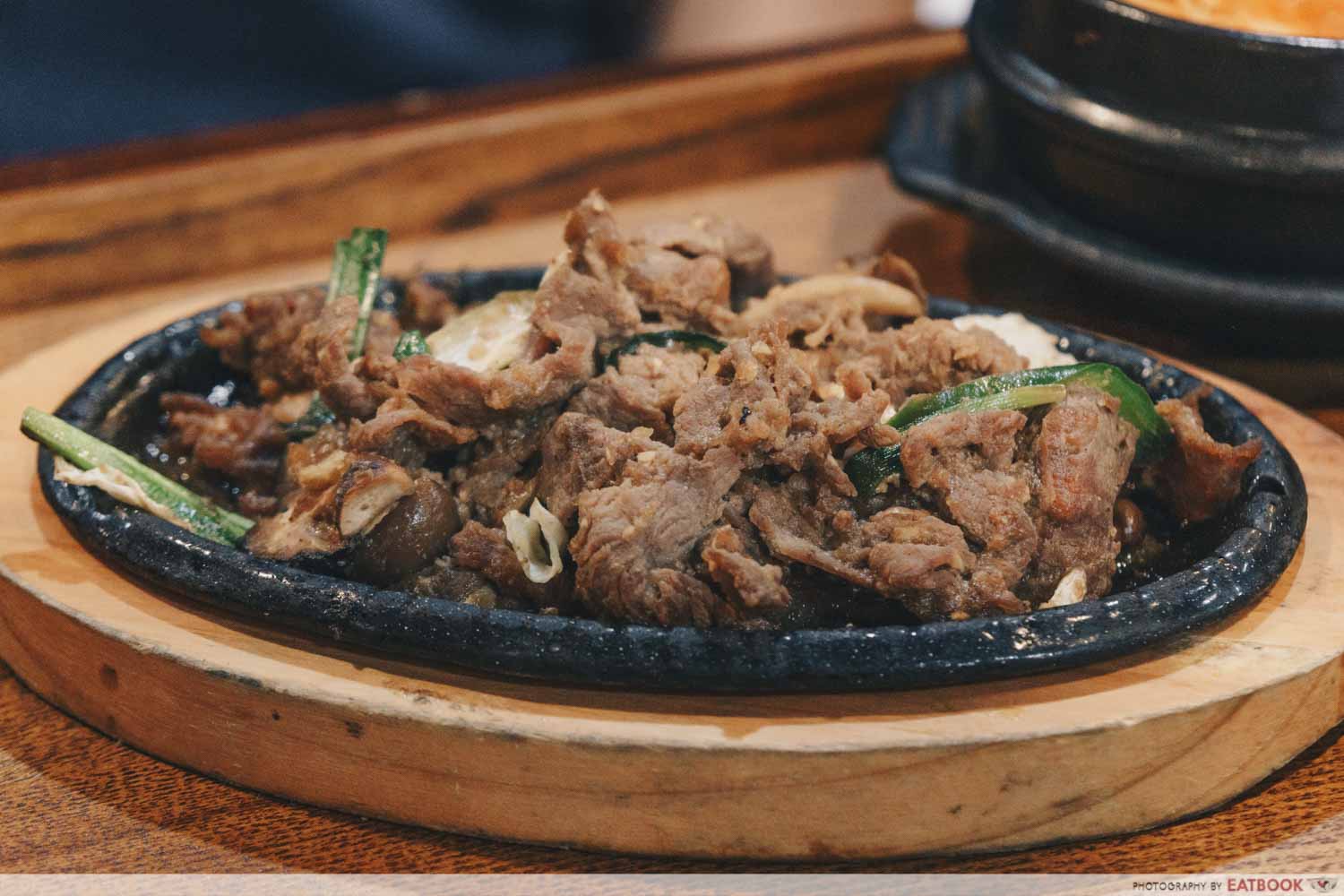 The sizzling hot plate of beef was tender and had streaks of chewy fat, with the marinade giving a natural soy sweetness. Since we already had a whole bowl of rich and tasty kimchi stew, we picked the savoury-sweet meat to get a respite from the spice.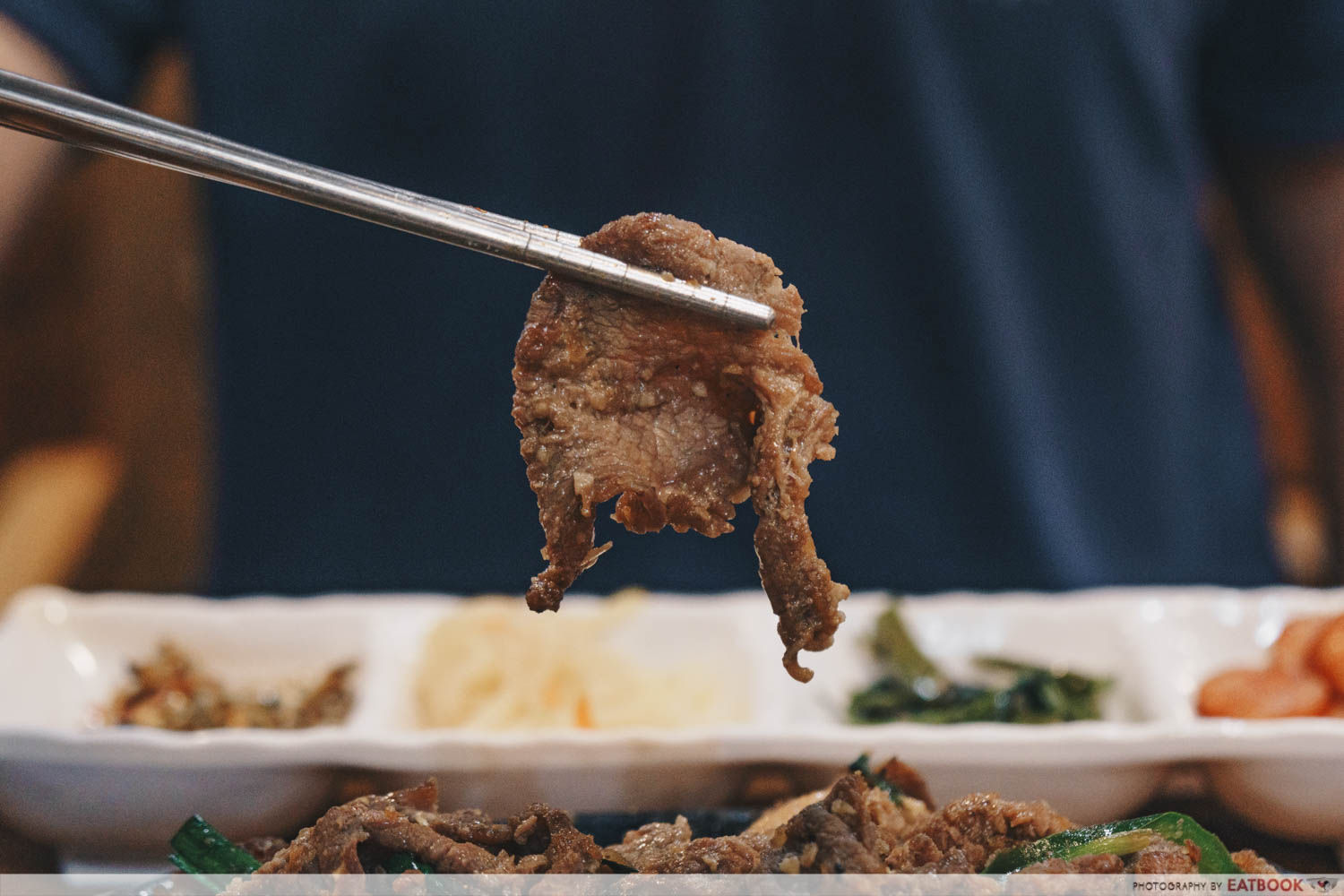 Like the soup, the hot plate came in a very generous portion. There was a ton of beef, and polishing it off along with the rice would've already filled me up. Add the soup to the mix, and I was ready to lapse into a food coma by the time I was done.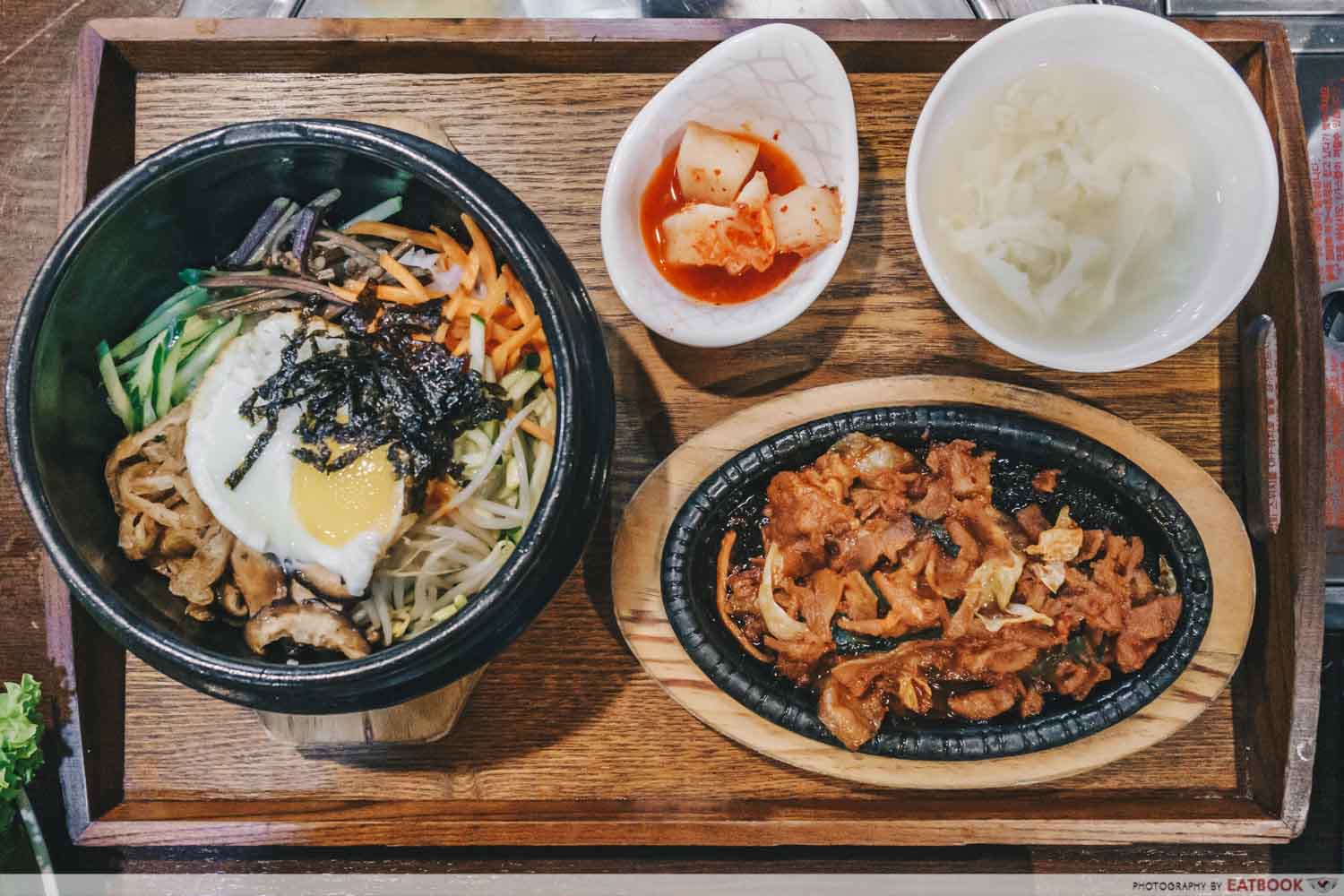 The next set of items we got were the Bibimbap and Jaeyuk Bokkeum, Grilled and marinated pork, with a side of kkaktugi, also known as radish kimchi. This set came without rice since the bibimbap already had rice included. Instead, we were given a bowl of soup.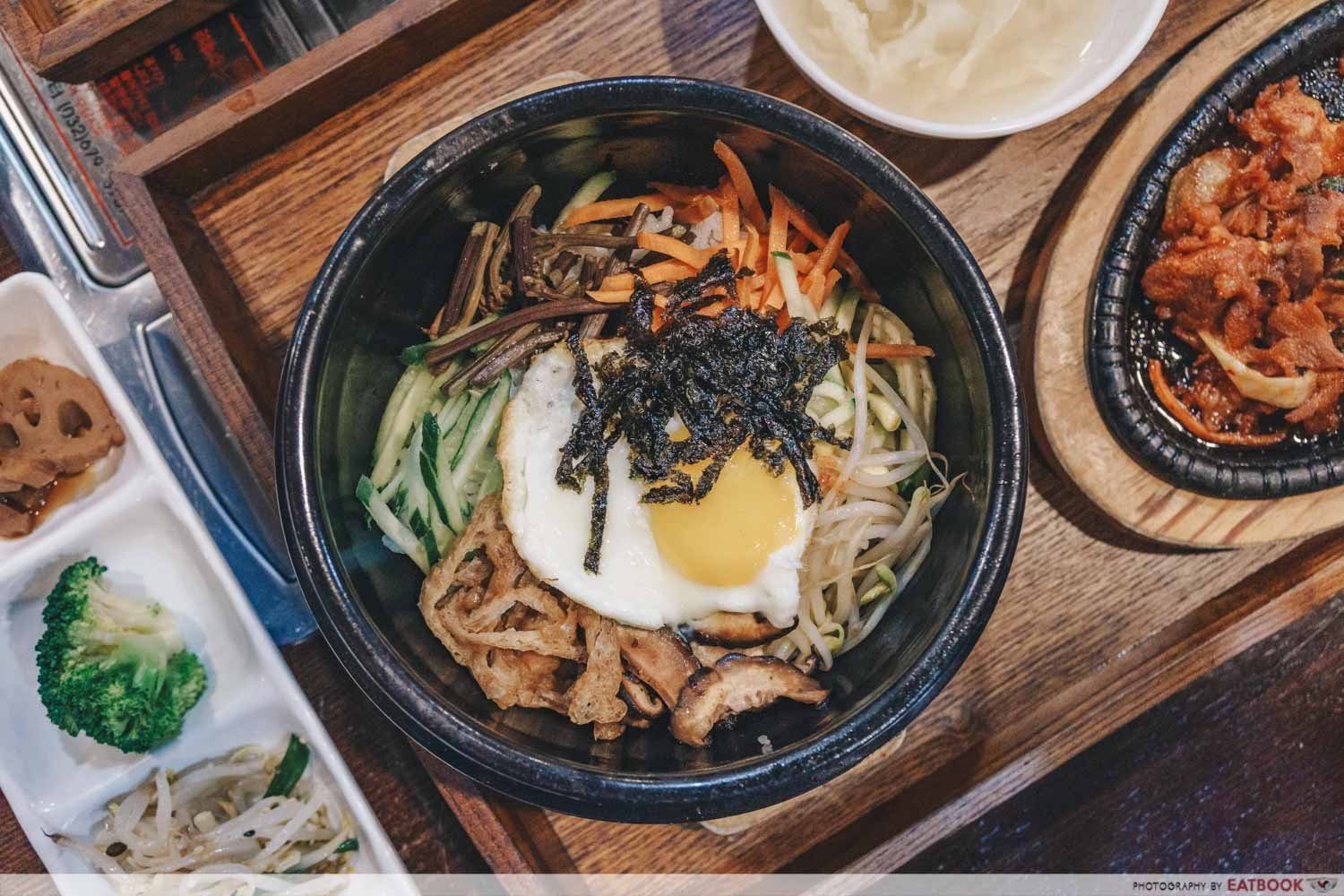 As the earthenware bowl of bibimbap was set down in front of us, we could still hear the hot stone sizzling. It was freshly cooked, and all that was left to do was mix the ingredients up and coat everything in a generous layer of gochujang sauce.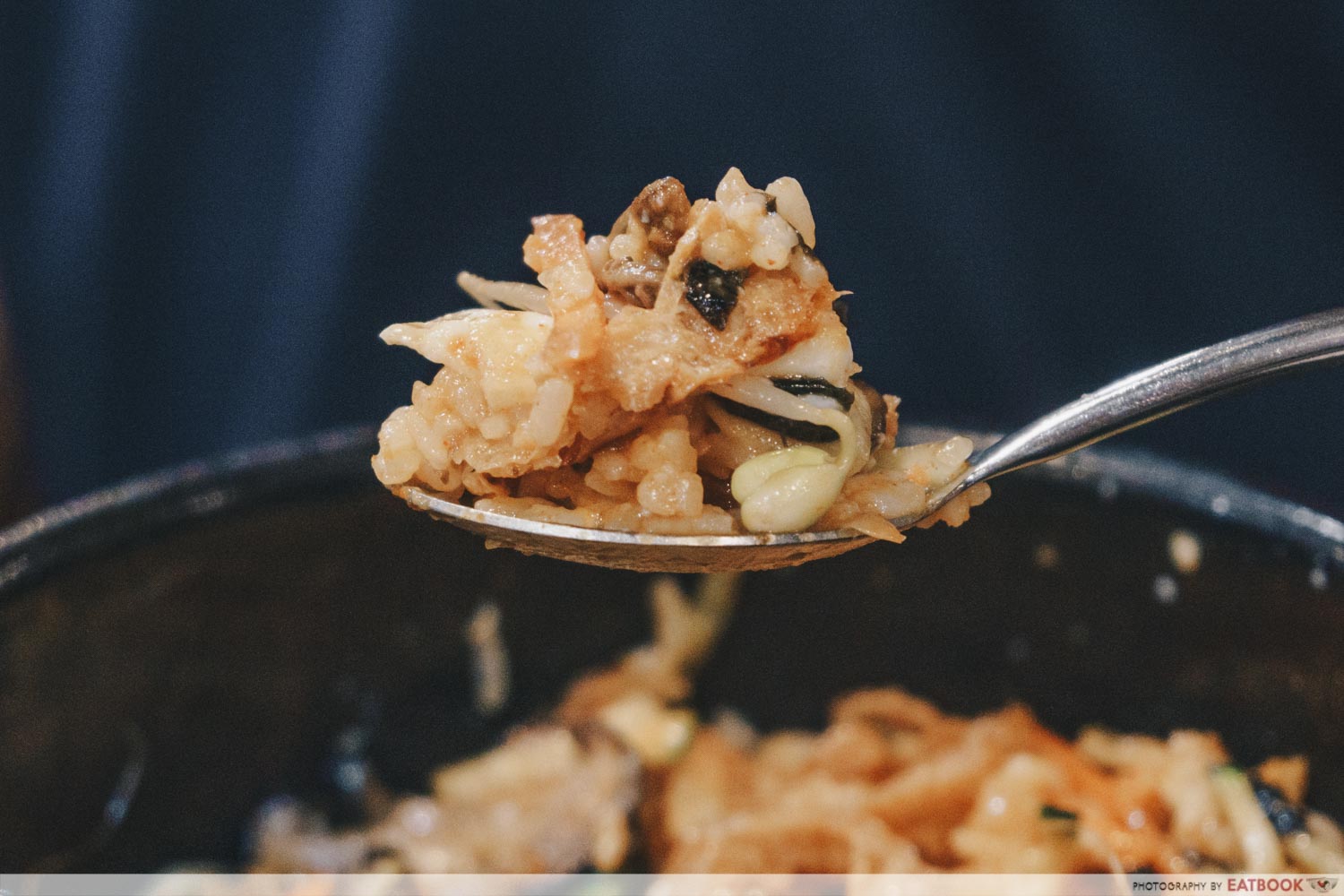 After mixing the ingredients up, each spoonful was coated in the spicy-sweet sauce. The vegetables were crisp and refreshing, with juicy mushrooms giving little bursts of umami flavour. 
I was hooked from the very first bite. The warm mouthfuls of rice, crunchy veggies, and juicy mushrooms were wonderfully addictive. Bits of fried egg added a smooth texture to the mix, while the gochujang sauce gave a mild funkiness.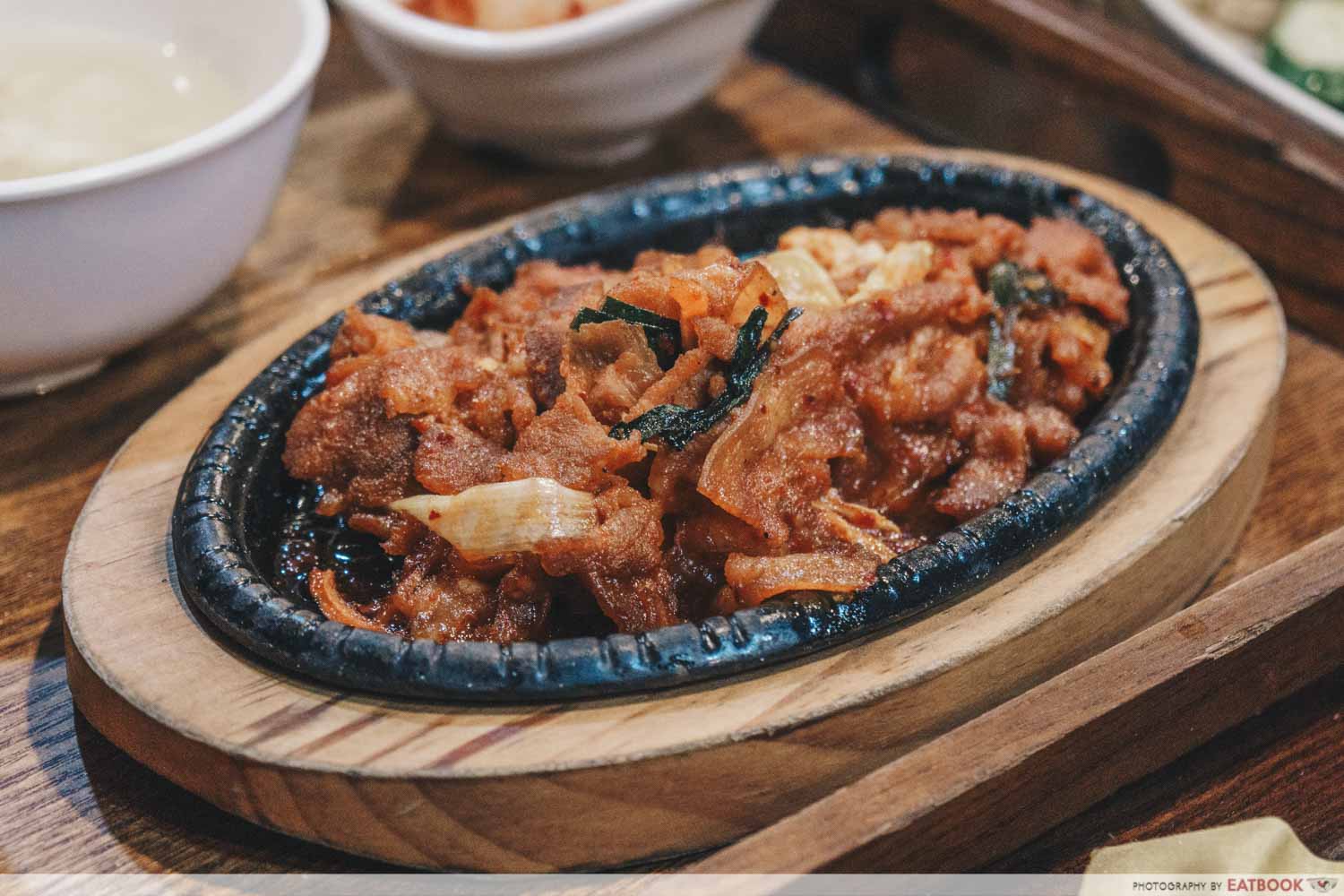 The second main for this set was the hot plate of sliced pork belly. The spicy marinade gave the sizzling, fatty meat a kick of flavour. I liked tossing the pieces of meat into the bibimbap so that the fatty and unctuous notes gave some richness to the rice and veggies. Overall, I'd definitely recommend trying the bibimbap set meal, with one of the spicy meat options included.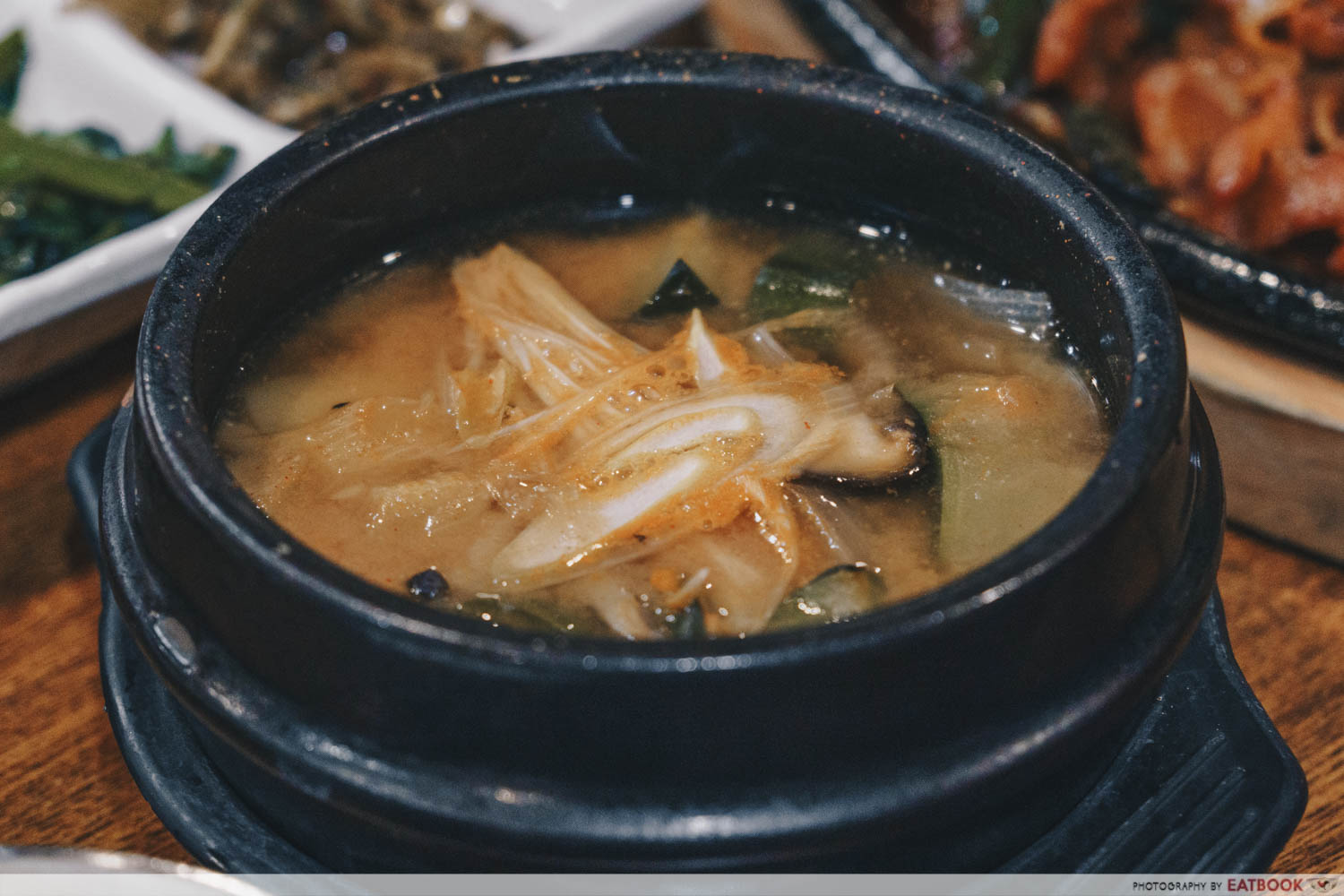 For the last set meal, we got a bowl of Deonjang Jjigae—or soybean paste soup—and Chicken BBQ meat. It was a lot lighter and smoother than the spicy kimchi stew that we had. The general ingredients in this one were the same, with veggies, tofu, and golden mushrooms.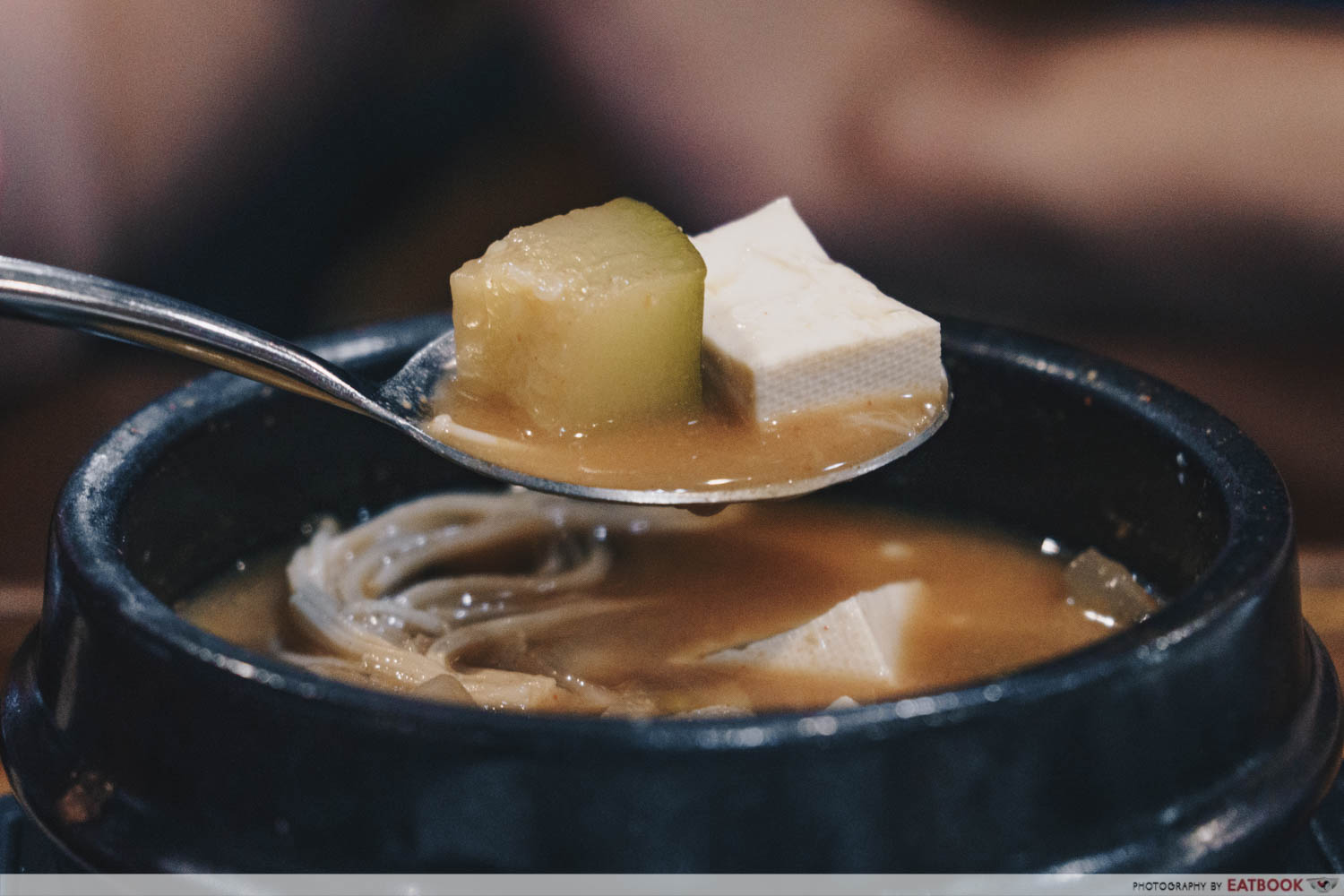 The stew was rich, savoury, and slightly nutty. This hearty stew definitely has a place as comfort food. It's one of the most popular soup types in Korea, and is typically prepared at home. Simple, yet wholesome and refined. I made sure to drain the bowl by the end of the meal.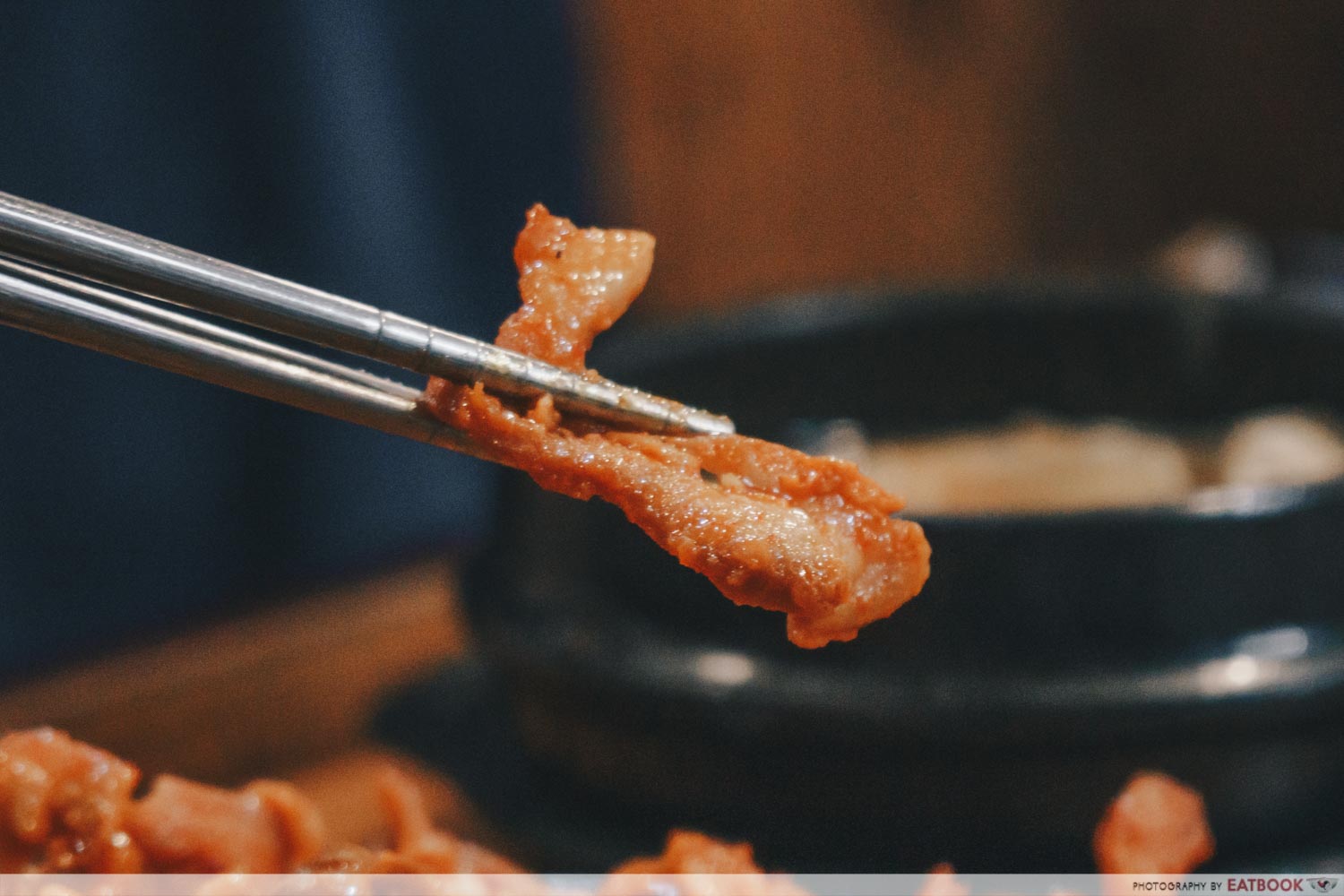 The chicken had the same spicy marinade as the pork. The chunks were a lot thicker than the thin slices of fatty pork. At this point, I was far too full to keep eating the chicken and rice together. But I didn't want the meat to go to waste. Luckily, there was a solution nearby—a salad bar with free-flow lettuce, so we could make our own ssam wraps.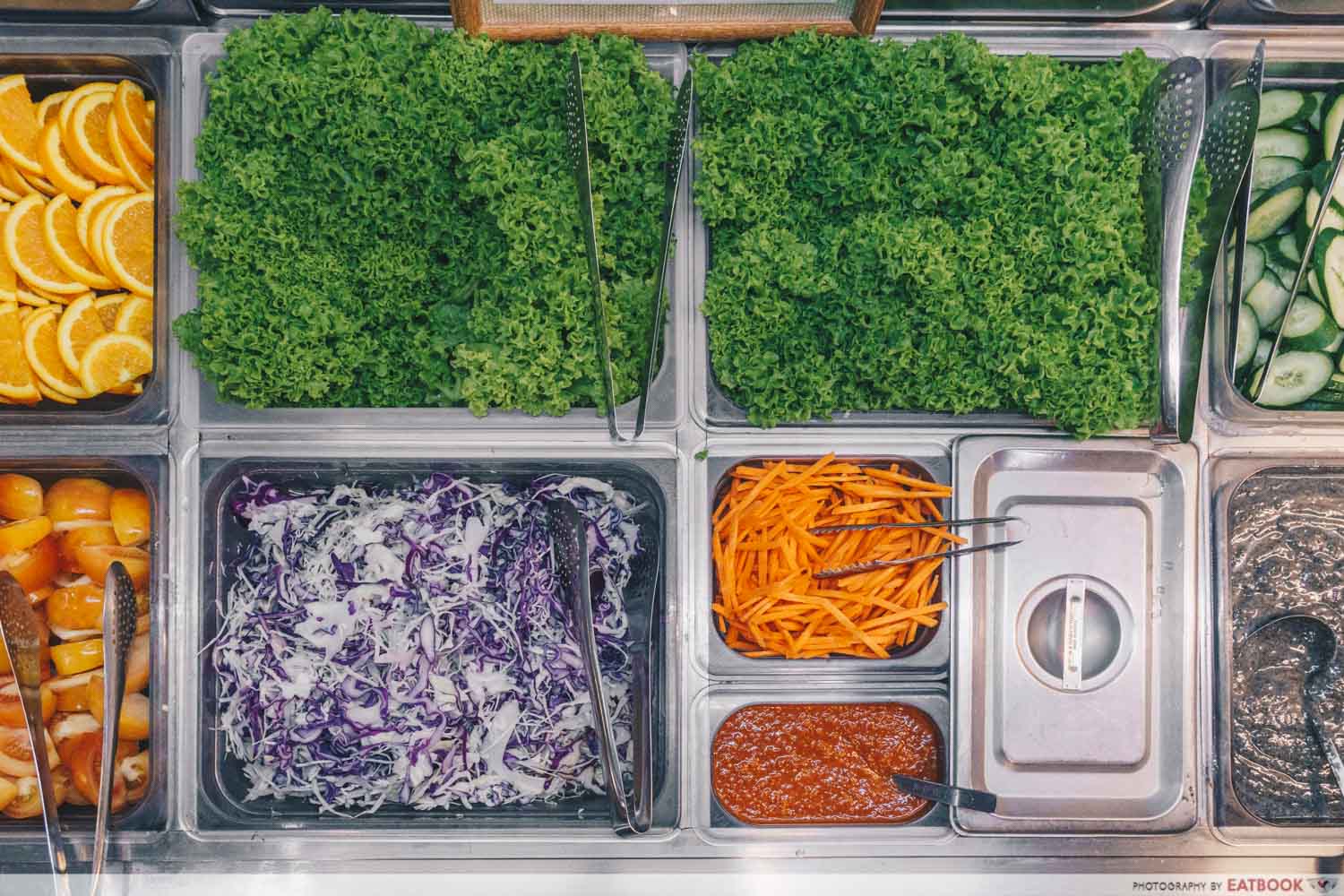 The salad bar was a veritable garden. Huge bushels of lettuce sat there, ready to accompany the meat dishes. There were additional veggies such as carrots and cucumbers. There were rich and sweet black sesame dressing, Thousand Island sauce for the various greens, and fiery ssamjang paste too. 
Ambience at Hyang Yeon Korean Restaurant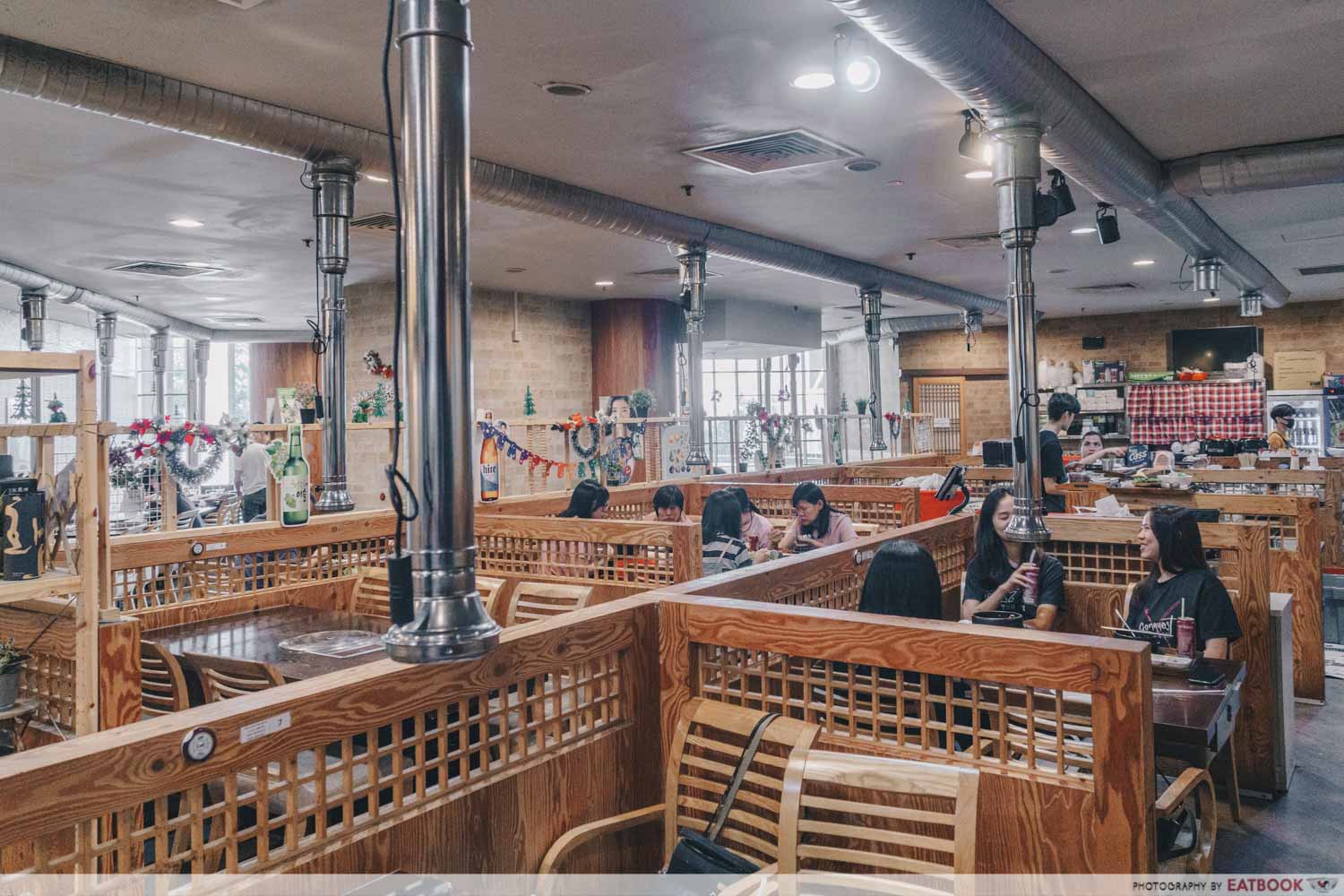 Hyang Yeon has two branches: one at Amoy street and another in Chinatown point. We decided to visit the latter since it had the free-flow salad and all the same dishes. The restaurant is roomy and spacious, with cheerful lighting and attentive staff. The tables have a call button, so you won't have to struggle to flag down a waiter even during rush hour. 
The branch is located on the second floor of Chinatown point, and the mall is directly linked to Chinatown MRT Station. It's a rather quick trip on foot.
The verdict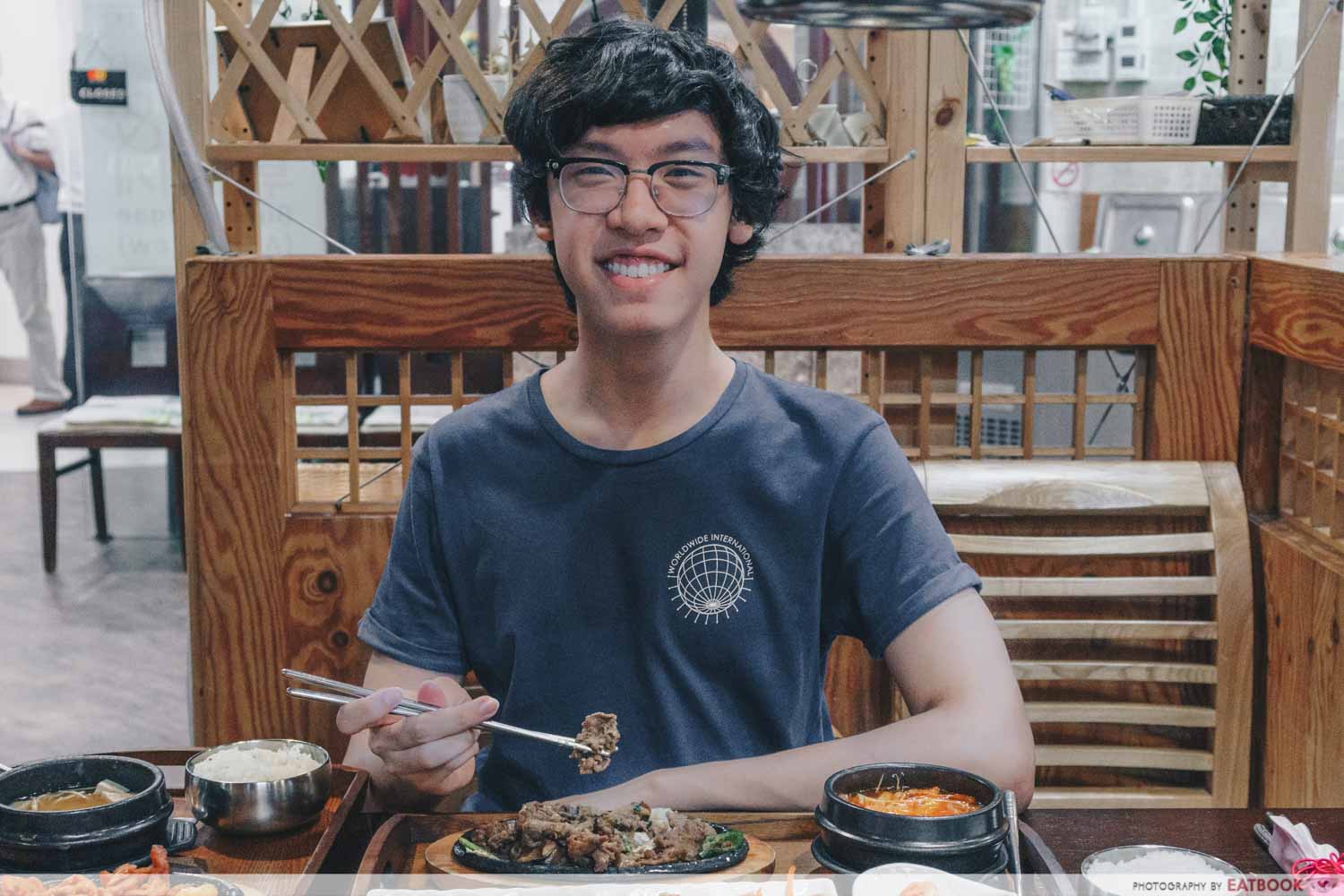 Hyang Yeon is definitely worth visiting at lunchtime. Their set meals come with a ton of options, generous, and are easily affordable! I'd be willing to stand in line for quite a while to be able to eat this again.
If you're interested in checking out affordable KBBQ joints, check out our review of Seoulid, which has an army stew hotpot and free-flow seafood on weekends! And for more good food in the Chinatown area, check out Wang Yuan Desserts for tasty meringue and chendol!
Address: 133 New Bridge Road, #02-35, Chinatown Point, Singapore 059413
Opening hours: Mon-Fri 11:30am to 3pm, 5:30pm to 10pm, Sat-Sun 11:30am to 3pm, 5pm to 10pm
Tel: 6694 9566
Website
Hyang Yeon Korean Restaurant is not a halal-certified eatery.
Photos taken by Huang Xiao.
This is an independent review by Eatbook.sg.
Hyang Yeon Korean Restaurant Review: $12 Lunch Set With Bibimbap And Grilled Meat At Chinatown Point
Summary
Pros
– Affordable dishes
– Wide variety
– Generous portions
Cons
– Waiting time for food is slightly long
Recommended dishes: DIY Lunch set ($12++) Bibimbap, Jaeyuk Bokkeum, Side set A
Opening hours: Mon-Fri 11:30am to 3pm, 5:30pm to 10pm, Sat-Sun 11:30am to 3pm, 5pm to 10pm
Address: 133 New Bridge Road, #02-35, Chinatown Point, Singapore 059413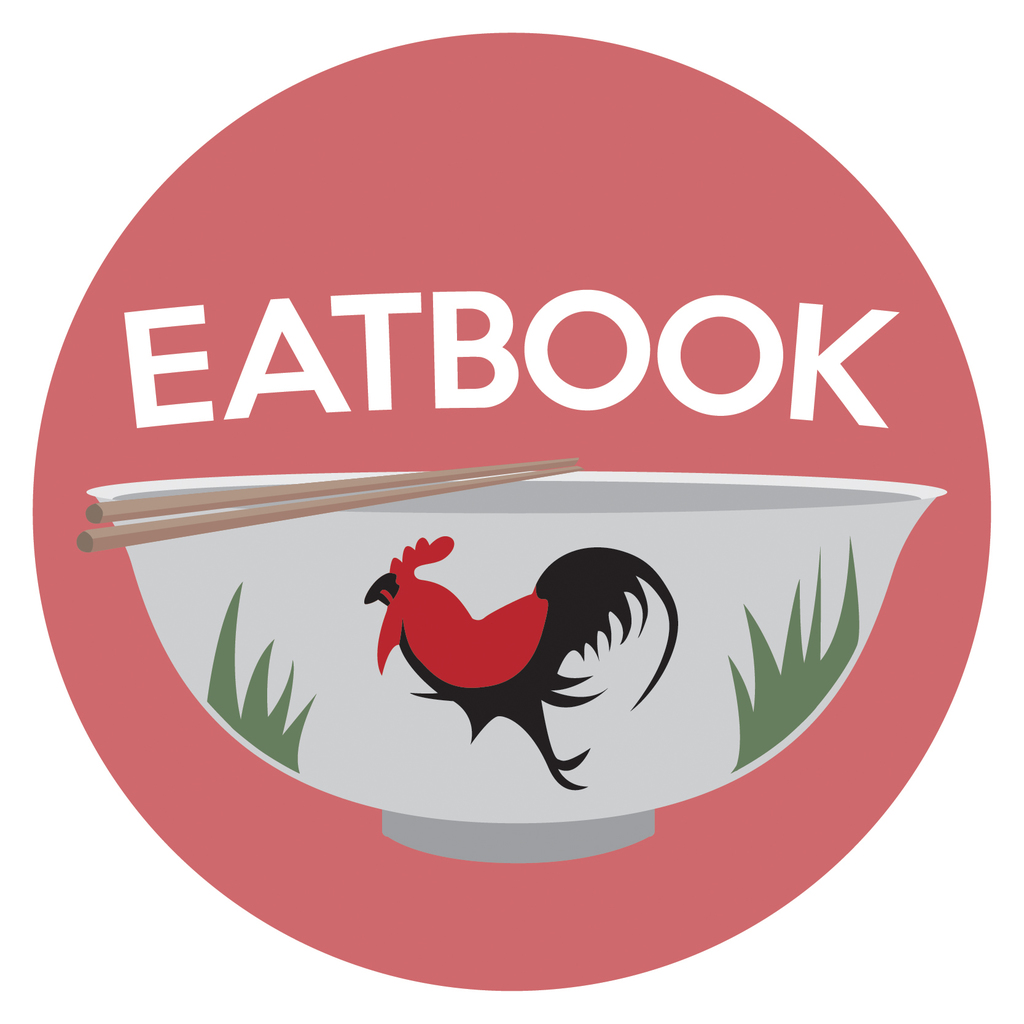 Drop us your email so you won't miss the latest news.