---
Telok Ayer food that's affordable and underrated   
---
Back when the Downtown Line was not yet in existence, I remember having to walk from either Tanjong Pagar or Raffles Place MRT Station to visit popular Telok Ayer food places. Imagine my happiness when the Downtown Line was finally complete; no more walking for ages and getting lost, even with the help of Google maps, in the name of food!
It seems there are quite a few others who share the same sentiments, because many popular restaurants and cafes in Telok Ayer have been packed lately, all trying to snatch a seat with the best lighting for a good picture. I appreciate personal space when dining out, so here are some underrated and affordable Telok Ayer food places for those who think along the same lines as me!
---
1. Chong Wen Ge Cafe  
---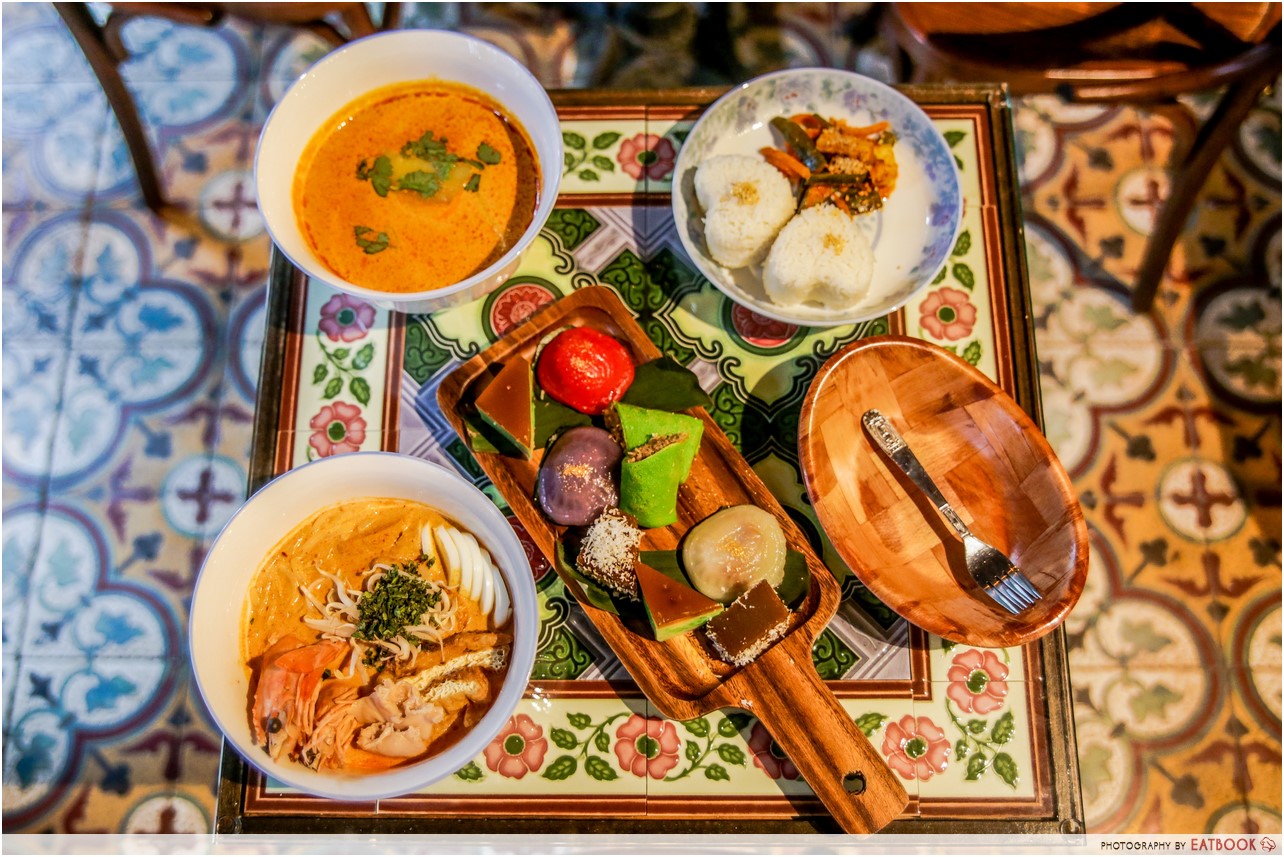 Tucked next to a Chinese temple, Chong Wen Ge Cafe serves up a variety of traditional Peranakan mains and treats. Nonya Laksa ($8.80) comes in a large portion, and its fragrance is enough to make you salivate. Choose from an assortment of Nonya Kueh ($1.50 each) to share and, of course, an #OOTD shot is mandatory in such a beautiful setting.
Check out our full review of Chong Wen Ge Cafe and, if you love Peranakan food, check out Chilli Padi Nonya Cafe's affordable Peranakan buffet.
Address: 168 Telok Ayer Street, Singapore 068619
Opening hours: Daily 10am to 6pm
Tel: 9168 3208
Website
---
2. Singkoba
---
Run by Koreans, Singkoba offers one of the cheapest Korean BBQ Sets (from $18++ onwards) in Singapore. They only offer five BBQ sets, and my go-to is Set C ($68++ for 2-3 pax), which comes with seasoned beef ribs, marinated pork ribs, pork belly and soy sauce chicken. If your New Year's resolution is to spend less, go with their cheaper a la carte options such as Kimchi Stew ($13++) or Seafood Pancake ($14++). They open till midnight daily so you can hang out with your squad till late!
Address: 155 Telok Ayer Street, #01-27/28, Singapore 068611
Opening hours: Mon-Fri 11:30am to 3pm, 5:30pm to 12am, Sat & PH 11:30pm to 3pm, 5pm to 12am, Sun 5pm to 12am
Tel: 6221 2639
Website
---
3. Urban Bites 
---
The only Mediterranean food I used to eat was shakshuka, but the shawarma scene in The Avengers sparked my interest in Lebanese kebabs. Urban Bites eased me into the cuisine, with their Shawarma Wrap ($15) comprising of house-made Lebanese bread stuffed with meat, pickles, and fries – definitely not a combi I would think of. They also offer a variety of other Mediterranean food such as kebabs, falafel platters, fluffy pita bread, and hummus.
Check out other lunch treats in Telok Ayer bound to make you anticipate lunch every day.
Address: 161 Telok Ayer Street, Singapore 068615
Opening hours: Mon-Sat 10:30am to 10pm (last order at 9:30pm)
Tel: 6327 9460
Website
---
4. Kyoto TSUBAKI-an DELI
---
Located in China Square Food Centre, Kyoto TSUBAKI-an DELI offers an 'Obento Menu' ($12) of boxed lunches that changes daily. Keep a lookout for Homemade Hamburg with Daikon Radish and Ponz Sauce, which features a juicy meat patty glazed with a tangy, sweet sauce alongside a generous helping of rice and vegetables. If you're feeling saucy, Tonkatsu Curry Rice ($10) comes with fluffy white rice layered with a generous helping of Japanese curry, and topped with breaded pork cutlet.
Address: 51 Telok Ayer Street, #01-19, China Square Food Centre, Singapore 048441
Opening hours: Mon-Fri 11am to 3:30pm
Tel: 9800 8000
Website 
---
5. Yi Jia Chun

---
The folks from Yi Jia Chun put in hours of effort into their double-boiled soup that are comforting, nutritious and free of MSG. Black Fungus Mushroom Chicken Soup ($5) is great for a rainy day pick-me-up, or when you simply want a light lunch to make up for any previous heavy indulgences. If you simply cannot live without carbs, complete your meal with yam rice ($2) or pumpkin rice ($2).
Check out other places to get soup dishes.
Address: 173 Telok Ayer Street, Singapore 068622
Opening hours: Daily 9am to 7:30pm
Website
Menu
---
6. Nusantara Cuisine   
---
Nusantara Cuisine might not match Frenzlink Cafeteria in terms of price, but the former has a wider variety of dishes, and is located in a more centralised spot within the CBD. Go for their hearty Mee Soto (from $4.50), which comprises of thick yellow noodles swimming in a broth bursting with rempah flavour, topped with shredded chicken and chopped spring onions. Breakfast specials such as Bee Hoon Goreng ($3) are also available for the early birds.
Address: 171 Telok Ayer Street, Singapore 068621
Opening hours: Mon-Fri 7am to 4pm
Tel: 6423 0253
---
7. Pho 99 Vietnamese Delight

---
Pho days you cannot physically hug your momma during lunch hour, hug a big bowl of piping hot noodles from Pho 99 Vietnamese Delight instead. While it may sound simple, Chicken Pho ($8.90) is full of complex flavours from the layering of different spices and herbs. Bun Cha Gio ($9) is another hit that has vermicelli noodles topped with your choice of protein and dipping sauce on the side. Eat it like how you would enjoy a bowl of tsukemen, and either dip the noodles in the sauce, or pour the sauce over the noodles.
Check out other places to get cheap pho at $10 or less.
Address: 57/58 Amoy Street, Singapore 069883
Opening hours: Mon-Fri 10am to 9pm, Sat 10am to 5pm
Tel: 6410 9600
---
8. Beppu Menkan Japanese Noodle Restaurant

---
Looking for cheap ramen in the CBD is like looking for Pikachu while playing Pokemon Go – tough. Beppu Menkan Japanese Noodle Restaurant, however, surprised me with their affordable yet special ramen bowls that come with a variety of toppings. Umi Jigoku ($13.80++) translates directly to 'sea hell' and consists of an array of seafood such as mussels and prawns in a spicy soup broth. If you're looking for something mild that won't have you hogging up a toilet cubicle, Char Siew Ramen ($11.80++) is a safe bet to stick to.
Check out other places to get cheap ramen at less than $10.50.
Address: 3 Pickering Street, #01-32/33, China Square Central, Singapore 048660
Opening hours: Mon-Fri 11:30am to 3pm, 6pm to 10pm, Sat 11:30pm to 10pm, Sun 12:30pm to 9pm
Tel: 6438 0328
Website
Menu
---
9. The Muffinry   
---
The Muffinry is often overlooked by passersby, given that it only occupies a tiny area along Telok Ayer street. Yet, the food they serve are big on flavour and, most importantly, affordable. My top pick is The Char Siew Sandwich Set ($14) that has slow-cooked pork smothered in a house-made glaze and sandwiched between freshly baked Turkish bread. All sandwich sets come with your choice of muffin and a drink (not including smoothies and alcoholic beverages).
Address: 112 Telok Ayer Street, Singapore 068581
Opening hours: Mon 8am to 6pm, Tue-Fri 8am to 10pm, Sat 11am to 4pm
Tel: 6509 6462
Website
Menu
---
10. Hachi Tei   
---
Hachi Tei serves up a wide variety of affordable Japanese dishes, but it is their bento sets that I'll head down for. Saba Shioyaki Set ($12) is my favourite, and comes with grilled mackerel fish, salad, fruits, rice and miso soup. If payday just came, treat yourself to a Hachi Tei Set ($21), the most expensive bento set of the lot that includes teriyaki chicken, vegetable and prawn tempura, as well as fresh sashimi alongside the usual rice and miso soup.
Address: 147 Telok Ayer Street, Singapore 068606
Opening hours: Mon-Fri 11am to 3pm, 6pm to 10pm, Sat 12pm to 3pm, 6pm to 10pm
Tel: 6535 2988
Website
Menu
---
Eat your way through Telok Ayer
---
With these 10 places, you can hide from the lunch crowd and still be able to enjoy tasty and affordable food. Drop us a comment below if you know of other underrated food places within Telok Ayer!