Spicy Wife has Malaysian-style nasi lemak in Telok Ayer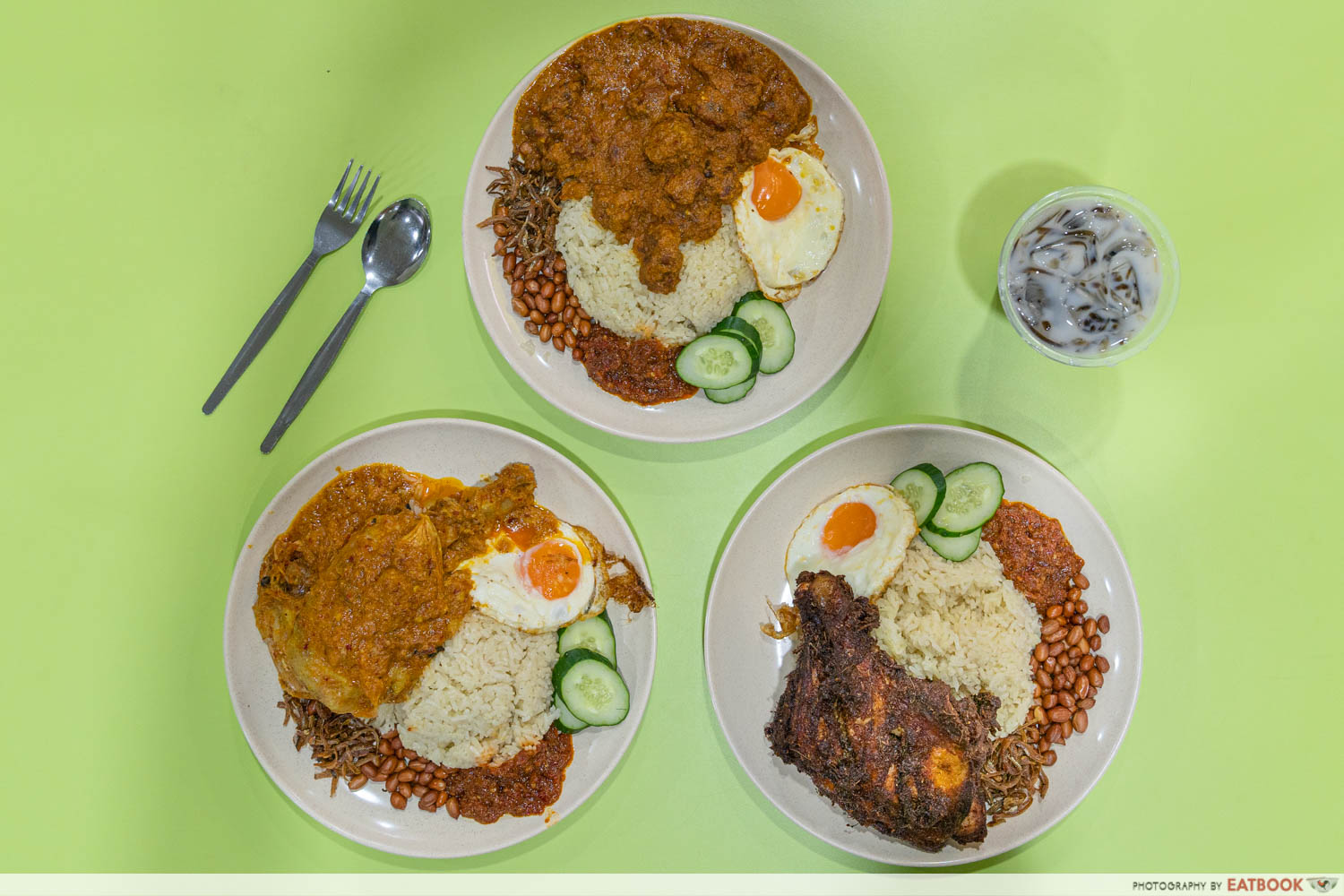 I've visited Amoy Street Food Centre this year quite a fair bit for work. However, I have no complaints since I've always enjoyed the food here, and my favourite stall, Coffee Break is located in the same hawker centre.  Joining my list of must-tries is Spicy Wife, a Malaysian-style nasi lemak stall that's said to rival Coconut Club.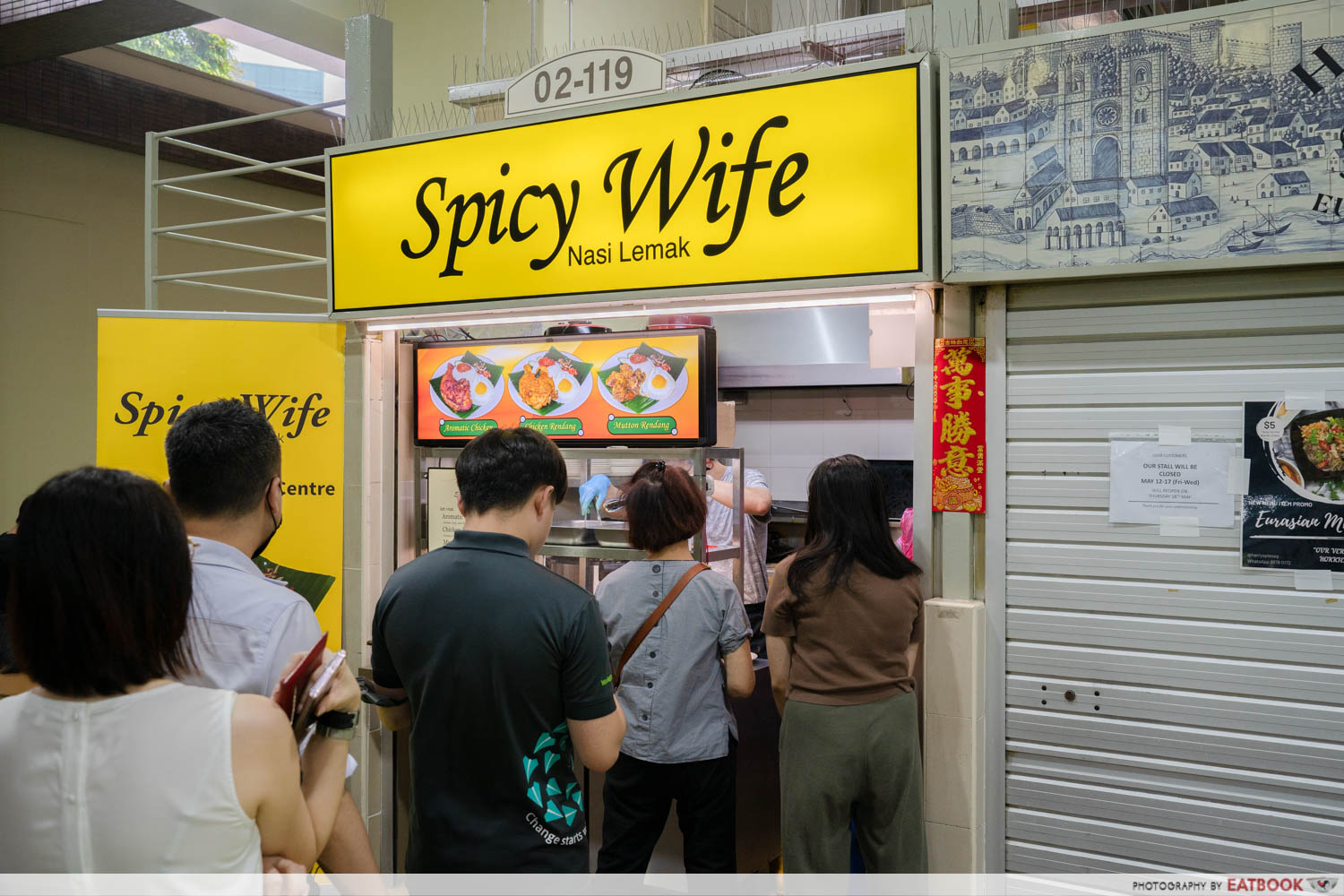 Despite opening only approximately seven months ago, Spicy Wife enjoys consistently long queues, especially during the peak lunch hours. They're across from the immensely popular Han Kee Fish Soup, so it gets a little crowded in this aisle.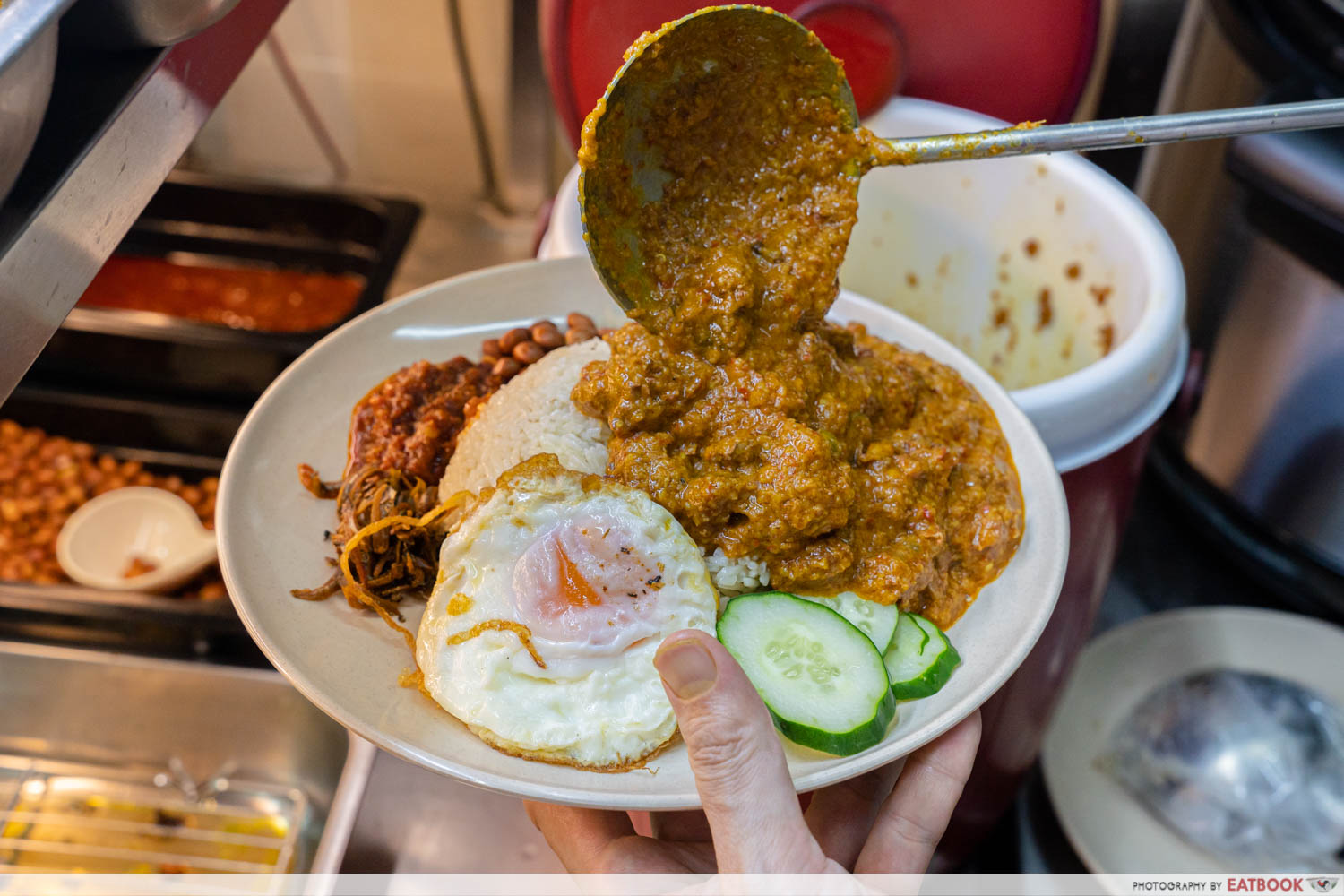 I arrived at around 10:20am, where the hawker, Mr Yeak, was meticulously portioning condiments of fried ikan bilis and roasted peanuts into smaller containers, and neatly placing them on the front counter. Expertly checking the temperature of his heated wok, he then started to deep fry his first batch of chicken.
Despite being a one-man show, Mr Yeak told me that he doesn't mind the hard work because he genuinely loves to cook. His decision to switch from his previous, less labour-intensive occupation as a car salesman proves this passion, and his nasi lemak shows as much. 
Mizzy Corner: Super Popular Nasi Lemak Stall In Changi Village, Open Since 1997
Food at Spicy Wife
Each dish here comes with a protein, rice, a big dollop of house-made sambal chilli, ikan bilis, and peanuts. We started with the Aromatic Chicken ($6.50), starring a large, whole chicken leg that's marinated overnight in a rempah of eight ingredients such as aromatic garlic, ginger, onion, lemongrass, cumin and coriander seeds. The chicken is deep-fried in small batches, so you'll always be getting super crispy chicken, especially during peak service periods.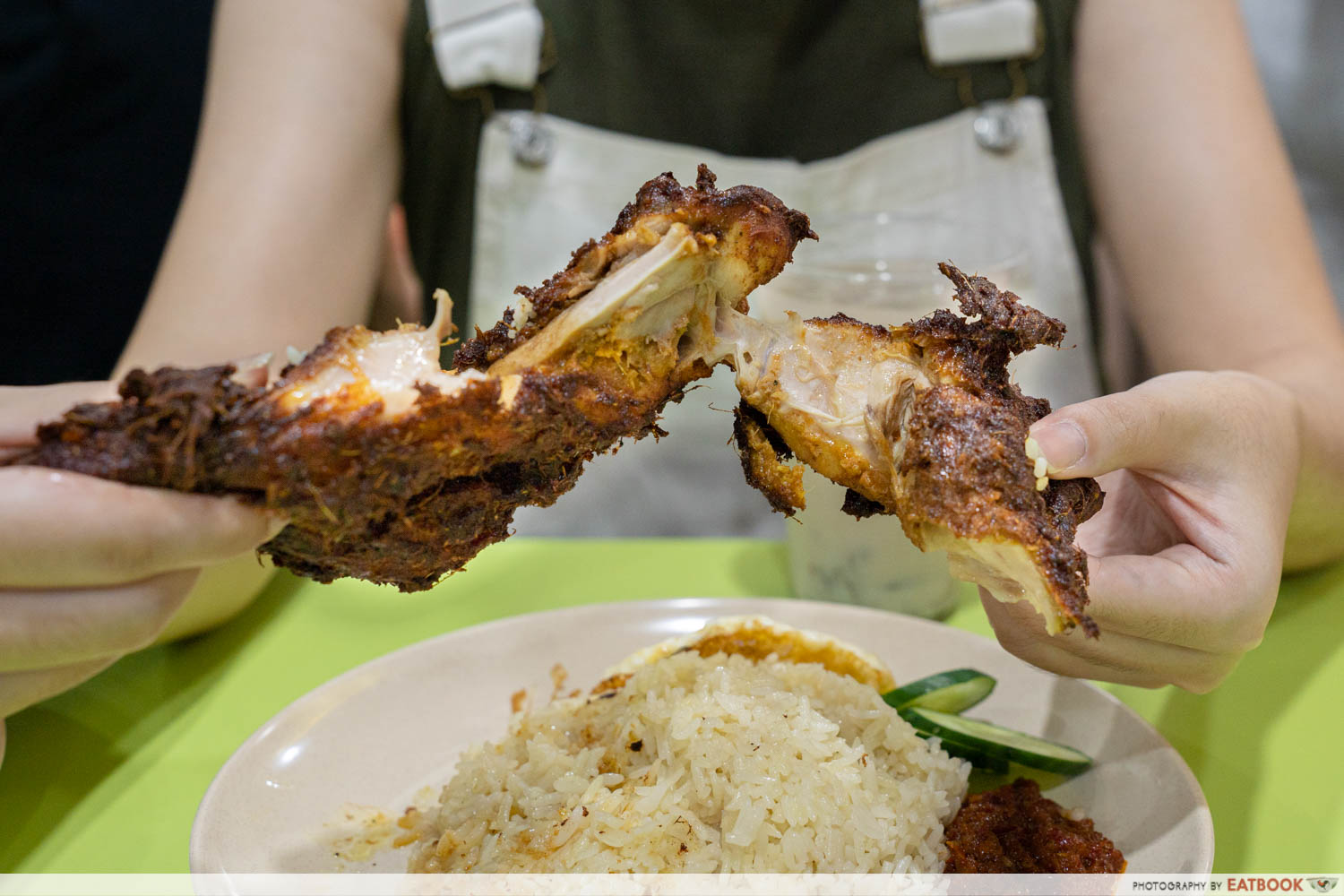 Mr Yeak shared that they use frozen chicken at Spicy Wife in order to keep prices low. The chicken leg boasted a dark brown crust—that remained crispy even after it had sat out during the shoot—was full of spice and super flavourful. In fact, it didn't taste bitter or burnt in spite of the colour too. 
Since the deep-fried chicken here is not coated with a flour batter, there was nothing standing between me and the meat. The meat was juicy, but leaned bland, although I didn't mind it since the rempah was already so flavourful. 
I tried the rice on its own for a fair assessment of its flavour━I feel that it should be able to hold its own against the other components in nasi lemak. Unfortunately, even though the lightly fragrant and oily rice had been cooked with coconut milk and pandan leaves, it just wasn't lemak or tasty enough for me.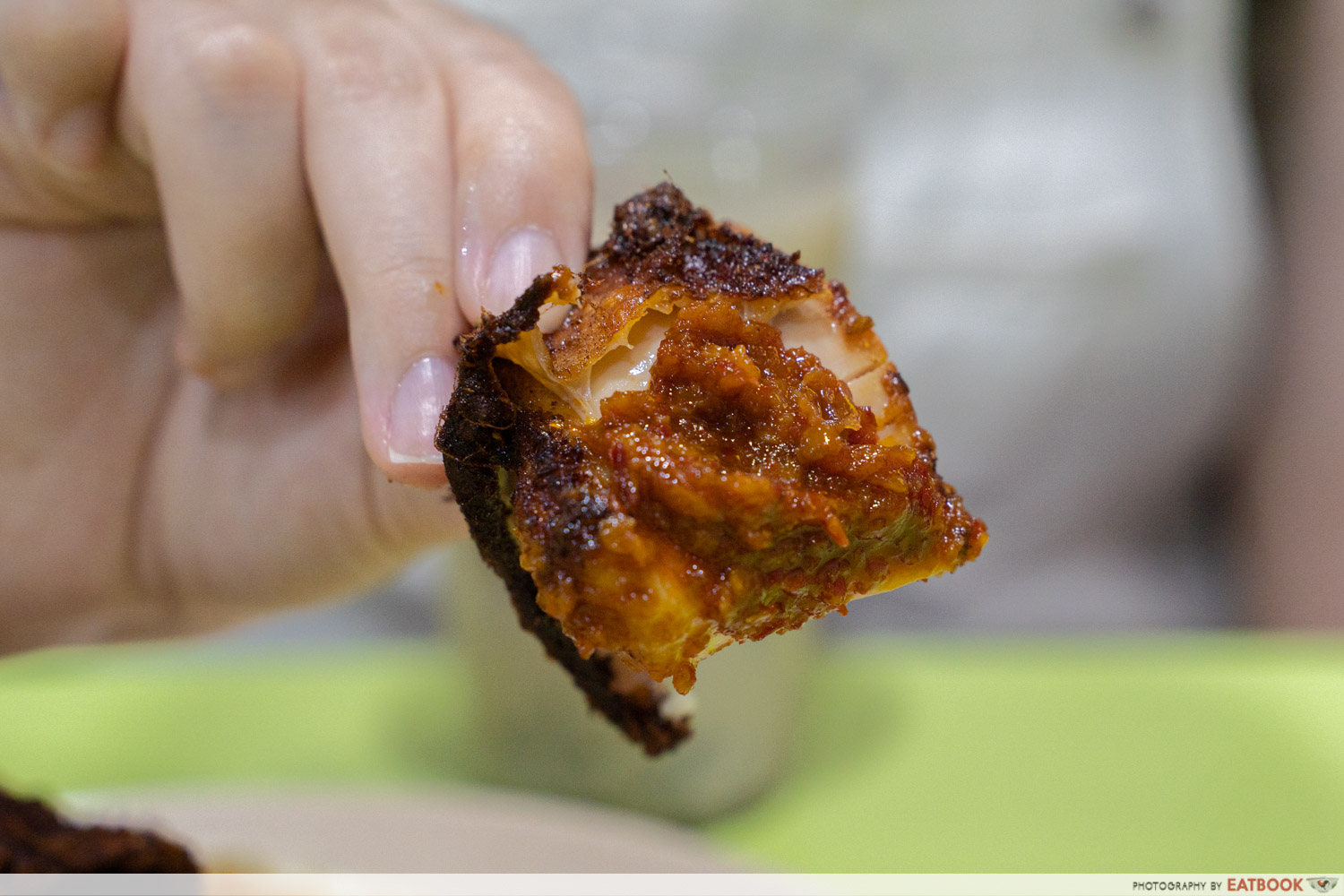 The nasi lemak sambal, cooked with onion, belacan, and dried chillies, was sweet, savoury, and punchy. It went well with the flavourful chicken, in fact elevating its bland meat. I did find the sambal too sweet for my liking, but nasi lemak sambal is meant to be sweet after all. Compared to other nasi lemak chilli I've tried, at least this had a more complex flavour profile. 
The freshly fried ikan bilis and toasted peanuts added crunch and savouriness to the nasi lemak, but I thought the small fish were a tad too salty.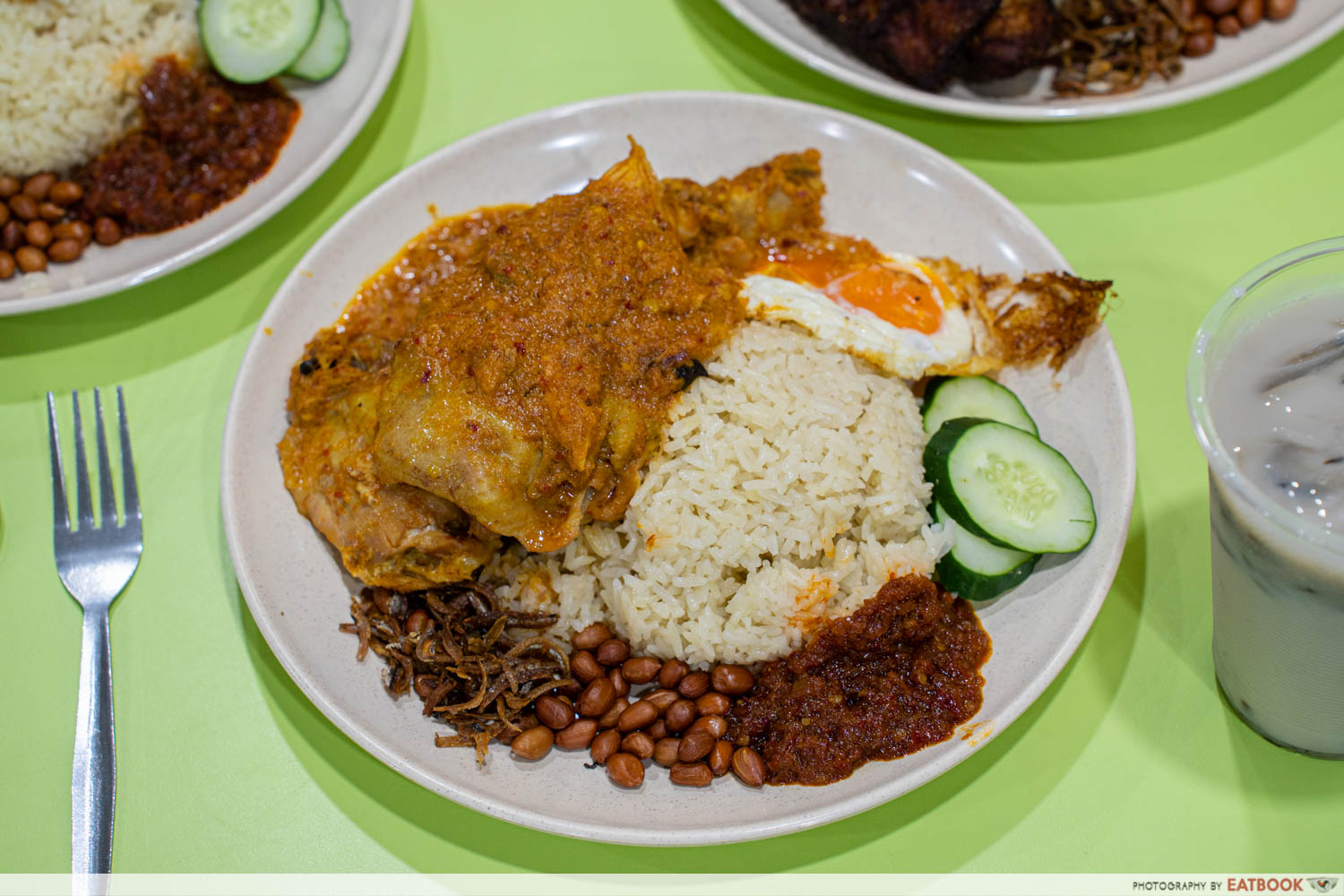 Next, we decided to go for the Chicken Rendang ($6.50), which comes with a generous serving of rendang gravy. The creamy gravy held a delightful mix of sweet and aromatic flavours, with bits of lemongrass within the thick curry.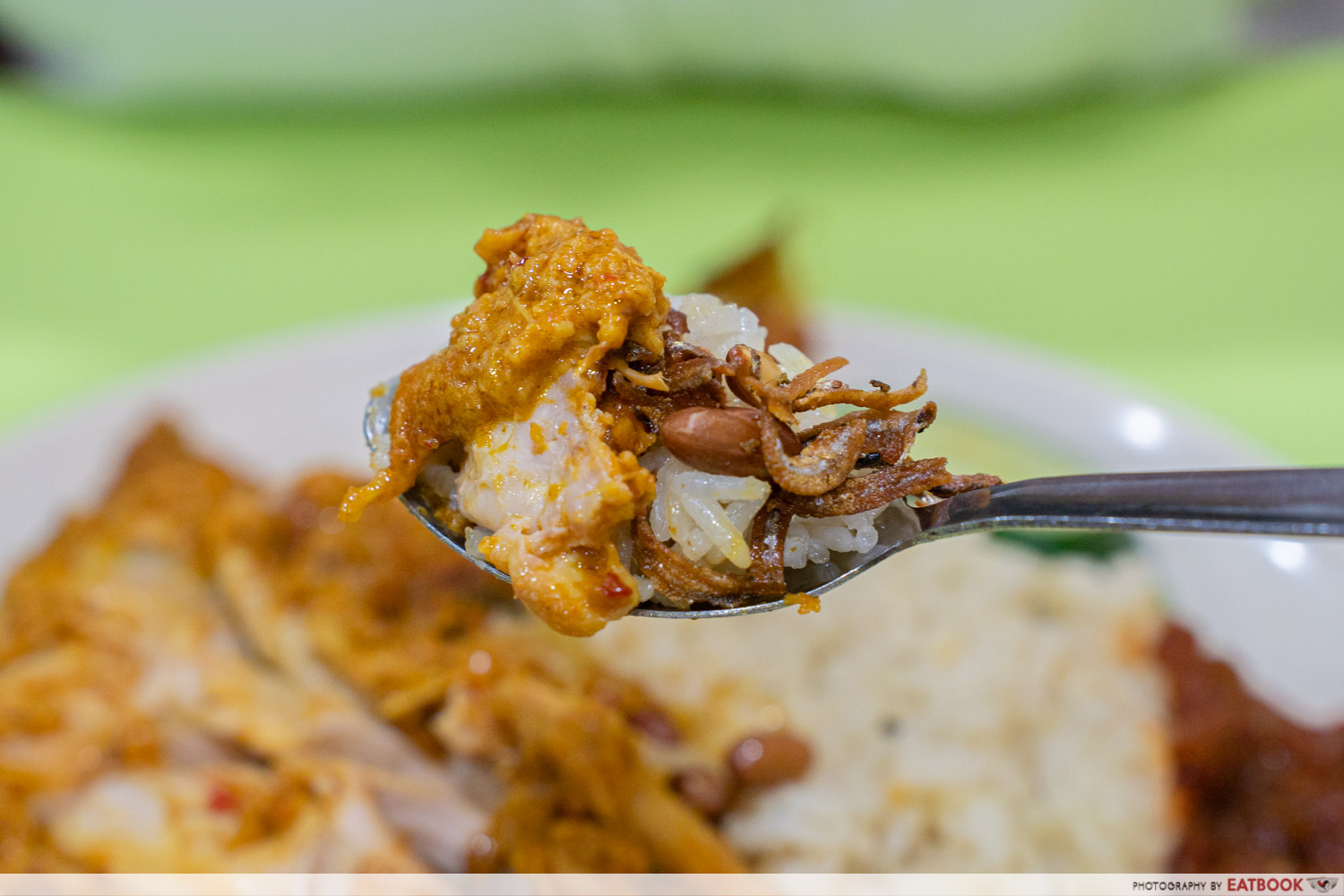 The tasty gravy paired well with the super tender chicken meat and rice. Like with the fried chicken, the meat was rather bland without the rendang gravy━which I needed more of.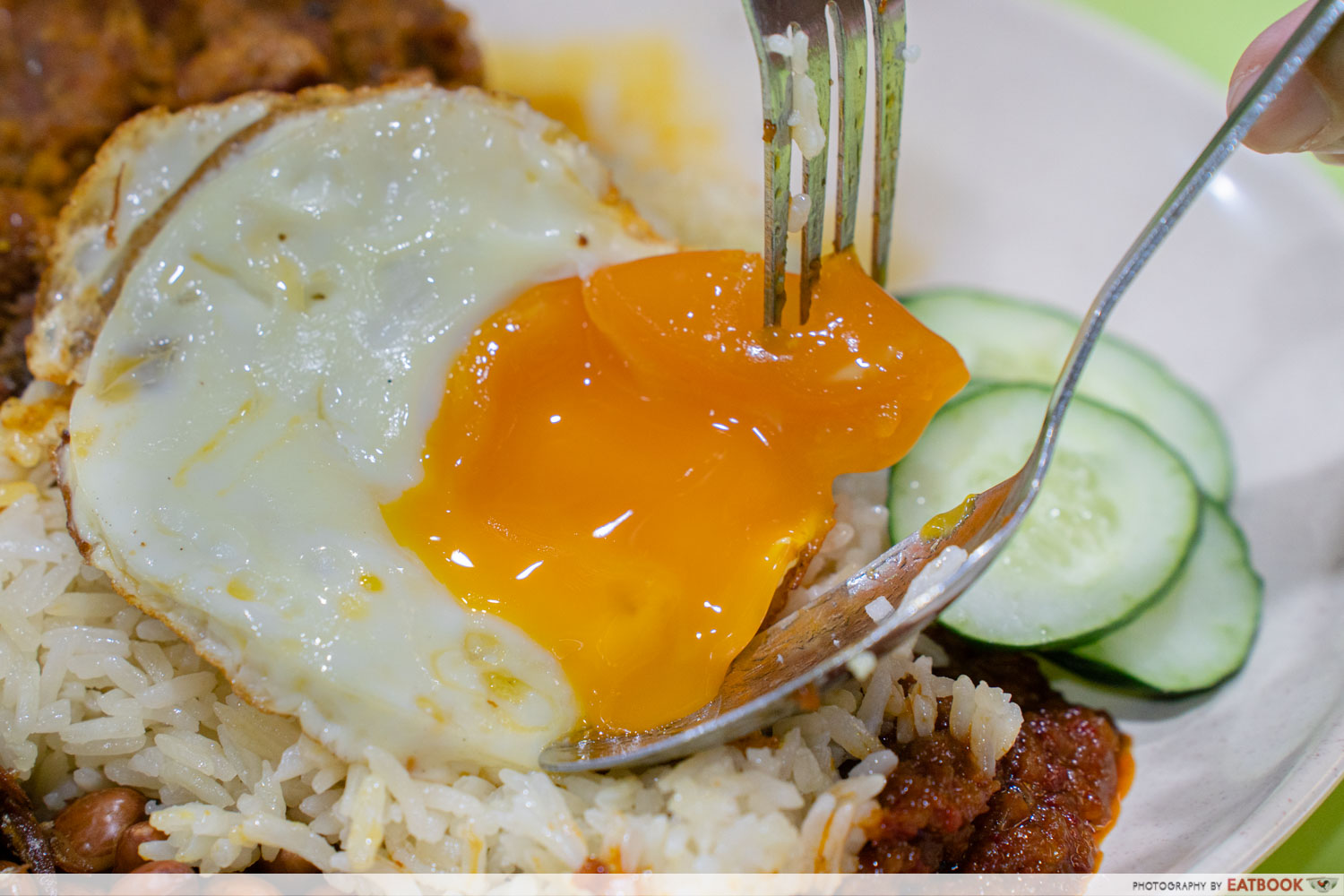 When I ran out of rendang gravy, I mixed in the egg yolk and sambal chilli with the rice to get creamy, shiok spoonfuls of rice.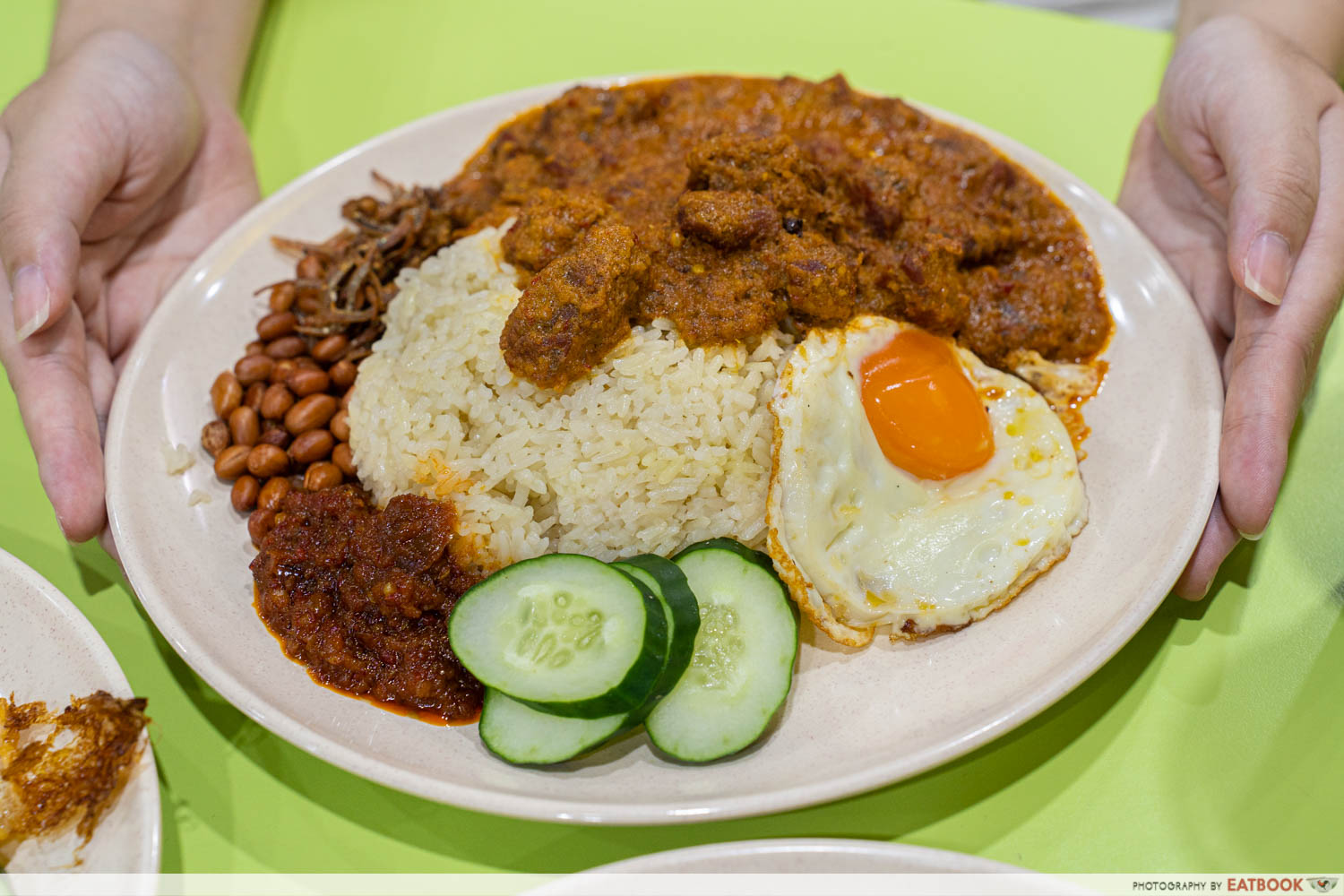 We ended our meal with the Mutton Rendang ($7.50). The huge serving of sweet and super rich gravy was fragrant, but slightly spicier than that of the chicken rendang. It also had a slightly thicker consistency.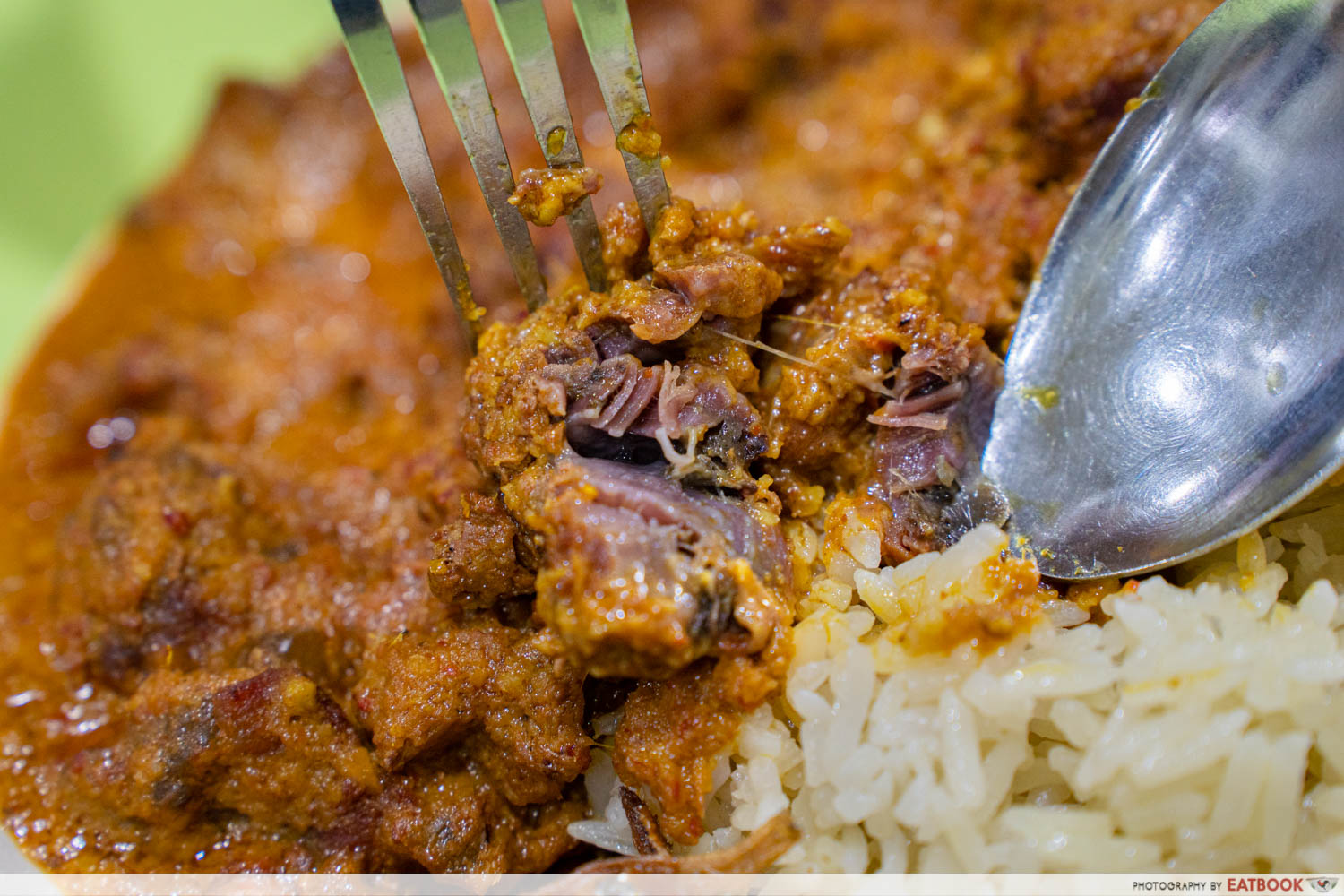 Surprisingly, this dish turned out to be my favourite despite my aversion towards mutton. Typically, mutton tends to have a gamey flavour, but the meat here didn't have any discernible gaminess. The flavours of the rendang were cooked throughout the mutton, which was also well-coated with the rich-tasting and slightly spicier gravy. 
What's more, the meat was super tender and soft, so it was really addictive to eat. The dish became a bit jelak towards the end, though we tried mixing in the spicy-savoury sambal and found it a nice change midway. 
Ambience at Spicy Wife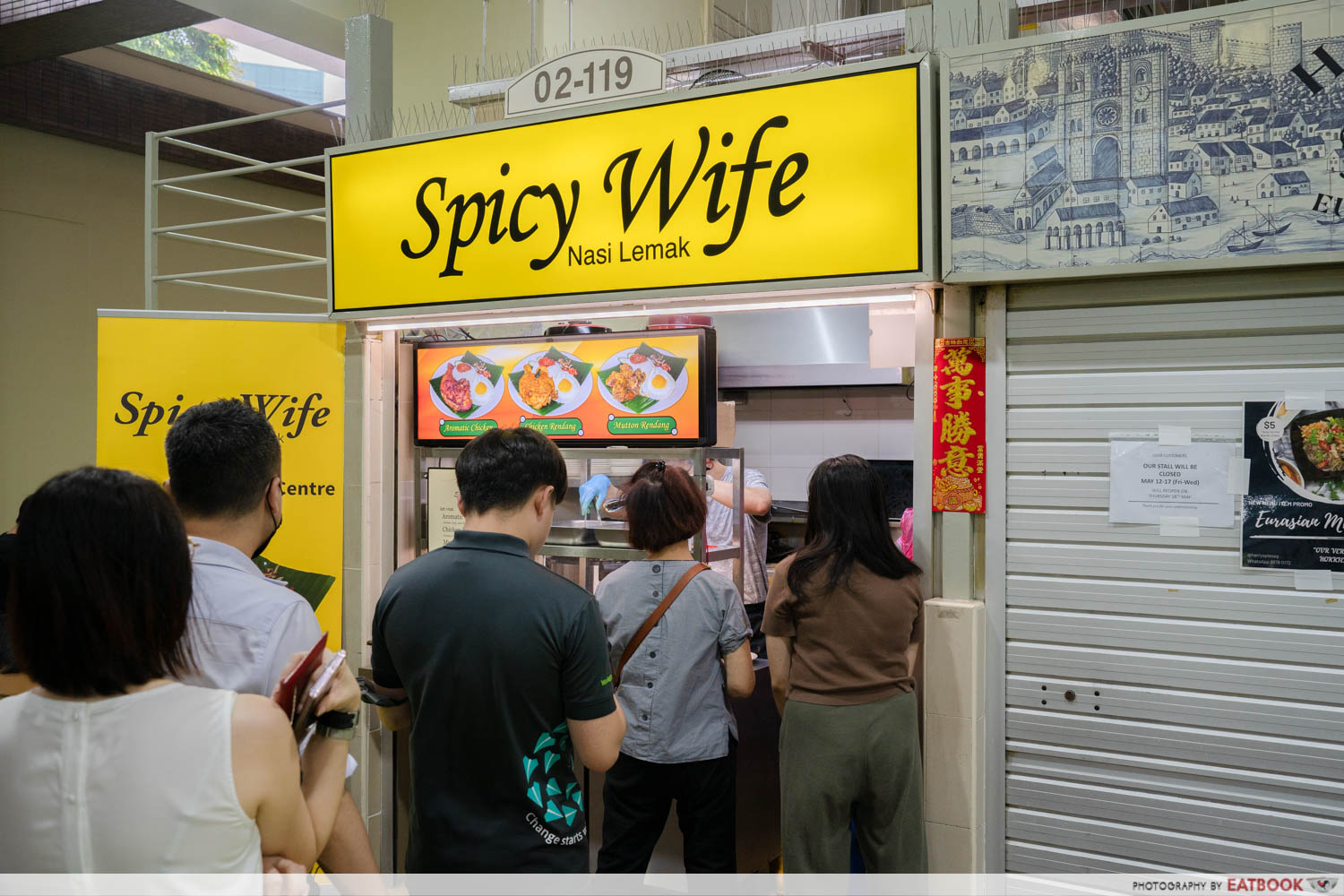 Amoy Street Food Centre is located a five-minute walk from Telok Ayer MRT Station. Since they're situated in the heart of the CBD, the centre gets pretty crowded when it comes to lunchtime. 
The centre is clean and filled with plenty of seats. That being said, if you wish to choose your seats or avoid the crowd, you should arrive before 11am, just like we did. 
20 Amoy Street Food Centre Stalls To Visit When You're In The CBD
The verdict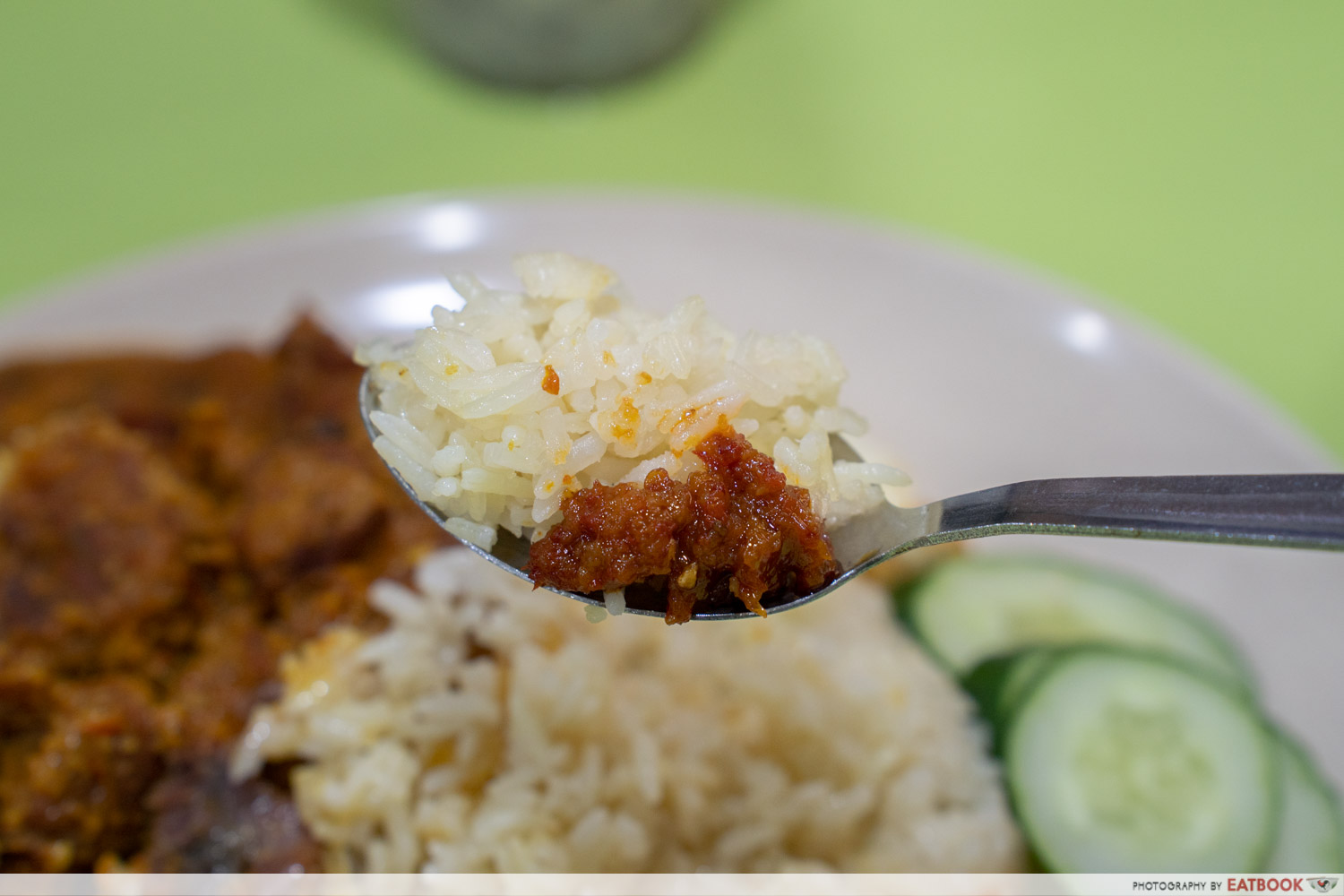 I've to admit—Spicy Wife has one of the best nasi lemak that I've tried in a while. The mutton rendang came as a pleasant surprise and their generous portions will definitely be a hit with my friends who are always seeking a hearty meal for cheap. Personally, I'm also adding this stall to my list of favourite places to eat at this hawker centre. 
If you drop by the food centre quite often, explore our Amoy Street Food Centre guide for different tasty options all the time. Otherwise, check out Elijah Pies for some of their famous dessert pies after your meal.
Address: 7 Maxwell Road, #02-119, Amoy Street Food Centre, Singapore 069111
Opening hours: Mon-Fri 10:30am to 2pm
Website
Spicy Wife is not a halal-certified eatery but uses no pork or lard. 
Elijah Pies Review: IG-Famous Bakery Opens Chio Cafe With Mac N' Cheese Pie, Matcha Latte Pie And More
Photos taken by Eatbook.
This was an independent review by Eatbook.sg
Spicy Wife Review: Long-Queue Nasi Lemak In Telok Ayer With XXL Fried Chicken
Spicy Wife Review: Long-Queue Malaysian Nasi Lemak With XXL Fried Chicken In Telok Ayer -

8/10
Summary
Pros
– Dishes are tasty and well-cooked
– Generous serving portions
– Convenient location
– Well-prepared condiments
Cons
– Rice was not that flavourful
– Chicken was not thoroughly marinated
Recommended dishes: Aromatic Chicken ($6.50), Chicken Rendang ($6.50), Mutton Rendang ($7.50)
Opening hours: Mon-Fri 10:30am to 2pm
Address: 7 Maxwell Road, #02-119, Amoy Street Food Centre, Singapore 069111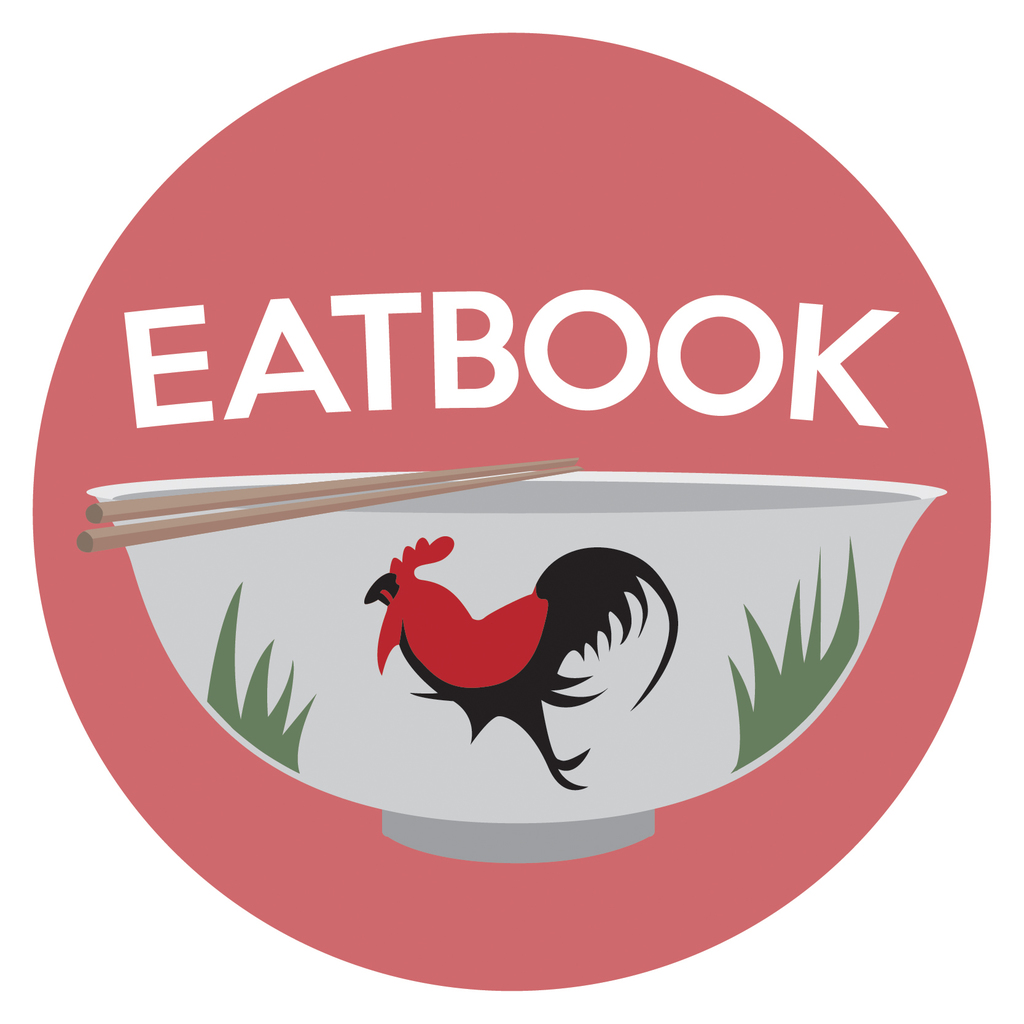 Drop us your email so you won't miss the latest news.