Chef Kin HK Wanton Noodle in Yishun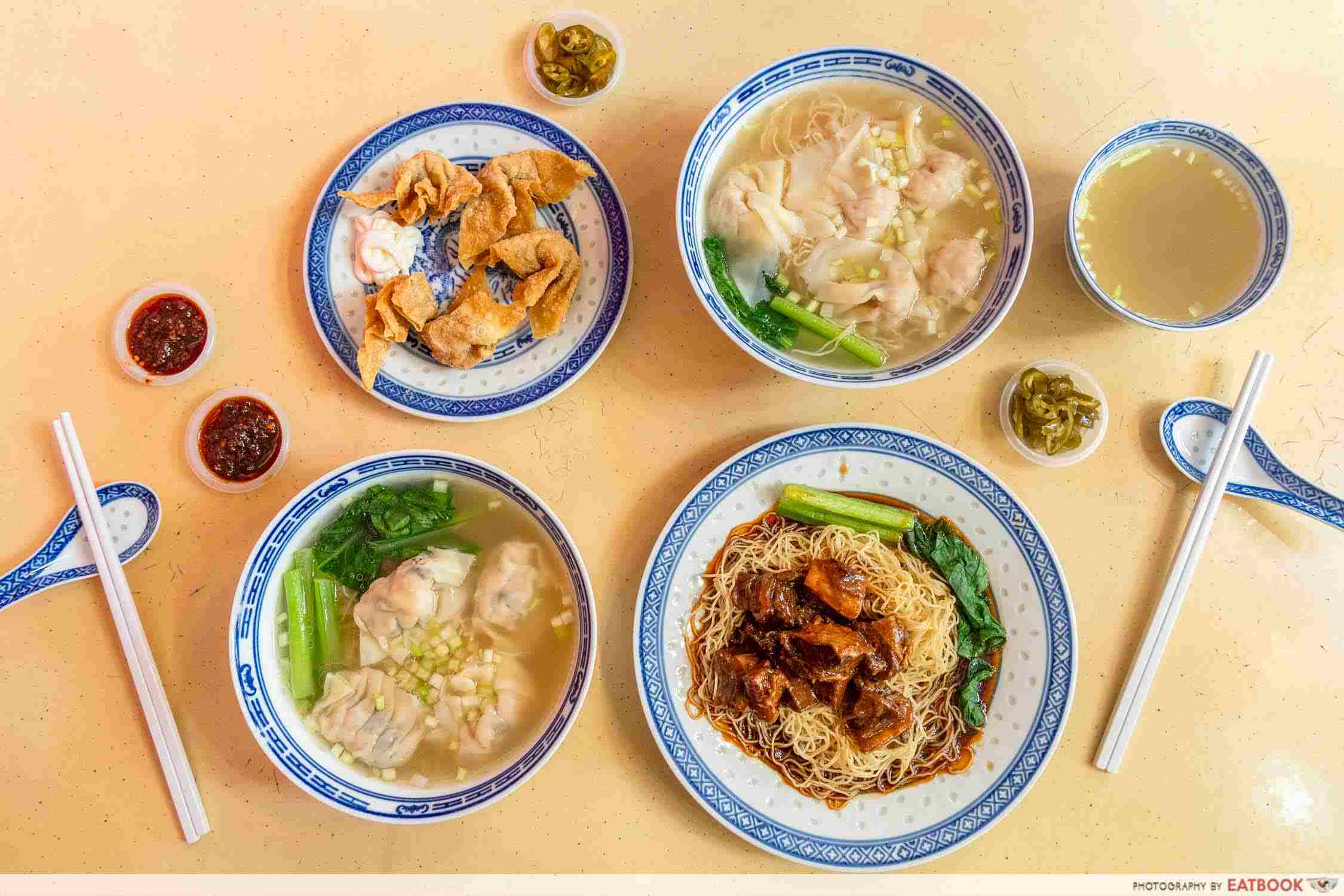 With over 20 years of experience working at Crystal Jade as the head chef, Chef Kin has now ventured into the hawker business with his namesake stall: Chef Kin HK Wanton Noodle. Located in Yishun, the casual eatery serves restaurant-quality Hong Kong-style wonton noodles at affordable prices.
Wanton Seng's Eating House Review: Pork Belly Wonton Mee And Bourbon Mussels At Millenia Walk
Food at Chef Kin HK Wanton Noodle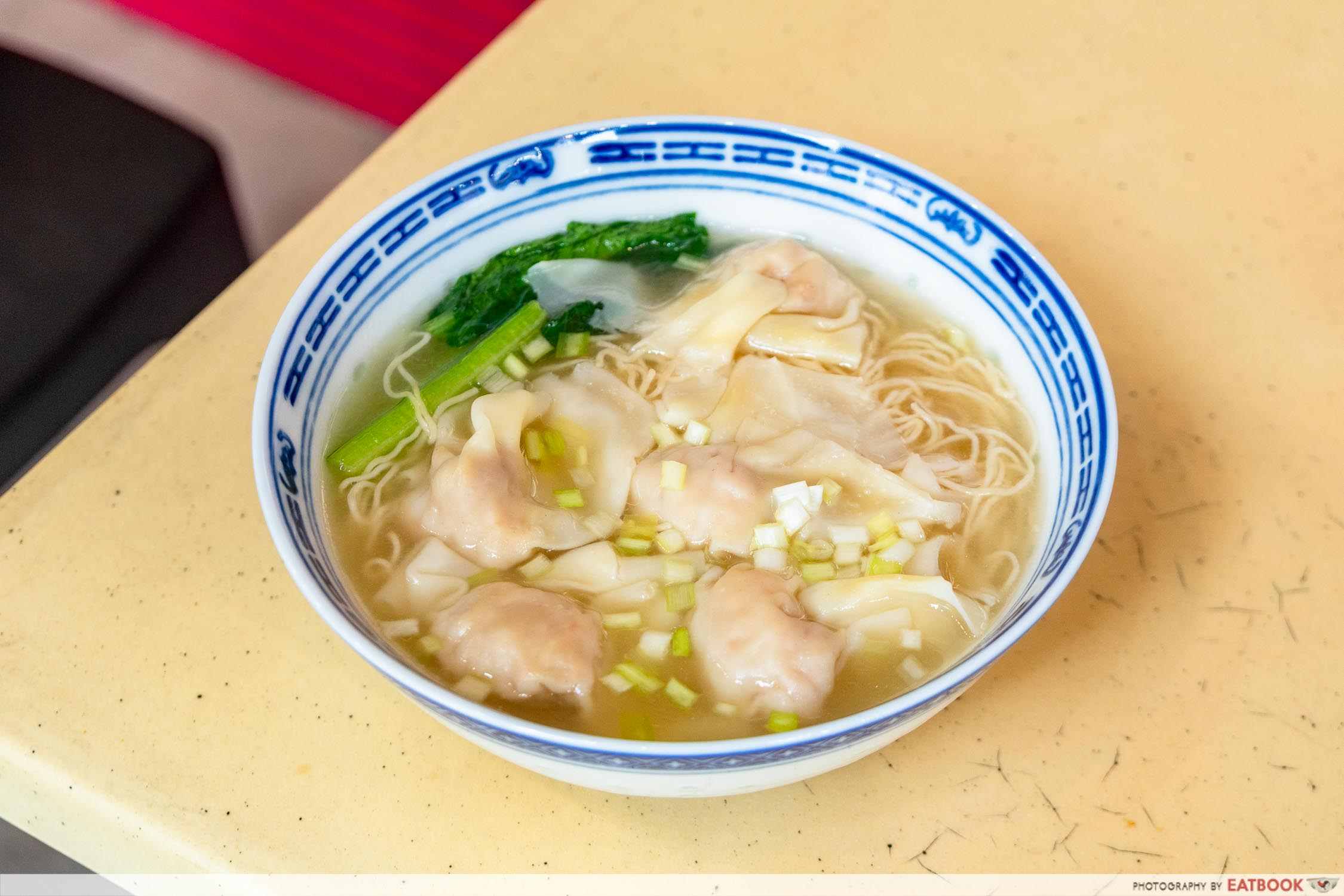 After placing our order, my colleague and I were greeted with a piping hot bowl of their signature HK Wanton Noodle ($5). We opted for the soup version as that was recommended by the chef. It's also said to be the authentic way of having wonton noodles in Hong Kong.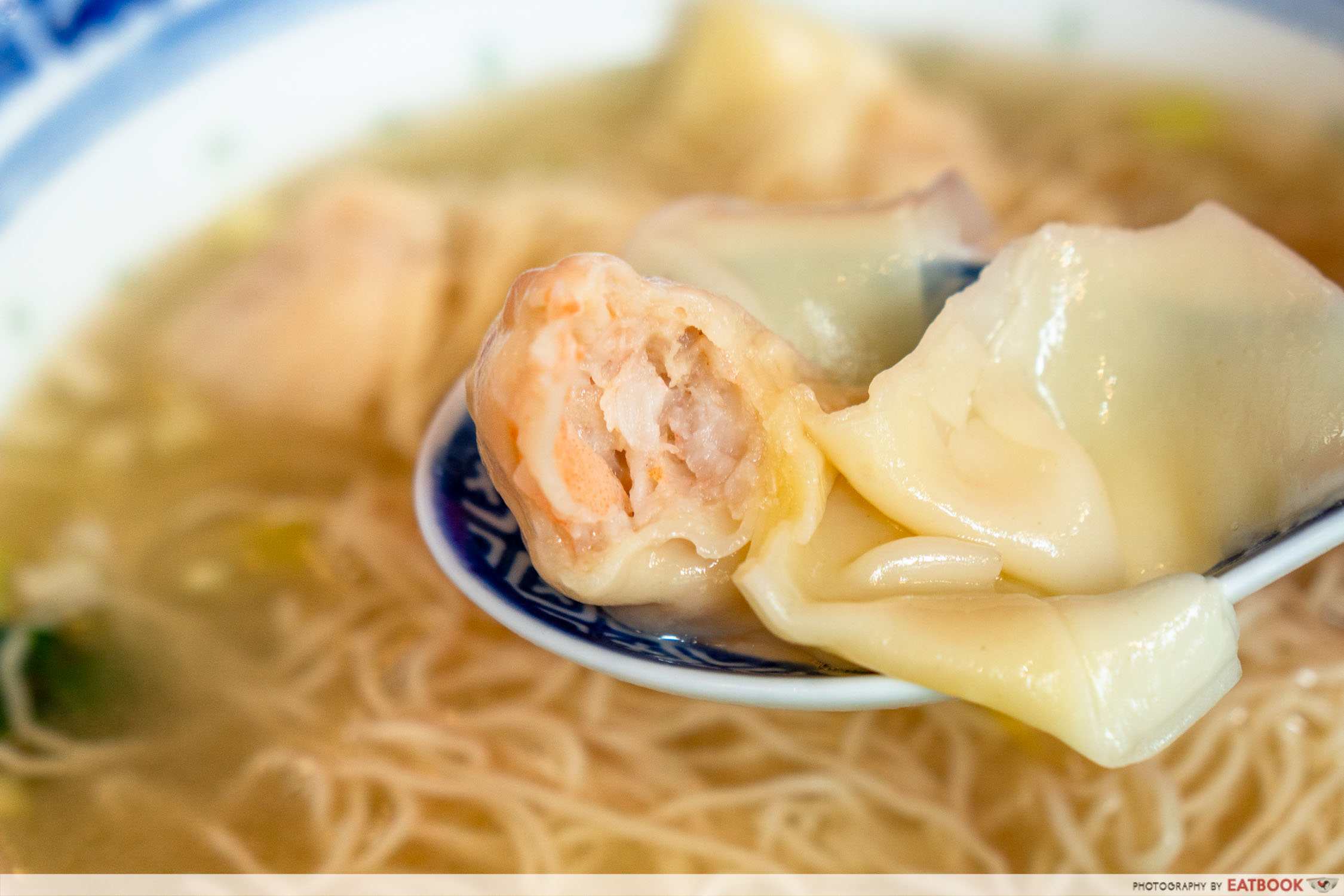 The broth is a concoction of old hen, pork, Jinhua ham, and dried flounder fish for a rich and umami taste. It was a tad strong for my liking, but my colleague felt that the flavour was just right, so I'd say it's up to personal preference. Unlike Singapore's version of wonton noodle, which typically comes with char siew, this HK-style dish features only plump wontons filled with pork and whole prawns for a firm and pleasant bite.
Another highlight was their noodles. The noodles are made from duck eggs instead of the usual chicken eggs, so there's a slight alkaline taste and creamy texture. Enjoy the noodles on their own for a more robust flavour, but if you're not a fan of the alkaline taste, have it alongside the soup and wontons, which help to balance it out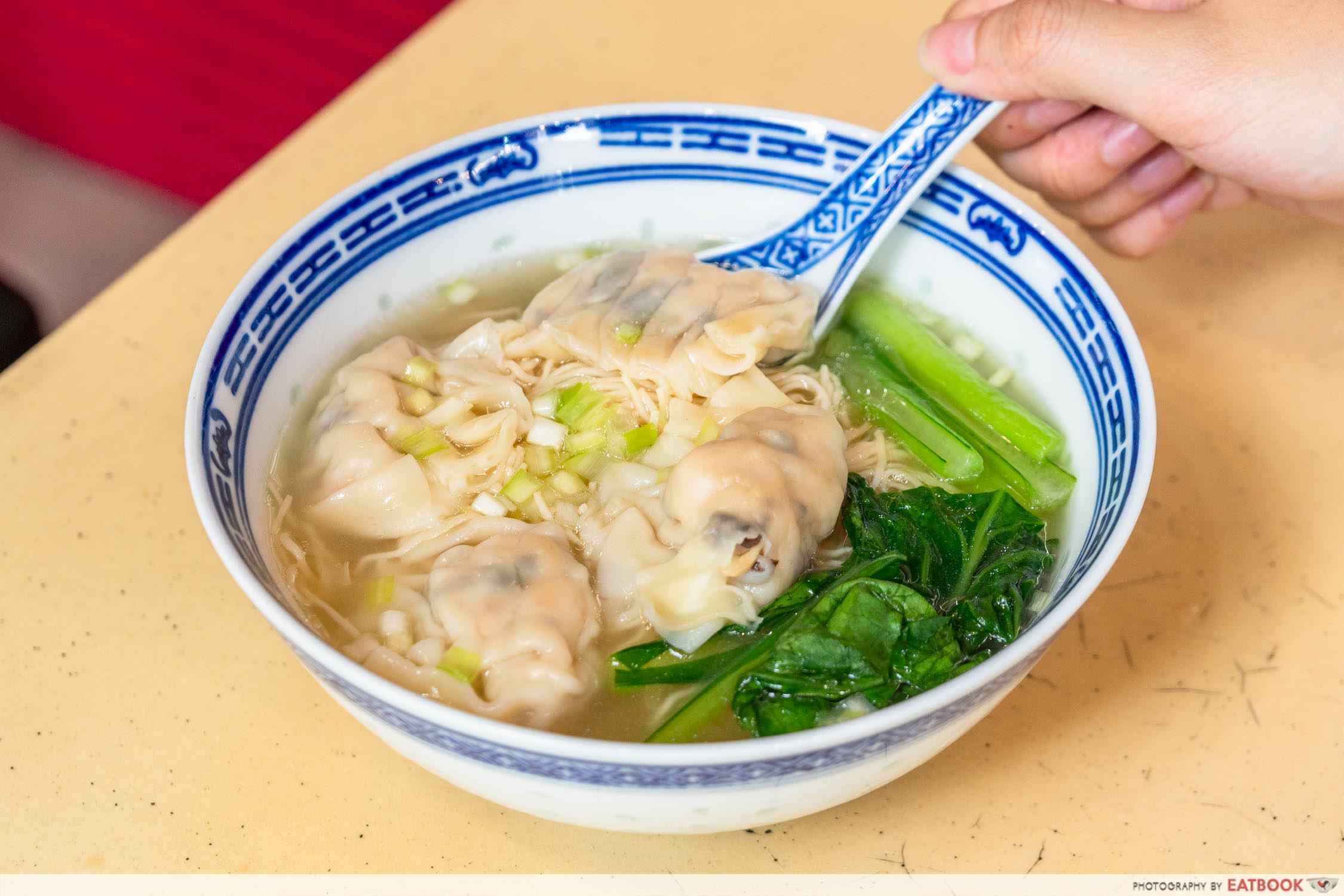 Moving on to the next dish, we had the HK Dumpling Noodle ($5) as the soup version as well.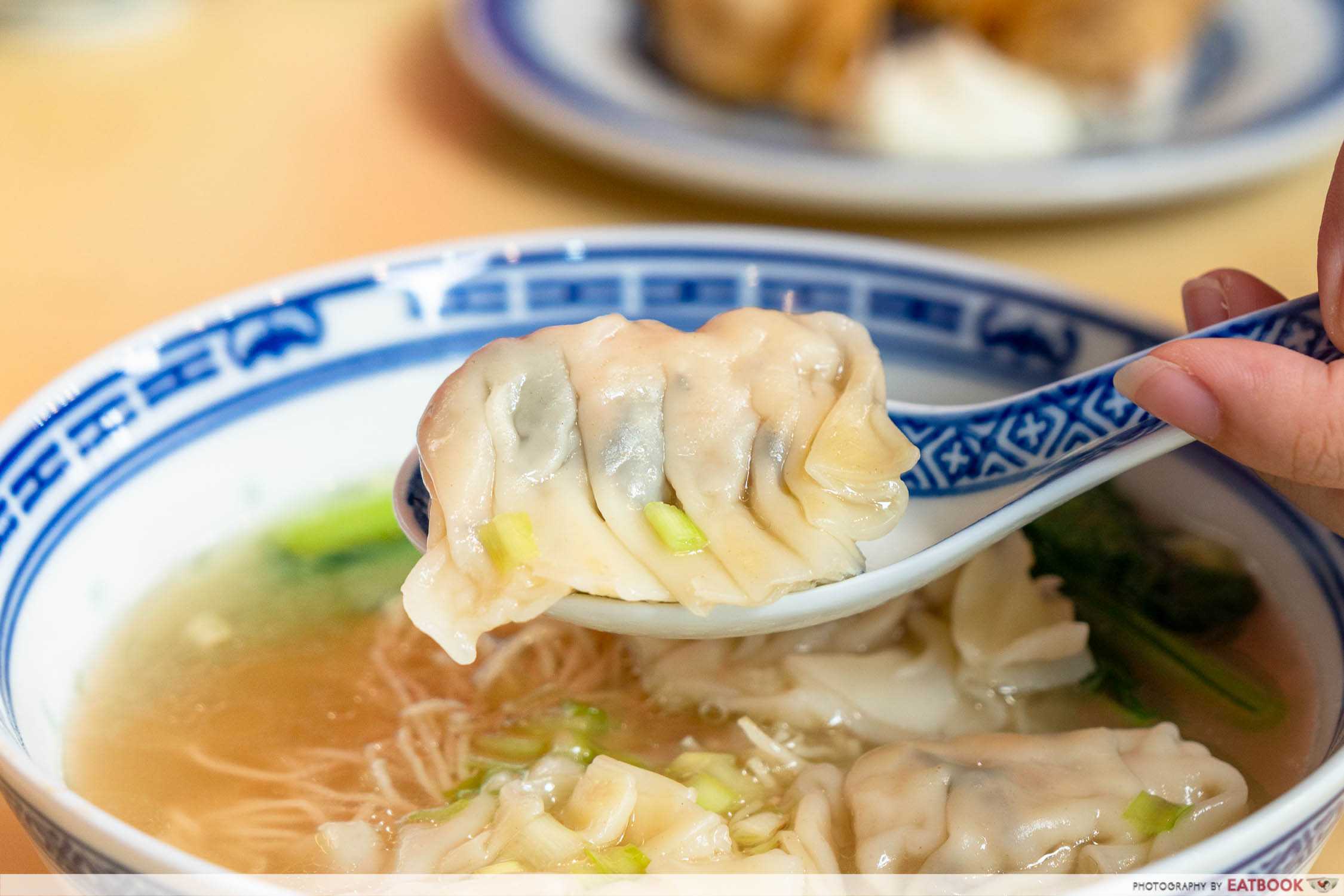 The dumplings contain pork, prawn, black fungus, and bamboo shoots, which lend a rather unique taste and a good crunch. They tasted different, in a good way, from the usual pork-filled dumplings; the ingredients complemented each other well.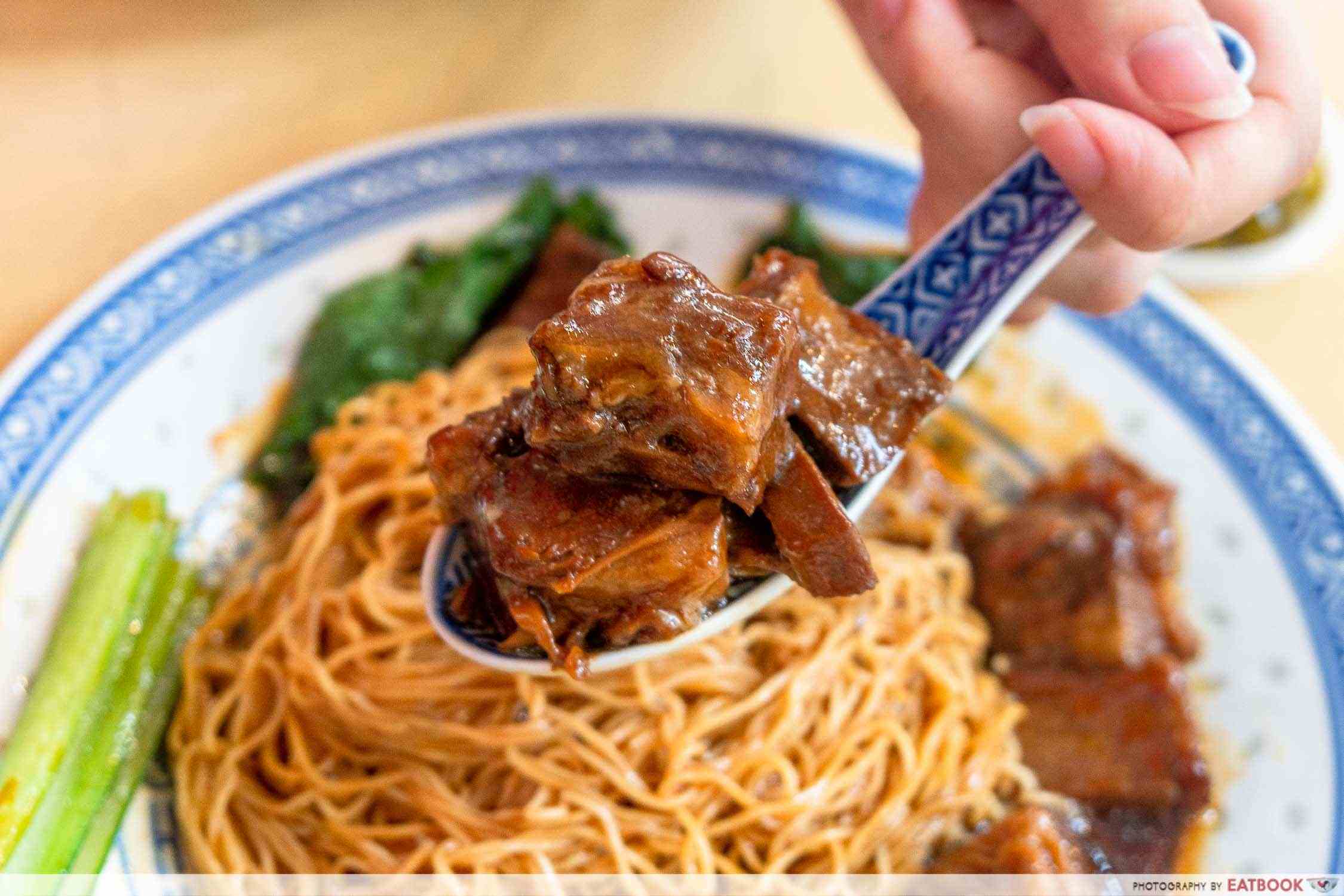 We also opted for the dry version of their HK Braised Beef Brisket Noodles ($5.50). This sauce-ladened dish combines oyster sauce and soy sauce gravy, topped with beef brisket stewed for a minimum of two hours.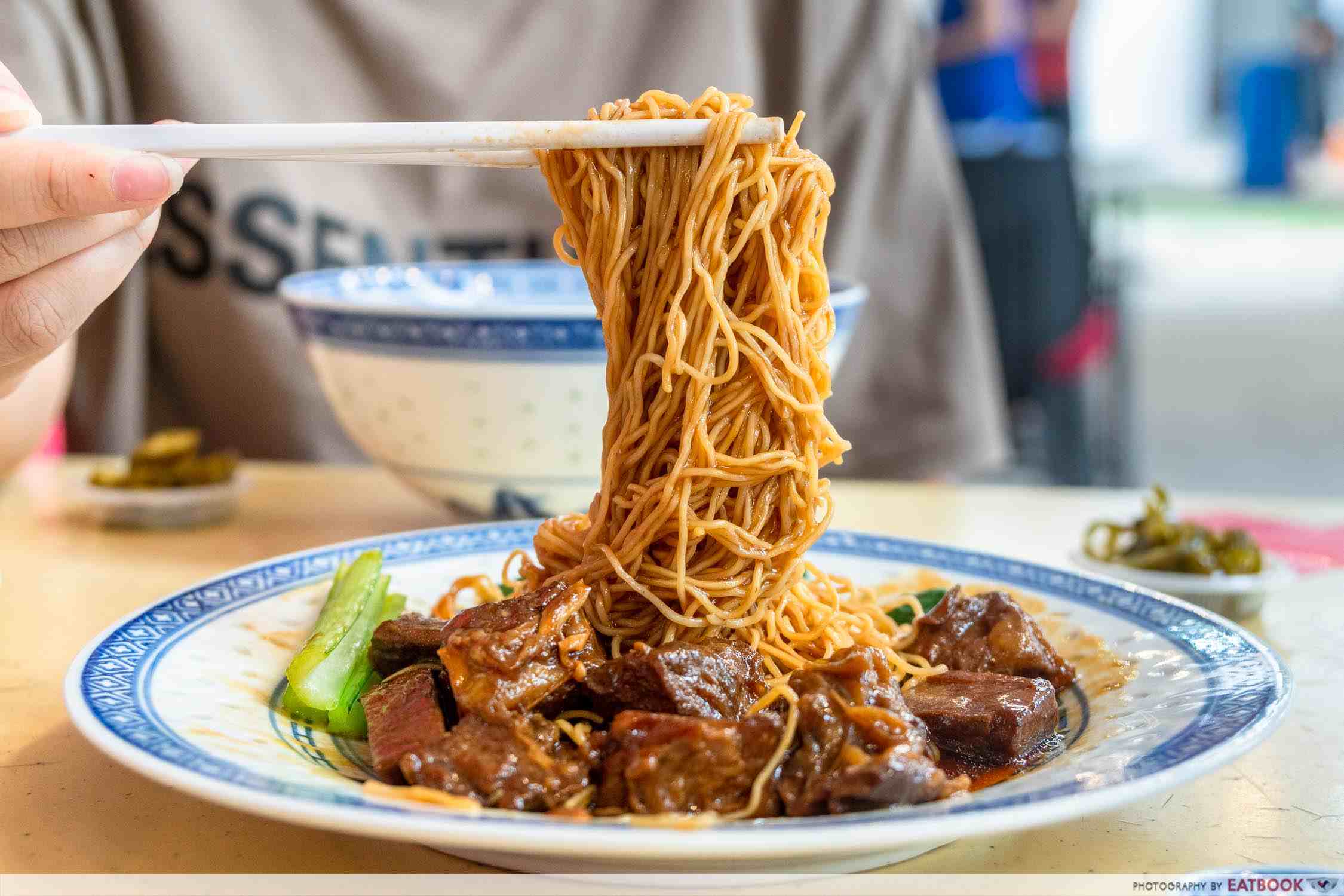 Every slurp of noodles gives you a generous mouthful of thick gravy, both of which go well together. My only gripe was that the beef brisket could have been more tender, as I would imagine the meat to have a melt-in-the-mouth texture.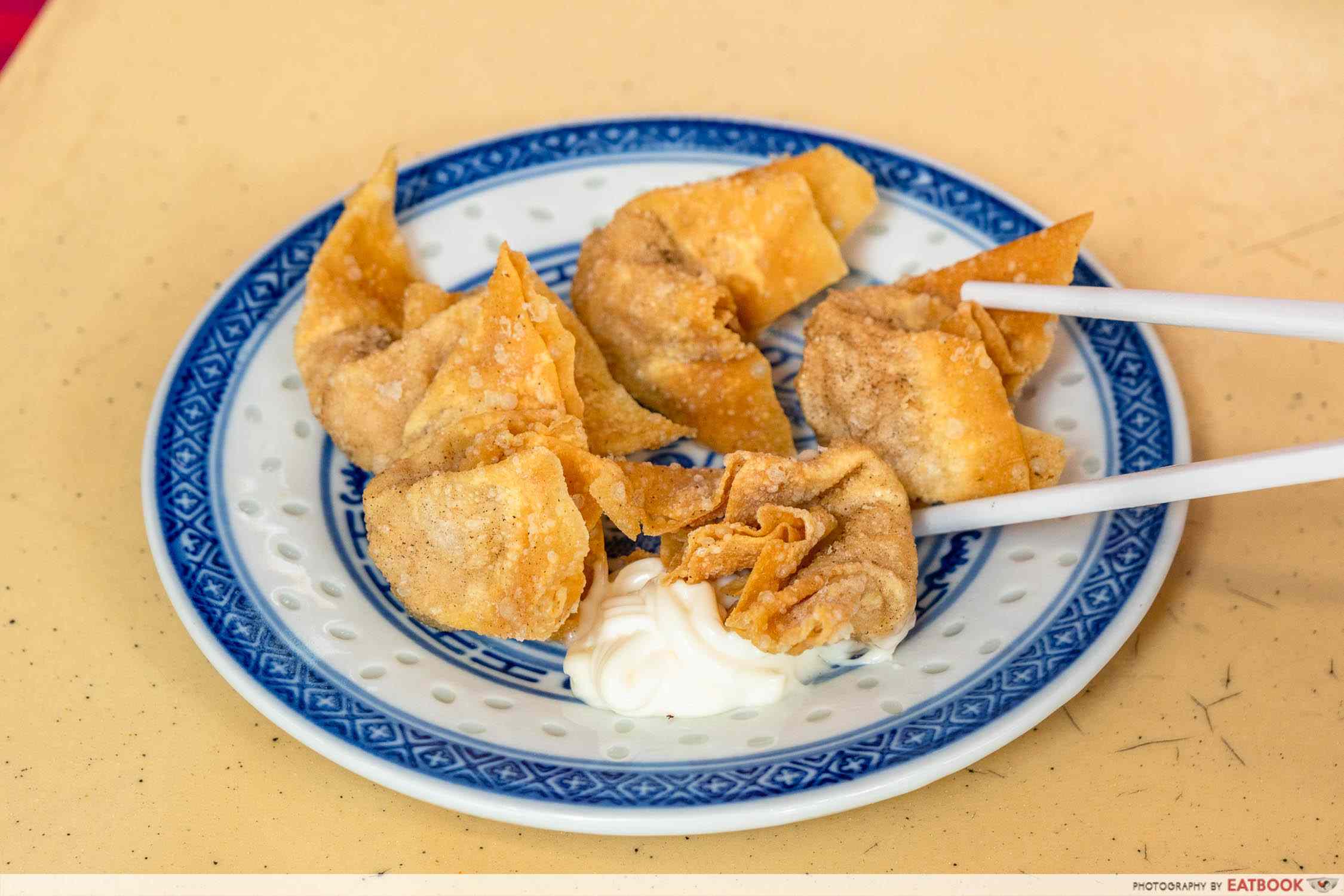 The menu also caters to the Singaporean palate with the inclusion of two fried dishes: fried dumplings, and fried wontons. We decided to opt for the Fried Wantons ($4). The skin of the wonton was nicely crisp and crunchy, and even though it was deep-fried, the flavours within still stood out. I wouldn't necessarily order this the next time I return as the noodles were enough to keep me full, but if you're looking for side dishes to go along with your noodles, this is one option!
20 Best Wonton Mee In Singapore, Including XXL, Thai And Truffle Wanton Mee
Ambience at Chef Kin HK Wanton Noodle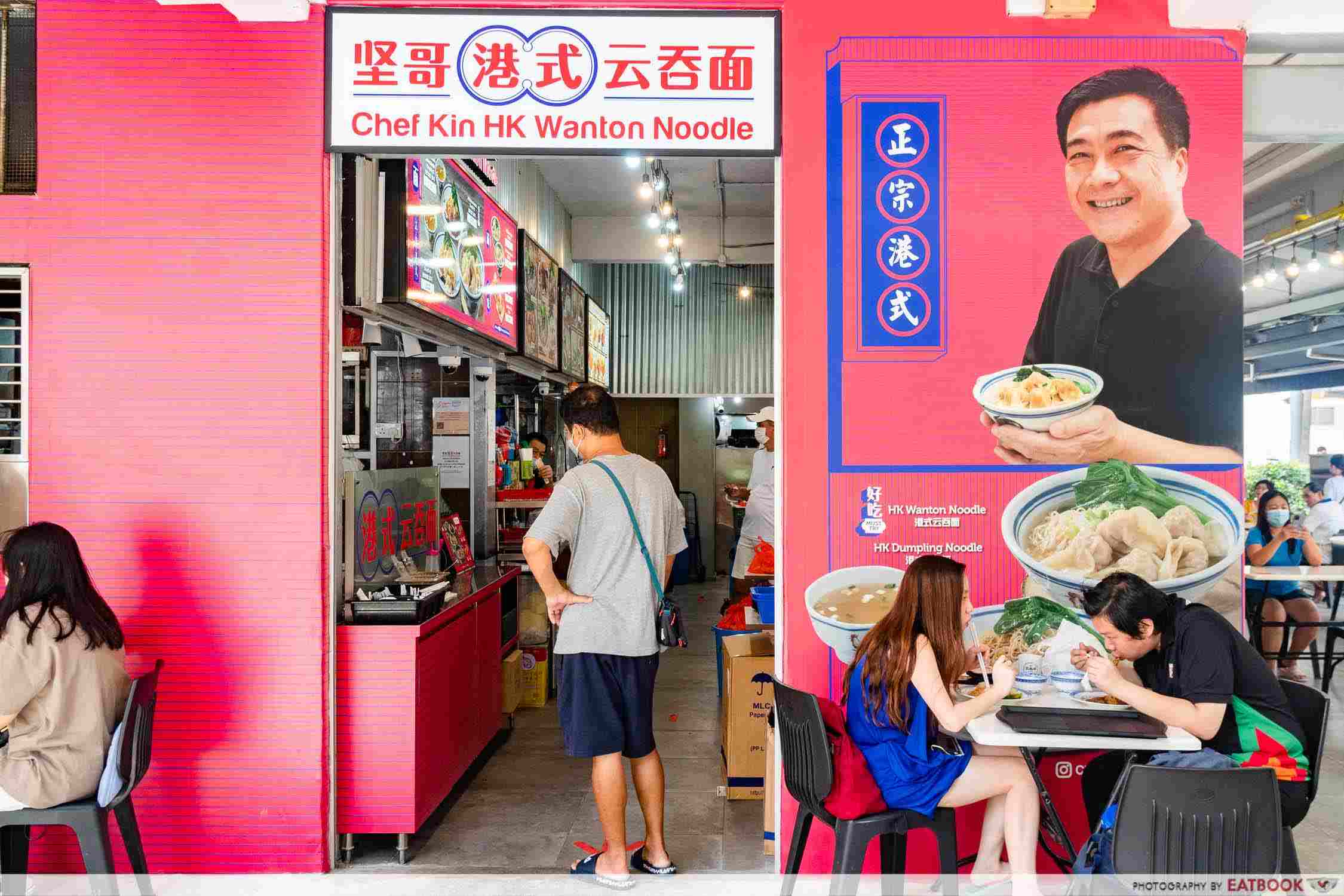 The nearest MRT station to the coffee shop is Khatib MRT Station. The walking distance is about 13 to 14 minutes, so I would suggest taking a bus instead, which takes around three to four minutes of travel time, followed by six minutes of walking.
The location was a little hard to find as the eatery is tucked within the HDB blocks. It took me a while to find the coffee shop but thankfully, as I was getting closer to the block, there were banners leading the way.
It has only been three weeks since Chef Kin Wanton Noodle opened, and it's clear that they have already been the talk of the town as we saw snaking queues as early as 9:30am. As the peak lunch hour approached, the crowds started to form, and the queue stretched all the way to the next block. The coffee shop is quite small as well, and seats were quickly filled up. I would suggest either to takeaway or make your way down earlier to avoid the crowd.
The verdict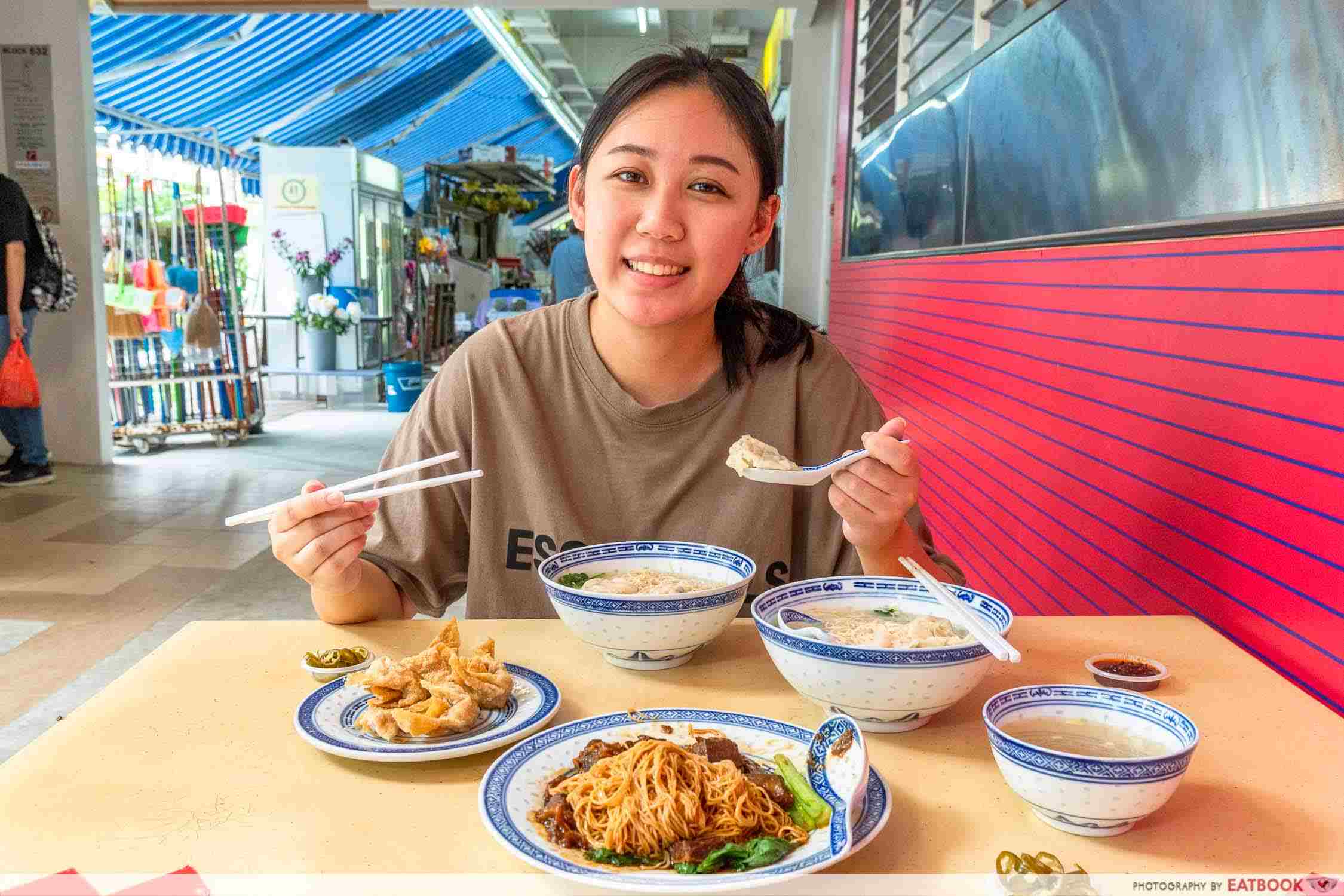 Most would expect to pay around $10 to $12 at a restaurant for a quality like this, so $5 is a pretty great deal in my opinion. Other than the affordable price tag, the portion size was big enough to keep me full. I would say that this is quite a legit Hong Kong-style wonton noodle and definitely a must-try if you're craving Hong Kong food.
Another point to note is that this place does not provide any delivery and only accepts cash as payment.
Overall, if I'm around the area, I would definitely visit this eatery again.
Do check out our Chao Yue Xuan Dim Sum review, another ex-hotel chef restaurant also located in Yishun. If you're in Northpoint, check out our Northpoint City food guide.
Chao Yue Xuan Dim Sum Review: Ex-St Regis Chef Opens Dim Sum Restaurant In Yishun
Address: Blk 632 Yishun Street 61, #01-14, Singapore 760632
Opening hours: Daily 7am to 8pm
Website
Chef Kin HK Wanton Noodle is not a halal-certified eatery.
Photos taken by John Lery Villanueva
This was a media tasting at Chef Kin HK Wanton Noodle.
Chef Kin HK Wanton Noodle Review: Ex-Crystal Jade Chef Sells Noodles Made From Duck Eggs
Chef Kin HK Wanton Noodle Review: Ex-Crystal Jade Chef Sells Noodles Made From Duck Eggs -

7.5/10
Summary
Pros
– Generous portions
– Affordable
– Legit Hong Kong-style wonton noodles
Cons
– Location is out of the way
– Alkaline taste of the noodles may be too strong for some
– Long queue
Recommended dishes: HK Wanton Noodle Soup ($5), HK Dumpling Noodle Soup ($5)
Opening hours: Daily 7am to 8pm
Address: Blk 632 Yishun Street 61, #01-14, Singapore 760632