---
Northpoint City food
---
Maybe it's a joke that has gone too far, but to many Singaporeans, sans the ones living in the neighbourhood, Yishun has a bad rep. There's even a now-defunct blog called The Yishun Dream, listing all the weird happenings in the neighbourhood, that made it onto Vice. Stranger Things aside, you'll find that Yishun is actually a hub for great eats. Aside from the nosh at Yishun Park Hawker Centre, here are 15 Northpoint City food places also worth checking out.
---
1. Suparakki Ramen
---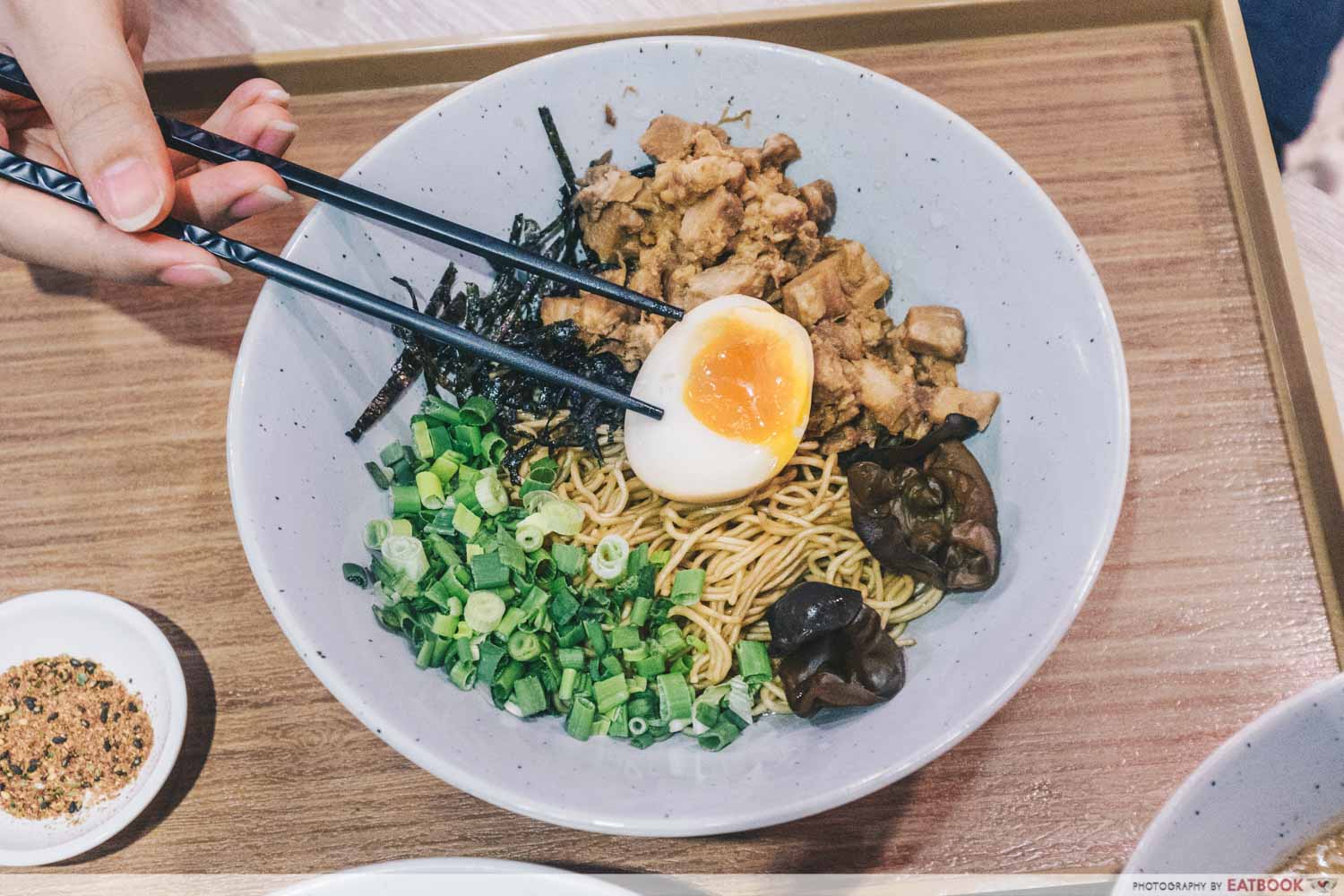 Ramen isn't typically known to be an affordable, everyday eat. Suparakki Ramen changes that with their bowls of noodles that ring in the till at under $10. Go for the Original Tonkotsu Ramen ($7.90++), or the Dry Truffle Ramen ($6.90++), which is surprisingly wallet-friendly in spite of the premium add-on.
Find out more about Suparakki Ramen!
Unit number: #B2-154
Opening hours: Mon-Sat 10am to 10pm, Sun 10:30am to 10pm
---
2. Yi Qian Ling Yi Ye
---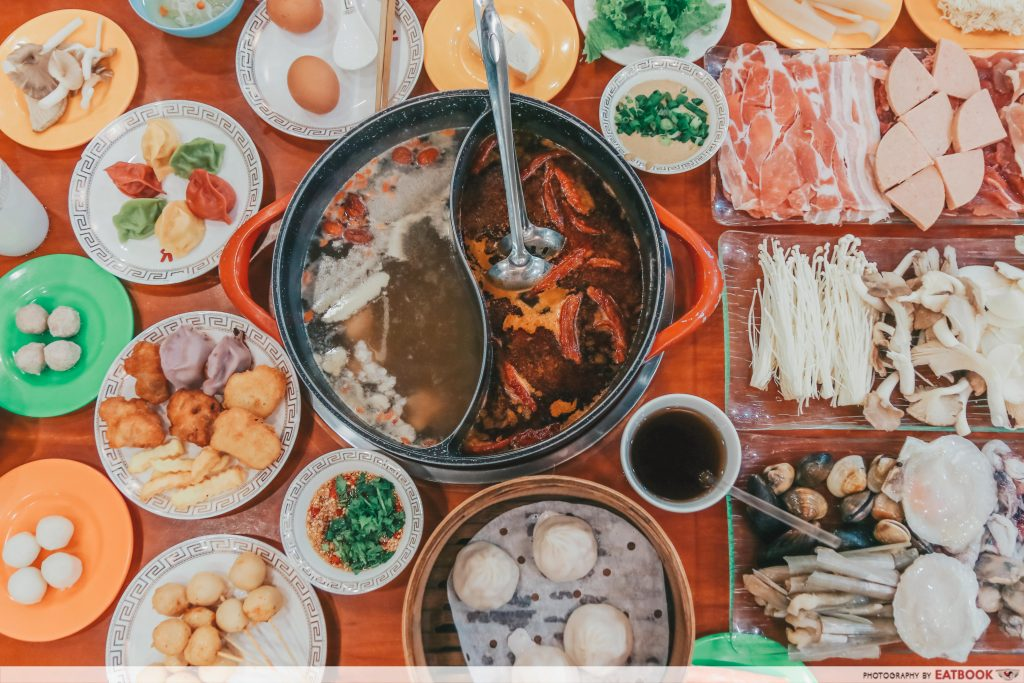 Yi Qian Ling Yi Ye is a steamboat restaurant that serves free-flow xiao long bao during their dinner buffet ($26.80+). The XLB is decent, and you can expect a burst of porcine goodness with each dumpling. There are 10 types of soup bases to choose from, and the most noteworthy ones are their Mala Soup and Herbal Chicken Soup. Like a sushi restaurant, the joint is fitted with a conveyor belt carrying ingredients such as fishballs and mushrooms.  
Check out our full review of Yi Qian Ling Yi Ye!
Unit number: #B1-184
Opening hours: Daily 11am to 11pm
Tel: 6988 3962
---
3. Big Fish Small Fish
---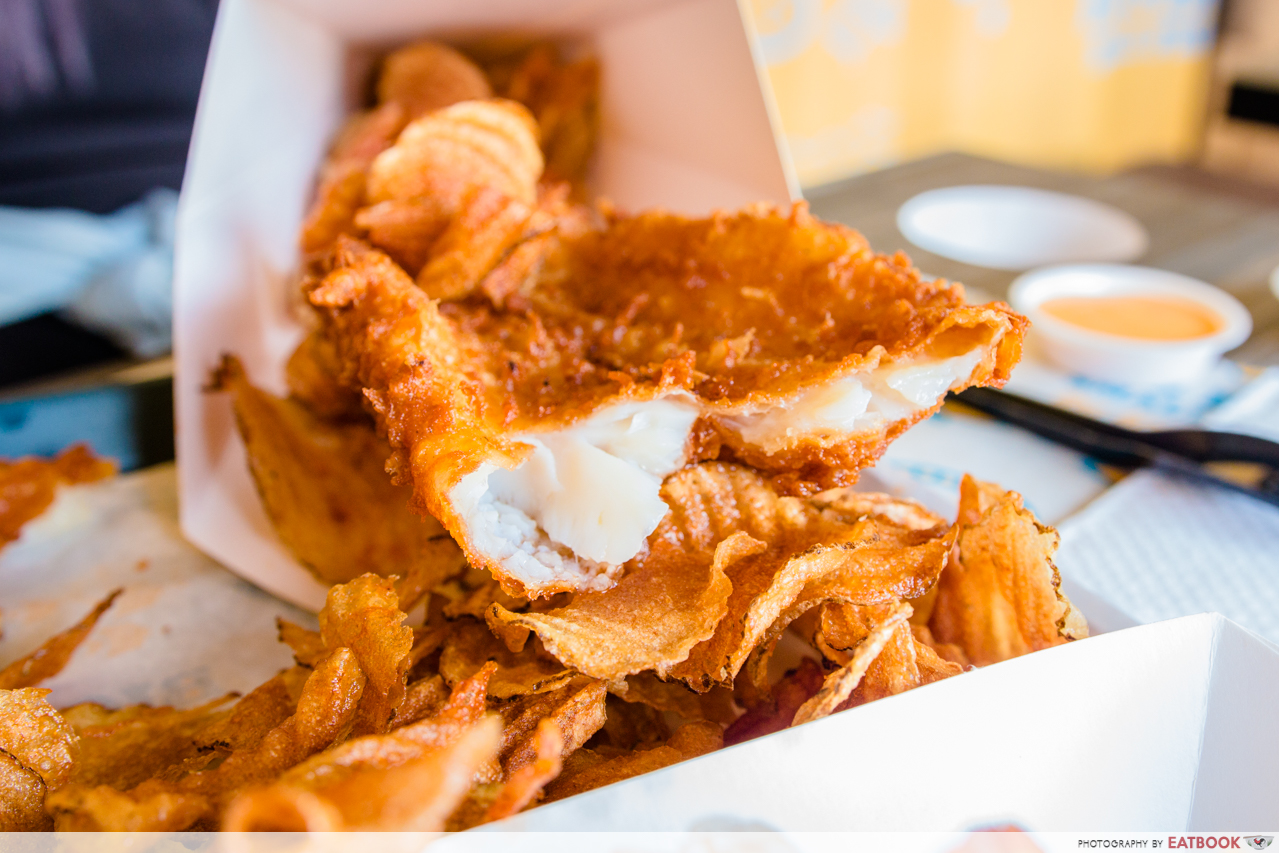 We are no stranger to Big Fish Small Fish. Known for their massive portions and large variety of sauces, this chippy is one of my go-to spots whenever I'm craving for fish and chips. Prices are pocket-friendly, and $8.80++ gets you a chunky Dory fish fillet with thinly cut potato crisps. Sauce is life, and without a good condiment, food may fall flat. This is why I love their salted egg and cheese sauces, which are free for you to take!
Read our review of Big Fish Small Fish's other outlet in Punggol here.
Unit number: #02-132/133
Opening hours: Daily 11am to 10pm
Website
---
4. Feng Food
---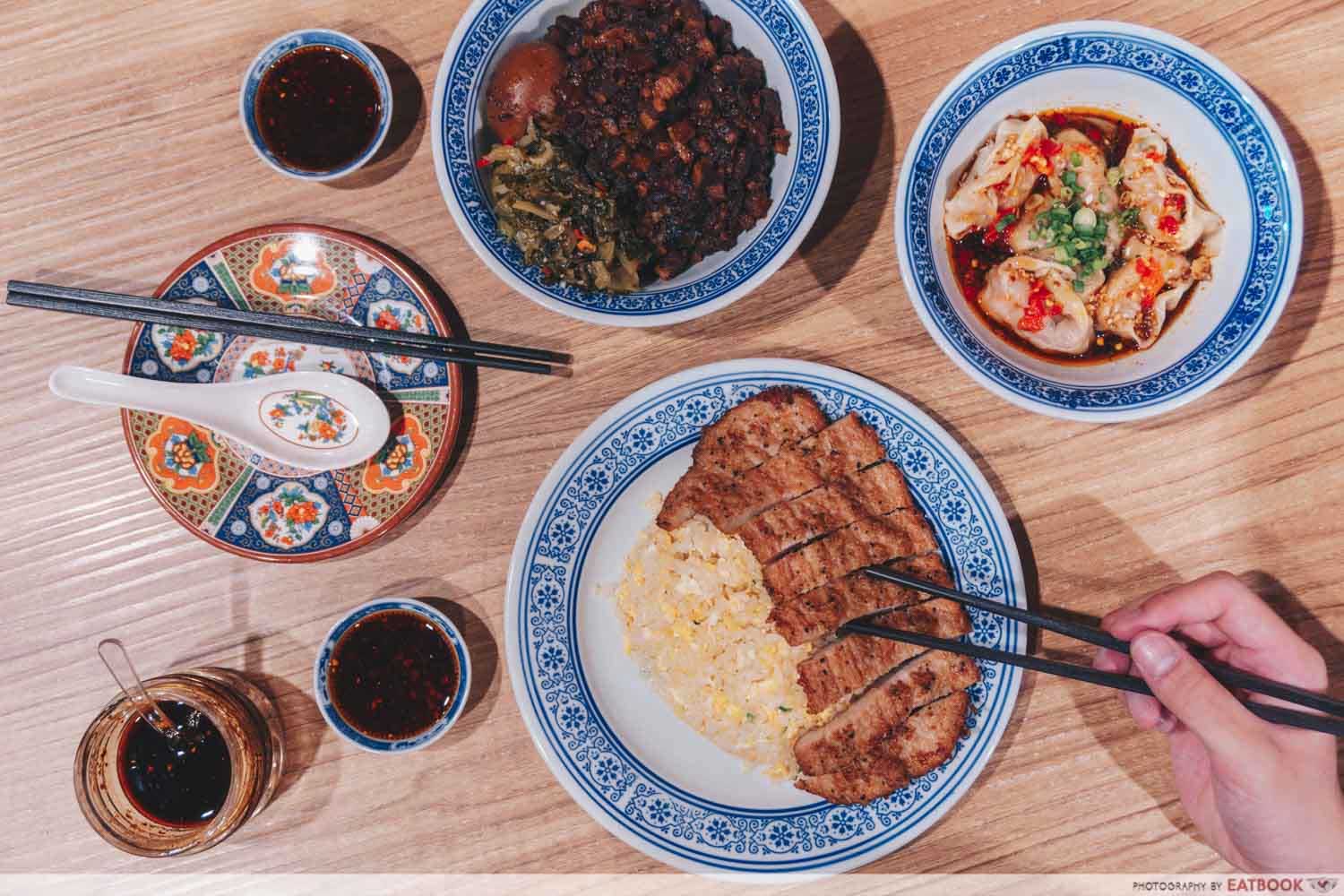 King of the OG pork chop fried rice, Din Tai Fung, has an outlet right here in Northpoint City, but like its branches everywhere else, often sees long queues. Skip that queue and head to Feng Food for a no less flavourful alternative. The Fried Rice with Specialty Marinated Pork Chop here goes for $12.30+, or try the Sunrise Braised Meat Rice ($10+), which comes blanketed in fragrant braised pork.
Check out our review of Feng Food here!
Unit number: #B1-156
Opening hours: Daily 11am to 9:30pm
Tel: 6481 8556
Website
---
5. Pizza Maru
---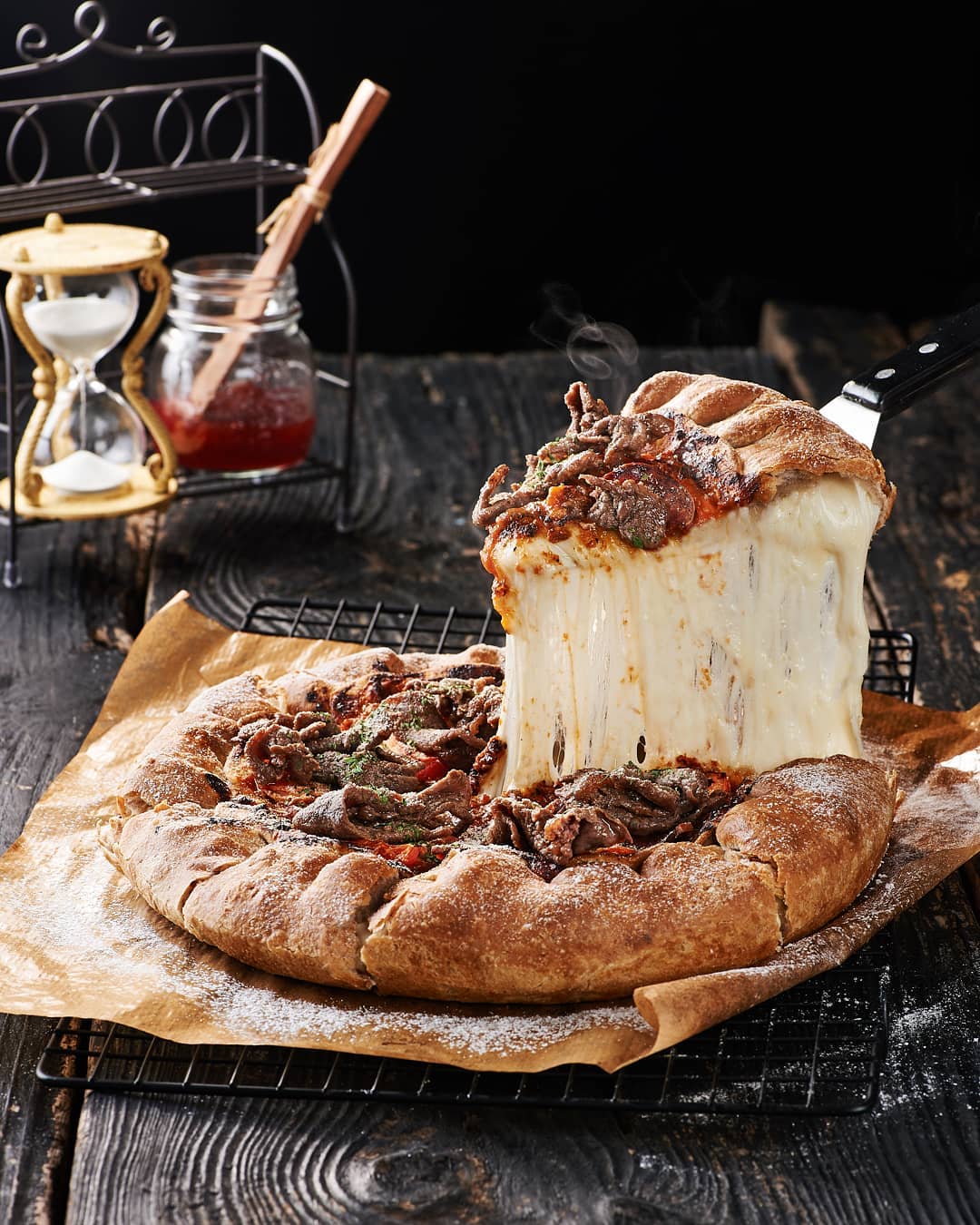 Image credit: @pizzamarusg
Many have waxed lyrical about Pizza Maru's Real BBQ Chicago ($26.80++), which comes crowned with chunks of chicken, potatoes, onions, tomatoes and mushrooms. What makes this pizza interesting is its dusting of icing sugar and almond flakes. There's also a whole ton of cheese that's baked into the dough, including mozzarella, string cheese and cream cheese mousse. This blend of cheeses gives their pizzas the signature cheese pull that is said to stretch as long as one metre!
Unit number: #B1-192/193
Opening hours: Daily 11:30am to 10pm
Tel: 6254 4307
Website
---
6. PatBingSoo Korean Dining House
---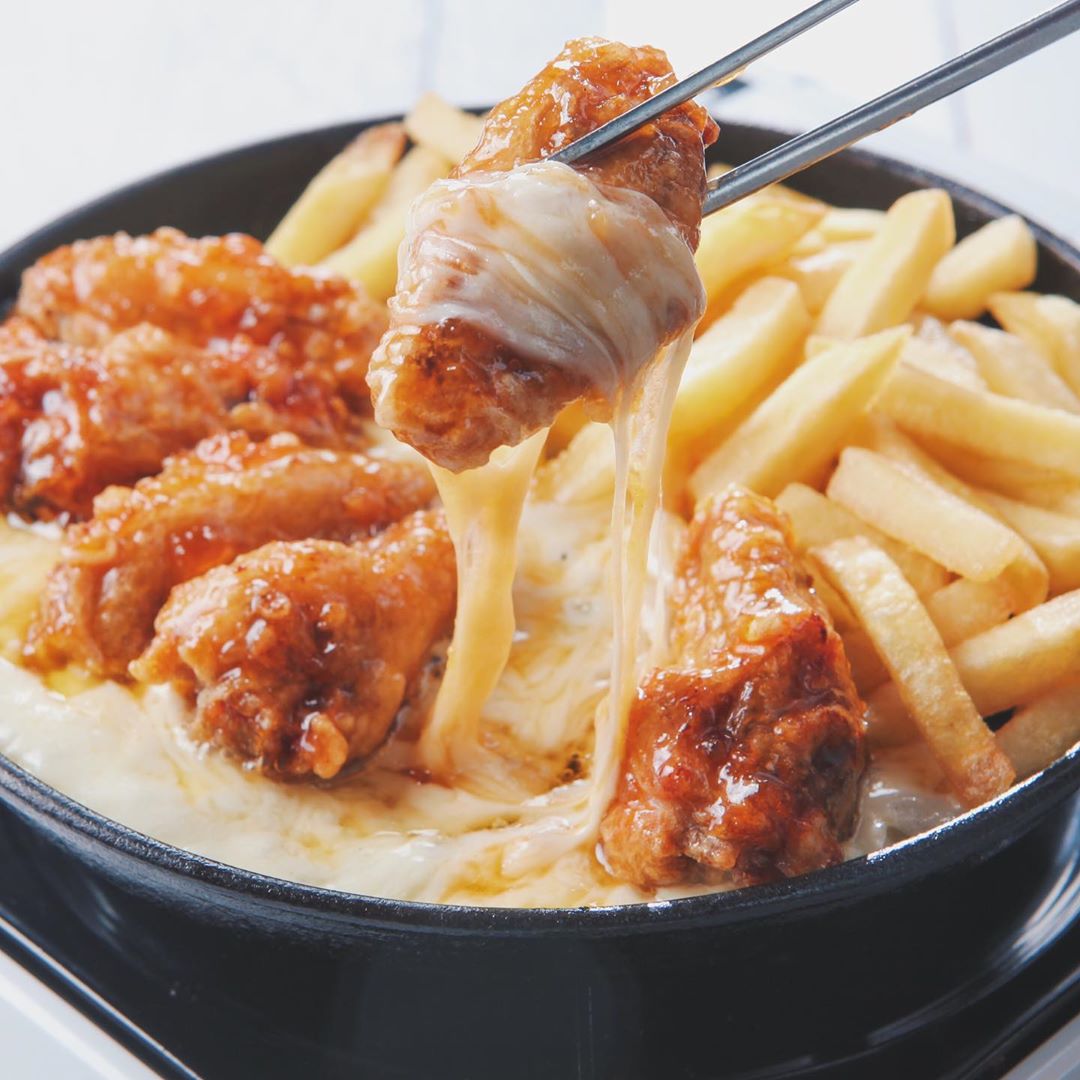 Image credit: @patbingsoosin
Another joint for you to indulge in Korean grub, PatBingSoo Korean Dining House, as their name suggests, serves 10 types of bingsu. A favourite of mine is their Guro Bingsoo (Price TBC), topped with slices of fresh mango, mango cheese sauce and vanilla ice cream. They also do a range of scrummy savoury items. One that's great for sharing is their Rolling Cheese Chicken Wings in Honey Garlic (Price TBC). Available in a spicy version as well, this is KFC (Korean Fried Chicken) you can dip in gooey cheddar and mozzarella.
Unit number: #B1-181
Opening hours: Daily 11:30am to 10pm
Tel: 9169 5835
Website
---
7. Fluff Stack
---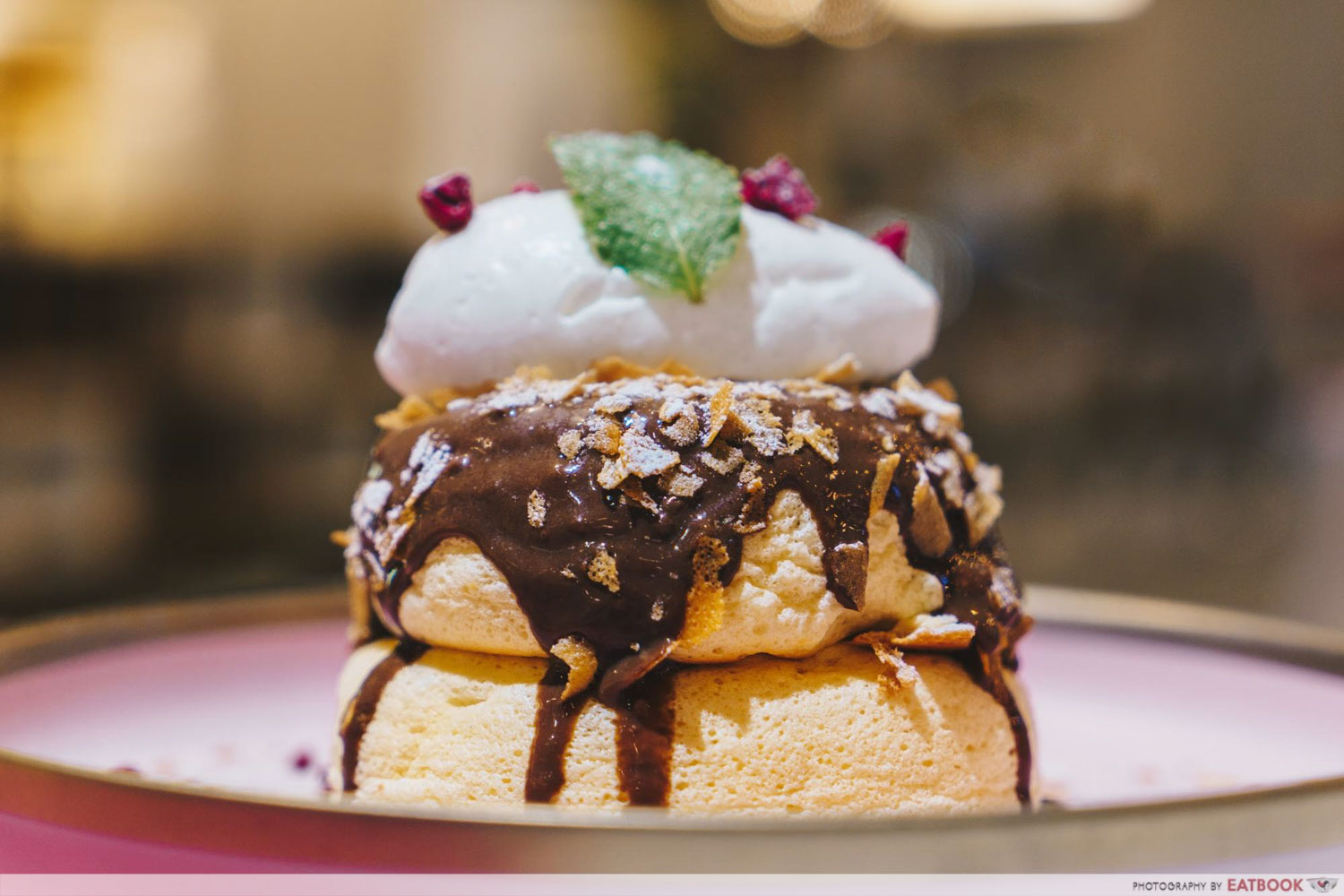 Flippers may have arrived in Singapore, but Northies will be pleased to know that you can also get your hands on some souffle pancakes right in your 'hood. Fluff Stack is one of the many F&B tenants at Northpoint City, featuring the same pillowy, wobbly stacks of pancakes as at their other outlets! If you're a bubble tea fan, the Oolong Boba Souffle Pancakes (S$9.80) come with pearls of gula melaka, and an oolong creme anglaise.
Read our review of Fluff Stack's Suntec branch here.
Unit number: #02-115
Opening hours: Sun-Thurs 11am to 9pm, Fri-Sat 11am to 9:30pm
Website
---
8. Maki-San
---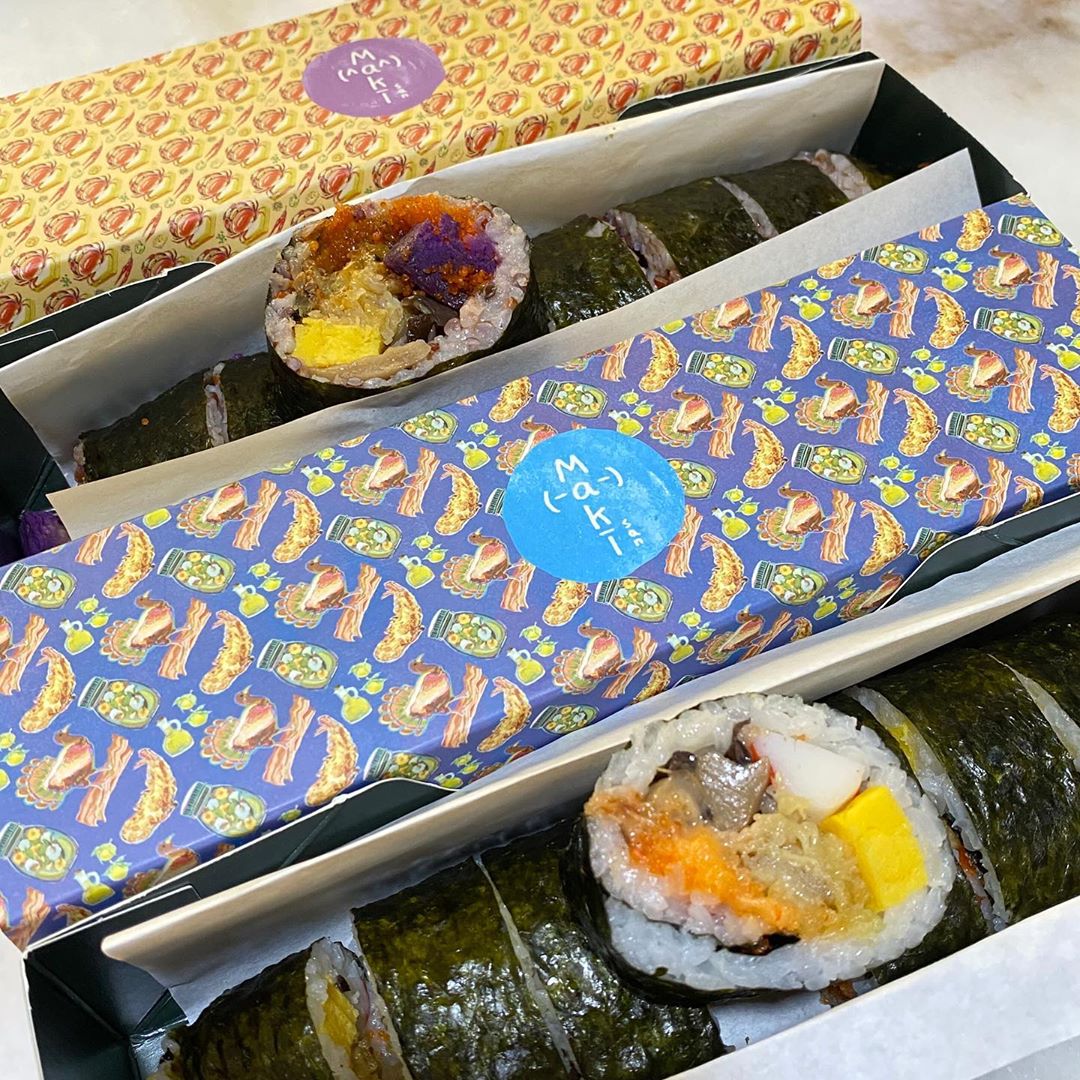 Image credit: @pingguo301
Here's a to-go option for days when you aren't looking for a sit-down meal. Maki-San is known for their fully customisable sushi rolls, with an incredible array of fillings you can opt to include in your sushi. Not unrecognisable also are their colourful boxes, which come in assorted prints that are almost too cute to throw away.
Unit number: #01-172
Opening hours: Sun-Thurs 11:30am to 9:30pm, Fri-Sat & Eve of PH 11:30 to 10pm
Tel: 9627 1151
Website
---
9. Paris Baguette
---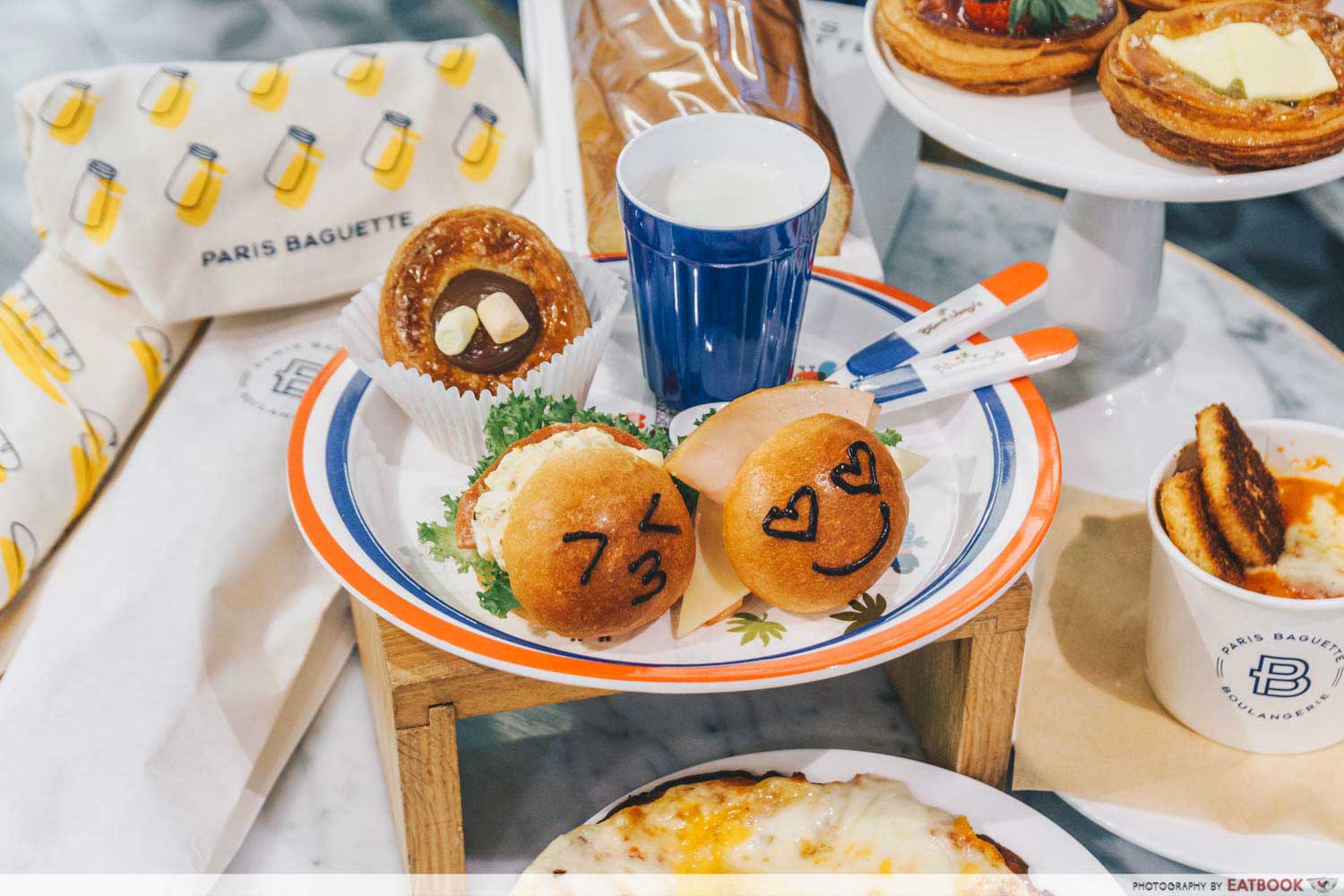 If you've been to Paris Baguette in its hometown of Korea, you'll see that their newest outlet at Northpoint City has a new selection of menu items that's closer to their Korean counterpart than at the existing PB branches in Singapore. Go for the Real Watermelon Ice Bar ($2.90), a refreshing respite from our sweltering heat, or the Mini Burgers ($8.90), that'll definitely appeal to kids.
We tried Paris Baguette's new outlet!
Unit number: #B2-134
Opening hours: Daily 10am to 10pm
Website
---
10. Akimitsu
---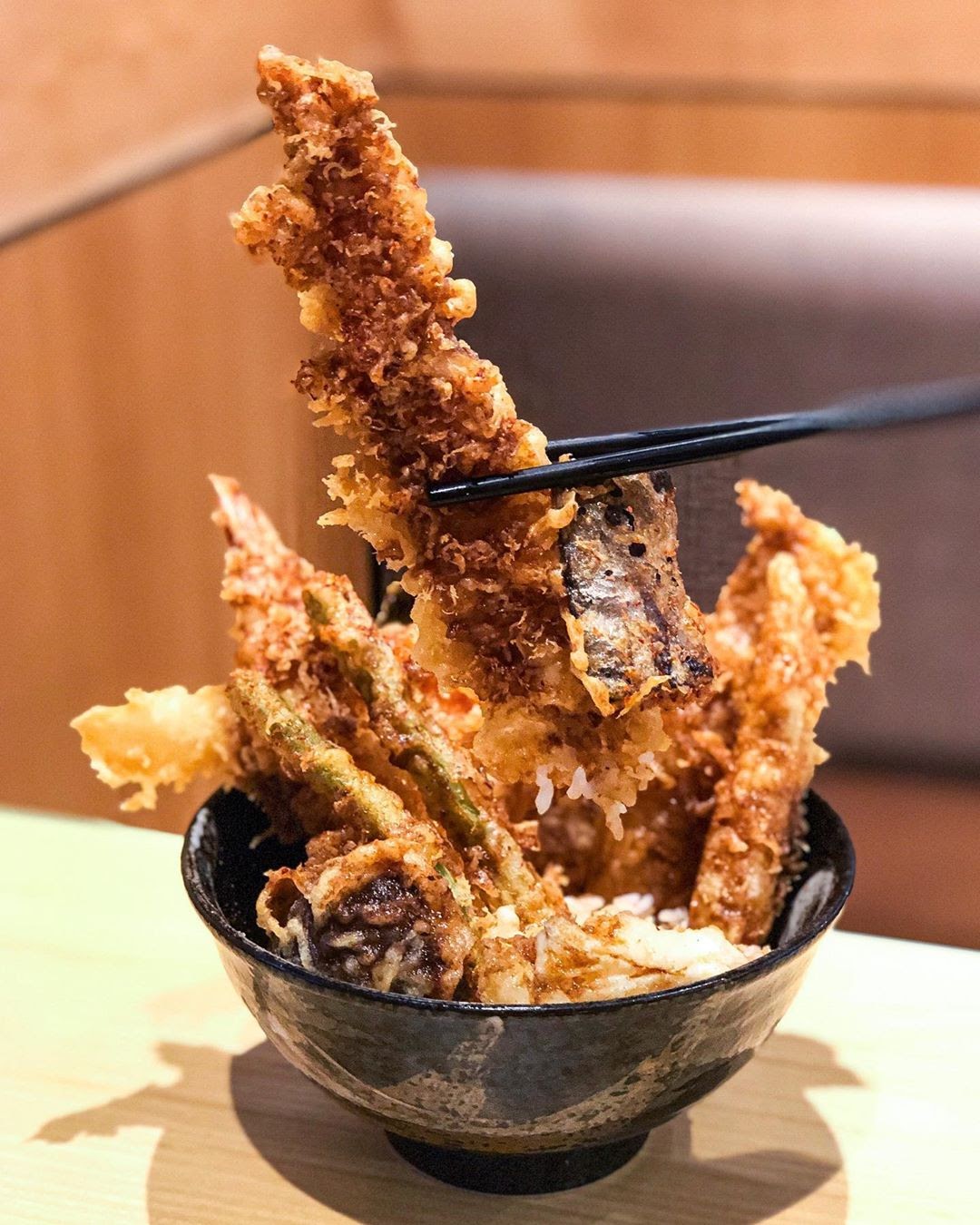 Image credit: @hays_eatable
This award-winning tendon franchise from Japan allows you to have tendon without having to travel to town. A Signature Tendon Bowl ($14.90++) comes with chawanmushi, miso soup and and a free flow of pickles on the side, while beef lovers can go for the Gyu Egg Don ($12.90++), topped with stewed beef slices and a half-boiled egg.
Unit number: #02-28
Opening hours: Daily 10am to 10pm
Tel: 6333 9781
Website
---
11. Sakon Thai
---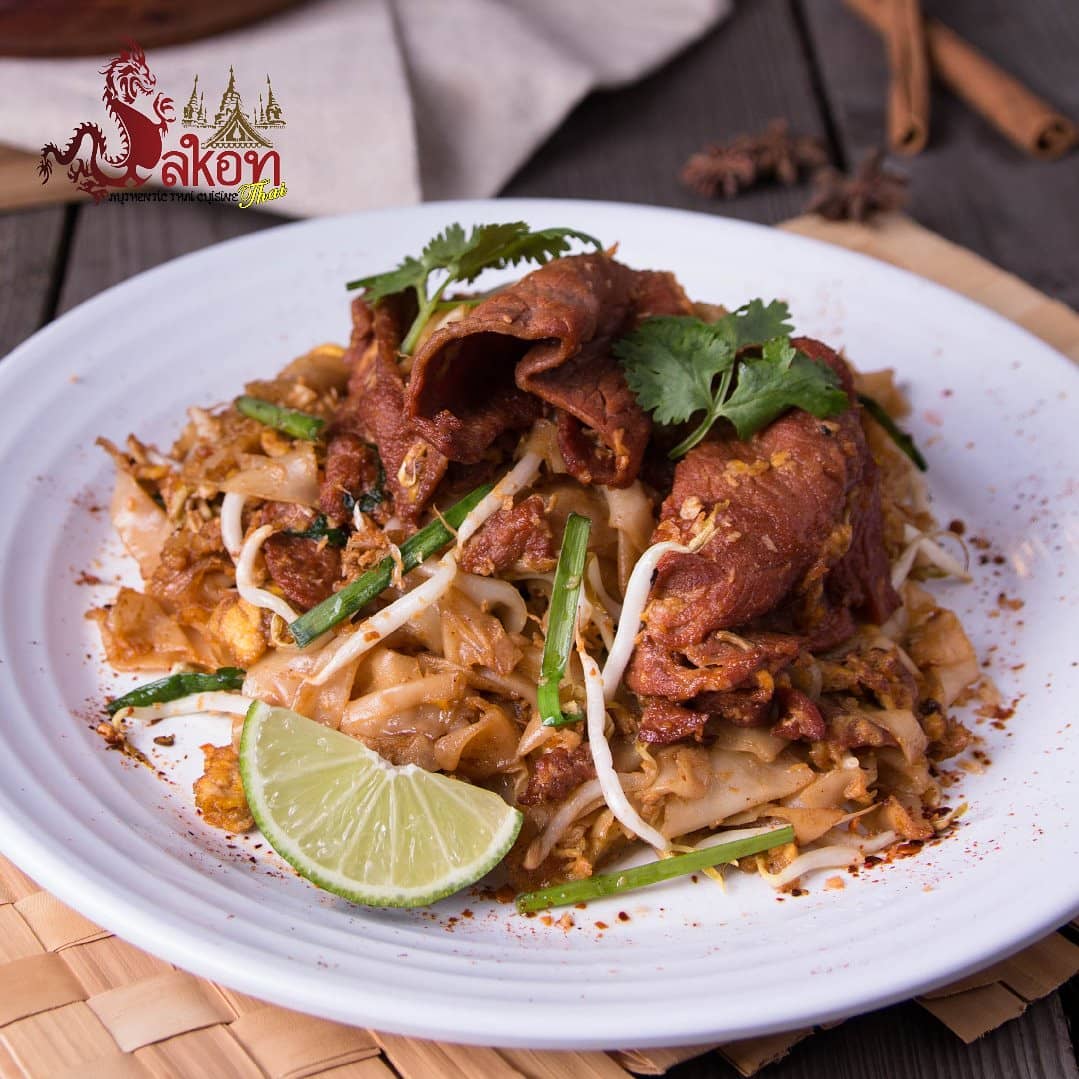 Image credit: @sakon.thai
Adding to the mix of cuisines available is Sakon Thai, a Thai eatery that has a healthy selection of dishes, including a savoury Fried Beef Kway Teow ($8.90) and classic Thai dishes like Thai Mango Salad ($6.80). This is topped with their wallet-friendly prices, making Sakon Thai a good option for a simple dinner out.
Unit number: #01-129
Opening hours: Daily 10:30am to 10:30pm
Tel: 6251 9792
Website
---
12. Tenderfresh Classic
---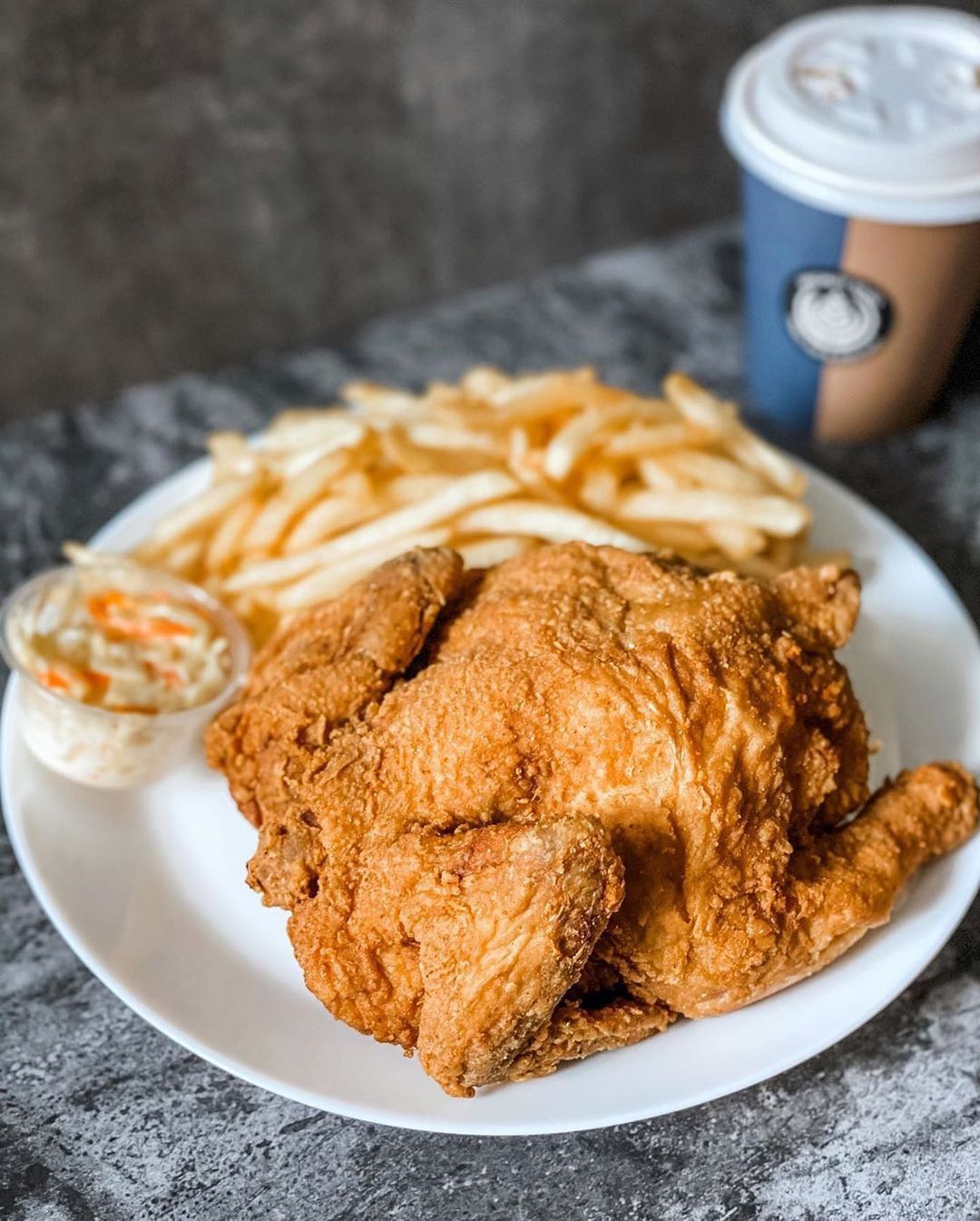 Image credit: @tenderfreshsg
Come to Tenderfresh Classic for chicken. Be it the Signature Fried Spring Chicken ($18.90) or the Honey Glazed Roast Spring Chicken ($18.90), it's definitely the thing to have when you visit any Tenderfresh outlet. Alternatively, they also have a selection of burgers and fusion pasta dishes that you could order for variety.
Unit number: #B1-53
Opening hours: Daily 11am to 11pm
Tel: 8684 5130
Website
---
13. PUTIEN
---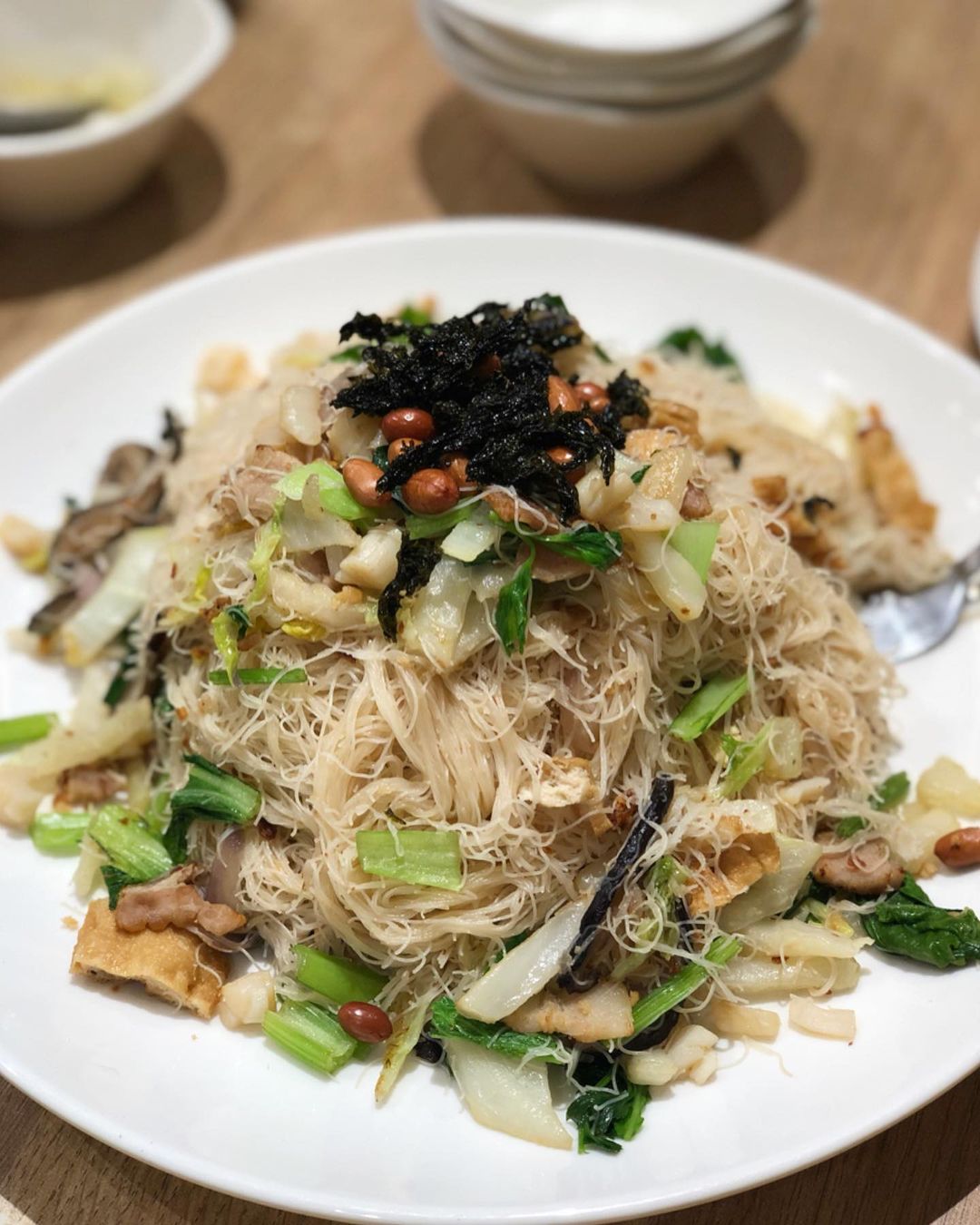 Image credit: @victoriainstadiary
Michelin-starred PUTIEN is not your regular Chinese restaurant. Their Heng Hwa food originates from the province of Fujian in China, and their signature Fried Heng Hwa Bee Hoon (from $10.90++) is one of the most popular dishes on the menu. If you're a chilli lover, definitely don't skip the Spice Mum Chilli Sauce that's addictively tangy and spicy.
Unit number: #02-42/43/44
Opening hours: Mon-Fri 11:30 to 3pm, 5:30pm to 10pm, Sat-Sun & PH 11:30 to 4:30pm, 5:30pm to 10pm
Tel: 6257 1482
Website
---
14. Riverside Grilled Fish
---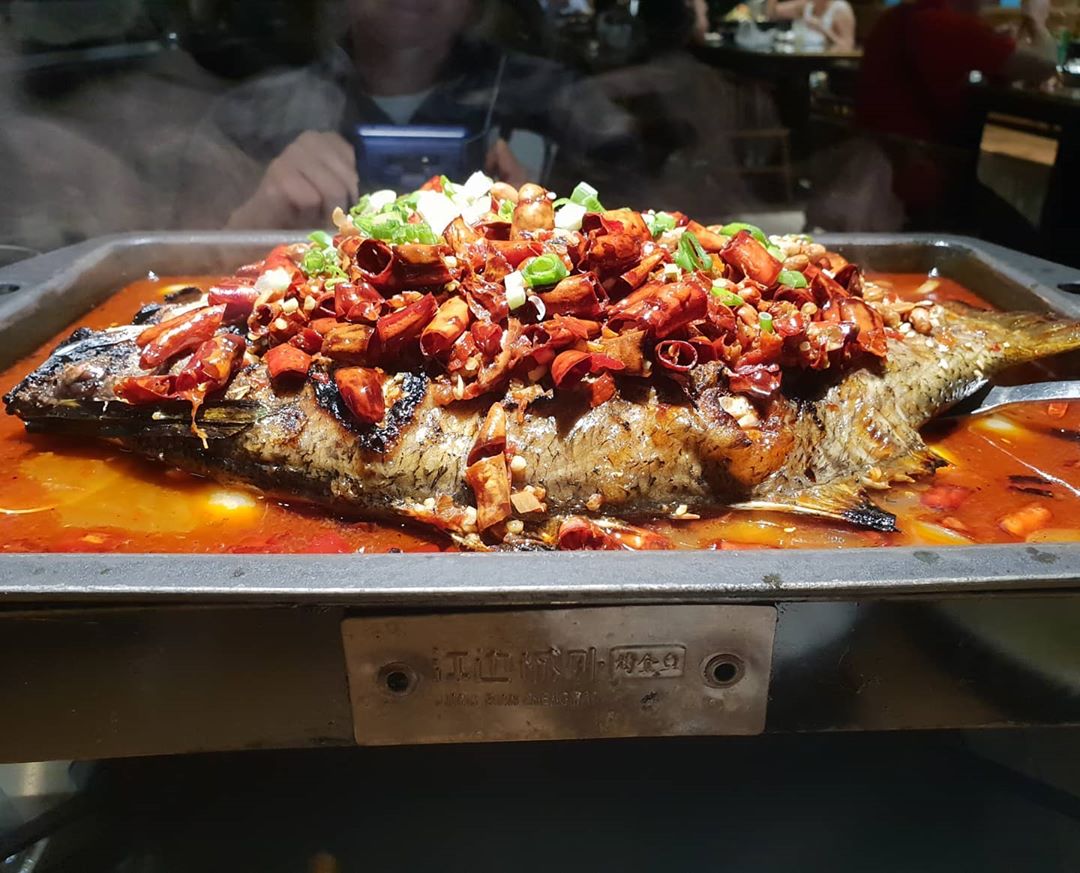 Image credit: @nomnom_travelogue
There are three steps to ordering your Signature Grilled Fish (from $35++) at Riverside Grilled Fish's newest outlet in Singapore: choose your favourite fish, pick a sauce, then add on your choice of sides. It's an offshoot of a popular restaurant in China, and celebrates this traditional way of eating grilled fish topped with Chong Qing ma la sauces that's native to Wushan, Chong Qing.
Unit number: #B1-196/197
Opening hours: Daily 11am to 10pm
Tel: 6258 6441
Website
---
15. Ayam Penyet President
---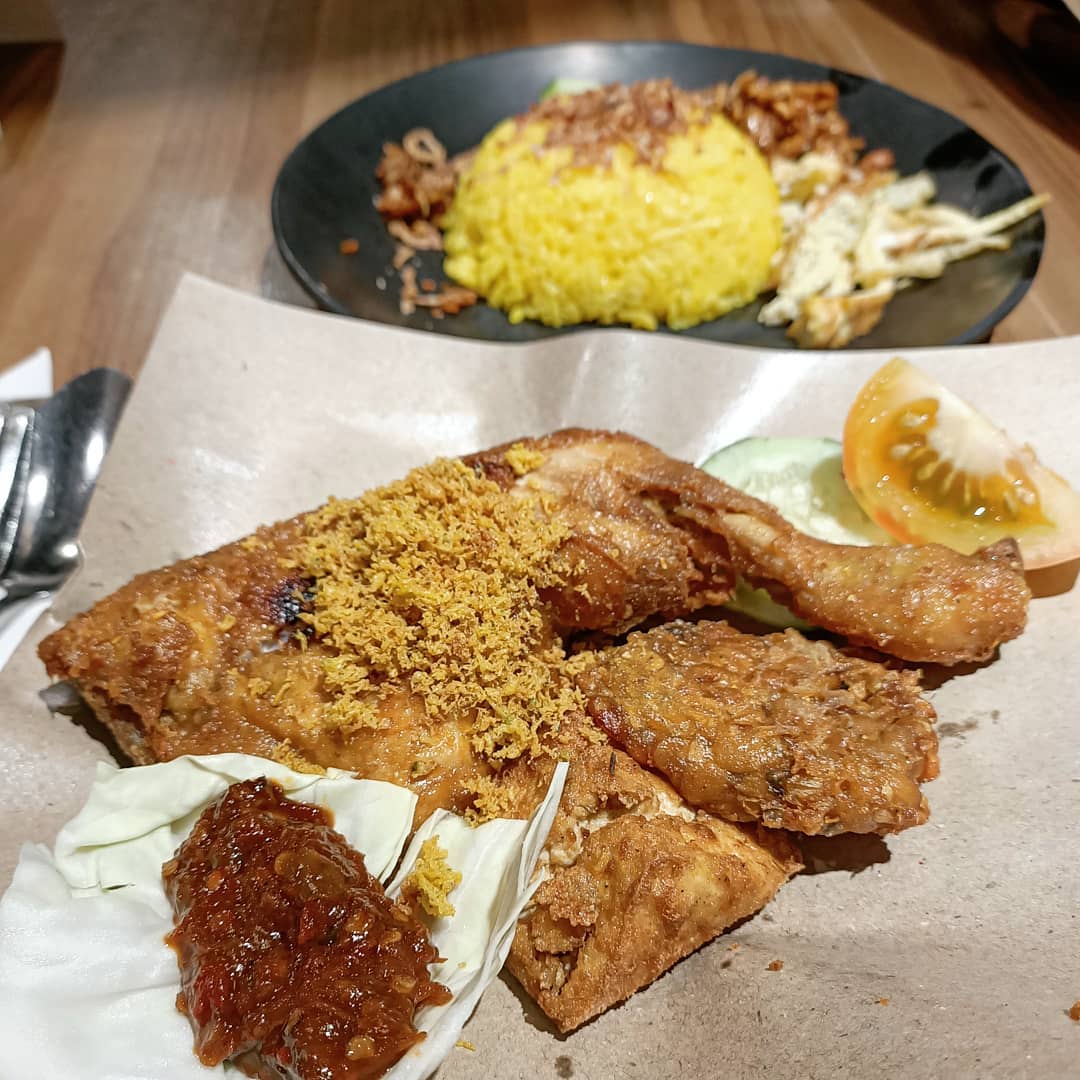 Image credit: @serenetan.sg
Settle your Indonesian food cravings with Ayam Penyet President. They're named for their iconic Ayam Penyet ($6.90), which has a whole smashed fried chicken leg, accompanied by the usual suspects of tofu, tempeh, my personal favourite crispy bits, and signature chilli paste. If you're not looking for fried chicken, the Ayam Bakar ($6.90) is a great alternative, featuring a whole chicken leg that's grilled in sweet, black sauce.
Unit number: #B1-54
Opening hours: Daily 10am to 10pm
Website
---
What to eat at Northpoint City
---
With a whole new wing and more than 50 new eateries added to Northpoint City in 2019, there's almost no need for North-siders to venture to other parts of Singapore to find an exciting array of dining choices.
Address: 930 Yishun Avenue 2, Singapore 769098
Nearest MRT Station: Yishun (NS13)
Featured image adapted from @serenetan.sg, @nomnom_travelogue , @patbingsoosin and @pizzamarusg's posts.