Fluff Stack at Suntec City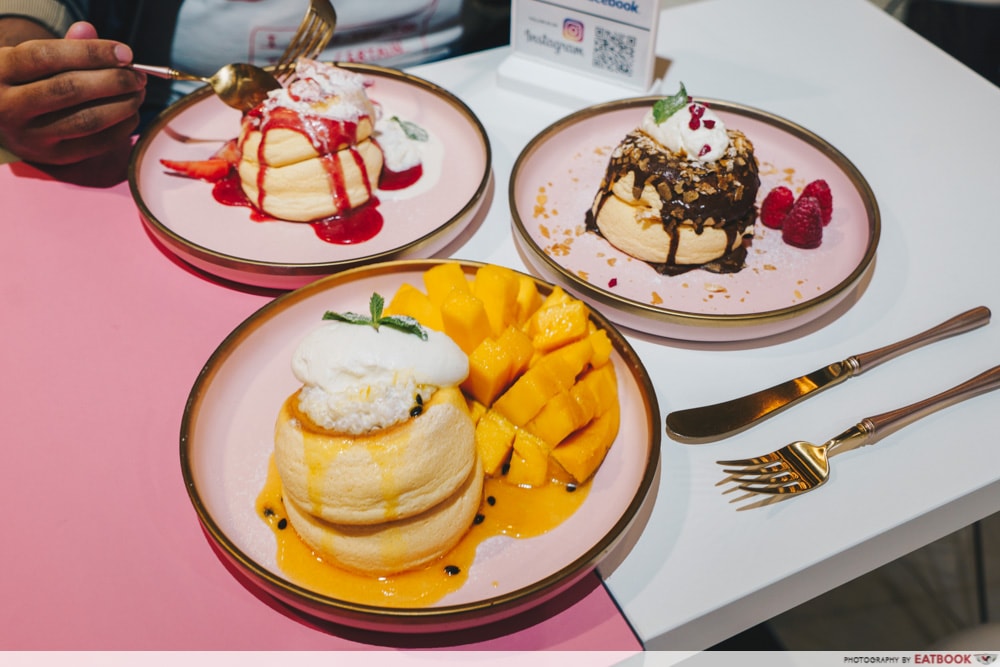 I first saw Fluff Stack during a media tasting at 108 Matcha Saro. Back then, the souffle pancake cafe was still undergoing renovations. I went back to Suntec City a few weeks later, and realised it had already started operations. Despite only opening for awhile with little fanfare, the space was already teeming with people. We're talking about a full house at 3pm on a weekday.
108 Matcha Saro: Famous Matcha Joint From Hokkaido Opens At Suntec With 1-For-1 Soft Serve
As such, we highly recommend coming down on a weekday in the morning; you'll be able to better appreciate the mastery behind the desserts when there are no crowds. That, and a shorter waiting time.
Food at Fluff Stack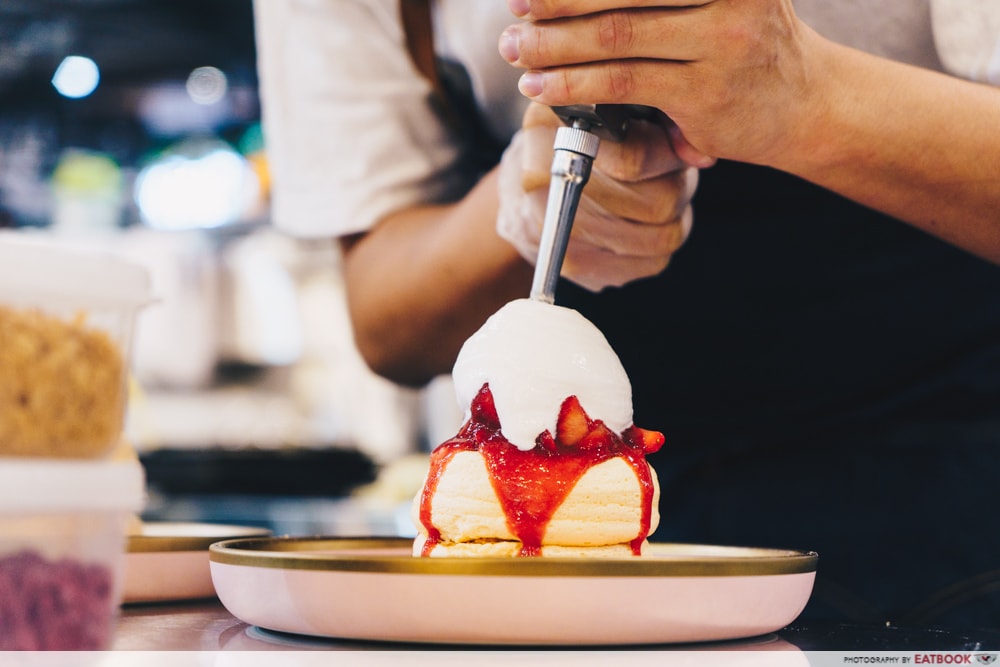 Every pancake here is made from scratch upon order, leading to the 15-minute long waiting time for each dish—and that's without any crowd. Nonetheless, watching the entire process is #foodporn on its own, from the moment the cloud-like batter hits the griddle to the multicoloured finishing touches on the stack.
The Strawberry Cheese Souffle Pancakes ($12.80) is a prime example of this—with overflowing strawberry coulis, mixed with fresh strawberries and topped with cream cheese.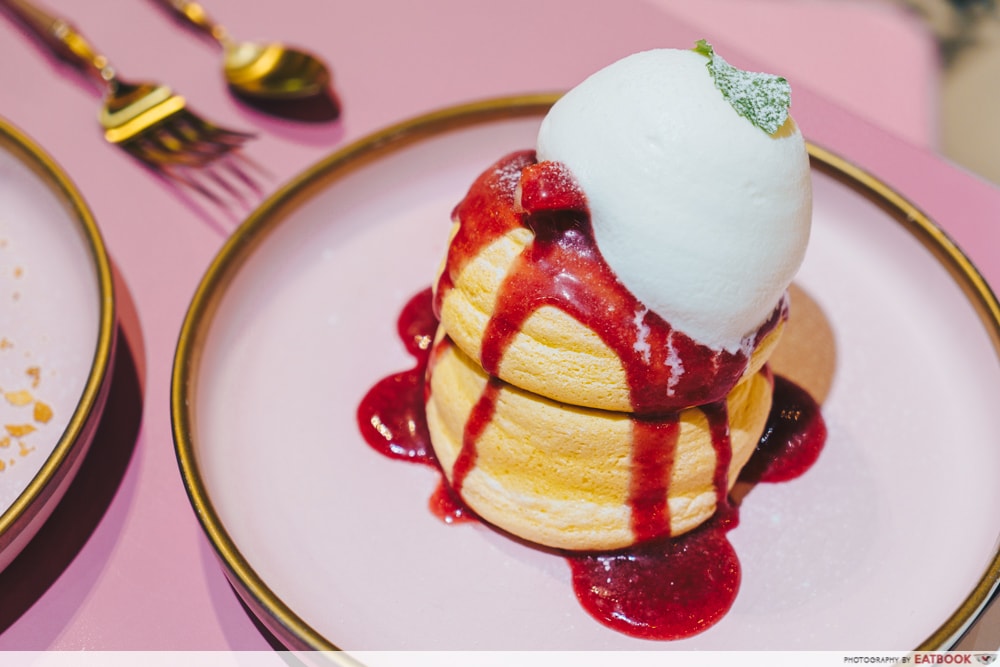 I was shocked by how generous they were with the cream cheese. It was as thick as a single pancake. Nonetheless—since it was airy—the cheese did not clash with the pancakes' texture, and gave them a touch of richness. The coulis had a vibrant taste and sweet undertones. 
I would have preferred if more fresh strawberries were added, as the dish could have used some tartness for a variance of flavours.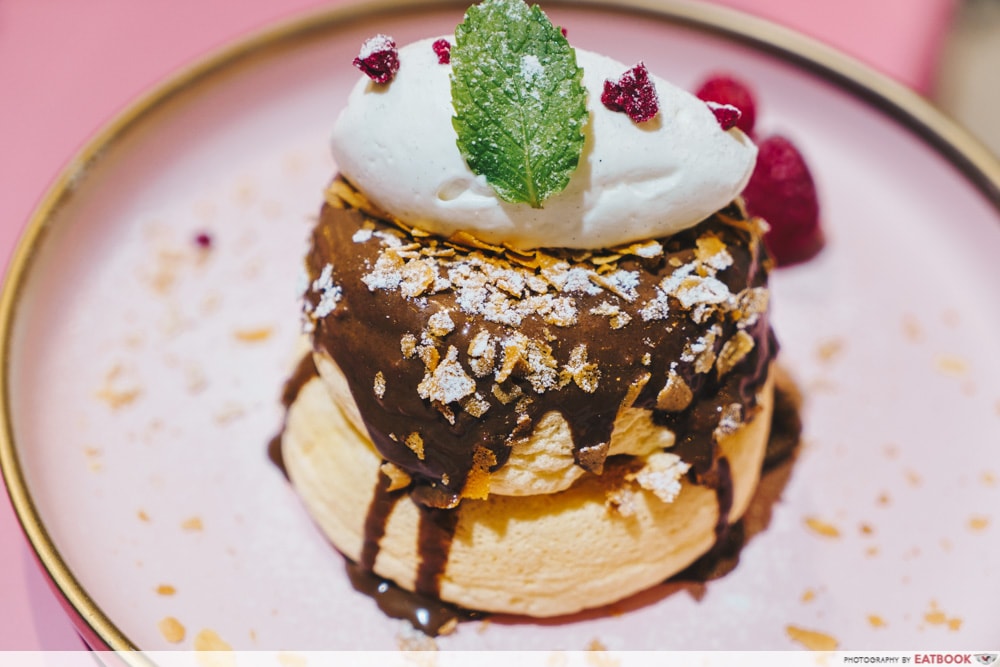 Every souffle pancake was on point in terms of texture and jiggliness. They didn't deflate easily, and were still spongy even after being left out for a while.
No dish exemplified this better than the Hazelnut Chocolate Souffle Pancakes ($13.80). It was the first dish we ordered and the last to be eaten. Even then, its structural integrity barely took a hit, retaining its fuwa fuwa quality.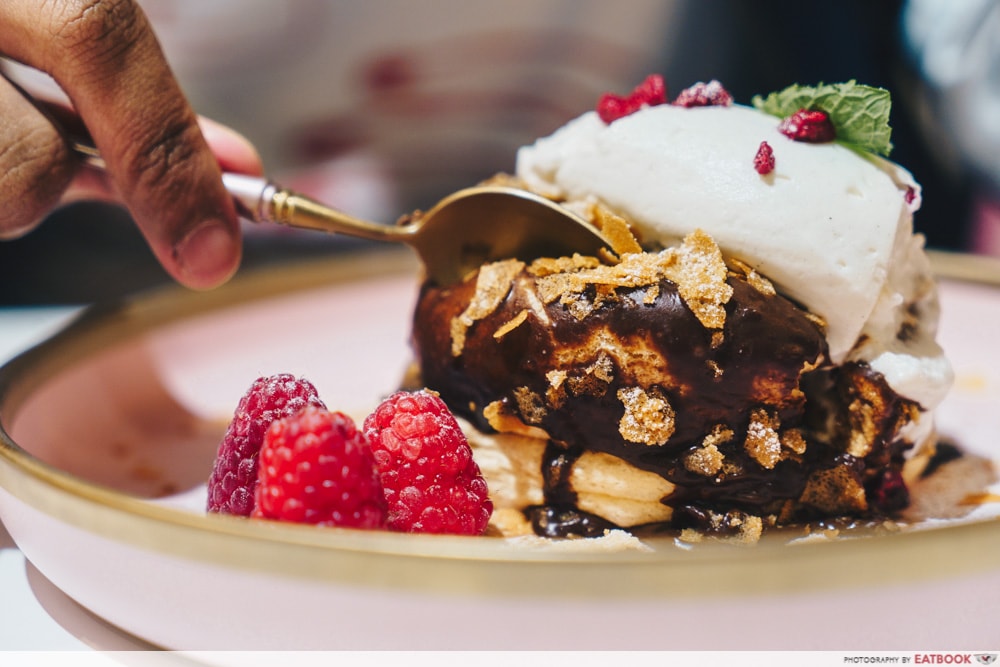 Capping the pancakes was a nutty and mellow hazelnut chocolate sauce. Think melted Ferrero Rocher enveloping the stack. The concoction is then speckled with golden feuilletine flakes that gave a tinge of caramel flavour. However, their main contribution was their crunchiness which added textural depth to the pancakes.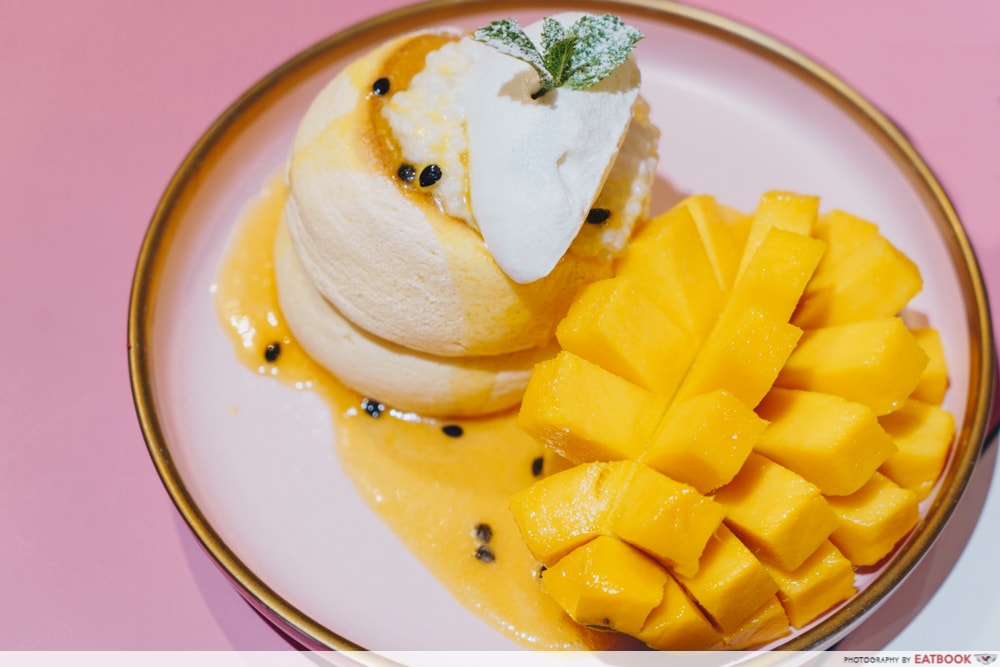 Rounding up the day was the Mango Passion Fruit Souffle Pancakes ($14.80)—comprising passion fruit compote, coconut sago, chantilly cream, and honey mango. We can attest to the freshness of this particular dish; we witnessed fresh mangoes being delivered, which were then used to make this dessert.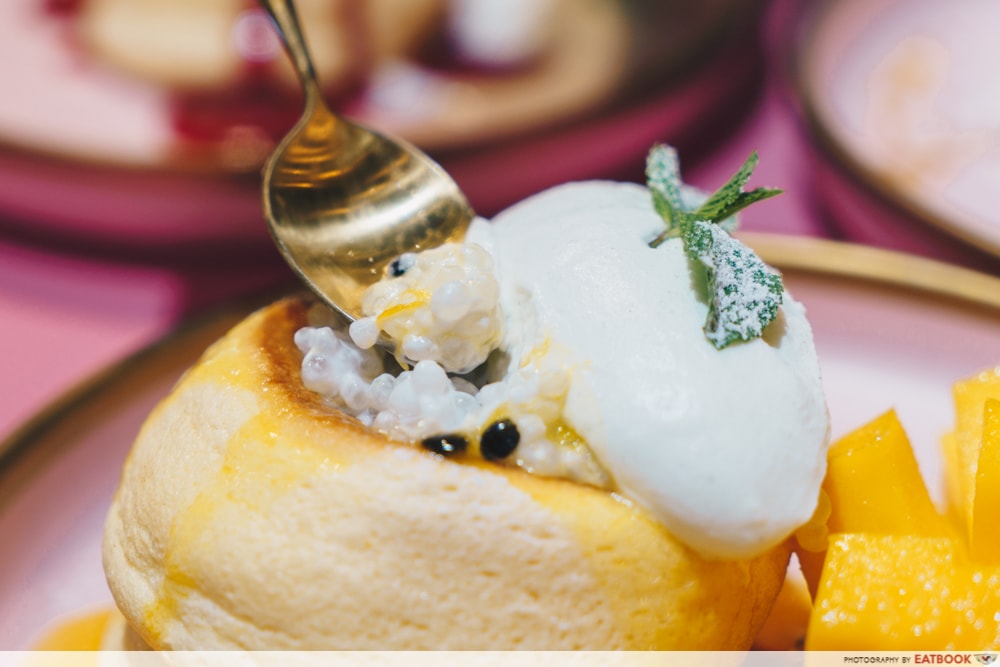 Out of the three, I felt that this dish had the best balance of flavours. The compote had the right amount of sourness to counteract the sweet mangoes. The coconut sago was creamy and elevated the sweetness profile of the dessert. 
MAXI Mango: Famous Mango Ice-Cream Joint From The Philippines Opening In Singapore
That being said, I felt that the pancakes had too much of an eggy taste which didn't mesh with the other flavours.
Ambience at Fluff Stack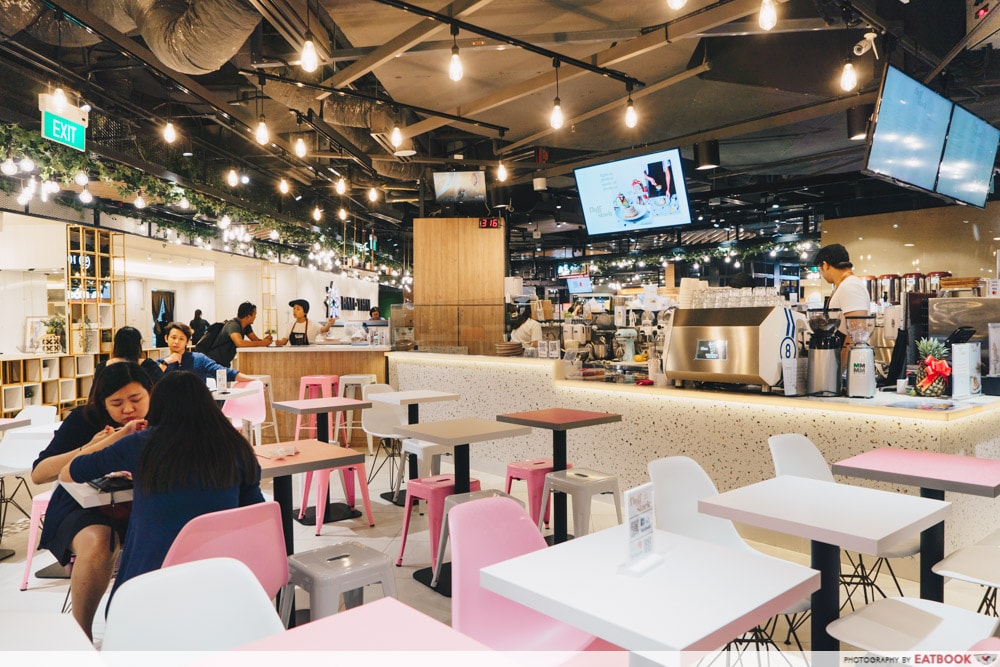 Fluff Stack is located in the basement of Suntec City, which is probably one of the most difficult places to navigate in town. Conquer the maze, however, and you'll find a cafe with bright lights and ample seats. Keep your expectations in check though, as the space isn't large. So it's best to come here in small groups.
The verdict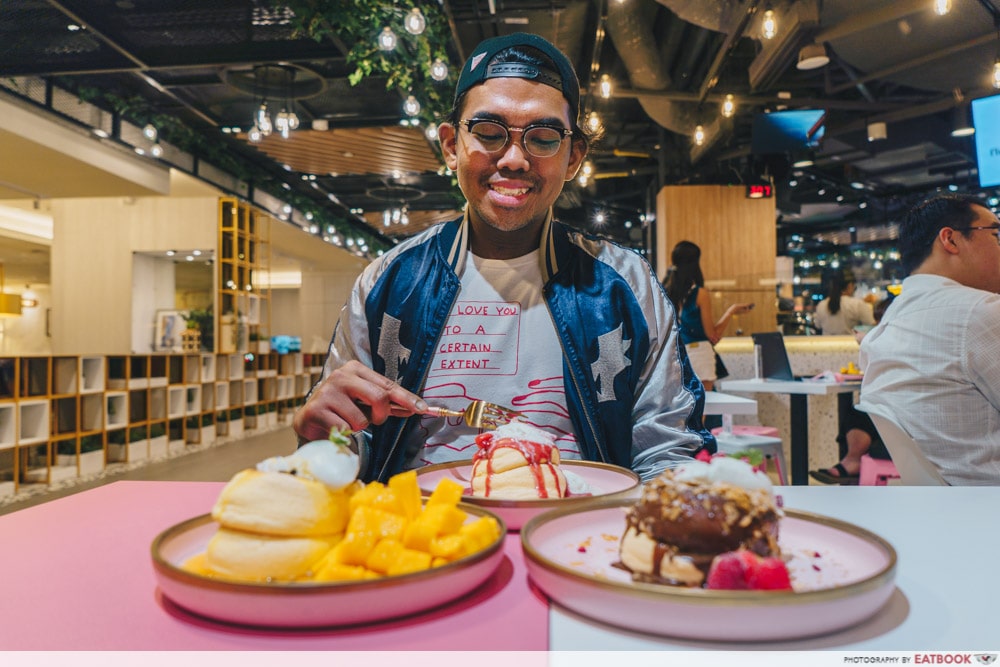 More often than not, I'm constantly finding a good dessert place to end my meals in town. Fortunately, Fluff Stack makes the cut with their fluffy pancakes. Though I would have preferred more dimension in terms of taste, the pancakes we tried were more than satisfactory if you're looking for a simple sugar rush.
Address: 3 Temasek Boulevard, #B1-K4, Suntec City, Singapore 038983
Opening hours: Daily 10am to 10pm
Website
Photos taken by Alastair Pang.
This is an independent review by Eatbook.sg.
Summary
Pros
— Fresh ingredients
— Well-crafted pancakes
Cons
— Inconvenient location
Recommended dish: Mango Passion Fruit Souffle Pancakes ($14.80)
Opening hours: Daily 10am to 10pm
Address: 3 Temasek Boulevard, #B1-K4, Suntec City, Singapore 038983