Tangled pasta in Chinatown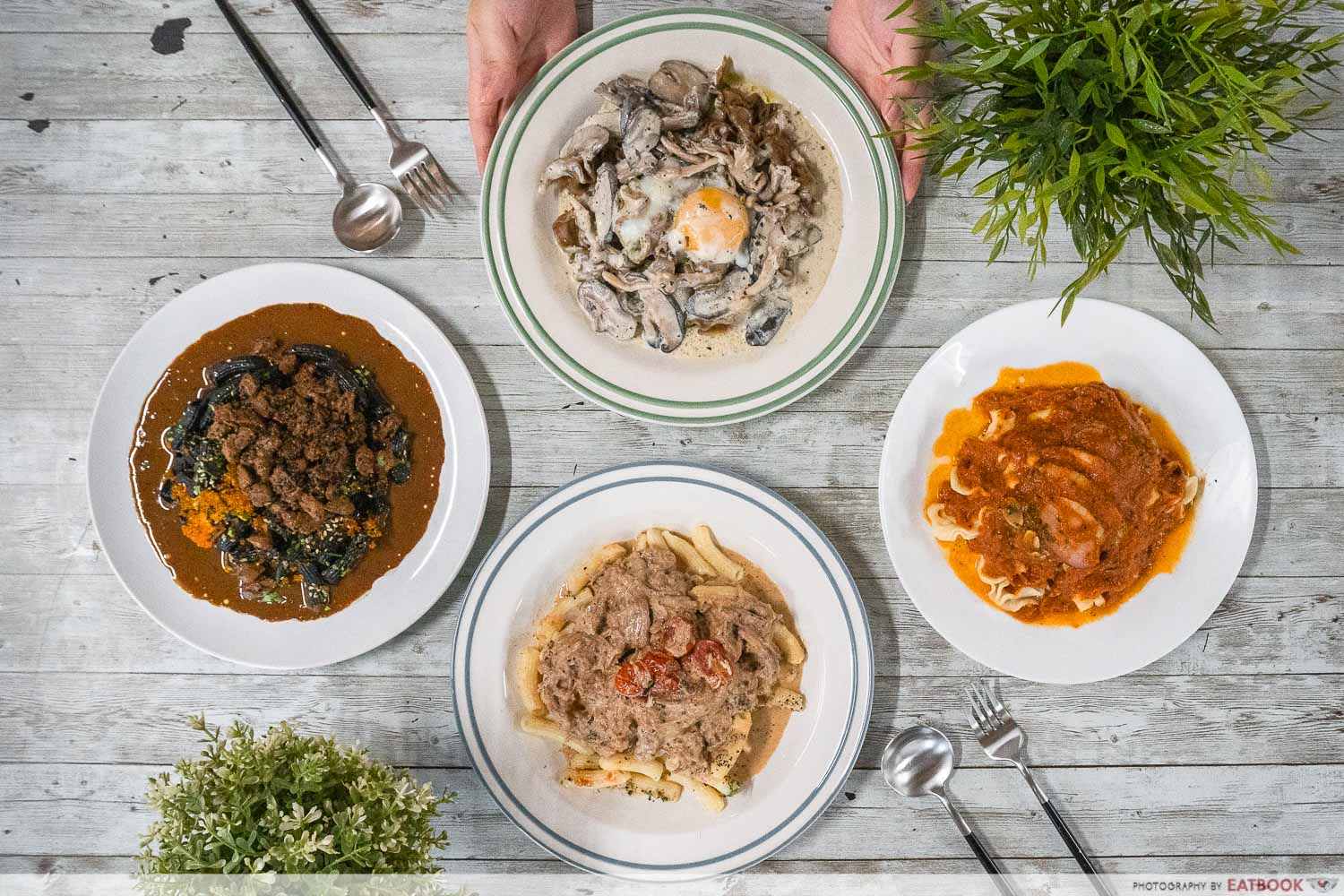 Tangled was first introduced to me by my cousin. She was raving about how affordable the food kiosk's pasta was for its quality, and how they have a range of attractive pasta options. She even made a comparison to Tipo Pasta Bar, an actual pasta restaurant! I was sold, and knew that I had to pay Tangled a visit.
15 Chinatown Food Gems Including Noodles At $1 And A 100cm Food Platter
Food at Tangled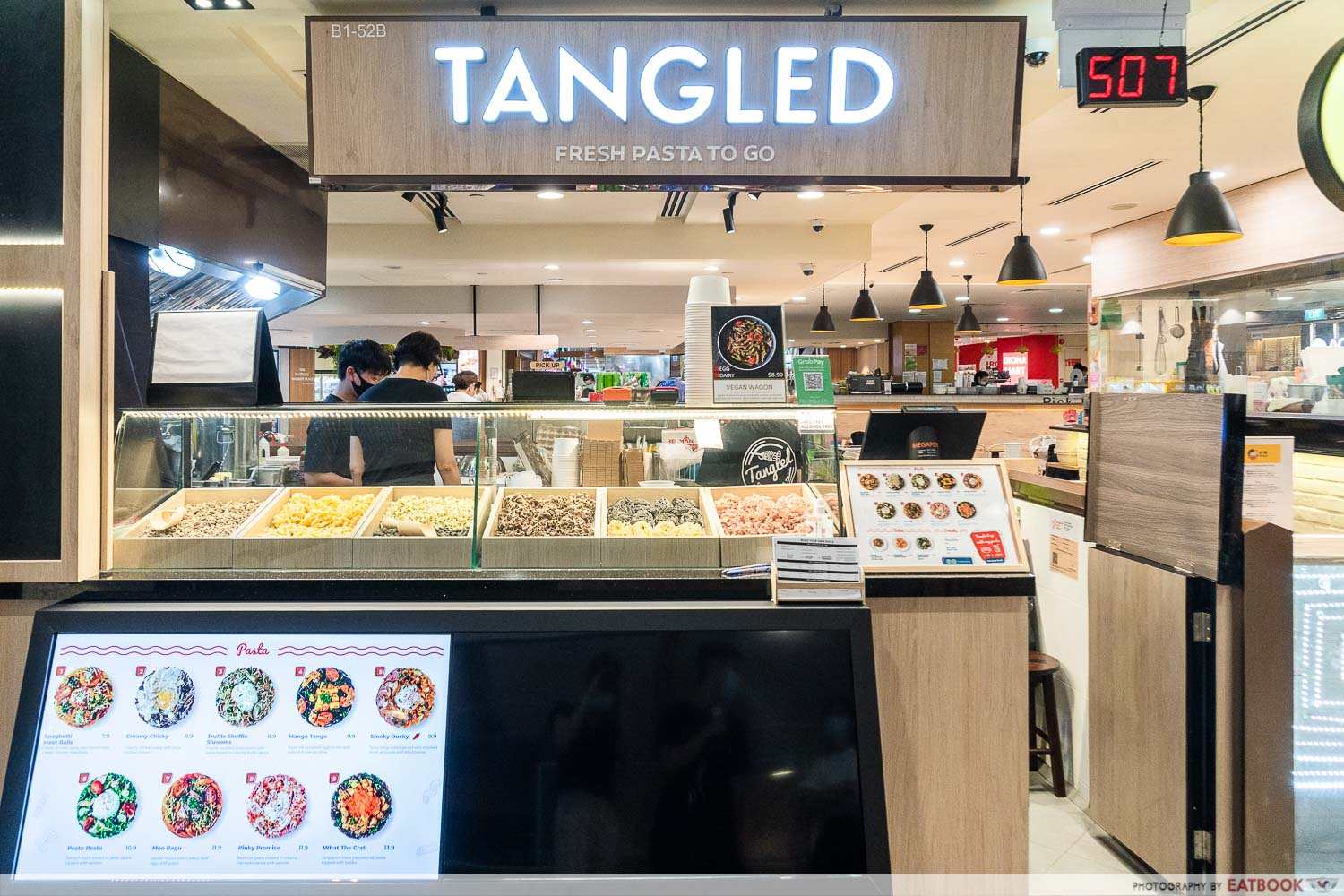 At Tangled, there are nine preset pasta dishes to choose from. If they don't suit your liking, you can build your very own pasta bowl, a similar concept to their neighbouring stall—Wok Hey.
Every morning, they churn out a variety of fresh, handmade pasta for the days' supply. They have four types: fusilli, spaghetti, pappardelle ricce, and penne, which come in assorted flavourings and colours. These are all naturally derived from ingredients such as squid ink, beetroot, mushrooms, and spinach. 
Feeling spoiled for choice, my colleague and I went for some of their bestsellers, as well as ones that had caught our attention.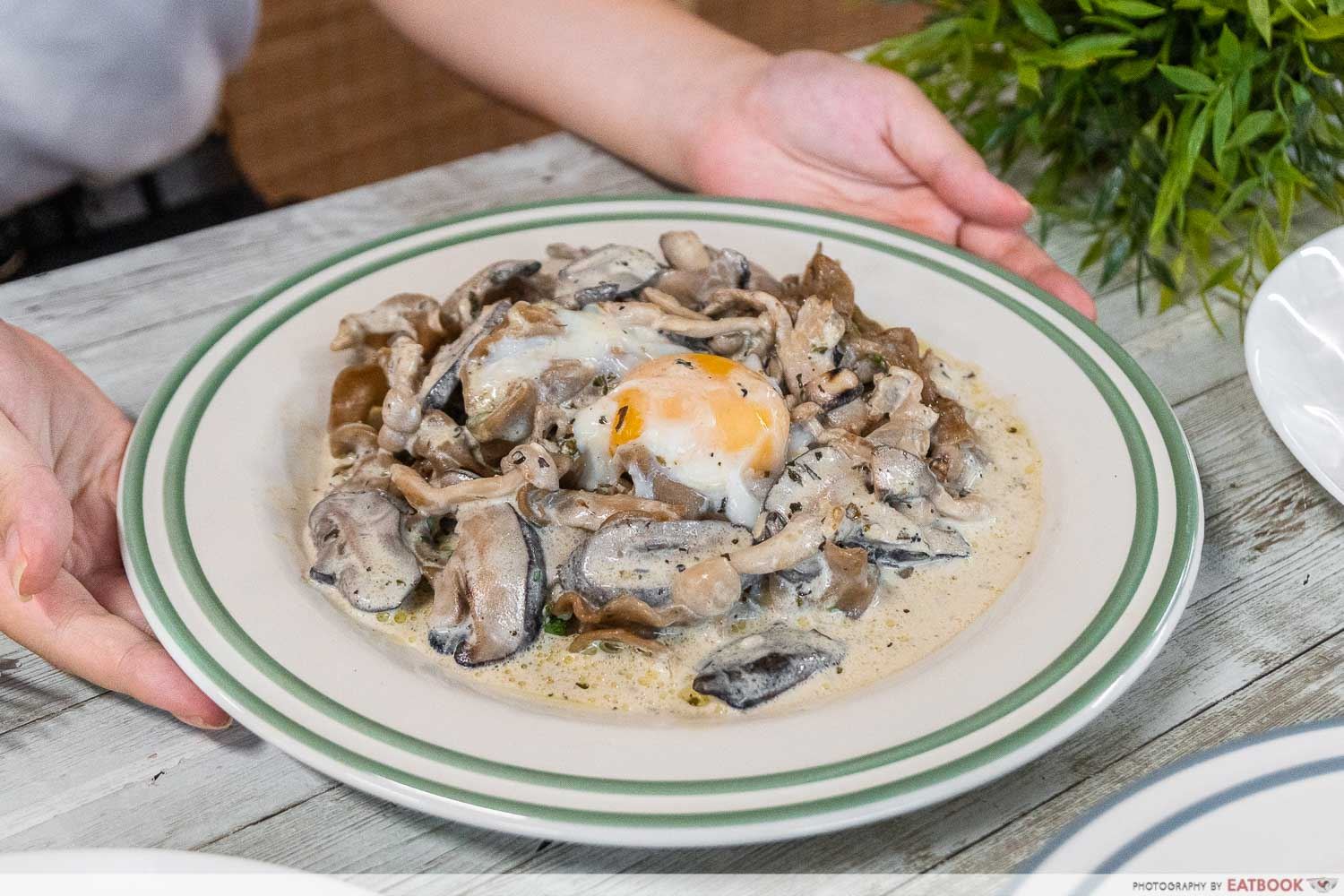 I started off with the most popular choice at Tangled—Truffle Shuffle Shrooms ($8.90). It came with a mushroom pappardelle ricce, sauteed mushrooms, poached egg, and a creamy truffle sauce. 
The Truffle Shuffle Shrooms truly screamed truffle, without being overpowering. I really appreciated how they did not stinge on the truffle oil, as it made the dish very aromatic and moreish. The mushrooms also added a slight sweetness, and umami notes to the dish.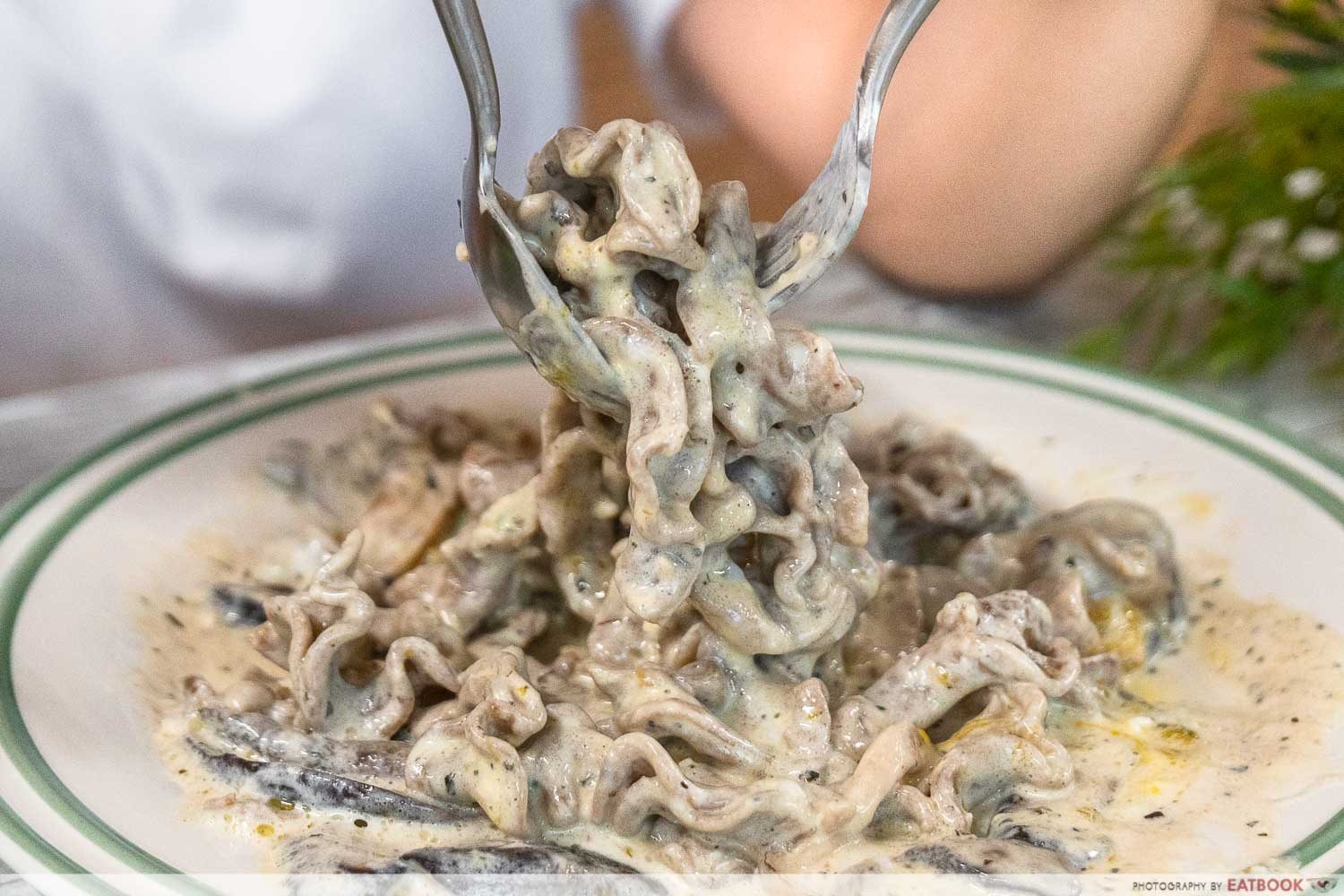 The cream sauce hugged every strand of the pasta, making each mouthful just the right amount of creamy and savoury. What's more, it didn't feel jelak or heavy. 
The pasta was cooked al dente, thanks to the painstaking process of making the pasta fresh, and cooking it in an automated pasta cooker. If you didn't know what pappardelle ricce is, it's a type of pasta from the lasagne family—flat, wide, and with ruffled edges. It was fun eating, as I'd never tried this style of pasta before. I also liked how distinct the mushrooms were in terms of texture. They retained a bite, without being cooked till they were overly soft, which added a nice touch to the dish.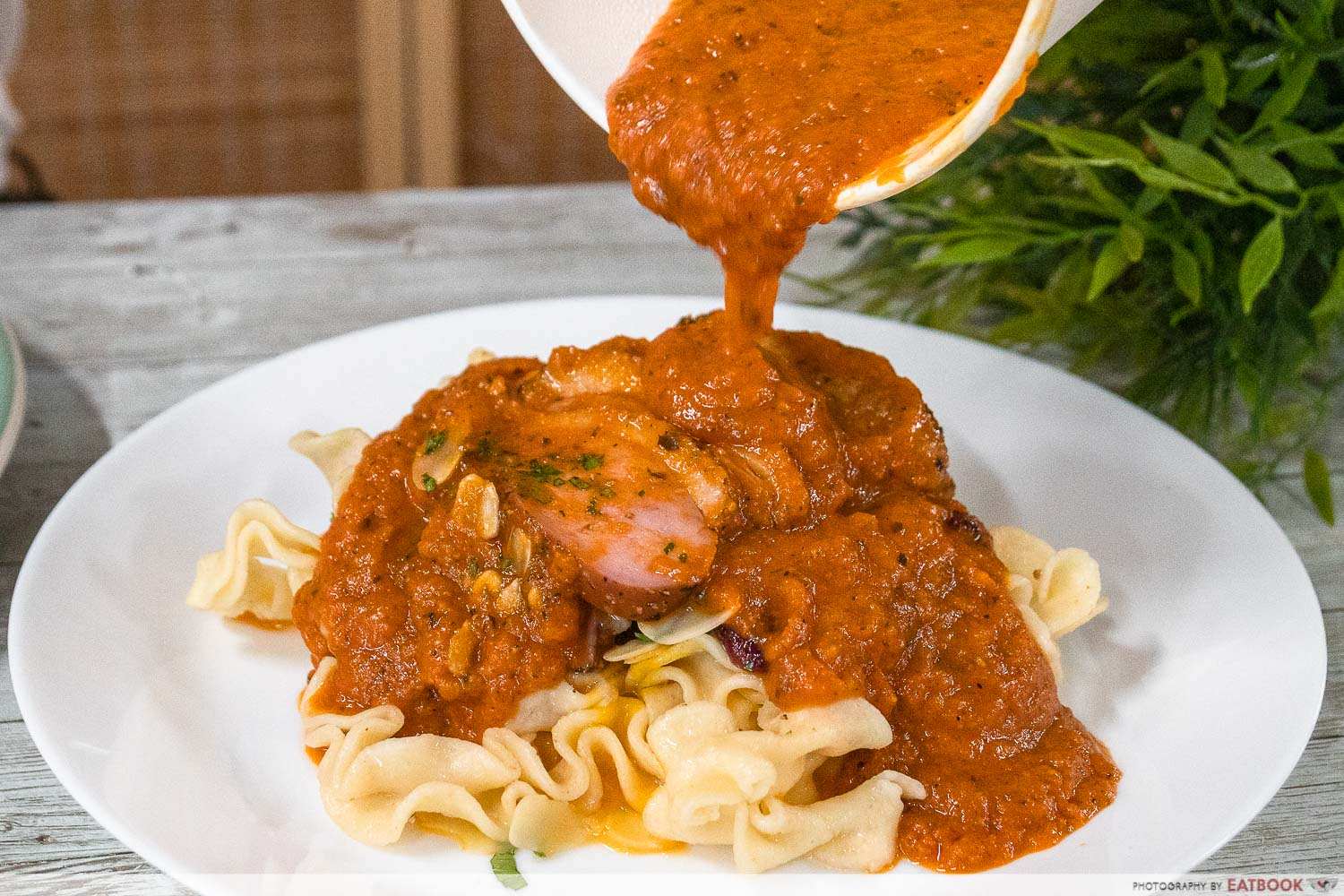 Next, we tried the Smoky Ducky ($9.90) for a spicy change. It featured a portion of pappardelle ricce egg pasta, doused in a tomato-based sauce, and topped with slices of smoked duck, almonds, and cranberries. 
The sauce had a light kick, and a tinge of sweetness. As it is tomato-based, it was also rich in umami. Compared to the truffle cream pasta, this was much lighter, yet was just as rich and robust in flavour.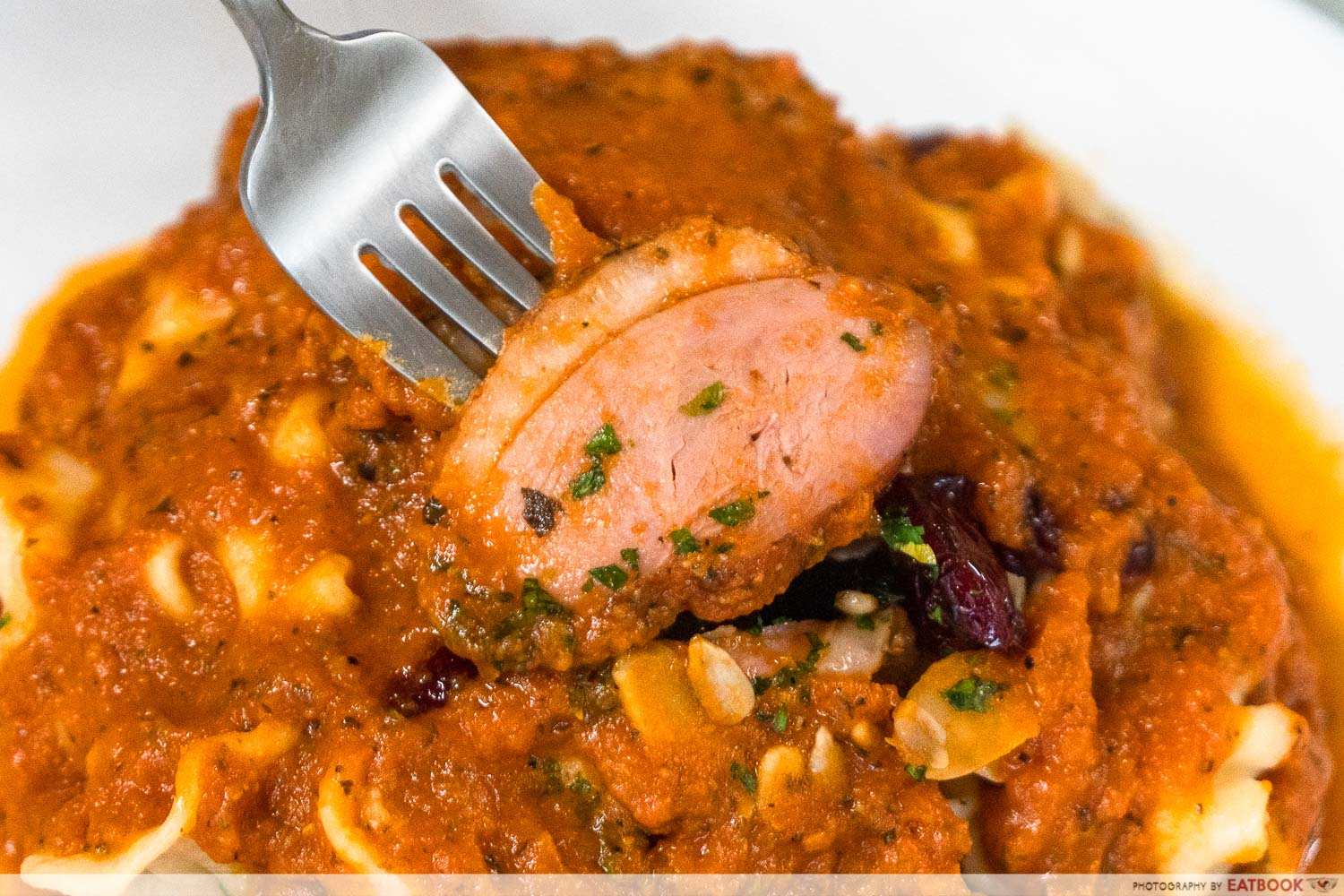 Although the smoked duck might not be anything out of the ordinary, it still added a nice savouriness and smokiness to the dish. 
Special mention goes to the addition of almond slices and cranberries. Even though they're small and easily missed, they added a great depth in flavour. The almonds were crunchy and nutty, while the cranberries brought a bit of tartness. It was always a pleasant surprise when I occasionally bit into them.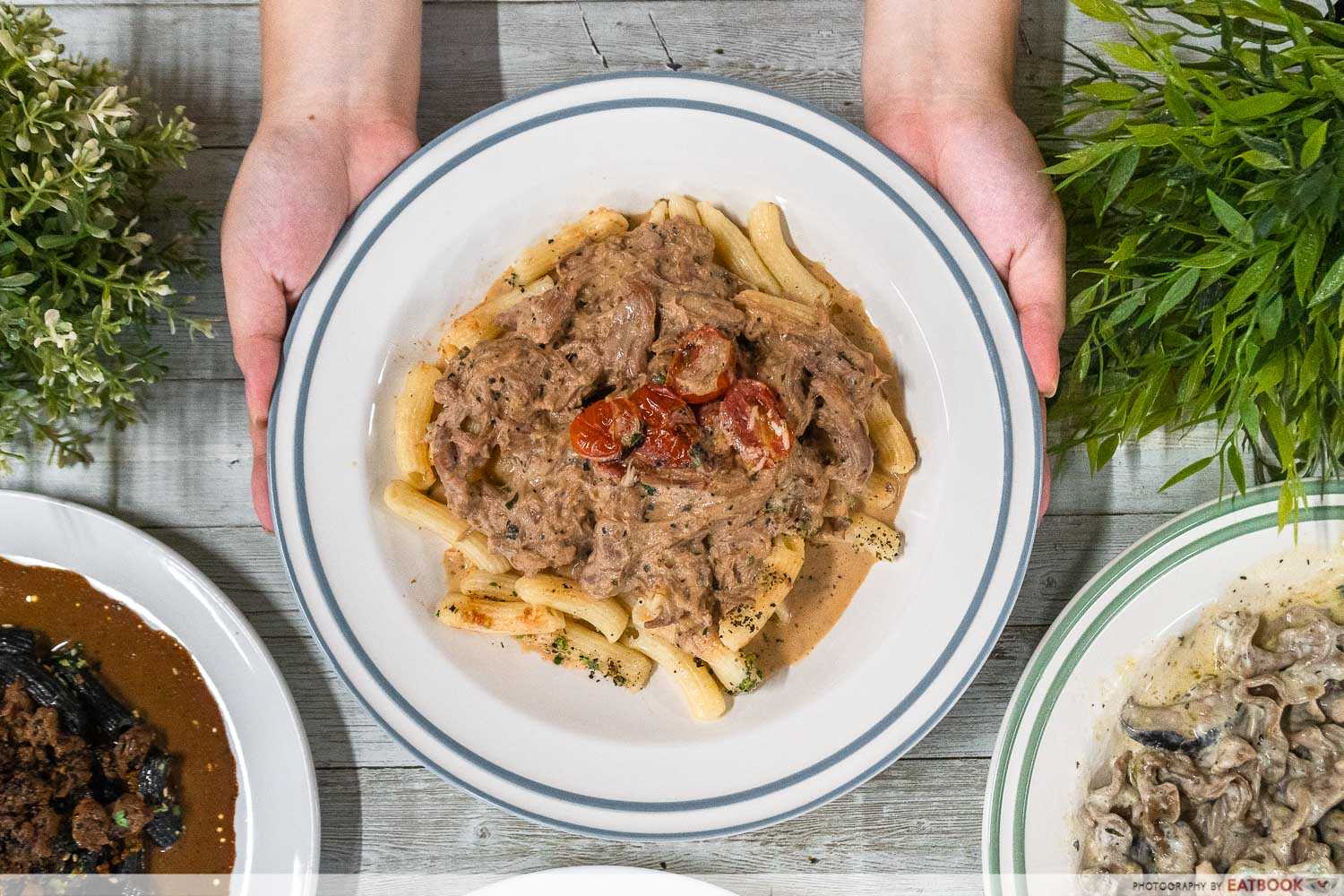 If I had to choose my top pick, the Moo Ragu ($11.90) was hands-down my favourite. Instead of the long, wavy pappardelle, the Moo Ragu came with penne, and was blanketed with pulled beef that had been cooked for 16 hours, cherry tomatoes, and a creamy sauce.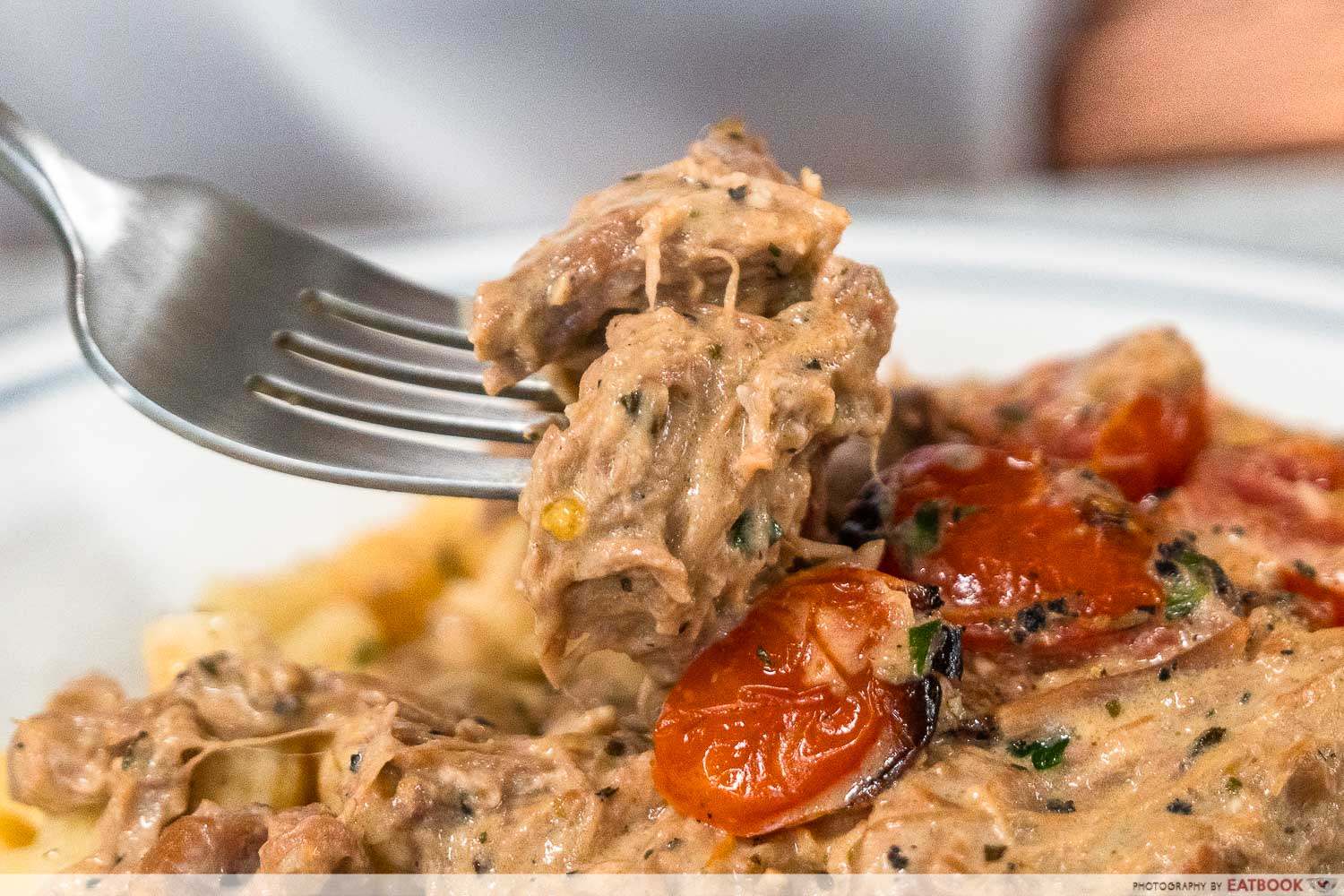 Everything in this dish was stellar, in my opinion. The pulled beef was utterly soft and flavourful, the sauce was robust and beefy, the pasta held a slight bite, and even the lightly charred tomatoes sported a strong smokiness. The tomatoes were so good that I kept most of them till the end to savour slowly. Their sweet smokiness complemented the ragu, while adding a brightness.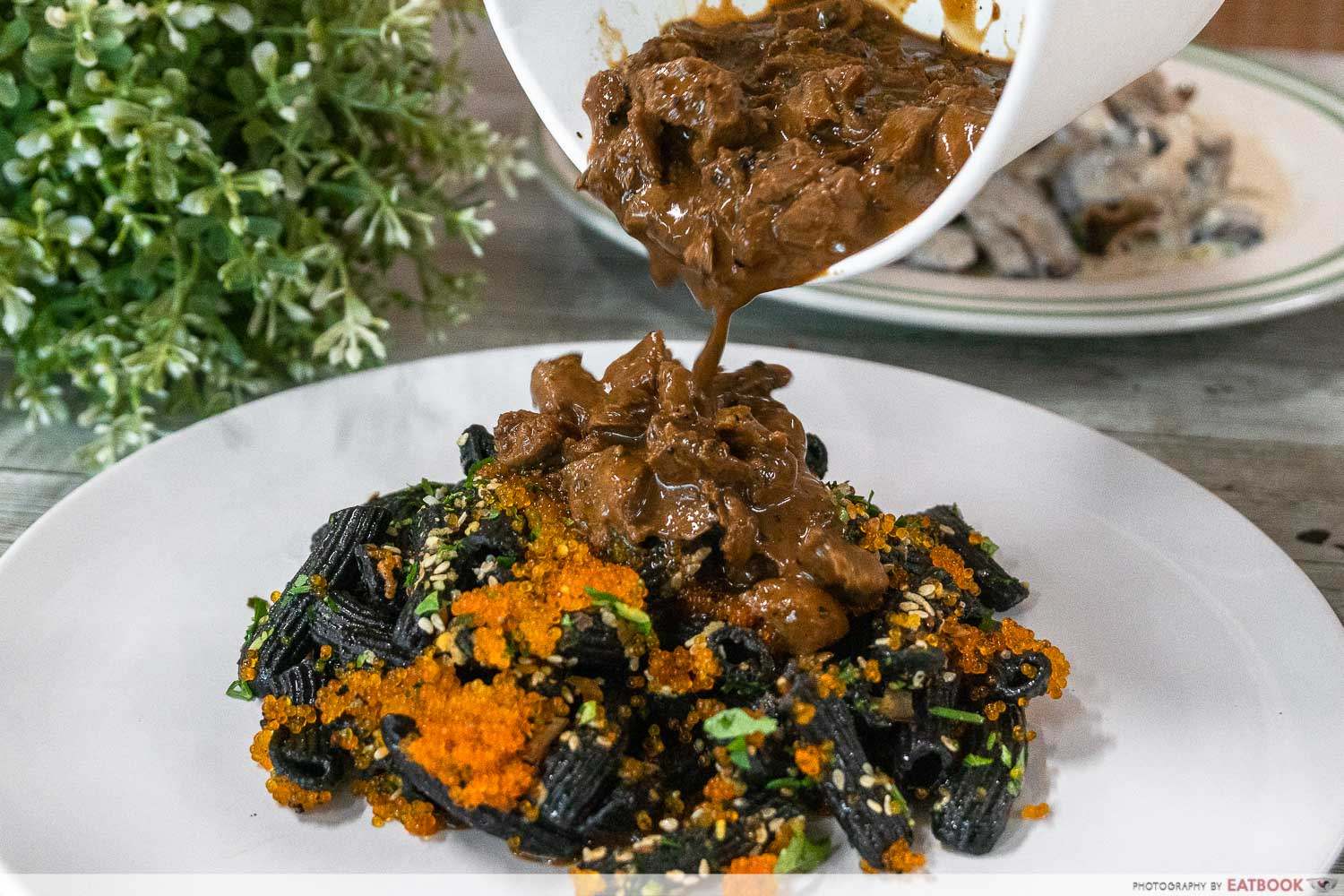 Lastly, we ended with What The Crab ($13.90), a pasta bowl that consists of squid ink penne, black pepper sauce, black pepper crab meat, tobiko, and sesame seeds.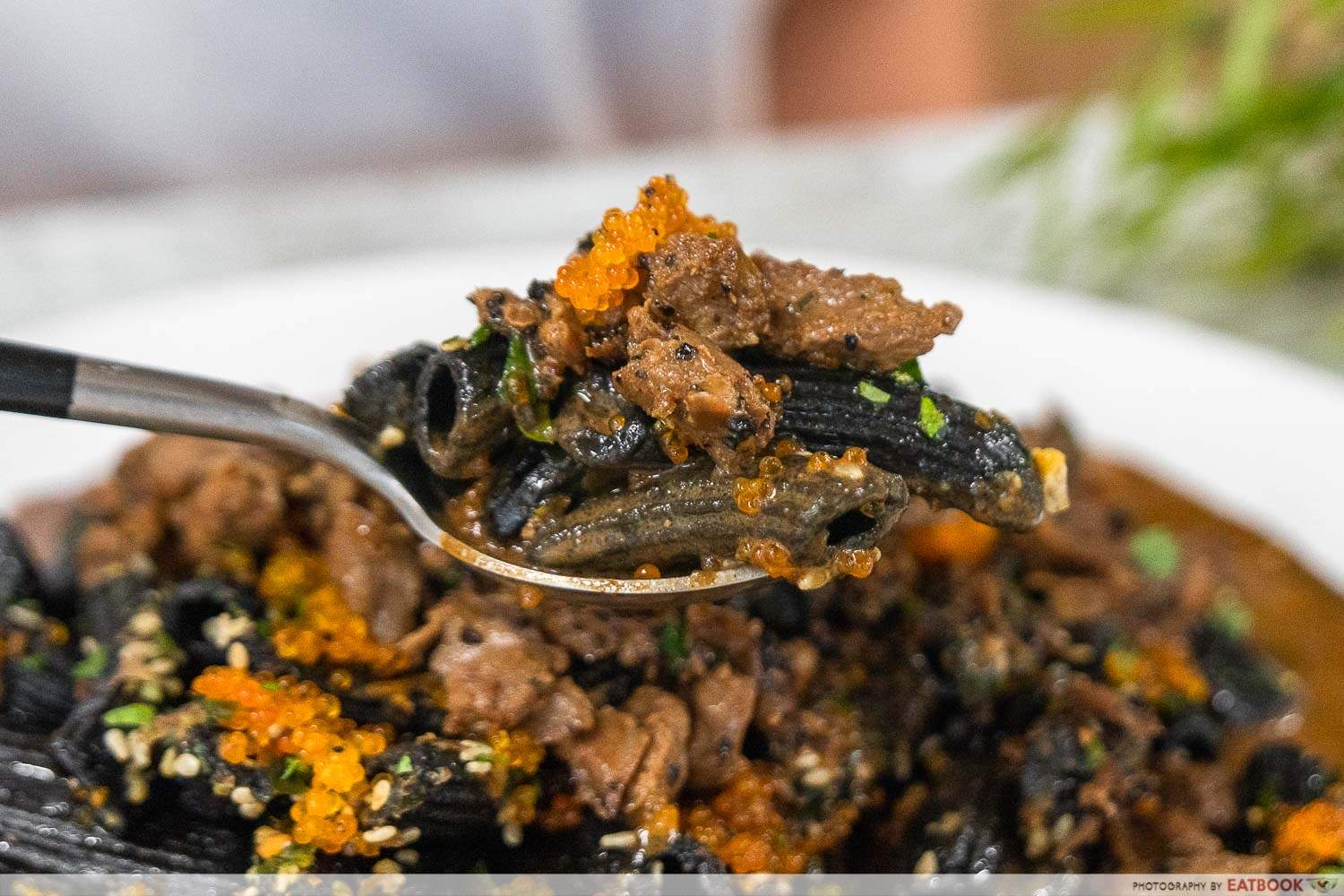 This pasta was peppery, briny and savoury, all in one bite. Besides its strong seafood flavours, the crab meat added a tinge of sweetness, which I enjoyed. I did, however, find the brine and pepper to be too strong for my liking after a few spoonfuls. If you are a fan of strong flavours, you might like this. 
Texturally, the crab meat was soft and delicate, while the tobiko added a crunch. The variety of textures kept each mouthful of this pasta interesting. 
Creation Cafe Review: Affordable Italian Pastas At Nett Prices By Ex-Hotel Chef In Bugis
Ambience at Tangled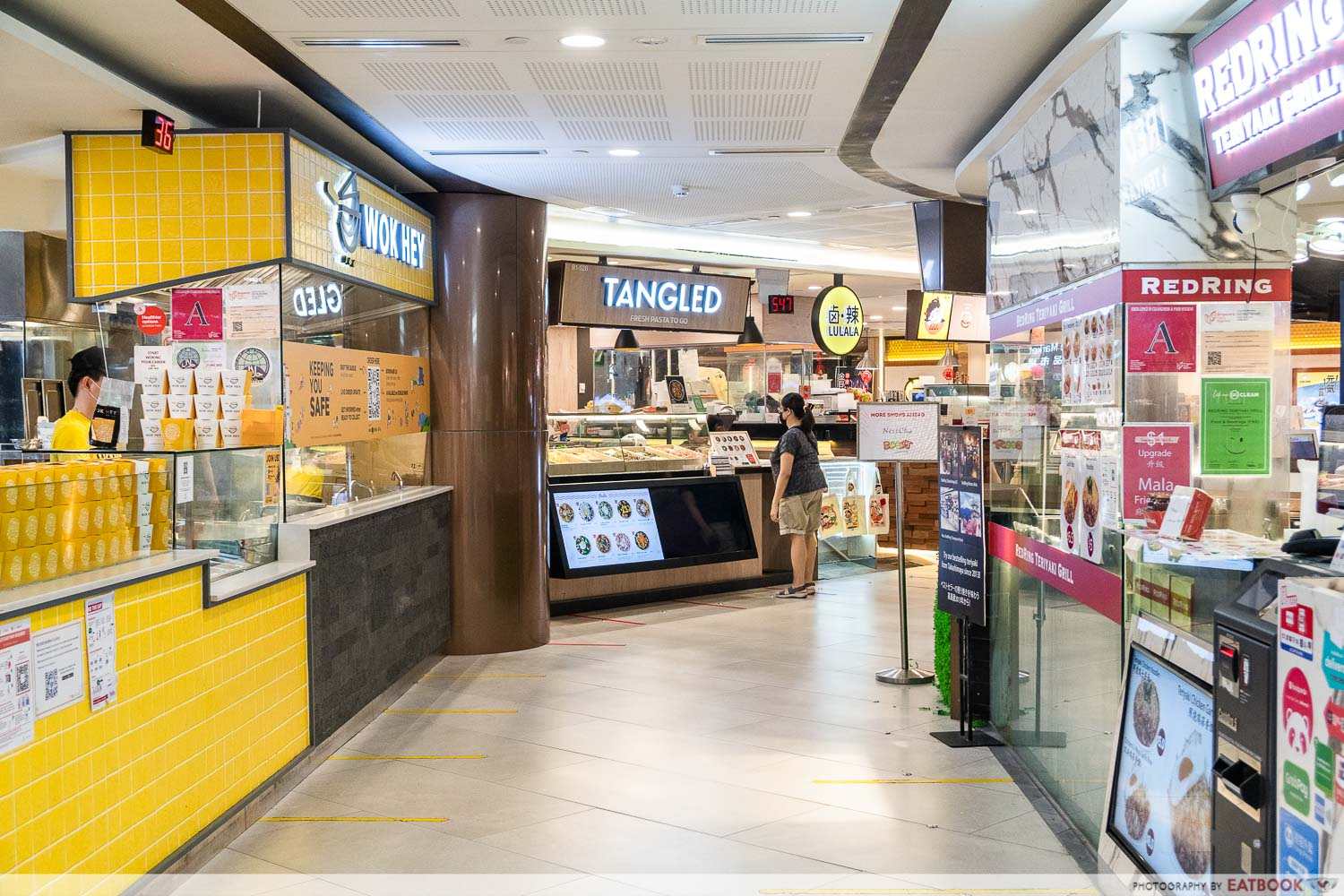 Tangled is a food kiosk, located at Basement One of Chinatown Point. The mall is above Chinatown MRT Station, and you can exit directly into the food hall via Exit G, making it a very convenient lunch spot. If you find it hard to locate their kiosk among the slew of eateries, simply look out for Wok Hey, and you'll find Tangled right next to them. 
You can only get your pasta for takeaway at Tangled. If you worry about soggy pasta, fret not, as their packaging separates the noodles from the sauce. We took an approximately 30-minute journey back to the office, and the texture of our pasta was still good, even after spending an extended time shooting the dishes.
The verdict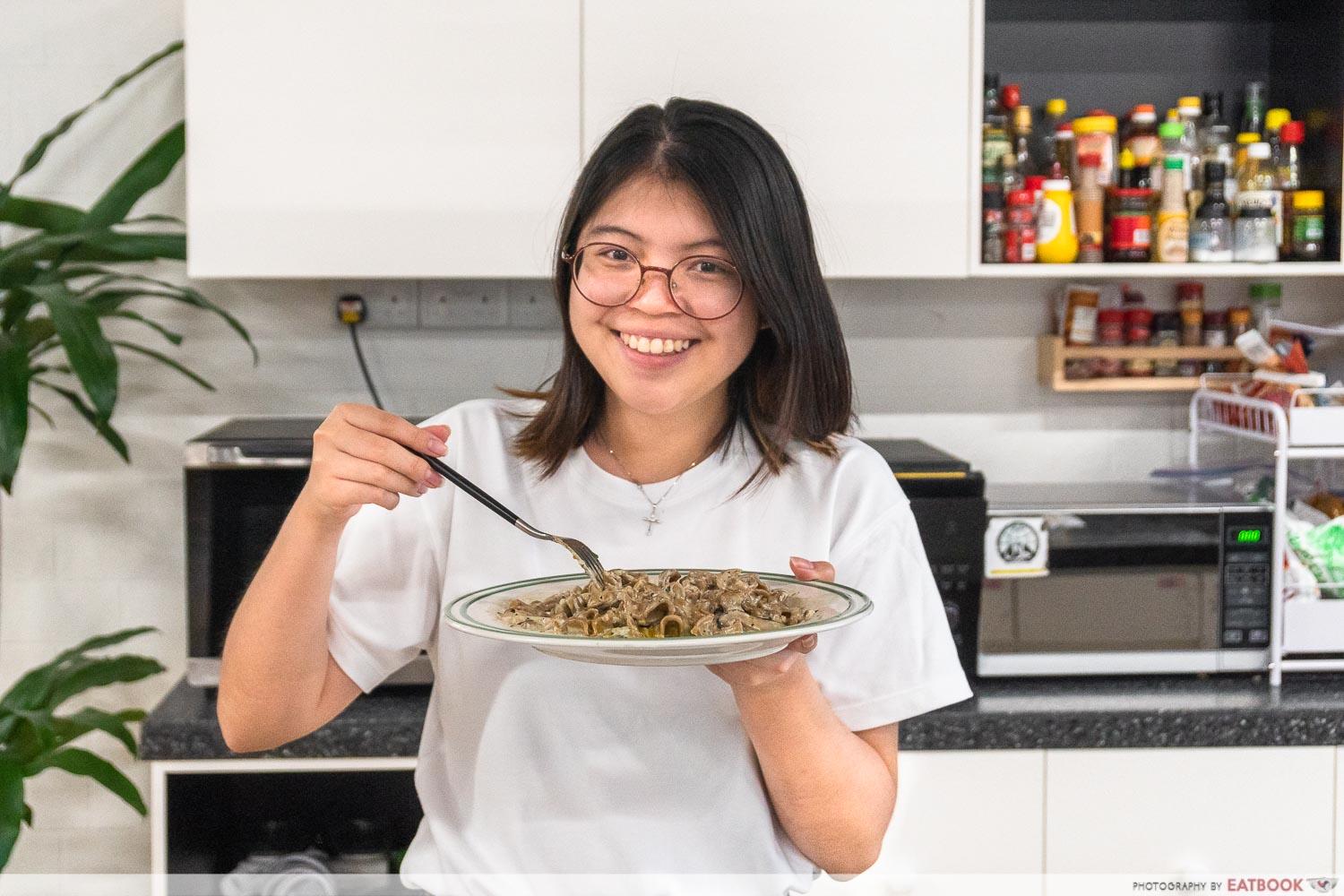 If you are looking for affordable, quality pasta, Tangled will not disappoint. Not only was I impressed by their pasta, my colleagues were in enthusiastic agreement too! Everyone was crowding around these four plates of pasta, and I can safely say that at the end of our shoot, all the plates had been wiped clean. I will definitely be back to try out the other pasta flavours, and perhaps even DIY my own. 
For more food reviews, check out our The Gyu Co review, for an eatery by an ex-DB Bistro chef specialising in Japanese rice bowls starting from $7.90. Alternatively, check out our Chinatown food guide, which includes $1 noodles, a steamboat buffet, and more.
Address: 133 New Bridge Road, #B1-52B, Chinatown Point Singapore 059413
Opening hours: Daily 11am to 9pm
Website
Tangled is not a halal-certified eatery. 
The Gyu Co Review: Wagyu Beef, Mentaiko Salmon Don And More From $7.90 By Ex-DB Bistro Chef
Photos taken by Emily Teu.
This is an independent tasting at Tangled.
Tangled Review: Fresh Pasta From $7.90 In Chinatown, Including Truffle Mushroom, Black Pepper Crab And More
Tangled Review: Fresh Pasta From $7.90 In Chinatown, Including Truffle Mushroom, Black Pepper Crab And More -

8.5/10
Summary
Pros
– Value for money
– Wide variety of pasta options
– Overall well-executed dishes 
Cons
– Takeaway only
Recommended dishes: Moo Ragu ($11.90), Truffle Shuffle Shrooms ($8.90)
Opening hours: Daily 11am to 9pm
Address: 133 New Bridge Road, #B1-52B, Chinatown Point Singapore 059413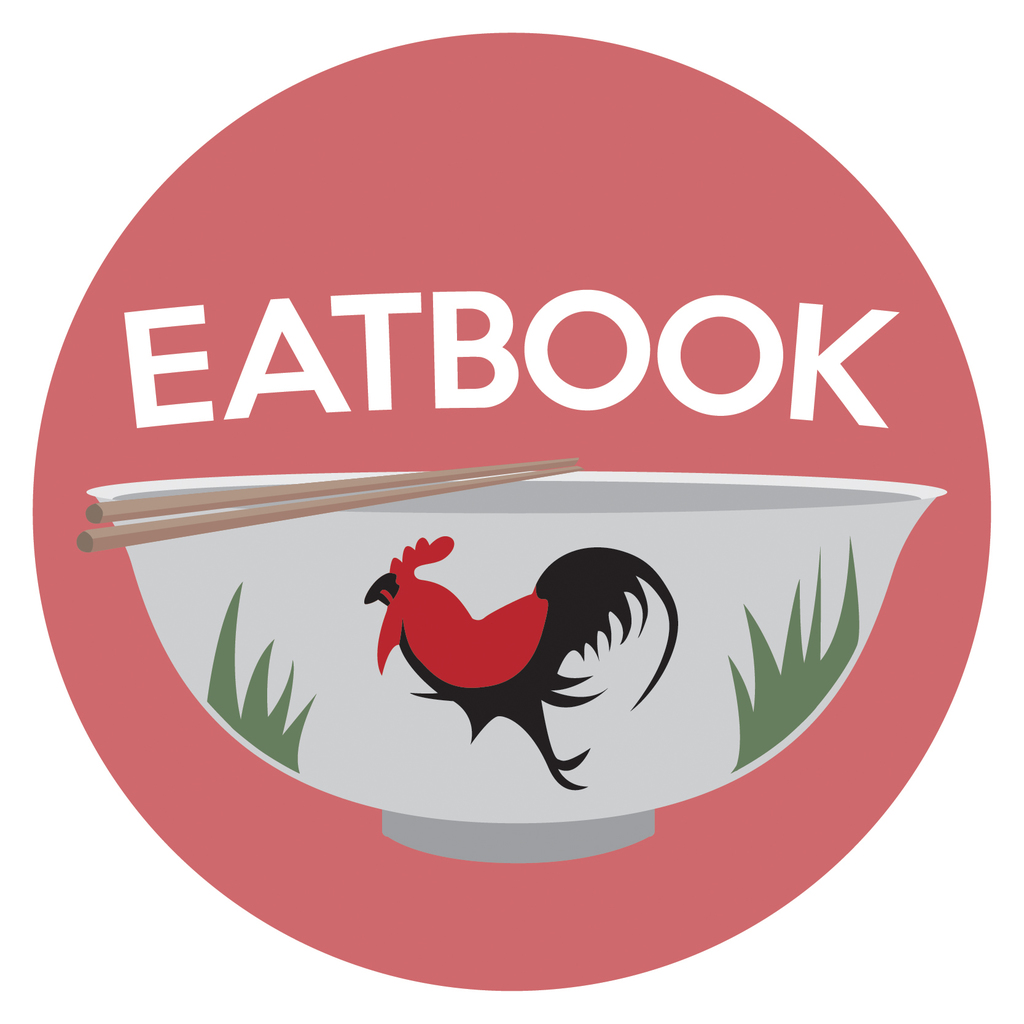 Drop us your email so you won't miss the latest news.