Tipo Pasta Bar at Bugis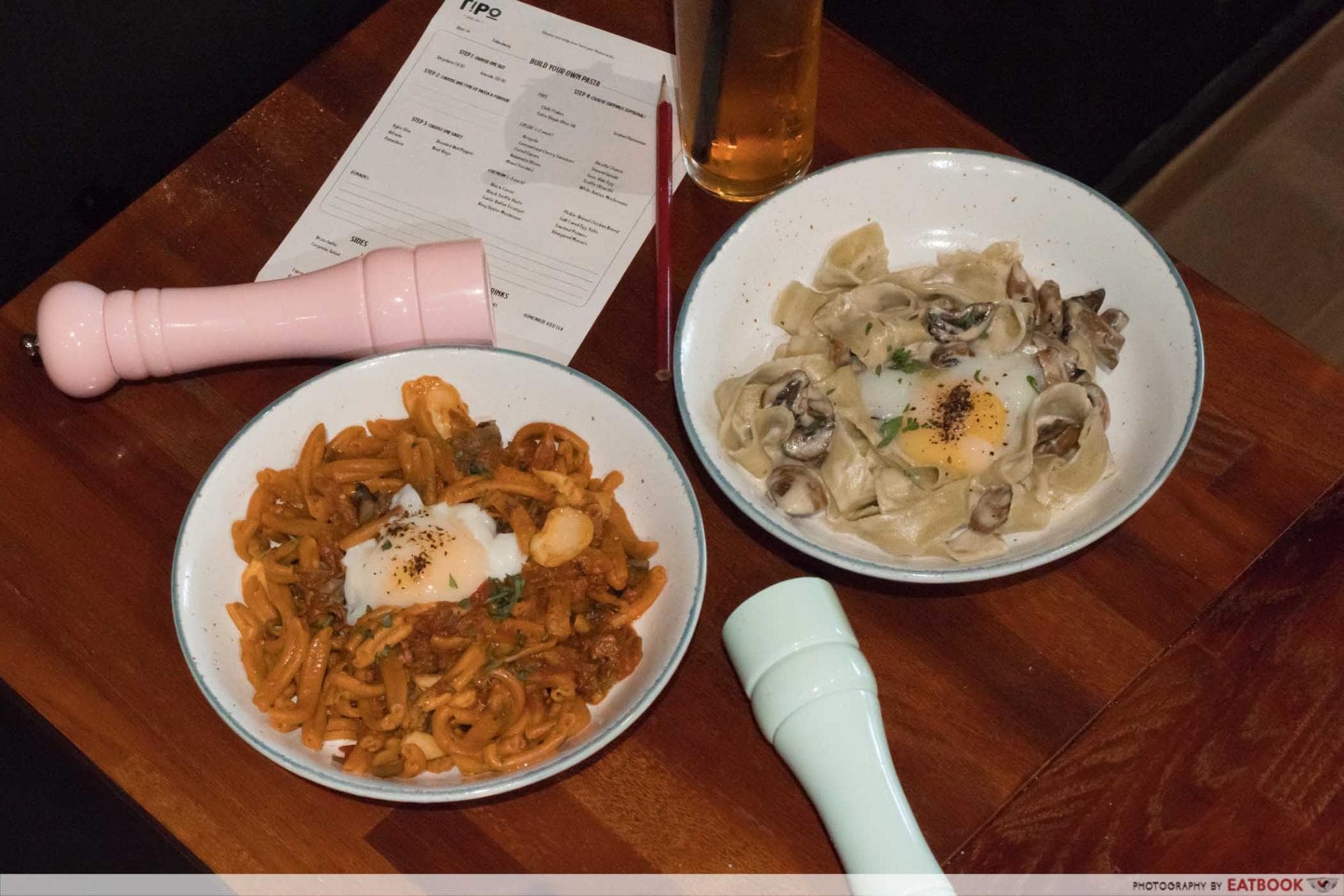 Eating at a customisable food place like Tipo Pasta Bar has always been a pressure cooker for me. Firstly, I don't trust myself and secondly, just 'cause something sounds good on paper, doesn't mean it'll translate to a tasty dish.
So it was with great trepidation that I checked off the boxes on their menu, hoping to find a winning combo.
Food at Tipo Pasta Bar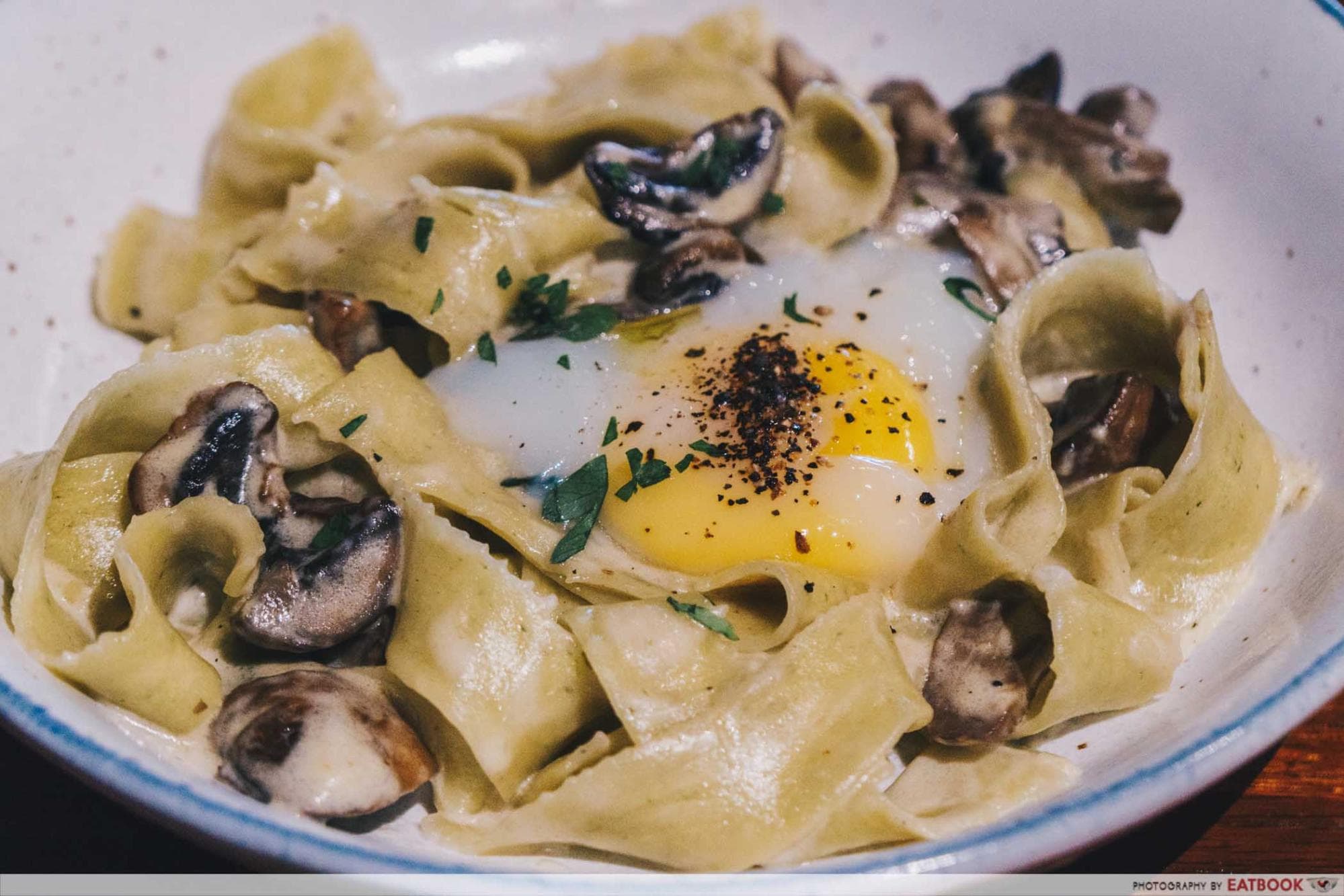 For safety measures, we first chose a fixed item on their set lunch menu: the Carbonara Al Funghi ($11.90+). Even then, nervous beads started forming when we were told to choose our pasta. Thankfully, the server was kind enough to recommend the pappardelle.
After 20 minutes, our dish was served; doused in alfredo sauce, and capped with sliced mushrooms and a sous vide egg.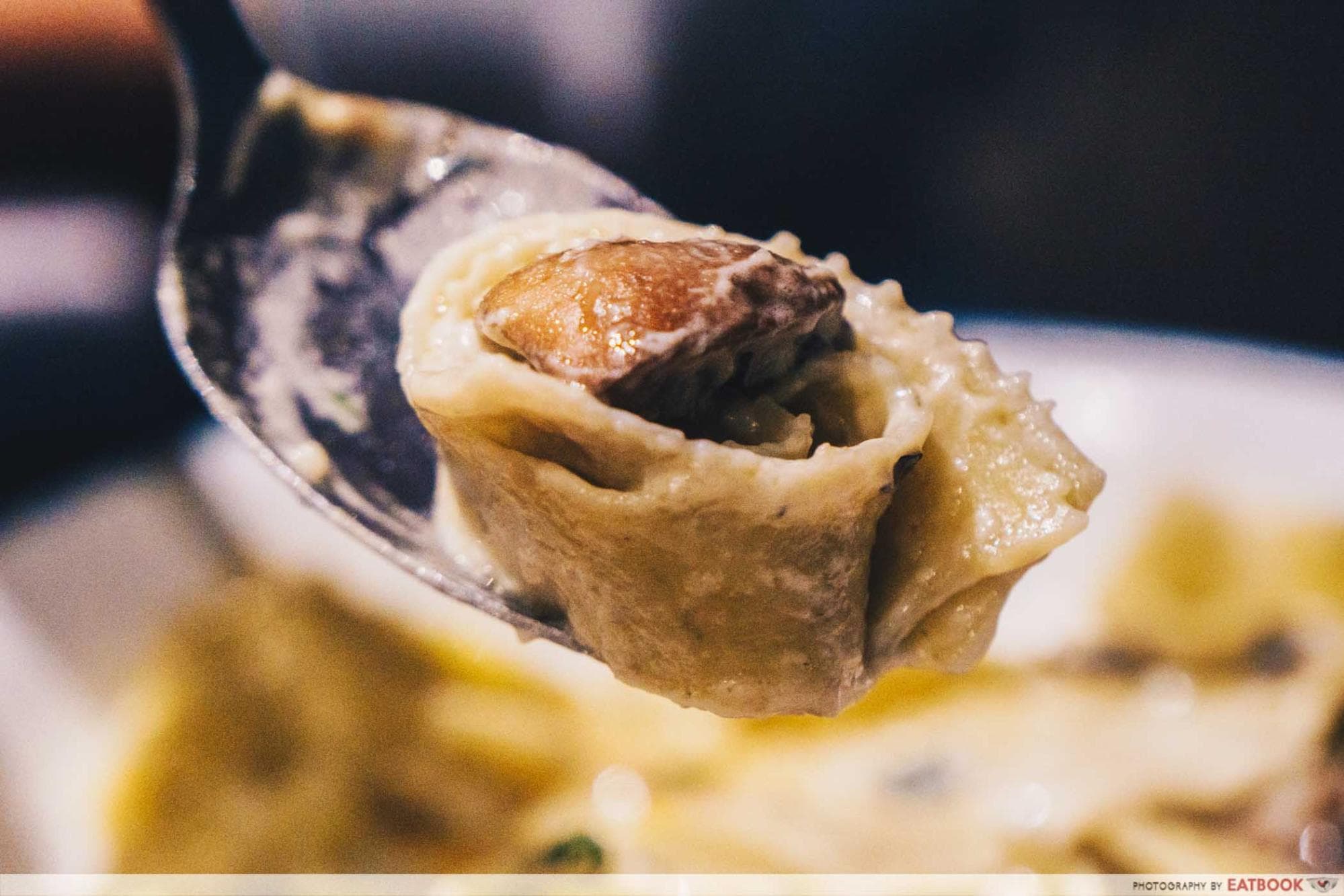 The silky pappardelle worked brilliantly with the creamy alfredo sauce, giving an indulgent mouthfeel. The sauteed mushrooms were oozing savoury juices, making this dish even more filling.
I absolutely loved how the semi-viscous egg white mixed beautifully with sauce and gave it a delicate gooey texture. I understood why this particular pasta was recommended, as its wide surface area brought together all these different flavours, and like a canvas, highlighted them to their fullest potential.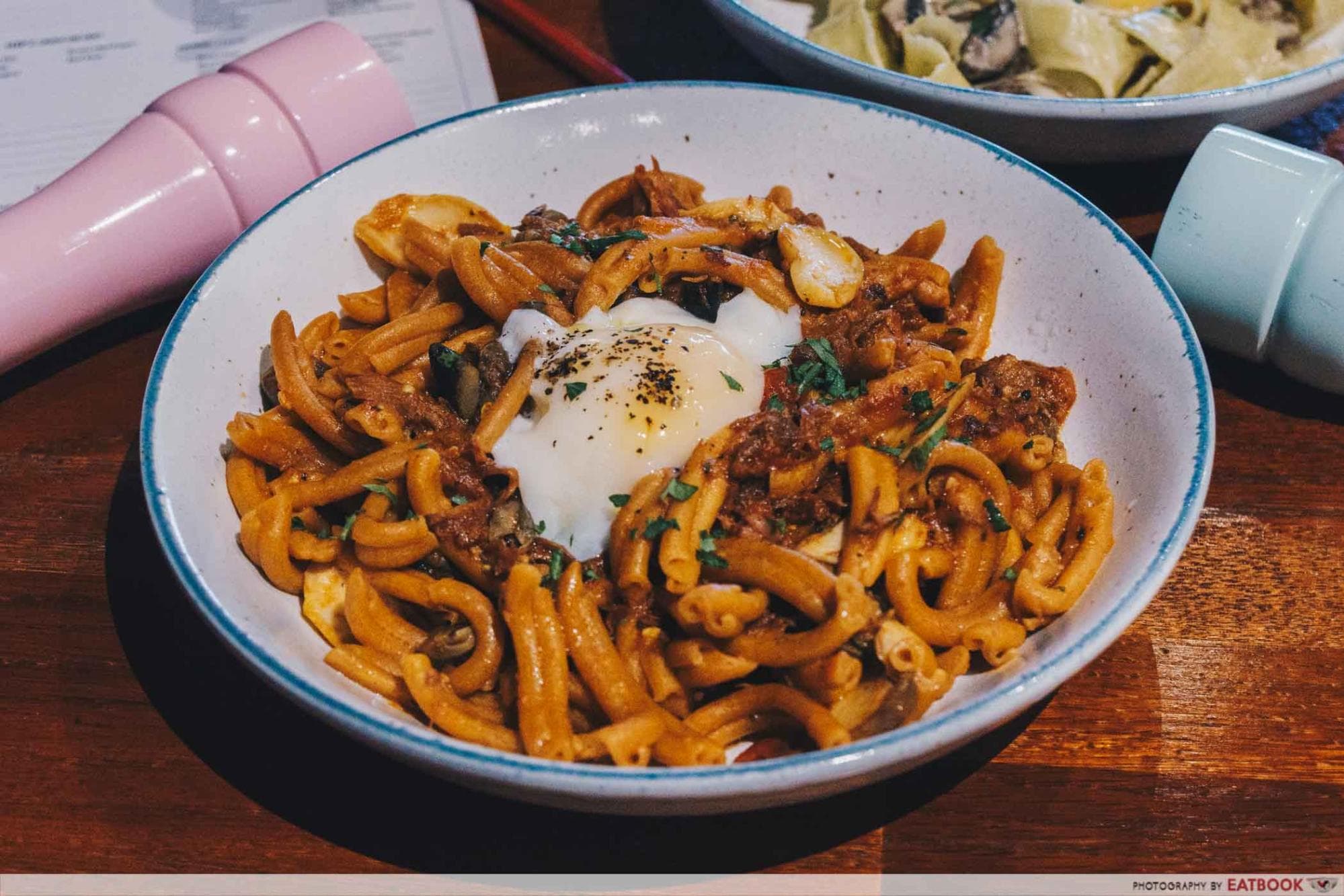 Next up was the reason for the entire trip: Tipo's build your own pasta (from $9.90+). Truth be told, we worked our way backwards for this and selected the toppings first. After all, with premium options like garlic escargot ($3+) and truffle oil ($2+) going for cheap, there's no point in holding back.
Thus, our final concoction consisted of beef ragu, truffle olive oil, garlic butter escargot, and king oyster mushroom. Once again, our trusty server came through for us and recommended the paprika casarecce as the pasta base.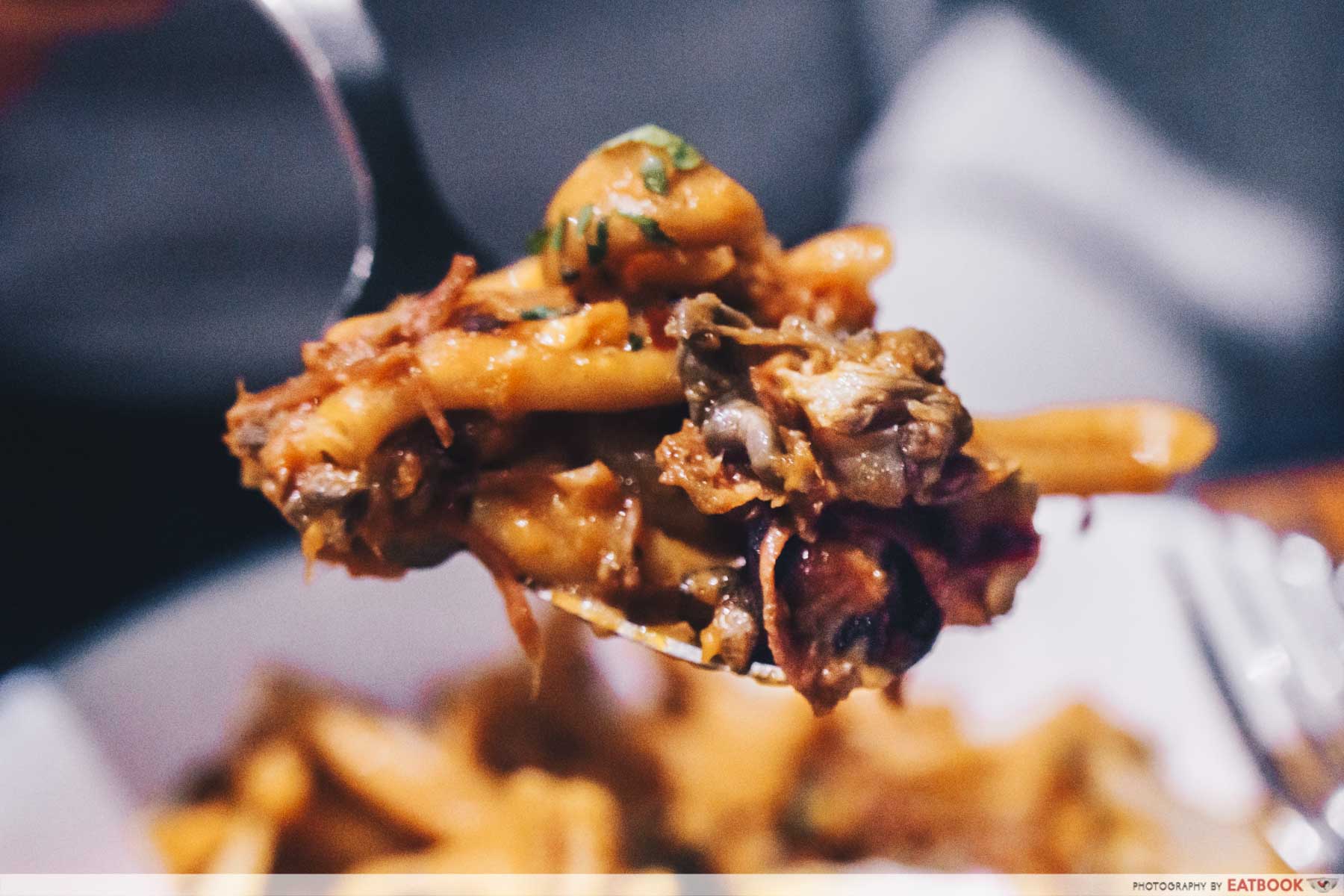 As the dish was being brought out, its strong truffle aroma wafted in the air. And boy, did it smell heavenly. In just one bite, we could feel all the ingredients combining their strength into a potent punch. While the previous entry slowly built up its flavour, this plate delivered everything right off the bat.
The oyster mushroom was somehow even juicier than the sauteed mushrooms. The ragu had a deep flavour, thanks to the tender beef within.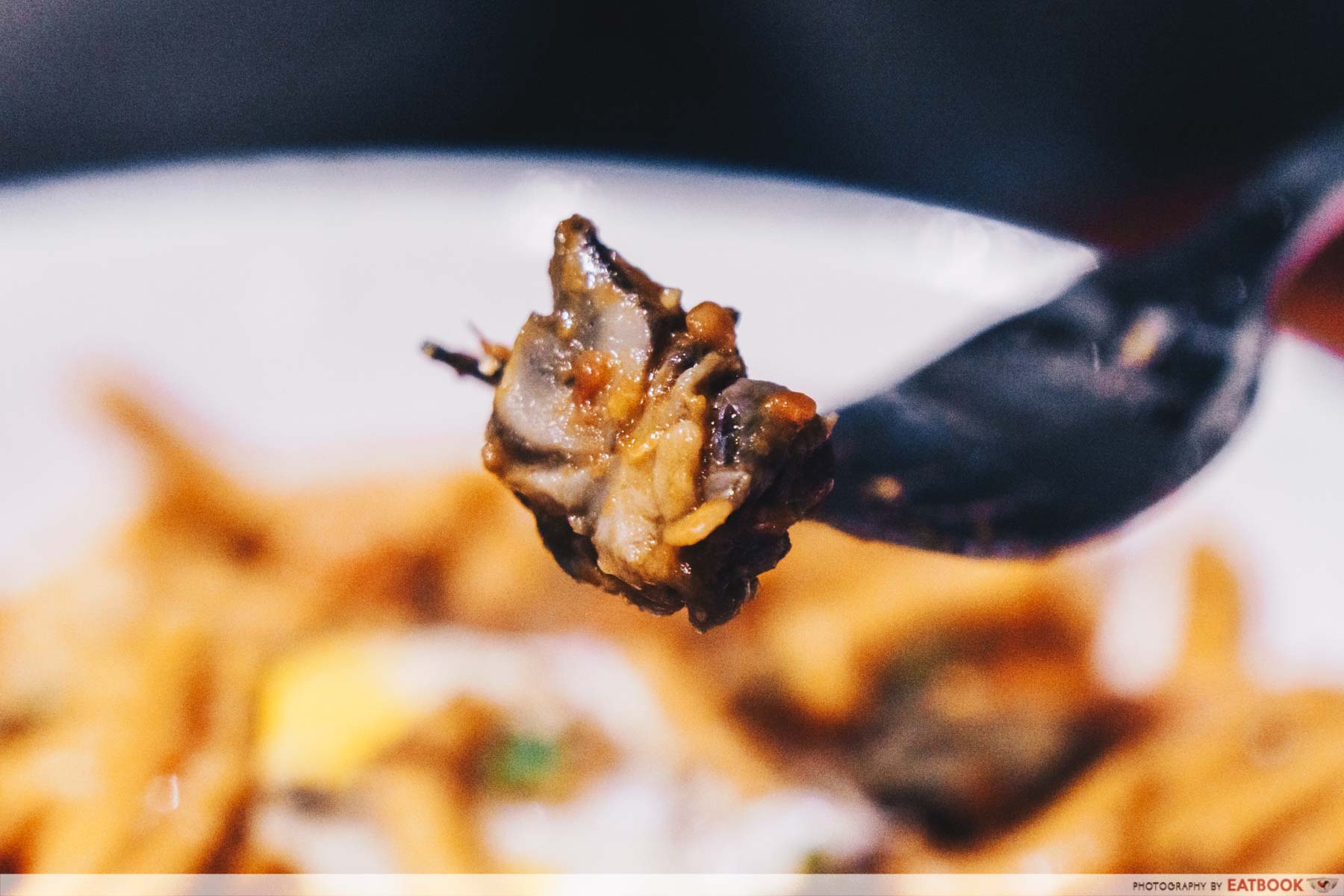 But the main star was, by far, the escargot. Despite being on the small side, these morsels of delight were fatty and chewy. As they were cooked in garlic butter, its decadence was further amplified. I also liked how the restaurant was generous with their snails; I counted five.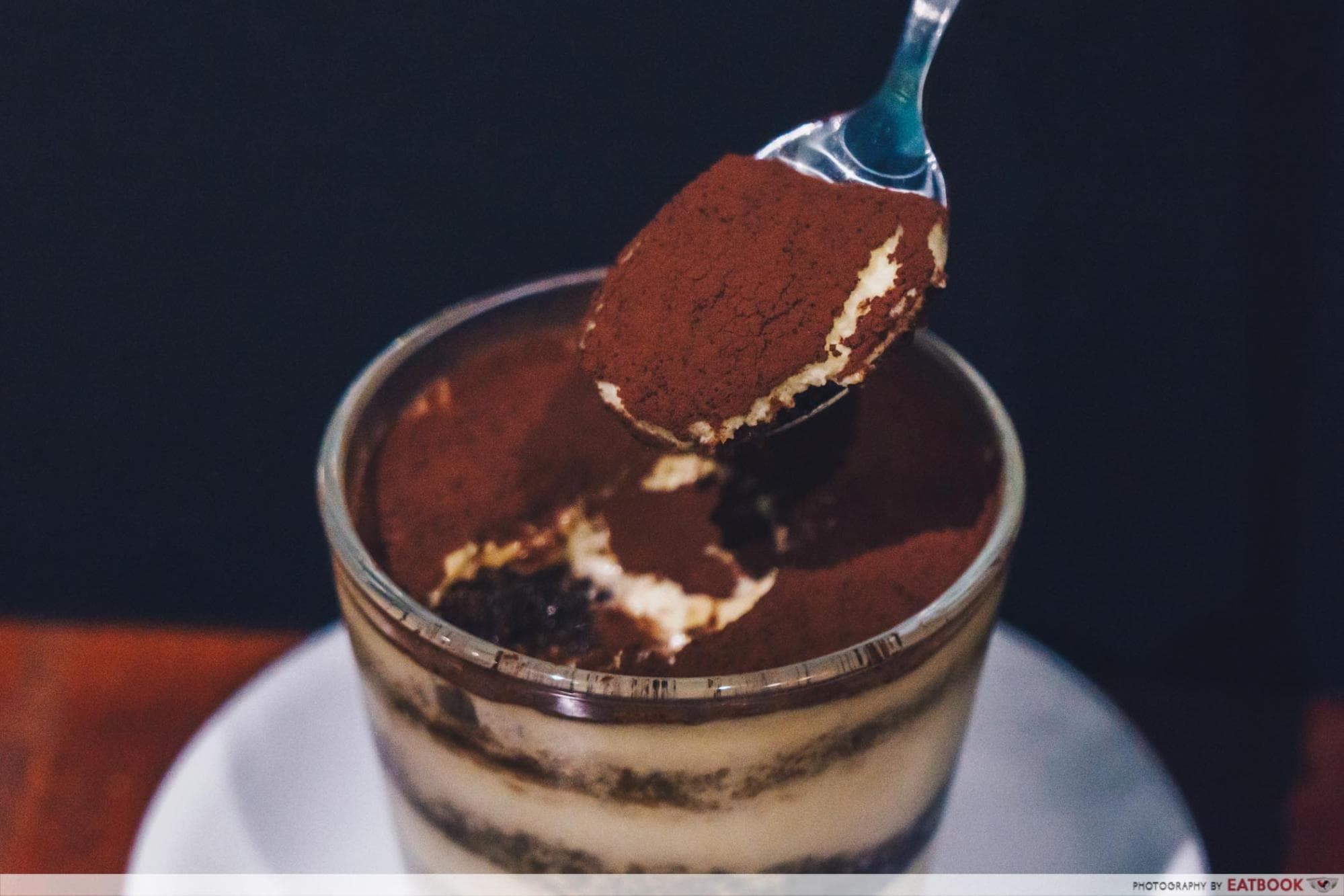 That being said, Tipo has a limited range of food beyond their pasta. As such, we opted for a simple tiramisu cake ($7+) to end our makan sesh. Taste-wise, it wasn't anything special, although the cocoa powder was really bitter if you're into that sort of thing.
Ambience at Tipo Pasta Bar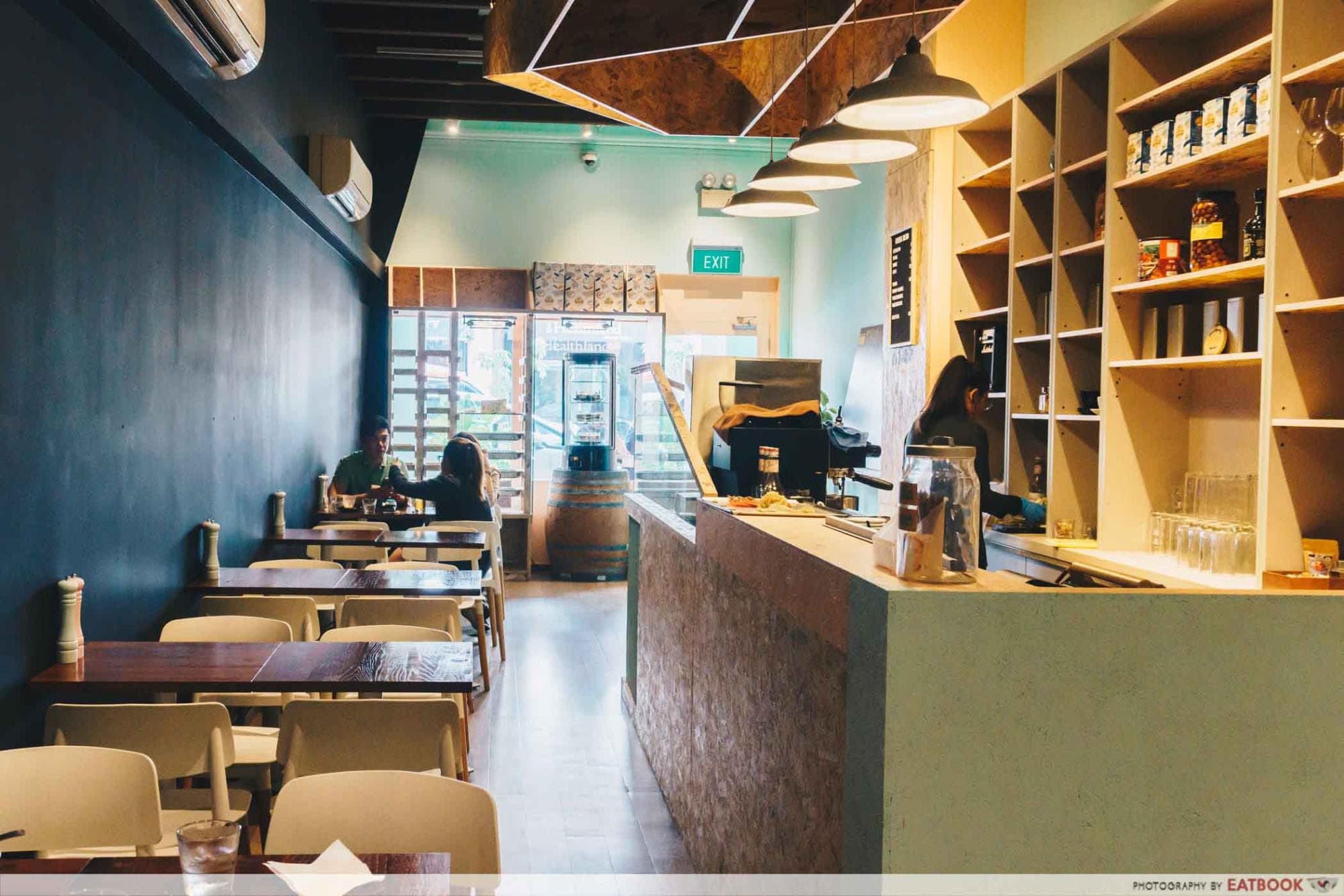 With dim lights against a quiet background, Tipo inadvertently makes for a romantic date spot. Come here during peak hours, however, and I can foresee space being an issue as the tables are arranged quite close to each other.
The verdict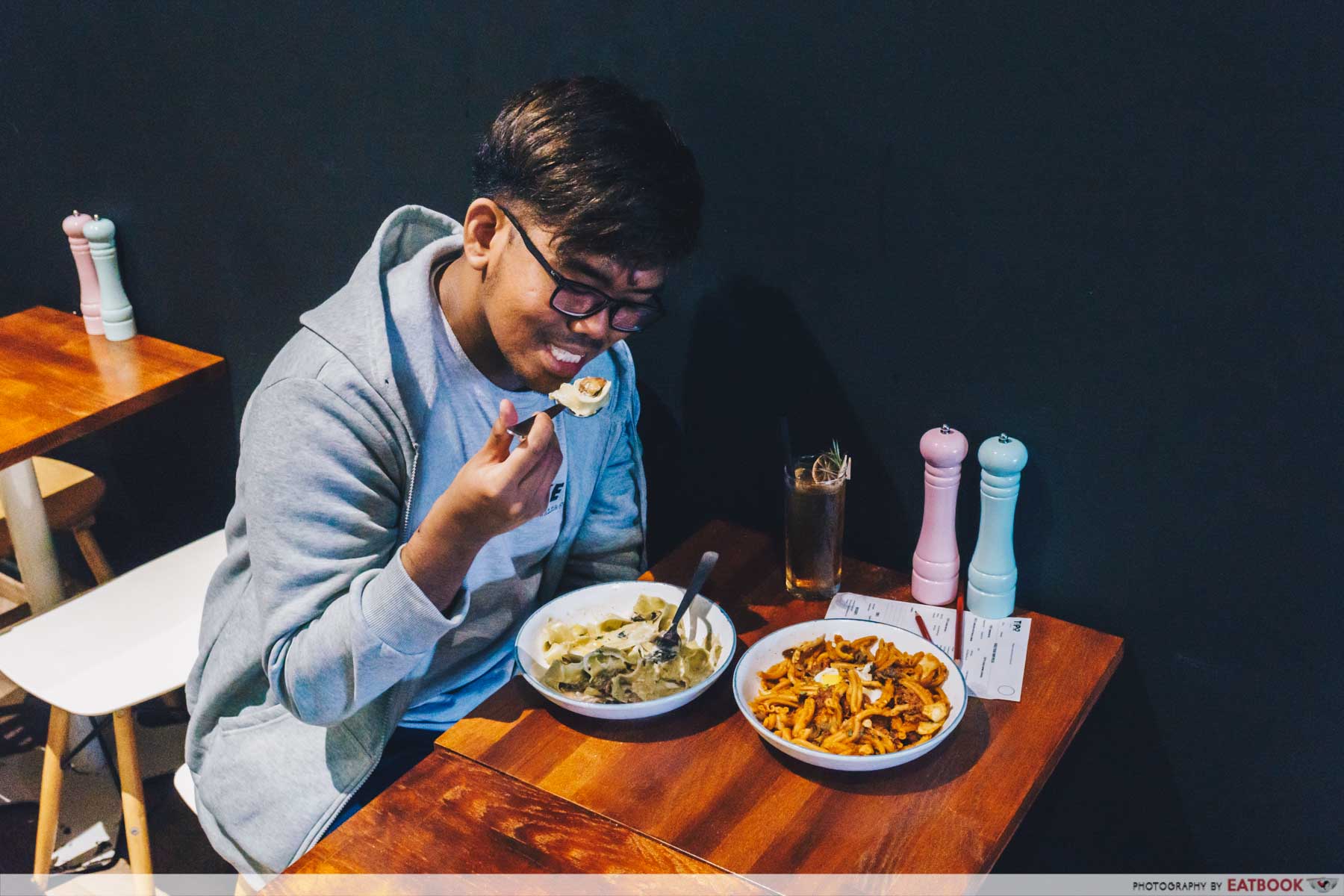 Coming into Tipo, I was half-expecting the flavours of the ingredients to clash horribly like in certain customisable food places. Thanks to their helpful staff and stellar toppings, I was proven wrong and, instead, was treated to one of the best pasta dishes in town.
Address: 785 North Bridge Road, Singapore 198753
Opening hours: Sun-Thur 12pm to 10pm, Fri-Sat 12pm to 11pm
Tel: 8768 0785
Website
Tipo Pasta Bar is Muslim-owned.
Photos taken by Becky Chong.
This is an independent review by Eatbook.
Summary
Pros
– Helpful staff
– Tasty food
Cons
– Small menu
Opening hours: Sun-Thur 12pm to 10pm, Fri-Sat 12pm to 11pm
Address: 785 North Bridge Road, Singapore 198753