Tipo Pasta Bar on Aliwal Street has customisable pasta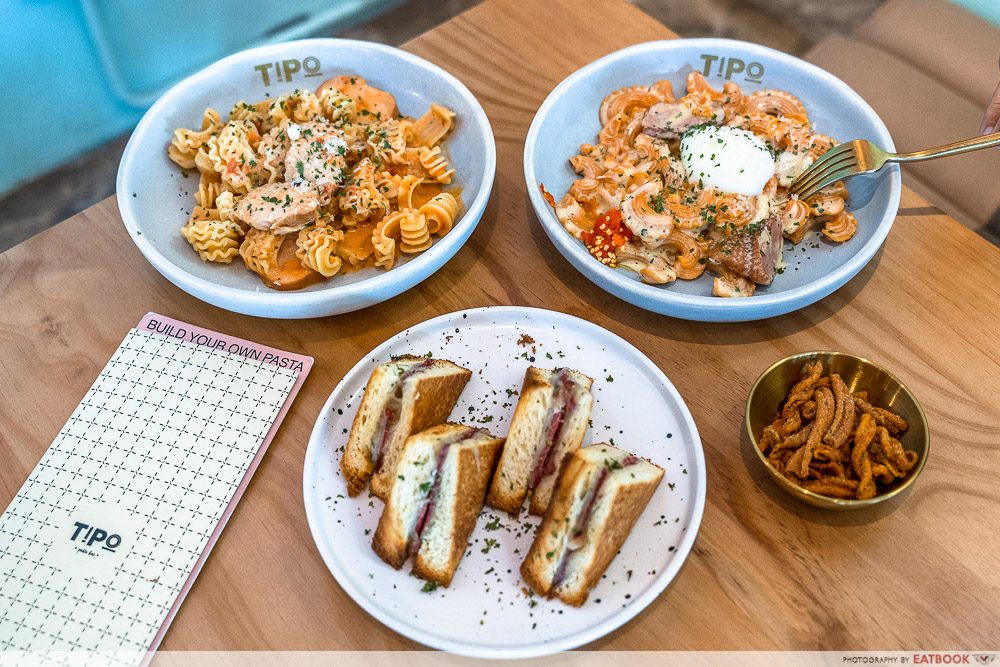 If you're a pasta lover like me, you would have probably heard of the highly raved-about Tipo Pasta Bar, a Muslim-owned restaurant that specializes in handmade pasta. They were formerly located along North Bridge Road, but have now relocated to a larger space along Aliwal Street.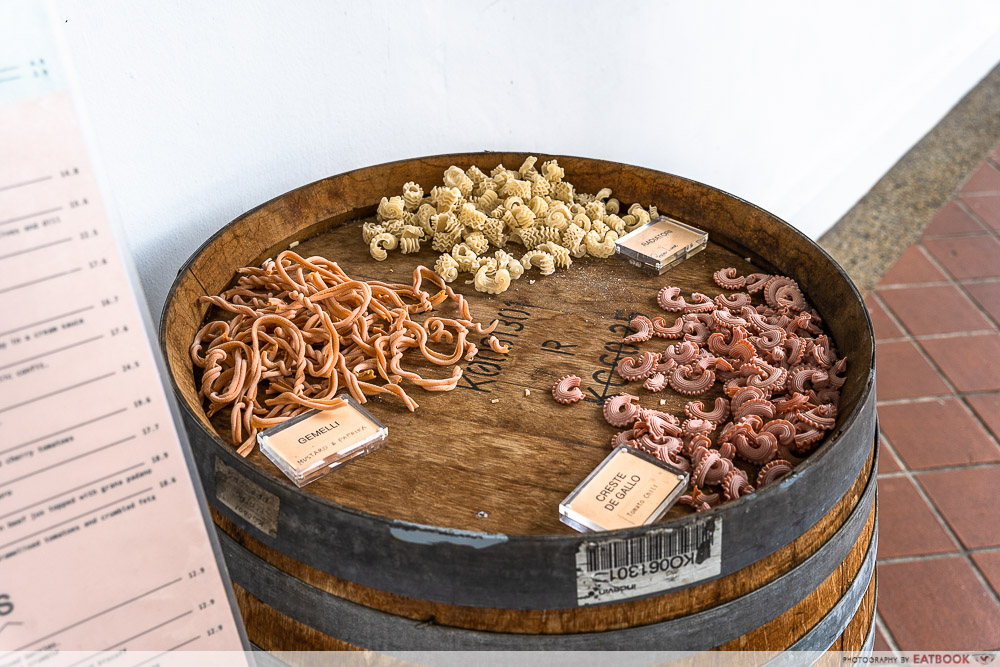 Every time I'd plan to visit, they would be fully booked. This time, I decided to be a bit more kiasu and walk in to the store before they opened.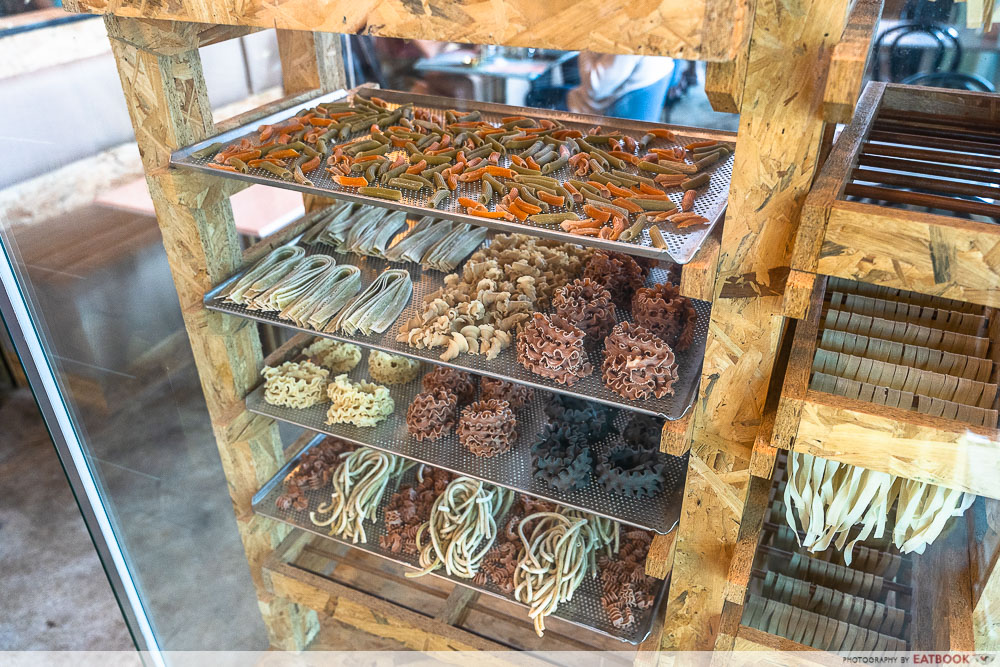 Upon arrival, we were greeted with a display of the day's pasta choices. I thought that this was a smart way to entice patrons and let them decide what to order beforehand. We had three pasta options: Radiatori, Creste De Gallo, and Gemelli. 
They also had a full rack of dried pasta at the entrance, similar to how a wine bar would display its best bottles. With such an impressive setup, I looked forward to seeing whether Tipo Pasta Bar lived up to the hype. 
Saporita Review: Halal Truffle Cheesewheel Pasta and Pizzas Below $20 at Esplanade
Food at Tipo Pasta Bar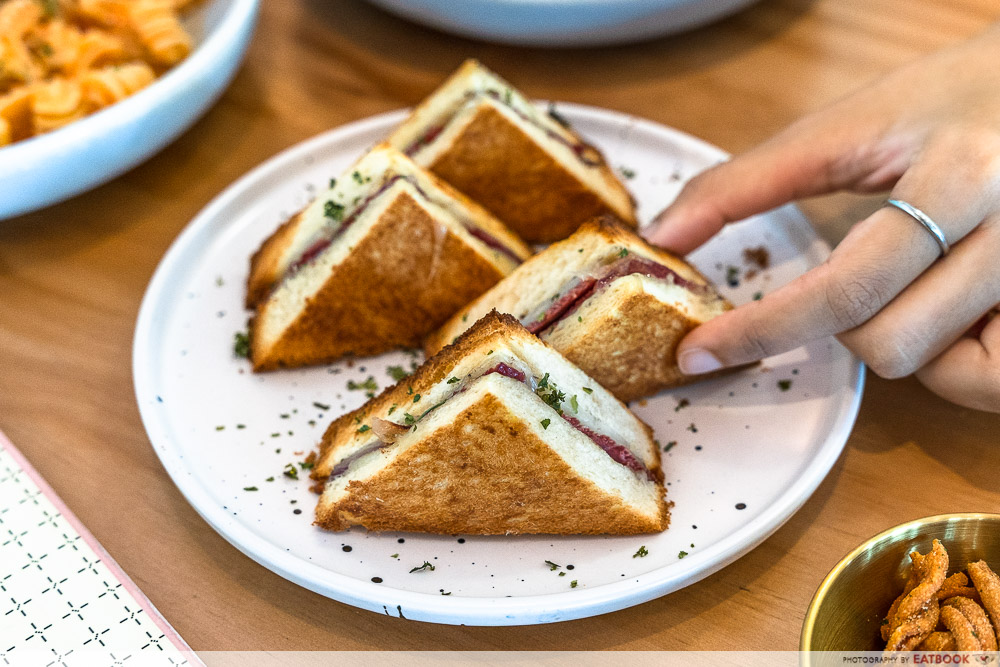 We started our meal with the Truffle Tramezzini ($15.90++). It looked quite ordinary, but as it turned out, these mini sandwiches were rather superb.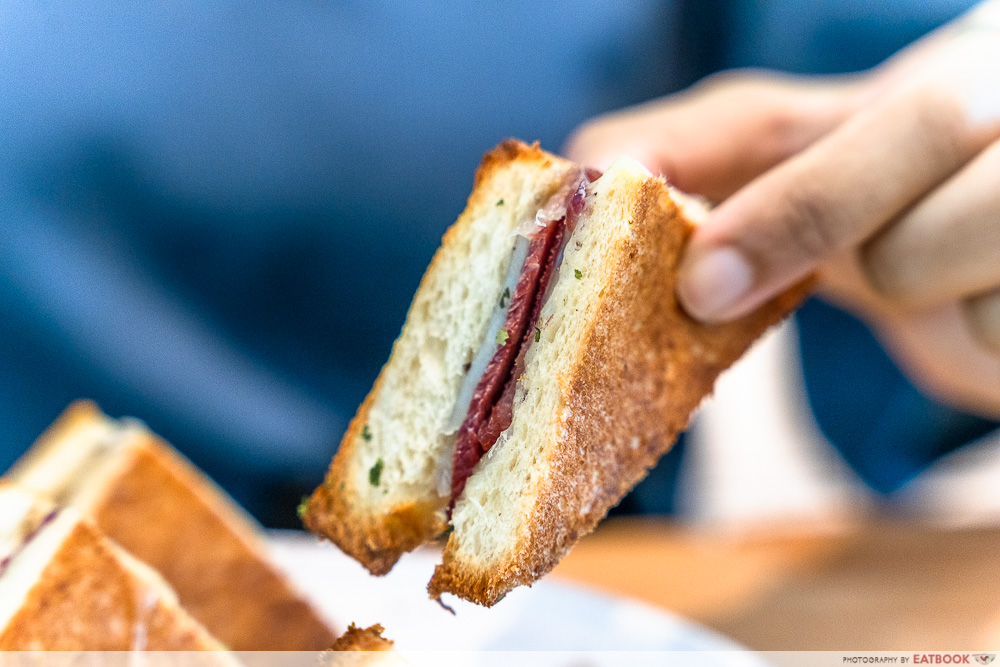 The brioche bread was crisp, buttery, and toasted to perfection. It sandwiched beef bacon, mozzarella, and truffle mayonnaise, which flavours blended perfectly together. After a few bites, however, I felt that the dish became a little jelak as the buttery bread clashed with the heavy flavours of the cheese, truffle, and beef. It's a very pleasant dish, but I felt like some spice or tanginess would have elevated its flavours.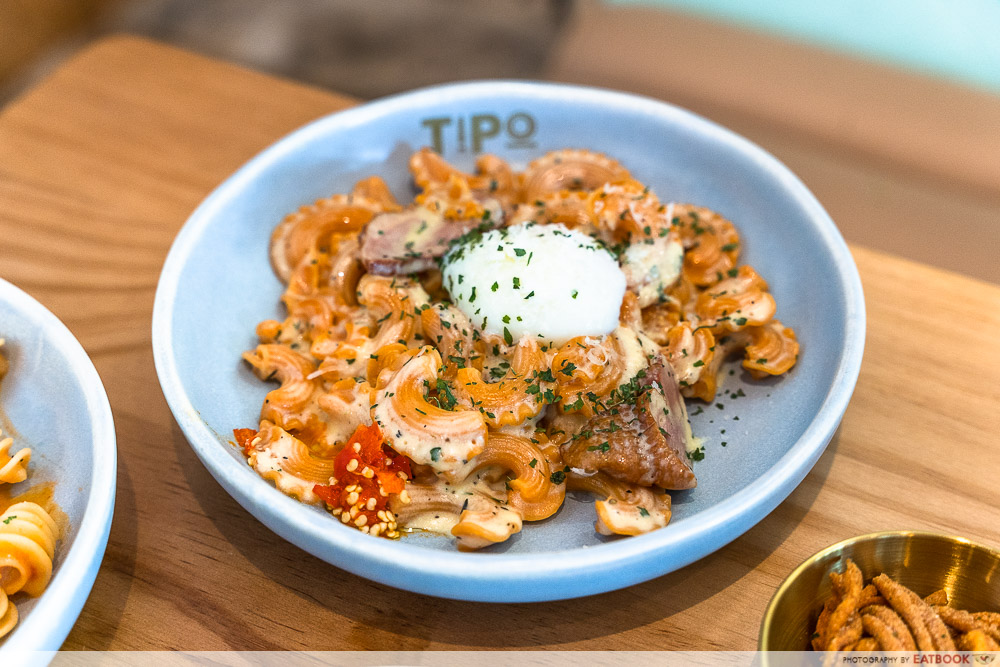 Next up was the Classy Carbonara ($17.60++). Creste De Gallo was our pasta of choice here, and we decided to have bird's eye chilli mixed into the dish too. The bird's eye chilli were one of the free toppings you could add to your dish. Other options include garlic chips and chilli flakes.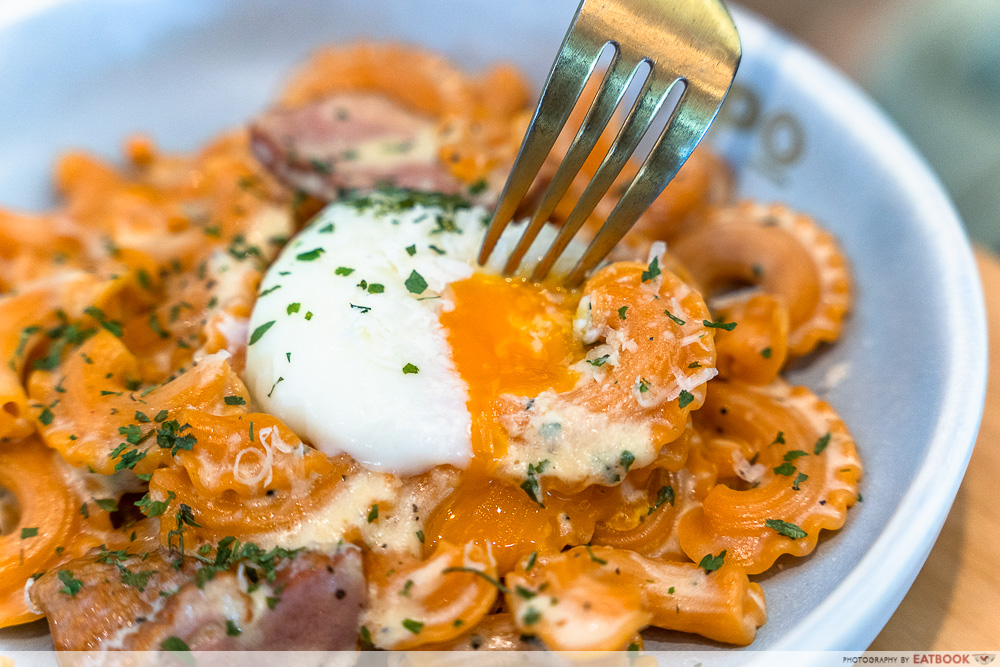 The dish stars a creamy sauce made from egg yolks, grated Grana Padano, tender smoked duck, and a sous vide egg. The addition of bird's eye chillies were a good choice as it helped to cut through the cheesy and eggy sauce. I particularly enjoyed how the fatty flavours of the smoked duck was infused in the sauce, giving it depth of flavour.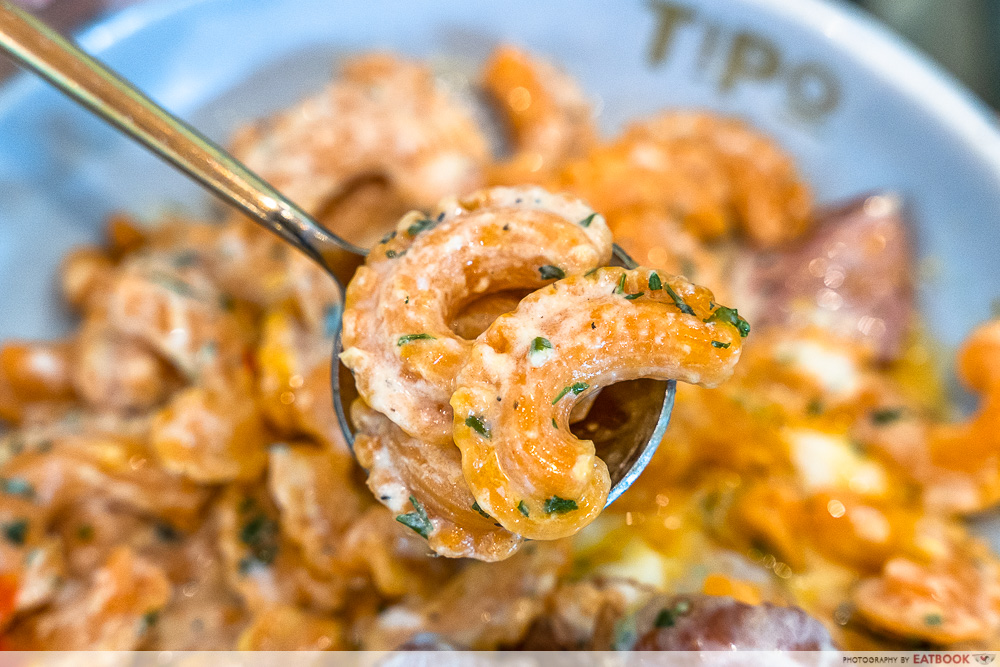 Pasta-wise, the Creste De Gallo pasta, which was infused with chilli and tomato, was a great base for the sauce. Its hollow, elbow shape with ridges is said to resemble a rooster's crest. Each bite was filled with pocketfuls of creamy goodness. However, I had high expectations for the pasta to taste like chilli and tomato, but was a bit disappointed when it didn't.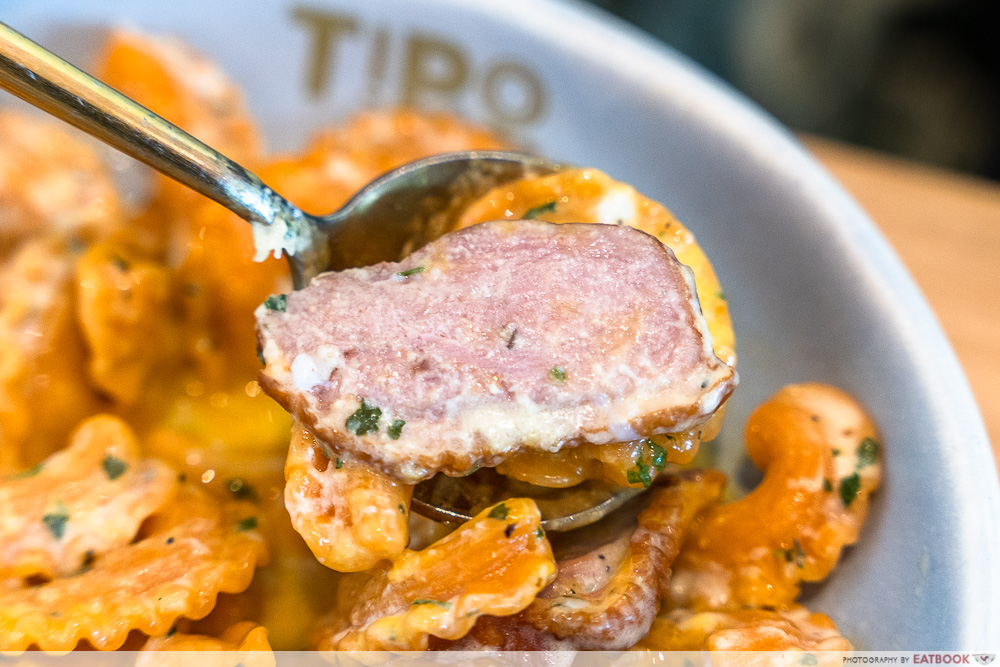 The smoked duck was the star of this dish, with its tender texture and good meat to fat ratio. I enjoyed how the strong meaty flavours complemented the richness of the sauce and pasta. The smokiness and fattiness of the duck greatly enhanced the flavours of this dish.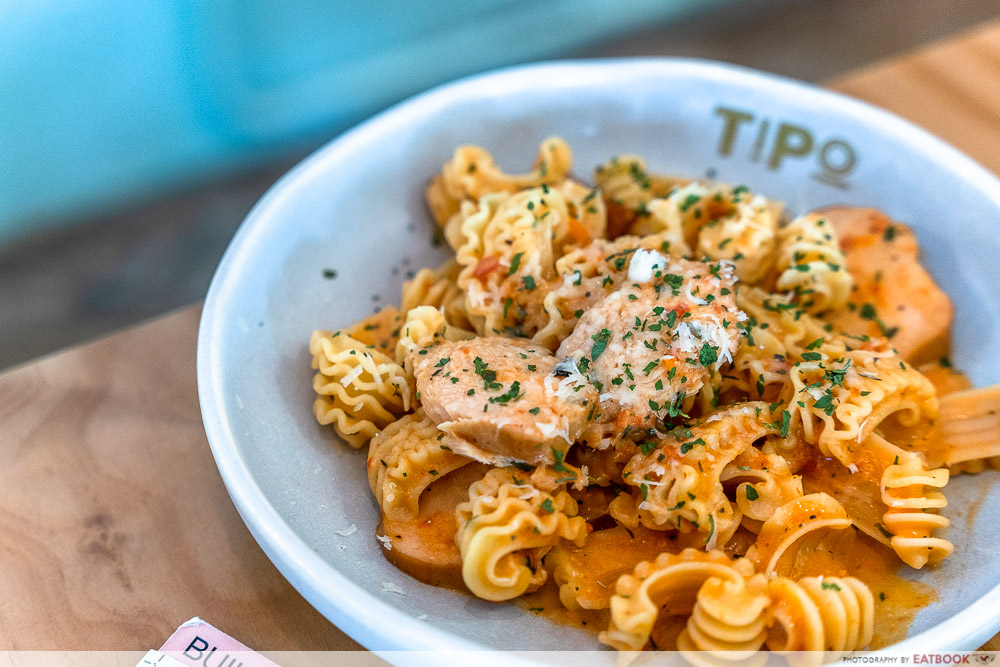 Lastly, a trip to Tipo is not complete without trying to Build Your Own Pasta. For a base price of $9.90++, you get 120g of any pasta on the day's menu, with a variety of sauces and ingredients to choose from. We went for the Radiatori pasta with pink sauce, paired with smoked chicken, and grated Grana Padano.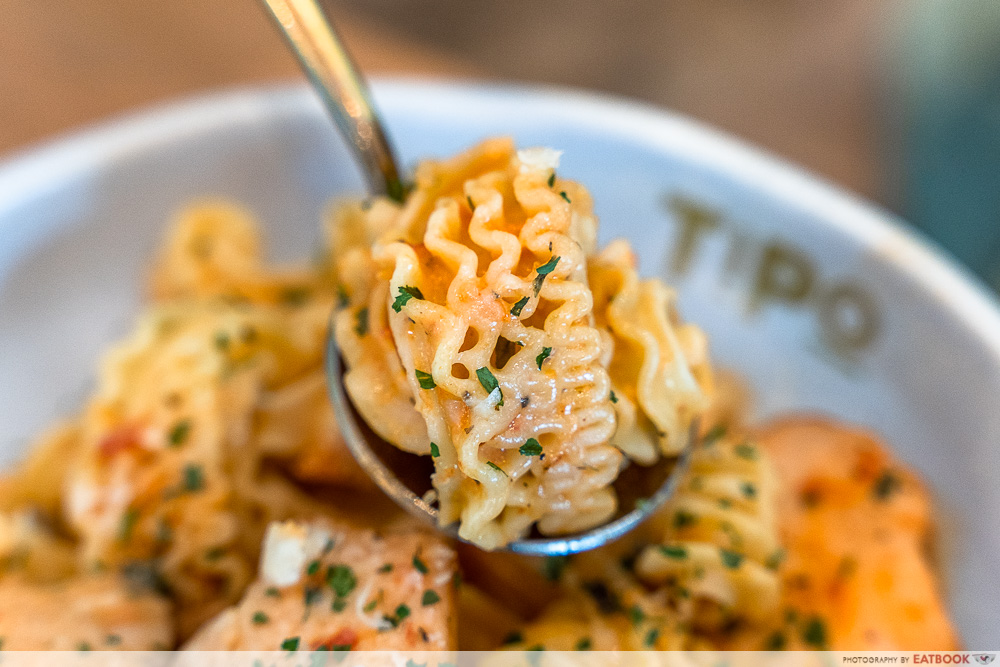 The Radiatori pasta is a flat pasta that's said to resemble radiators, thus the name. They're made here with lime and pepper. Traditionally, this pasta shape is meant to be shorter. Tipo Pasta Bar's version is wider with the same ruffled edges. When compared to the Creste De Gallo, this pasta held the thick sauce much better, making each bite extremely saucy and flavourful.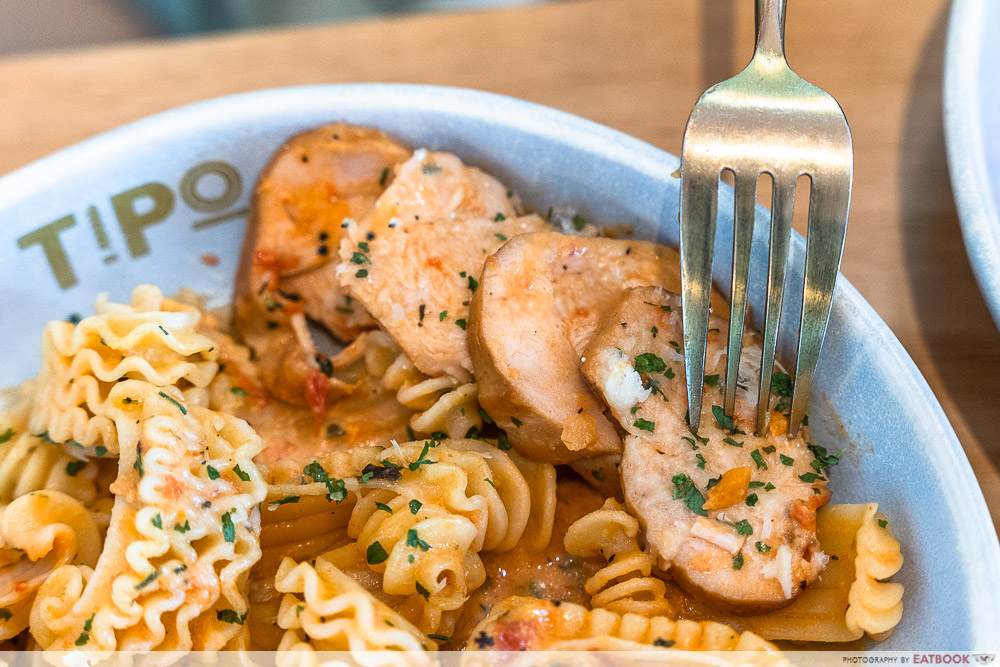 The fragrant pink sauce, which is a mix of tomato and cream, had some floral undertones too, which I really enjoyed. I felt like the Grana Padano didn't really elevate the taste of the dish, except for making it creamier. The smoked chicken, though, took me by surprise. It was perfectly juicy and tender, with a hint of sweetness and smokiness. 
This IG-Worthy Halal Eatery In Pasir Ris Has SG's First Volcano Buns, DIY Pasta, Curry Mee And More
Ambience at Tipo Pasta Bar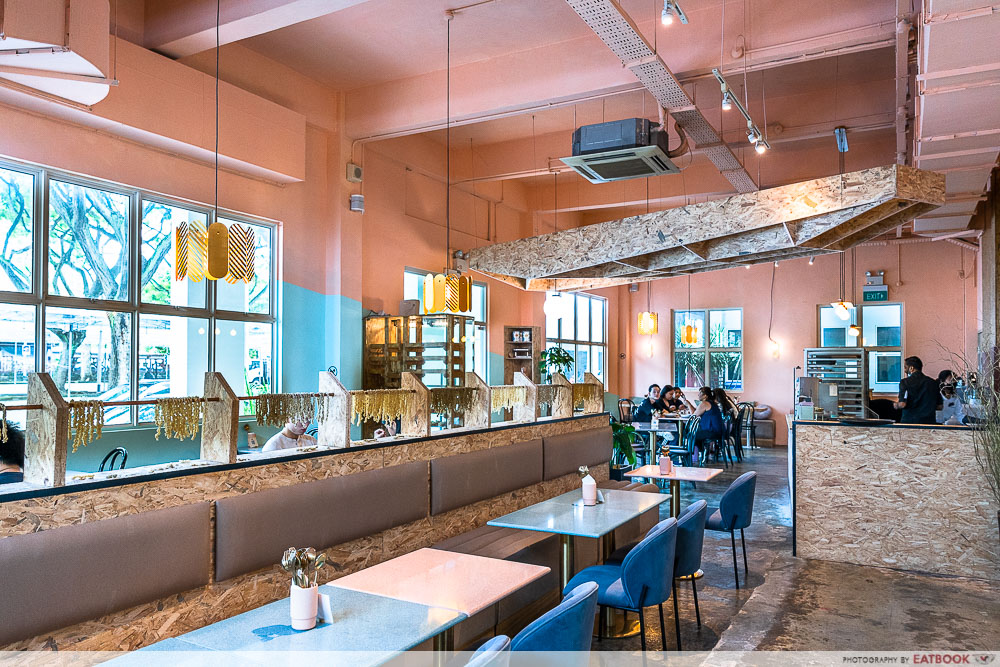 Boasting pastel pink and turquoise walls, large windows, and beautiful pendant lights, Tipo Pasta Bar's interior was very Instagrammable. The restaurant had a decent amount of seats with ample space, and it was very warm and inviting. However, it got crowded really quickly by the time our food arrived. We didn't mind it, but it might not be ideal for those looking for a quiet place to dine in. 
The restaurant is an eight-minute walk from Lavender MRT Station, or seven minutes from Nicoll Highway MRT Station. 
Tangled Review: Freshly Made Pasta From $7.90 In Chinatown, Including Truffle Mushroom And Black Pepper Crab
The verdict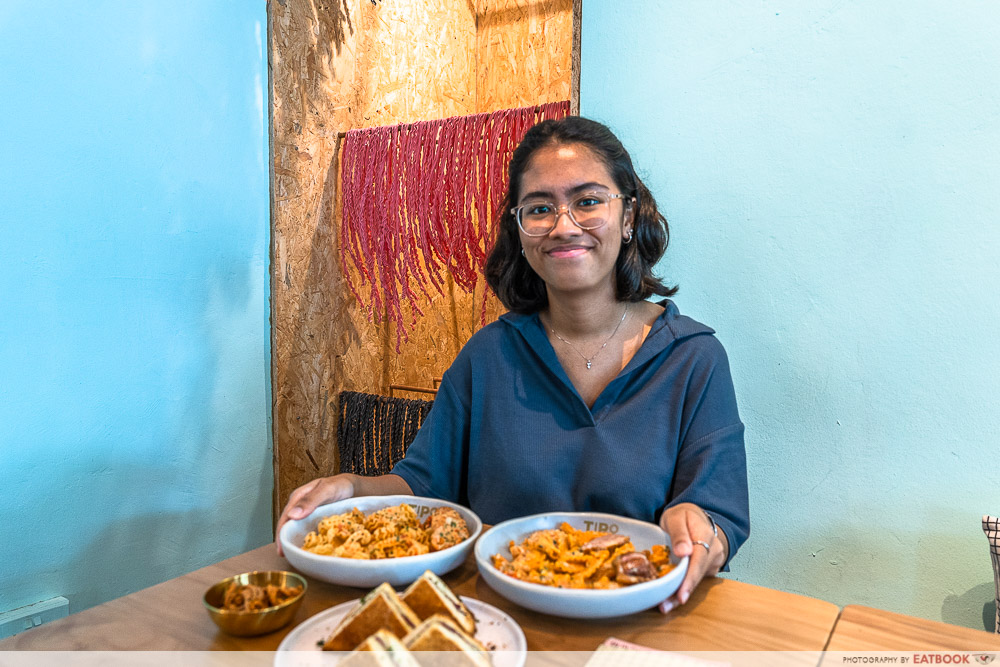 Overall, I felt that Tipo Pasta Bar did live up to its hype. My only gripe with it would be the small portions and the difficulty to get a reservation. Despite this, I thoroughly enjoyed the dining experience and would come back for special occasions with family and friends. With such premium ingredients, this restaurant is definitely worth a shot.
For more Muslim-owned eateries, check out our Missus Review. Alternatively, you can read our halal cafe guide for brunch, coffee, desserts, and more. 
Address: 28 Aliwal Street, #01-07, Singapore 199918
Opening hours: Daily 11am to 10pm
Tel: 8768 0785
Website
Tipo Pasta Bar is not a halal-certified eatery but it is Muslim-owned
Niu Zou La Mian Review: $5 Halal Handmade La Mian With Braised Beef At Ubi
Photos taken by Chew Yi En.
This was an independent review by Eatbook.sg.
Tipo Pasta Bar Review: Halal-Friendly Pasta Bar With DIY Options From $9 -

8/10
Summary
Pros
– Classy Carbonara dish was flavourful
– Nice ambience and atmosphere
– Friendly staff
Cons
– Difficult to get a reservation 
Recommended dishes: Classy Carbonara ($17.60++), Build Your Own Pasta ($9.90++)
Opening hours: Daily 11am to 10pm
Address: 28 Aliwal Street, #01-07, Singapore 199918