Missus is a Muslim-owned cafe and bakery in Bendeemeer

To me, a good cafe should check these boxes: tasteful interiors, ample natural light, and delicious grub that doesn't cost an arm or a leg. In our search for IG-worthy brunch cafes in Singapore, we chanced upon Missus. The fairly new Muslim-owned cafe along Hamilton Road gained a amount of online traction thanks to its gorgeous space and wide range of bakes.
The cafe is situated in a prime location that houses a few other popular bakeries, including La Levain, helmed by an ex-Bakery Brera pastry chef.
La Levain: Over 50 Pastries At Ex-Bakery Brera Chef's New Cafe, Including A Bo Bo Cha Cha Croissant
Food at Missus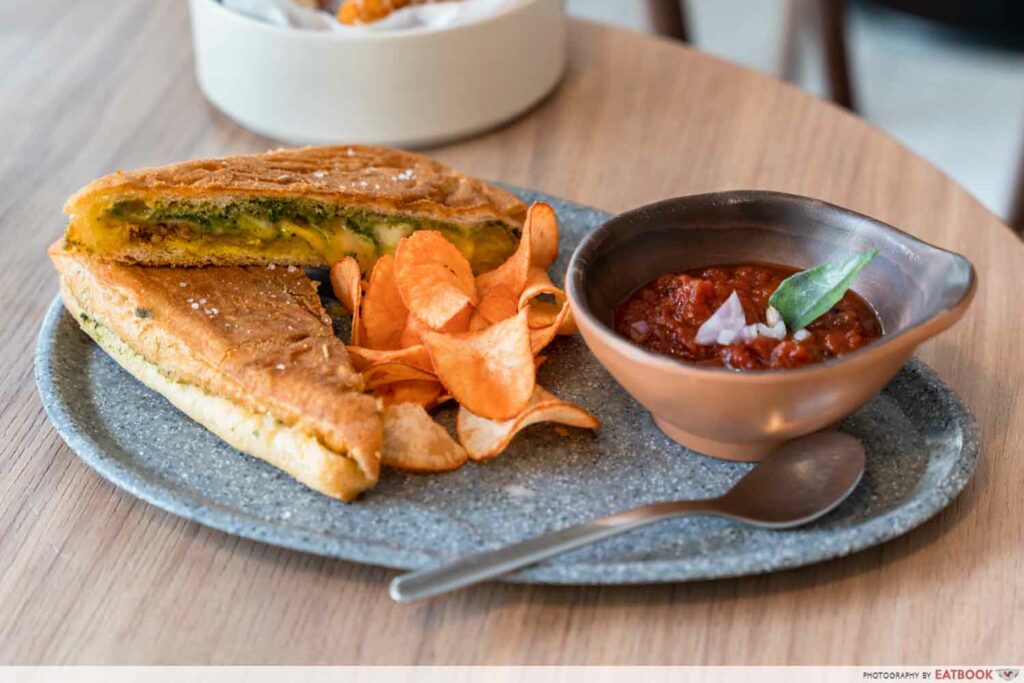 Missus rose to fame for their selection of grilled cheeses, with flavours including their signature Missus Melt ($17.90+), a truffle-spiked, four-cheese sandwich served with roasted garlic tomato soup. We, however, wanted something more unconventional, so the Slumdog Grillionaire ($19+) was our pick.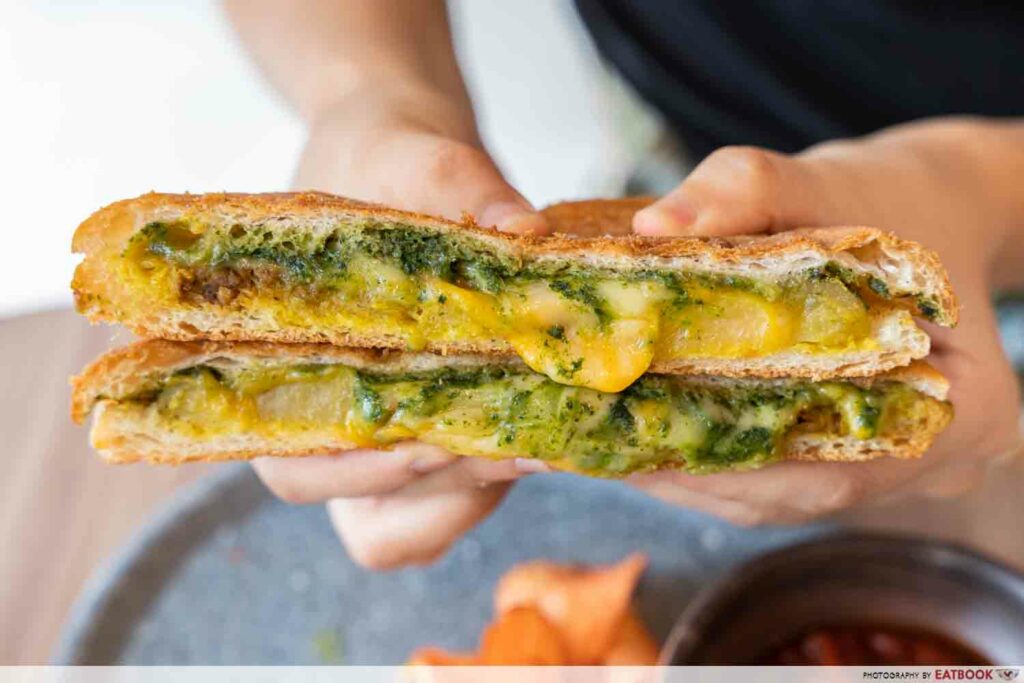 This flavour bomb of a sandwich featured masala potato cubes, coriander pesto, and the cafe's signature cheese blend, all tucked between ciabatta bread that's baked in-house. It also comes with a side of cassava chips, which were sadly straight outta a packet.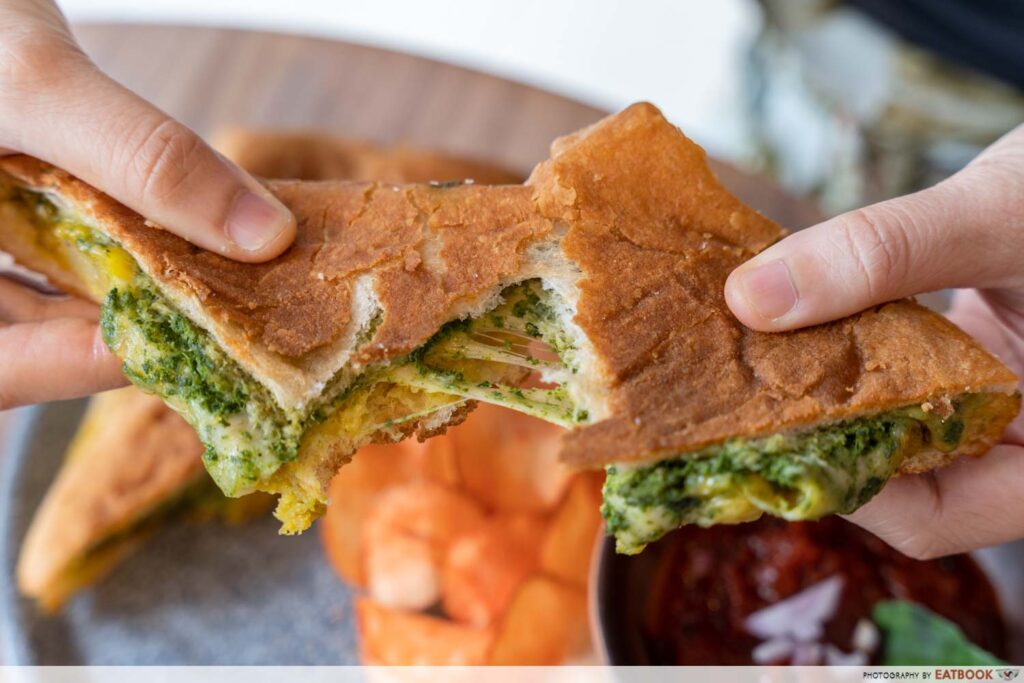 The cheese pull wasn't super strong in this one, possibly because the toastie was cut into two before serving. Nonetheless, the well-seasoned potato chunks and fragrant pesto made up for it.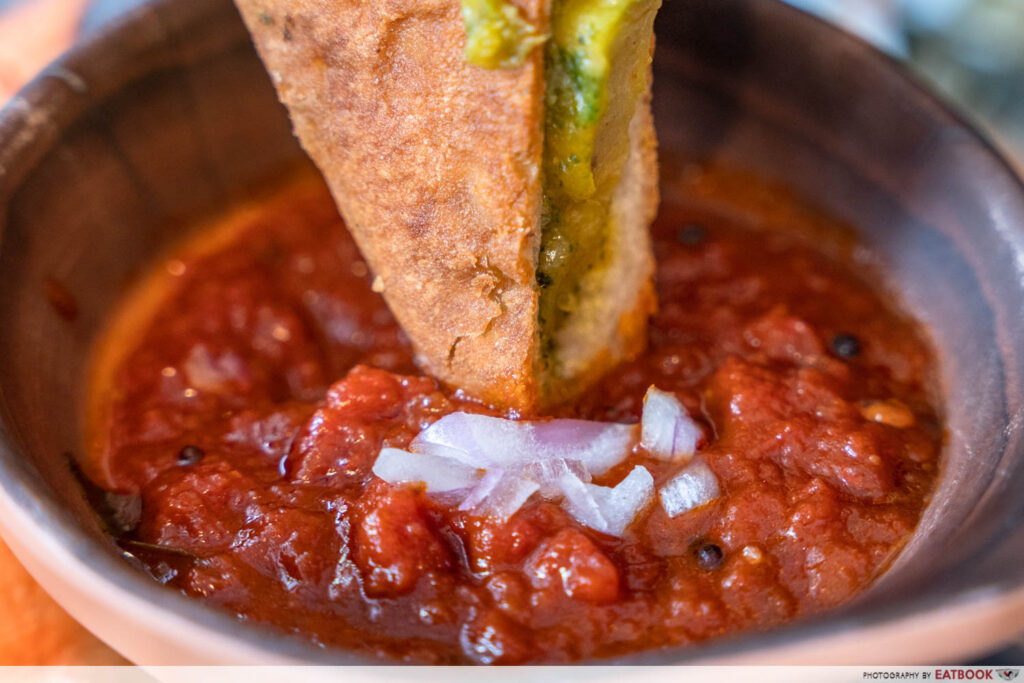 While flavourful, I felt that the sandwich leaned salty, but that was easily remedied with the house-made tomato chutney. The dipping sauce had just enough acidity to offset the grilled toast's richness.
I felt that bonus points should also be given to the delicious bread as it's made in-house.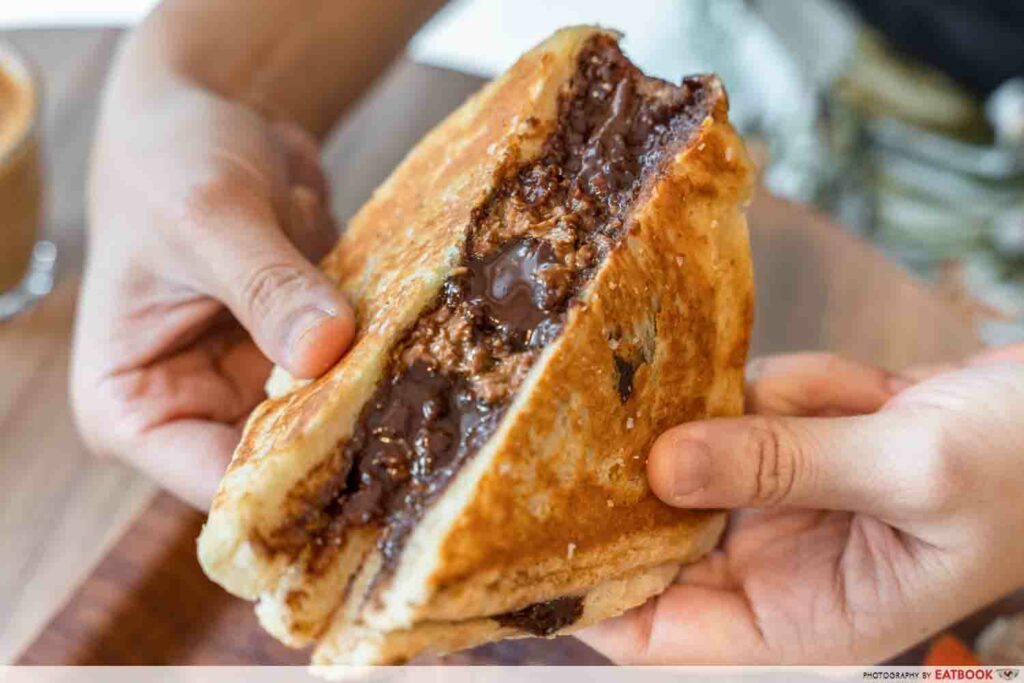 I have a sweet tooth, so I naturally gravitated towards The Great Grilled Choc Sandwich ($13+). This melty sandwich was cut open to expose a molten, Mexican chocolate filling encompassing a crunchy feuilletine-like centre—it was the epitome of ugly delicious.
Thankfully, the chocolate sauce wasn't overly sweet, so we found ourselves devouring the toastie without feeling jelak.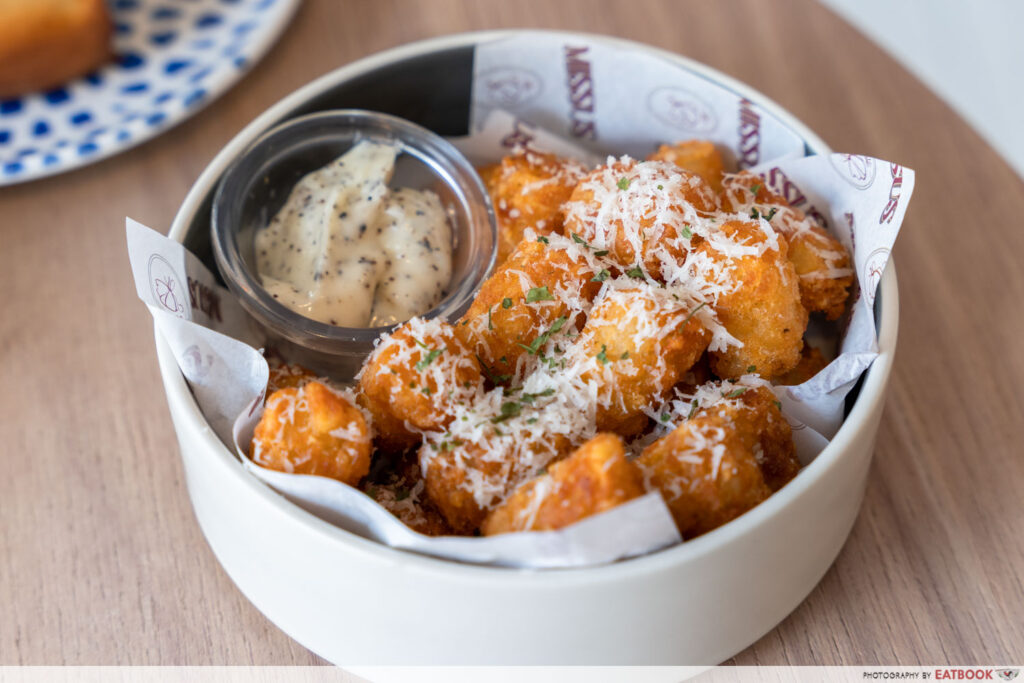 Counter all that sugar with an order of Truffle Tats ($13+). Each tater tot was fried till crispy and well-seasoned with finely grated parmesan.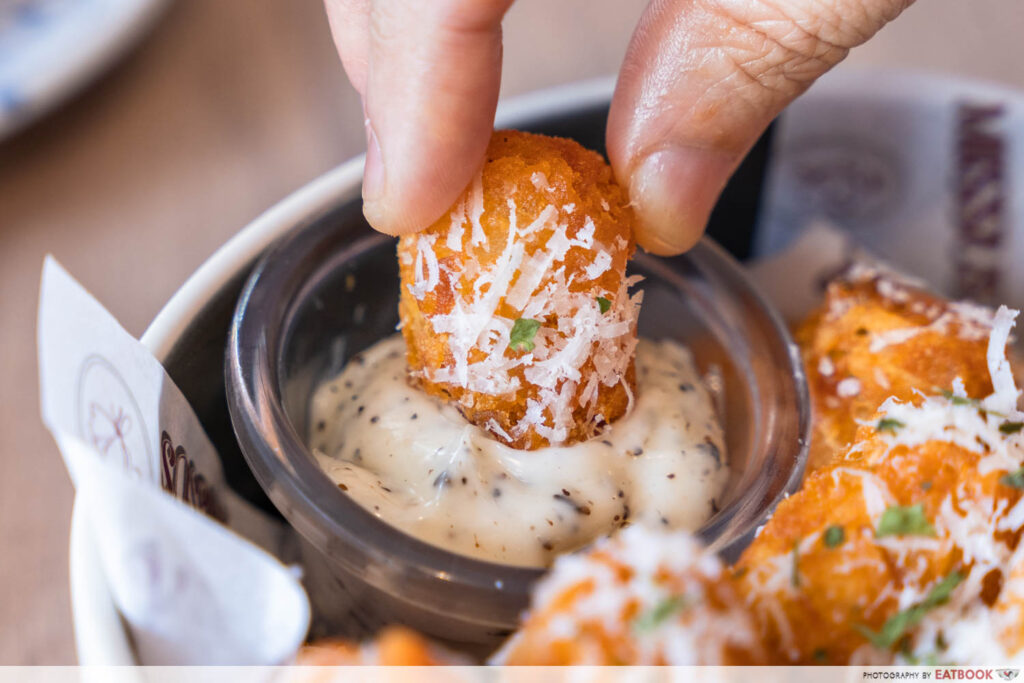 You're given a small tub of truffle garlic aioli to dunk each bite-sized potato morsel into. The pungent truffle notes paired well with the salty parmesan; this was a safe snack you won't go wrong with.

On top of grilled sandwiches and savoury brunch fare, the cafe also offers freshly baked breads and pastries over at the counter.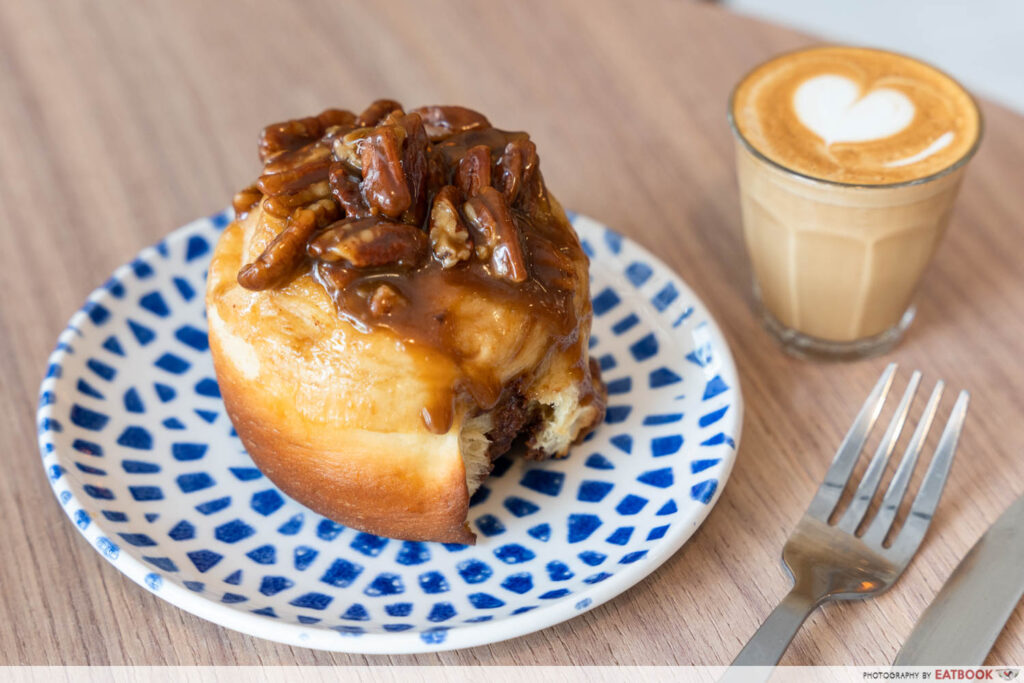 I highly recommend the Sticky Pecan Bun ($5.50+). This thicc bun featured a soft, sweet dough with swirls of cinnamon sugar hidden within, glazed with a sinful caramel drizzle and crunchy pecans on top. It was delightfully rich, and surprisingly not overly sweet. My only gripe was that the outer layer was a tad overbaked, lending a slightly dry exterior on one side of the bun.
Ambience at Missus

When we arrived at the cafe at 10am on a weekday, we were surprised to find it already half-filled with diners. Soon after, the seats filled up as more folks started streaming in, proving the cafe's popularity.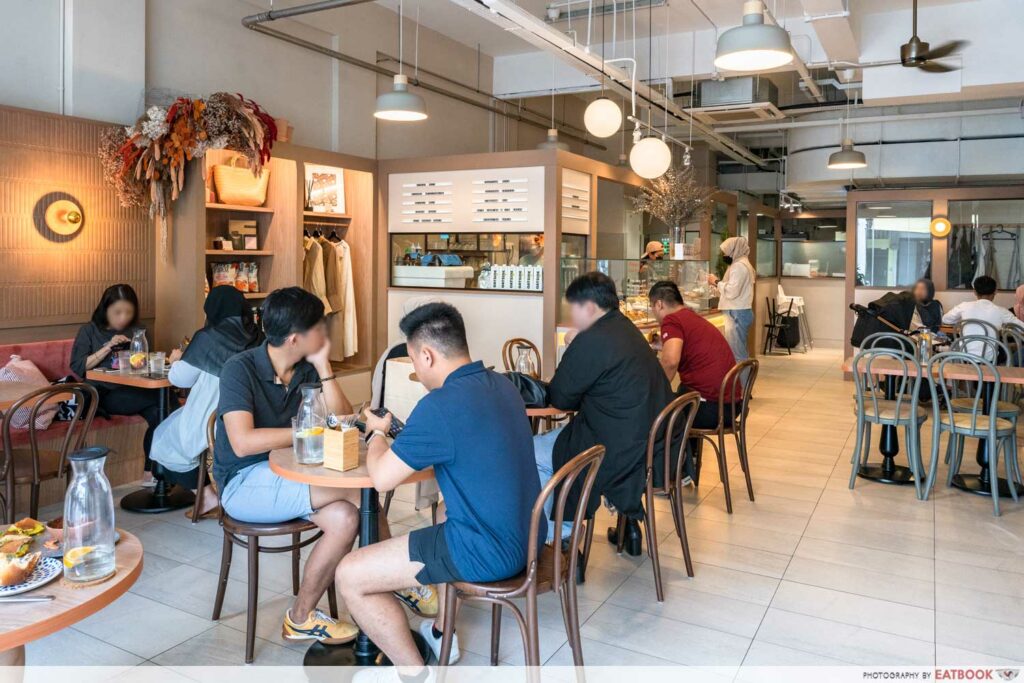 There aren't that many seats at the walk-in-only cafe, so I'd advise for you to visit during off-peak timings. If you can, choose to sit at a cosy nook along the side instead of the tables in the middle, which can feel a little squeezy on a busy day. Nonetheless, the space is cosy, well-lit, and beautifully decorated with a bohemian pink theme throughout.
The nearest train station is Bendemeer MRT Station, which is an easy five-minute walk away.
The verdict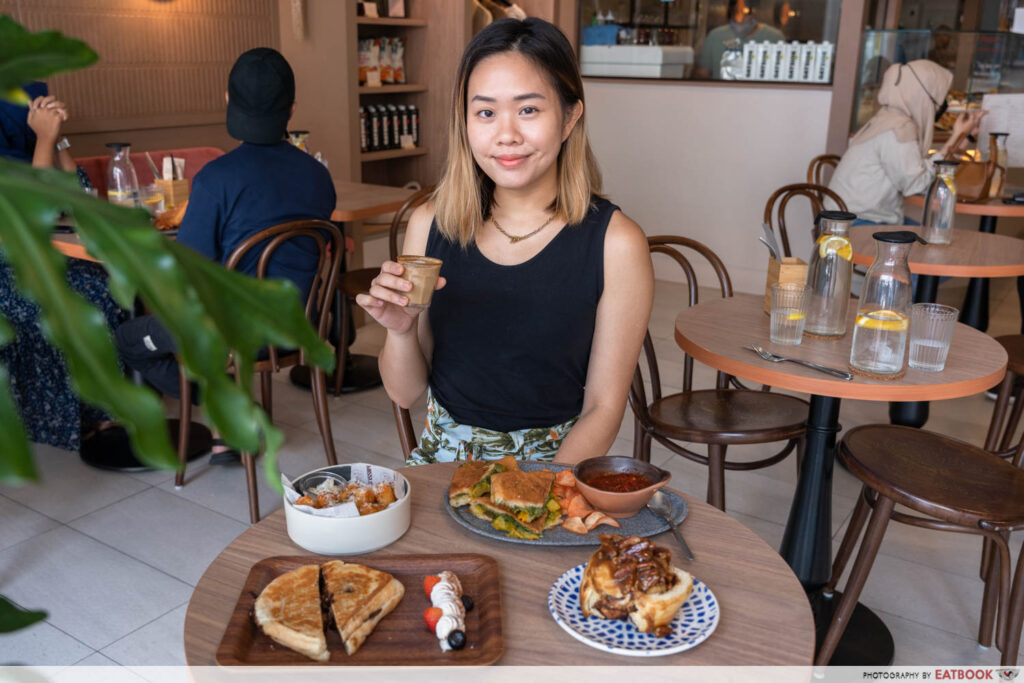 Missus impressed us with their wide variety of toasties, fresh bakes, and sides that seemed to be priced more affordable than most other cafes. I liked how they are a bakery and cafe concept-in-one, so everything you get is fresh-out-of-the-oven. I'll be back to try the other grilled cheeses and pastries lined up at the glass display!
If you reside in the east, check out our guide to the best cafes in the area. Another beautiful cafe worth visiting is Cafe Natsu, a Japanese-inspired cafe in the charming Joo Chiat locale.
Address: 16 Hamilton Road, #01-05, Singapore 209186
Opening hours: Sun-Mon, Wed-Thurs 10am to 8pm, Fri-Sat 10am to 9pm
Website
Missus is a Muslim-owned eatery.
Cafe Natsu: Gorgeous Cafe With Japanese-Inspired Brunch And Mochi Doughnuts In Joo Chiat
Photos taken by Hui Hui Lau.
This was an independent review by Eatbook.sg.
Missus Review: Muslim-Owned Cafe And Bakery With Masala Grilled Cheese, Sticky Pecan Buns And More
Missus Review: Muslim-Owned Cafe And Bakery With Masala Grilled Cheese, Sticky Pecan Buns And More -

8/10
Summary
Pros:
– Beautiful space
– Wide variety of food
– Relatively affordable
Cons:
– Slumdog Grillionaire was slightly salty
– Can get crowded during peak timings
Recommended dishes: Sticky Pecan Bun ($5.50+), The Great Grilled Choc Sandwich ($13+), Slumdog Grillionaire ($19+)
Opening hours: Sun-Mon, Wed-Thurs 10am to 8pm, Fri-Sat 10am to 9pm
Address: 16 Hamilton Road, #01-05, Singapore 209186