---
A guide to cafes in the East
---
With so many new cafes springing up recently, cue Hello Arigato and Dewgather, it can be hard to keep track of 'em all. Here's a compiled list of cafes in the East that are worth your weekend brunch with family and friends. 
---
1. Bread and Hearth
---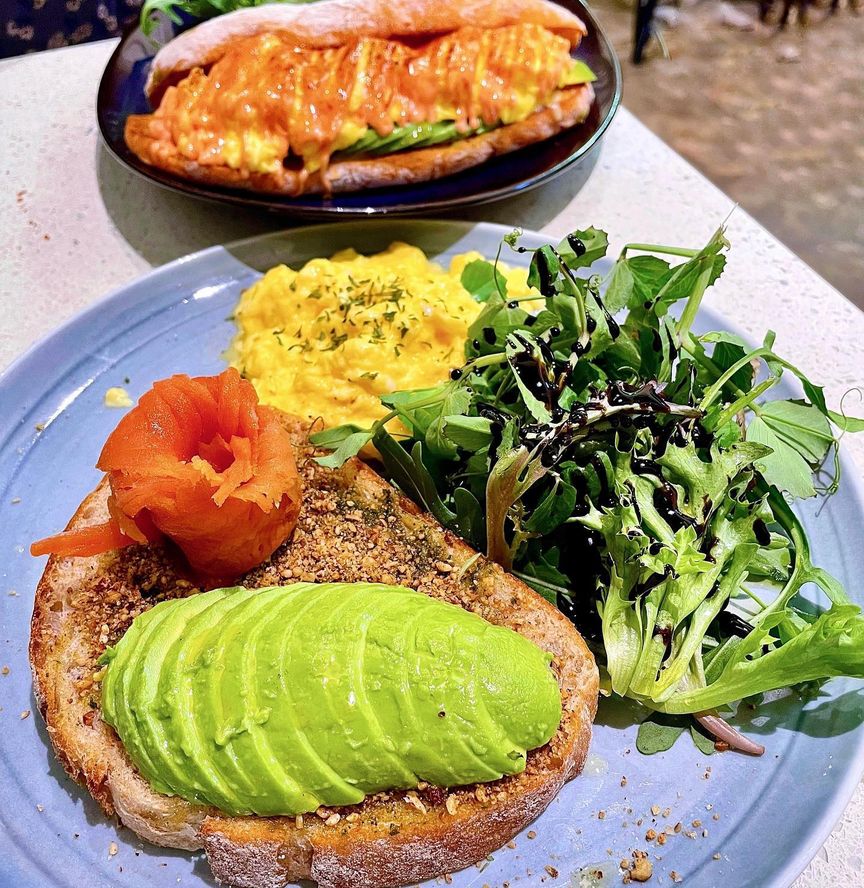 Image credit: @fgyumx
Bread and Hearth offers a variety of brunch classics and sandwiches, but by far their most popular is the AvocaToast ($17.90). With the option to customise your eggs and protein, enjoy a generous spread of creamy sliced avocado atop a rye sourdough, seasoned with dukkah spice and house-made pesto sauce. 
Address: 30 East Coast Road, #02-27, Katong Village, Singapore 428751
Opening hours: Daily 8.30am to 6.30pm
Tel: 6348 8068
Website
---
2. Breakfast Grill
---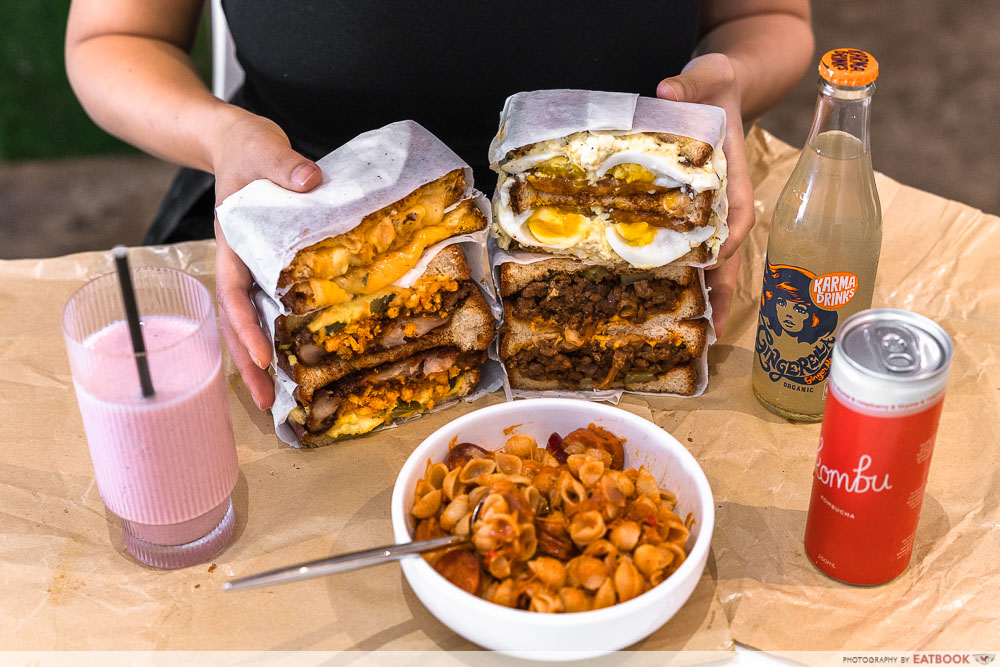 Loaded sandwiches like the ones Breakfast Grill serves are getting all the hype right now for their massive portions and piles of ingredients. Cheeses ($10) uses five different kinds of cheese, making for a mega cheese pull that is not only IG-worthy but also delicious. For something more interesting, the Hot Chick ($15.50) won't disappoint with its creamy scrambled eggs, jalapeno peppers, umami garlic aioli, and crushed Cheetos. 
Check out our Breakfast Grill review!
Address: 380 East Coast Road, Singapore 428986
Opening hours: Daily 8am to 4pm
Tel: 8363 9502
Website
Breakfast Grill Review: Affordable Loaded Sandwiches Including A Cheetos Chicken Sammie In East Coast
---
3. East Coast Commune
---

Located along East Coast Park, East Coast Commune is the perfect place to stop by after a morning cycle. You can't go wrong with Four Cheese ($15) and its blend of mozzarella, parmesan, cheddar, and gorgonzola drizzled over rosemary and caramelised shallots-infused sourdough waffles. However, if that's too food coma-inducing, they have a refreshing Acai Bowl ($13) and Granola Bowl ($12) too. 
Check out our East Coast Commune review!
Address: 1000 East Coast Parkway, #01-03, Singapore 449876
Opening hours: Wed-Mon 8.30am to 6pm
Tel: 8950 4142
Website
East Coast Commune Review: IG-Worthy Cafe With Sourdough Waffles And "CharMee" Pasta In East Coast
---
4. The Brewing Ground
---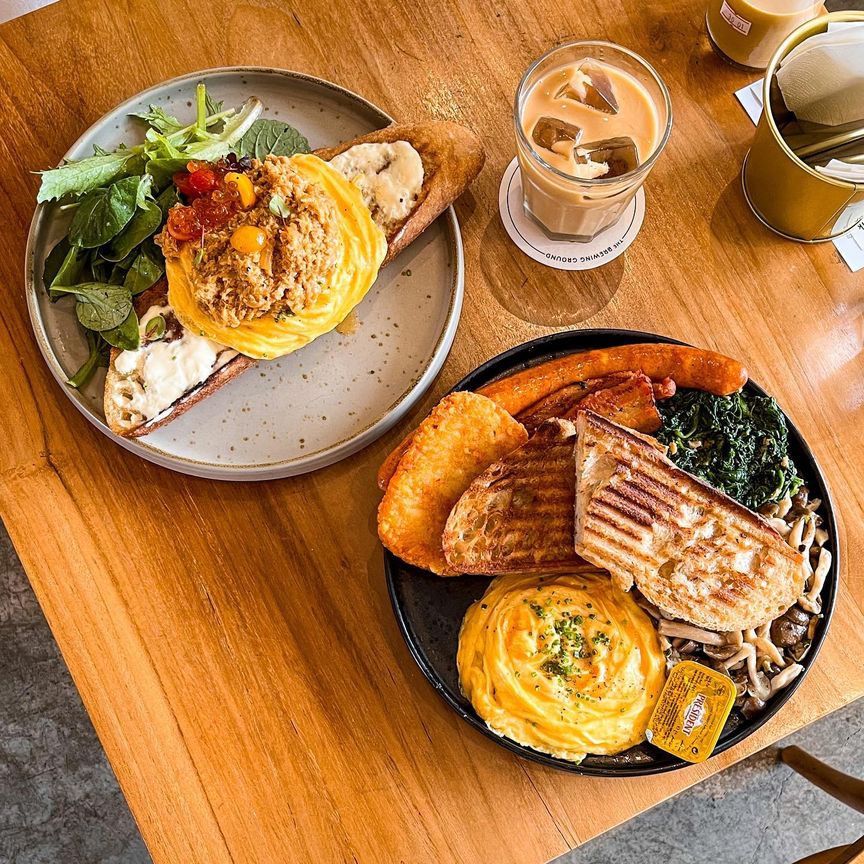 Image credit: @thesaturdaychronicles
The Brewing Ground's prices are slightly steeper, but their portions make up for it. Make sure you visit with ample stomach space for The Brewer's Breakfast ($26++) so you can enjoy their crispy hash browns, maple bacon, sauteed spinach and mushrooms, and eggs done to your liking. The Crab and Signature Scrambled Eggs on Toast ($25++) spotlights their perfect, creamy scrambled eggs, and is ladened with umami sauteed crabmeat and ikura. 
Address: 406 Joo Chiat Place, #01-24, The Yards, Singapore 428084
Opening hours: Daily 7.30am to 5pm
Tel: 8313 6092
Website
---
5. Cafe de Nicole's Flower
---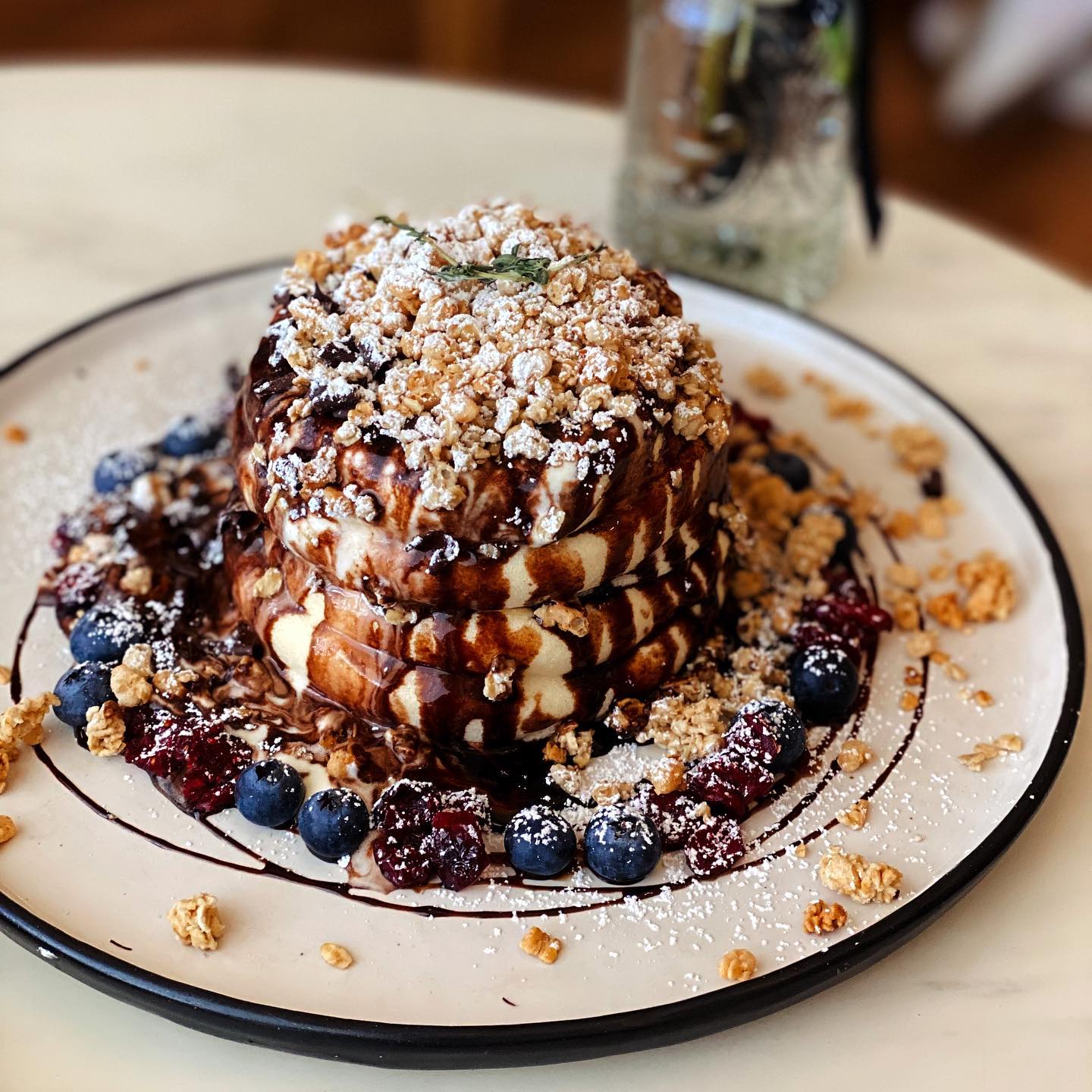 Image credit: @hungryybearr
If you've heard of Cafe de Nicole's Flower before, it's either because of their stunning floral-decorated interior, dog-friendly status, or their colourful array of food. After you've taken your fair share of pics for the gram, sit back and order their tall, fluffy, jiggly souffle pancakes, including flavours such as Matcha ($17.90++), Creamy Sweet Potato ($19.90++), and Dark Chocolate and Pecan Hazelnut ($21.90++). 
Address: 224 Telok Kurau Road, #01-01, UNI Building, Singapore 423836
Opening hours: Daily 9am to 10pm
Tel: 8338 8511
Website
---
6. Knots Cafe and Living
---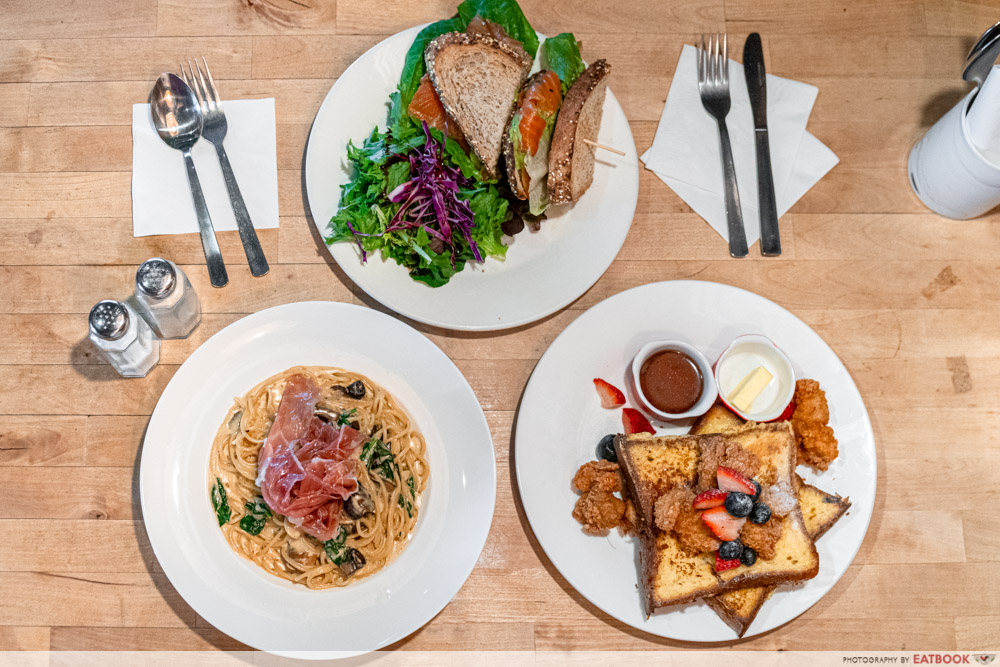 Think of Knots Cafe And Living as IKEA but upgraded. Tripling up as a furniture store, plant shop, and cafe, you can enjoy mains such as French Toast ($15.90) and Smoked Salmon Sandwich ($15.90) in what feels like a tranquil outdoor garden. Unlike typical French toasts, Knots Cafe and Living's rendition includes meaty pieces of fried popcorn chicken for a balance of sweet and savoury. 
Check out our Knots Cafe And Living review!
Address: 160 Paya Lebar Road, #01-07, Orion @ Paya Lebar, Singapore 409022
Opening hours: Daily 9am to 9pm
Tel: 6817 0383
Website
Knots Cafe And Living Review: Popular Cafe With Bali Vibes Serves Brunch In MacPherson
---
7. Seng Coffee Bar
---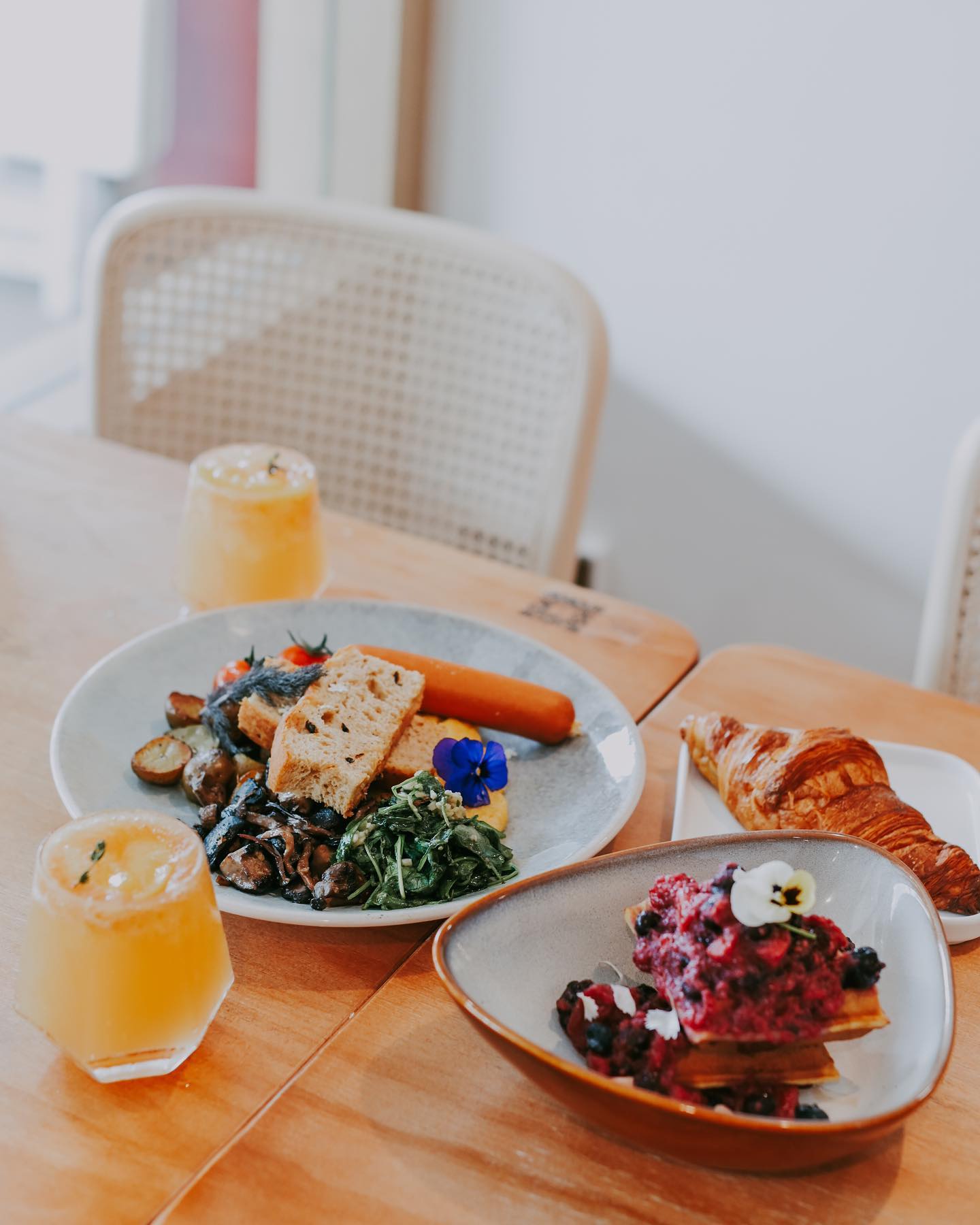 Image credit: @lamwang
Seng Coffee Bar was started by Gu Zhao Ren Taiwanese Porridge right next door, which sounds strange until you find out both are managed by a father-daughter duo. Unlike its neighbour, Seng Coffee Bar serves Western-style brunch and mains, so you can expect to find eats including the quintessential Breakfast Feast ($20+), as well as Eggs Benedict with Crab Meat ($18+) and Smoked Salmon ($15+). 
Address: 389 Changi Road, Singapore 419838
Opening hours: Mon-Fri 11am to 10.30pm, Sat-Sun 9am to 10.30pm
Tel: 8921 1862
Website
---
8. The Neptune
---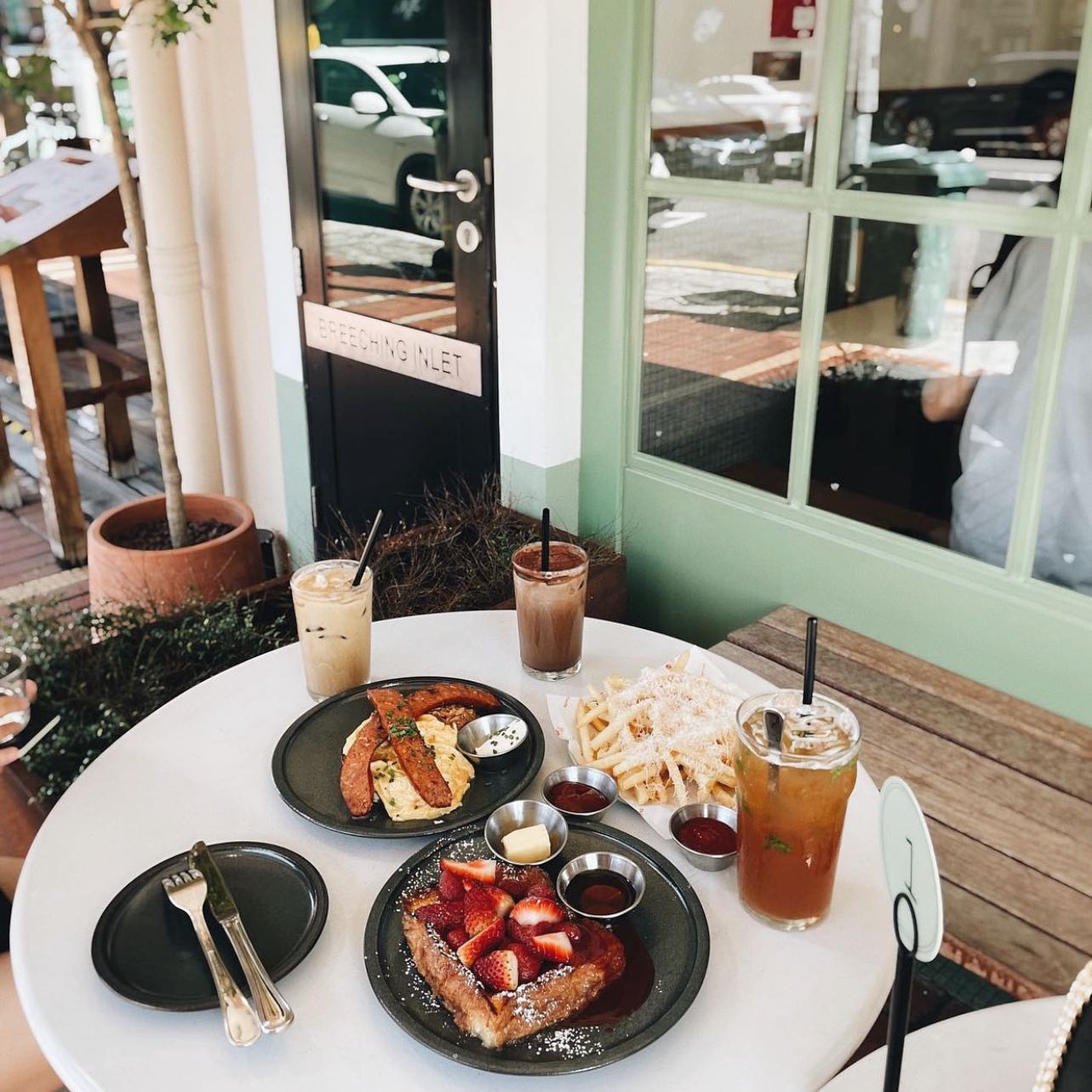 Image credit: @wenn_jia
The same people behind Atlas Coffeehouse and Apollo Coffee Bar bring you The Neptune. If you're unsure where to start, the combination of creamy scrambled eggs, salty grilled chorizo, and slightly spicy harissa chilli crab in their Chilli Crab and Chorizo ($22.50) is sure to perk up your mornings. Otherwise, opt for a classic French Toast Standard ($19.80); you can't go wrong with their buttery and light French toast, drenched in sweet strawberry coulis and maple syrup with a hefty serving of fresh strawberries. 
Address: 237 East Coast Road, Singapore 428930
Opening hours: Tue-Sat 8am to 10pm, Sun 8am to 7pm
Tel: 6970 7305
Website
---
9. The Garden Slug Family Restaurant
---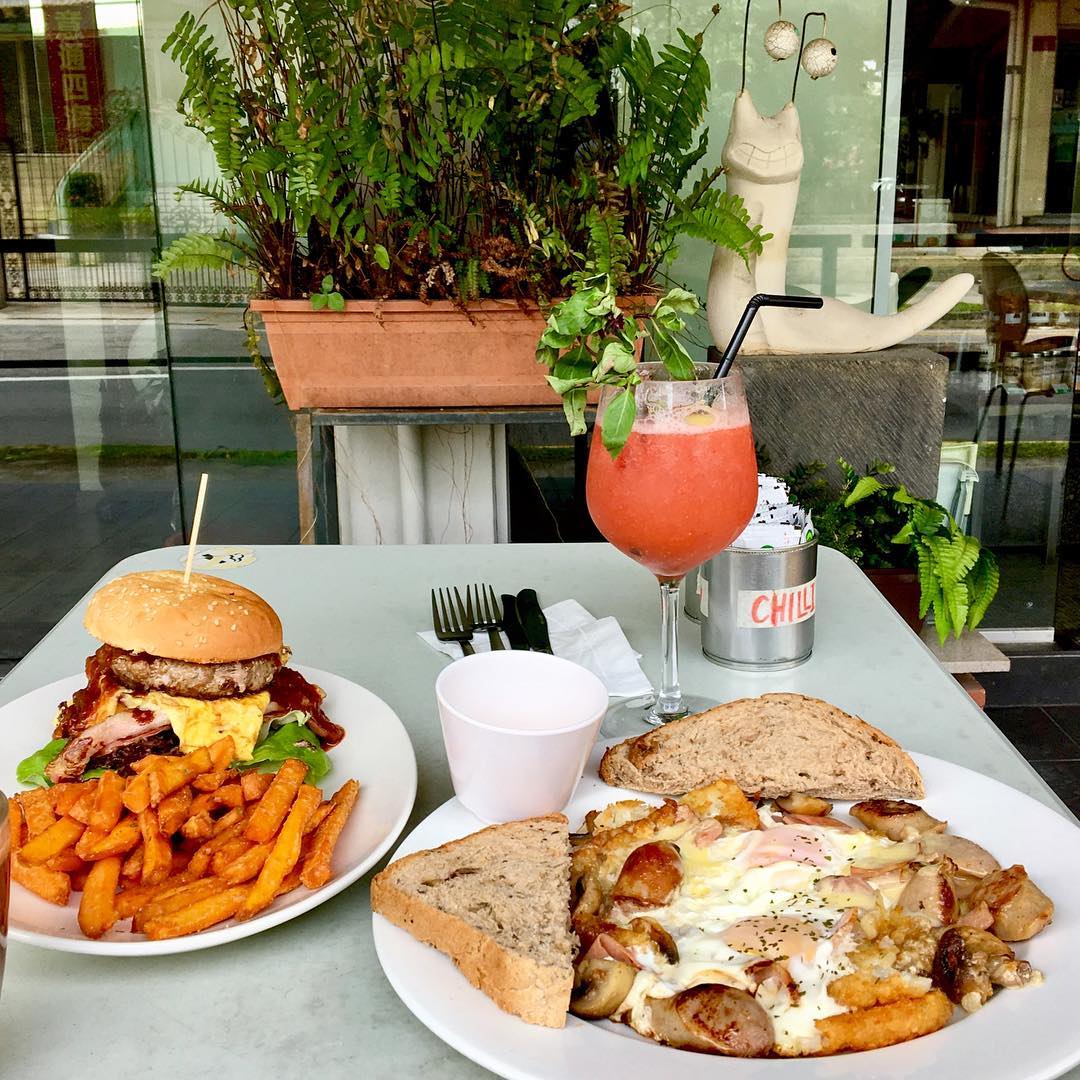 Image credit: @celliethepink
The Garden Slug Family Restaurant is another dog-friendly cafe to add to your list. Besides the classic All-Day Big Breakfast ($19.80+), we would recommend trying Three Little Pigs ($19.80+) too. This earthy mushroom and potato cheese melt is spruced up with some baked eggs, bratwurst, bacon and ham, and is best enjoyed with a slice of toast. 
Address: 55 Lorong L Telok Kurau, #01-59/61, Bright Centre, Singapore 425500
Opening hours: Mon 11.30am to 9pm, Wed-Thurs 11.30am to 9pm, Fri 11.30am to 10pm, Sat-Sun 9.30am to 10pm
Tel: 6346 0504
Website
---
10. Kings Cart Coffee
---

Within walking distance of The Neptune is Kings Cart Coffee, which serves up several brunch classics, pasta, and more notably, speciality coffee roasted by themselves. Enjoy some unique creations, including a Coconut Cold Brew ($9++)—a refreshing blend of coconut water, coconut flesh, and cold brew concentrate. Their tall and fluffy souffle pancakes are worth a try too, of which you can indulge in Tiramisu ($18.90++), Yuen Yang ($18.90++), and several other flavours. 
Check out our Kings Cart Coffee review!
Address: 328 Joo Chiat Road, #01-05, Singapore 427585
Opening hours: Sun-Thurs 9am to 6pm, Fri-Sat 9am to 10.30pm
Tel: 9638 8380
Website
Kings Cart Coffee Factory Review: Kaya Souffle Pancakes And Coconut Affogato In Joo Chiat
---
11. The Forage Cafe
---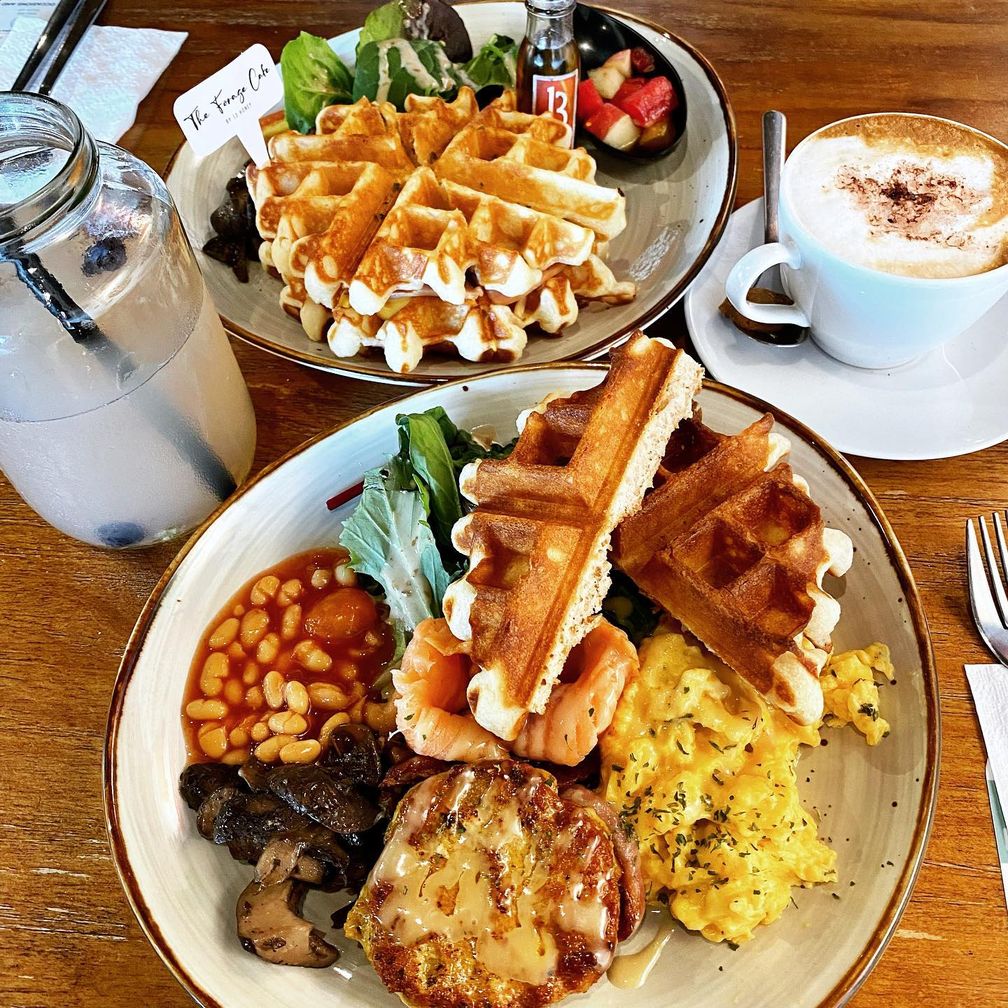 Image credit: @asfixiado
As Singapore's first honey-themed cafe, The Forage Cafe infuses their multi-floral honey from 13 Honey into almost all their dishes and drinks. A must-try is their crispy and fluffy honey buttermilk waffles. You can enjoy them in the Forage Big Breakfast ($22.90++), or in their grilled waffle sandwiches, including the Smoked Salmon and Eggs ($17.90++) and Chilli Cheese Chicken ($15.90++). 
Address: 30 Jalan Pari Burong, Singapore 488696
Opening hours: Daily 8am to 10pm
Tel: 8869 7131
Website
---
12. Little Rogue Coffee
---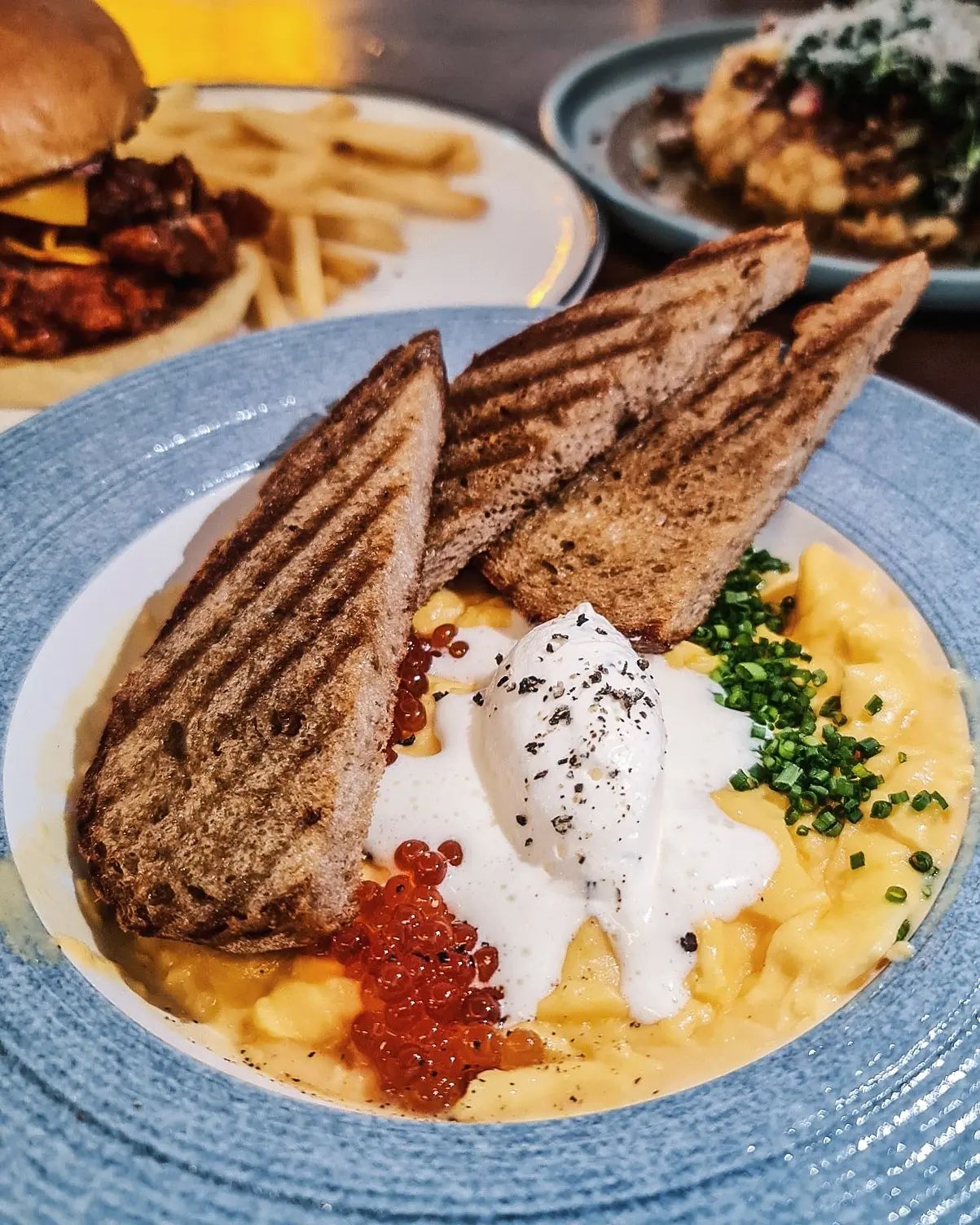 Image credit: @the.anne.eater
Another cafe in the East you should pay a visit to is Little Rogue Coffee. By far one of their most popular all-day breakfast items is the Soft Scrambled Eggs and Ikura ($16+). Beloved soft, creamy, buttery scrambled eggs are spruced up with a spoonful of ikura and truffle cream, and then garnished with chives. Pile it up onto slices of sourdough for a simple yet elevated start to your day. 
Address: 336 Tanjong Katong Road, Singapore 437109
Opening hours: Wed-Mon 8.30am to 6pm
Tel: 8899 1143
Website
---
13. Okada Coffee and Sweets
---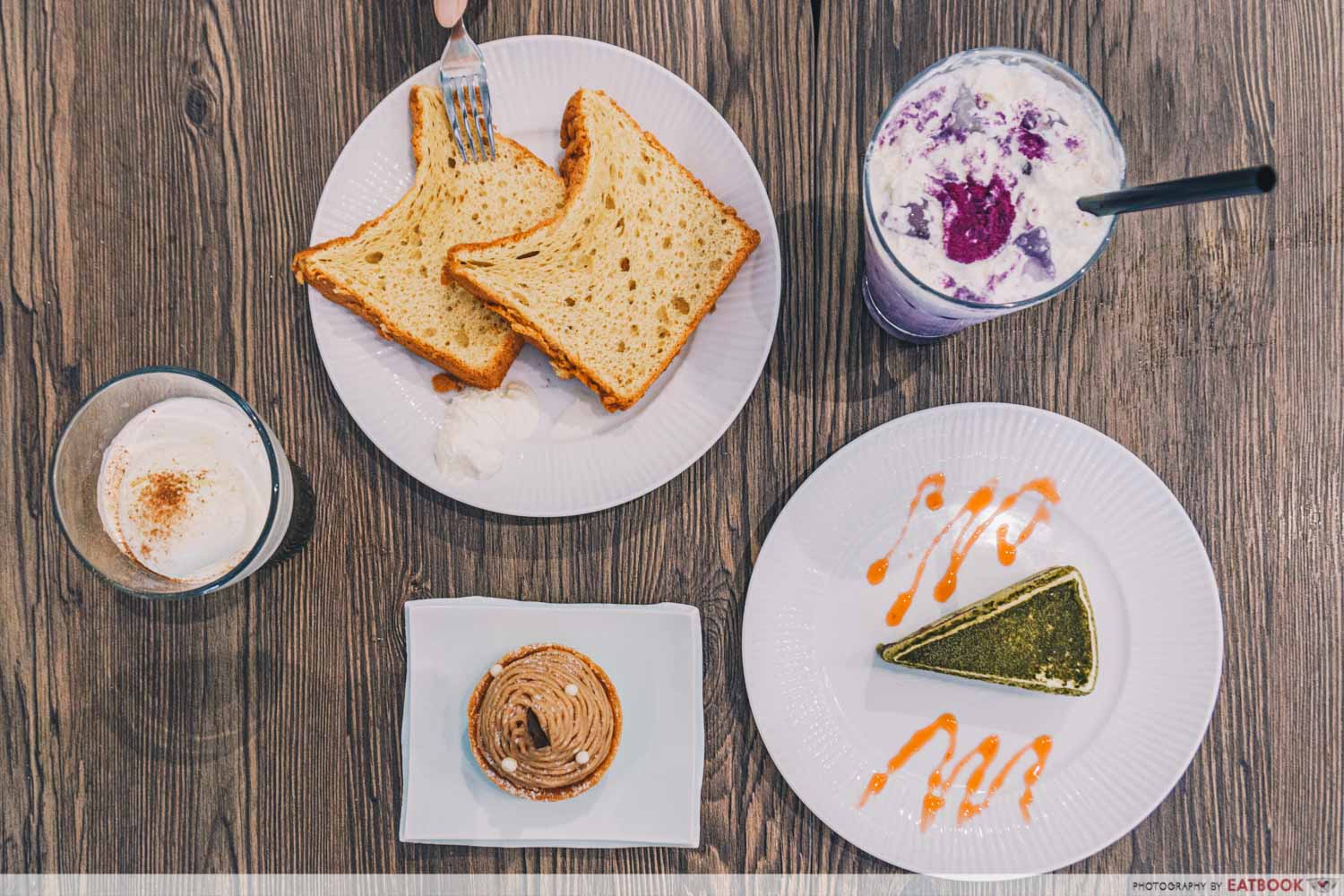 With this list being so Western-dominated, here's a Japanese-inspired cafe for a change. Okada Coffee and Sweets specialises in desserts and coffee, and their signature Coffee Jelly With Ice Cream ($5.50) appears to be a fusion of both. The bitter coffee jelly and sweet vanilla ice cream plopped on top balance each other out. If you're looking for something more filling, try the Mont Blanc ($8), with puffs of whipped cream and chestnut bits hidden beneath swirls of chestnut cream. 
Check out our Okada Coffee and Sweets review!
Address: 153 Joo Chiat Road, Singapore 427682
Opening hours: Tue-Thurs 10.30am to 6pm, Fri 10.30am to 7pm, Sat-Sun 9.30am to 7pm
Tel: 6282 3725
Website
Okada Coffee And Sweets Review: Japanese-Inspired Cafe With Coffee Jelly, Mont Blanc And Sweet Potato Latte
---
14. Refuel Cafe
---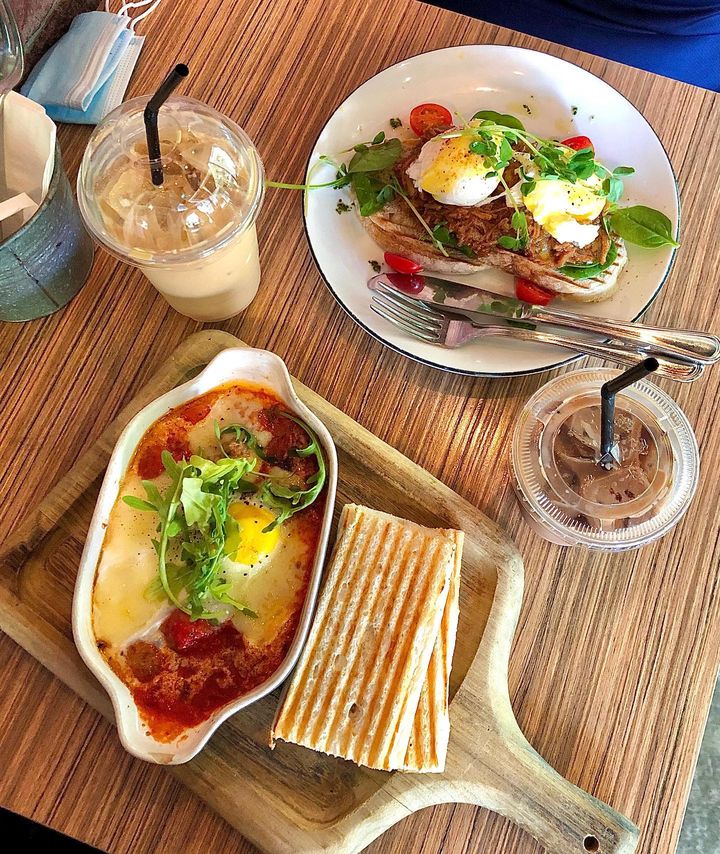 Image credit: @thatpotatohead
Refuel Cafe is located under one of Bedok's HDB flats, allowing Bedok residents to enjoy a hearty brunch without having to leave their neighbourhood. Get your day going with a Fuel Me Up ($13.50+) or an Open Pork Benny ($14.50+). The former comes with a side of toast which you can dip into a tray of baked eggs, pork meatballs, swiss cheese and sauteed peppers, and the latter piles some savoury pulled pork and a poached egg onto a piece of naan bread. 
Address: 744 Bedok Reservoir Road, #01-3029, Singapore 470744
Opening hours: Wed-Mon 9am to 9pm
Tel: 6448 0015
Website
---
Where to have brunch in the East
---
Whichever cafe in the East you decide to spend your weekend morning brunch at, rest assured that you'll leave with a full stomach and a smile. 
If you are looking for more cafes islandwide, check out our list of cafes for brunch and desserts. For more in-depth reviews, check out our SYIP review for kombu pasta and burrata toasts at Farrer Park, or our Two Bake Boys Cafe review for thai tea croffles and more by the IG-famous crepe cake shop. 
20 Cafes In Singapore For Brunch And Desserts, Including Glasshouse And Minimalist Cafes
Feature image adapted from @fgyumx, @the.anne.eater, and @asfixiado.