Apollo Coffee Bar at Serangoon Gardens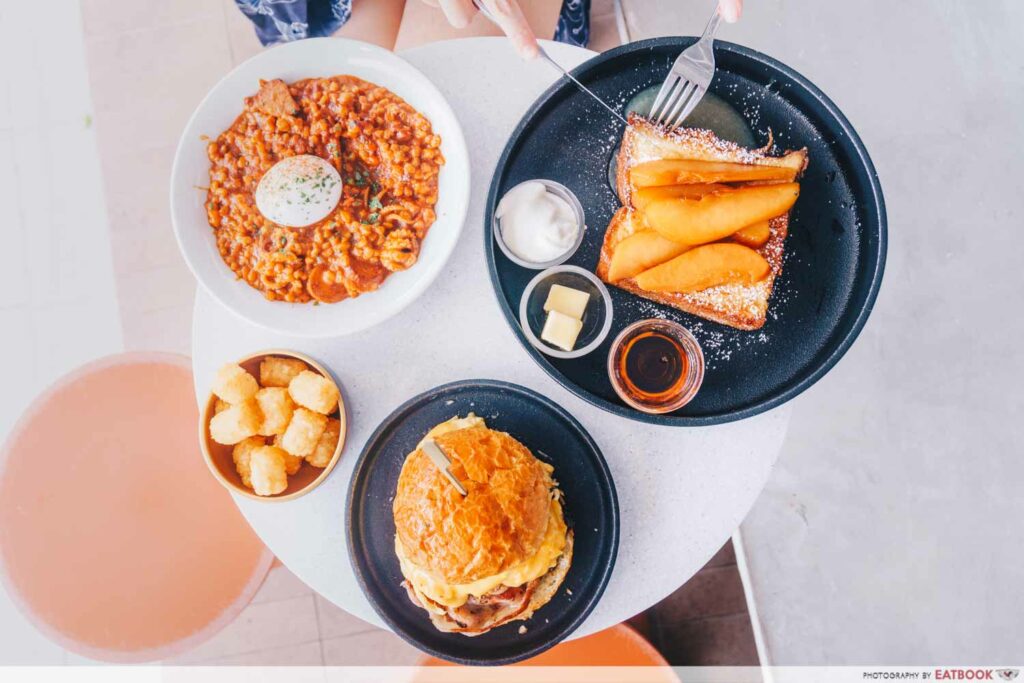 Giving new life to Serangoon Gardens is hip new cafe Apollo Coffee Bar, a new joint by the folks behind the well-loved Atlas Coffeehouse and Columbus Coffee Co. If affiliation is anything to go by, then it should come as no surprise that Apollo Coffee Bar was teeming with cafe-goers on a weekday afternoon—this was in spite of the DORSCON Orange announcement that had emptied out many malls including the once-bustling Jewel Changi Airport.
Food at Apollo Coffee Bar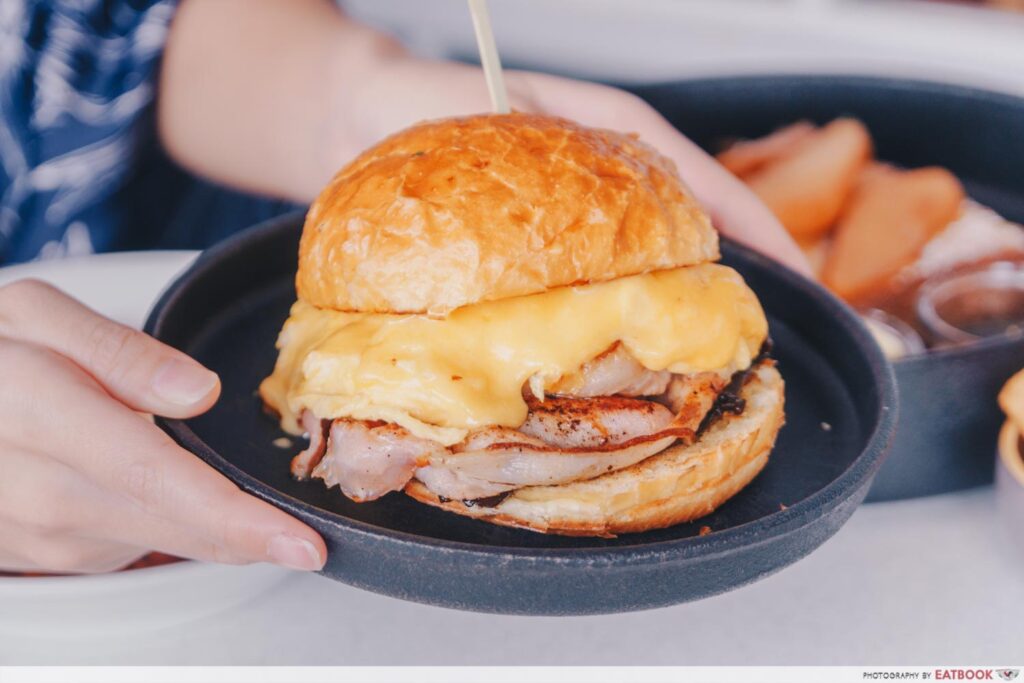 The menu is categorised by Brunch—which is only available between 9am and 4pm—Small and Large Plates that are served from 12pm until late, and All-day Favourites comprising sweet treats, pancakes, and waffles.
Even before I arrived at Apollo Coffee Bar, I knew what I had to order. It was the decadent Breakfast Burger ($17.70), which I saw gracing my Instagram feed, and was the dish that made me discover this neighbourhood cafe.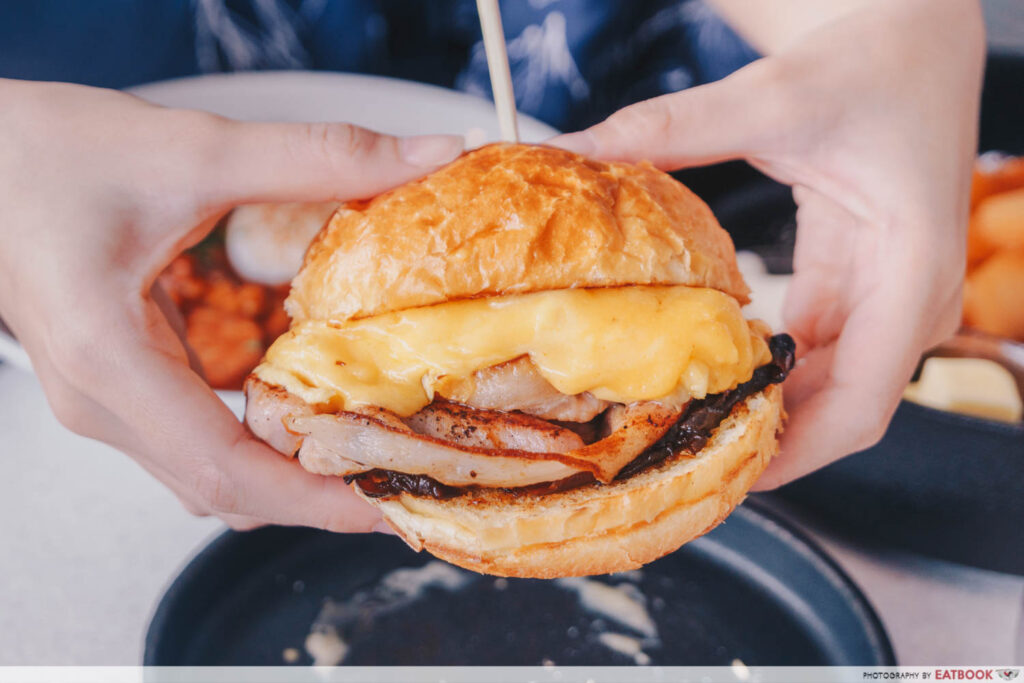 Spilling out of the glossy house-made potato buns was a lava of cheese and scrambled eggs, along with strips of fatty bacon. It was a messy sight that made my tummy rumble, and I couldn't wait to lift the glorious sight up and devour it.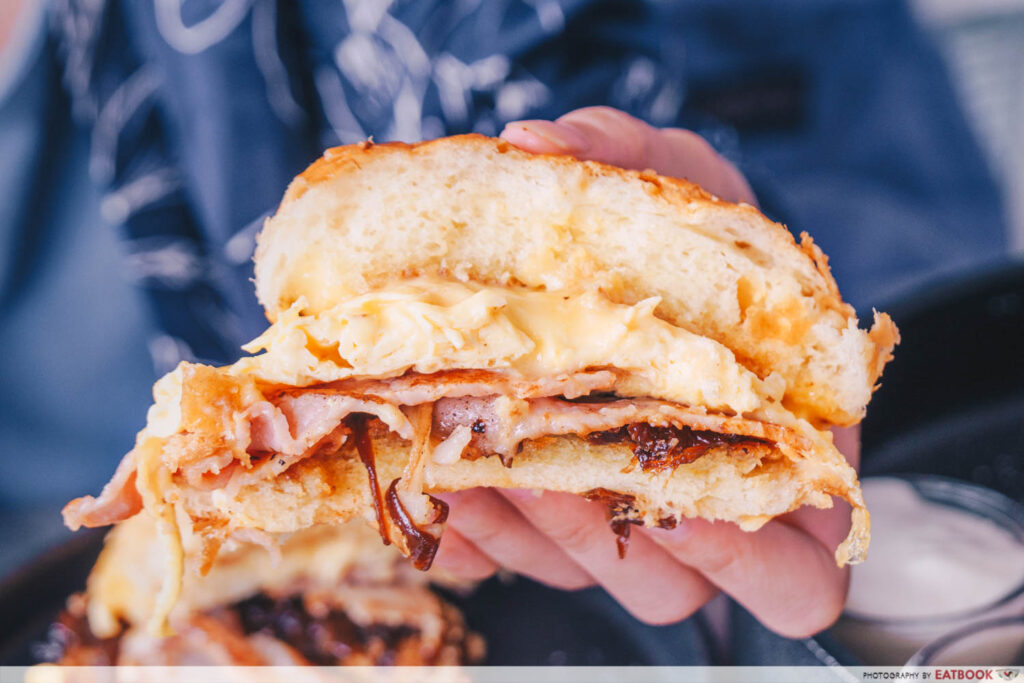 The taste lived up to its appearance, with hints of saltiness from the bacon mellowed down by a rounded sweetness from the onion jam. The egg and cheese completed it all with a buttery creaminess.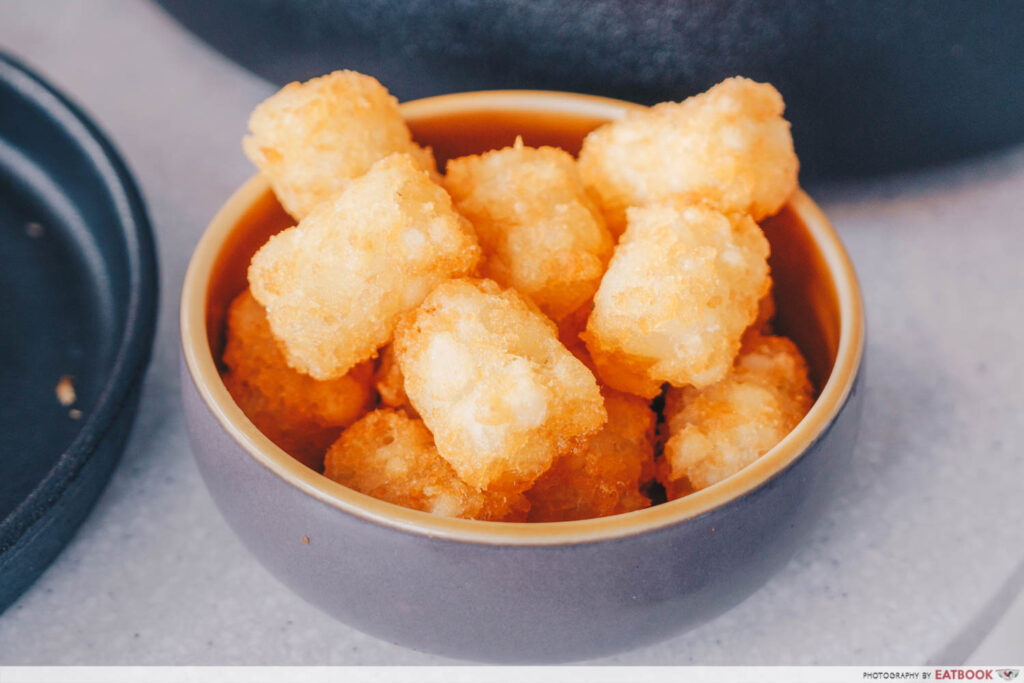 A side of tater tots was served with the burger. They were crisp and not at all oily.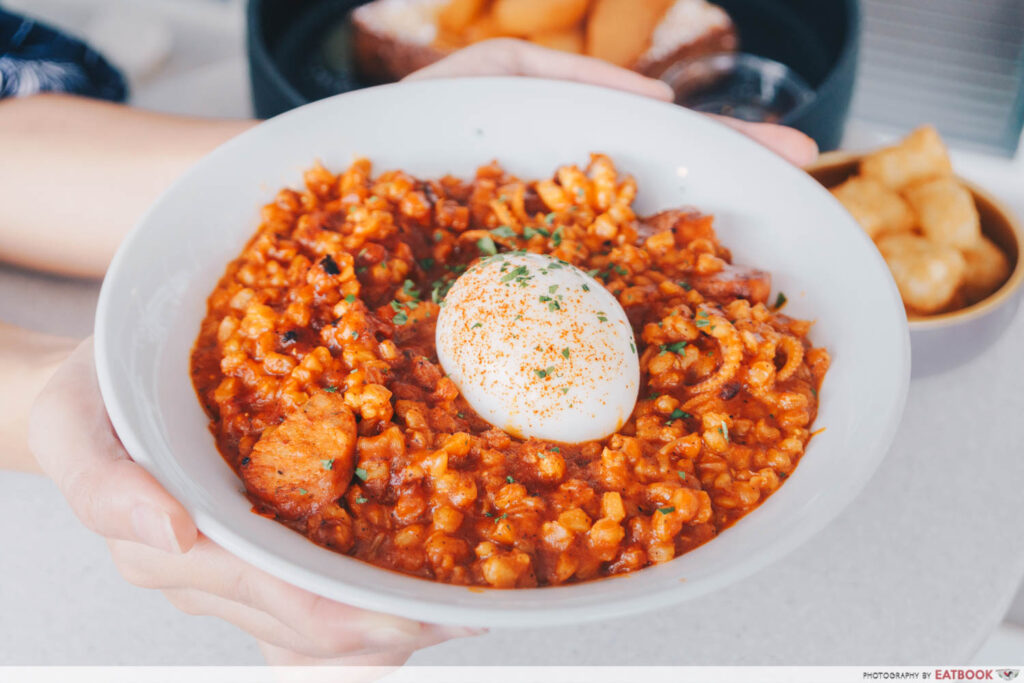 Since every Tom, Dick, and Harry was ordering the Miso Mushroom Bacon Risotto, we decided to be adventurous and opted for the Chorizo and Octopus Risotto ($23.50) instead. Plus, it had more premium ingredients for the same price.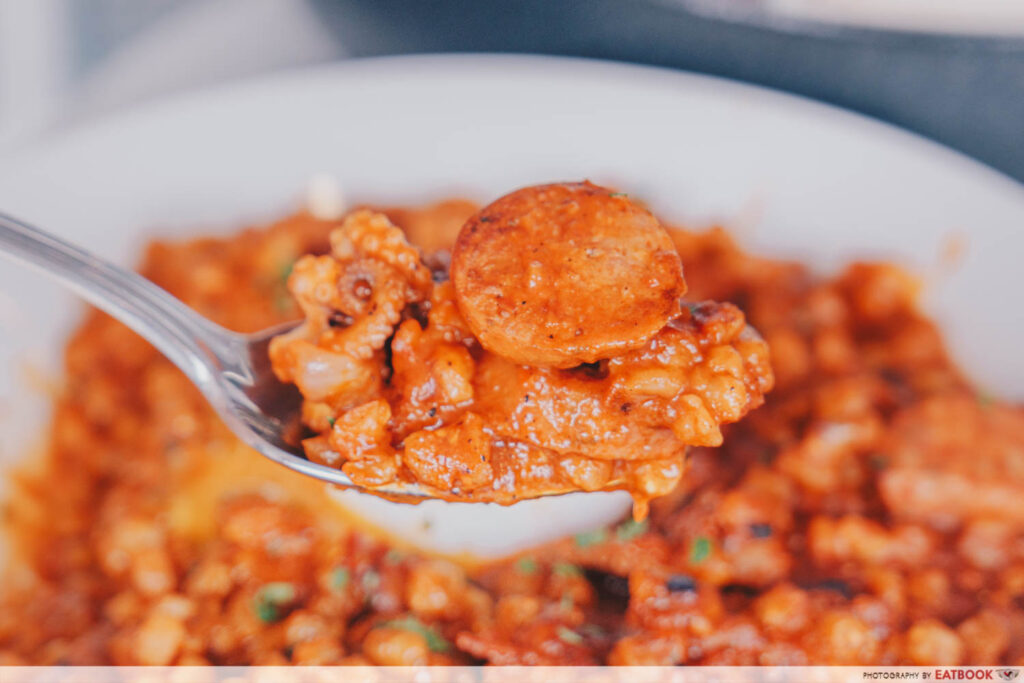 To be honest, the first few bites did not impress; the flavours were mild and did not deliver that umami punch. Yet, I could not stop lifting my spoon for seconds, and despite being full, I wiped this bowl clean.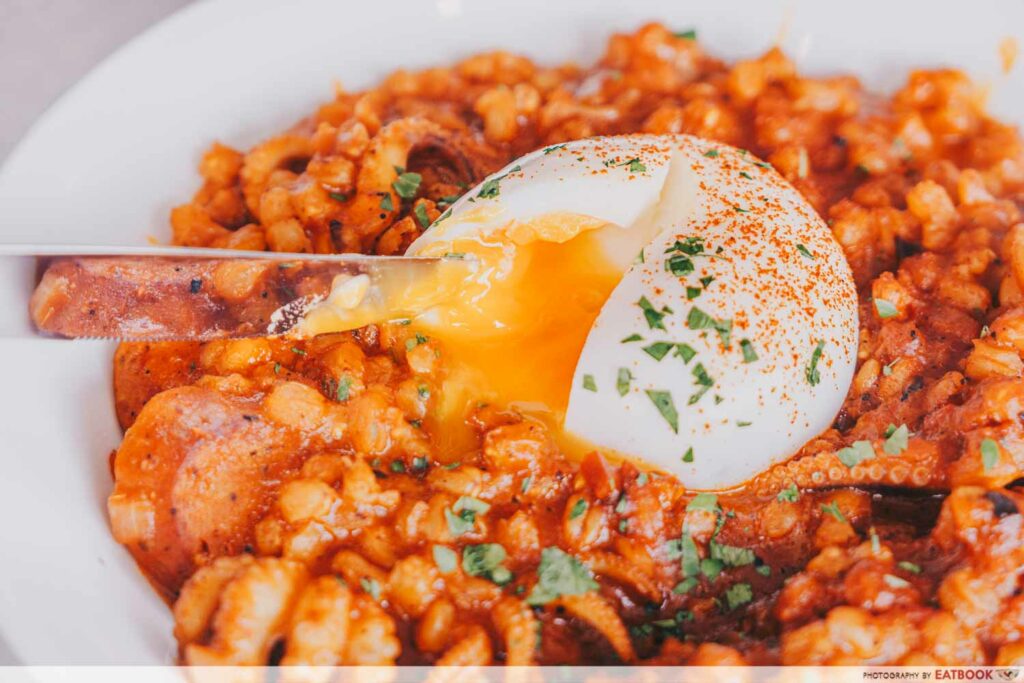 The texture was spot on—the grains were al dente and not too mushy. Breaking in the poached egg made the flavours richer, while the generous portions of octopus and chorizo provided a nice bite.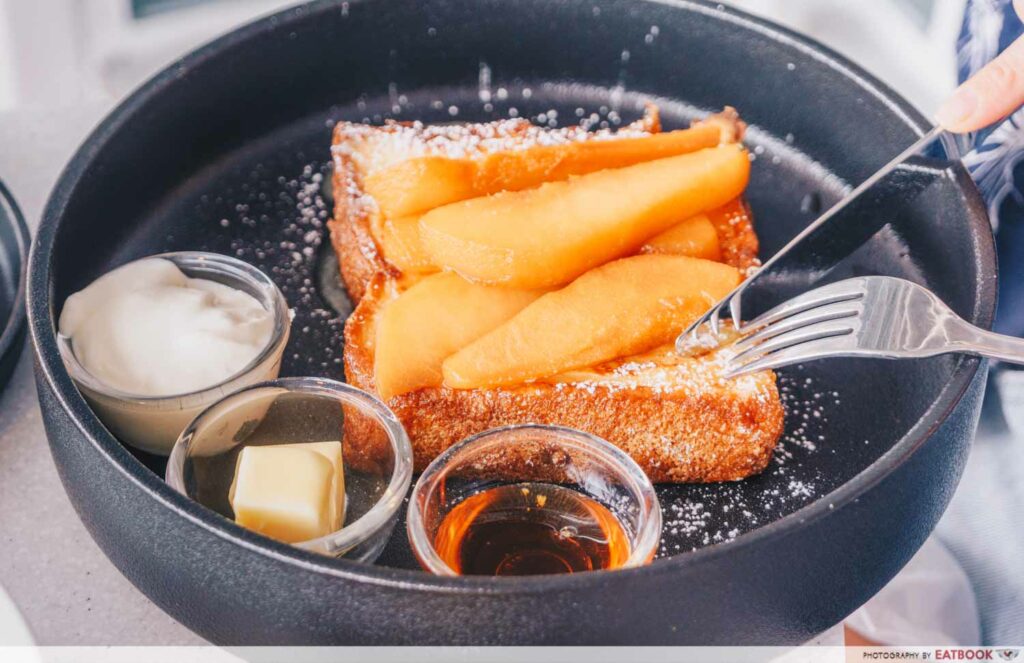 We left the sweet Honey 'Prench' Toast ($19.80) for last. Here, you get a French toast made from buttery potato bun that's topped with poached pears and doused in pear coulis. Served alongside it are honey, butter, as well as fresh cream.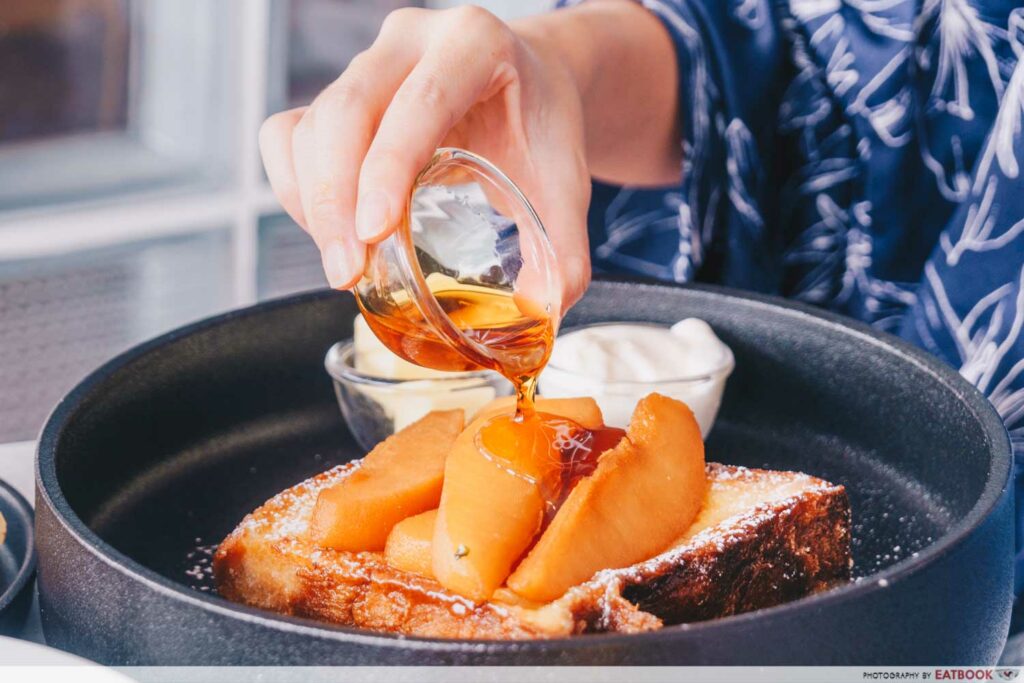 We poured the honey over and that was enough; it was the ideal companion to the treacly yet tart pear coulis. I did try it with the side of butter and cream, but felt both add-ons destroyed the dish. While this dish was tantalising, I wish the French toast had more of a golden crisp exterior to complement the softness of the poached pears.
Ambience at Apollo Coffee Bar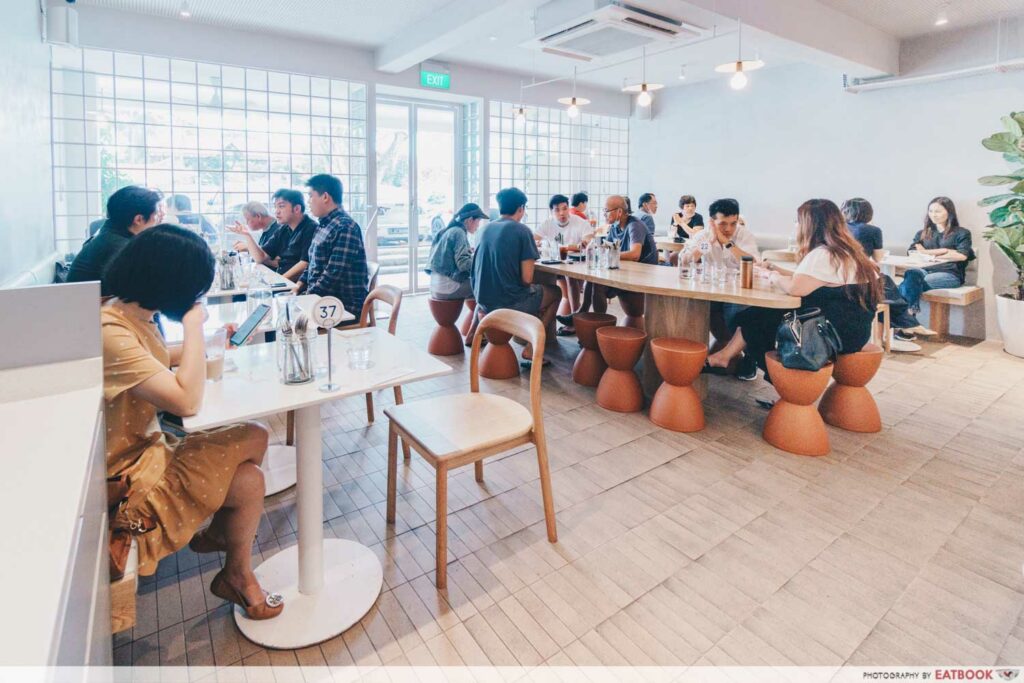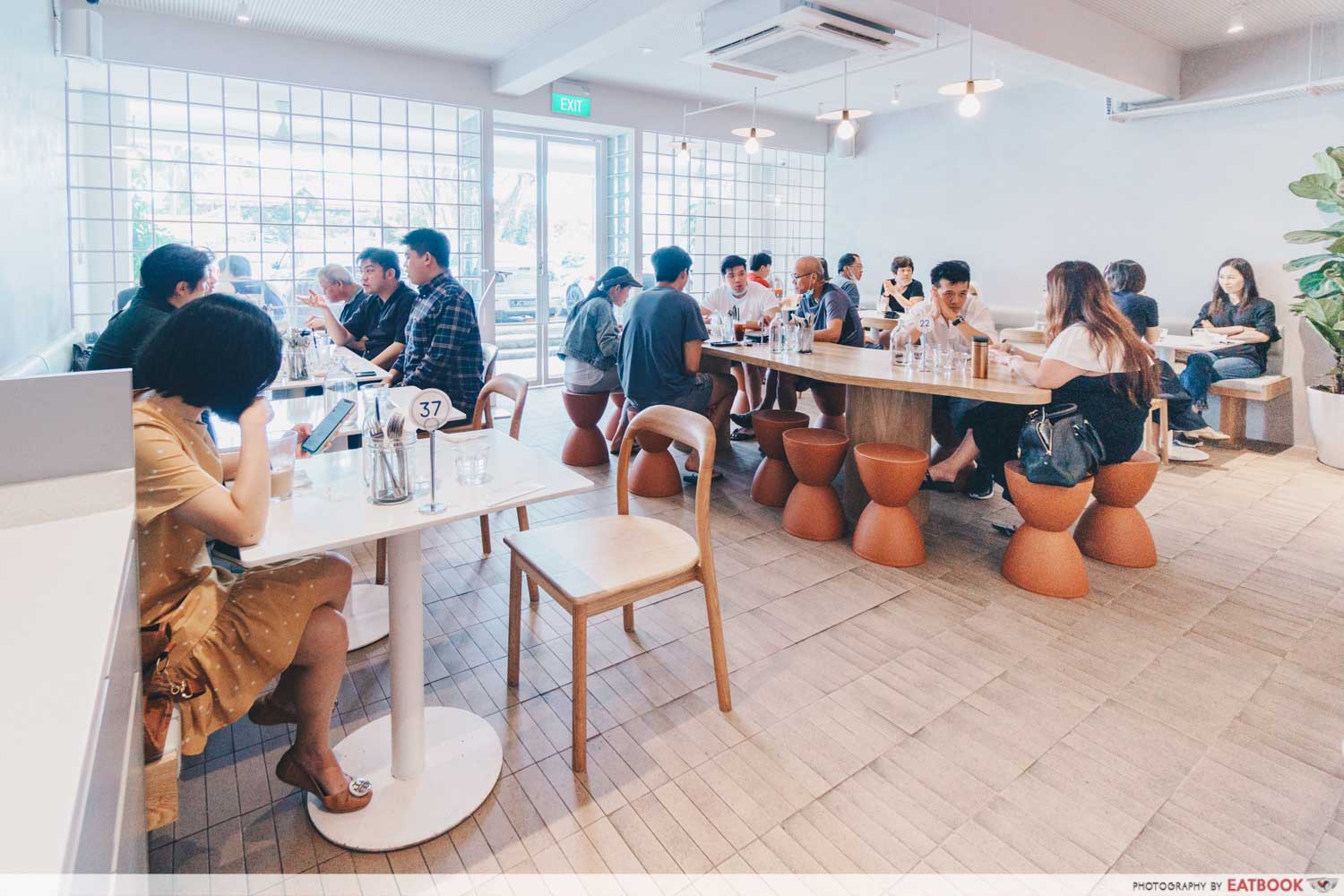 Enter through the heavy metal doors and you will be greeted with a huge wooden table for communal dining, along with white tables and potted plants decking the area. The space predominantly takes on a classy Scandinavian theme.
The lights are a little dim though. If you want more natural sunlight, you will need to walk to the back for their well sheltered, but at any rate, brightly lit  "al fresco" area.

Personally, if your intention is to take photos of the food and your brunch outfit, I recommend the outdoor seats marking the entrance. Its concrete benches, burnt orange stools, and white tables make up an Insta-worthy shot.
The verdict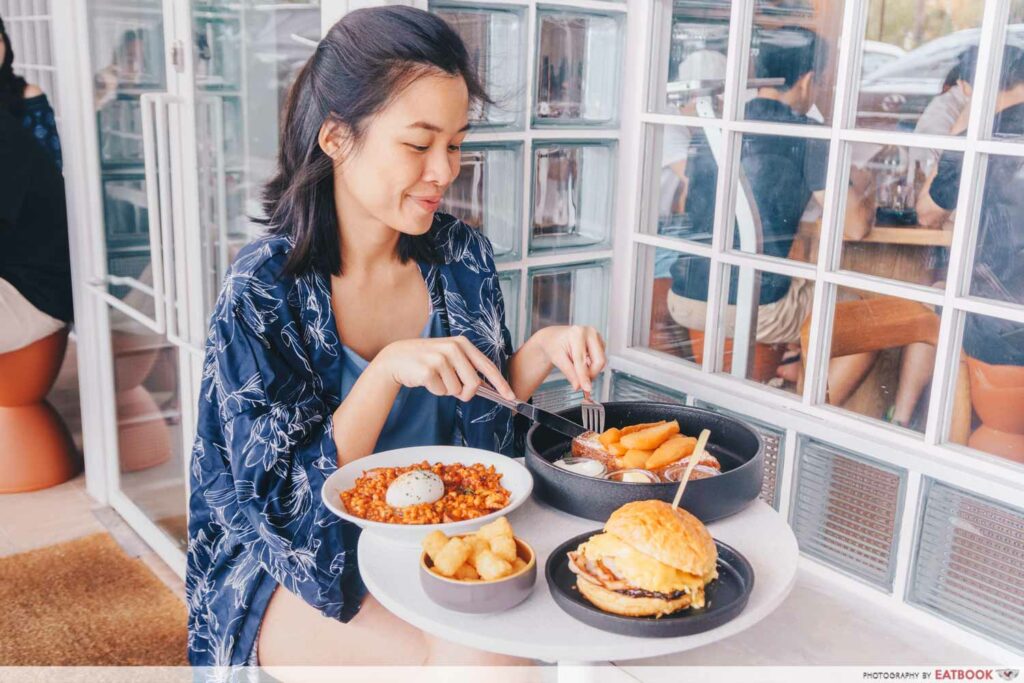 The fact that Apollo Coffee Bar was packed with customers on a weekday afternoon—during a period when everyone is hiding at home—says a lot. The food makes your belly happy, although I wouldn't say it does much good to your wallet. No cafe experience is complete without good ambience and eye-catching interiors that will turn your Instagram followers green with envy. Apollo Coffee Bar has got this aspect down pat too, which should be a given, since its older, more established siblings are winners in the cafe scene.
Address: 65 Serangoon Garden Way, Singapore 555961
Opening hours: Tue-Sat 9am to 10pm, Sun 9am to 7pm
Tel: 6246 3875
Website
Apollo Coffee Bar is not a halal-certified eatery.
Photos taken by John Lery Villanueva.
This is an independent review by Eatbook.sg.
Apollo Coffee Bar Review: New Cafe At Serangoon Gardens That Reminds Us Of Bali's Sisterfields
Summary
Pros
– Great ambience
– Comforting food
Cons
– Expensive
– Crowded
Recommended dishes: Breakfast Burger ($17.70), Chorizo and Octopus Risotto ($23.50)
Opening hours: Tue-Sat 9am to 10pm, Sun 9am to 7pm

Address: 65 Serangoon Garden Way, Singapore 555961