---
Best cafes in Singapore 2019
---
We all thought the cafe-hopping phenomenon was going to be just a phase, but time has proved us wrong. Having HTHTs at cafes remains as one of our favourite pastimes and, this year, we've discovered even more new spots to chill at. Here is our list of best cafes of the year for the Eatbook Top 50 Awards 2019; bookmark it so you know where to hit for your next brunch sesh.
50 Best Food Places In Singapore For All Budgets – Eatbook Top 50 Awards 2019
---
1. Cafe De Nicole's Flower 
---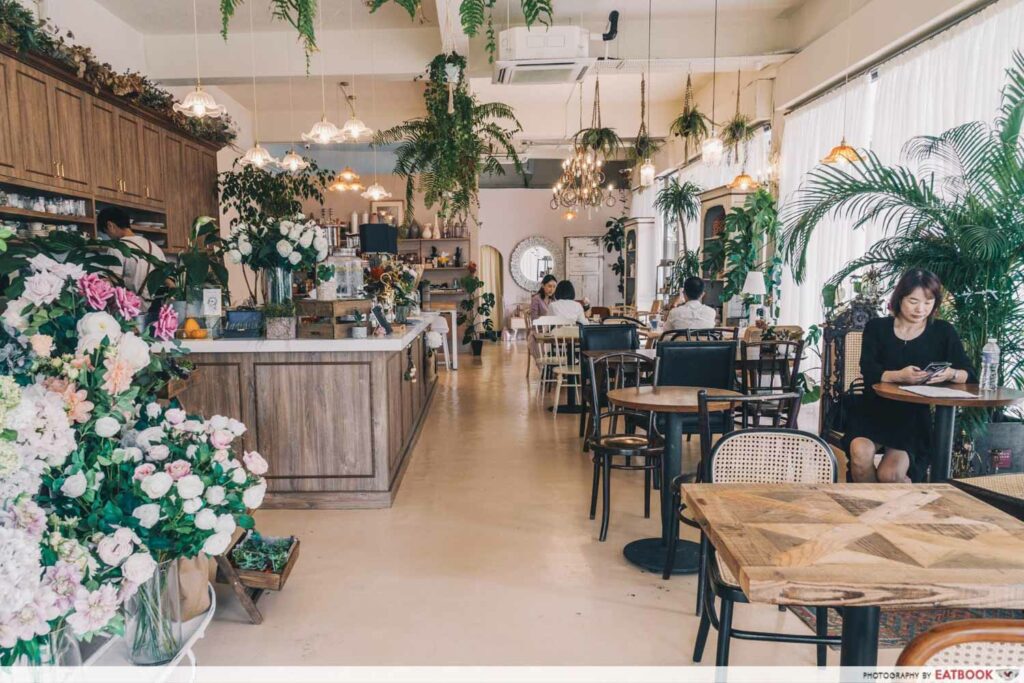 Cafe De Nicole's Flower takes aesthetic cafes to the next level. All decked out in flowers, ferns and wooden furniture, the gorgeous cafe at Telok Kurau looks more like someone's garden wedding than a quiet spot that specialises in brunch fare.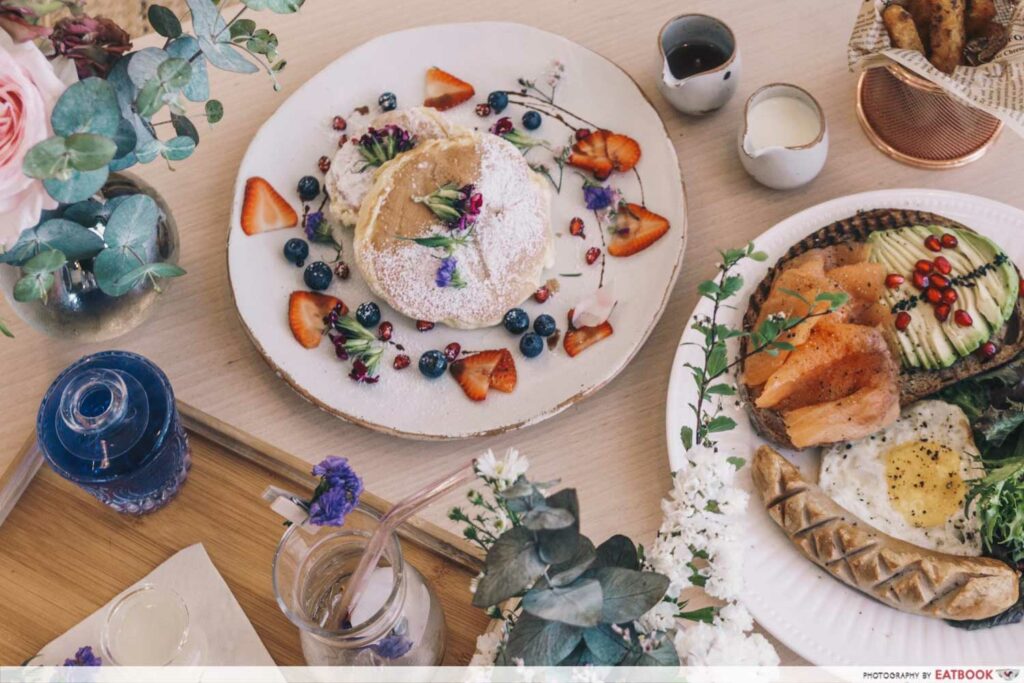 Looking as beautiful as the cafe's interior is their Souffle Pancakes ($19.90+). While these pancakes are not as tall as typical Japanese souffle pancakes, they are equally soft and eggy. Pair each mouthful with the medley of fruits given, or drizzle maple syrup and buttermilk cream over the fluffy stack to give it some extra sweetness.
Check out our full review of Cafe De Nicole's Flower.
Cafe De Nicole's Flower Review: Beautiful Floral-Themed Cafe Serving Equally Gorgeous Brunch Food
Address: 224 Telok Kurau Road, #01-01, Singapore 423836
Opening hours: Tue-Fri 9am to 8pm, Sat-Sun 8am to 9pm
Tel: 8338 8511
Website | Menu
Cafe De Nicole's Flower is not a halal-certified eatery.
---
2. Micro Bakery & Kitchen
---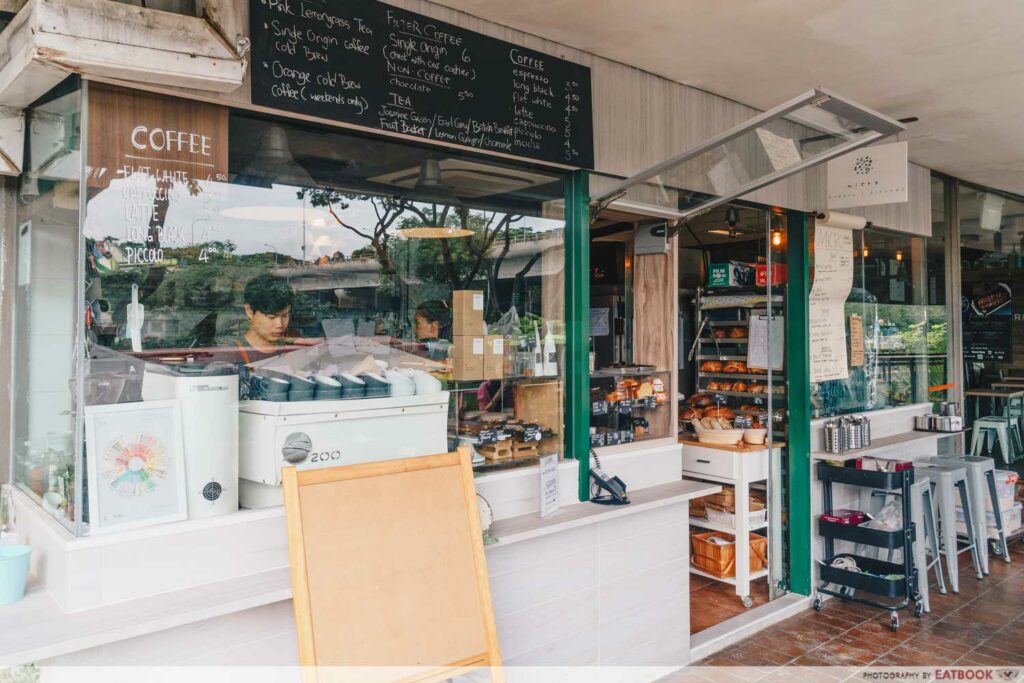 Even though Micro Bakery & Kitchen opens till 5pm, bread lovers should definitely head down way earlier. The al fresco cafe has plenty of customers lining up early in the morning, and their freshly baked loaves and pastries are often snatched up before lunchtime.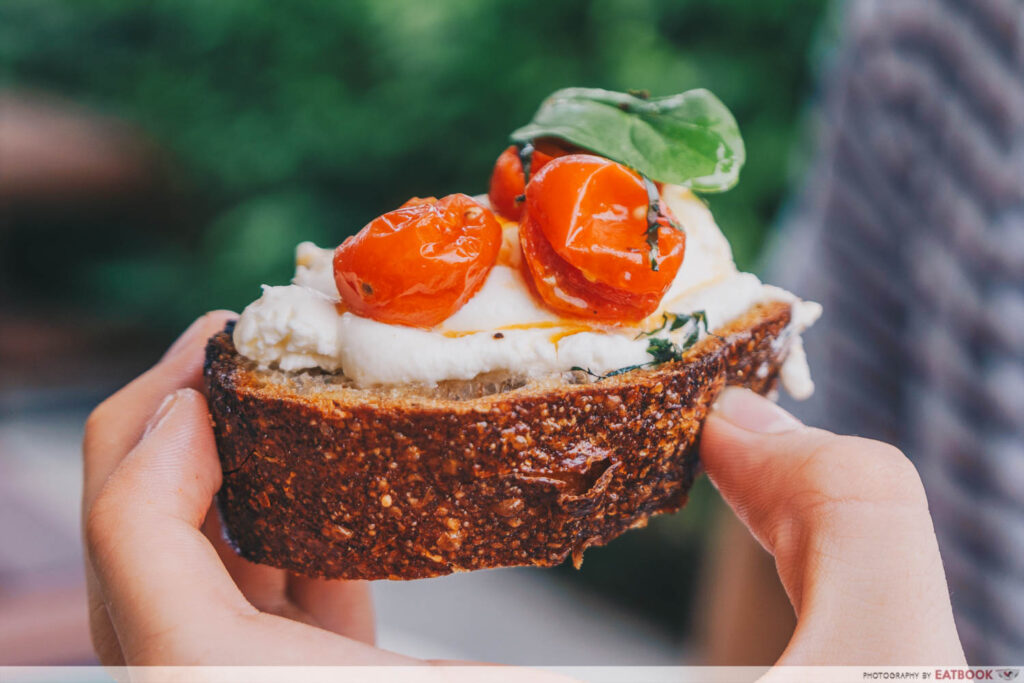 There's a selection of open-faced sandwiches on rotation, and if you chance upon the House Ricotta Tartine ($12), you gotta get your hands on it. The smooth ricotta is painstakingly made in-house by the owner, Bridget, as she wants to be sure of the quality she's serving. Topped with roasted cherry tomatoes, spinach and basil, this wholesome combination is completely worth every penny.
Check out our full review of Micro Bakery & Kitchen.
Micro Bakery & Kitchen Review: Neighbourhood Bakery Serving Artisanal Bakes And Hearty Sandwiches At Bukit Timah
Address: 10 Jalan Serene, #01-05, Serene Centre, Singapore 258748
Opening hours: Wed-Sun 8:30am to 5pm
Tel: 8339 4133
Website
Micro Bakery & Kitchen is not a halal-certified eatery.
---
3. Tie Fun Wan
---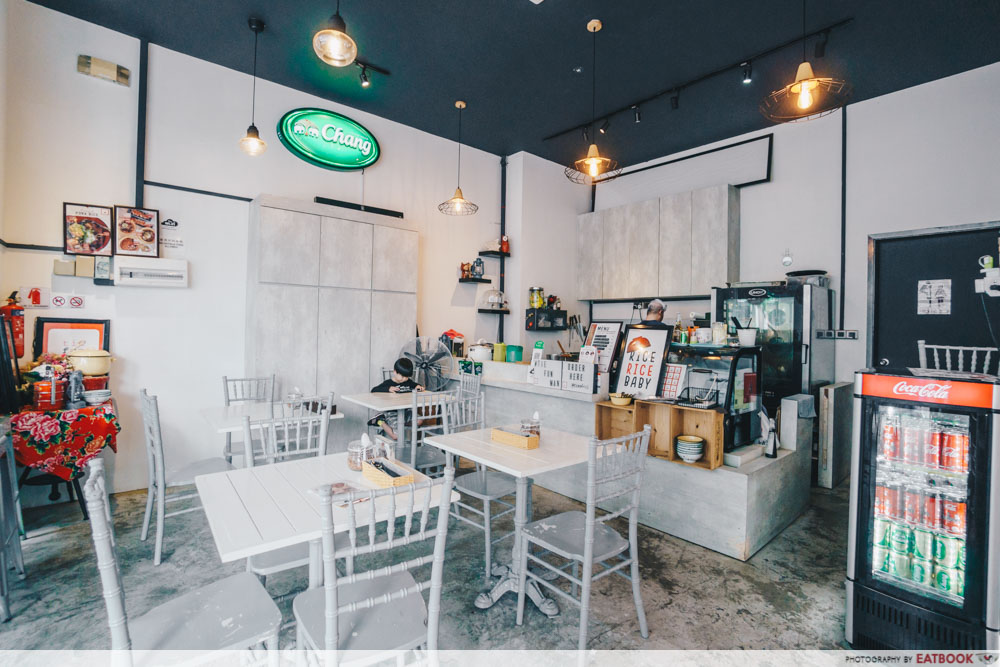 For brunch that's not your typical eggs and sausages, Tie Fun Wan is the place to go. This small joint specialises in rice bowls, and you can count the number of mains on their menu with just one hand. Noodles are also available at no extra cost if rice is not your jam.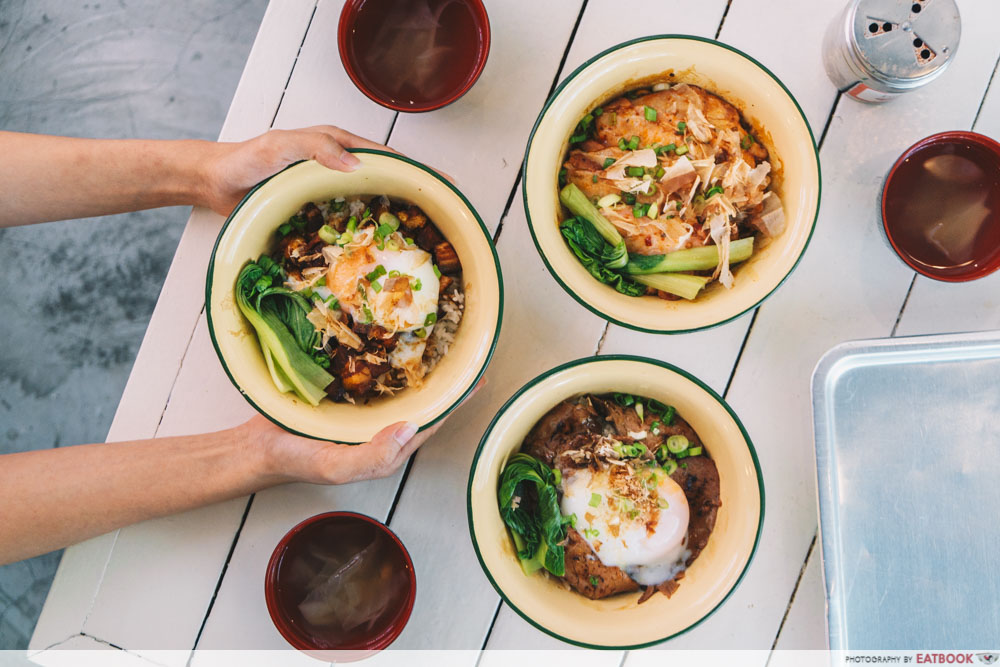 Their 72-hour Slow Cooked Beef ($14) comprises thinly sliced beef resting on Japanese pearl rice, and you can complete it by adding a 63° egg ($1.50). The beef slices go through a 72-hour sous vide process and they're torched right before being served, so you'll get soft, tender meat that comes with a slight hint of smokiness. If you love Taiwanese food, go for their Braised Pork (Lor Bak) ($8) instead. This is classic lu rou fan with every component executed to a T. 
Check out our full review of Tie Fun Wan.
Tie Fun Wan Review: Ex-Hotel Chef Serving Ma La Pork Noodles, Beef Rice Bowls And More From $8
Address: 89 Rangoon Road, #01-03, Urban Lofts, Singapore 218375
Opening hours: Mon-Fri 11am to 2pm, 5pm to 11:30pm, Sat-Sun 11am to 11:30pm
Tel: 9743 6650
Website
Tie Fun Wan is not a halal-certified eatery.
---
4. Lobsters & Ice Cream V2.0
---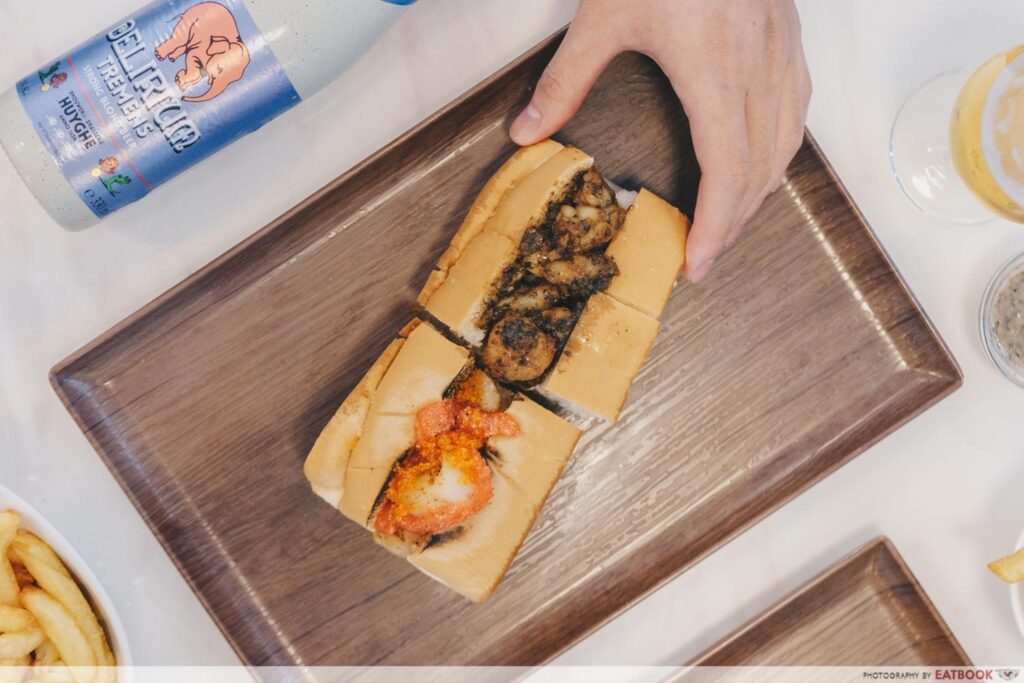 Don't let the looks of this black lobster roll from Lobsters & Ice Cream V2.0 scare you. The Truffle Standard Lobster ($22+ for a full roll) is covered in a truffle dressing that's blended with porcini mushrooms and mayonnaise, giving the dish a lift in umami flavour. While Asian lobsters rather than premium Maine lobsters are used, the cafe makes up for it by stuffing each roll full of chunky meat.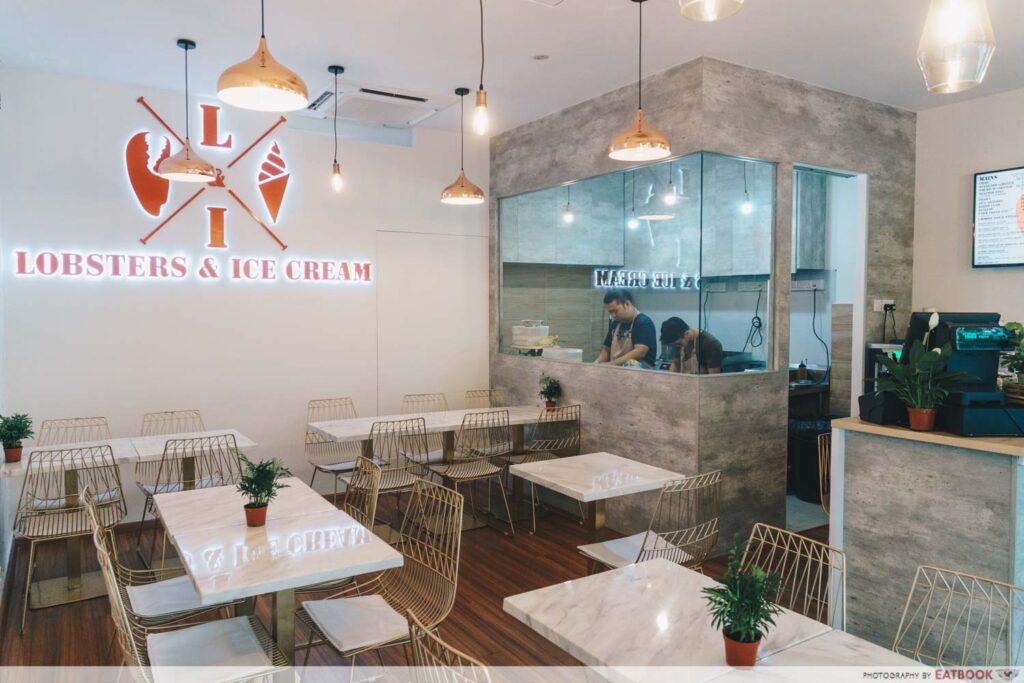 Aside from lobster, crab, scallop and prawn rolls can also be found. All you have to do is pick your favourite seafood and decide on the sauce you want it to go with. Sauces include chilli crab, mentaiko as well as the classic Maine-style. Round out your meal with a bottle of craft beer (from $9+) or treat yourself to one of their many flavours of ice cream (from $5 per scoop). They even have vegan-friendly flavours such as coconut!
Check out our full review of Lobsters & Ice Cream V2.0.
Lobsters & Ice Cream V2.0 Review: Affordable Truffle Lobster Rolls With Unique Ice-Cream Flavours At Tanjong Pagar
Address: Block 7 Tanjong Pagar Plaza, #02-101, Singapore 081007
Opening hours: Sun-Thurs 11:15am to 9:30pm, Fri-Sat 11:15am to 10pm
Tel: 9663 6632
Website
Menu
Lobsters & Ice Cream V2.0 is not a halal-certified eatery.
---
5. Kafe UTU
---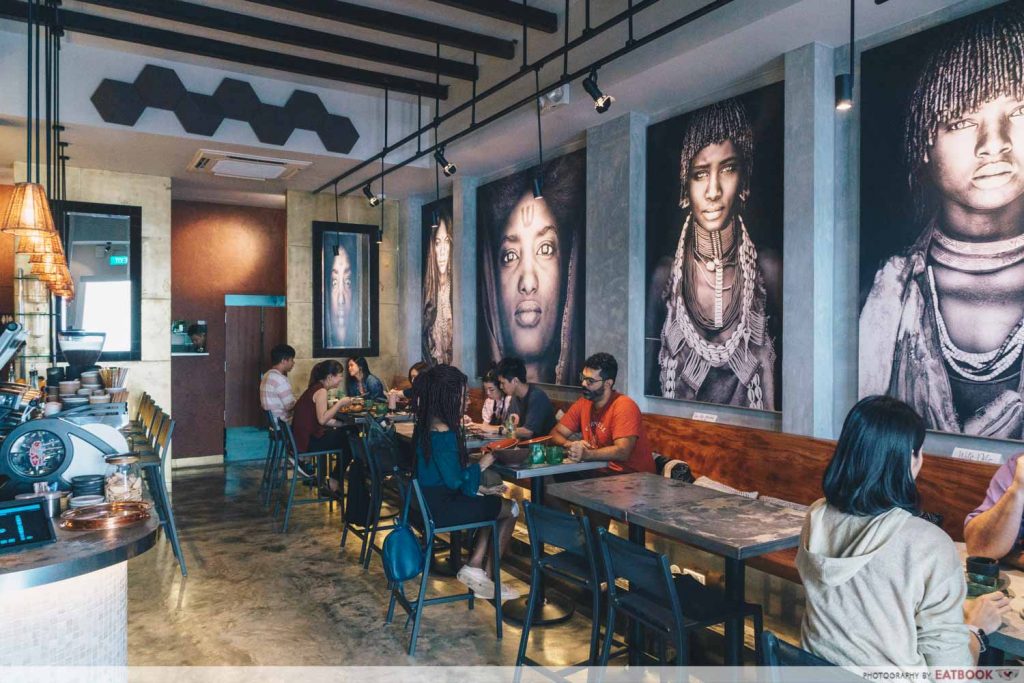 I've never heard of African cafes in Singapore until Kafe UTU came about. This chill spot at Keong Saik brings a breath of fresh air to the cafe scene and, thankfully, their food doesn't disappoint. Their brunch menu has familiar names such as Eggs Royale ($24) and Ricotta Hotcakes ($24), but these are not why you should visit.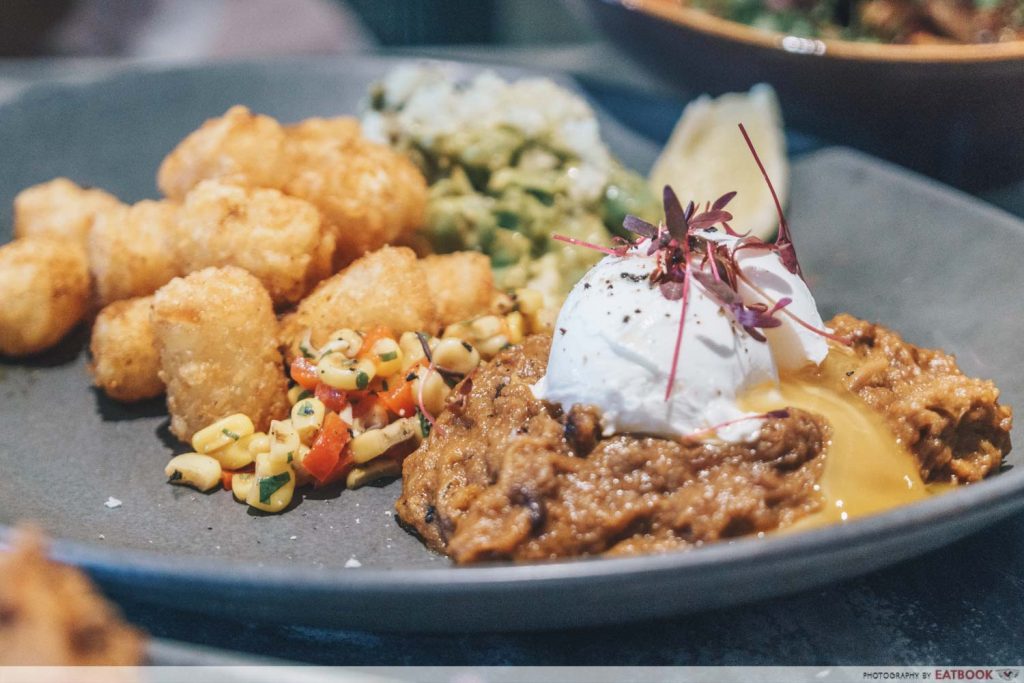 Come instead for their Pulled Pork Breakfast ($25), which comprises shredded pork shoulder, corn salsa, tater tots, a poached egg and curried mashed avocado. The latter serves as a refreshing complement to the tender pulled pork, which is heavily flavoured with hickory barbecue sauce. If you prefer sharing plates, try their Caribbean Goat Curry ($28) and Liberian Peanut Chicken Stew ($28), which are considerably rare finds in our sunny island.
Check out our full review of Kafe UTU.
Kafe UTU Review: African Cafe With Interesting Brunch Dishes Like Curry Avocado At Nett Prices
Address: 12 Jiak Chuan Road, Singapore 089265
Opening hours: Wed-Fri 10am to 5pm, Sat-Sun 9am to 5pm
Tel: 6996 3937
Website
Menus
Kafe Utu is not a halal-certified eatery.
---
6. Baristart Coffee
---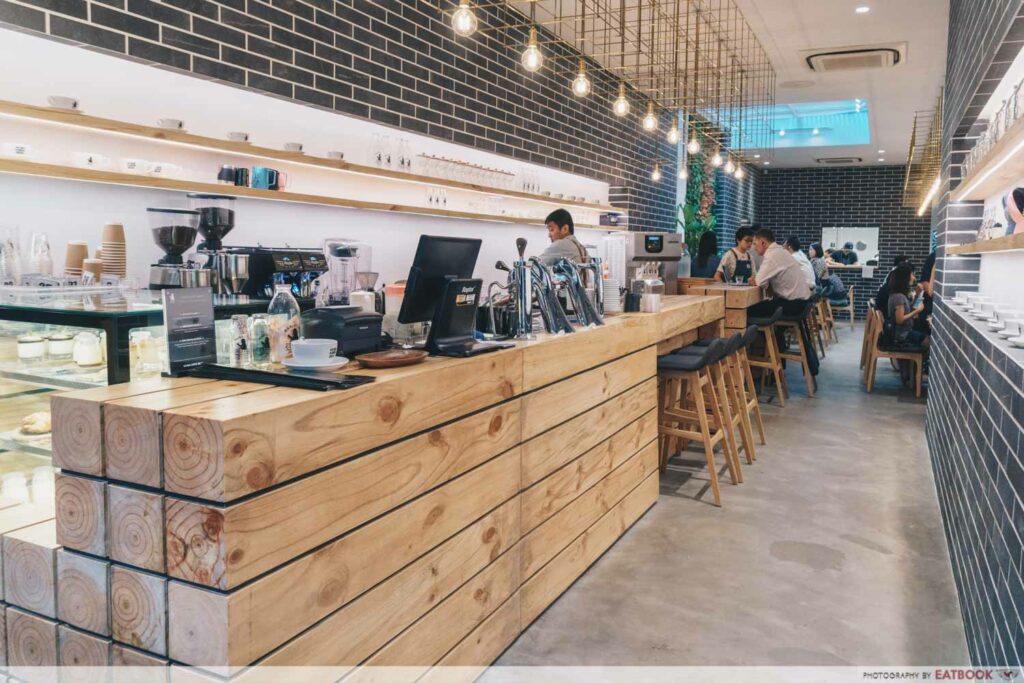 If you're all about that minimalist life, check out Baristart Coffee. This Japanese cafe at Tanjong Pagar takes pride in the Hokkaido milk they use in almost every dish. Get a taste of it in their BIEI Jersey Milk Coffee ($7.50++), which is significantly creamier than your everyday latte.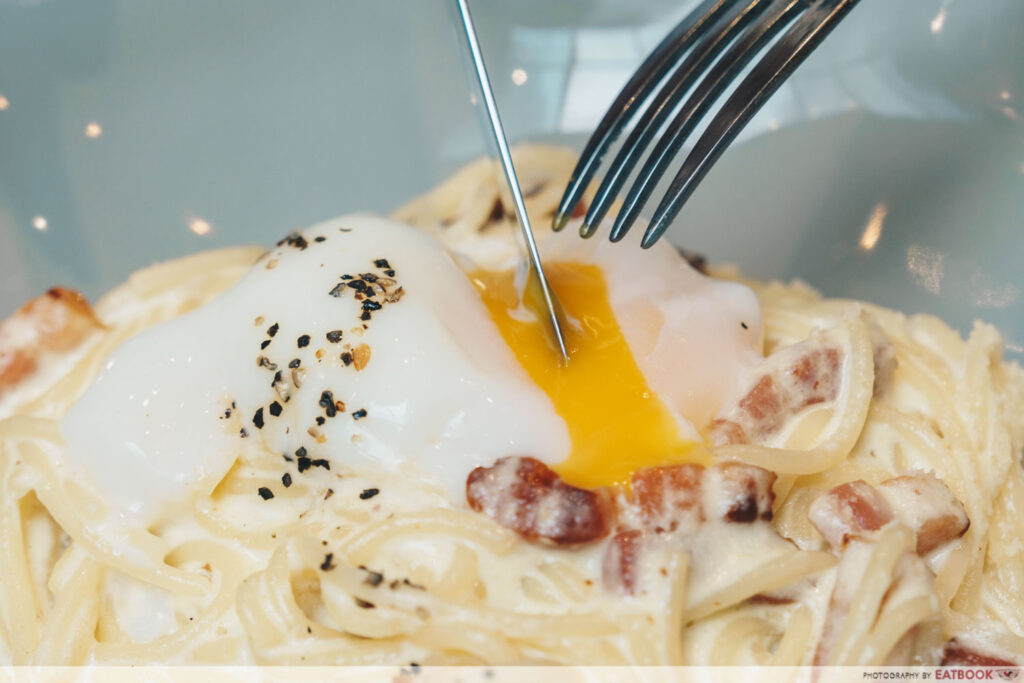 To say Baristart's Hokkaido Carbonara ($17.80++) is the creamiest pasta I've had in Singapore wouldn't be an exaggeration at all. The same Hokkaido Biei milk is used in this dish, making every mouthful incredibly rich, with Kurobuta bacon bits giving it a savoury lift in flavour. Get their colourful Mixed Berries French Toast ($14.80++) if you're looking for something great for the 'gram.
Check out our full review of Baristart Coffee.
Baristart Coffee Review: New Japanese Cafe With Kawaii Dessert And Pork Cutlet Sandwich
Address: 65 Tras Street, Singapore 079004
Opening hours: Daily 10am to 10pm
Website | Full list of outlets
Menu
Baristart is not a halal-certfied eatery.
---
7. Starter Lab
---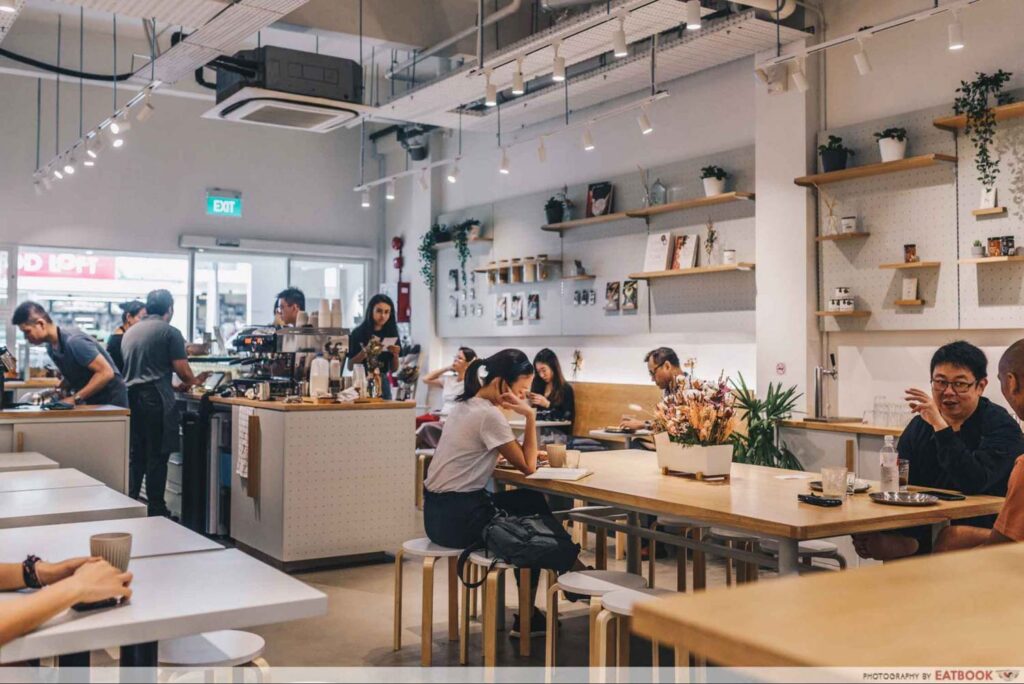 Those who frequent Bali would've heard of Starter Lab way before they opened their Singapore outlet. The popular bakery is co-founded by Emerson Manibo, who used to work at Michelin-starred restaurant Per Se and the famous Tartine bakery in the USA. Starter Lab's outlet in Singapore is run by his co-founder Min Siah and head baker Shannon, who was trained in Bali by Emerson himself.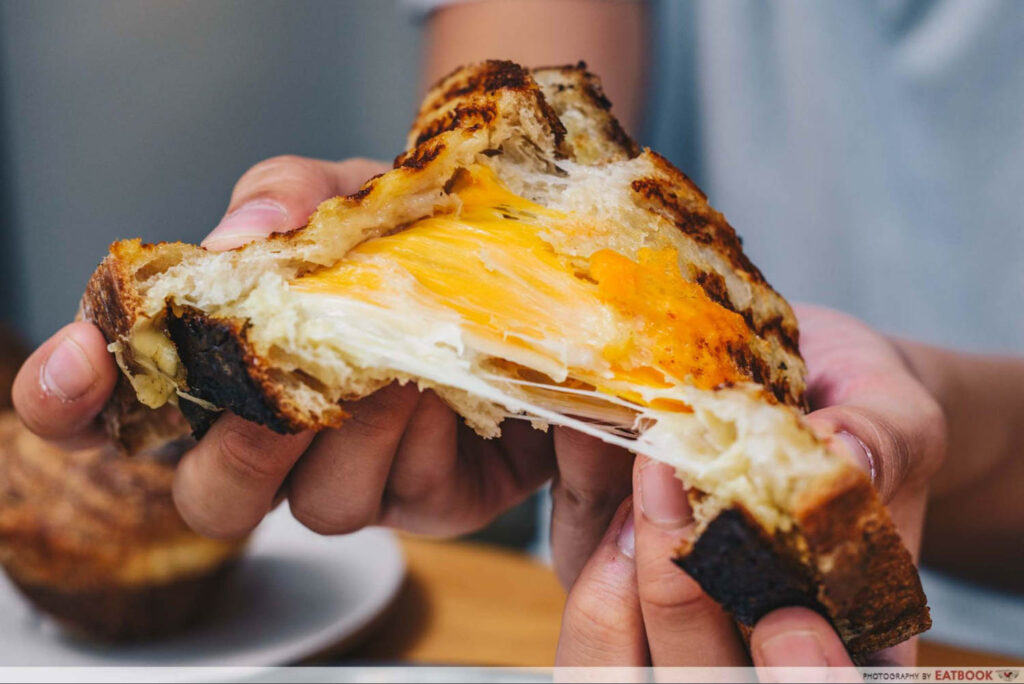 Just this photo of their Starter Lab 3 Cheese ($19) is enough to get me drooling. Made with a blend of mimolette, cantal and emmental cheese, this is one stretchy sammie you'll want to prep your camera for. The star here is no doubt the chewy and tangy sourdough that comes with a crusty exterior, elevating this classic dish and justifying its high price. 
Check out our full review of Starter Lab.
Starter Lab Review: Muji-Style Cafe At Tiong Bahru Serving One Of Singapore's Best Sourdough
Address: 721 Havelock Road, Singapore 169645
Opening hours: Daily 8:30am to 5pm
Tel: 9839 0408
Website
Starter Lab is not a halal-certified eatery.
---
8. Homeground Grill & Bar
---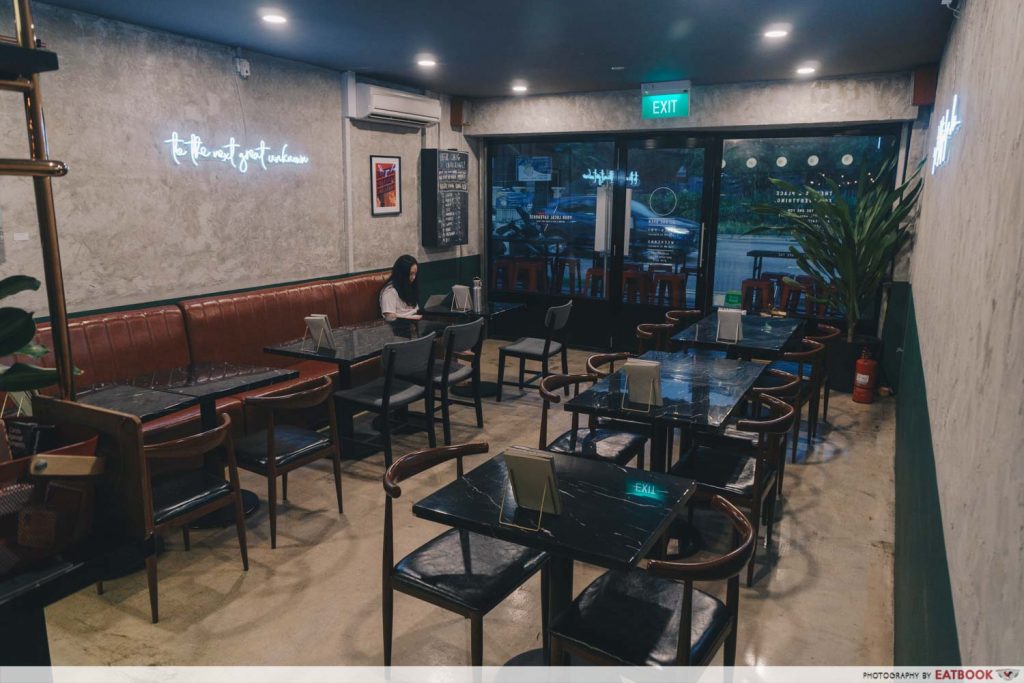 Even though it's called Homeground Grill & Bar, this bright and cosy spot at Boon Keng strikes me as more of a cafe than a bar. It's started by two friends, Chrystal and Nellie, who wanted to create a comfortable space where they can chill with friends over drinks. Well, they've definitely achieved their goal, 'cause this is my go-to for HTHTs as well.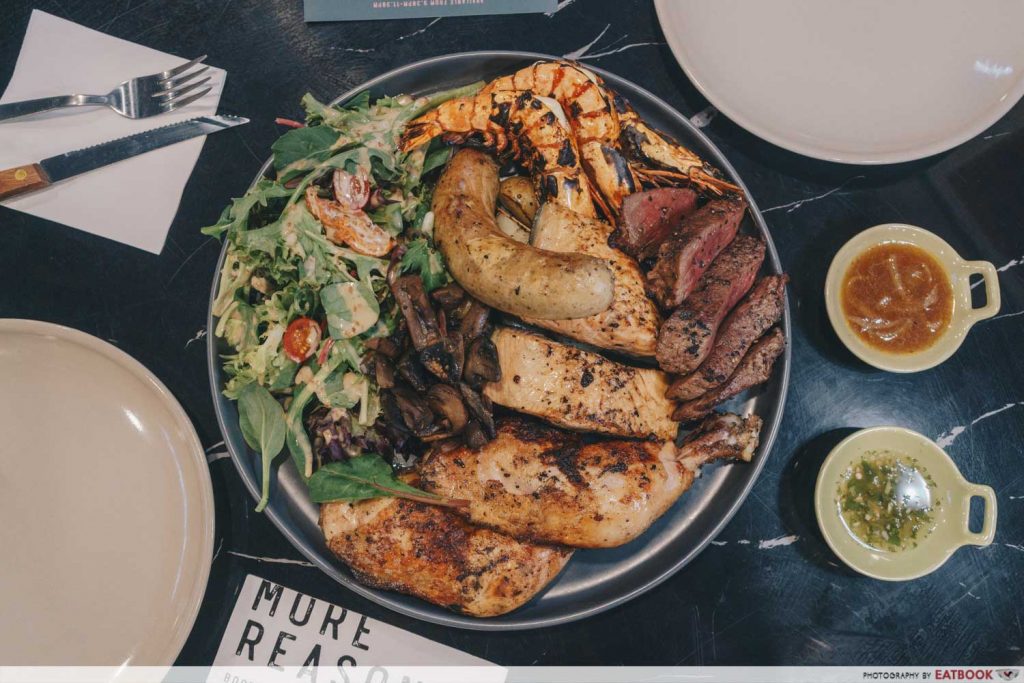 They specialise in charcoal grilled meats and offer a range of booze that come along with daily Happy Hour deals. Their Homeground Mixed Platter ($72+) lets a group of two to three try a little bit of everything. My favourite part of the plate is the ribeye, which is marinated in a whisky and herb blend. Everything is grilled over charcoal fire, so you can expect some of that delicious smoky fragrance surrounding your meats. 
Check out our full review of Homeground Grill & Bar.
Homeground Grill & Bar Review: Charcoal-Grilled Steaks And Salmon At This Hidden Gem In Boon Keng
Address: 1088 Serangoon Road, Singapore 328188
Opening hours: Tue-Fri 6pm to 12am, Sat-Sun 1pm to 12am
Tel: 8774 9278
Website
Menus
Homeground Grill & Bar is not a halal-certified eatery.
---
9. Botany
---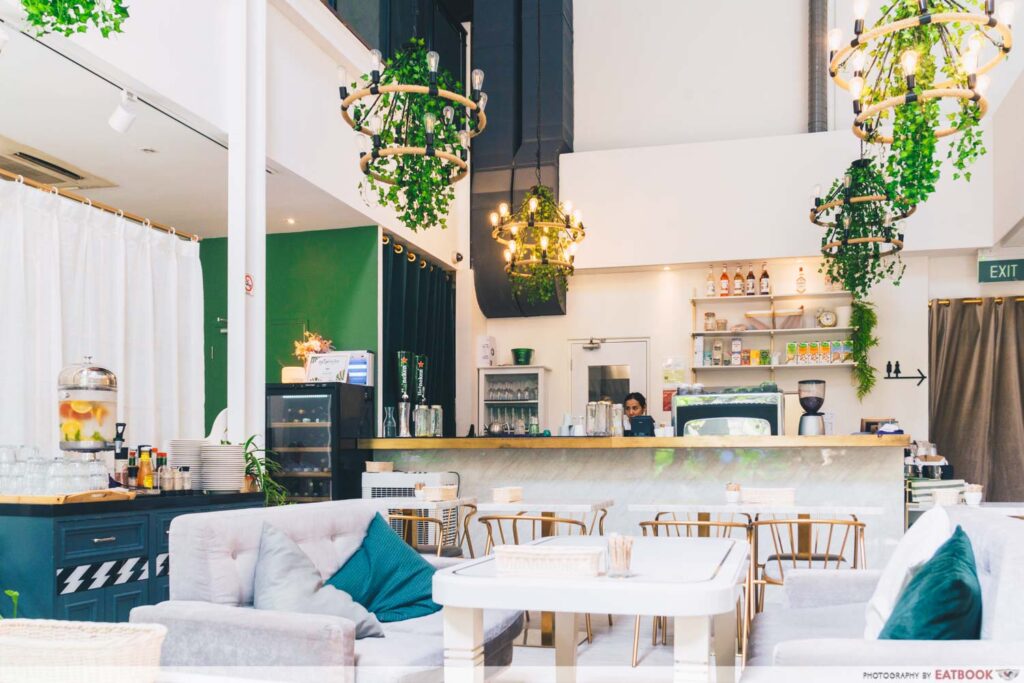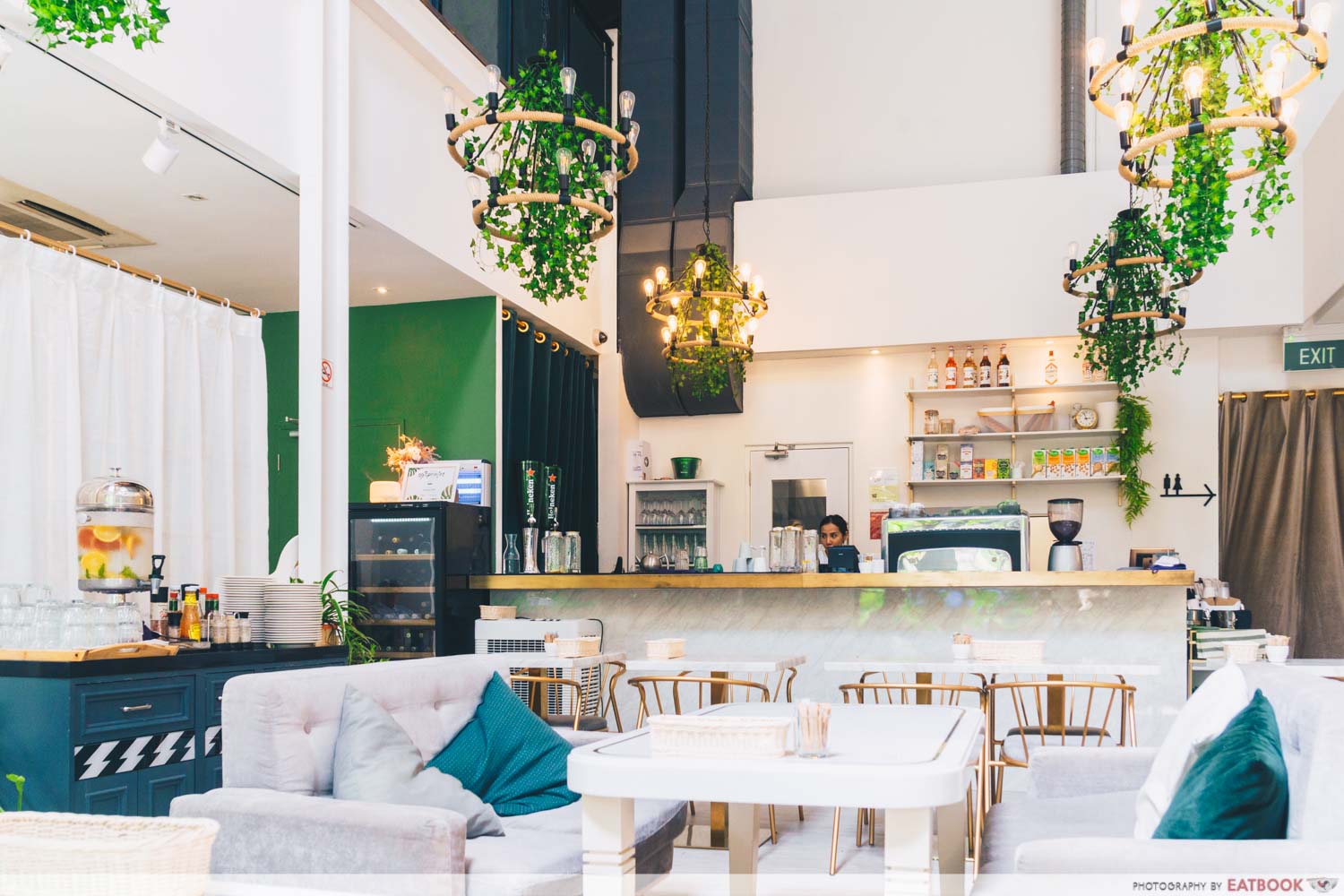 Botany is co-founded by actress Julie Tan, her cousin, as well as Serene Tan, who used to run the now-defunct Dazzling Cafe. So it's no surprise that Botany looks as aesthetic as Dazzling Cafe was, and some menu items will bring back memories for fans of the Taiwanese cafe.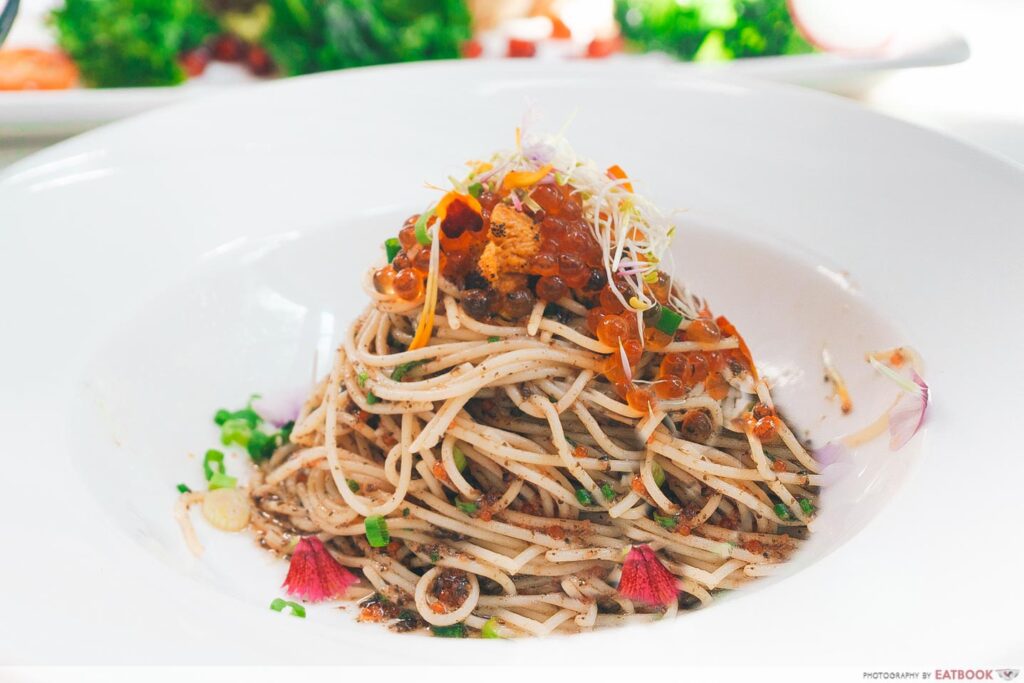 This cold Uni Truffle Capellini ($28+) comes with plenty of truffle salsa, sea urchin and ikura. Everything is tossed together expertly, so you'll get a balanced mix of flavours from the briny uni and earthy truffle oil. Their Avocado Toast with Egg ($18+) is a classic brunch dish done well, and don't forget to end your meal with their Signature Honey Toasts ($18+), which will remind you of the ones from Dazzling Cafe.
Check out our full review of Botany.
Botany Review: Aesthetic Cafe With Uni Pasta & Impossible Mapo Tofu By Julie Tan At Robertson Quay
Address: 86 Robertson Quay, #01-03, Singapore 238245
Opening hours: Mon-Fri 9am to 10pm, Sat-Sun 8:30am to 10pm
Website
Menu
Botany is not a halal-certified cafe.
---
10. Kong Cafe
---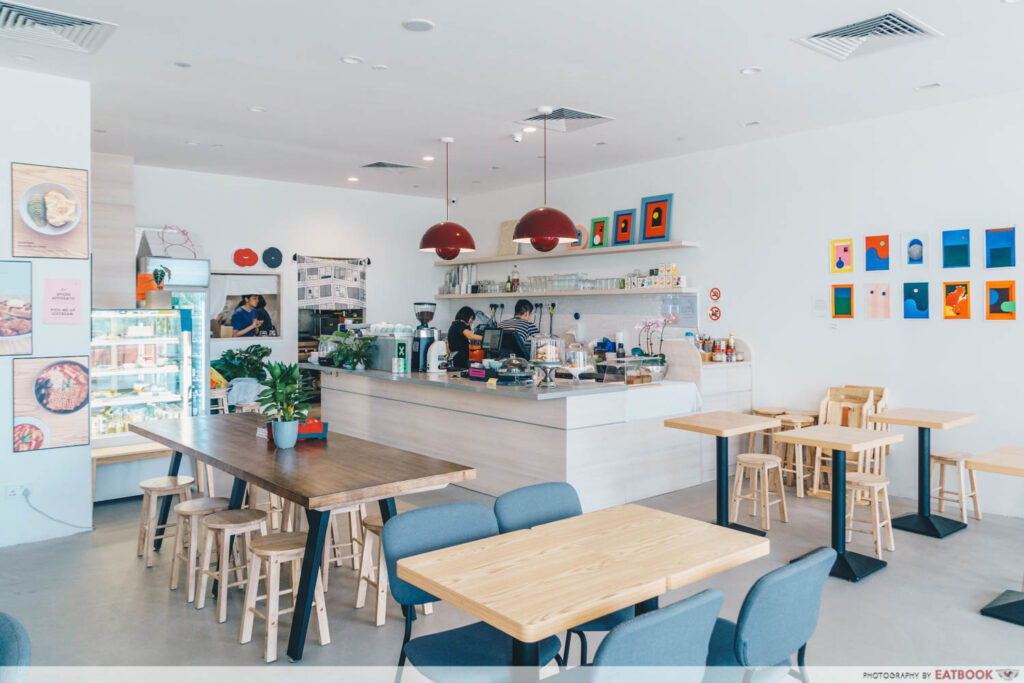 As much as I love Korean food, I tend to avoid it most times as the thought of dining in a smoky and noisy restaurant can be quite a turn-off. Kong Cafe, however, changes the game as it offers a clean and comfy space along with both classic and fusion Korean dishes.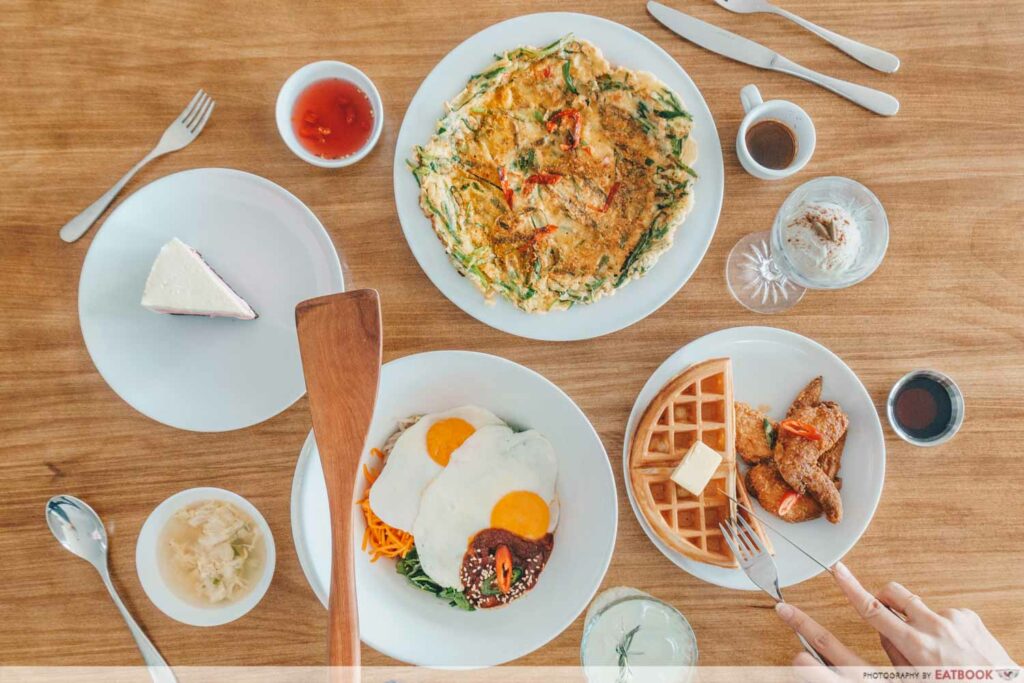 For something old-school, try their Bibim Bowl ($26). Meant for two to feast on, this traditional Korean dish comprises the usual carrots, spinach, bean sprouts and kimchi. You'll also get tuna and two eggs to help hit your daily protein intake. For something unique, try their Honey Butter Waffles ($18), which comes with toothsome honeyed fried chicken wings that can rival the famous Honey Paprika Crispy Wings at Lola's Cafe.
Check out our full review of Kong Cafe.
Kong Cafe Review: New Minimalist Korean Cafe With Honey Butter Waffles Opened By A Korean
Address: 896 Dunearn Road, #01-11, Sime Darby Centre, Singapore 589472
Opening hours: Mon-Wed 8am to 6pm, Thurs-Fri 8am to 10pm, Sat-Sun 9am to 10pm
Website
Kong Cafe is not a halal-certified eatery.
---
Round 2019 off at these best cafes in Singapore
---
Even though hawker stalls remain as our daily go-to, having brunch at a beautiful cafe makes the weekend a whole lot better. Let your occasional splurge be at these best cafes that serve up great food in comfy settings that'll let you and your pals while the day away. 
For more must-visit spots, check out the full list of Eatbook Top 50 Awards 2019! From buffets to dessert shops, our lists will be able to guide you along the most fulfilling food hunt in Singapore.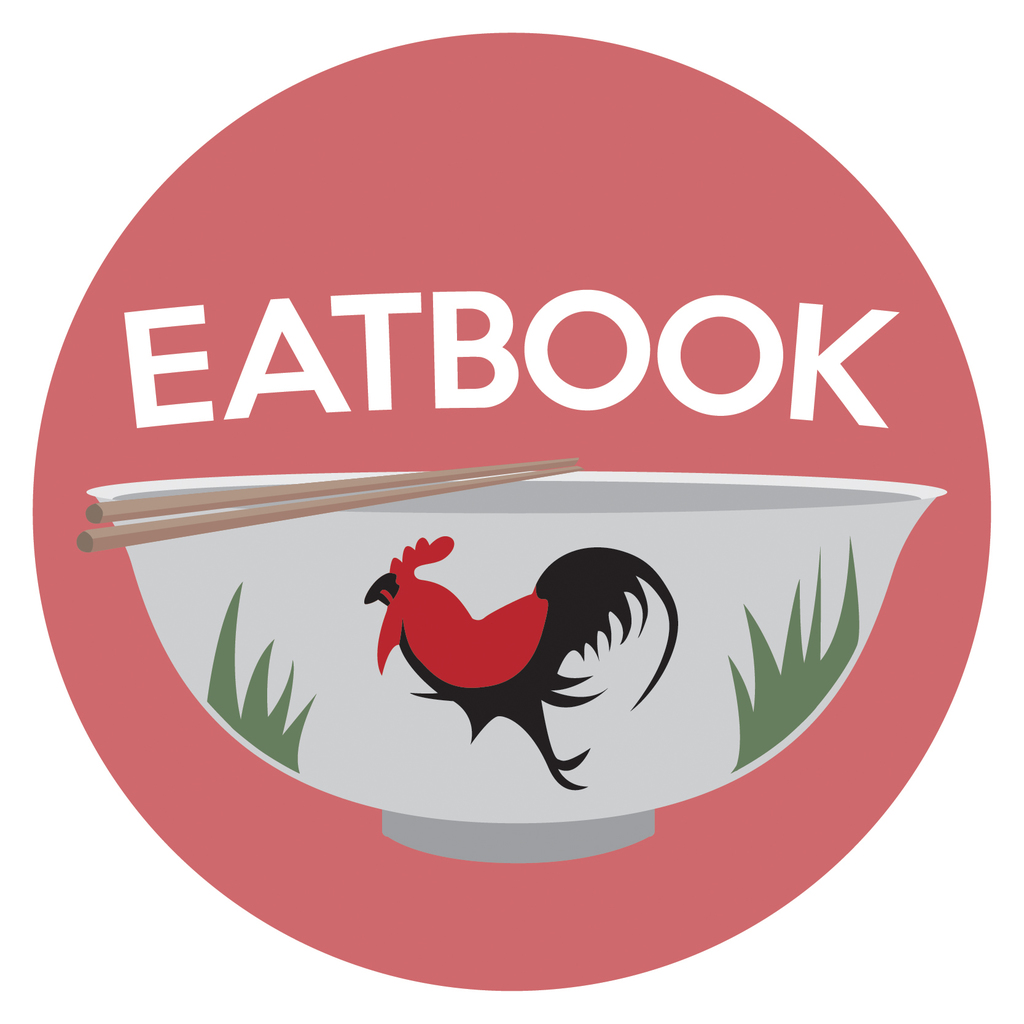 Drop us your email so you won't miss the latest news.