Lobster & Ice Cream V2.0 is back with new rolls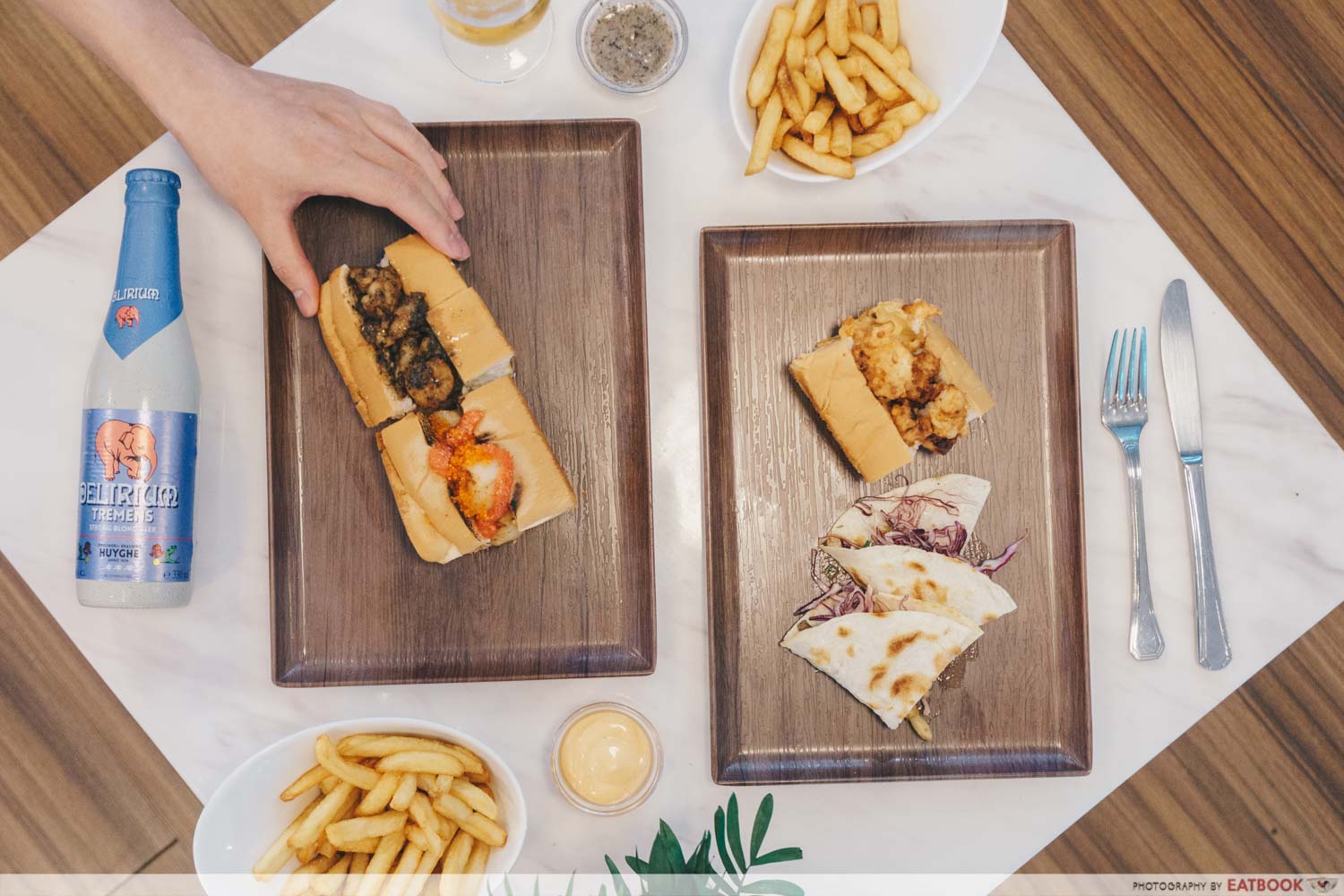 It was only last year when Lobsters & Ice Cream impressed us with delish lobster rolls from their cramped and stuffy Chinatown corner shop. Now, they're back with a minimalist cafe at Tanjong Pagar Plaza, furnished with brass plated chairs and white marble tops. They've even rebranded themselves with a more snappy name—Lobsters & Ice Cream V2.0.
Lobsters & Ice Cream Review: $20 Nett Mentaiko Lobster Roll And Seafood Ice-Cream At Chinatown
The food selections have also received an upgrade. You can now get razor clams, abalone and loads of ice-creams at this new cafe. On the plus side, they're still affordable.
Food at Lobsters & Ice Cream V2.0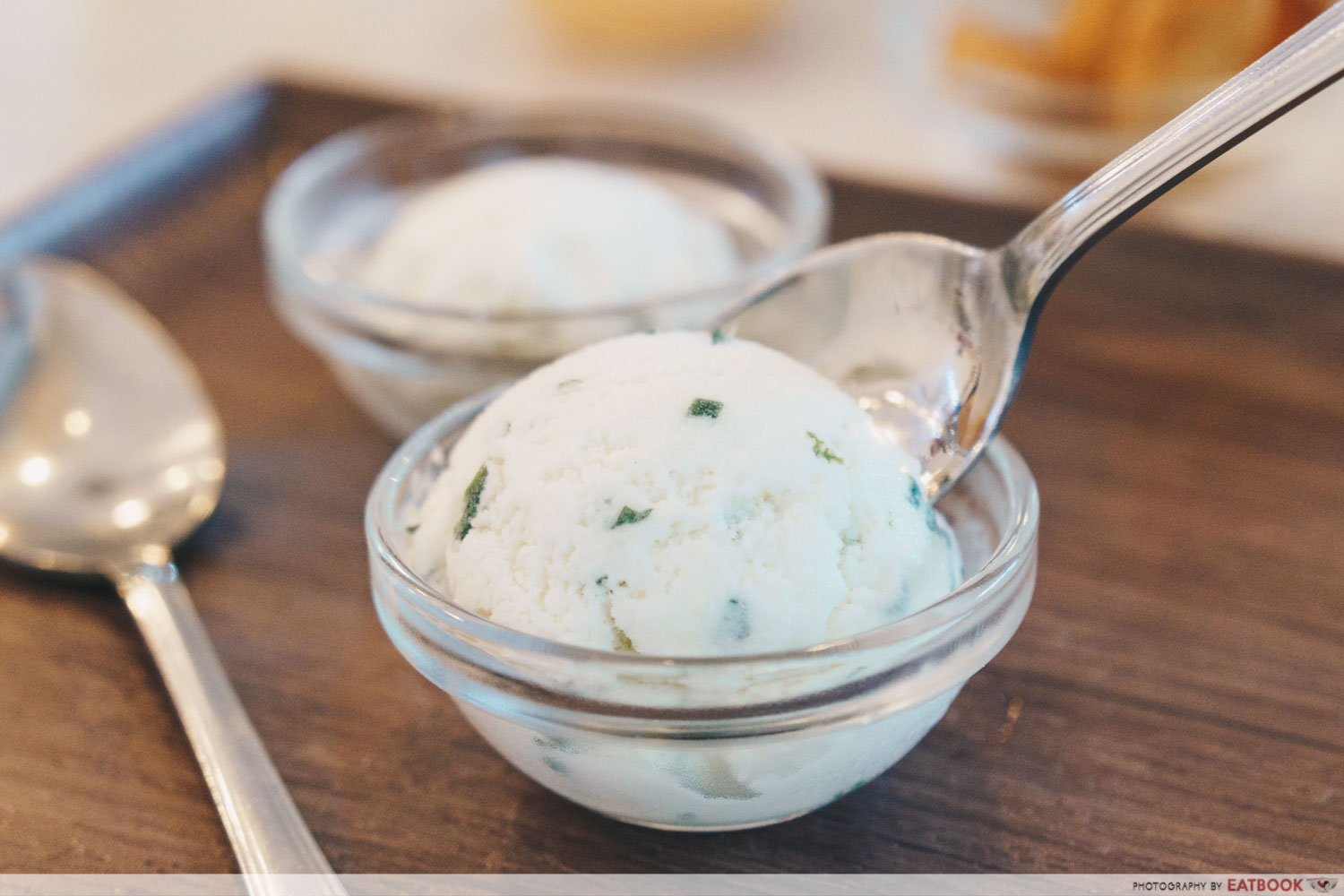 A Lime Mirin Tarragon ice-cream ($4+) was swiftly served to us as soon as we placed our orders. 
The bizarre ice-cream was absolutely brilliant. It acted as an amuse bouche, an appetiser of sorts to whet our appetite. I was impressed because that was the sort of thing I'd expect from a fancy restaurant, not a cafe.
It had a mellow tartness from the lime, supplemented with a beautiful tarragon herbaceousness. The texture was also light and smooth; somewhat like a posher crème fraîche.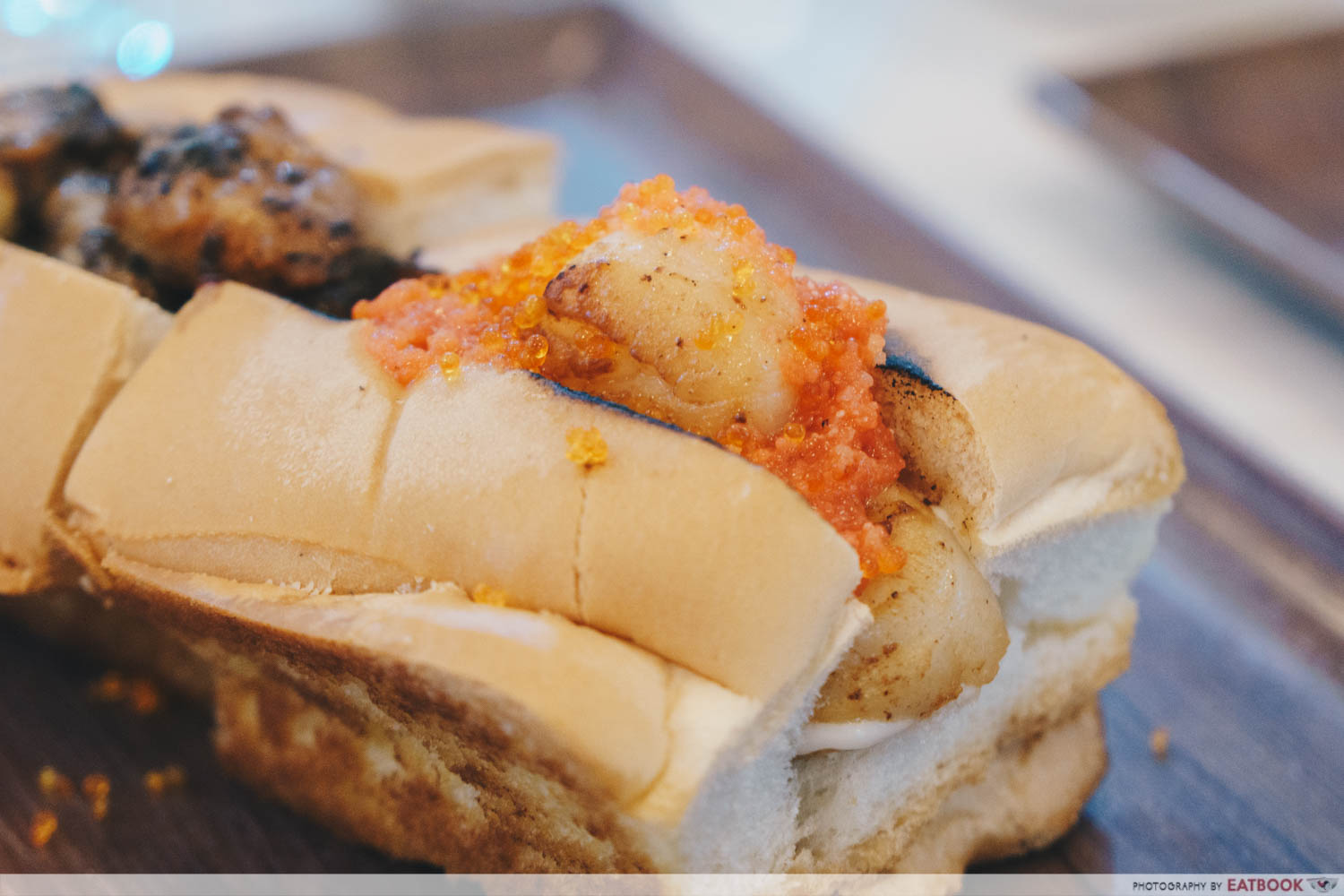 It took a while before the Mentaiko Scallop Roll ($20+ full roll) was served up. It came shimmering with dark pink beads of mentaiko, spotting a slight char from the flame torching process.
Taking a bite, I was overwhelmed by the profoundly umami-packed dish. The little spheres of roe popped in the mouth with a gorgeous ocean brininess.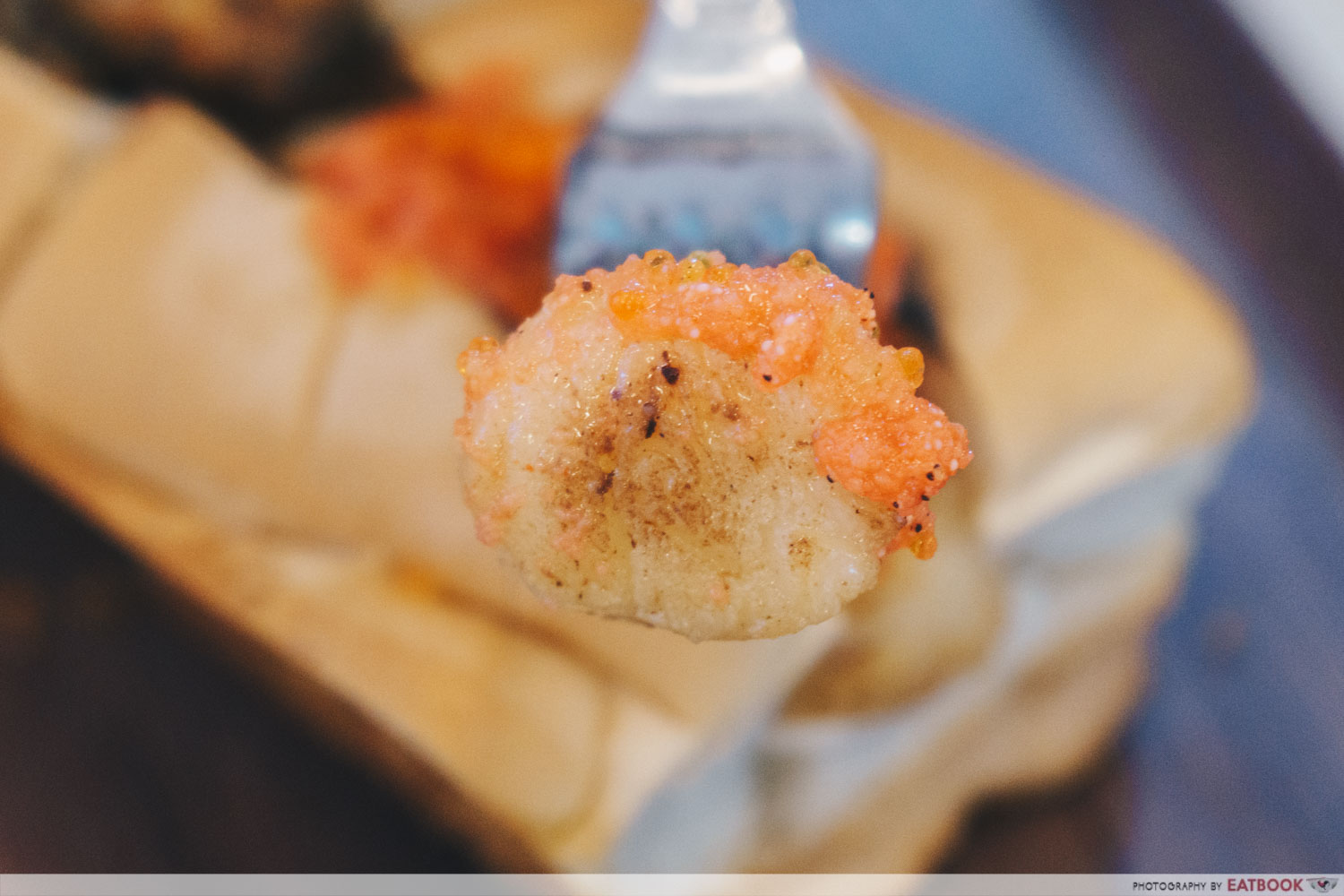 The Hokkaido scallops were also well cooked. Plump and juicy, they were saturated with a wave of seafood sweetness. I reckon the last time I had such well-prepared scallops was at a suit and tie restaurant in Paris.
What really upped the ante was the slight blow-torched charring. It offered a subtle nuttiness, providing an elevated sophistication.
You should definitely get this dish when you're here.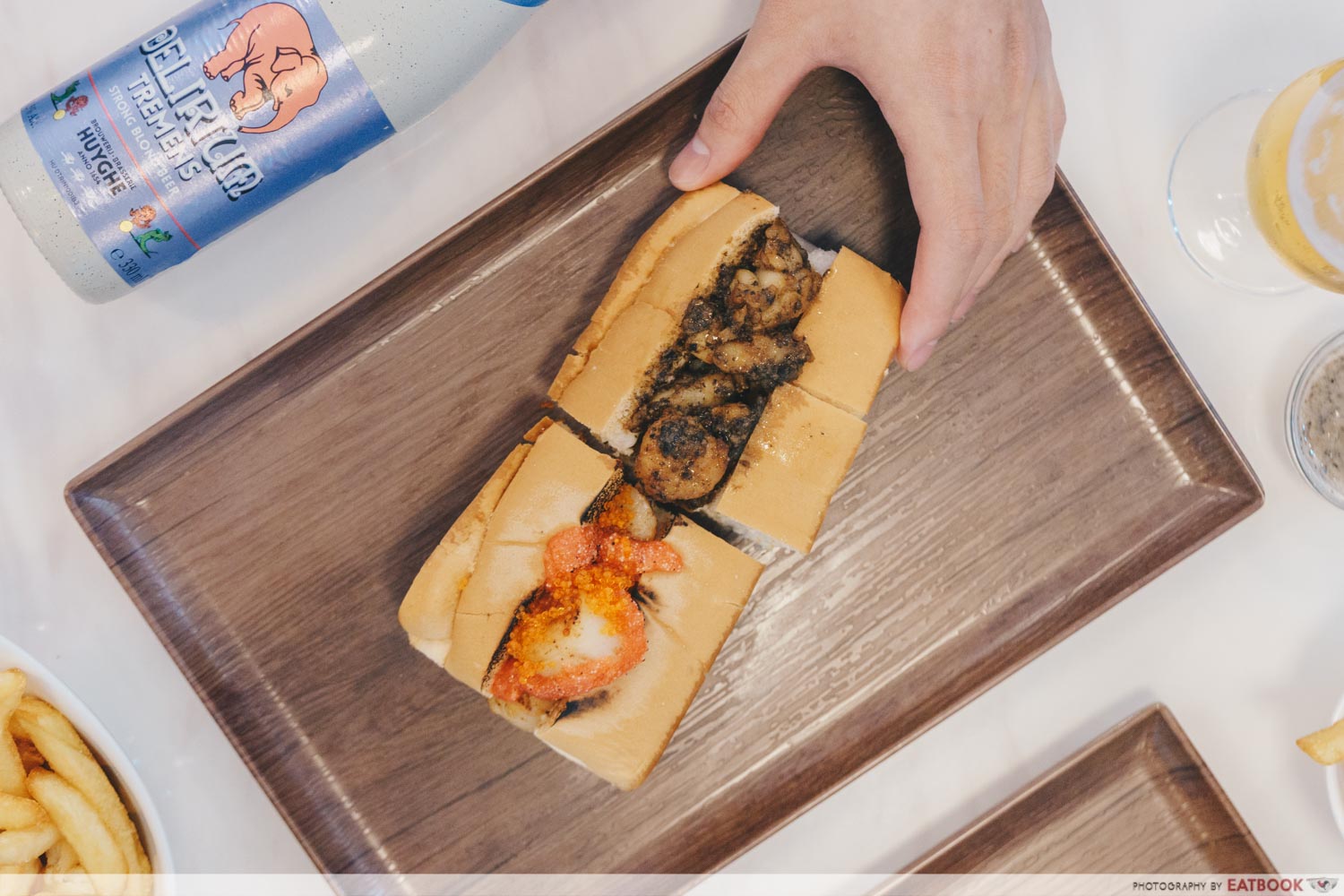 The Truffle Standard Lobster ($22+ full roll) arrived drenched in a jet-black truffle dressing. Every nook and cranny of the chunky lobster was coated in earthy goodness.
I could smell the truffle. It was not intrusive like the lab-engineered truffle sprays, but gentle and complex. I could even make out chocolatey notes. Porcini mushrooms were also blended inside, infusing the sauce with a gentle musky earthiness.
Despite all these, the delicate lobster flavours were not overpowered.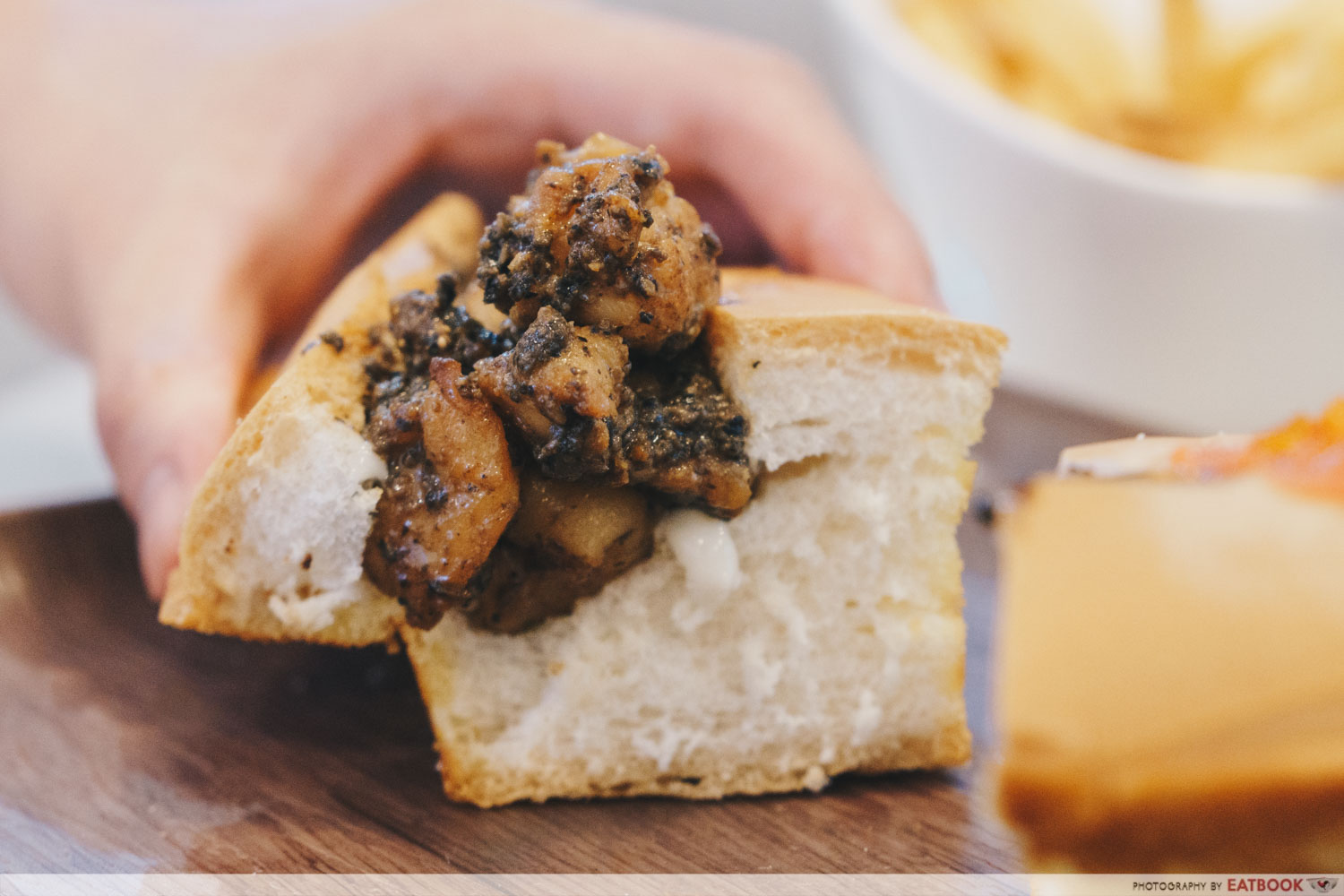 Admittedly, these Asian lobsters were not the sweetest I've had. However, I'd say they were undercharging people with the generous mounds of shellfish stuffed in per roll.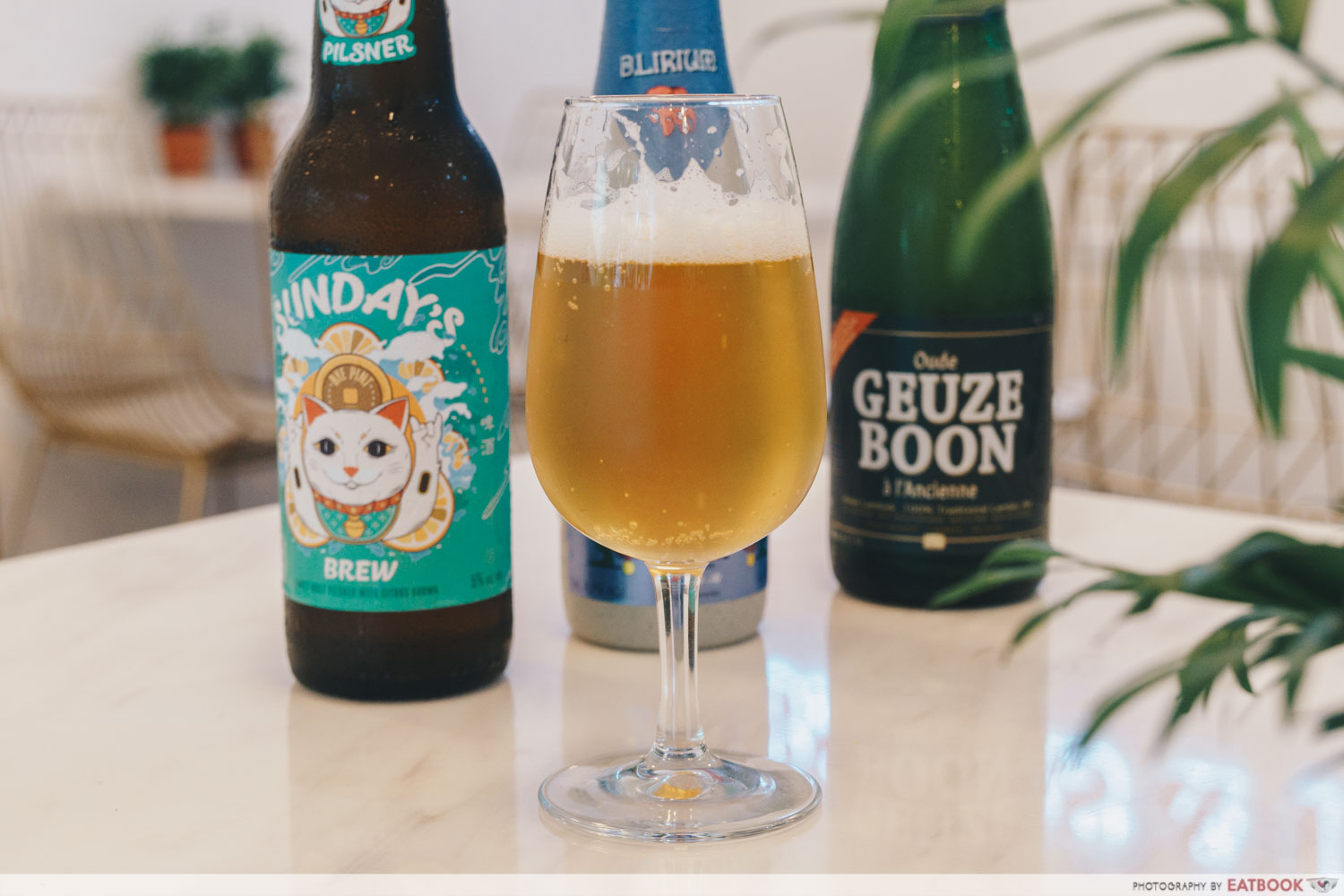 I decided on another beer. This time, a Delirium Tremens draught 33cl ($12+). It was poured into a snifter glass, allowing me to appreciate its floral fragrance. On the tongue, the tingly fizz complemented its zesty fruitiness.
And perhaps due to the higher alcoholic percentage, it had some semblance to certain sparkling wines. I honestly felt that it was a properly good pairing for the rolls.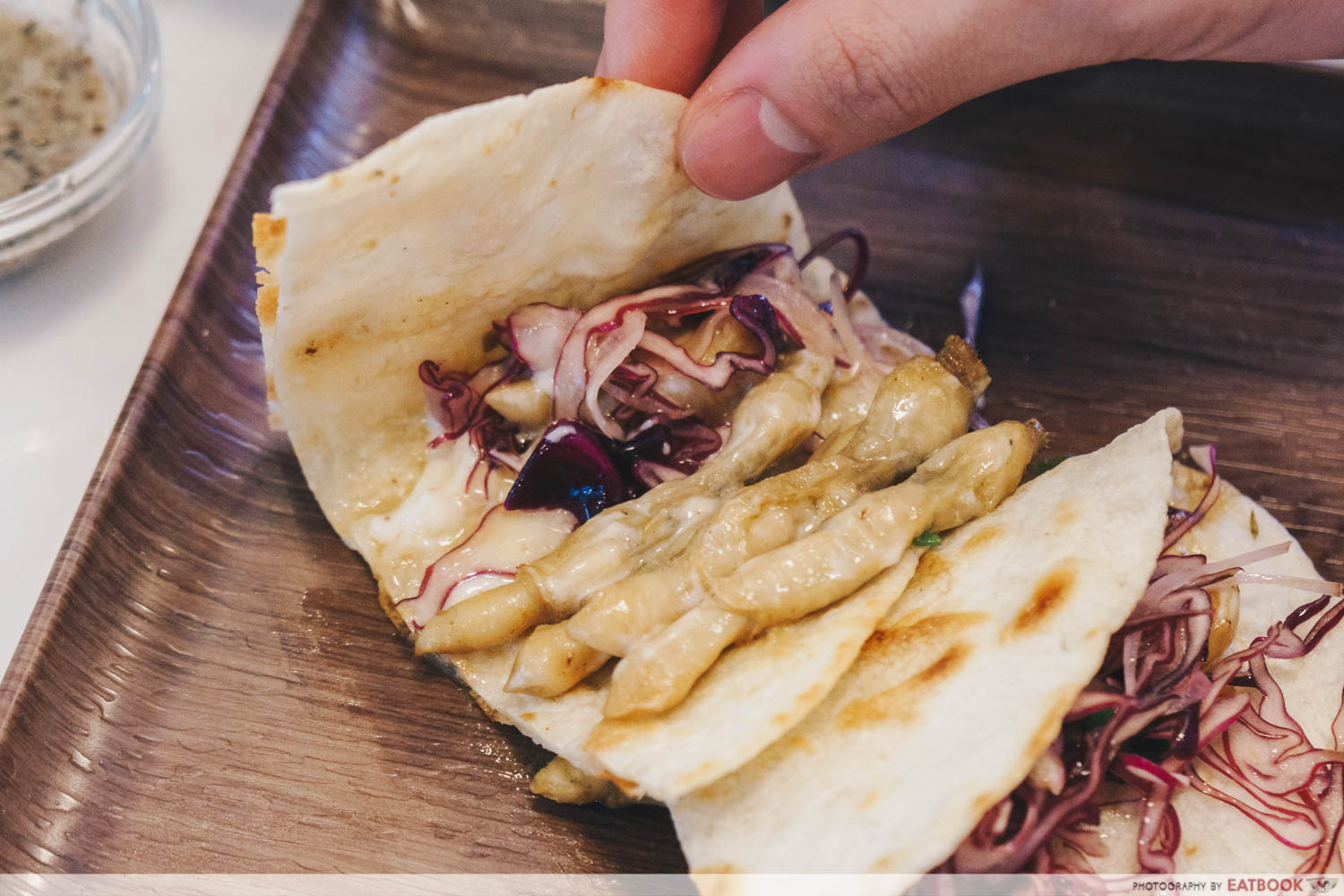 The Razor Clam Tacos ($18+) weren't the most IG-worthy food here. They looked carelessly put together, with a few purple strands of cabbage jutting out. Thankfully, they tasted amazing.
There was an unconventional seafood flavour. They were slightly gamier, yet shined with a distinctive oceanic taste. Sadly, my dining companion was not too fond of it. Perhaps it was the chewiness and assertive seafood taste that did not appeal to her.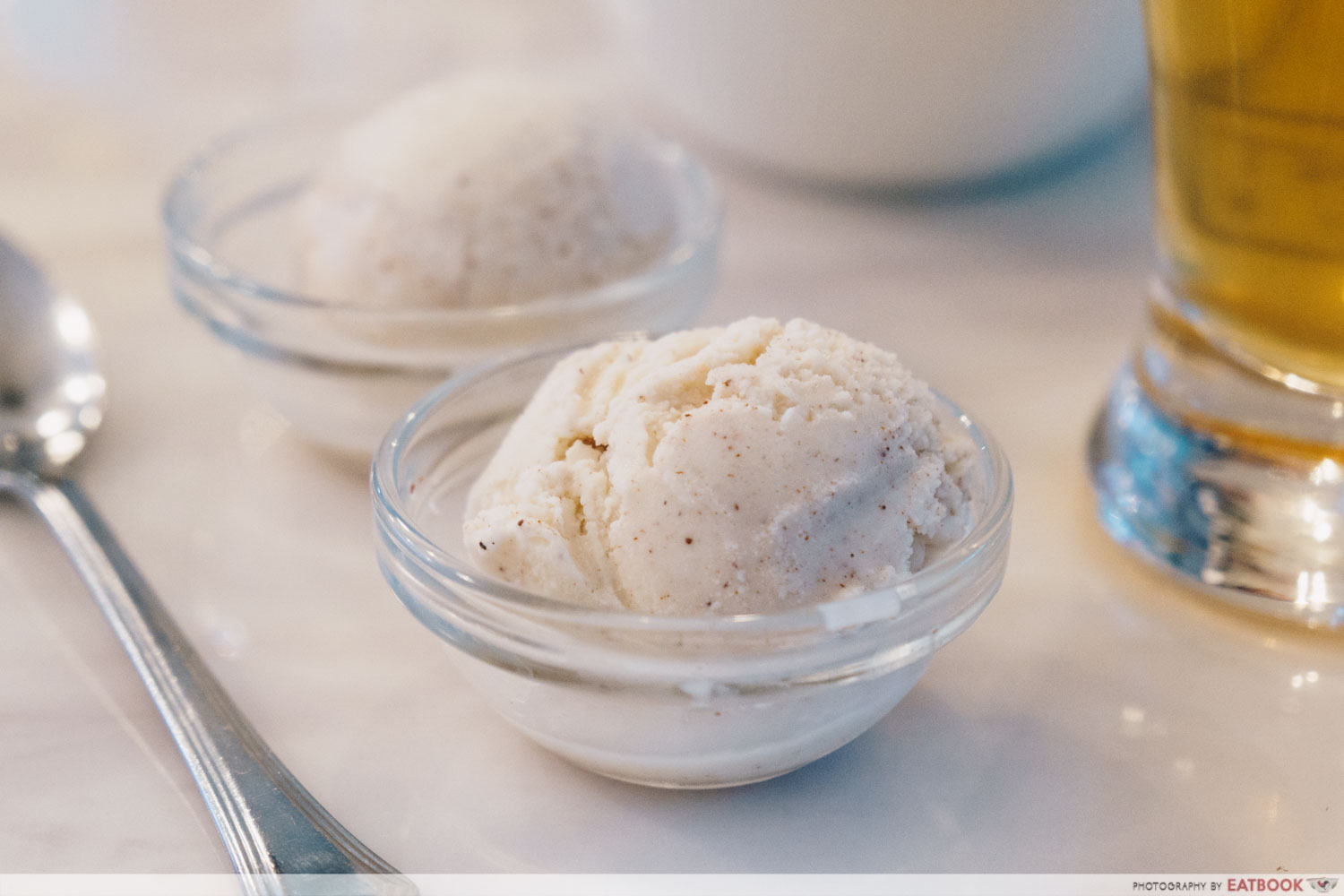 We ended our meal by sampling their novelty ice-creams. My favourite was their soya-cinnamon ice-cream ($5 per scoop). The ubiquitous Christmasy taste of cinnamon melded beautifully with its mellow sweetness, complementing all that velvety creaminess.
They are always experimenting with new ice-cream flavours, so feel free to ask what's cookin' behind. I heard they're perfecting their lobster flavour at the moment.
The duo's love for ice-cream is perfectly evident. Colin even revealed that "a portion of our house-made ice-cream is solely reserved for Iddo". 
Ambience at Lobsters & Ice Cream V2.0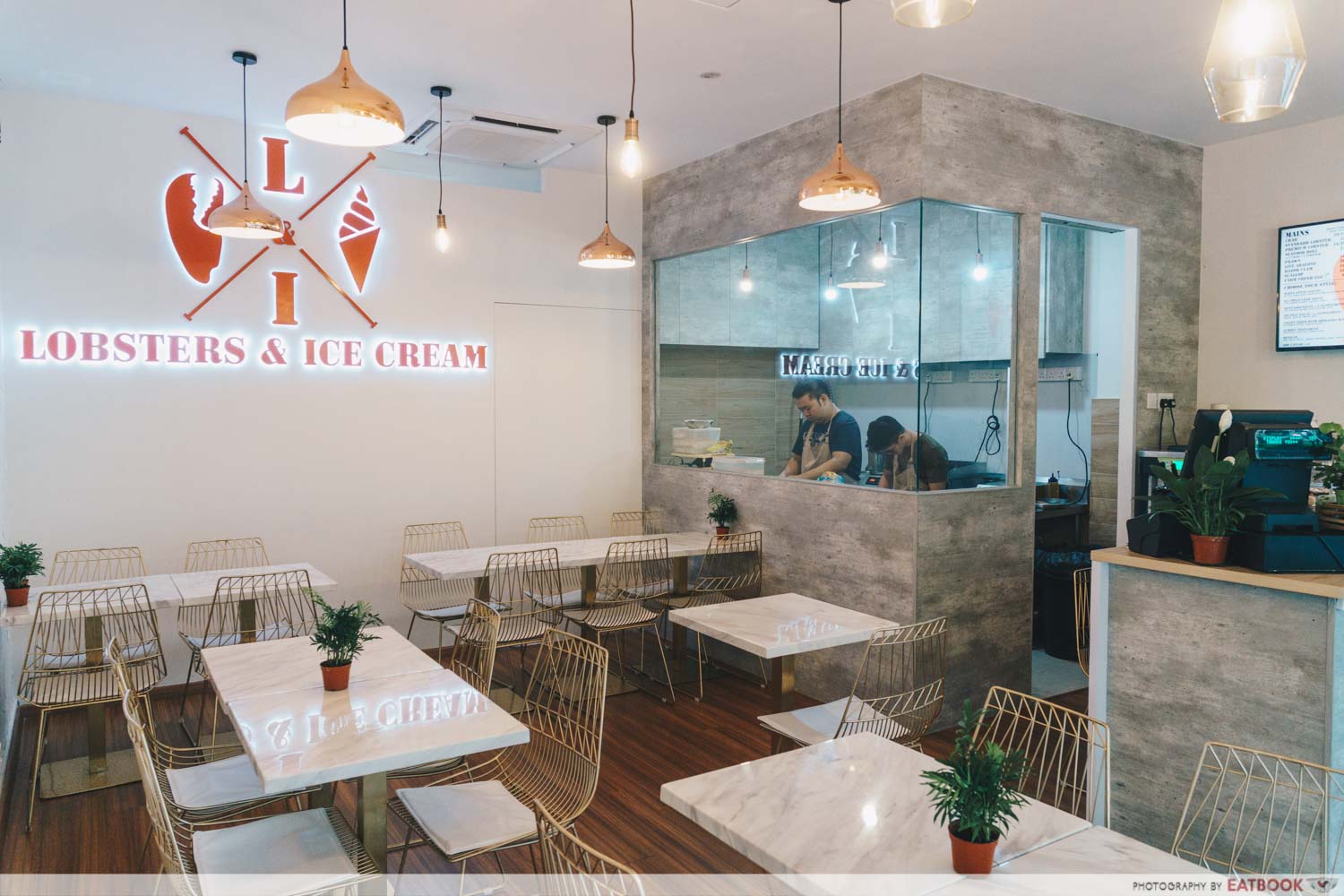 Perched on the second storey of Tanjong Pagar Plaza, Lobsters And Ice Cream V2.0 exudes a contemporary, boho chic. It's a basic b*tch's haven, complete with potted plants, whitewashed walls and stunning furniture.
In the evening, the lights are dimmed to a soft amber glow, as soothing acoustic covers play from the speakers. It's unashamedly romantic and definitely a great spot to bring a date.
The verdict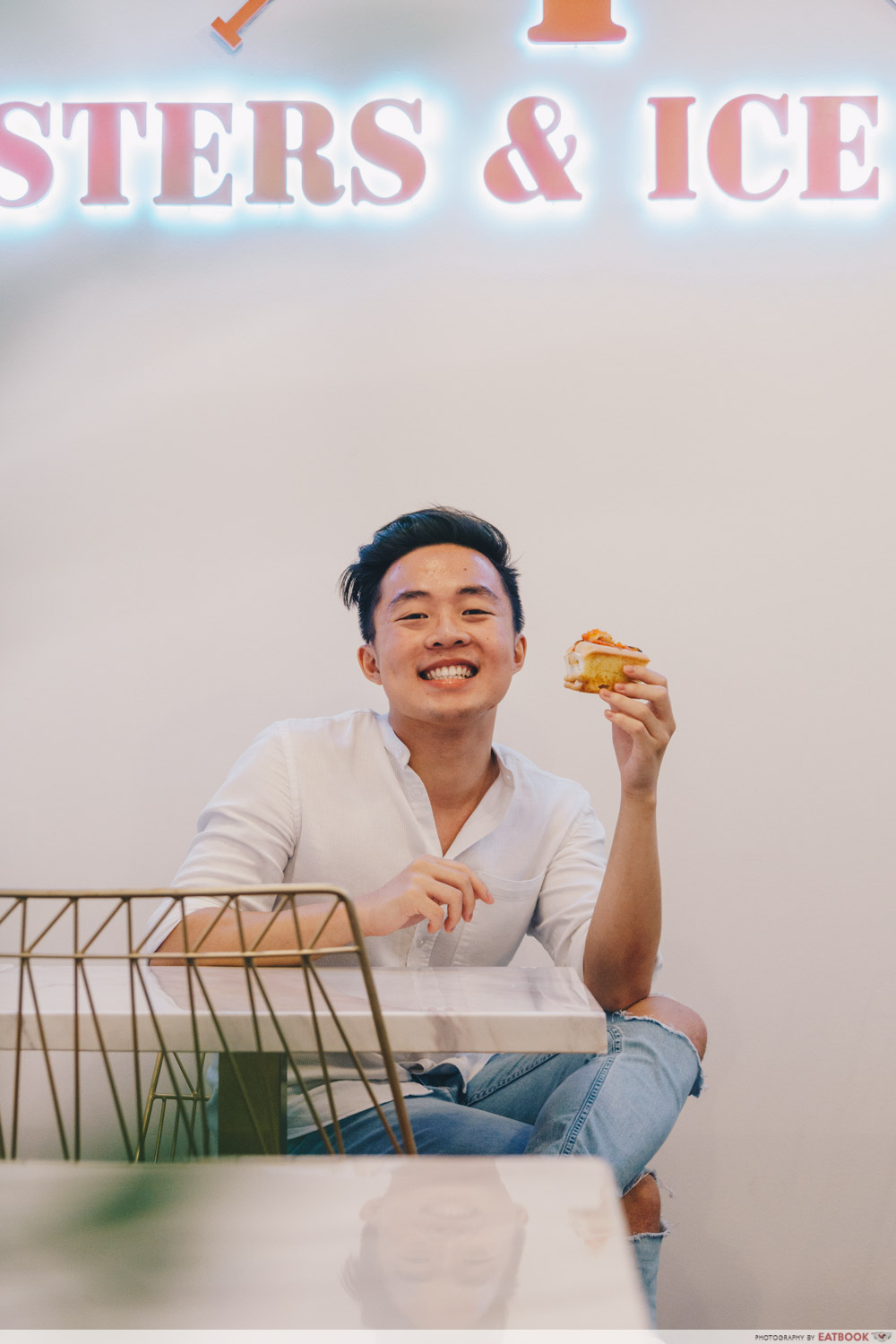 I had joined Eatbook hoping to find a place that would really impress me. A place that would trigger emotions and memories. A place just like restaurant Gusteau's in Ratatouille, where the staunch food critic was brought to tears as he ate the ratatouille that brought him back to his childhood.
This unequivocally gorgeous Tanjong Pagar cafe had done precisely that for me. It shocked me with its polished simplicity. It amazed me with its unpretentious sophistication. And prodded me back to school day breakfasts, with my grandmother stuffing dinner leftovers onto a fluffy slice of bread.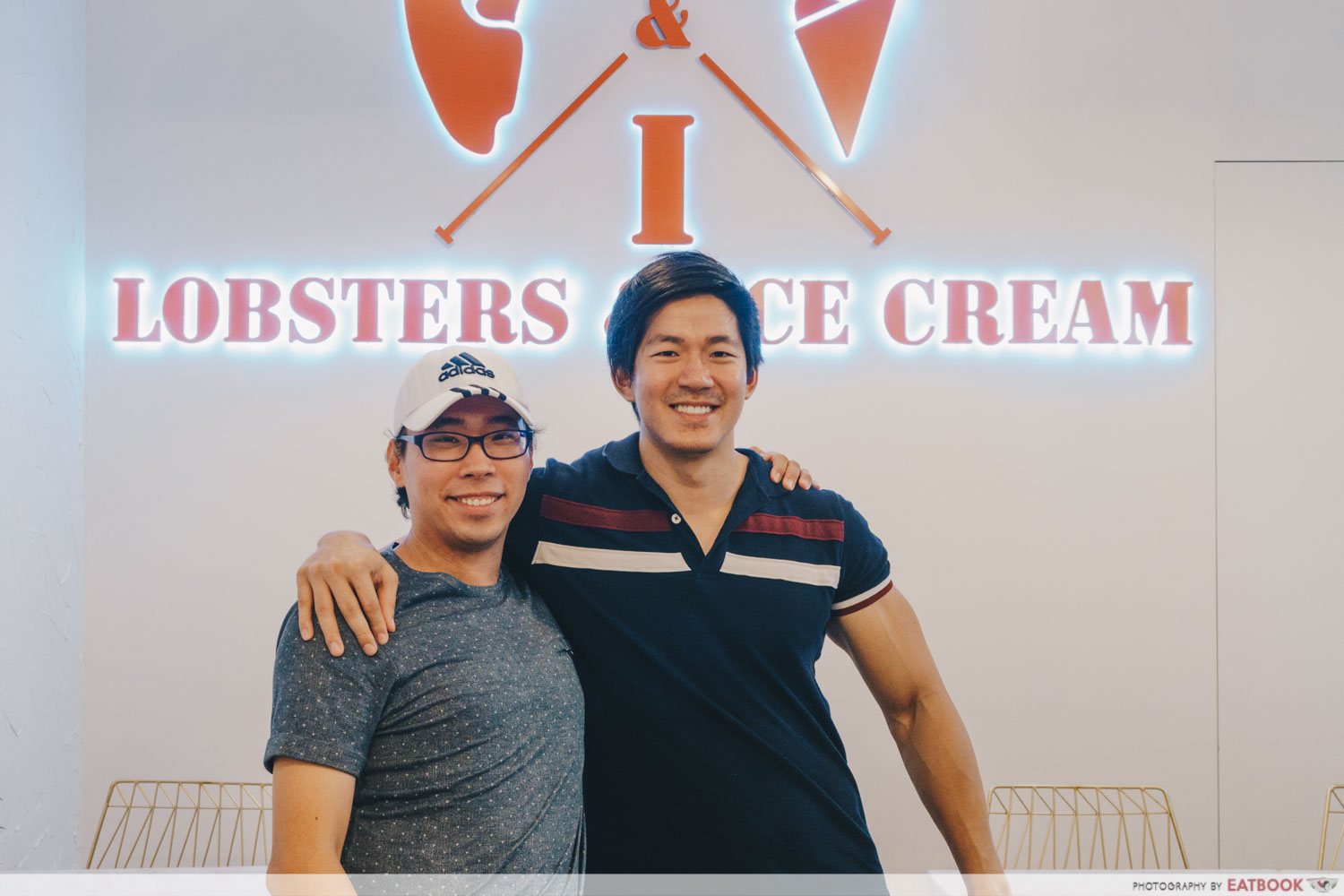 It truly is their unbridled simplicity, contained within a passion for perfection that has made my meal so spectacular. Everything from the amuse bouche down to the sourcing of their seafood were industriously calculated, trialled and tested.
Everything's also handmade. "We're too poor to buy, so we make them ourselves," Colin remarked. I wished all restaurants were poor.
Address: Block 7 Tanjong Pagar Plaza, #02-101, Singapore 081007
Opening hours: Sun-Thurs 11:15am to 9:30pm, Fri-Sat 11:15am to 10pm
Website
Lobsters & Ice Cream V2.0 is not a halal-certified eatery.
Photos taken by Lim An.
This was a media tasting at Lobsters & Ice Cream V2.0.
Summary
Pros
– Gorgeous ambience
– Great quality of food
– Service was good
Cons
– Small seating area
Recommended dishes: Mentaiko Scallop Roll ($18+), Truffle Standard Lobster Roll ($22+)
Opening hours: Sun-Thurs 11:15am to 9:30pm, Fri-Sat 11:15am to 10pm
Address: Block 7 Tanjong Pagar Plaza, #02-101, Singapore 081007