Tie Fun Wan opened by ex-hotel chef

Ken Chia, the owner of the now-defunct Rice and Fries, is back with a new concept serving wallet-friendly rice and noodle dishes at Tie Fun Wan. Located at Farrer Park, the cafe showcases Chef Chia's cumulative culinary experience from stints at The Ritz-Carlton, Crowne Plaza Changi Airport, and The Fullerton Hotel to the table, serving some fun or 饭 (fàn) in the form of rice bowls.
Food at
Tie Fun Wan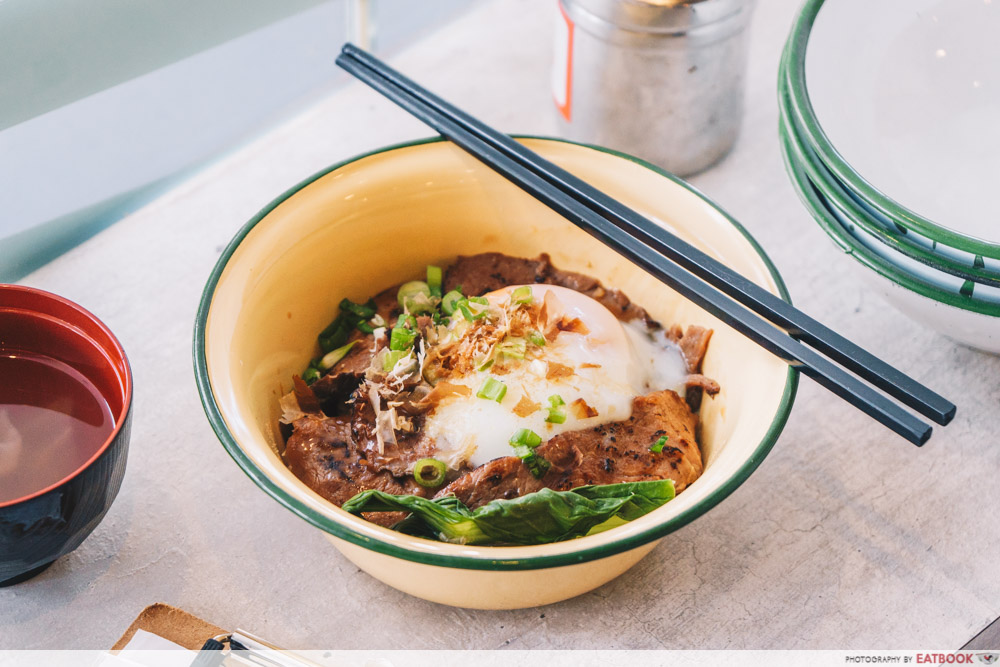 With a short menu of only five fixed dishes and one daily special, Tie Fun Wan still packs a punch with their rice bowls.
The 72-hour Slow Cooked Beef ($14) bowl was highly recommended by Chef Chia himself, and after trying it for myself, I totally agree. The dish was served with beef slices covering a bed of Japanese pearl rice, and topped with a 63° egg ($1.50). Do note the option of swapping rice out for noodles is free of charge!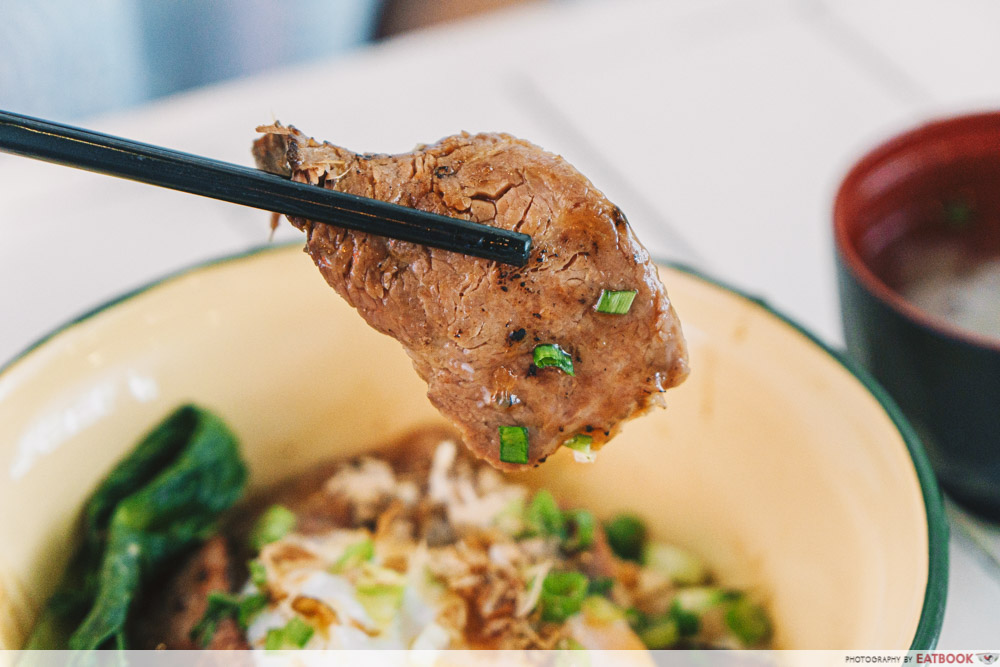 Thanks to the 72-hour sous vide process, I could easily bite through the tender slices of meat. This precise process breaks down proteins in the beef while retaining its moisture, resulting in a clean and juicy bite.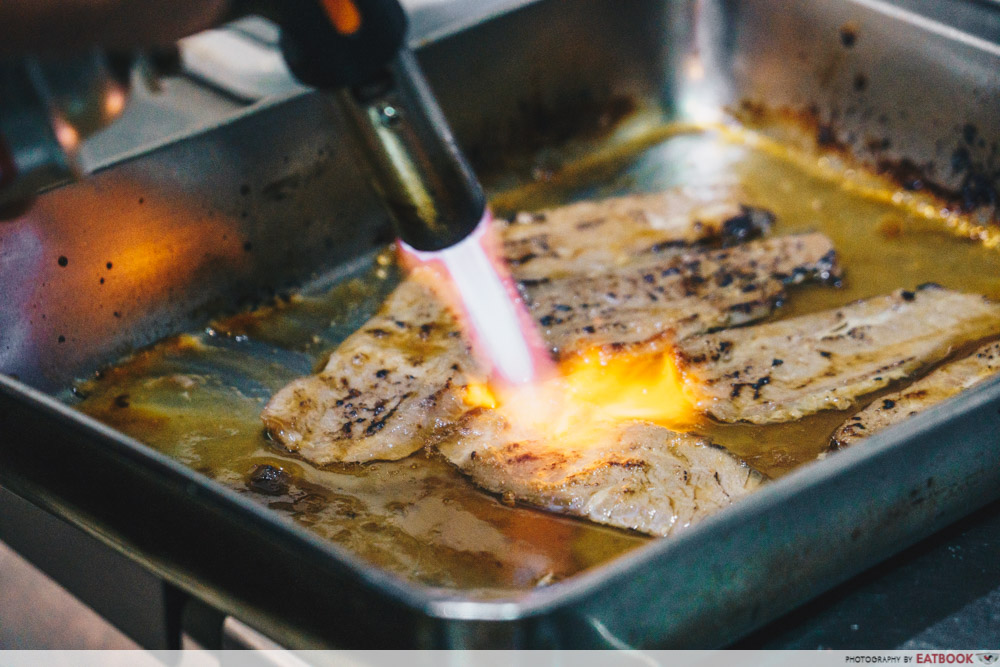 Upon each order, the beef slices are slathered with a plum sauce and torched before being served. The sweetness and charred taste of the torched beef went hand in hand, bringing out natural flavours in each slice without the dish getting too jelak.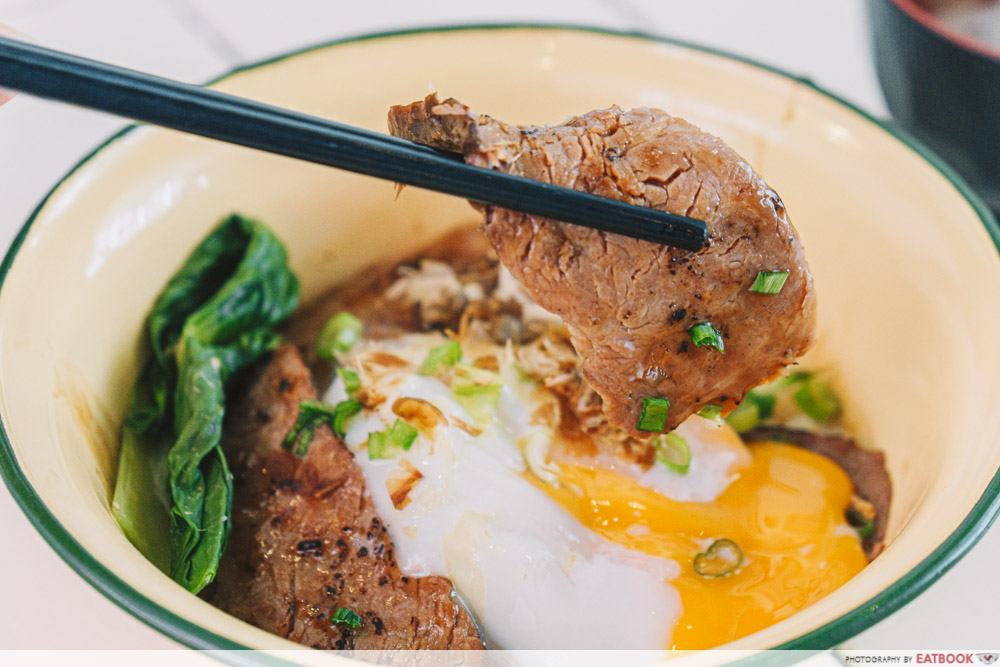 It was definitely a good idea to heed Chef Chia's advice to add the 63° egg. The onsen egg elevated the dish by adding a creamy coating to each piece of beef.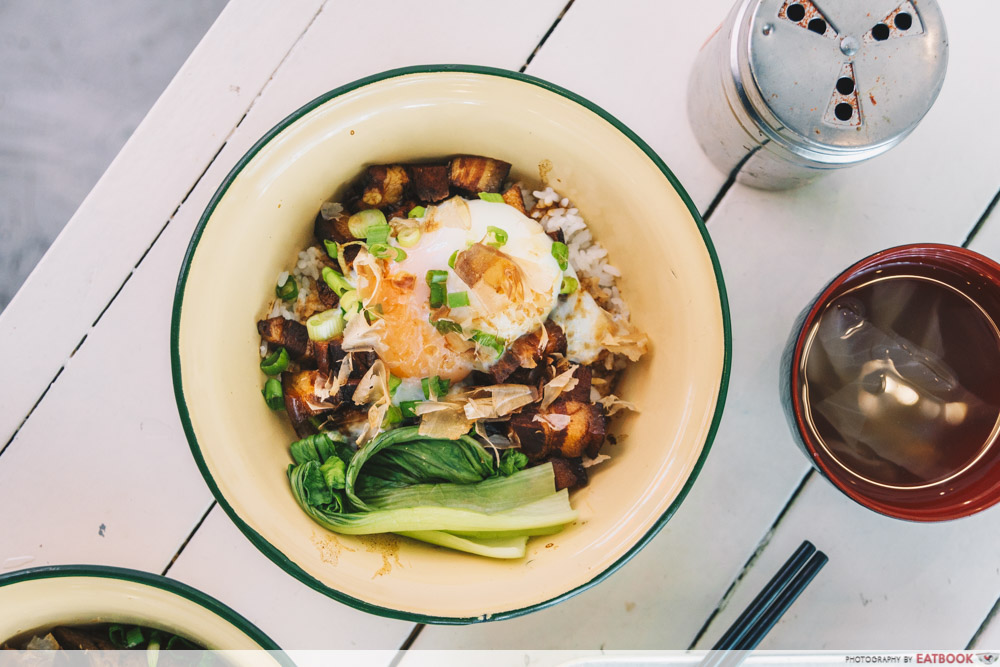 The aroma of the Braised Pork (Lor Bak) ($8) bowl brought me back in time, as I remember eating this dish growing up. It was served with bite-sized chunks of braised pork that seemed super tender at first glance. However, as I took a spoonful of it, I was surprised that they were actually chewy.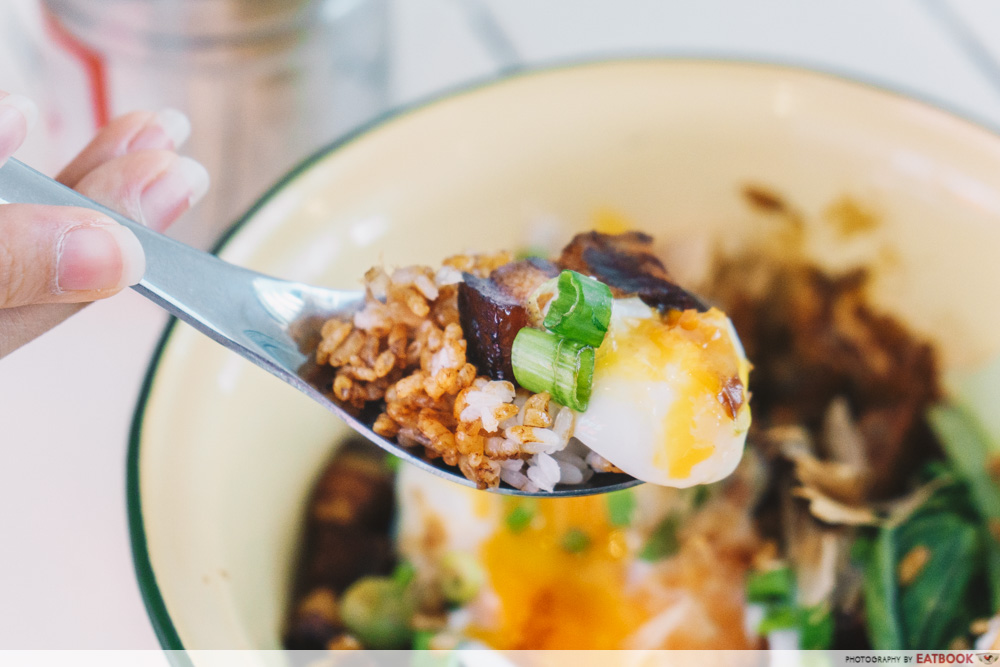 The chewiness of the pork complemented the soft grains of rice. As someone who usually opts for the healthier choice, I was pleased that the lor bak was not oily compared to other braised pork I've tried in the past.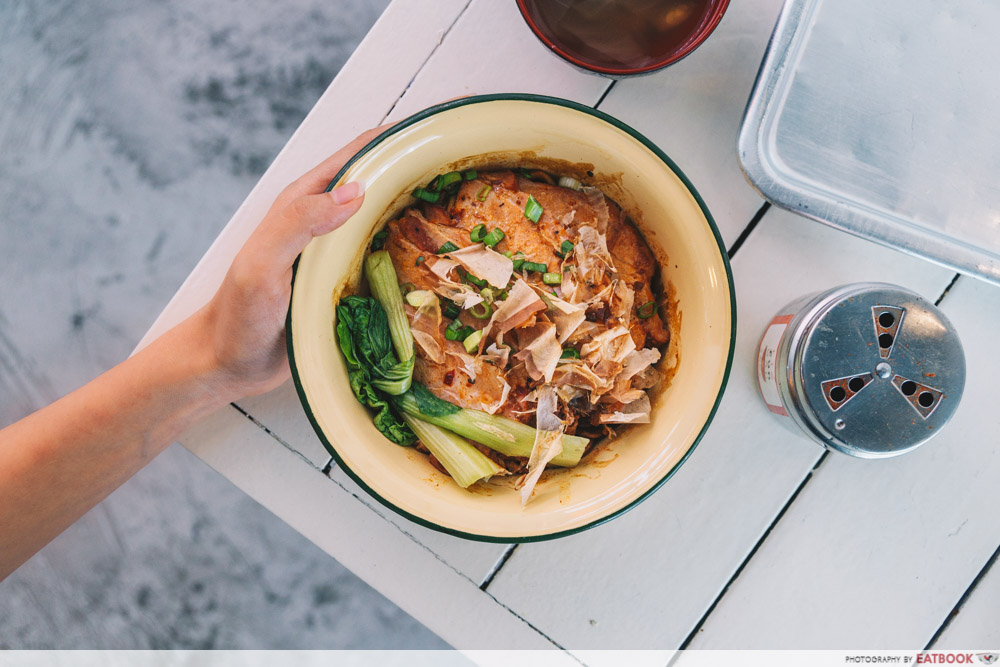 The Ma La Pork Collar ($10) bowl used to only be a seasonal item, but quickly found its place on the fixed menu as a signature. With more customers coming back for this dish, Chef Chia knew he had to keep it on the menu. 
Sora Boru Review: Affordable Japanese Rice Bowls And Soba From $3.90 Nett At Orchard
A generous portion of sliced pork collar was served along with noodles. Each thickly cut slice of meat was well-marinated in ma la sauce, with strong hints of peppercorn. The noodles had a QQ bite to it, with each strand evenly coated with a dark, sweet sauce.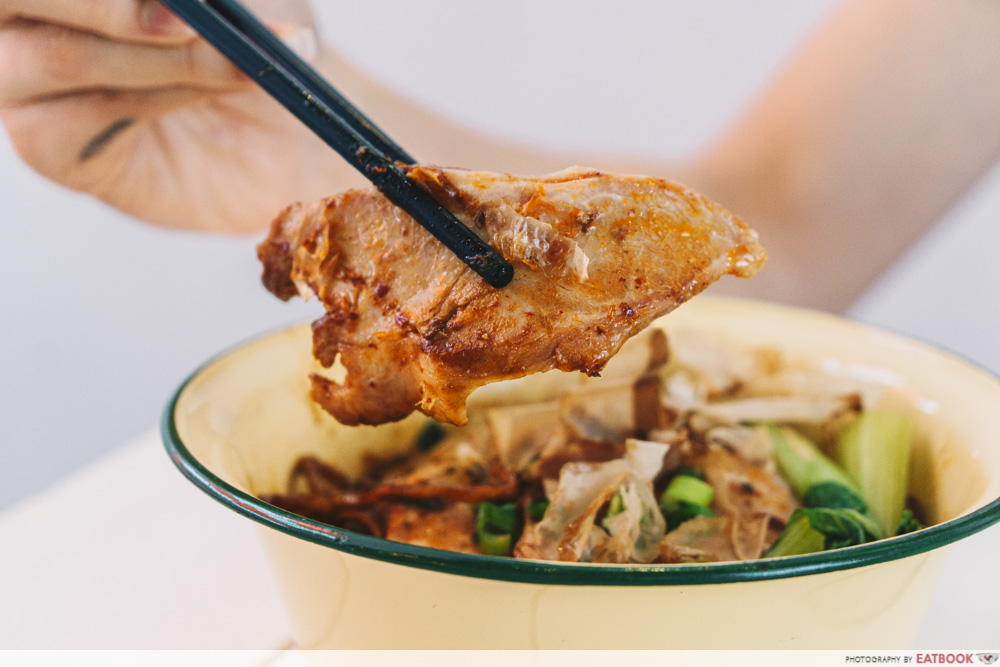 Though I appreciate how thick each slice was, the meat was a tad too tough for my liking. The heat from the ma la was xiǎo là (not so spicy), keeping it surprisingly manageable as I kept going back for more.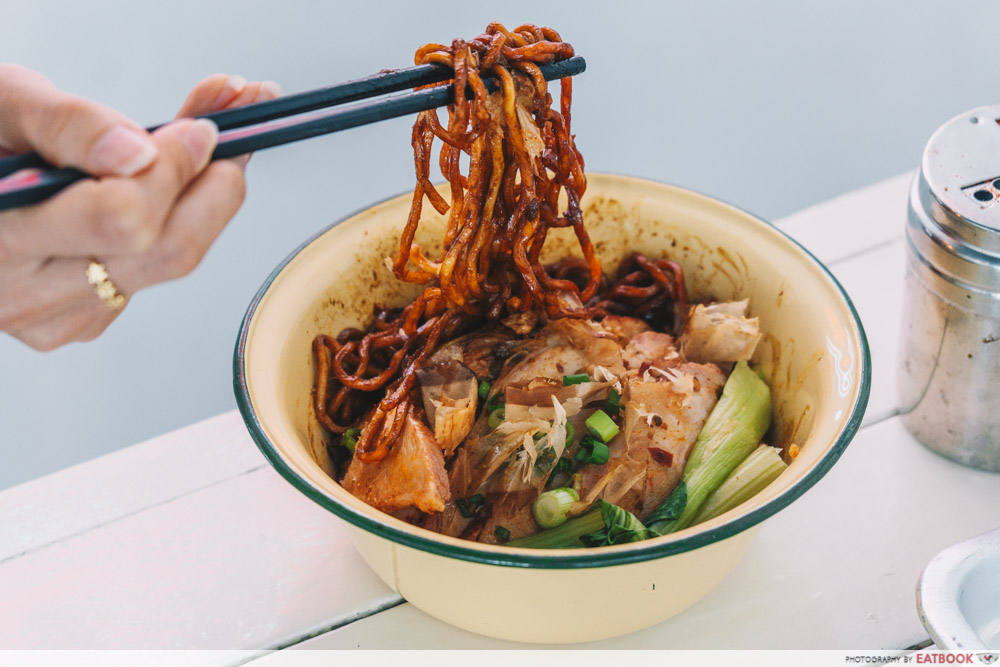 Since I am a noodle fanatic, I had to try the noodles at least once. Each strand of noodle was evenly coated with a sweet dark soya sauce, which made for a heartier bowl with its rich flavour. The noodles also changed things up by providing a firmer bite along with the sliced pork.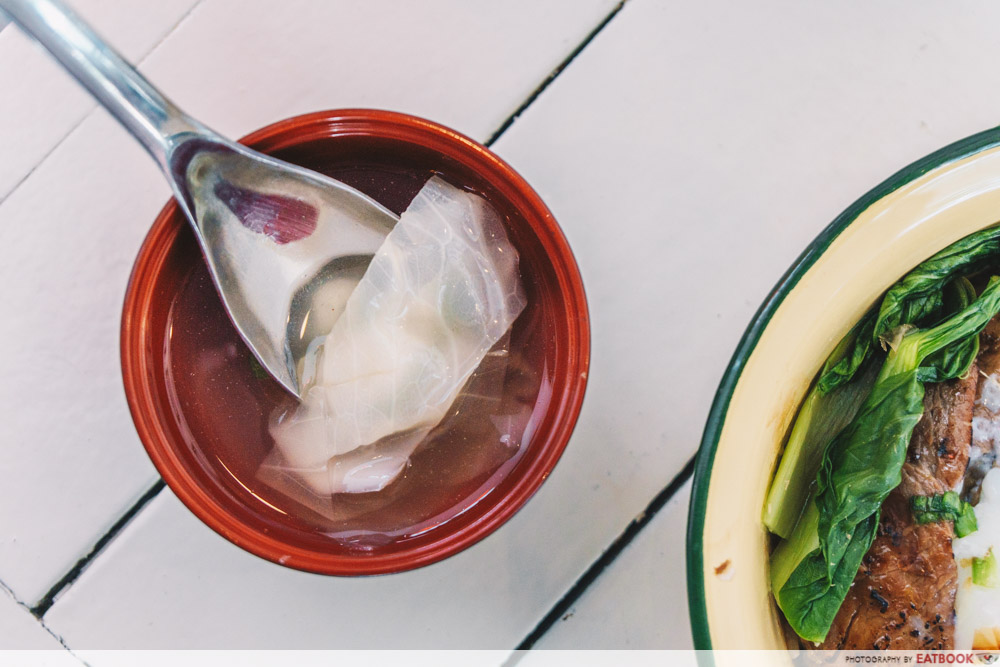 Each order of a signature bowl, be it rice or noodles, comes along with a bowl of soup. With a few slices of cabbage, the complimentary soup was rather light-tasting, but provided a supporting role to the strong flavours present in each fun bowl. 
Ambience at Tie Fun Wan
Just a short walk from Farrer Park MRT Station, Tie Fun Wan boasts a cosy atmosphere which makes it a great place to unwind during your lunch break or after work. Though there is limited indoor seating with seven tables, there are also two tables outdoors. Soft Chinese jazz music hums in the background as you watch Chef Chia swiftly assemble each dish at the counter. The neon store sign and posters with cheeky puns reflect the light-hearted nature of the store and its owner.
The verdict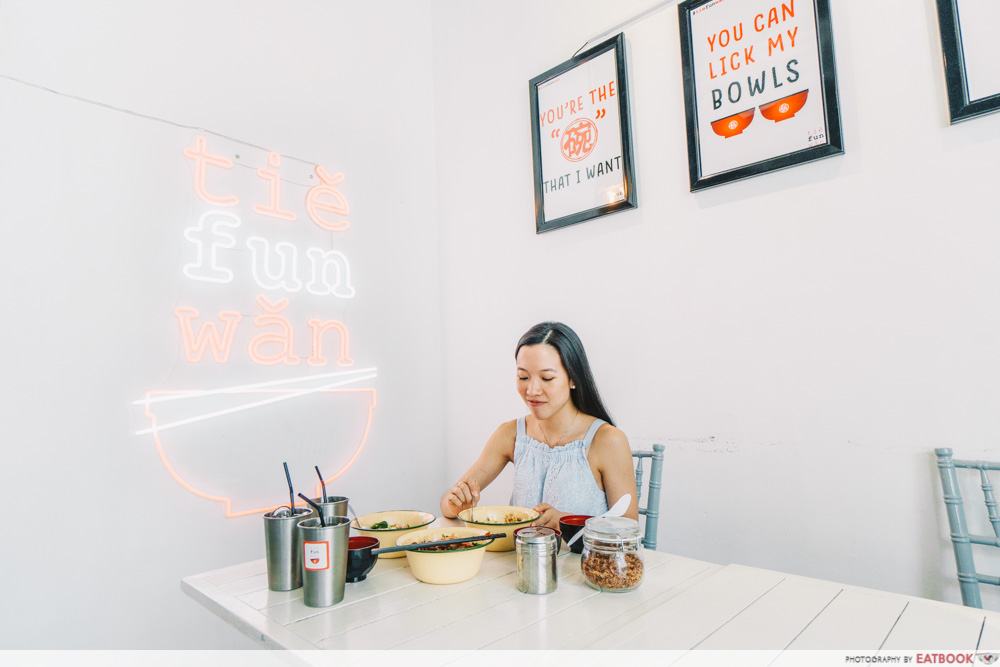 If I worked around the area, trips to Tie Fun Wan for their affordable and flavour-packed rice bowls would definitely be a frequent one. I look forward to my next visit to get my hands on their daily special, which was sadly out of stock.
If you're a fan of Japanese rice bowls, check out Haru's unique Japanese-Korean $10 rice bowls.
HARU Review: Unique Japanese-Korean Rice Bowls At $10 Near Geylang
Address: 89 Rangoon Road, #01-03, Urban Lofts, Singapore 218375
Opening hours: Mon-Fri 11am to 2pm, 5pm to 11:30pm, Sat-Sun 11am to 11:30pm
Tel: 9743 6650
Website
Tie Fun Wan is not a halal-certified eatery.
Photos taken by Huy Pham.
This is an independent review by Eatbook.sg.
Summary
Pros
– Value for money
– Generous portions of meat
– Well-seasoned dishes
– Convenient location
Cons
– Limited seating
Recommended dishes: 72-hour Slow Cooked Beef ($14), Braised Pork (Lor Bak) ($8)
Opening hours: Mon-Fri 11am to 2pm, 5pm to 11.30pm, Sat-Sun 11am to 12am
Address: 89 Rangoon Road, #01-03, Urban Lofts, Singapore 218375