Botany at Robertson Quay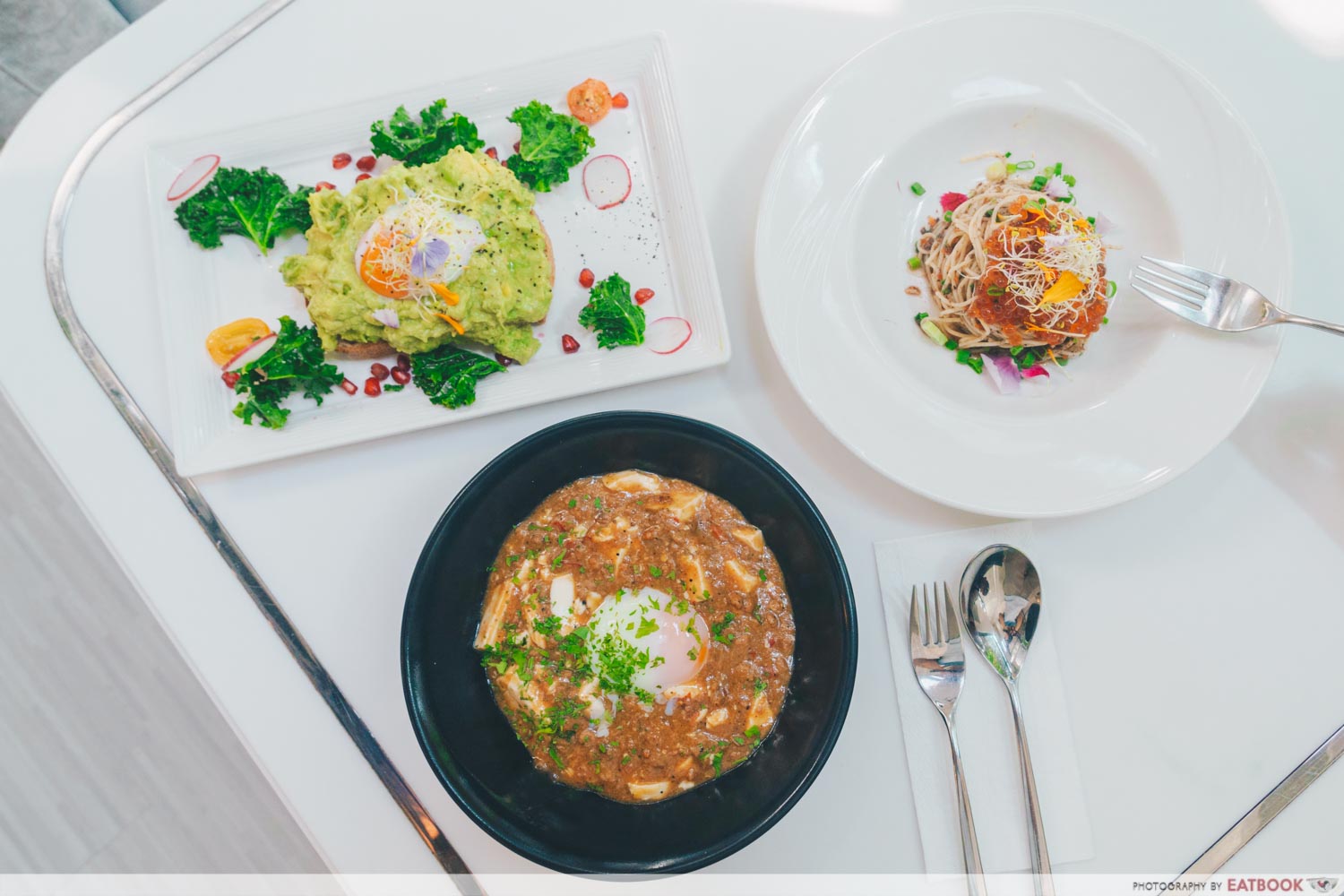 Nestled amongst the strip of restaurants along Robertson Quay is Botany—a cafe paved with rustic benches surrounded by verdant flora and fairy lights. Created by actress Julie Tan, her cousin Cassandra Tan, and Dazzling Cafe's owner Serene Tan, the seven-month-old joint serves a mix of scrummy Asian and Western food against a comforting ambience.
Full disclosure, it was my second visit here so I knew which dishes were delicious. I just had to make sure they were still delicious.
Food at Botany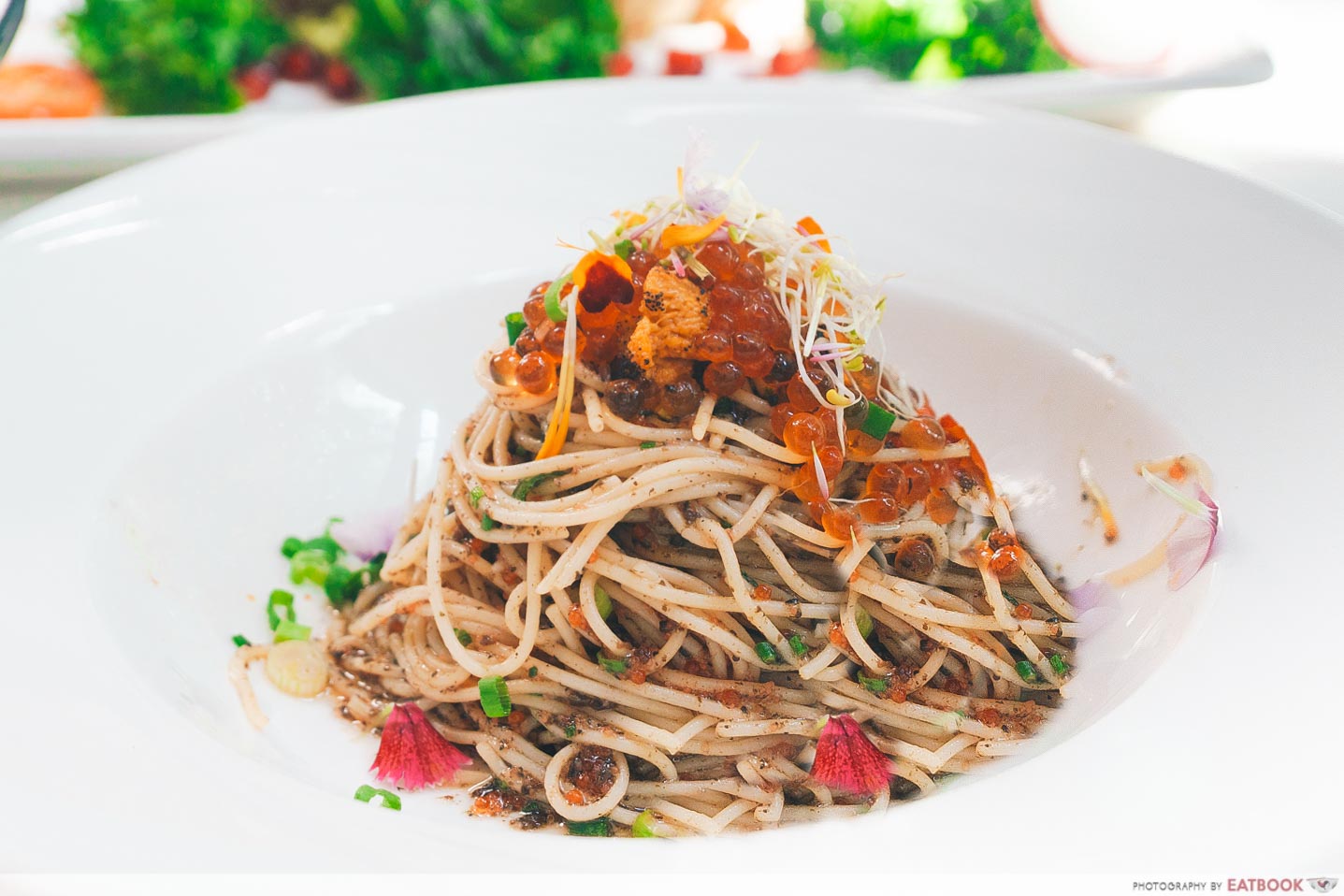 First up was the Uni Truffle Capellini ($28+), a mound of cold rinsed capellini that's mixed with truffle salsa and topped with copious amounts of uni and salmon roe. This was my favourite dish during my first tasting, and I'm happy to report that it cinched a repeat victory.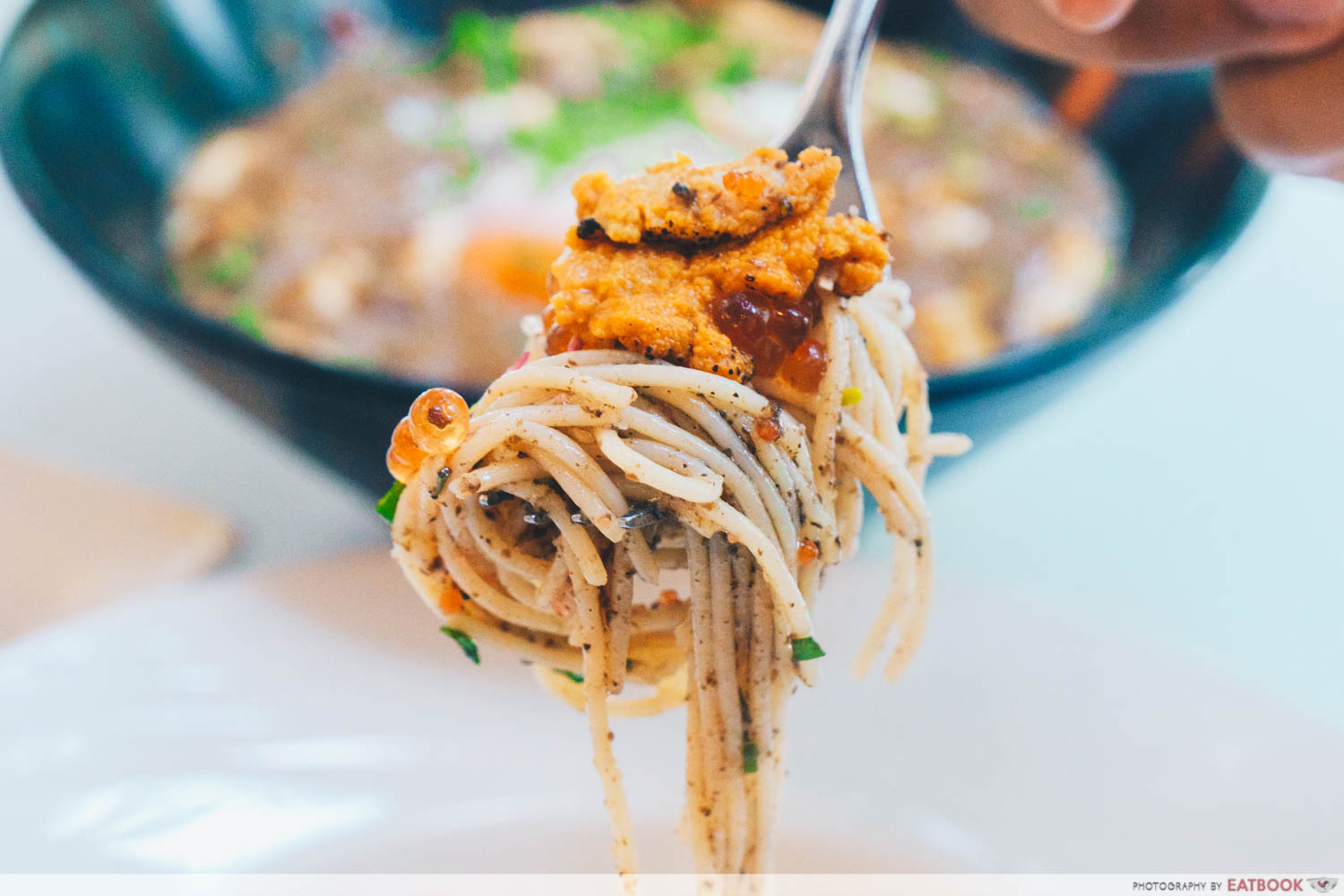 The soft and cold pasta made an excellent canvas for the wave of oceanic flavours from the roe and uni. The uni was smooth and creamy, coating the capellini with a layer of brininess. The MVP here were the fresh salmon roes which practically blanketed the dish. Even when the urchin and noodles ran out, there were still loads of roe left on the plate.
Fans of truffle will be glad to know the dish didn't skimp on it. The truffle aroma was strong and lingered long after our last strand was slurped. Even the base of the plate was studded with specks of truffle.
The Avocado Toast with Egg ($18+) is one of Botany's signatures, and for good reason. The all-day breakfast item sports a canopy of smashed avo' flowing off a thick slab of sourdough toast. Surrounding it are bits of toasted kale and some pomegranate seeds. Every item on this plate is as aesthetic as they are functional.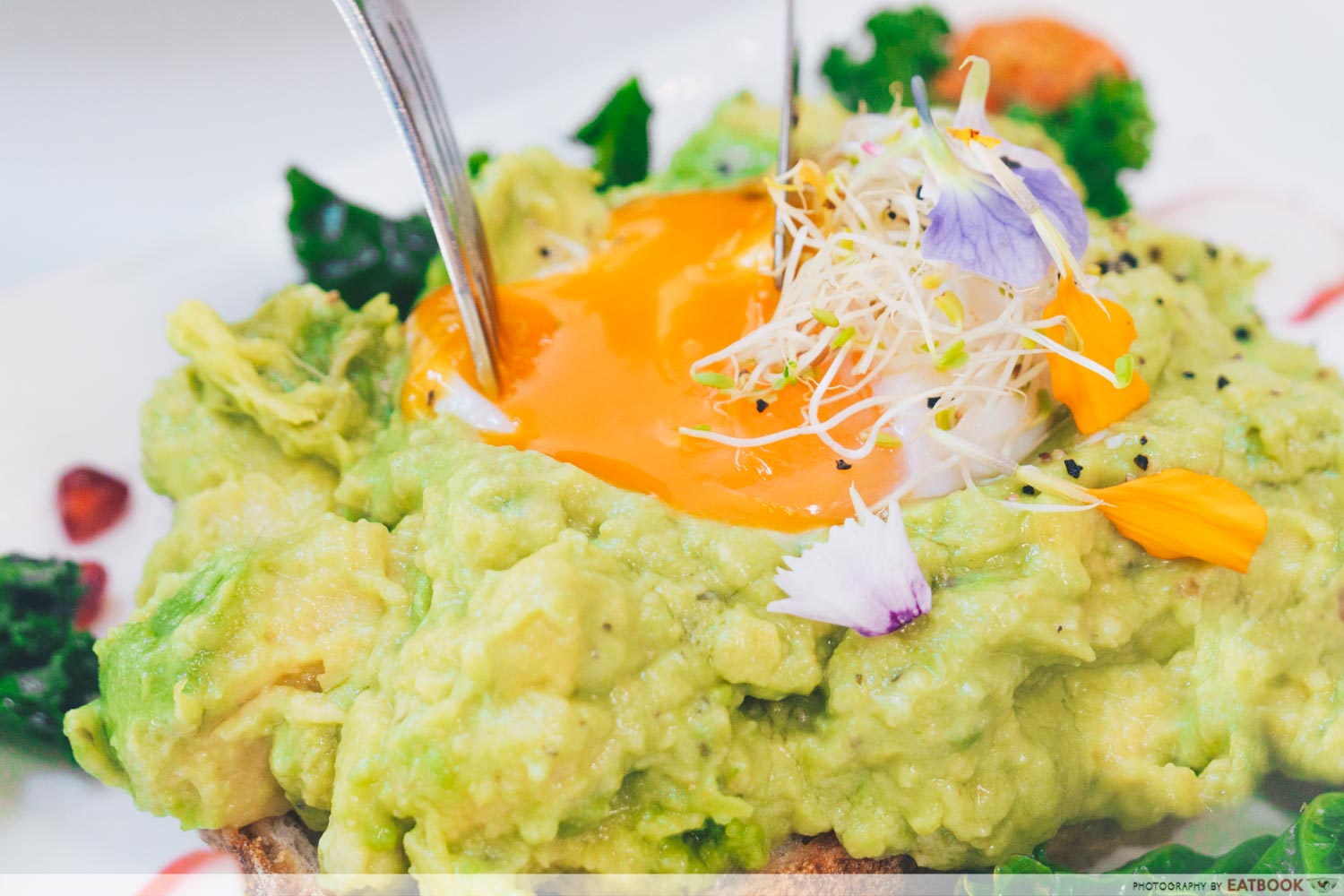 Like most people, I like my sourdough to have a chewy crumb and crunchy exterior. The one here excelled in that regard, though I would have preferred if it was more tart. That being said, the lack of acidity could have been an intentional choice in order to highlight the butteriness of the avocadoes. 
Plopped on the stack was a sous vide egg which had a rich yolk that remained runny throughout our meal—a clear indicator of the masterful technique used. Even the pomegranate seeds added some depth to the dish with its grittiness and slight sourness.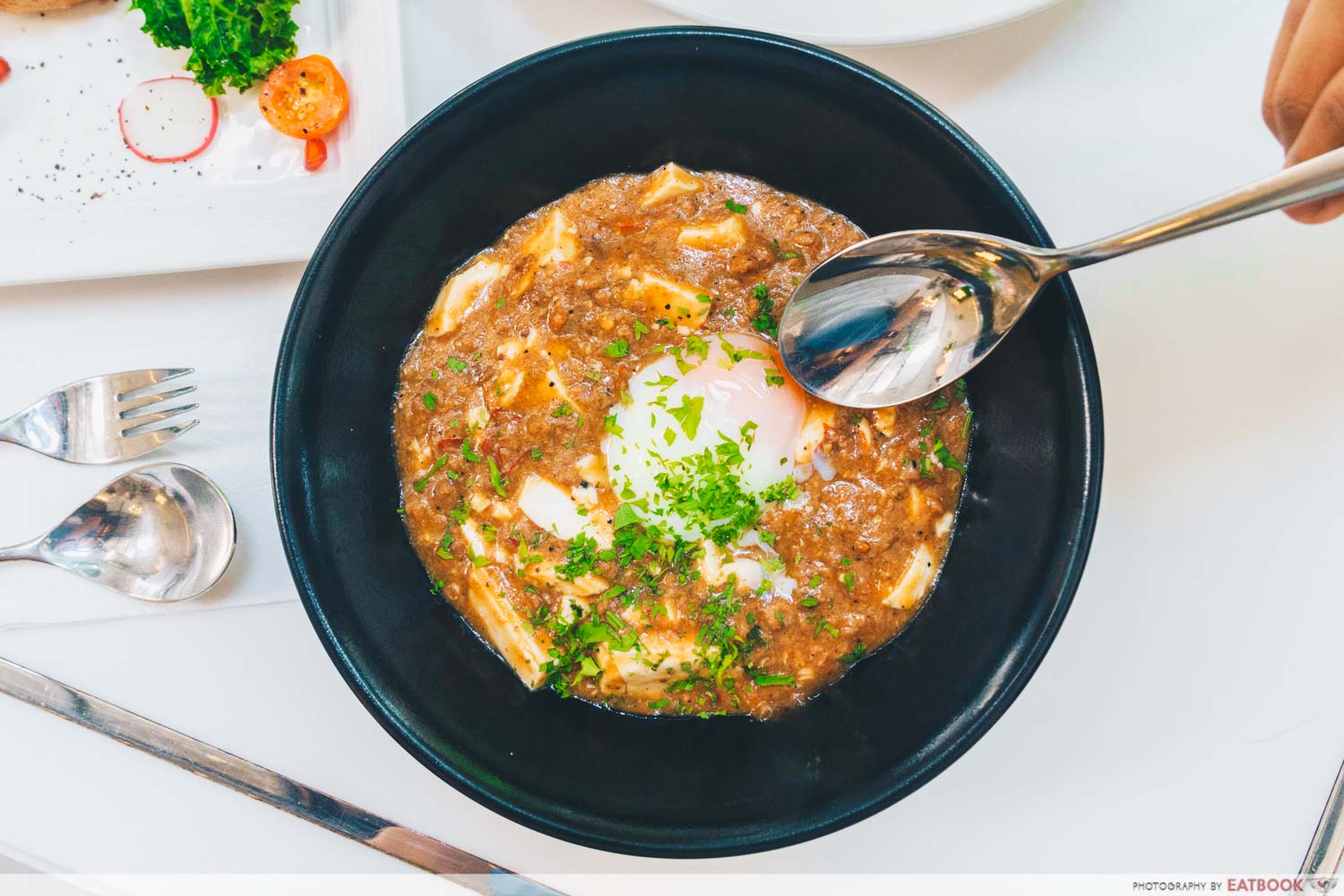 Vegetarians will be glad to know that there is a wealth of options catered to them here—one of which is the Impossible Mapo Tofu Bowl ($18+). As its name suggests, the dish comprises silken tofu cooked with Sichuan spices and Impossible meat. The resulting gravy is then poured over a bed of Japanese rice.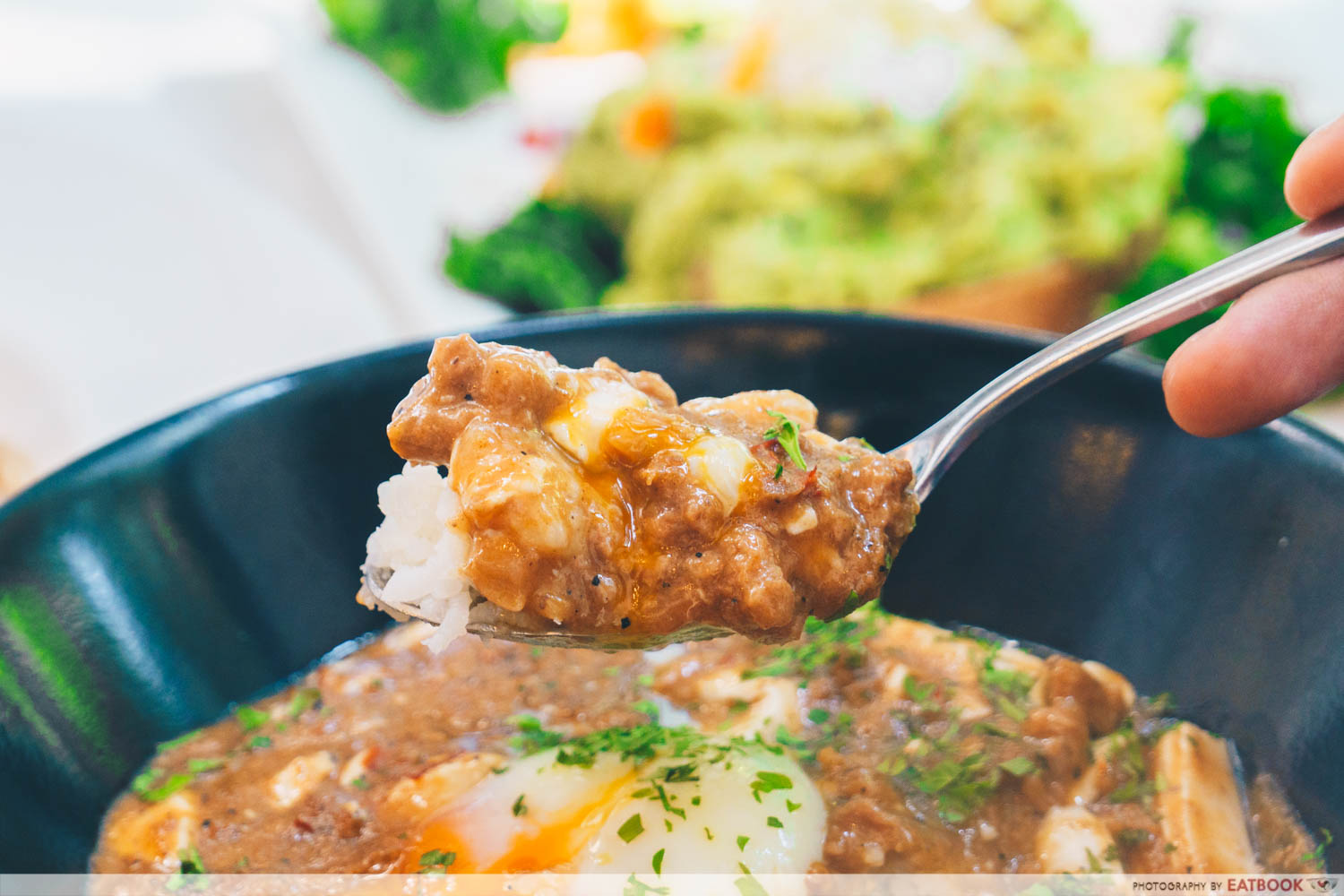 Although the dish's "la" component was lacking, its "ma" more than made up for it with its intense numbness. As expected from the Impossible brand, the plant-based meat tasted exactly like the real thing, down to the minced texture. Perhaps it's 'cause we waited too long to dig in, as the rice was a tad clumpy but nothing the gravy couldn't fix.
Ambience at Botany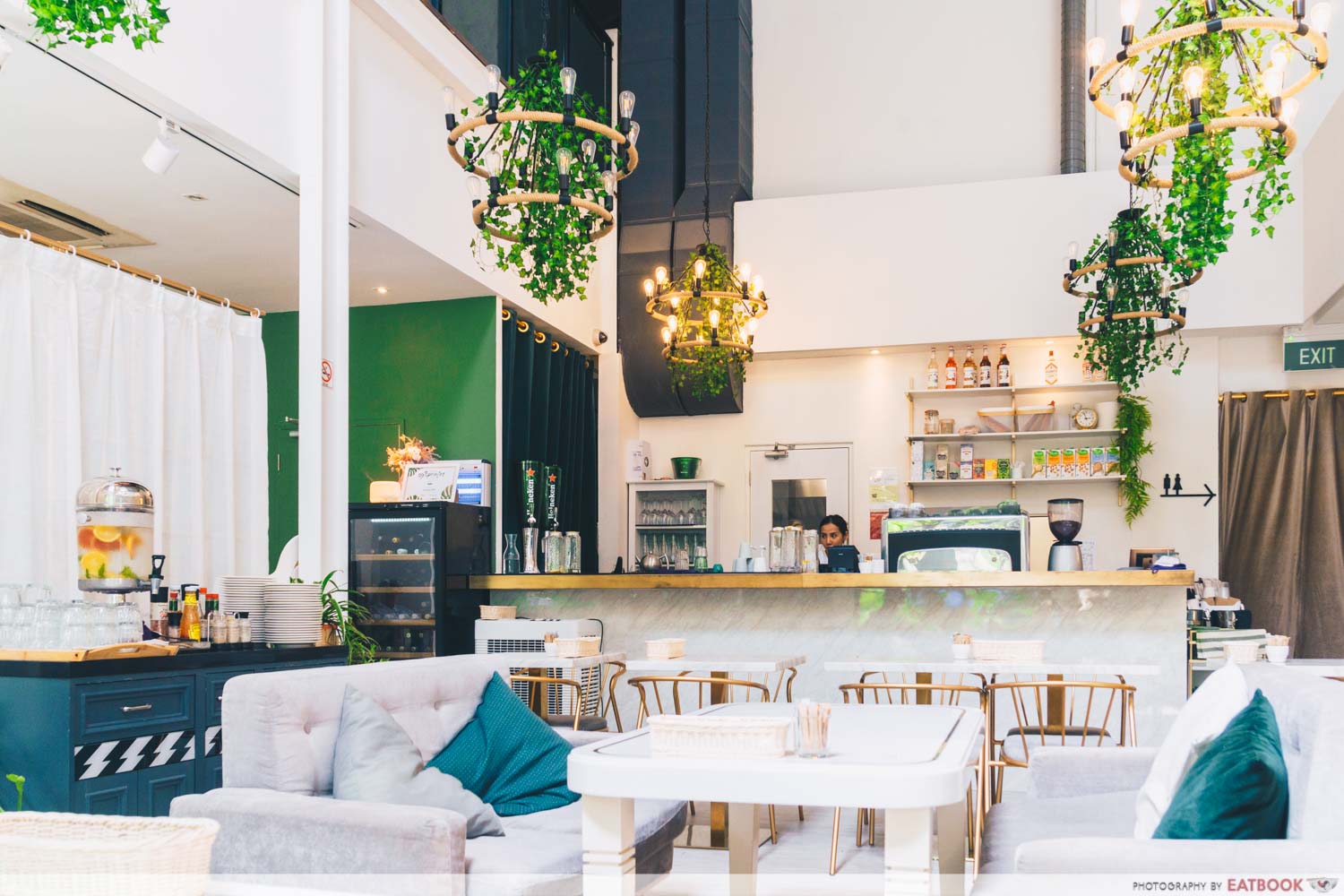 Botany's beautiful al fresco area is matched by a gorgeous interior, marked by high ceilings, leaf-laced lights, and marble tables. As you plop onto the comfy sofa, you'll notice the smell of lavender wafting in the air. Coupled with show tunes playing in the background, all these lent to a luxurious yet relaxing atmosphere that's wonderful for dates or a night out with the fam'.
The verdict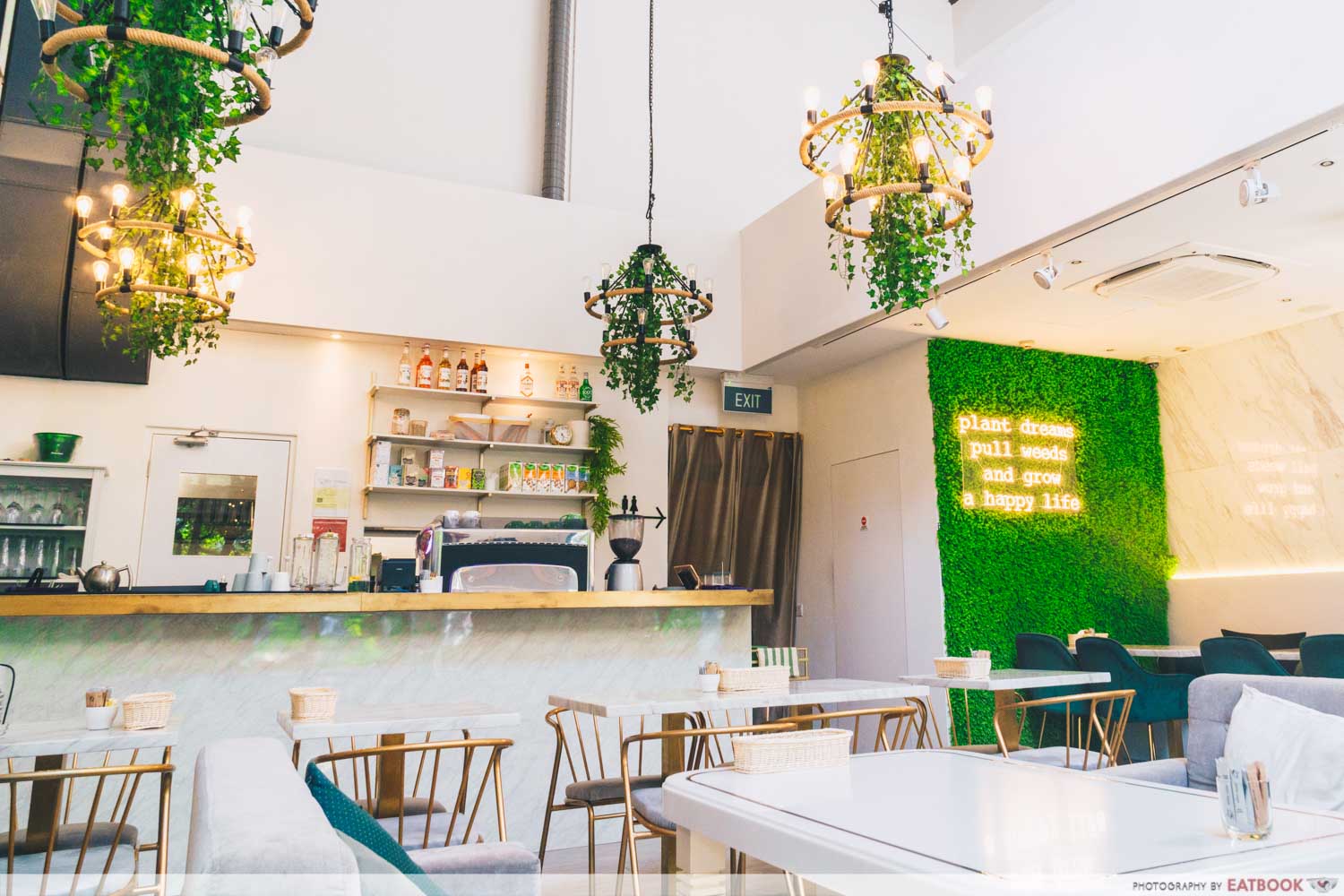 My second visit to Botany did not disappoint. It even opened my colleague's eyes to the wonders of uni. The food was mostly great, with a top-notch ambience and service. Its price and accessibility might be a turn-off for some but if you're in the area, it's definitely a place to fuel up at.
Address: 86 Robertson Quay, #01-03, Singapore 238245
Opening hours: Mon-Fri 9am to 10pm, Sat-Sun 8:30am to 10pm
Website
Botany is not a halal-certified eatery.
Photos taken by Ian Teoh.
This is an independent review by Eatbook.sg.
Feature image adapted from: @botany.sg
Summary
Pros
– Delicious and beautifully plated food
– Stunning ambience
– Good service
Cons
– Pricey
– Not easily accessible
Recommended dishes: Uni Truffle Capellini ($28+), Avocado Toast with Egg ($18+)
Opening hours: Mon-Fri 9am to 10pm, Sat-Sun 8:30am to 10pm
Address: 86 Robertson Quay, #01-03, Singapore 238245