---
Robertson Quay restaurants to dine at
---
Situated along the Singapore River, Robertson Quay is typically known as the more laid-back sibling to party-central Clarke Quay and Boat Quay. The relaxing district, which is near the once-popular Mohammed Sultan Road, has its own charms too, with plenty of cafes, restaurants and bars to chill, sit down, and have a glass of wine over a good meal. If you're thinking of what to eat or drink when you're near the area, then here's a list of 10 Robertson Quay restaurants to check out!
---
1. Unagiya Ichinoji
---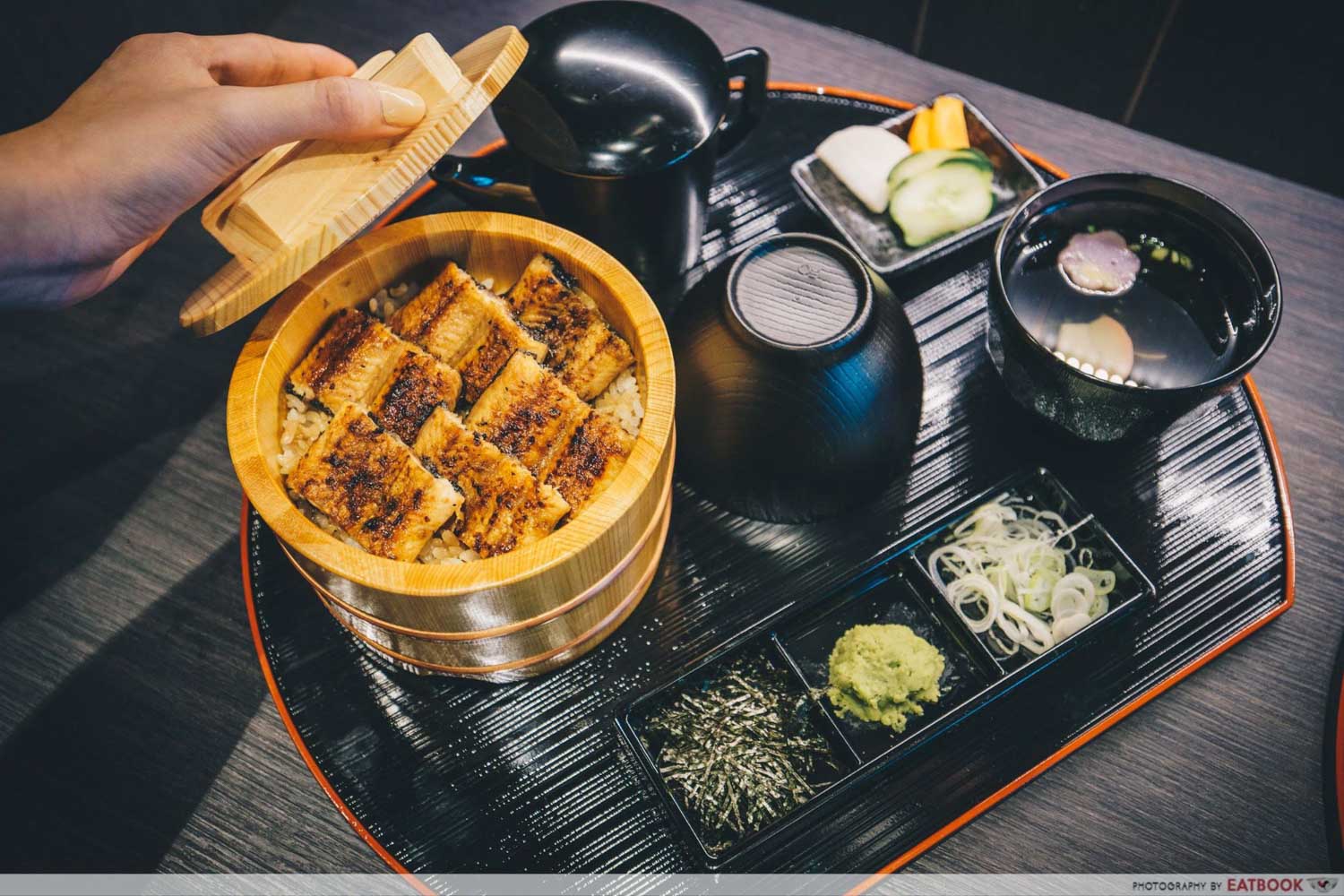 Hailing from Japan, Unagiya Ichinoji has well over a century's worth of history. The restaurant's expertise is in sweet and tender unagi that are freshly kept in store. The classic option is the Hitsumabushi ($26.80++ for small), which gives you a serving of freshly-grilled eel on Hokkaido rice.
For those with bigger appetites and even beefier wallets, there's the Extra Large Hitsumabushi ($84.80++) with three entire eels laid on a giant bed of rice. It's probably best to split this gigantic meal between a couple of unagi-loving friends. 
Check out our full review of Unagiya Ichinoji!
Address: 30 Robertson Quay, #01-05, Riverside View, Singapore 238251
Opening hours: Daily 11:30am to 3pm, 5:30pm to 10pm
Tel: 6732 1970
---
2. Super Loco

---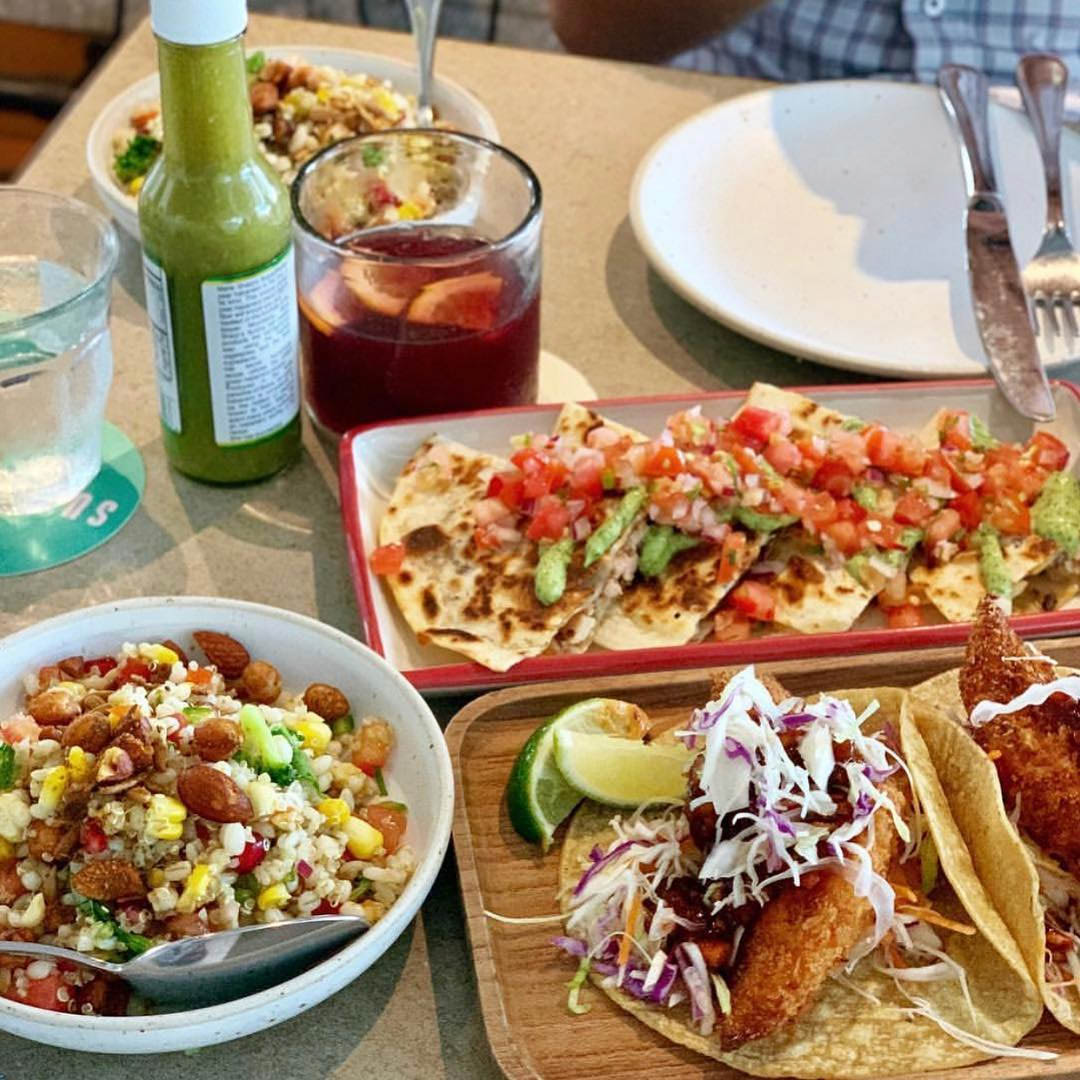 Image credit: @itsraininggrey
If you're a huge fan of Mexican food, you'll be going un poco loco when you visit Super Loco at Robertson Quay. The cosy restaurant offers authentic Mexican cuisine, like Al Pastor Tacos ($9++ each) and Huitlacoche Quesadillas ($16++). The latter features toasted quesadillas with tons of chunky salsa and truffle-like huitlacoche mushrooms.
For date nights or group outings, you can get the El Loco ($45++) set meal that comes with six courses, with dessert included! This set meal brings you on a tour of Mexico, offering a taste of its classic street food. Fork out a little bit more cash and get the Head Honcho ($65++) set that comes with nine courses if you wanna try a wide variety of dishes. 
Address: 60 Robertson Quay, #01-13, The Quayside, Singapore 238252
Opening hours: Mon-Tues 5pm to 10pm, Wed-Fri 5pm to 12am, Sat 10am to 3:30pm, 5pm to 12am, Sun 10am to 3:30pm, 5pm to 10pm
Tel: 6235 8900
Website
---
3. Shin Minori
---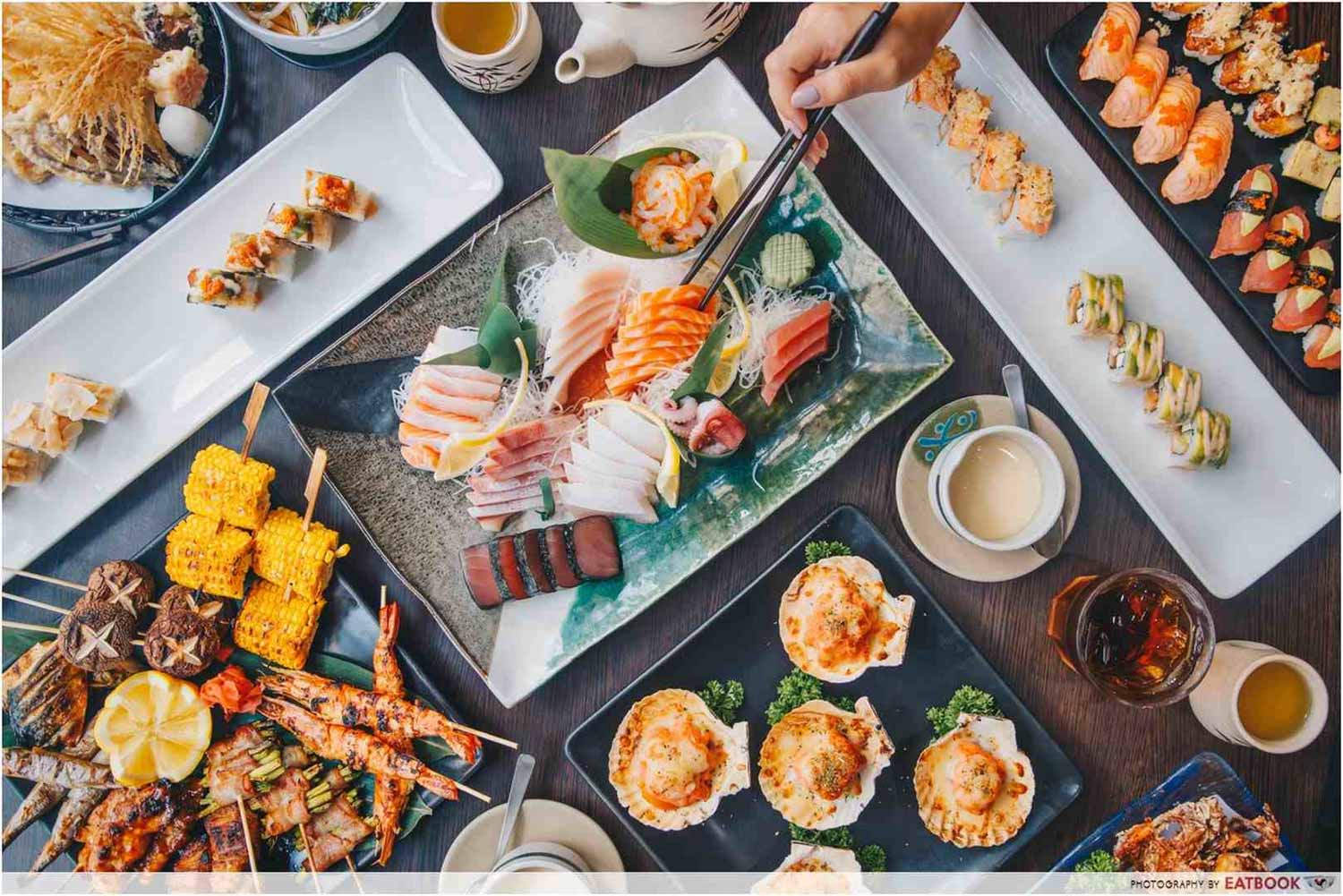 Found in UE Square, Shin Minori offers an all-you-can-eat Lunch Buffet at $43.90++. While that might seem pricey, it's worth considering that it has over 200 items! You can get a free-flow selection of the classic sashimi types—salmon, tuna, swordfish, and hamachi. Everything you'd expect to order from a sushi restaurant can be found here too, including ebiko and ebi sushi, along with dozens of hand and sushi rolls.
It's not all about raw food at this Robertson Quay Japanese restaurant. The buffet comes with appetisers, tempura, grilled meat and fish, rice sets, noodles, and soup. If you're the kind of big eater who splurges $50 on conveyor belt sushi, you might want to give this place a visit.
Address: 81 Clemenceau Avenue, #03-15/16, UE Square, Singapore 239917
Opening hours: Mon-Sat 11:30am to 2:30pm, 6pm to 10:30pm, Sun 12pm to 3pm, 6pm to 10:30pm
Tel: 6733 2272
Website
---
4. Common Man Coffee Roasters
---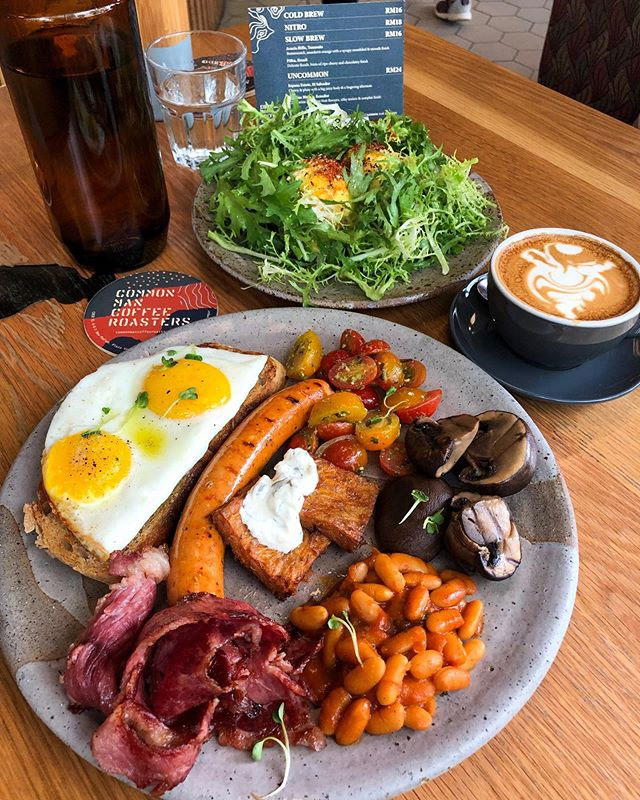 Image credit: @eatforthegramkl
Serving up all-day brunches, Common Man Coffee Roasters opens a lot earlier than most of the restaurants on this list. The Singapore-based coffee house roasts their own beans and takes their coffee seriously. This cosy cafe offers a scrumptious Common Man Full Breakfast ($27++) set, which comes with items like organic eggs, a grilled pork sausage, juicy mushrooms, and sourdough or wholemeal toast.
The Espresso starts at $5++, and their single-origin Fast Brew comes at $6.50++ and features whatever single-origin brew is in that season. After 11am, Common Man starts serving lunch. On top of the usual salads and sandwiches, there's the Common Man Burger ($27++), comprising a juicy house-made beef patty and sweet onion jam, for those looking for a filling lunch.
Address: 22 Martin Road, #01-00, Singapore 239058
Opening hours: Mon-Fri 7:30am to 5:00pm, Sat-Sun 7:30am to 6:00pm
Tel: 6836 4695
Website
---
5. Bella Pizza
---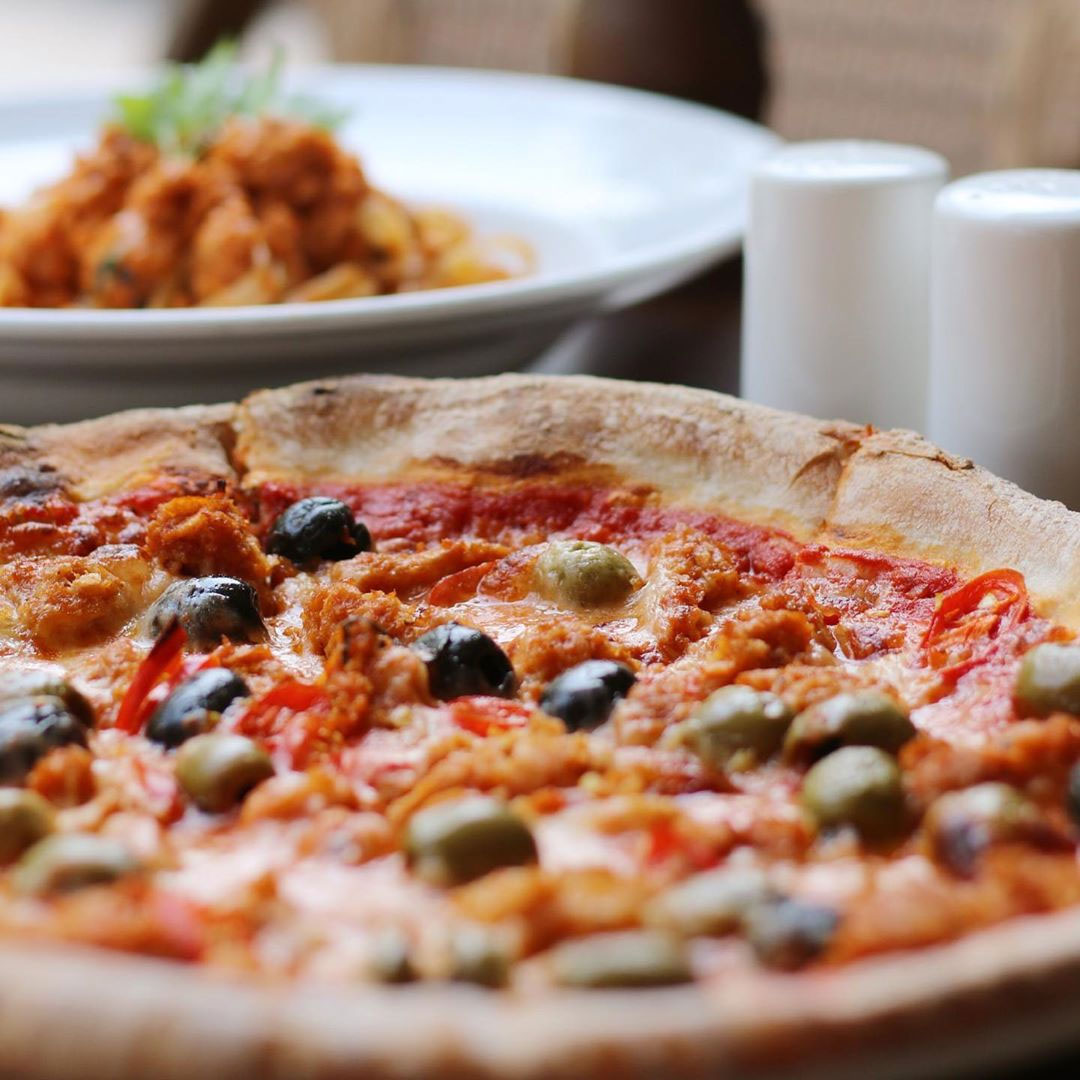 Image credit: @bellapizzasg
Located right by the Singapore River, Bella Pizza has full set meals from 12pm to 3pm. Their Weekday Set Lunch ($20++) lets you choose a starter, main courses such as Spaghetti Vongole and Pizza Margherita, and either a Tiramisu or Gelato to end off the meal. It's really value for money, considering the location as well as the quality of dishes. 
Right next to the restaurant is their sister store, Bella Pasta. These two restaurants offer a wide range of affordable options when it comes to Italian food.
Address: 30 Robertson Quay, #01-14, Riverside View, Singapore 238251
Opening hours: Tues-Thur 12pm to 3pm, 6pm to 11pm, Fri-Sat 12pm to 3pm, 5:30pm to 11:30pm, Sun 11:30 am to 3pm, 5:30pm to 11pm
Website
---
6. Three Buns
---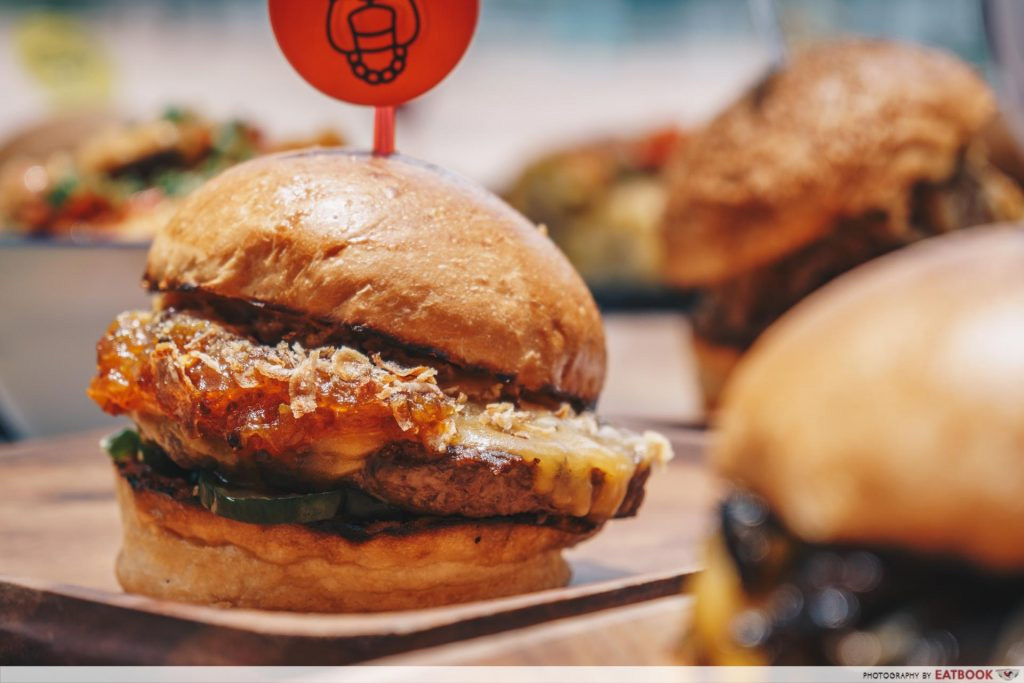 Three Buns by Potato Head Folk is a gourmet burger bar that focuses on sustainability. The Robertson Quay restaurant serves huge and juicy burgers that are coated in house-made sauces and upcycled ingredients. The Bun DMC ($17++) is the best example of this. The burger's watermelon relish is made from the fruit's rind, so as to minimise as much wastage as possible.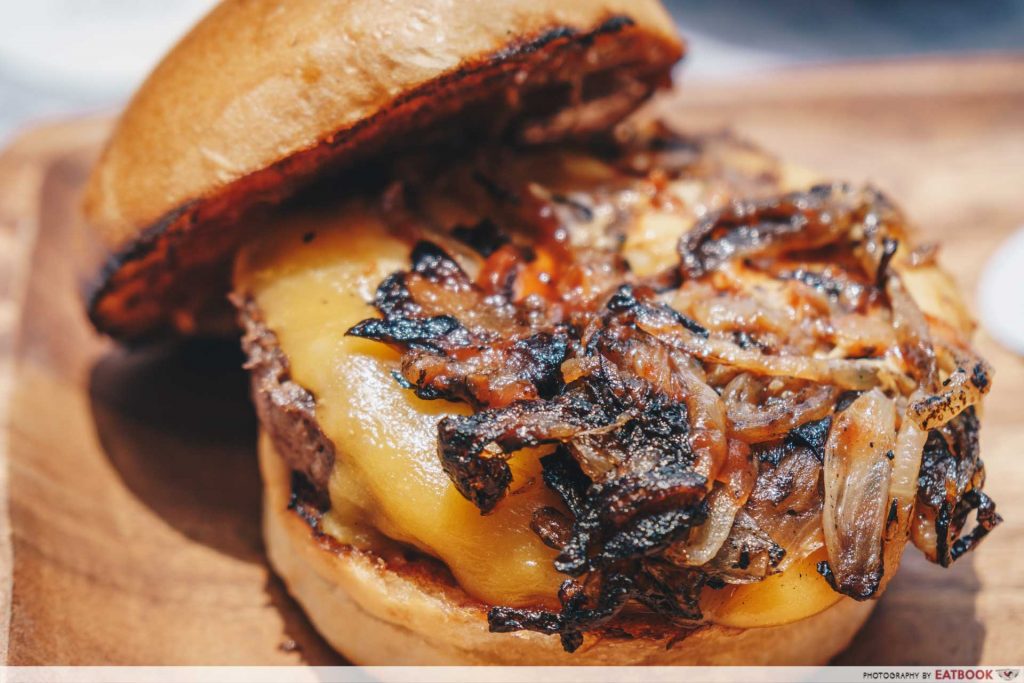 A little more conventional is their Da Cheese Master ($17++), served with umami-packed miso mustard and crunchy charred onions. They use a juicy 150g patty, and the burger has a layer of sharp cheddar cheese to give another boost of flavour. Aside from the addition of Eastern flair, this burger is a savoury cheeseburger at heart.
Take a look at our full review of Three Buns here!
Address: 60 Robertson Quay, #01-01, Singapore 238252
Opening hours: Tue-Fri 5pm to 12am, Sat-Sun 11am to 12am
Tel: 6909 7838
Website
---
7. Moc Quan
---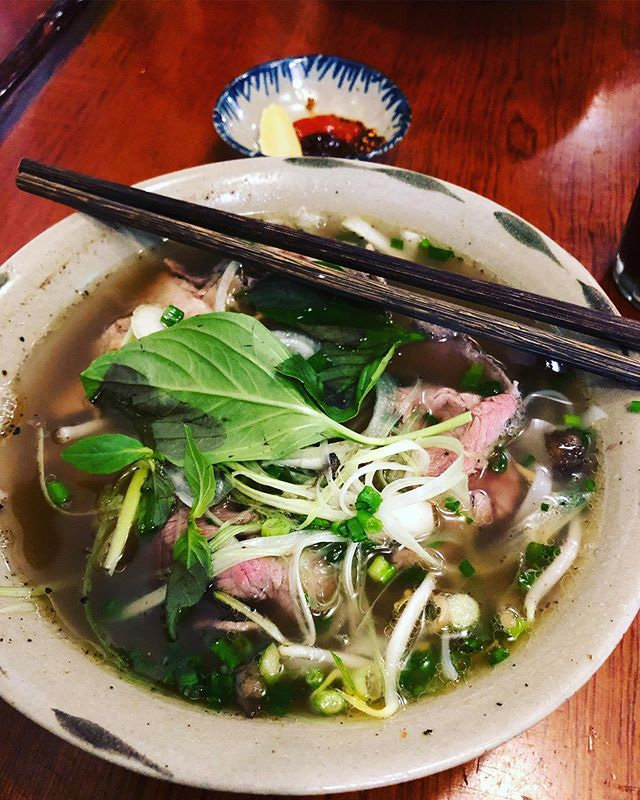 Image credit: @supriyaghosh
Robertson Quay plays host to a dozen different cultures when it comes to food, including Japanese, Persian, Indian, and Mexican. Adding to that list is Vietnamese restaurant Moc Quan, which serves up affordable pho and banh mi. Their beef Pho Bo costs $11.50++, and comes with tender slices of brisket that are swimming in a flavourful broth. 
Moc Quan's sandwiches come at a similar price point. The Banh Mi Thit ($7.90++) is packed with Vietnamese deli meat and house-made pork pate, and there are vegetarian options like the tofu-filled Banh Mi Dau Hu Chien ($6.50++). The restaurant is as real as it gets, with the owners flying to Vietnam and hand carrying ingredients back on a weekly basis. 
Address: 81 Clemenceau Avenue, UE Square Shopping Mall, #01-23, Singapore 239917
Opening hours: Tue-Sun 10am to 10pm
Tel: 6736 0123
Website
---
8. Toby's Estate 
---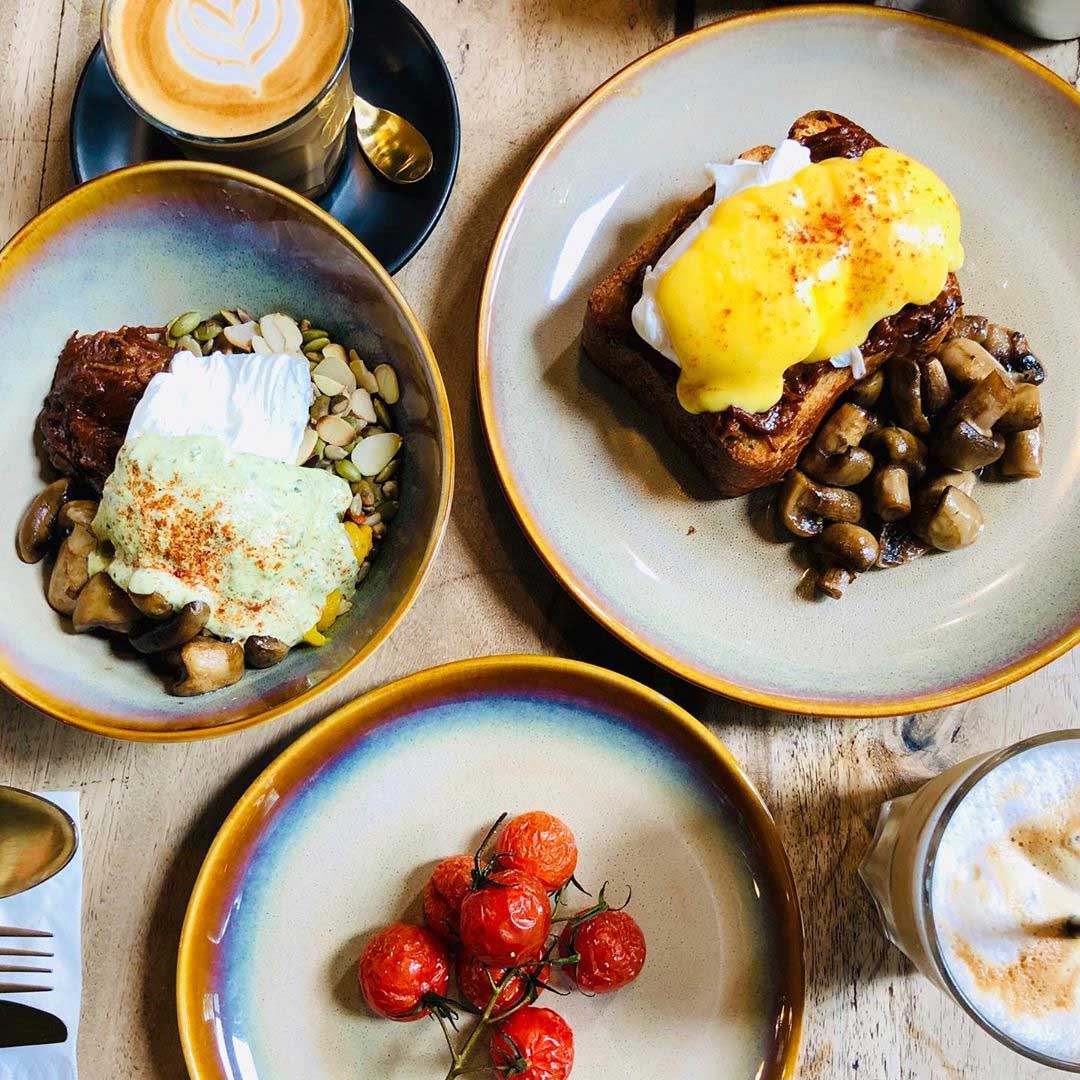 Image credit: @zoeyzoeyyyy
Like Common Man Roasters, Toby's Estate opens early and serves all-day breakfast. The speciality coffee house roasts their own beans and makes its own house blends, which it proudly presents alongside hearty breakfast and brunch options. The signature is their aromatic Woolloomooloo coffee blend, which is used in their Espresso ($3.50++) and Cappuccino ($4.90++).
Plates of savoury Eggs Benedict ($20++) can be ordered three ways: Brooklyn-style with stewed beef, Woolly-style with prosciutto, or Rodyk-style with smoked salmon. Lunch options are available past noon, and you'll find burgers and salads such as The New Tobias Burger ($25++) and Mediterranean Quinoa Salad ($16++).
Address: 8 Rodyk Street, #01-03/04, Singapore 238216
Opening hours: Sun-Thu 7:30am to 6pm, Fri-Sat 7:30am to 7pm
Tel: 6636 7629
Website
---
9. Limoncello
---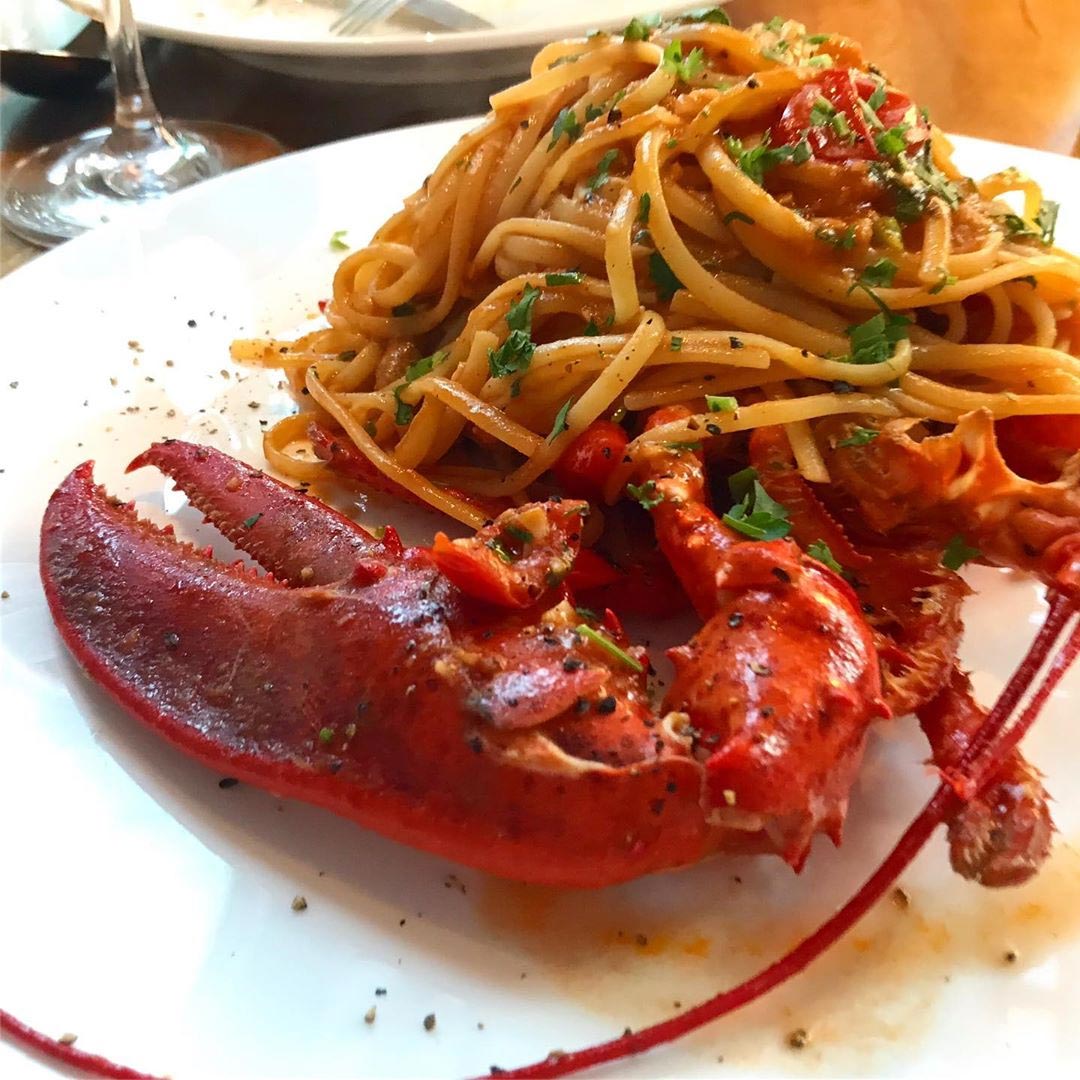 Image credit: @shukubou
Limoncello proudly presents authentic cuisine from the Amalfi Coast of Italy that's located in the province of Salerno. Seafood lovers can get a taste of the deluxe Linguine Aragosta ($39++), containing half of a live Boston lobster. The Italian restaurant also serves dishes like their signature Limoncello ($29++) pizza that comes with house-made white sauce and beef sausage. 
An Executive Set Lunch ($35++) is available in the afternoon from Wednesday to Friday, where diners get a starter, a main course, and dessert. The four choices of mains are their Veal cutlet Milanese, Veal cutlet Milanese served with french fries, Spaghetti with fresh mix seafood in a delicate sauce, or the vegetarian Linguine with truffle oil aroma.
Address: 95 Robertson Quay, Rivergate Condominium, #01-19/20, Singapore 238256
Opening hours: Mon-Tues 5:30pm to 10:30pm, Wed-Sun 12pm to 2:30pm, 5:30pm to 10:30pm
Tel: 6634 5117
Website
---
10. Goku Motsunabe 
---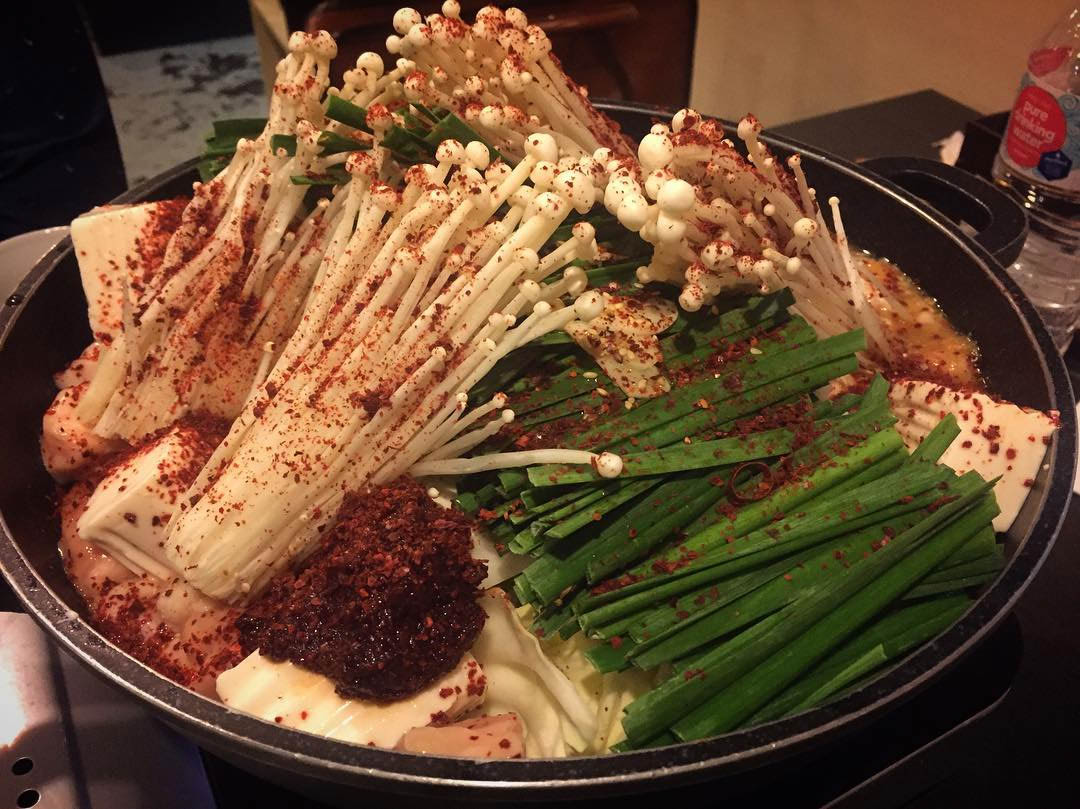 Image credit: @happy_ju0206
Despite having been around since 2011, Goku Motsunabe has remained relatively under the radar so far. The Japanese restaurant specialises in motsunabe hotpot. Motsunabe is a style of hotpot that uses beef offal instead of the standard cuts. It's also typically served with a miso or shoyu soup base. A serving of Beef Intestines Hot Pot will set you back by $29++, and you can pick from flavours such as soy sauce, miso, salt, spicy miso, and natto miso. 
If you're not in the mood for hotpot or are put off by intestines, Goku Motsunabe has tons of other wallet-friendly options. All their pasta dishes are $10++, with options like their Cheesy Tomato Pasta, Japanese Carbonara, and Mentaiko Pasta. Their stir-fry options are suitable for sharing with friends. There are dishes like Spicy Stir Fry Beef Intestines ($12++), Soy Braised Pork Belly ($10++) and Stir Fry Squid With Ink ($15++).
Address: 33 Mohamed Sultan Road, #01-02, Singapore 238977
Opening hours: Mon-Sat 6pm to 2am, Sun 6pm to 10pm
Tel: 6735 4232
Website
---
Restaurants at Robertson Quay
---
There's no shortage of dining options at Robertson Quay. The area holds dozens of different cuisines and is the perfect place to end off a long week at. Sit down by the river and watch the sunset while enjoying a plate of fragrant pasta or juicy tacos. 
Right across the river is Clarke Quay. The smaller sibling has plenty of places to eat, drink and be merry too, including another unagi restaurant—Man Man Unagi, and a DIY takoyaki restaurant!
10 Food Near Clarke Quay MRT Including XXL Meat Platters, Matcha Tiramisu And More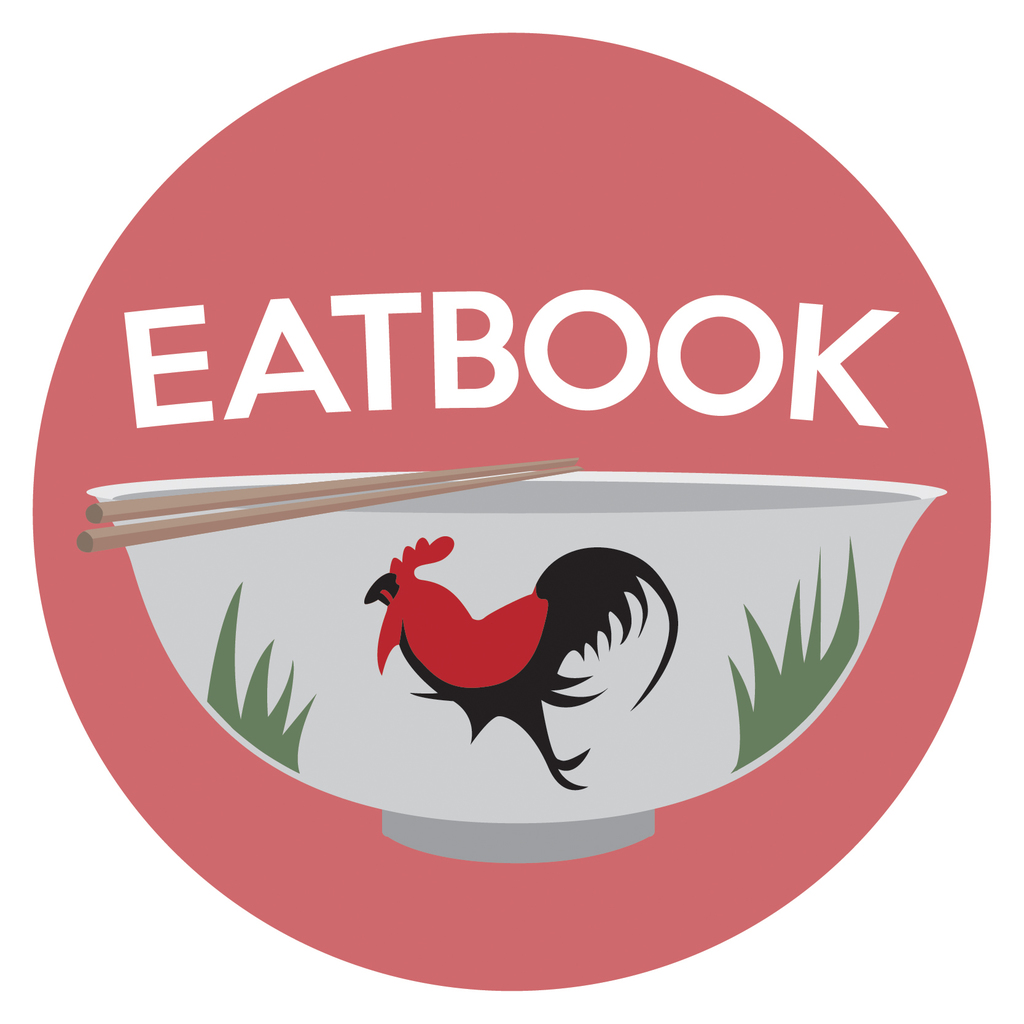 Drop us your email so you won't miss the latest news.