Unagiya Ichinoji is here at Robertson Quay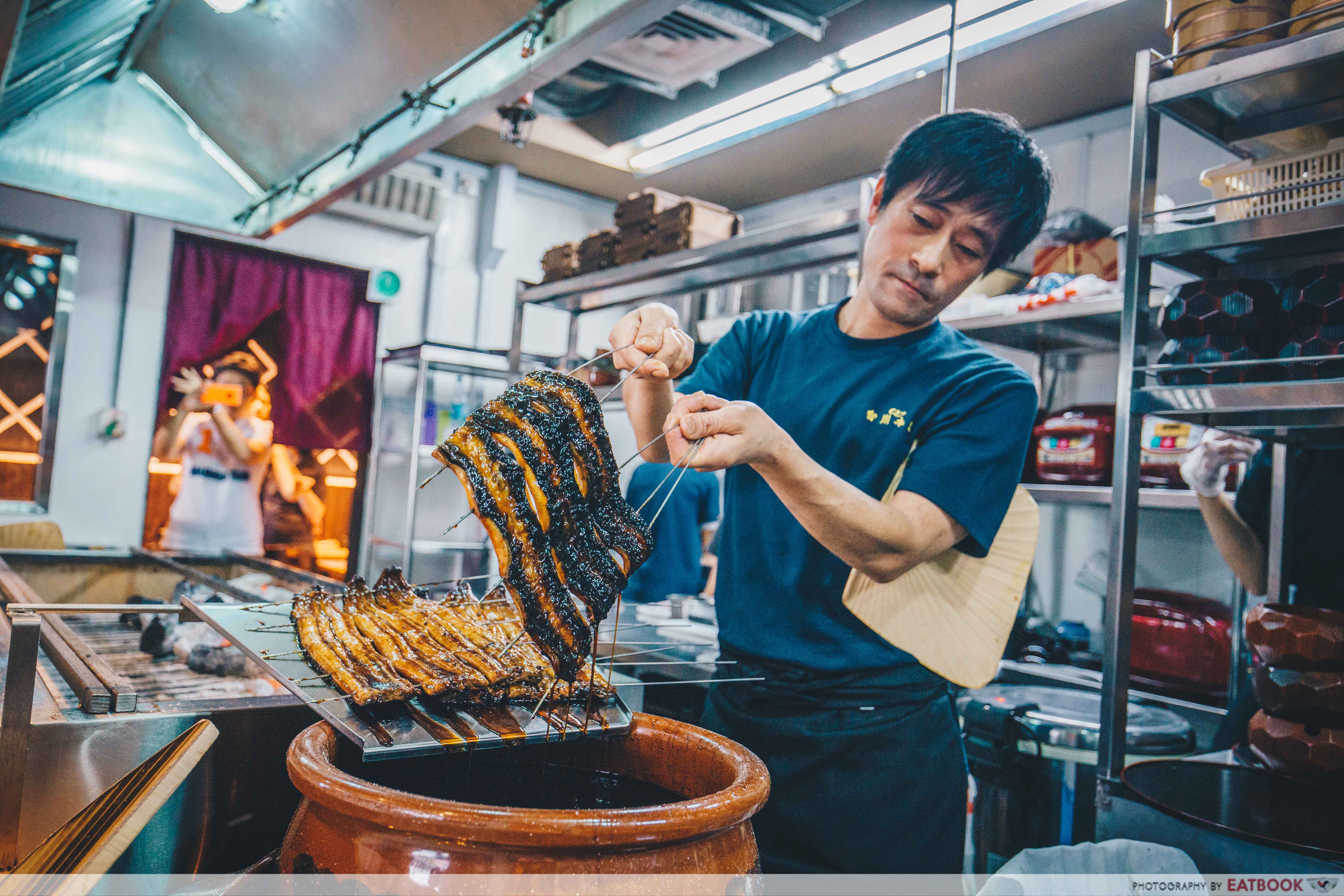 Miyagawa Honten, an unagi specialist franchise from Japan, has opened its very first outlet in Singapore: Unagiya Ichinoji! I did a little googling online, and my interest was immediately piqued when I discovered that the franchise has a rich 125 year history. For a food business that's been in the running for so long, it goes without saying that its unagi must truly be something special.  
Food at Unagiya Ichinoji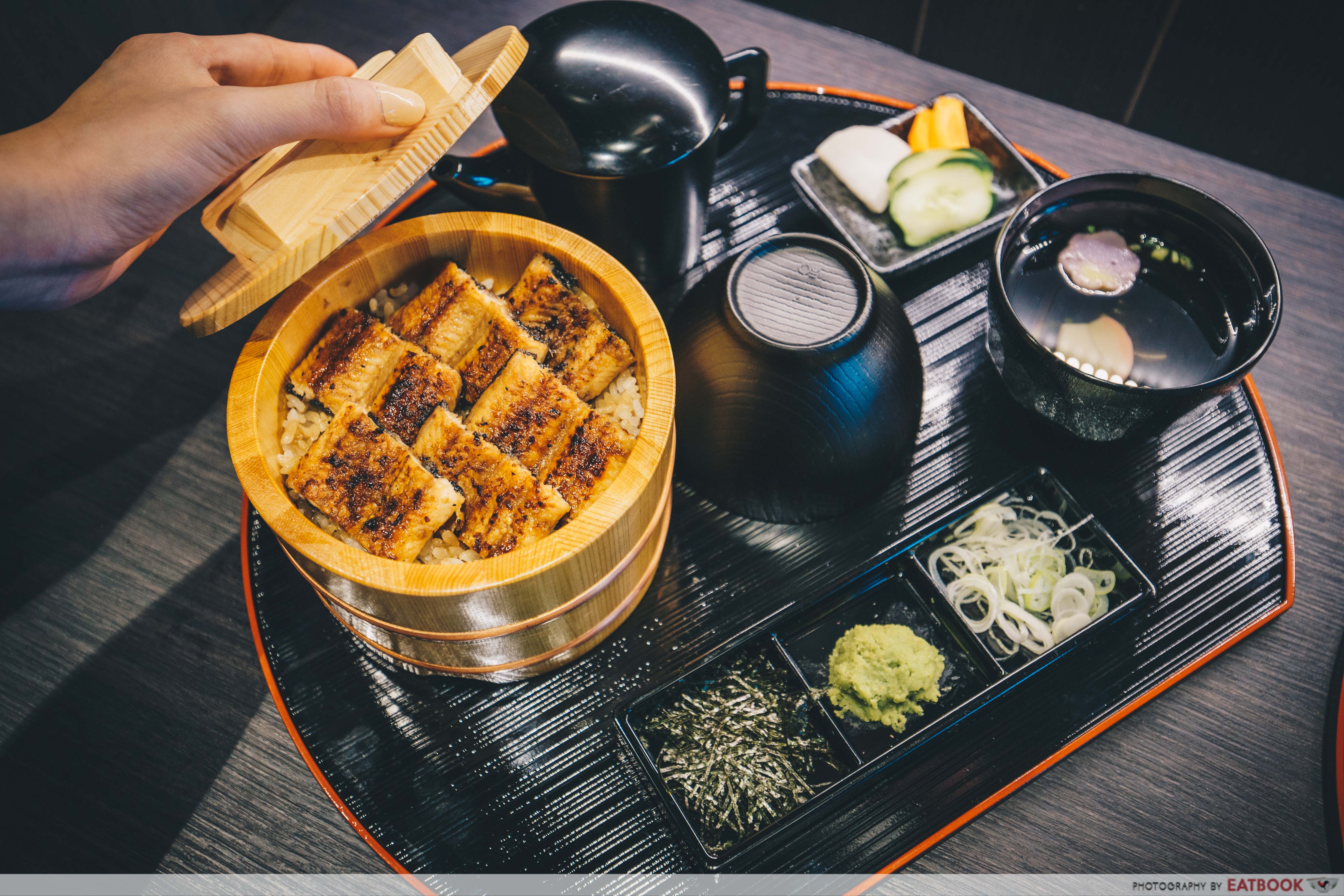 The first dish that arrived to our table was the Hitsumabushi ($19.80 for small). I'd say this is rather affordably priced since Man Man's and Uya's are both above $25++. The Hitsumabushi set consists of a bowl of soup, some garnishing at the side, a small pitcher of dashi (clear broth), and a bamboo steamer containing unagi with Hokkaido rice.
The unagi is steamed first, before being charcoal-grilled to give it a nice, smoky flavour.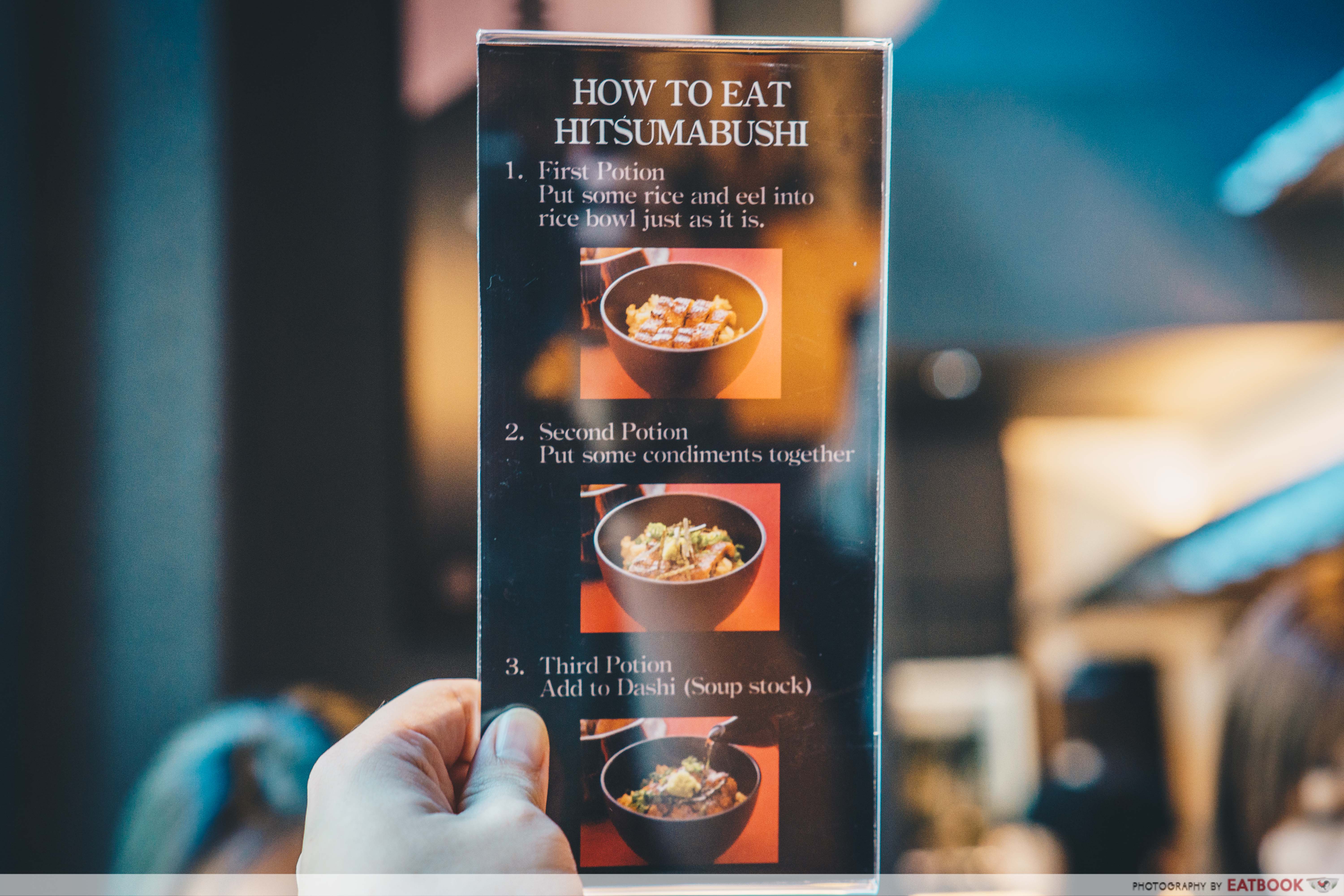 There are actually four steps to eating Hitsumabushi, and a small guide is placed on every table to help guide you through. Basically, divide your bowl of rice and eel into four portions. For the first portion, enjoy it just as it is to fully savour the taste of the marinated eel. Secondly, garnish it with the side of seaweed, onions and wasabi provided to further enhance the eel's flavour. For the third portion, pour in a sufficient amount of dashi and enjoy your unagi with a moist soup base. Finally, go crazy and have it however you like.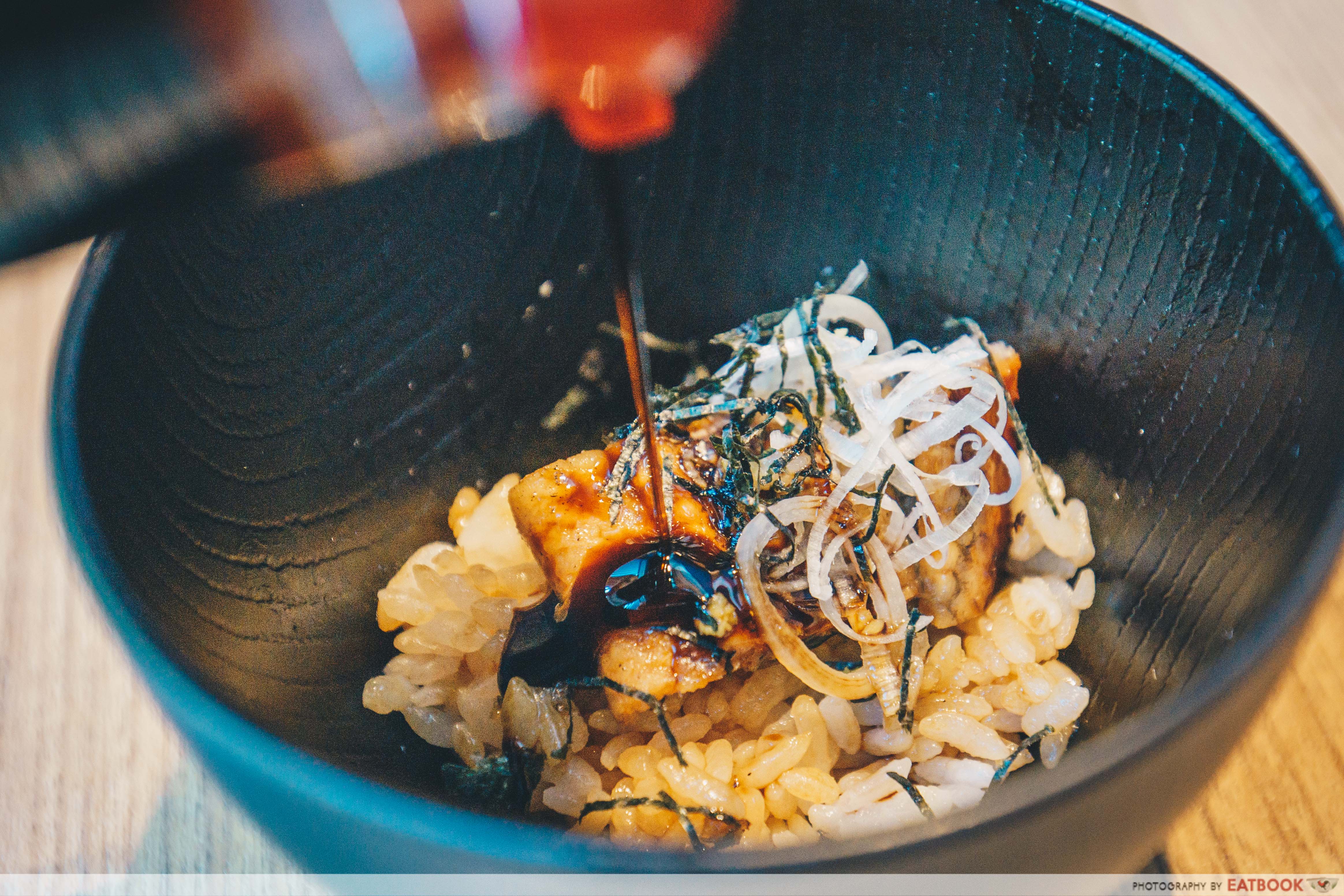 The unagi was soft and tender, and its skin had a jelly-like texture. However, I found the fine bones in the meat a little sharp and scratchy, distracting me from the flavours of the eel. For my 'freestyle' fourth portion, I also poured in extra tare—the unagi's basting sauce provided at every table—because I felt that the unagi, despite its salty-sweet marination, still lacked an oomph factor.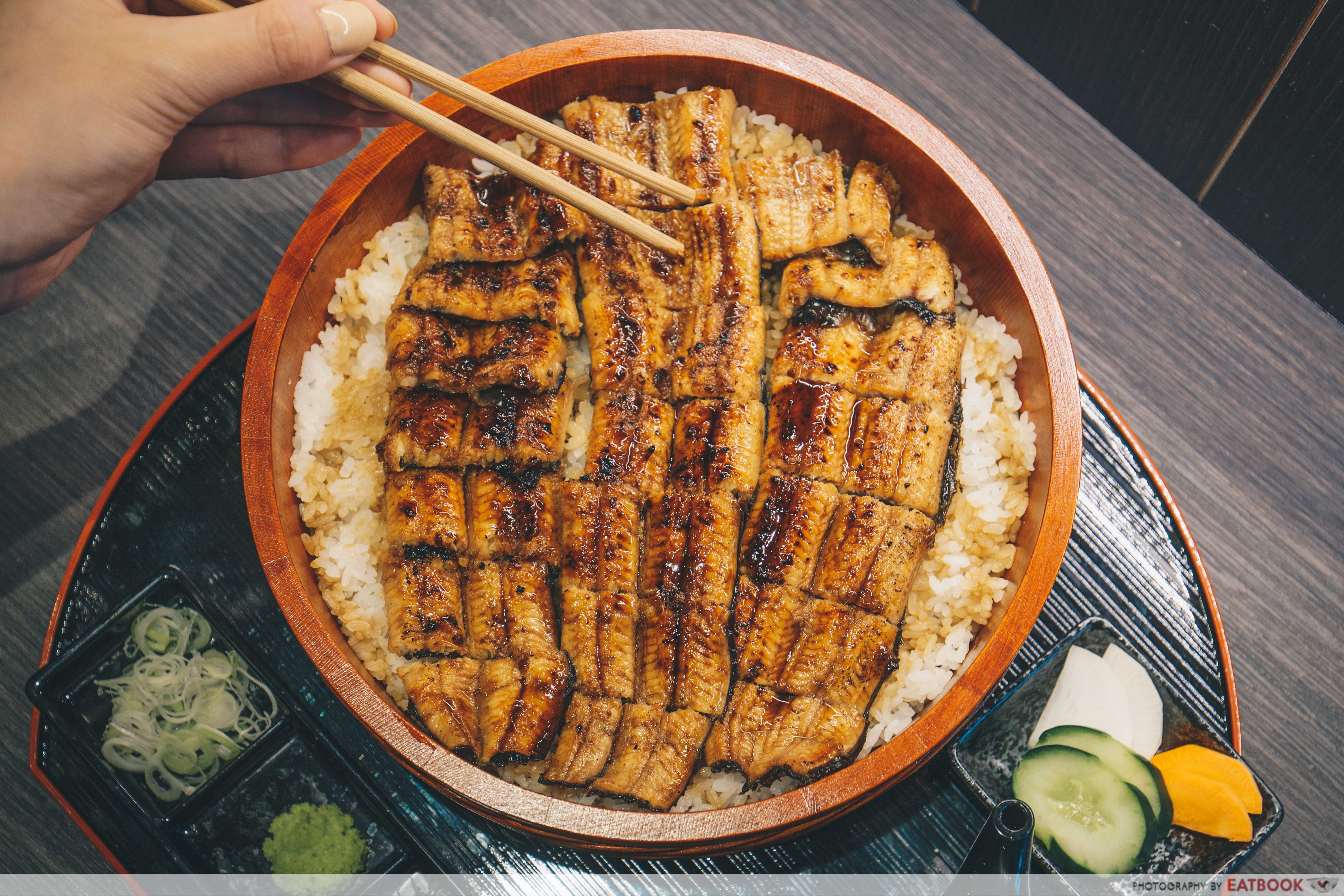 If you have an appetite greater than life itself, or are keen to share your meal, you might want to opt for the Hitsumabushi ($77.80 for extra large). Sizes for this set vary from S to XL, depending on how hungry you are.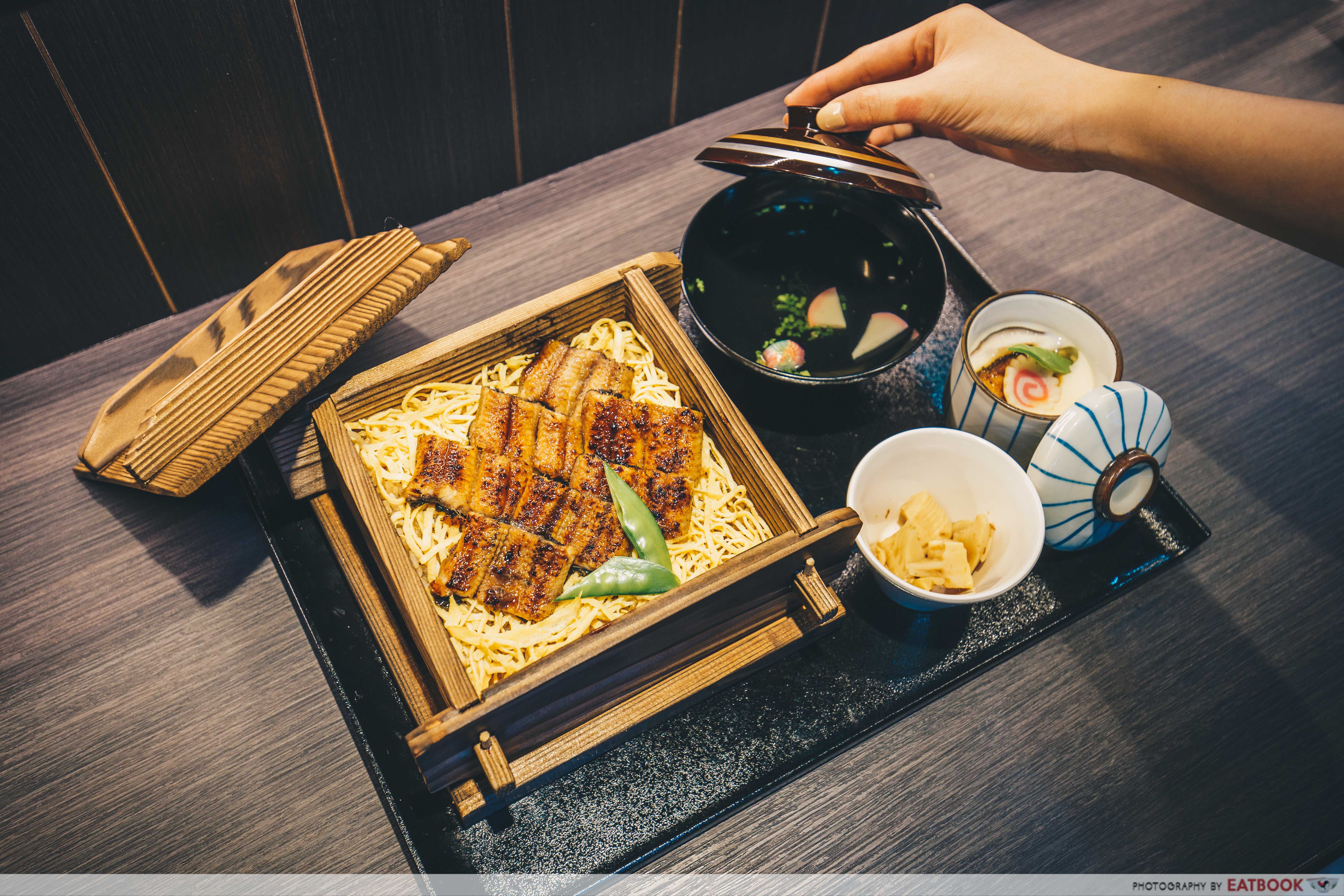 Next up came another interesting unagi variation called Seiro Mushi ($19.80, $24.80 with chawanmusi). The unagi and rice now included an additional blanketing of kinshi egg (shredded egg crepe).
I've had chawanmushi all my life, so I dug in with high expectations. Unfortunately, this chawanmushi, which came topped with a small slice of unagi, naruto and peas, rated pretty lowly on my scoreboard. The custard tasted rather bland, while the bitter flavour from the peas were a tad overwhelming.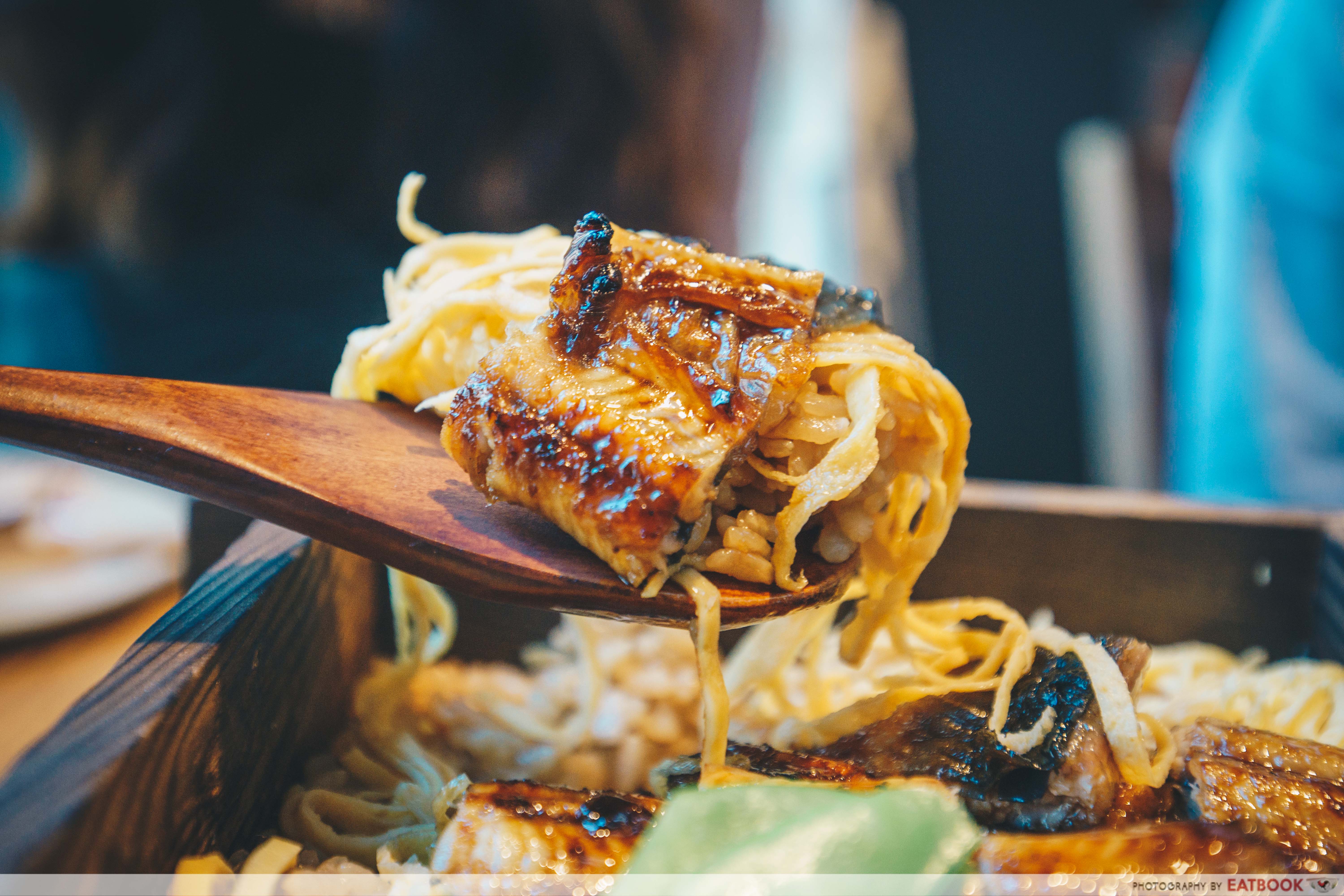 Nevertheless, I really liked the inclusion of the kinshi egg.  It's chewy texture reminded me of those shredded dried fish snacks.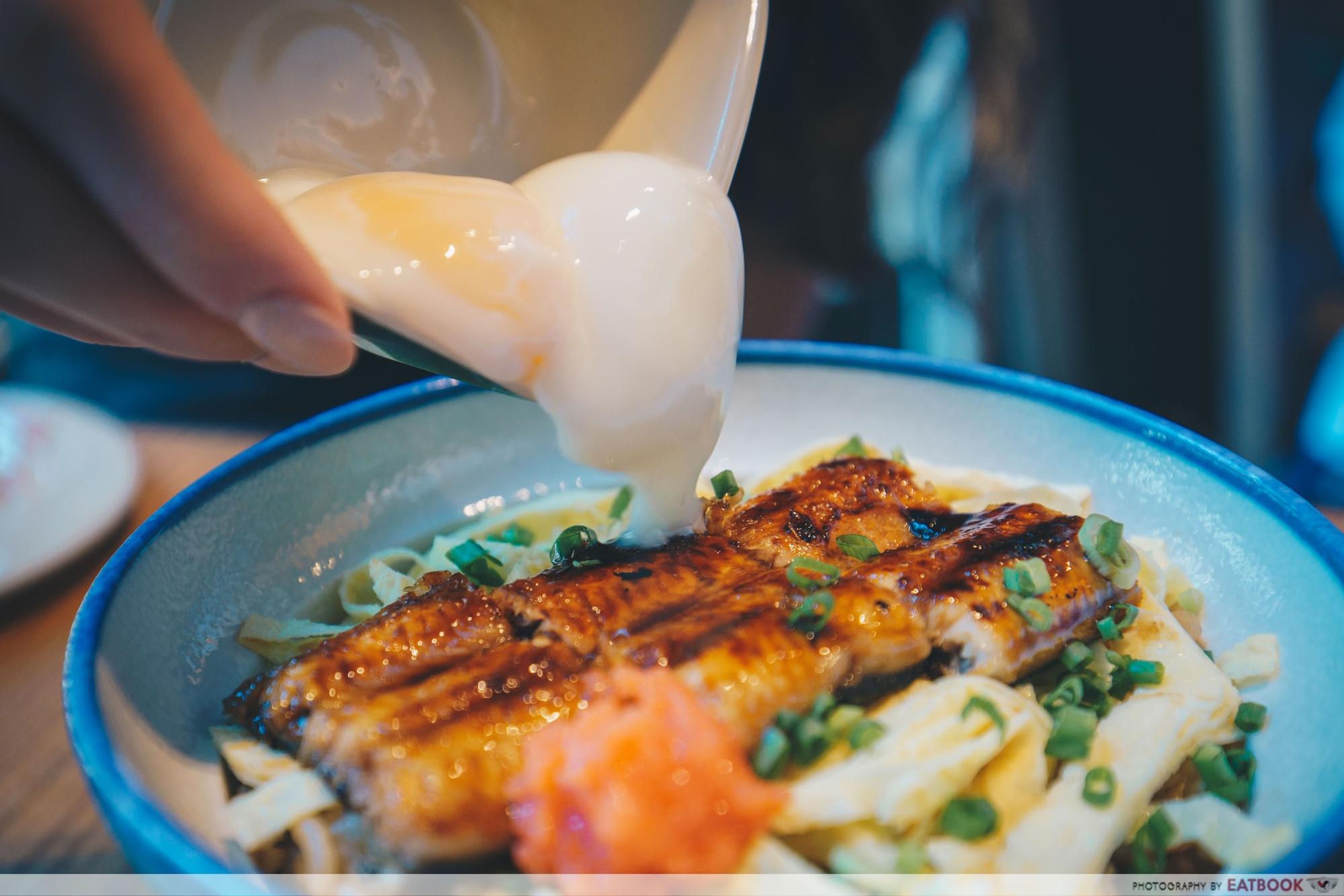 Finally, we were served the Mamushi Donburi ($18.80). The cheapest set on the menu, it was also my honest favourite. The rice bowl came topped with a layer of kinshi eggs and a dollop of mentaiko. The dish was accompanied by an onsen egg and Japanese yam, that were served separately on the side.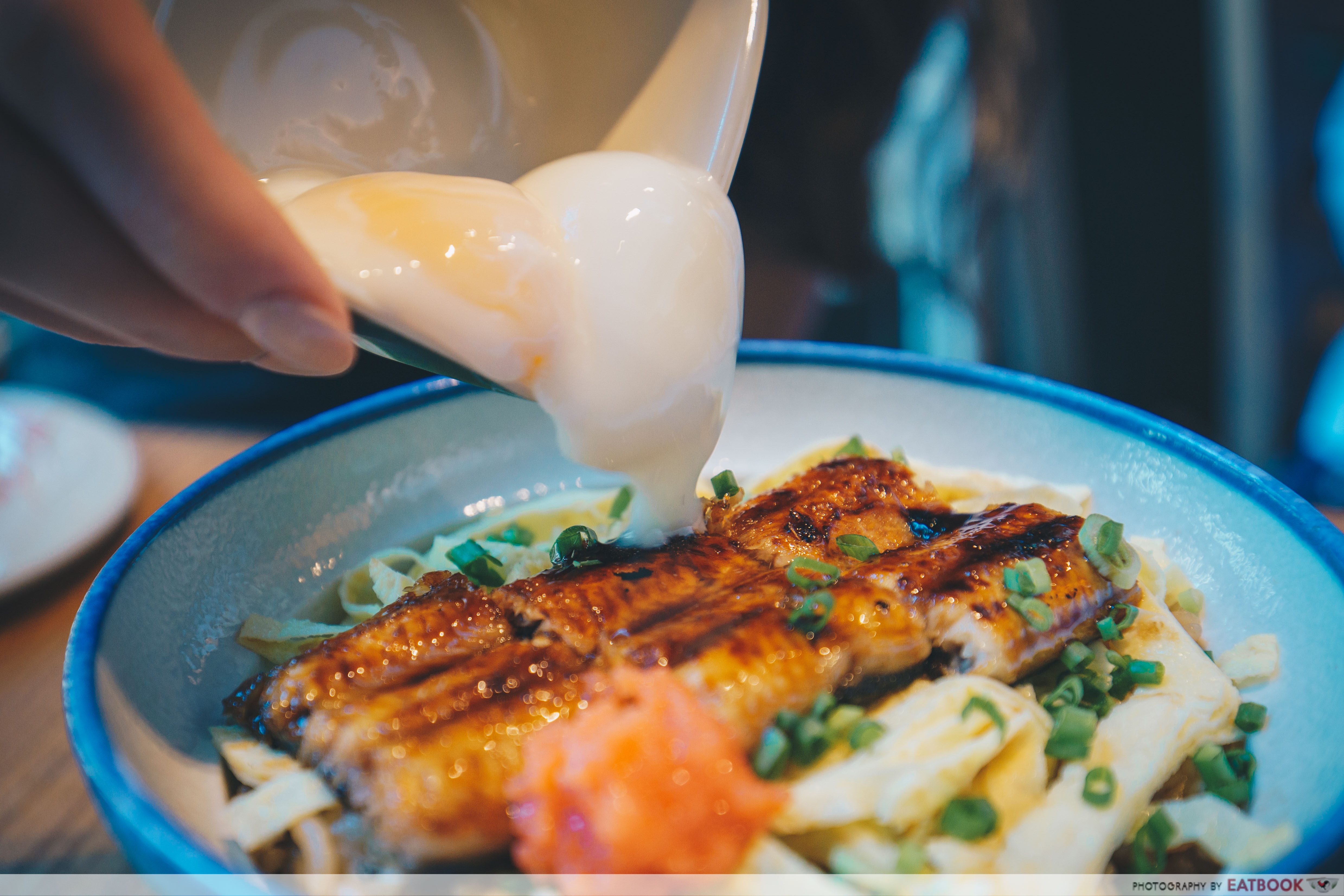 After pouring in the egg, we mixed the entire combination up with a wooden spoon. My colleague and I both agreed the addition of the egg made a pretty significant difference to the rice. It became more creamy and moist! Even the pollock roe helped enhance the umami in the dish. I realised I started helping myself to the rice a lot more than I did to the unagi.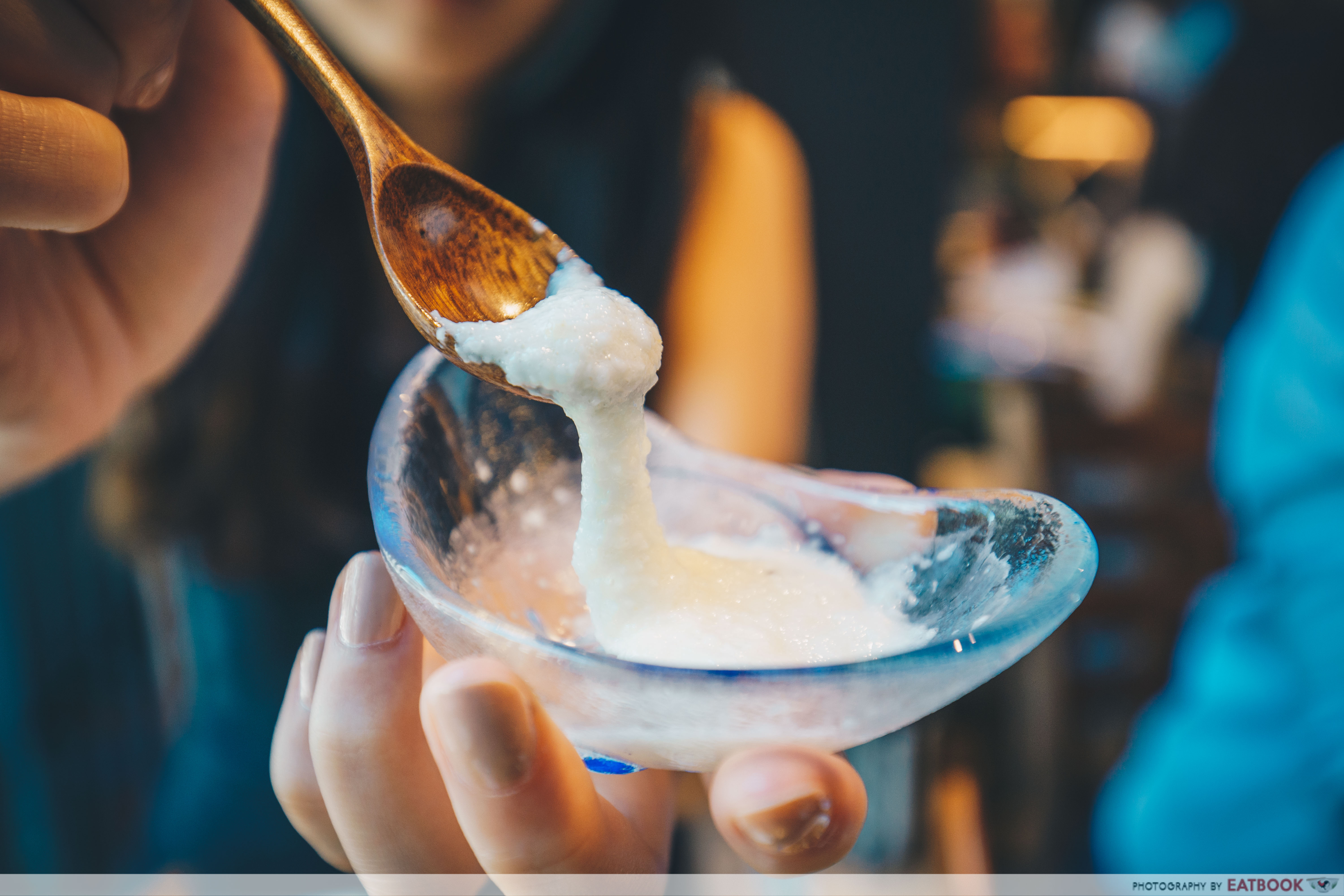 After a moment's hesitation, we decided it was now or never; we had to face the container of Japanese yam head-on. Or in my terms, the bowl of dubious-looking 'gooey white substance'.
The yam, also known as yamaimo, is a delicacy in Japan, and it sure did taste rather foreign in my mouth. It was cold and slimy, bearing a startling resemblance to the clear goop found in okra. It's slippery texture is supposed to help food slide down your throat with ease, but I think it still needs a lot more getting used to before I ever voluntarily have this with my food.
For all the ingredients we were served in the Mamushi Donburi, I found this set to be the most value-for-money.
Ambience at Unagiya Ichinoji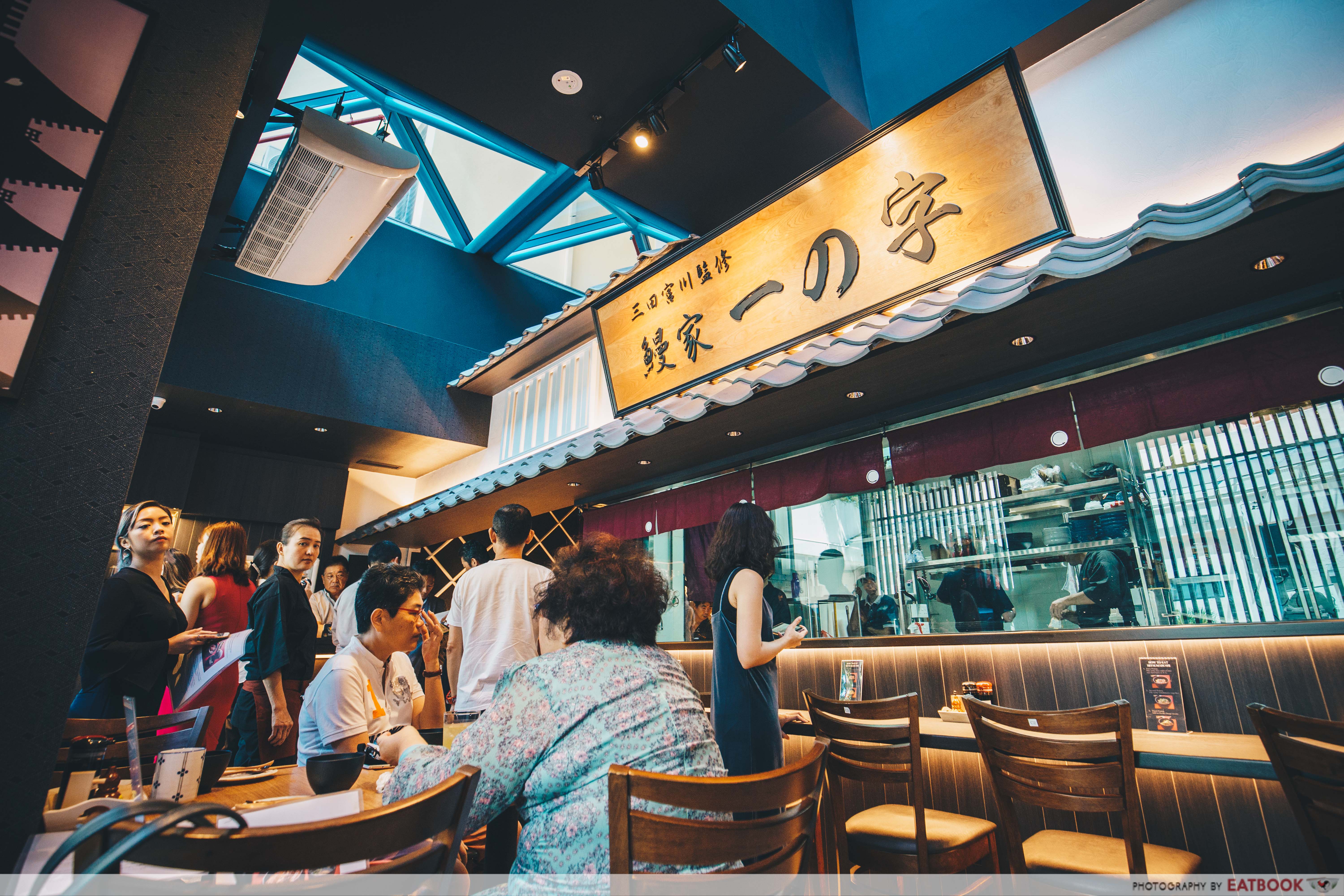 Everything about the 34-seater restaurant Unagiya Ichinoji screams Japanese, from the rustic furniture and wooden signboard to the Japanese chefs toiling about behind the glass walls of the see-through kitchen.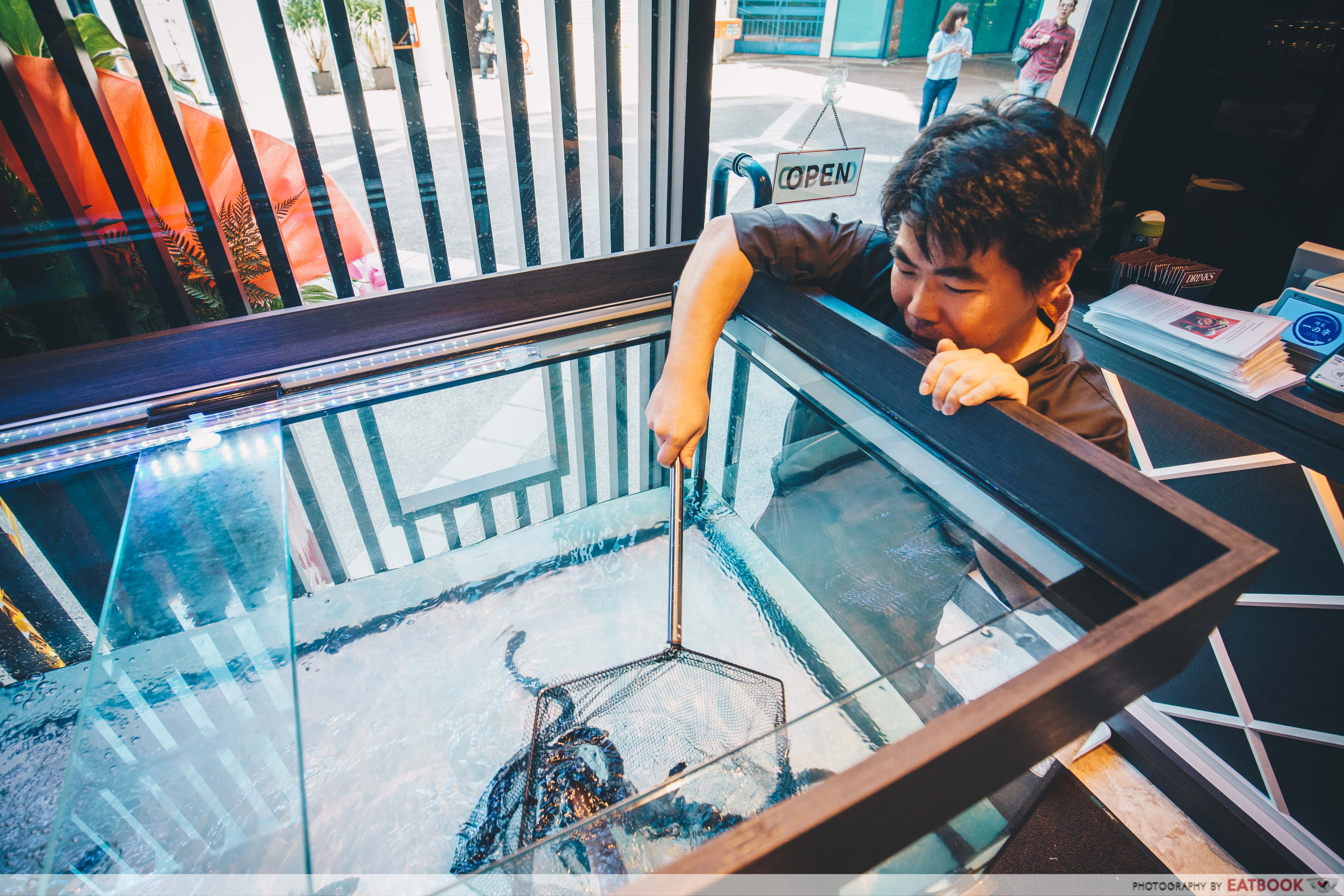 There was also a permanent installation of a glass tank filled with eels beside the restaurant exit. All the unagi in the eatery are served fresh from this giant aquarium.
Other than the three set meals we tried, Unagiya Ichinoji also offers Unagi Bone Cracker, Unagi Sushi Roll, Unagi Omelette, Unagi Salad and Unagi Simmered Boiled Liver. Truly an Unagi specialist!
The verdict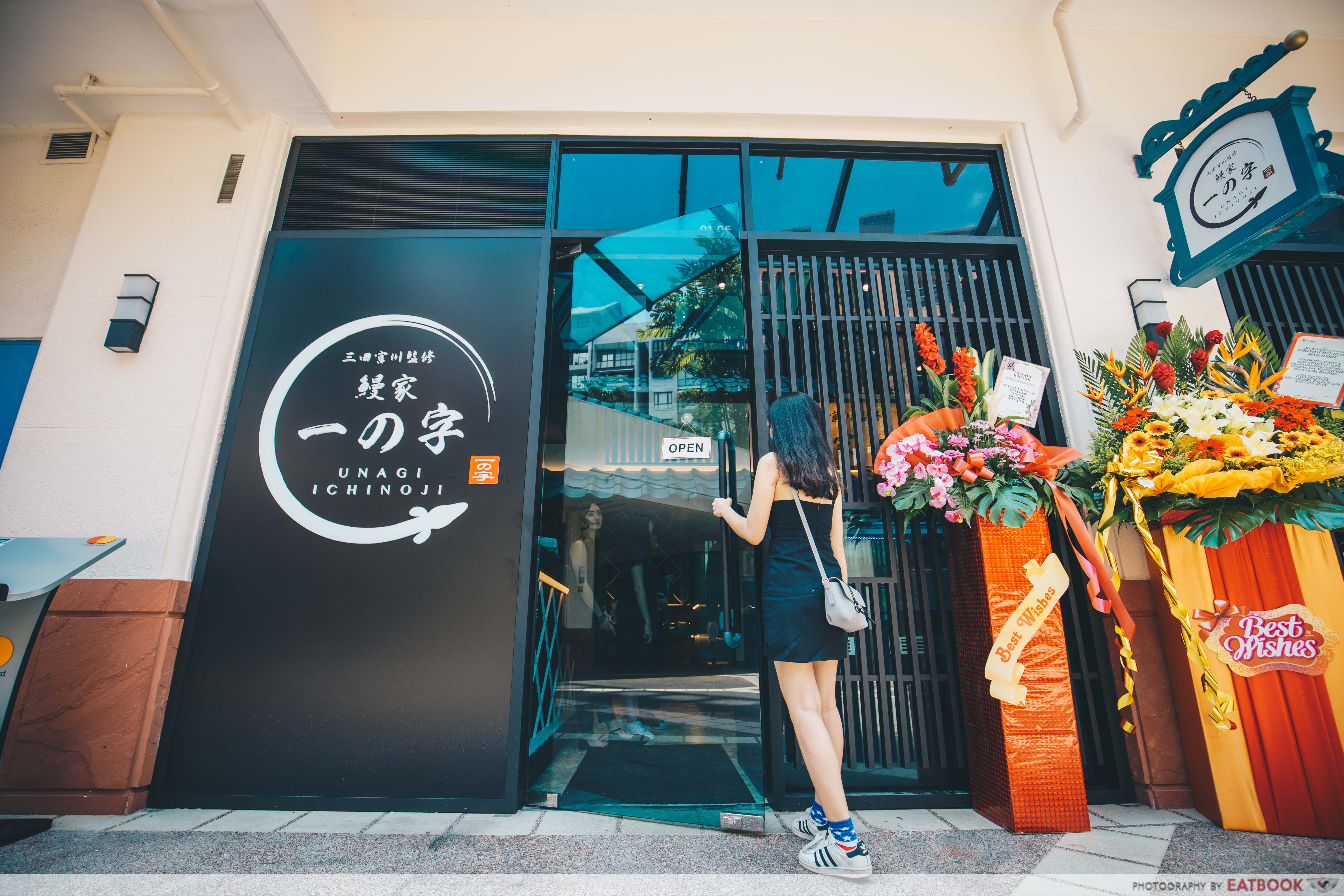 Apart from the fact my colleague and I had to make a ten minute walk to the eatery, the whole dining experience was pretty chill and cosy. The unagi was good, but I felt it could've used a stronger marination. If I'm ever in the area, I suppose making a trip down to Unagiya Ichinoji couldn't hurt my wallet much. Besides, my colleague who is a huge unagi fan was already making plans after our meal to book reservations on the weekend, so you can take his word for it that this place is really something special indeed.
Address: 30 Robertson Quay, #01-05, Riverside View, Singapore 238251
Opening hours:  Daily 11:30am to 3pm, 5:30pm to 10pm
Tel: 6732 1970
This was a media tasting at Unagiya Ichinoji.
Summary
Pros
– Authentic and tasty
– Affordable
– Nice ambience
Cons
– Eels lack stronger marination
– Quite a distance away from Clarke Quay MRT
Recommended dishes: Mamushi Donburi ($18.80)
Address: 30 Robertson Quay, #01-05, Riverside View, Singapore 238251
Opening hours: Daily 11:30am to 3pm, 5:30pm to 10pm