---
Western food stalls that offer huge portions
---
When the wallet's tight but the craving for chicken chop and fish and chips hits, two places come to mind – Astons and iSTEAKS. Most times, they leave me decently satisfied but the restless foodie in me knows that there are many more options out there. After some digging around, I've compiled this list of Western food stalls serving cheap, good, and generously portioned Western food!
---
1. 5 Star Corner
---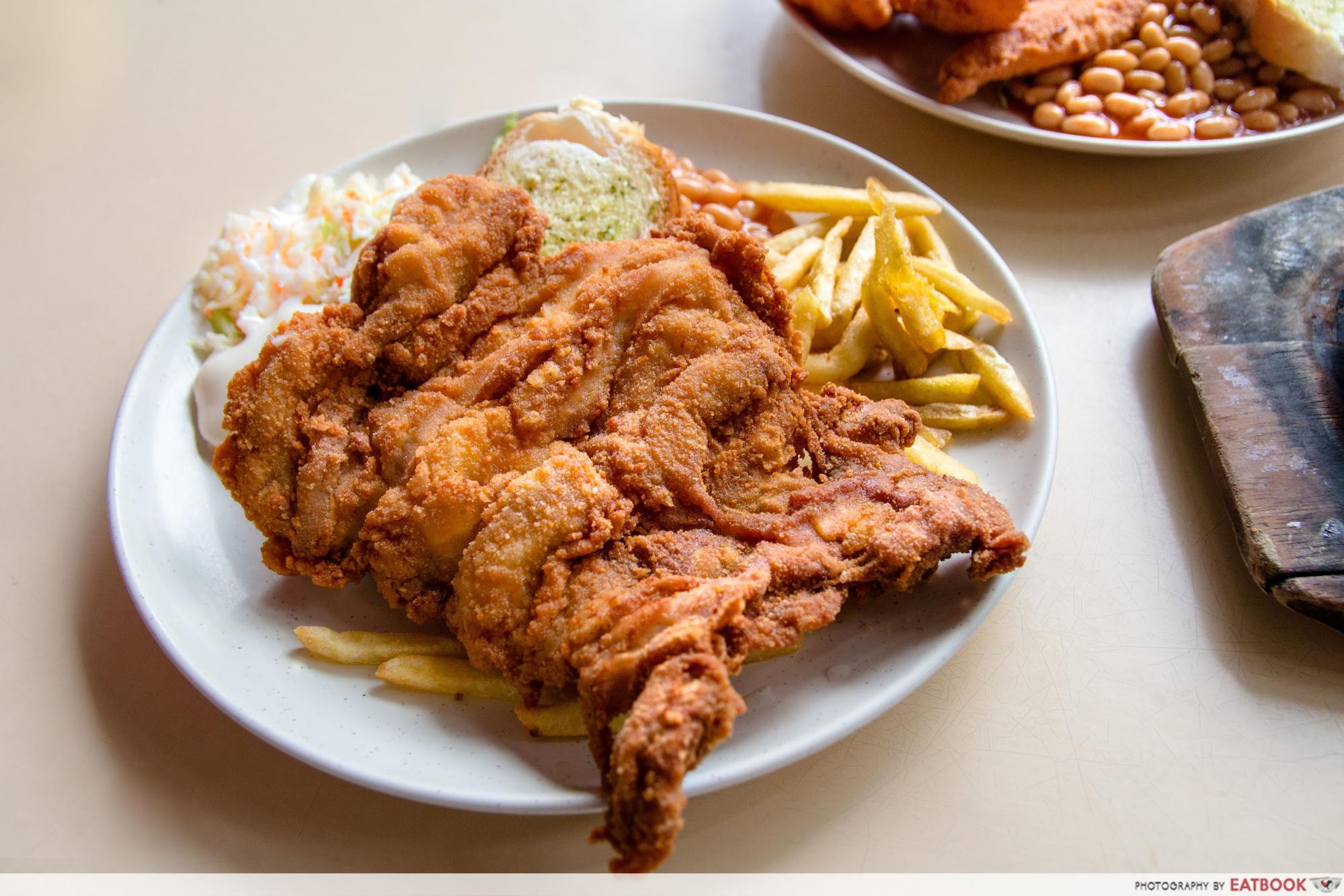 Residents of Kovan and Hougang would long be familiar with 5 Star Corner, which serves huge portions. The most memorable dish we tried was their Chicken Cutlet ($6). Besides the huge slab of fried meat that almost covered the entire plate, the dish also came with sides such as crispy fries, a piece of toasted garlic bread, baked beans, and a mountain of coleslaw. While the side dishes did not impress, the chicken's crispy skin and flavour-packed tender meat made the meal a satisfying one.
Check out our full review of 5 Star Corner!
Address: 805 Hougang Central, #01-116, Food Park, Singapore 530805
Opening hours: Daily 11am to 9pm
---
2. Wow Wow West Genuine
---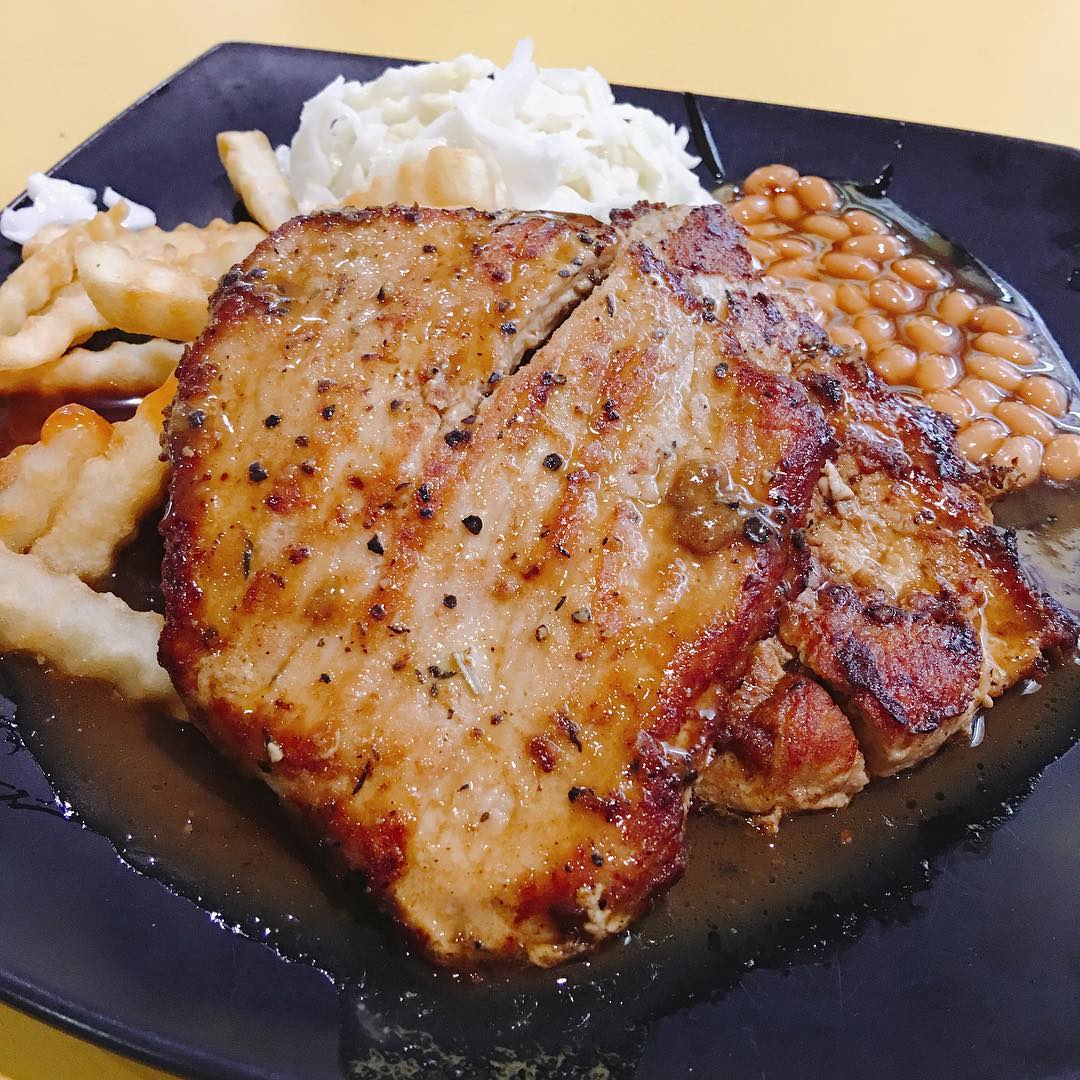 Image credit: @songz87
Started in 1999, Wow Wow West Genuine used to serve Western dishes to students at Raffles Institution's canteen before they moved to ABC Brickworks Food Centre. Their menu is simple, with typical Western dishes such as Pork Chop ($7), Fish and Chips ($7), and Chicken Cutlet ($7). The portion and quality of the food, however, prove that they are not any run-of-the-mill stall and the unceasing queues are a testimony to that. If you are planning to check out Wow Wow West Genuine, I'd suggest visiting their Facebook page to make sure they are open as they tend to take spontaneous breaks!
Address: 6 Jalan Bukit Merah, #01-133, ABC Brickworks Food Centre, Singapore 150006
Opening hours: Tue 10:30am to 2pm, Wed-Sat 10:30am to 2pm, 4:30pm to 8pm
Tel: 9380 8571
Website
---
3. Fat Monkeys
---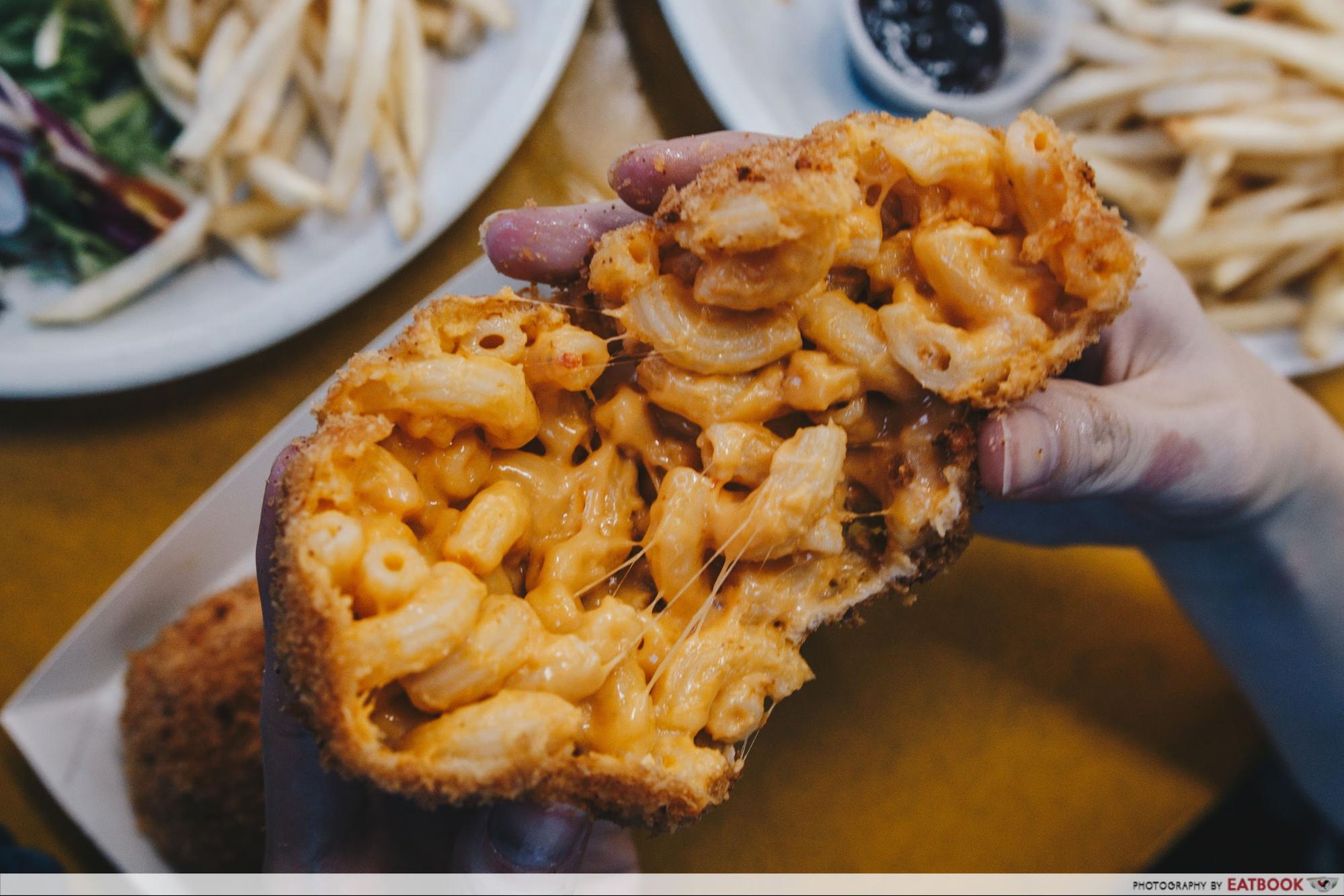 If you are a fan of all things cheesy and fried, Fat Monkey's Fried Mac and Cheese ($4 for two pieces) is a must-try. This unique twist of your typical mac and cheese comes in a huge battered ball, and it is so big that you'll need to get both hands dirty to munch on it. Though slightly pricey, another dish that you shouldn't miss would be Da Bomb ($13.90) – a deep-fried beef burger stuffed with cheddar, bacon, and caramelised onions!
Check out our full review of Fat Monkeys!
Address: 965 Upper Serangoon Road, Stall 5, Singapore 534721
Opening hours: Fri-Sat 5pm to 2am, Sun-Thur 5pm to 12am
Tel: 8380 2555
Website
---
4. Hot Plate Western Food
---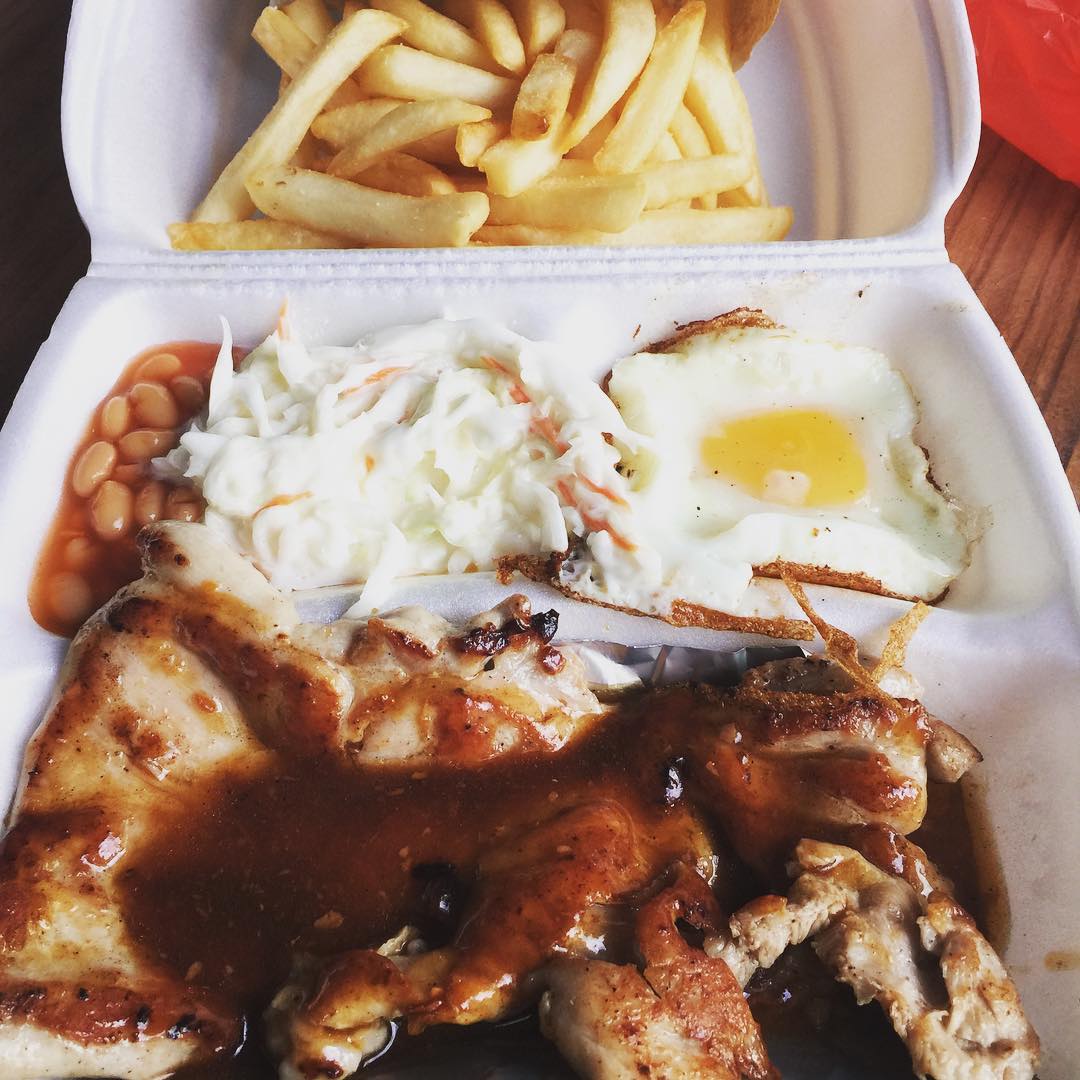 Image credit: @10927
With a bright orange signboard that has huge Chinese characters on it, Hot Plate Western Food may be easily mistaken as a stall selling Chinese fare. Only after looking closely at their menu would you realise that they specialise not only in Western food, but also really affordable dishes. At $5.50, two of their more popular dishes are their Pork Chop and Chicken Chop. Besides the big portions of nicely grilled meat, each set also comes with fries, baked beans, coleslaw, and a sunny side up. If you have more cash to spare and can't decide which meat to treat yourself to, get their Mixed Grill ($8) that comes with a combination of grilled chicken, pork, beef, lamb, and a sausage.
Find out what else to try at Tiong Bahru Market!
Address: 30 Seng Poh Road, #02-54, Tiong Bahru Market, Singapore 168898
Opening hours: Daily 8:30am to 2:30pm, 5:30pm to 10:30pm
---
5. The Plug Food Co.
---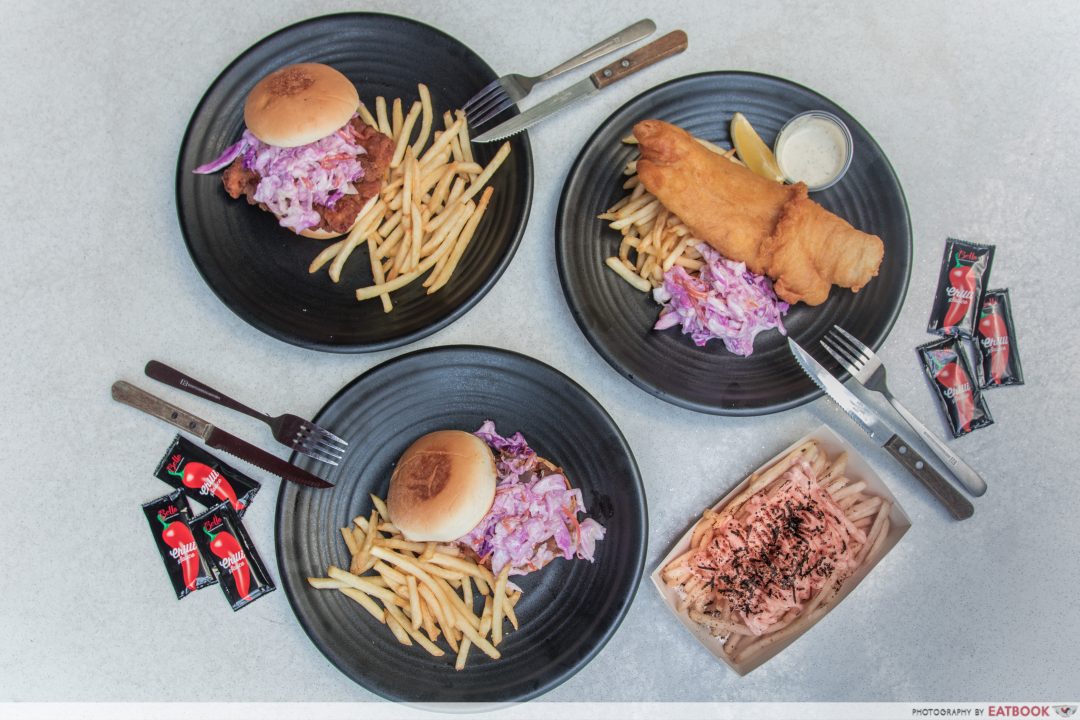 Minimalist black plates, purple coleslaw, pink mentaiko fries; unless you've visited The Plug Food Co., you'd probably mistake the food here to be from a hipster cafe. Located at Eunos Crescent, The Plug Food Co. serves dishes that are not only aesthetically pleasing, but are also impressive in terms of taste and portions. When we were there, we enjoyed their Pulled Pork Burger ($6.90) and Beer Battered Fish & Chips ($6.90) most. The latter features a large piece of dory along with coleslaw and shoestring fries. Other dishes that you can try would be their Buttermilk Chicken Burger ($5.90) and Mentaiko Fries ($4.50)!
Find out more about the dishes at The Plug Food Co.!
Address: Blk 1A Eunos Crescent, #01-2461, Best Cafe Coffeeshop, Singapore 401001
Opening hours: Daily 12pm to 9pm
Website
---
6. Holy Grill
---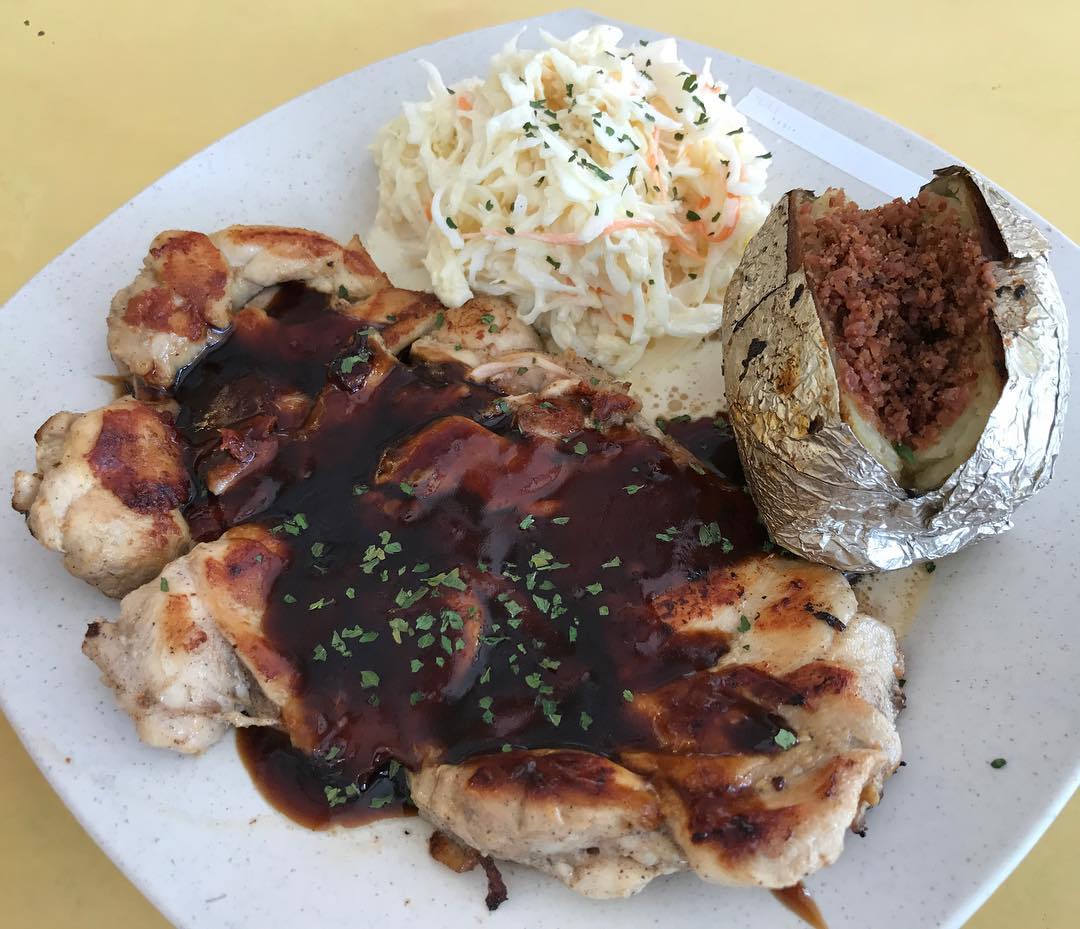 Image credit: @jeffowyeong
If you are at Old Airport Road Food Centre and can't decide which of their Western food stalls to check out, try Holy Grill. On their extensive menu, you can find various types of meat prepared in many different ways. Priced at $6.50, chicken is served in dishes such as Crispy Fried Chicken, Simply Grilled Chicken, and Teriyaki Chicken. My personal go-to would be their Grilled Fish With Cajun Spices ($6.50). Whether it's chicken, fish, or pork, you can expect the meat to fill up about half the plate, leaving just enough space to squeeze in two free sides. Some sides you can choose from are fries, baked potato, and coleslaw.
Find out what else to eat at Old Airport Road Food Centre!
Address: 51 Old Airport Road, #01-27, Old Airport Road Food Centre, Singapore 390051
Opening hours: Daily 2pm to 10pm
Tel: 9009 7762
---
7. Snuggrubs
---
Run by a 25-year-old university student, Snuggrubs specialises in Western food with several twists. When we visited the stall at CT Hub 2, we had a go at their Salted Egg Yolk Chicken Pasta ($6.80). This came with a large portion of spaghetti drenched in salted egg yolk sauce and topped with a generous slab of chicken thigh that was prepared sous-vide style. At $6.80, this is their most expensive dish on the menu. Some other affordable options include Tom Yum Prawn Pasta ($5.80) and Creamy Mushroom Pasta ($5.80).
While the cheap and good food Snuggrubs offers should already tempt you visit the stall, its young owner's determination to juggle both studies and his passion is another reason for you to lend your support!
Address: 114 Lavender Street, Level 1, Bugis Village Eating House Stall 5, CT Hub 2, Singapore 338729
Opening hours: Mon-Fri 11am to 7pm
Website
---
8. Wang's Western
---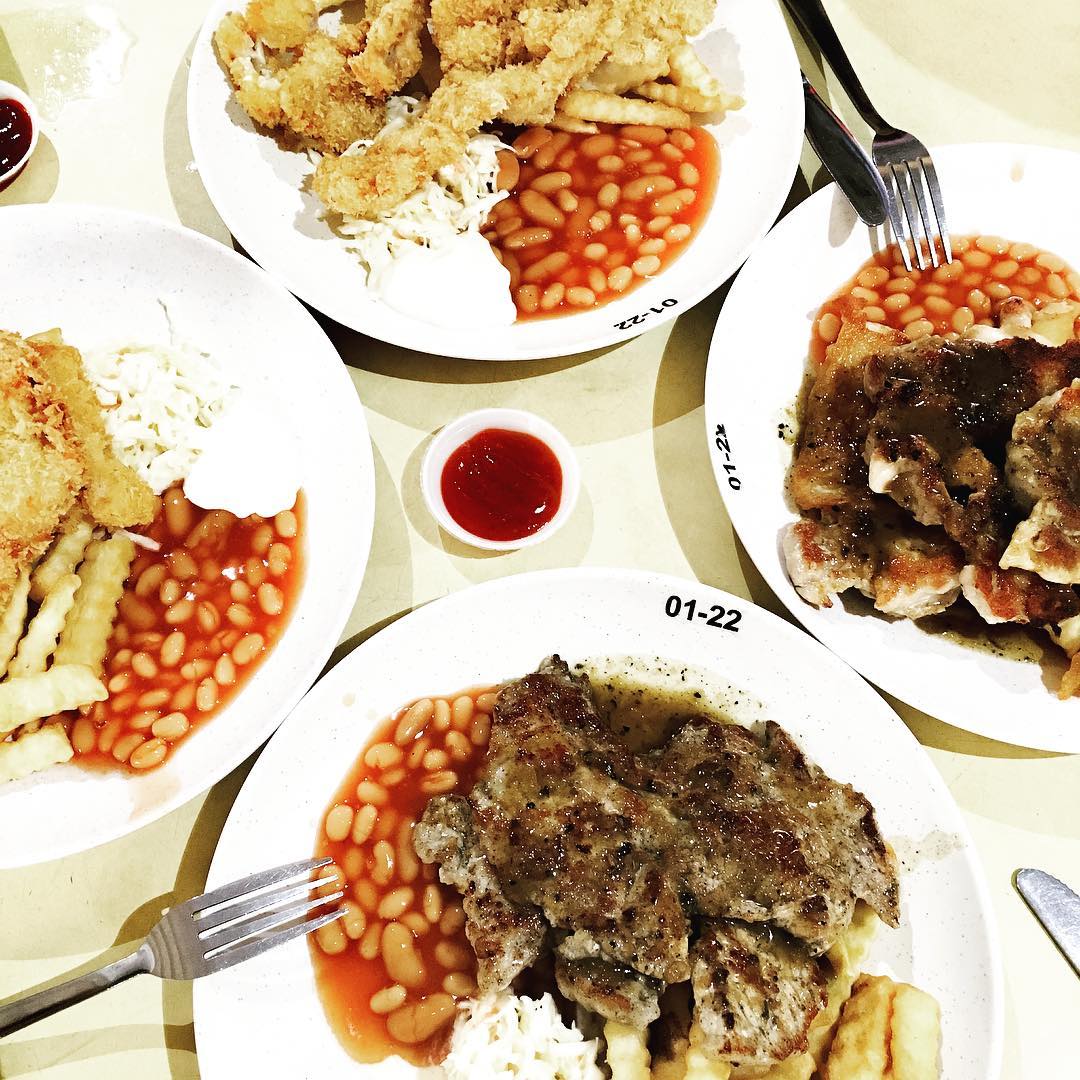 Image credit: @xavierligient
Wang's Western is found in Toa Payoh's Kim Keat Palm Market and Food Centre. The stall whips up more than 20 different Western dishes, with most of them priced at less than $6. Their Pork Chop with Rice ($3.80) and Chicken Chop with Rice ($3.80) take the trophy in terms of the worth-it factor. That being said, other specialties such as Fish & Chips ($5.50) and Chicken Chop ($5.50) also offer value for money.
Address: 22 Lorong 7 Toa Payoh, #01-23, Kim Keat Palm Market & Food Centre, Singapore 310022
Opening hours: Daily 11am to 9pm
---
Western food stalls with value-for-money options
---
These Western food stalls can easily testify to the beauty of hawker food. If you're looking for somewhere a little more atas for hawker food, check out these hipster hawker centres that offer IG-worthy nosh!