---
Tiong Bahru Market reopens with your favourite stalls
---
The last time I popped by Tiong Bahru Market, I was greeted by closed shutters and a boarded-off market. A banner strung across read that it was closed for renovations, which to me meant, "Goodbye for now, monthly lor mee!"
Of course, there are plenty of other Tiong Bahru hawker food options, but I had a specific craving for the market's food that day. This time, I did my research before heading down to chow down on all the food my body had missed out on for three months. Here are 10 stalls in Tiong Bahru Market that I will always return to, no matter how long the renovation period.
---
1. Tiong Bahru Fried Kway Teow

---
Although the $2 option seems to be gone, a plate of Fried Kway Teow ($3) from Tiong Bahru Fried Kway Teow still promises moist and savoury noodles with a slight hint of sweetness. Accompanying the base were slices of fish cake, lapcheong, bean sprouts, and cockles, which were fresh and juicy. This is a plate that can curb all your char kway teow cravings.
Stall number: #02-11
Opening hours: Thur-Tue 11am to 10:30pm
---
2. Jian Bo Shui Kueh
---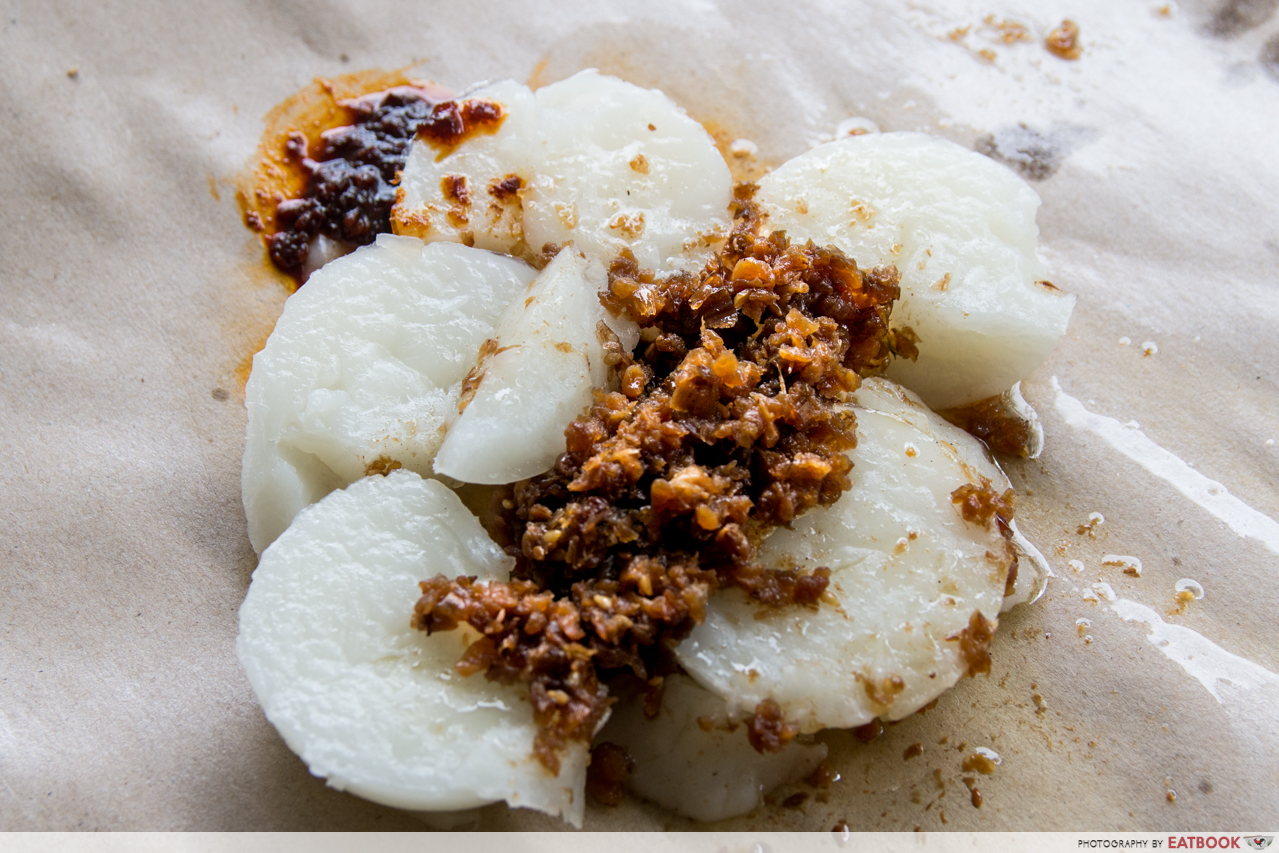 Jian Bo Shui Kueh's Chwee Kueh ($2 for five pieces) comes with just the right amount of cai po and sambal chilli, and bears a strong flavour of white rice. I can't tell if it's the fragrance of dried shrimp in their cai po, the heat from the chilli, or the soft kueh that has me coming back for more, so I'm convinced that it's the combination of all three.
Stall number: #02-05
Opening hours: Daily 6:15am to 10pm
---
3. Lor Mee 178  
---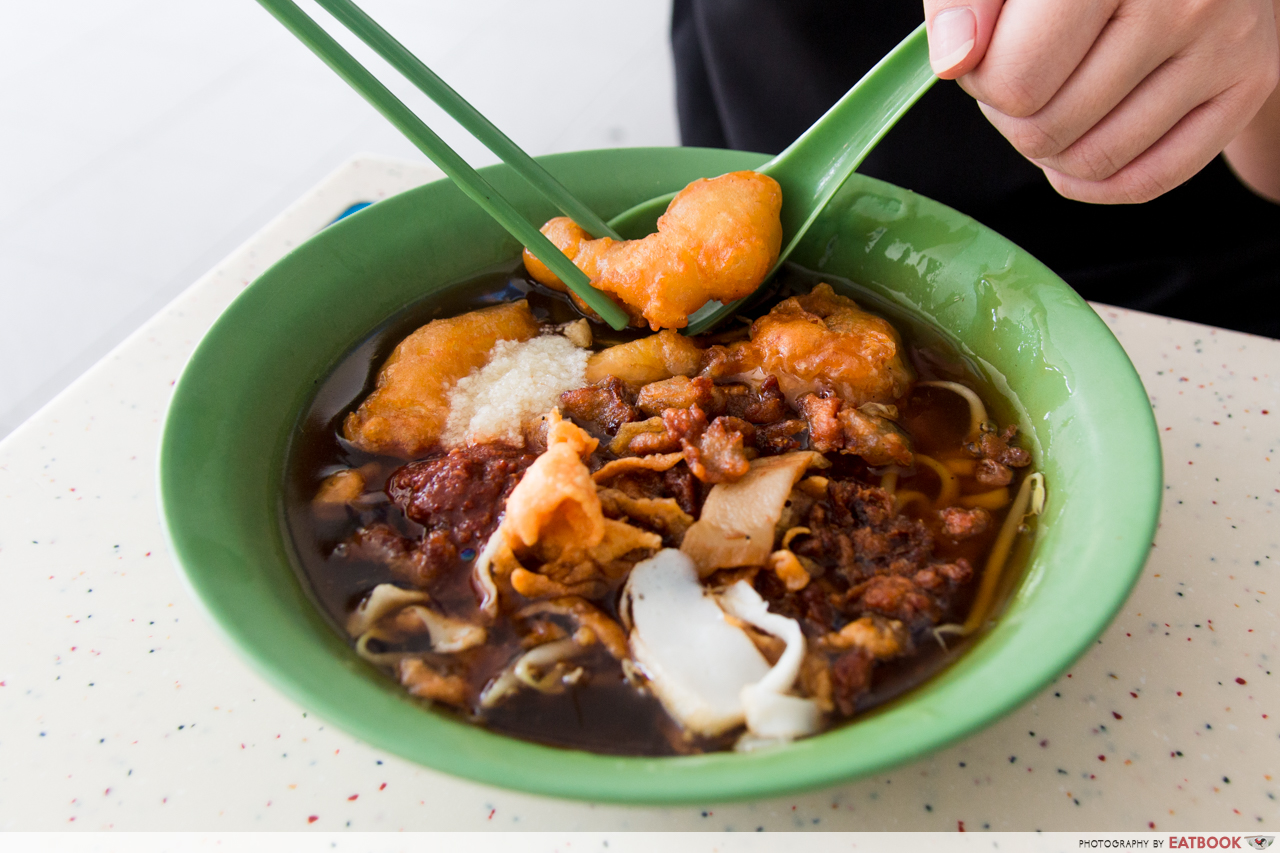 I could be biased but the Lor Mee ($3) from Lor Mee 178 is all I think about whenever I crave for a bowl of flavourful noodles. Slurping down the strands of flat yellow noodles coated with dark, garlicky sauce is more than enough to satisfy, but I always add on the crunchy shark nuggets (+$1) for something a little more special.
Stall number: #02-23
Opening hours: Daily 7:30am to 3pm
---
4. Hui Ji Fishball

---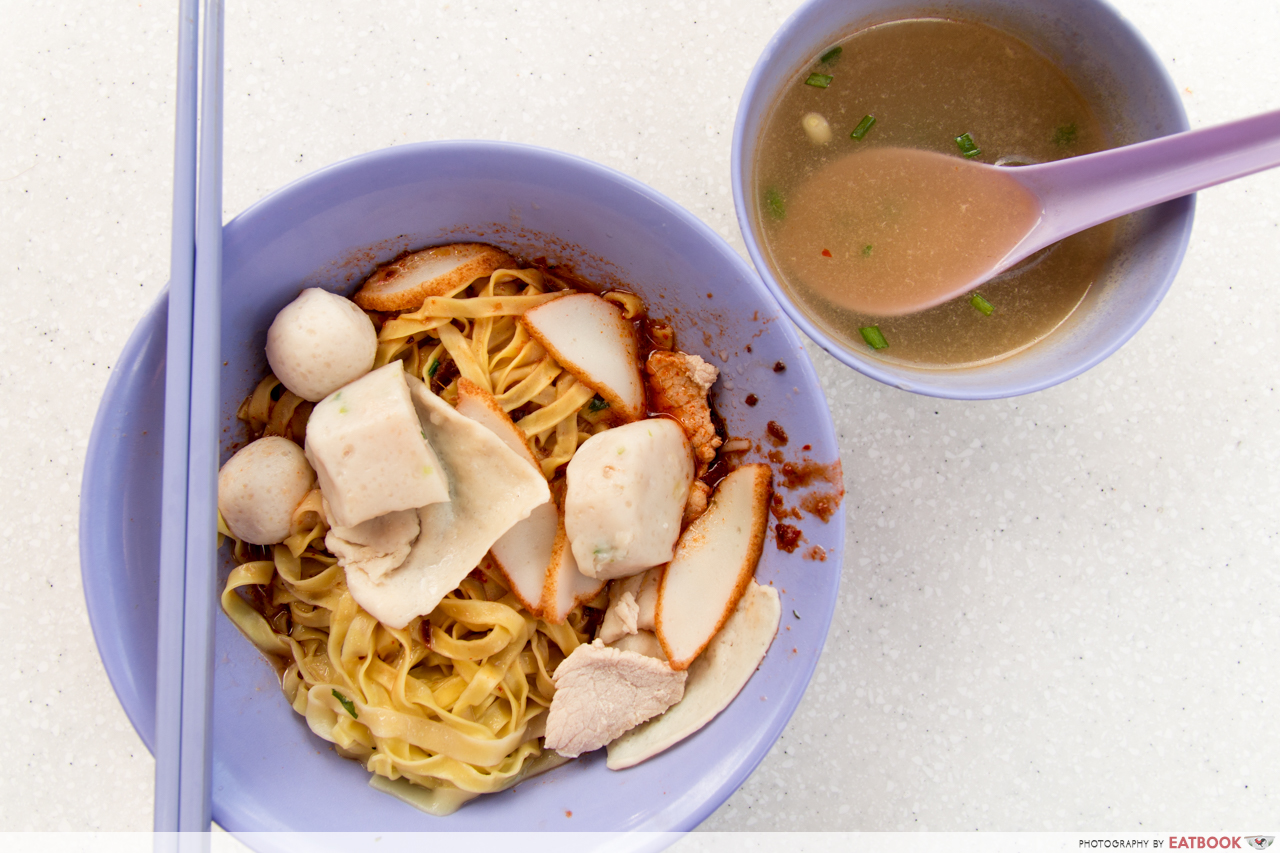 I've never actually craved for a bowl of fish ball noodles in my life till I tried this. Hui Ji Fishball's Fishball Noodle ($3) has fish balls that are firm to the bite and slices of fishcake that are bouncy. But the biggest surprise came from the soup on the side. It was sweet and light, making it the perfect complement to the savoury bowl of noodles.
Stall number: #02-44
Opening hours: Thur-Tue 5:30am to 2:30pm
---
5. Min Nan Pork Ribs Prawn Noodle

---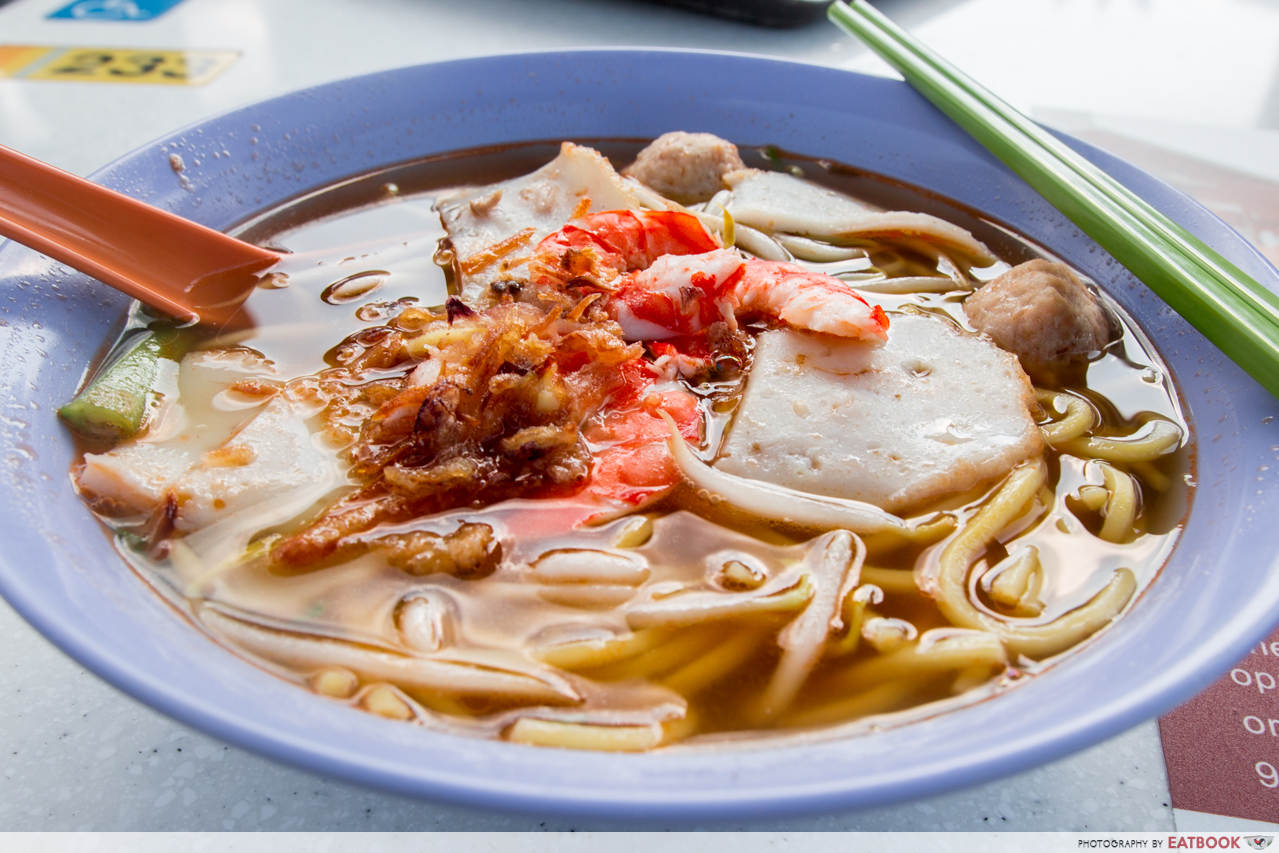 To me, an ideal bowl of prawn mee has to have a broth so strong that it'll have me reeking of prawn afterwards. Unfortunately, Min Nan's version of Prawn Mee ($3) had a such a light broth that I wasn't satisfied. Still, their prawns were crunchy and the noodles weren't soggy, so if you're someone who enjoys a light broth, this will be up your alley.
Stall number: #02-31
Opening hours: Tue-Sun 9:30am to 9:00pm
---
6. Zhong Yu Yuan Wei Wanton Noodle

---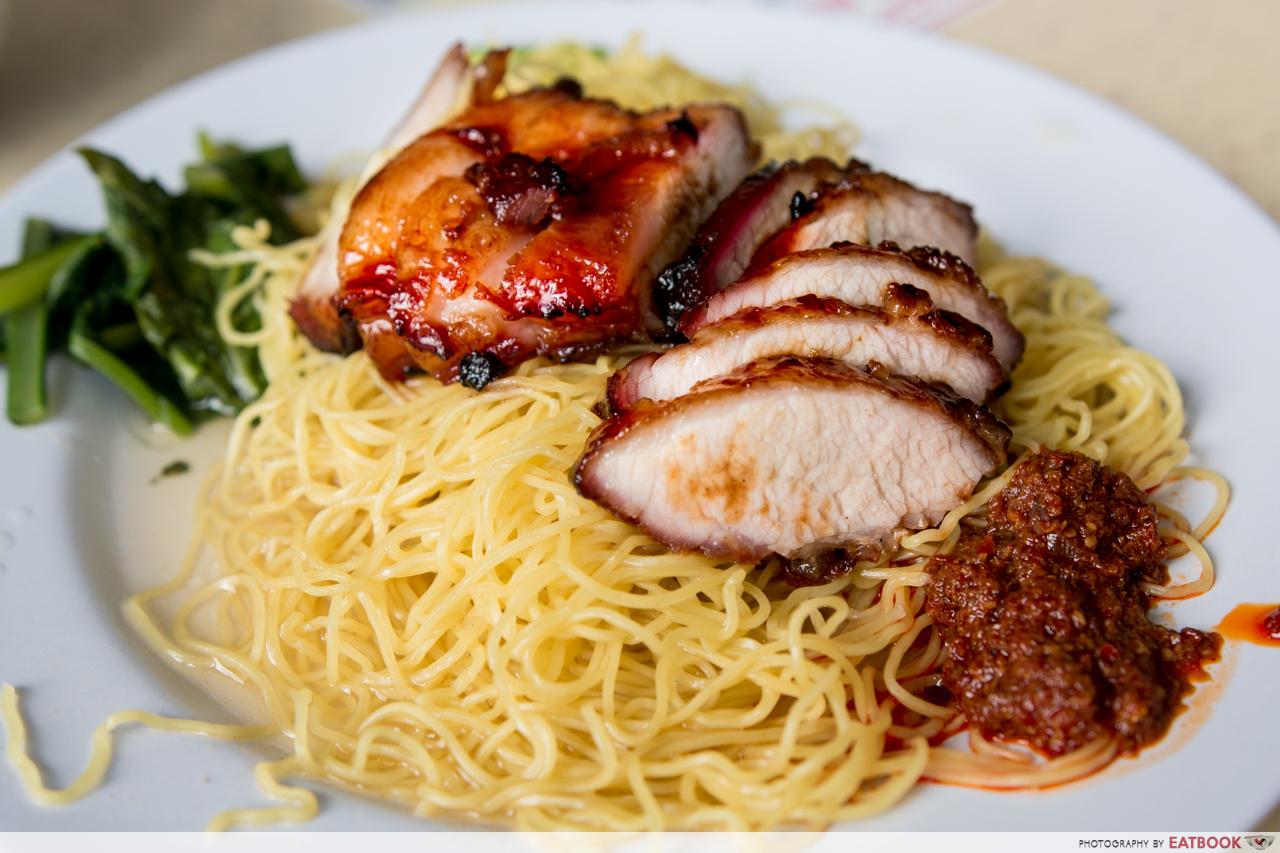 Before I start saying anything, feast your eyes on that fatty caramelised char siew from Zhong Yu Yuan Wei Wanton Noodles. Bu Jian Tian Char Siew Wanton Noodles ($6) is served with a cut of pork from the pig's armpit, which gives you that beautiful ratio of fat to meat. The char siew had a sweet crust that encased the savoury pork, and the noodles were done just the way I like them – al dente.
Stall number: #02-30
Opening hours: Tue-Thur, Sat-Sun 8am to 2pm
---
7. Teck Seng Soya Bean

---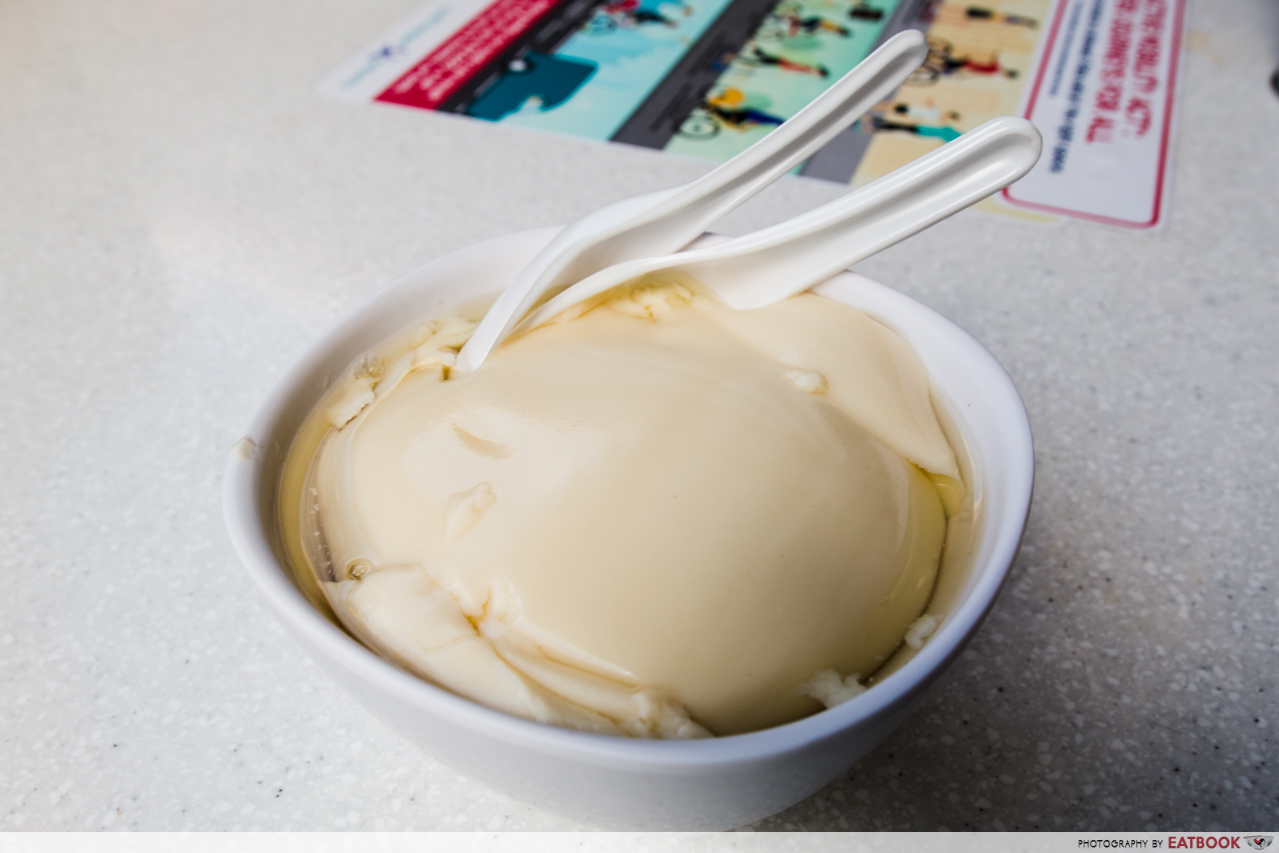 Whenever I have a bowl of tau huey, I'm reminded of Sunday mornings where my mum would bring back metal containers filled with hot, silky tau huey to start the day. This bowl of beancurd ($1) from Teck Seng Soya Bean was better than the one in my memory, and glided down our throats like a dream. What's more, the syrup it came with wasn't overly sweet.
Stall number: #02-69
Opening hours: Tue-Sun 5am to 12pm
---
8. Hong Heng Fried Sotong Prawn Mee

---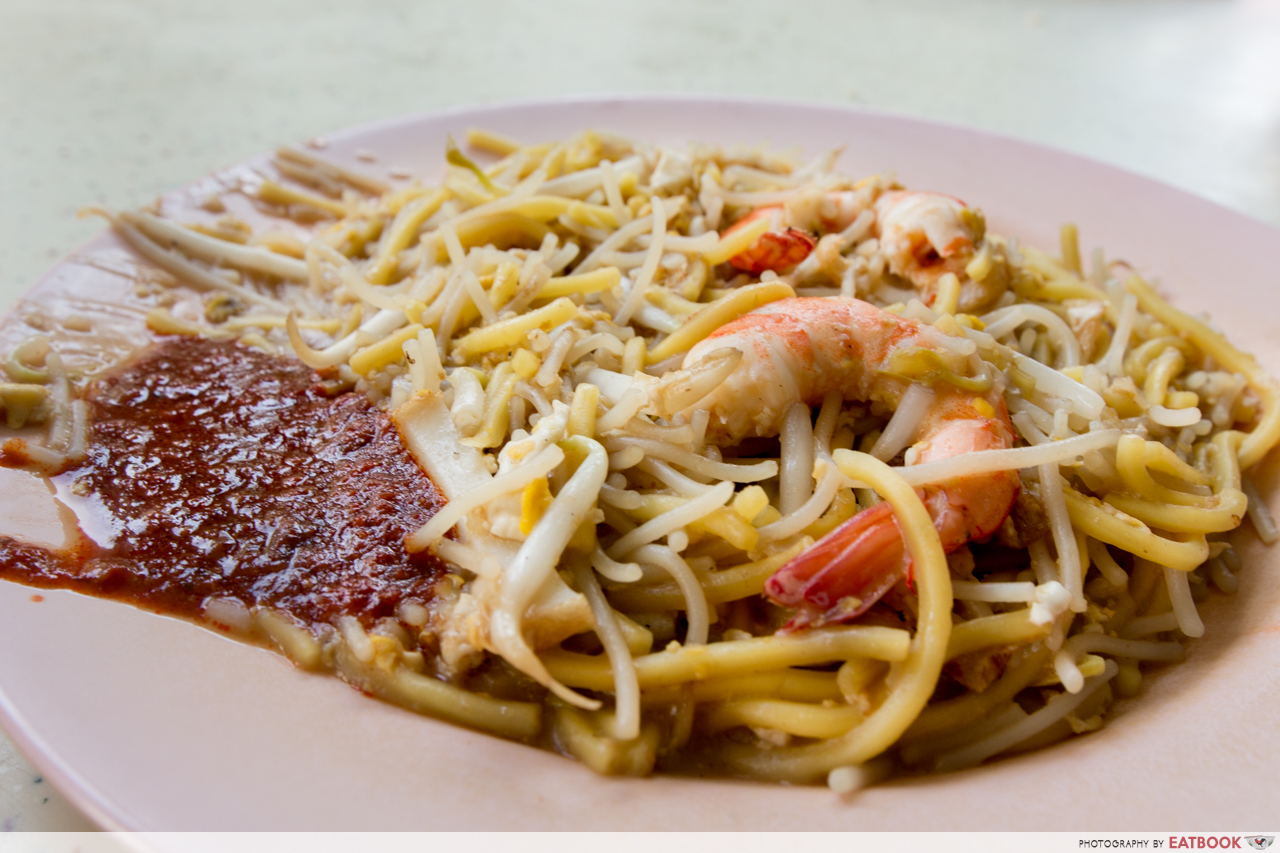 Hong Heng fries their Hokkien Mee ($3) only after receiving an order, so you won't get a plate of cold soggy noodles. I loved how the dish wasn't too wet but had enough gravy so you could still slurp the noodles down. The wok hei could've been stronger, but this garlicky plate was still a satisfying one.
Stall number: #02-01
Opening hours: Tue-Sun 11am – 8pm
---
9. Koh Brothers Pig's Organ Soup
---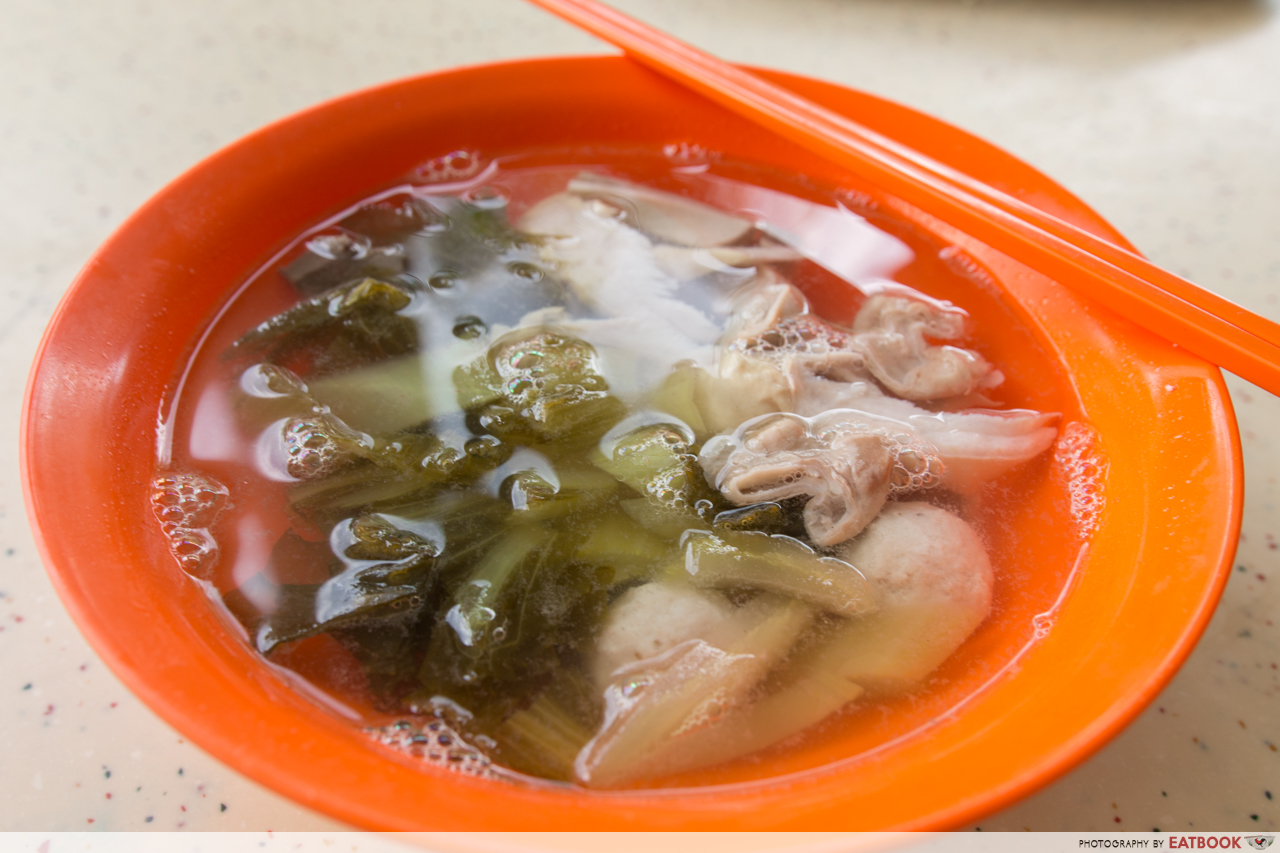 I've always assumed that pork intestines weren't appetising, but Koh Brothers Pig's Organ Soup changed that for me. The ones they serve are chewy and not sandy, and are thrown into a soup that is peppery and slightly sour. I'd recommend adding a Glutinous Rice Roll (from $2) that's studded with chestnut and pork belly then stuffed in an intestine. That was probably the best part of my meal.
Stall number: #02-29
Opening hours: Tue-Sun 8:30am to 3:30pm, 6pm to 8:30pm
---
10. 238 Coffee Stall
---
A sip of 238 Coffee Stall's Kopi ($1) and you'll realise this isn't your typical cup of coffee. The kopi bore an almost velvety texture and had a strong fragrance that helped the flavour linger after you've swallowed the sip. We didn't manage to try their ice lemon tea, but we hear it's something not to be missed either.
Stall number: #02-81
Opening hours: Tue-Sun 5am to 5pm
---
Eat your weight's worth at Tiong Bahru
---
I've always had a place in my heart for this hip neighbourhood and its food. Besides, nothing could ever quite replace Tiong Bahru Market and their hawkers. Let me know if I missed out on your favourite stall in the comments below, and I'll check them out the next time I visit!