---
Famous lor mee stalls
---
Lor mee rarely gets mentioned when one is introducing must-try Singapore dishes. However, it has been gaining some love recently and seems to be a perennial favourite for many. It is lauded for its rich, thick and flavourful gravy, as well as its large variety of toppings. Furthermore, many shops are only open in the morning, with queues that form before the shutters even open. Jump on to the bandwagon and visit these 11 lor mee stalls now!
---
1. Jue Dai
---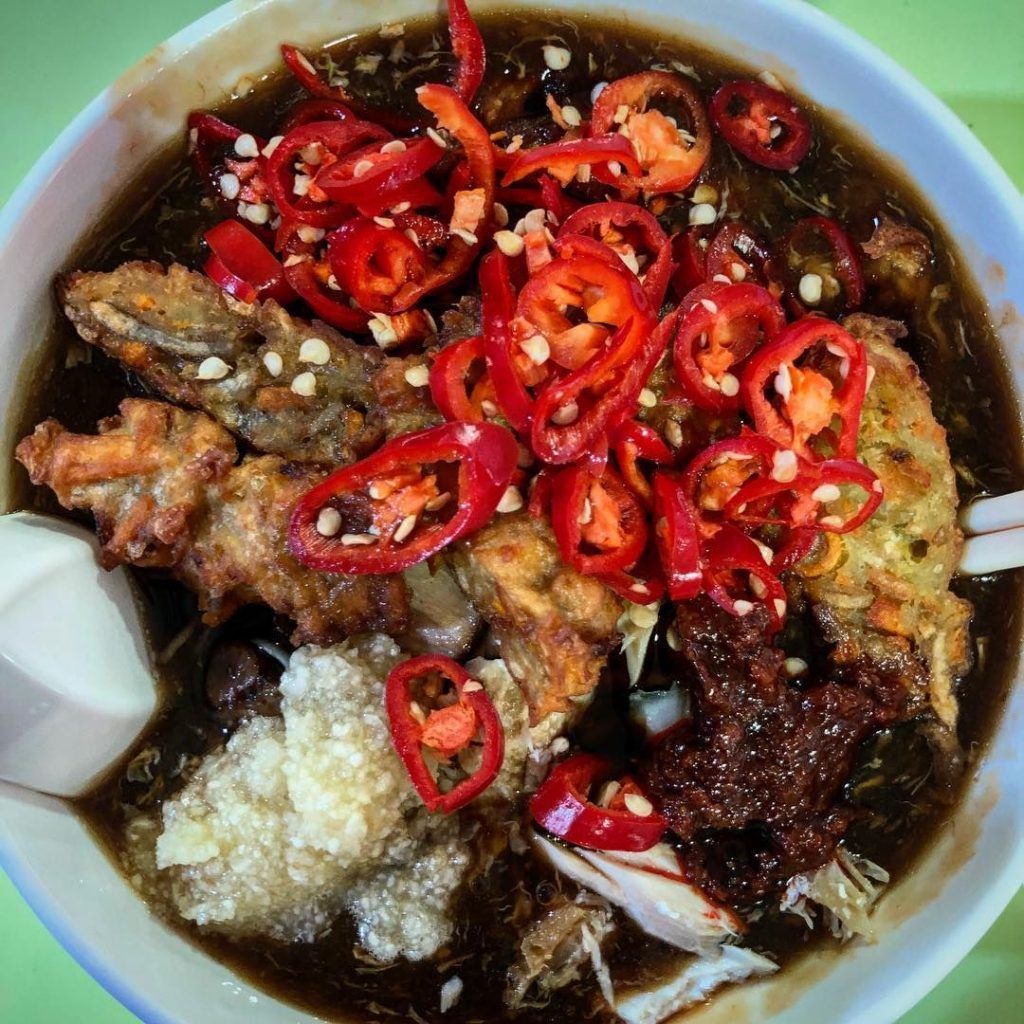 Image credit:@beef_nuggets
Jue Dai Lor Mee is located at Ci Yuan Hawker Centre in Hougang. At only $2.80,  their Yam Roll Lor Mee is one of the cheapest in Singapore. The yam roll is crispy and aromatic, adding a nice, crunchy texture to the otherwise gelatinous spoonful of noodles and sauce. They also offer noodles topped with Cod Fish for $4, and Chicken Cutlet at a wallet-friendly price of $3.
Address: 51 Hougang Avenue 9, #01-13, Ci Yuan Hawker Centre, Singapore 530917
Opening hours: Daily 8am to 9:45pm
---
2. Yuan Chun Famous Lor Mee
---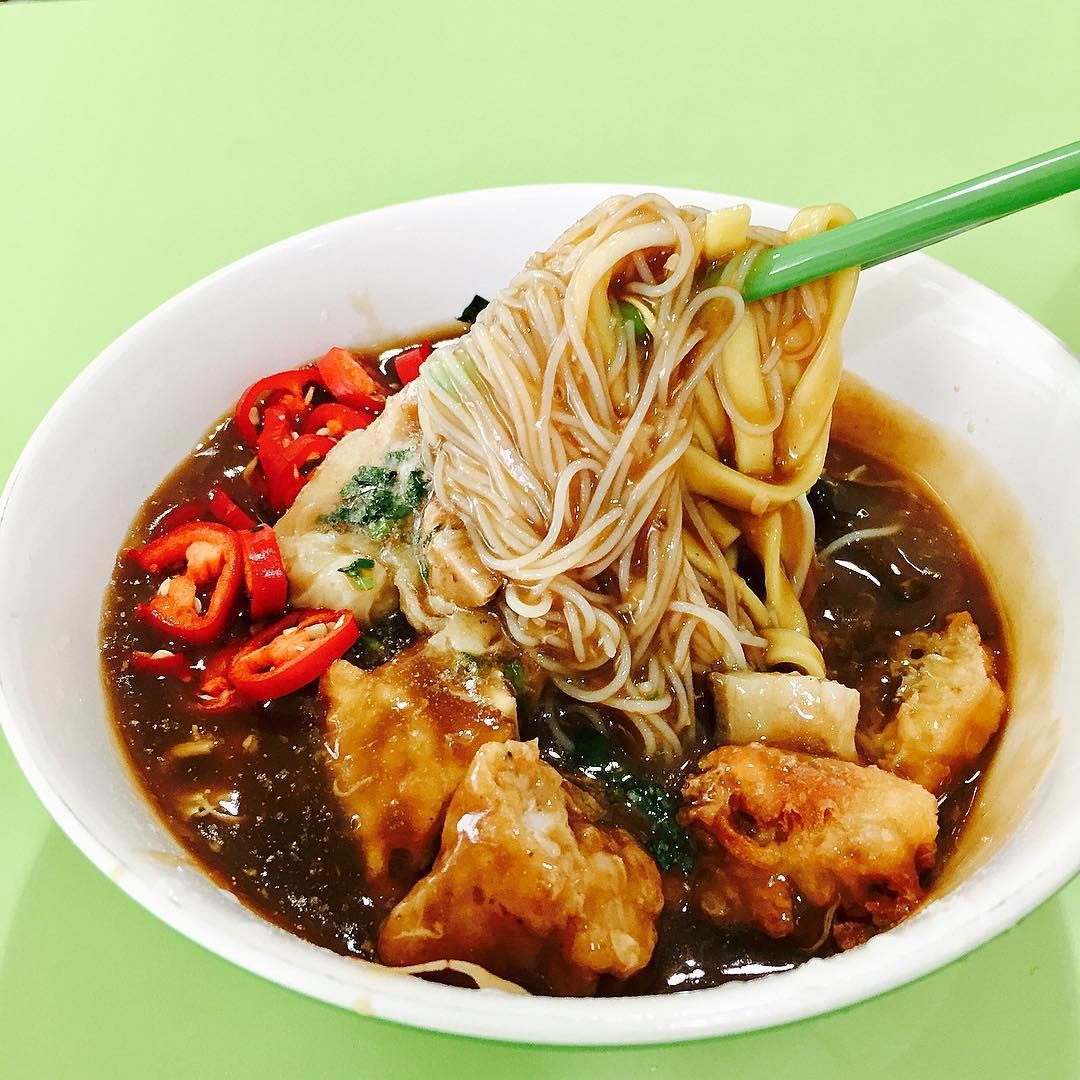 Image credit: @y2jingaojiak
If you're in the CBD, you can get your noodle fix at Yuan Chun Famous Lor Mee. For $4, you get a bowl of yellow noodles with bee hoon that's smothered in thick, almost opaque gravy. The gravy has smooth strands of egg stirred in, and gives contrast to the dark colour of the gravy. The consistency is less starchy, allowing you to inhale the noodles easily in one swift slurp.
Address: 7 Maxwell Road, #02-79/80, Amoy Street Food Centre, Singapore 069111
Opening hours: Tue-Wed, Sat-Mon 7:30am to 2:30pm
---
3. Xin Mei Xiang Zheng Zong 
---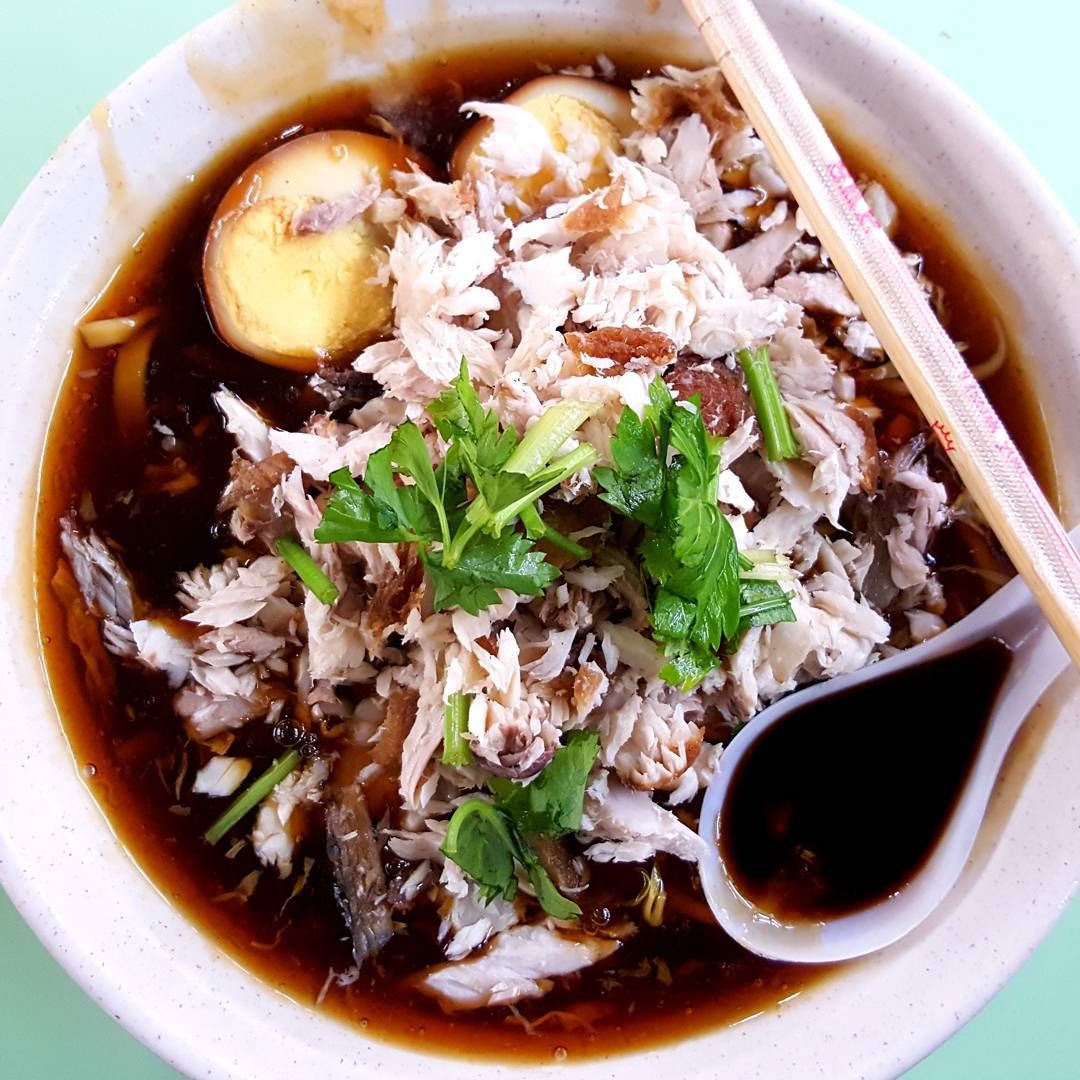 Image credit: @dolphinairlines
Many fans dub Xin Mei Xiang Zheng Zong Lor Mee as their number one go-to stall. Even Steven Lim from Buzzfeed was introduced to this decadent bowl during his trip to Singapore! Prices here start from $4, but the $5 bowl gives you more bang for the buck. It comes with a generous heap of shredded fish meat too.
Address: 51 Old Airport Road #01-116, Singapore 390000
Opening hours: Fri-Wed 6am to 1pm
Website
---
4. North Bridge Road Lor Mee
---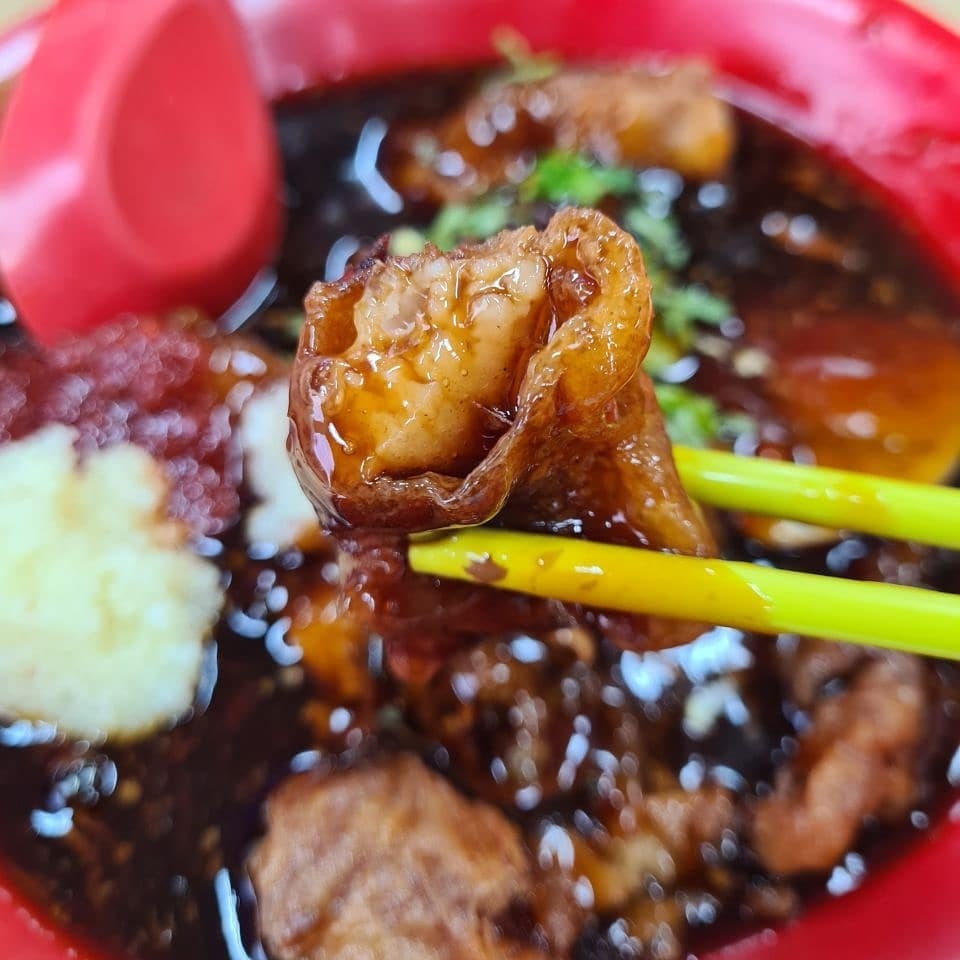 Image credit: @bellyhappytummy
North Bridge Road Lor Mee's owner was personally taught by the chef at the now-defunct Chia Bee Lor Mee, which used to be a popular supper joint. A bowl starts at $4, which gets you noodles with braised egg, fried battered fish, shredded fish meat, and fried ngoh hiang, swimming in a thick and flavourful gravy. Add on condiments like vinegar and garlic for an extra oomph!
Address: 16 Verdun Road, #01-03, Kim San Leng Eating House, Singapore 207279
Opening hours: Daily 7:30am to 4pm
Tel: 9383 1458
Website
---
5. Zhi Xiang Special Lor Mee
---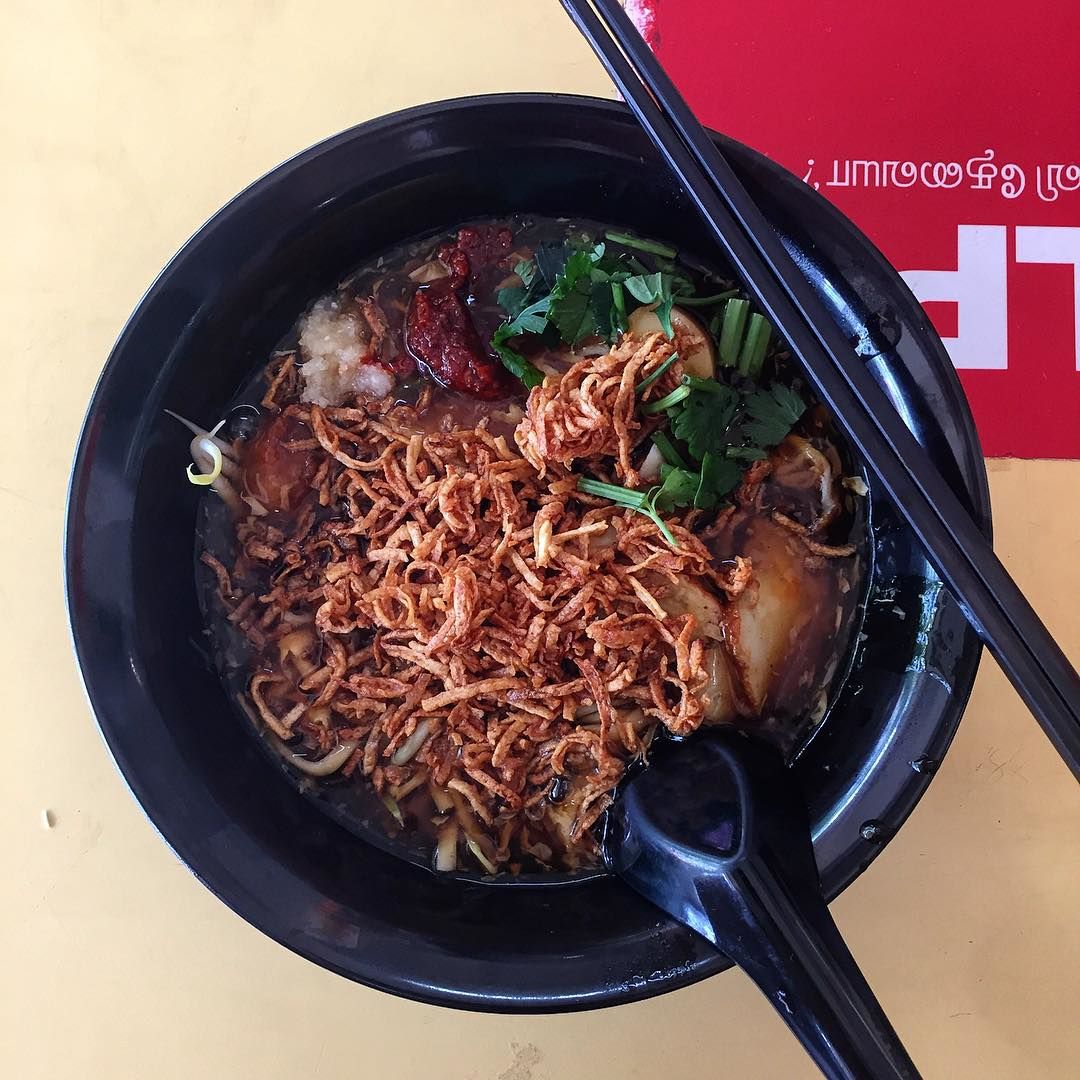 Image credit: @oliverchionh
Zhi Xiang Special Lor Mee legit serves a special take on this noodle dish. Aside from the usual ingredients of ngoh hiang, braised egg, and more, every bowl also comes with a side of deep-fried shredded yam bits for you to pour over. The yam bits add a much-needed crunch and scrumptious fragrance to the starchy gravy. With prices starting at $3, this is definitely something I would travel all the way to Toa Payoh for.
Address: Blk 93 Toa Payoh Lorong 4, #01-49, Palm Springs Hawker Centre, Singapore 310093
Opening hours: Tue-Sun 5am to 2pm
---
6. Yew Tee Feng Zhen Lor Mee
---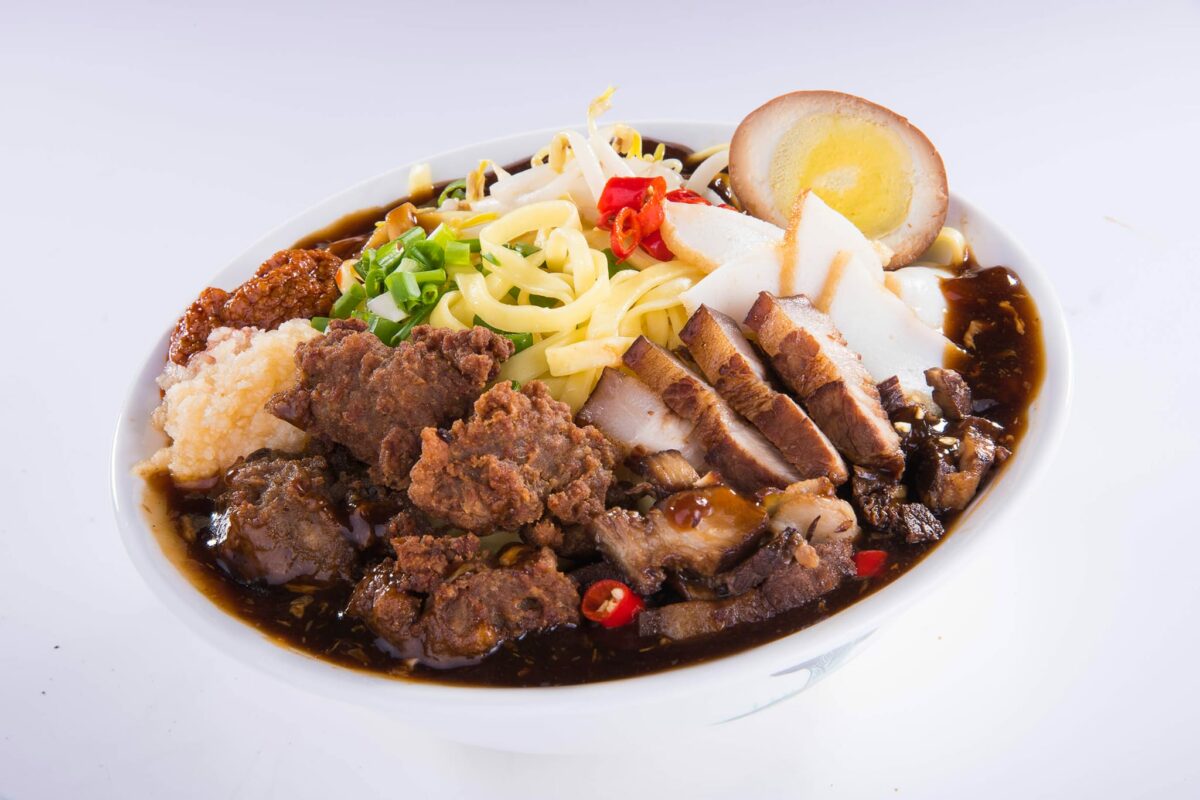 Image credit: Yew Tee Feng Zhen Lor Mee
Previously known as Feng Zhen Lor Mee, this lor mee stall has been in business since 1997. They have since updated their name to Yew Tee Feng Zhen Lor Mee. There are four kinds of lor mee offered here: Traditional ($4/$5), Egg Beancurd ($4/$5), Fish Jiao ($4/$5), and Fish ($5/$6).

Each bowl comes with heaps of toppings that covers the noodles from plain sight. It is the oddly-shaped fried meatballs that really won me over. They are slightly crunchy on the outside and soft on the inside. Their moreish gravy also has a full-bodied flavour that will keep you coming back for more. 
The stall has another outlet at 80 Jurong East Street 21, #01-05, Devan Nair Institute, Singapore 609607.
Address: 787B Choa Chu Kang Drive, #01-241, Singapore 682787

Opening hours: Tue-Thur, Sat-Sun 6am to 2pm
Website
---
7. Soon Lee 
---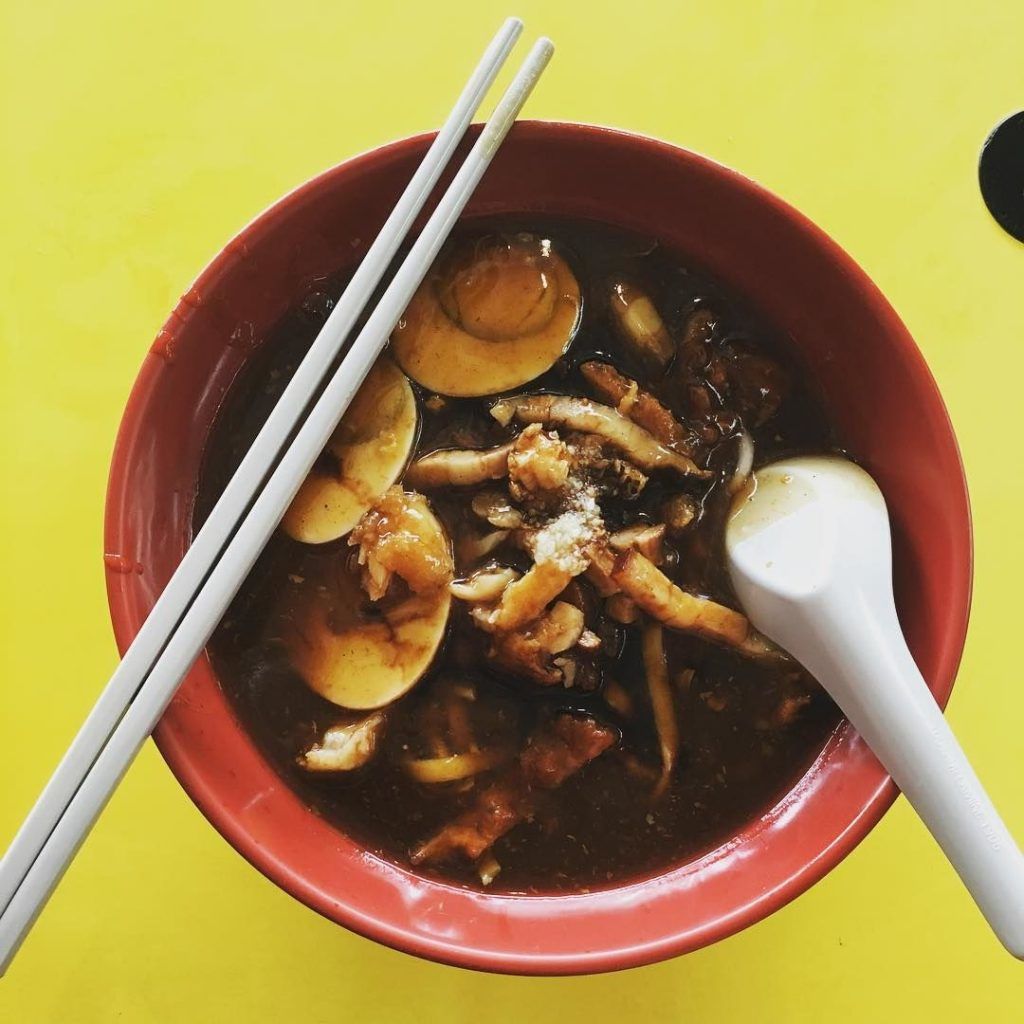 Image credit: @jakekch
Soon Lee Lor Mee has been serving a hearty bowl of lor mee (from $3) since the 1970s. It's a short three-minute walk from Mattar MRT Station, so you can easily get your fix if you're in the Aljunied area. Fans love it for its nostalgic taste and combination of sweet, sour, savoury and spicy flavours.
The best thing about this stall is that unlike most stalls that only open in the morning, they are open until dinner time, catering to those looking to satiate their noodle craving after work.
Address: 79 Circuit Road, #01-07, Singapore 370079
Opening hours: Wed-Sun 12pm to 8pm
Website
---
8. 178 Lor Mee
---

Image credit: @eatingwithgoat
178 Lor Mee at Tiong Bahru Market is a popular choice amongst lor mee lovers. The gravy here is flavourful despite looking lighter than their counterparts. Piling on a dollop of minced garlic and chilli adds further depth to the dish as well.
As the portions are considerably smaller, I suggest ordering the $4 bowl. It comes with deep-fried shark nuggets that are plump and addictive.
Address: 30 Seng Poh Road, #02-23, Tiong Bahru Market, Singapore 168898
Opening hours: Tue, Thurs-Sun 7am to 1:45pm
---
9. Lorong Ah Soo Lor Mee
---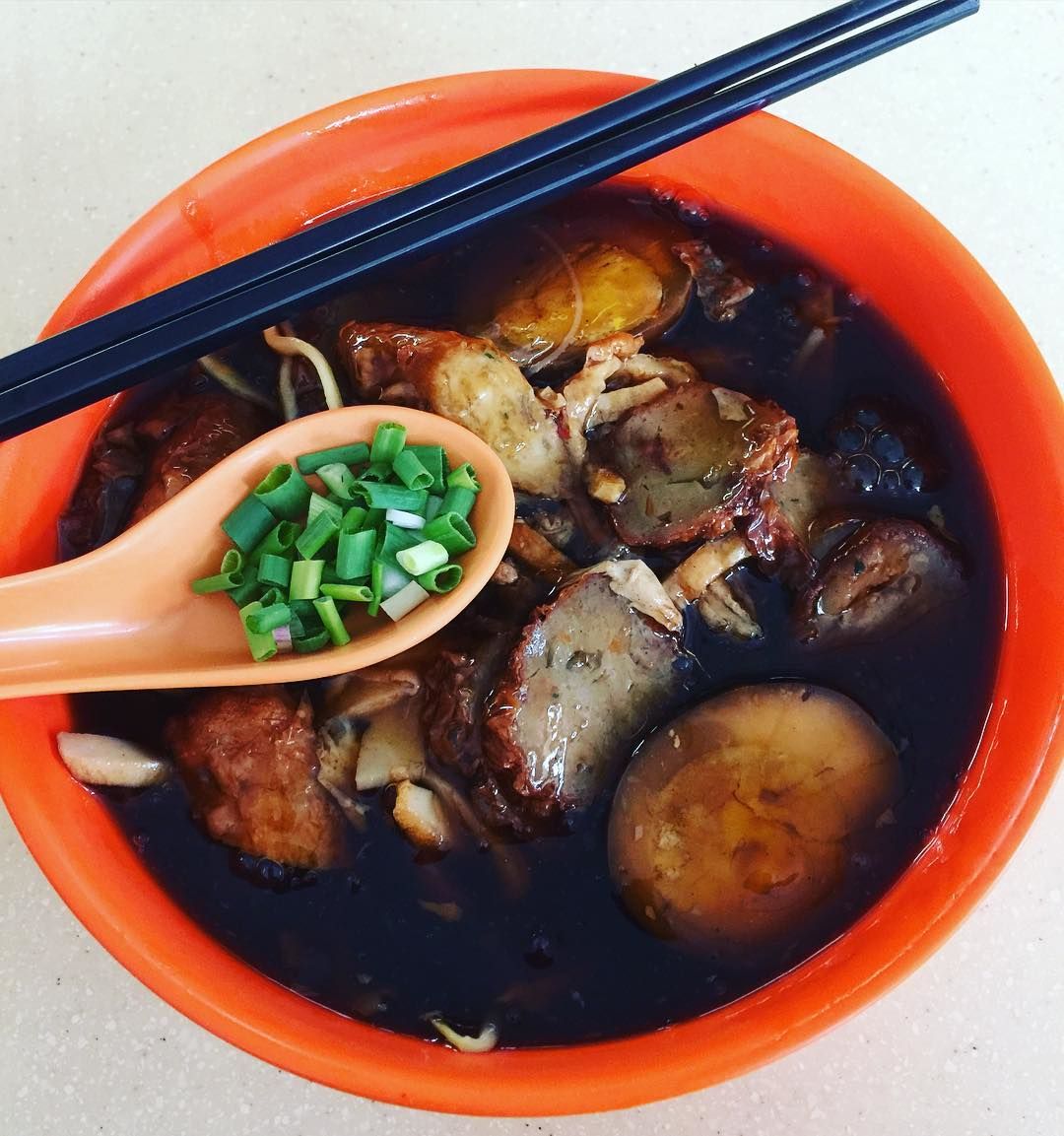 Image credit: @onlyjam
Lorong Ah Soo Lor Mee serves bowls that come with tender chunks of braised duck meat instead of the usual pork belly or shredded fish, and ngoh hiang that has a more cake-like than minced-meat consistency. Priced from $3.50 for a generous portion, you can see why the stall has one of the longest queues at Hainanese Village Centre in Hougang.
Address: 105 Hougang Avenue 1, #02-51, Hainanese Village Centre, Singapore 530105
Opening hours: Tue-Sun 12pm to 3:30pm
---
10. Ah Ma Lor Mee
---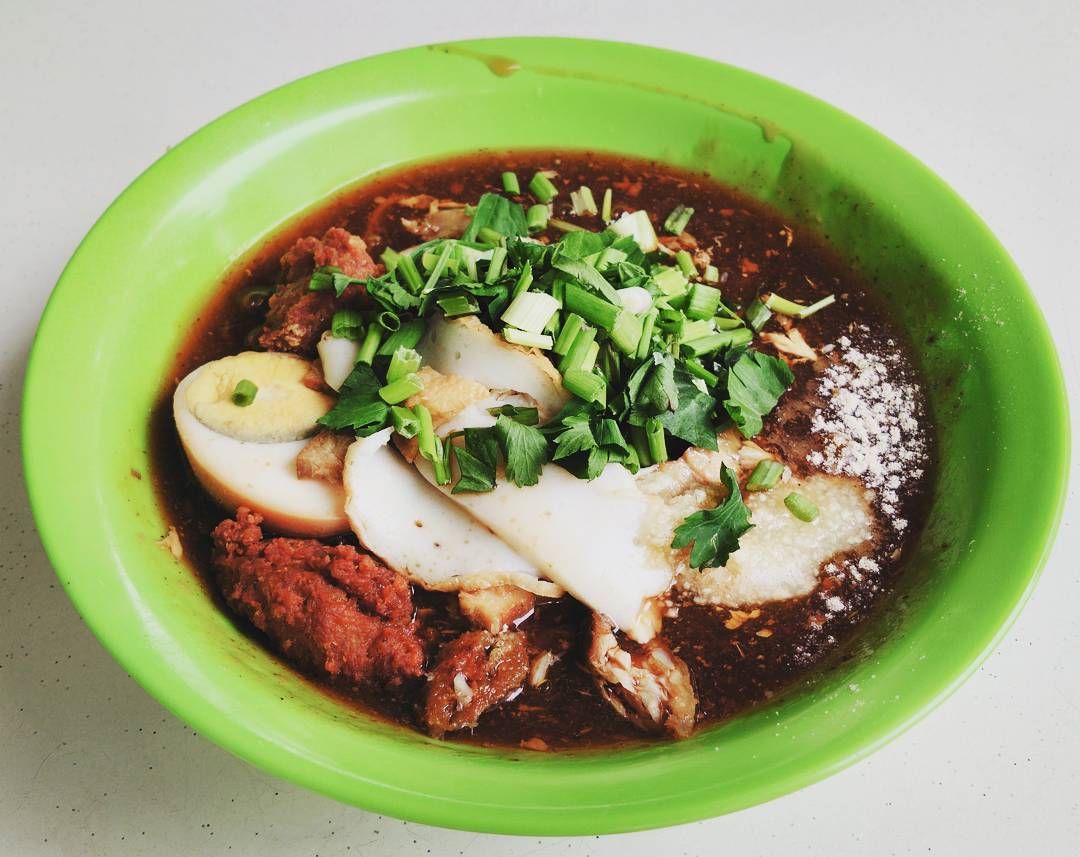 Image credit: @mosmos88
Ah Ma Lor Mee has been serving its famous green bowlfuls of noodles for more than 30 years in the West. Their meaty broth comes in a shade of dark red instead of the usual brown hue. Get their regular bowl at $3.50, which comes teeming with meatballs, pork belly, and egg; the $4 comes with fish slices as well. In addition to their signature dish, you'll also find prawn mee ($3.50) and prawn roll ($3.50) on the menu.
Address: 328 Clementi Avenue 2, Singapore 120328
Opening hours: Tue-Wed, Fri-Mon 7am to 2pm
Tel: 8288 0810
Website
---
11. Old Bukit Purmei Lor Mee
---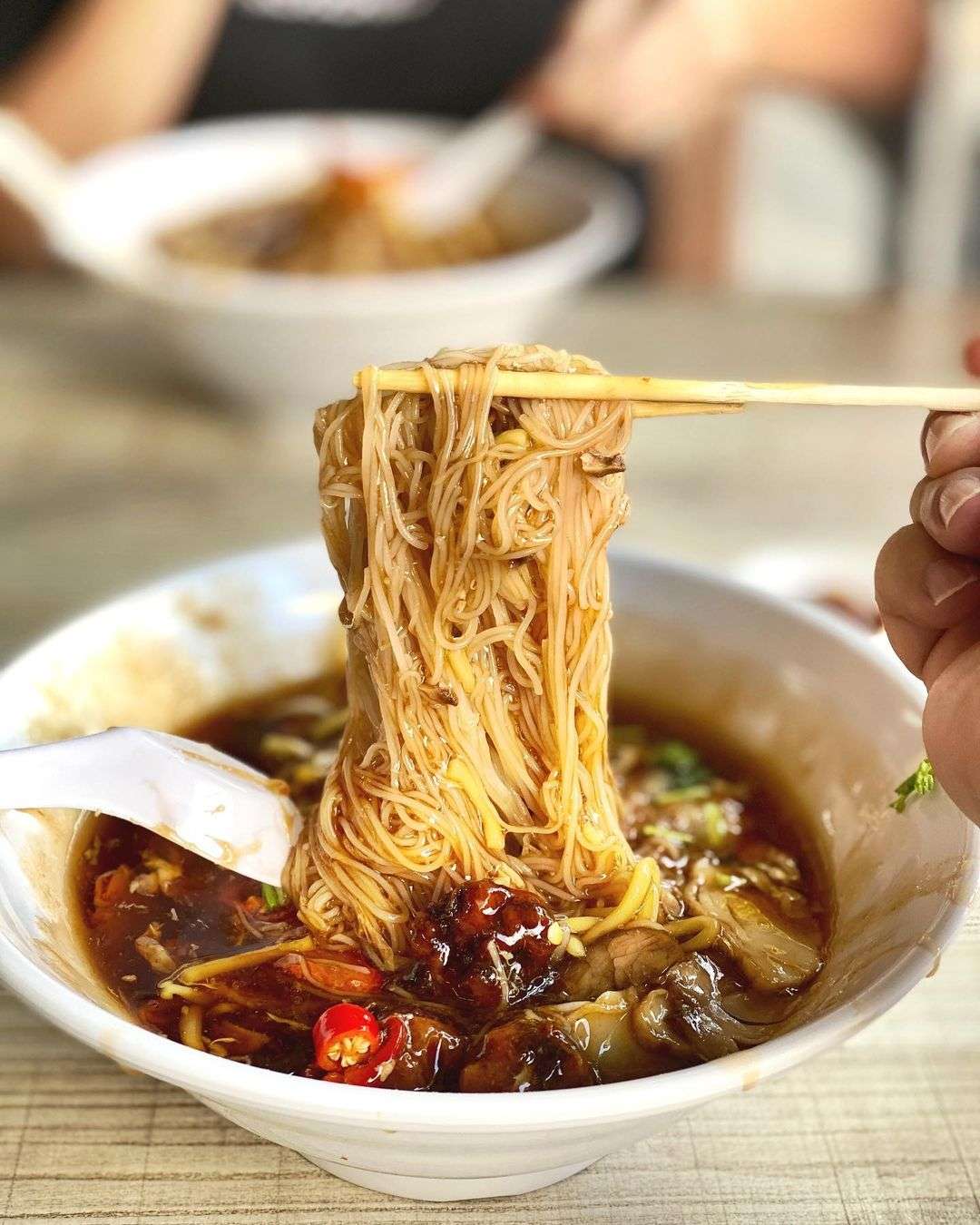 Image credit: @sgfoodonfoot
Fans of the famous Bukit Purmei Lor Mee can now enjoy it at their reopened outlet in Bugis. The third-generation hawker stall, known for its snaking queues and longstanding history of more than 40 years, offers the same traditional noodles (from $3.50) with a new look.
You can top up $1 for fried fish or handmade ngoh hiang, and swap out the usual flat egg noodles for other options like bee hoon or kway teow. The medium bowl ($4) includes sliced fish cakes, braised pork belly, char siew, and the stall's signature deep-fried ngoh hiang nuggets.
Address: 269 Queen Street, #01-236, S180269
Opening hours: Tue-Sun, 7:30am to 3:30pm
Website
---
Where to eat lor mee
---
When one is asked to introduce what's good to eat in Singapore, lor mee doesn't always come to mind as must-try hawker food. This starchy, heavy, and hearty bowl of noodles with braised meat sauce, topped with deep-fried delights, is a local favourite that's often overlooked. Nonetheless, it does have its fair share of fans, with popular stalls sporting a perpetual queue and selling out within mere hours of opening.
If you're looking for more local dishes to try out, check out our list of soup bak chor mee. Alternatively, visit Pan Ji Cooked Food, the last hawker in Singapore that sells handmade sachima.
Pan Ji Cooked Food: Last Hawker In Singapore Selling Handmade Sachima And Old School Snacks
Featured image adapted from @themodernlad and @juicyfishball