---
Best chicken rice in Singapore
---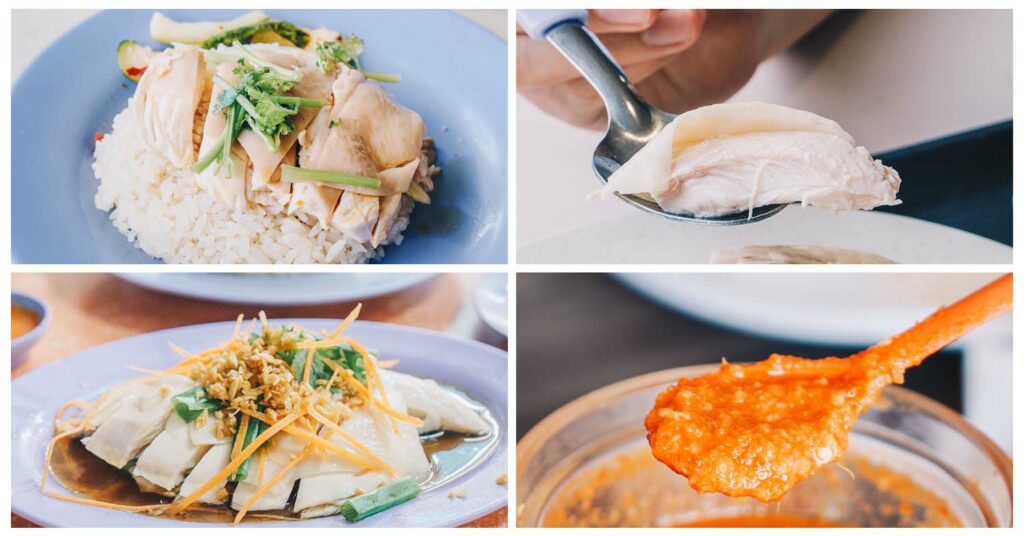 Finding the best chicken rice in Singapore is a hard task. After all, it is Singapore's national dish. While some might argue that chilli crab should take its spot, I find it absurd to even consider the orange-coloured crab dish as a nominee. A national dish should be unanimously enjoyed by everyone, found everywhere, and most importantly be affordable. Chicken rice ticks all the boxes and I don't think those who are allergic to seafood can say the same for chilli crab.   
I began my quest to find the best chicken rice in Singapore by speaking with a wide variety of individuals. A taxi driver told me that a certain stall in Maxwell is better than the legendary Tian Tian, while a colleague swears by a hidden gem in Redhill. A chicken rice uncle helped complete my list by telling me which Boon Tong Kee outlet is the best. 
Before writing this article, I had a few favourites that occupied a special place in my heart. To ensure a fair and accurate review, I brought along a dining companion and visited anonymously to prevent any bias. In the interest of fairness, I also asked for chicken breast at every stall. After two full days of eating nothing but chicken rice, here are the best chicken rice in Singapore ranked. 
---
The criteria
---
The beauty of chicken rice is that there are three distinct elements to it: chicken, rice, and chilli. A good serving must score well in all three categories. These, along with value, will be used to rank our chicken rice. Value is based on serving portions and price. This criterion equalises the playing field and gives hawker centre chicken rice a better footing against those served in restaurants. 
Each category is given a maximum of 10 points, except for chilli which is based out of five points. The final score is derived by adding up the numbers and dividing it by 35.
---
10. Ming Kee Chicken Rice
---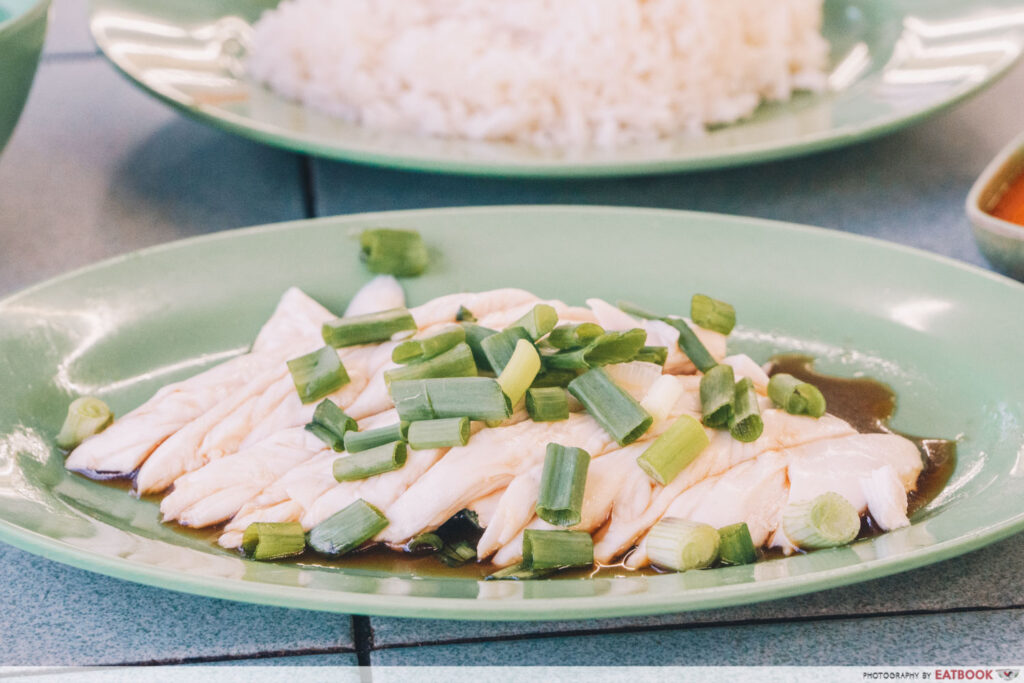 With queues of up to an hour, Ming Kee Chicken Rice is undoubtedly the chicken rice of choice for Bishan residents. The 40-year-old stall was formerly at Bugis, before relocating to its current location in the '90s. Everything at this efficient stall is well organised, and we got our chicken rice quite quickly. A single portion costs $4, and comes complete with soup, rice, and chicken.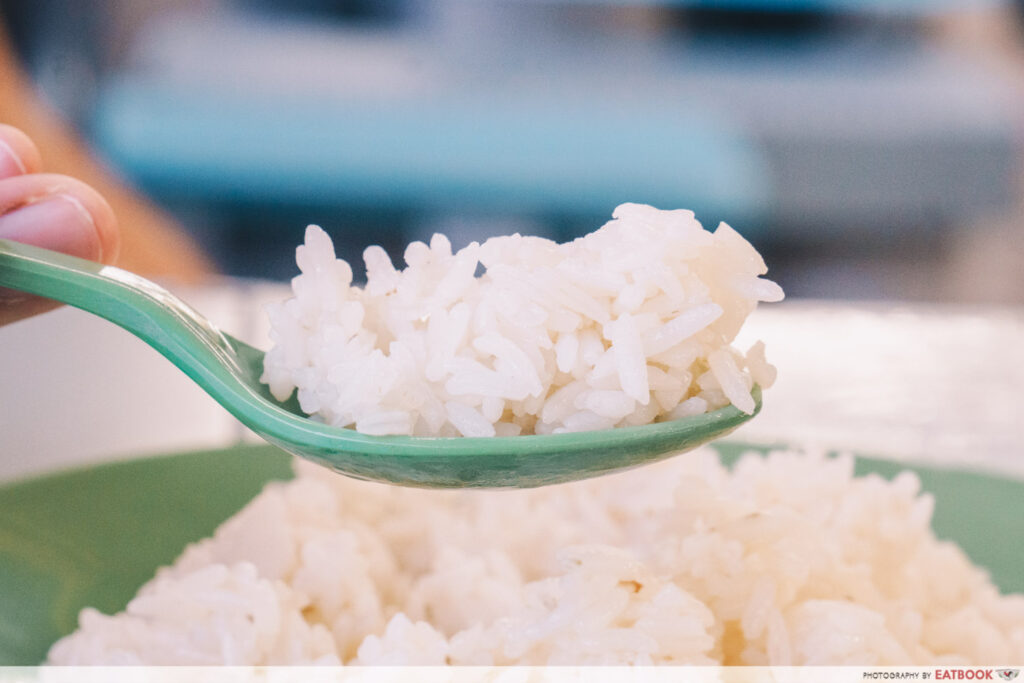 The jasmine rice grains were fluffy, plump, and very distinct. They also came coated with a nice layer of chicken fat that gleamed beautifully. However, biting into them was a slightly disappointing experience. Besides sporting a heavy blanket of fatty chicken oil, the rice was rather bland in flavour. It was missing the aromatic fragrance that good chicken rice should carry.
Rice: 5/10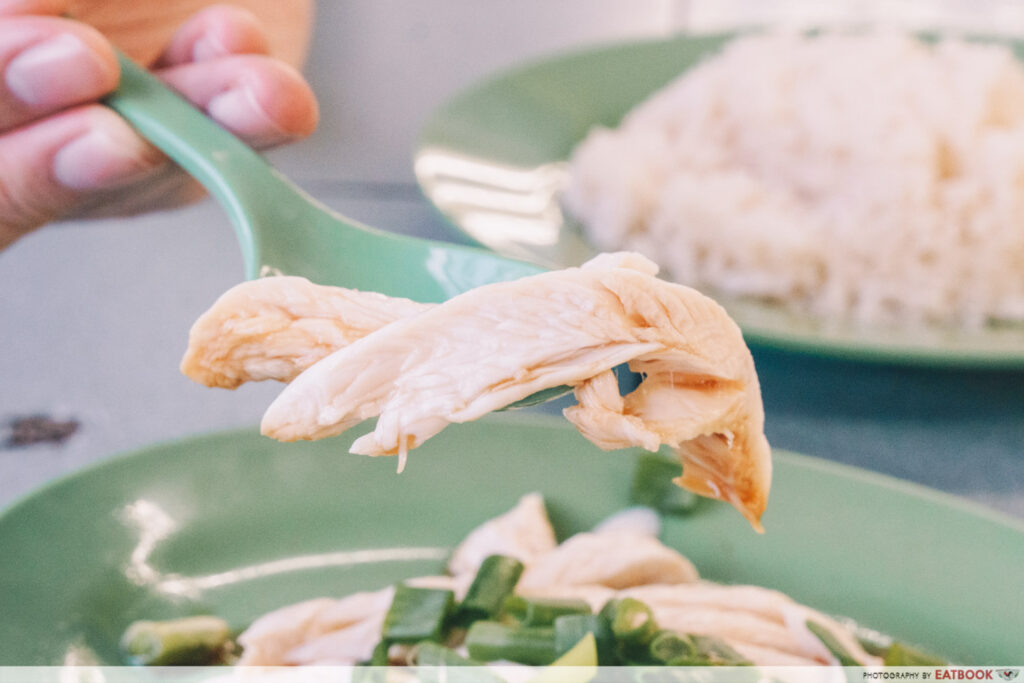 Ming Kee Chicken Rice is known for dunking their chicken into a large ice tub. The chicken is only taken out and chopped upon order. This technique stops the cooking process immediately, resulting in a juicier bird. Several players use this technique as well.

The chicken is refreshingly cold when served, and is given a light drizzle of soya sauce dressing. I found the sauce mix to be too overpowering, stripping away most of the chicken's natural flavour. 
Portions were respectable, and the chicken breast was sliced into long strips. The strips were slightly thin for my liking, and as a result, didn't give too pleasant of a mouthfeel. Despite the ice bath technique, the chicken was not as juicy as I would have hoped for. Instead, it was a little too dry and seemed to have been overcooked for a tad too long. 
Chicken: 6.5/10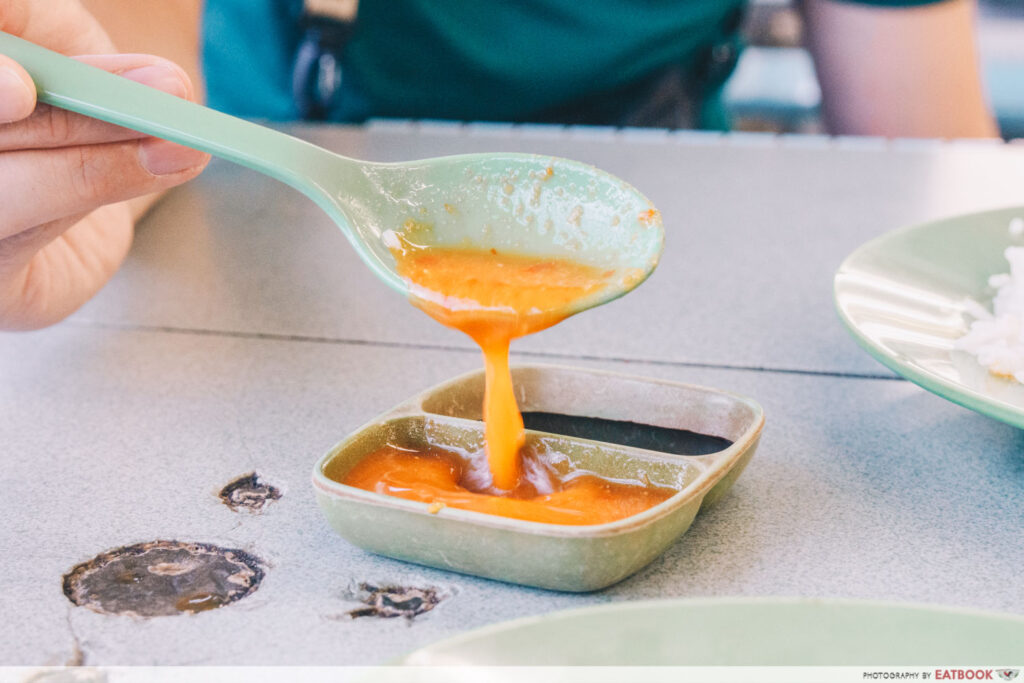 The chilli was watery and one of the thinnest that we've come across. Its diluted watery texture dripped off the chicken, and it wasn't very spicy nor remarkable. 
Chilli: 1.5/5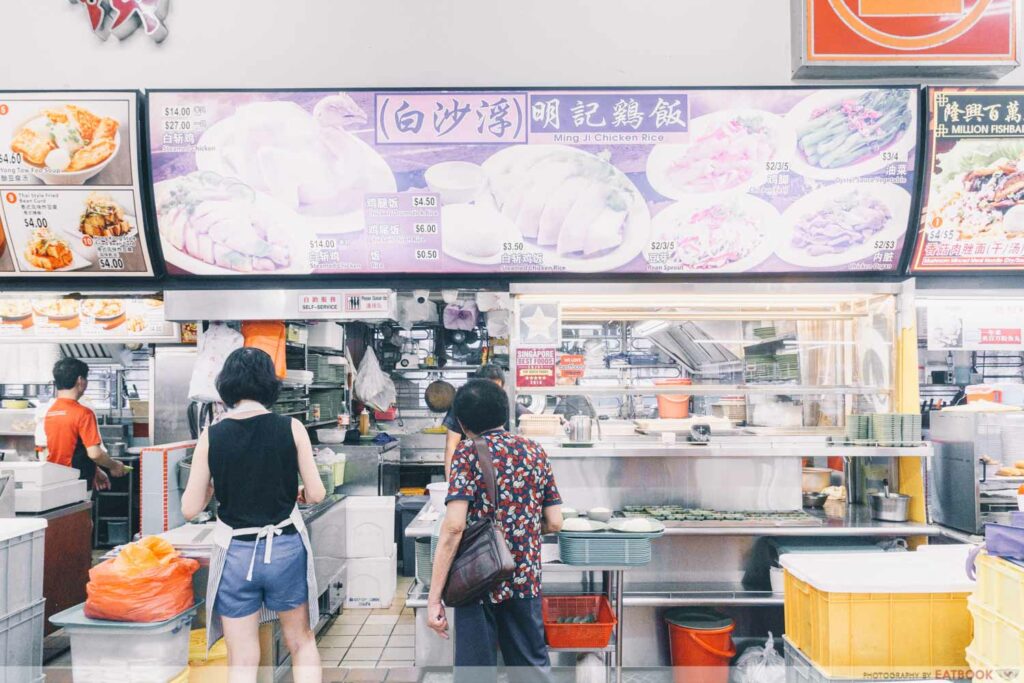 Ming Kee Chicken Rice comes at a decent value, costing a market-standard rate of $4. Portions were respectable for what we were paying, but the rice, as well as the soup that accompanied it, was rather bland. 
Value: 9/10
I have absolutely no complaints about tucking into this chicken rice on any other day. It's a plate of no-frills chicken rice that is tasty in its own right. But we're looking for the best chicken rice, and this popular chicken rice stall in Bishan isn't one of them. 
Total: 62.86%
Address: 511 Bishan Street 13, #01-522, Kim San Leng Coffee Shop, Singapore 570511
Opening hours: Wed-Mon 10am to 8pm
---
9. Boon Tong Kee (Balestier)
---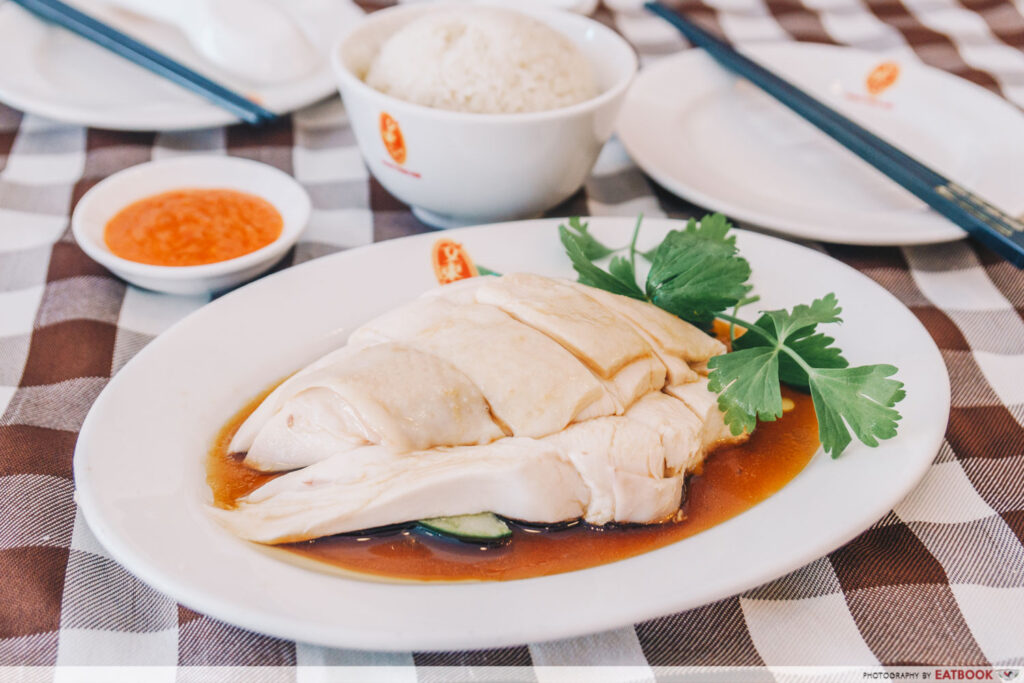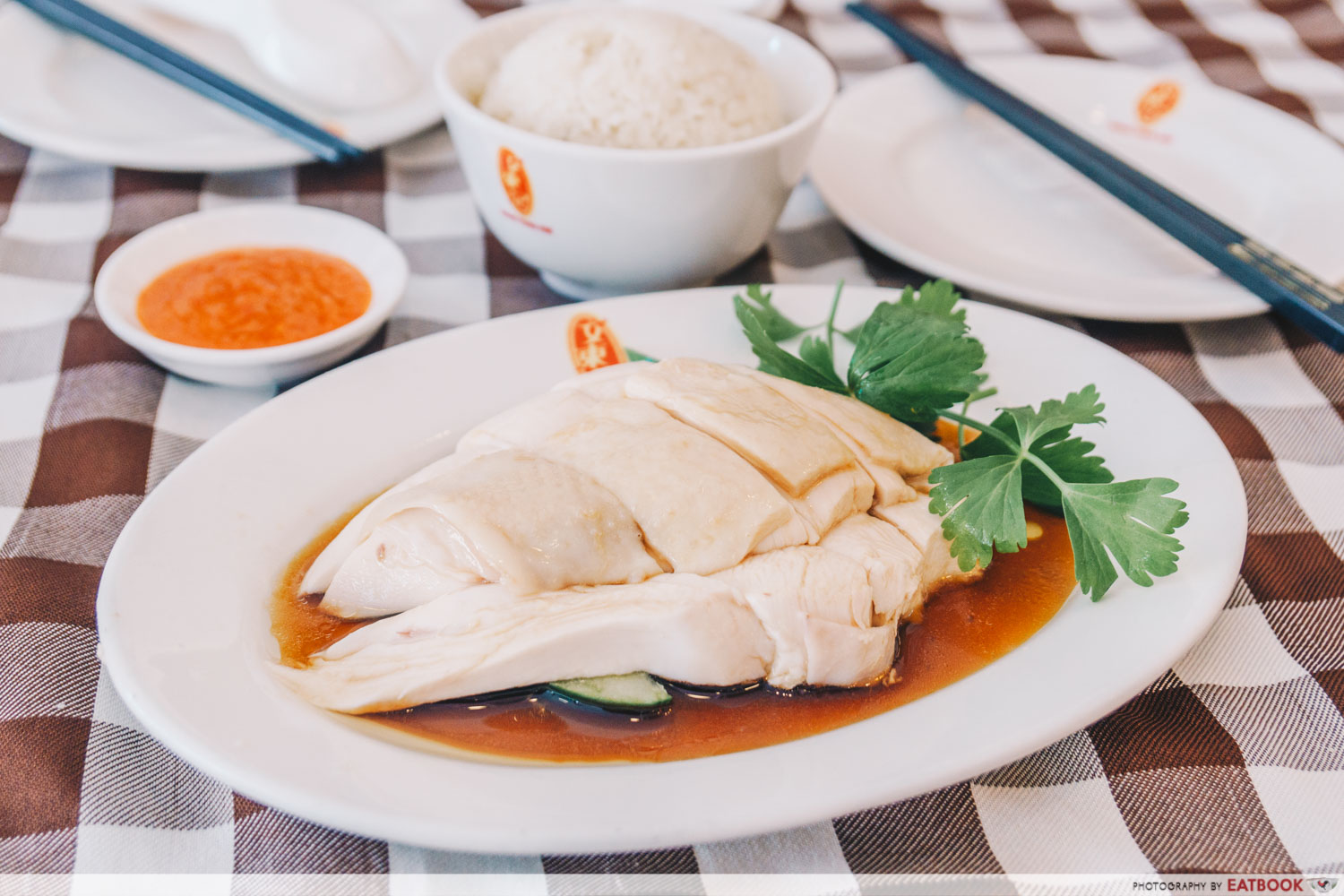 There are eight Boon Tong Kee outlets islandwide. I paid a visit to the Balestier outlet after receiving a tip-off from my regular go-to chicken rice stall in Hougang who unfortunately didn't make this list. It also helps that the Balestier outlet is the first Boon Tong Kee restaurant, having opened in 1983.

This is a full-fledged restaurant, and we were quickly ushered to our table by well-groomed servers. It was nice to be dining at a table draped with a tablecloth, and having someone wait on us. However, that also translated to higher prices. We paid $7++ for a plate here, which is one of the most expensive ones on the list.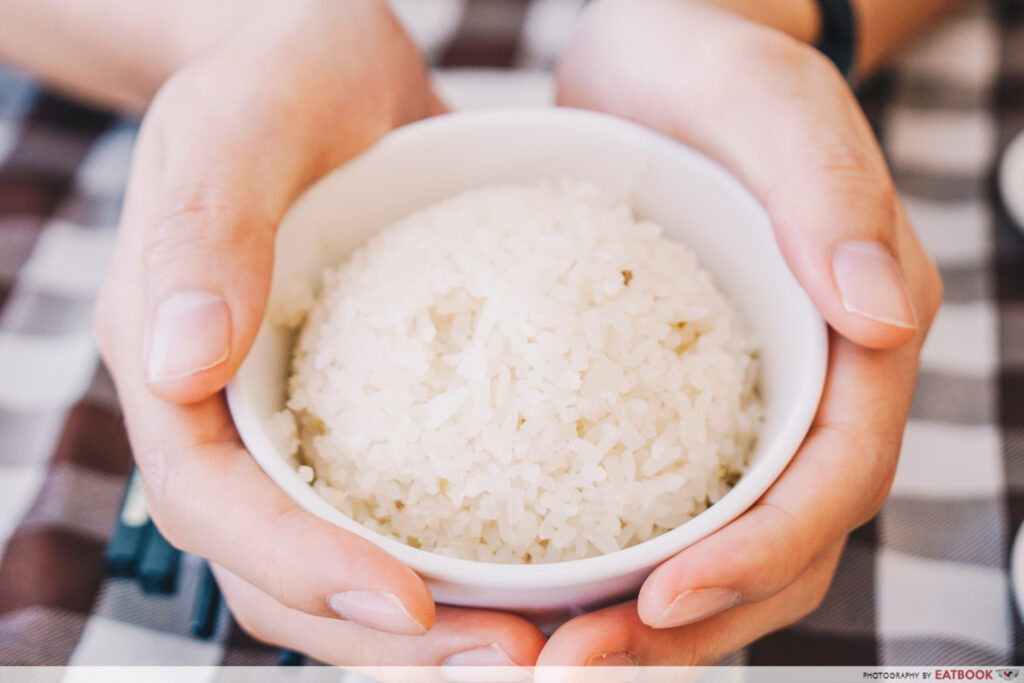 One thing we immediately noticed is how the rice grains were noticeably smaller and shorter in size. This gave the rice a less fluffy texture and also resulted in a much drier consistency. 
However, the rice did well in the flavour department and came with good hints of pandan, ginger, and a balanced amount of chicken fat. It was light tasting and not overly greasy, which is great for those looking to watch their oil intake. 
Rice: 5.5/10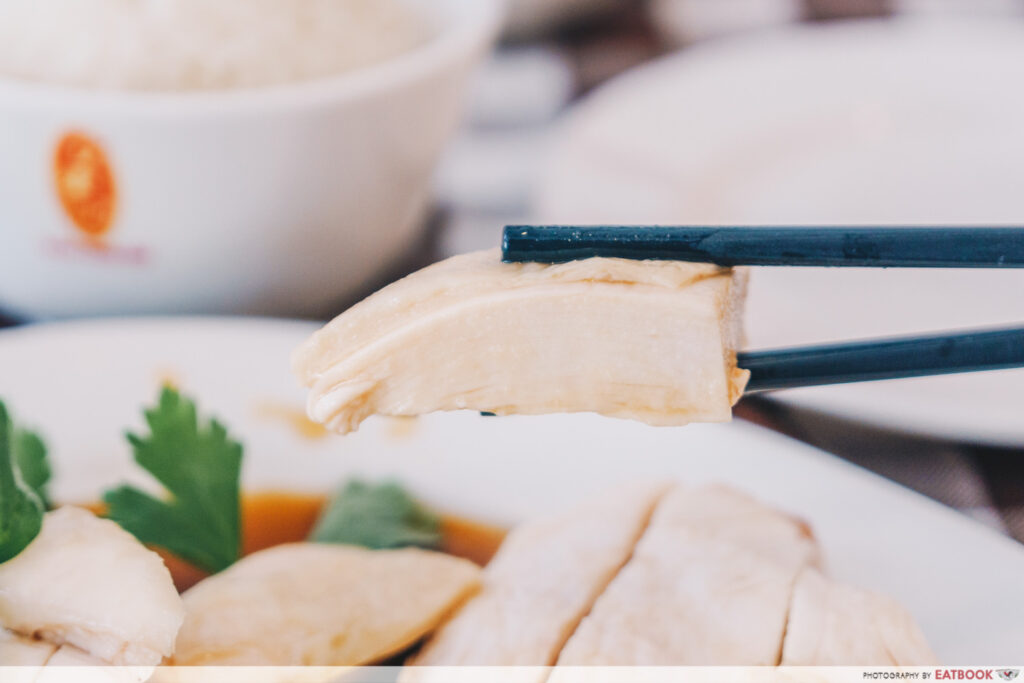 The chicken was served in generous portions, which was large enough for two light eaters to enjoy. Loads of care were taken in the plating and the chicken were artfully sliced into thick large chunks that gave a juicy and succulent texture. 
A blend of savoury soya sauce and nutty sesame oil is drizzled tableside, and they did well in complementing the expertly cooked chicken. Its doneness was close to perfection, and there weren't any overly fibrous bits. My dining companion and I were huge fans of how the chicken was prepared.

Chicken: 9.5/10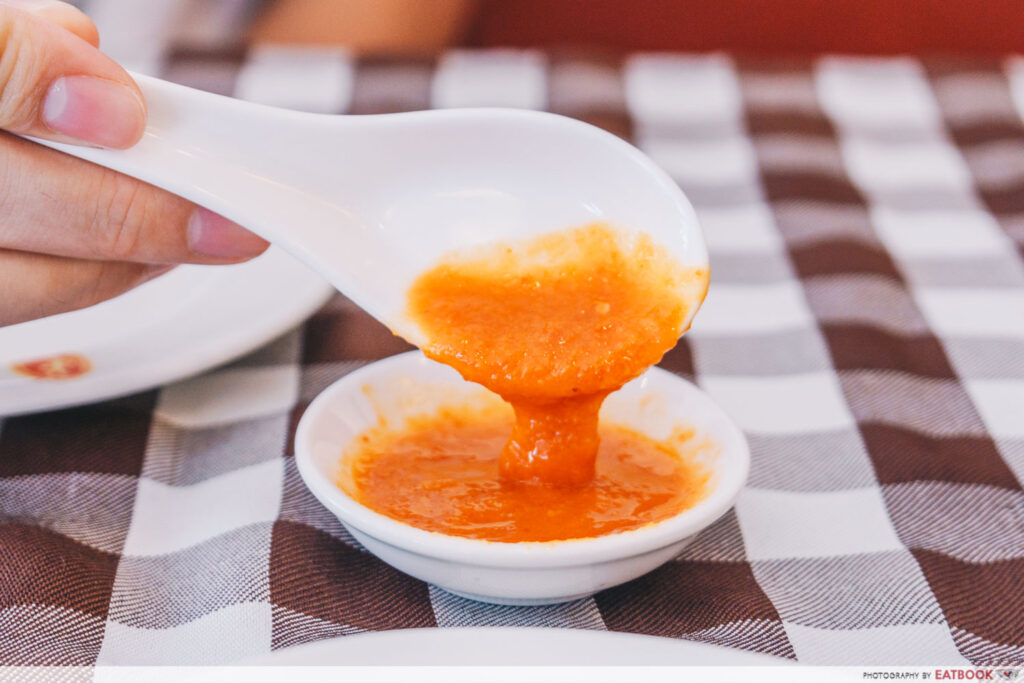 While the restaurant came close to perfecting their steamed chicken, we were left disappointed with the chilli. It had the thickest consistency we've seen, almost being close to a syrup, and also overly sweet. This contrasted very heavily against the light flavours of the chicken, and we didn't return to it after trying it once.  
Chilli: 1.5/5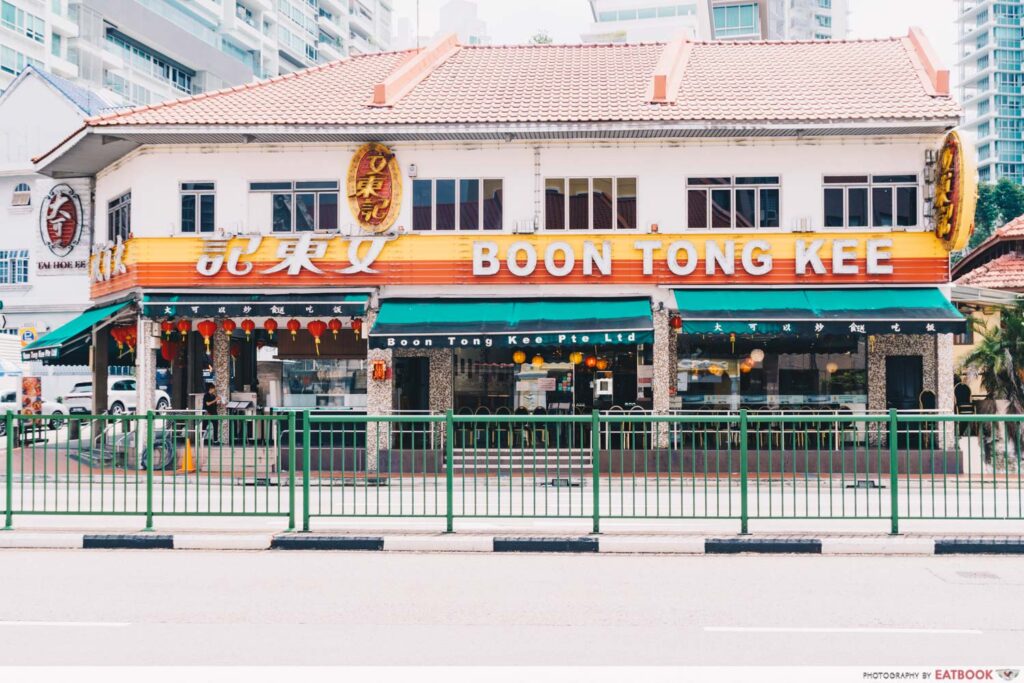 While the prices at Boon Tong Kee might be on the high side, the large portions and friendly service staff more than make up for it. It also helps that the restaurant has a powerful air conditioning system, so we were able to dine in comfort while enjoying our chicken rice. 
Value: 7.5/10
Boon Tong Kee whips up an irresistible serving of steamed chicken. However, their other two components of rice and chilli are not at the same standard. Just like how there's no ying without yang, the chicken rice here falls short of achieving perfect equilibrium. 
Total: 68.57%
Address: 399 Balestier Road, Singapore 329801
Opening hours: Mon-Fri 11am to 3pm, 5pm to 11pm, Sat 11am to 11pm, Sun 11am to 10:30am
Tel: 6254 3937
---
8. Tian Tian Hainanese Chicken Rice
---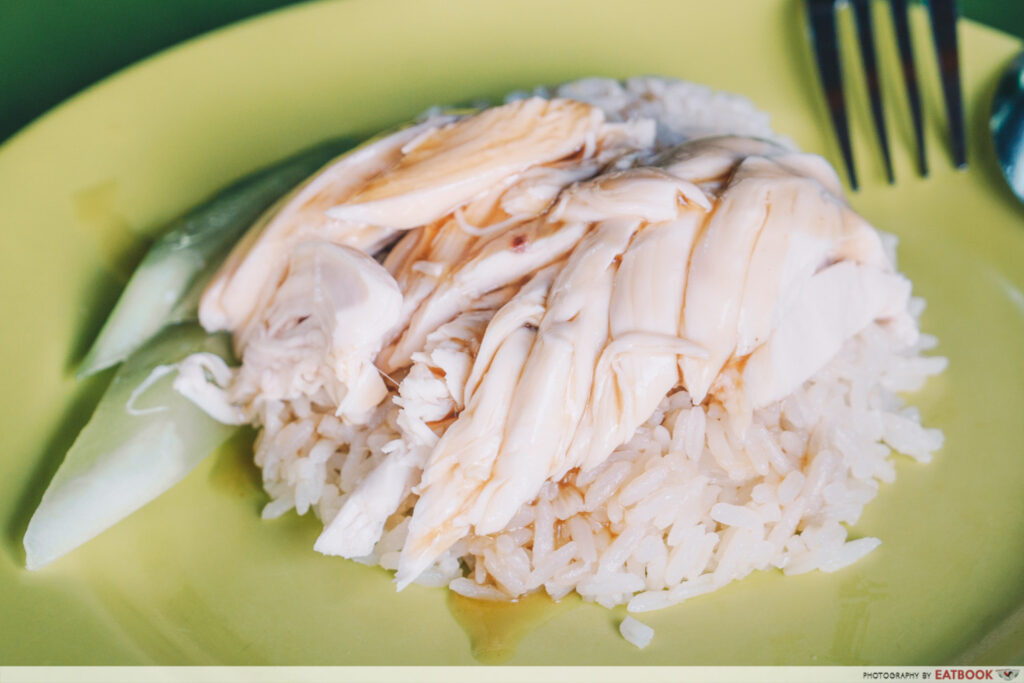 Just like how tourists queue up for the creamy scrambled eggs at Australian Dairy Company in Hong Kong, there are more tourists than locals at Tian Tian Hainanese Chicken Rice.
Part of its popularity can be attributed to endorsements by international culinary icons such as Anthony Bourdain and Gordan Ramsay. The latter, with a total of 16 Michelin stars in his career, famously lost out to the stall in a 1v1 cookoff. But how good is Singapore's most famous chicken rice stall? We put their Chicken Rice ($5) to the test.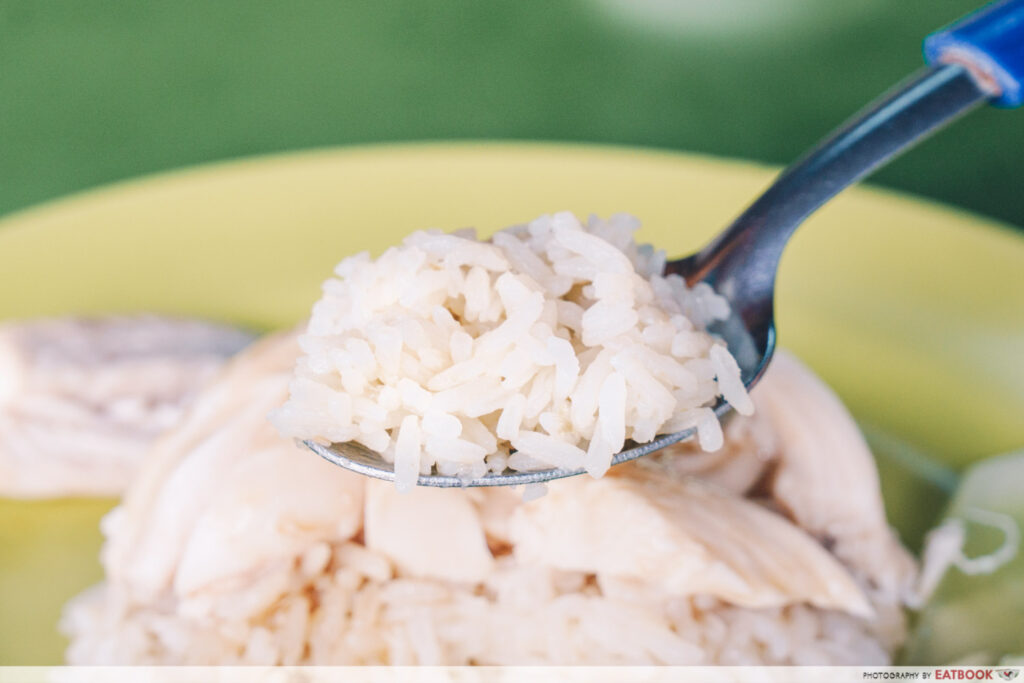 Anthony Bourdain declared that the rice at Tian Tian was "so fragrant and delicious that it can be eaten on its own." The stall even plastered the exact same quote on their stallfront, and is proud of how they make the rice.  
They have every reason to be because the rice is the best we've come across. It was fluffy and came with the right amount of moisture. The taste of ginger was quite pronounced but wasn't overly offensive. And while the rice was filled with loads of aromatic chicken flavour from the stock, it didn't taste overly oily. 
Rice: 9.5/10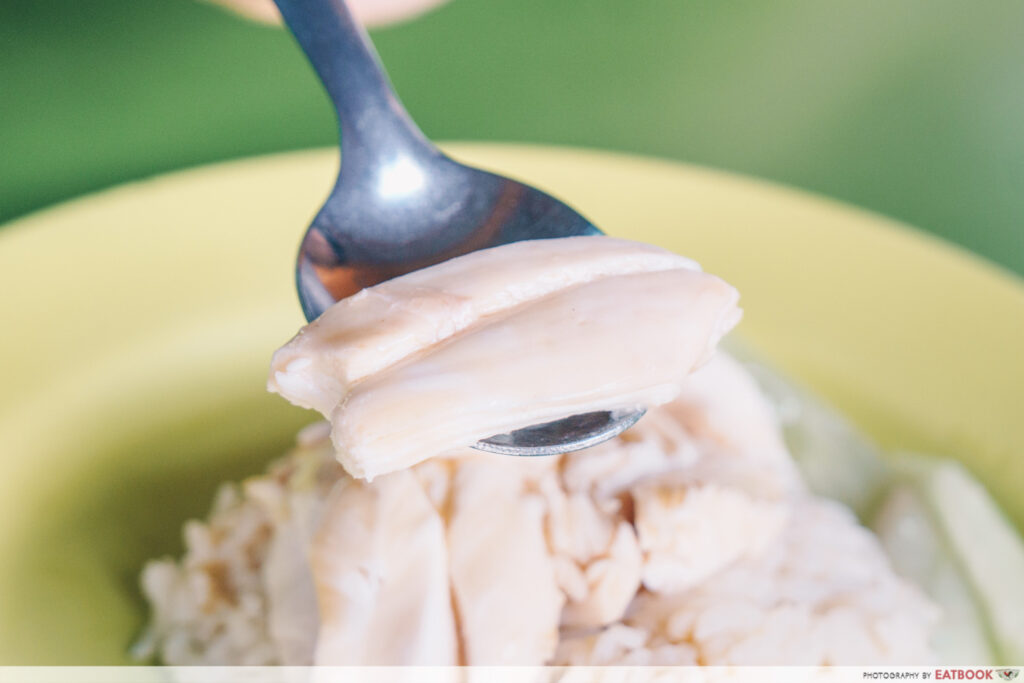 While waiting for my chicken rice, I realised that the chicken breasts were already carved out from the chicken for efficiency purposes. All the chef had to do was to slice them into bite-sized bits upon order. 
This might have contributed to the dry and coarse texture of the chicken. It was slightly grainy and was a little rough to chew through. A light glaze of soy and oyster sauce was brushed onto it, giving a solid punch of flavour. However, the chicken's texture was a big let down and we found it difficult to give a high score. 
Chicken: 6/10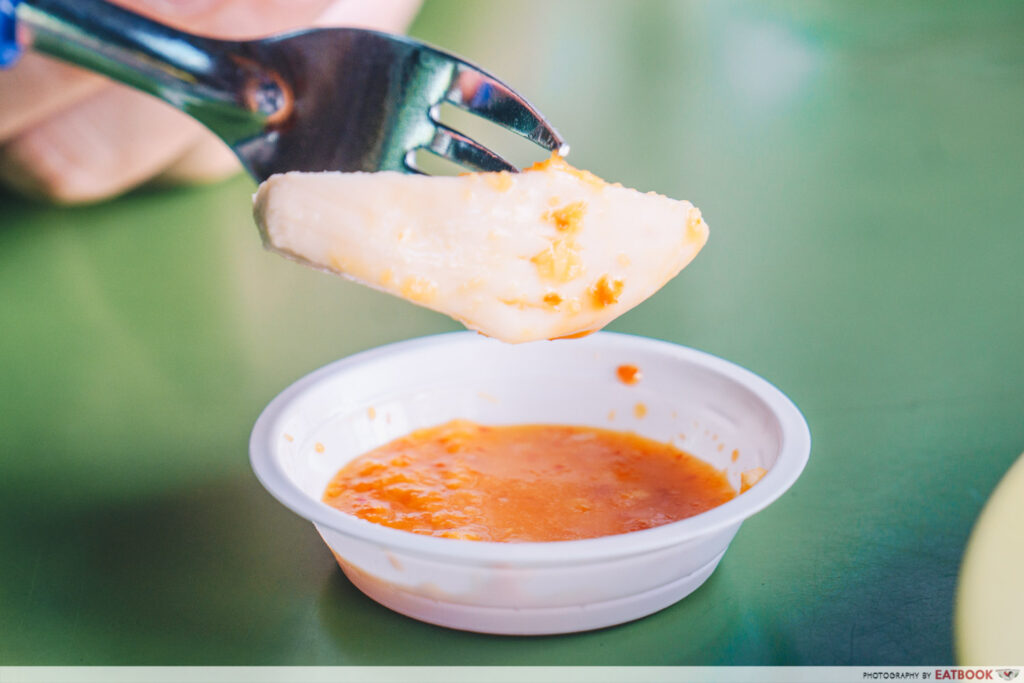 The chilli was more on the sweet side and didn't provide anything else in the flavour department. It overpowered the chicken, and didn't come together as a unit. 
Chilli: 2/5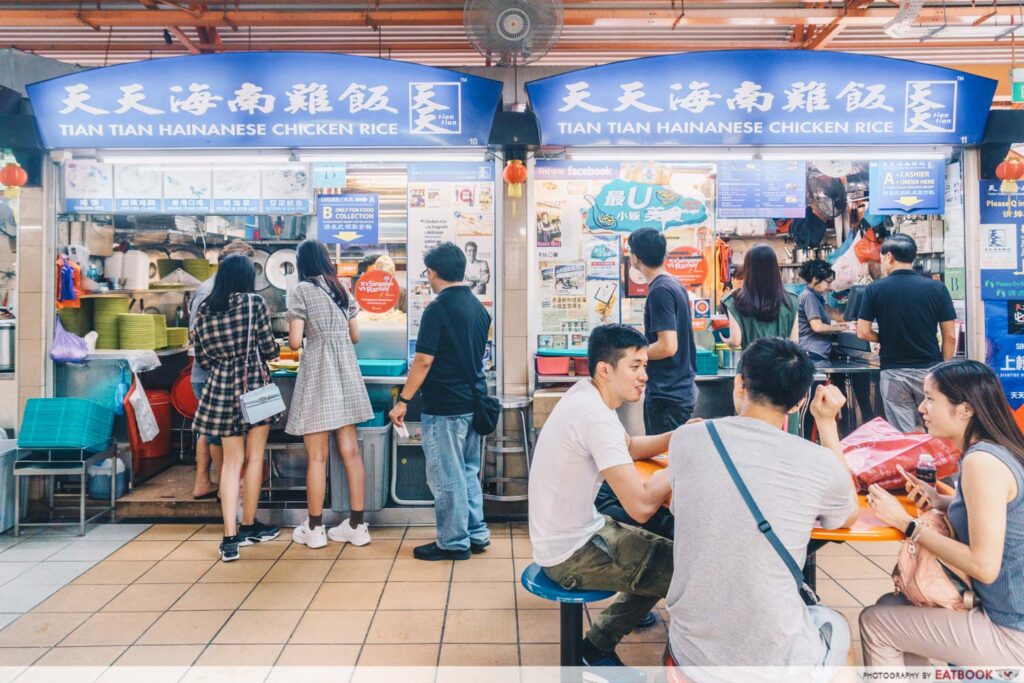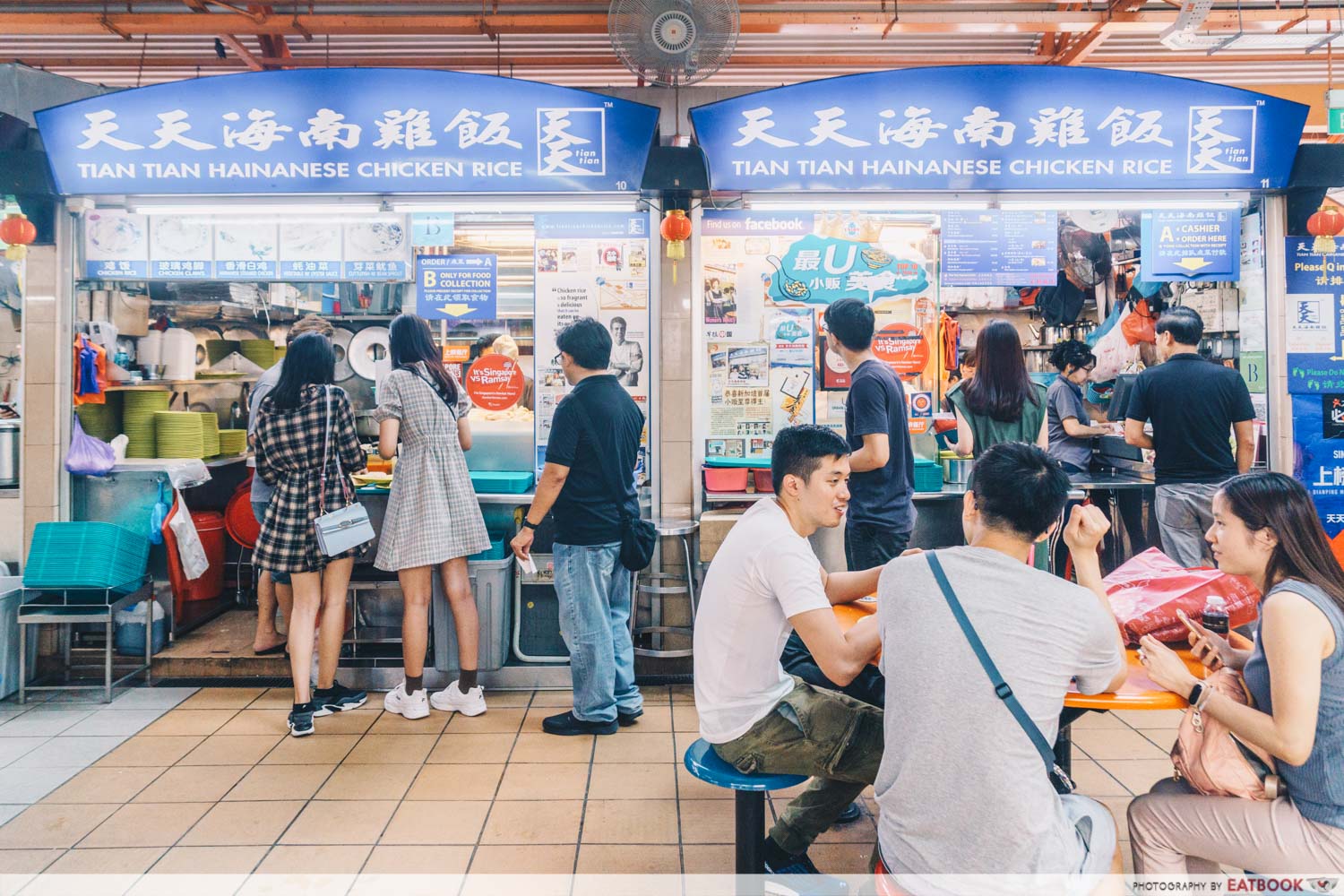 I was a little disappointed with the serving size. The rice came in quite a small serving and there were neither soup nor spring onions. We'll have to give it a medium score for value. 
Value: 7/10
I've asked a few locals about what they think about Tian Tian, and the answer always seems to be that it's very overrated. I think that it's a quality plate of chicken rice, one that would draw a modest queue at any hawker centre in Singapore. However, to call it the best chicken rice in Singapore would be an overstatement. 
Total: 70%
Address: 1 Kadayanallur Street, #01-10/11, Maxwell Food Centre, Singapore 069184
Opening hours: Tue-Sun 10am to 7:30pm
Website
---
7. Ah Tai Chicken Rice
---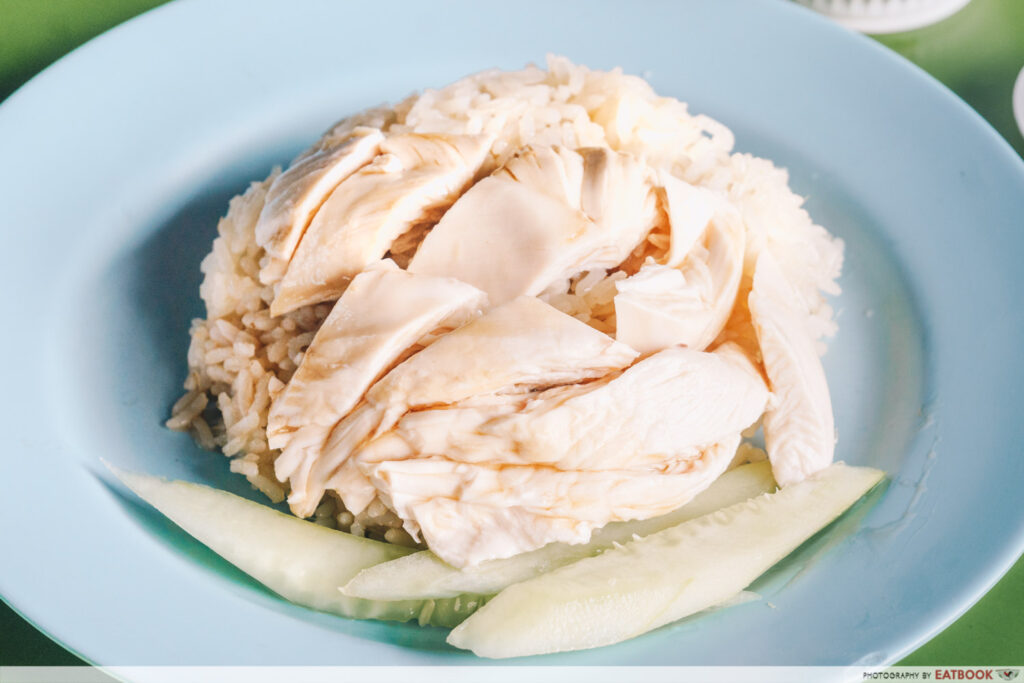 Ah Tai Chicken Rice was started by a former Tian Tian employee who worked at the famous chicken rice stall for over 20 years. The owner, Wong Liang Tai, then set up his stall two units away in 2012.

This chicken rice war has been the subject of much online debate and surprisingly, there isn't a clear-cut winner. Both stalls also sell their chicken rice at the same price of $5.

Ah Tai's rice also features the same plump and fluffy grains as Tian Tian. They hardly clump up and have a nice even sheen of oil to it. However, the rice was extremely dry on that day, strangely reminding me of fried rice. 
Rice: 5/10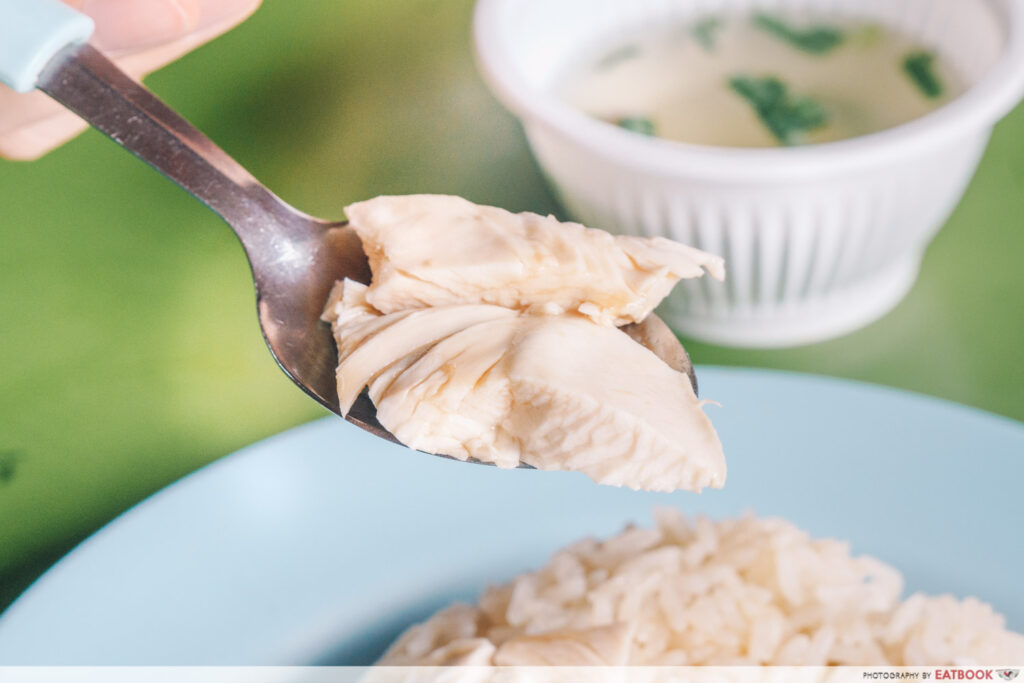 The chicken was sliced a little chunkier as compared to Tian Tian. It was juicy, meaty, with a flavourful glaze. The chicken was cooked quite well, and while it wasn't to the point that it was oozing out juices, it was enough to warrant a respectable score. 
Chicken 8.5/10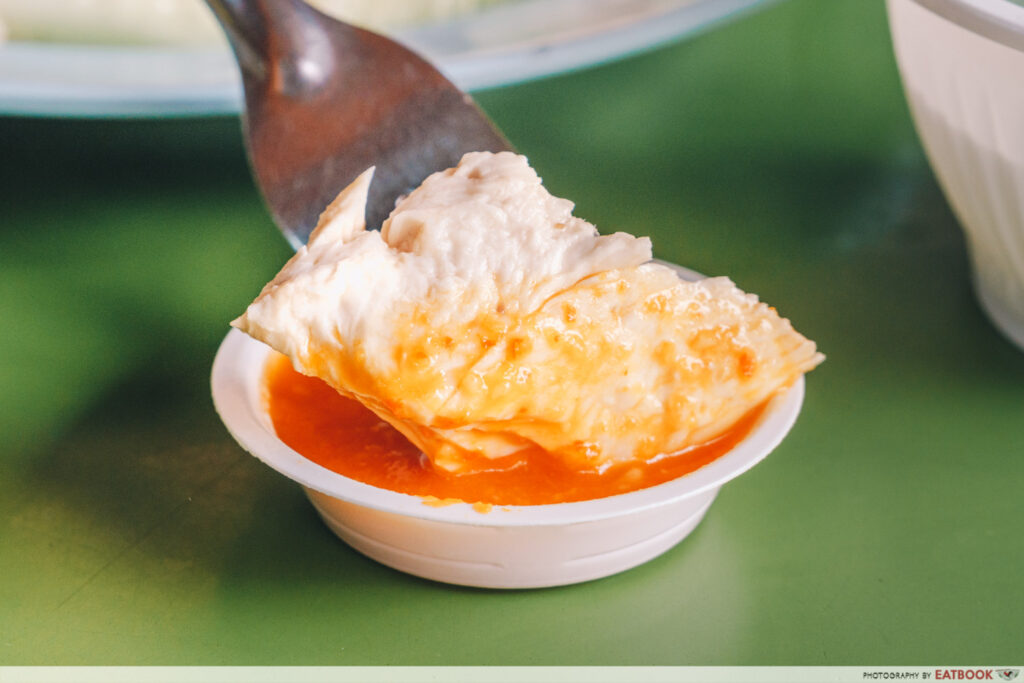 Ah Tai's chilli came in a beautiful orange colour that was much thicker than Tian Tian's. It was bordering on the sour side, and packed some heat. However, it was lacking that final kick of garlic flavour that could have taken everything up a notch. 
Chilli: 3/5
Serving size is generous here, and I also got a bowl of soup that didn't taste like it was brewed with a sachet of MSG. It was pleasantly sweet and did well in giving the rice some moisture. 
Value: 8.5/10
Ah Tai edges out Tian Tian slightly, thanks to its steamed chicken. The rice tasted a little differently from the other nine players on this list, and I'm guessing that it might be due to it being inconsistent on the day of our visit. I might be a little cheeky and get the rice from Tian Tian and chicken from Ah Tai the next time I'm at Maxwell Food Centre.
Total: 71.43%
Address: 1 Kadayanallur Street, #01-07, Maxwell Food Centre, Singapore 069184
Opening hours: Thurs-Mon 11am to 7:30pm
Website
---
6. Wee Nam Kee (Novena)
---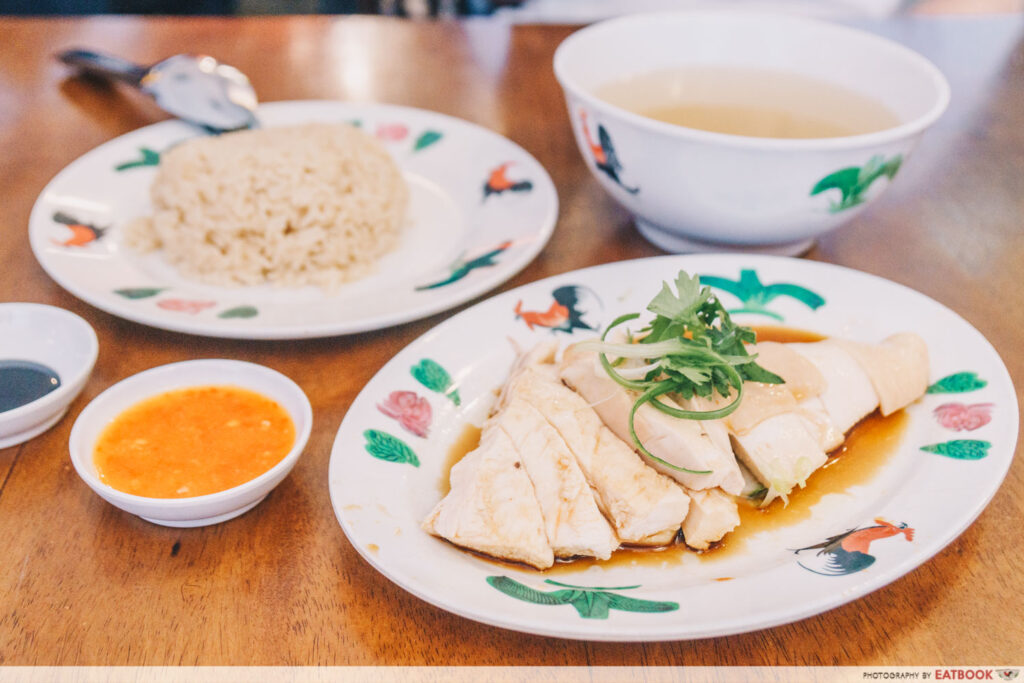 Similar to Boon Tong Kee, Wee Nam Kee is a chicken rice chain restaurant. The stall is flying the Singaporean flag high and has outlets in Japan, Indonesia, and the Philippines. Prices are higher, as compared to regular hawker centre chicken rice, and we got a plate of chicken rice at $6.10+. 

There are four outlets around Singapore, but the Novena outlet is closest to the original stall that was previously located opposite Novena Church.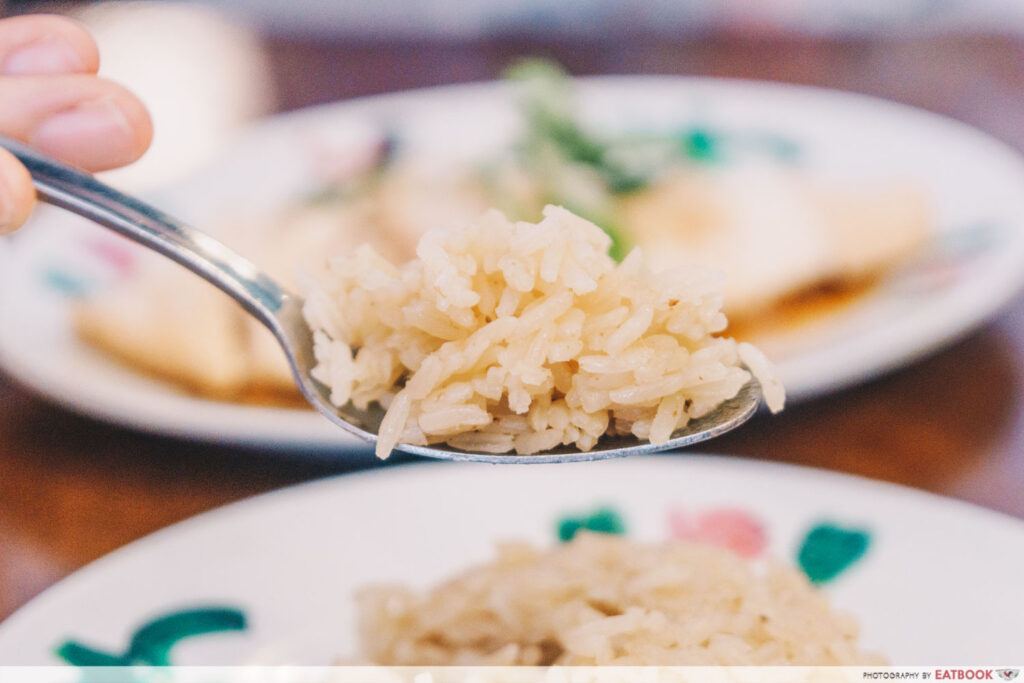 The large rice grains were darker in colour, thanks to the use of onion oil instead of chicken fat. I found it to be a little too oily, and had to keep reaching for water to cleanse my mouth. It was also missing out on flavour, and didn't have that richness that makes chicken rice so incredibly addictive. 
Rice: 6.5/10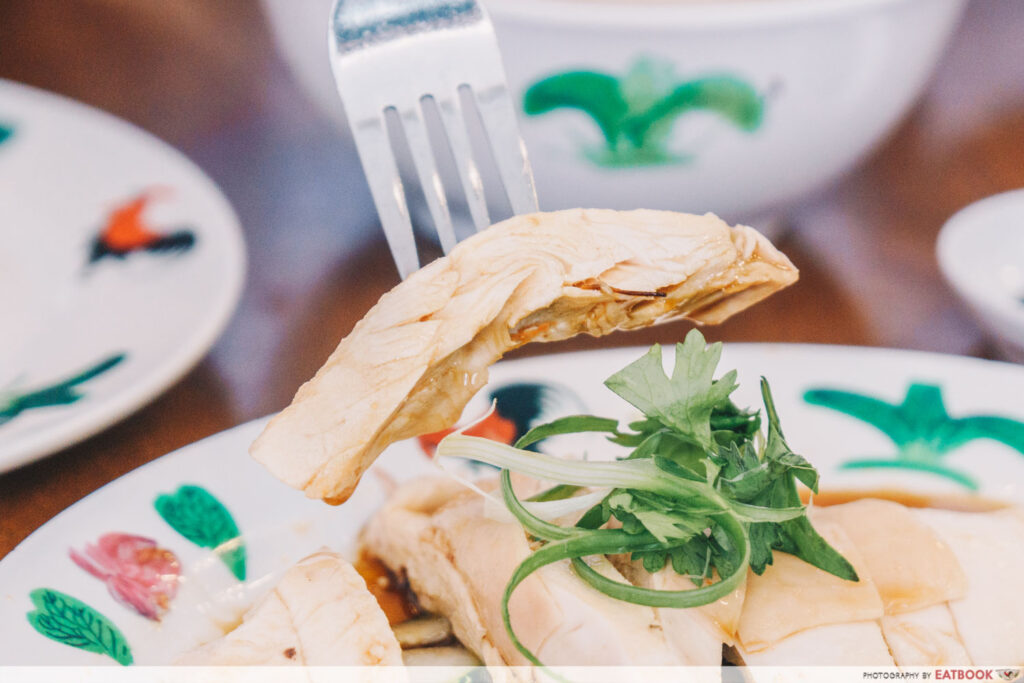 The restaurant is generous with their portions and we got an entire hunk of chicken breast. It also came with the skin, adding a nice bit of fatty flavour. Unfortunately, we were let down by the doneness, and couldn't help but feel that the chicken was overcooked. The chicken was a little flaky and didn't have too much of a solid succulent mouthfeel to it. 
Chicken 6.5/10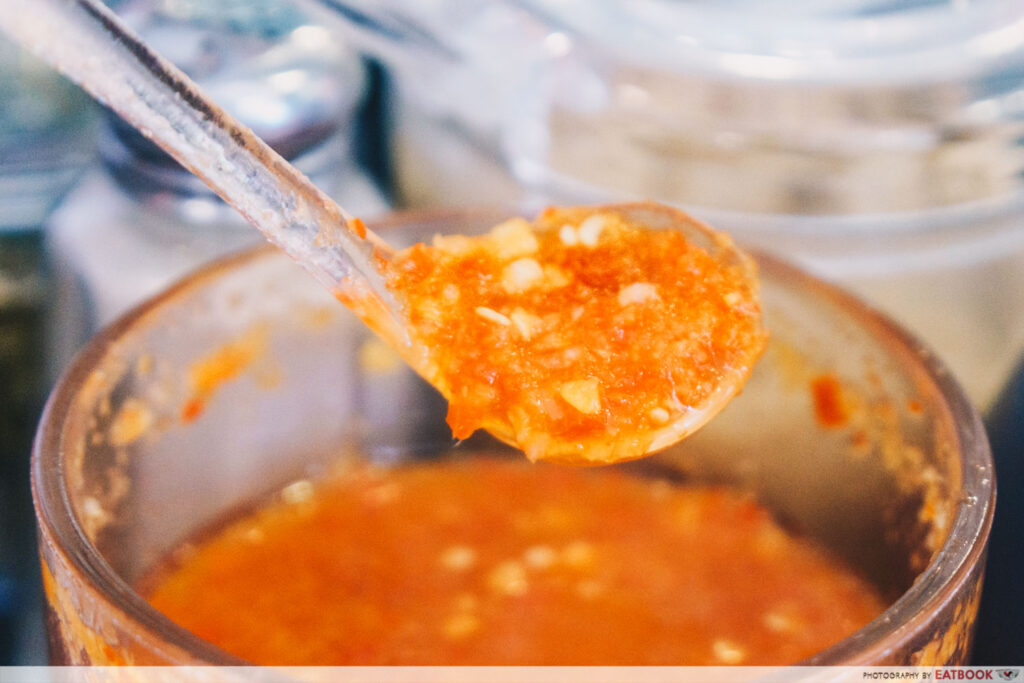 While both the rice and chicken were a little lacklustre, the chilli saved the day. This was the best chilli on the list and took the otherwise mundane chicken rice dish up a notch. It was close to watery, but also came with chunks of minced garlic and chilli that balanced everything out.
Chilli: 5/5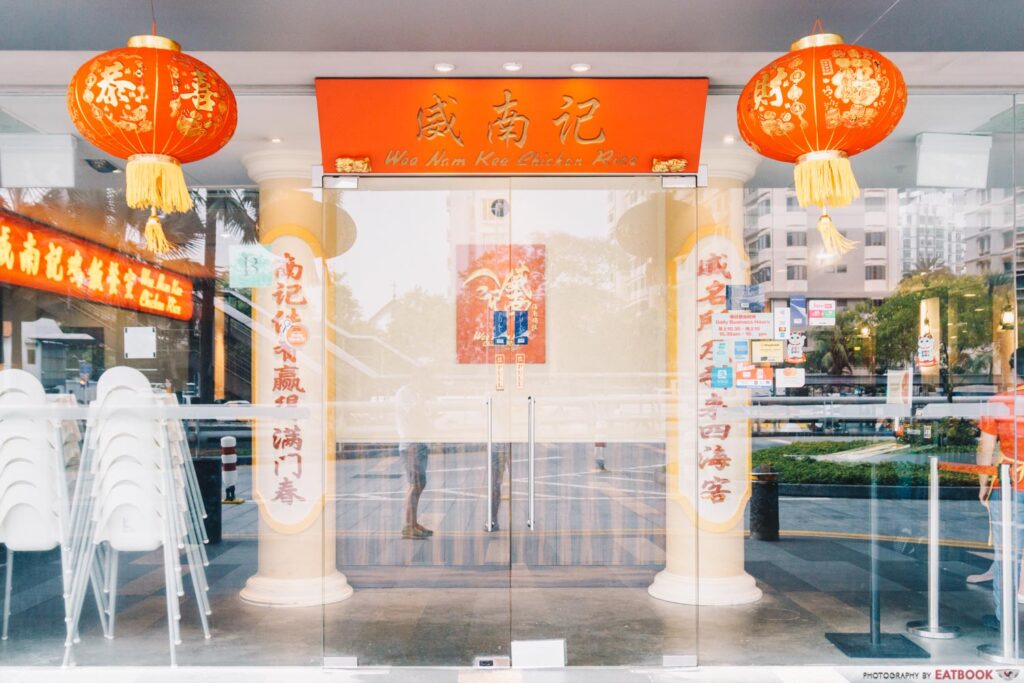 Each order comes with a large bowl of flavourful soup, and the generous portions are a nice touch. Being cooled down by an air conditioner here is nice too. However, the service staff was not the friendliest, and the restaurant can get a little too noisy at times. 
Value: 7.5/10
When consumed on its own, the chicken rice at Wee Nam Kee is nothing too special. However, its special chilli sauce is the real star player and propels this dish to beat the likes of Tian Tian and Boon Tong Kee. 
Total: 72.86%
Address: 101 Thomson Road, #01-08, United Square, Singapore 307591
Opening hours: Daily 10:30am to 9pm
Tel: 6255 6396
Website
---
5. Five Star Kampung Chicken Rice (East Coast)
---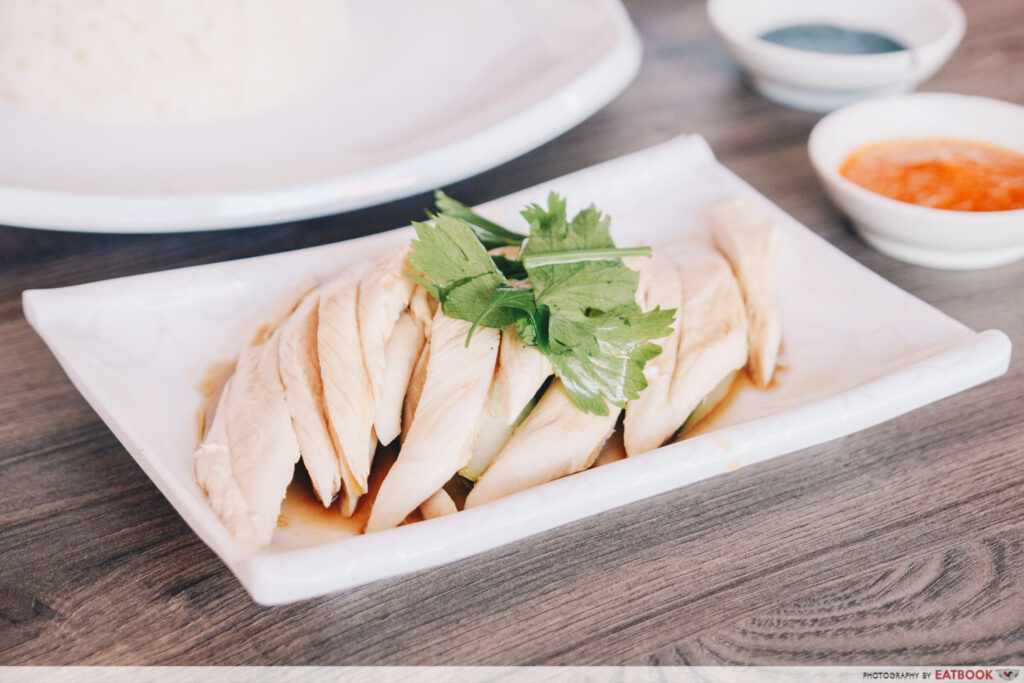 Five Star Kampung Chicken Rice pride themselves on serving up kampung chicken. These free-range chicken are free to roam around, resulting in their meat being lower in fat and also having a much more full-bodied flavour. Some people swear by kampung chicken, and while there's a noticeable difference, I find both types of chicken to be equally irresistible. Prices start from $6.50 for a portion.
The restaurant has been around for around 30 years and was started by a chicken supplier who knew loads about sourcing the best poultry. He eventually opened his own restaurant and named it Five Star as he had five other brothers.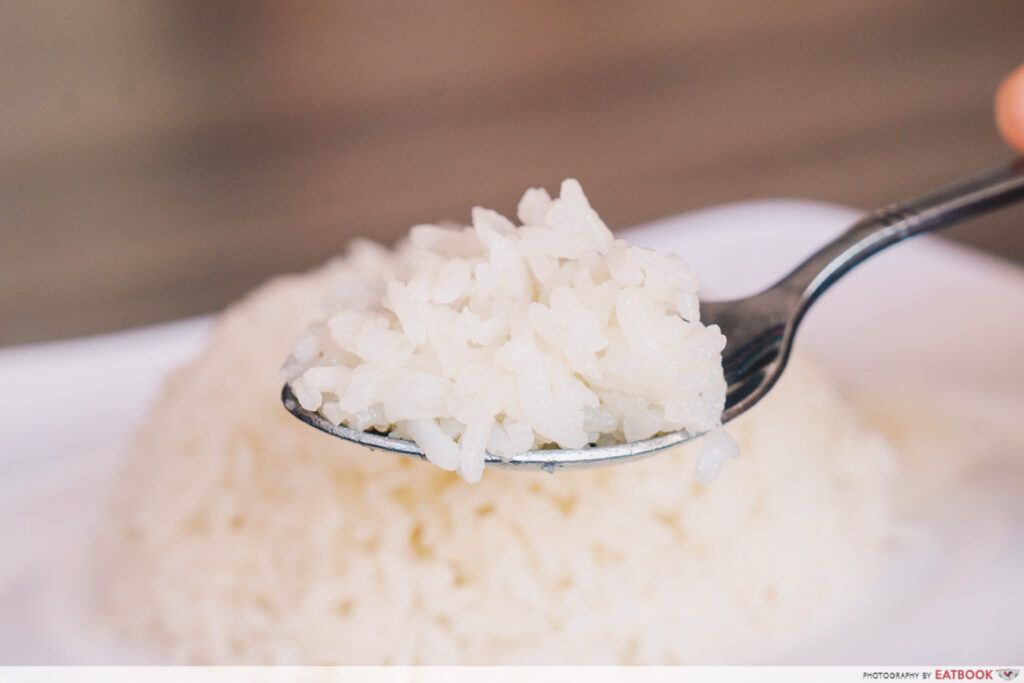 The rice was light in colour and looked like plain rice. It was leaning towards the wet side and some bits were slightly mushy. However, it fared much better in the taste department and was very flavourful. There were subtle hints of ginger and onion flavours, along with plenty of tasty chicken fat present in every bite. 
Rice: 6.5/10
The chicken breast was sliced into long diagonal strips that looked just like chicken fingers. They were noticeably leaner as well, remaining juicy and packing an intensely deep flavour. The chicken sits on a pool of sweet soy sauce which complemented it.
Chicken: 8.5/10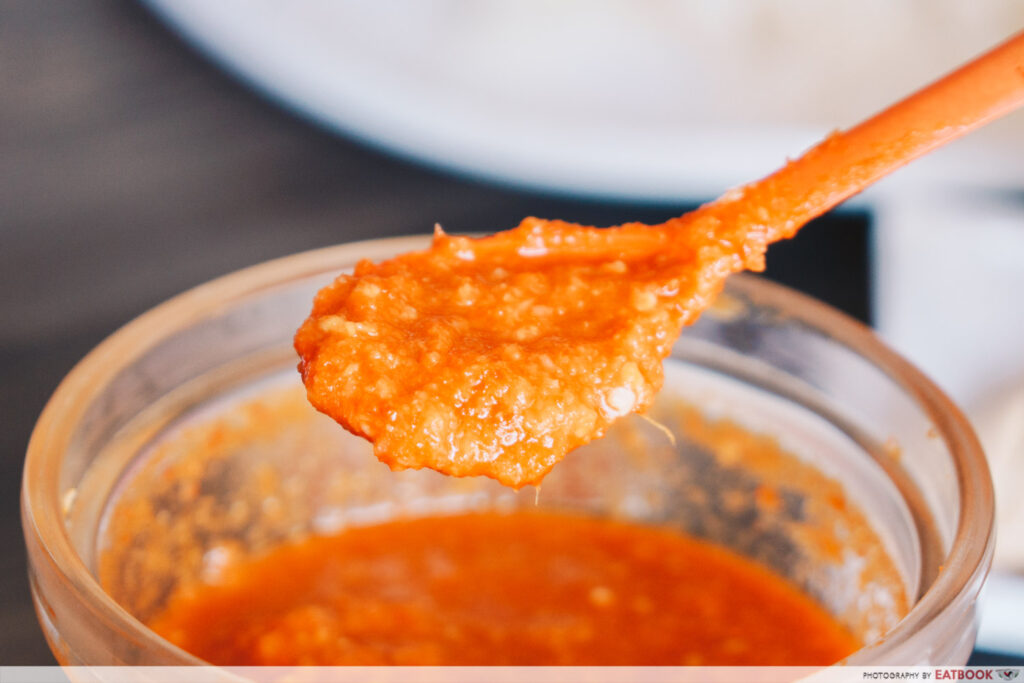 Lighting everything up with a brilliant orange hue, the chilli has a nice colour and consistency that impressed us greatly. It wasn't too chunky and came with a solid kick of spice as well. The garlic notes were particularly intense, and I felt it in my mouth long after the meal was over. 
Chilli: 4.5/5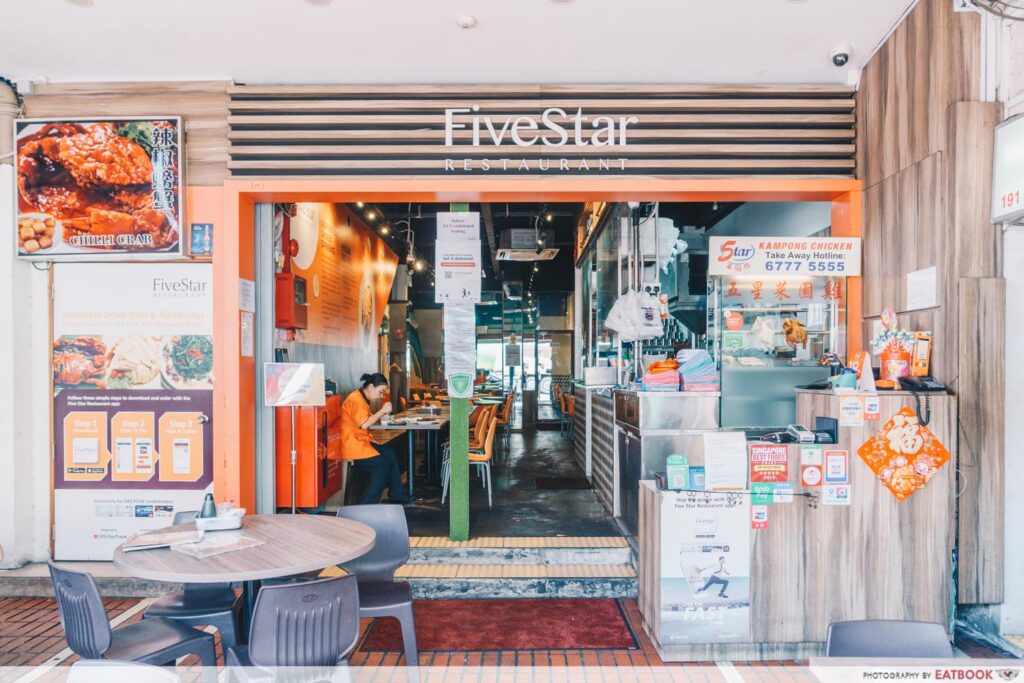 The restaurant is decorated in quite a basic manner and comes decked out in stiff plastic chairs. A side of soup was also served with the chicken rice, but it was rather flavourless. 
Value: 6.5/10
While the steamed chicken and chilli were impressive, the rice and high prices meant that this restaurant would not be an everyday choice for regular people like me. Still, it's good enough to be right smack in the middle of the list of best chicken rice in Singapore. 
Total: 74.29%
Address: 191 East Coast Road, Singapore 428897
Opening hours: Daily 11am to 2am
Tel:6344 5911
Website
---
4. Loy Kee (Balestier)
---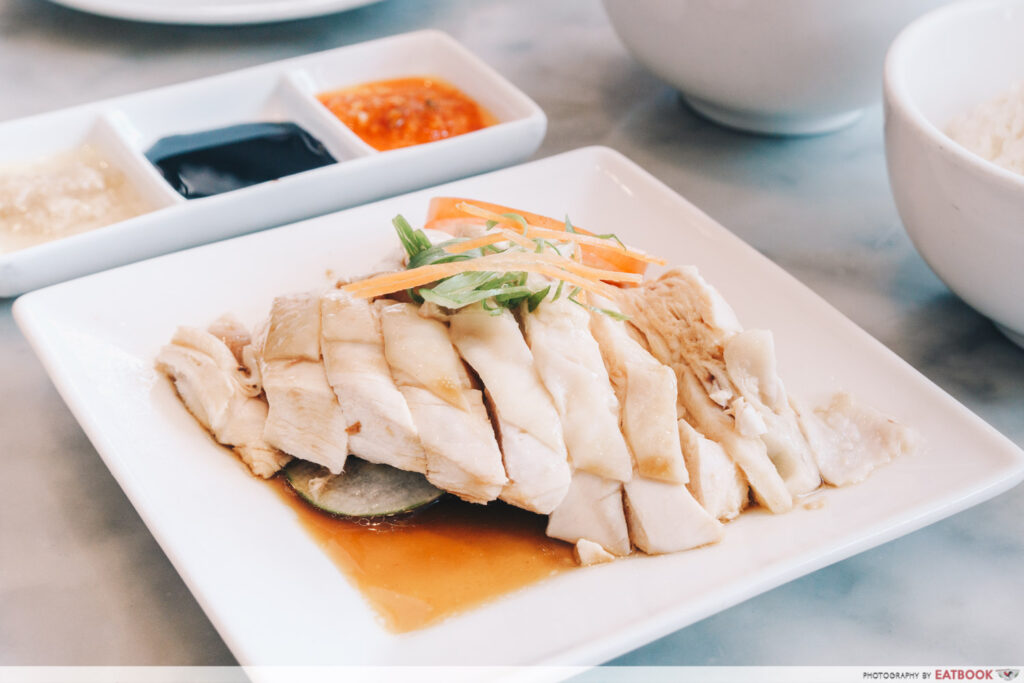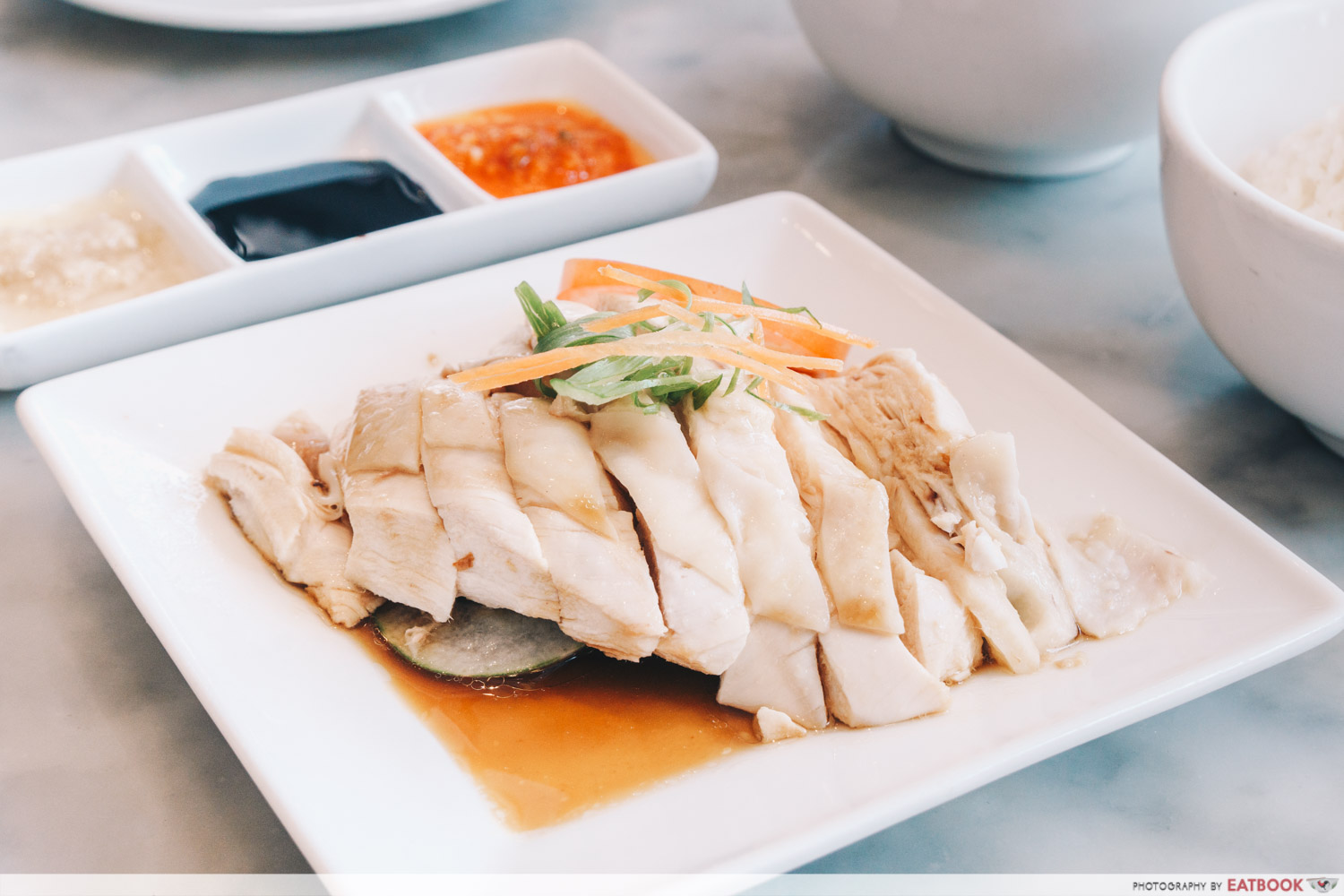 Loy Kee's chicken rice stretches back to 1953 when they first started at Raymond Market, now known as Whampoa Market. They claim to be the best chicken rice in Singapore, even going to the extent of labelling themselves as "Loy Kee Best Chicken Rice" on their stall front. 
Prices at this restaurant are steeper, and we got a serving of chicken rice at $7. The components were separately served on pretty chinaware that gave a posh vibe to this historic restaurant.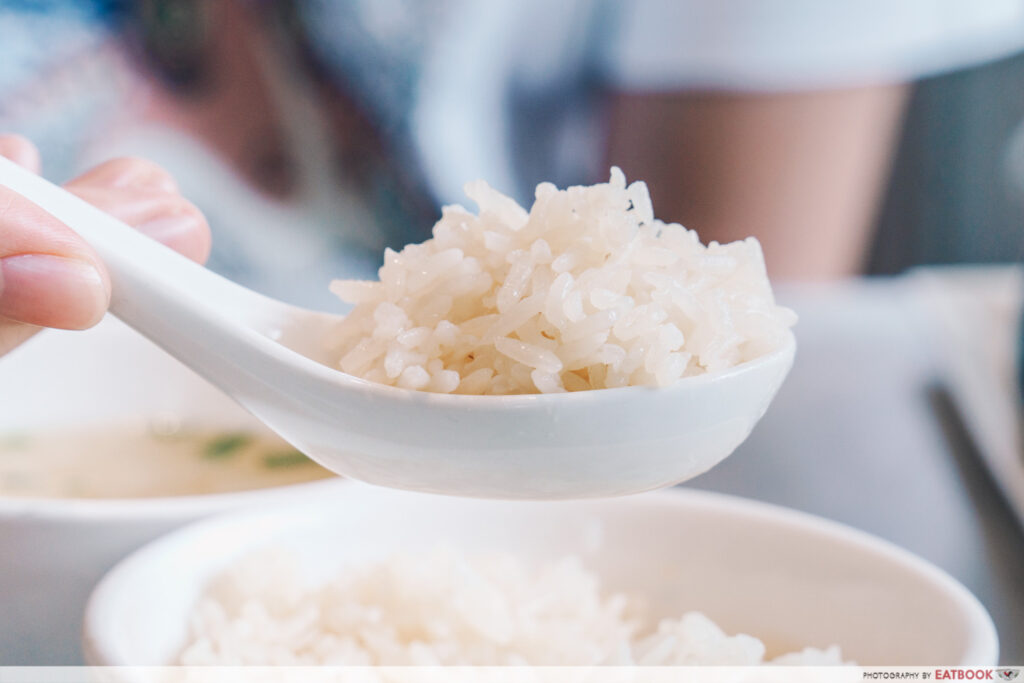 The rice was cooked all the way through and did not clump together. It was leaning towards the dry side, but also had quite a bit of oil on it that was a little too excessive for me. In terms of taste, the rice was bursting with a powerful chicken essence that was nice on the first bite, but got too hearty for me towards the end of my meal.
Rice: 7/10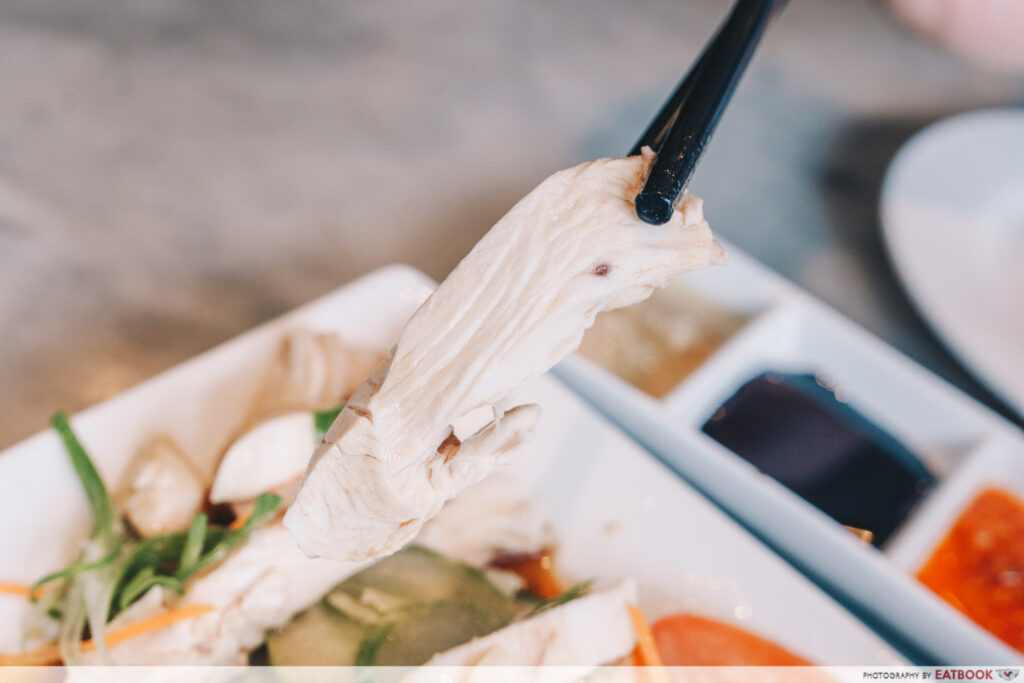 I liked how the chicken was served. It came on a separate plate and was sitting on a bed of tomatoes and cucumbers. The chicken was a little on the lean side, similar to the one from Five Star Kampung Chicken Rice. Although the chicken was slightly dry, it got loads of flavour from the aromatic and punchy soya sauce dressing. The sauce synced up very nicely with the chicken, giving it a slight kiss of nuttiness from the sesame oil.
Chicken: 8.5/10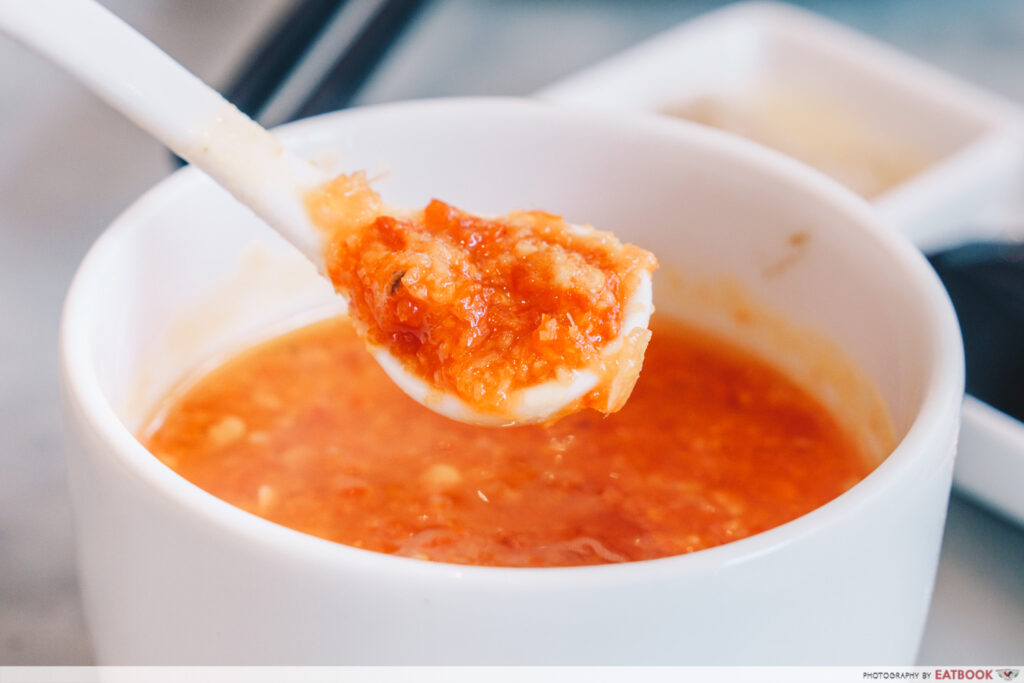 Looking similar to a Mexican salsa, the relish-like sauce was thick and chunky. It had a heavy dash of acidity, and reminded me of the ones that usually accompany BBQ chicken wings. It did well in mixing with the chicken, balancing out its slightly salty flavours.
Chilli: 3.5/5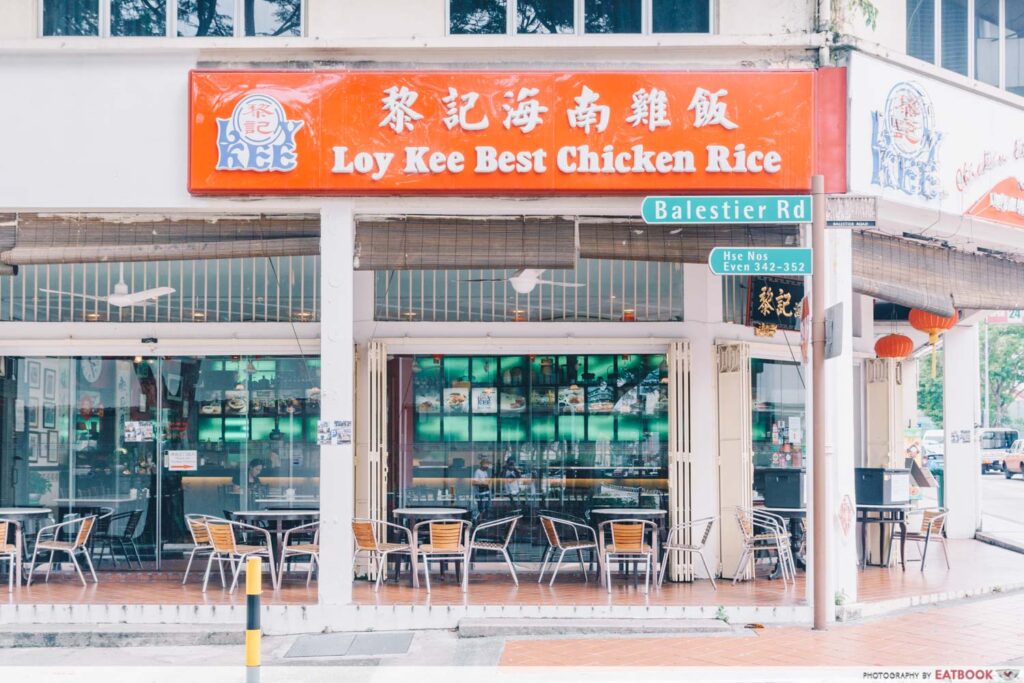 Loy Kee has the nicest ambience on this list. The restaurant is nicely air-conditioned, and the marble tables along with wooden chairs ooze off a classic kopitiam experience of days past. 
Value: 7.5/10
The chicken rice at Loy Kee is nicely balanced. Every component mixes well together and neither try to outshine each other. It's a good plate of chicken rice, but does not stand out enough to be the best in Singapore. 
Total: 75.71%
Address: 342 Balestier Road, Singapore 329774
Opening hours: Daily 10am to 9:30pm
Tel: 6252 2318
Website
---
3. Yishun 925 Chicken Rice (Yishun)
---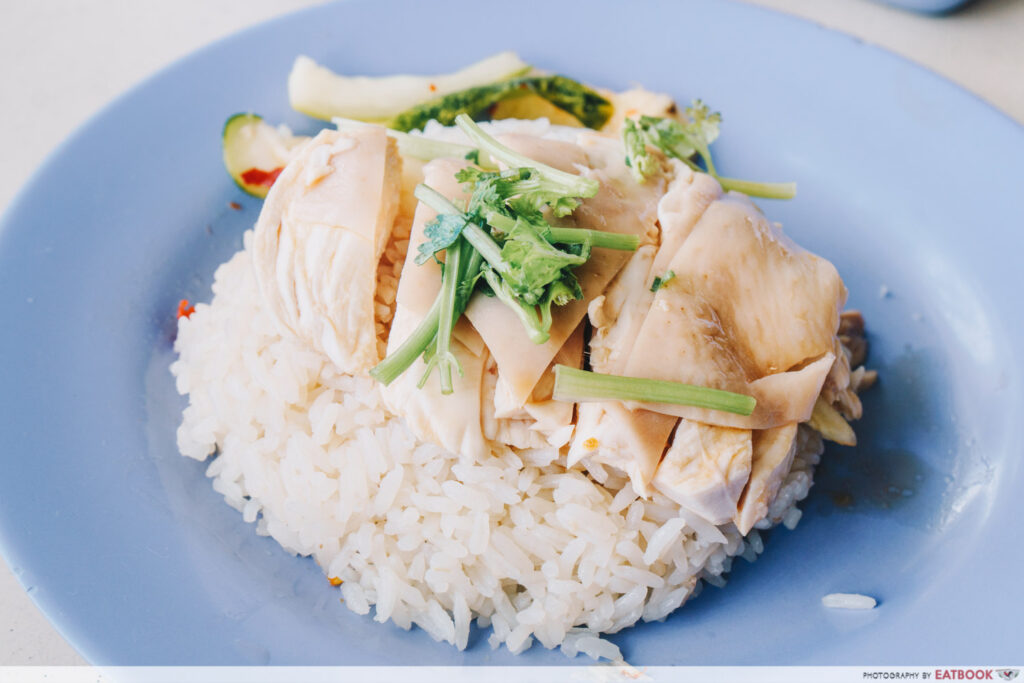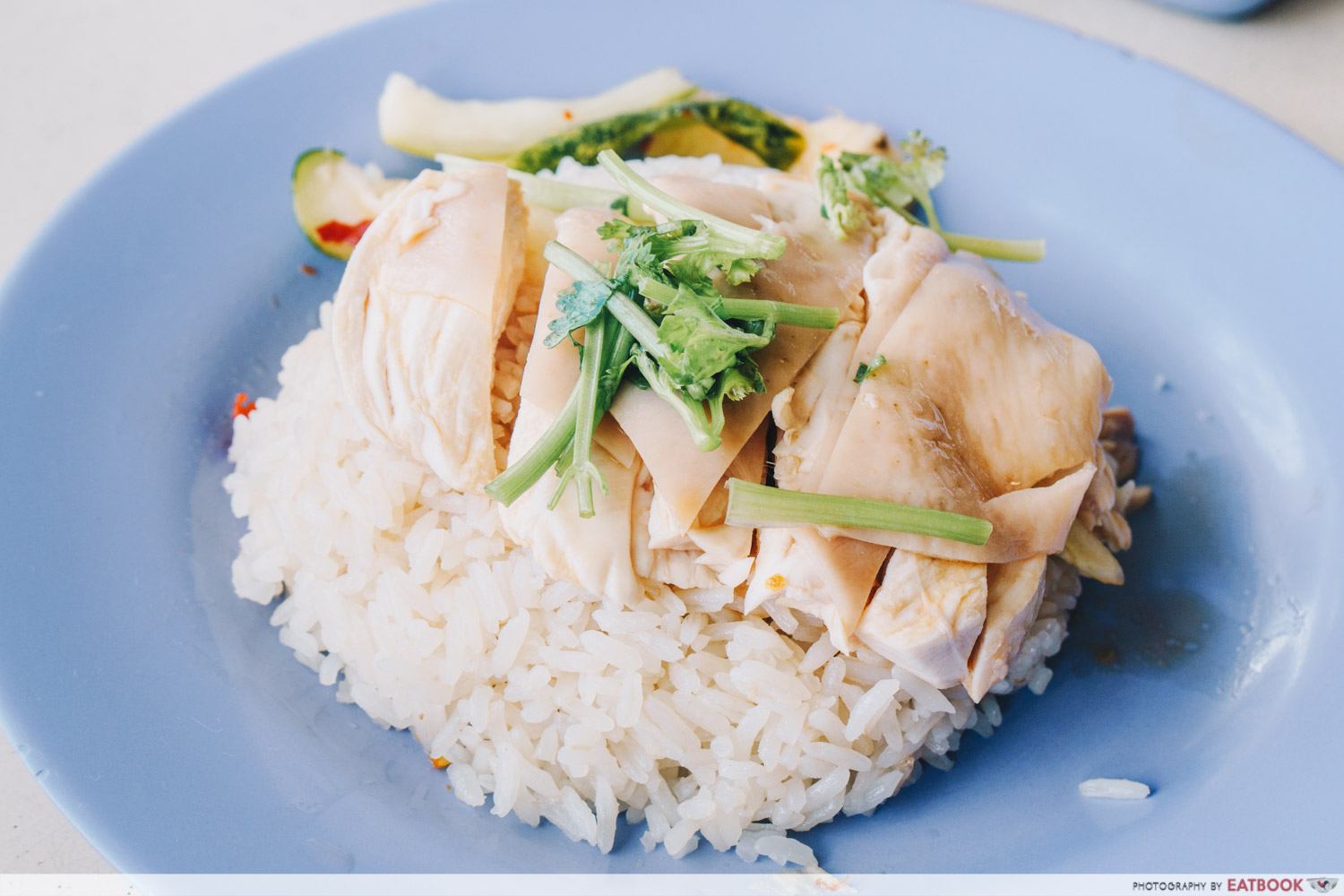 Yishun 925 Chicken Rice is the undisputed chicken rice of choice for Yishun residents. It sits in a plain-looking coffee shop next to Yishun MRT Station, but constantly draws up a queue at all times of the day. The stall has been around for over 20 years and those looking for their dinner time Chicken Rice ($3.50) fix might be left disappointed as this popular stall is known to sell out quite early.  
One thing I noticed was how well organised the stall was. There were many people involved in the operation, and I got my plate of chicken rice surprisingly quickly.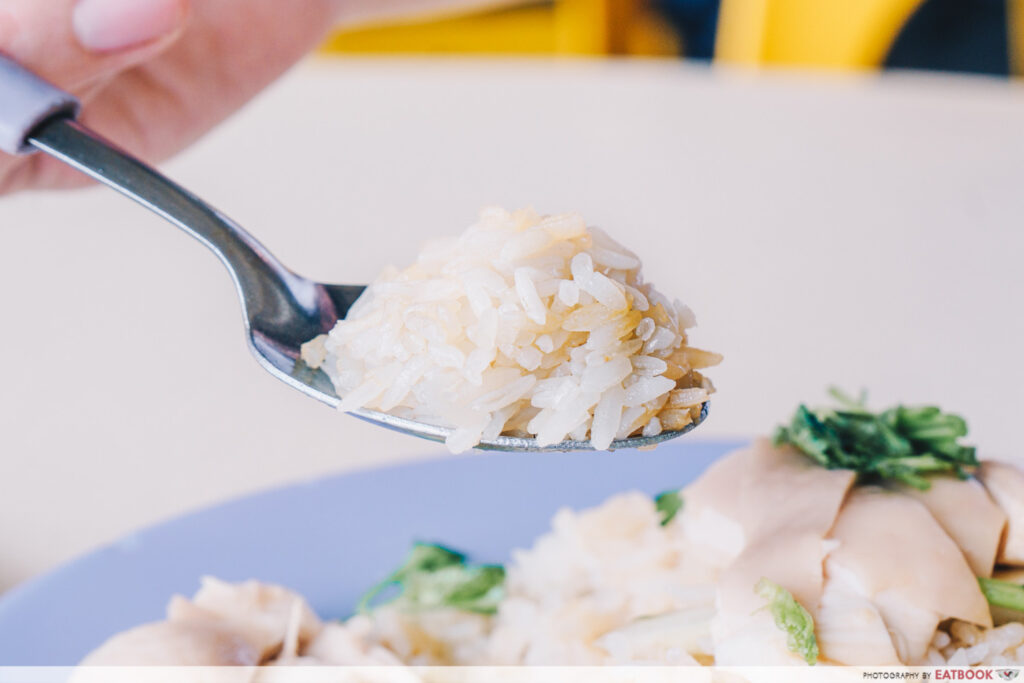 The rice was cooked a little harder than what I'm accustomed to. I've been here a couple of times and it always seems to pack a hard chewiness to them. While the grains were plump and separate from each other, I found it difficult to enjoy the rice here. 
Rice: 4.5/10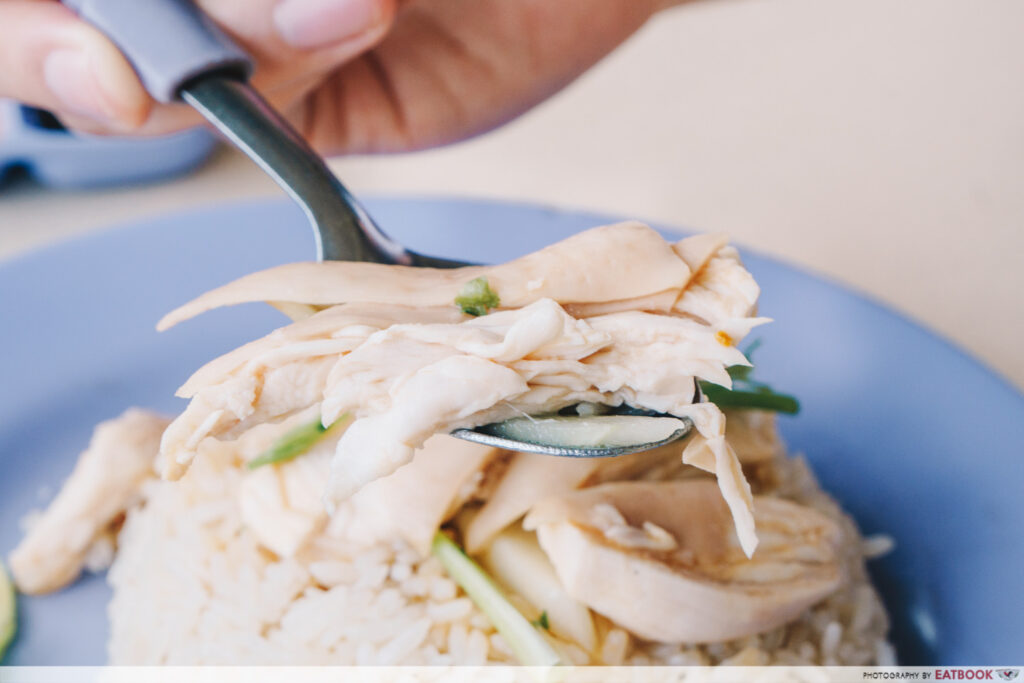 On the other hand, the steamed chicken exceeded all expectations and briefly made me forget about the mediocre rice. It was served in generous portions, and came with a nice coating of gelatinous skin as well. I was won over by its doneness, which had an insanely tender texture. 
Flavour-wise, the sauce that was drizzled on it was delicately balanced and brought out the chicken's natural flavours well. 
Chicken: 9.5/10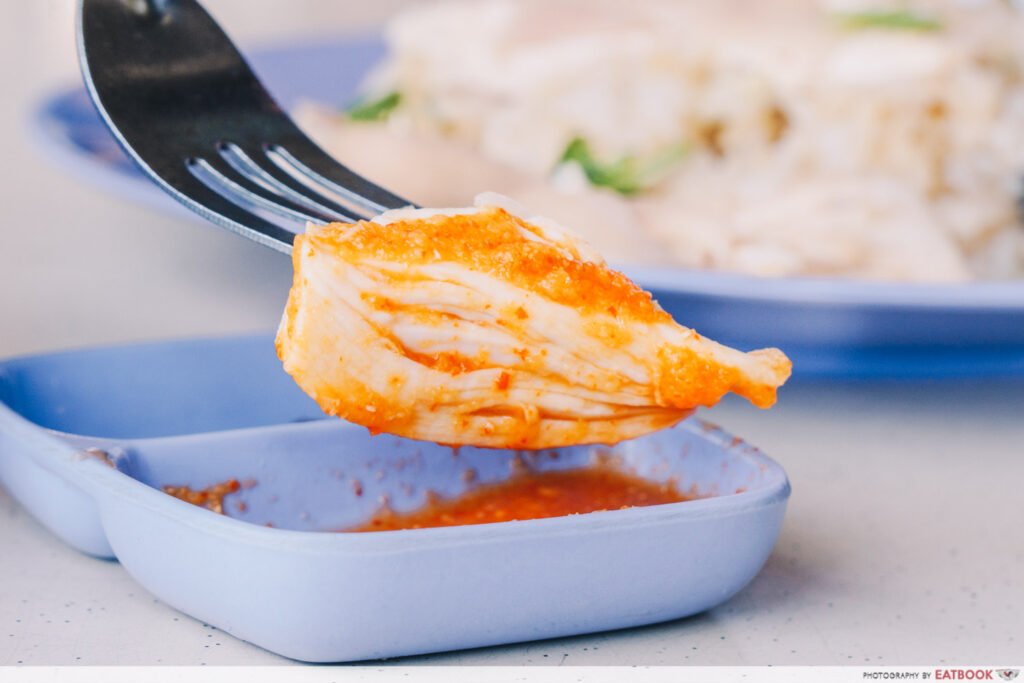 The chilli was garlicky and full of flavour. It strangely tasted similar to McDonald's garlic chilli sauce, but was also thinner. It was a better-than-average tasting chilli, but I was slightly disappointed with the thin consistency that made it difficult to slather onto the chicken.  
Chilli: 2.5/5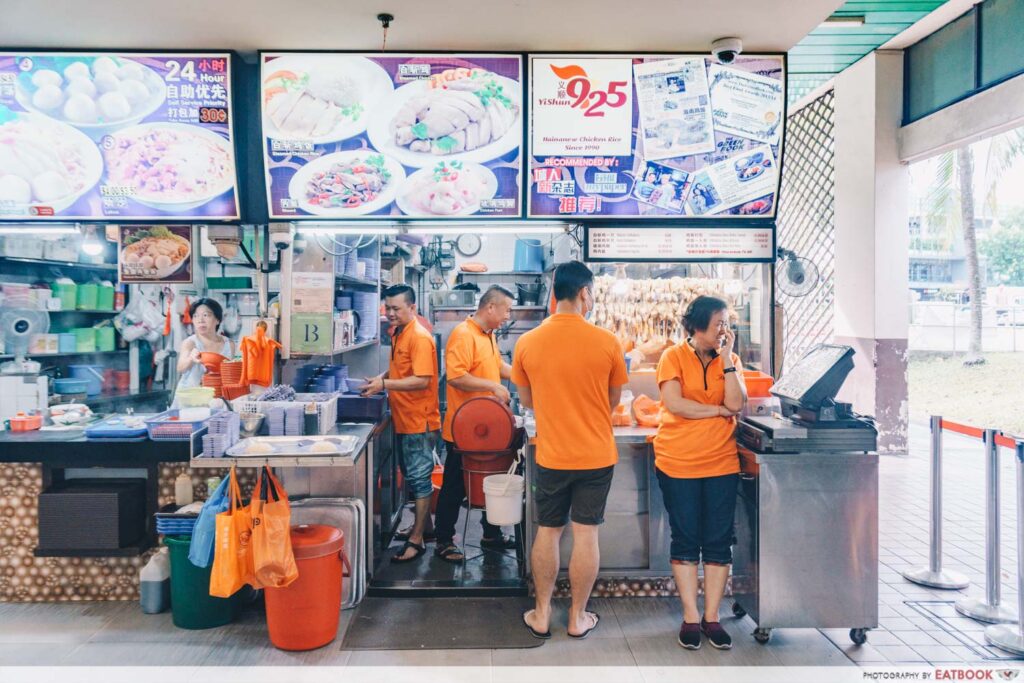 At $3.50 per plate, this is one of the most affordable chicken rice on this list. Portions were decent, and it also came with a tasty thick chicken soup. 
Value: 10/10
The rice at this iconic chicken rice stall in Yishun was particularly disappointing, but the chicken was one of the best we've tried. There's a reason why this stall constantly draws in the crowd, and I don't see any reason why it won't continue to do so. Those who're living in the North are lucky to be blessed with this value-for-money chicken rice eatery.
Total: 78.57%
Address: Block 925 Yishun Central, #01-249, Singapore 760925
Opening hours: Daily 11am to 8:30pm
Website
---
2. Katong Mei Wei Boneless Chicken Rice (formerly Delicious Boneless Chicken Rice)
---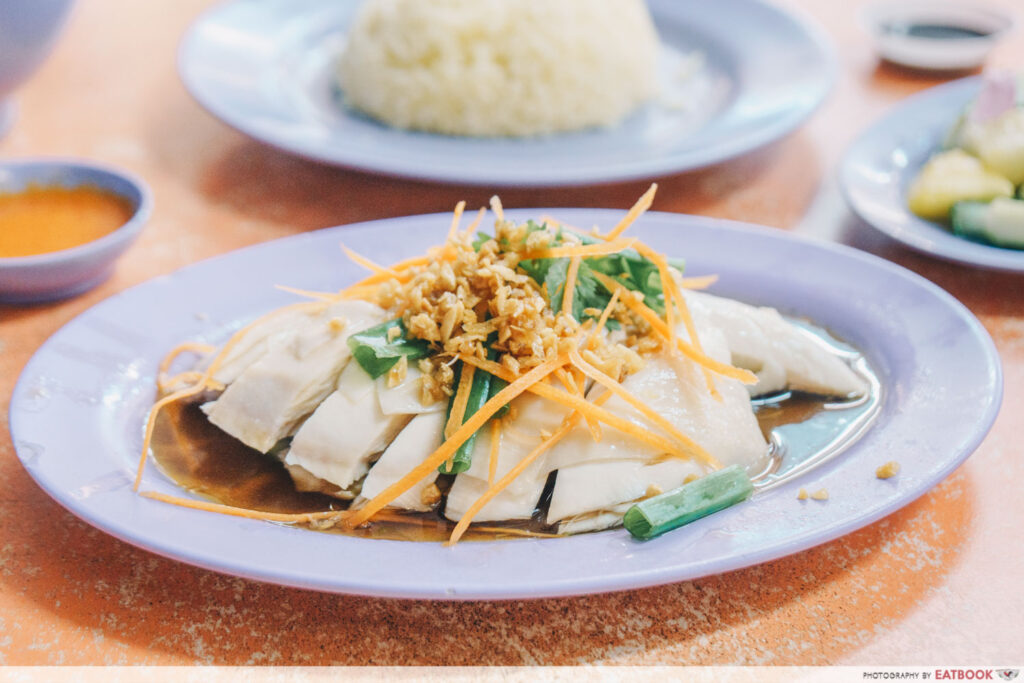 It's interesting to see how chicken rice stalls are known for the area they are located in. Ming Kee Chicken Rice is popularly referred to as the 'Bishan Chicken Rice Stall', while Delicious Boneless Chicken Rice is known by many as the 'Katong Shopping Mall Chicken Rice'. Recently, it has changed its name to Katong Mei Wei Boneless Chicken Rice.

What sets this stall apart is the entire chicken rice experience. Their Chicken Rice ($6.70) does not only comes with chicken and rice, but also offers a free-flow serving of house-made achar, peppery cabbage soup, and deep-fried garlic bits that are scattered over the chicken. 
The rice is cooked with yellow ginger, which gives it a heavy tinge of yellow. It looked and tasted similar to the rice that is typically found at Western food stalls. There were strong bits of onion flavours coming through, but it was otherwise lacking in fatty chicken flavour. I also felt that it was a little too dry for my liking. 
Rice: 6.5/10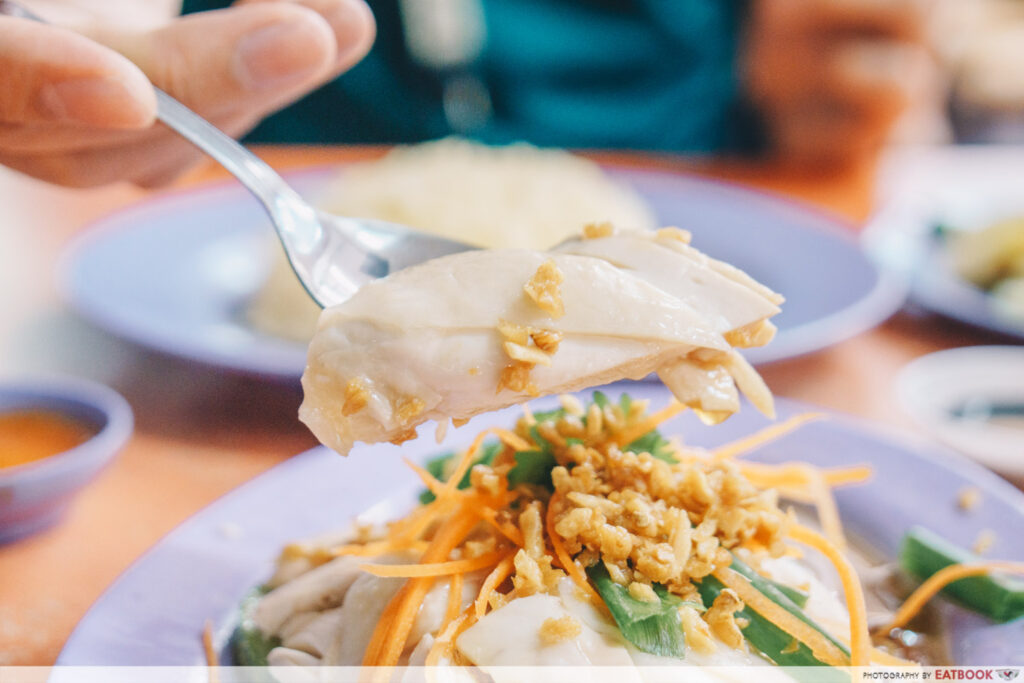 I loved how the chicken was cut into extra chunky bits here. This made it easier for us to enjoy the juicy and succulent chicken. The doneness was excellent and every bite seemed to be bursting with rich flavours. 
They're also drizzled with fried garlic bits, which gave a sharp burst of flavour when eaten together with the chicken. The portions were extremely generous, and I reckon that a single portion should be enough for two light eaters. 
Chicken: 9.5/10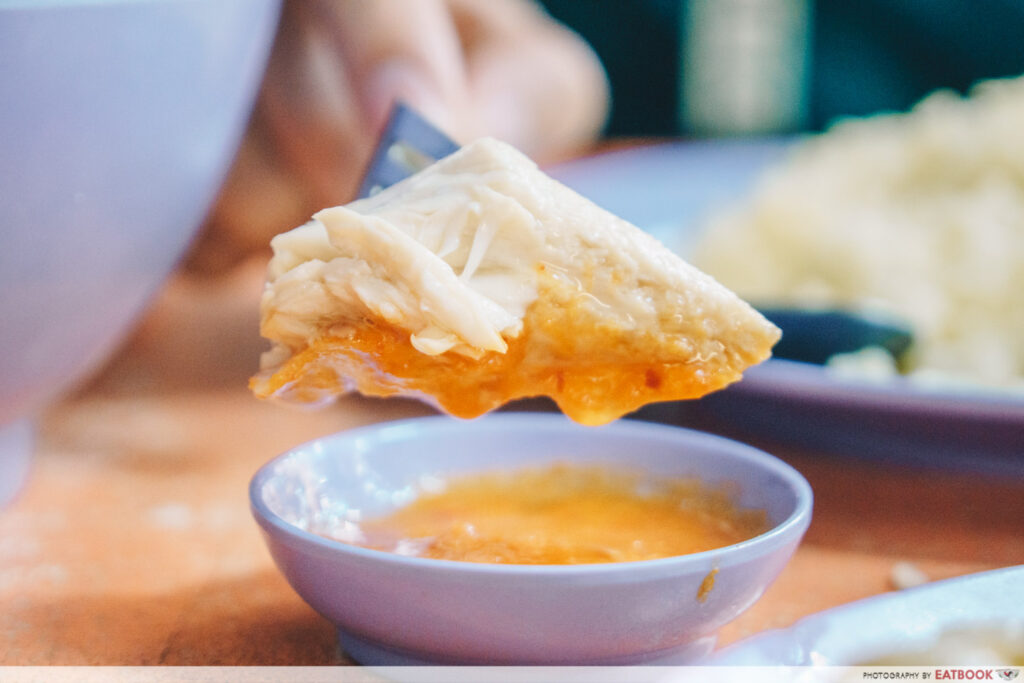 The dull-coloured chilli was rather stock standard and was leaning towards the thicker side. It did well in pairing nicely with the chicken, but was otherwise nothing fantastic. 
Chilli: 2.5/5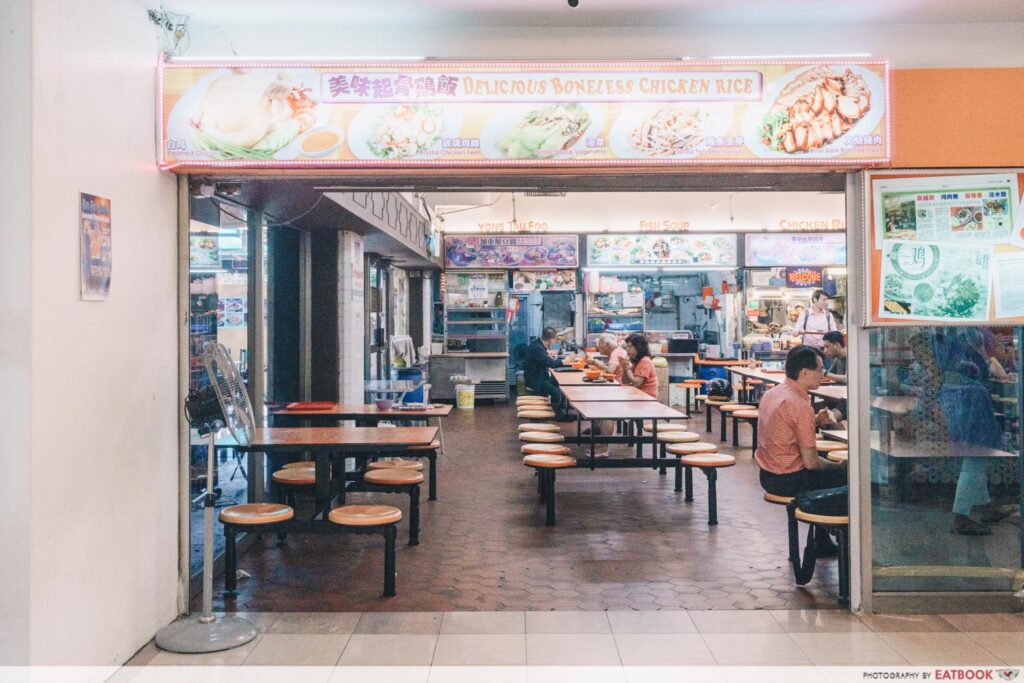 Delicious Boneless Chicken Rice deserves more than a 10/10 for value. While their prices are high, the delicious side dishes and generous portions more than make up for it. One thing to note is how the tables here were greasy and sticky. It took away some satisfaction from an otherwise satisfying experience. 
Value: 10/10
This chicken rice deserves its place as one of the best in Singapore. Judging chicken rice shouldn't be on its individual components, but the entire experience. This quaint chicken rice stall that's located in the basement of Katong Shopping Centre is a prime example of that. 
Total: 81.43%
Address: 865 Mountbatten Road, #B1-85/87, Katong Shopping Centre, Singapore 437844
Opening hours: Tue-Fri 10:45am to 7pm, Sat-Sun 11am to 7pm
Tel: 9826 5197
Website
---
1. Hua Kee Chicken Rice
---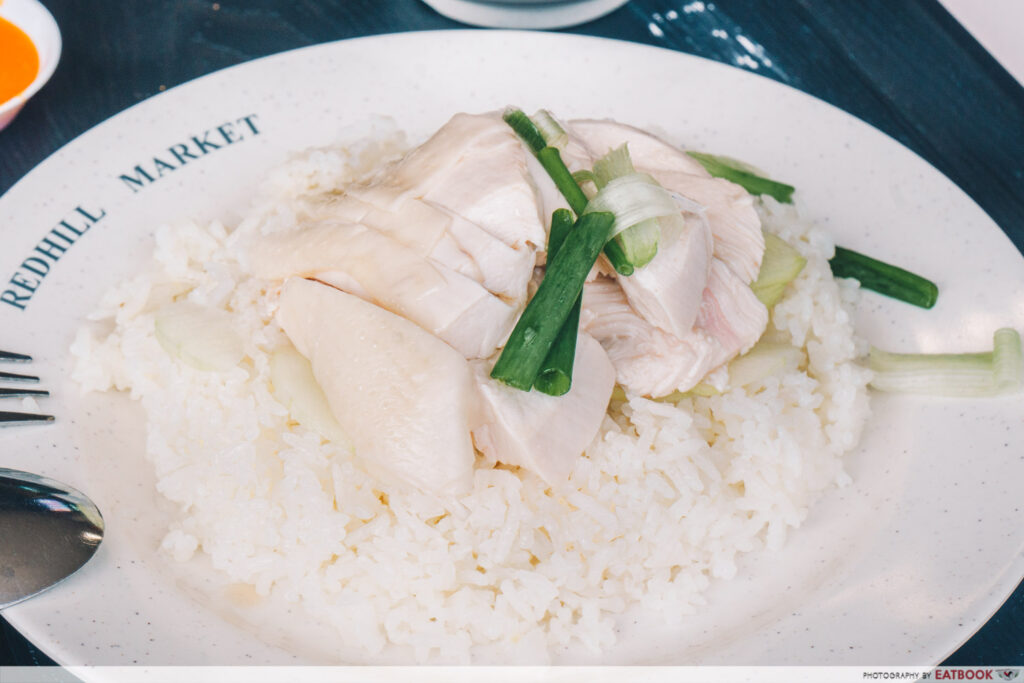 When I declared my findings to some friends, many have never even heard of Hua Kee Chicken Rice. So how is it possible that this under-the-radar eatery is the best chicken rice in Singapore? 
The answer is easy, they keep things simple. 
Since starting as a humble trishaw stall in the '70s, the hawker stall with over 40 years of history is now at Redhill Food Centre. The stall is managed by 77-year-old Madam Tan and her son, Mr Jay Lim. While Jay manages the stall on a day-to-day basis, Madam Tan still pops by regularly to dish out their Chicken Rice ($3.50).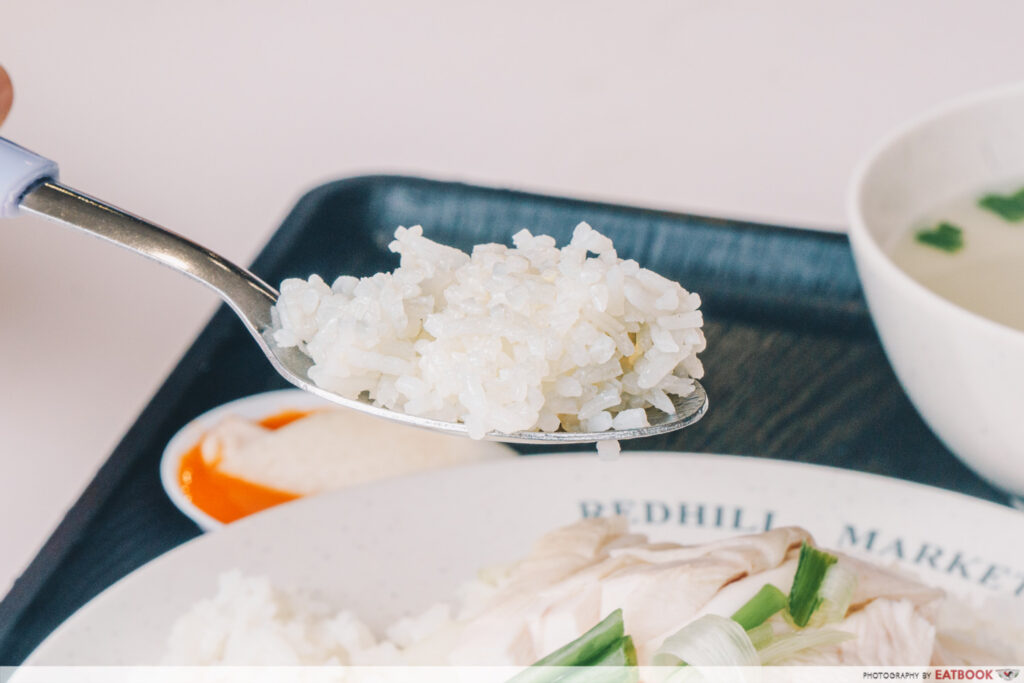 Admittingly, the rice isn't the best on this list. In terms of flavour, it's fried with plenty of chicken fat that provided loads of lush oily flavours. There's also a pronounced hint of aromatics such as ginger and onion in the rice that nicely balances everything out. However, it was a little too wet and clumpy, resulting in it being a little too sticky. 
Rice: 7.5/10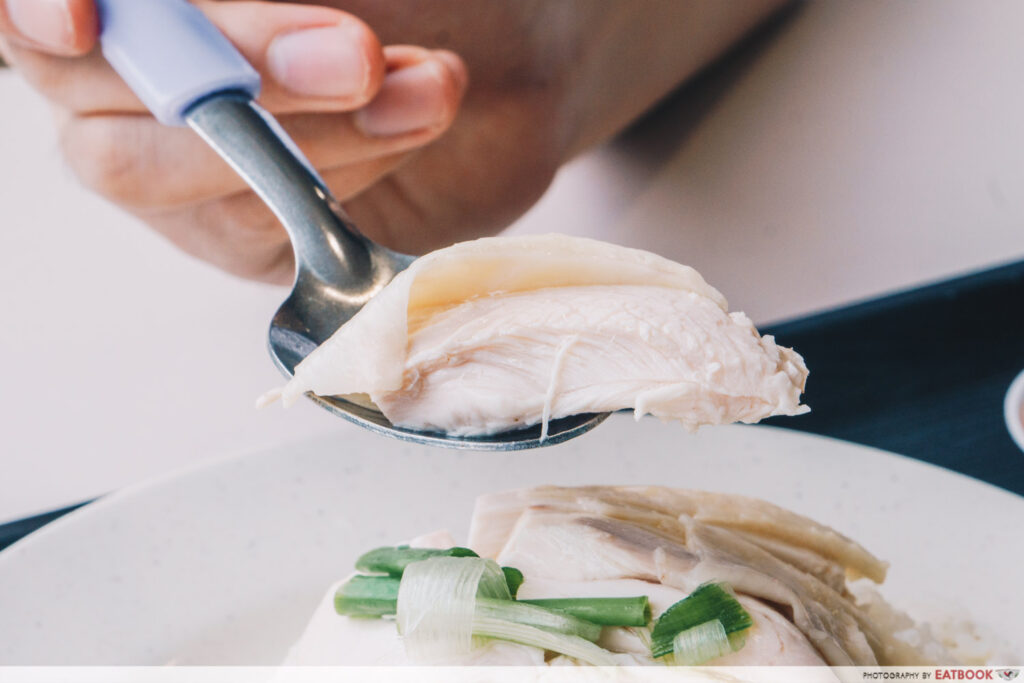 I'll let the picture of this beautifully presented chicken speak for itself. There's no need to spew out a slew of words to describe it. It's just magnificent in its own right. The porcelain-white flesh, thickly sliced chunks, and a layer of flavourful gelatinous skin is enough to make anyone a convert.

The meat was hardly dry, and was perfectly cooked. A thin layer of sauce was brushed onto the chicken, bringing out all of its natural flavours. 
It's difficult to find anything wrong with this chicken. But I reckon that those who are accustomed to the robust-flavoured Cantonese style of chicken rice, which features chicken slices that are swimming in a pool of sauce, might find this to be a little too mild in flavour. 
Chicken: 9.5/10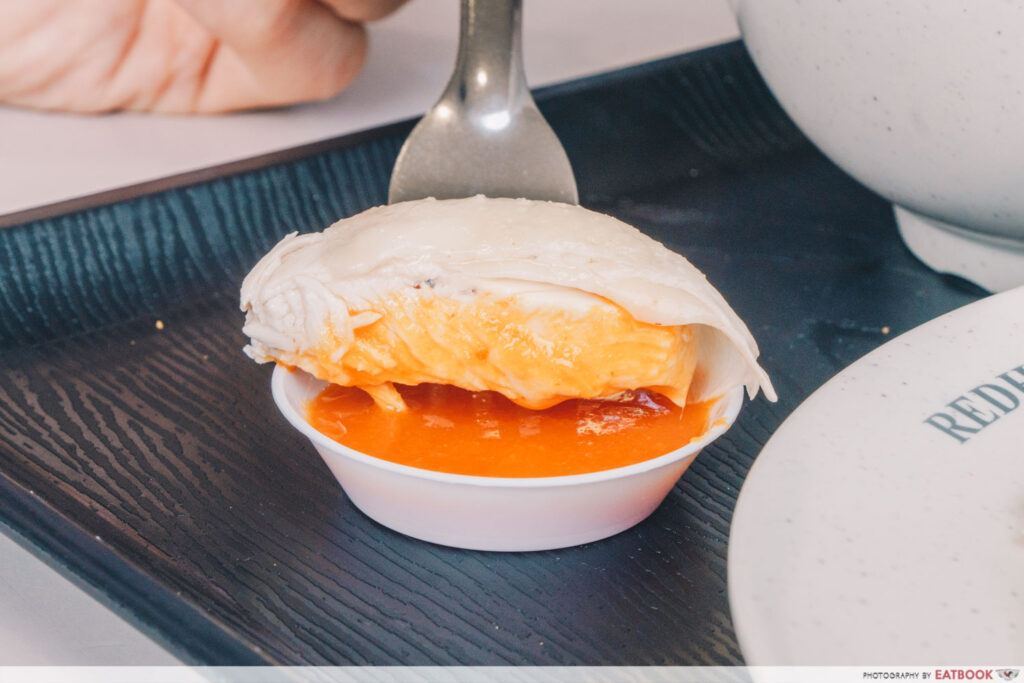 The chilli had a good bit of heat, and was packed with powerful garlicky notes that brought a whole lot of flavour to the chicken. It came in a bright orange colour, and was nicely seasoned as well. I found it to be slightly thin, making it difficult for it to cling onto the chicken. Nevertheless, it was still a tasty and addictive sauce.
Chilli: 3.5/5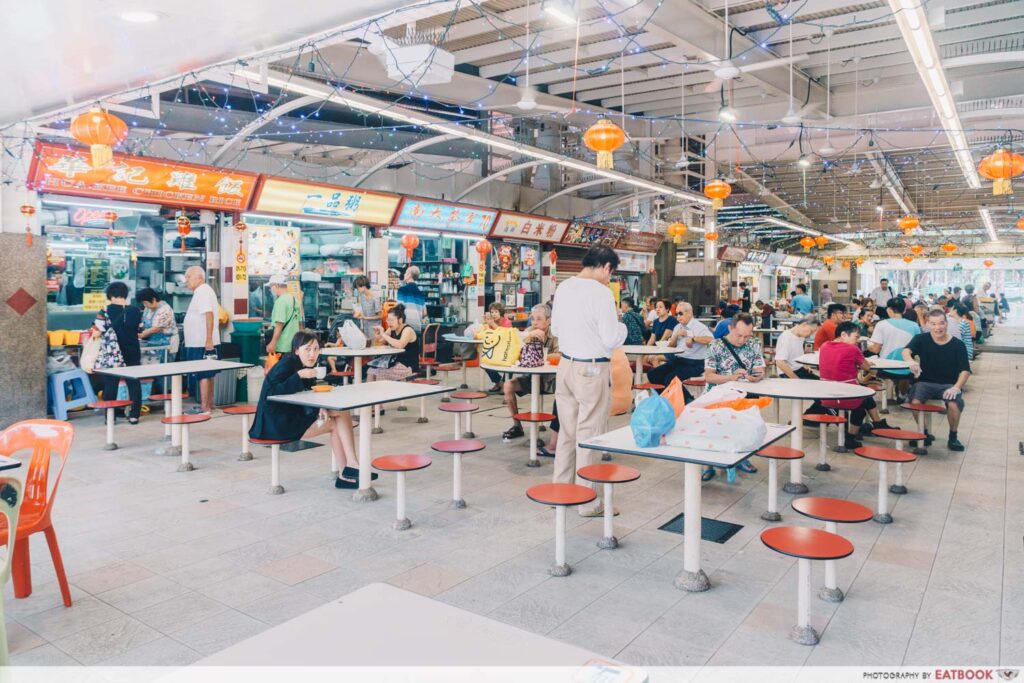 This stall scores full marks on value. Portions size were generous and respectful for $3, and the hawker centre that it sits in was airy and comfortable. It's also nice that it's easily accessible, just a five-minute walk away from Redhill MRT Station. 
Value: 10/10
When food is simply presented, there's little room for error. Hua Kee Chicken Rice is our top pick for the best chicken rice in Singapore because everything was deliciously close to flawless. On top of that, it represents how a quality plate of chicken rice should be cooked: from the heart. 
Total: 87.14%
Address: 85 Redhill Lane, #01-72, Redhill Food Centre, Singapore 150085
Opening hours: Tue-Thurs 8am to 3pm, Fri-Sun 6am to 4pm
---
There's more to chicken rice than chicken and rice
---
There's a reason why Singaporeans from all walks of life love chicken rice. Its flavours are uncomplicated, its prices are reasonable and most importantly, the quality of any chicken rice stall in Singapore is always consistently high. 
The chicken rice on this list are all highly recommended, and I would gobble up a plate from any of them in a heartbeat. Unfortunately, we have to scrutinise them heavily to determine the best out of the lot. 
For reference purposes, here are the individual winners of each category of this list of best chicken rice in Singapore:
Best rice: Tian Tian Hainanese Chicken Rice
Best chicken: Hua Kee Chicken Rice
Best chilli: Wee Nam Kee (Novena)
Best value: Katong Mei Wei Boneless Chicken Rice
Best overall chicken rice: Hua Kee Chicken Rice
For those sussing out the best burgers, check out this list of best burgers in Singapore!
Photos taken by John Lery Villanueva.
This is an independent review by Eatbook.sg. 
This article was originally written on 4 March 2020.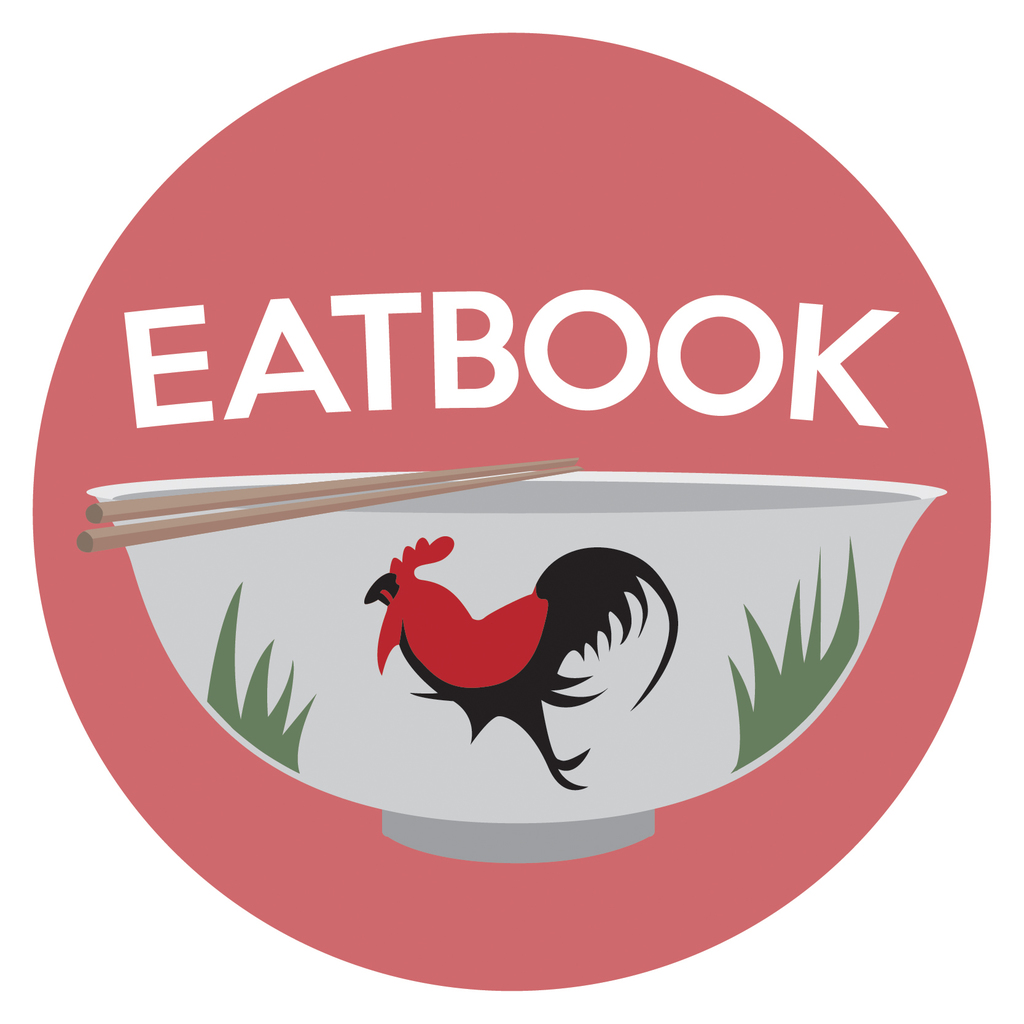 Drop us your email so you won't miss the latest news.