---
Whampoa Market Food
---
Unlike most hawker centres, Whampoa Makan Place, AKA Whampoa Market, is made up of two separate buildings. Block 90 is known as the "night market"—with stalls open for lunch, dinner, and even supper—and Block 91 is known as the "morning market", which is half a wet market, and the other half filled mostly with stalls that close after lunch. There's plenty of good food at both markets though, you just have to look.
Update: Whampoa Market & Food Centre is closed for renovation, until 14 July 2022.
---
1. Singapore Fried Hokkien Mee
---
You'll see the queue before you see the stall. Typically equipped with an (at least) five-person queue, I used to call this the "Ronaldinho Hokkien mee", in reference to the buck-toothed auntie who takes orders outside the stall.
The Hokkien mee (from $4) here features thick bee hoon along with the familiar yellow noodles, making the dish more slippery than usual. This version also comes with loads of minced garlic, giving it plenty of flavour and depth. The true star here, however, is the accompanying chilli, which packs a dense punch, and comes with sliced green and red chillies. Remember to help yourself to the unlimited pork lard before walking away!
Address: Block 90, #01-32
Opening hours: Mon 3:30pm to 12am, Tue-Wed, Fri 3:30pm to 1:30am
---
2. Balestier Road Hoover Rojak
---
Instead of the vacuum cleaner brand, Balestier Road Hoover Rojak is probably named after Hoover Theatre, which used to exist on Balestier Road. But that doesn't stop customers from doing their best impression of a vacuum cleaner by wolfing down portions of rojak ($4) in record time.
The two-time Bib Gourmand recipient features several traditional add-ons to their rojak, such as century egg and jellyfish, so try to keep that in mind as motivation while braving the 30-minute queue.
Address: Block 90, #01-07
Opening hours: Wed-Sun 10am to 4pm
---
3. Liang Zhao Ji Duck Rice
---
Located just beside Hoover, Liang Zhao Ji is another Bib Gourmand awardee in this humble hawker centre. And just like its neighbour, the queues here never cease. Their braised duck rice (from $3) might look like a dark mess, but some magic happens when you combine their signature umami sauce with the gamey denseness of duck. Pair it with their signature rice—cooked with the same dark sauce—and you'll have one of the best versions of this Teochew favourite in Singapore.
Address: Block 90, #01-07
Opening hours: Wed-Mon 10:30am to 2pm
---
4. Hi Leskmi Nasi Lemak
---
Hi Leskmi Nasi Lemak is run by the same owners of the economical rice stall just opposite it.
On most other days though, the only thing here on fire is the sambal. It's sweet, oily, and has a spicy kick that is somehow mitigated when mixed in with their signature fragrant green rice. Their chicken wings are absolute works of art too, somehow managing to stay crispy despite being left on display. Also, grab their otah, which is a larger, flatter, tender fish cake in banana leaf, compared to the chunky lumps we're used to.
Address: Block 90, #01-24
Opening hours: Daily 11:30am to 9:30pm
---
5. Rabiah Muslim Food
---
The portions here are so massive that a younger me used to share a single packet with my parents. Yes, one packet of nasi padang used to feed three people. These days, I still get really full with a serving of one meat and two vegetables, which just speaks volumes of the makcik's heavy-handedness with her portions.
Pick out their fried chicken, which comes as either a wing or drumstick. Either way, you're bound to get a massive piece of chicken, seasoned with the fragrance of turmeric and finished off with a slight spicy heat. Also, ask for some of their in-house sambal that comes free, topped with a single calamansi, and adds an extra spicy kick to your rice.
Address: Block 90, #01-34
Opening hours: Daily 11am to 9:30am
---
6. Huat Heng Fried Oyster
---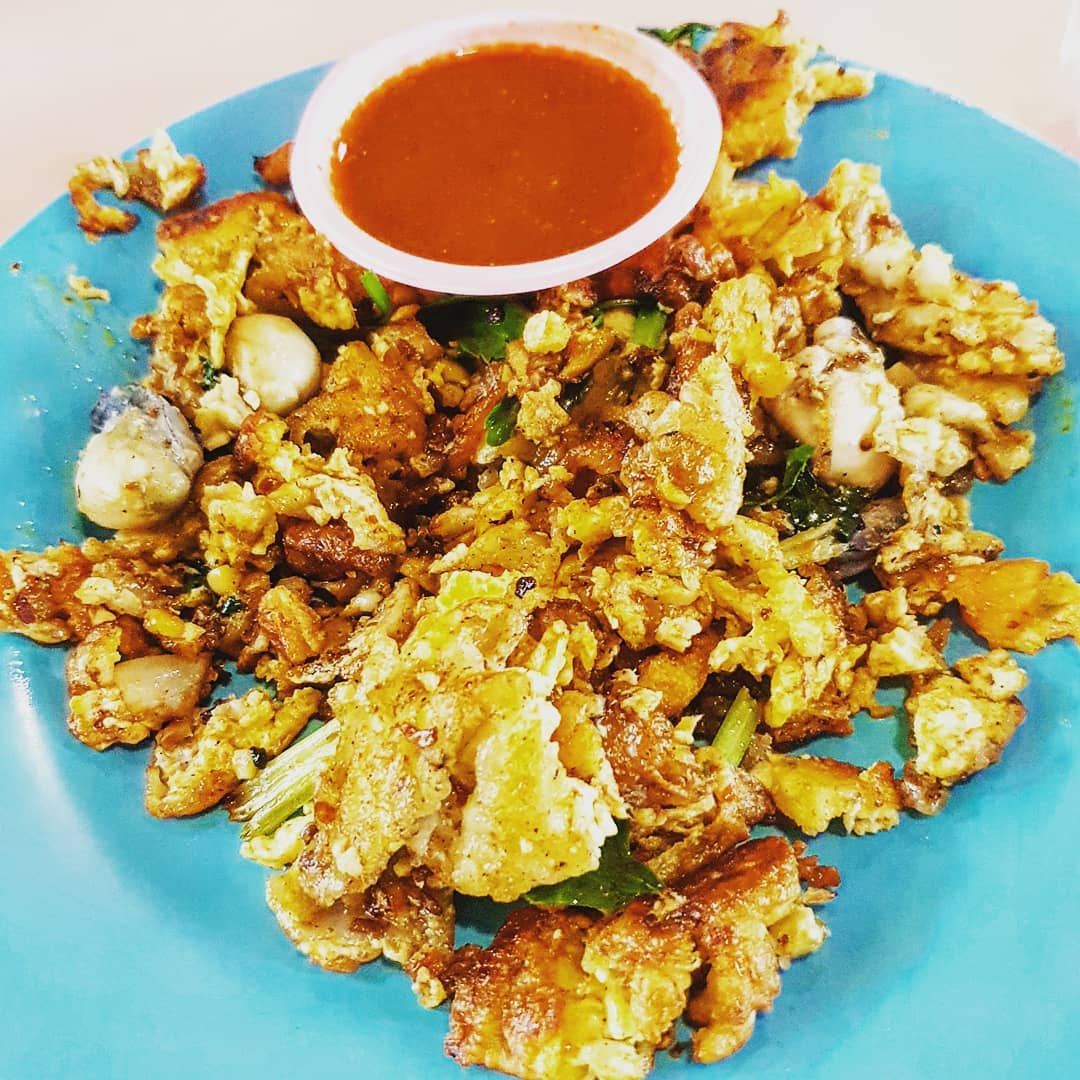 Image credit: @greedynomz
Michelin-minted Huat Heng Fried Oyster is a very popular orh luak stall in Singapore. They offer three sizes of oyster omelette, priced from $5. Here, the egg is really fried till crisp, so you get layers of textures with every bite. The oysters are fresh and briny, and the rounds of potato starch offer a delightful chew.
The stall is also open till late, which makes it a great supper destination.
Address: Block 90, #01-26
Opening hours: Wed-Mon 1pm to 10pm
---
7. Deep Fried Carrot Cake
---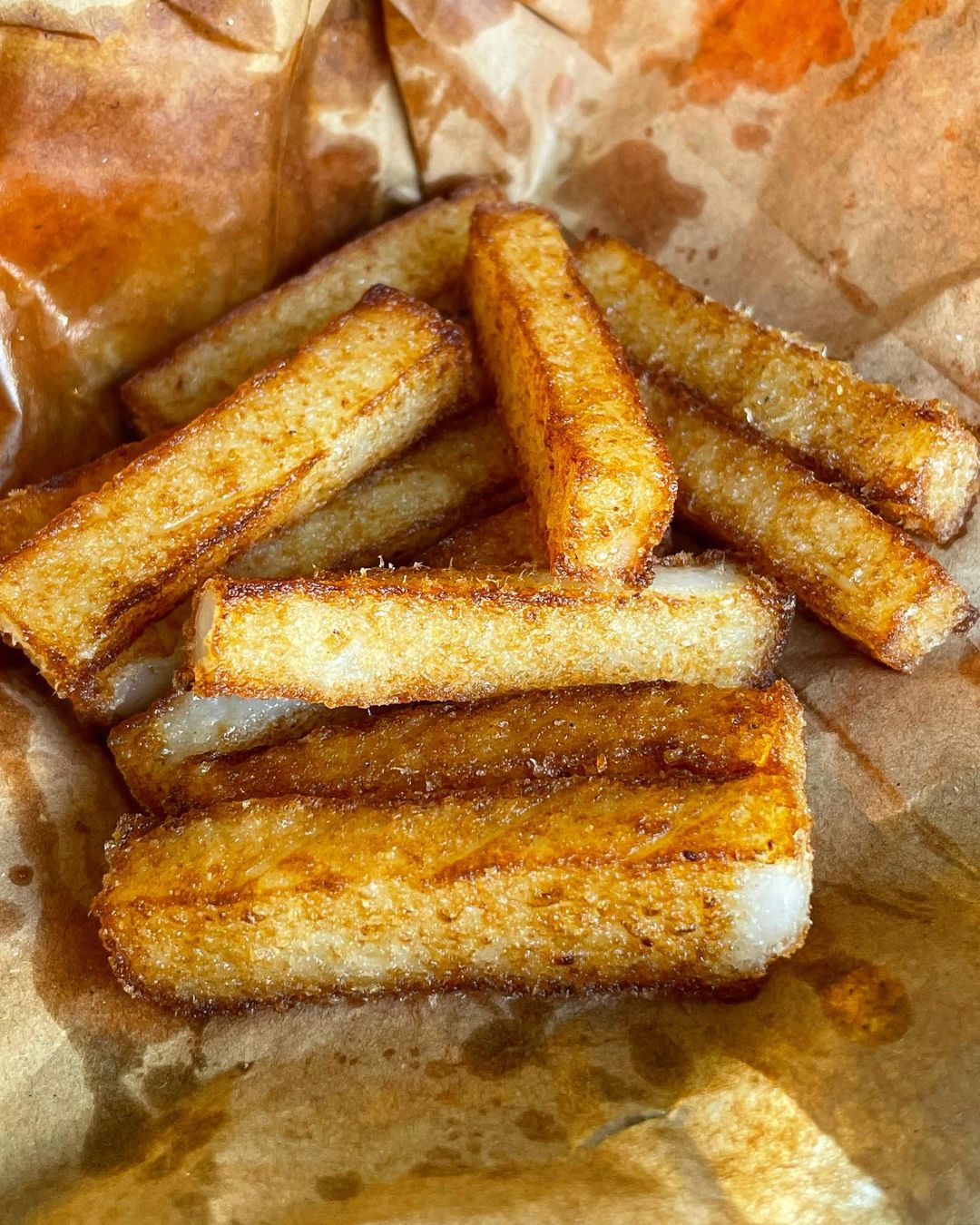 Image credit: @703w33
Deep-fried carrot cakes are a popular snacktime choice in Singapore. While usually sold in blocks, Deep Fried Carrot Cake in Whampoa Market breaks the mould by selling their carrot cake in stick form. The stall has been around for 20 years, and draws long queues despite selling only one item. You can get 13 pieces for $2 here, and munch on them the way you would with French fries!
Address: Block 91, #01-36
Opening hours: Tue-Sun 6:30am to 12:30pm
---
8. Xin Heng Feng Guo Tiao Tan
---
This bowl of mee pok might look simple, but Xin Heng Feng Guo Tiao Tan is a stall that's a bit like Optimus Prime—there's more than meets the eye. Their fishball noodles ($4) are a great take on the classic kopitiam breakfast. Garnished with the typical slices of fish cake, fish balls, wontons, and a few slices of lean pork, the noodles are cooked perfectly and slightly al dente. Topped off with liberal sprinklings of fried pork lard and shallots, this is the breakfast I turn to every time I stay up late enough the night turns to morning.
By night, though, the mee pok stall turns into a fish head steamboat eatery, selling charcoal-simmered hotpot and side dishes to go along with. Prices start at $35 for the smallest steamboat.
Address: Block 91, #01-14/15
Opening hours: Wed-Mon 5am to 9:30pm
---
9. Beach Road Fish Head Bee Hoon
---
Asian dads generally find it difficult to express affection, but I know my dad loves me when we queue up to buy this on Sunday mornings, despite having to line up for about an hour every time. A one-woman operation, Beach Road Fish Head Bee Hoon still somehow manages to serve up perfectly cooked deep-fried nuggets of fish in its Deep Fried Fish Bee Hoon ($5). Allow the plump and juicy fish pieces to seep in the evaporated milk-tinged broth, before biting into the slightly soggy, perfectly cooked bits of heaven.
Address: Block 91, #01-46
Opening hours: Tue,Thurs, Sat-Sun 9am to 2pm
---
10. China Whampoa Homemade Noodle
---
Sweet potato leaves is a vegetable perhaps more familiar to the older generation. And while most other ban mian places use Chinese cabbage or chye sim as the customary green, China Whampoa Homemade Noodle opts for the traditional sweet potato leaf instead.
But leaves aren't the true reason why you should try their Dry Ban Mian ($4). When stirred in with the noodles, their concoction of black sauce and fiery chilli results in a unique combination of sweetness, saltiness, and spiciness. The broth here is made without pork bones, and is instead flavoured with only ikan bilis and soybeans, making it light on the palate with a sweet finish.
Address: Block 91, #01-24
Opening hours: Tue-Sun 7am to 2pm
---
11. Nyonya Chendol
---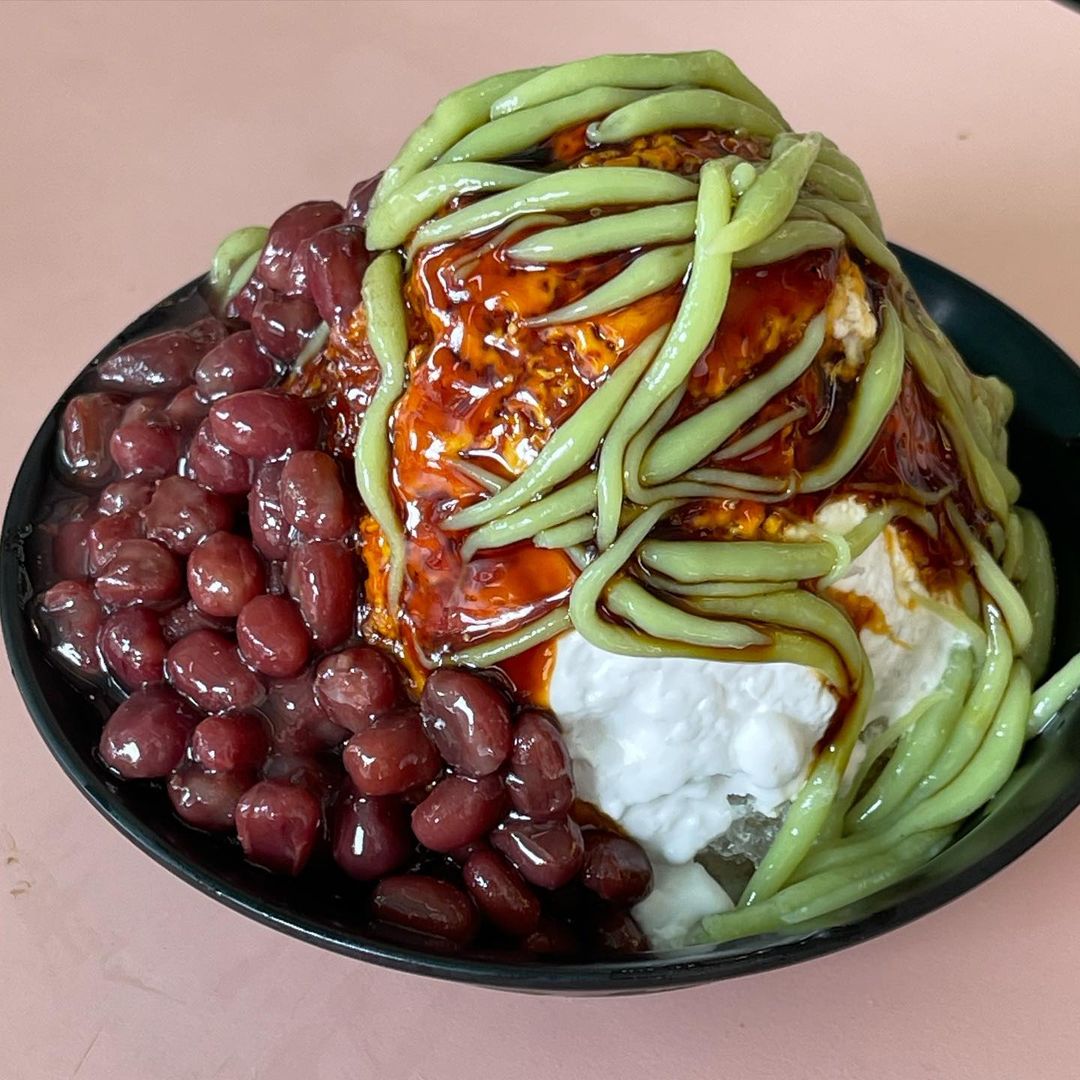 Image credit: @vwinstonn
Cool off from a hot day with Nyonya Chendol's towering dessert servings. The chendol here comes doused in gula melaka syrup—great for diners with a sweet tooth—and ribbons of pandan jelly. Azuki beans are used here instead of the usual kidney beans, adding a pleasant earthiness to each bite. Sweet corn fans can try their Sweet Corn Chendol, which swaps out red beans for syrupy corn. A bowl is priced at $2.
Address: Blk 90, #01-17
Opening hours: Daily 11am to 10pm
---
12. Golden Roast Char Siew
---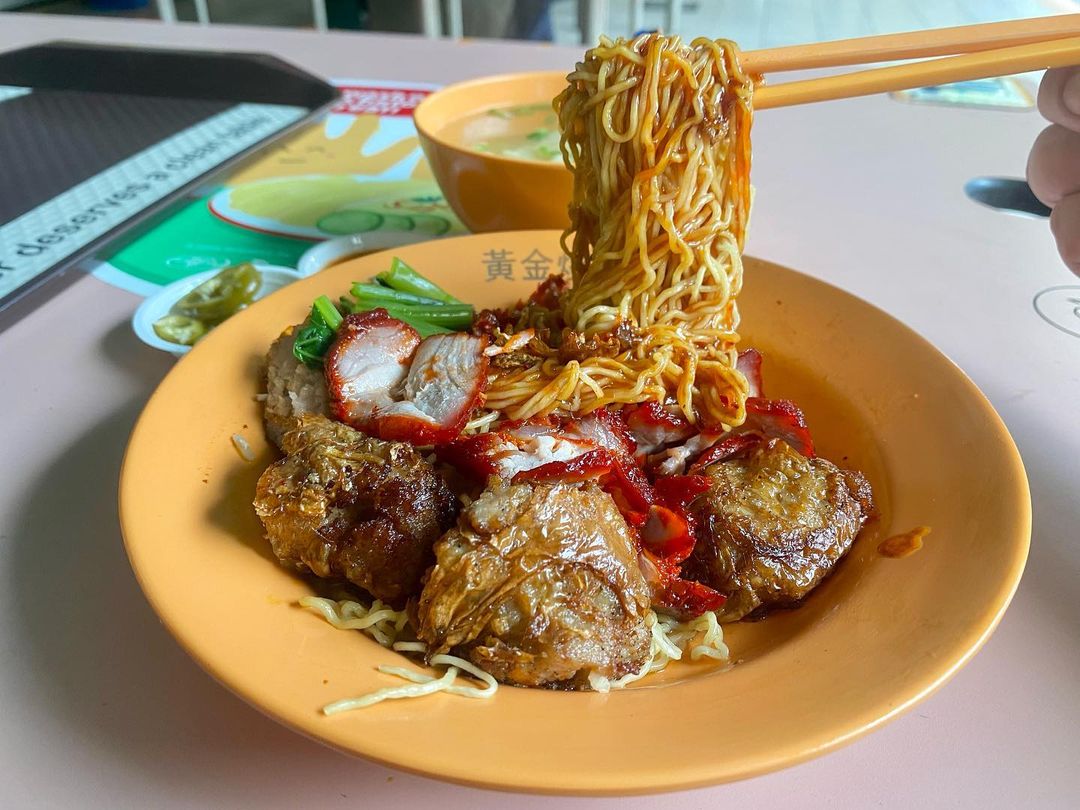 Image credit: @cliffordng_aapl
Golden Roast Char Siew is quite the hidden gem for wanton mee in the Whampoa area. The stall has been open for 32 years, making its rounds through various hawker centres in Singapore before settling in Whampoa Food Market in 2020. The stall is run by a couple who are now in their retirement years. Their char siew is roasted daily on-site, and is thicker-cut than your run-of-the-mill wanton mee stall, despite its $3 price tag. Apart from the wanton mee, the stall also sells Ngoh Hiang ($1), made from scratch every morning, and fried till the beancurd skin is delightfully crisp.
Address: Blk 90, #01-81
Opening hours: Sat-Thurs 8am to 7pm
---
13. Uncle Sim Traditional Lor Mee
---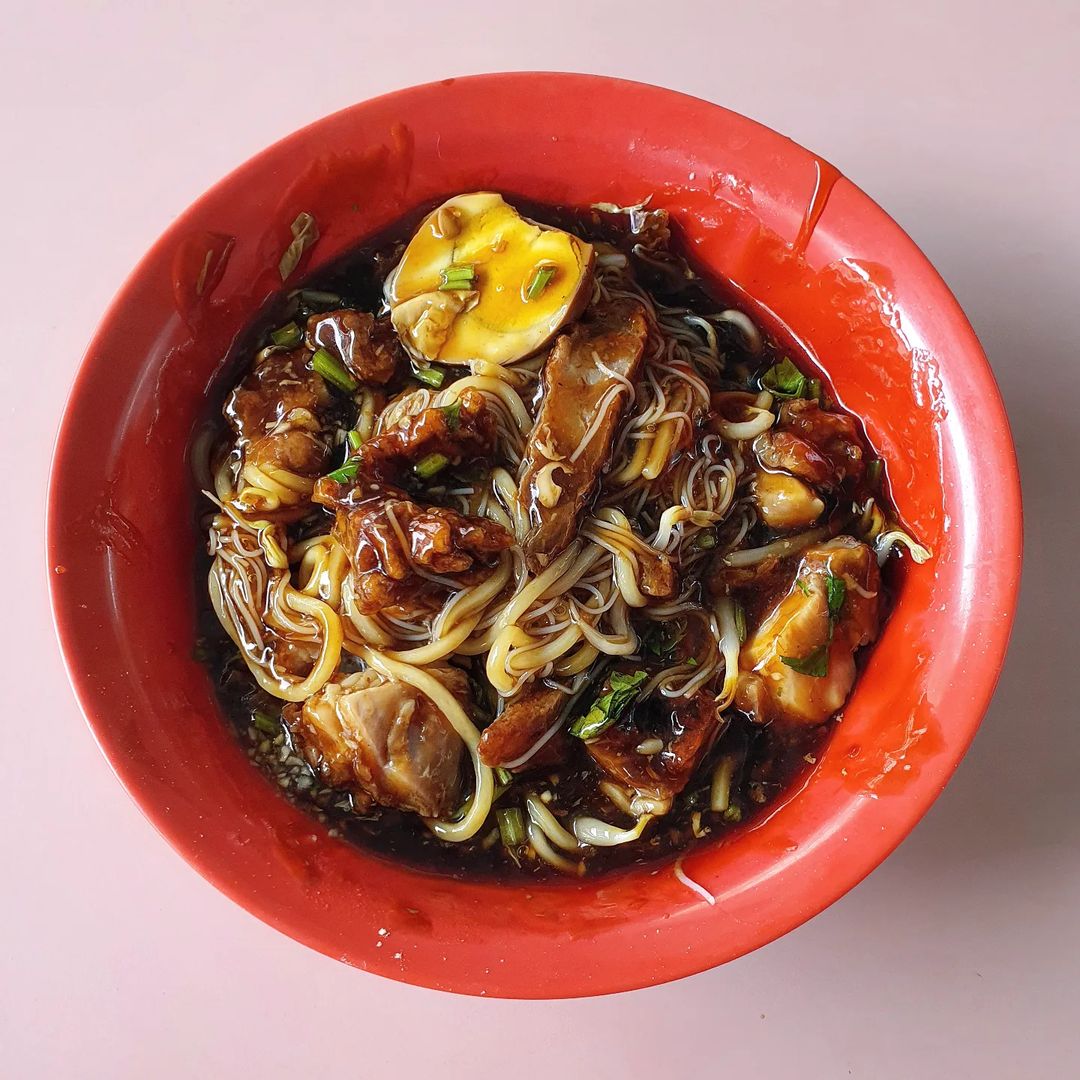 Image credit: @whatscooking_sg
If you love your lor mee with thick, super-starchy gravy, then get your fix at Uncle Sim Traditional Lor Mee. The lor mee stall sells $5 portions with aromatic, spiced zhup, QQ yellow noodles, and a medley of toppings. The braised pork is equal measures fatty and tender, while fried additions like chicken, ngoh hiang, and fried fish brings on the crunch. Don't skip the chilli.
Address: Blk 90, #01-64
Opening hours: Daily 11am to 8:30pm
---
Whampoa Drive Market and Hawker Centre
---
I grew up literally steps away from Whampoa Market and Food Centre. I hung out at the mosaic-tiled floors back when mosaic tiles were used for hawker centre floors. I've eaten at most the well-known stalls here, even before I knew there were other hawker centres in Singapore just like this one. I lived through the torturous period when it underwent upgrading. I cheered when it reopened as Whampoa Makan Place.
Every Singaporean has their favourite hawker centre; mine is the one I live beside.
Address: 90/91 Whampoa Drive, Singapore 320090/320091
Nearest MRT Station: Boon Keng
This post was originally published on 17 July 2017.