---
Best rojak in Singapore
---
Think of national dishes, and the likes of chicken rice, chilli crab, prawn noodles, and roti prata will come to mind. Rojak, an Asian salad of Javanese origin, doesn't come to mind as much, but locals love this quintessential dish in both its Chinese and Indian versions enough to justify its place amongst some of Singapore's greatest food hits. 
From classic Chinese-style dark rojak with crisp vegetables and fritters tossed in a sticky, savoury sauce, to the lesser-known white and fruit rojak, here are some of the best rojak in Singapore.
---
1. 684 Black & White Rojak 
---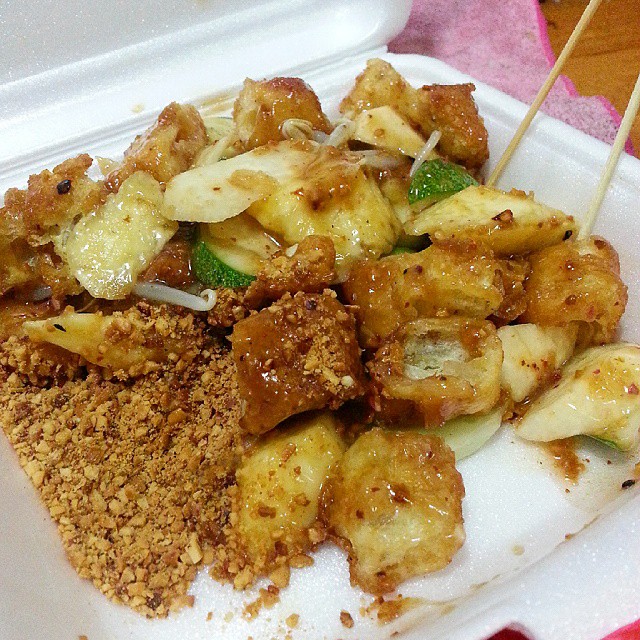 Image credit: @shadowfreak86
This rojak stall in Hougang is a hidden gem with over 20 years of history. They make two types of rojak: the traditional black rojak, and the rarer white rojak, priced from $4. Their black rojak is a substantial serving of all the usual suspects: a sauce with fermented prawn paste, lime, and sugar, as well as fruit and vegetable chunks such as pineapples, cucumber, turnip, tau pok, apples, and the all-important you tiao.
The white rojak, on the other hand, comes with the same fixings, but with a sour plum sauce instead. Tangy and sharp, the dressing complements the crisp vegetables and fruits to a T.
Address: 684 Hougang Avenue 8, #01-983, Singapore 530684
Opening hours: Fri-Wed 12pm to 8pm
---
2. Lau Hong Ser 
---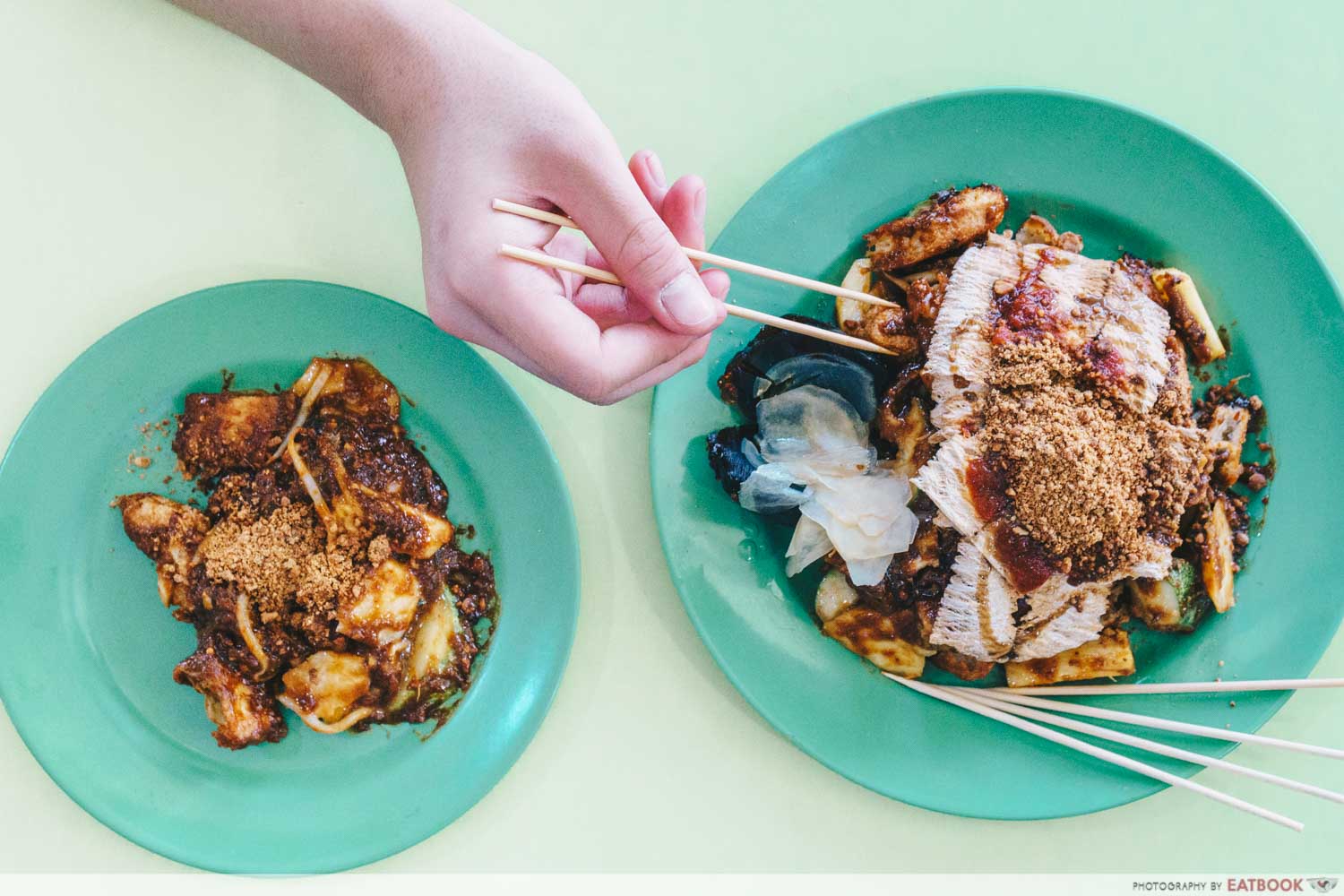 One of the household rojak stalls in Singapore is Lau Hong Ser, run by an elderly hawker who wakes up at 12am to prepare the ingredients for the next day. With 45 years of experience, owner Mr Lim is a second-generation hawker, and that expertise shows in each element; the chilli is house-made, youtiao and tau pok are charcoal-grilled to order, and everything is cut by hand. Be prepared to queue for almost an hour!
Rojak starts at $4, and you can add on you tiao, as well as century egg for $1. There is also a set with cuttlefish for $5.60. 
Read our Lau Hong Ser review.
Address: 281 Onan Road, #02-14, Singapore 424661
Opening hours: Mon, Thurs-Fri 4:30pm to 1am, Tue, Sat 4pm to 12am
Tel: 6346 6519
Lau Hong Ser Rojak Review: $2 Char-Grilled Rojak That's Worth Queuing For At Dunman Food Centre
---
3. Soon Heng
---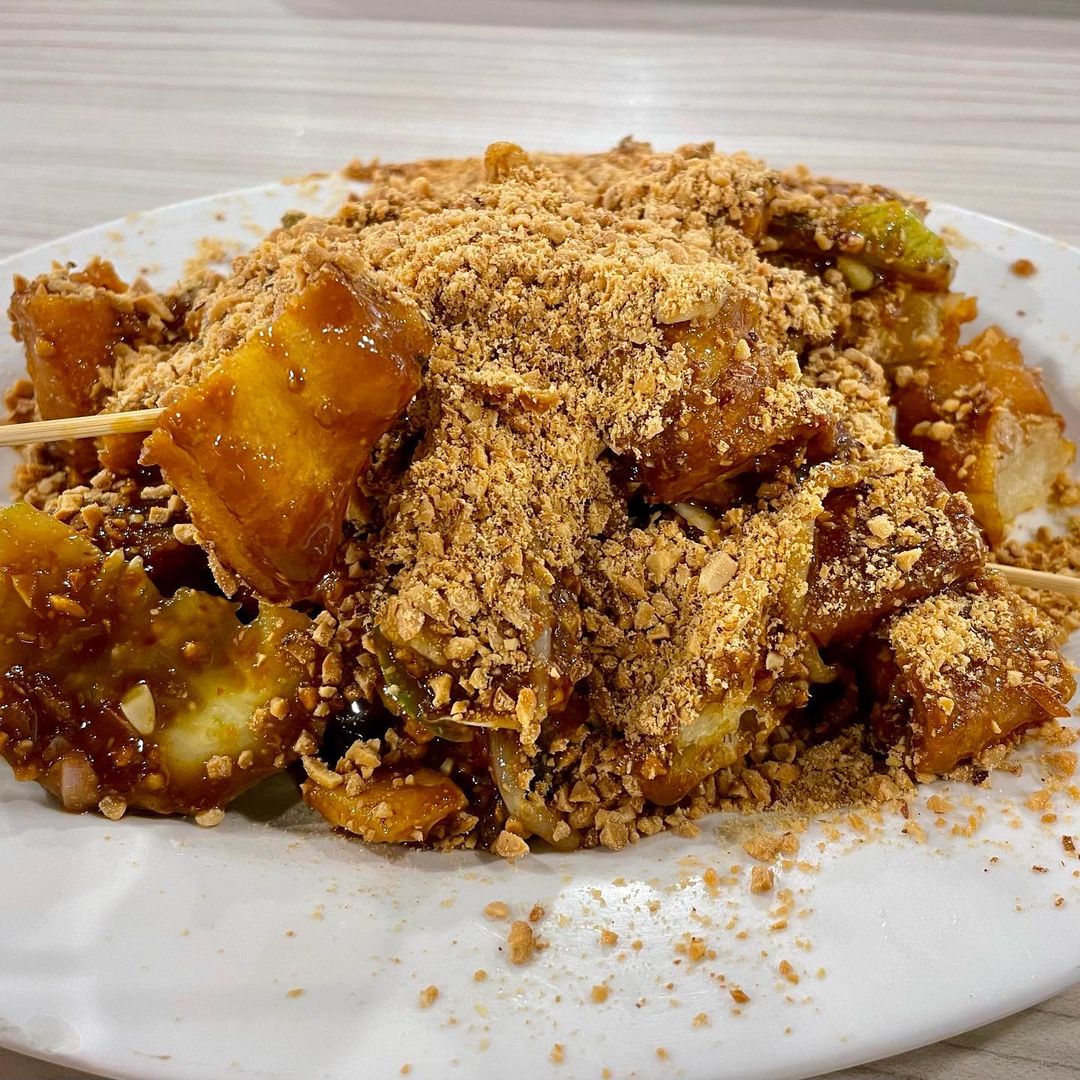 Image credit: @yummyfoodie_singapore
If you enjoy your rojak with lots of peanuts and a prominent punch of shrimp paste, then get your hands on a packet from Soon Heng in Toa Payoh. A portion starts from $3.50 here, and you can choose either a traditional plateful or one with just fried fritters. Add an extra $1 and get century egg as a topping, or order the big ($5.50) or large portion ($6.50) and get cuttlefish with your order.
Address: 480 Lor 6 Toa Payoh, Singapore 310480
Opening hours: Daily 11am to 9:30pm
Website
---
4. Lim Bo Rojak 
---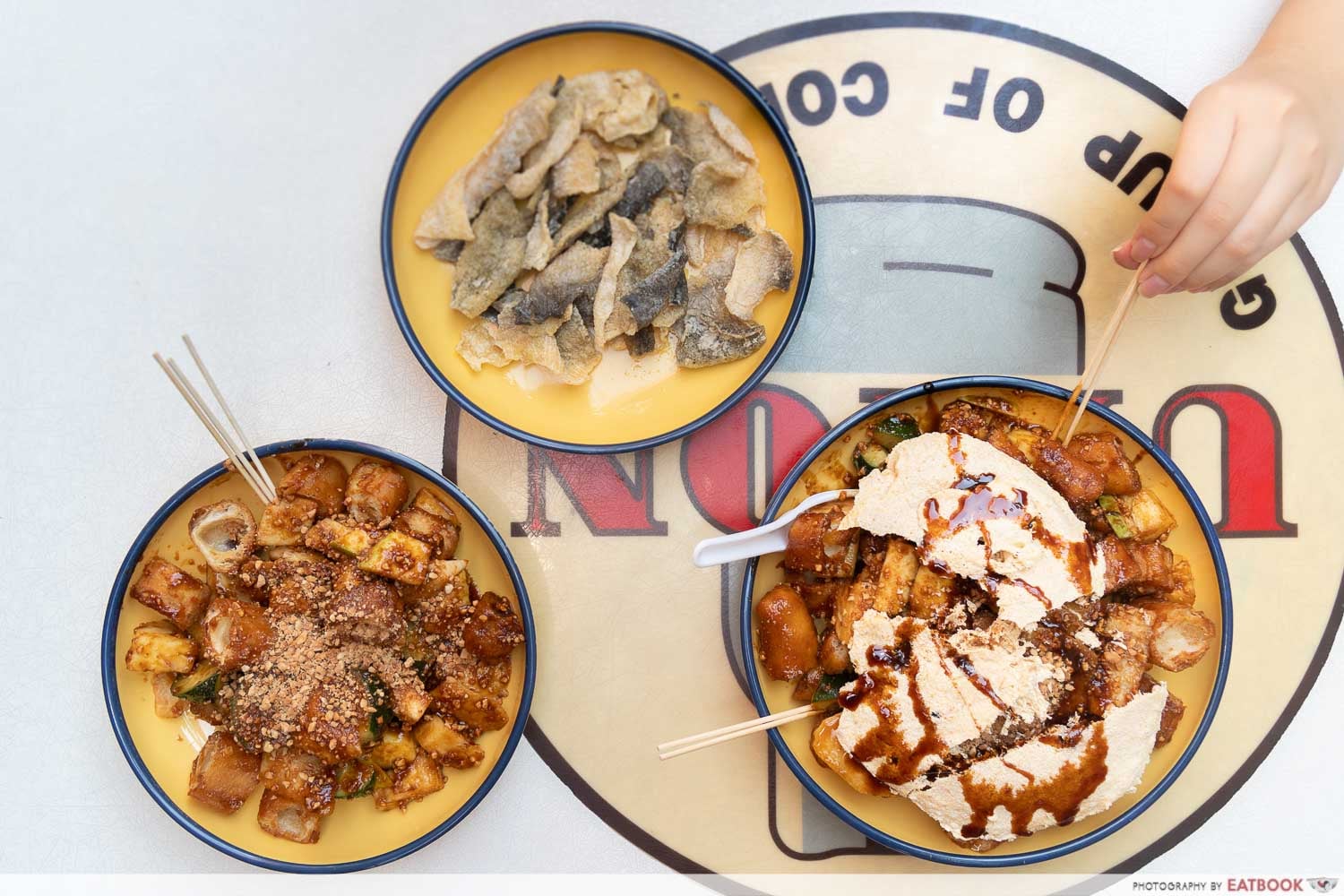 If you know Uncle Lim's from KL and love them, then you'll be happy to find their offshoot, Lim Bo Rojak, located in Joo Chiat. The recipe has a 40-year history and prioritises fruit as the main ingredient. You can expect to find green mango and rose apples in the mix, giving you a refreshing uplift from their deep-fried, equally tasty youtiao. The dish is also served with prawn crackers, which many fans dub to be their favourite part! Prices start from $5.
Read our Lim Bo Rojak review.
Address: 64 Joo Chiat Place, Singapore 427786
Opening hours: Tue-Sun 10am to 8pm
Tel: 9711 1342
Website
Lim Bo Fruit Rojak Review: Malaysian-Style Fruit Rojak With 40 Years Of History
---
5. Singapore Famous Rojak 
---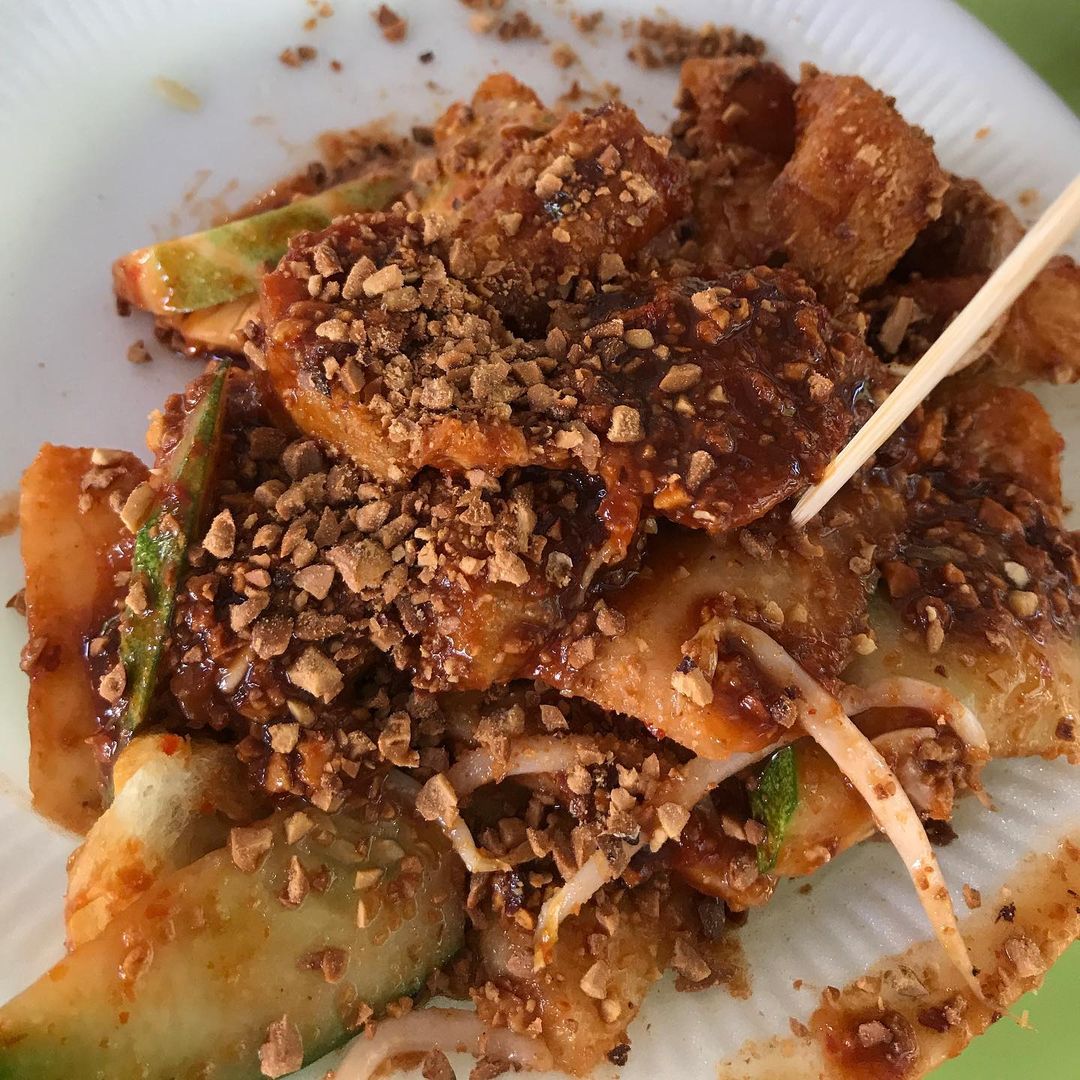 Image credit: @cheesheng.onn
It's no bold claim for this stall to be called Singapore Famous Rojak, as they've made a name for themselves in many local food guides, including the Michelin Guide. Located in Albert Centre Market & Food Centre, this stall draws queues for their heaping platefuls of chopped greens, fruit, and fritters, tossed in their house-made sauce.
The sauce is light on the prawn paste, so it lets the tamarind, sugar, and sweet soya flavours stand out. The youtiao here is very crunchy too, great for those who eschew softer fritters and prefer a good bite. Plates start from $3.
Address: 270 Queen Street, #01-45, Singapore 180270
Opening hours: Wed-Sun 1pm to 8:30pm

10 Albert Centre Food Centre Stalls To Save You From Atas Food At Bugis
---
6. Balestier Road Hoover Rojak 
---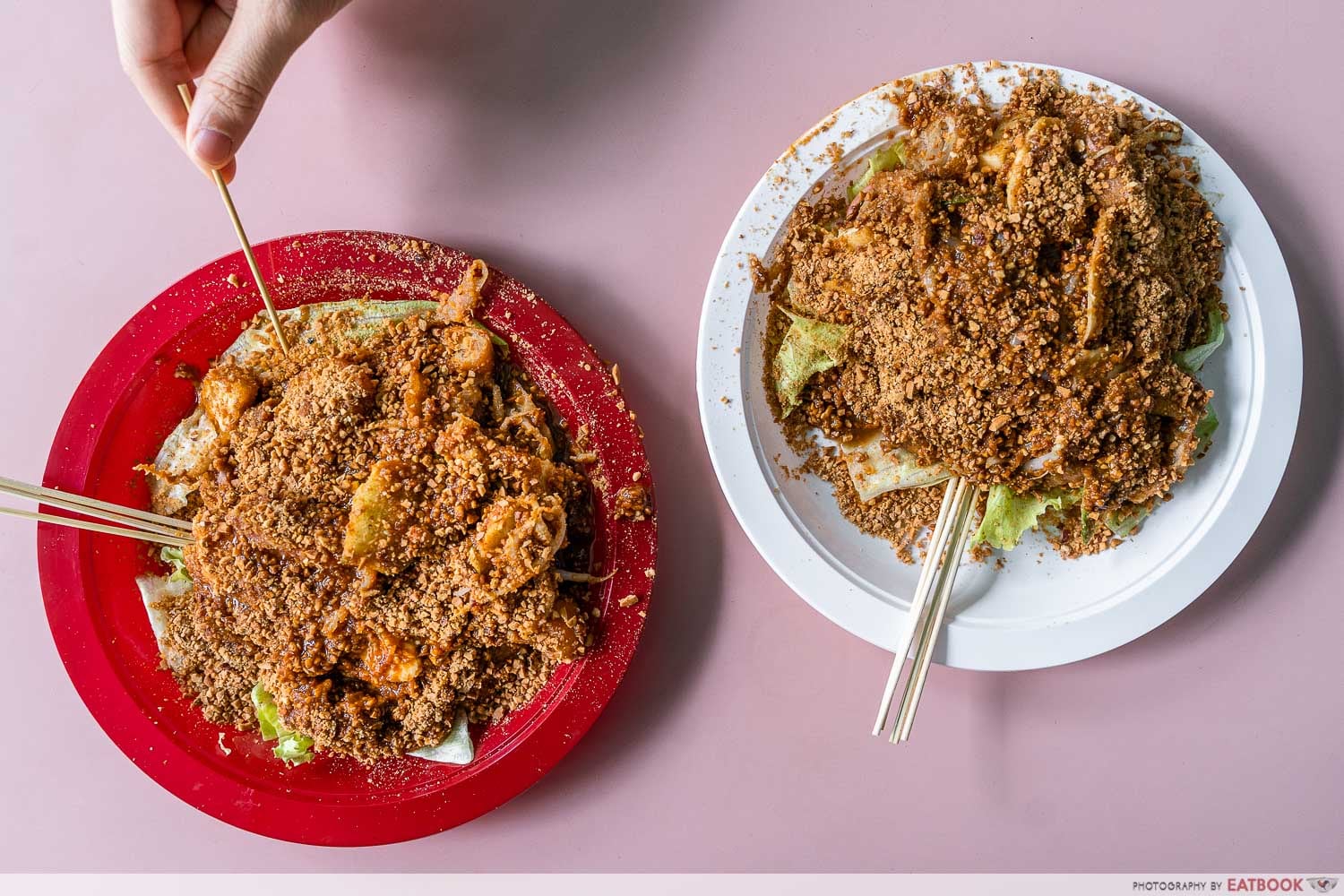 Another major player in the scene is Balestier Road Hoover Rojak, also a permanent fixture on the Michelin Bib Gourmand lists. The recipe has been around since 1961, and the dish remains packed with ingredients, from the usual suspects to intriguing ones such as century egg, jellyfish and torch flower ginger buds. The sauce is full-bodied, with notes of tamarind and prawn paste shining through the peanuts and coriander served on top. Prices start at $4.
Read our Balestier Road Hoover Rojak review.
Address: Blk 90 Whampoa Drive, #01-06, Singapore 320090
Opening hours: Wed-Sun 10am to 4pm
Balestier Road Hoover Rojak Review: Michelin-Approved Rojak In Whampoa With Over 60 Years Of History
---
7. Rojak Popiah & Cockle 
---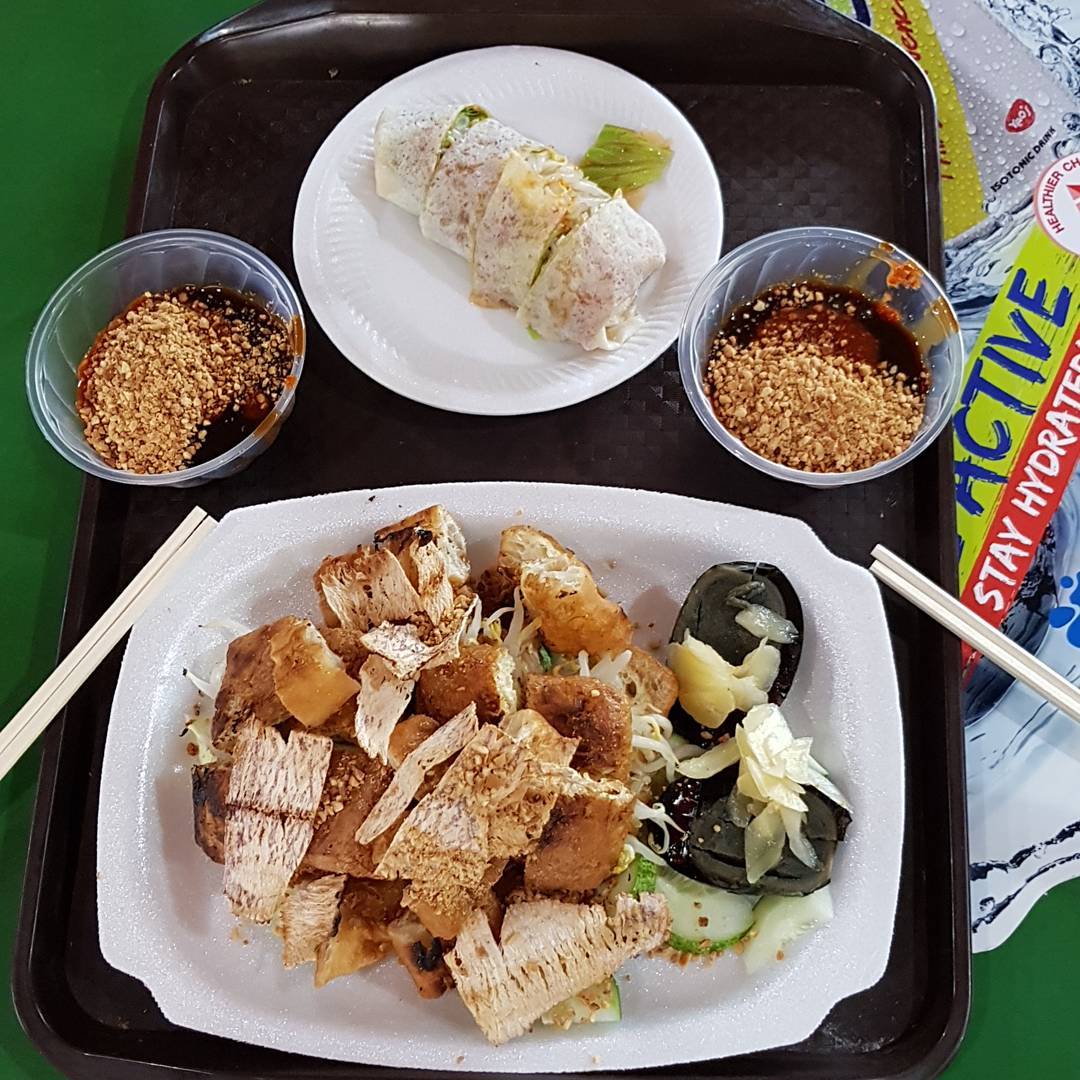 Image credit: @greedynomz
One more Michelin-minted name for the books is Rojak Popiah & Cockle, a fixture in Maxwell Food Centre. The rojak (from $3) comes with a truly fragrant sauce and a generous serving of roasted peanuts that coat every single piece. The Chinatown Popiah ($2.80) here is also dubbed as one of the best in Singapore, so get that along with your order. Be ready to stand in line for a bit. 
Address: 1 Kadayanallur Street, #01-56, Singapore 069184
Opening hours: Daily 11:30am to 8:30pm
25 Maxwell Food Centre Stalls Including Green Chilli Chicken Rice And Famous Ondeh-Ondeh
---
8. Brothers Rojak 
---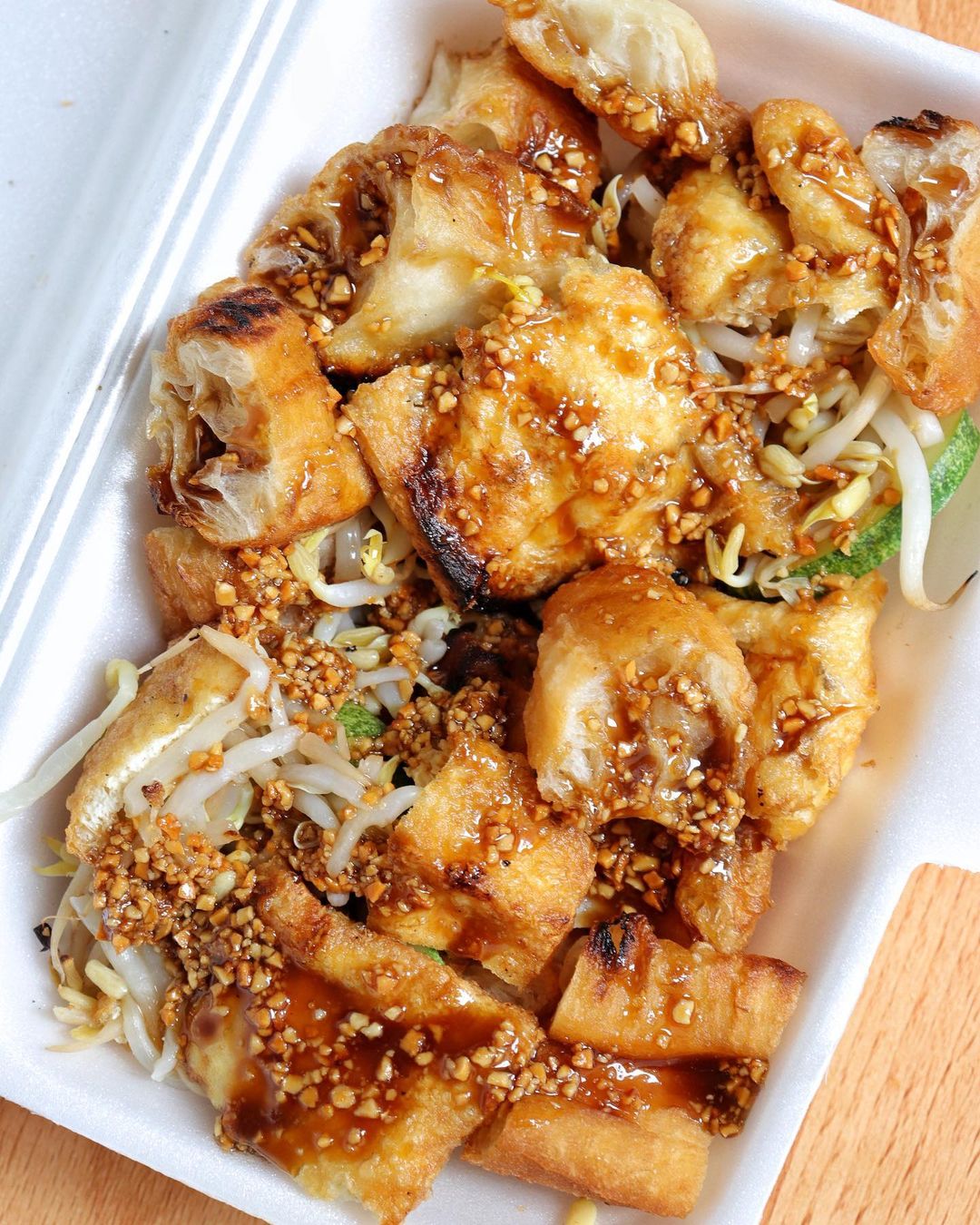 Image credit: @thisisklifferd
If you're ever in this hawker centre and see a long queue, chances are they're coming out of Brothers Rojak. This popular stall has a very balanced sauce that delivers hits from the prawn paste, torch ginger flowers, and a zing from squeezed lime to finish. Prices start from $3, but portions tend to be smaller, so if you're sharing, top up and add on ingredients such as the hard-to-find tau kwa pao, or buy the whopping $8 plate.
Address: 449 Clementi Ave 3, #01-211, Singapore 120449
Opening hours: Mon-Sat 9:30am to 7:30pm
Website
---
9. Tow Kwar Pop
---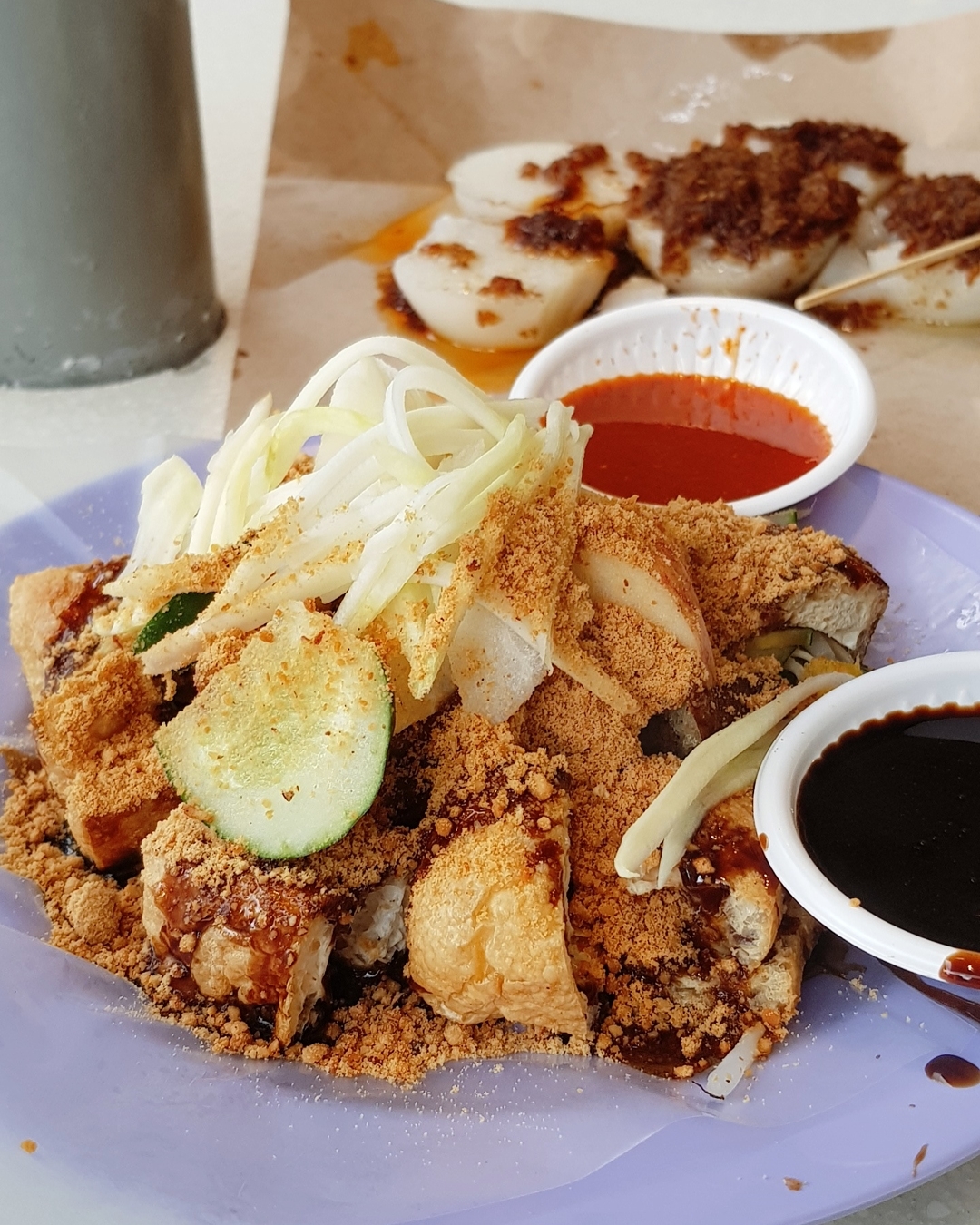 Image credit: @theninjacook
Team tau kwa people ought to get their fix from
Tow Kwar Pop.
This under-the-radar stall sells both tau kwa pao
(from $4)
and rojak. The latter is lighter on the sauce than your average serving, great for those who enjoy the dish without being weighed down with too much prawn and sweet soya flavour. Be sure to enjoy this with chilli, which really amps up the freshness of the dish.
Address: 30 Seng Poh Road, #02-06, Singapore 168898
Opening hours: Tue-Fri 9am to 3pm, Sat-Sun 9:30am to 3pm
Website
---
10. Eat May Know
---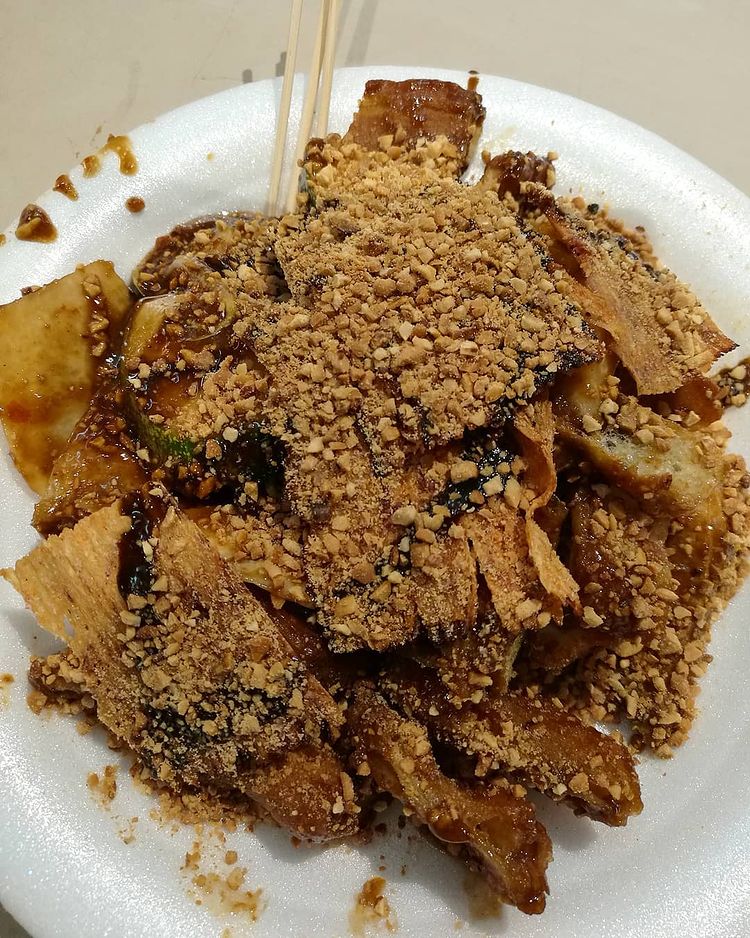 Image credit: @ellajarvis21
Eat May Know is a humble youtiao stall in Bendemeer Market that also sells rojak. The stall's name refers to the Chinese saying that roughly translates to "eat then you know", beckoning customers to try their signature dish for themselves. A plate starts at $5 and comes with all the usual trimmings, but one thing that makes Eat May Know stand out is the quality of their youtiao—fried till a deep golden brown, with a crispy shell, and a fluffy middle.
Address: 29 Bendemeer Road, #01-32, Bendemeer Market, Singapore 330029
Opening hours: Daily 11am to 9pm
Eat May Know is not a halal-certified eatery.
---
10. Rojak Line 
---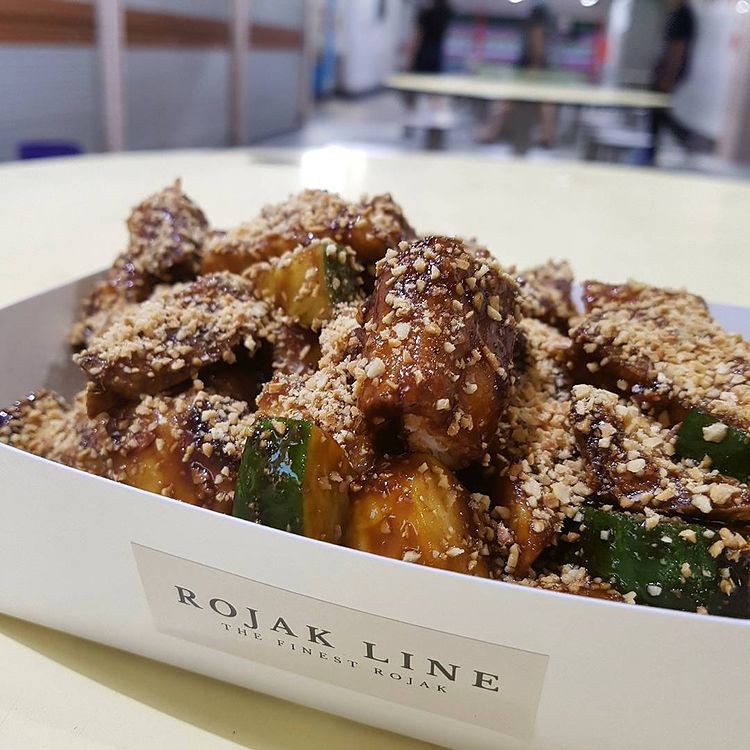 Image credit: @creativepleasur.es
Rojak Line is arguably one of the youngest stalls on this list as it was only established in 2016, but they have become a household name, especially in Holland Village. The stall prioritises quality ingredients and a house-made sauce that eschews shrimp paste but remains full-flavoured. The rojak here is also served with chilled fruits and peanut chunks, so a bite is quite the party in your mouth.
Rojak Line's signature dish is vegetarian- and Muslim-friendly. Those with shrimp allergies can also get their fix here! Don't skimp on their house-made chilli either, as it really is a fiery finishing touch. Prices start at $5.50.
Address: 44 Holland Drive, #02-13, Holland Drive Food Centre, Singapore 270044
Opening hours: Fri-Sun 1pm to 7:30pm
Tel: 9227 2275
Website
Rojak Line is not a halal-certified eatery, but it is Muslim-friendly.
---
Rojak stalls in Singapore
---
Now you know where to go if you're craving a sinful Asian salad, check out our other guides to top local food hits, including the best prawn mee, and the best chicken rice in Singapore.
23 Prawn Mee And Seafood Soup Stalls In Singapore For XXL Hae Mee, Lobster Noodles And More
Featured image adapted from @nowifeelsomething.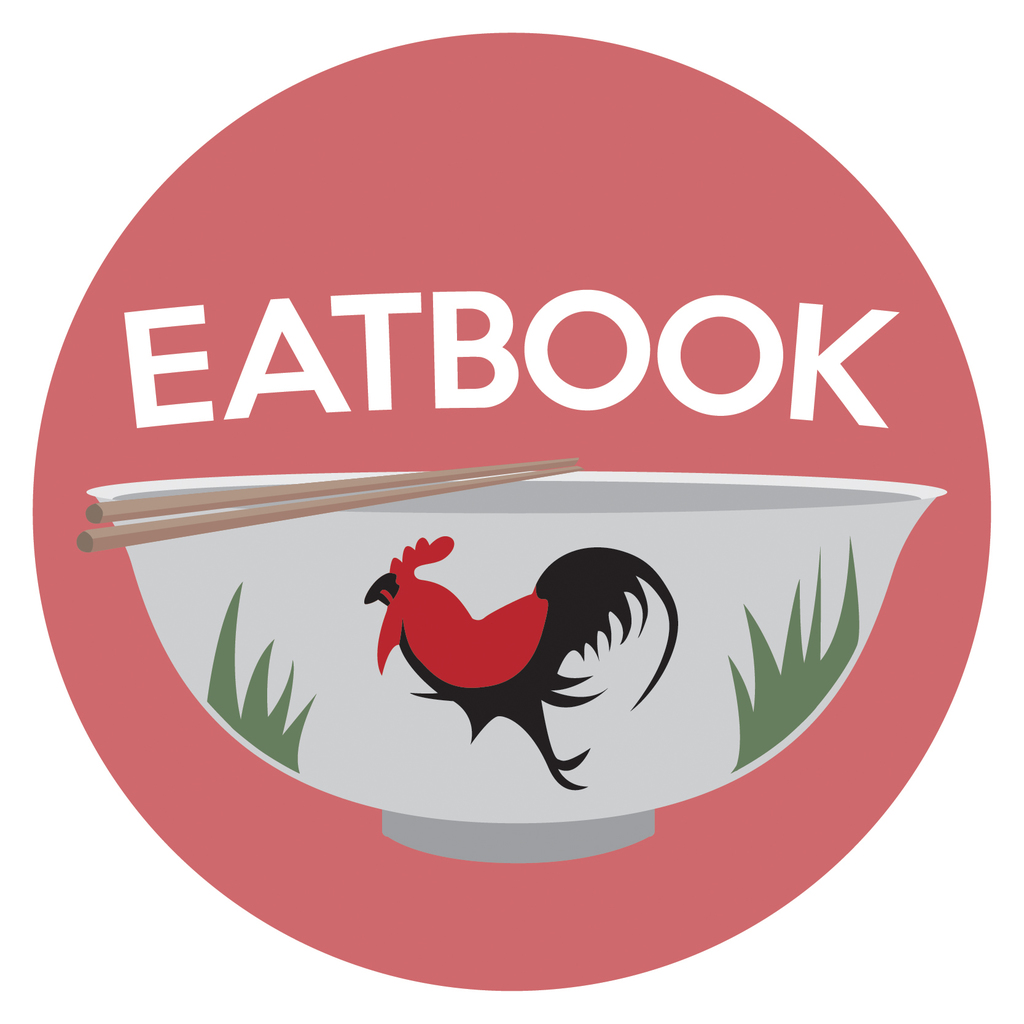 Drop us your email so you won't miss the latest news.