Lim Bo Rojak at Joo Chiat Place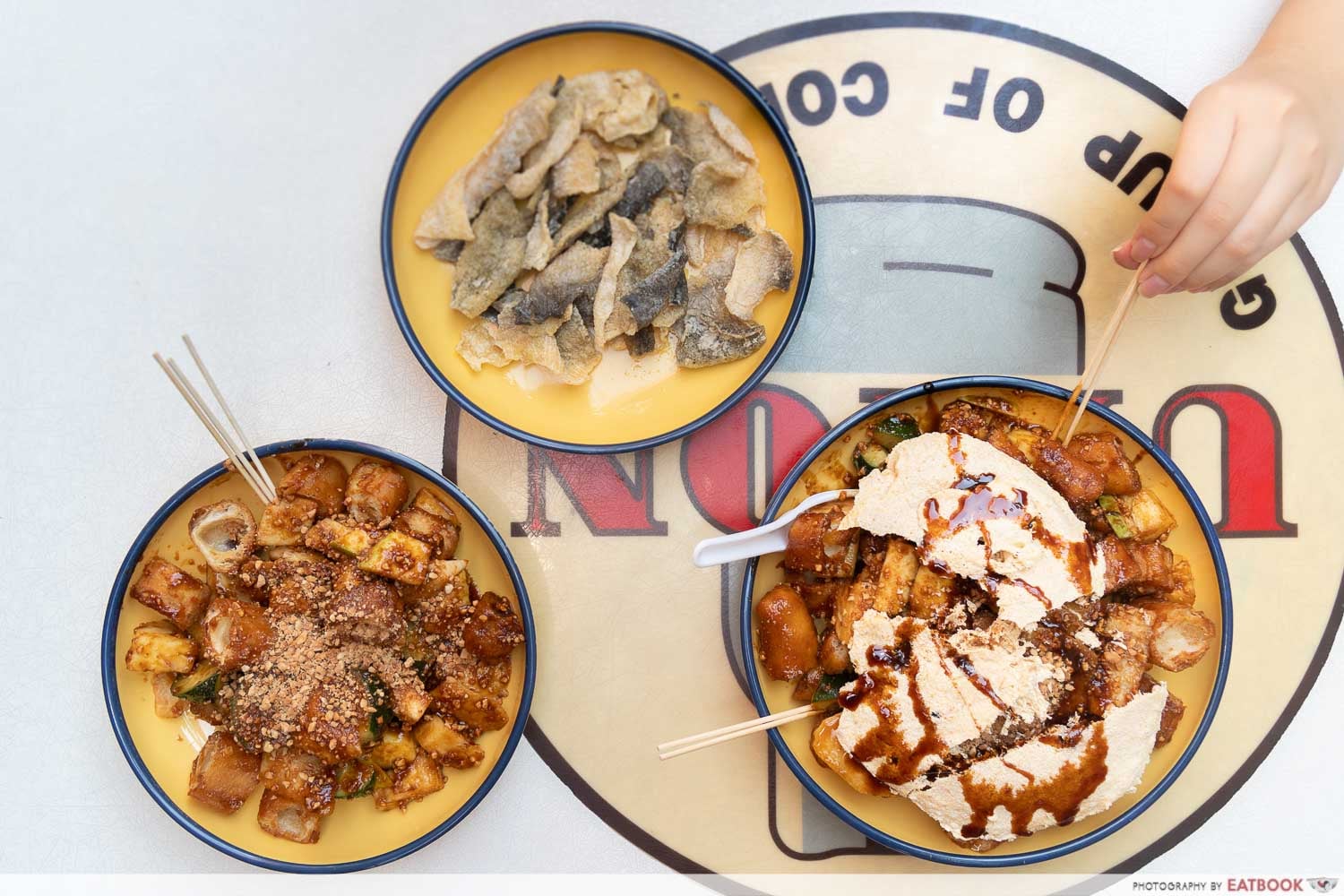 Before COVID-19 restricted us from travelling, I used to make frequent visits to Malaysia just for the food. Although we can't travel right now, we have a fair share of authentic Malaysian-style dishes in Singapore such as Shu Heng JB-style bi tai mak, Old Village KL-style pork noodles, and Sarawak kolo mee, to keep me busy till my next trip. Now, I have a new addition to the list—Lim Bo Rojak, a stall serving authentic Penang-style rojak.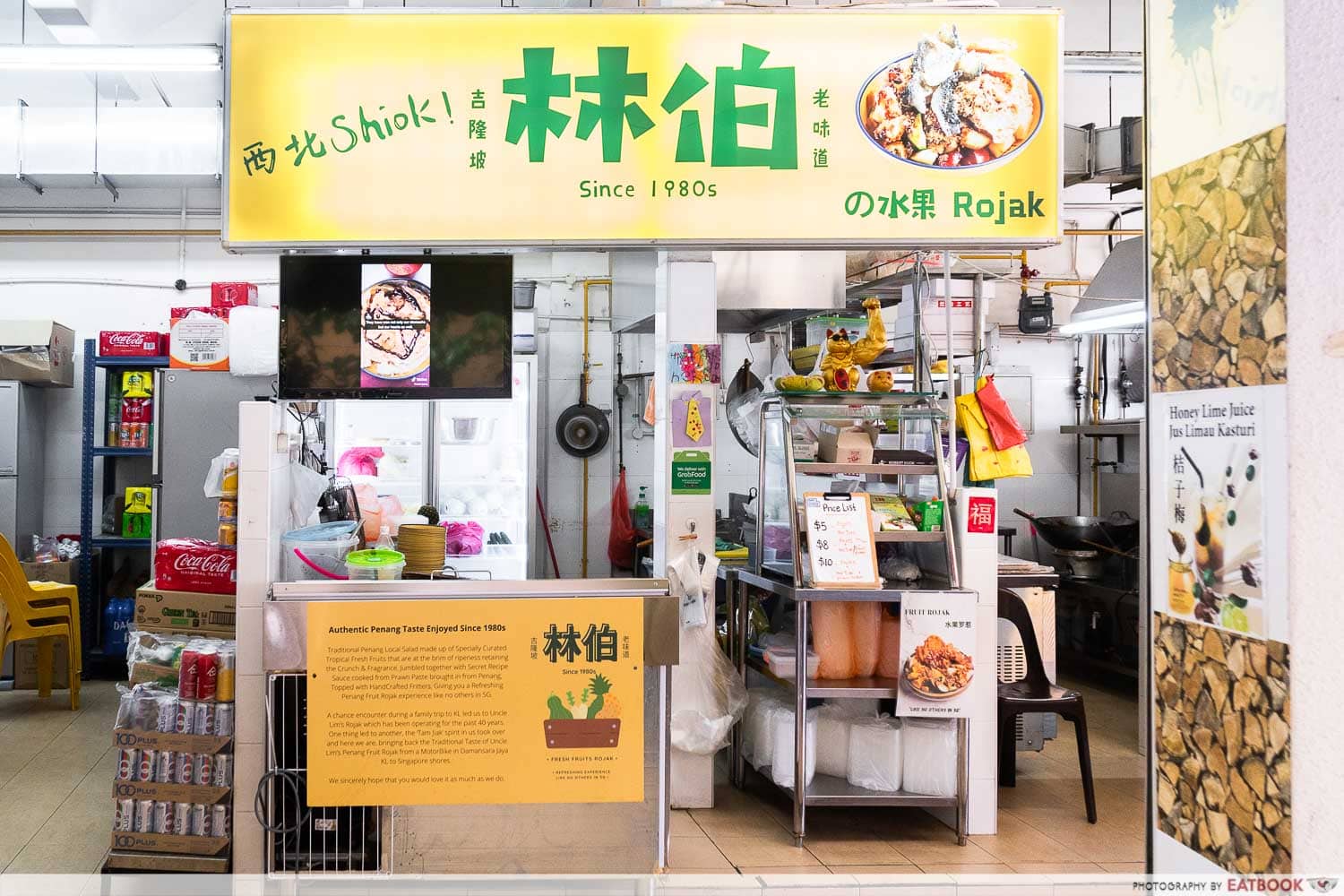 Lim Bo Rojak started off as a roadside stall in Damansara Jaya, Kuala Lumpur. The stall was run by Uncle Lim, who has been making this rojak for over 40 years! It was chanced upon by Mr Leong Gwo Wei, a Singaporean who saw the potential of Uncle Lim's rojak in the Singapore market, when he was on a family vacation in Malaysia. He found that it was unique and different from the rojak that's typically found here. Mr Leong sought Uncle Lim's tutelage to learn everything there is to know about the 40-year-old rojak recipe, before he set up shop here in Singapore.
10 Rojak In Singapore To Try, Including 40 Year-Old Recipes And Michelin-Approved Stalls
Food at Lim Bo Rojak 
Lim Bo Rojak, as the name implies, specialises in rojak. There are three options available: the SHIOK ($5), ji SHIOK yi xia ($8), and xi bei SHIOK ($10), all of which come with almost the same ingredients. 
Before assembling the rojak, the you tiao, prawn crackers and fish skin were fried to order.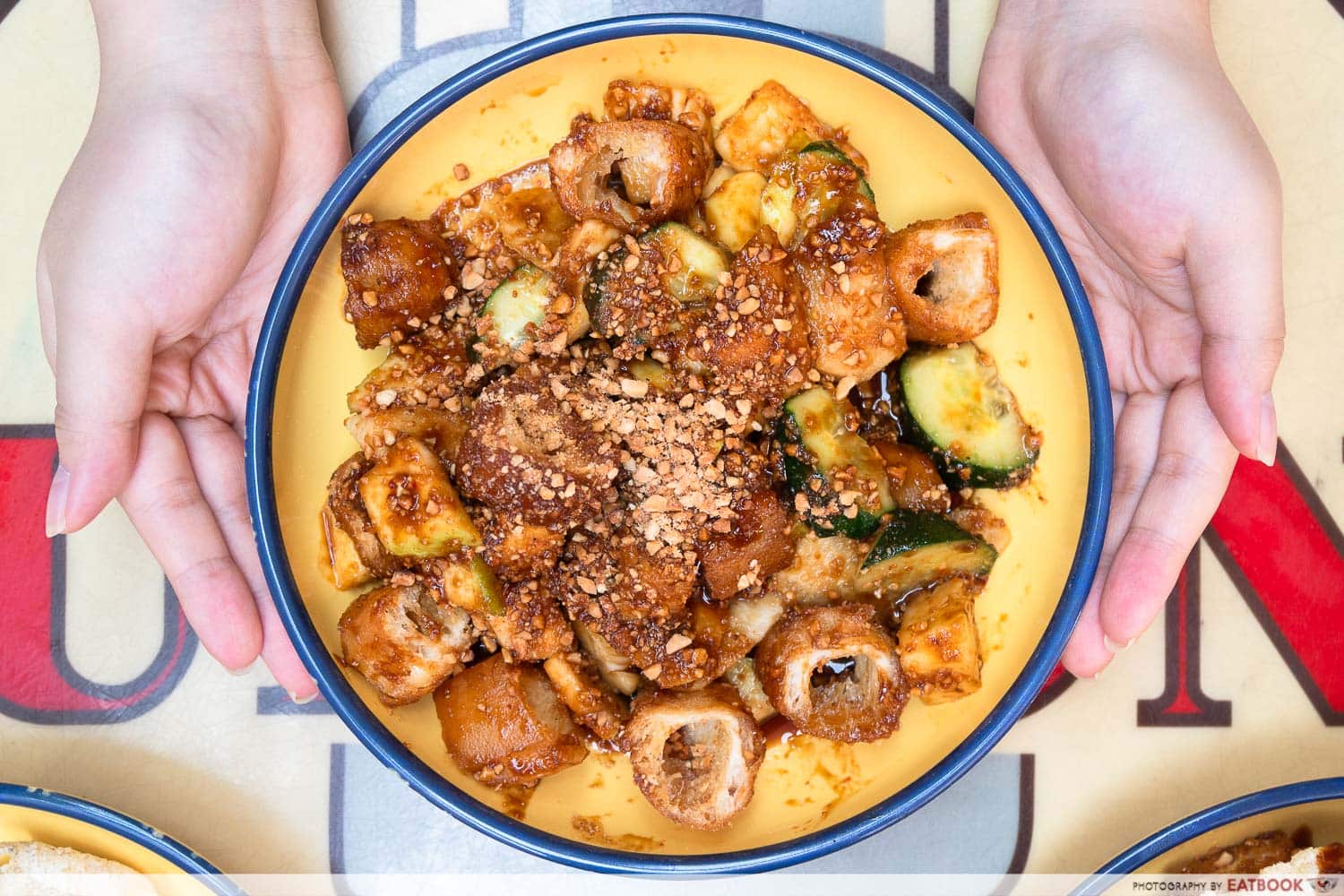 The SHIOK came in a rather big portion, suitable to share between two. Instead of a thick and sticky sauce, Lim Bo Rojak's was a little more runny, like honey. The flavours of this sauce were rich and sweet, with less of the robust taste of prawn paste that's commonly associated with rojak. Moreover, I opted for the addition of chilli, which gave a nice kick to the sweet sauce.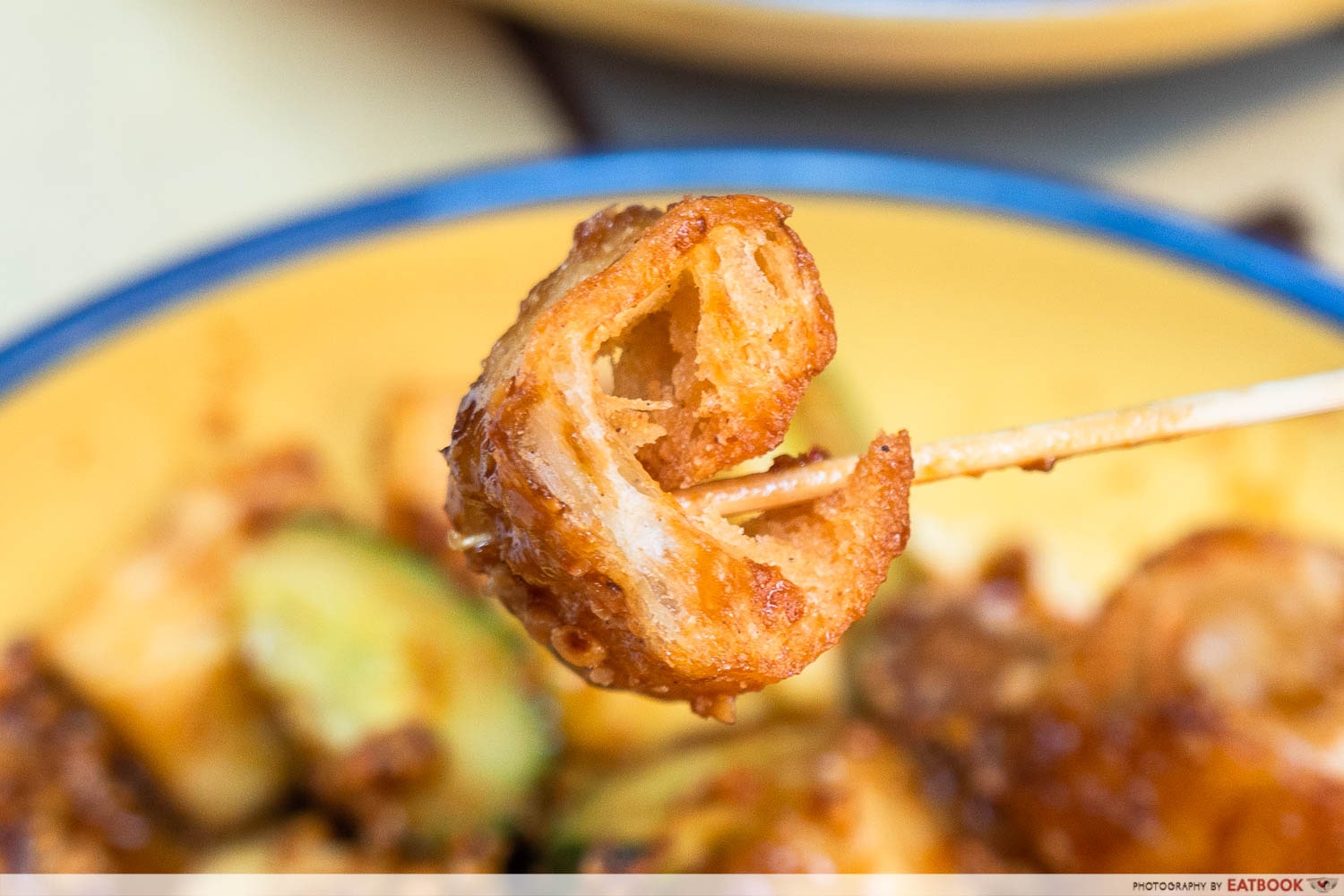 If you're a fan of crispy you tiao, you won't be disappointed here at Lim Bo Rojak. The you tiao is so crispy that it shatters as soon as you sink your teeth into it. There's not a single doughy bit in these you tiao, which I really enjoyed. 
Texture aside, the flavour of the fried you tiao married the gravy perfectly. The deep-fried flavour of the dough was not overpowered by the sweet and spicy sauce, making it seriously addictive. This was one of the ingredients that I wished for more of.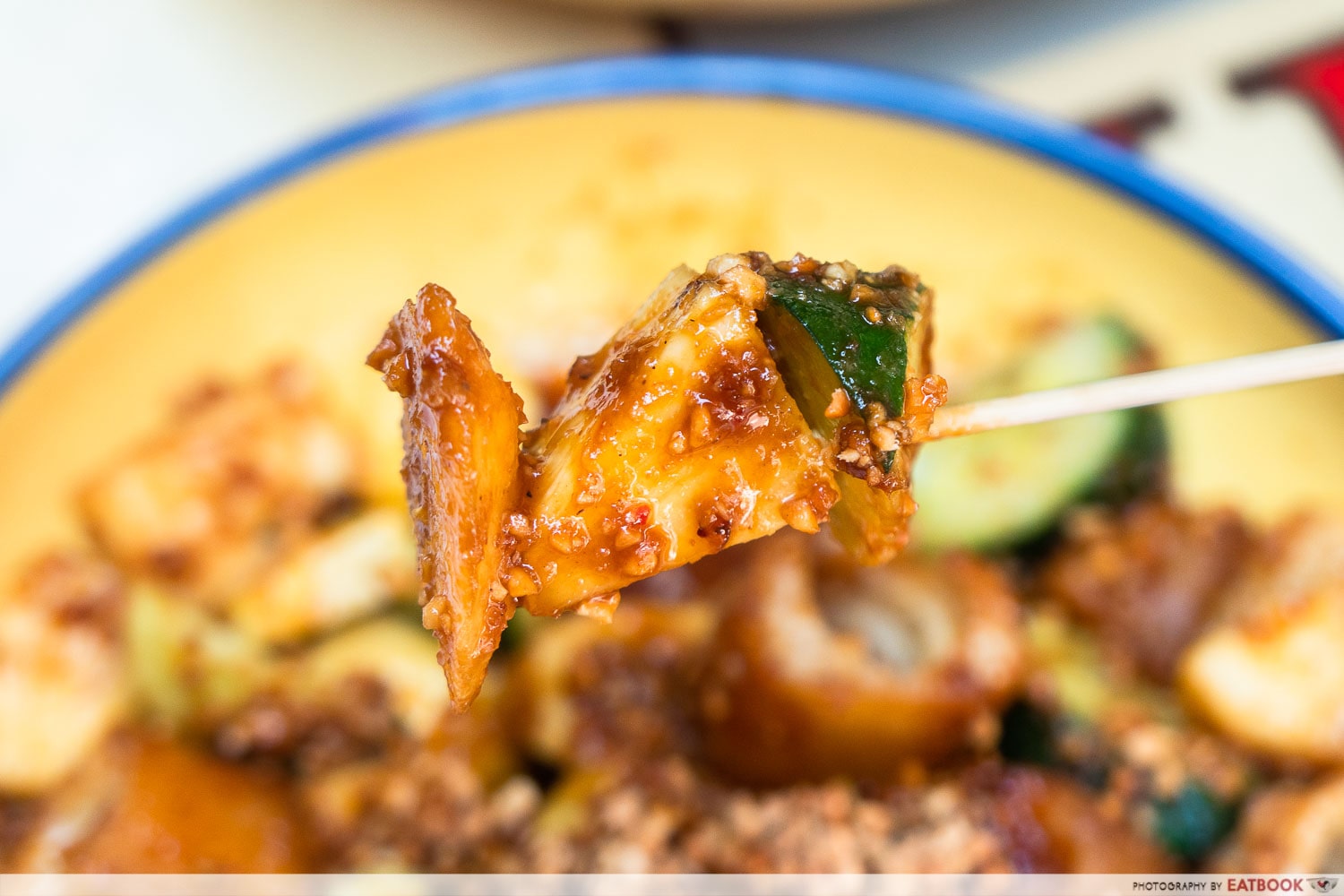 As the fried youtiao can get a little jelak, the fruits and vegetables in the rojak served as palate refreshers. What I found unique about Lim Bo's rojak was their inclusion of tropical fruit. Besides the classic ingredients—cucumber, pineapple, and turnip—there was also green mango and guava in the mix. 
Each ingredient played an important role in this dish. The Japanese cucumbers were juicy and refreshing, making them an effective palate cleanser. On the other hand, the pineapple's sweet, tangy juices brightened the dish. The turnip had a natural sweetness and crunch which I enjoyed.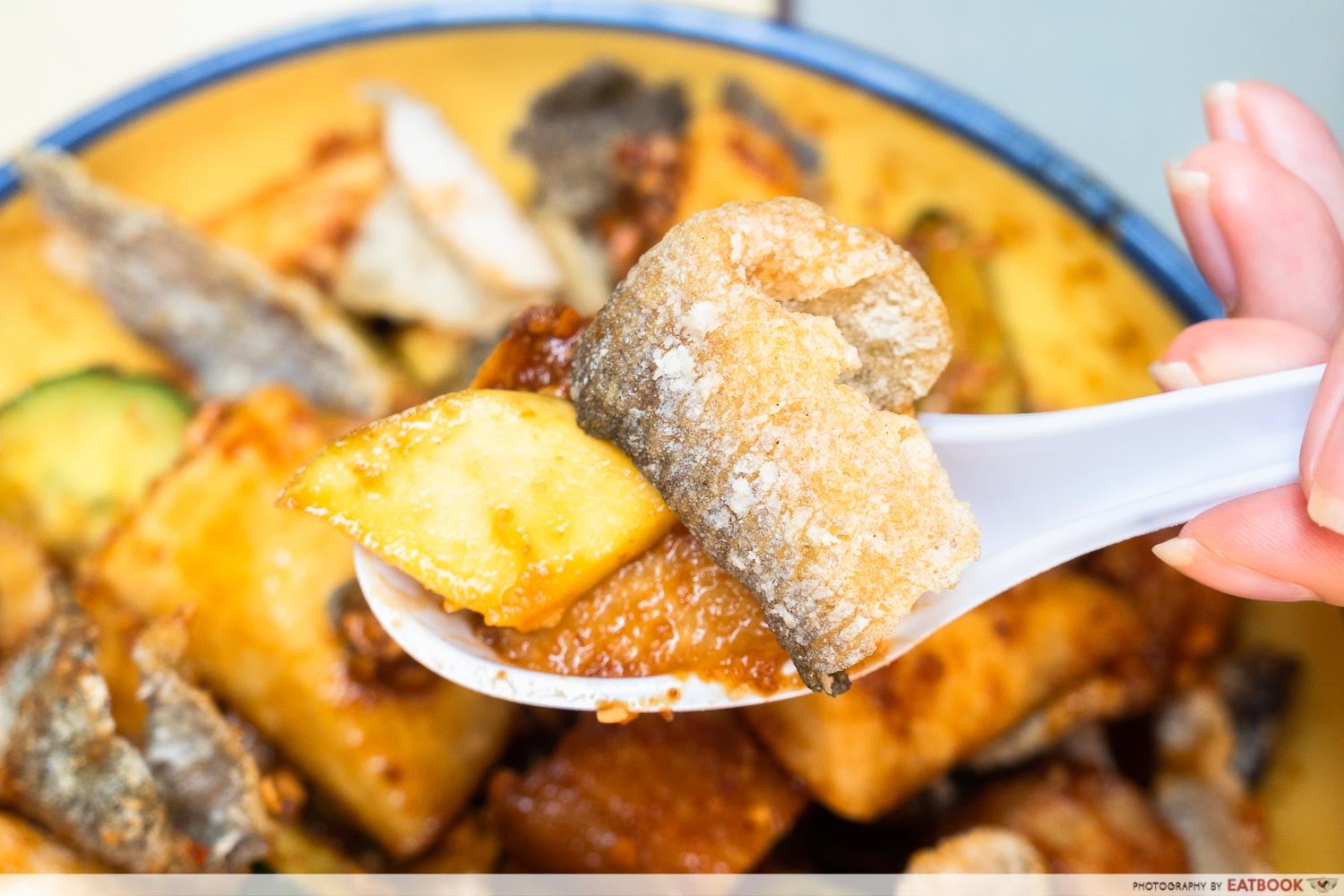 My personal favourites would be the green mango and guava. The unripe mangoes had a slight crunch and a pleasant sourness that contrasted nicely with the sweet sauce. The guava, on the other hand, with its neutral taste, added another depth to the dish. 
Be warned: the fruits do release a bit of water. So to avoid having soggy you tiao, do eat the rojak while it's fresh!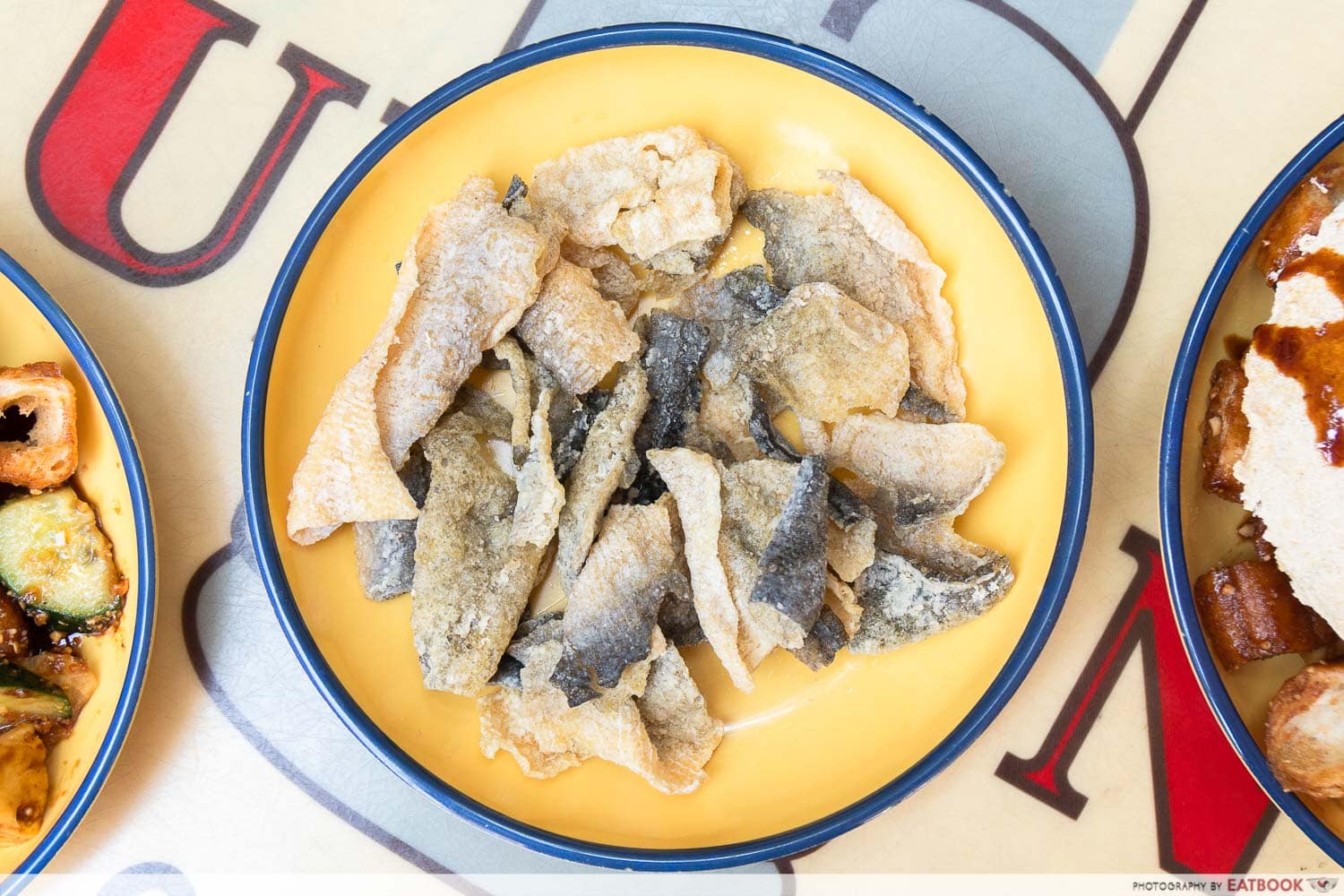 With the SHIOK bowl, I also ordered a portion of fish skin ($3) on the side. Although I'm not a fan of fish skin, its umami and savoury notes balanced out the sweet and fruity components in the rojak, making it a pleasant addition to the dish.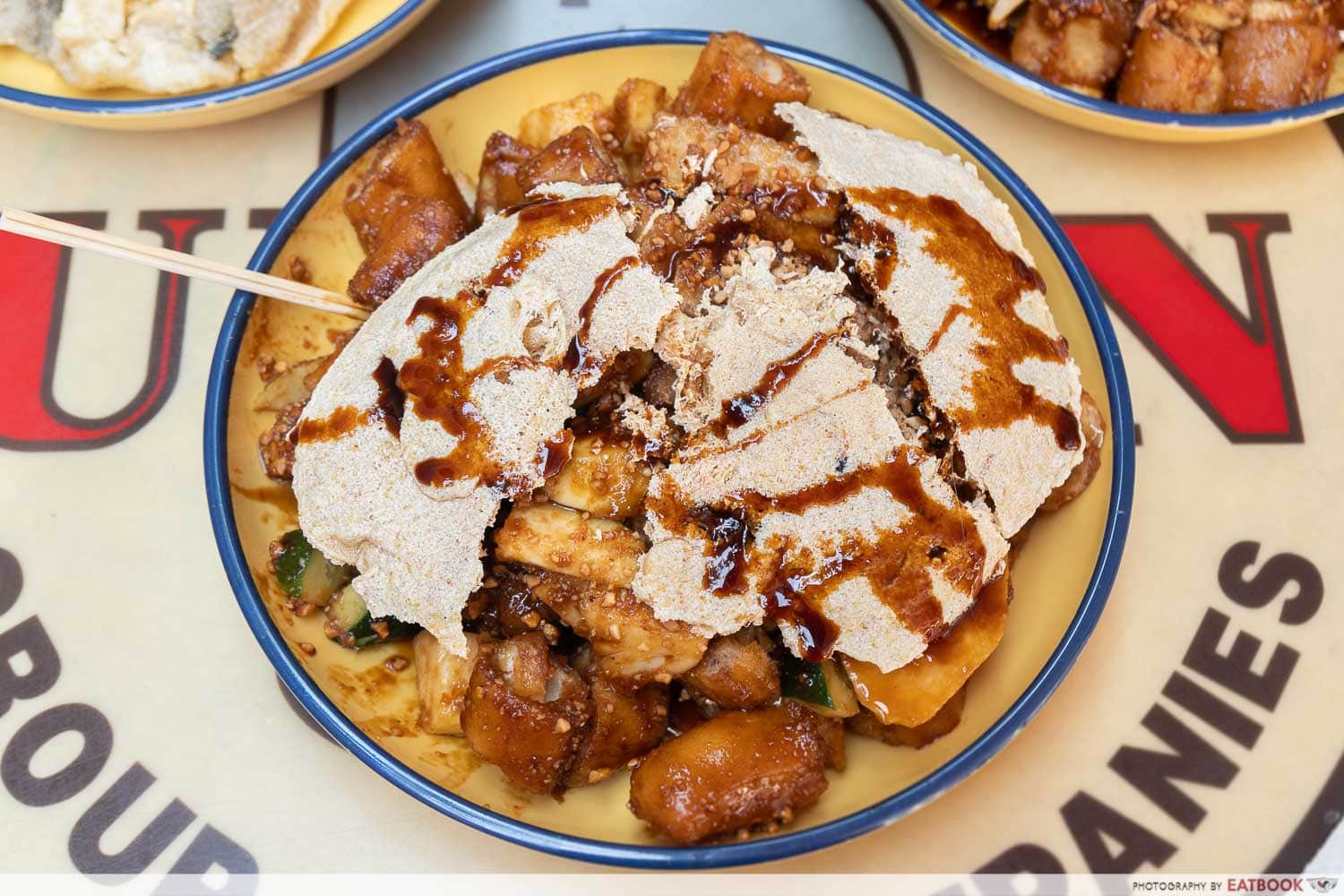 Next, we tried the xi bei SHIOK. It came in a portion that is probably sufficient for three to four people to share, with the same rojak components, and a large prawn cracker atop.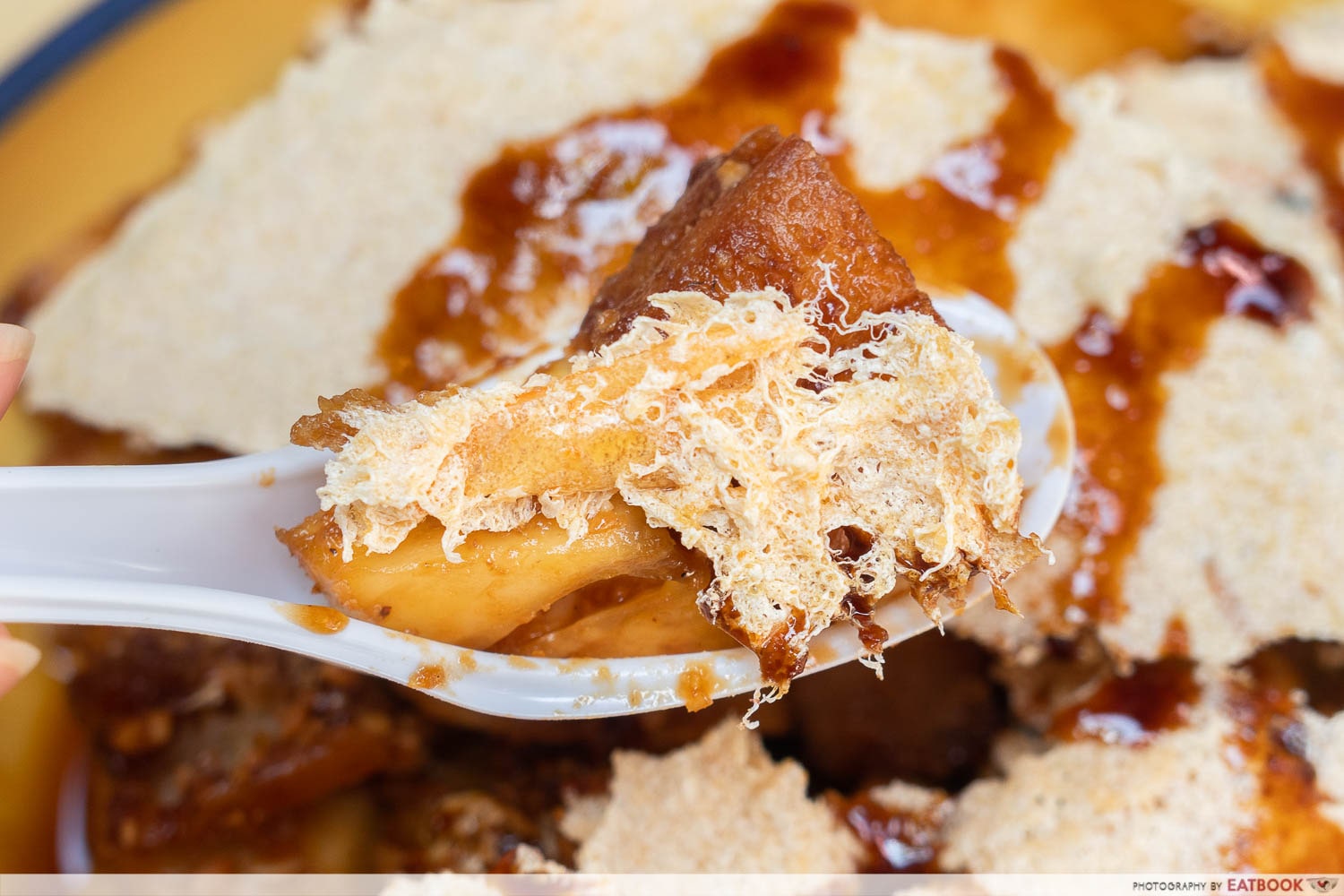 I'd only tried Indonesian-style prawn crackers before, which are light and airy, so this Hokkien-style prawn cracker was a first for me. It was much harder, crunchier, and had a web-like lace at the bottom of the cracker, which lent an interesting mouthfeel and texture to the dish. But, I would have preferred if the sweet, prawny flavour was more prominent as well. 
One small gripe my colleague and I had was with the peanut garnish. The crushed peanuts were sprinkled generously on the rojak, however, they weren't as fragrant as we'd have liked. Nevertheless, we still finished the rojak with gusto.
Lau Hong Ser Rojak Review: $2 Char-Grilled Rojak That's Worth Queuing For At Dunman Food Centre
Ambience at Lim Bo Rojak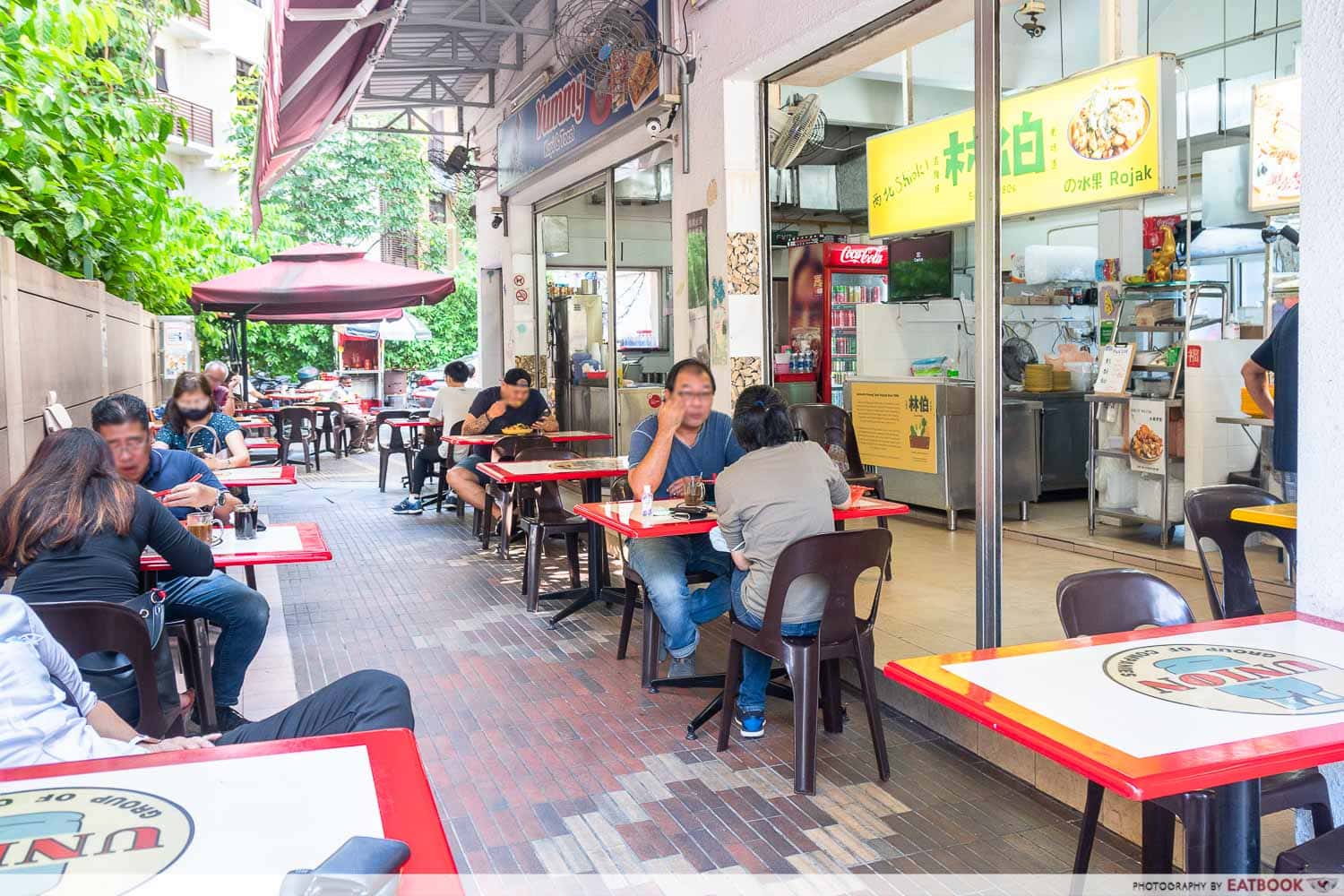 Lim Bo Rojak is tucked away in a coffee shop along the streets of Joo Chiat Place. It is located in a rather quiet and secluded area, surrounded by private housing estates. The nearest stations are Paya Lebar MRT Station, and Eunos MRT Station. From these stations, a 10- to 15-minute bus ride, followed by a five-minute walk is required before arriving at Lim Bo Rojak.
Although there were no indoor seats within the coffeeshop, the outdoor area was well sheltered, keeping us cool during the shoot. It was clean, brightly lit and rather quiet. Even though there were only three stalls within the coffeeshop, the area did get a little busy at noon. So, to avoid the queue, consider coming before or after the lunch hour. 
The verdict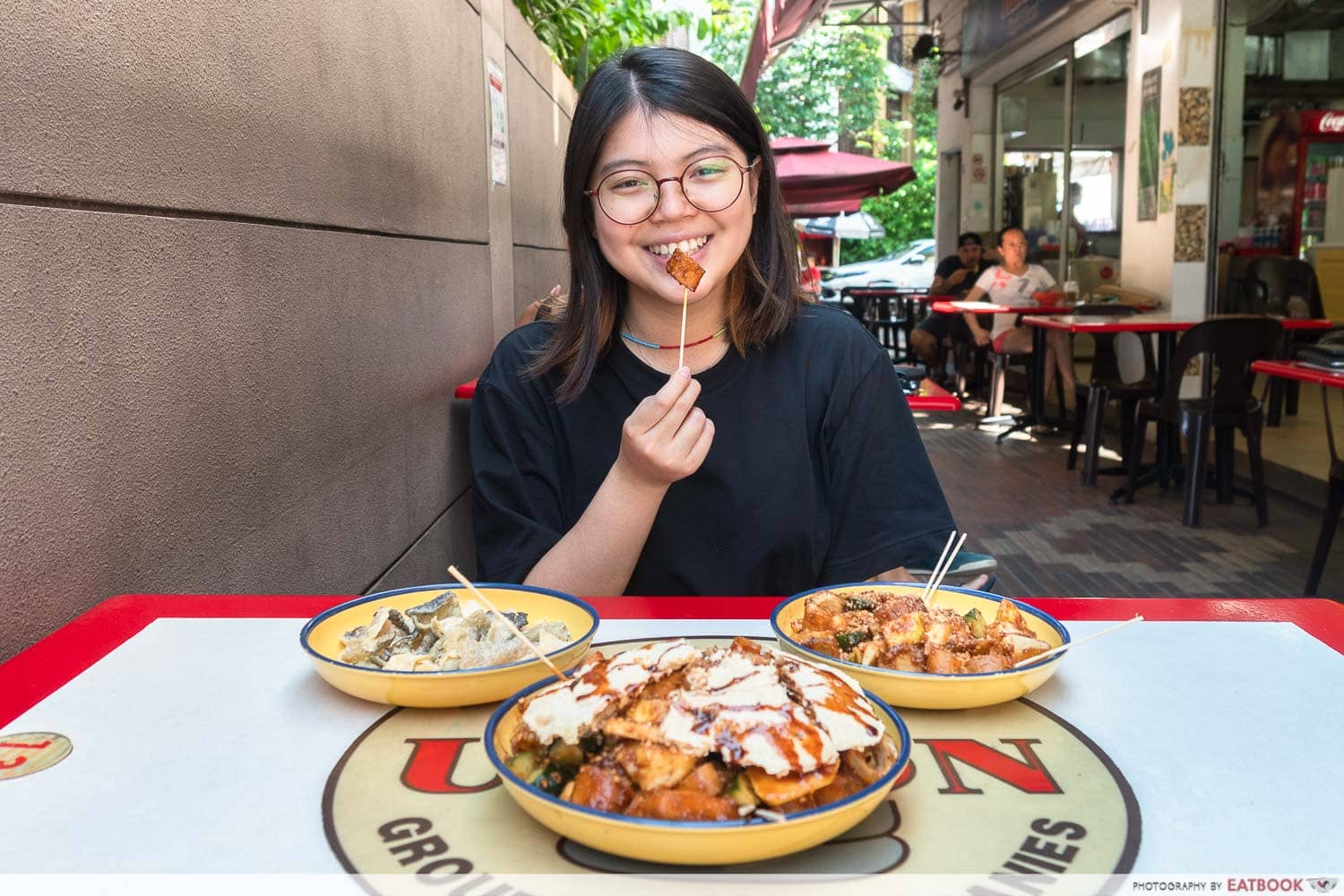 What I enjoyed most about Lim Bo Rojak was the overall execution and variety of fruits used. It had a lot of textural play and a mixture of flavours, which made the dish well-rounded and memorable. You get a taste of something sweet, spicy, fruity, and tangy, all in one plate.
At Lim Bo Rojak, I could certainly feel the dedication and sincerity that goes into crafting the best rojak for their customers. I've been following them on social media and noticed that they always handpick their fruits to ensure that they are in season, and of the best quality available. So don't be disappointed if the fruits stated here are not present in your order, as they might not be in season! Alternatively, check out their Facebook page before heading down.
If you are looking for more rojak options, check out our guide to the best rojak around Singapore. Alternatively, after this sinful appetiser, head down to one of these eateries in Joo Chiat or Katong for more food adventures. 
Address: 64 Joo Chiat Place, Singapore 427786
Opening hours: Tue-Sun 10am to 8pm
Tel: 9711 1342
Website
Lim Bo Rojak is not a halal-certified eatery. 
20 Joo Chiat And Katong Food Places For Catch-Up Sessions With Har Cheong Gai Waffles, Mac & Cheese Pizza And More
Photos taken by Lim Yu Hui.
This is an independent tasting at Lim Bo Rojak.
Lim Bo Fruit Rojak Review: Malaysian-Style Fruit Rojak With 40 Years Of History
Lim Bo Fruit Rojak Review: Malaysian-Style Fruit Rojak With 40 Years Of History -

7.5/10
Summary
Pros
– Overall well-executed dish
– Very fresh fruits
– You tiao was crispy

Cons
– Slightly inconvenient location
Recommended dishes: SHIOK ($5)
Opening hours: Tue-Sun 10am to 8pm
Address: 64 Joo Chiat Place, Singapore 427786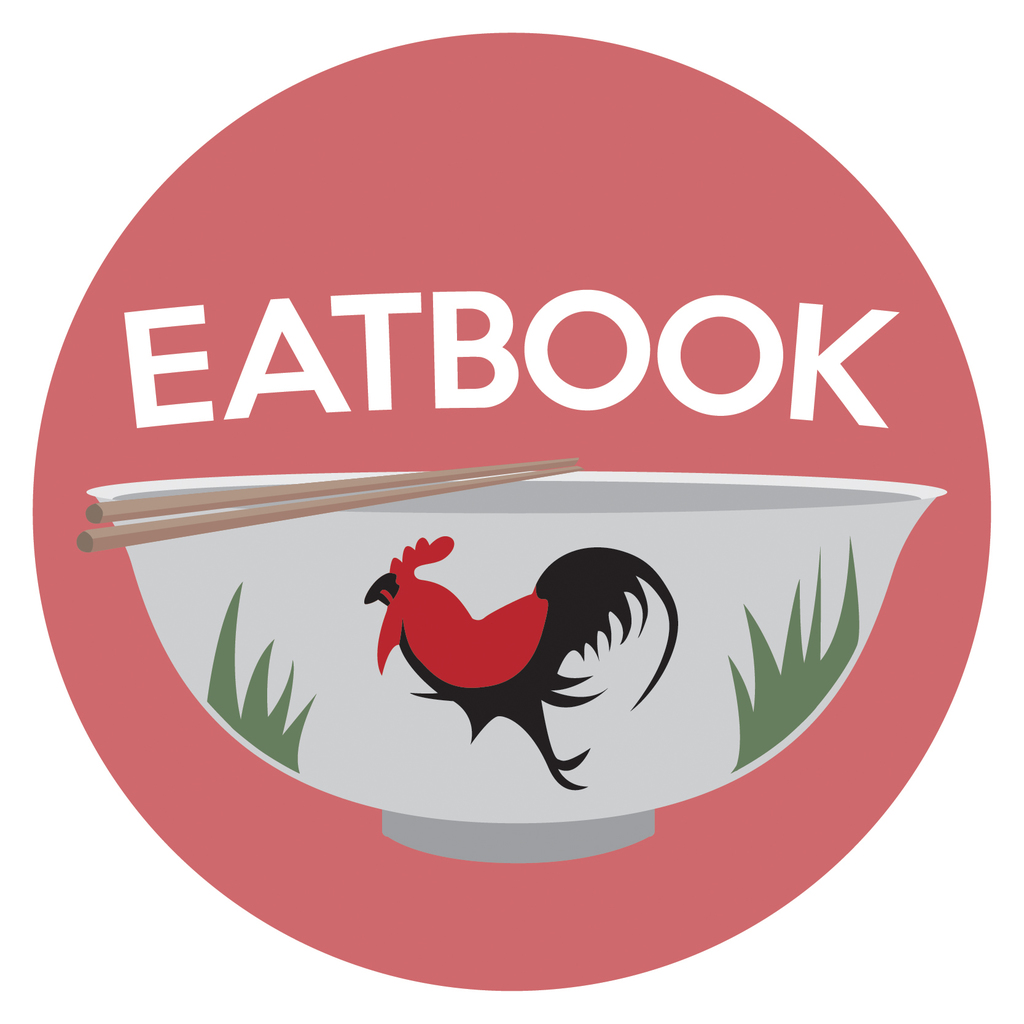 Drop us your email so you won't miss the latest news.