---
Sarawak kolo mee stalls in Singapore
---
Update: JJ Sarawak Noodles has relocated to 3 Yung Sheng Road, #03-127, Taman Jurong Food Centre, Singapore 618499.
Despite Sarawak's proximity to Singapore, its food is a novel cuisine for most Singaporeans. While many are familiar with Western Malaysian favourites such as Penang laksa, Penang char kway teow, and nasi lemak, there are plenty of Eastern Malaysian dishes that have slipped off the radar. Kolo mee and Sarawak laksa are two of Sarawak's most popular food icons, and there are a respectable number of stalls that offer them in Singapore.
I'm not the best authority on Sarawakian food, so I got some help from the Sarawak Trade And Tourism Office Singapore. These guys know Sarawakian food inside out, and were more than happy to share the favourites that reminded them very closely of home. After travelling across the island to find the best Sarawakian fare, here are three best stalls in Singapore to satisfy your Sarawakian food cravings.
---
1. Sarawak Delicacy Laksa & Kolo Mee
---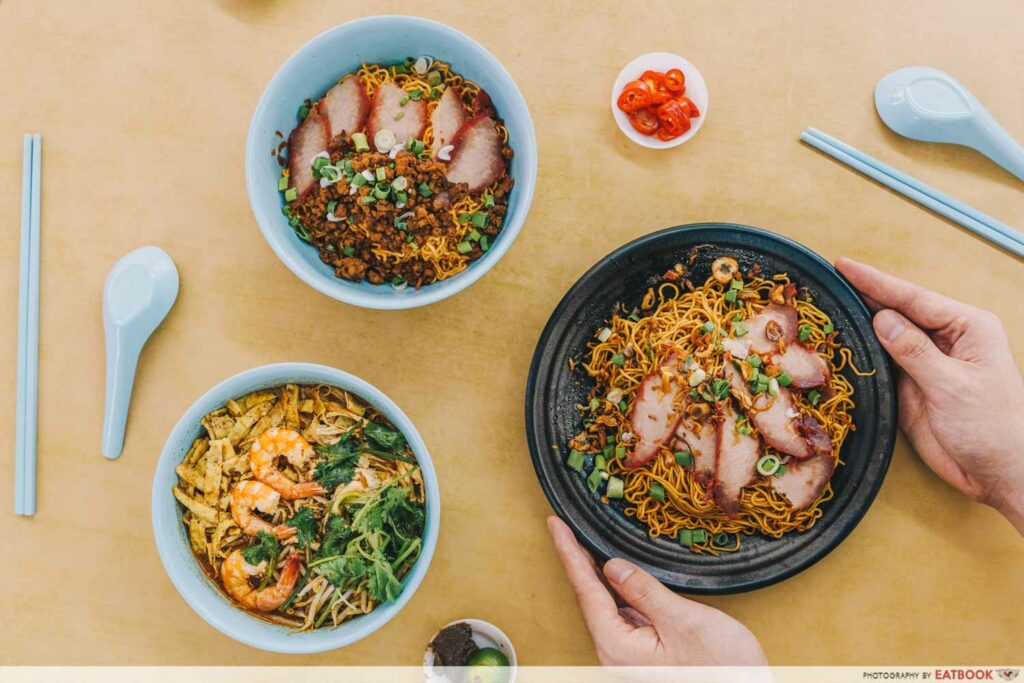 Sarawak Delicacy Laksa & Kolo Mee is the centre of attention at its sole outlet in a Bedok coffee shop, and for good reason of course. Long queues can be found in the morning, and it usually stays that way until the shop closes in the early evening.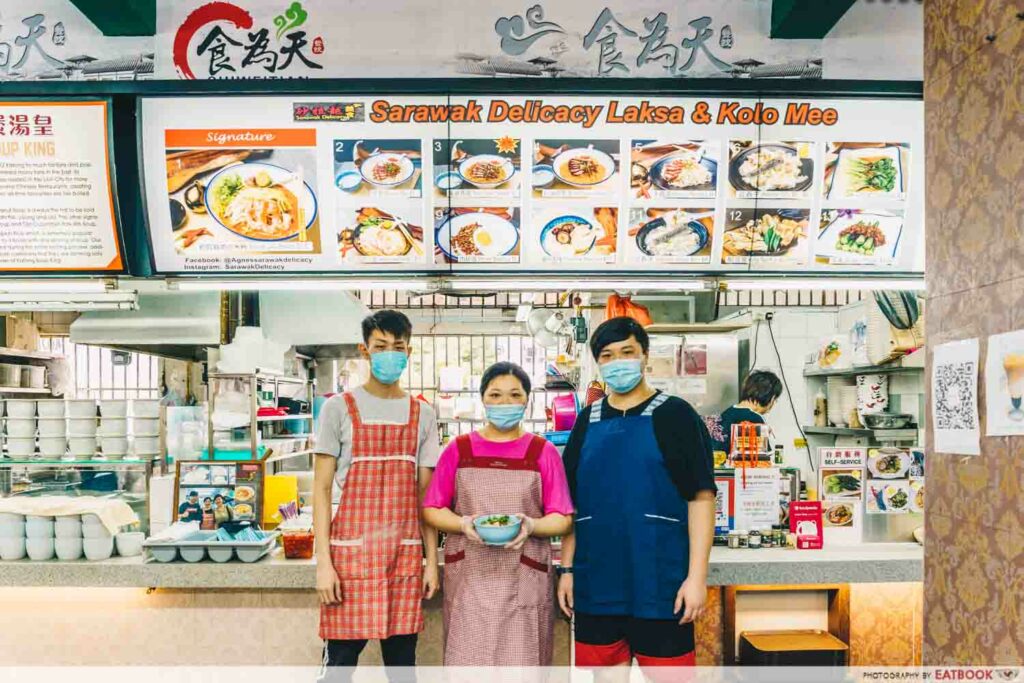 This family-owned stall is helmed by Madam Wong, who hails from Sarikei in Sarawak, and her son Andy who dishes out each bowl of noodles with utmost care. Although the stall opened two and a half years ago, Madam Wong has been in the food business ever since she helped out in her family-owned coffee shop in her hometown as a little girl.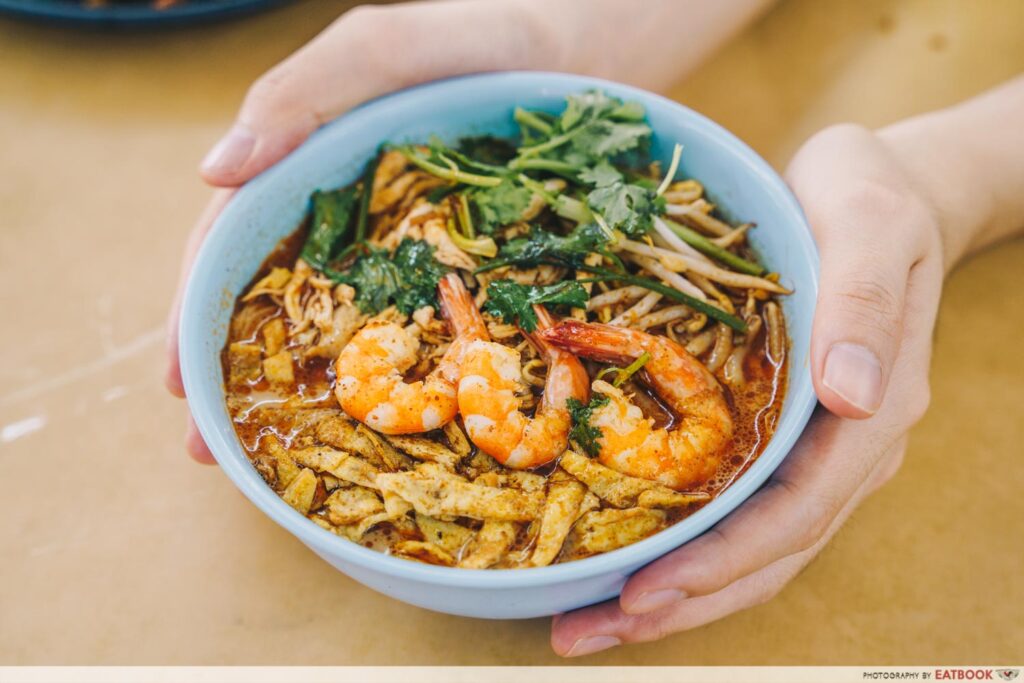 A must-try dish is the Sarawak Laksa Beehoon ($5/$7). Due to the labour-intensive nature of this dish, which requires the use of fresh prawns, Madam Wong and her team only prepare three to four vats of laksa broth the day before. It's usually sold out by noon, so be sure to head down early to give it a try. 
For those who are unfamiliar with Sarawak laksa, this addictive bowl of noodles is made by sweating laksa spices and prawn shells in oil until they get nice and aromatic, before boiling them with chicken bones for hours to get a clear and lip-smackingly tasty broth.
It's then finished with a touch of coconut milk to give a light creaminess and silky-smooth consistency. Shredded chicken, thin bee hoon, sliced prawns and omelette are the usual toppings that crown this popular Sarawakian favourite. 
This dish is milder in flavour and has a more comforting taste as compared to its Penang and Singaporean counterpart. It's no surprise that the late Anthony Bourdain hailed it as the "Breakfast of Gods" in his food documentary "Anthony Bourdain Parts Unknown". 
What makes Madam Wong's laksa so special is its special spice blend, which consists of over 60 different types of spices that are specially sourced from Sarawak. She also takes pride in making the laksa broth only a day before, ensuring that everything remains fresh.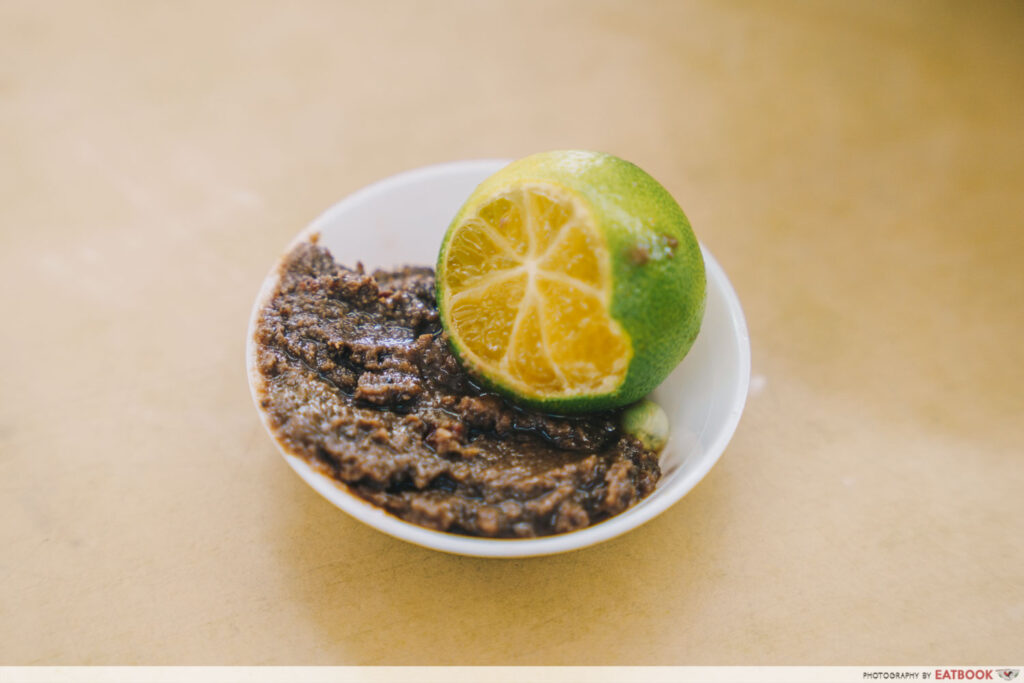 The Sarawak Laksa is great on its own, but you can't say that you've tasted Madam Wong's laksa if you didn't add a heavy dollop of her signature Sarawak belacan. This humble-looking condiment packs an intense punch of prawn-rich flavours, and is so good that it can be enjoyed on its own. Andy recommends mixing a dollop of it to the laksa to amplify the broth's flavour and I can't agree more.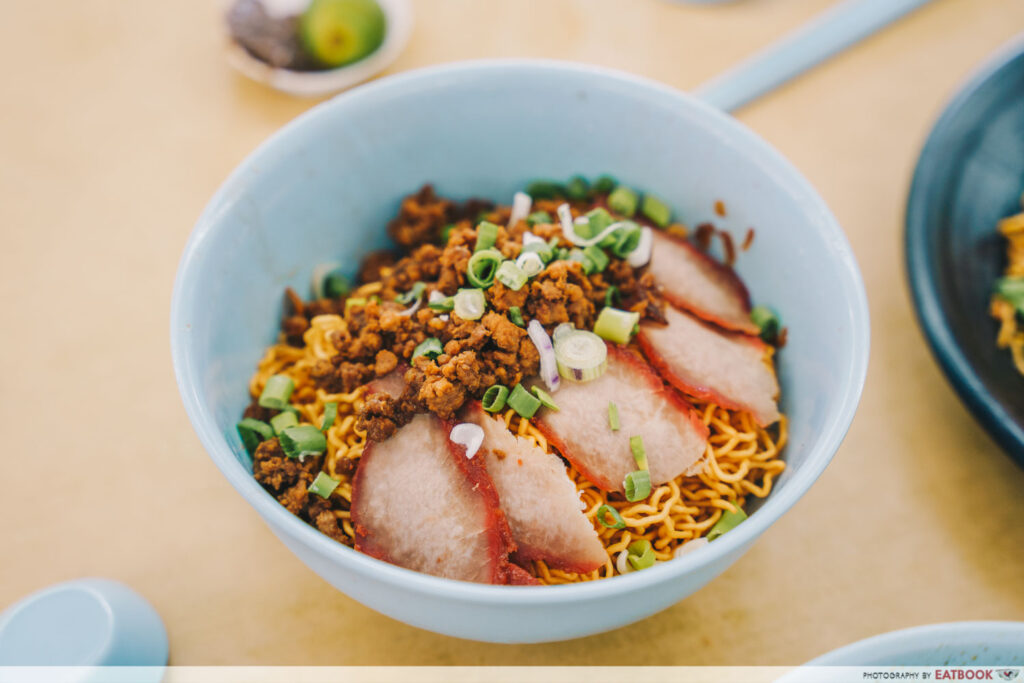 There are two types of Sarawak kolo mee. The popular version is the "white" variety which comprises regular springy noodles that are tossed in a tasteful mix of lard, fried shallot oil, and soya sauce. It's then accompanied by minced meat and large slices of char siew that are cooked in a pan, instead of the traditional Hong Kong style of roasting it in an oven. 
While the Red Sauce Noodles ($5) might look intimately spicy, it's not spicy at all. I learned from Andy that Sarawakians do not have much of a palate for spicy food. Instead, the noodles get their trademark red hue from char siew drippings. This gives them an extra bit of sweetness, and an added depth of flavour as well. 
For spicy food addicts out there, you can still reach out for sliced chillies that are soaked in vinegar. The vinegar keeps the chilli slices nice and crisp, while also giving a tinge of acidity that cuts through the noodles.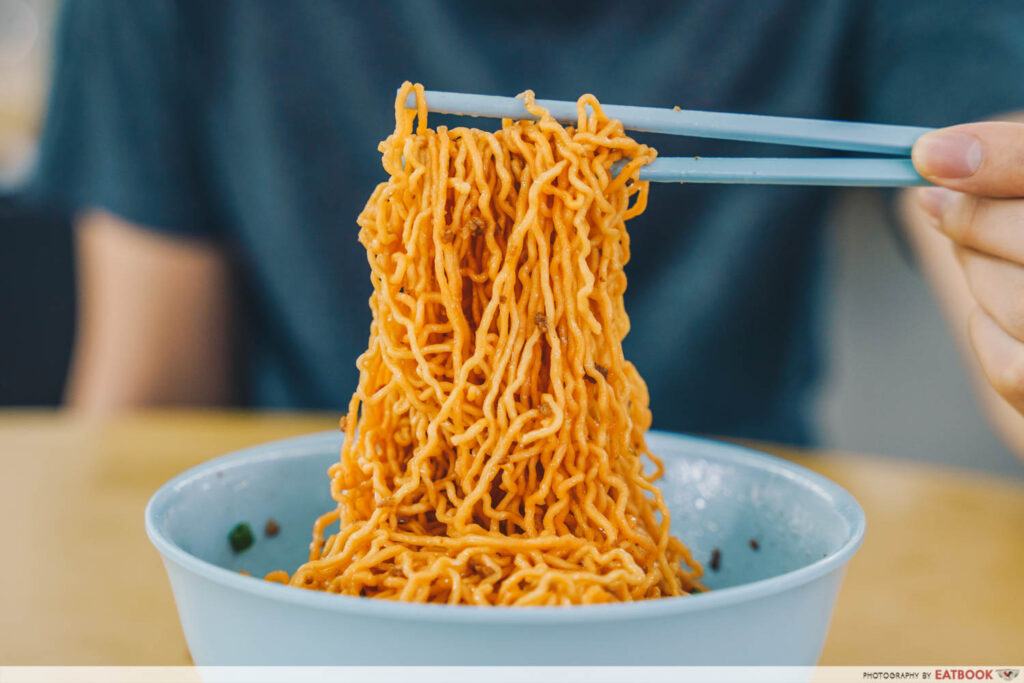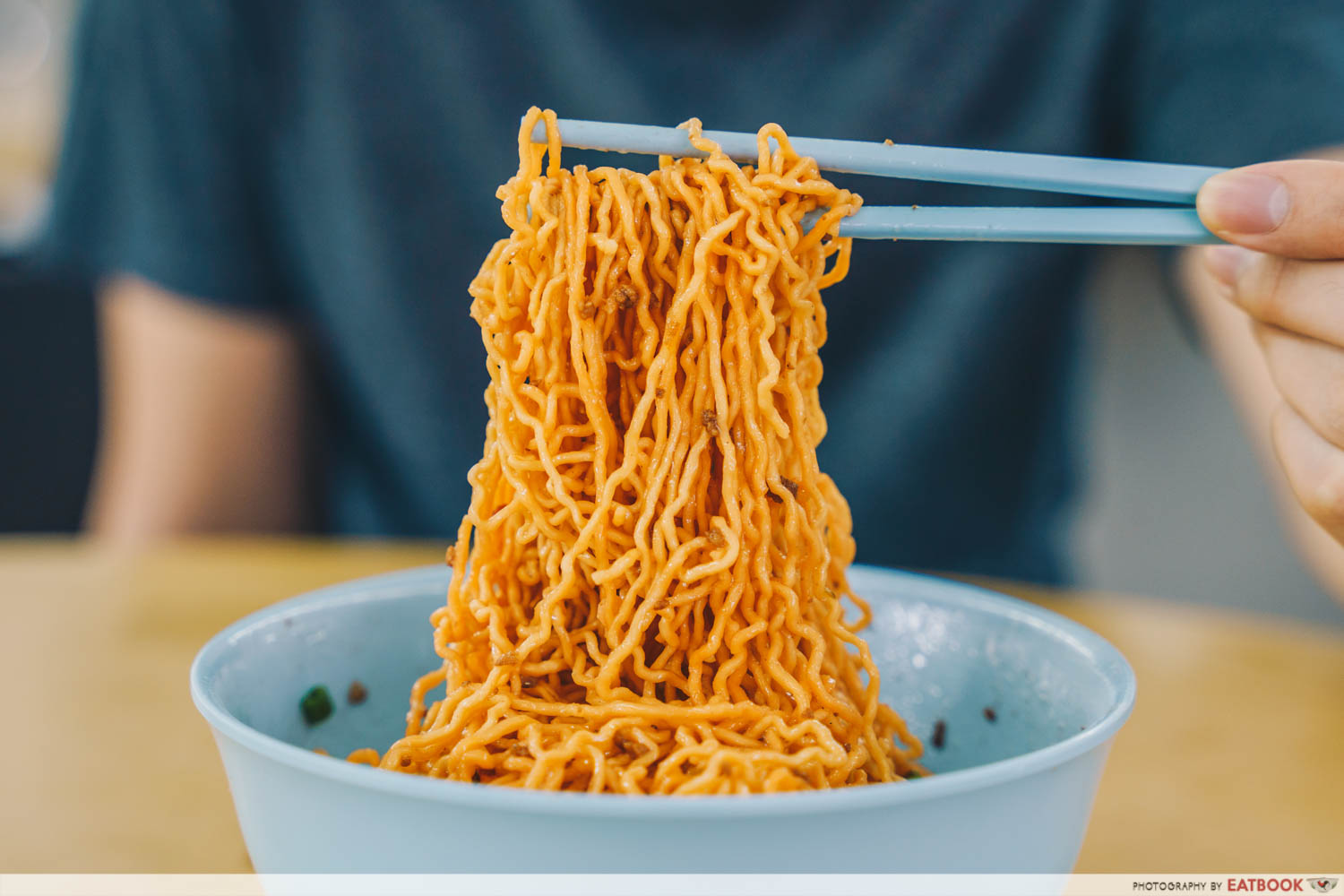 Like most reputable kolo mee stalls, only fresh noodles are used here. They come without any preservatives and are specially delivered from Johor Bahru. I like how they have a slightly springy texture, and a nice waviness to them that absorbs up all of the tasty sauce. 
This popular Sarawakian joint at Bedok is a real hidden gem, and it's a huge surprise that it remains such a well-kept secret over the last few years. It also helps that the prices here are affordable as well. If you're coming in a group, I would recommend ordering a couple of noodle dishes to share as the portions are generous. 
Address: Blk 204 Bedok North Street 1, #01-435, Singapore 460204
Opening hours: Tue-Sun 9am to 7pm
Tel: 9069 1105
Website
Sarawak Delicacy Laksa & Kolo Mee is not a halal-certified eatery.
---
2. 林玉梅 Lin Yu Mei Kolo Mee
---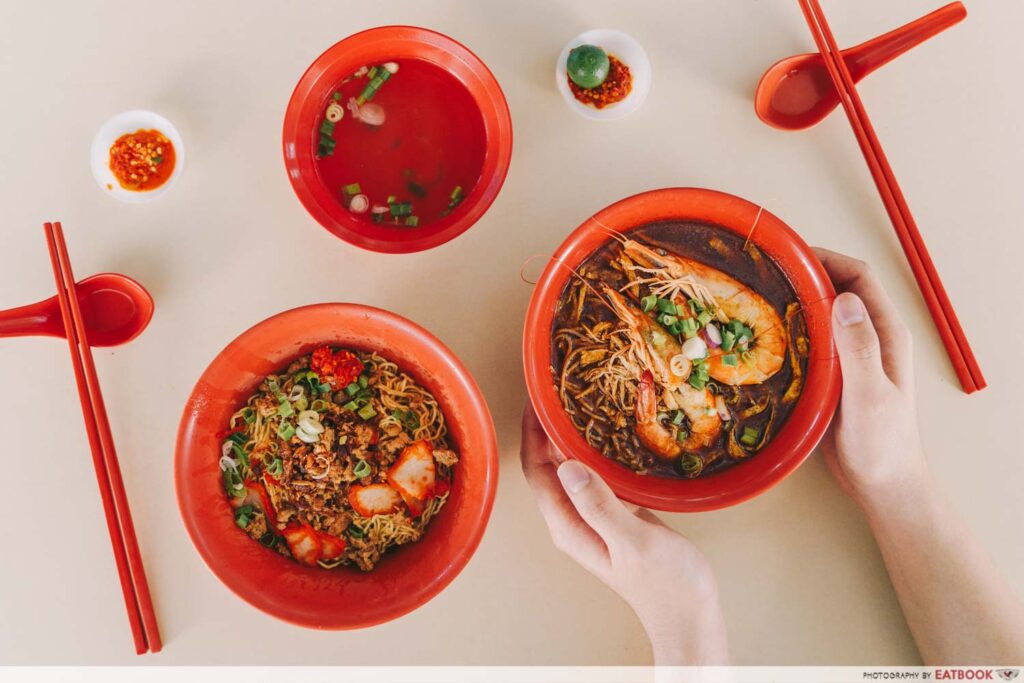 Food concepts come and go, but one that has stood the test of time is 林玉梅 Lin Yu Mei Kolo Mee. This hawker stall has been around for seven years at Haig Road Market & Food Centre and regularly draws a long line during meal times.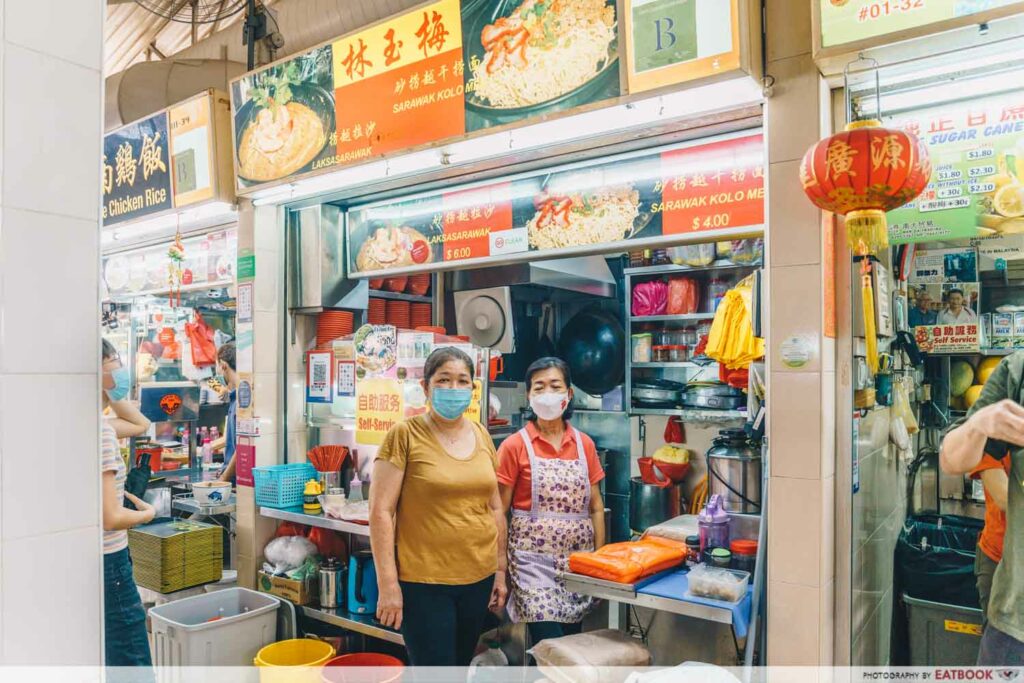 Madam Lim has been running the stall since it started, and they most recently opened another branch at Anchorvale which is manned by her daughter. Hailing from Miri, Sarawak, Madam Lim is naturally an authority on kolo mee and her food more than shows for it. While there are only two dishes on offer here, Madam Lim takes great pride in pushing out her dishes and fiercely ensures that every component here is made in-house.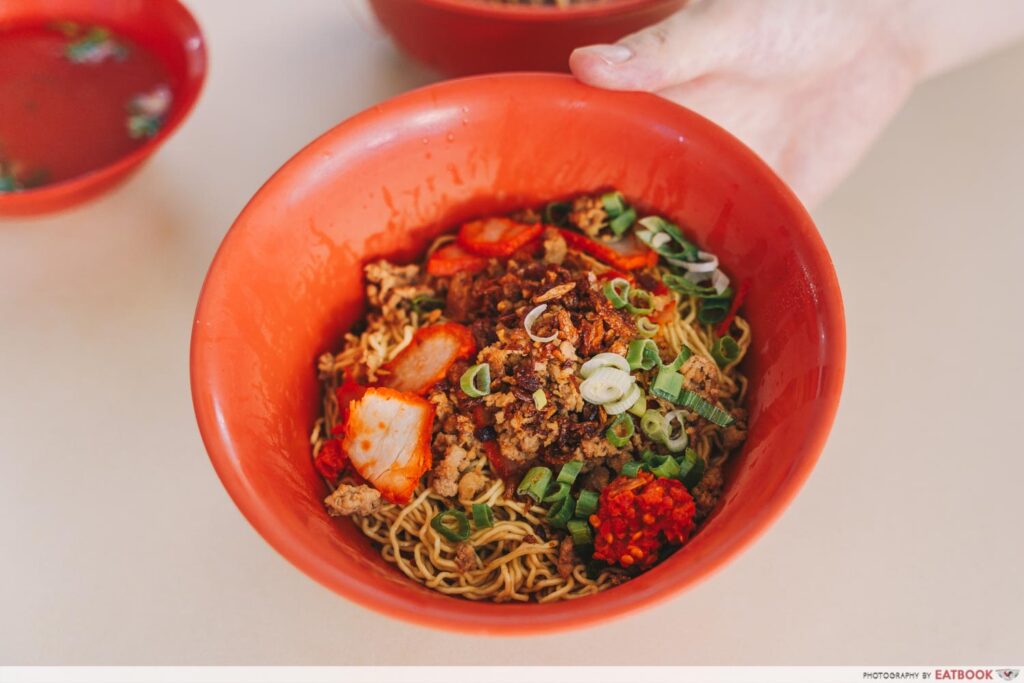 The Kolo Mee ($4) might look unpretentious at first, but give everything a good hard stir and slurp up these irresistible dry noodles. The usual kolo mee toppings and ingredients can be found here, but there's also the addition of chilli paste that gives everything an ultra spicy kick.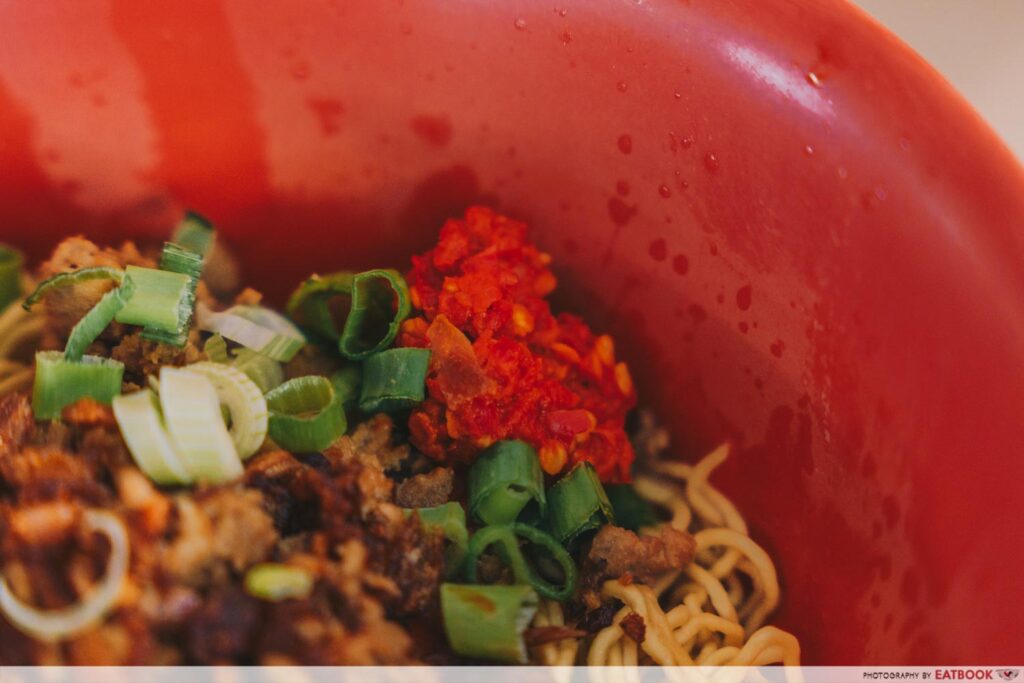 The addition of chilli is a unique local touch and brightly perks up the flavours. Madam Lin uses loads of fresh chilli padi inside, making this a fiery treat.
In terms of taste, this dish scores high in every criterion. There's a nice touch of richness from the lard oil, good balance of saltiness from the soya sauce, and the minced meat gives a pleasant meaty mouthfeel.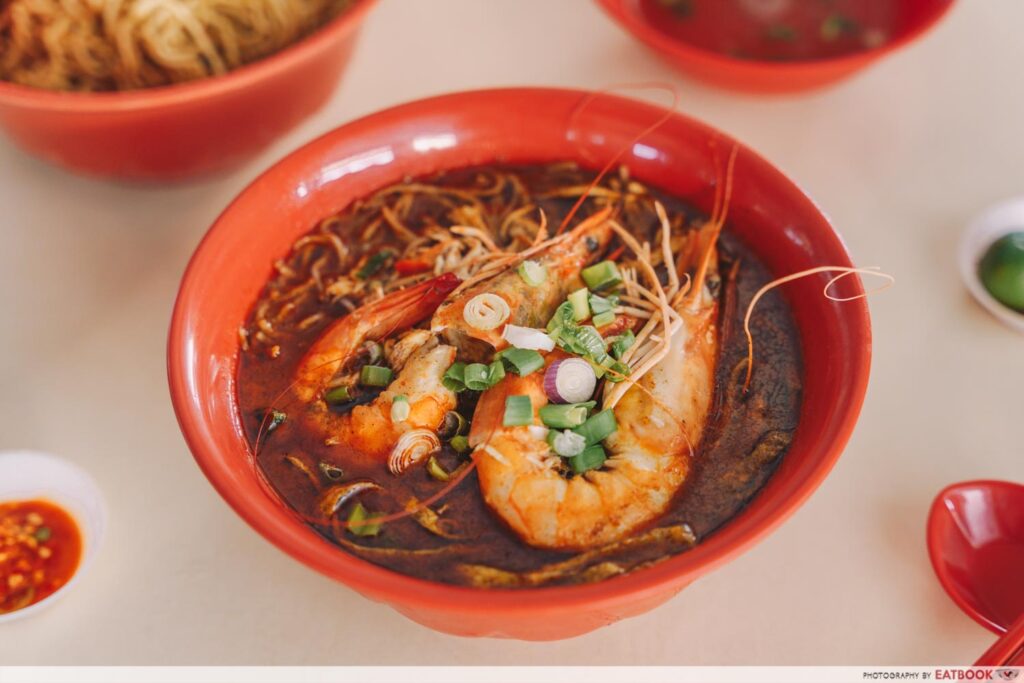 Sarawak Laksa ($6) is the other dish that we tried and the one here appears noticeably darker in colour. It still packs the same incredibly addictive taste, and is noticeably nuttier in flavour than Sarawak Delicacy Laksa & Kolo Mee.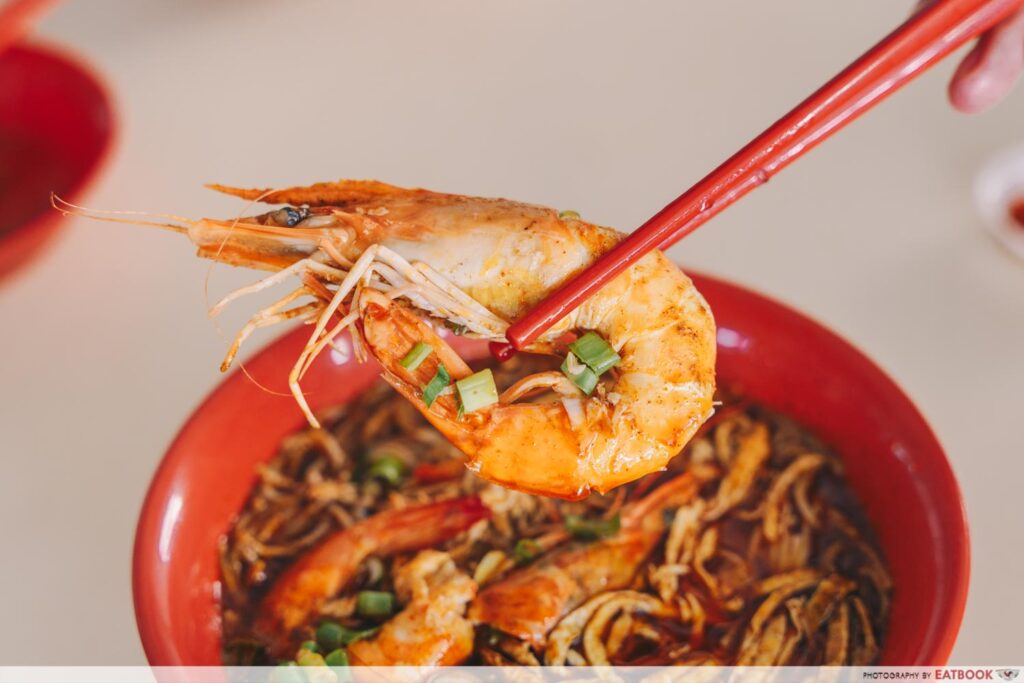 What caught my eye were two huge tiger prawns. They came with an intense juicy texture, and I also appreciated how they were already deshelled for convenience. 
Madam Lin sources for the freshest catch from a fishmonger at Geylang Serai Market daily. This means that tiger prawns might not be available when you visit. However, it also ensures that only quality prawns are used. 
Overall, the kolo mee stands out here. The use of chilli might appear to be unorthodox for some Sarawakians, but I have to admit that it does give a bright lift of flavours that makes this bowl of noodles incredibly irresistible. 
Address: 14 Haig Road, #01-33, Haig Road Market & Food Centre, Singapore 430014
Opening hours: Wed-Mon 9am to 8pm
Website
Lin Yu Mei Kolo Mee is not a halal-certified eatery.
---
3. JJ Sarawak Noodles
---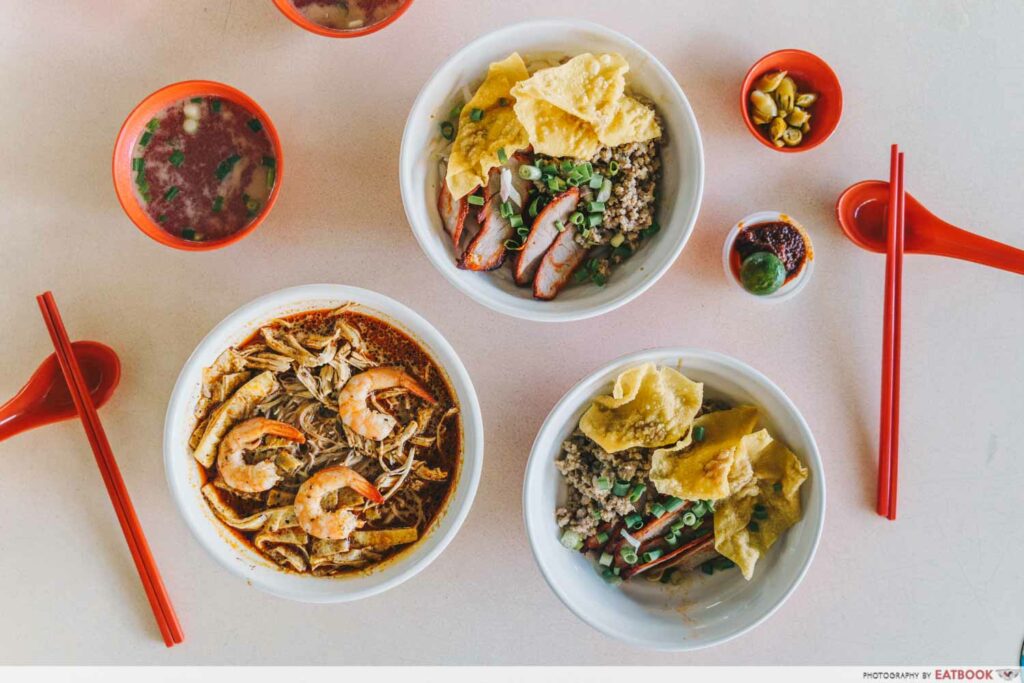 In the interest of fairness, we also had to look to the West side of Singapore for some tasty Sarawakian fare. This brought us to JJ Sarawak Noodles, a small stall that sits inside Taman Jurong Food Centre.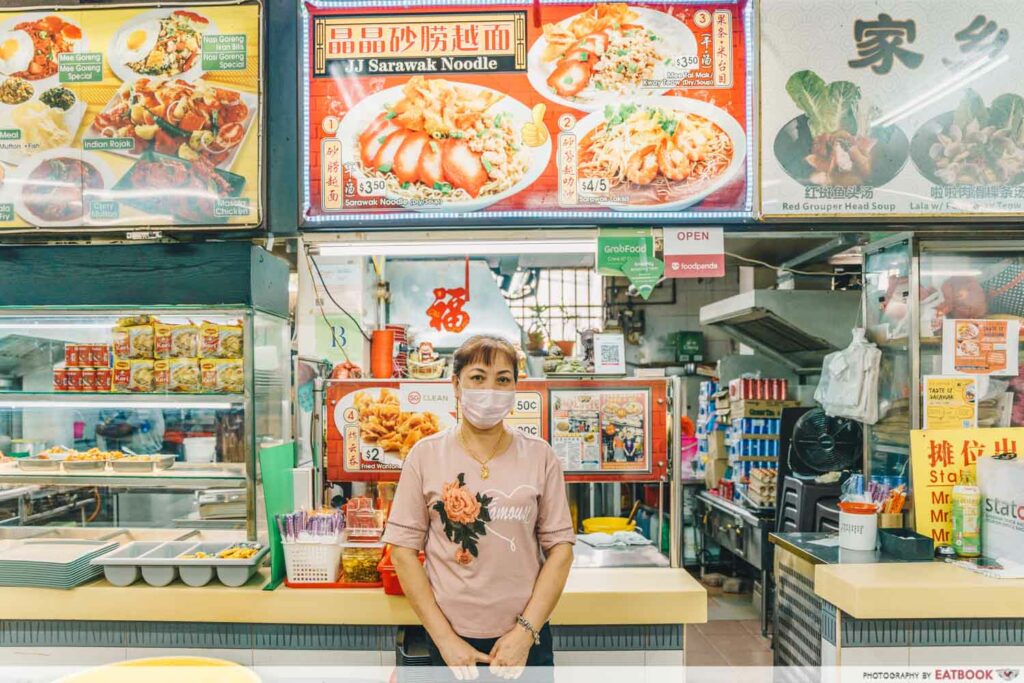 Running the show is Madam Wong, who spent two years working at a kolo mee stall in Jurong East. She strongly believes in using only authentic Sarawak ingredients, and also takes pride in making everything from scratch.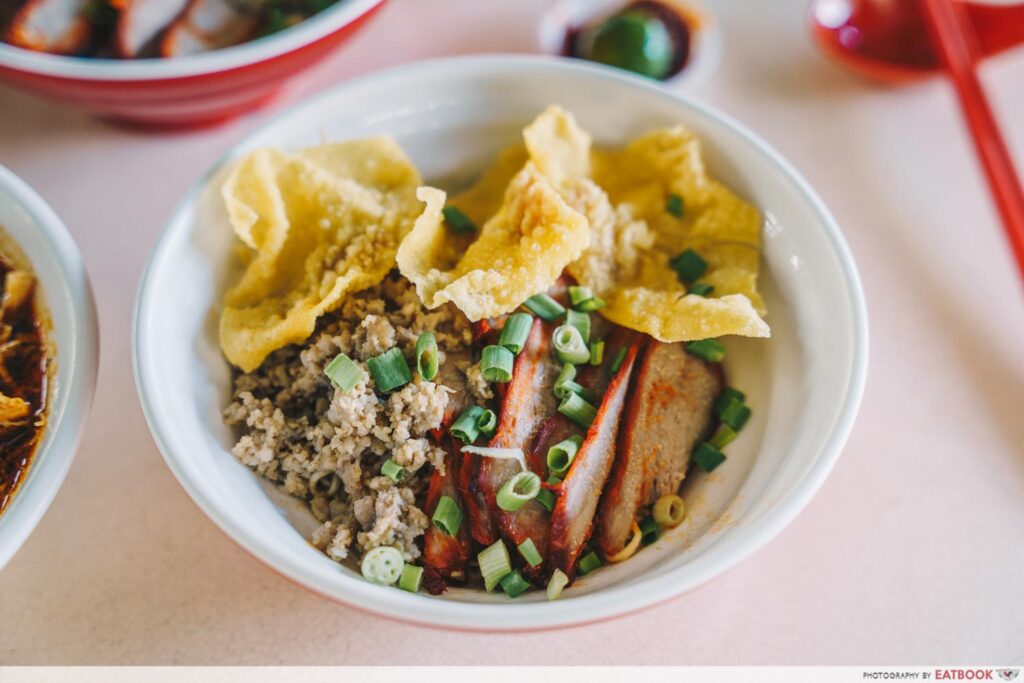 I'm a big fan of her Sarawak Noodle ($3.50). Aside from the usual mix of ingredients, it comes with three pieces of fried wontons as well. A noticeable difference is the minced meat used here. It has a higher fat-to-lean ratio, which gives a substantial and pleasant mouthfeel.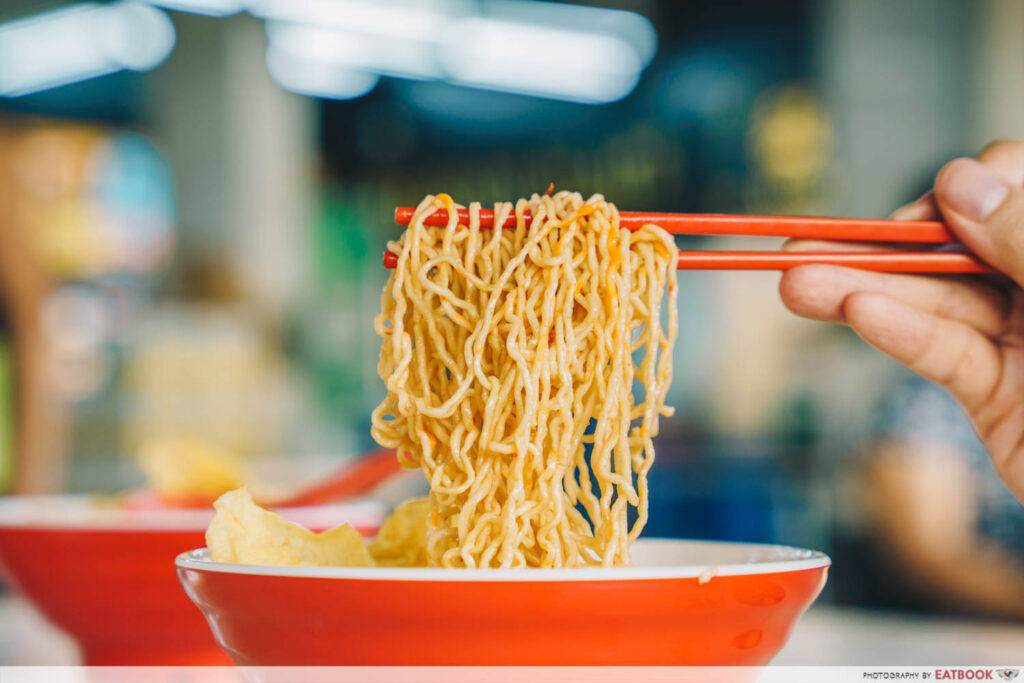 The noodles were expertly cooked, and had a delightful springiness to them that made it a delight to inhale up. Portions are generous here, and it's quite good value for money considering that it costs almost the same as regular bak chor mee.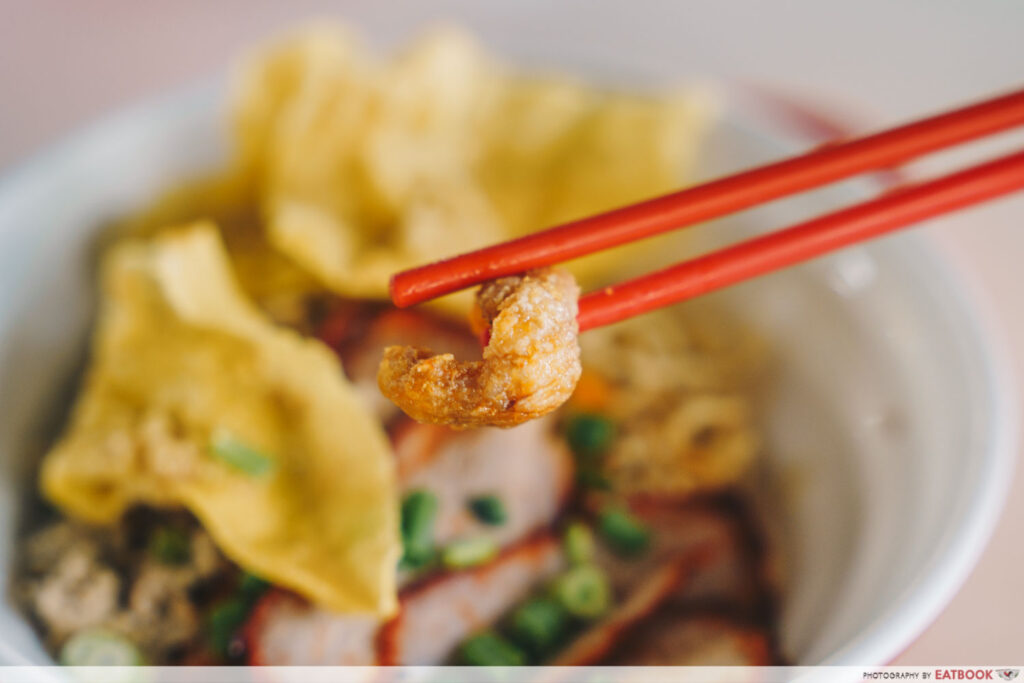 The stand out component is the generous amount of lard. Plenty of them can be found inside, and I liked how they didn't come with that rancid and overly porky taste that sometimes affects pork lard. These golden-brown cubes took the dish to a whole new level, and were an addictive treat when combined with the other components on this dish. 
I also liked the char siew slices, which were cut into thick and large slices. Similar to how it's done in Sarawak, the char siew is cooked in a wok. This gives it a juicer texture and none of the overly charred bits that might interfere with the flavour profile of the dish.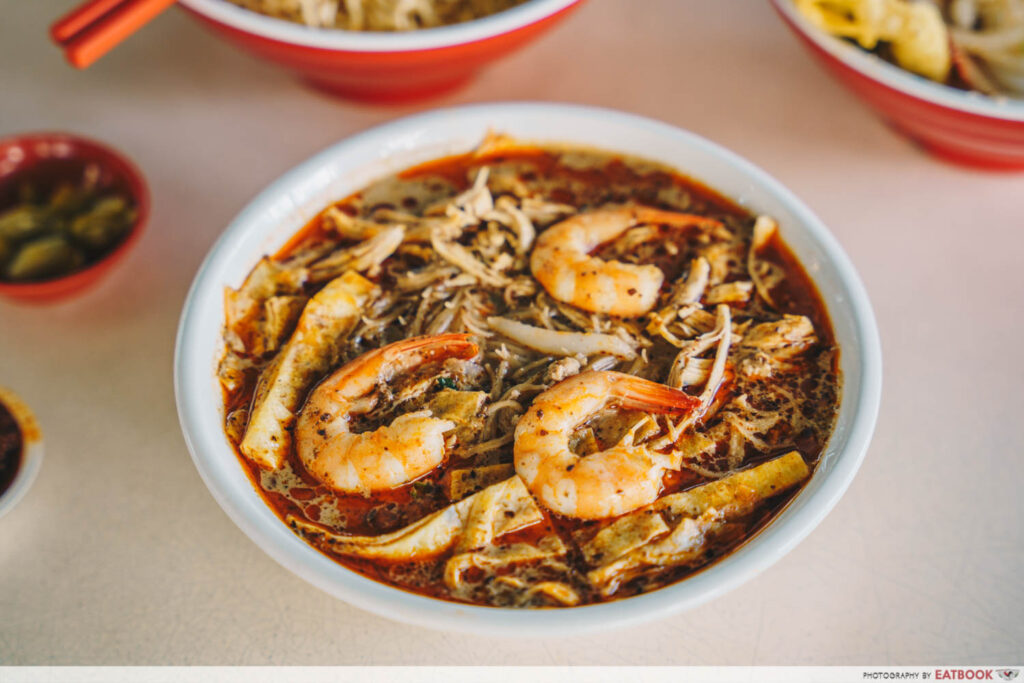 Loads of attention to detail are put in the Sarawak Laksa ($4/$5) and it comes with three plump pieces of prawn that were incredibly fresh. The broth was a little mild-tasting and had a little too much coconut milk as compared to the other two players. Still, it was a tasty bowl of noodles that's worthy of recognition. 
The kolo mee here is the best we tried and it's hard to believe that Madam Wong is not even from Sarawak. Yet, she displayed the same warm and hospitable personality that I've come to know from Sarawakians, and has produced a tasty and unbeatable bowl of noodles.
Address: 3 Yung Sheng Road, #03-127, Taman Jurong Food Centre, Singapore 618499
Opening hours: Daily 7am to 6pm
JJ Sarawak Noodles is not a halal-certified eatery.
---
Sarawak kolo mee and laksa in Singapore
---
One of the best ways to understand another culture is through enjoying its cuisine. Sarawak fare is one that's filled with loads of exciting yet familiar flavours, and is something that's not to be missed amongst Singaporeans. 
When writing this article, I realised that there was a common factor that united all three stalls. All of them were passionate about Sarawakian cuisine and wanted to share more about them to everyone. There was a communal-like warmness to them, and they welcomed me as if I was a part of their family.
I expect the same thing to happen for those who visit Sarawak once the pandemic is over, and this exciting region in Eastern Malaysia is worth a stop by for its culinary creations! 
For more tasty food treats in Sarawak, head over to the official Sarawak Trade and Tourism Office Singapore page and download a copy of their Kuching Food Trail. This e-booklet features a comprehensive guide to the best eateries in Kuching, Sarawak, and is a must read for all foodies.
Photos taken by John Lery Villanueva.
This post is brought to you by Sarawak Trade And Tourism Office Singapore.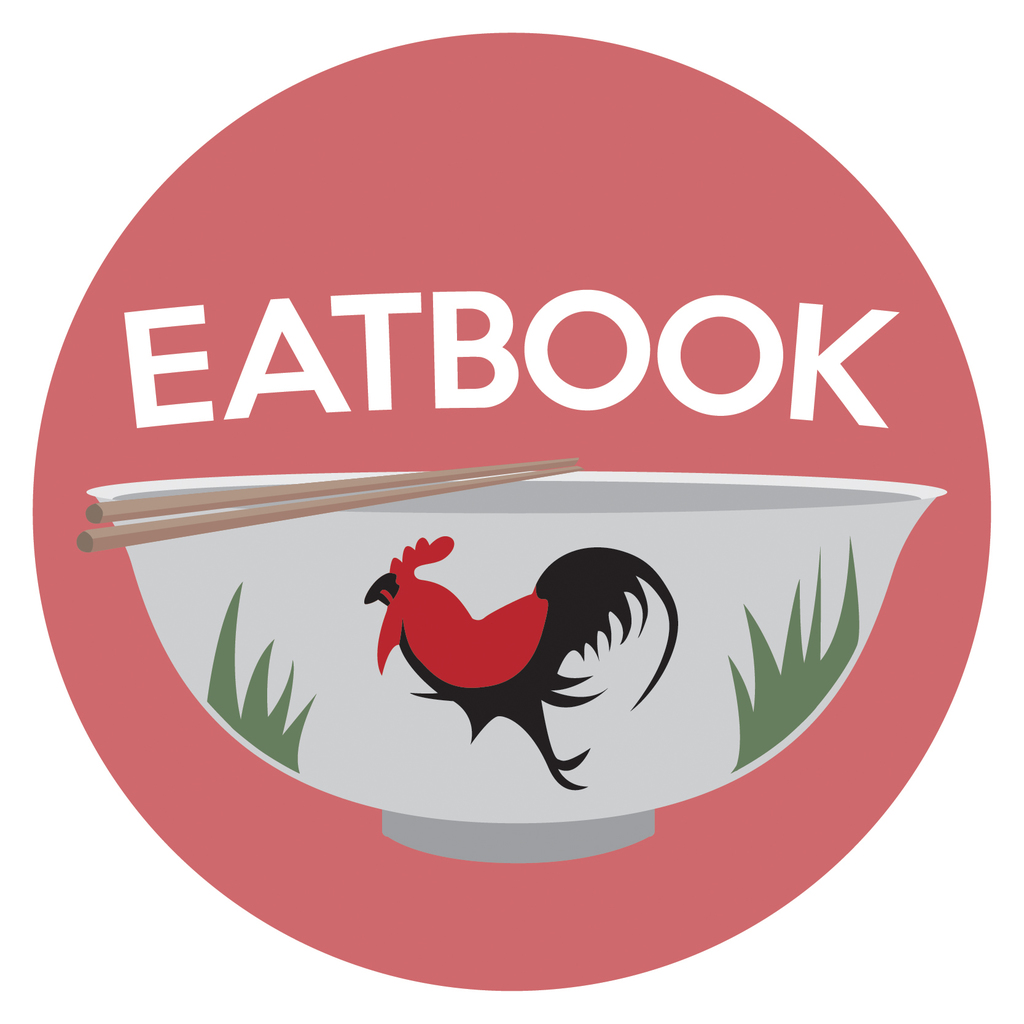 Drop us your email so you won't miss the latest news.