Lau Hong Ser Rojak lives up to the hype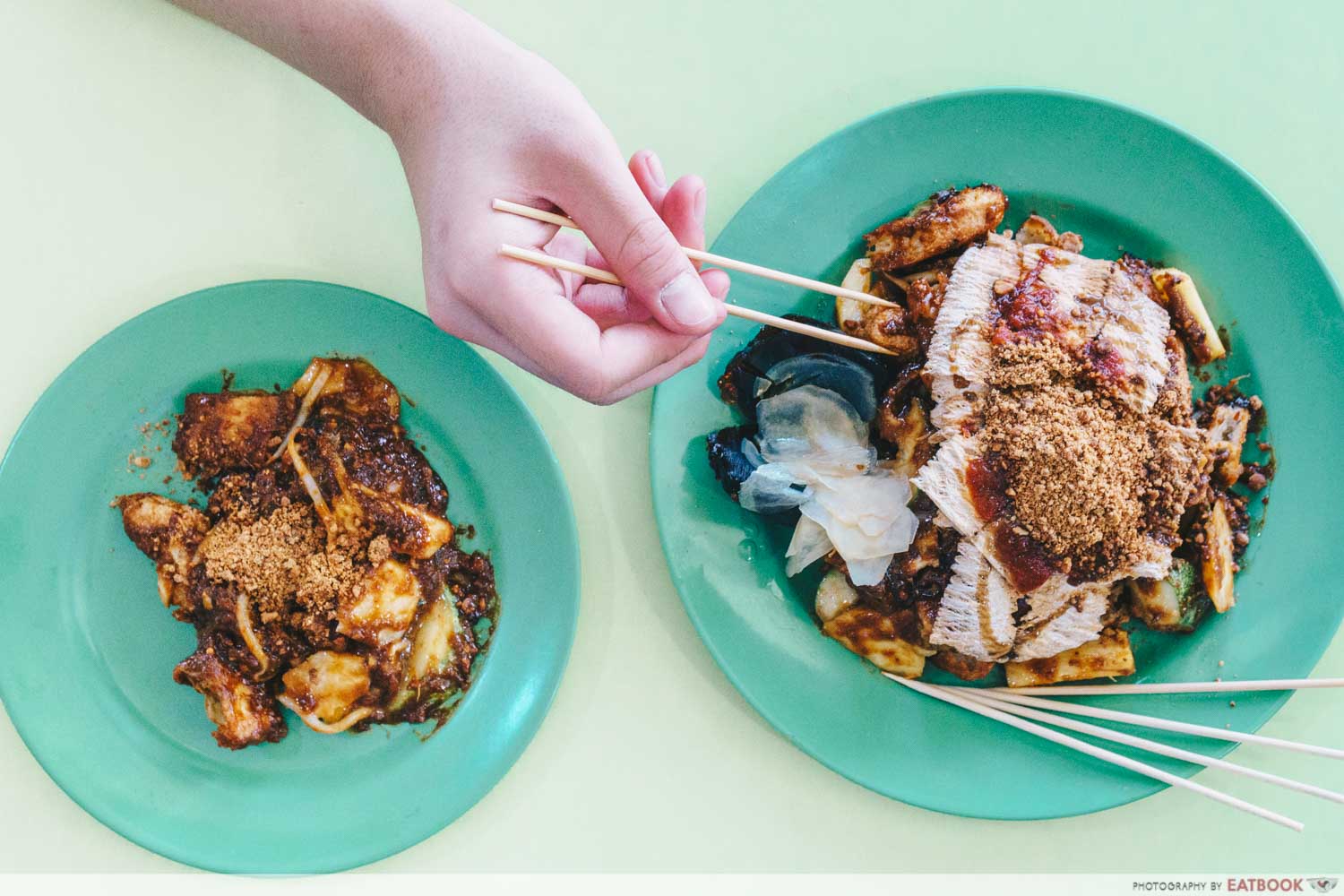 In this day and age, diners fawn over restaurants and cafes that label themselves as artisans who make everything from scratch. That's admirable, but it's equally important to recognise Singapore's OG artisans – hawkers.
Lau Hong Ser Rojak is one such hawker, painstakingly preparing the next day's ingredients each night from 12am to 6am. That's only compounded by the fact that he's largely a solo act, with his wife helping out only for a few hours each night.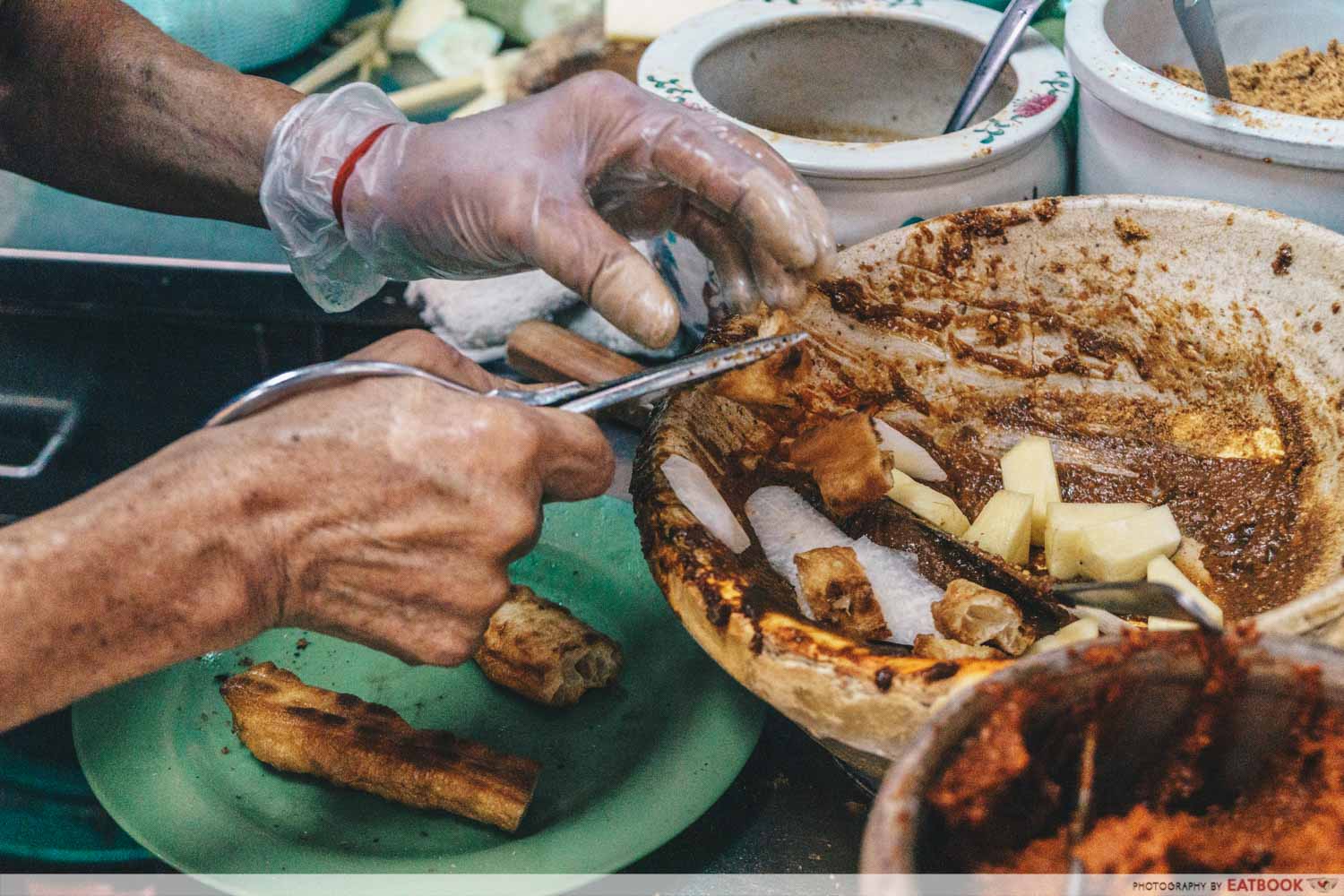 It's a gruelling routine, but the stall owner, Mr Lim, is a creature of habit. Another indication is his opening hours – the stall opens from 4:38pm to 1:38am each day, on the dot. Quirky, to say the least. But hey, all geniuses are a little offbeat.
After receiving numerous recommendations from readers labelling this as the best rojak in Singapore, we knew we had to head down to verify that claim.
Food at Lau Hong Ser Rojak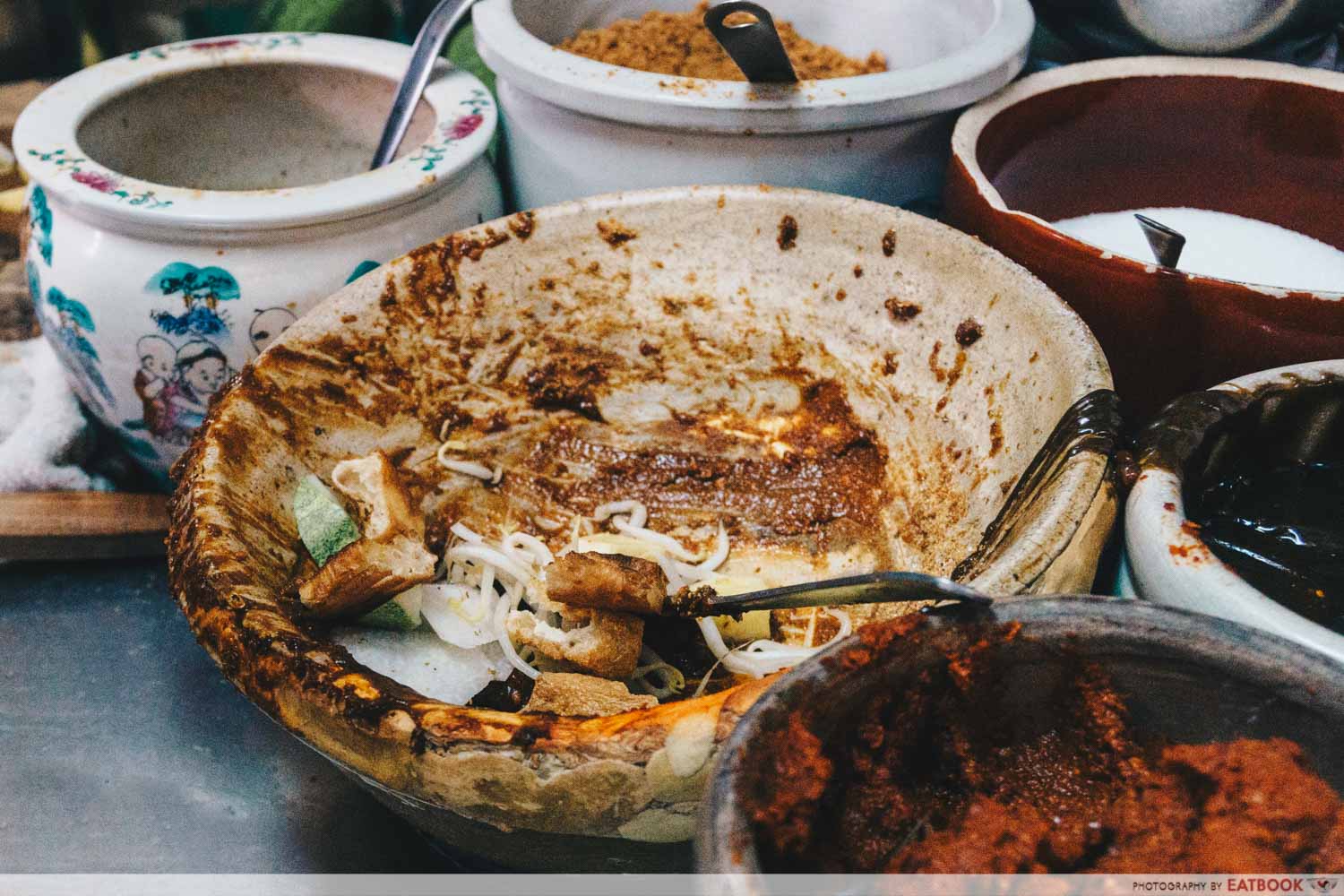 Making rojak is in Mr Lim's blood. He's been doing it for 45 years, starting under the tutelage of his father before taking over the family business. That mastery shows, as he buzzes around the stall, deftly char-grilling you tiao and vigorously mixing a new batch of sauce while rattling off answers to our questions.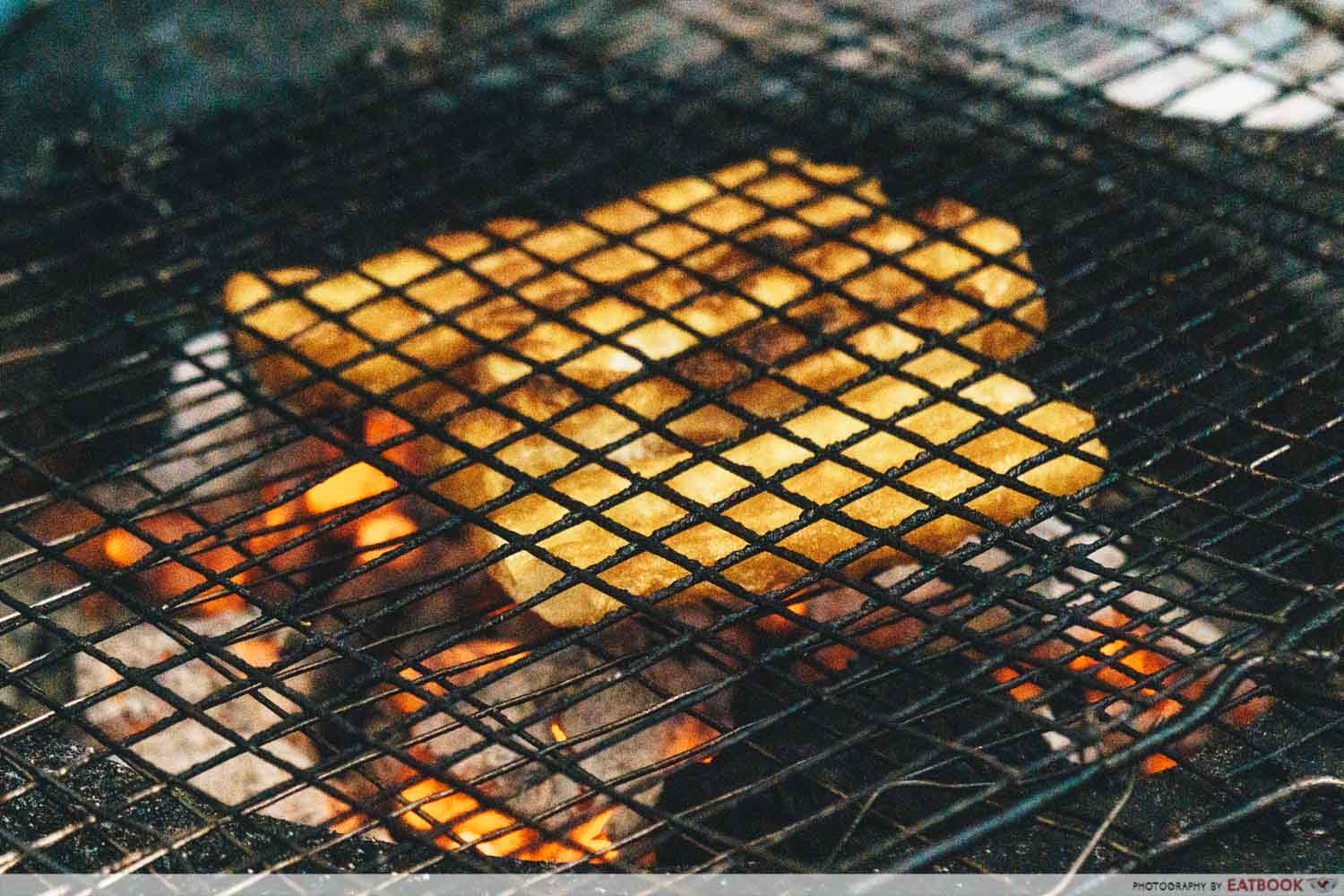 As much as possible, every ingredient at this Joo Chiat stall is prepared by hand or sourced diligently. His hei ko, the prawn paste that forms the basis of rojak sauce, is sourced from Penang. He grinds and fries his own peanuts. He char-grills the you tiao and tau pok on order. His chilli paste is house-made. You'll be hard-pressed to find another rojak seller on the island with his passion.
If those incredible efforts have a downside, it's the wait. All that à la minute char-grilling translates to a slightly longer waiting time for a plate of rojak. During peak hours, that really adds up, and the wait might take up to an hour or longer.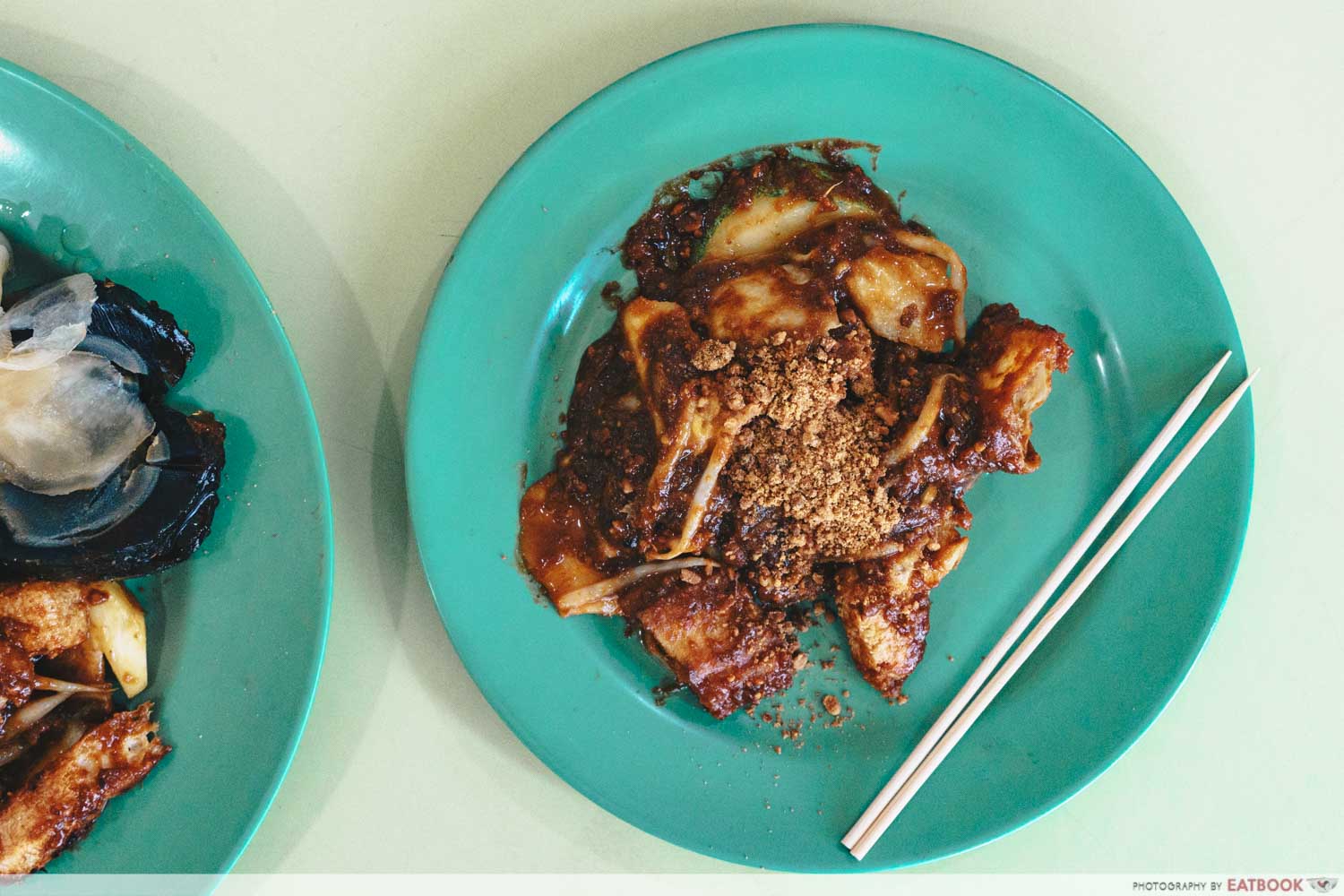 His Rojak comes in five sizes, starting off at a barely believable $2. Mr Lim explains that it's to cater to diners who want a small side to go with something more substantial, with some customers even ordering it for dessert. It's a symptom of the same thoughtfulness that goes into his ingredients.
We were initially struck by the hei ko's texture. While rojak sauce is always sticky, Mr Lim's version was especially thick and gloopy. That richness was reflected in its flavour. It was as if your run-of-the-mill rojak dressing was amplified tenfold. The uber rich sauce had umami, sweetness, fermented funk and an ever-so-slight bitter aftertaste all rolled into one. An absolute explosion of flavours.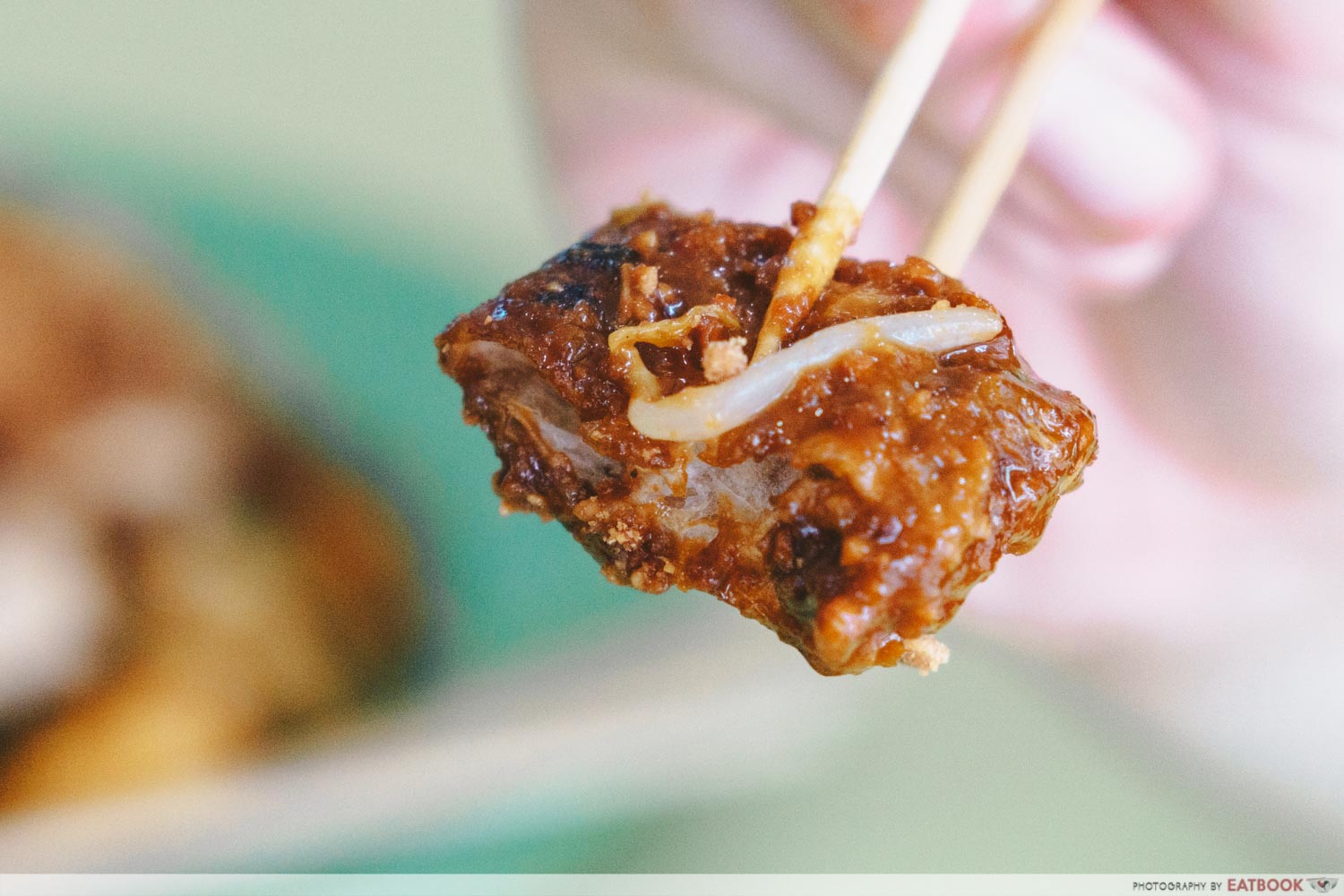 We held just as high expectations for the char-grilled you tiao and tau pok duo. The you tiao fell slightly short. While it was crispy, it lacked the smoky charred accent we hoped for, and was overpowered by the robust sauce.
The tau pok was a different story. I usually don't enjoy these beancurd skins in my rojak, as they can be soft, dry and unpleasantly spongy, but this Dunman stall's rendition was crispy with an enticing dash of char. It was perfumed with smokiness that the you tiao missed, adding another dimension to our dish.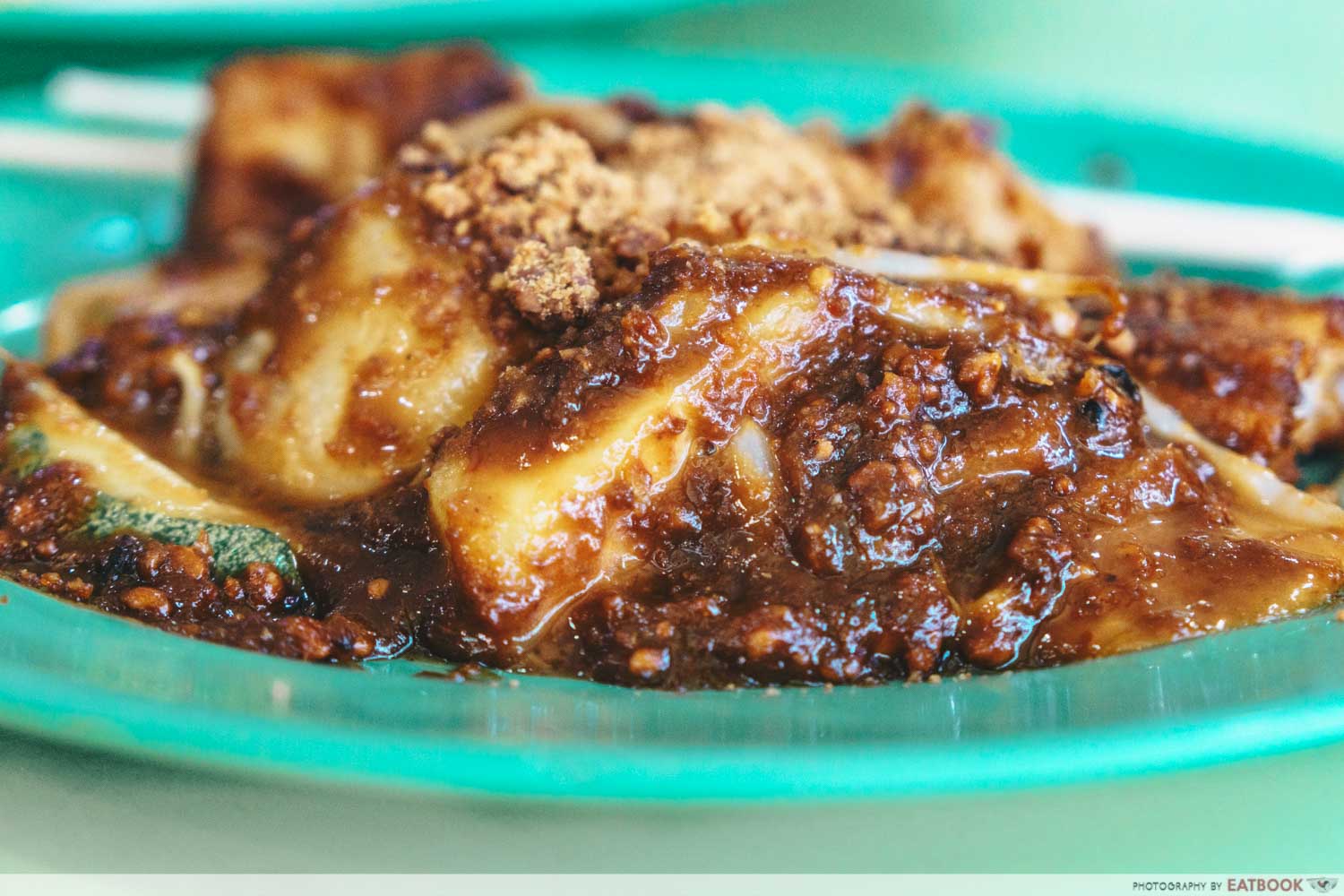 We ordered our rojak spicy, resulting in dollops of deep red chilli mingling with our hei ko. While it wasn't sear-your-eyebrows-off hot, there was a constant undertone of lingering heat. That said, we think the rojak would be just as good sans chilli, especially for spice novices.
Our best bites came with a healthy sprinkling of peanuts. Mr Lim's efforts come to fruition here, resulting in peanuts that are crunchy without being hard, along with providing a comforting toastiness. While there was already a generous coat of nuts, we wished for more.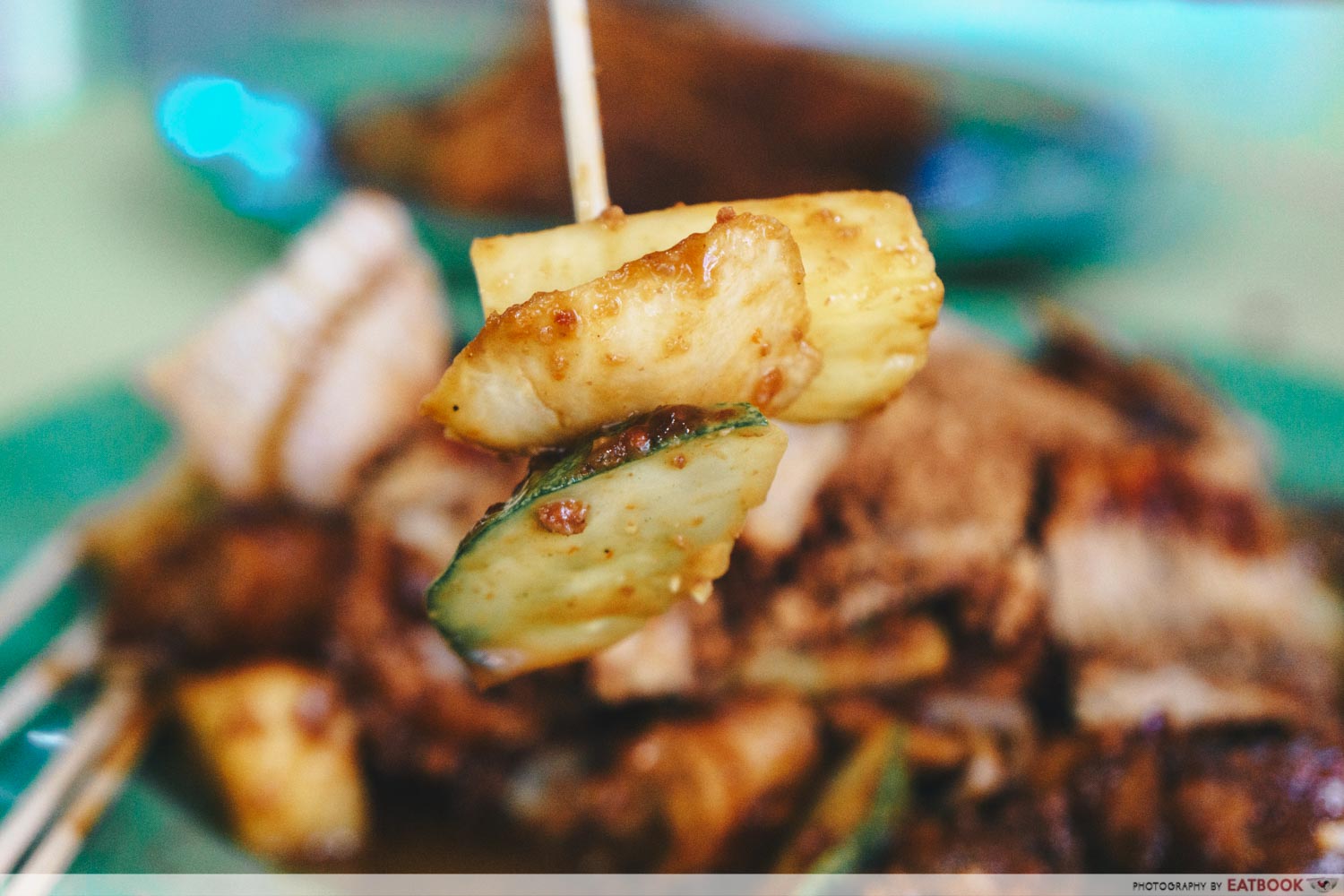 Vegetables are often an afterthought in rojak, but their bursts of freshness serve as a crucial point of contrast to the heavy sauce, particularly necessary for Mr Lim's plate. All the rojak classics were in attendance, namely cucumber, bean sprouts, pineapple and turnip.
We particularly enjoyed the latter two, with wonderfully sweet and juicy pineapples supplying astringency and turnip shards contributing rose apple-esque floral notes.
All told, the breadth and potency of flavours on this small plate was stunning. Even for someone who isn't passionate about rojak, I couldn't help but be impressed. If you aren't a rojak fan, test the waters with this $2 portion, and see if it changes your mind.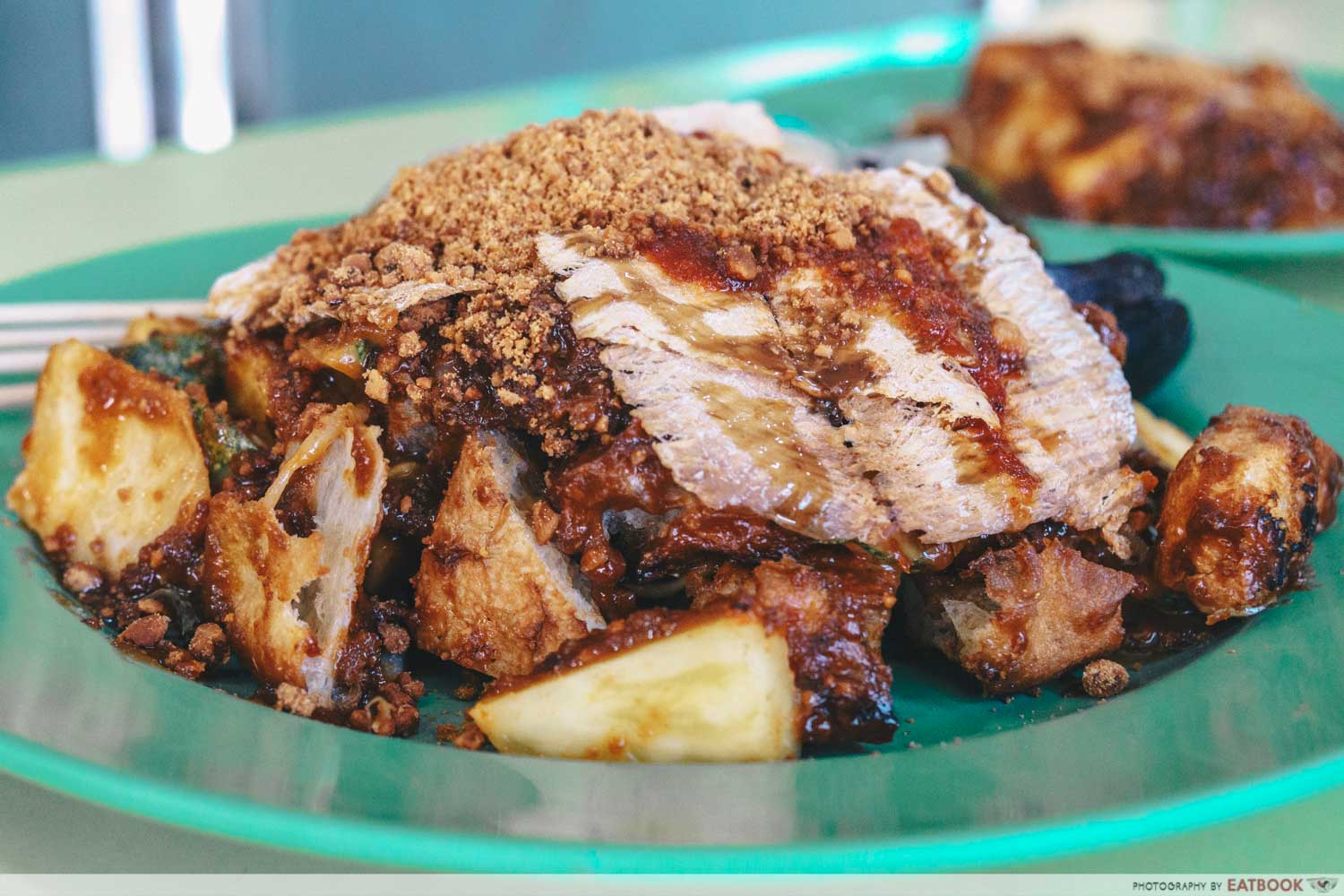 Their $4 portion is more akin to the sharing portions of rojak we're accustomed to, but it's also generous enough to serve as a light meal. We went all in with this plate, grabbing Dried Cuttlefish ($2) and Century Egg ($1) along for the ride.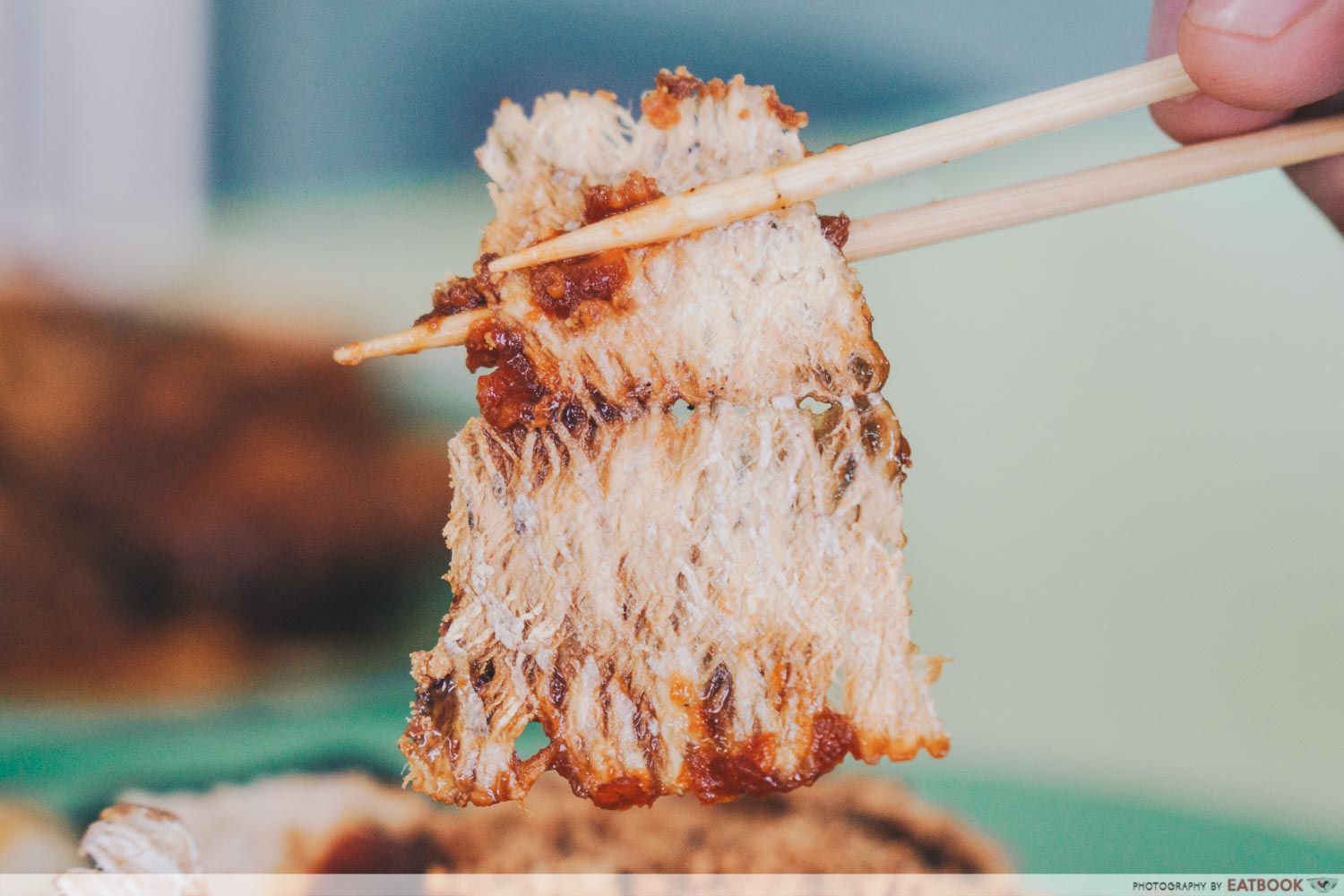 Dried cuttlefish is a nostalgic childhood snack for many, but Mr Lim's slices were certainly a notch above those you'll find in a vending machine. Toasty from the charcoal grill and chock-full of intense umami flavour, it's supremely addictive.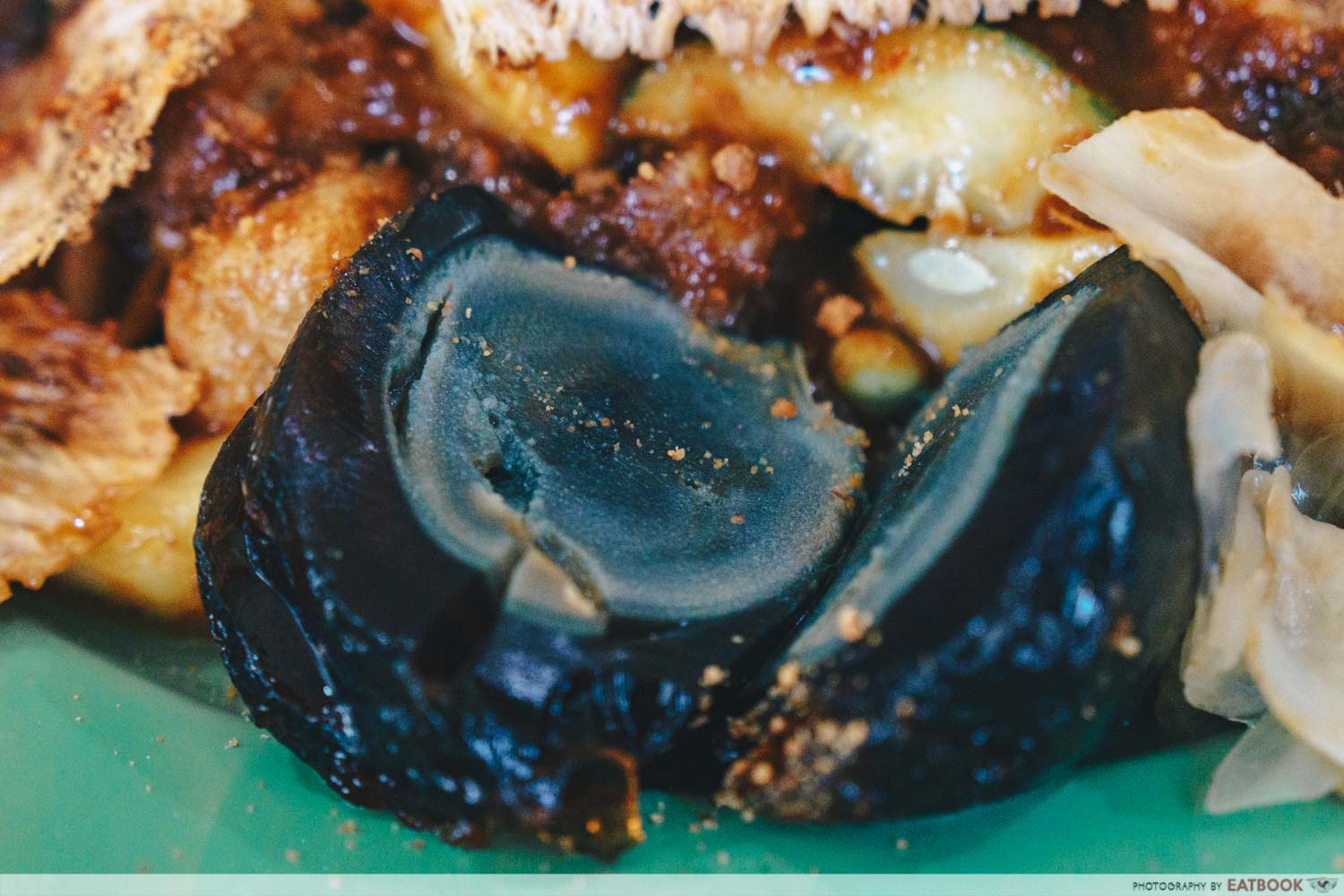 Personally, I'm not a fan of century egg in rojak. While I understand that some value its creamy texture, that distinctive funky flavour gets overpowered by the rojak sauce. It's up to personal preference, but I'd rather keep this delicacy in my porridge.
What I do like is the thin slices of ginger that accompany the century egg. Just like pickled ginger with sushi, it's a refreshing palate cleanser from the avalanche of heavy flavours.
Ambience at Lau Hong Ser Rojak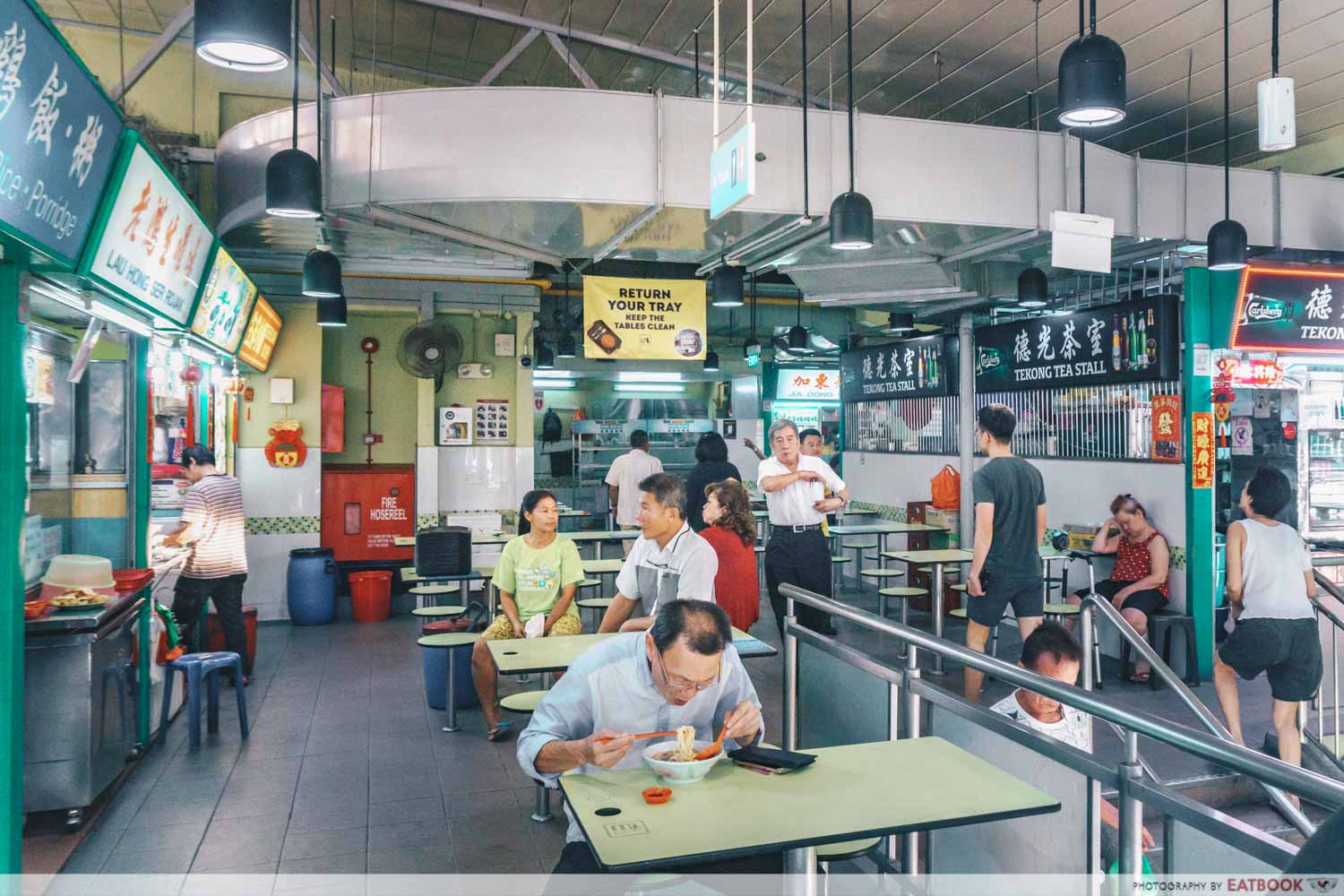 A 10-minute bus ride from the nearest MRT station at Dakota, Dunman Food Centre is a little out of the way. But this old-school hawker centre still draws a steady stream of customers in the evening. This rojak stall sits at the edge of the second level, with its simple white storefront visible as you approach the hawker centre.
For impatient souls who can't stand waiting in queues, be sure to come before 6pm or for a late supper. At peak times, the wait for these humble plates of rojak can stretch until an hour.
The verdict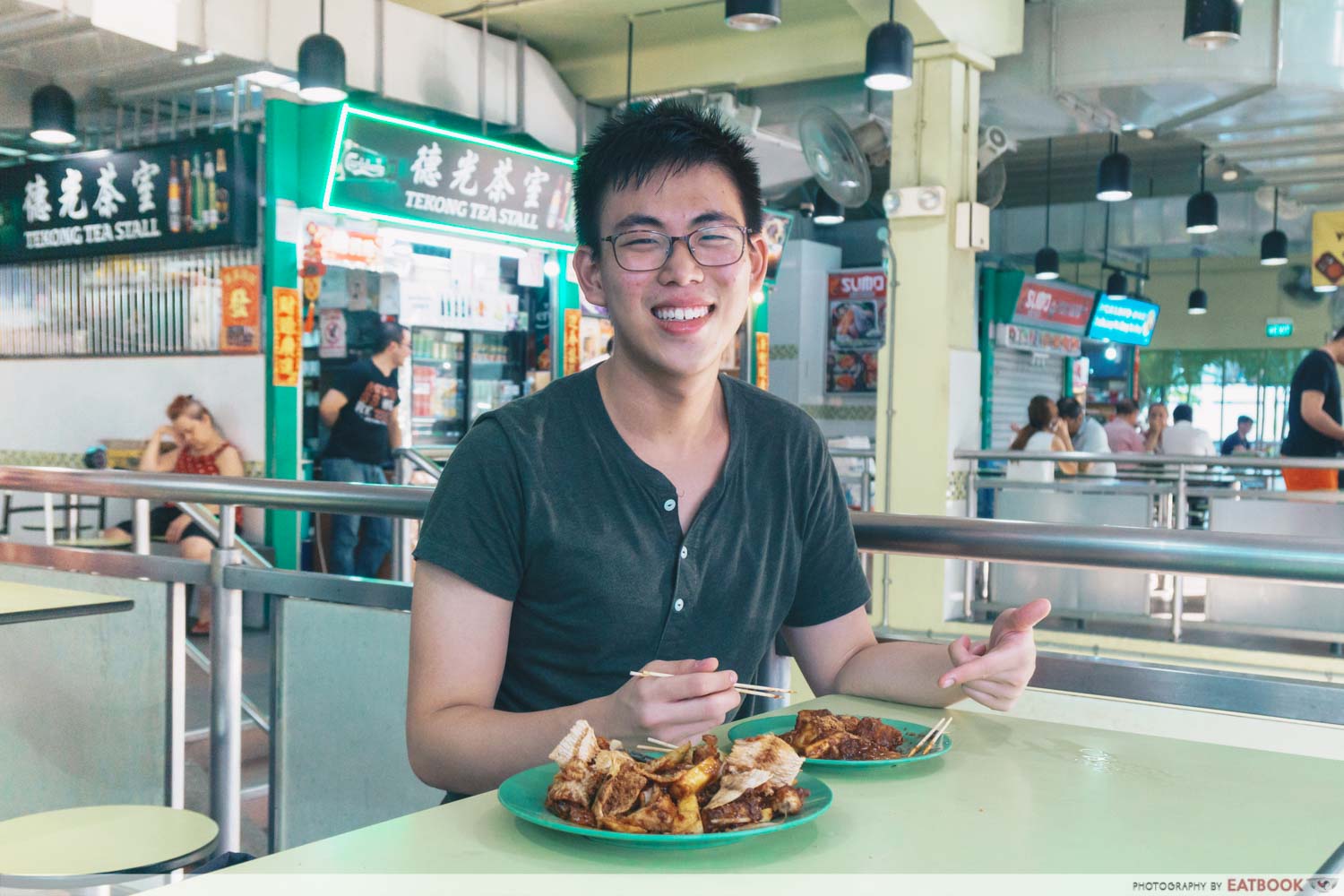 Mr Lim is a true master of his craft. As my editor would say, he's the Lionel Messi of rojak. And in the same way the Argentine football legend mesmerises opposing fans on the pitch, you have to applaud Mr Lim's dedication and skill, whether you like rojak or not.
With explosive flavours, affordable prices and long history, Lau Hong Ser Rojak surely ranks high among the best rojak stalls in Singapore.
If you're still pining after rojak, check out our list of 10 Tiong Bahru food gems, which includes a famous rojak stall. When you head down to Dunman Food Centre, make sure to grab some jumbo tau kwa pau from Say Seng Tau Kwa Pau to go along with your rojak.
Say Seng Tau Kwa Pau Review: Huge Tau Kwa Stuffed With Braised Duck, Pork Belly And Fried Yam
Let us know where you get your favourite rojak in the comments below!
Address: 281 Onan Road, #02-14, Dunman Food Centre, Singapore 424661
Opening hours: Mon-Sat 4:38pm to 1:38am
Tel: 6346 6519
Photos taken by Crystal Tan.
This is an independent review by Eatbook.
Summary
Pros
– Bold flavours
– Effort in every ingredient
– Ridiculously affordable $2 portion
Cons
– Inaccessible by MRT
– Long wait
Recommended dishes: Rojak ($4) with Dried Cuttlefish ($2)
Opening hours: Mon-Sat 4:38pm to 1:38am
Address: 281 Onan Road, #02-14, Dunman Food Centre, Singapore 424661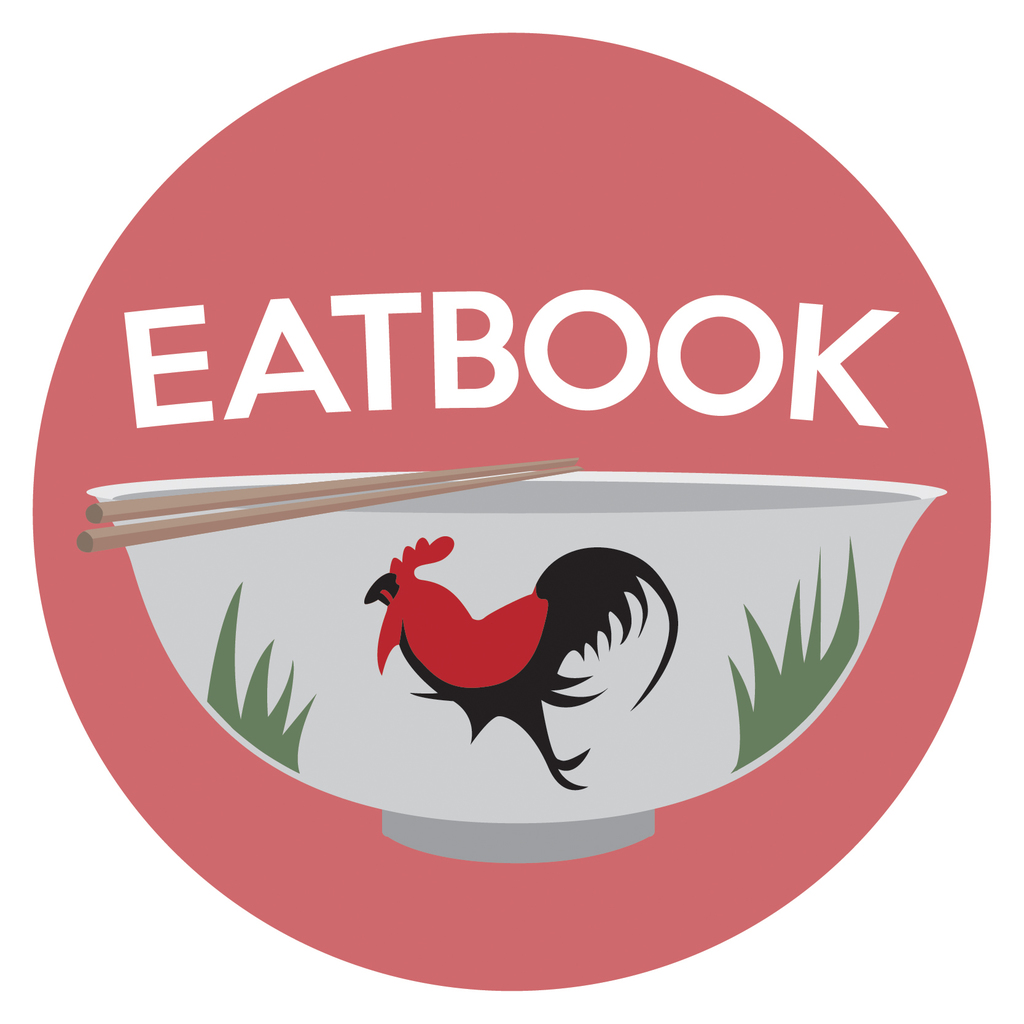 Drop us your email so you won't miss the latest news.