Konomi Zen serves Japanese food at $6 or less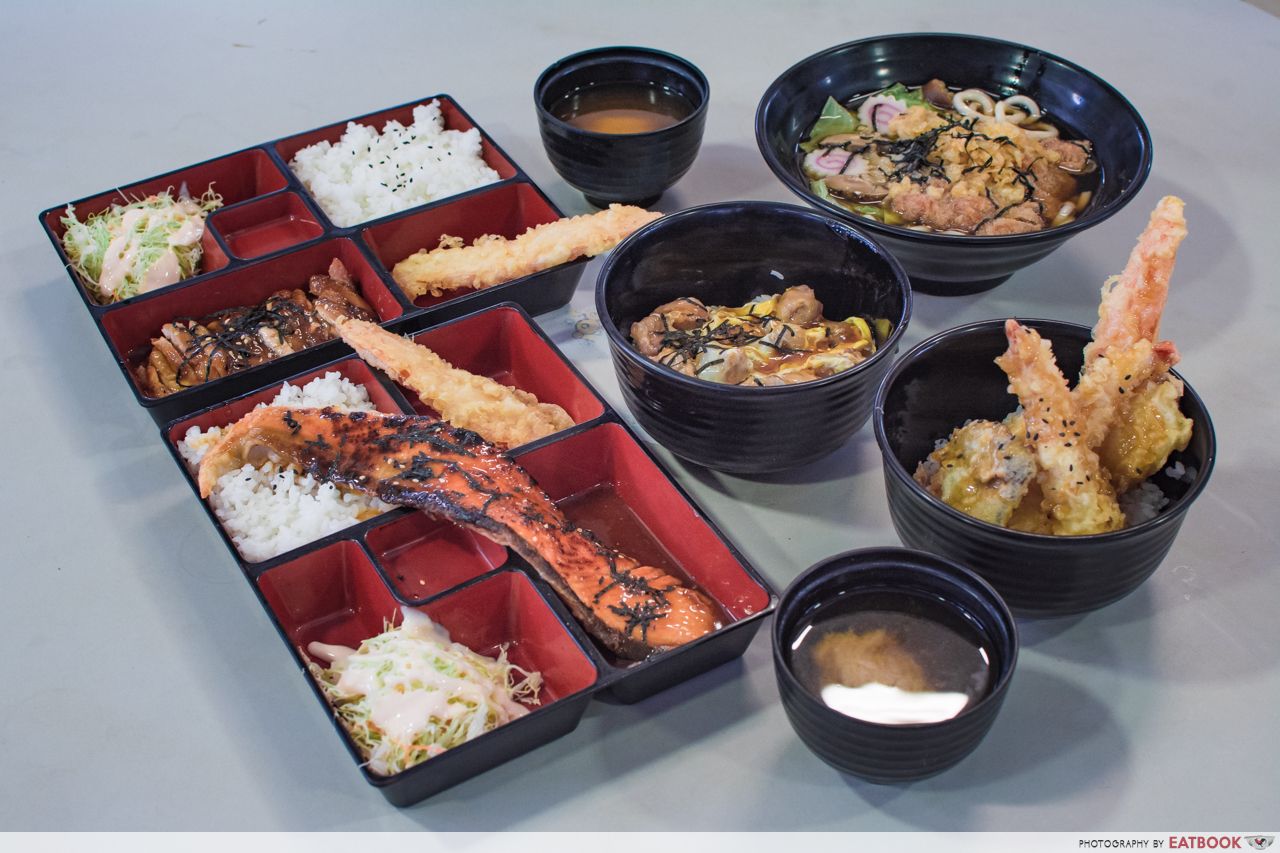 Whenever exam season came around in school, my mum would come home with treats every other night. One time, I asked why she always fed me so enthusiastically during those periods – not that I ever complained. She replied, "You'd never survive without good food." That's a blunt but accurate assessment. I was born into this #gluttonlyfe, which makes having a food budget especially painful.
Konomi Zen is one to keep in mind for those days you want to have something nice but your wallet screams no. Good food made better by an attractive price? I'm down.  
Food at Konomi Zen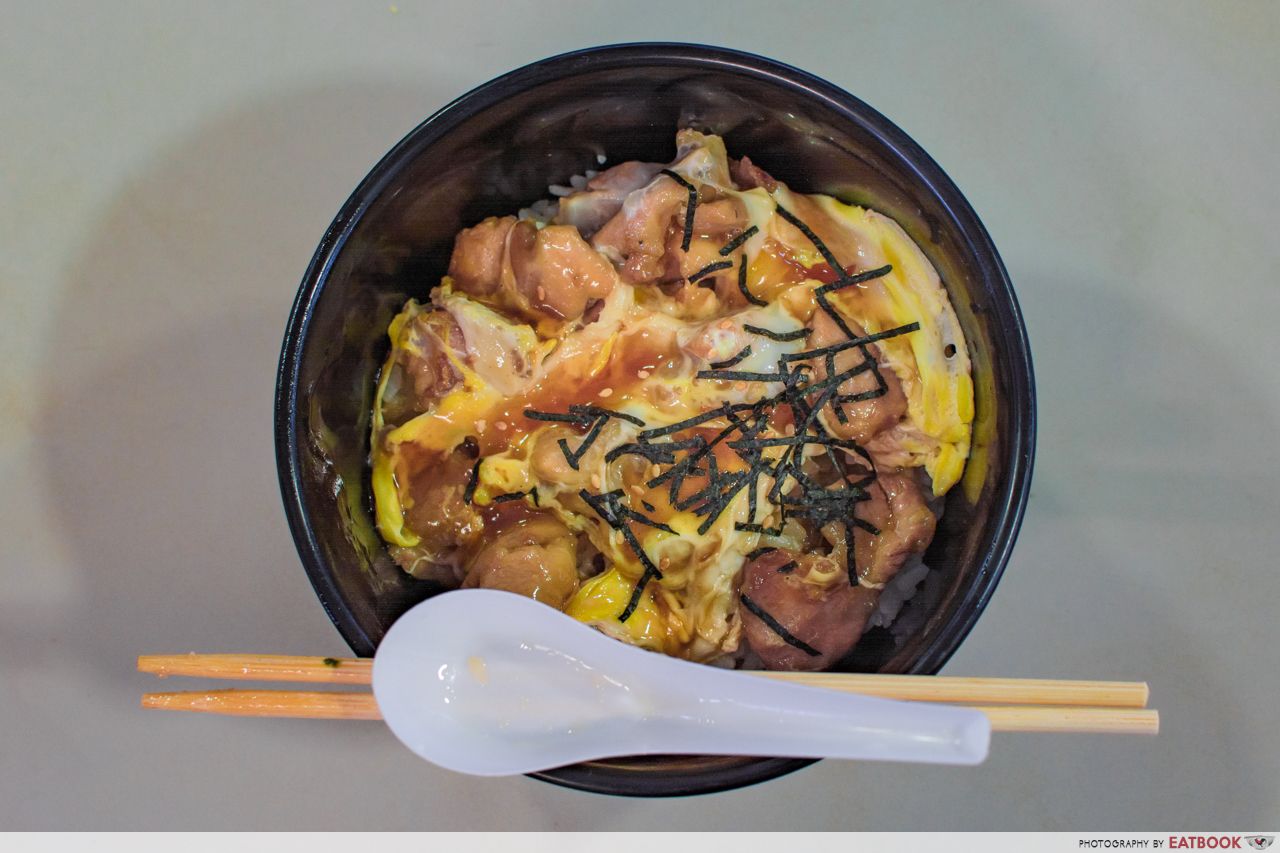 At Konomi Zen, you can get a bowl of Japanese donburi from just $3.50. One crowd favourite is Oyako Don ($3.50), which is a rice bowl with chicken chunks in simmered egg, garnished simply with a sprinkle of shredded dried seaweed.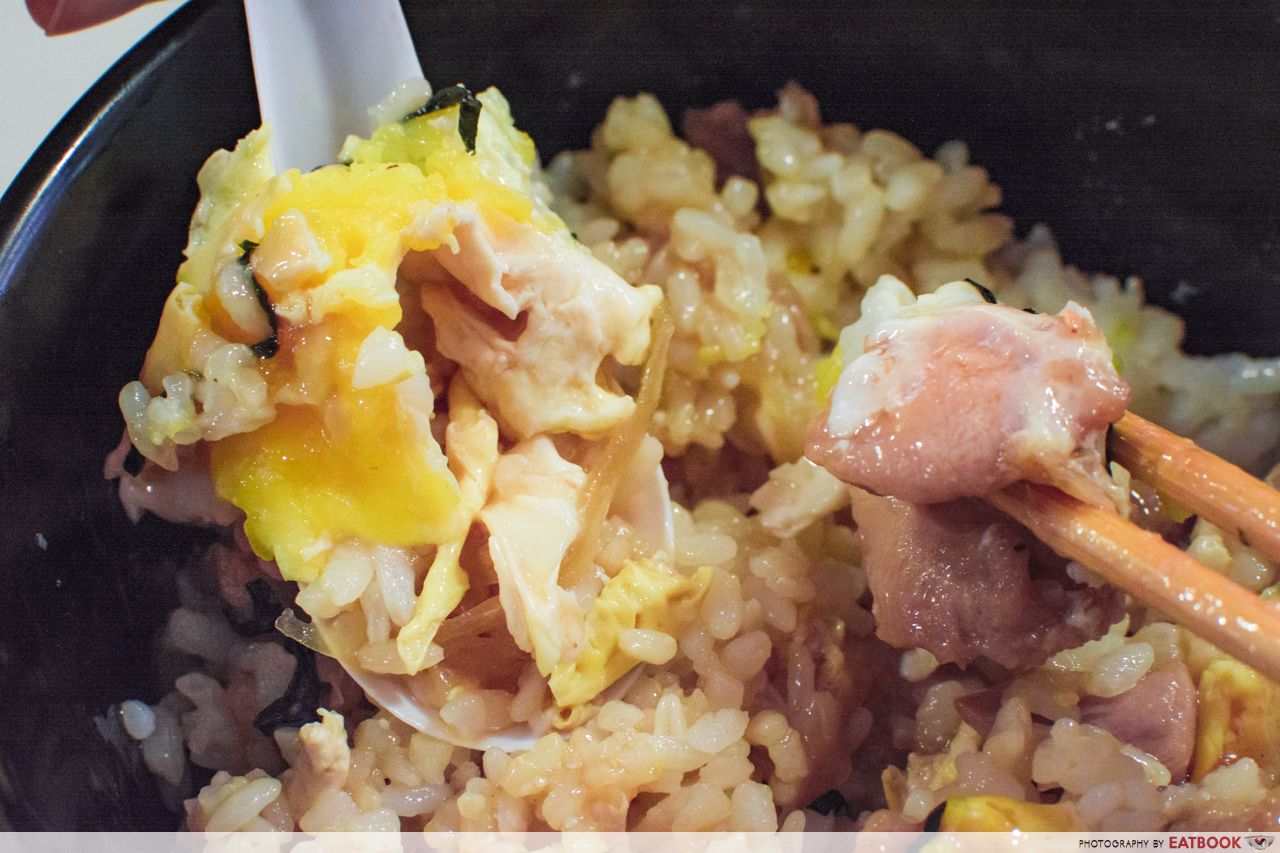 Even with the affordable price, each dish came in a decent and satisfying portion. Chicken thigh was used in the oyako don, so we got succulent bites of meat. The accompanying sauce was mildly sweet from a splash of sake and softened onions that also added some fragrance.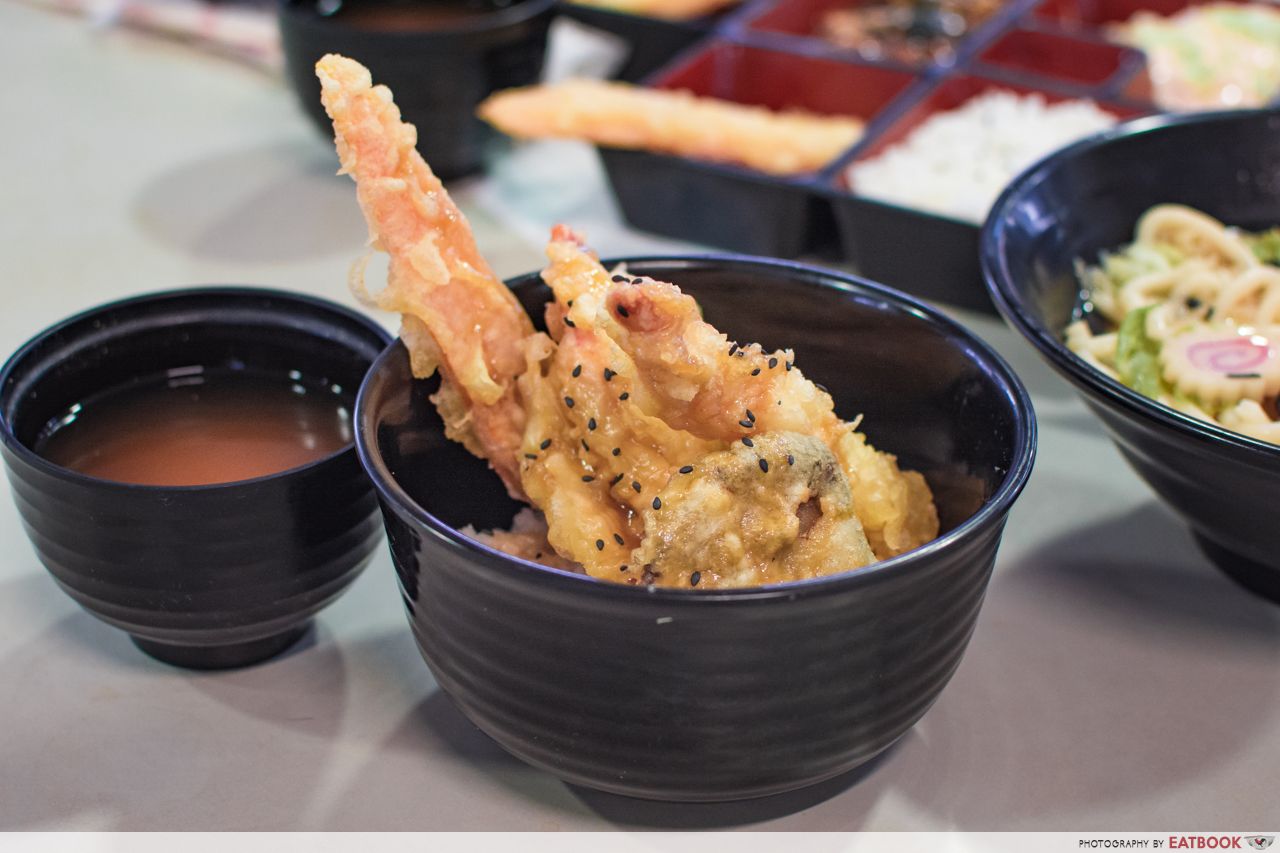 We ordered Tendon ($5) at an unbelievable price, considering how they usually cost three times as much and come with hour-long queues. At Konomi Zen, $5 and a five-minute wait gets you a straight prawn tempura, a tilapia fillet, a slice of carrot, and shiitake mushroom.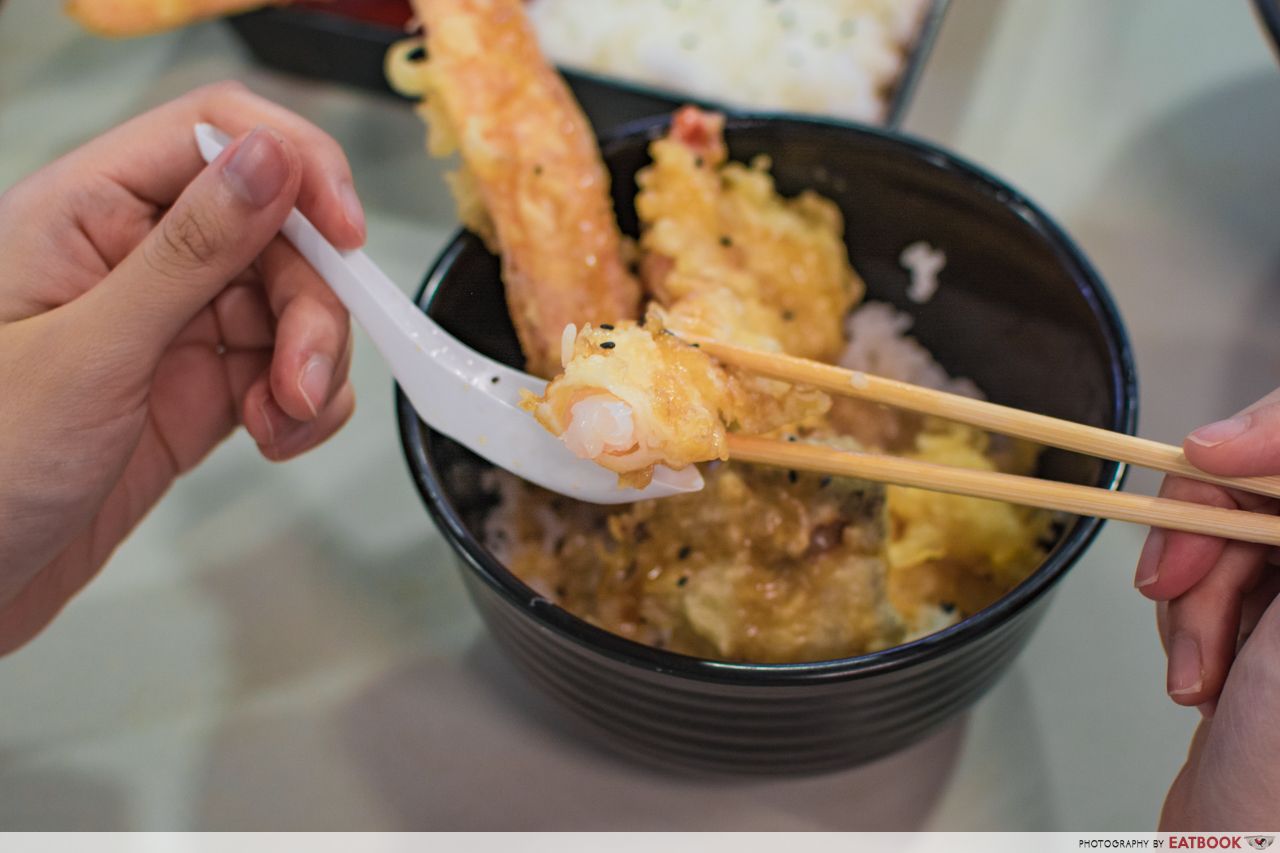 The ingredients were fried a la minute and served hot and fresh. The batter they were coated in was more substantial and crunchy than light and airy. Each piece was well fried such that the ingredients retained their juiciness and taste. One gripe I had was that the tendon could have done with more tempura dipping sauce drizzled over the rice as working through the plain white rice did get a little dry.
Konomi Zen's tendon should be sufficient to tide your tendon cravings over until you summon the will to brave the long queues outside tendon restaurants again.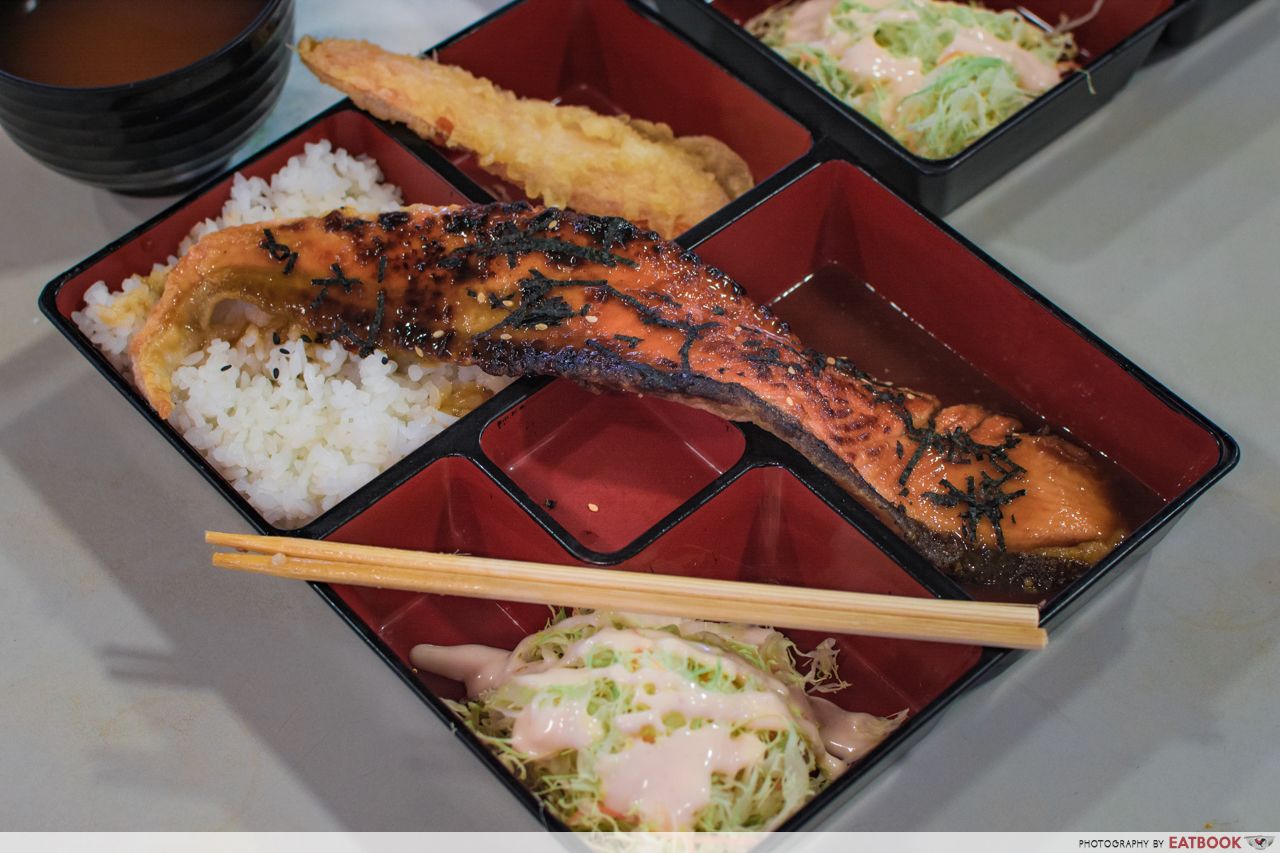 Besides donburi, Konomi Zen also serves bento sets such as Salmon Bento Set ($6) and Chicken Teriyaki Set ($5). Each bento set includes a carrot tempura, a portion of refreshing cabbage salad, and miso soup.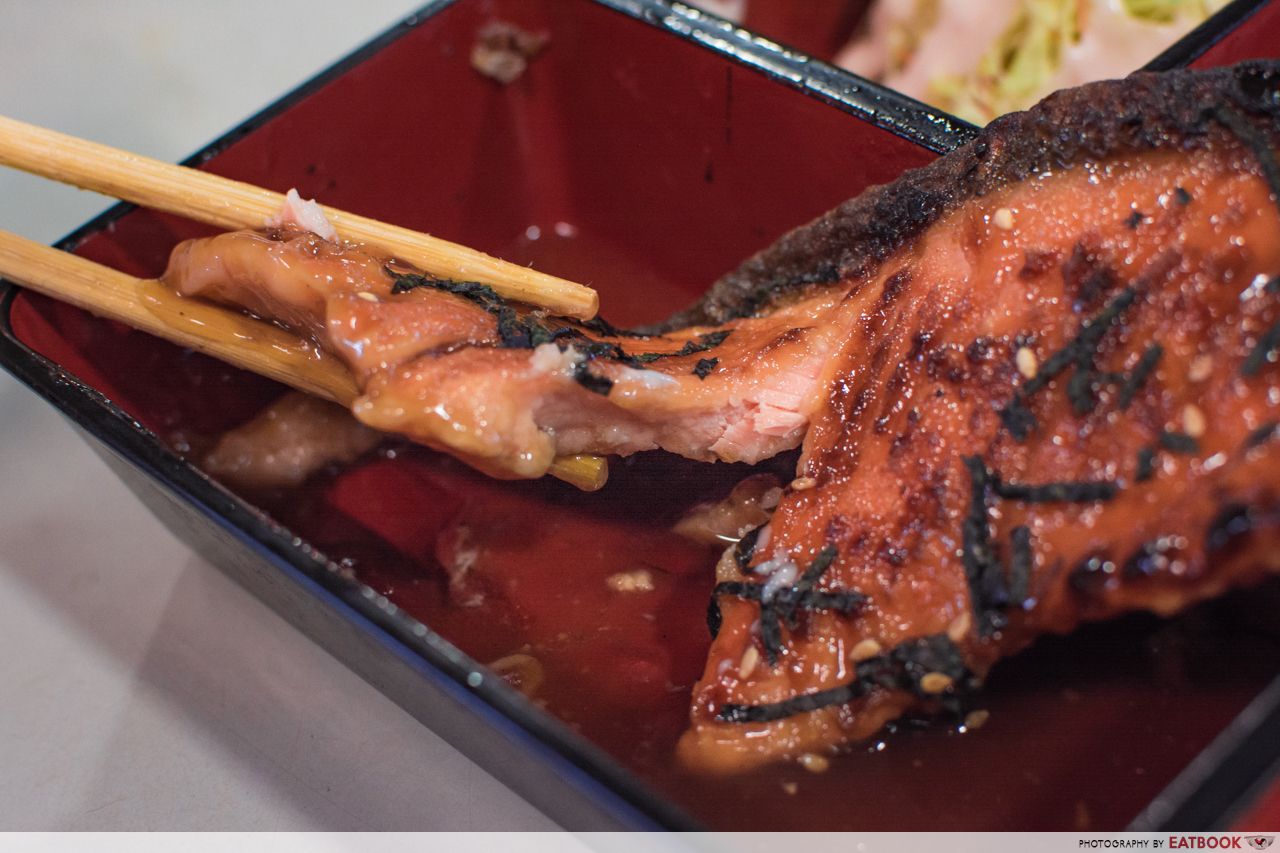 We dug into the salmon bento first. A long and thin piece of salmon spanned the length of the bento box. It was glazed with a sticky teriyaki sauce that held a smattering of white sesame seeds in place. Despite the thinness of the salmon fillet, it was still flaky. The robust taste of salmon meat was complemented by a delightful smoky fragrance and sweetness from caramelised teriyaki sauce.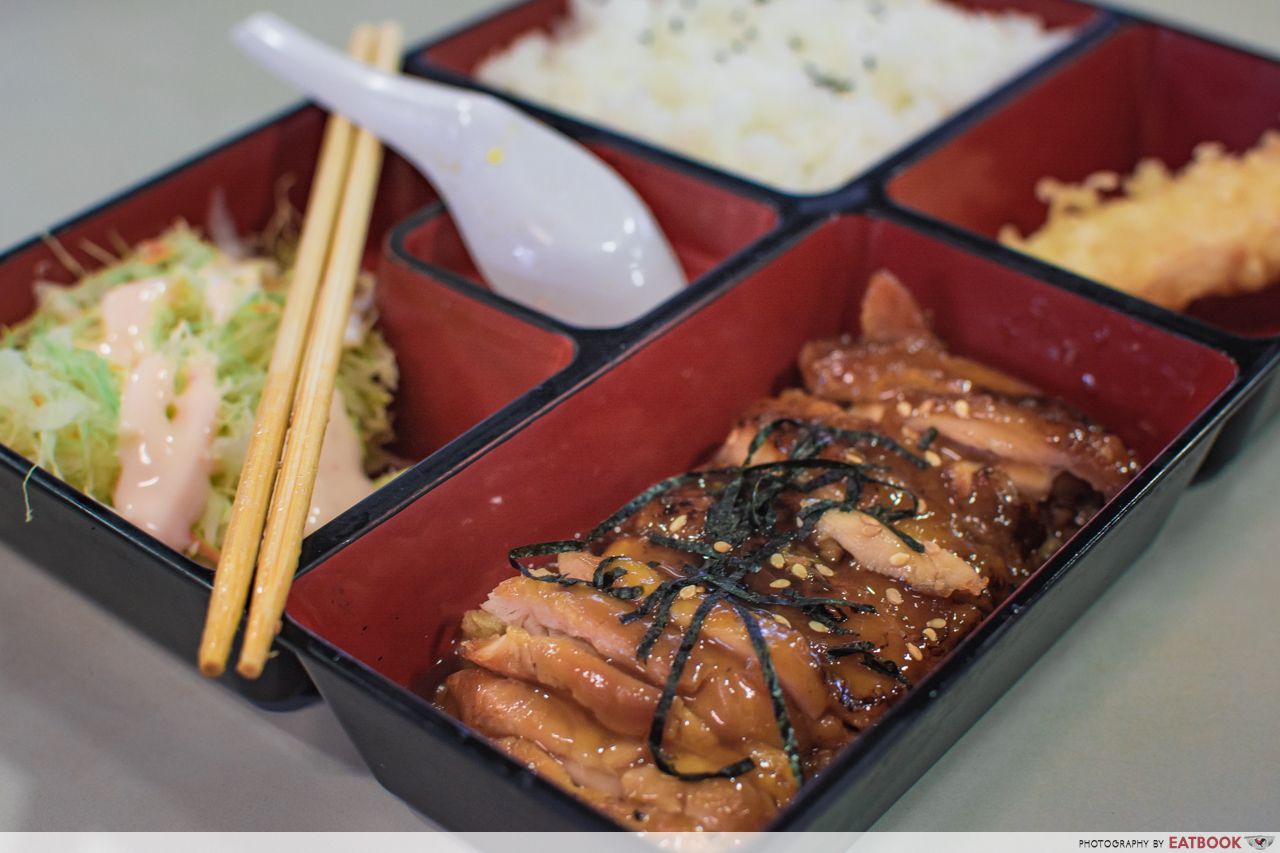 The chicken teriyaki bento came with pan-fried chicken thigh that had some char on its skin. I liked that the sauce was not overwhelmingly sweet but rather well-balanced with soy sauce. The meat was succulent and tender.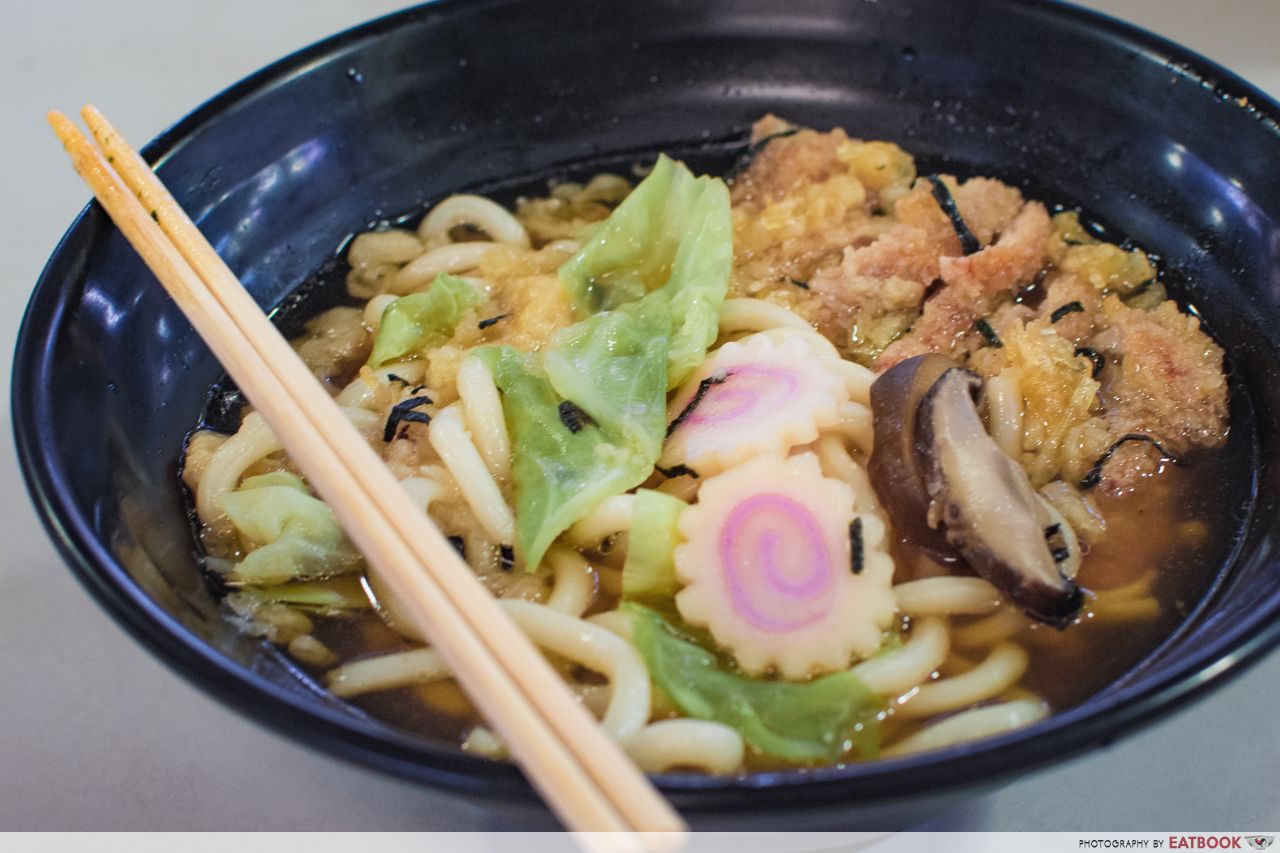 Our final order was Chicken Udon ($3.50). The plump, chewy noodles sat in a clear broth along with sliced chicken cutlet.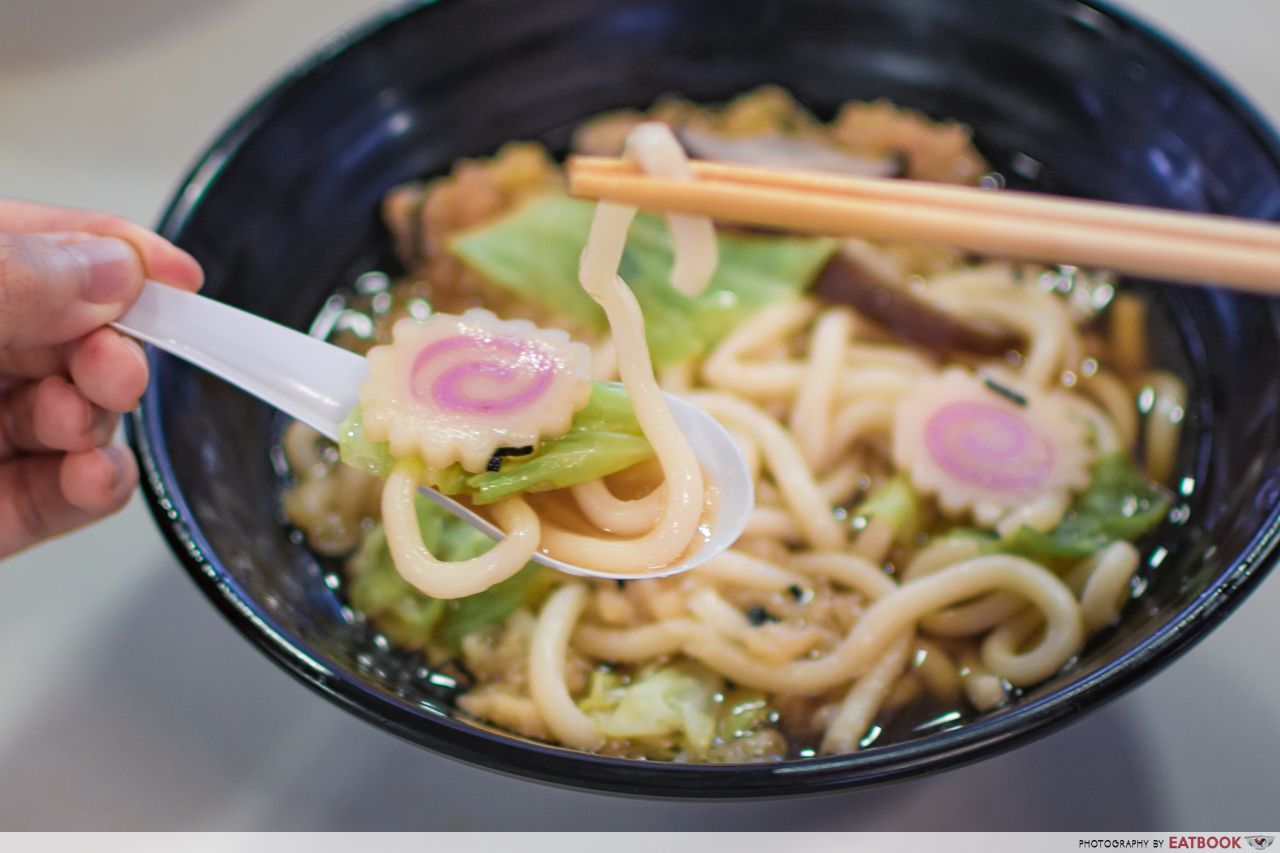 Strongly flavoured with shiitake mushrooms, the broth's earthy flavour got a little overwhelming after a while – though I must say I'm not the biggest fan of mushrooms to begin with.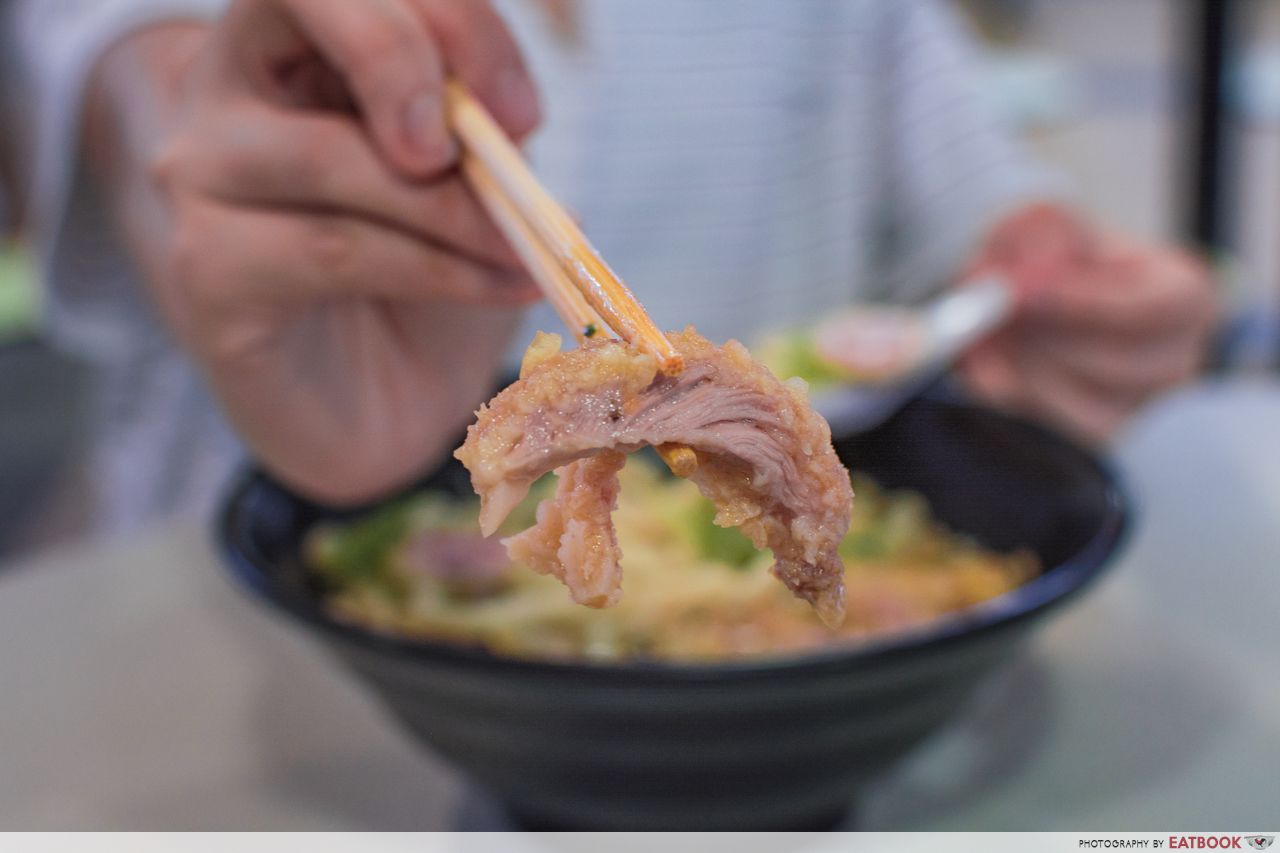 To truly enjoy the crisp breading on the chicken, request for your chicken cutlet to be served on the side. We didn't do so but were thrilled to find that some bits in the breading remained crunchy even after the chicken was soaked in the broth.  
Ambience at Konomi Zen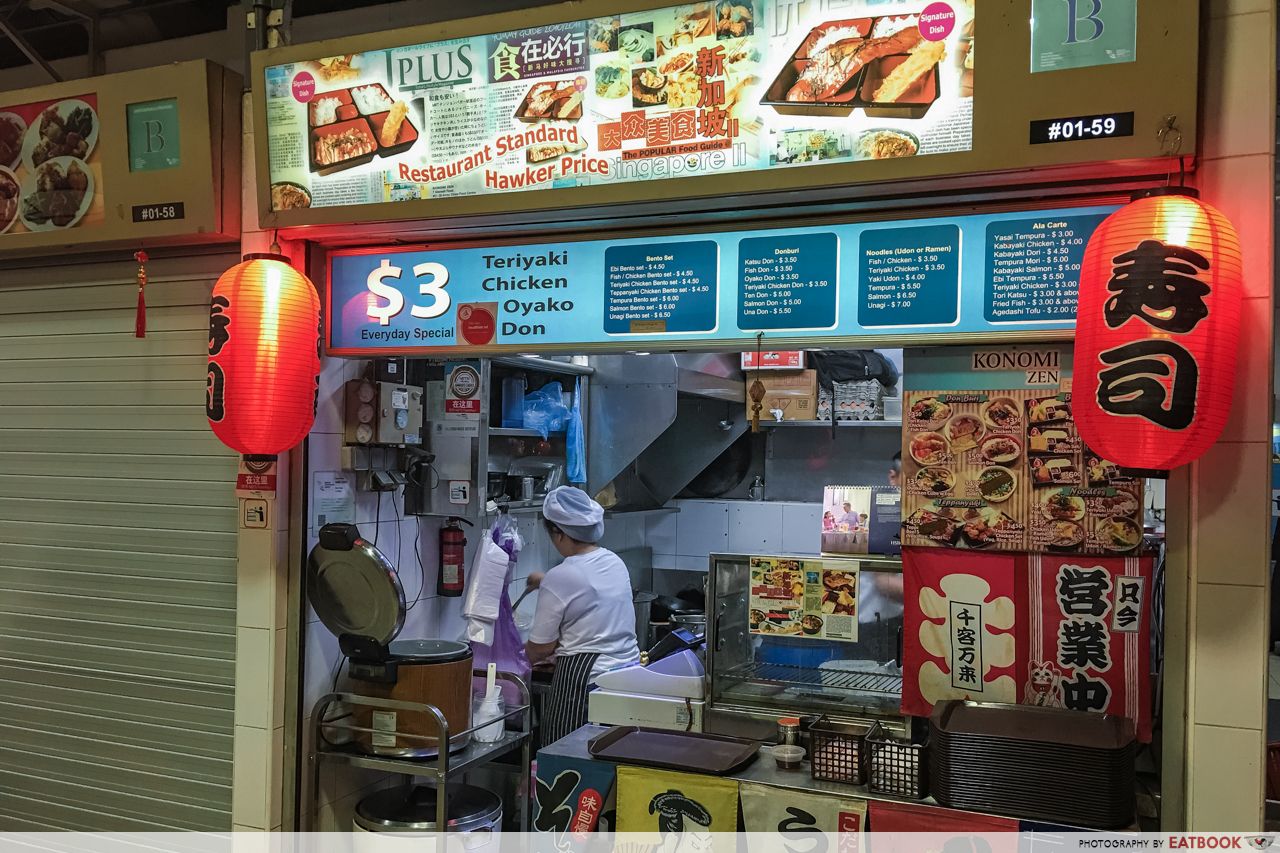 Konomi Zen can be easily located at Ang Mo Kio Blk 628 Food Centre as it occupies one of the corner units. The high ceiling and many rotating fans around the dining area keeps the place well-ventilated and makes it a pleasant place to dine at.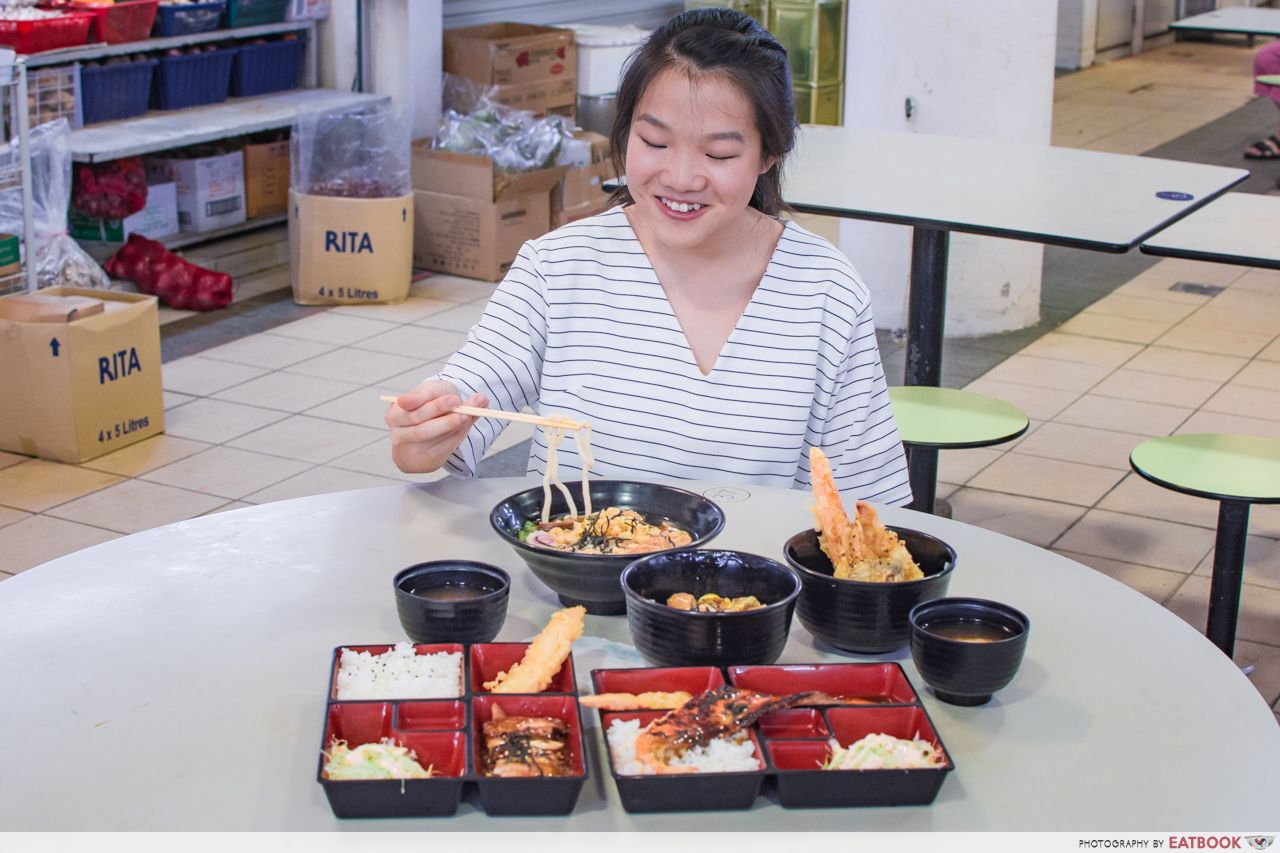 While not quite "restaurant quality" as the stall's signboard proclaims, the value of the food is undeniable. If you're in the neighbourhood and have a craving for Japanese food, Konomi Zen is worth a visit.   
Address: 628 Ang Mo Kio Avenue 4, #01-59, Ang Mo Kio 628 Market & Food Centre, Singapore 560628
Opening hours: Mon-Sat 11am to 8pm
Tel: 9734 8875
This is an independent review by Eatbook.sg.
Konomi Zen
Summary
Pros
– Affordable prices
– Menu includes options not typically found at Japanese food stalls in hawker centres
Cons
– Dining area may get quite warm
Recommended Dishes: Oyako don ($5), Tendon ($5), Salmon Bento Set ($6), Chicken Teriyaki Bento Set ($5)
Operating Hours:
Monday – Saturday 11am to 8pm
Tel:
9734 8875
Address:628 Ang Mo Kio Avenue 4, #01-59, Ang Mo Kio 628 Market & Food Centre, Singapore 560628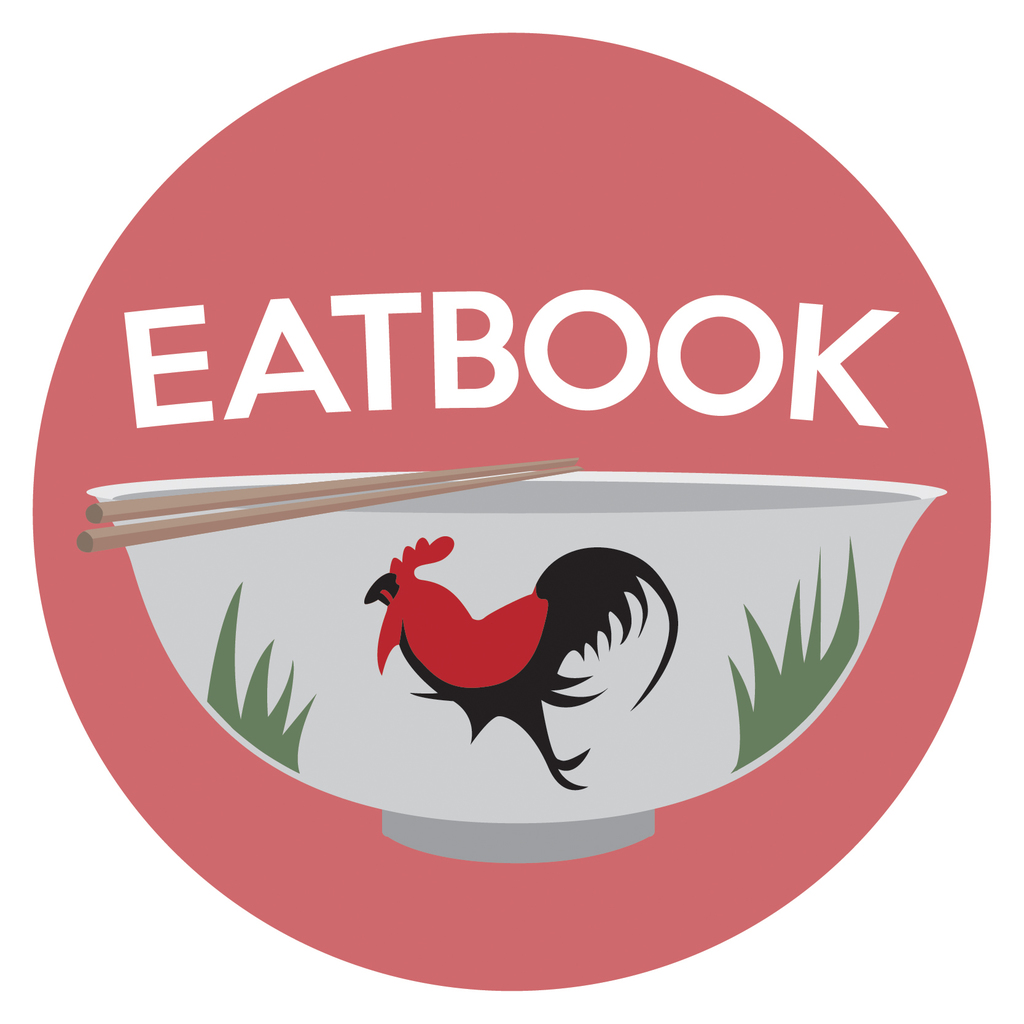 Drop us your email so you won't miss the latest news.