Mei Ming Taiwan Delicacy is here at Ang Mo Kio
Update: Mei Ming Taiwan Delicacy has permanently closed.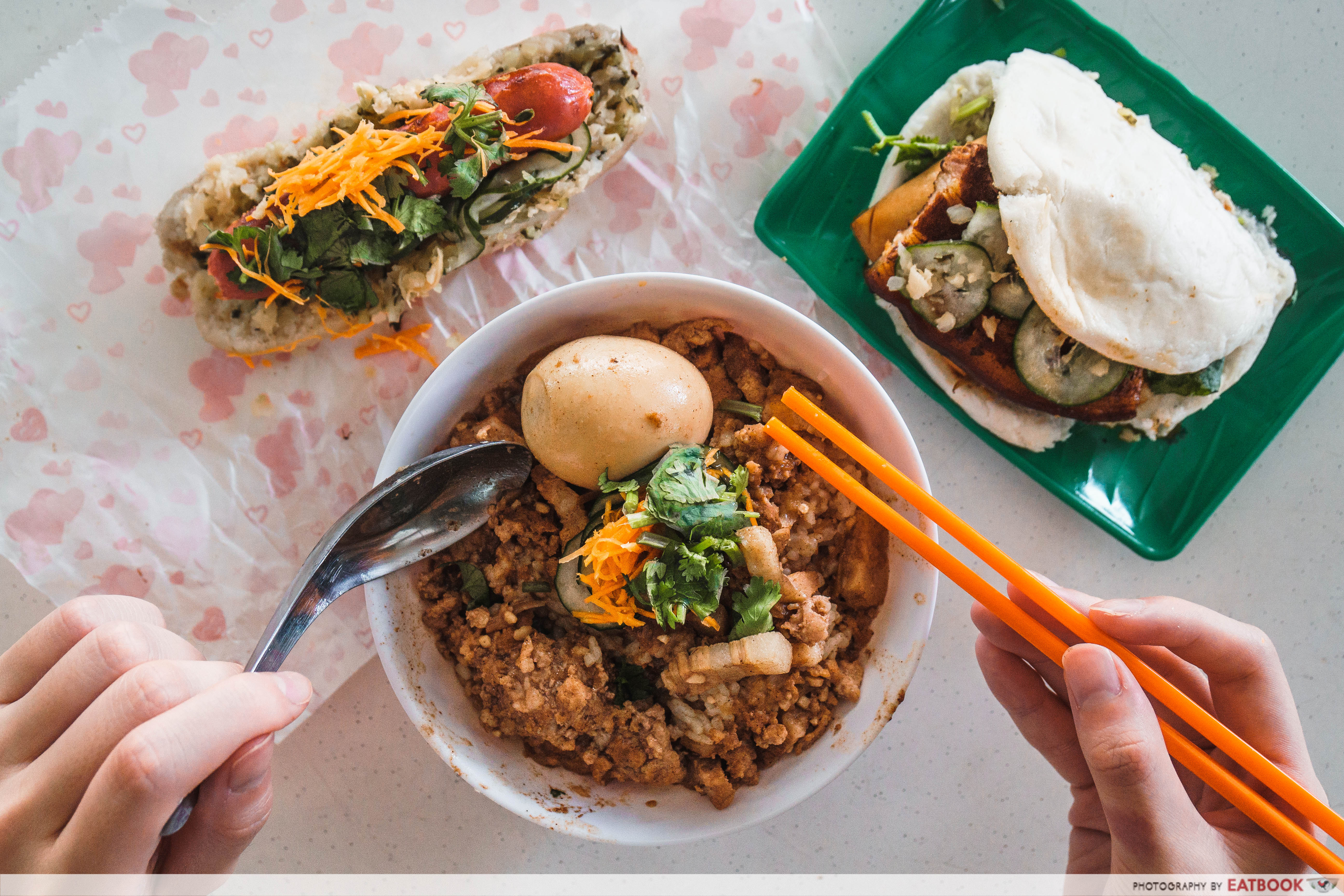 Ever since I visited Taiwan back in 2014, I've been obsessed with Taiwanese street food. It upset me to realise, upon my return to Singapore, that I would no longer be able to savour many of the Taiwanese snacks I'd eaten there for a long time. Imagine my delight to discover Mei Ming Taiwan Delicacy, also known as Mei Meng Taiwan Delicacy, a hawker stall run by Singaporean Mr Zen Tan, who inspires to introduce lesser-known Taiwanese street food to us.
Food at Mei Ming Taiwan Delicacy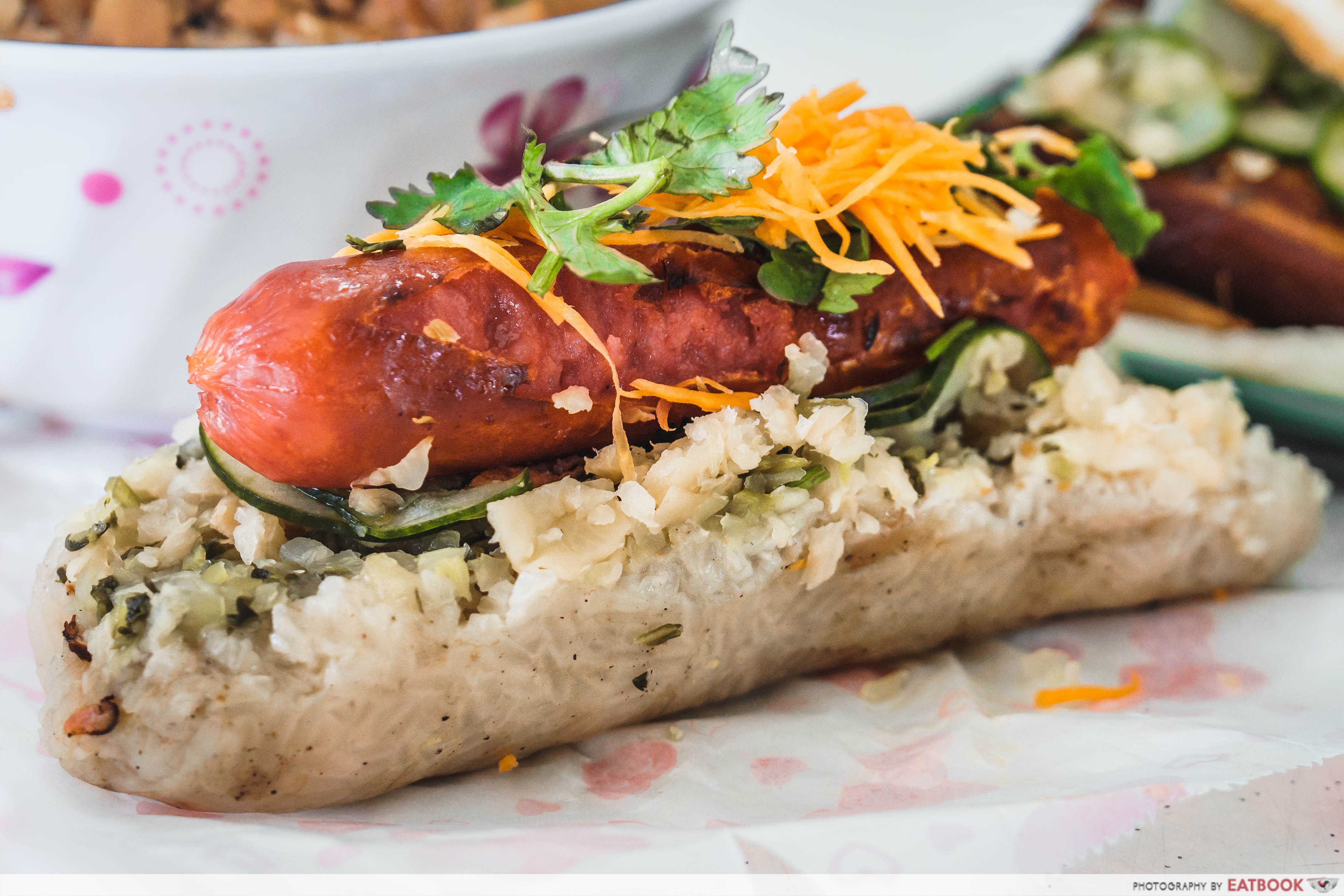 We ordered a Da Chang Bao Xiao Chang ($6.60), which literally translates to 'big sausage wraps small sausage'. What it actually is, is Taiwanese sausage partially wrapped in a "bun" made out of sticky glutinous rice and garnished with parsley and carrots. It's a popular street food in Taiwan, and is meant to be eaten in exactly the same way you would devour a hot dog bun. 
The Taiwanese sausage was super juicy and sweet – my teeth broke into the springy meat with a satisfying burst of flavour. I was worried that the rice bun might fall apart as I bit into it, but it remained surprisingly firm! Beneath the sausage were also minced pieces of peanut and salted vegetables which tasted crunchy and slightly sourish.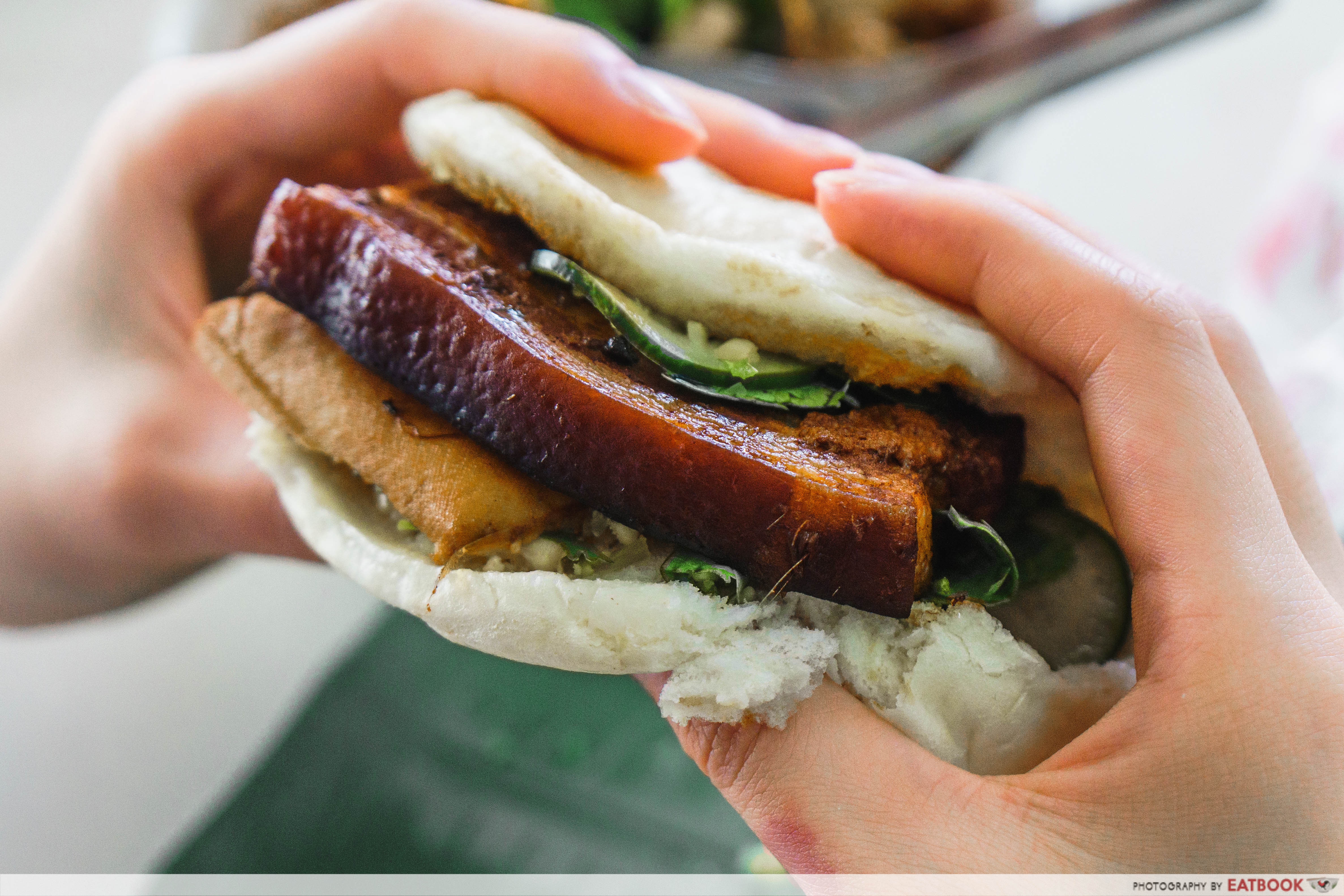 Next up came the Tiger Bites Pig ($3), another dish with an equally intriguing name. The white bun is supposed to resemble a tiger's mouth enveloping the pork belly, which represents none other than the pig; hence the unique moniker, Tiger Bites Pig.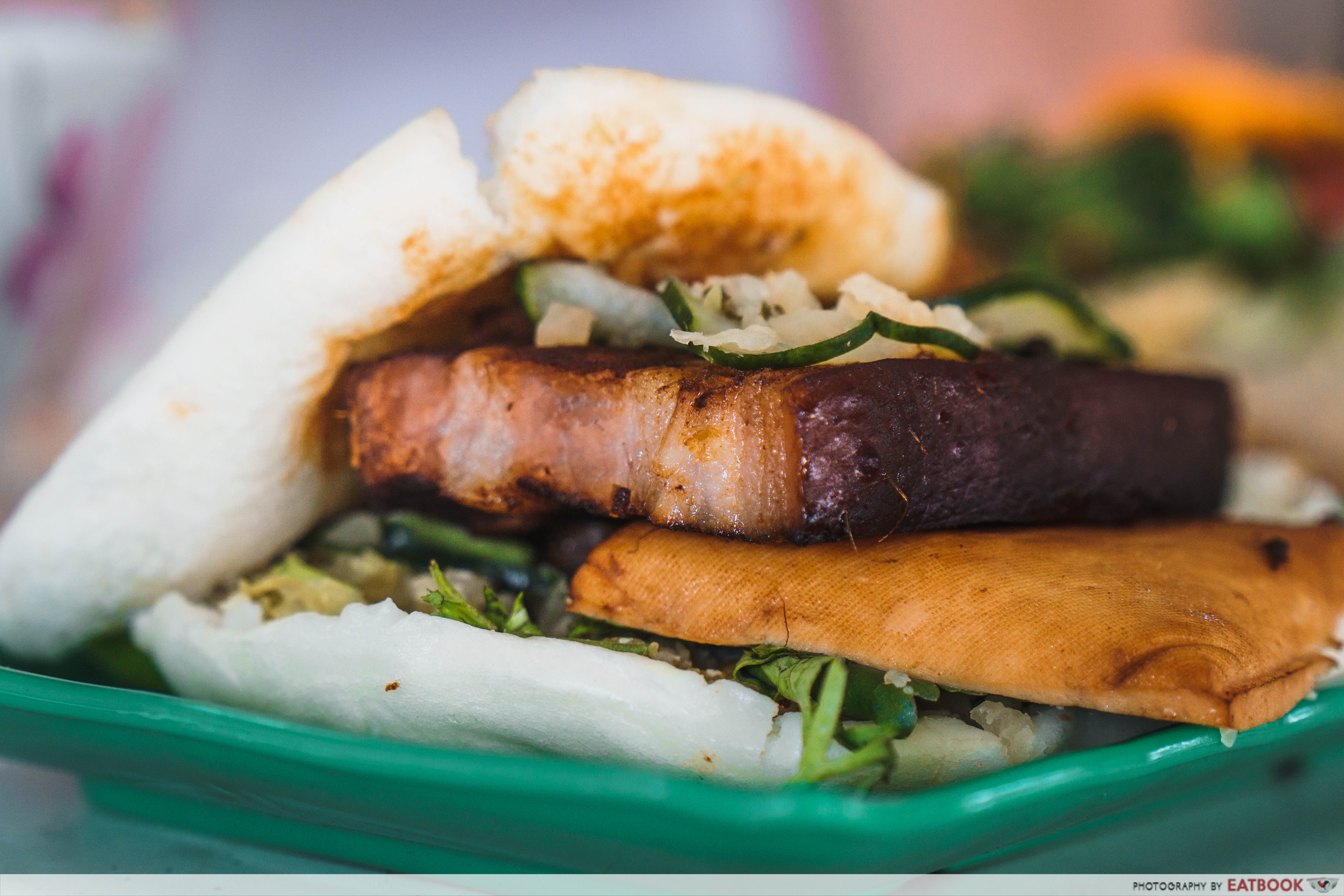 Sandwiched between the pork belly and bun were a thin slice of tau kwa, cucumbers and a similar stuffing of peanuts and salted vegetables as found in the Da Chang Bao Xiao Chang. The bun had a strange smoky aftertaste that I couldn't quite place my finger on. I also found the meat a tad bit dry.
Something which frustrated me was how fragile the bun was. It was already beginning to tear, and the whole thing threatened to come apart as I picked it up to hold it precariously in my hands. It became clear enough to me that this was not one of the best braised pork buns I'd ever had.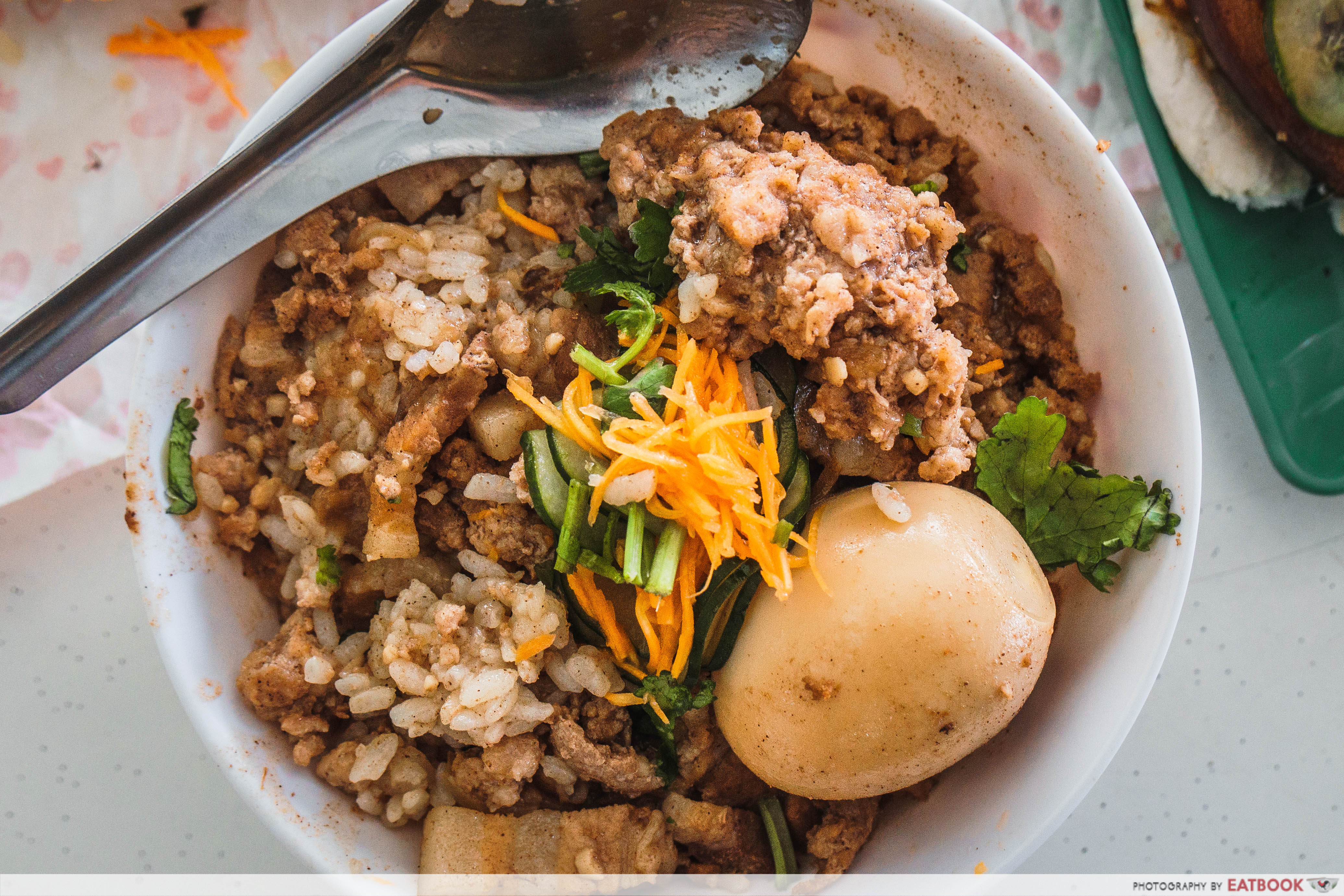 Finally, I tried the Braised Pork Rice ($3.80). This dish is probably your safest bet at Mei Ming Taiwan Delicacy. It's hard to go wrong with a simple yet gratifying bowl of braised pork rice, and my thoughts were affirmed as I dug into my meal. The dish was garnished with cucumbers, parsley and shredded carrot. There was also a braised egg at the side, which thankfully was not overcooked.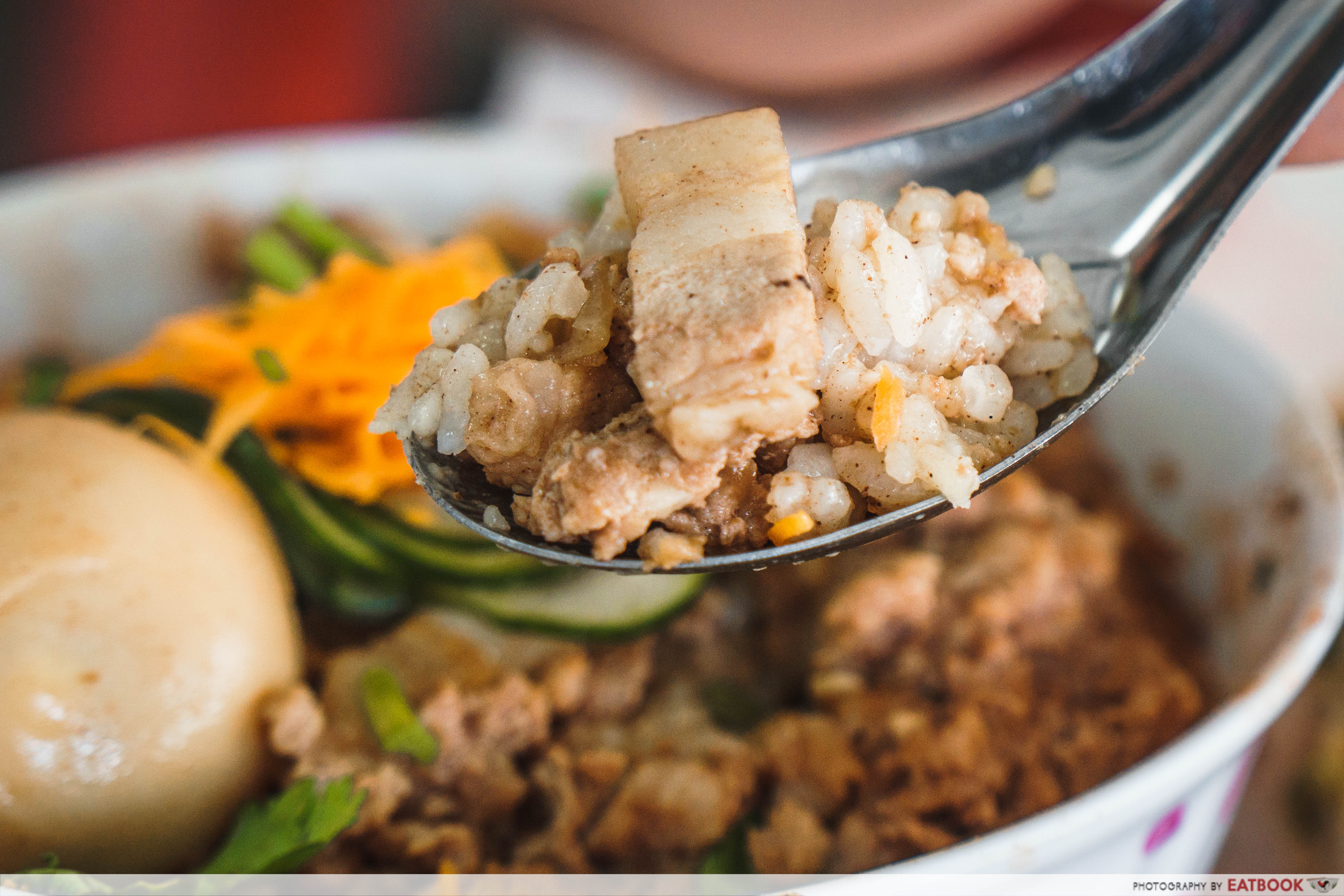 The pork belly and small chunks of minced pork were succulent and moist, while the rice was sticky and a little clumpy. I liked how the salty sweet rice was evenly braised with sauce all the way to the bottom, such that even as I was beginning to finish my toppings, I was still able to enjoy the flavourful rice on its own. Overall, the dish felt home-cooked and wholesome; a hearty comfort food. Eating it evoked similar sensations in me as to having a mug of hot chocolate on a rainy day.  
Ambience at Mei Ming Taiwan Delicacy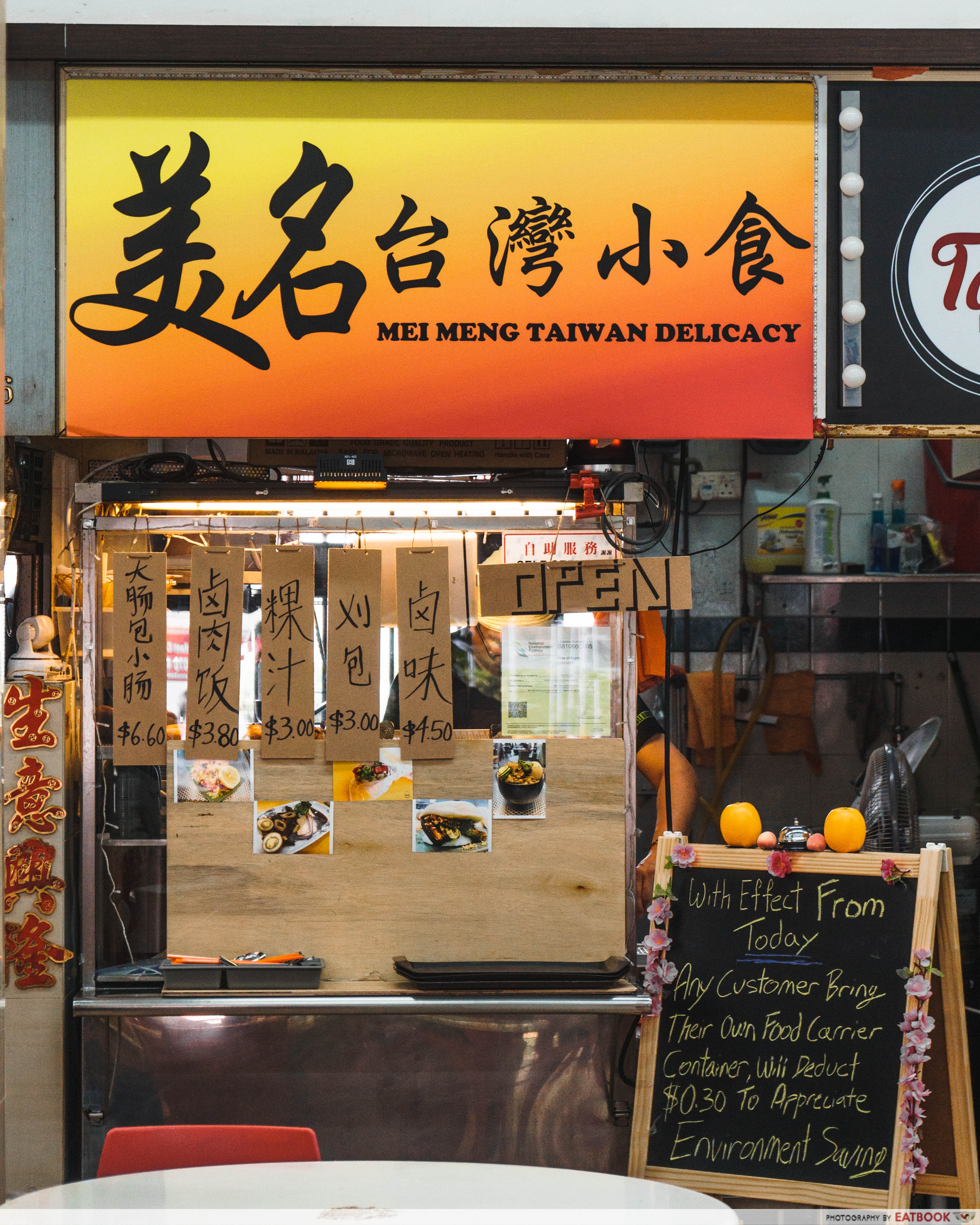 The stall gave off a strong Taiwanese vibe, from the orange glow of its lights to the handwritten wooden cards hanging from the window. Business seemed good. We had to wait quite some time before our food was served.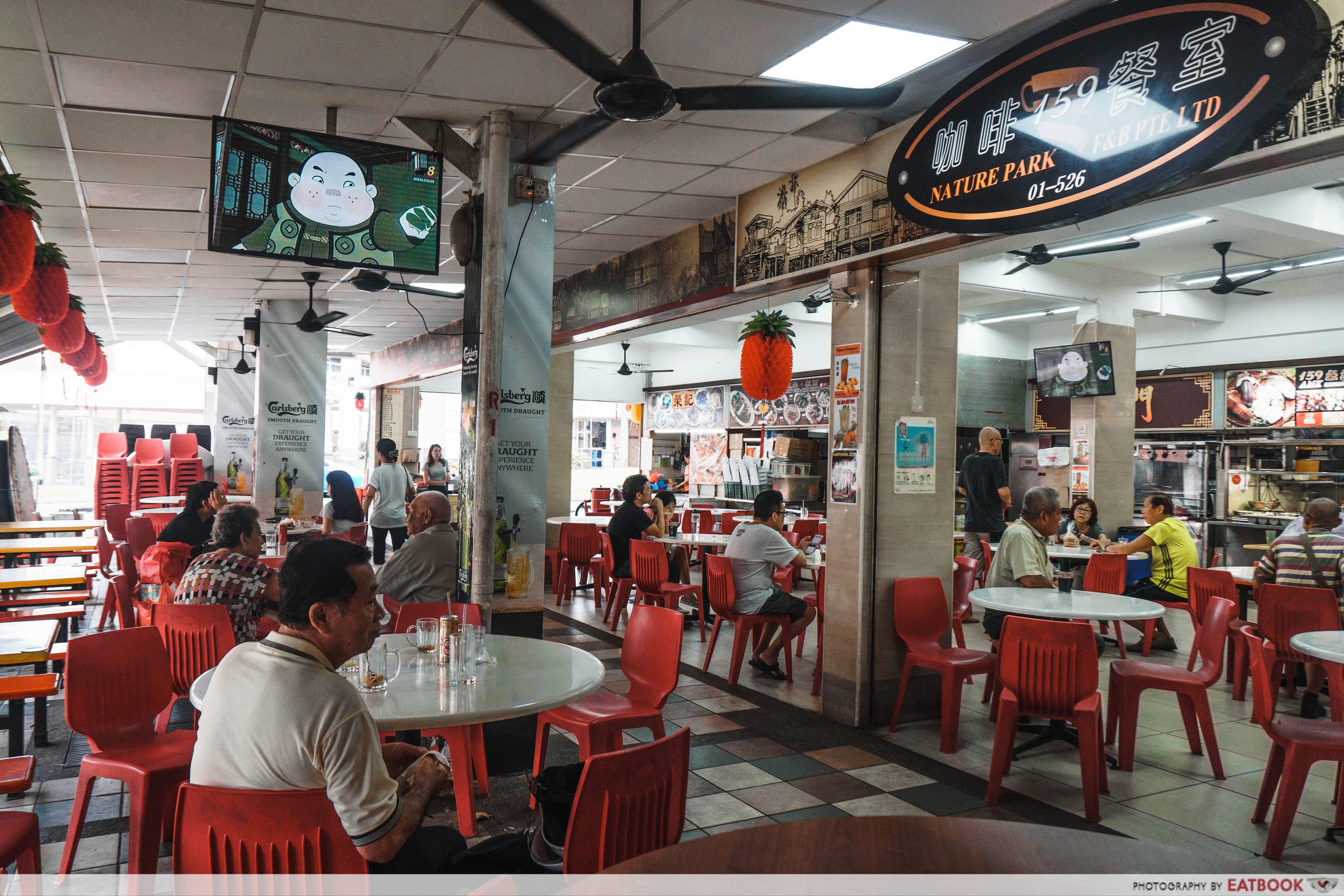 The stall was located in Block 159 Coffee Shop, an obscure kopitiam nestled atop a slope opposite Mayflower Primary School. We had to walk quite a bit before we arrived at our destination. If you're feeling lost, look out for Kebun Baru Bird Corner, which is right beside the coffee shop. 20-feet-long white poles sticking up in the air with bird cages hanging from their tips are a sight to behold, and impossible to miss.
The verdict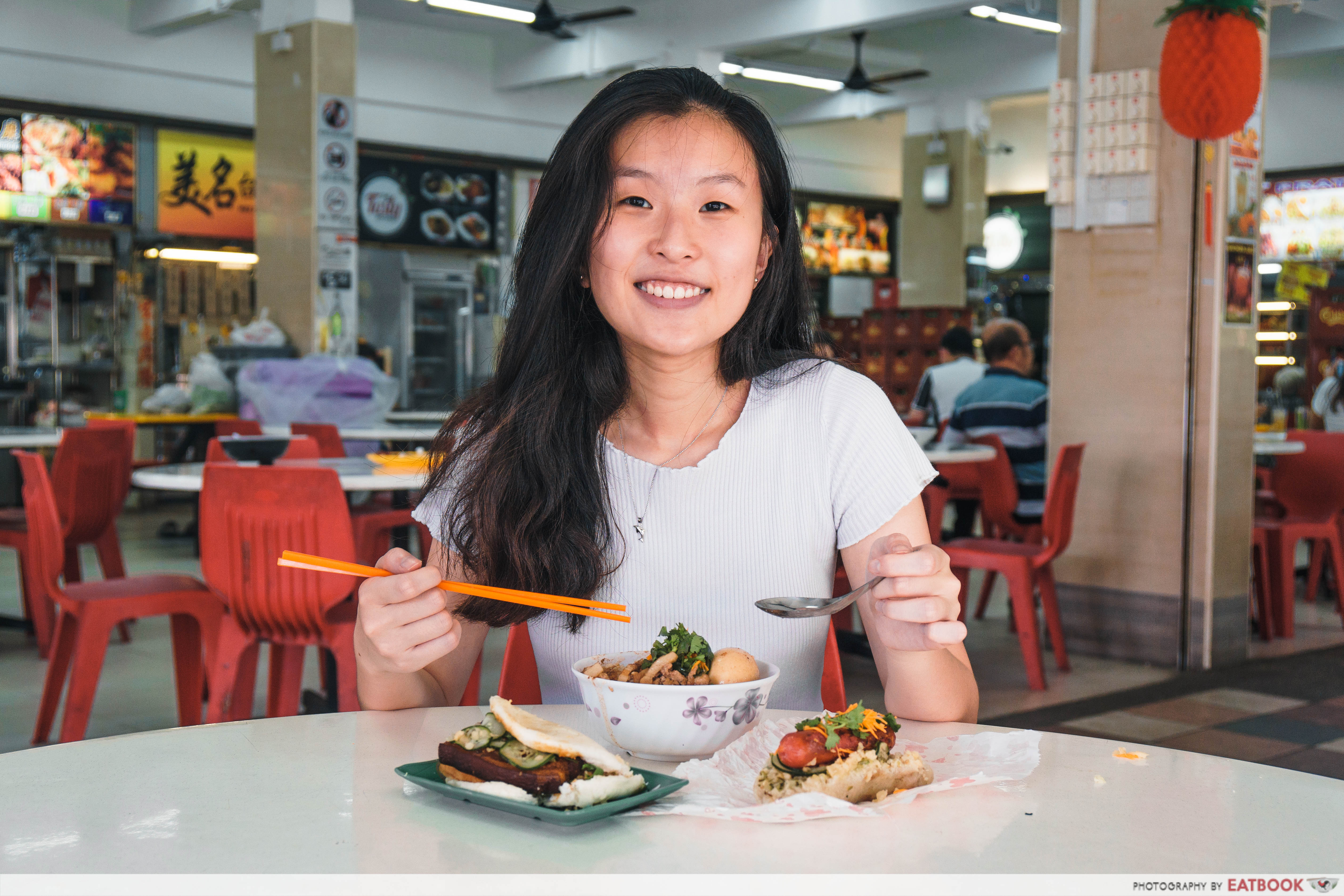 Despite the long walk up the slope, the food made the effort worthwhile. I guess you could also call it good exercise for before and after your meal. The stall also sells another kind of Taiwanese street food known as Lu Wei ($4.50), which is an interesting mix of Taiwanese sausage, lemon, peanut and vegetable stuffing, drizzled over with salted egg yolk sauce.
I found the Da Chang Bao Xiao Chang a little pricey compared to other items on the menu, but it was the first time I'd tasted and enjoyed anything like it, so ultimately I'd say it's worth a try.
If you love braised pork rice like me, check out these cheap lu rou fan places at $5 or less! Alternatively, keep an eye out for these other Taiwanese street food you can find in Singapore!
Address: 159 Ang Mo Kio Avenue 4, Stall 6, Block 159 Coffee Shop, Singapore 560159
Opening hours: Daily 11am to 8pm
Tel: 9728 7035
Website
Summary
Pros
– Affordable
– Sells uncommonly found Taiwanese street food
– Hearty fare
Cons
– Hard to locate
– Da Chang Bao Xiao Chang is a little costly
Recommended dishes: Da Chang Bao Xiao Chang ($6.60), Braised Pork Rice ($3.80)
Operating hours: Daily 11am to 8pm
Address: 159 Ang Mo Kio Avenue 4, Stall 6, Block 159 Coffee Shop, Singapore 560159