Balestier Road Hoover Rojak in Whampoa Makan Place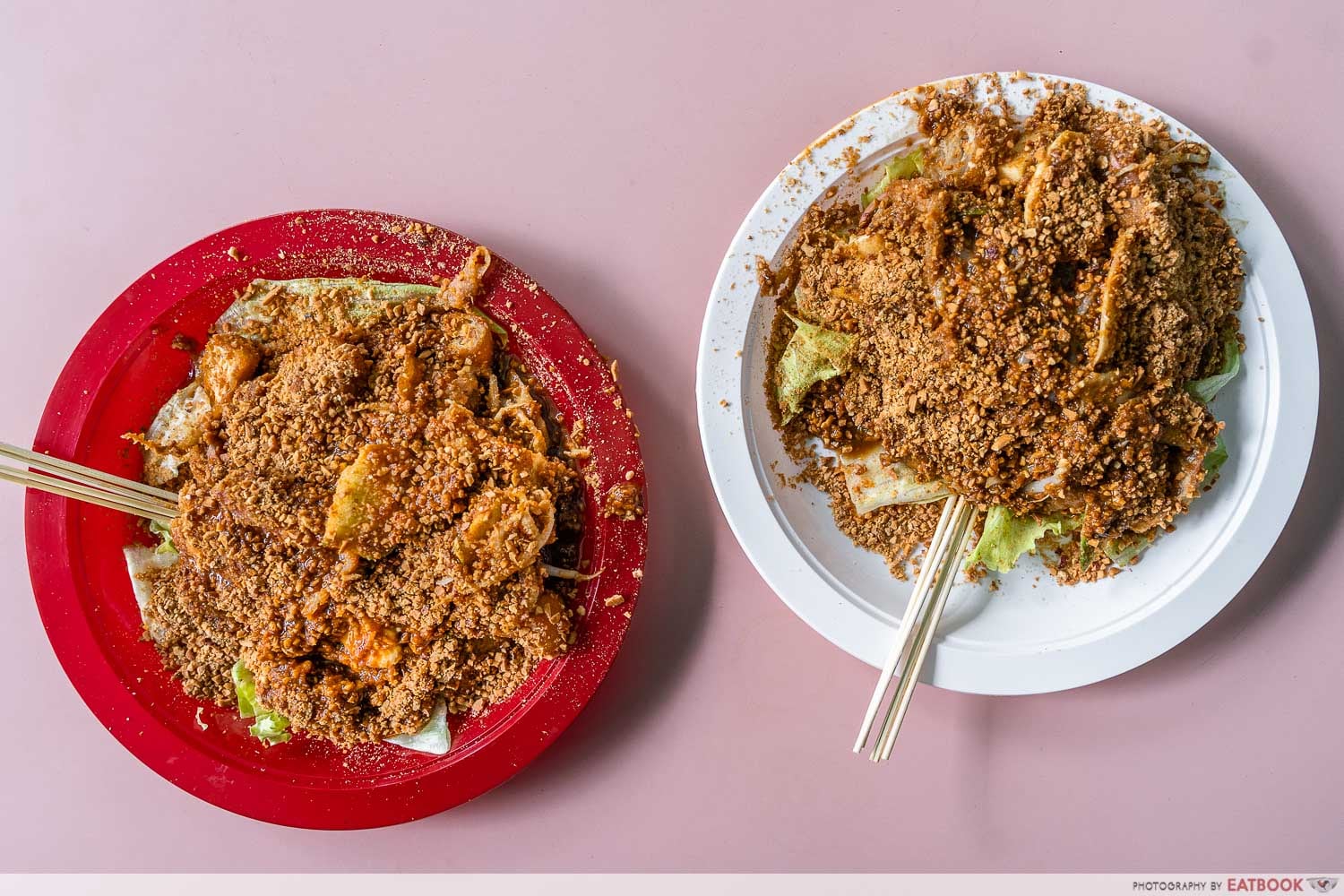 For some, rojak is a can-do, or can-do-without item on their list of hawker eats. For me, this humble-looking dish holds many fond childhood memories. Growing up, my family would always share a plate of Chinese rojak whenever we dined out at any given hawker centre.
No thanks to the dying hawker trade, stalls like Balestier Road Hoover Rojak are fading. This second-generation stall in Whampoa Makan Place dates all the way back to 1961, when its late founder operated out of a pushcart in Toa Payoh. Today, his son is the man behind it all.
10 Rojak In Singapore To Try, Including 40 Year-Old Recipes And Michelin-Approved Stalls
Food at Balestier Road Hoover Rojak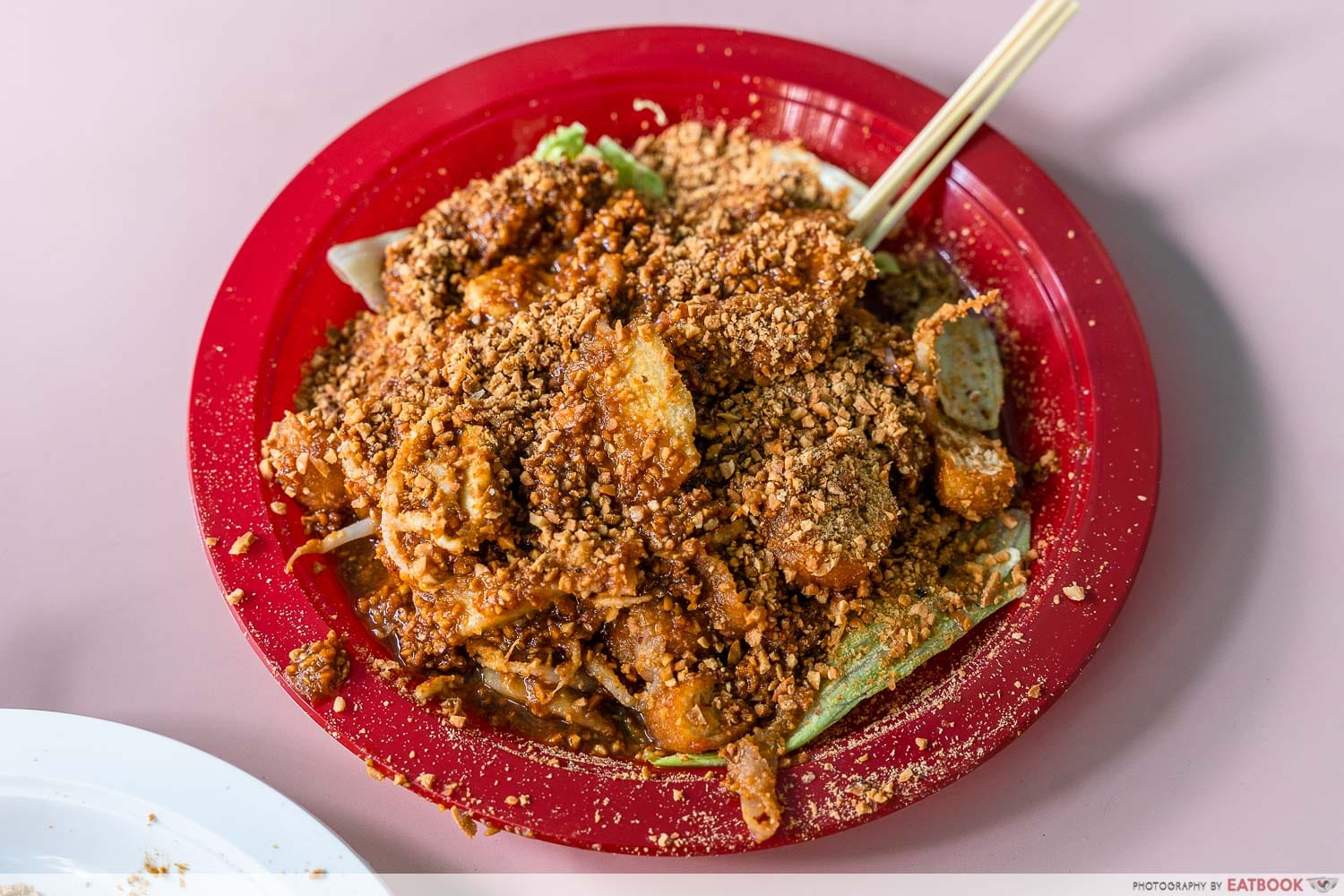 There's only one item on the menu—rojak—but the constant queue at the stall, and the fact that they're the only Michelin-recommended rojak stall, are indications that they serve up a mean rendition.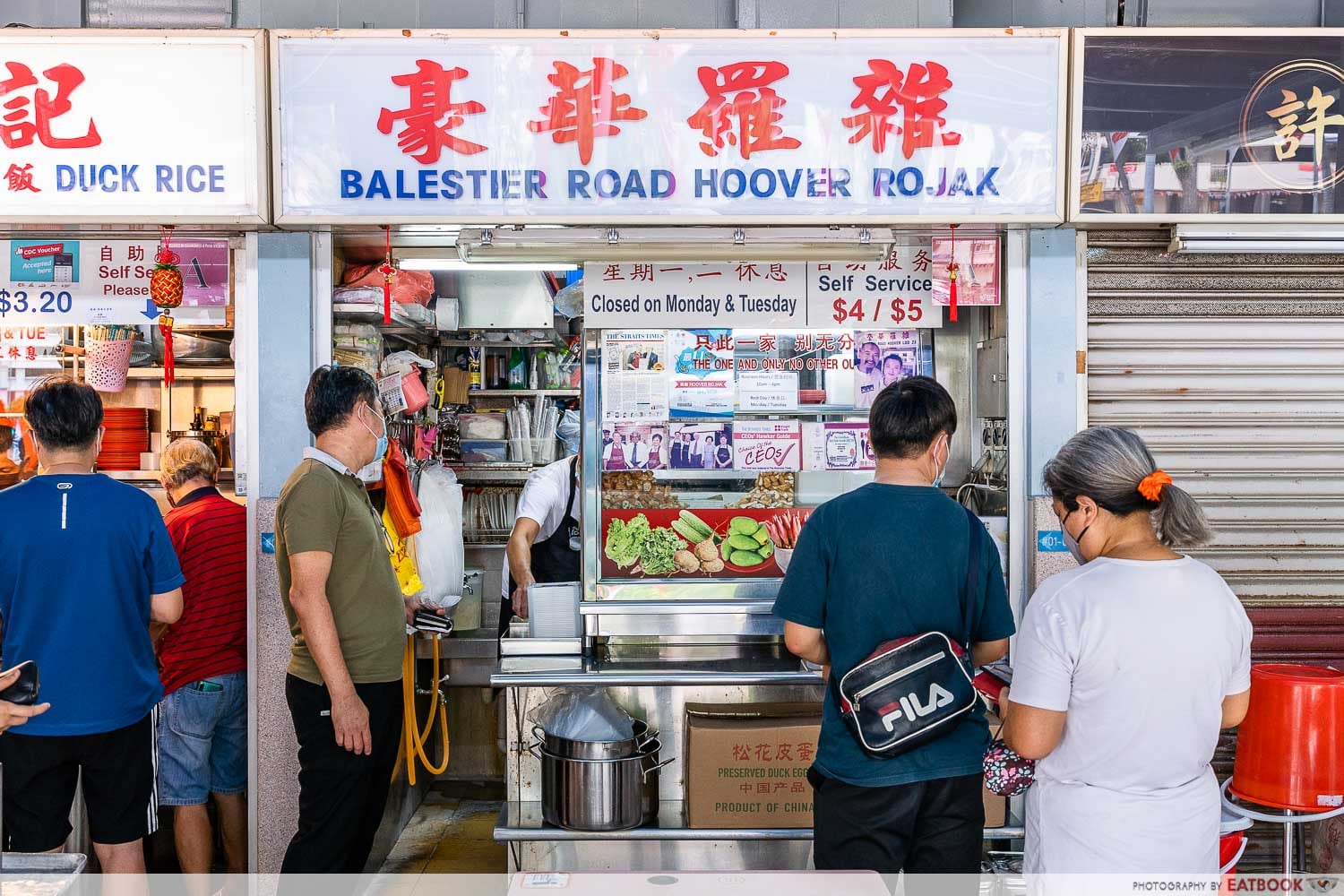 There are two sizes available: $4 or $5. If you request for the chilli version, it's mixed together with your plate of rojak. While there was a nice kick of spice, I preferred the original rendition as I felt that the chilli added more unnecessary sweetness to the already sugary combination.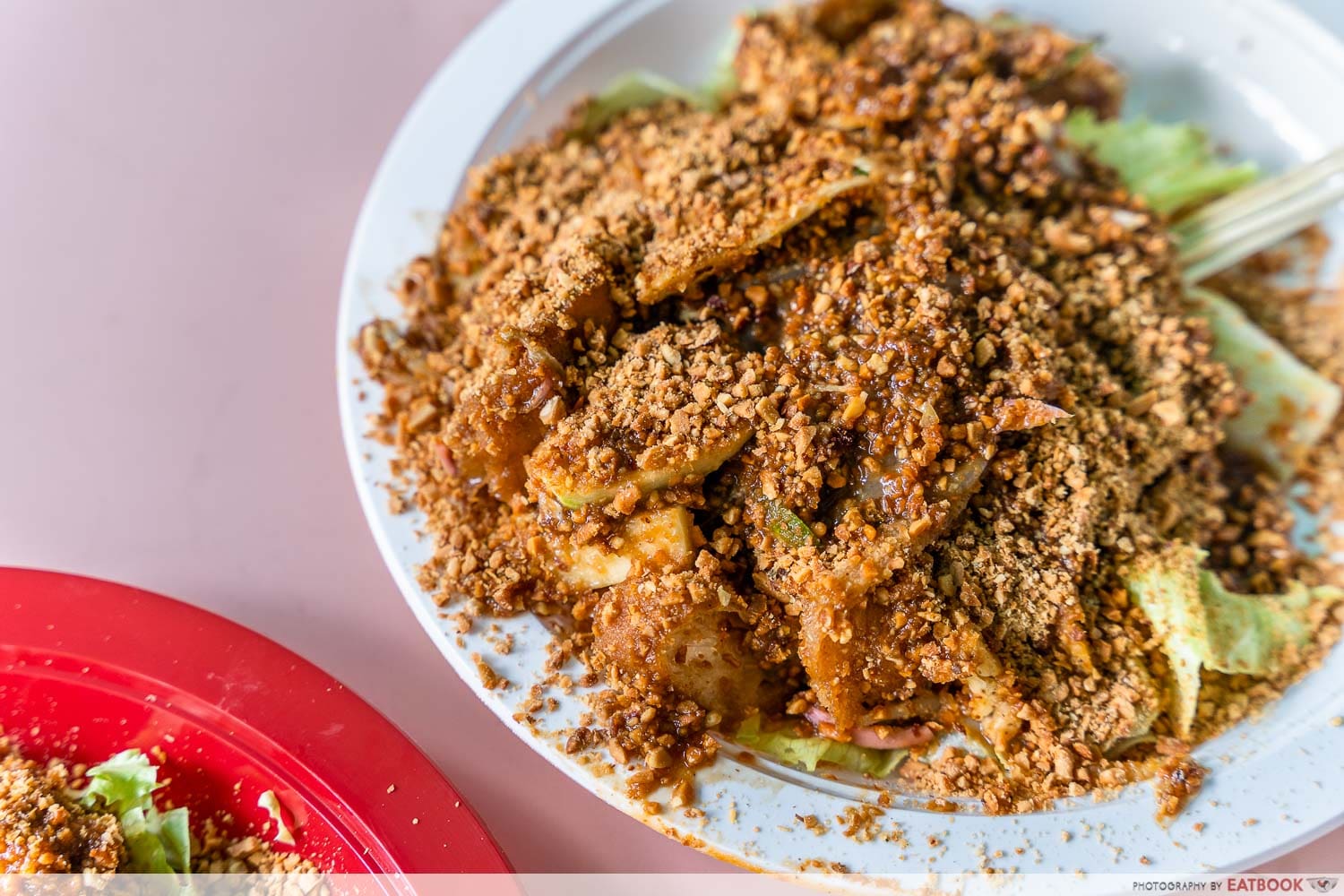 We ordered the bigger $5 serving, which came as a hefty mound of ugly-deliciousness. Included in the mix are a myriad of ingredients, such as fresh fruits, cucumber, tau pok, and you tiao.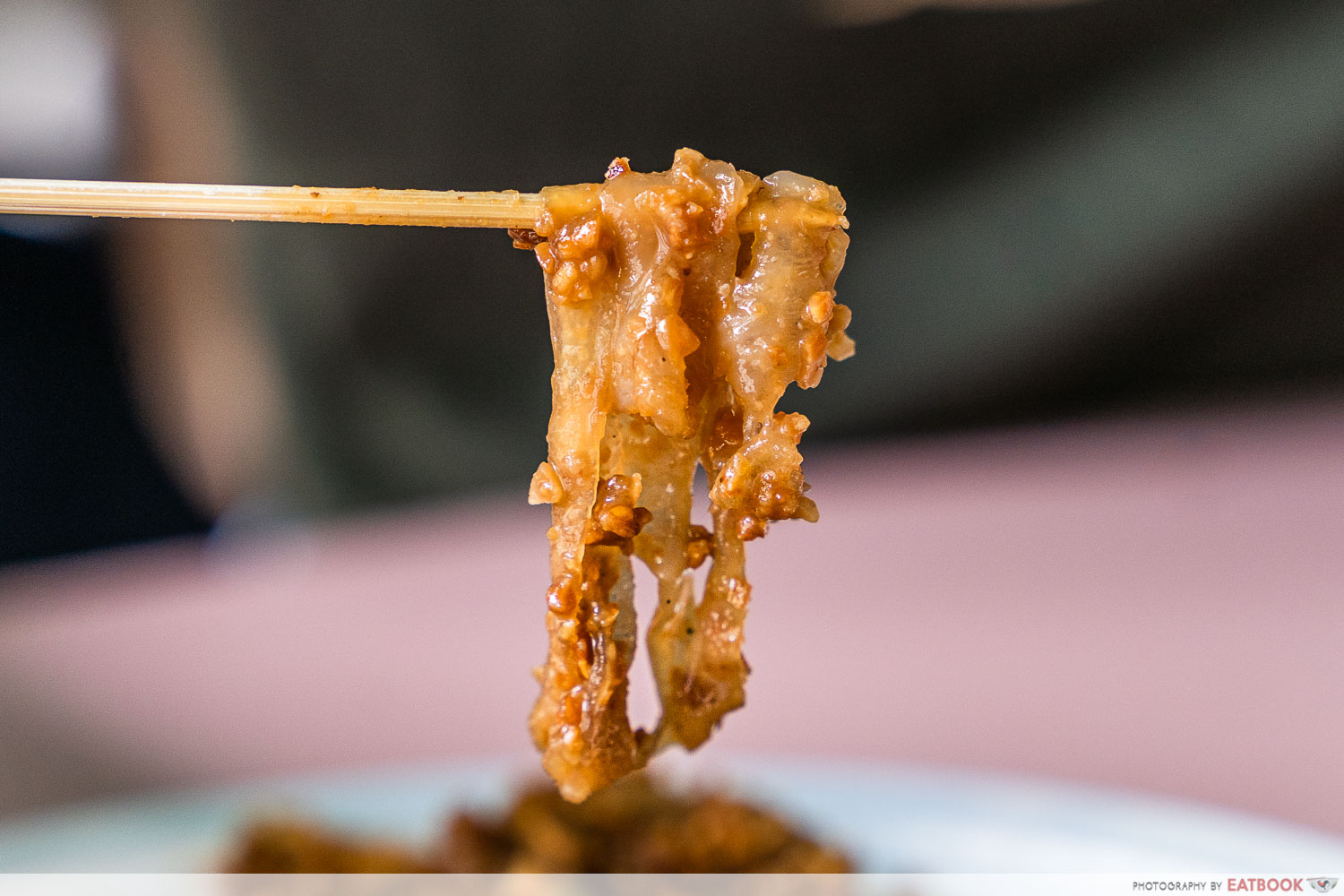 There's also the jellyfish, a lesser-seen rojak ingredient that added a pleasant bite and slight savoury flavour amidst all that sweetness.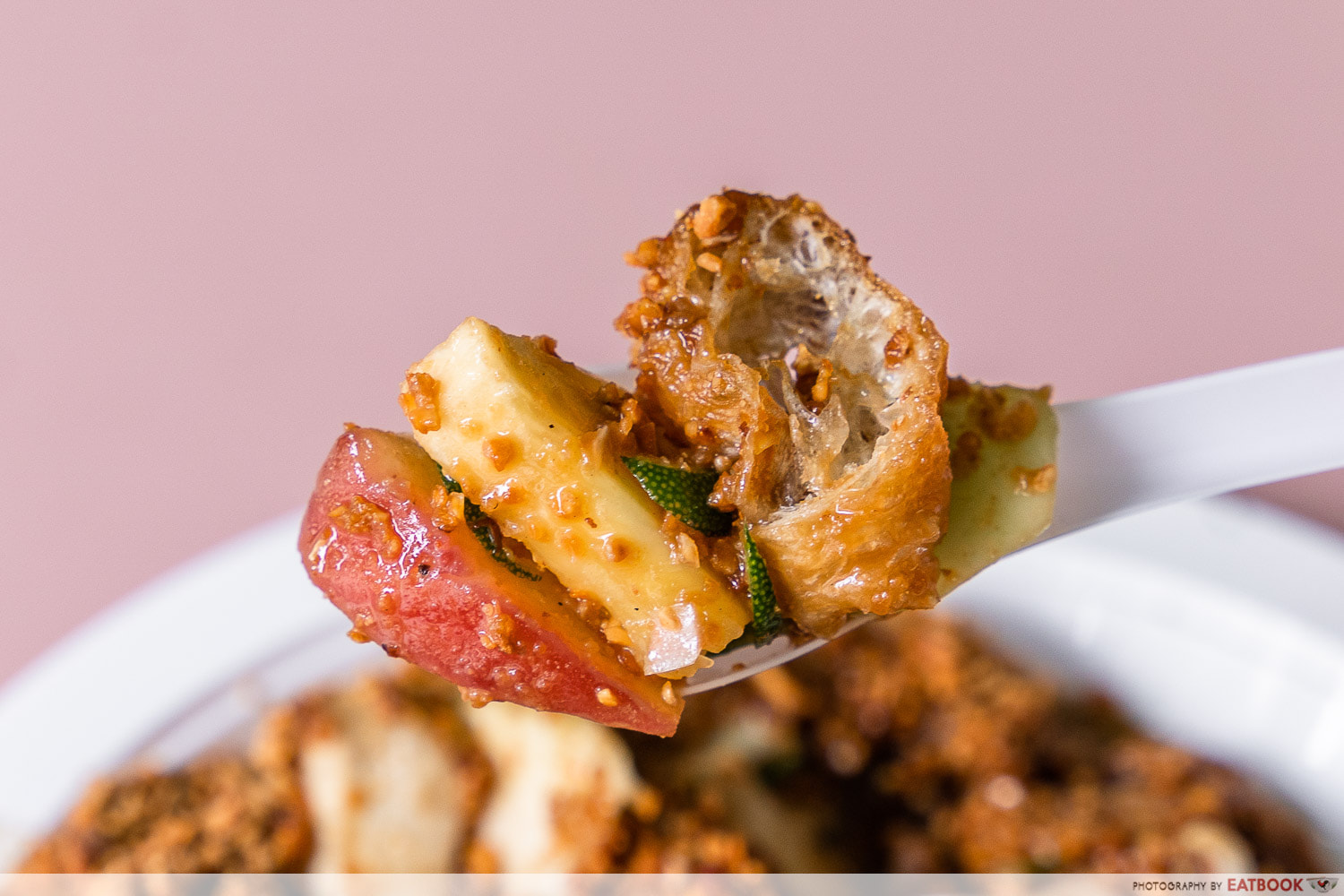 The guava and pineapple chunks were sweet and juicy, while the youtiao was surprisingly buttery, despite being soft.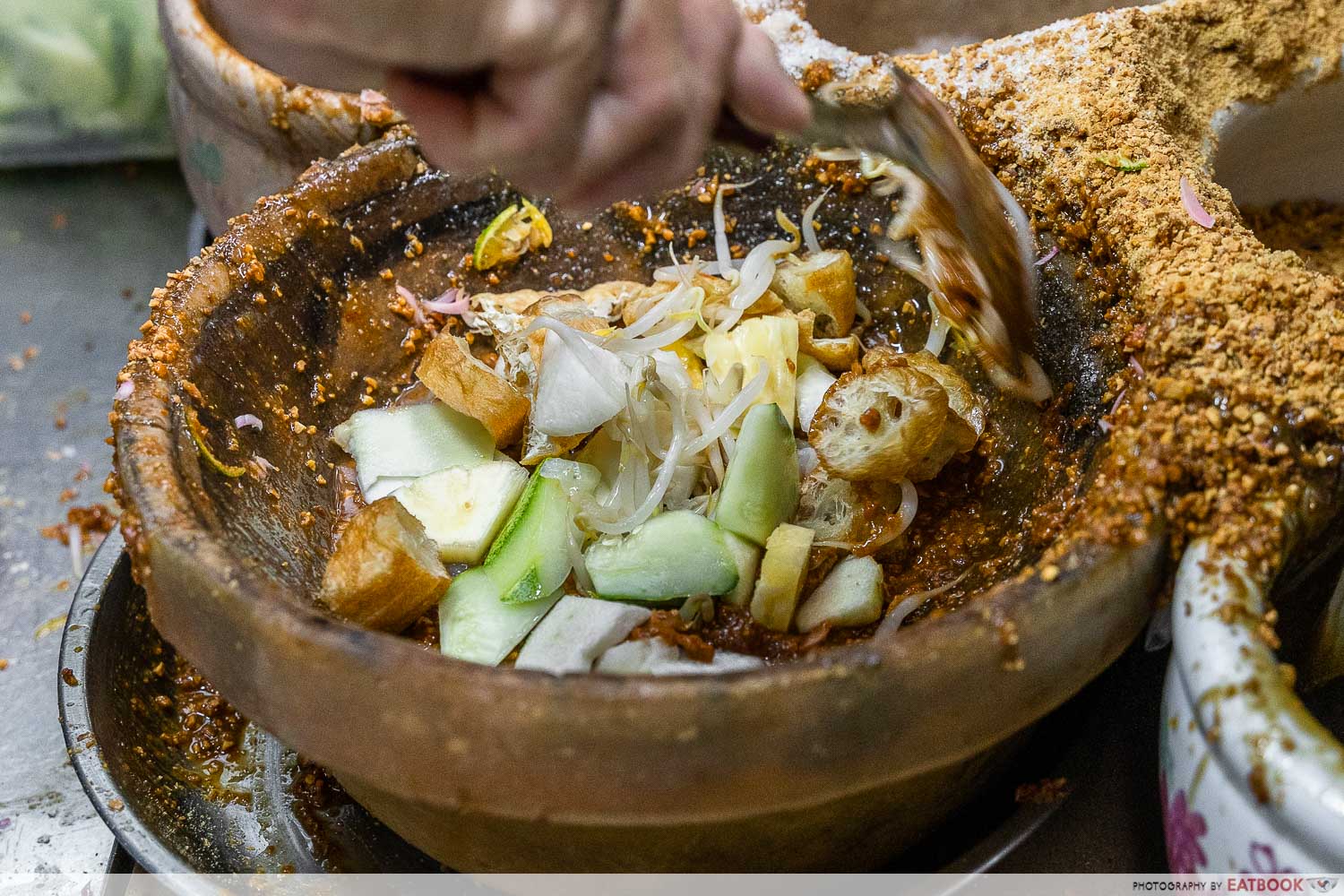 The cucumber slices and fresh beansprouts gave a much-needed crunch, acting almost like a palate cleanser in between each flavour bomb of a mouthful. Everything is tossed together with the secret rojak sauce that's dark and sticky, with a rich depth.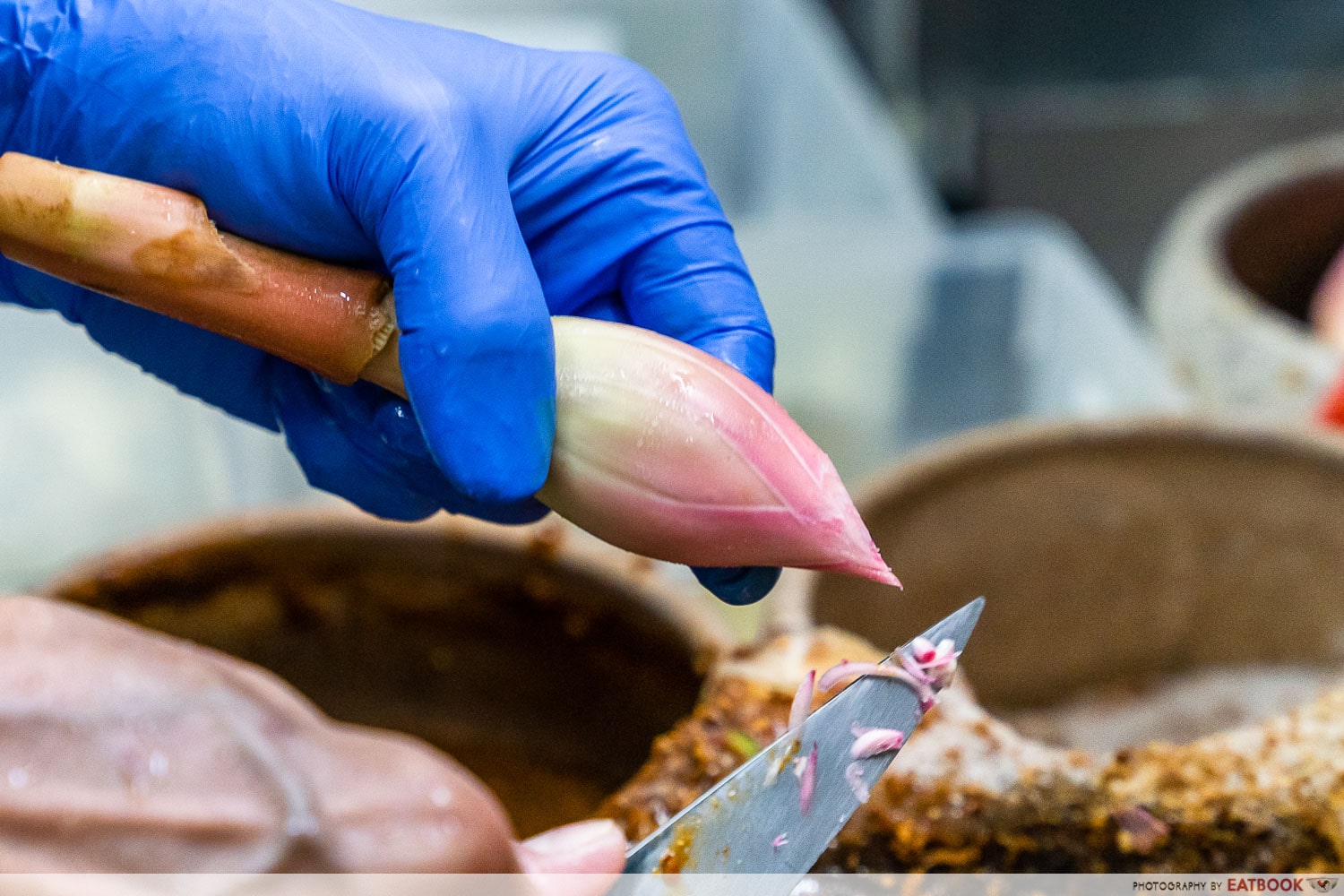 I also appreciated the addition of freshly cut ginger flower for a slightly raw and peppery fragrance that lifted the otherwise jelak dish.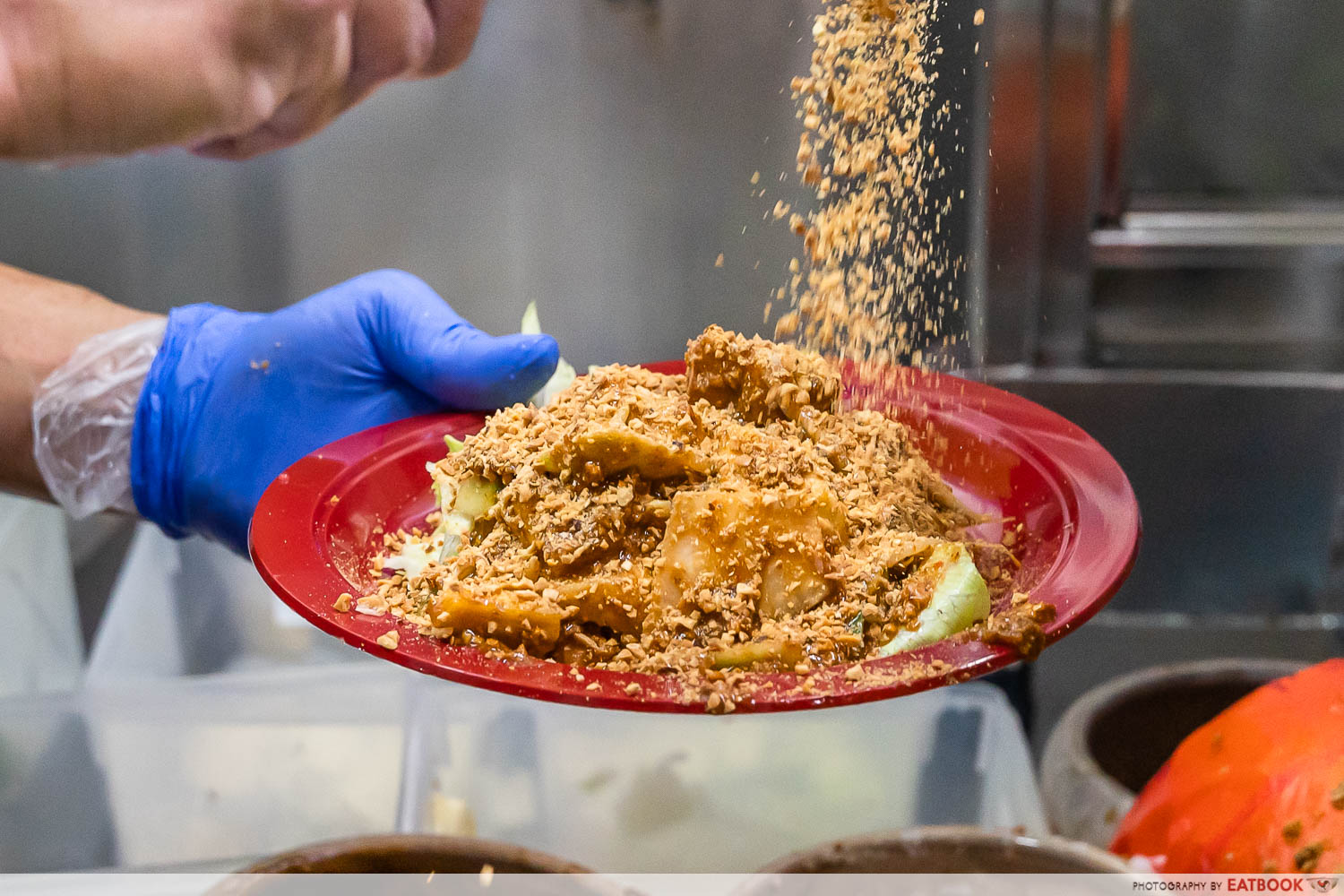 The pièce de résistance, to me, were the roasted peanut bits. Generous is an understatement here, as each plate is showered with lashings upon lashings of nutty goodness before serving. And that's not the only time the rojak gets the shower of peanut blessings, as this also happens during the mixing process in the mortar.
Everything is mixed and tossed by hand in one single mortar, one order at a time. This means some patience is needed especially during peak hours, as the stall is a solo act.
Ambience at Balestier Road Hoover Rojak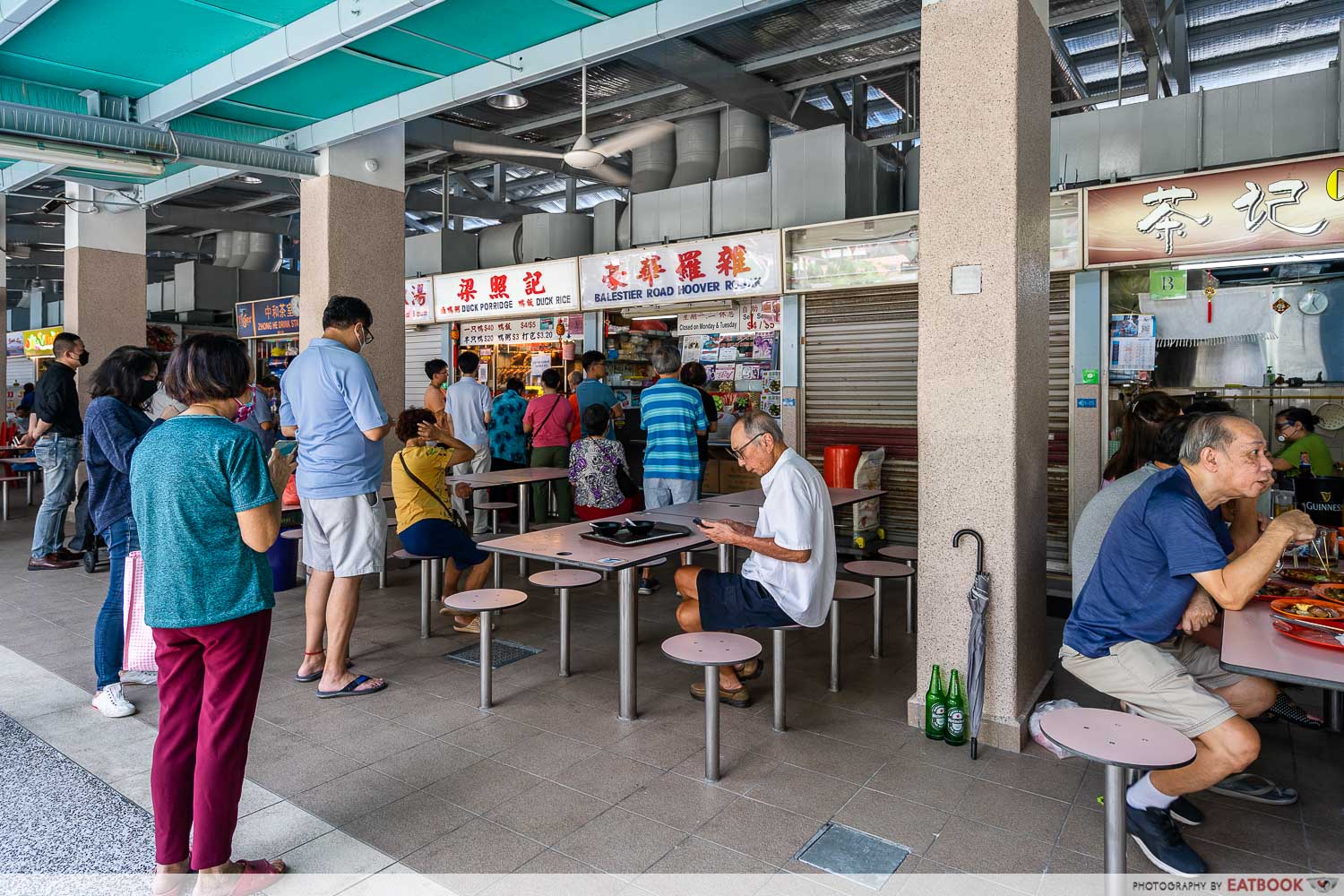 Balestier Road Hoover Rojak is located near the main entrance of Whampoa Makan Place, which is right next to the market. There's almost always a queue at any given time, so you can easily spot the stall.
The food centre isn't exactly near any train station, but there are buses from Novena and Boon Keng MRT Stations. Pick a table nearer to the outdoor area for more breeze, but watch out for the birds waiting for their next meal!
The verdict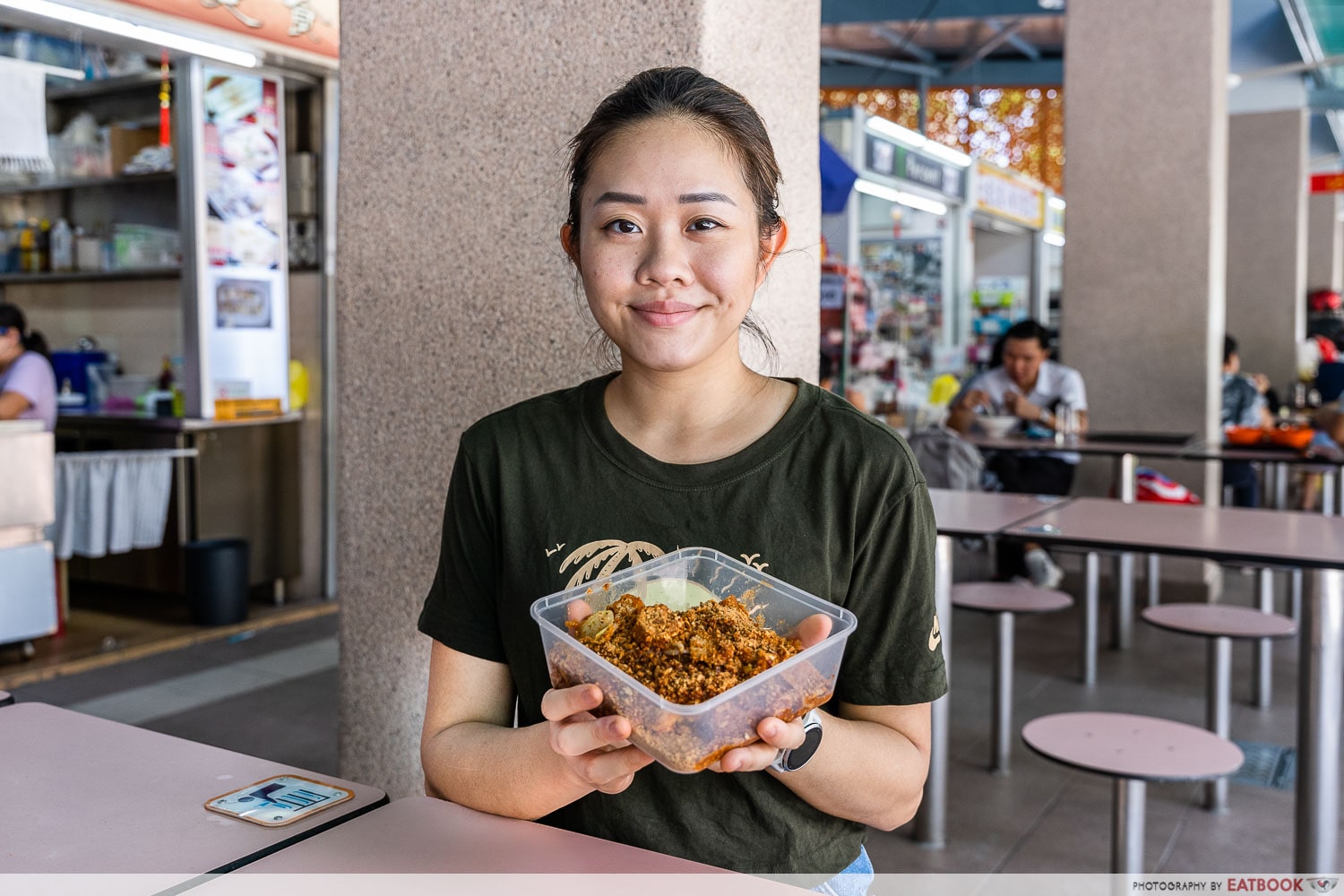 Balestier Road Hoover Rojak's longstanding history, together with their incredibly fragrant rojak, places them a notch above the rest in the scene. A stall as such is a rarity these days, so I'll treasure this gem of a find and hope that they'll last till the next generations to come. 
Make sure you request for less sweet, as the rojak got a little jelak towards the end!
For more delicious eats in the area, read our Whampoa food guide. Otherwise, check out out guide to the best rojak stalls in Singapore.
Address: 90 Whampoa Drive, #01-06, Whampoa Makan Place, Singapore 320090
Opening hours: Wed-Sun 10am to 4pm
Balestier Road Hoover Rojak is not a halal-certified eatery.

20 Whampoa Market Stalls To Try, Including Michelin-Approved Orh Luak And Rojak
Photos taken by Tan Zi Hui.
This was an independent review by Eatbook.sg.
Balestier Road Hoover Rojak Review: Michelin-Approved Rojak In Whampoa With Over 60 Years Of History
Balestier Road Hoover Rojak Review: Michelin-Approved Rojak In Whampoa With Over 60 Years Of History -

8.5/10
Summary
Pros 
– Delicious and unique rojak with many ingredients
– Generous amount of peanuts
– Each plate is freshly made to order
Cons
– Far from the MRT Station
– Rojak leaned sweet
Recommended dishes: Rojak ($5)
Opening hours: Wed-Sun 10am to 4pm
Address: 90 Whampoa Drive, #01-06, Whampoa Makan Place, Singapore 320090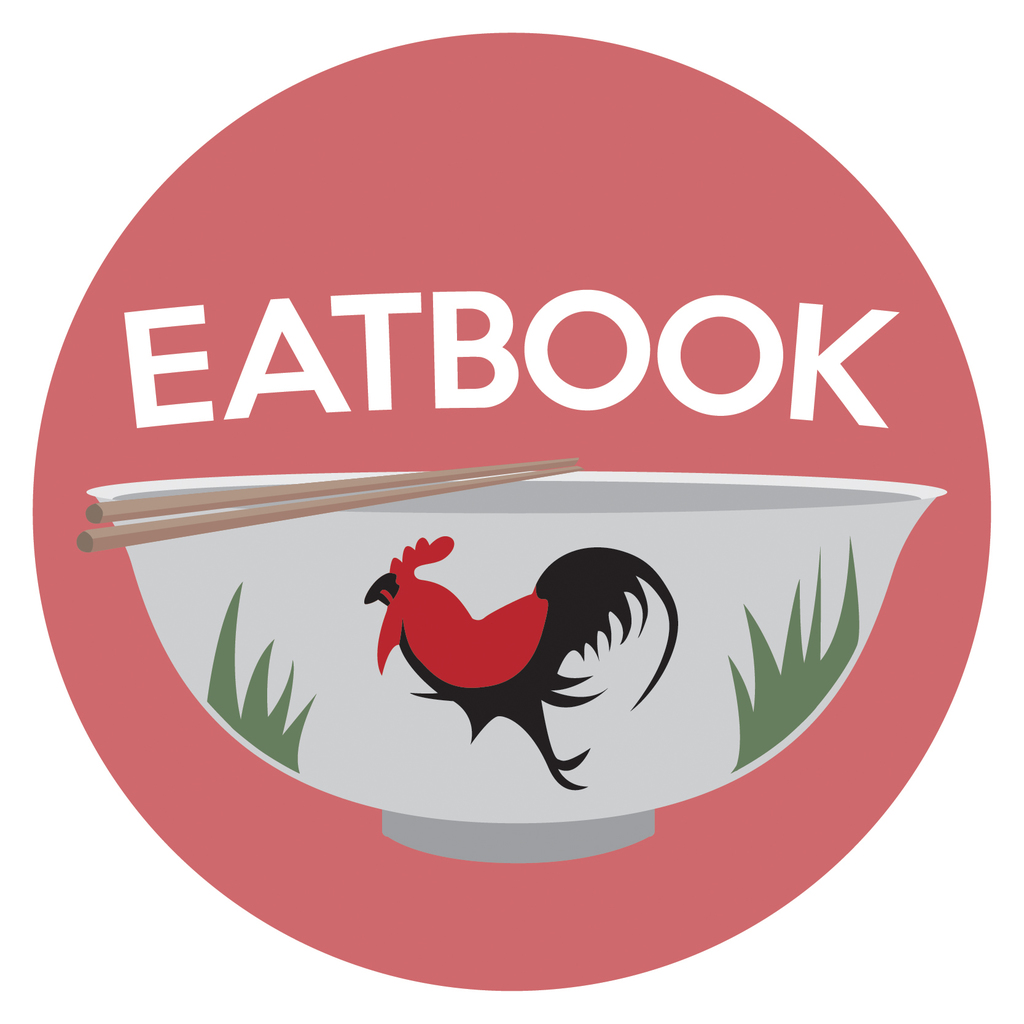 Drop us your email so you won't miss the latest news.