---
Where to eat at Raffles Place: Cafes, Restaurants, Takeaways
---
The hustle and bustle of Raffles Place mostly happen during weekday lunch hours. Streams of office ladies and gentlemen raid the streets to look for food to fuel them for the day ahead. With the short lunch breaks on top of having to queue with many other office people, it is difficult to enjoy an unhurried lunch break – especially if you don't know what to eat to begin with.
Salmon Donburi? Beef Rendang? Acai Bowl? From a quick and cheap lunch spot to a place to splurge on payday, we highlight 7 Raffles Place food places that will cater to any budget. 
---
1. Salmon Samurai
---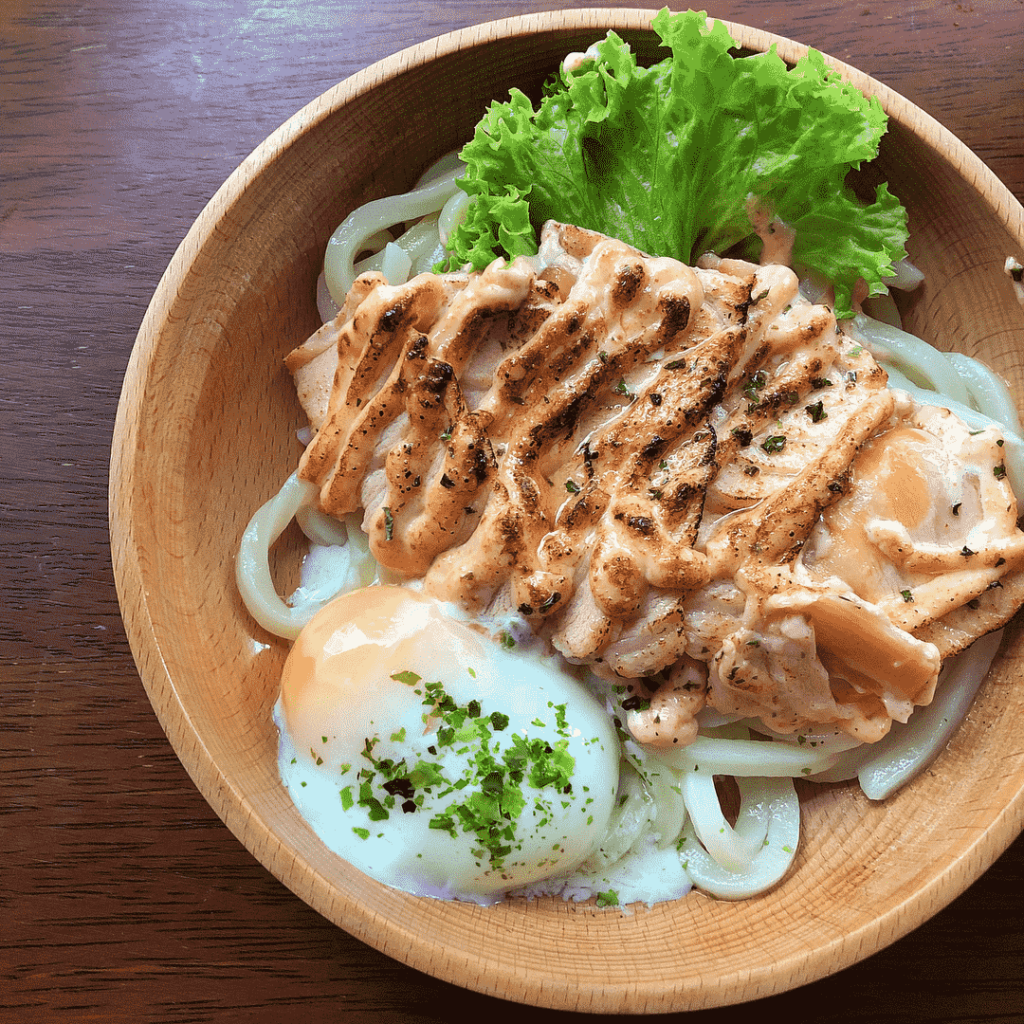 Image credit: @flyeetelfly
Salmon Samurai offers affordable and value-for-money salmon donburis. A sister restaurant of Tanuki Raw, Standing Sushi Bar and The Secret Mermaid, they target hungry office workers who have little time but want a hearty to-go meal.
At just $9.90, you can customise and create your bowl of Salmon Donburi that caters to your unique preferences. From the choice of staple to the type of salmon, you'll be left spoilt for choice. For the base, you can choose between mixed grain brown rice, udon noodles or salad; for the salmon, you have the option of sashimi, salmon mentaiko, garlic shoyu, salmon poke or spicy salmon poke. Sliced fresh everyday, the salmon sashimi here is a popular option.
Salmon Samurai also recently opened a new outlet in 100AM mall at Tanjong Pagar.
Address: 10 Collyer Quay, B1-08, Ocean Financial Centre, Singapore 049315
Opening hours: Mon-Sun 11am to 11pm
Tel: 6634 8593
Website
Menu
---
2. Hans Im Glück
---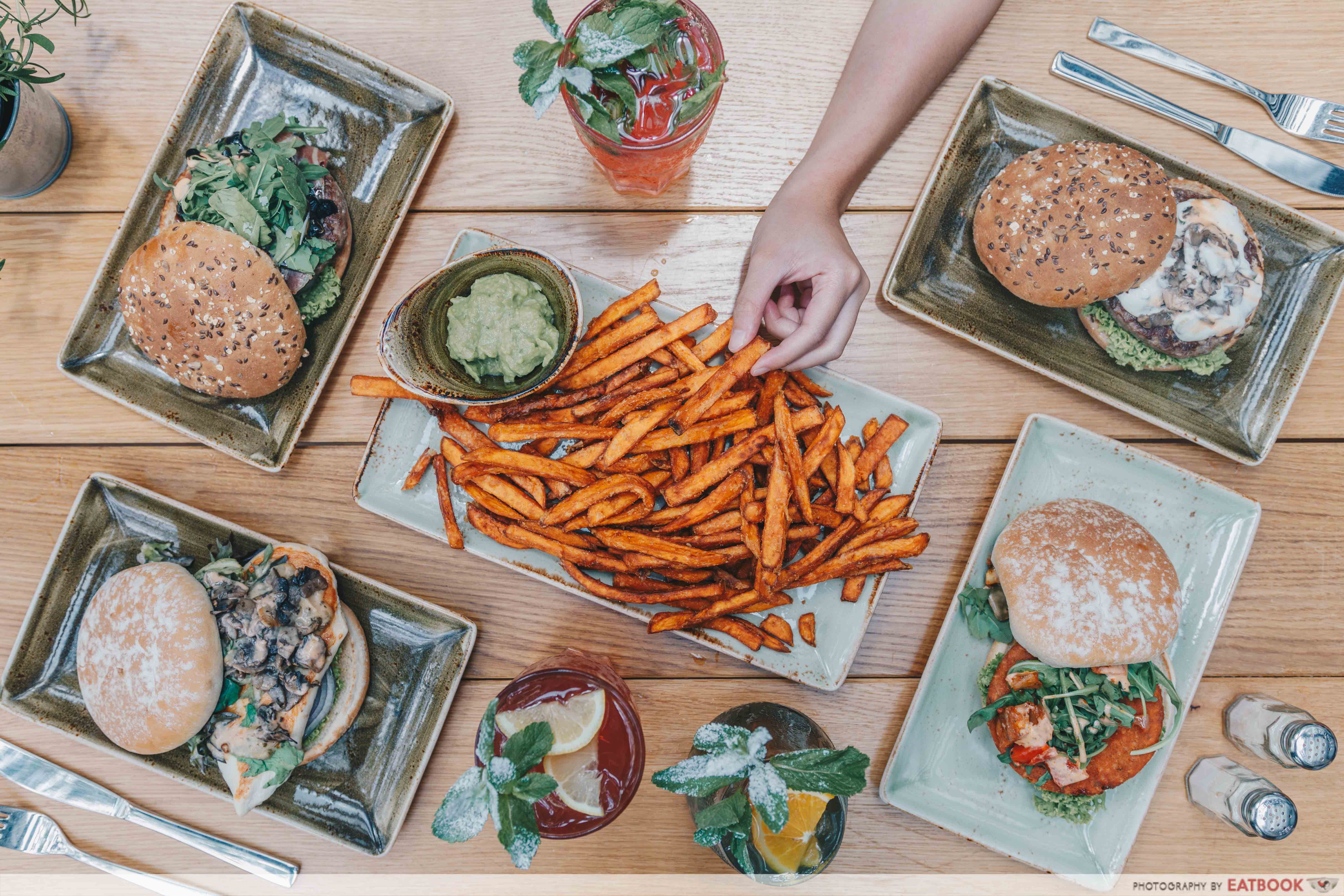 Hans Im Glück elevates the humble burger into a healthy, nutritious and delicious meal. While German fare is typically famed for their meats, this burger grill chain from Germany is known for their extensive menu of vegetarian and vegan options.
Choose between sourdough and multigrain buns when you order your burger. Alternatively, if you're watching your waistline, you can opt for their naked burger too. The Birkenwald ($17++) is a popular burger here – a combination of earthy mushrooms and a thick and juicy beef patty, what's not to love?  If you're feeling ravenous, you can also choose to Double Up and get an extra patty at an additional $4.
Check out our full review of Hans Im Glück!
Address: 9 Raffles Place. #01-01, Republic Plaza, Singapore 048619
Opening hours: Mon-Fri 11am to 12am, Sat 11am to 10pm
Tel: 9750 1488
Website
Menu
---
3. WHEAT Baumkuchen
---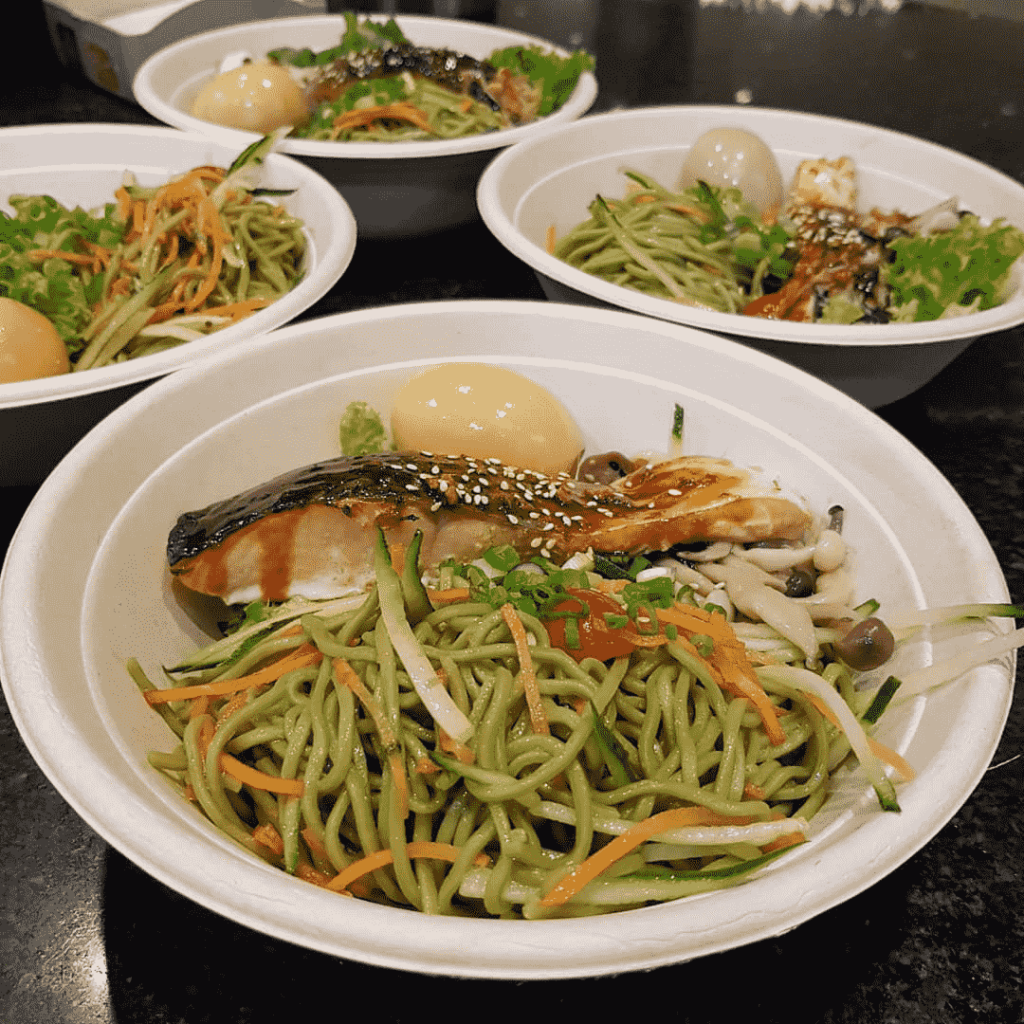 Image credit: @wheatbaumkuchen
Serving Japanese and Asian style salads, WHEAT Baumkuchen is the place to go if you're intending to eat clean and healthy. What stands out here is their generous portions and the wide variety of ingredients offered.
The Grilled Salmon Soba ($12) is the most popular item on the menu. The soba has a firmer bite than most cold noodles, and comes topped with a thick slab of salmon. Their Chicken Cauliflower Bowl ($12) is one to try. Complete with cauliflower rice, egg, avocados and grilled chicken, this hearty dish will definitely fill you up, despite it being less than 500 calories.
Address: One Raffles Place, #B1-32, Asia Square Tower 1, Singapore 048616
Opening hours: Mon-Fri 10:30am to 9pm, Sat-Sun 10:30am to 4pm
Tel: 6443 3391
Website
---
4. Gochi-So Shokudo
---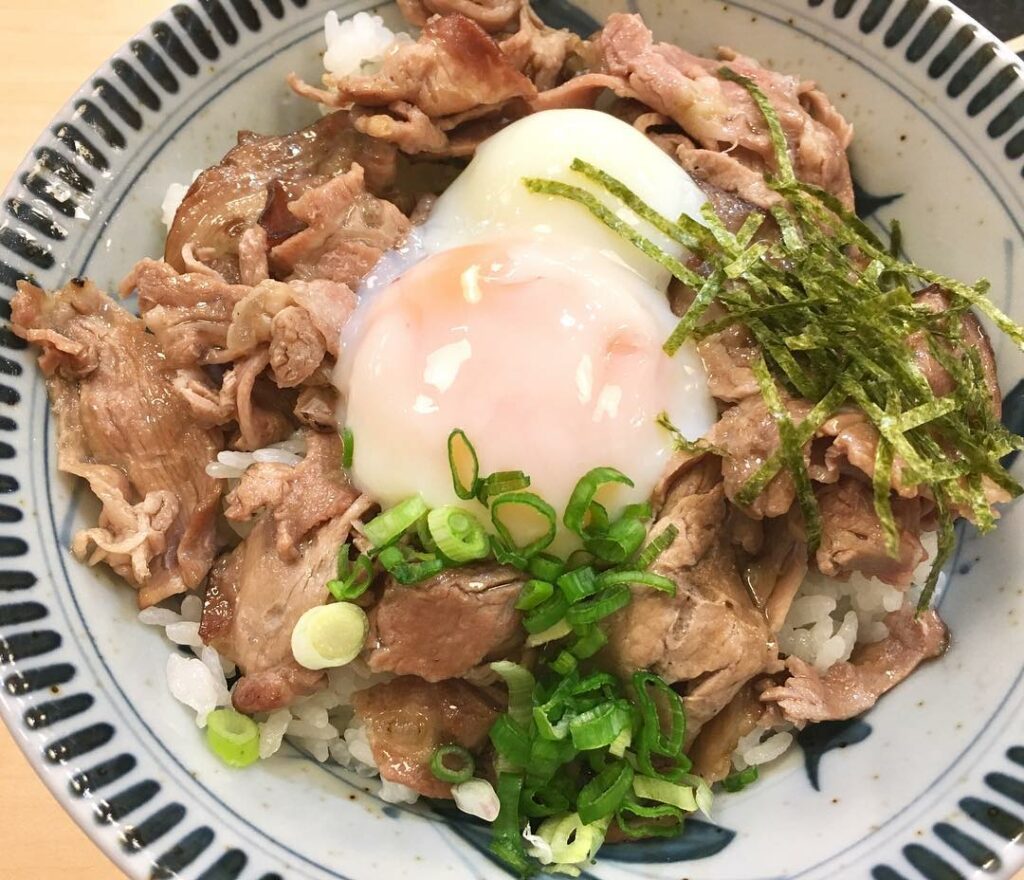 Image credit: @vivianhui14
Gochi-So Shokudo offers a wide range of menu items – Charcoal Grill Iberico Don, Kaisen Don, Iberico Steak, Iberico Curry Rice and Iberico Tonkatsu. The most popular orders here are from the Charcoal Grill Iberico Don range The Iberico Pork Mix Don ($15.80) brings the best of both worlds by serving pork belly and pork collar in one rice bowl, while the Iberico Pork Belly Don and Iberico Pork Collar Don are the most value-for-money, priced at just $10.80 each.
Address: 1 Raffles Place, #B1-30, Singapore 048616
Opening hours: Mon-Fri 11am to 9:30pm, Sat-Sun 11am to 9pm
Tel: 6536 6447
Website
---
5. Baba Bento
---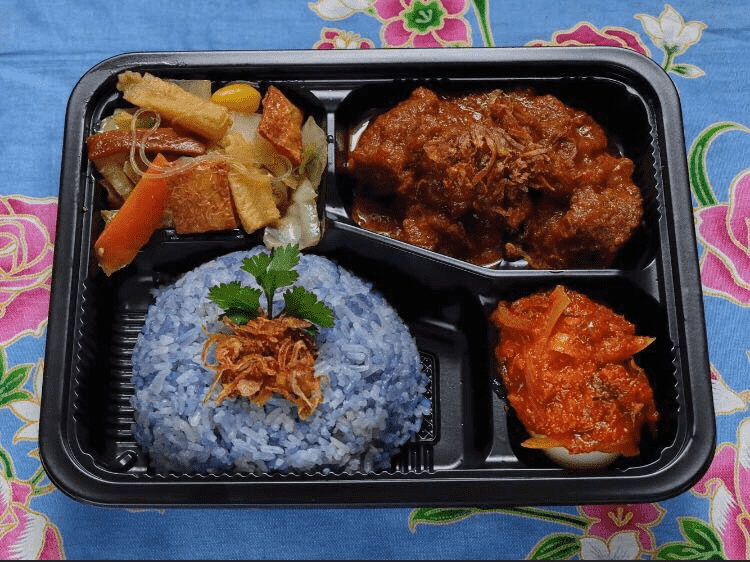 Image credit: Baba Bento's Facebook page
Previously known as Daddy's Kitchen, Baba Bento serves up traditional Peranakan food in bento boxes to cater to the busy working crowd in the Central. You can choose from four sets on the menu – Beef Rendang ($13.90), Ikan Assam Pedas ($13.90), Ayam Kapitan ($11.90) and Ayam Pongteh ($11.90). Each bento set comes with blue Bunga Telang rice, sambal egg and chap chye. You will also get a pack of freshly fried keropok as well as a drink.
Address: 16 Raffles Quay, B1-49, Hong Leong Building, Singapore 048581
Opening hours: Mon-Sat 12pm to 2pm
Tel: 9382 1792
Website
---
6. Parallel
---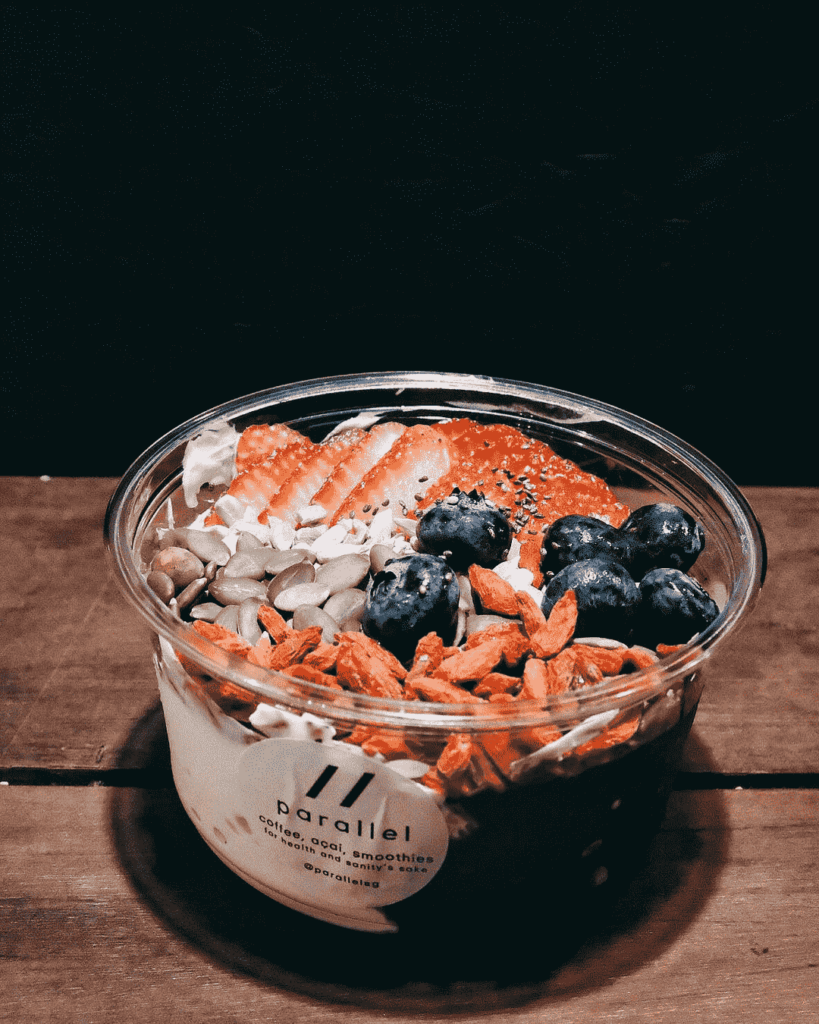 Image credit: @foodie.tale
Tucked away in a small unassuming shop in the basement of Raffles Place, Parallel specialises in coffee, acai bowls, and smoothies. Amongst the slew of stalls that mainly cater for takeaway, Parallel has a standing bar counter that for those who prefer to dine around the area.
Their simple menu consists of just three acai bowl options – Superstar Bowl, Antioxidant Bowl and Amino Bowl. All of these go at $8.90 for the Regular and $12.90 for the Large. For an additional $0.50, you can add on extra toppings to your bowl such as dried goji or chia seeds for $0.50, or $1 for almond, cashew or pistachio butter.
Address: 1 Raffles Place, #B1-34, Singapore 048616
Opening hours: Mon-Fri 7:30am to 9:30pm
Tel: 9298 2896
Website
---
7. The Providore
---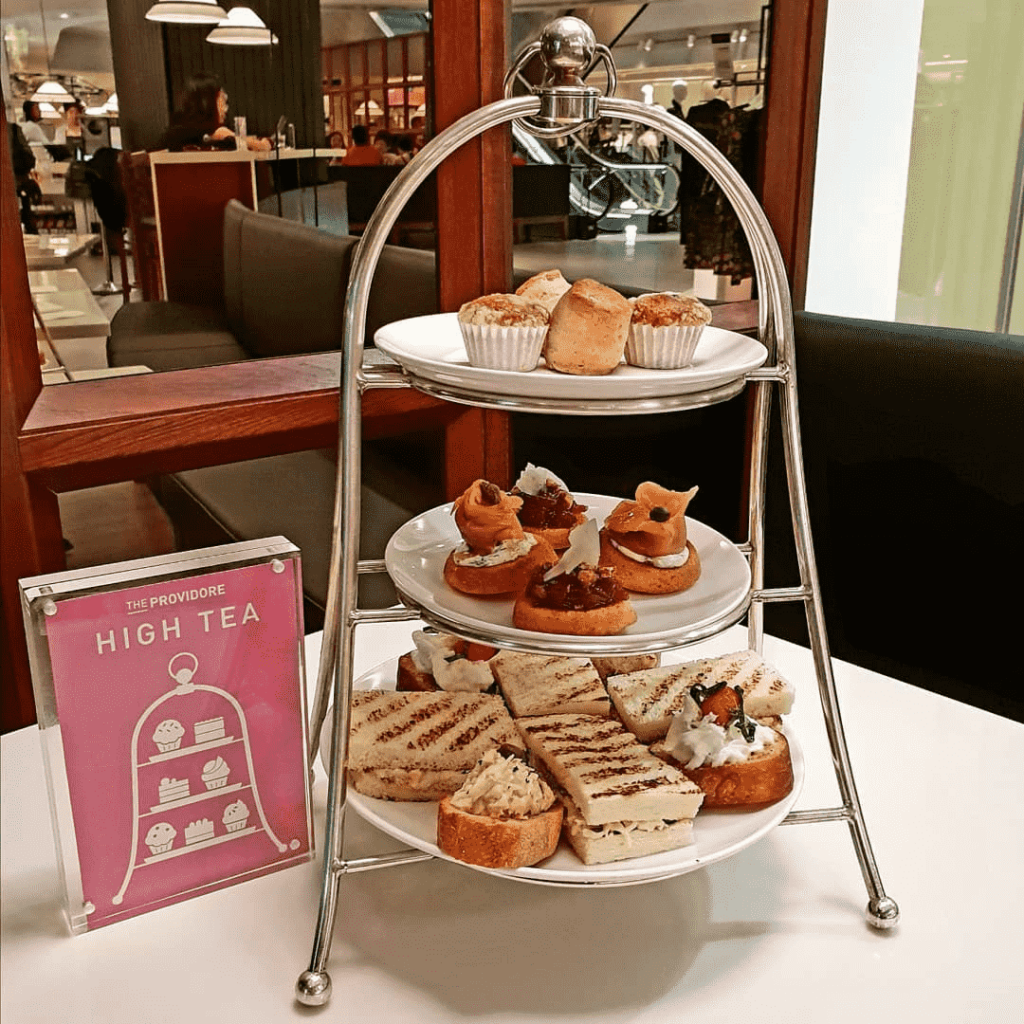 Image credit: @princhie.eats
Located in the heart of Raffles Place, The Providore is a unique glasshouse cafe. This outlet at Raffles Place is the flagship store and is considered a café-cum-retail store. They serve Breakfast from 8am to 3pm, Salads & Starters from 11am to 10pm, Sandwiches and Mains from 11:30am to 10pm, along with all-day Bread & Pastries for a quick snack or takeaway. Popular orders here include the Club Sandwich ($18.50++) and Lobster Mac & Cheese ($26.50++).
They recently included a High Tea menu that is available from 3pm to 6pm on weekdays and 12pm to 6pm on weekends. At $27.50++ per person, the high tea set for two comes with a pot of the Providore Tea. At. $37.50++ per person, the set comes with a glass of Prosecco.
Address: 7 Raffles Place, Singapore 048625
Opening hours: Mon-Sat 8am to 10:30pm, Sun 9am to 6pm
Tel: 6533 1352
Website
Menu
---
Food places in Raffles Place to fuel you up for the day
---
In the heart of the CBD, Raffles Place has plenty to offer on the food front. Lunch will never be just the same food you're starting to get sick of. Let us know in the comments below if we have missed out any of your personal favourites.
For more food around the area, you can also check out our list of Telok Ayer food places so you'll always have something new to try.