Golden Nur briyani at Market Street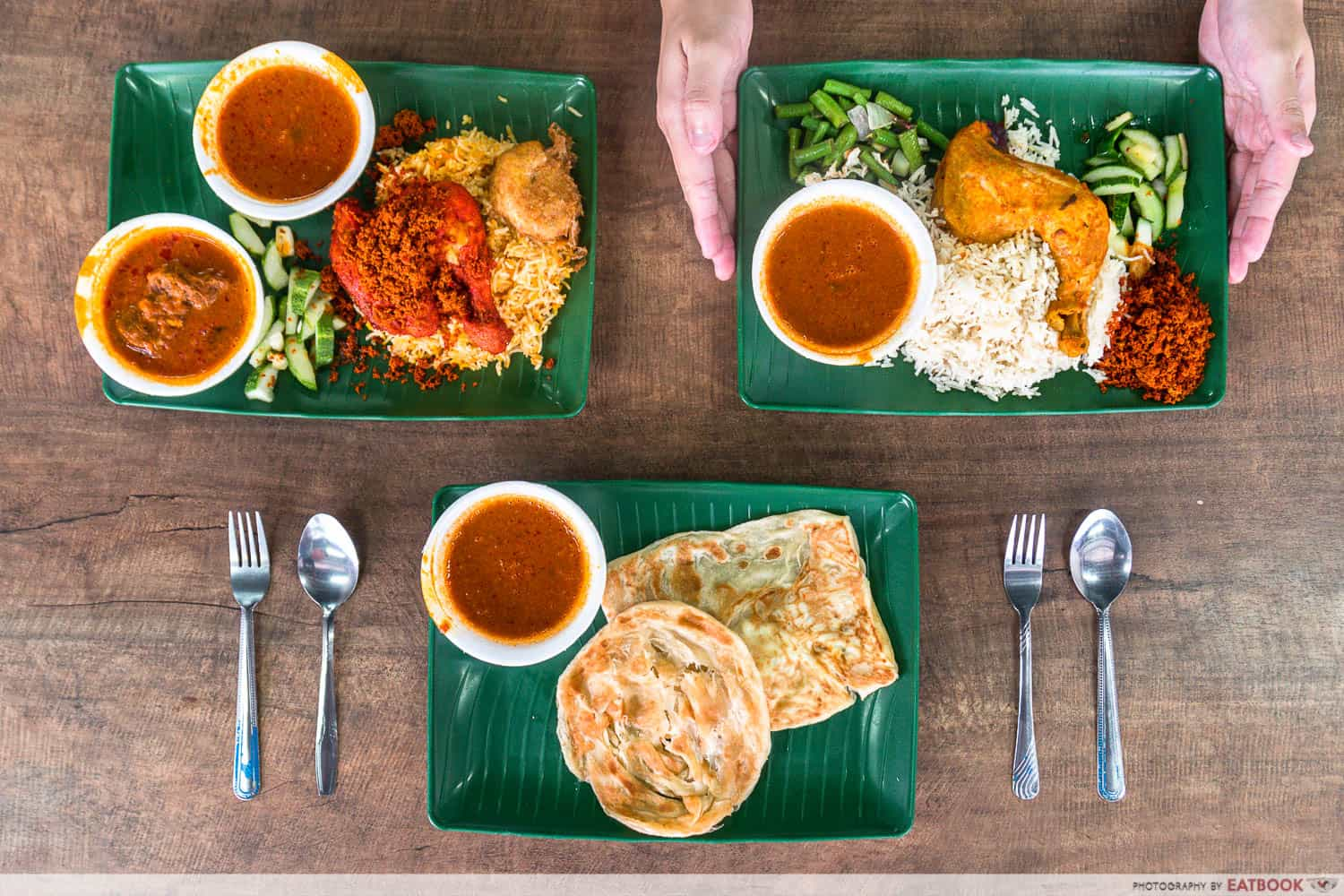 Hawker stalls that are solely managed within the family are increasingly few in this day and age. But for Ms Nur Syahiirah and her relatives, the Golden Nur family business has been their bread and butter for the last 40 years, ever since they first opened at the now-defunct Golden Shoe Hawker Centre.
Currently located at the Market Street Interim Hawker Centre, Golden Nur occupies a row of three stalls. The mainstay nasi briyani unit is flanked by one selling nasi campur to its left, and another for mee soto and mee rebus to its right. Ms Syahiirah and her mother focus their attention mainly on Golden Nur, while her aunts and uncles take charge of the neighbouring stalls. Despite this, everyone chips in to help whenever it gets busy.
Food at Golden Nur
The menu at Golden Nur caters to three different mealtimes: breakfast, lunch, and tea. We visited around 10am to get first dibs on the food, as we heard that they sell out early.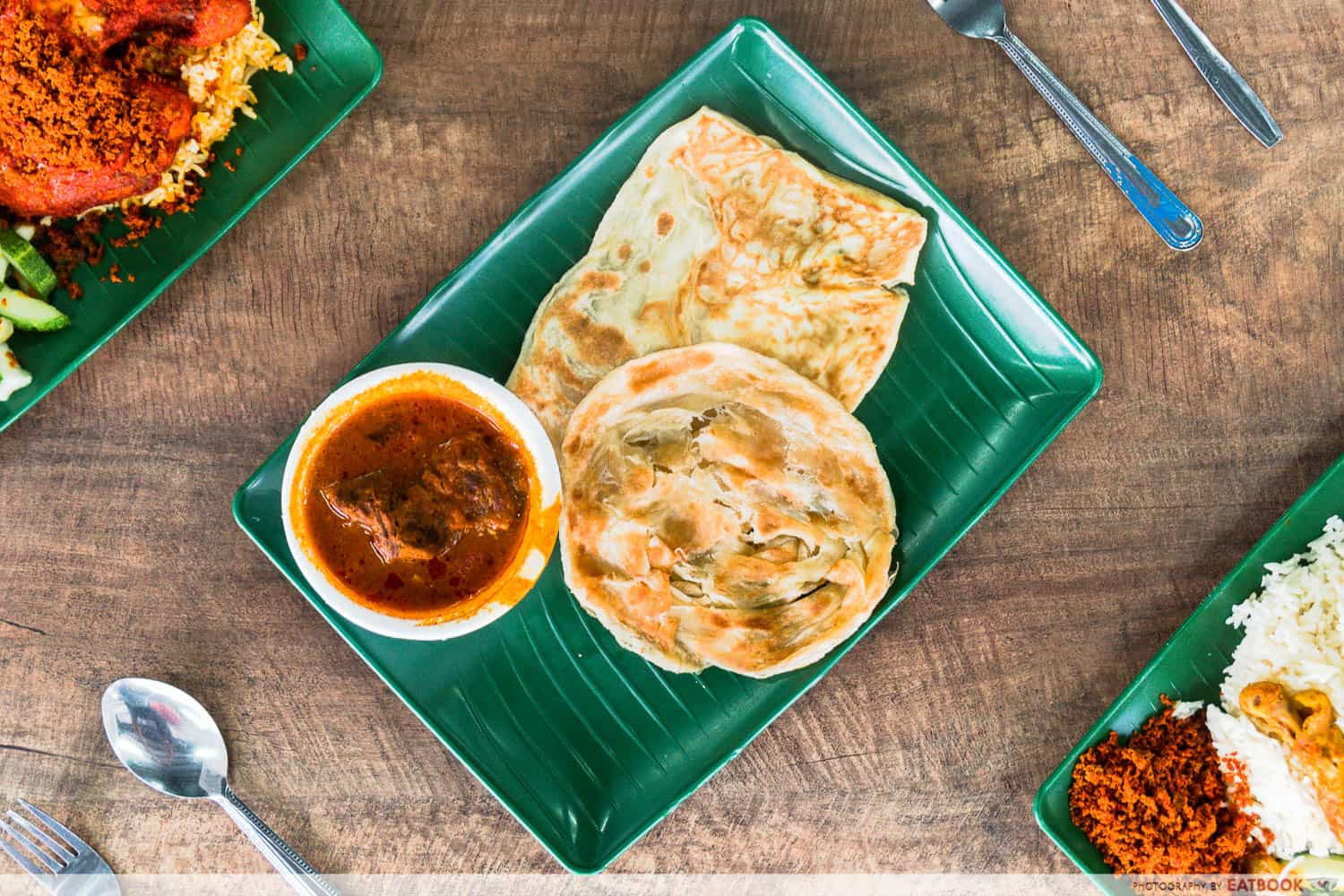 We started our brunch with their Roti Prata ($1) and Egg Prata ($1.50), which were served with chicken curry. We got our curry in a small styrofoam bowl, but we noticed other patrons getting their prata already drenched with it, so inform the staff if that's your preference. We also had a bowl of Mutton Curry ($3.50) to go along with our order.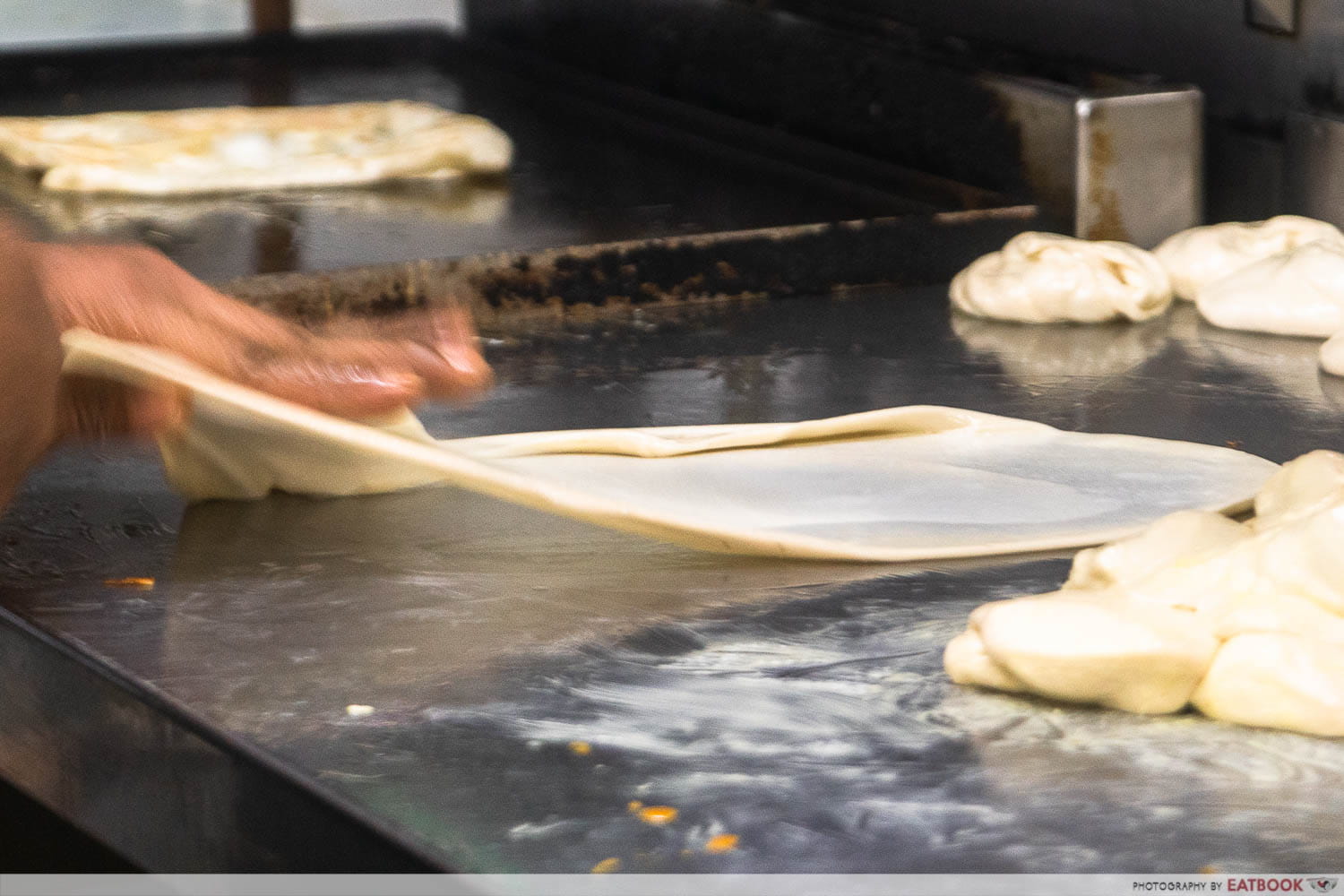 To keep up with demand, especially leading up to the busyness of lunch hour, the prata here is fried beforehand, which unfortunately, left both pieces too chewy, in our opinion. The default chicken curry it came with was slightly watery, but it had a tinge of acidity that helped cut through the prata's greasiness. There was also a spiciness that left a tickling sensation at the back of my throat.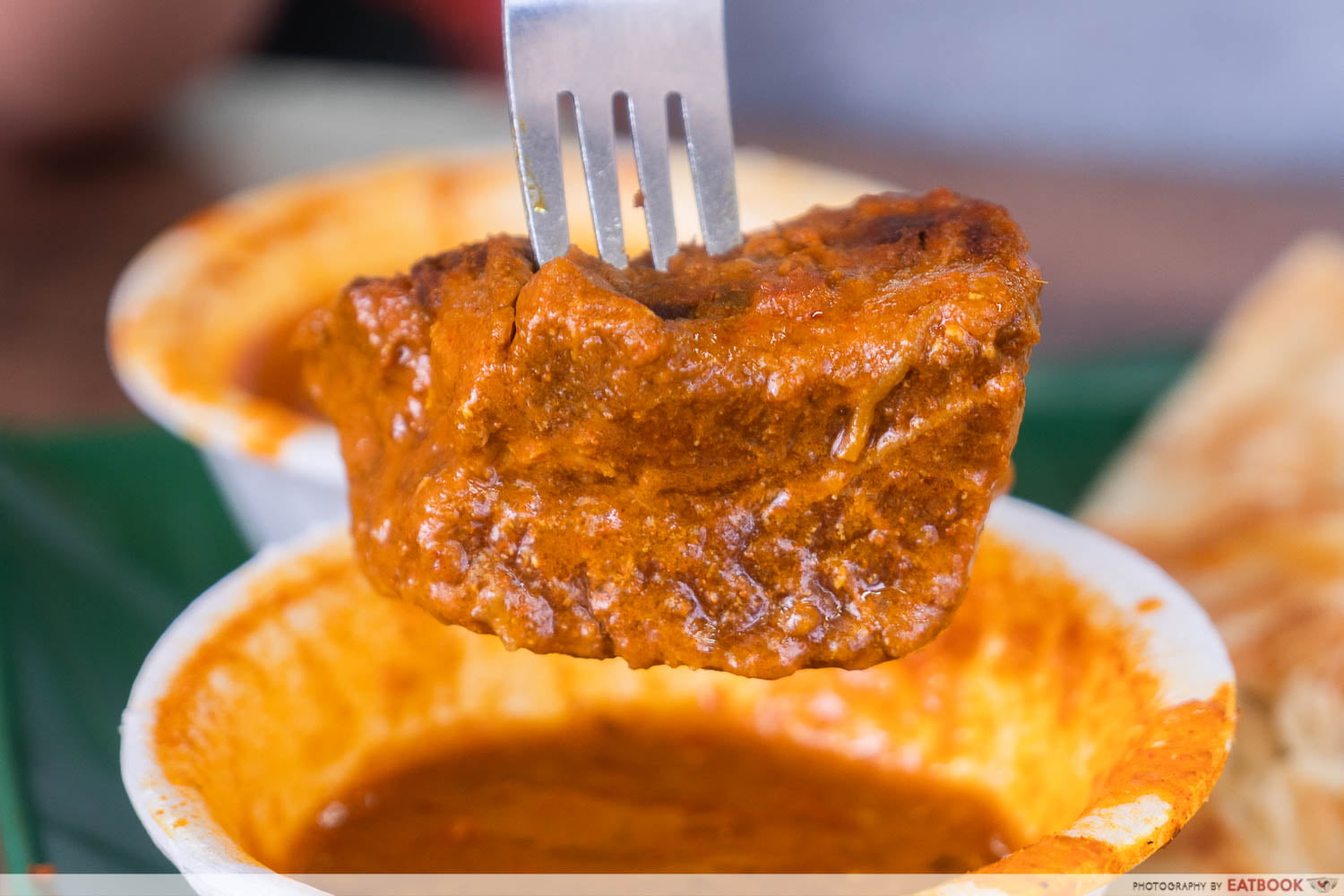 Dip your prata in the mutton version, which we found to be thicker and had a robust fragrance of cardamom and turmeric. It also had a big chunk of mutton within, which I sadly did not appreciate. I found the meat a little too dry and lean to my liking, although it was tender and not very gamey. 
Moving on to their specialty dishes, we first had the Crispy Chicken Briyani ($6). We were taken aback by the generous portion, which saw a whole deep-fried chicken leg atop a heap of yellow basmati rice.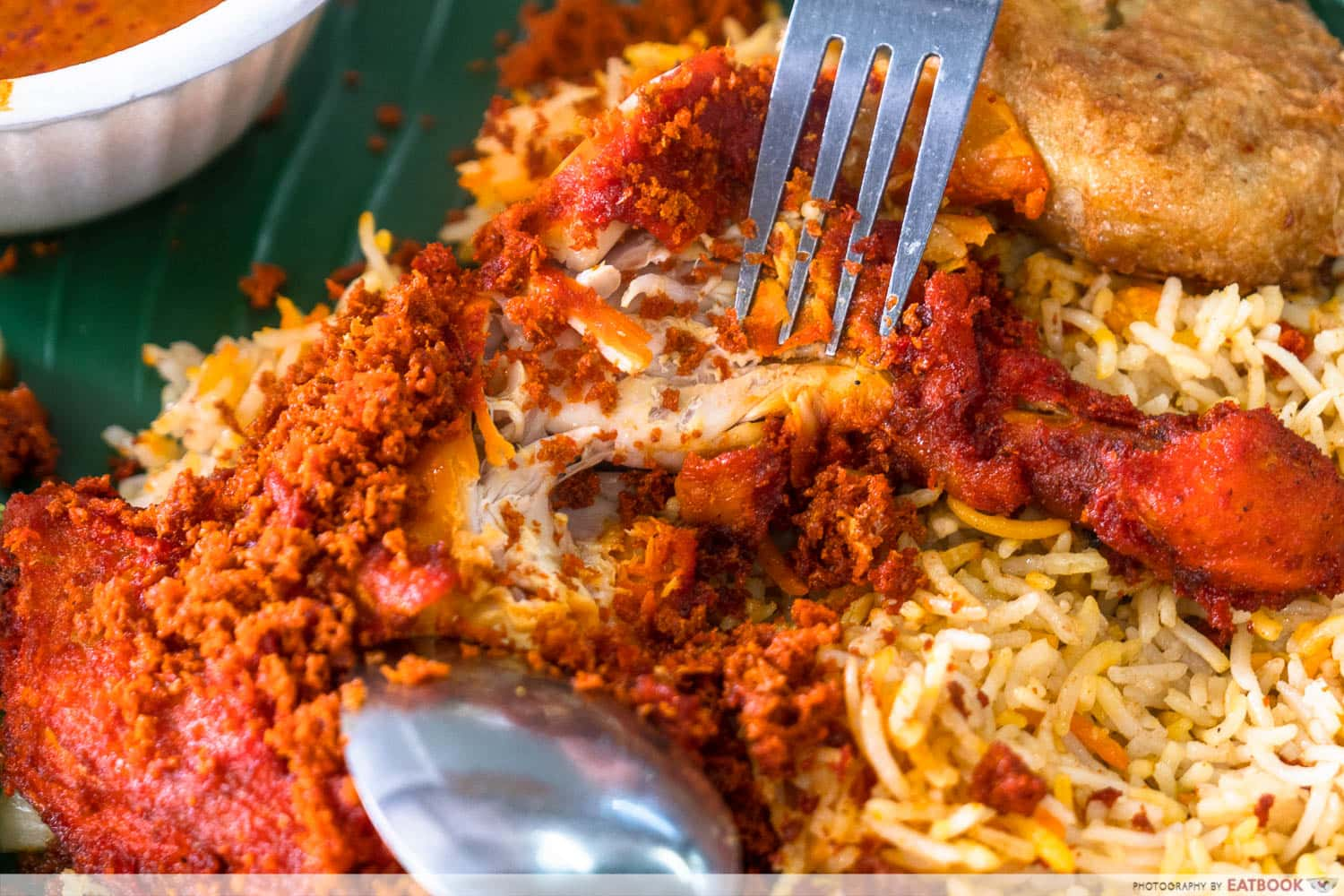 Marinated with turmeric, chilli and cumin powder, the chicken was well-seasoned throughout. I generally shy away from fried chicken as I find it to usually be too dry, but this was not the case here—Golden Nur's rendition had a crispy exterior with a juicy and tender interior.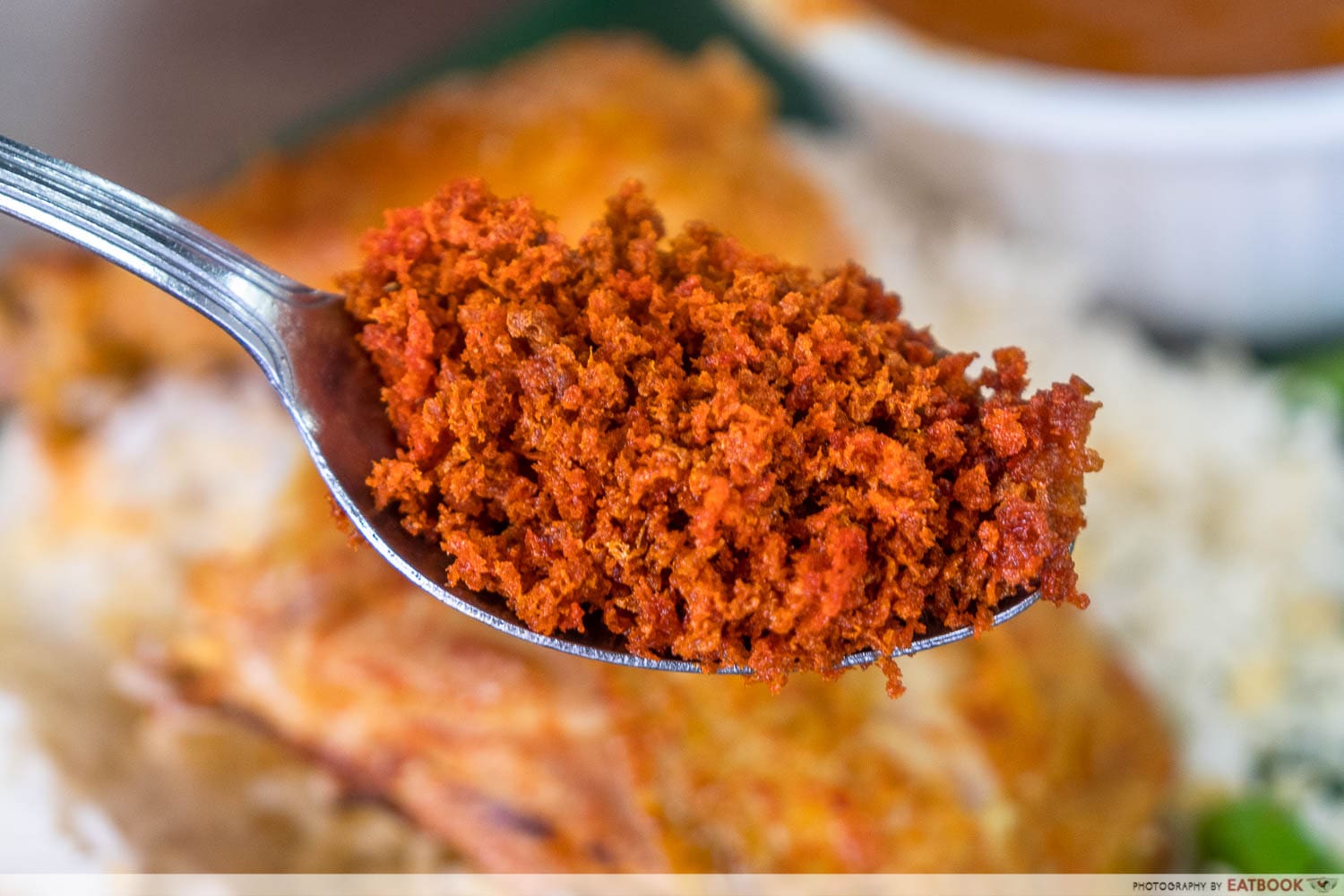 Although we enjoyed the chicken, my colleague and I felt that the highlight of the dish was the accompanying crispy batter bits. Salty, crispy, and mildly spicy, the fried batter was highly addictive, and we polished off every morsel of it.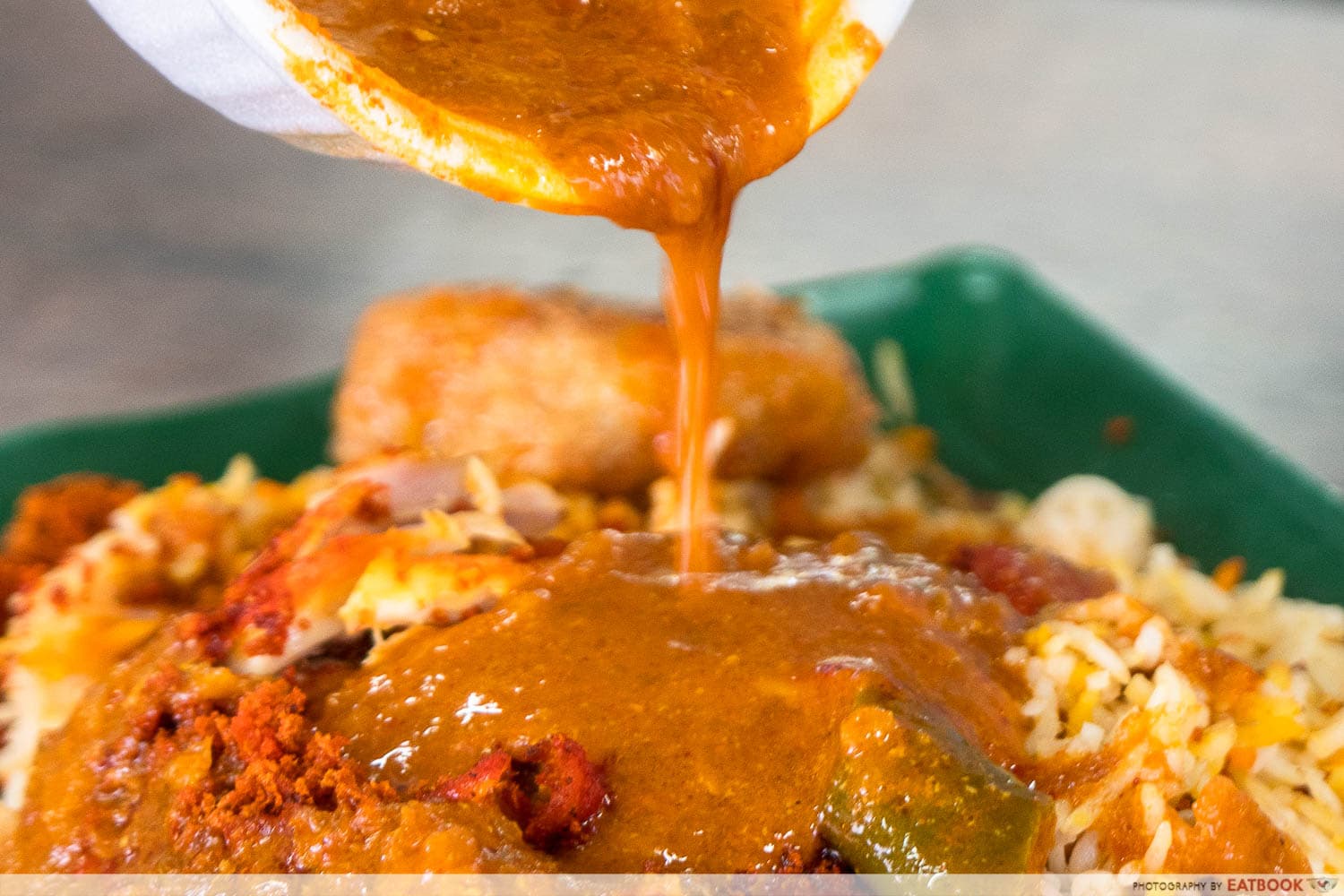 According to Ms Syahiirah, the long-grain basmati rice is steamed with an assortment of aromatics and spices such as star anise, lemongrass, and turmeric. It is then given a good mix with a long wooden paddle before the lunch service begins. This results in fluffy and distinct grains of rice. As the briyani rice is already quite tasty, I'd recommend not being as heavy-handed with the curry like we were.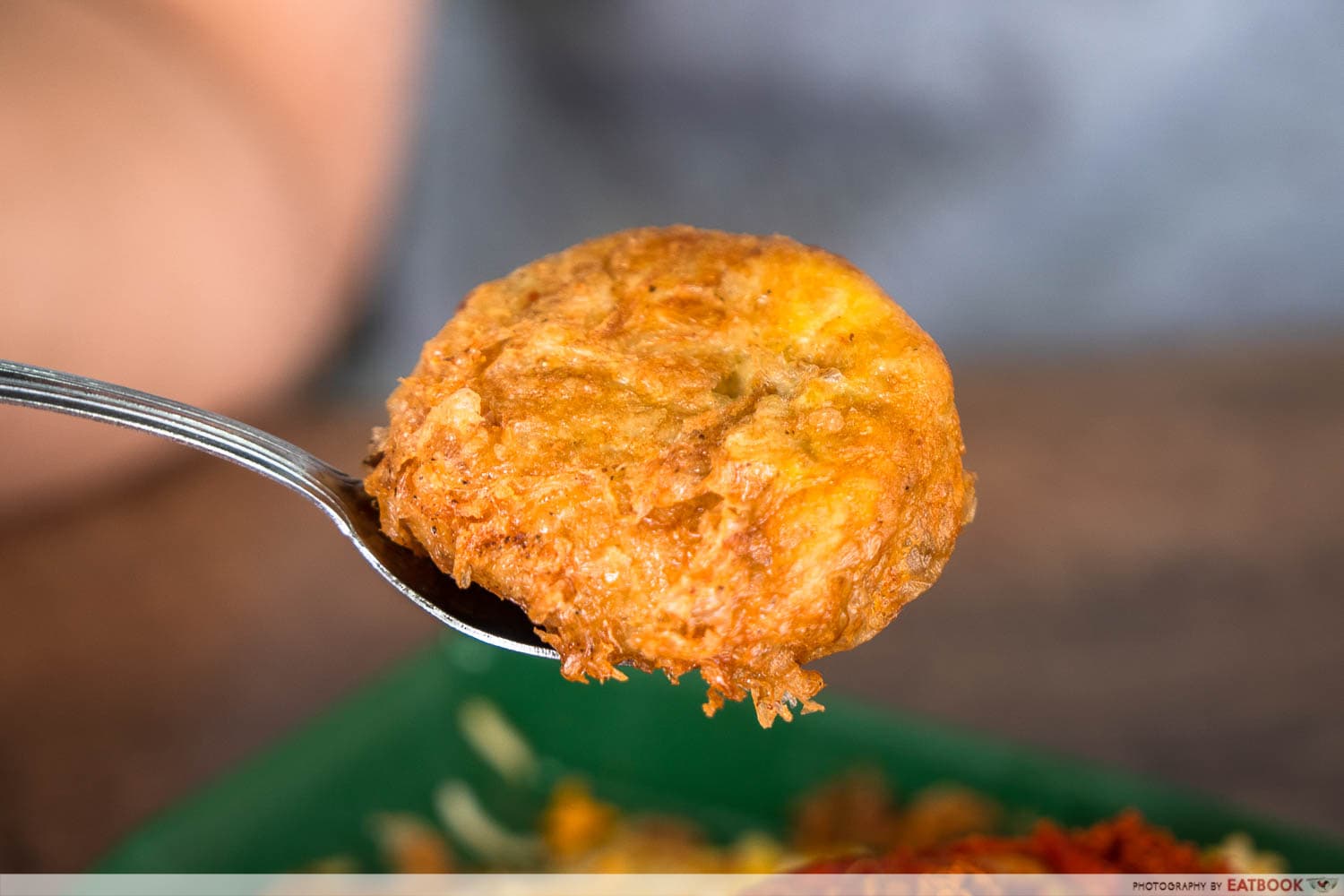 I love potatoes so I opted to add on a Bergedil for $0.70. The potato patty was slightly sweeter than I had expected, and it was soft with an eggy fragrance.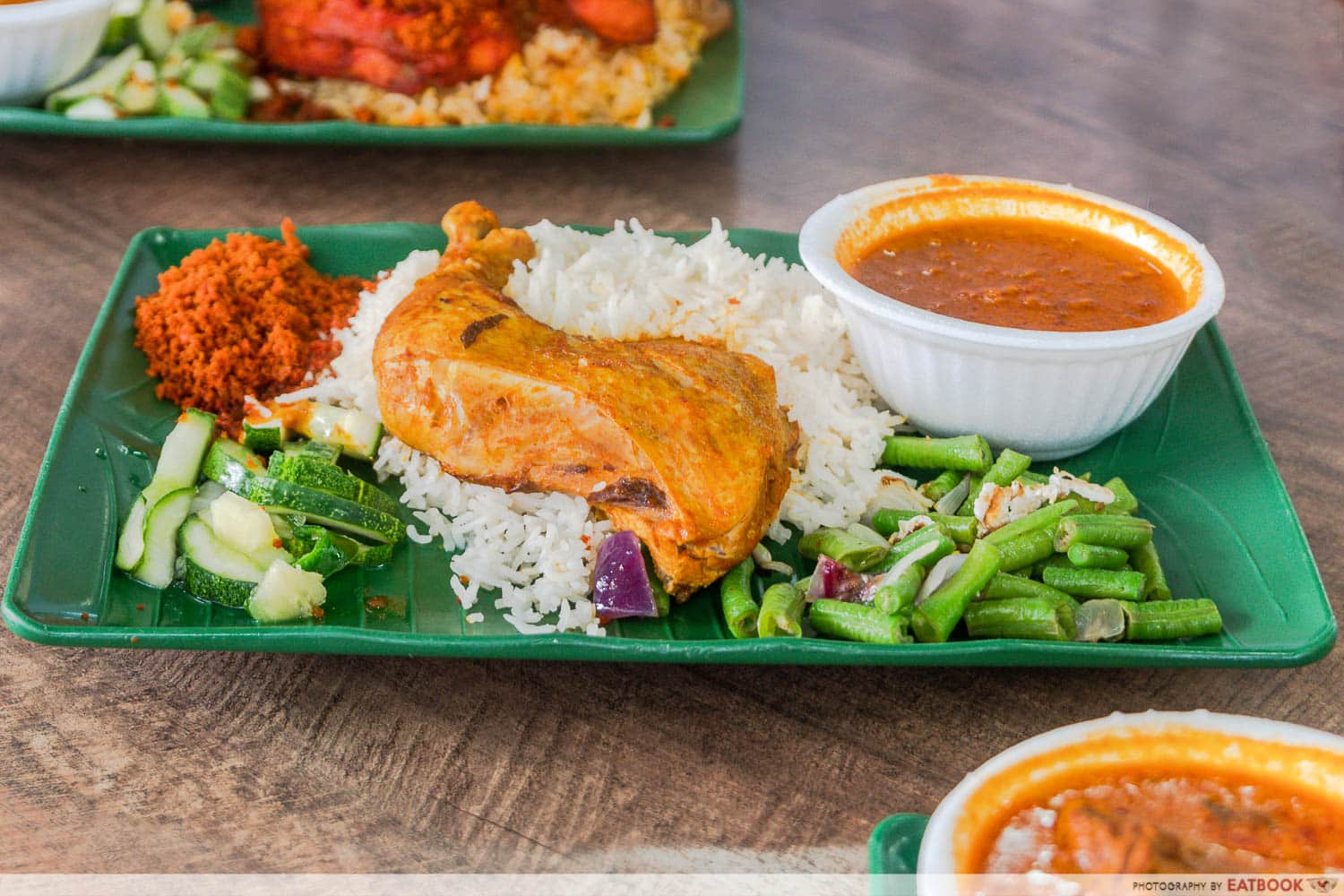 We also had the Curry Chicken Rice ($6), which consisted of a chicken leg, white rice, pickles, some long beans, and a bowl of curry.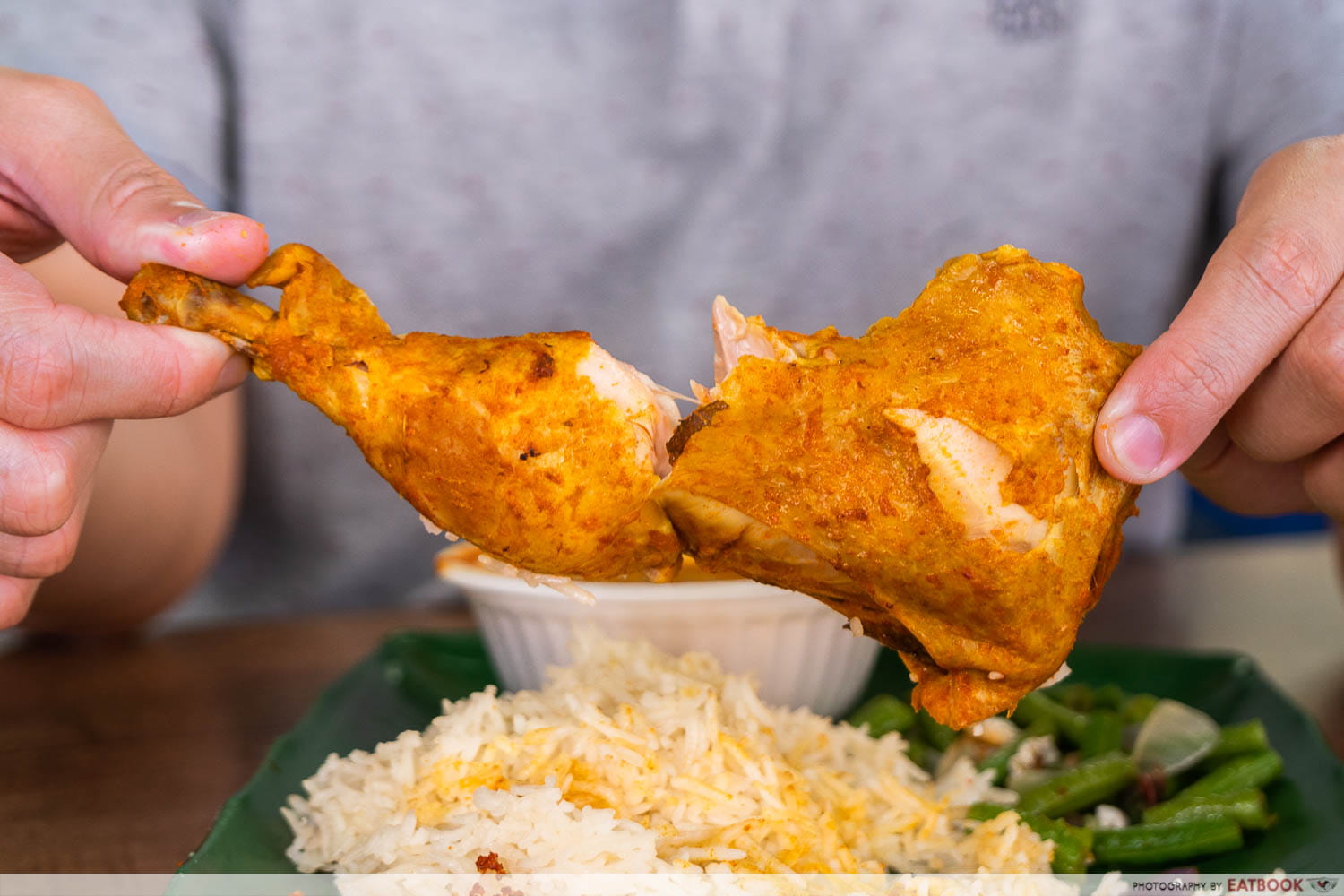 Digging into the chicken, I was delighted to find that it was fall-off-the-bone tender. However, while I found the chicken skin flavourful, I felt that the meat was not savoury enough, though this was easily remedied by having it with the curry it was served with. 
When I tried a mouthful of the white rice, I was pleasantly surprised. While I initially dismissed it thinking it to be simply plain rice, my verdict quickly changed when I caught the aroma of lemongrass wafting off the plate. The rice also had a slight sweetness that complemented the chicken curry. I found myself liking the white rice more, while my colleague preferred the briyani rice.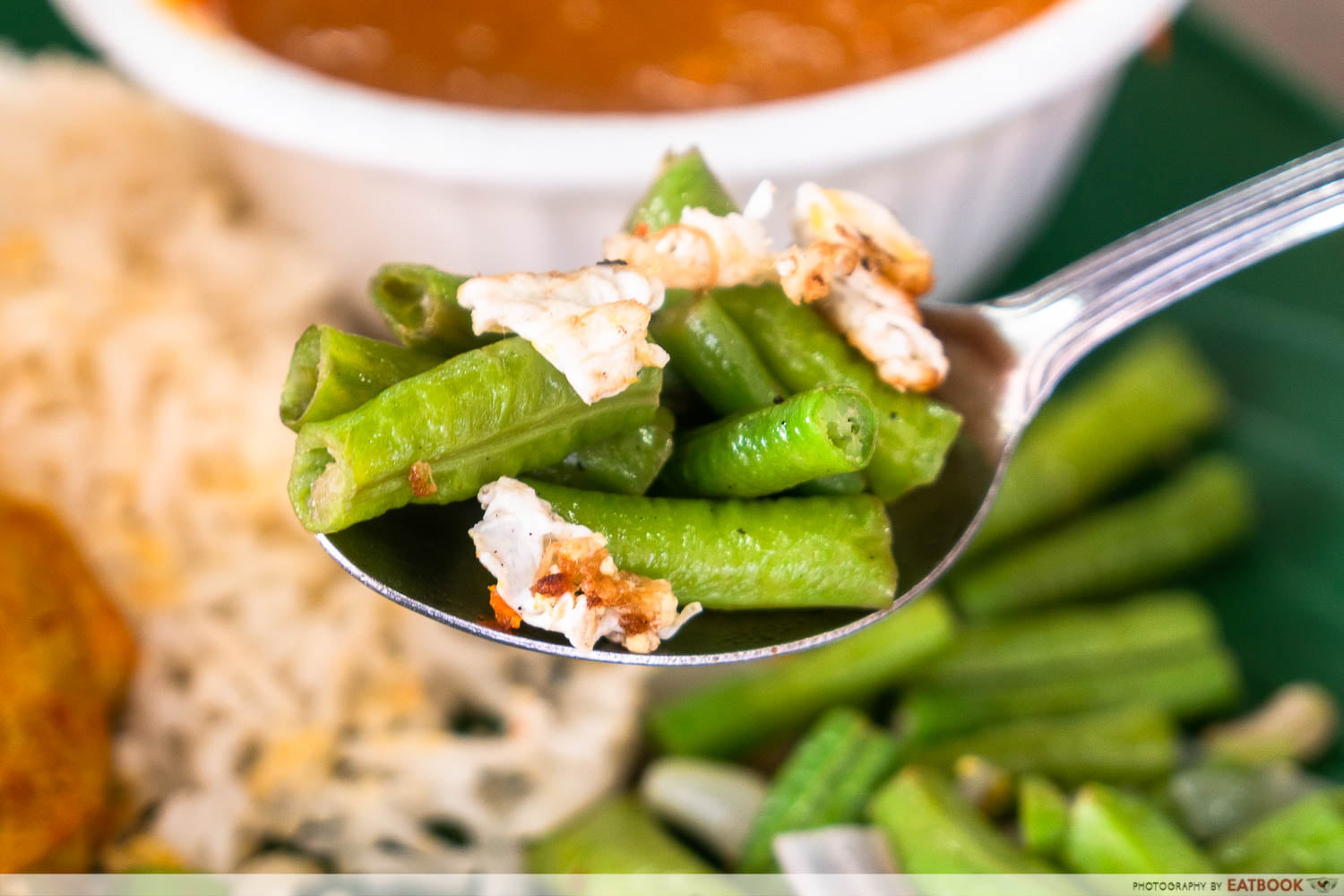 Although I thought it considerate for Golden Nur to incorporate a portion of vegetables with this hearty dish, I found the long beans slightly undercooked for my liking.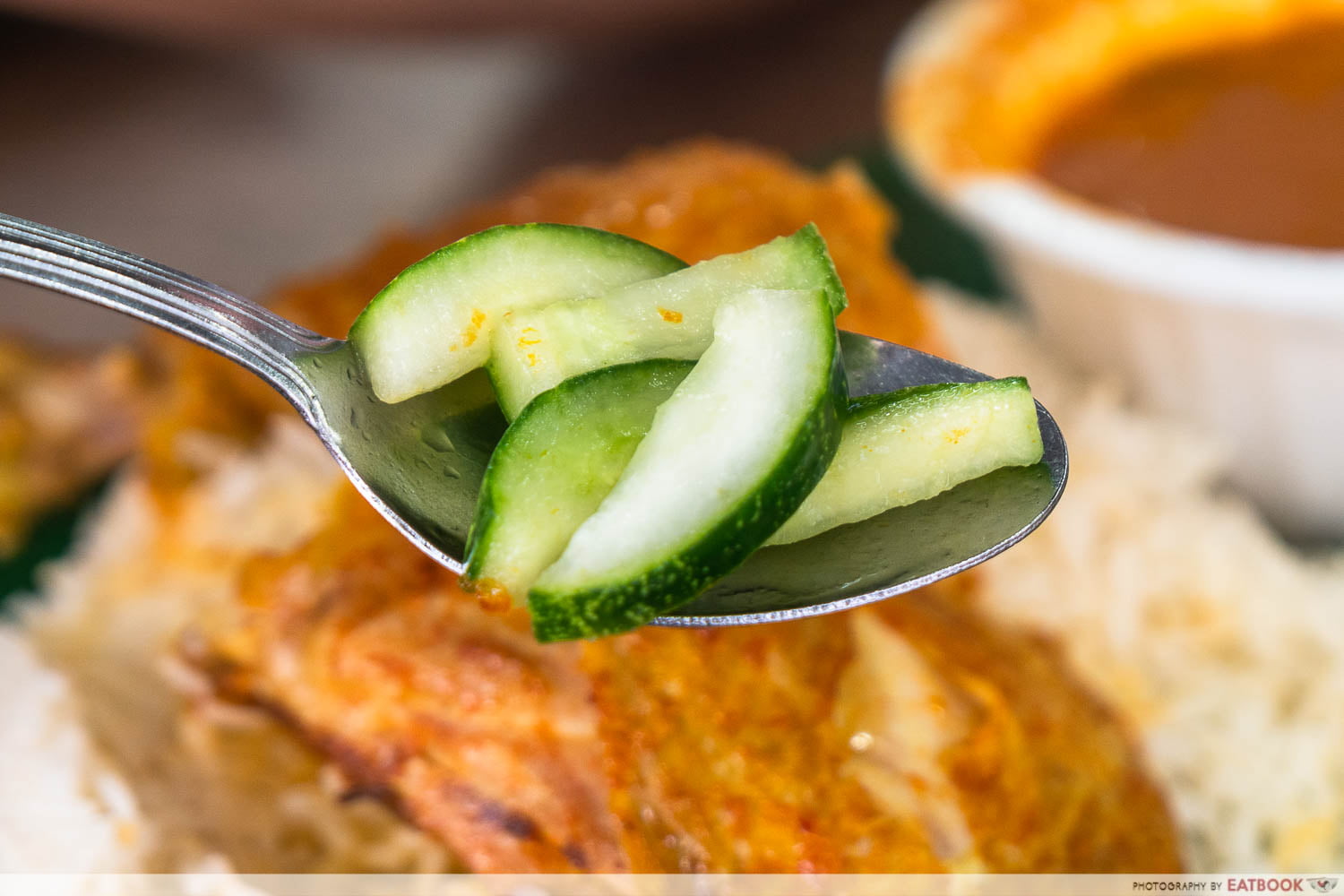 Pickled cucumbers and onions are also served on the side for all dishes. Carrying a sweetness and crunch, the pickles provided a respite from the savouriness of the curry.
Ambience at Golden Nur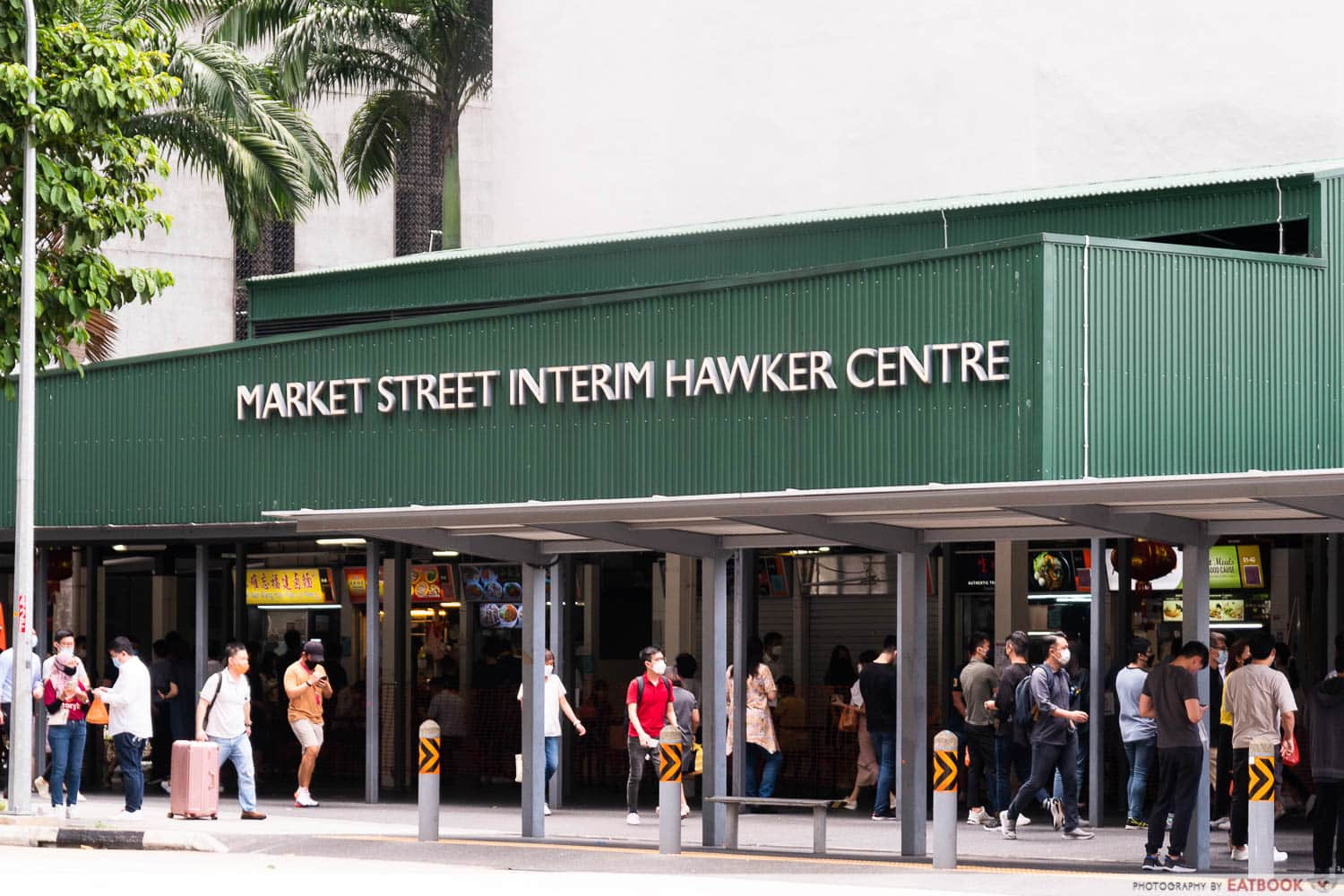 Golden Nur is currently located right outside Telok Ayer MRT Station. Come April 2022, it will be shifting across the road to the permanent Market Street Hawker Centre. While the pristine and modern hawker centre is only crowded during lunchtime, a queue started forming in front of the stall as soon as the briyani was ready, at around 10:45am.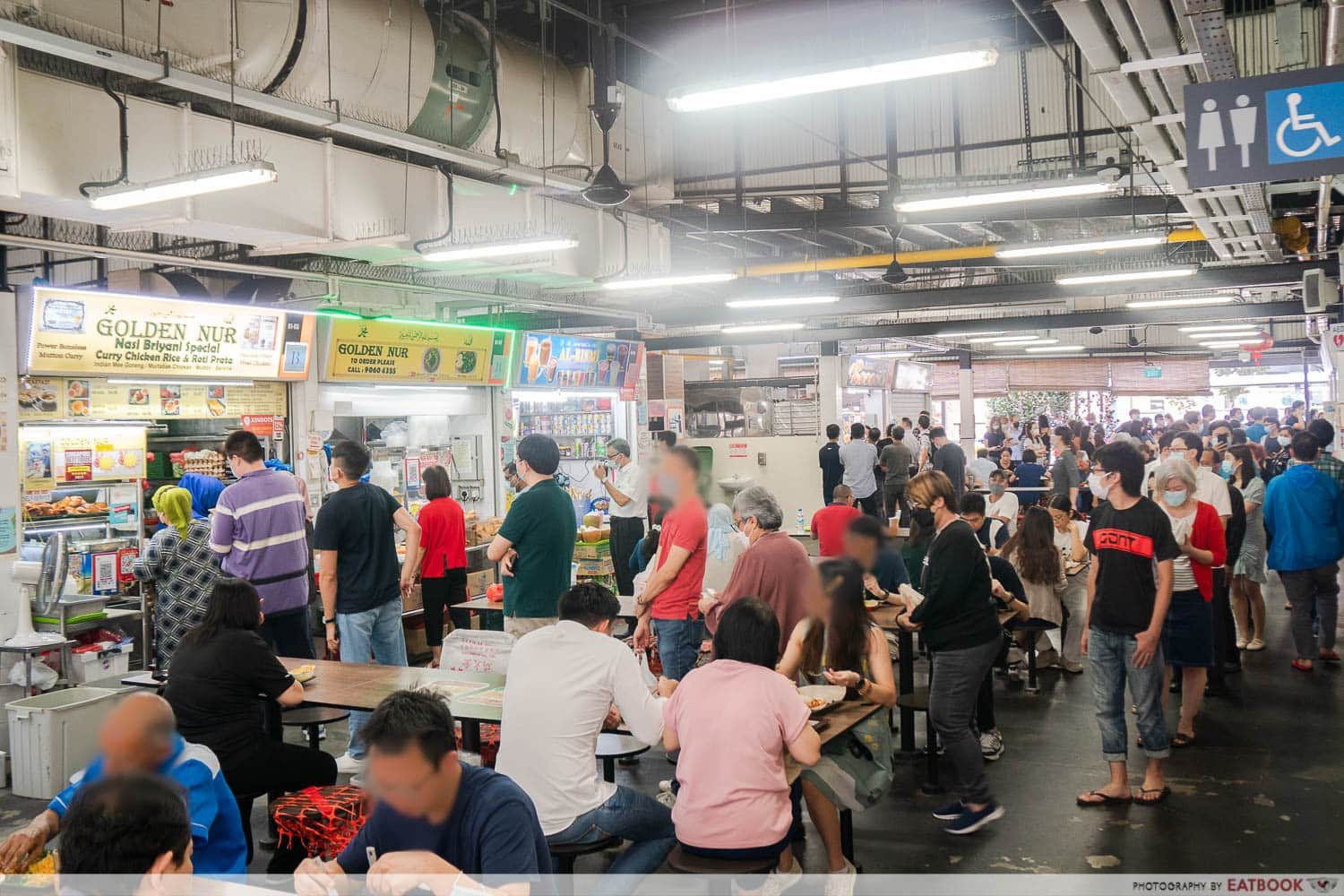 Don't visit the stall too late though, as most of the items on the menu, barring the crispy chicken, are usually sold out by the end of lunch. We'd previously attempted to visit at 4pm, and found out the hard way. Place your orders in advance via phone so you can simply hop to the front of the line to pick up your food.
The verdict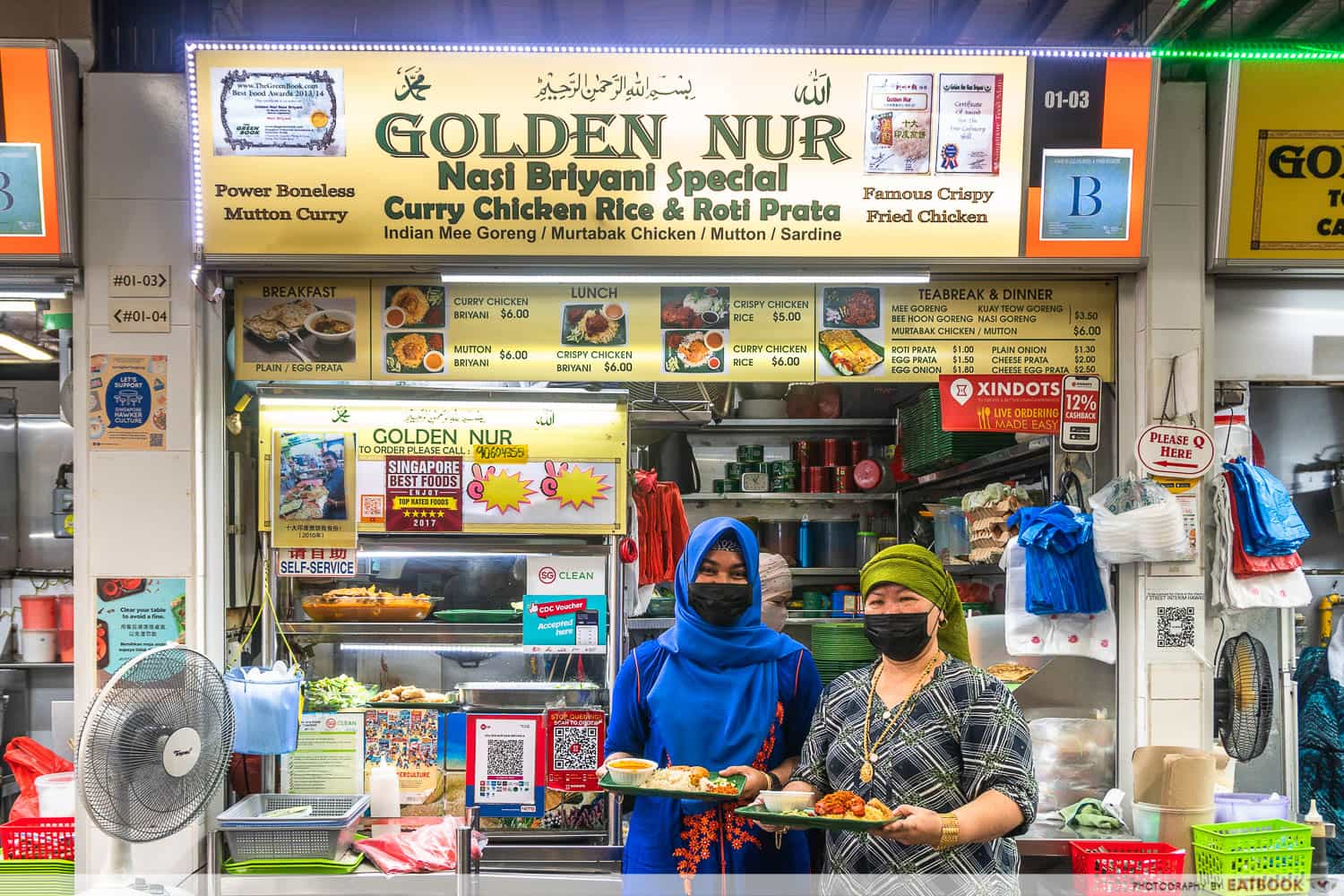 Ms Syahiirah and her family work like a well-oiled machine—her aunt fries the crispy chicken, her uncle flips the prata, and her mother oversees the whole process, while she is responsible for handling their PR and other miscellaneous tasks.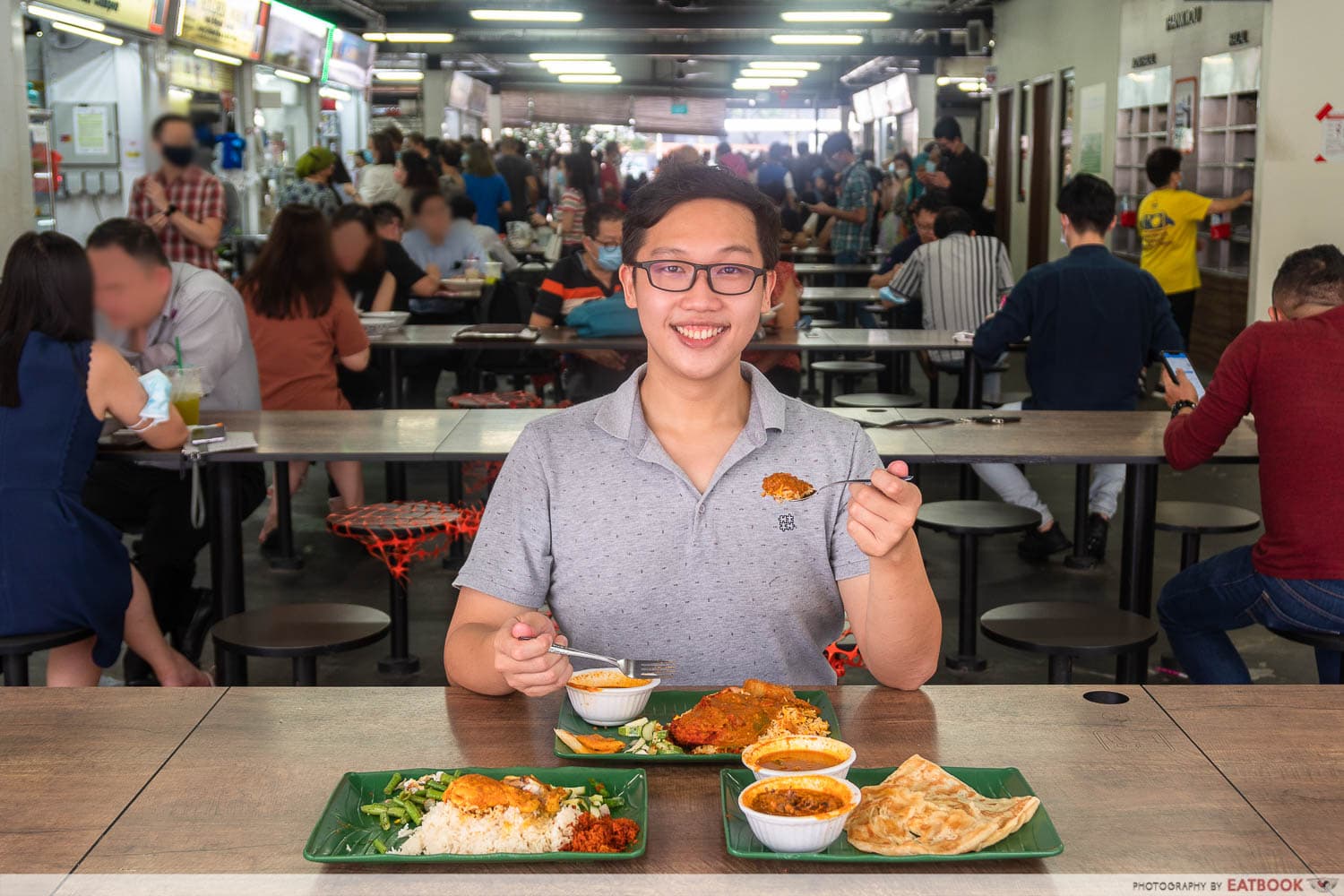 The Crispy Chicken Briyani was alright, but what really made our dining experience at Golden Nur enjoyable was how warm and friendly the family was to us and other customers. I can certainly understand the long queues, as I would probably have this meal often if I were working in the offices nearby. 
For more hawker food options in the CBD, check out Ying Jie Seafood for affordable Scallop Pao Fan, or James' Quesadillas & Brunch for Pulled Pork Burritos under $10!
Address: 5 Cross Street, #01-02, Market Street Interim Hawker Centre, Singapore 048418
Opening hours: Mon-Fri 6:30am to 8pm
Tel: 9060 4355
Website
Golden Nur is a Muslim-owned eatery.
James' Quesadillas & Brunch: Pulled Pork Burrito And Salmon Rice Bowl Under $10 In Amoy Street Food Centre
Photos taken by Zadelin Wong.
This was an independent review by Eatbook.sg
Golden Nur Review: Crispy Chicken Briyani By Family-Run Business In Telok Ayer
Golden Nur Review: Crispy Chicken Briyani By Family-Run Business In Telok Ayer -

7.5/10
Summary
Pros
– Both types of rice were very fragrant
– Generous portions of meat
– Crispy batter bits were addictive
Cons
– Briyani rice was a tad salty
– Mutton in mutton curry was dry
Recommended dishes: Crispy Chicken Briyani ($6), Curry Chicken Rice ($6)
Opening hours: Mon-Fri 6:30am to 8pm
Address: 5 Cross Street, #01-02, Market Street Interim Hawker Centre, Singapore 048418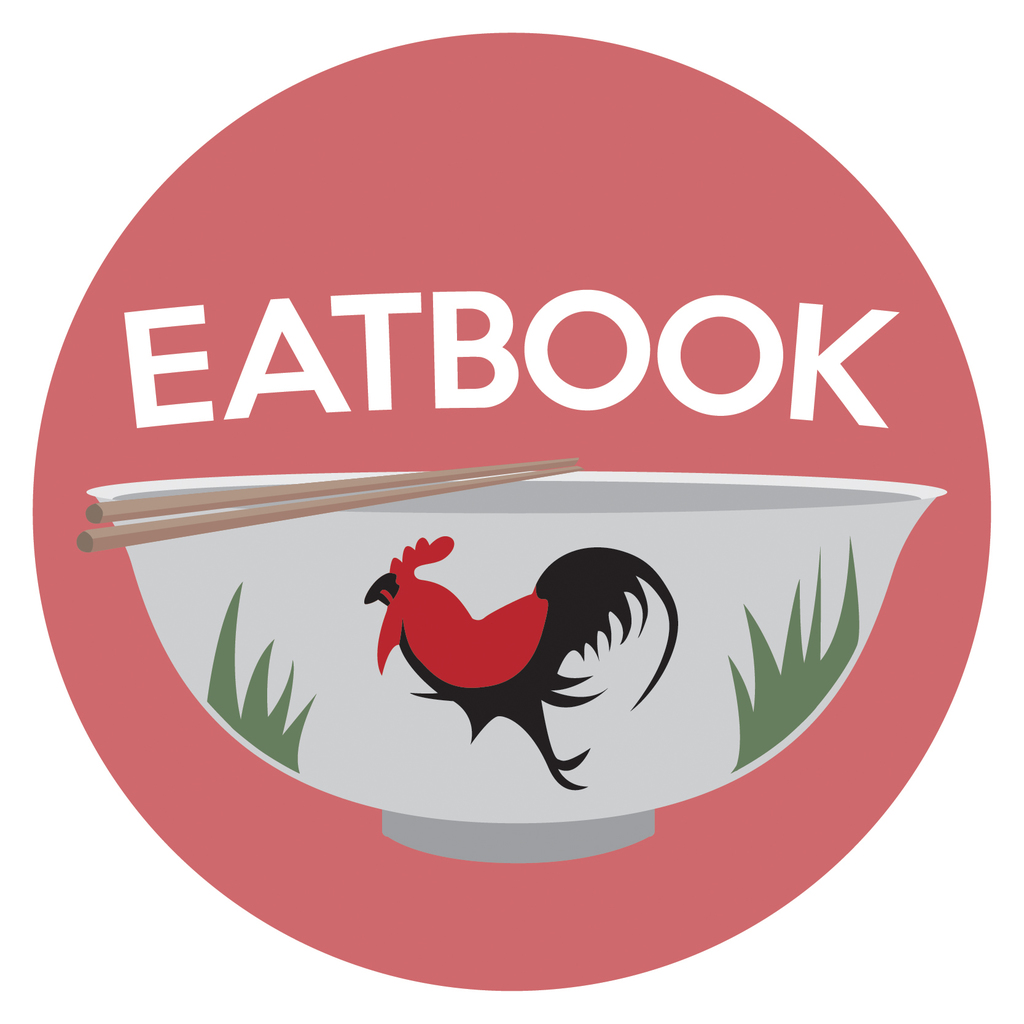 Drop us your email so you won't miss the latest news.