Syiok at Beauty World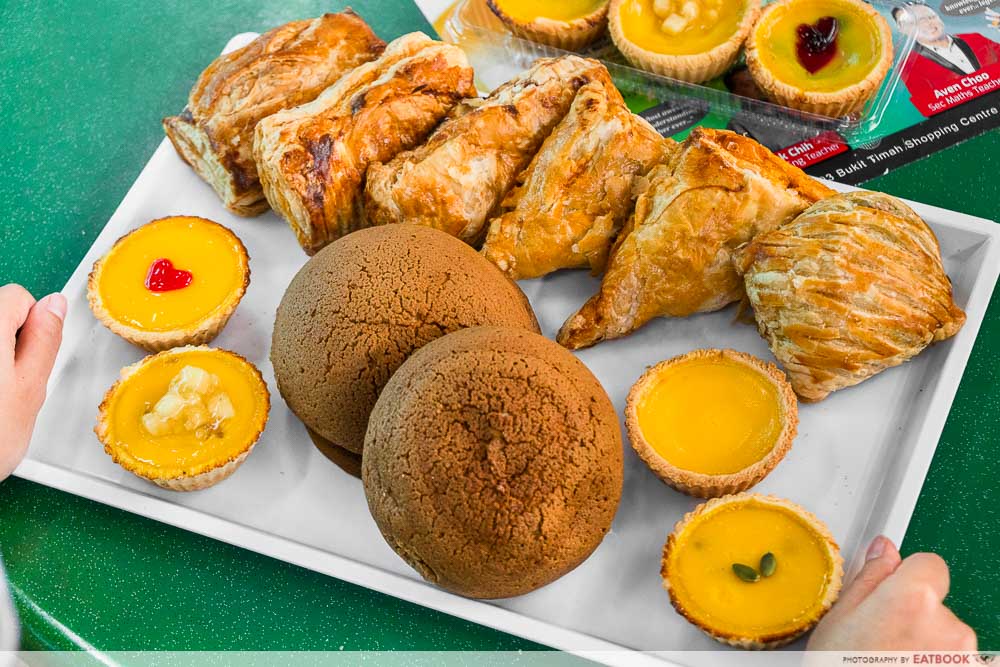 Beauty World Shopping Centre has been around since 1984—stepping into the mall is like stepping into a time machine. If you've not been there, the open-air food court on the fourth floor has lots of great food. One more stop you can make while you're there is Syiok, one of the hawker stalls that churns out old school, freshly baked egg tarts, pastries, and coffee buns!
Food at Syiok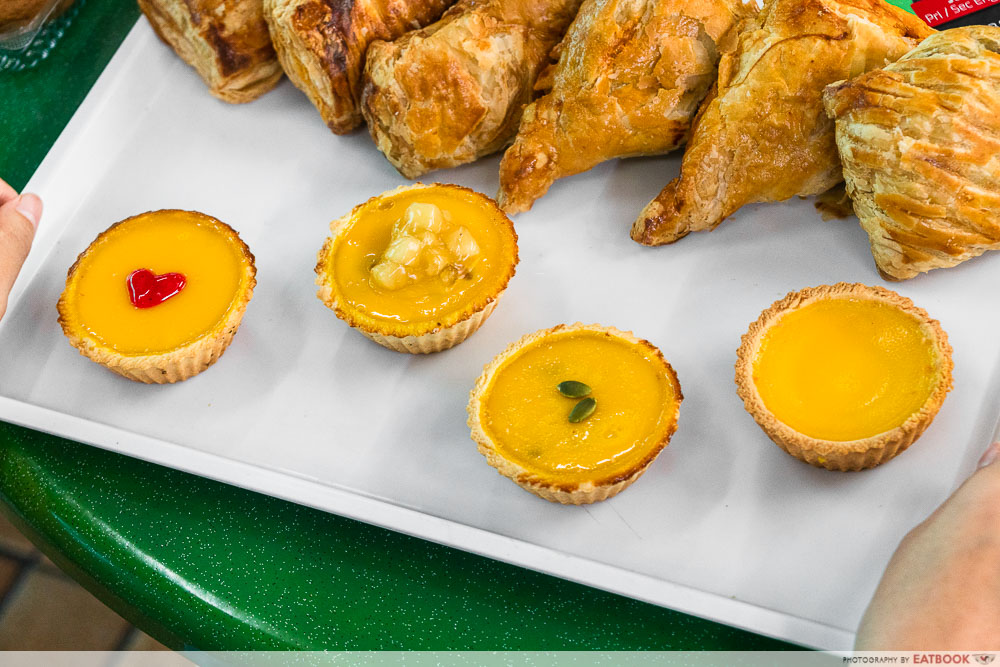 Syiok first caught our attention for their Orh Nee Egg Tart ($1.80 for one, $5 for three), which we'd seen on Instagram. It's one of their Special Tarts, which include a Strawberry Egg Tart, Blueberry Egg Tart, and Apple Egg Tart. On weekends, there's even a Durian Egg Tart!
Of course, if you're just after a basic Egg Tart, that goes at $1.50, or $4 for three.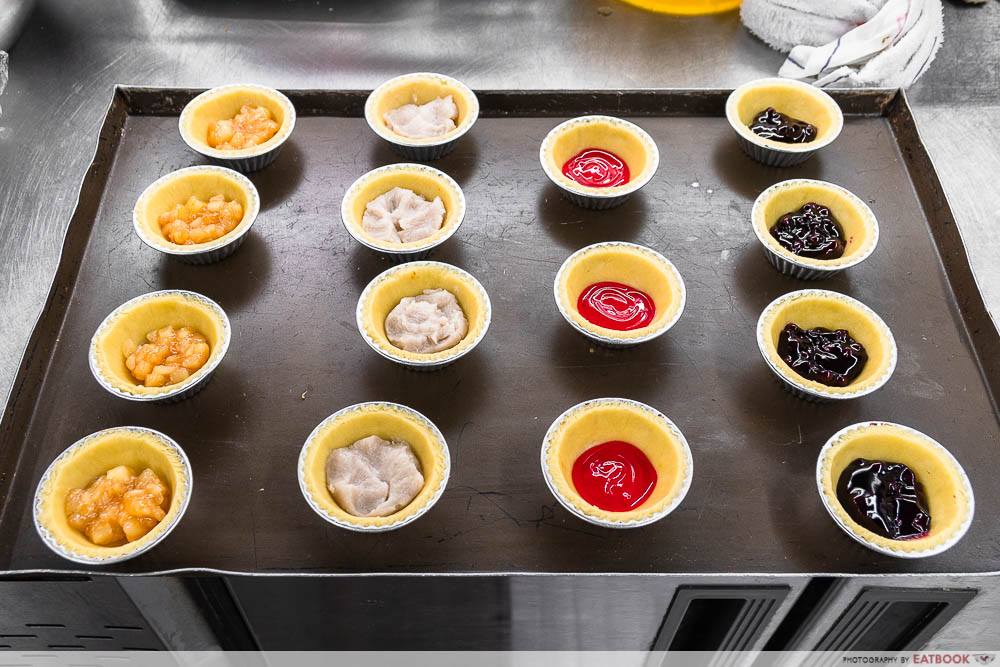 Like all the other bakes in the display, the tarts are baked fresh daily, with the first batches ready by 9am each morning.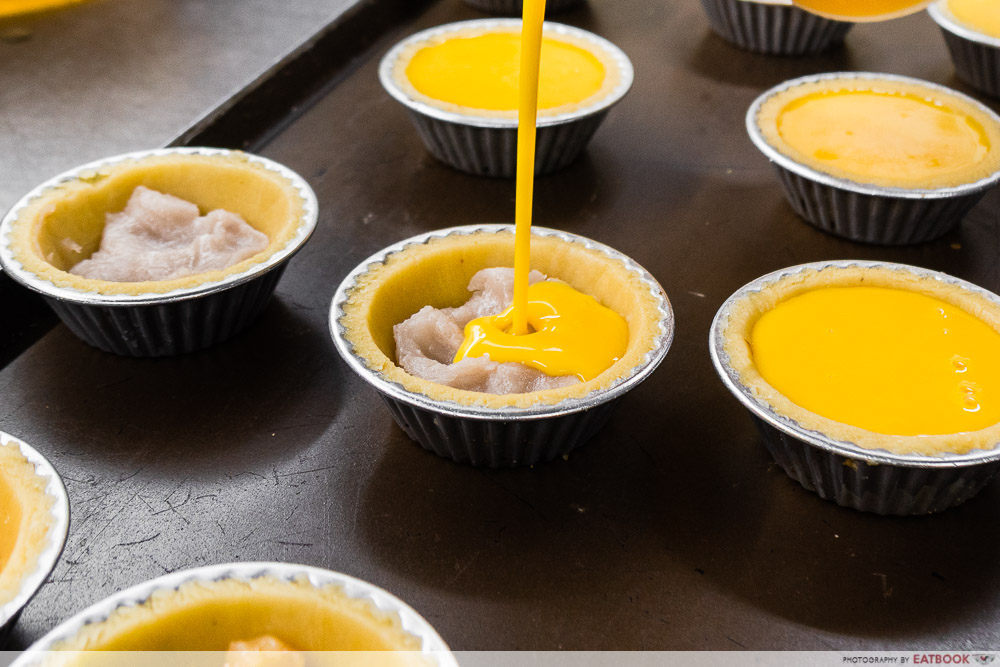 It's a pity the orh nee paste isn't house-made, but it was creamy and earthy—a good contrast against the smoother, lighter egg custard.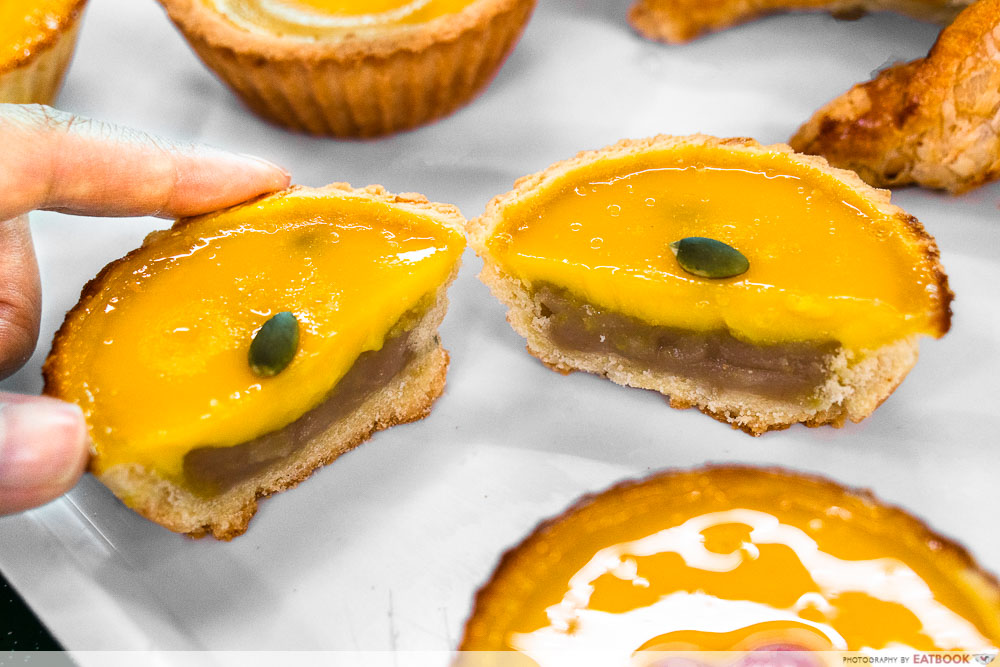 What's noteworthy is the thin crust of these tarts, which allows for a maximum ratio of filling to crust.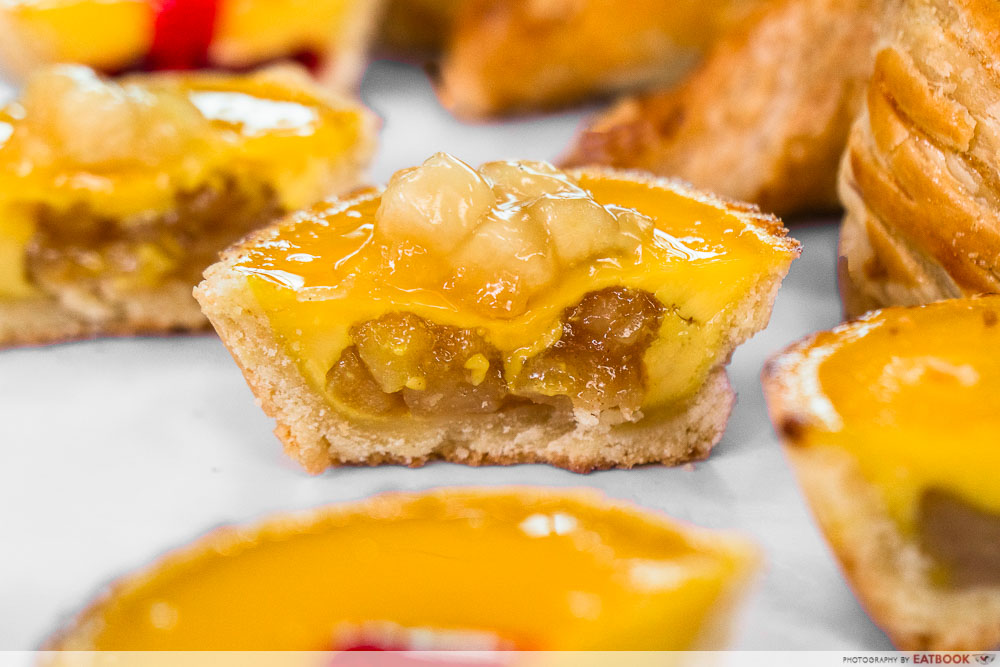 If I had to choose one tart to have again, it would be the Apple Egg Tart, which featured a centre of stewed apple bits, plus a little more on the top. It was just the right level of sweet, and each mouthful reminded me of an apple pie with custard.
I didn't quite enjoy the custard in the other tarts as they tasted too sweet, but the stewed apples in here balanced the flavours well.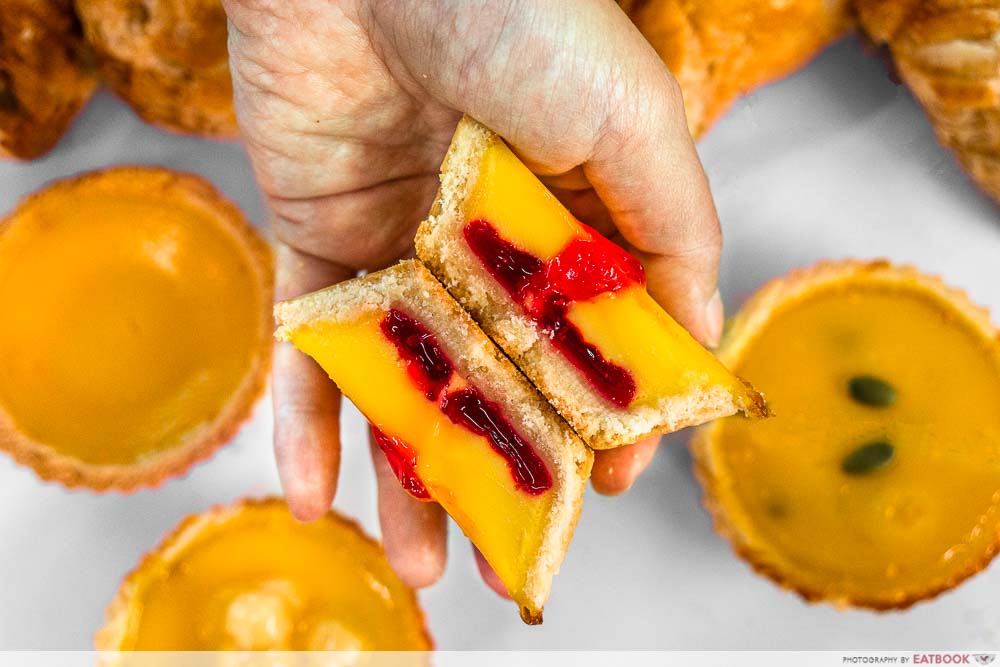 The Strawberry Tart was my least favourite item. The custard was too sweet and the bright red filling tasted like it had a ton of artificial strawberry flavouring. I personally don't like this, but if you're a fan of super old school confectioneries, this might take you down memory lane.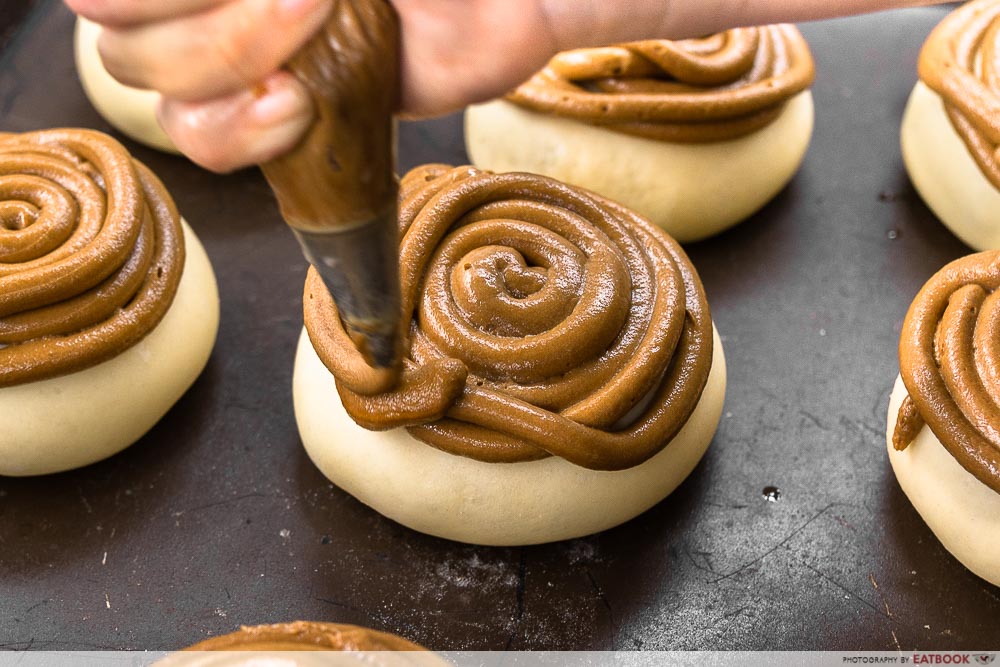 Coffee buns have recently returned to the spotlight since Rotiboy reopened here in Singapore. Syiok does a decent rendition of the popular bun, although I'd really recommend eating the Coffee Boy ($1.50 for one, $4 for three) as fresh as possible.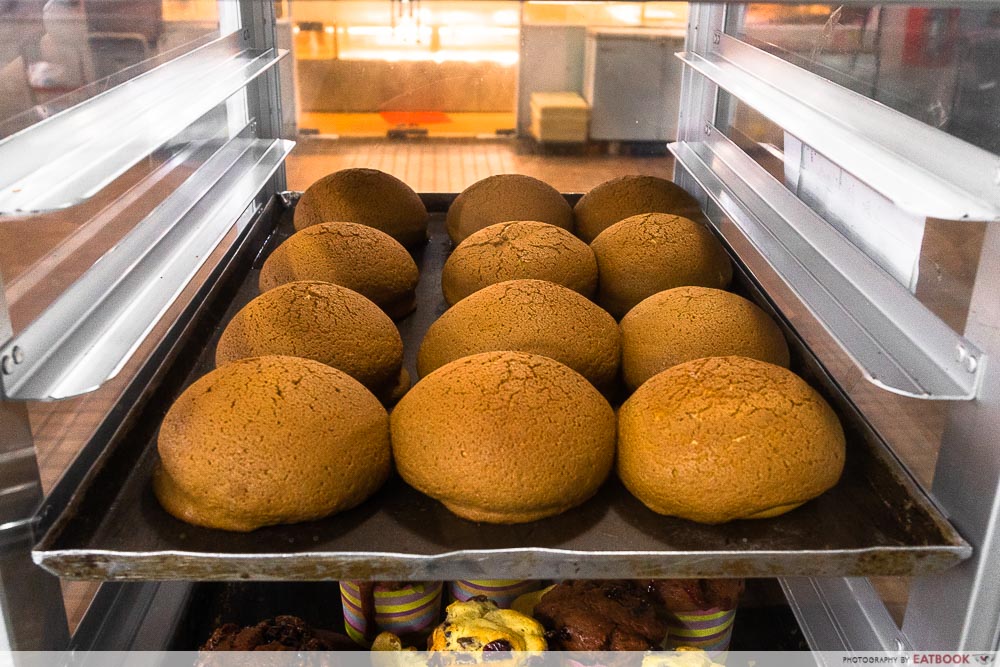 I had mine fresh out of the oven, and it was fluffy, pillowy soft. The classic coffee crust crumbled as I tore it apart.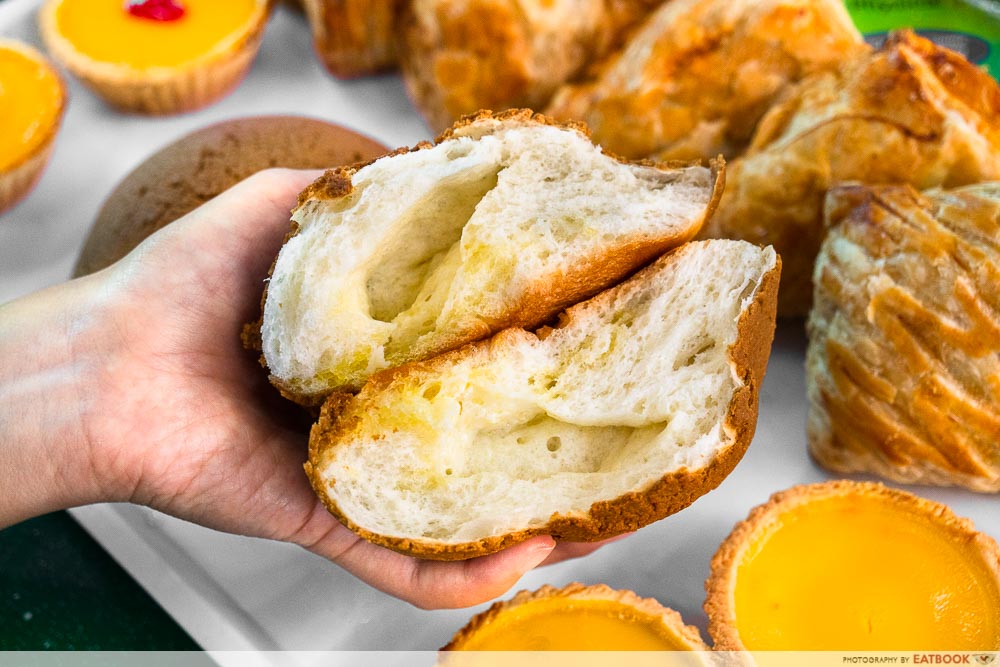 It also has that savoury centre that balances out the sweet-bitterness of the coffee crust. When we returned to the bun after we'd finished our shoot, the crust had turned soft, so you should most definitely have this while it's fresh, or consider popping it into the oven before eating.
Rotiboy Opens In Singapore, Bringing JB's Famous Coffee Buns To KINEX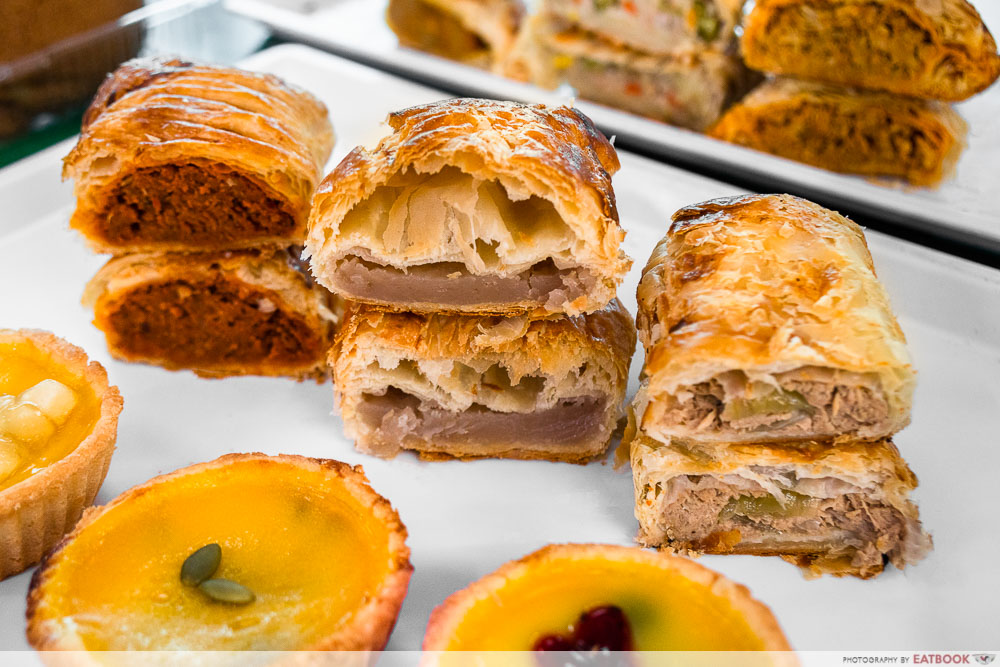 For a hawker stall, Syiok has a comprehensive assortment of bakes, with nine different pastries available. They're all priced at $1.50 each, or $4 for three, which you could combine with an Egg Tart or Coffee Boy. There's a Yam Pie, which features the same orh nee filling as the Orh Nee Egg Tart, and your classic Tuna Pie, Sardine Puff, Curry Chicken Puff, and Chicken Pie.
The pastry here was nicely flaky, and as with the tarts, came in thin layers that encased great amounts of filling. I wasn't blown away by any of the flavours, but I have to say there was something nostalgic about chomping on these in a 37-year-old mall. It's as old school as old school gets.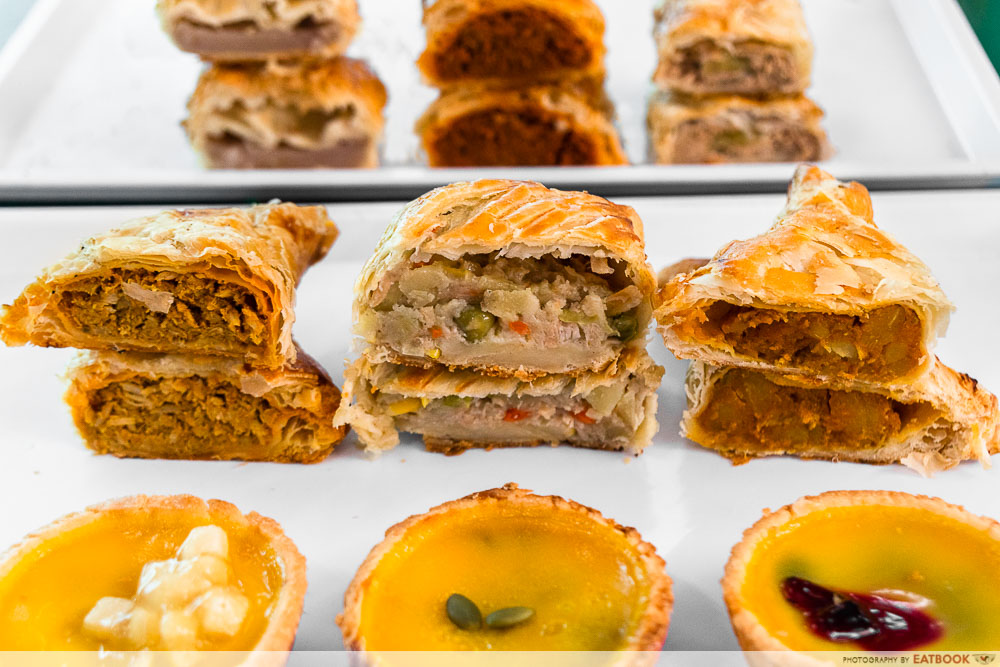 For less traditional flavours, go for the Hemi (Spicy Prawn) Puff, stuffed to bursting with a spicy hei bee mix, a Tom Yum Chicken Puff that's tangy, with notes of lemongrass, or a Black Pepper Chicken Puff, which we didn't try. There's also a Mashed Potato Pie, and assorted mochi pies that are new to the menu.
Pink Candy Review: Affordable Korean Hawker With Rooftop Views Near Beauty World
Ambience at Syiok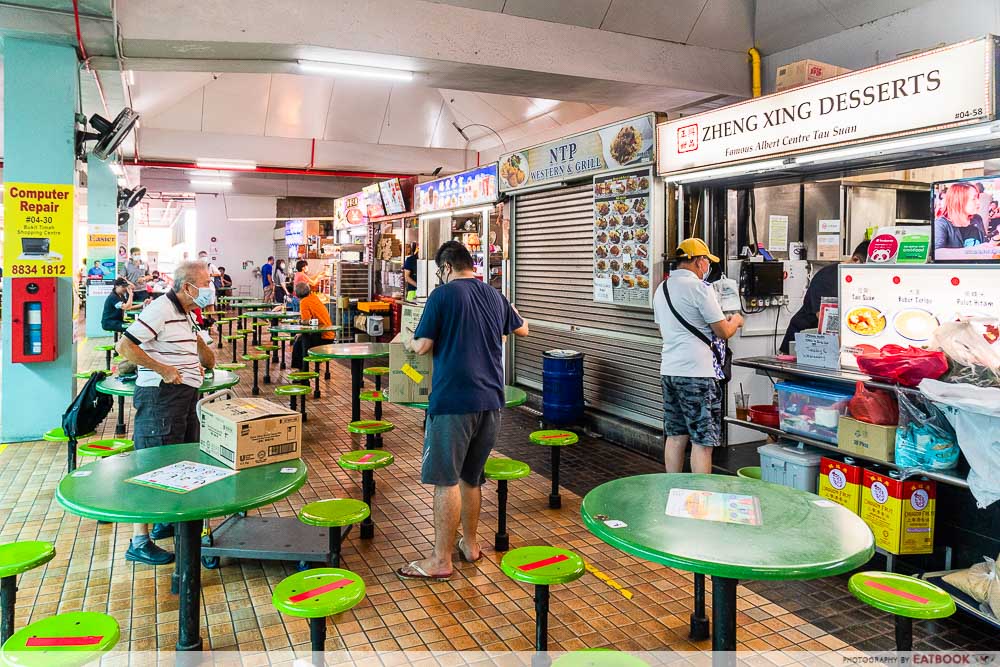 Syiok occupies a corner stall, right next to a breezy, open corridor in the food court at Beauty World Shopping Centre. It's located right across the road from Beauty World MRT Station, on the Downtown Line.
The entire fourth floor here is spacious and well ventilated. There's also an al fresco, rooftop dining area that's great as dusk falls, although Syiok is usually sold out before 4pm.
The verdict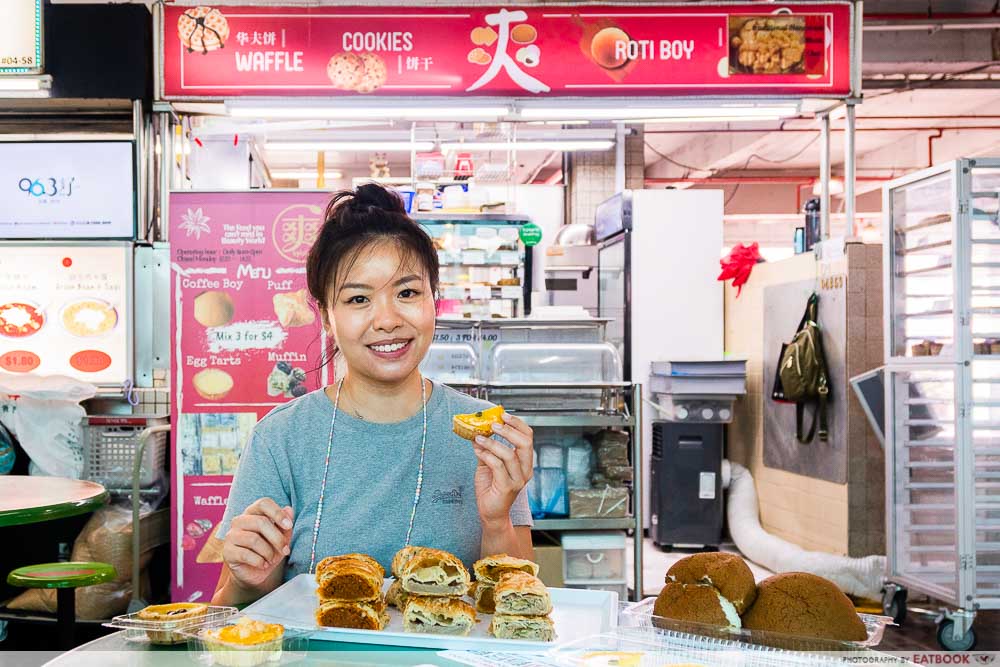 If we're talking value-for-money, the bakes at Syiok fit the bill 100%. Each pastry is generously filled with their respective fillings, baked fresh daily, and priced almost ridiculously low, especially when you compare the prices with other bakeries.
Don't come to Syiok expecting the same bakes you get at modern or commercial bakeries, or delicate pastry made with French butter and all that. The pastries here are a blast from the past, with some interesting spins on the classics.
Check out our Beauty World food guide for more eats in the area! There's also Pink Candy in the same food court, where you can feast on Korean food at the al fresco rooftop.
Address: 144 Upper Bukit Timah Road, #04-59, Beauty World Shopping Centre, Singapore 588177
Opening hours: Tue-Sun 8am to 4pm
Syiok is not a halal-certified eatery
21 Beauty World Food Gems Including DIY Okonomiyaki, Cheap XLB And More
Photos taken by Chew Yi En.
This was an independent review by Eatbook.SG
Syiok Review: Orh Nee And Apple Pie Egg Tarts Under $2 In Beauty World
Syiok Review: Orh Nee And Apple Pie Egg Tarts Under $2 In Beauty World -

6.5/10
Summary
Pros
– Cheap pastries
– Generous with fillings
Cons
– Fruit jams taste artificial
– Egg tart custard was too sweet
Recommended dishes: Coffee Boy ($1.50), Apple Egg Tart ($1.80), Pastries ($1.50)
Opening hours: Tue-Sun 8am to 4pm
Address: 144 Upper Bukit Timah Road, #04-59, Beauty World Shopping Centre, Singapore 588177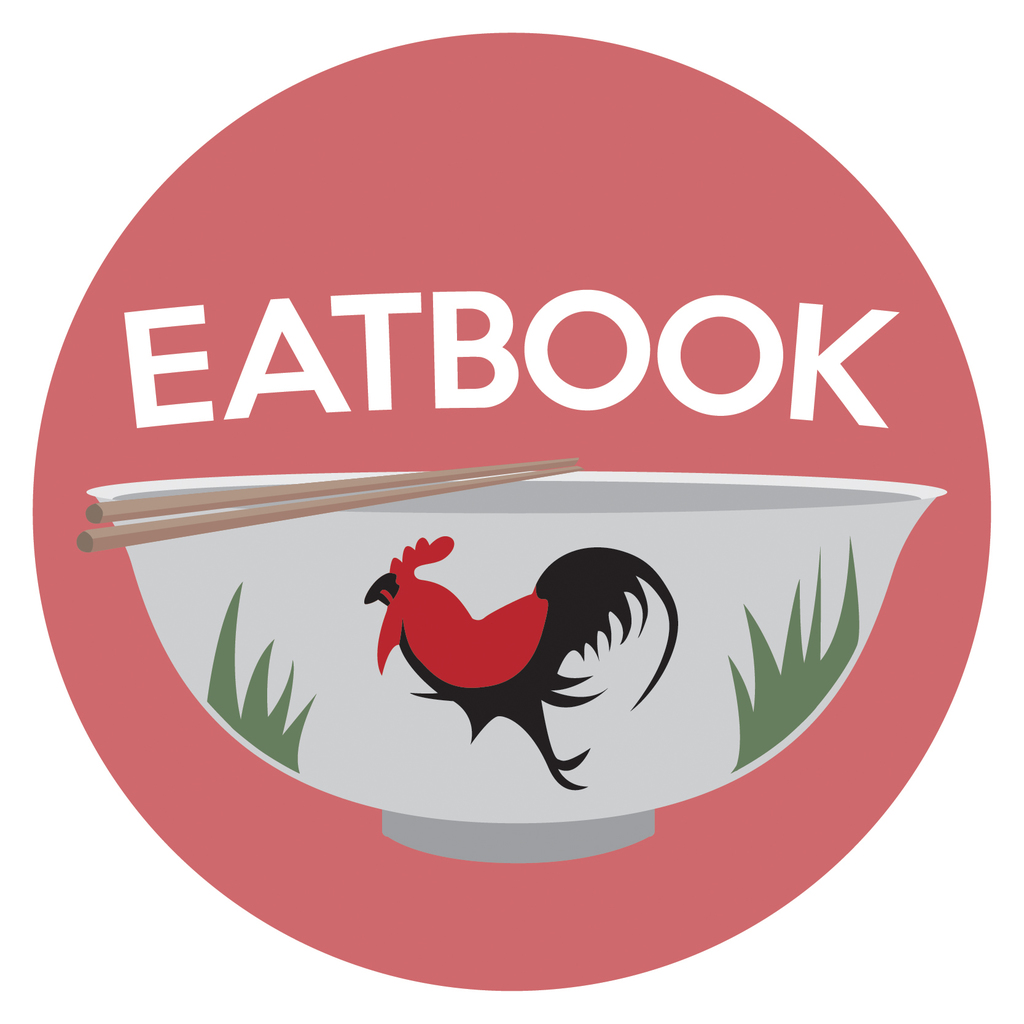 Drop us your email so you won't miss the latest news.