Western Barbecue at Old Airport Road Food Centre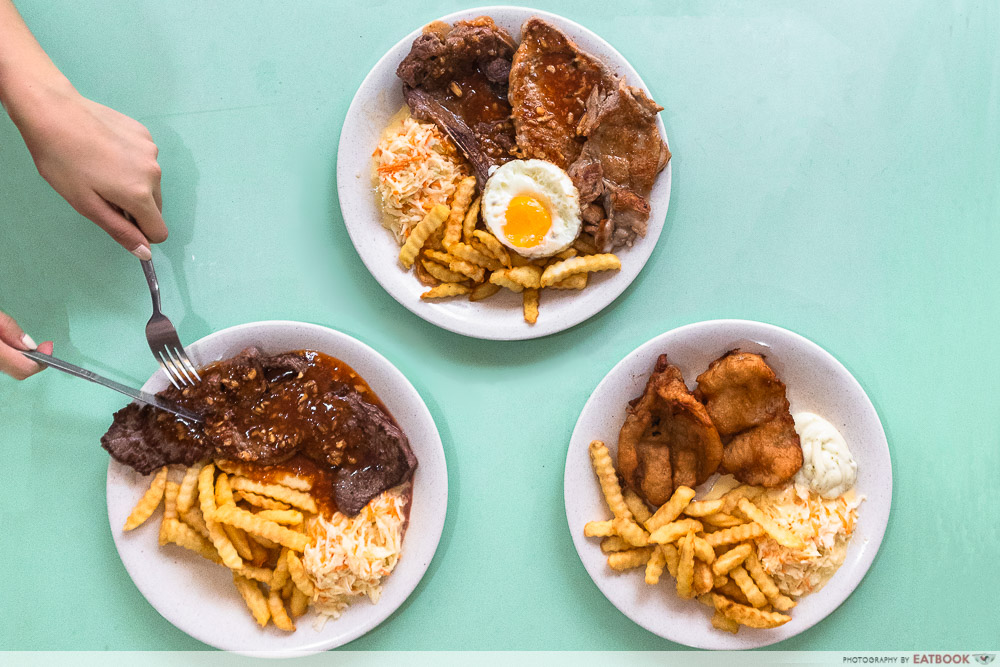 Ask any Singaporean for good hawker food recommendations and Old Airport Road Food Centre is bound to come up in the conversation. It's no surprise, given the many famous hawker stalls that Old Airport Road houses, such as Nam Sing Hokkien Fried Mee and Freshly Made Chee Cheong Fun. Another equally popular stall is Western Barbecue, which has been serving Hainanese-style Western food since 1974, and claim to be the creators of their signature garlic sauce.  
Nam Sing Review: Famous Hokkien Mee Hawker That Has Been Around Since 1963
Food at Western Barbecue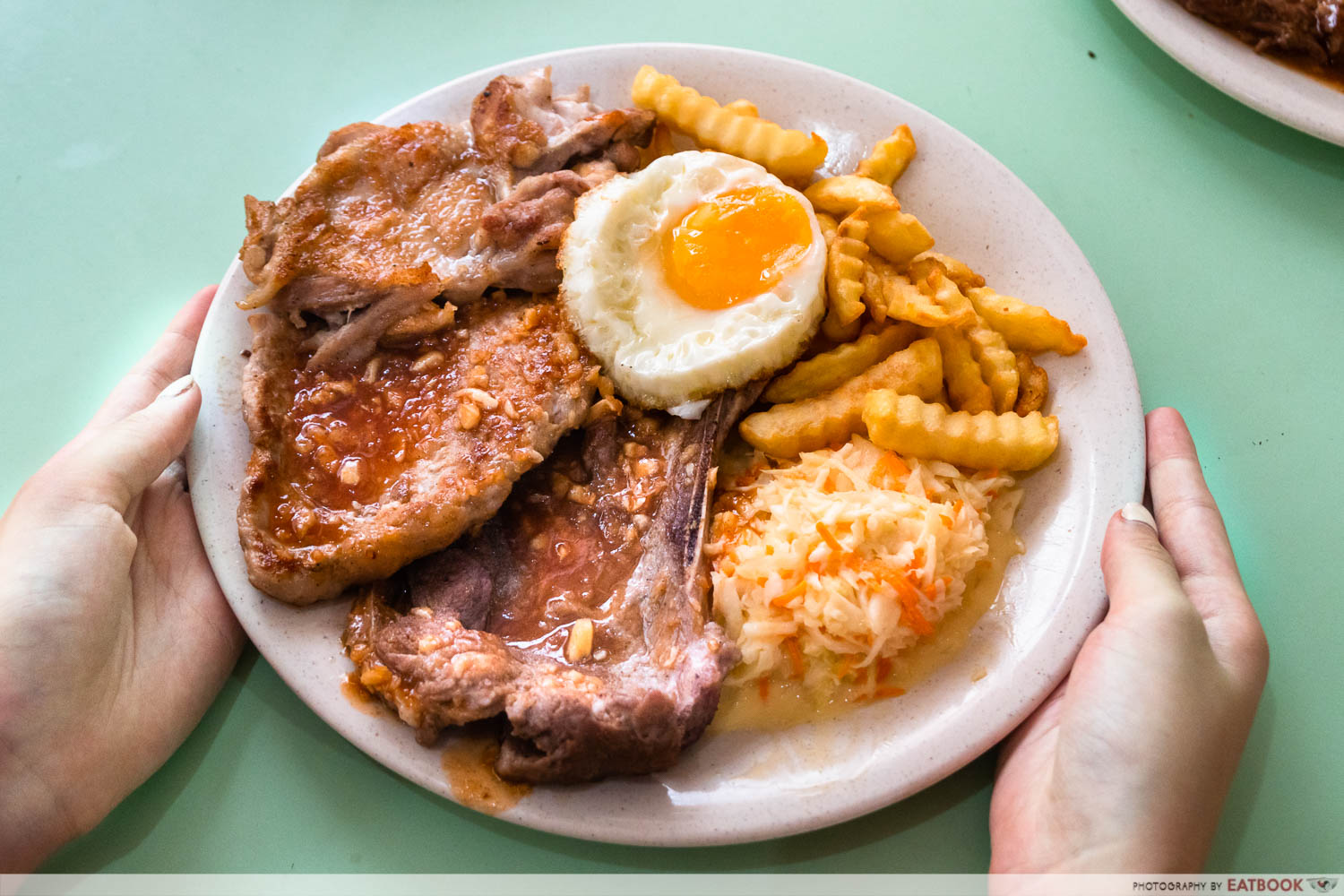 By far their most value-for-money plate is the Mixed Grill ($11), with three different meats—chicken, lamb, and pork chop, as well as the standard serving of coleslaw and fries.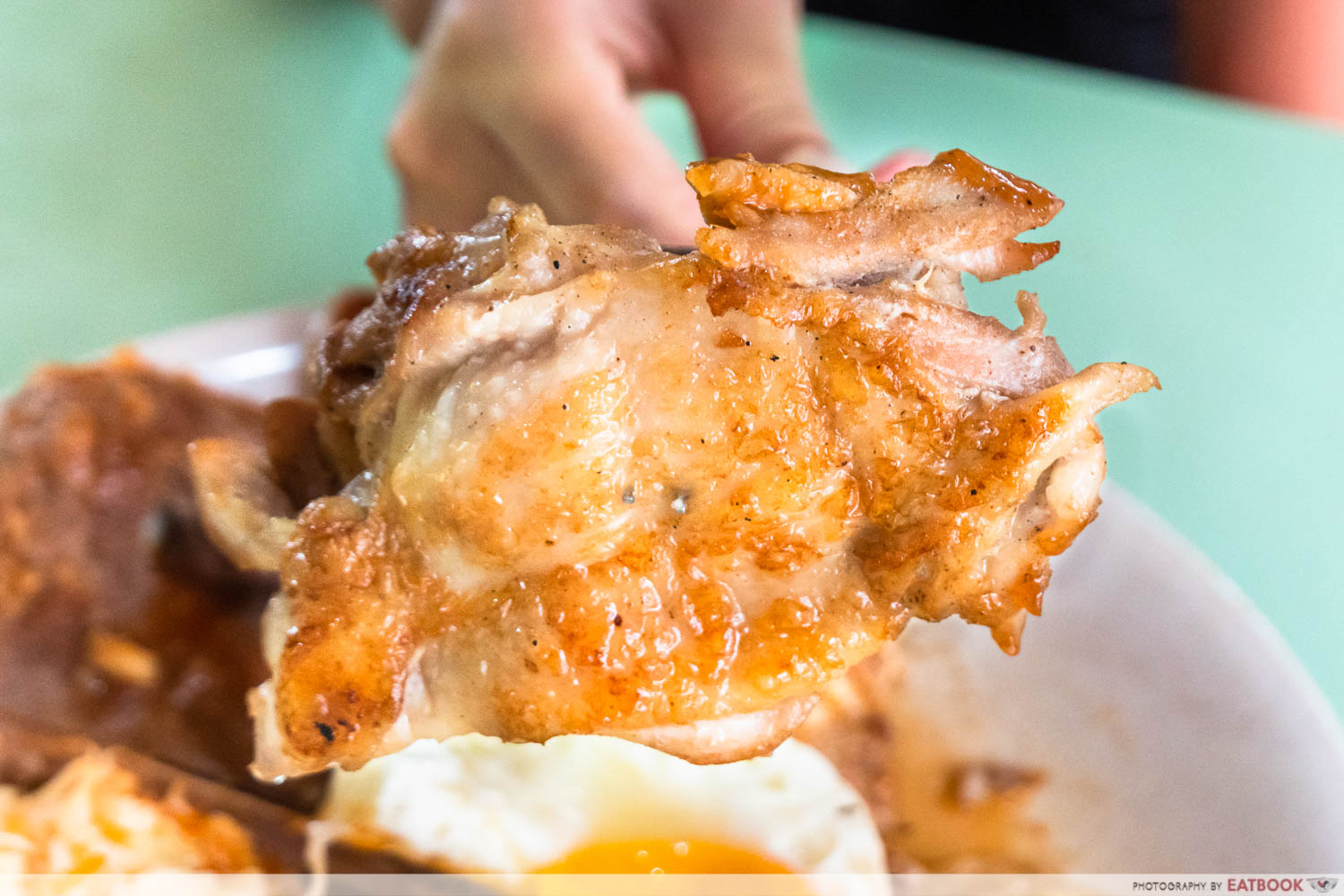 I found the chicken thigh just about tender and marinated enough, but also not quite outstanding. Most of its flavour comes from the signature garlic sauce the entire dish is drenched in.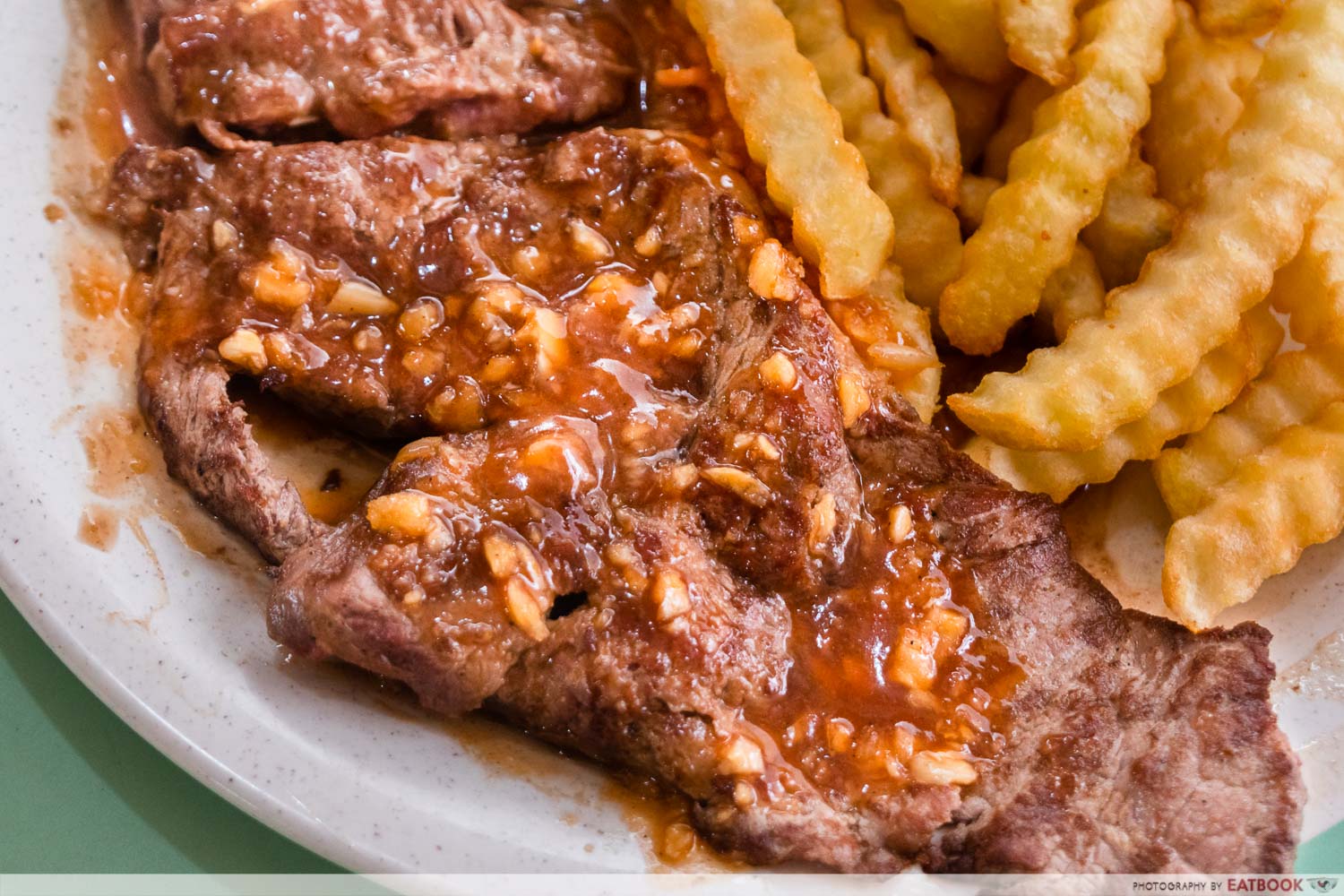 Western Barbecue is most known for this garlic sauce, made to a secret recipe, which features finely chopped garlic. Garlic is undeniably the first flavour that hits you, but take that away and you're left with a sweetness that balances out the piquant garlic.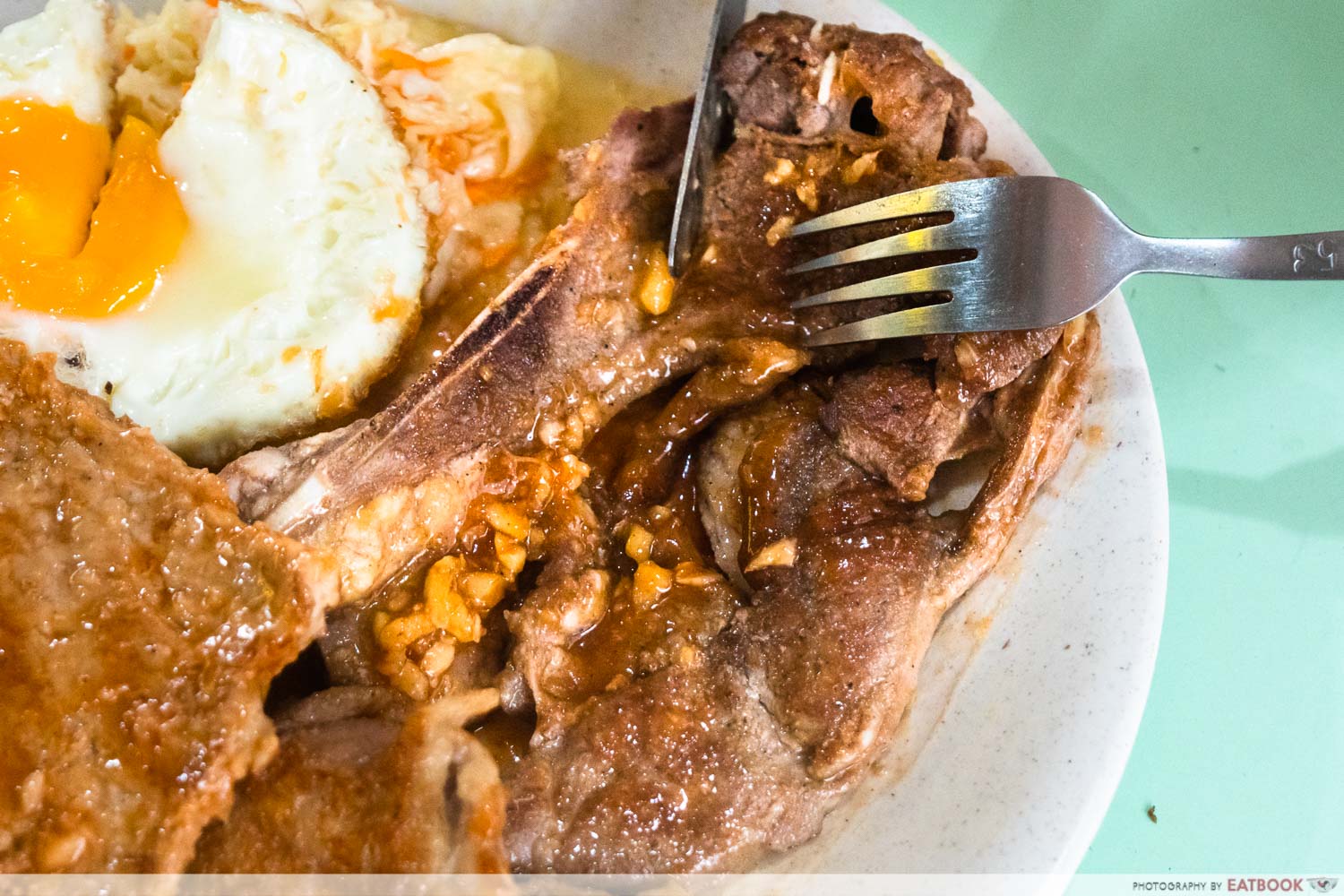 Next on our list was the lamb chop. Though it possessed a nice, mellow char, my colleague and I found it a tad bit chewy, but not because it was too thick. On the contrary, the thinly sliced lamb chop was cooked too long for our liking, which would've explained the chewy texture. Nevertheless, I totally understand this cost-saving decision, and cannot fault Western Barbecue for it.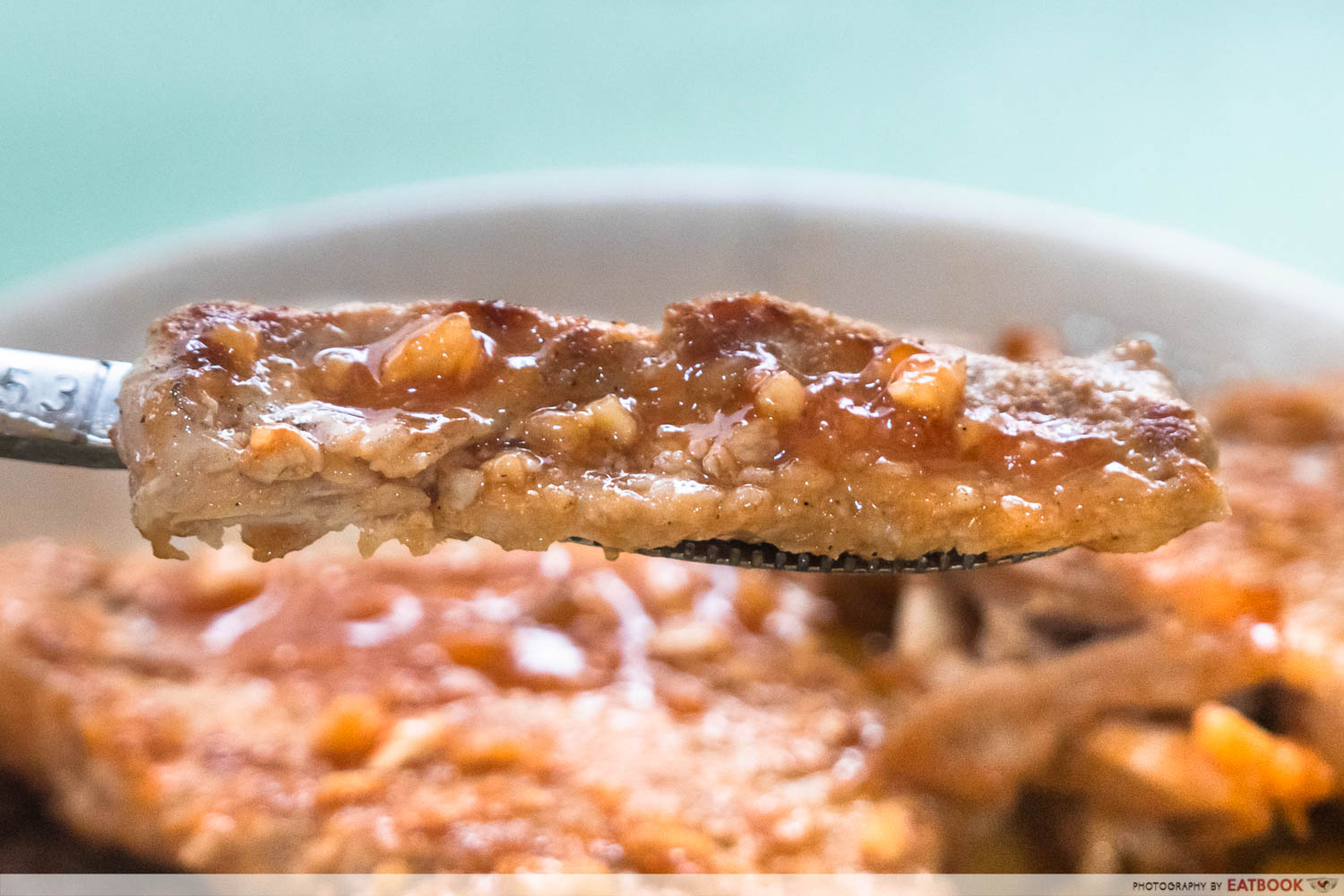 With the pork chop, I went in expecting a similarly chewy slab of meat, which is usually the case due to overcooking, less fatty meat, and so on. To my surprise, it was not as tough as I expected, and I sliced through it with ease.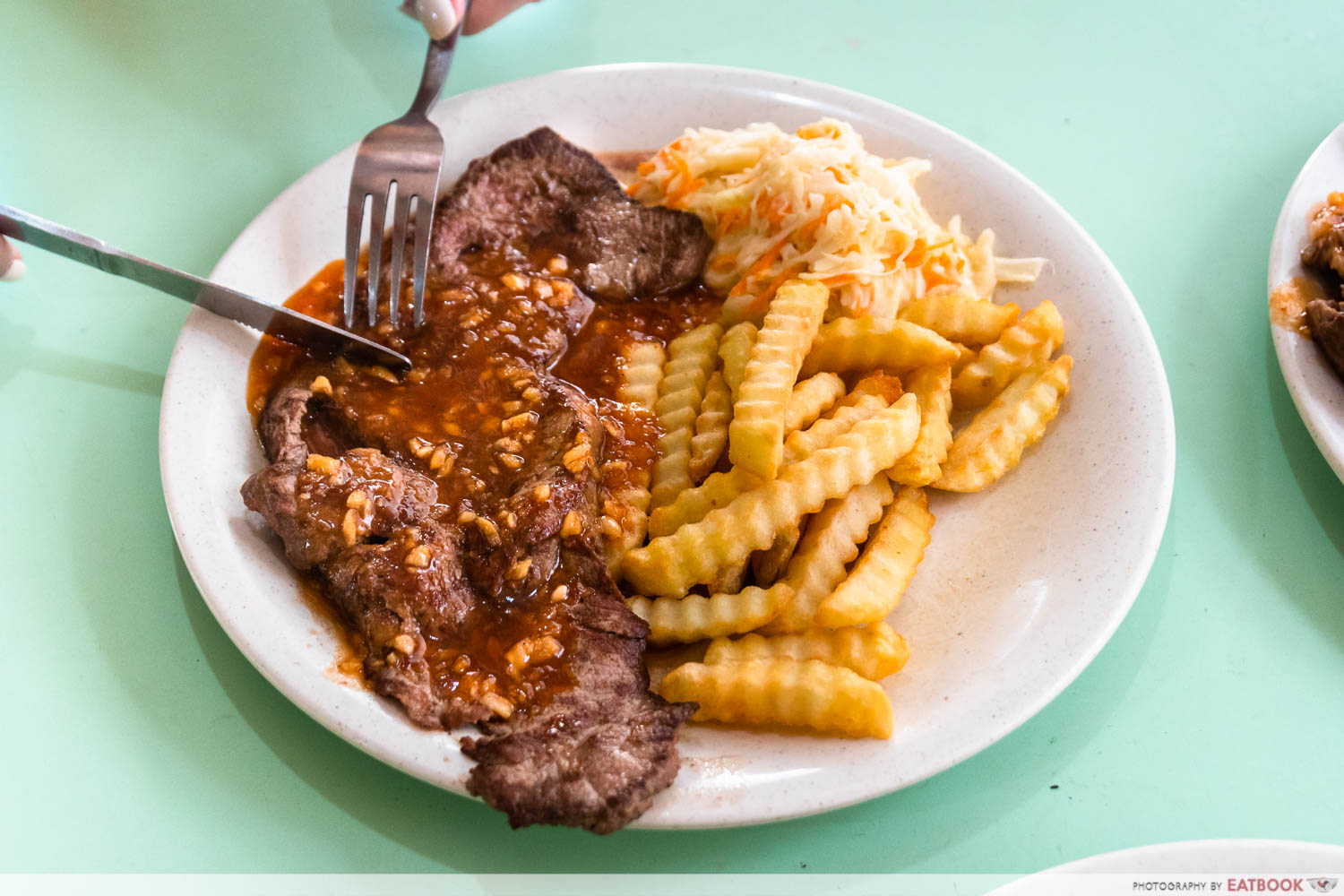 Moving on, the Sirloin Steak ($11) was a dish I was rather apprehensive about at first. The standard and quality of steaks at hawker centres can vary greatly, so I kept my expectations low to avoid disappointment.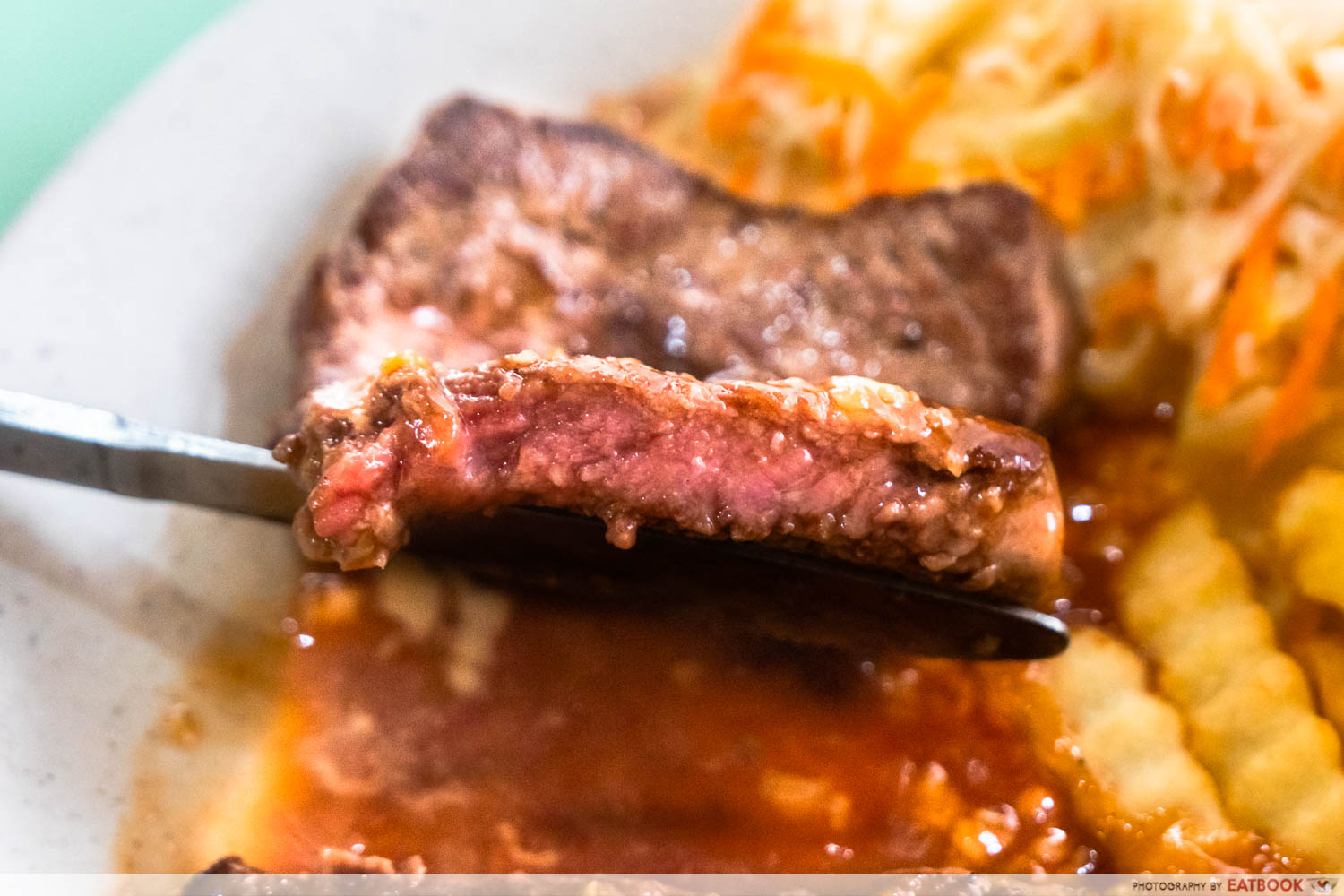 Surprisingly, cutting into it revealed a beautiful pink cross section, characteristic of a good medium-rare steak. True enough, the steak was juicy and tender enough, and possessed none of that rubbery, tough texture I had been afraid to find.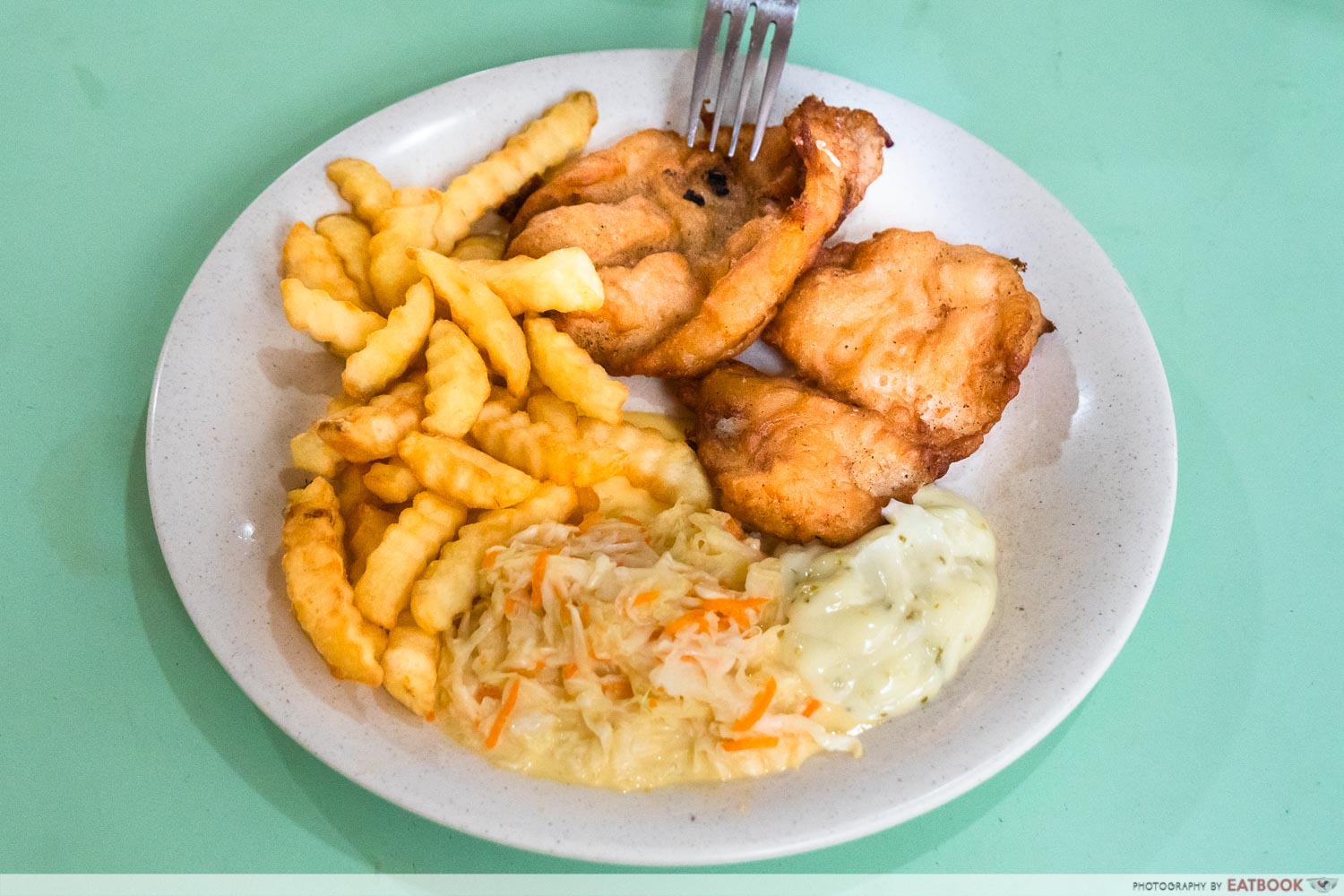 Lastly, we decided to order the Fish and Chips ($6.50) to tick off all of the proteins offered at Western Barbecue.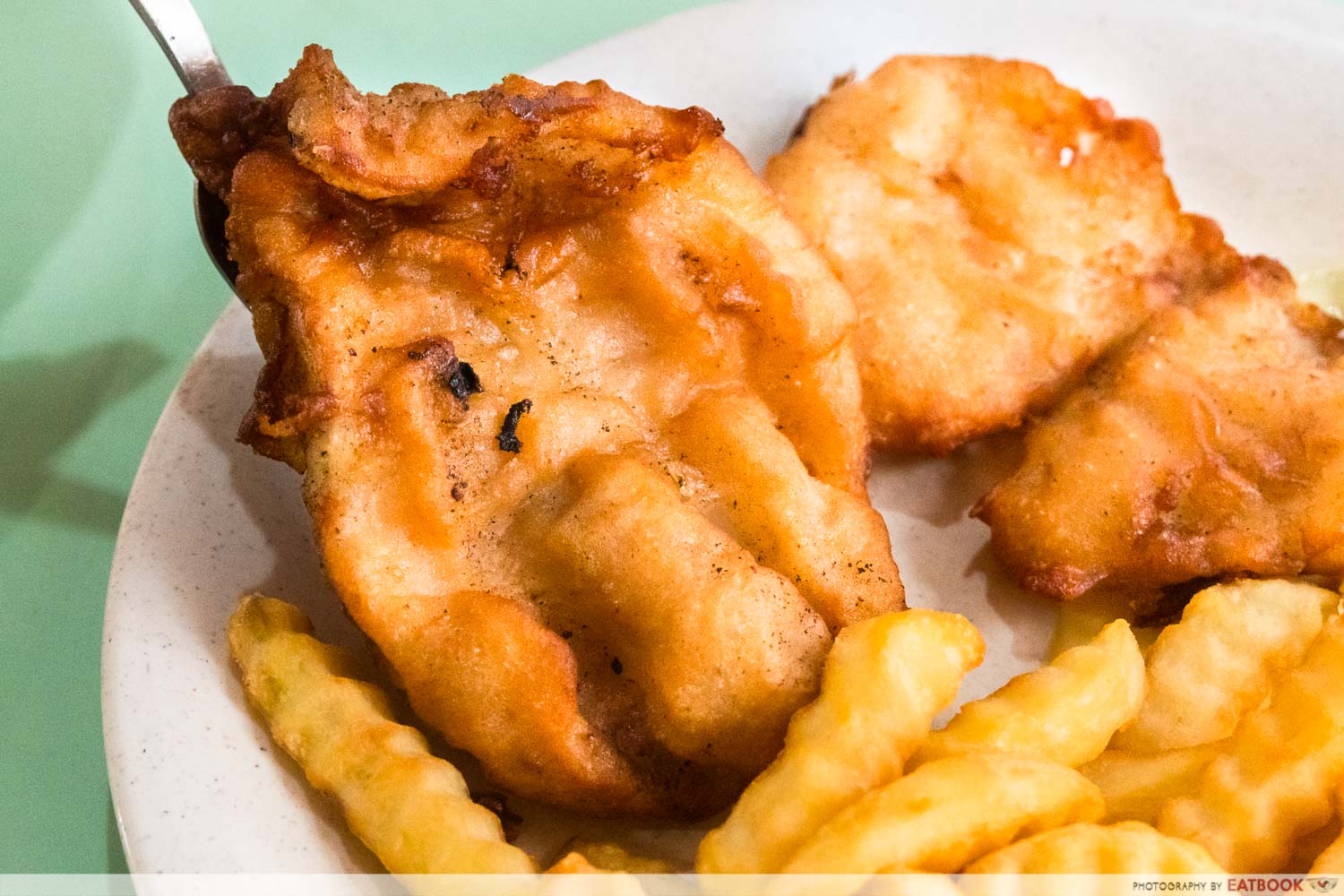 Unfortunately, I found the batter to lack the light crispiness I was looking for; it was rather chewy instead.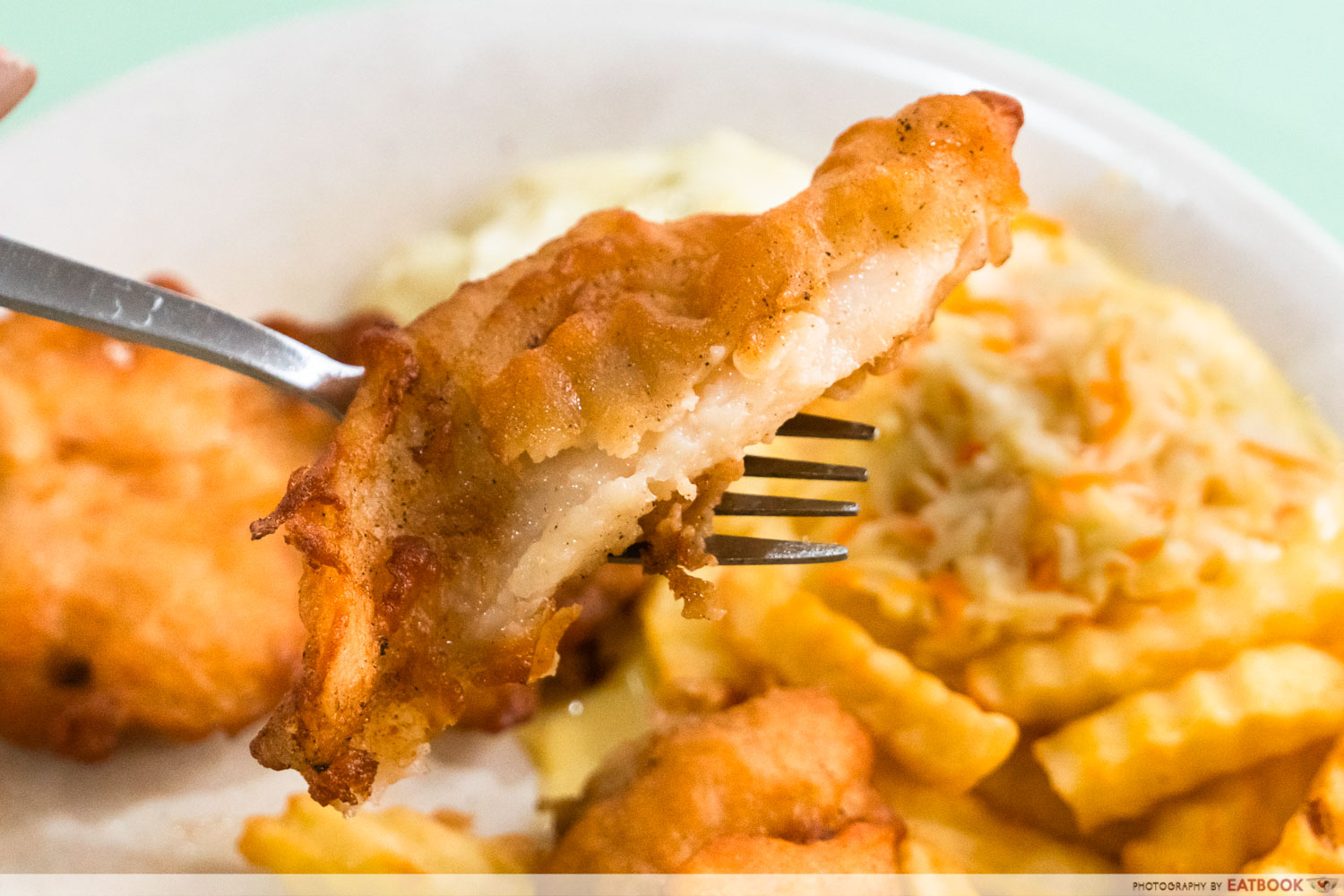 The batter also kept separating from the fish, falling away from its firm white flesh, so it was difficult to enjoy as a single entity. This tainted my overall impression of this dish, even with the well-marinated and tasty fish.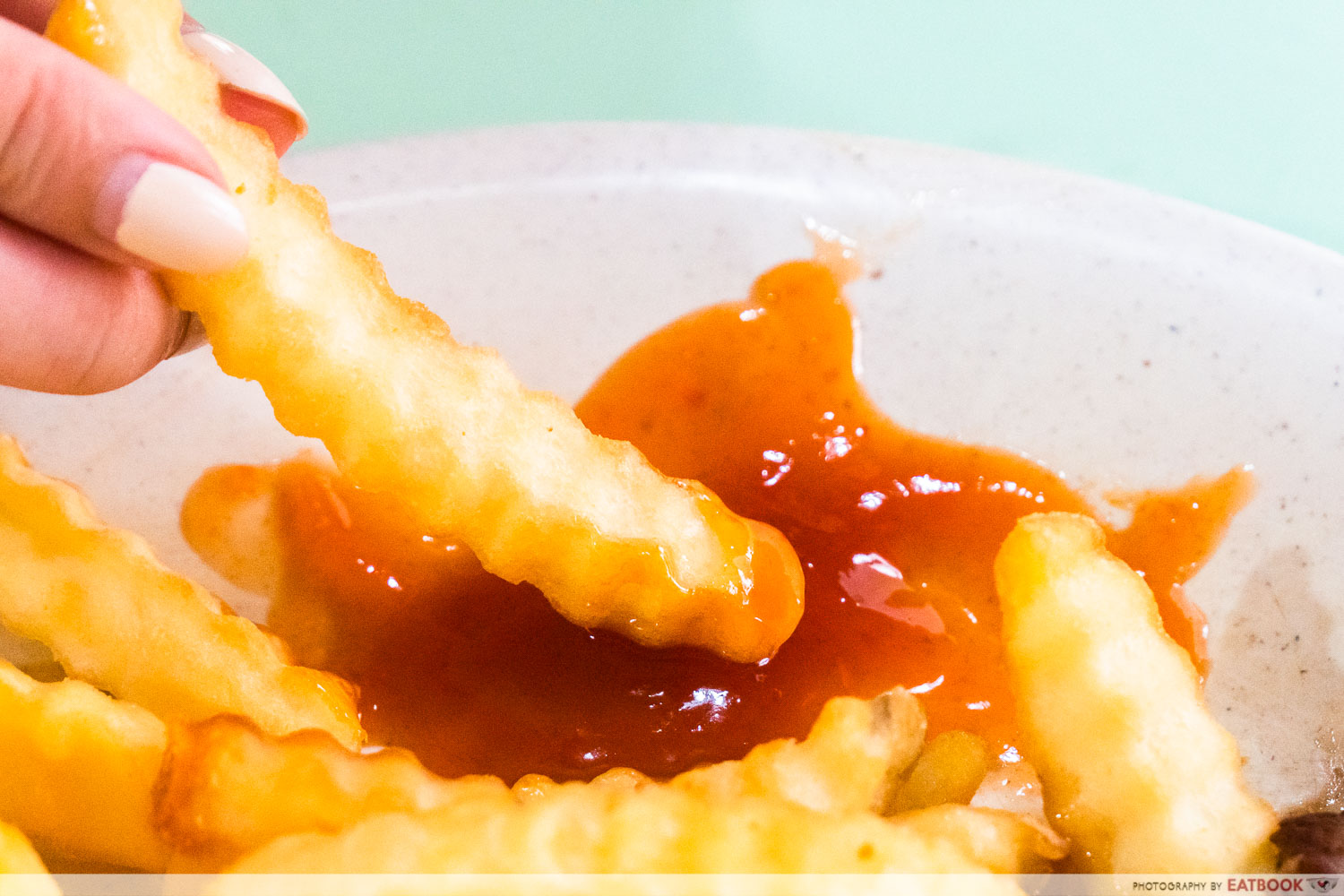 The chips in this dish are the same as the accompanying fries plated on all their dishes. Even though I'm a sucker for all things potato, Western Barbecue's lacked the saltiness that is the key, in my opinion, to good French fries. As a result, munching on these bland potato bites was unsatisfying. 
Nom Nom Monster Review: Western Food Stall Has Fried Chicken Brunch, Collagen Broth Pasta And More In Chai Chee
Ambience at Western Barbecue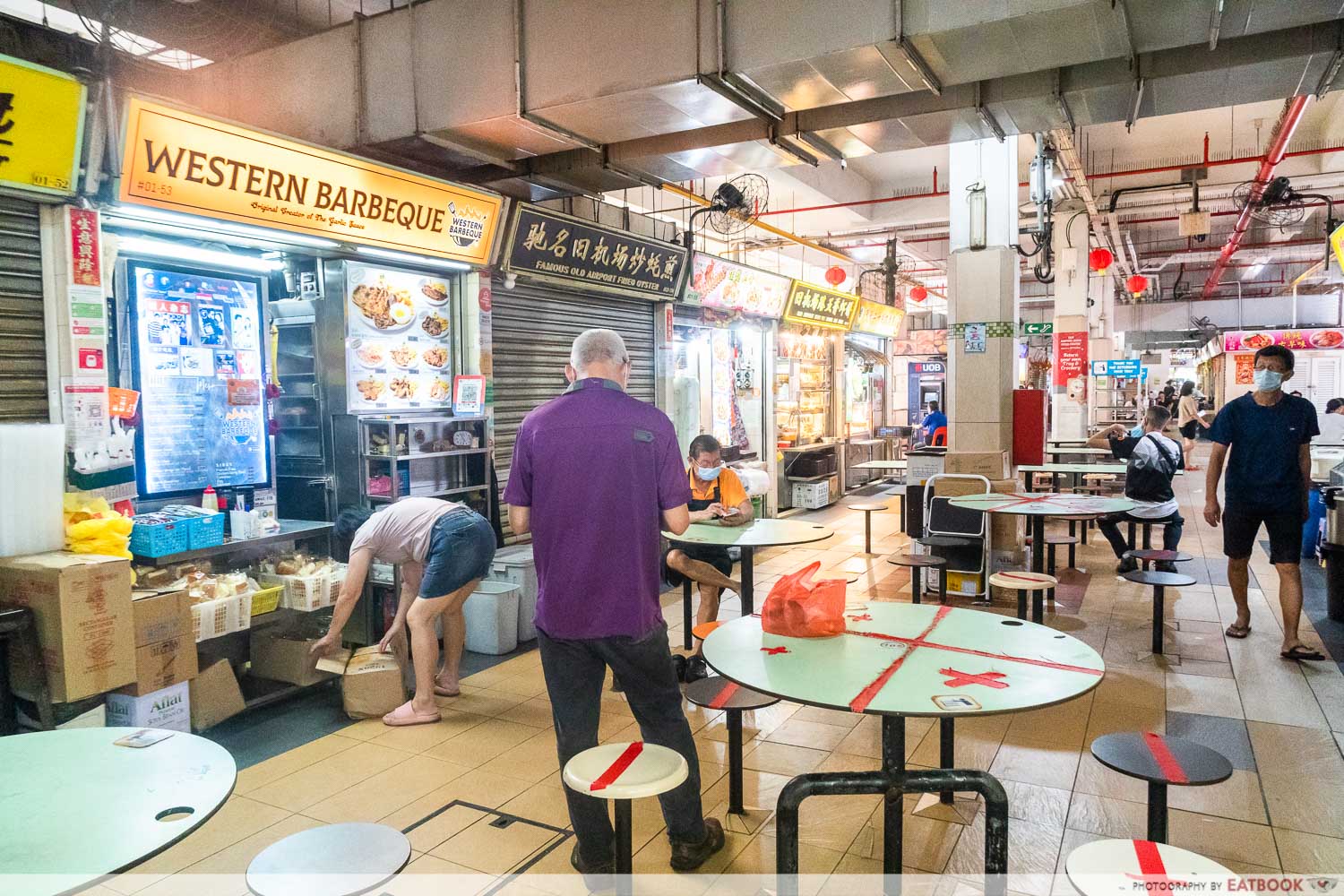 Old Airport Road Food Centre is sandwiched between a bus stop and Dakota MRT Station, so getting here is not a problem. Although we didn't take long to find a table and get our food, we hear that waiting times get pretty long during peak hours at lunch and dinner. I'd recommend coming at off-peak times to avoid the crowd.
The hawker centre is a sprawling space with more than 150 stalls, and there are, accordingly, many seats available at both rectangular and circular tables of various sizes—however it can be difficult to get a table on weekends especially. There are lots of fans, so your seat is sure to be well ventilated, whether you opt to sit near the front of the hawker centre, or in the aisles between the rows of stalls.
The verdict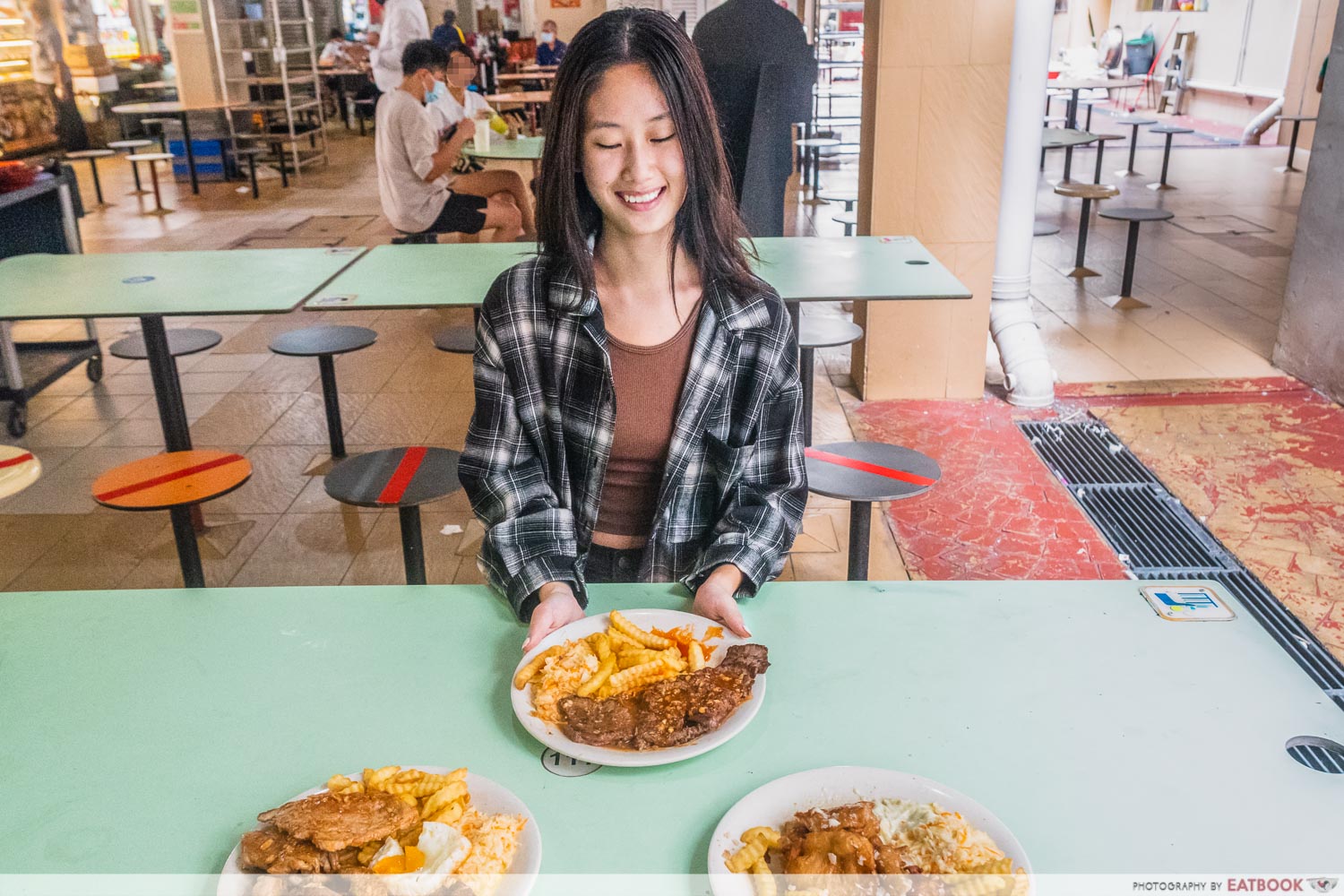 Overall, my experience at Western Barbecue was mostly a positive one, with more hits than misses. With outlets in Jurong, East Coast, and Toa Payoh, it means it isn't necessary to travel all the way to Old Airport Road to get a fix of their tasty garlic sauce. I especially like that this particular outlet opens till 11pm—later than most other hawker stalls in Singapore, so I can always count on them for comfort Western food after regular dinner hours. 
If you're looking for more Western food, check out our Wow Wow West review for huge portions below $10, or our Nom Nom Monster review for fried chicken brunch, collagen broth pasta and more at Chai Chee.
Address: 51 Old Airport Road, #01-53, Old Airport Road Food Centre, Singapore 390051
Opening hours: Daily 11am to 11pm
Tel: 8890 0353
Website
Western Barbecue is not a halal-certified eatery.
Wow Wow West Review: Western Hawker Stall With Huge Portions Below $10 At Bukit Merah
Photos taken by Zu Yi Kong.
This is an independent review by Eatbook.sg.
Western Barbecue Review: Old-School Hainanese Western Food With Famous Garlic Sauce By Second-Gen Hawkers
Western Barbecue Review: Hainanese-Style Western Food At Family-Owned Hawker Stall -

7/10
Summary
Pros
– Sirloin Steak was cooked well
– Relatively accessible location
– Unique garlic sauce 
Cons
– Some of the proteins were overcooked
– Fries were bland 
Recommended dishes: Sirloin Steak ($11)
Opening hours: Daily 11am to 11pm
Address: 51 Old Airport Road, #01-53, Old Airport Road Food Centre, Singapore 390051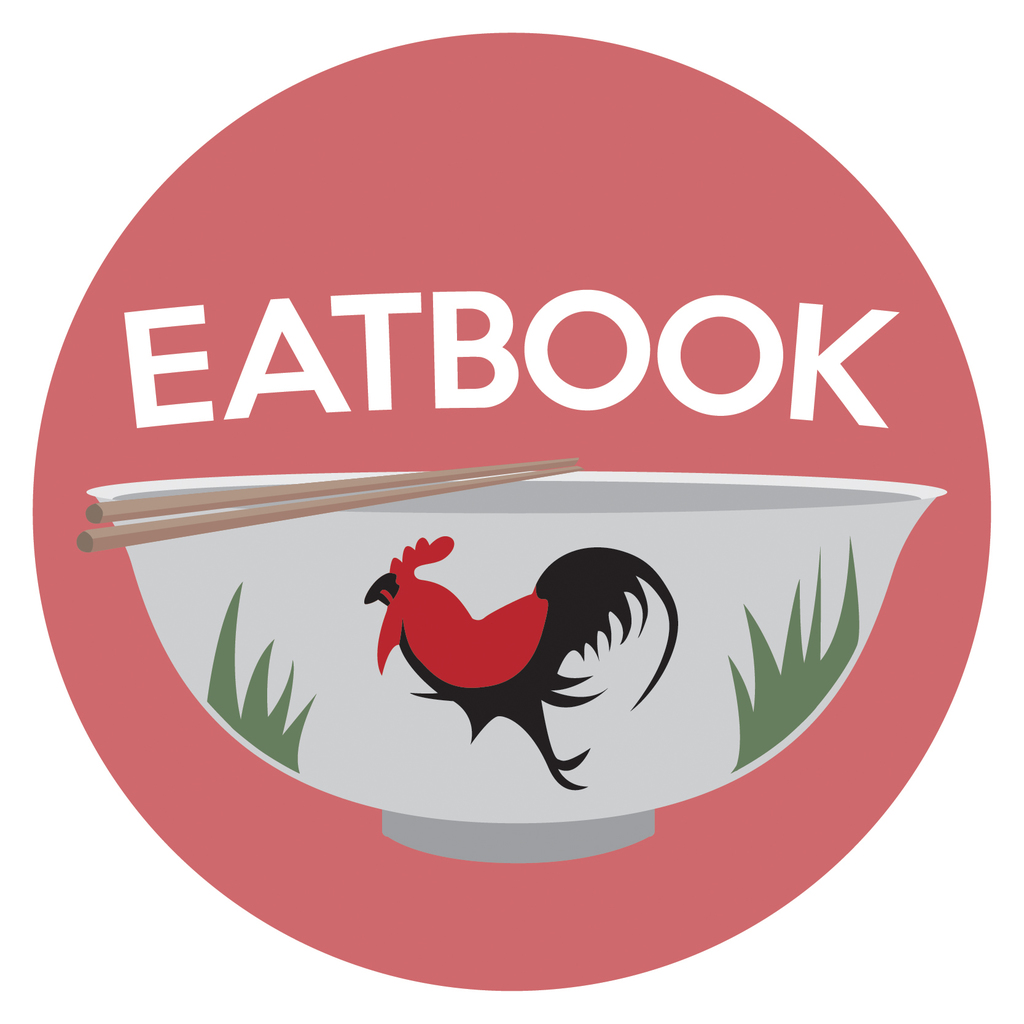 Drop us your email so you won't miss the latest news.