Nom Nom Monster at Chai Chee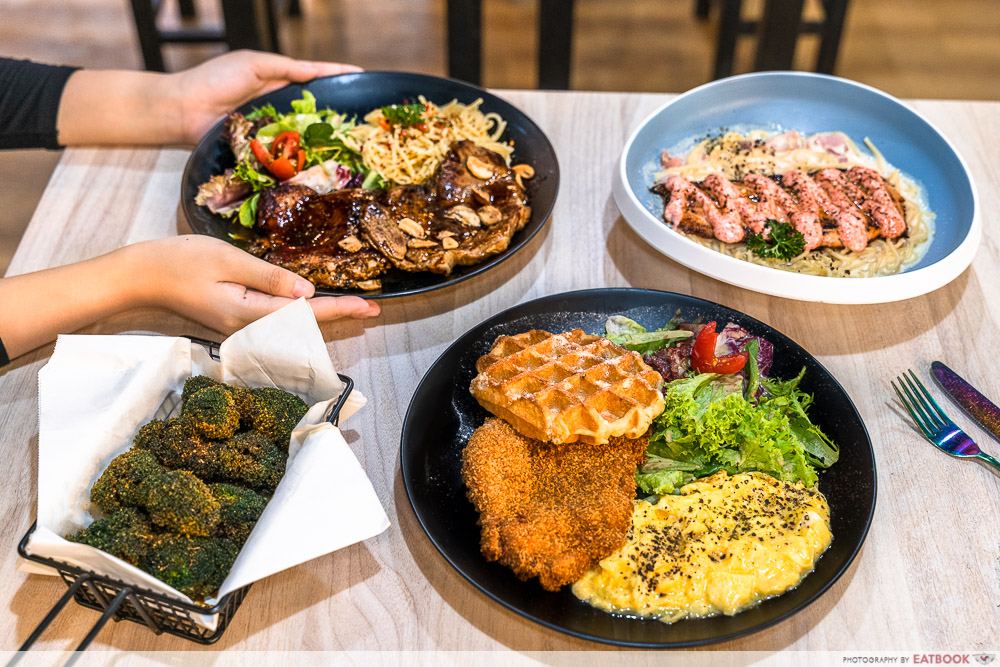 It's not always easy to find Western food stalls selling delicious, high-quality fare at affordable prices. So when we heard that Nom Nom Monster is one such gem, we knew we had to check them out.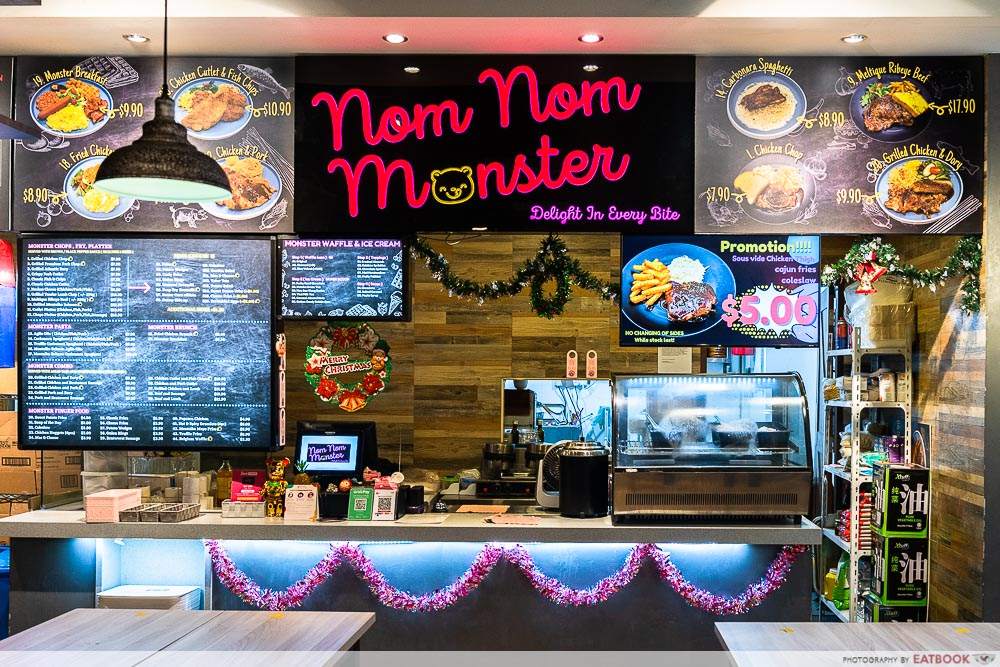 With its eye-catching neon pink signage, it's pretty hard to miss the stall. There are also pictorial illustrations of their most popular menu items, which give you a better idea of what to order.
Food at Nom Nom Monster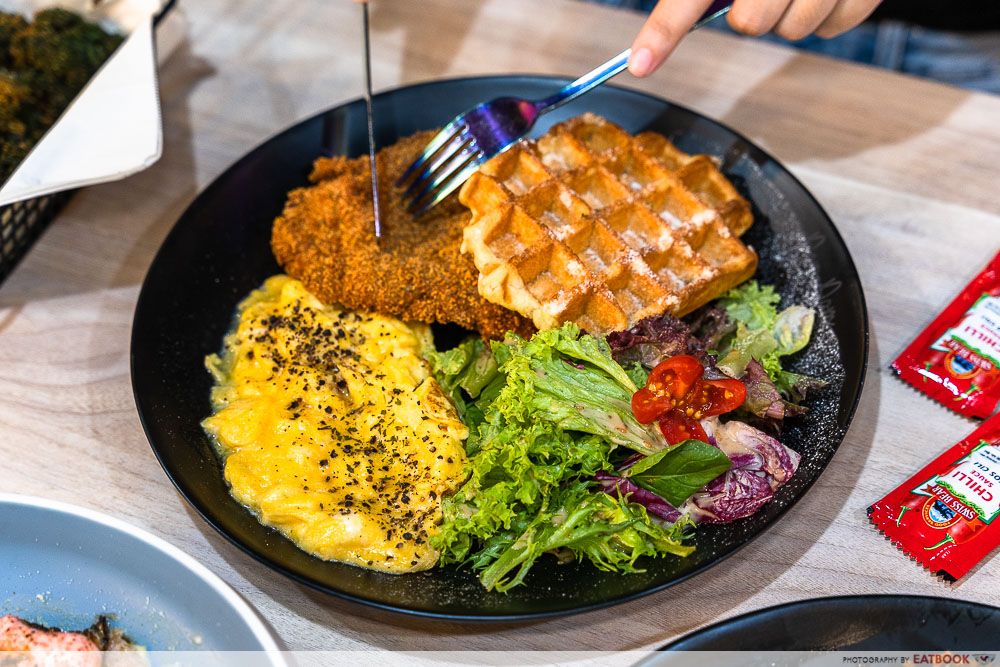 Chicken and waffle dishes have become more popular in recent years, and Nom Nom Monster serves up a solid rendition as well. The Fried Chicken Brunch ($8.90) includes scrambled eggs, fried chicken, Belgium waffles, and a side salad.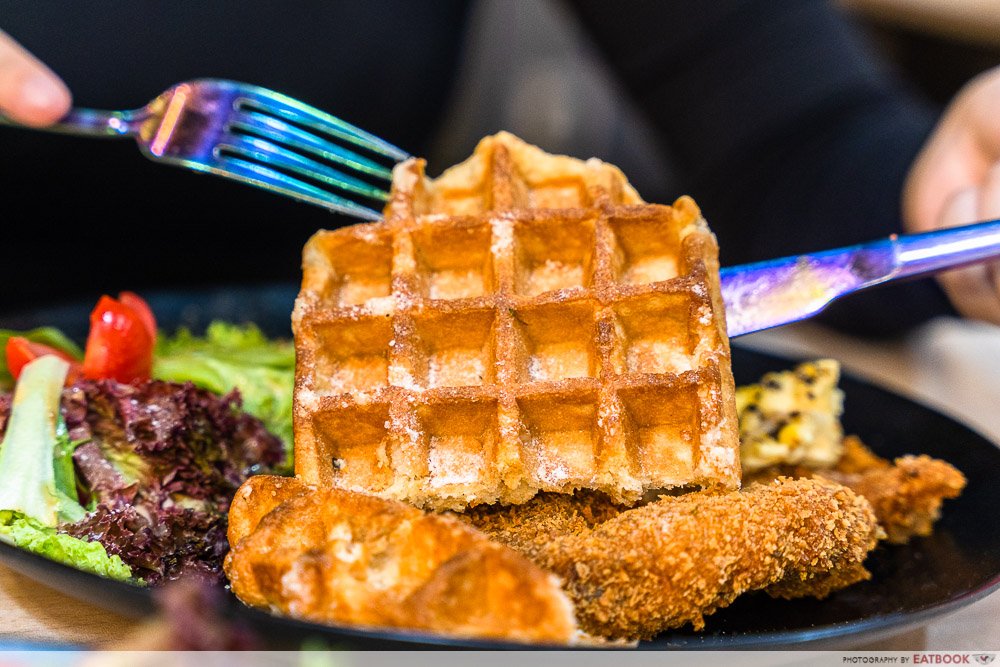 Unlike some places that serve soft and fluffy waffles, the Belgium waffles here are crispy and crunchy with every bite. The waffles, which were dusted with powdered sugar, tasted sweet on their own, so I felt like I was eating dessert rather than brunch.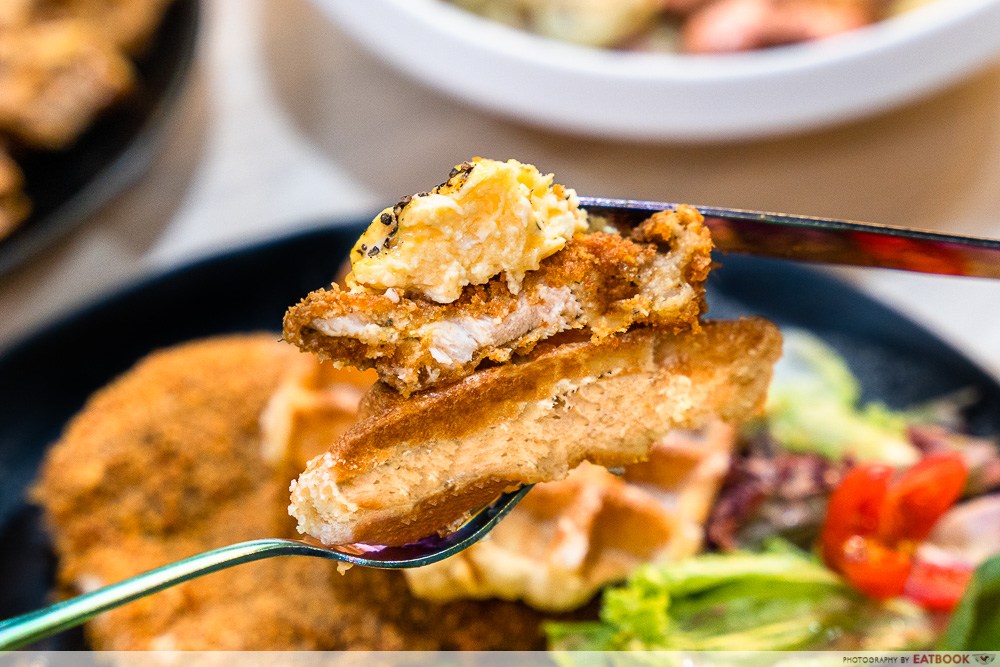 Another noteworthy point is that their chicken fillets are vacuum-sealed and sous vide for tenderness. Each slab of meat is grilled only when an order is placed. This is unlike at other Western food stalls, which typically pre-grill their meats and set them aside to save time.
Not only does this process ensure the freshness of the chicken, it also aids in the consistency of the meat quality. I could tell the difference because it's much more tender and juicy than most other fried chicken dishes I've had before. 
The elements complemented each other well; you get the creaminess of scrambled eggs, the sweetness of waffles, and the savoury flavour of the fried chicken. They all came together beautifully, creating a well-balanced sweet and savoury dish.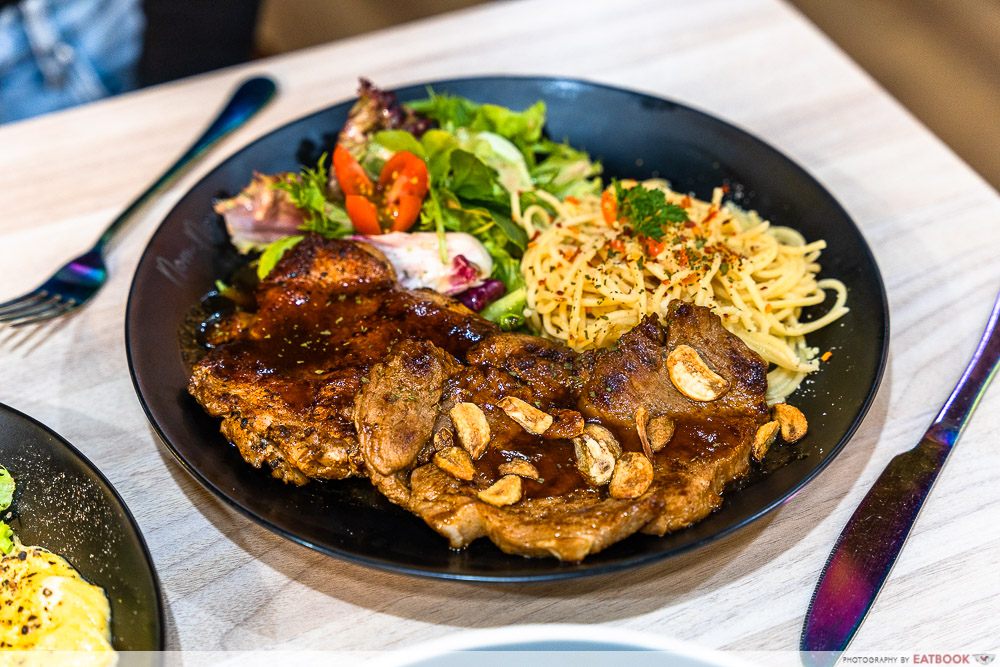 They also serve value-for-money combos, such as the Grilled Chicken and Pork ($9.90) that we ordered. Along with the grilled meats that are drizzled with their house-made brown sauce, this dish includes a generous portion of Aglio Olio and a Garden Salad.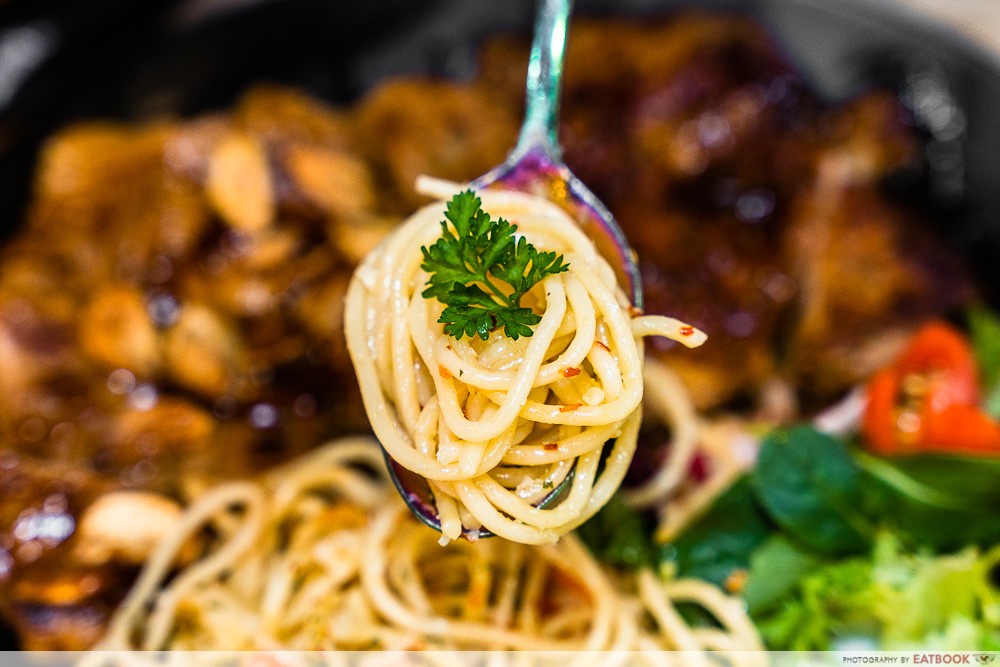 All the pasta at Nom Nom Monster is boiled in a collagen broth made with white wine, pork bones, salt, and spices. Each batch of broth is boiled for at least 40 minutes to extract all of the flavours from the ingredients. The noodles are then tossed in a special mix of chilli padi and garlic after they're taken out of the collagen broth. According to the owner, they have received a lot of positive feedback on the taste of their pasta, which makes the additional step worth it.
This pasta dish surprised me because it was spicier than what I had initially expected, thanks to the chilli padi. Using collagen broth to boil the pasta was another wise choice, because the savoury broth helped to enhance the flavours of the overall dish.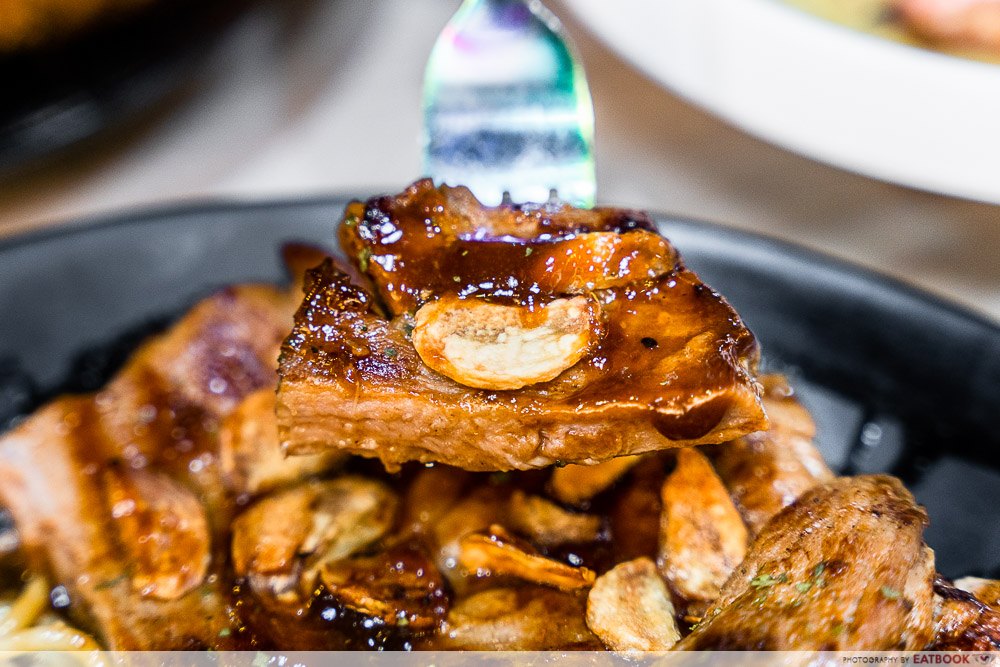 You also get a generous serving of grilled chicken and pork, both drizzled with the house-made brown sauce. Their brown sauce had a smoky flavour, unlike the typical black pepper sauce served at most Western stalls. The grilled pork was served with garlic chips, which added flavour to the meat. The chicken and pork were both relatively tender, but the latter fared better as it was less chewy.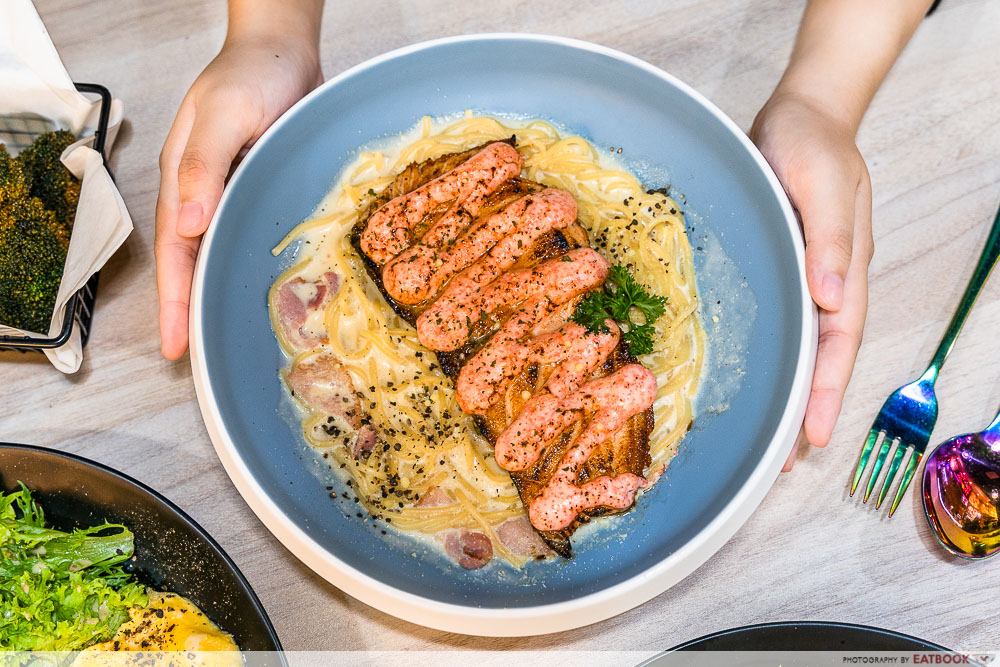 We also ordered the Mentaiko Salmon Carbonara Spaghetti ($10.90), which comes with a massive slab of salmon fillet and a generous drizzle of mentaiko mayonnaise.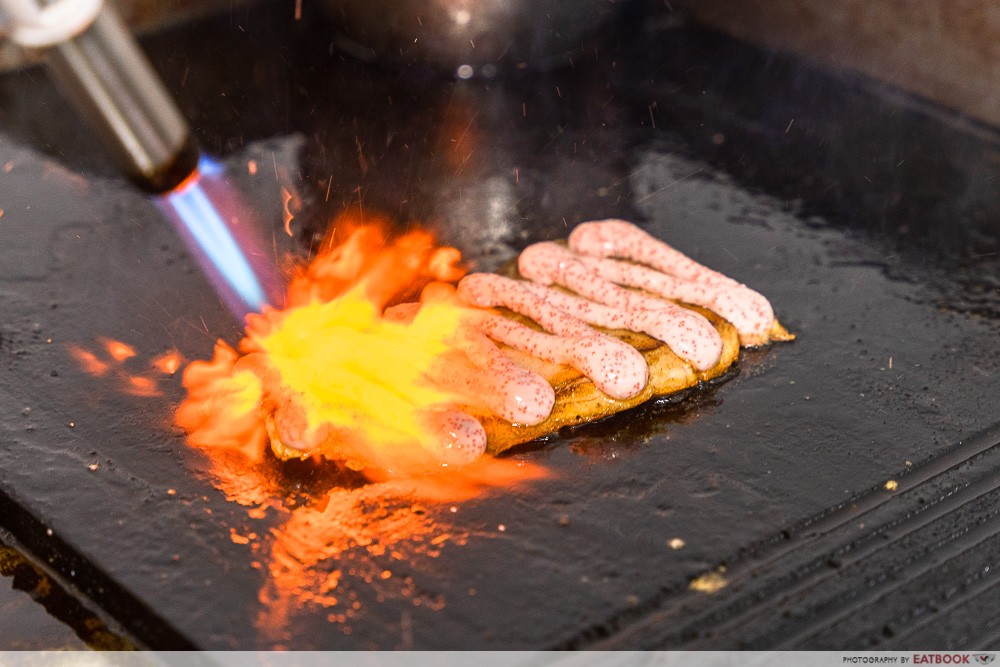 Their mentaiko mayo is made in-house as well, and is torched atop the salmon fillet for a creamy and smoky finish. Their mentaiko sauce is also different from the ones you find at the supermarket; here they mix in actual fish roe for added texture. Personally, I would have preferred a stronger mentaiko flavour, but the generous portion of salmon compensated for it.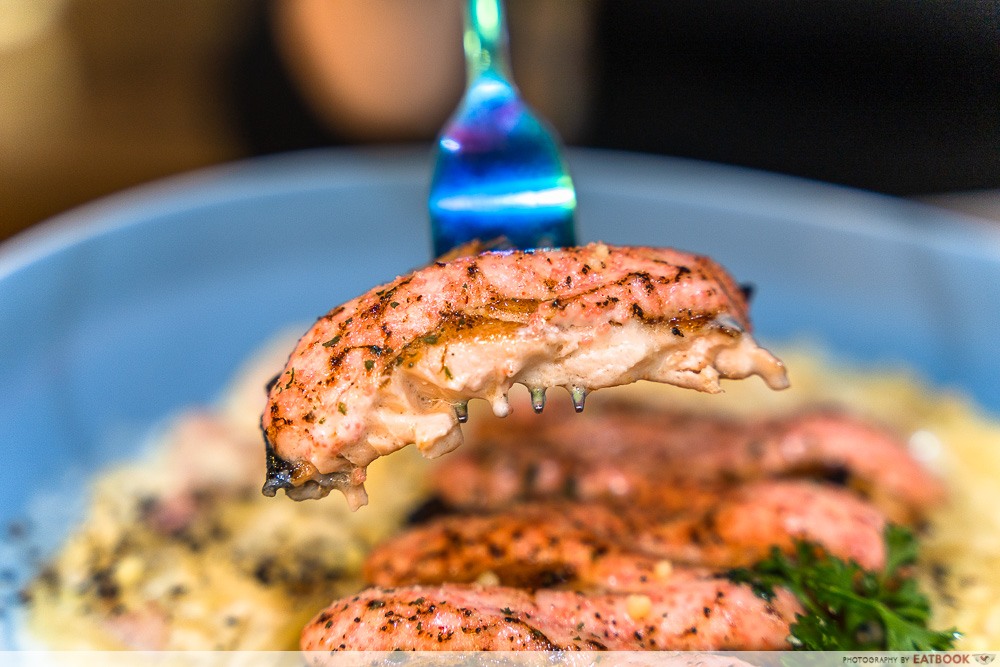 Fortunately, the salmon was grilled to perfection, with crispy skin on the side. The fish wasn't overly dry either, thanks to the generous dollop of mentaiko mayo on top.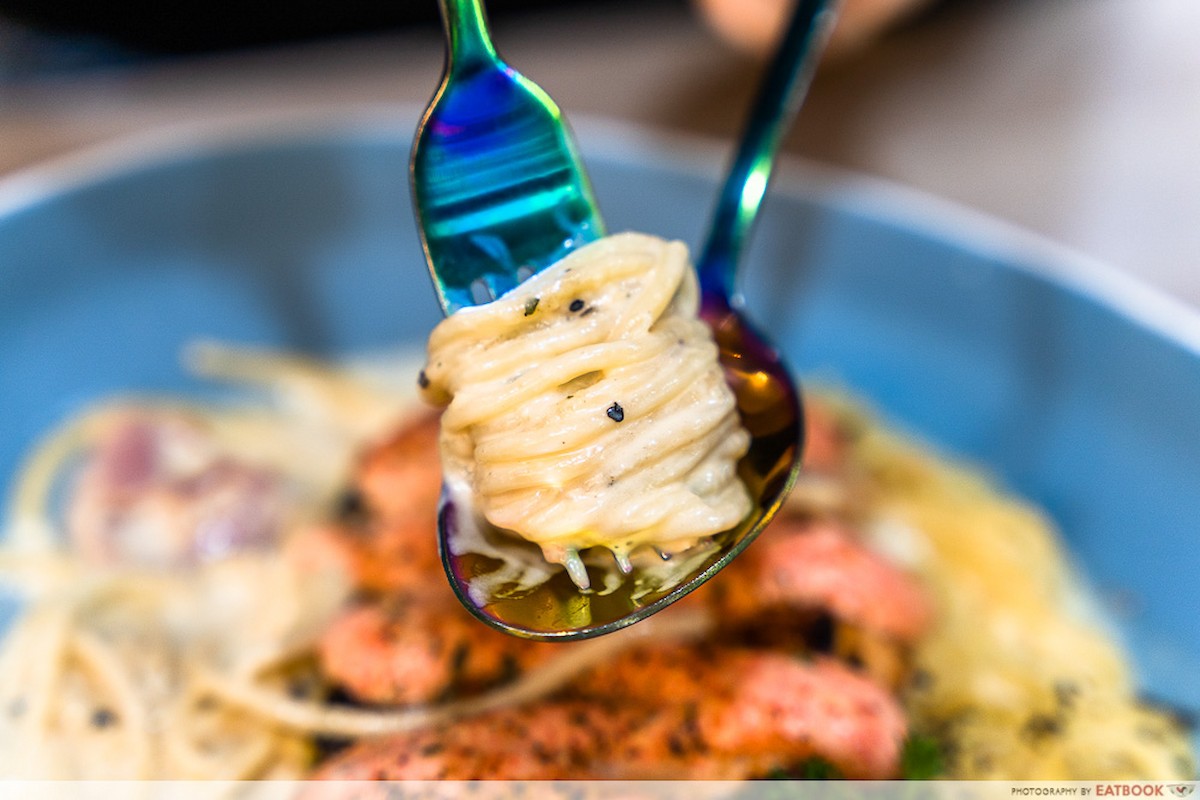 The carbonara cream sauce is a combination of two types of milk and a small amount of their collagen broth. The bacon is also fried before being mixed into the sauce, so you can enjoy crispy, savoury bacon bits in your pasta. The carbonara was undeniably creamy, but with the mentaiko mayo, it became jelak after a while, so I would recommend that you share this dish.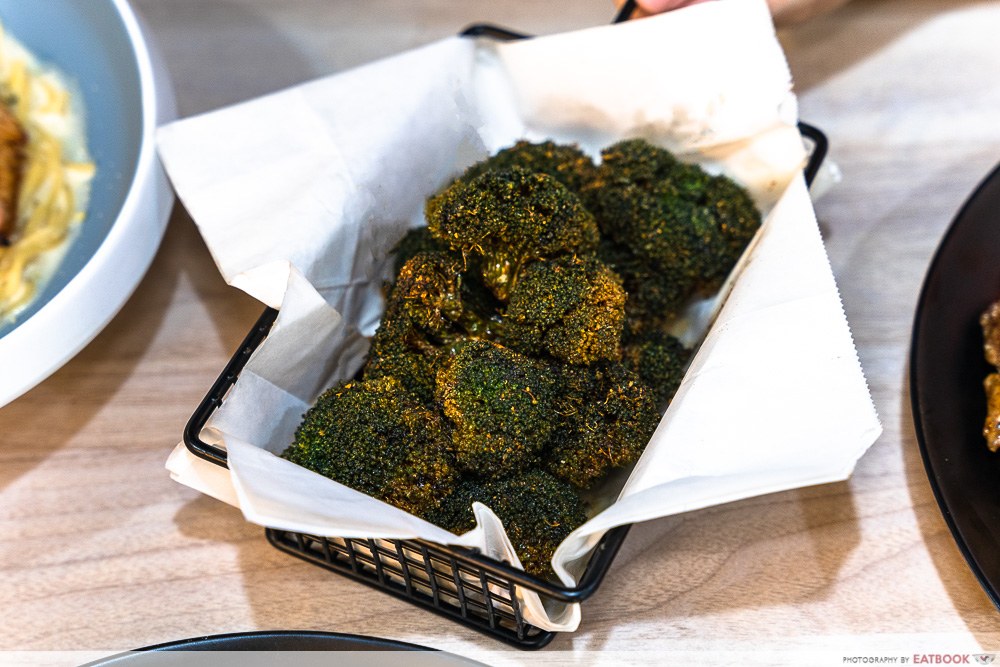 If you're in the mood for a feast, Nom Nom Monster serves set meals that come with two sides of your choice. The prices of their main courses range from $7.90 to $14.90, and there are 16 sides to choose from. We got to try their Deep Fried Broccoli, which was recommended by the owners.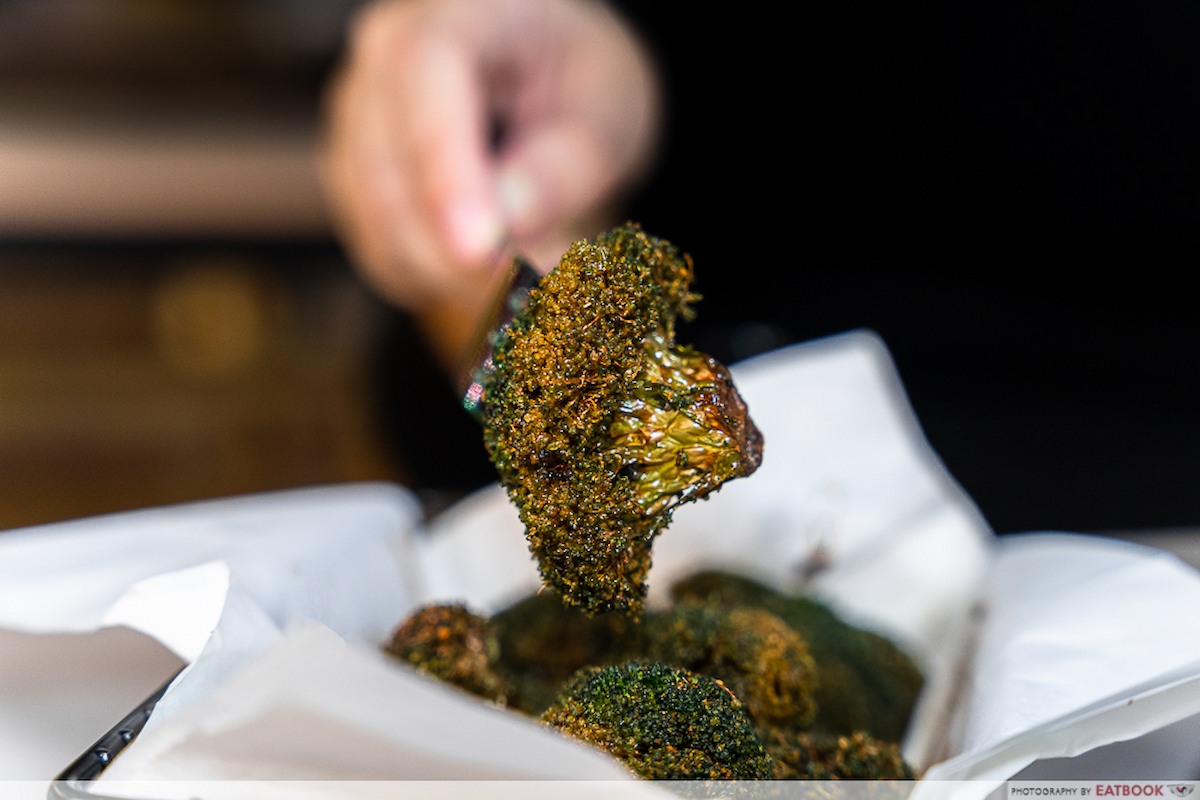 Each floret is marinated in a dark sweet sauce, which includes a secret chilli padi blend and cajun seasoning. I could definitely taste the spices, and the broccoli chunks were fried to perfection, so there was a good crunch in each bite. This dish was a little salty on its own, but it'd go well with any main course. I recommend eating it quickly as it gets soggy after a while.
Ambience at Nom Nom Monster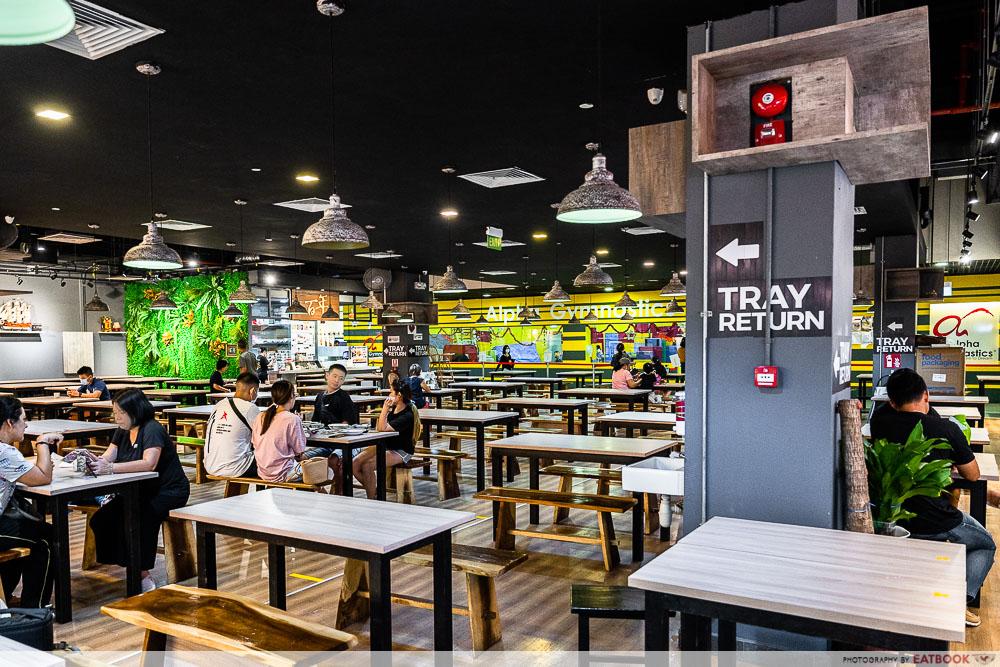 Nom Nom Monster is located within the ESR Bizpark, which is about a four-minute bus ride from Kembangan MRT Station. If you're having trouble finding the mall, it's right next to Decathlon.
As the stall is located inside the mall, the space is air-conditioned, so you won't feel uncomfortably warm while eating. It's also quite spacious, making it rather easy to find a seat. 
The verdict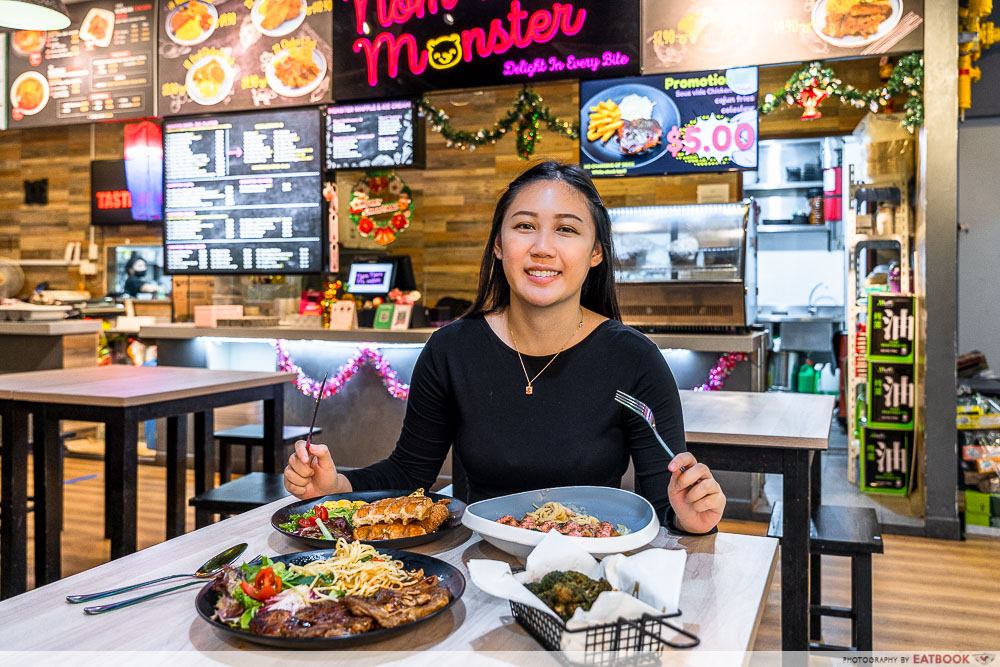 This was without a doubt one of my better hawker experiences with Western food. Most of what I tried had great flavours, and the prices were reasonable. Although the location is a little out of the way, I definitely plan on returning for some of the dishes I ordered, particularly the Fried Chicken Brunch.
Nom Nom Monster is currently running a $5 weekday promotion for a set of Chicken Chop with Cajun Fries and Coleslaw. Keep an eye out for more deals on their Instagram page! 
Address: 750 Chai Chee Road, ESR Bizpark, Singapore 469000
Opening hours: Mon-Fri 11am to 9pm, Sat-Sun and Public Holidays 10am to 9pm
Website
Nom Nom Monster is not a halal-certified eatery
Photos taken by Chew Yi En.
This post is brought to you by Nom Nom Monster.
Nom Nom Monster Review: Western Food Stall Has Fried Chicken Brunch, Collagen Broth Pasta And More In Chai Chee
Nom Nom Monster Review: Western Food Stall Has Fried Chicken Brunch, Collagen Broth Pasta And More In Chai Chee -

7.5/10
Summary
Pros
– Reasonably priced
– Big portions
– Full-on flavours
Cons
– Location is a little hard to find
– Certain sauces may be too rich for some 
– The broccoli is salty on its own
Recommended dishes: Fried Chicken Brunch ($8.90), Grilled Chicken and Pork ($9.90)
Opening hours: Mon-Fri 11am to 9pm, Sat-Sun and Public Holidays 10am to 9pm
Address: 750 Chai Chee Road, ESR Bizpark, Singapore 469000