Nam Sing serves legit Hokkien mee at Old Airport Road 

Ask any Singaporean for a great plate of Hokkien mee and Nam Sing Hokkien Mee would definitely pop up. This humble stall at Old Airport Road Food Centre has been serving stir-fried noodles since the 1960s.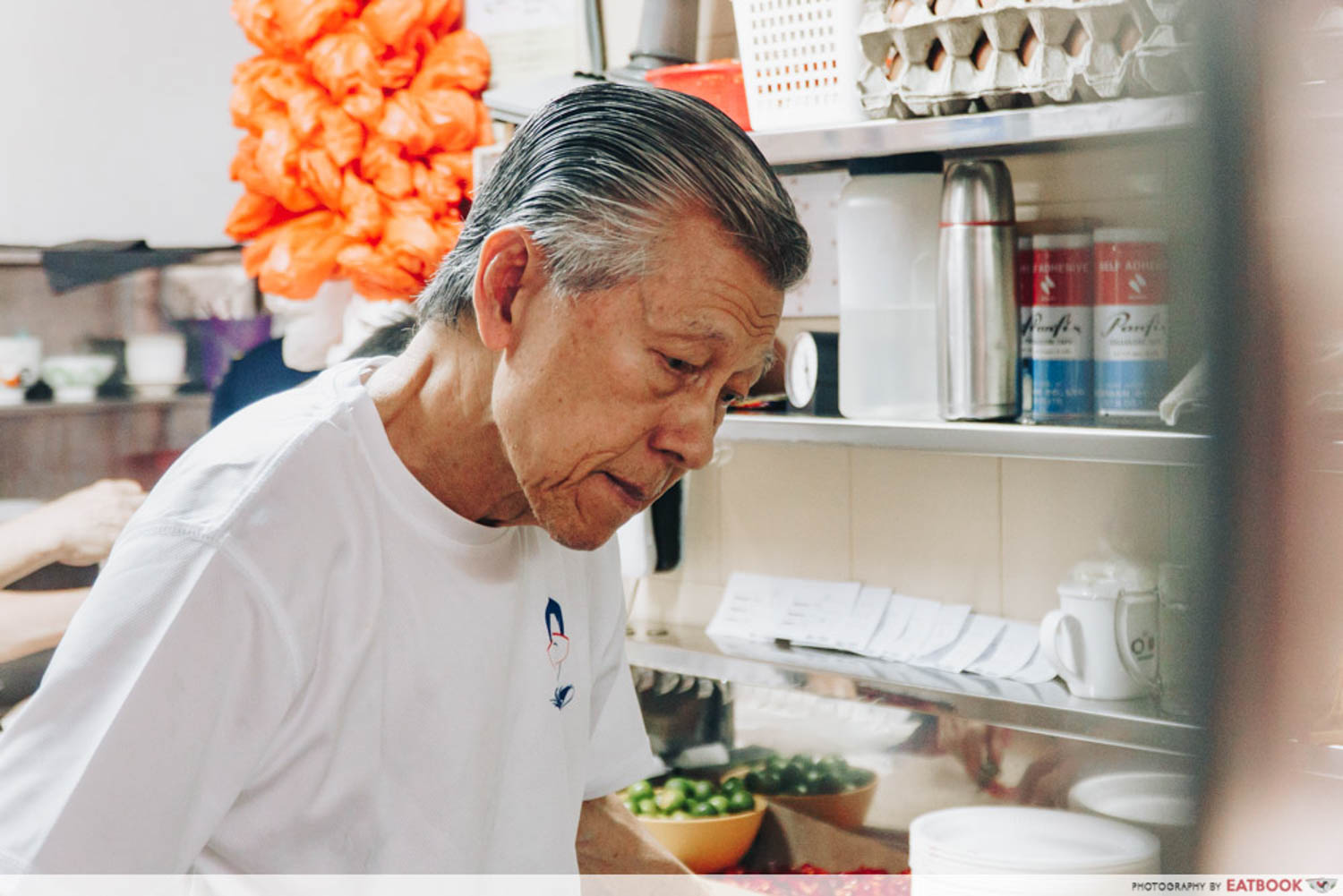 Don't let the age of Mr Ng Hock Wah, the current owner of this noodle stall, fool you. At 73 years old, Mr Ng has been zealously serving his family's renowned Hokkien mee for the past 50 years. Despite being well over the retirement age, he still works six days a week, frying at the wok for 12 hours each day.
Food at Nam Sing Hokkien Mee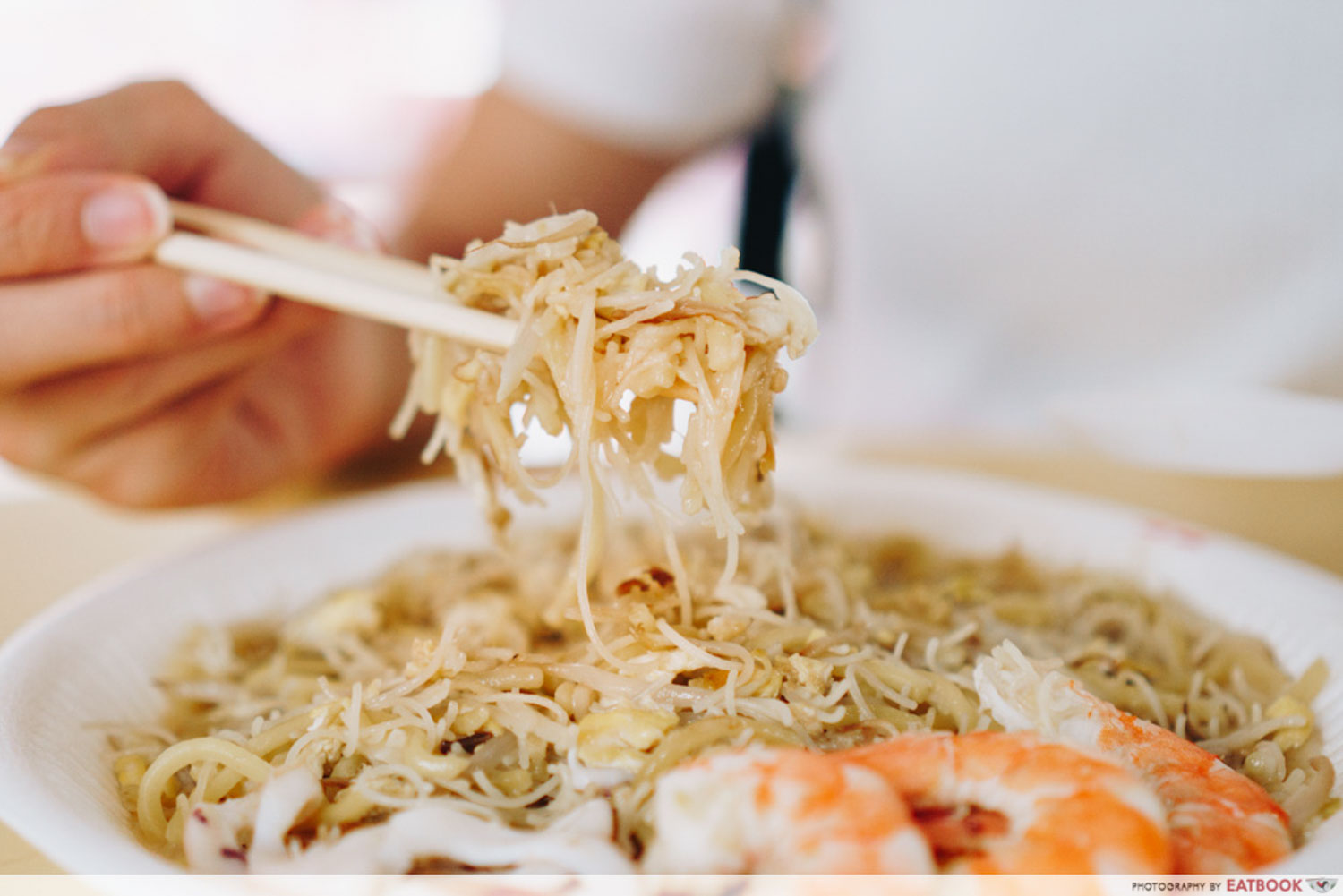 The only thing you have to stress about when standing in line is whether there are any noodles left once it's your turn to order. Their Hokkien Mee comes in two sizes: normal ($5) and medium ($8).
Unlike normal Hokkien mee that uses yellow noodles and thick bee hoon, the ones here are made using thin bee hoon. The noodles had a subtle wok hei fragrance, and are flavoured with the prawn and meat stock they were stir-fried in. 
This classic choice of noodles meant the thin bee hoon could easily soak up the rich and flavourful broth. It helped that the hints of wok hei were faint, as it did not mask the bold flavours of the stock.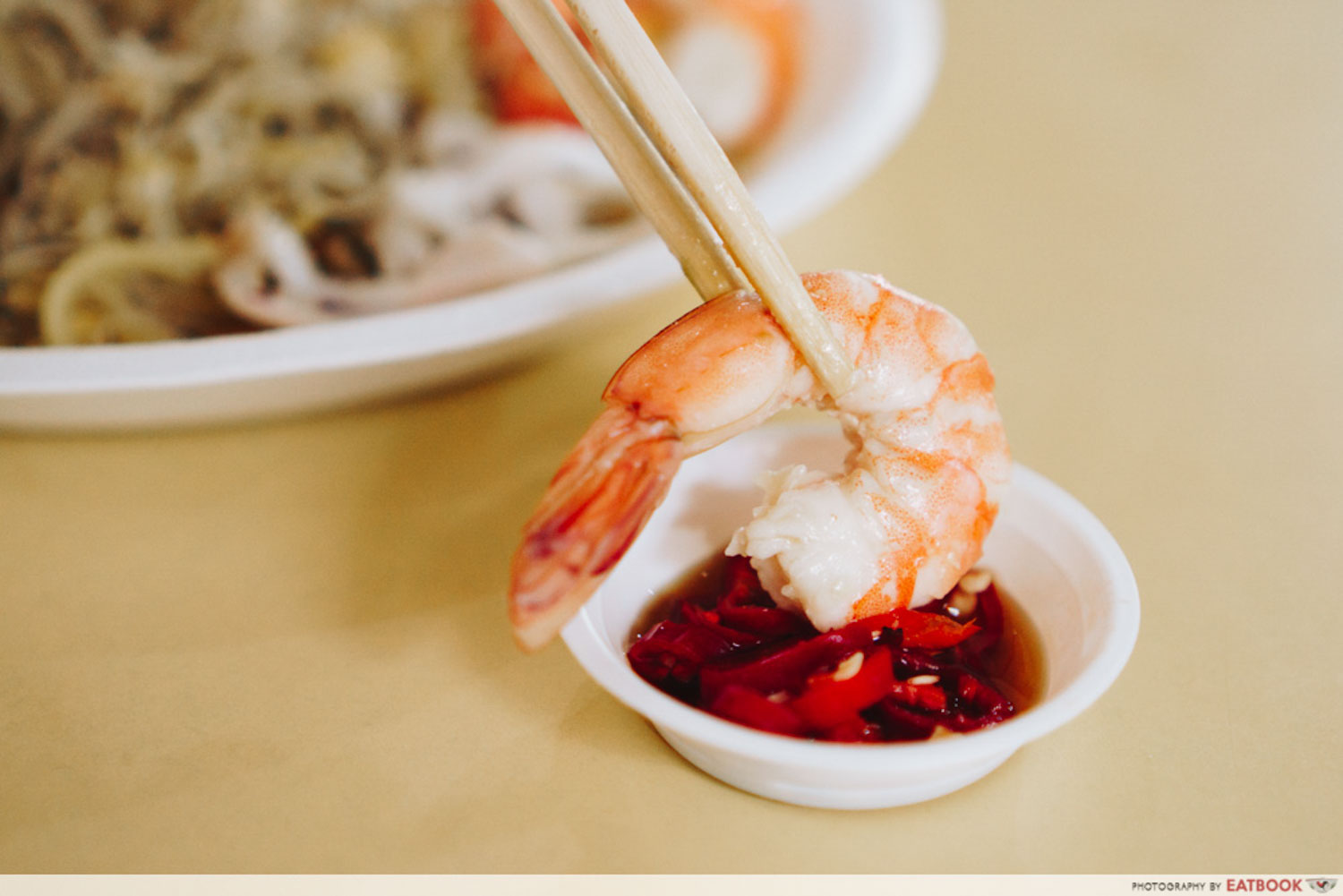 Another thing that stood out was the serving of fresh-cut chillies instead of sambal belacan. I learnt from the auntie who helps out at the stall that Hokkien mee was traditionally served with cut chillies. Despite the norm to pair the stir-fried noodles with belacan, Mr Ng decided to stick to his family's old recipe.
I prefer to have sambal belacan, as the shrimp paste and lime brings out the seafood flavours in Hokkien mee. However, it was refreshing to have fresh-cut chillies as it allowed the noodles to stand out.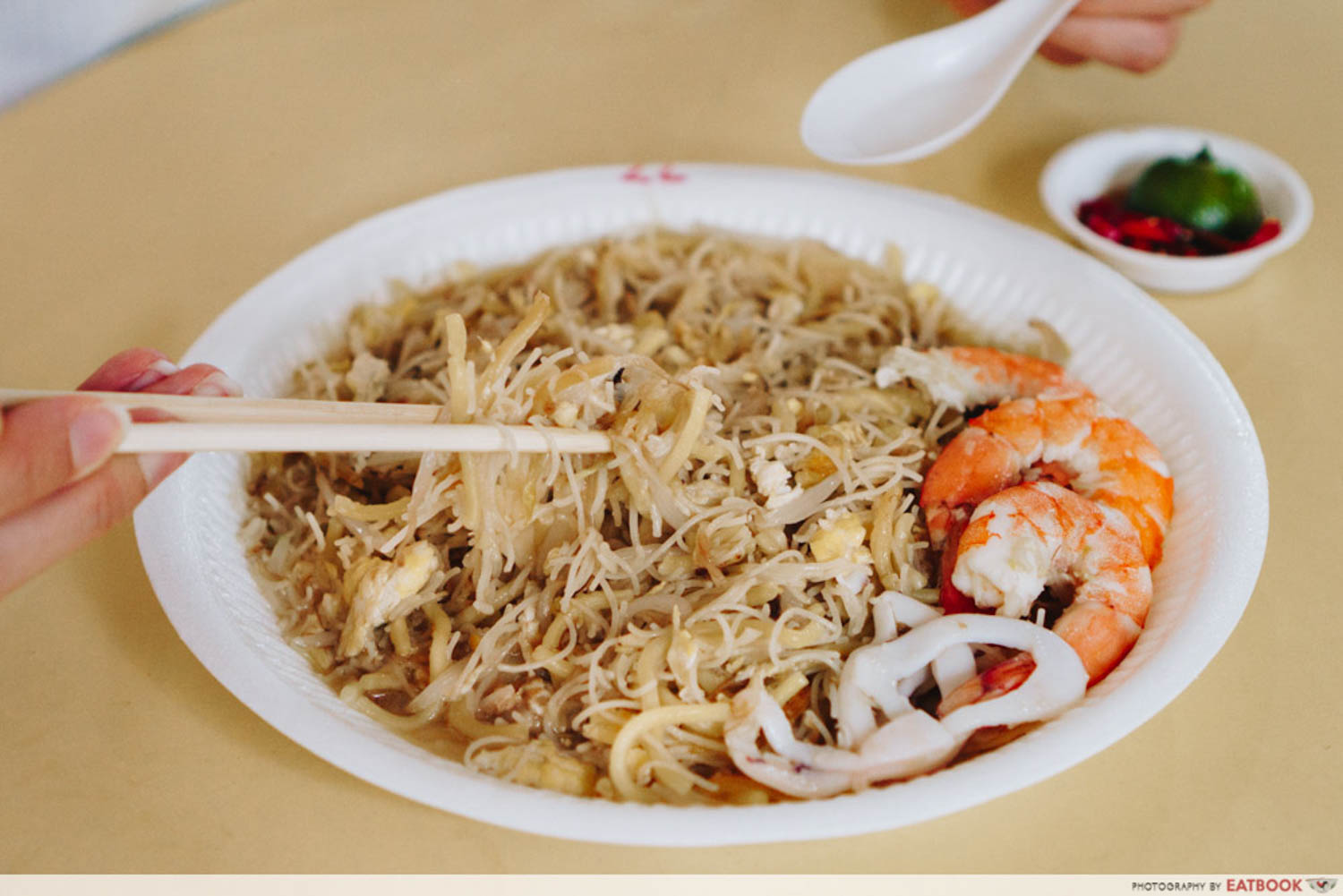 A testament to tradition is the fact that the recipe did not change over the years. My parents, who are avid fans of his noodles, have agreed that the taste and quality have remained the same.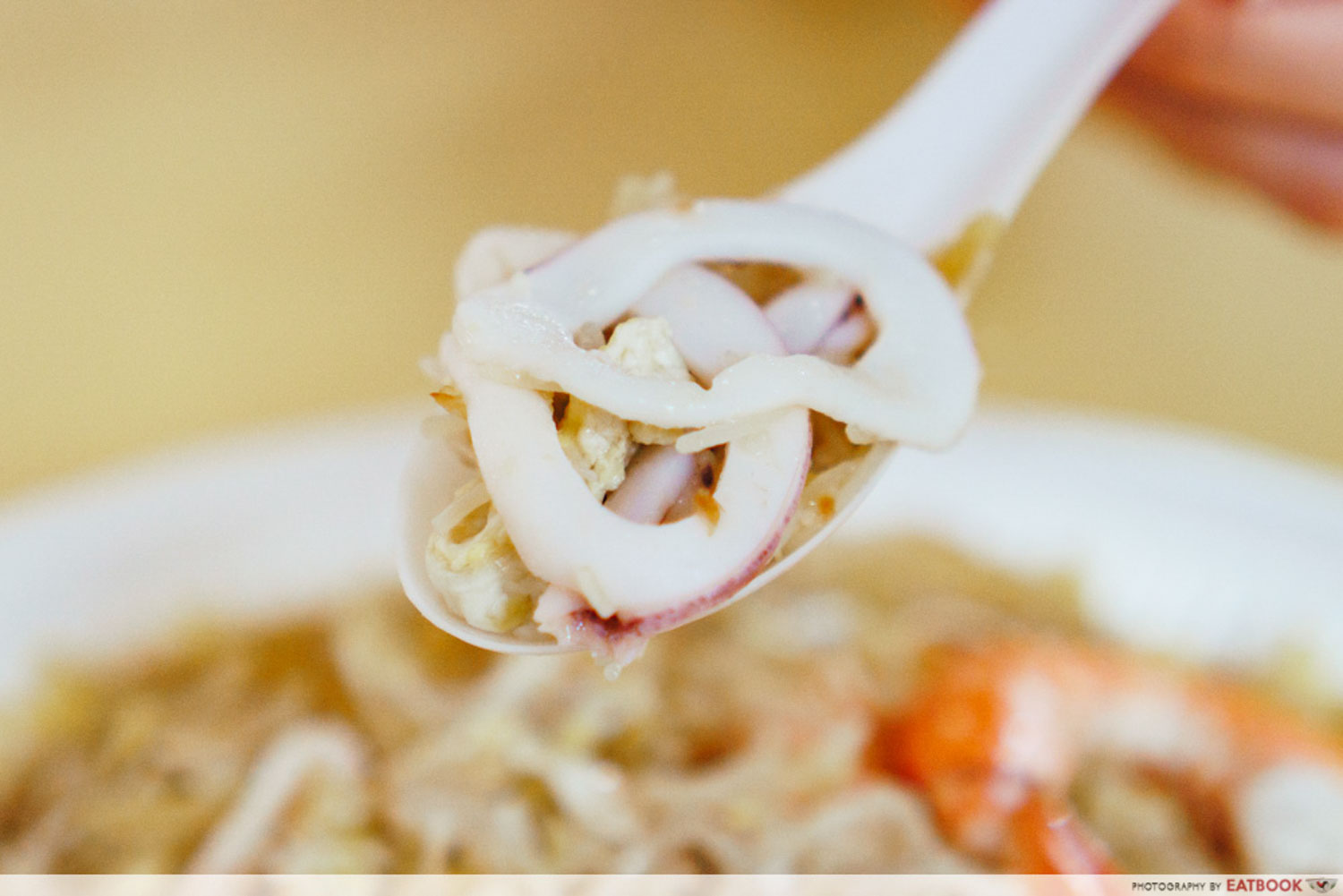 This simple dish is finished with prawn slices and squid that tasted fresh. The prawns were crunchy and sweet, complementing the savoury noodles. 
Most places tend to overcook their squid resulting in a rubbery texture, but Nam Sing cooks it al dente, giving it a QQ texture.
Ambience at Nam Sing Hokkien Mee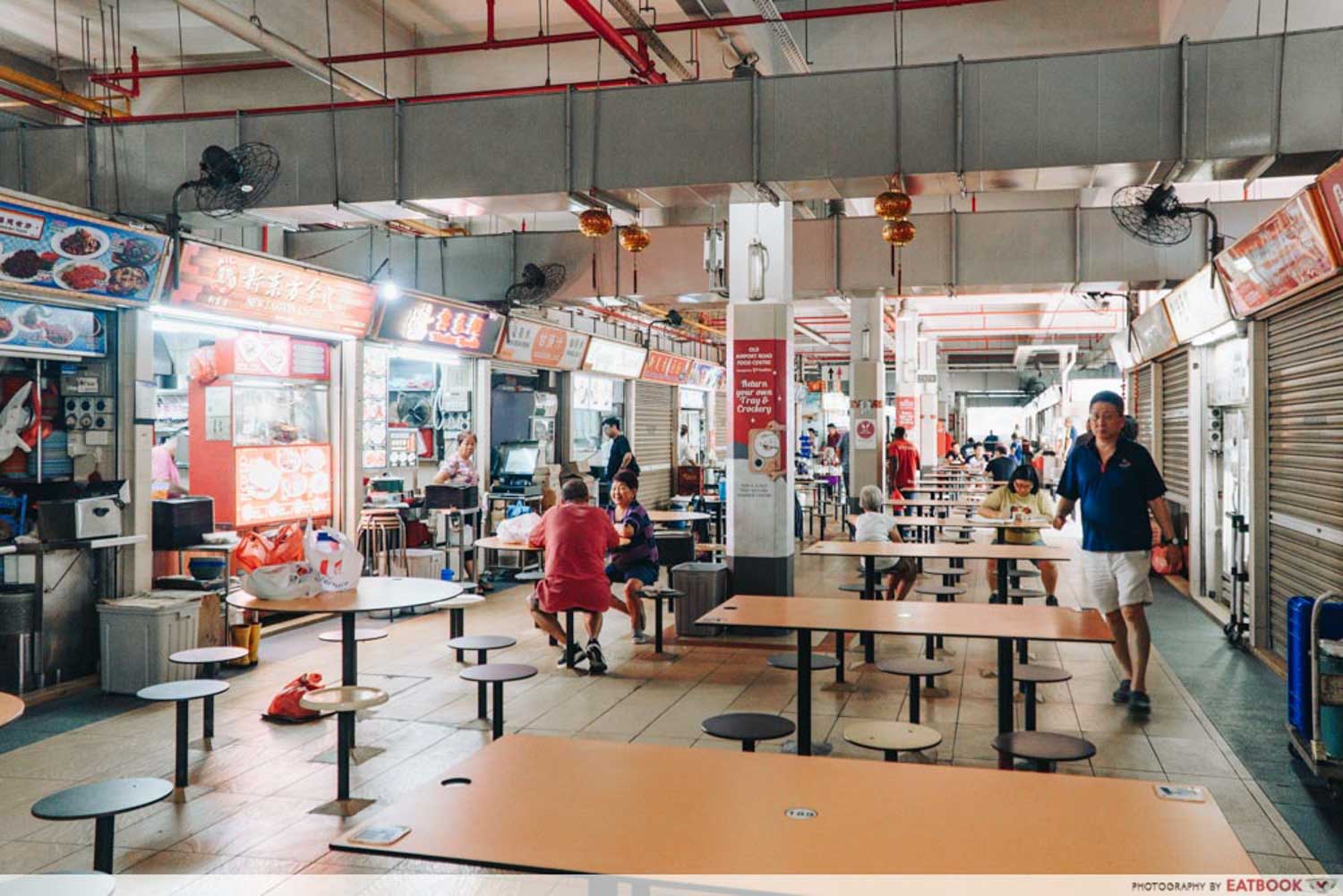 Old Airport Road Food Centre is one of the oldest hawkers in Singapore, and it does emanate nostalgic vibes. The retro colours of its exterior and long-standing stalls add on to the old-school aura. 
The verdict
Maybe because I'm only familiar with commercialised Hokkien mee, I don't see the appeal of Nam Sing's long-established version. I even got into an argument with a colleague, who insisted he would give Nam Sing a nine. 
Don't get me wrong, it was a good plate of noodles, but it wouldn't warrant me travelling all the way to the East and waiting one hour in line for it. 
Whatever the case is, I would still visit Nam Sing if I'm in the area. Especially since it's just a short walk from Dakota MRT Station.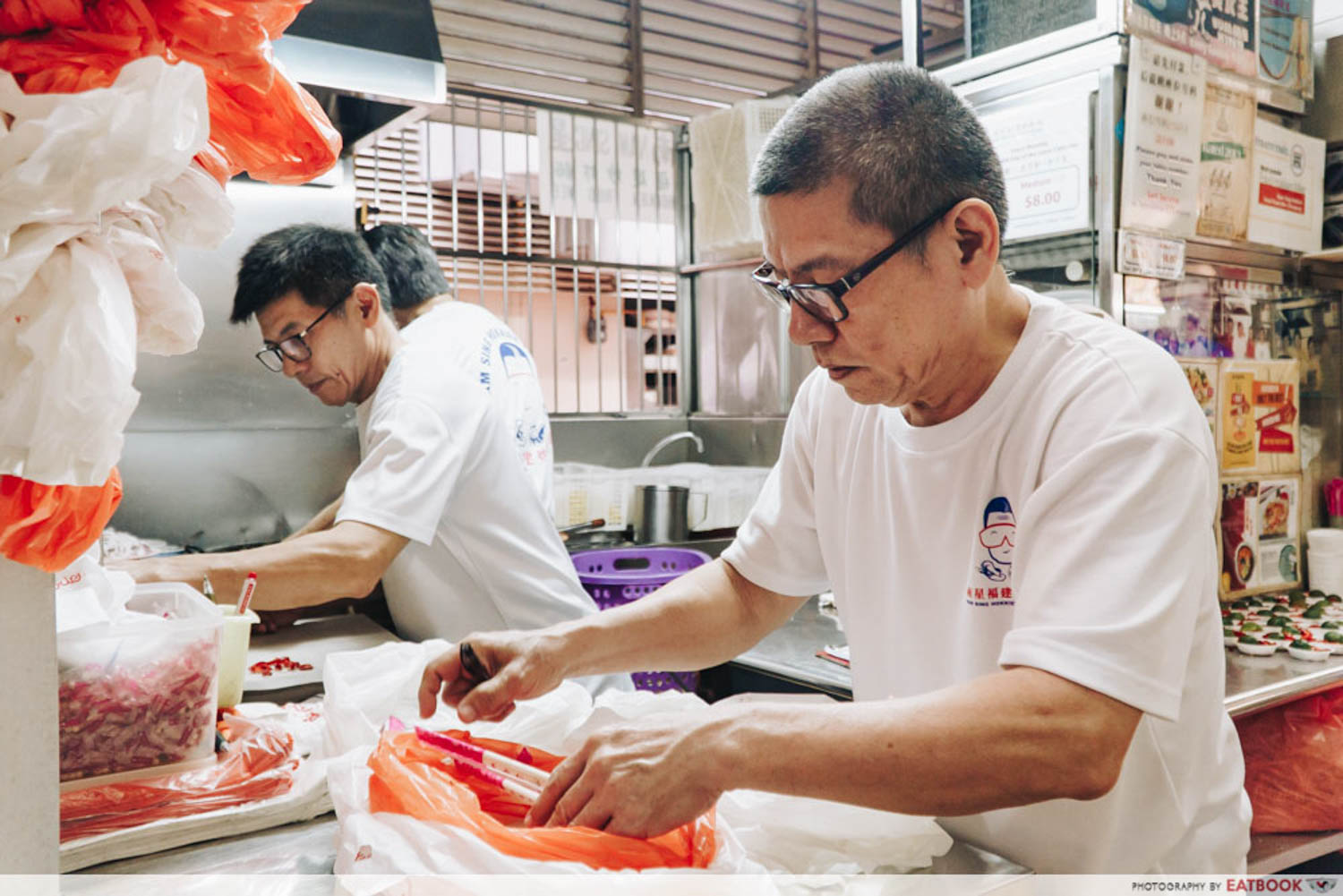 Before bidding goodbye to Mr Ng and his kakis, I received a tip to beat the queue. If you are planning to visit during lunchtime, call in advance to take-away a pack. This saves you time and ensures you have what you came for.
If you're looking for more Hokkien mee stalls, check out our full review of Bedok Corner Hokkien Prawn Mee! Alternatively, you can find out why Amoy Street Boon Kee Prawn Noodles is so popular.
Address: 51 Old Airport Road, #01-32, Old Airport Road Food Centre, Singapore 390051
Opening hours: Tue-Sun 10am to 6pm
Tel: 6440 5340
Nam Sing Hokkien Mee is not a halal-certified eatery.
Photos taken by Nadia Loewito.
This is an independent review by Eatbook.sg.
Nam Sing Review: Famous Hokkien Mee Hawker That Has Been Around Since 1963
Nam Sing Review: Famous Hokkien Mee Hawker That Has Been Around Since 1963 -

8/10
Summary
Pros
– Prices are reasonable
– Recipe hasn't changed
– Flavoursome stock
Cons
– Long queue
Recommended dishes: Hokkien Mee ($5)
Opening hours: Tue-Sun 10am to 5pm
Address: 51 Old Airport Road, #01-32, Old Airport Road Food Centre, Singapore 390051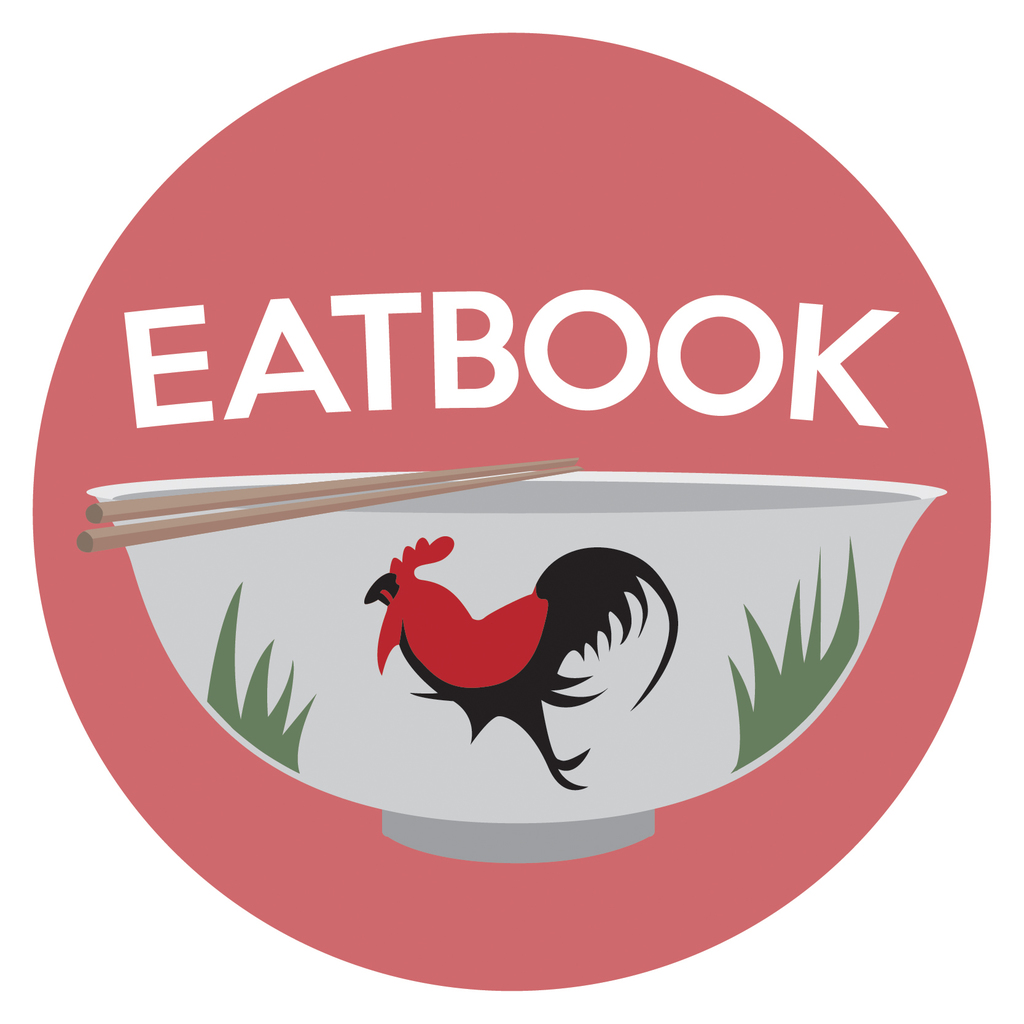 Drop us your email so you won't miss the latest news.