Amoy Street Boon Kee Prawn Noodles has affordable and popular prawn mee in Queenstown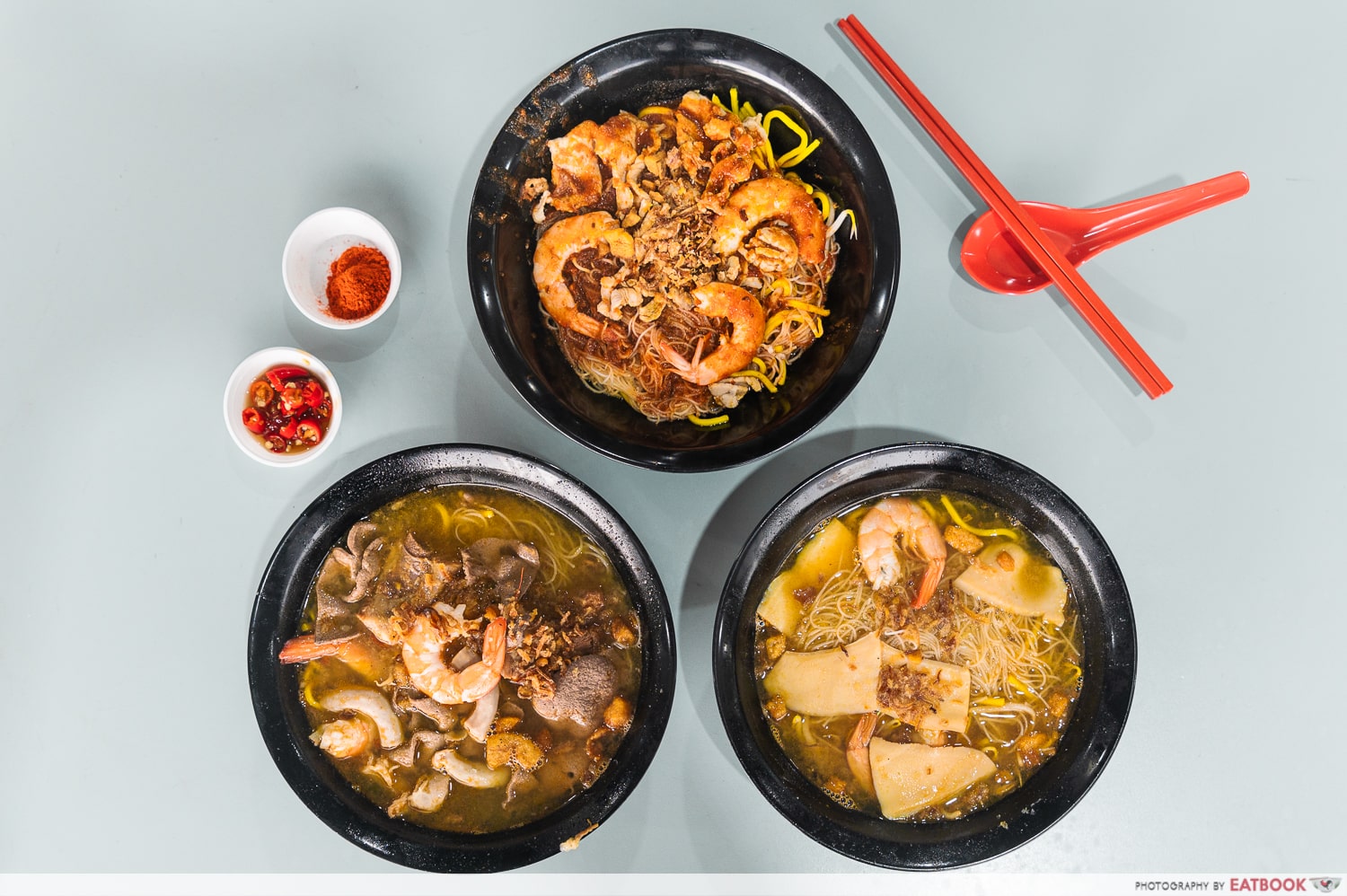 I don't mind travelling for good food, but of course, there are certain spots in Singapore that I like to frequent more than others. And if a stall lauded by some as making the best prawn mee that you've never heard of moves into one of those spots, it's no-brainer that I'm going to check it out. Case in point, Amoy Street Boon Kee Prawn Noodles has recently relocated to Mei Lin Market in Queenstown, which is one of my favourite places to get lunch.
Prior to moving to the sleepy Mei Lin estate, the stall was in an even more obscure location within the Keppel industrial port, claimed by fans to be a true hidden gem in Singapore. It seems that word of their skills has spread fast in their new home—there was a long queue leading back to the busy stall that persisted throughout the lunch hour. 
Food at Amoy Street Boon Kee Prawn Noodles
The menu at Amoy Street Boon Kee Prawn Noodles is straightforward, offering only prawn mee with a small variety of different liao, including some unusual additions such as abalone and pigs tail.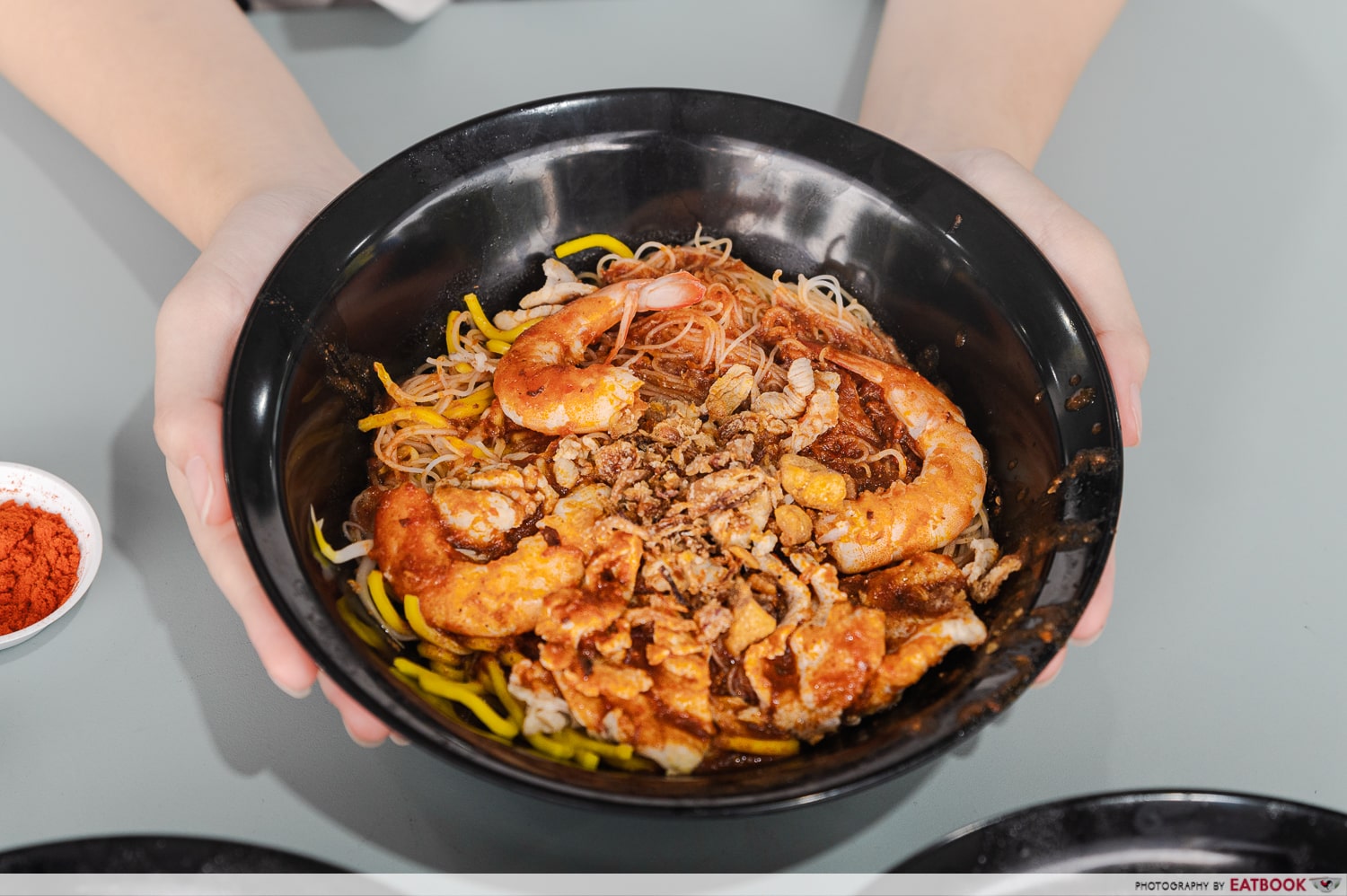 I'm more of a soupy prawn mee person, but I was told that the dry version here is a must-try due to the house-made chilli, so we got a dry, $4 portion of their original Prawn Noodle ($4/$5).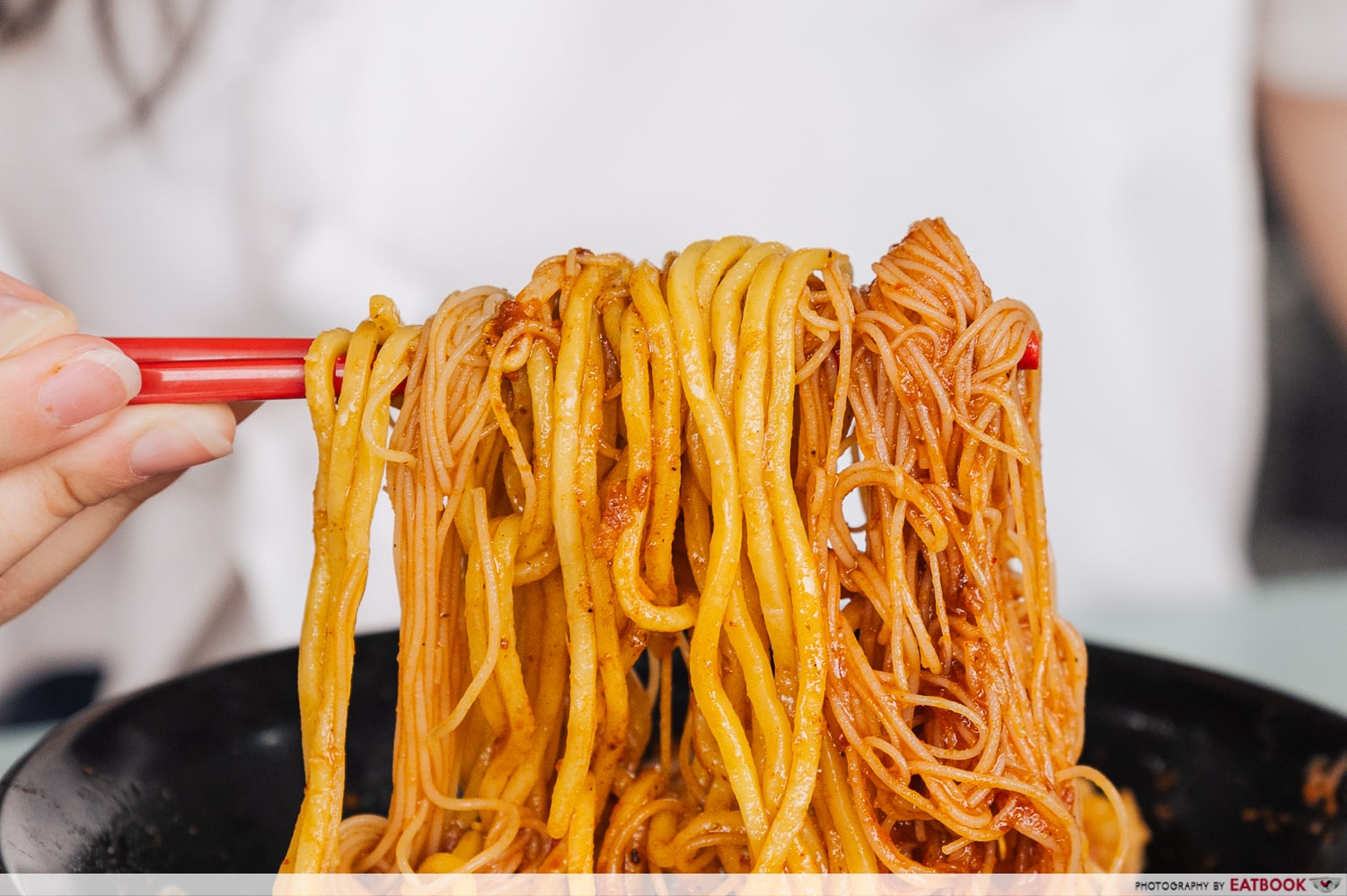 If the reddish tinge of the bowl's ingredients didn't tip us off as to how generous the uncle had been with the chilli, the spicy aroma wafting from it certainly did. The sambal spread all over the mix of yellow noodles and bee hoon was something else, with a fragrant, complex bite that punches you in the face like the world's most deliciously painful morning wake-up call.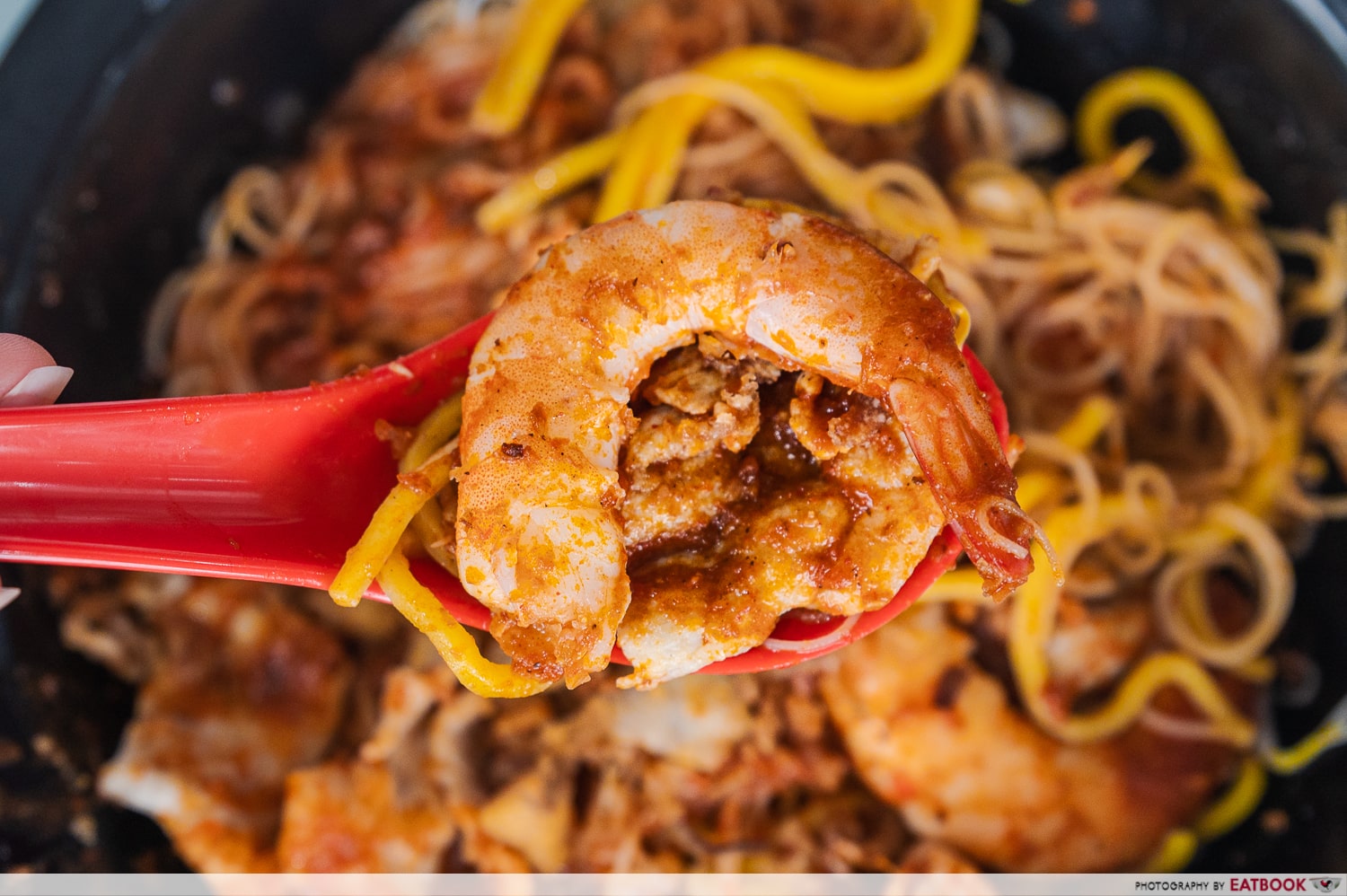 For $4, you get a surprisingly large amount of liao in the bowl, including three fresh and deshelled prawns, thin and tender pork spices, and crunchy pork lard cubes, all of which have been liberally coated in the house-made sambal chilli. While I felt that the spice elevated the dish and made a good but not spectacular prawn mee memorable, this is definitely not for those who lack a solid spice tolerance.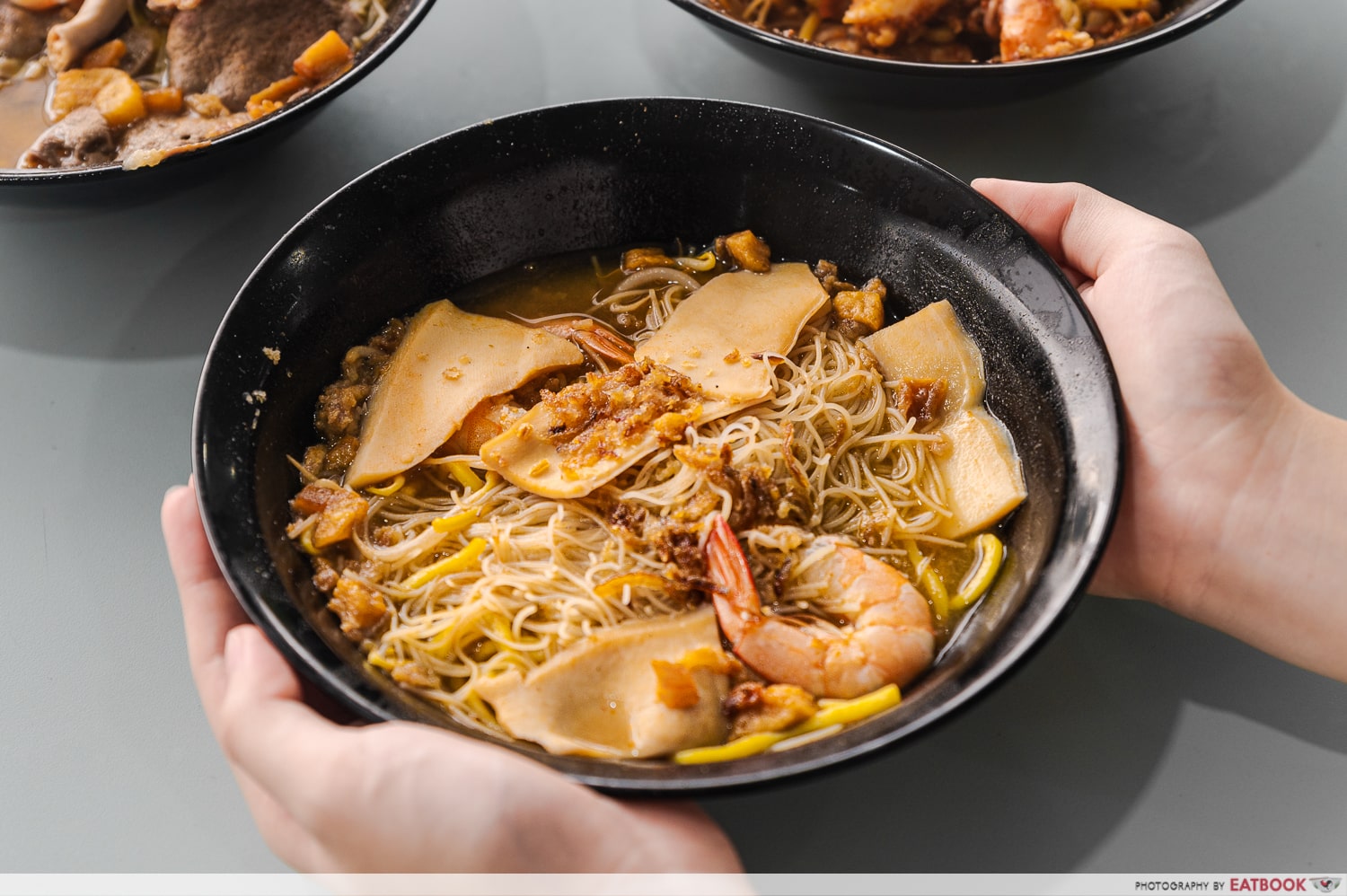 Something that caught our eye in the queue was that the stall offered Sliced Abalone Prawn Noodle ($4/$5), which we had never seen before at that price. Before anyone gets too excited, they aren't selling you the fancy kind canned in Australia—this is the more economical sliced ones you find in yusheng.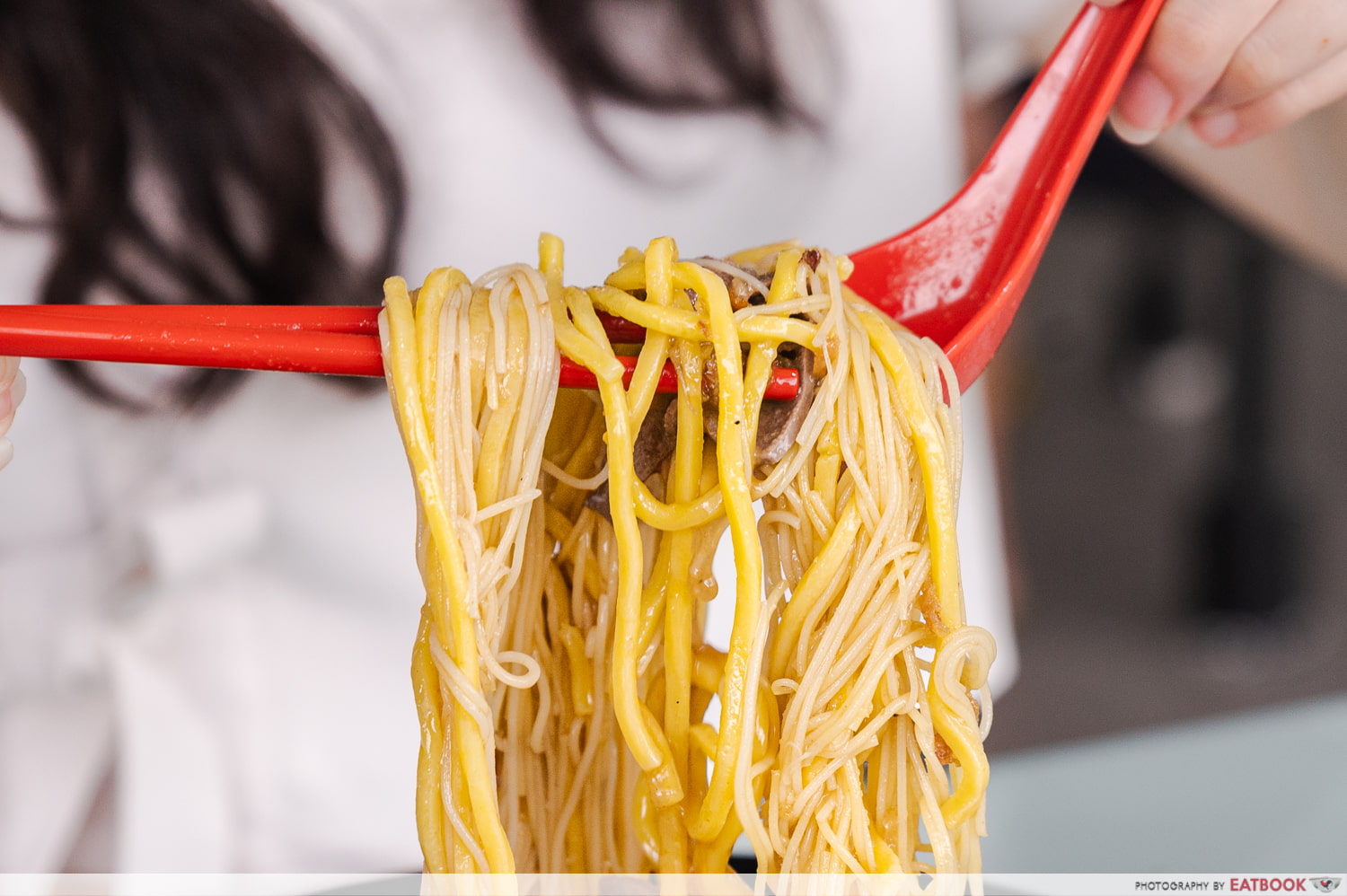 We got this bowl with soup, and after having tasted the sambal covered noodles, the 'cleaner' noodles without the spice seemed almost bland in comparison. The soup itself isn't bland, with a rich, flavourful prawn broth that we both liked, though I did think it a little less robust than the one from Geylang Laksa Prawn Noodle.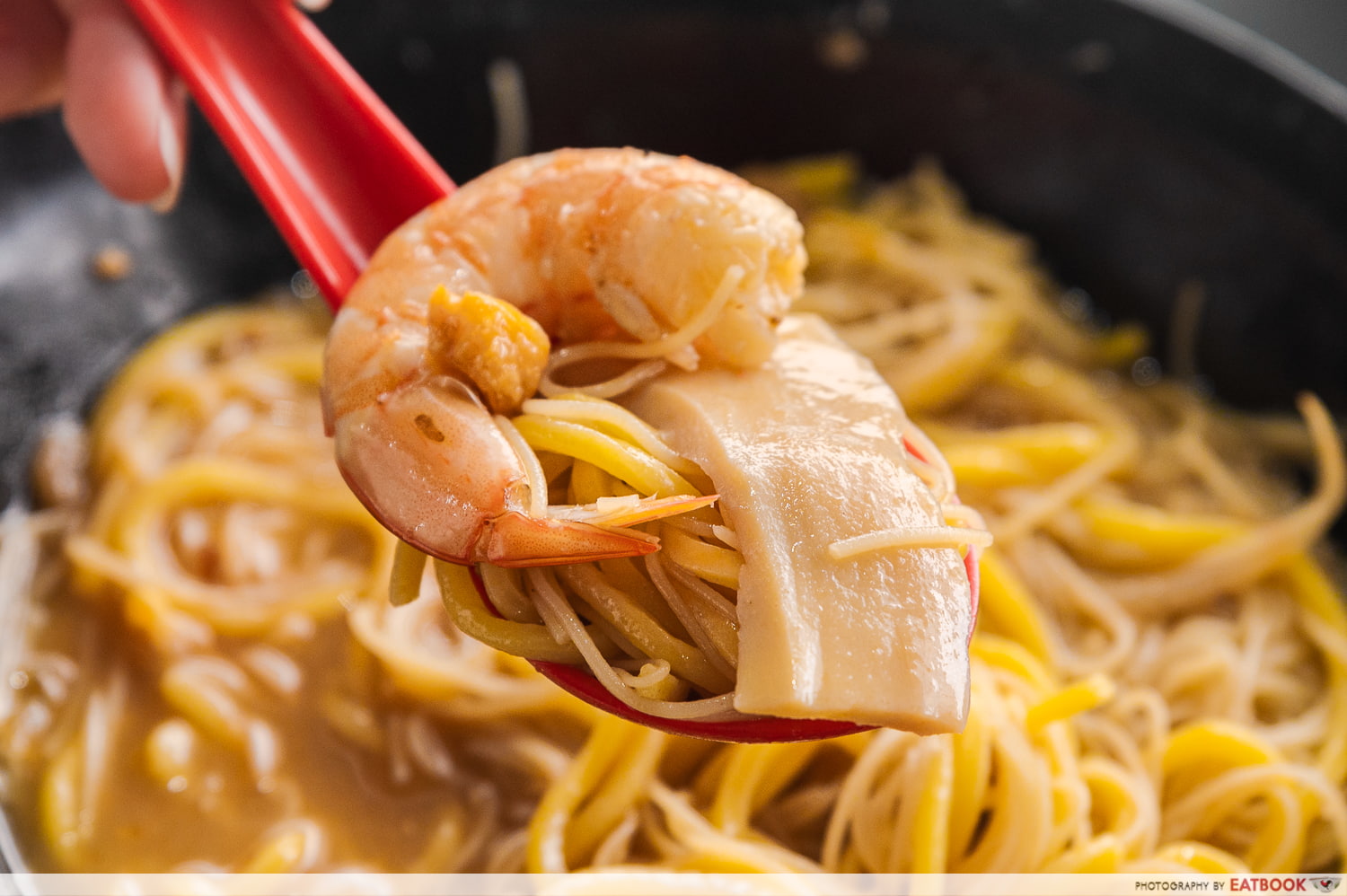 Without the chilli, the flavour of the sweet prawn is more apparent, but the soup means the added pork lard I found to be a highlight of the dry prawn mee loses its crispiness. The cheap abalone was firm, with a slight chew—it's not very interesting, but at $4, you get what you paid for.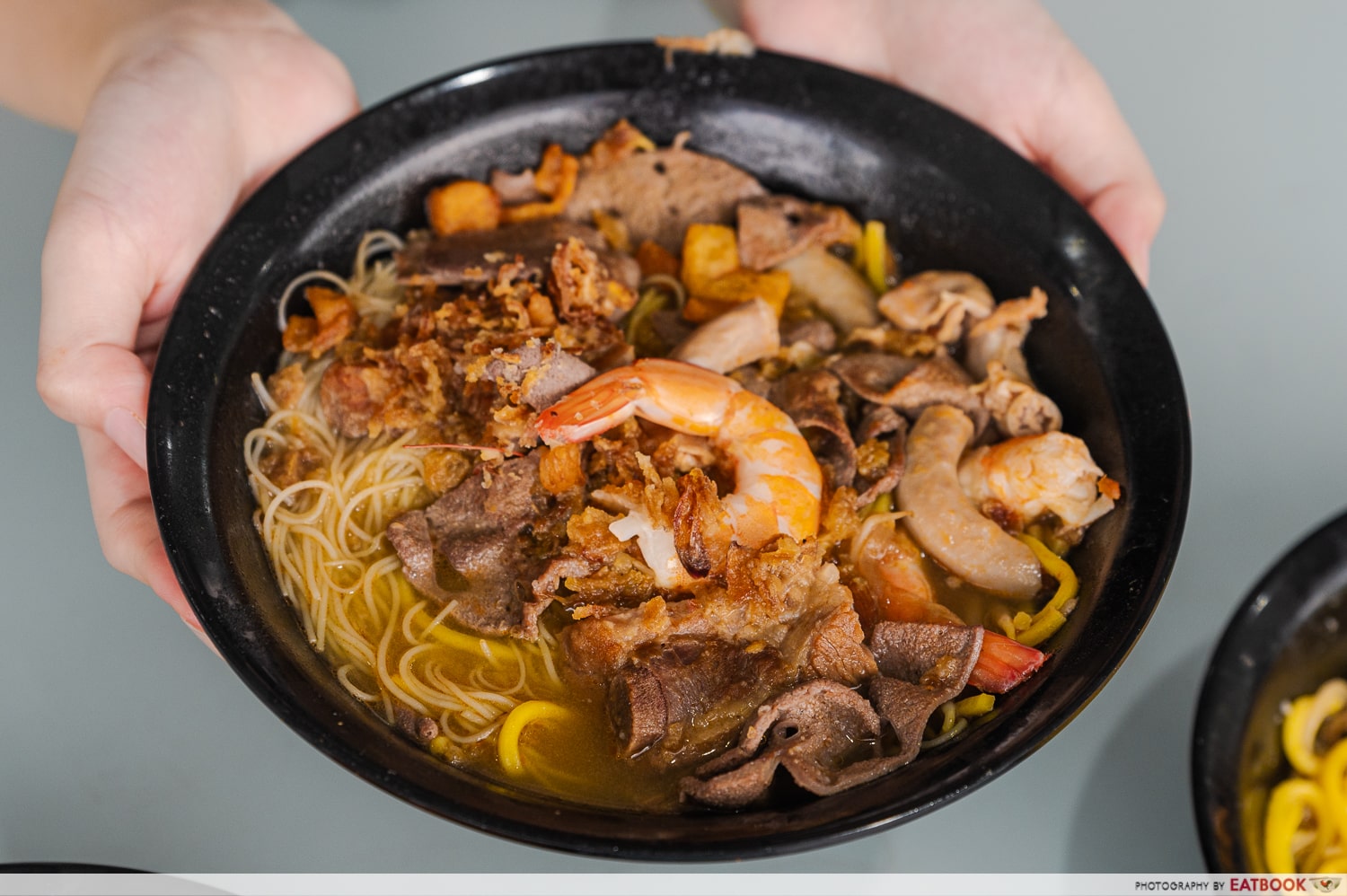 Deciding to be bougie for a day, we splurged for the most expensive option on the menu to finish our meal: the Pork Ribs Liver Intestine Prawn Noodle ($7). As the long name implies, this was a bowl of 'everything' prawn mee, loaded with an impressive amount of liao.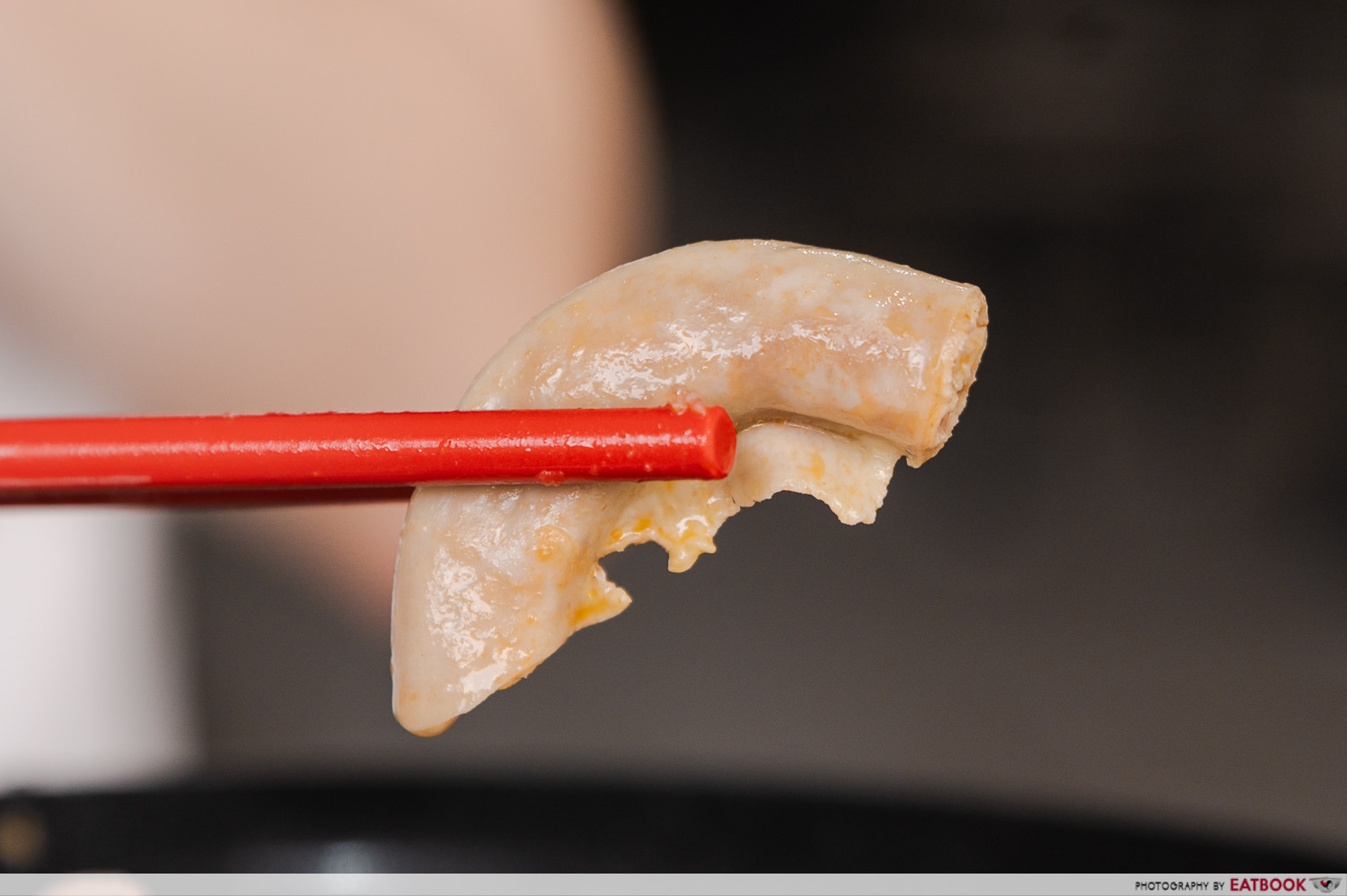 Unlike my friend, I'm not a big fan of pig innards, but I have to admit that the intestines here were very well-cleaned and palatable to my tastes. They were soft with a slight chew, with the texture suitable for the many older patrons that live in the area.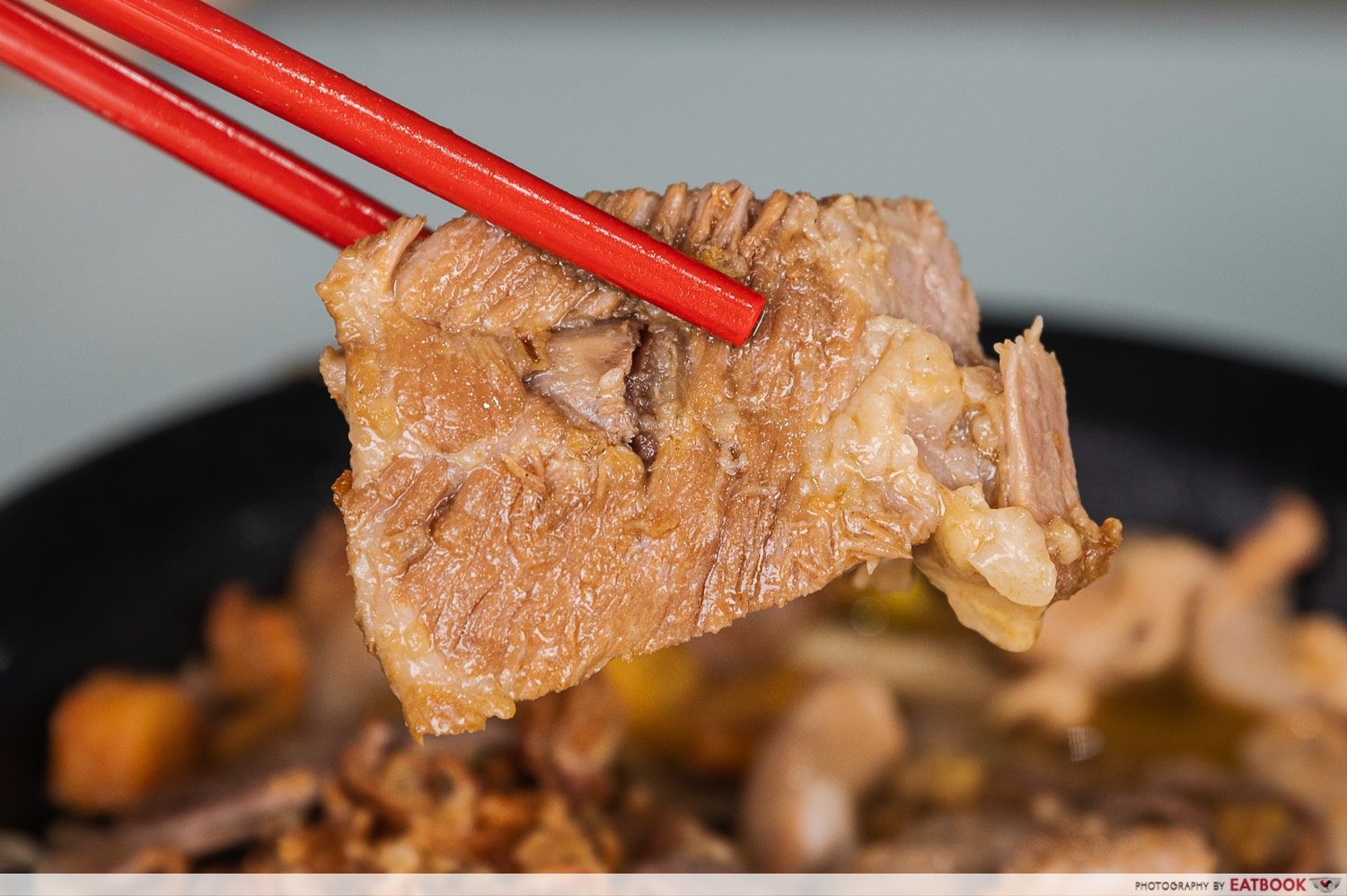 You get about two chunks of pork ribs, which were meaty with some fat on the bones. They weren't fall-off-the-bone tender, but like the intestines, tender and easy to eat.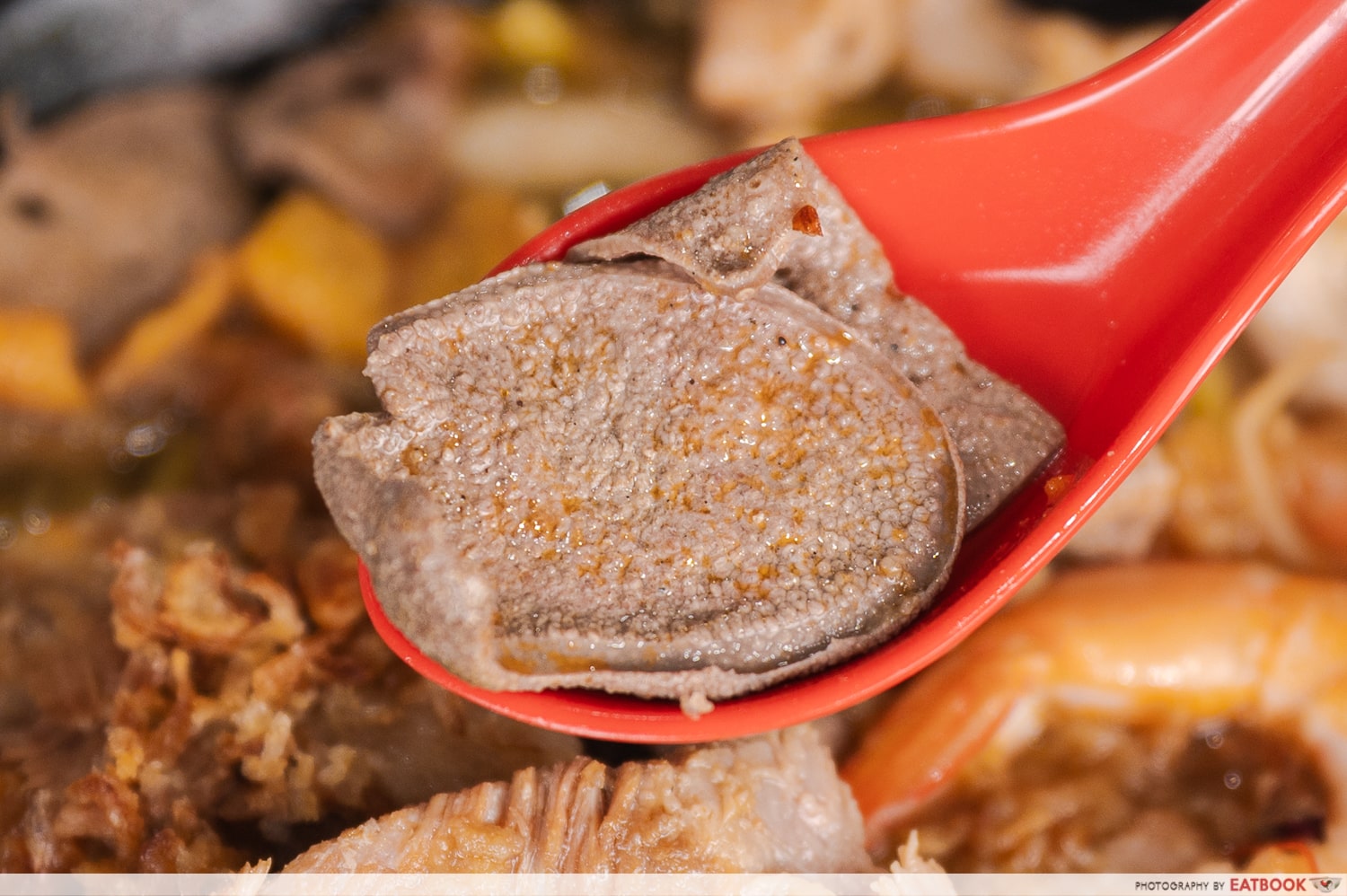 The liver slices here were cut into extremely thin slices. While the gaminess I disliked from liver wasn't prominent, the sandy texture typical of pork liver got to me after a while even with how thin each slice was.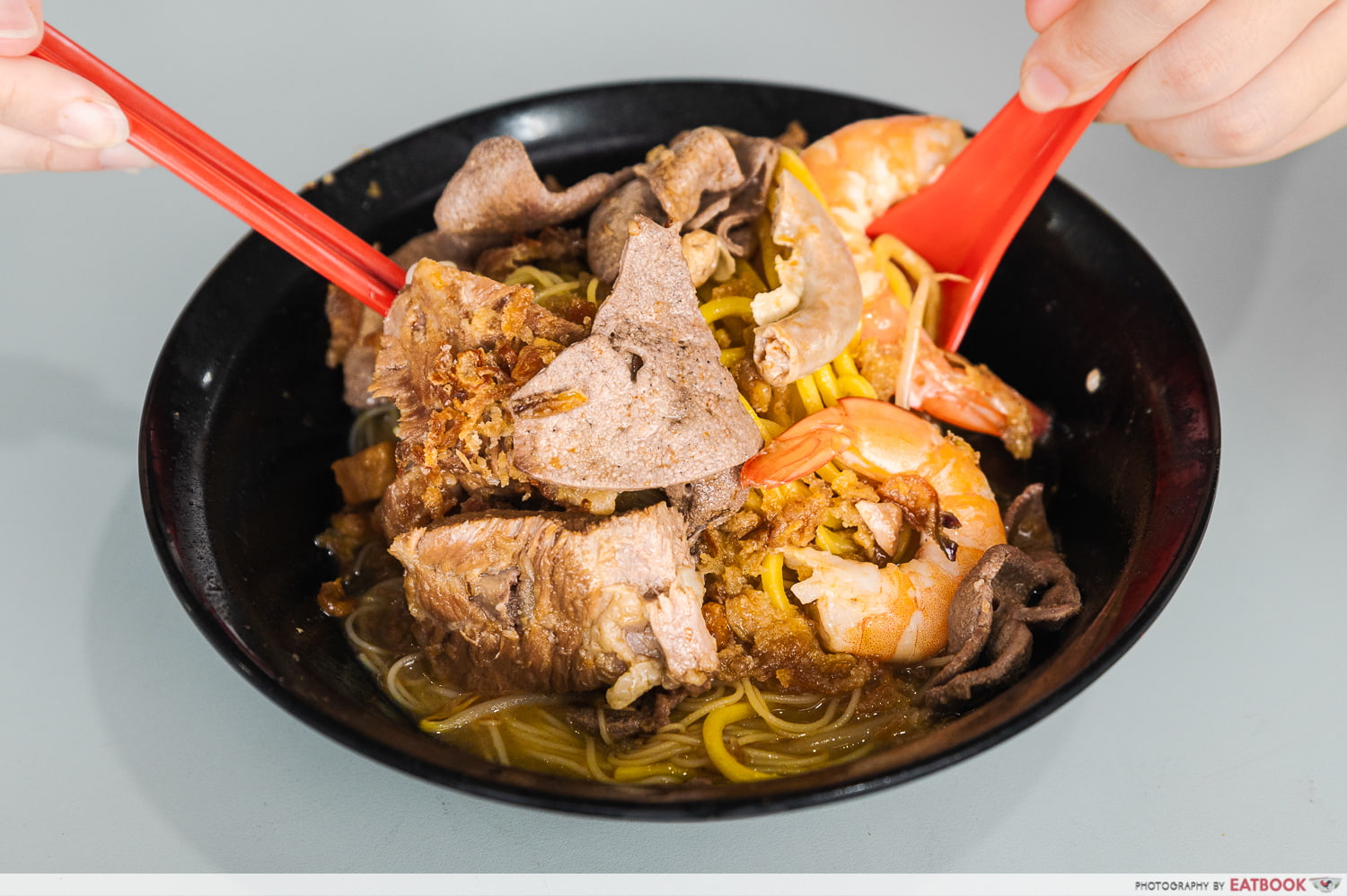 This was a pretty generous bowl that we struggled to finish, and definitely worth the price tag due to the liao given. My major gripe with the everything prawn mee though is that the amount of pork overpowers the prawn aspect of the dish, giving the soup a heavy porky aftertaste that stands out, especially if you have tasted the cleaner prawn mee broth beforehand like we did with the bowl of abalone prawn mee. 
Geylang Laksa Prawn Noodles Review: Famous Prawn Mee Stall Opens New Outlet In Ang Mo Kio
Ambience at Amoy Street Boon Kee Prawn Noodles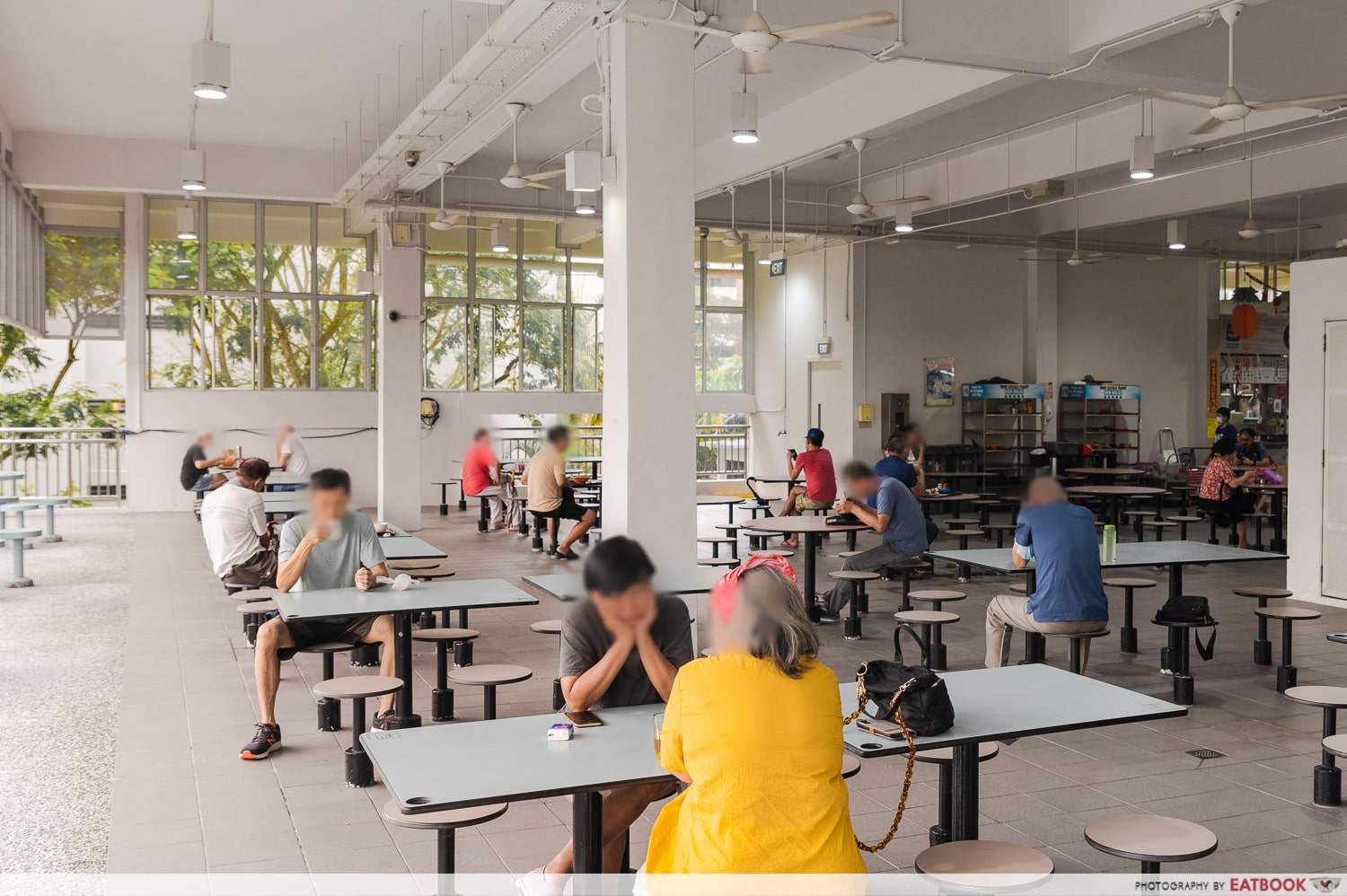 Mei Lin Market doesn't get extremely crowded around lunchtime, so you likely wouldn't have to fight for a seat here even though it's a small hawker centre. The hawker centre itself is an eight-minute walk from Queenstown MRT Station, nestled within an older housing estate.
The verdict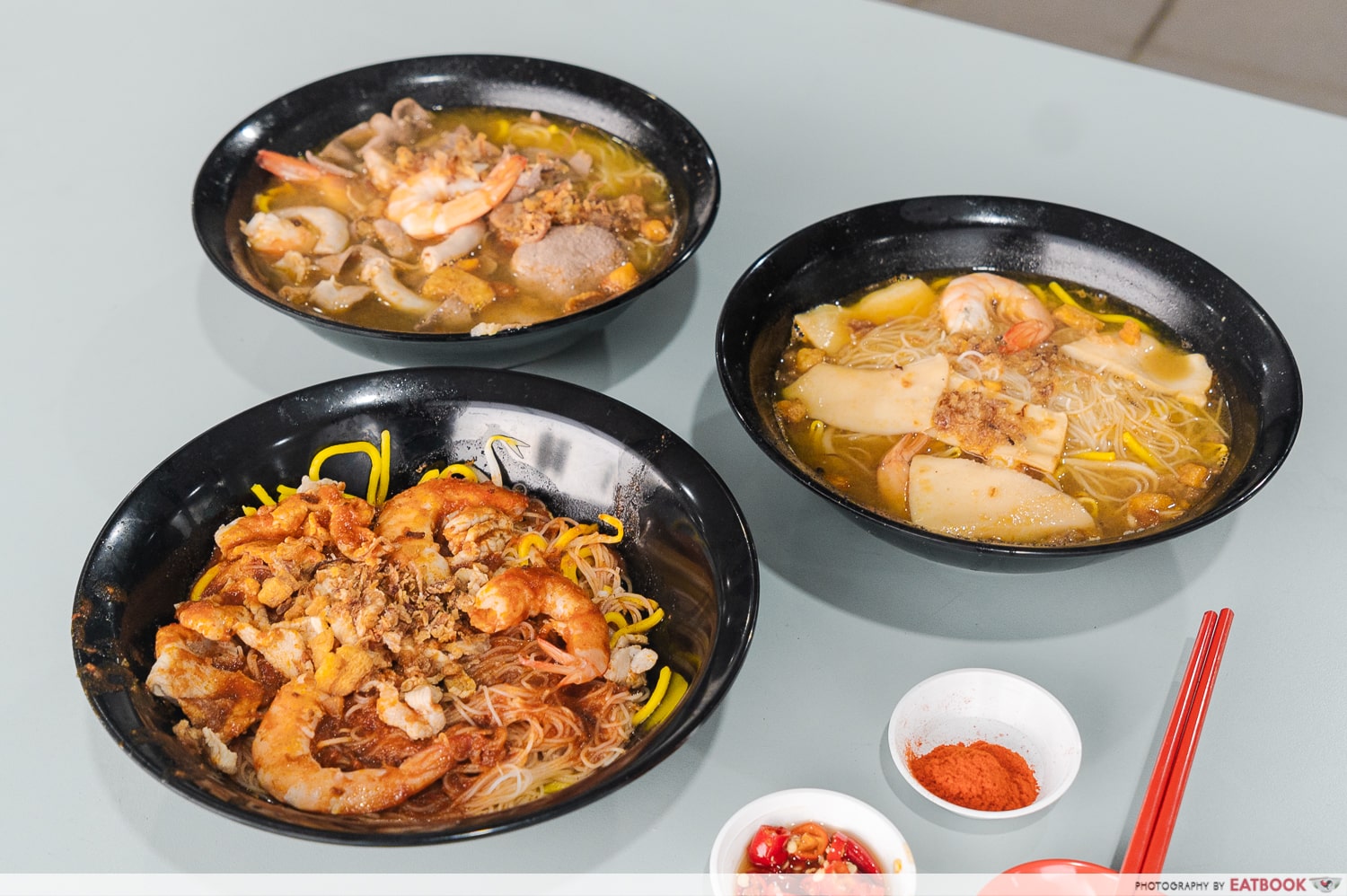 While I'm not sure I would call Amoy Street Boon Kee Prawn Noodles the best in town, I would definitely say that the dry prawn mee is the standout dish at this stall and worth eating. The uncle running the stall was extremely nice and patient with each customer, and watching him prepare each bowl of prawn mee, you could tell by his movement that he had been doing this for years. I found the prawn mee here to have an old-school taste, with a generous amount of liao given in each bowl for the price. 
For Malaysian prawn mee, check out Ipoh Zai Prawn Noodles in Tanjong Pagar. Also, be sure to stop by Mr Bready if you're in the hawker centre for unique and tasty huat kueh. 
Address: 59 Mei Chin Road, #02-06, Mei Ling Market And Food Centre, Singapore 140159
Opening hours: Tues-Sun 7am to 1:30pm
Amoy Street Boon Kee Prawn Noodles is not a halal-certified eatery.
Ipoh Zai Prawn Noodles Review: Ipoh-Style Prawn Mee In Tanjong Pagar With Shiok Sambal
Pictures taken by Ke-ian J Leong
This was an independent visit by Eatbook.sg
Amoy Street Boon Kee Prawn Noodles Review: Long Queue Prawn Mee In Queenstown 
Amoy Street Boon Kee Prawn Noodles Review: Long Queue Prawn Mee In Queenstown  -

7.5/10
Summary
Pros: 
– Generous with liao
– Great chilli
– Very affordable portions
Cons:
– Porky aftertaste in pork ribs liver intestine prawn noodle broth
– Close to MRT on the map, but not the easiest location to find on foot
Recommended dishes: Dry Prawn Noodle ($4/$5)
Address: 59 Mei Chin Road, #02-06, Mei Ling Market And Food Centre, Singapore 140159
Opening hours: Tues-Sun 7am to 1:30pm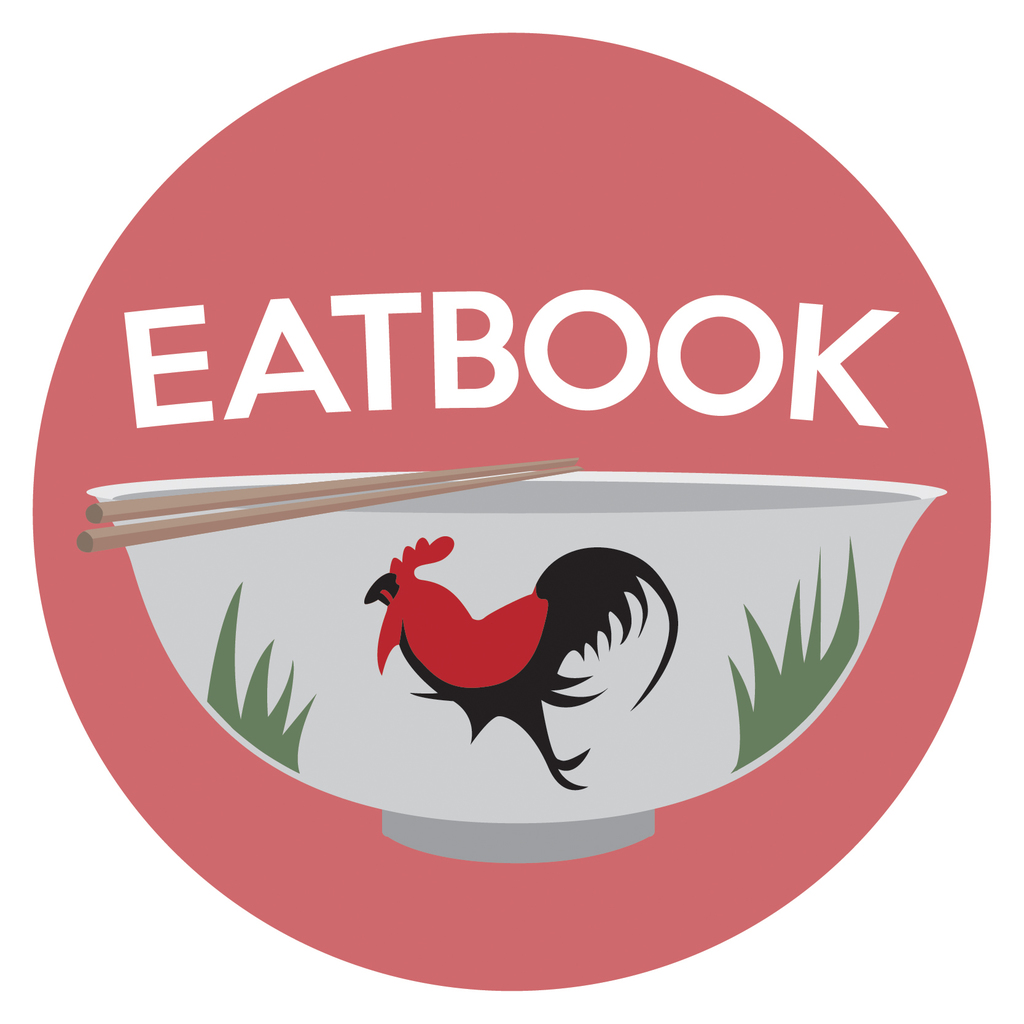 Drop us your email so you won't miss the latest news.